We had such a wonderful Christmas! There are so many fun photos to share! It was Tenley's second Christmas & her last Christmas as an only child. I was thinking about that a lot as I watched the joy on her face & saw how much fun she was having. It's bittersweet to see your first baby getting ready to become a big sibling. We know it'll amplify the joy & fun we have in our home, but she's growing up so quickly.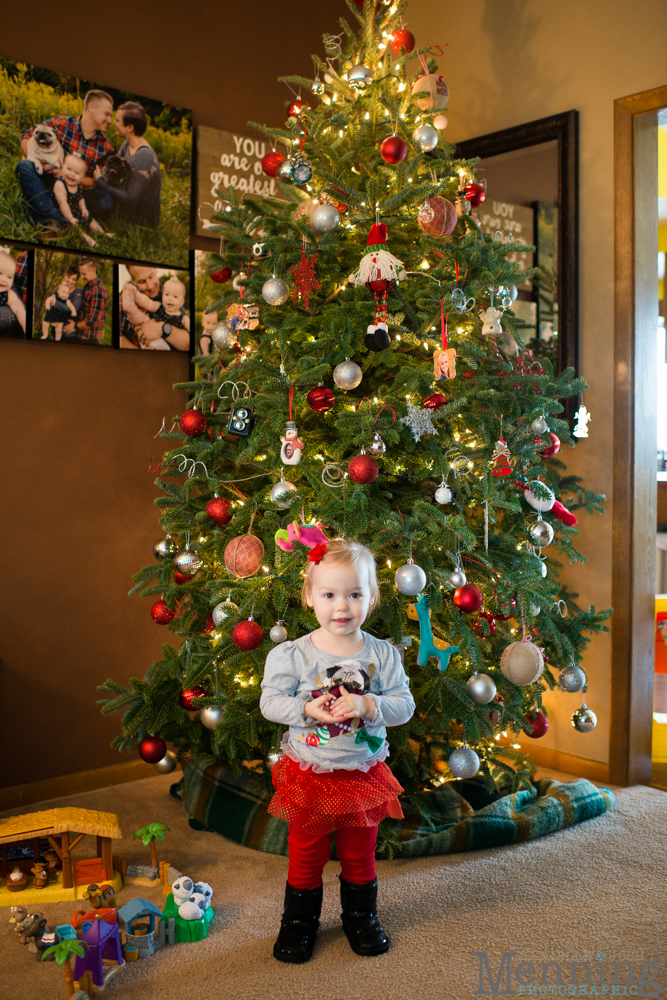 Don't you just love her pug Christmas shirt? It was the perfect hand-me-down from her cousin Addison. Tenley says, "Norris on it!" That's our big fawn pug & the pug on her shirt really does look like Norris- forehead wrinkles & all.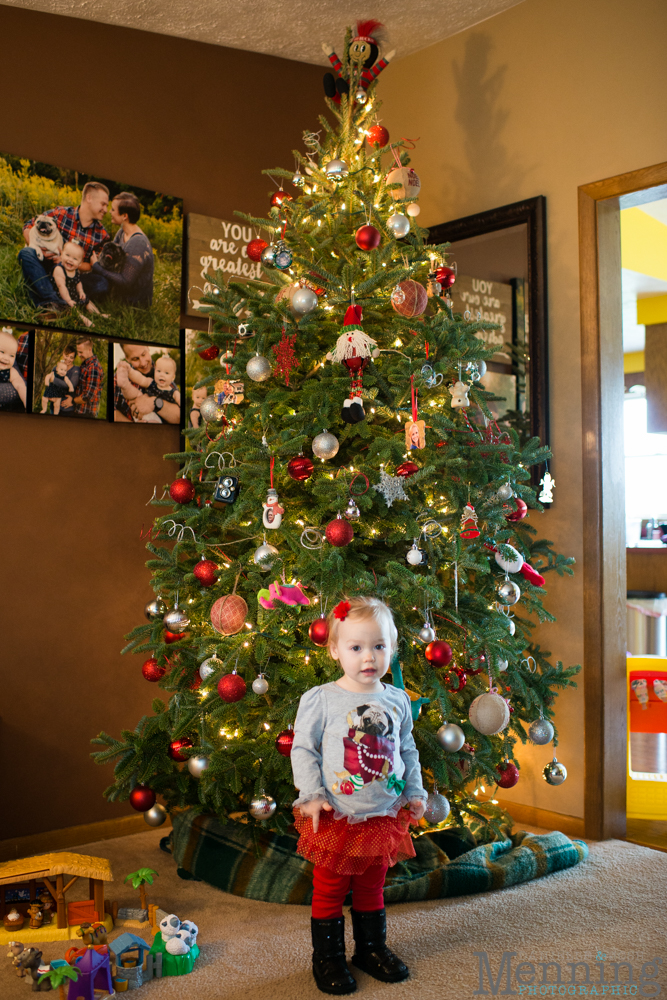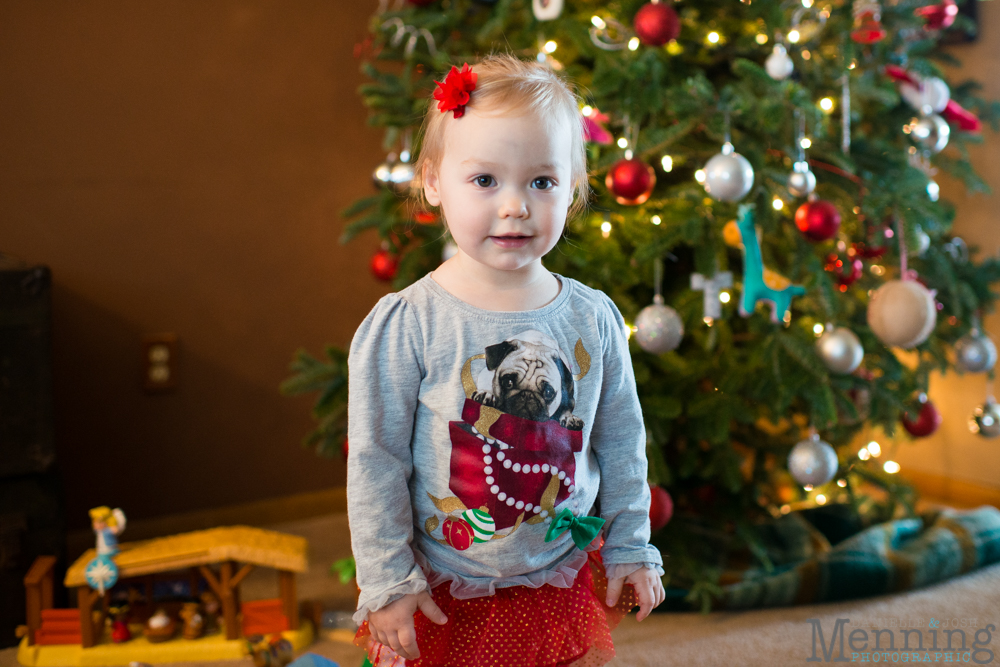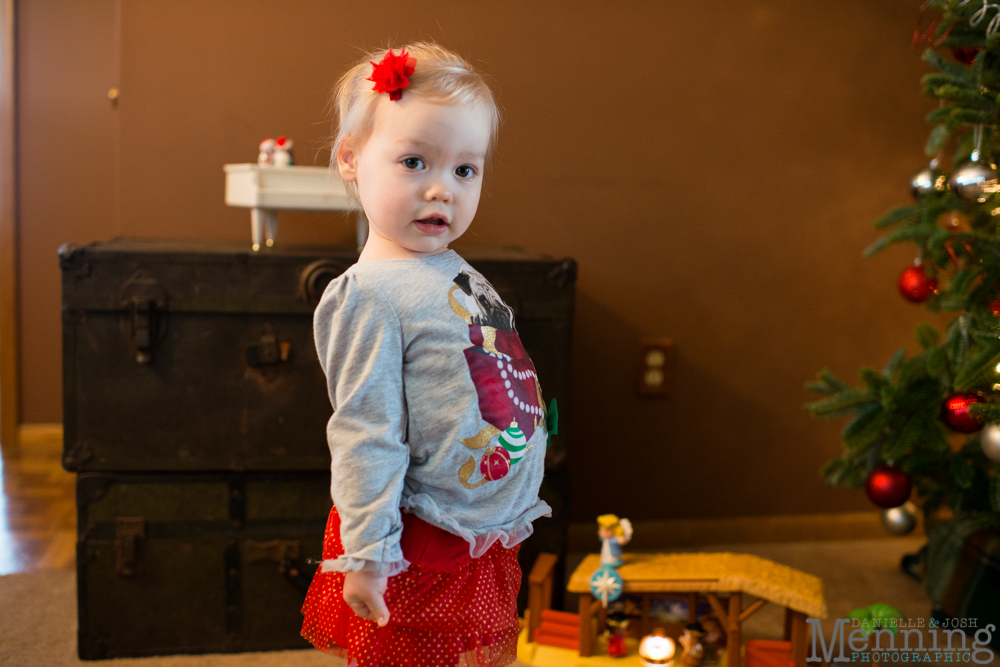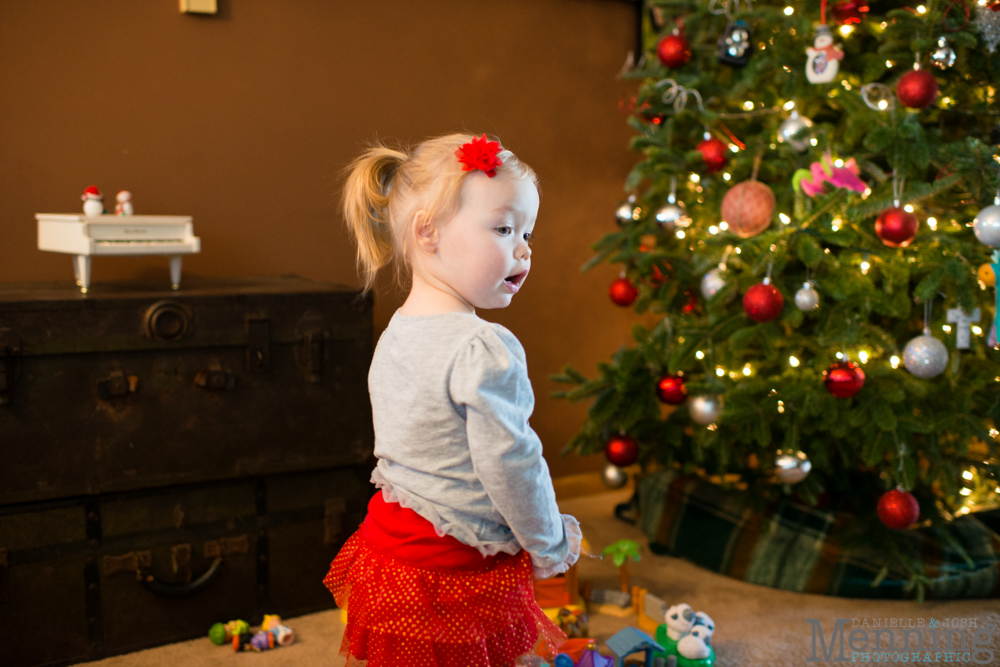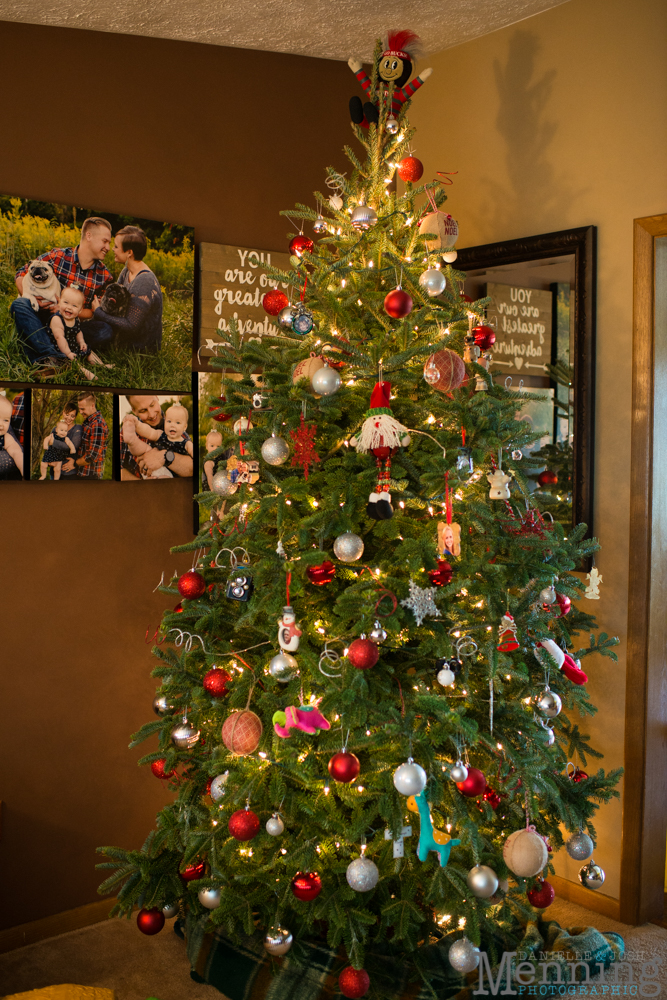 We celebrated Christmas with my Grandma Esther (Tenley's GG) on Thursday before Christmas, but we forgot to take photos. Wahhh!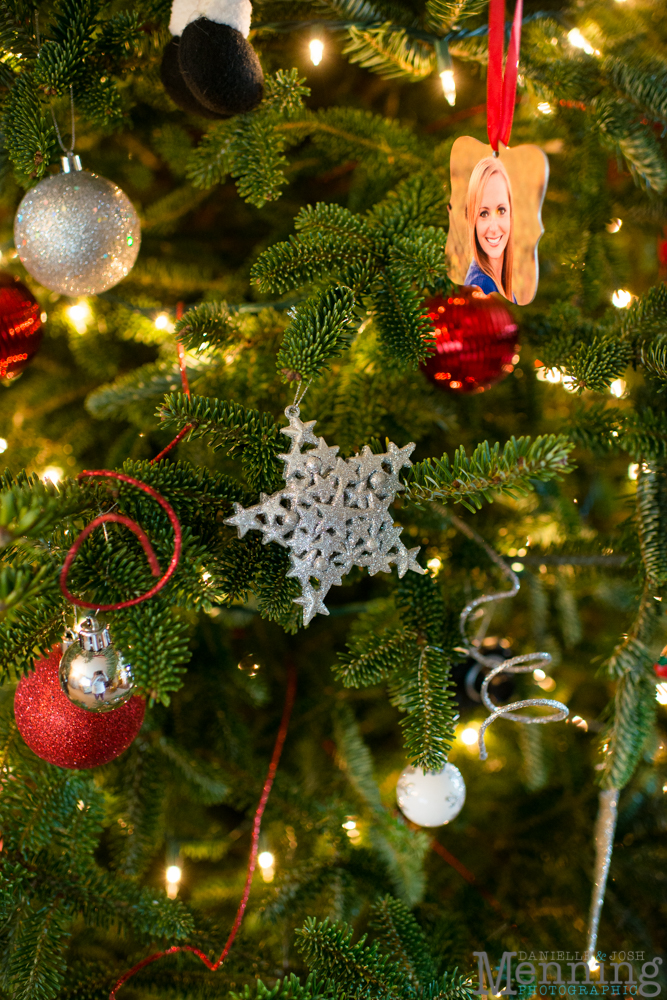 Yes, we're crazy nuts for Ohio. And, yes, we would like to scrape off the popcorn ceilings in our home someday.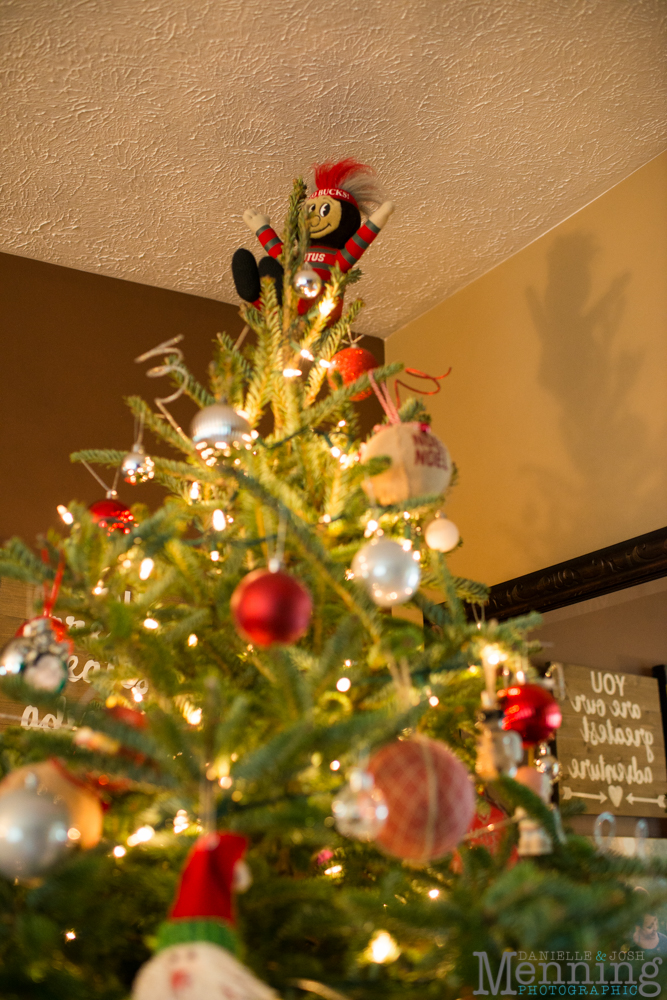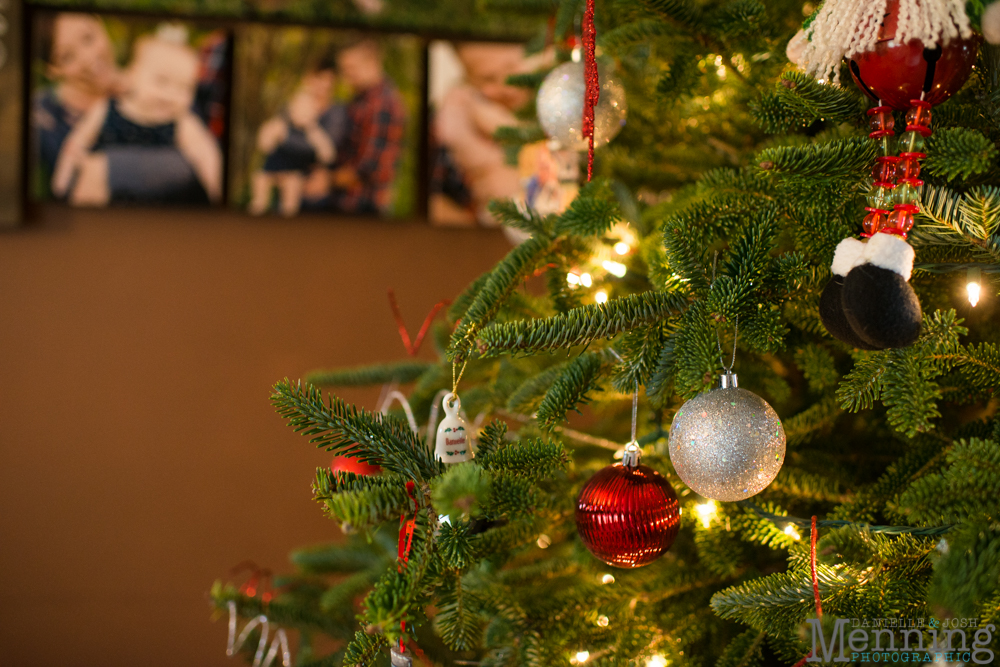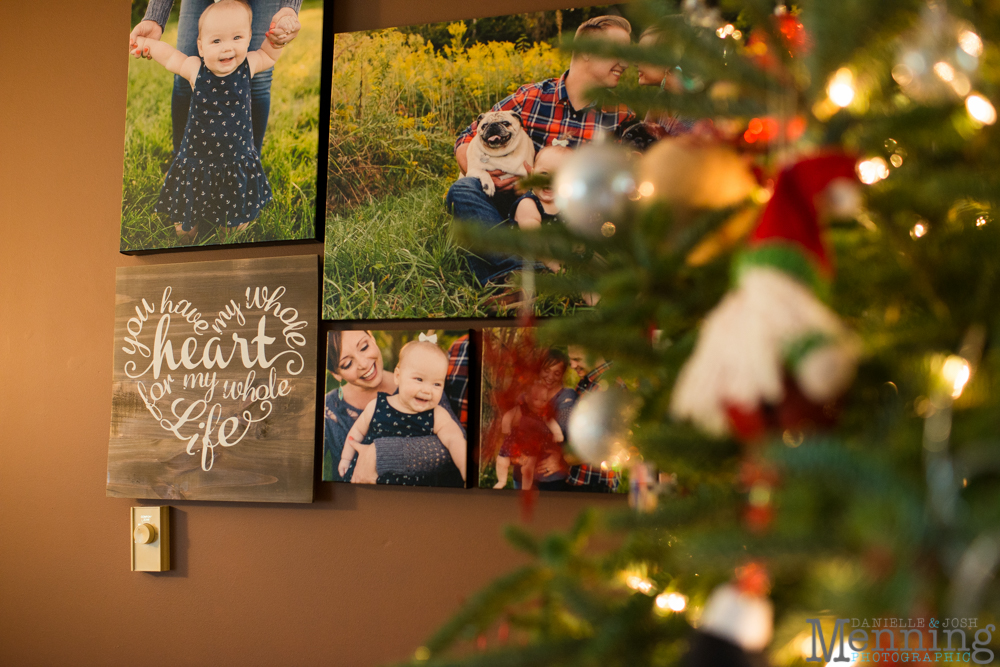 Tenley turned 22 months (2 months shy of 2 years old) on Christmas Eve. That was the day we celebrated Christmas with Josh's parents, brother, and sister-in-law. This is their tree.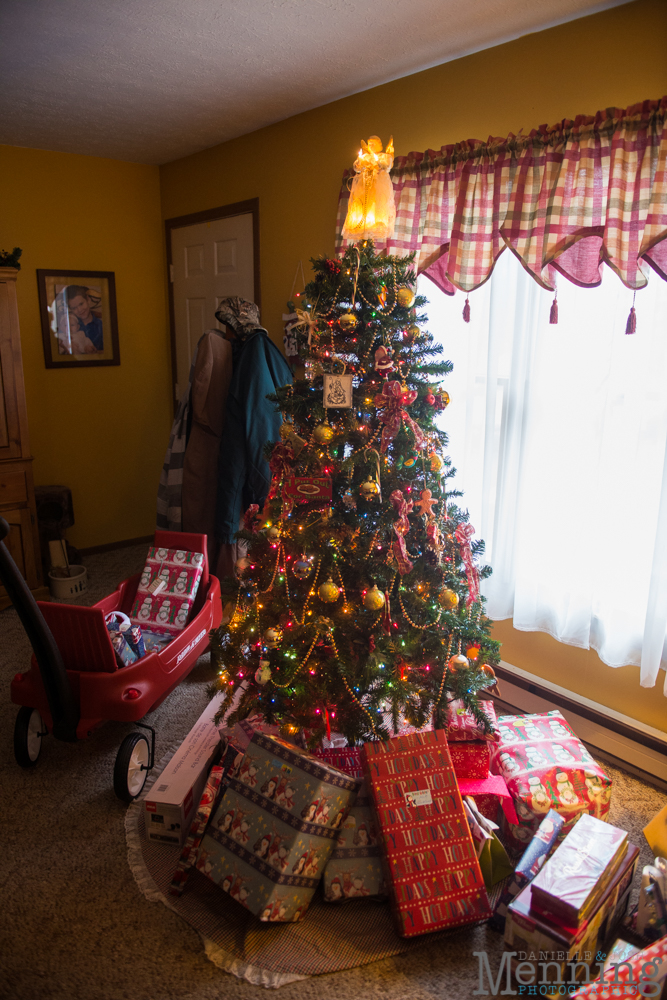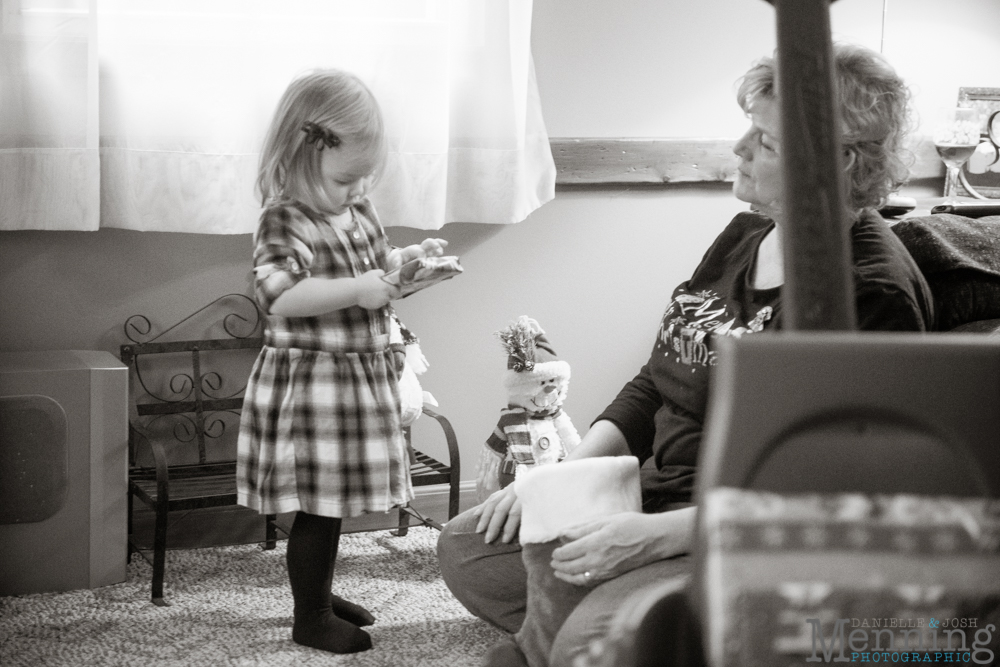 Tenley was excited about all of her gifts & her new wagon.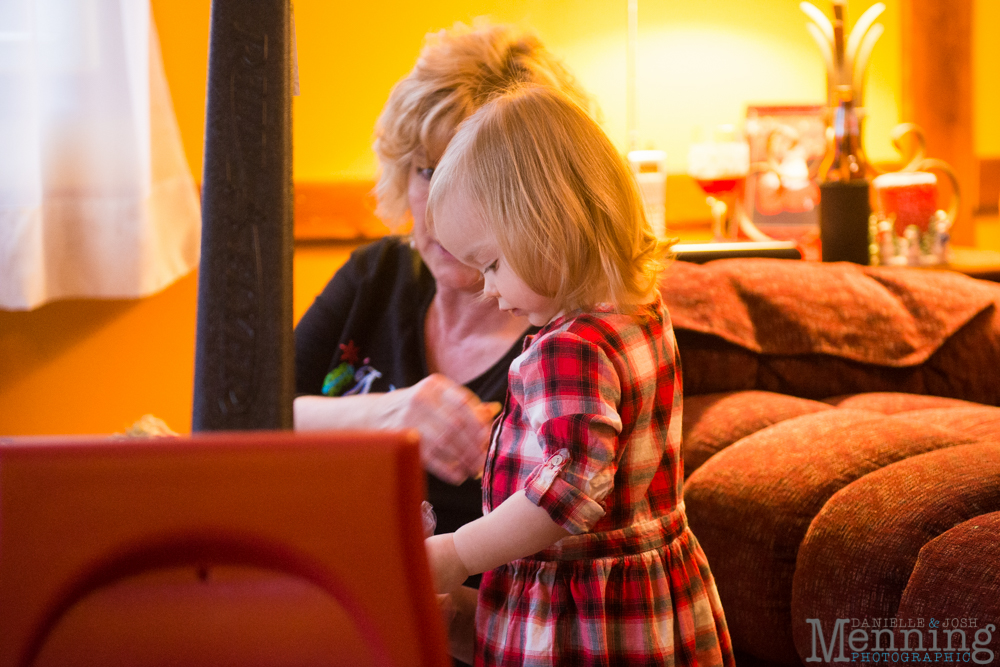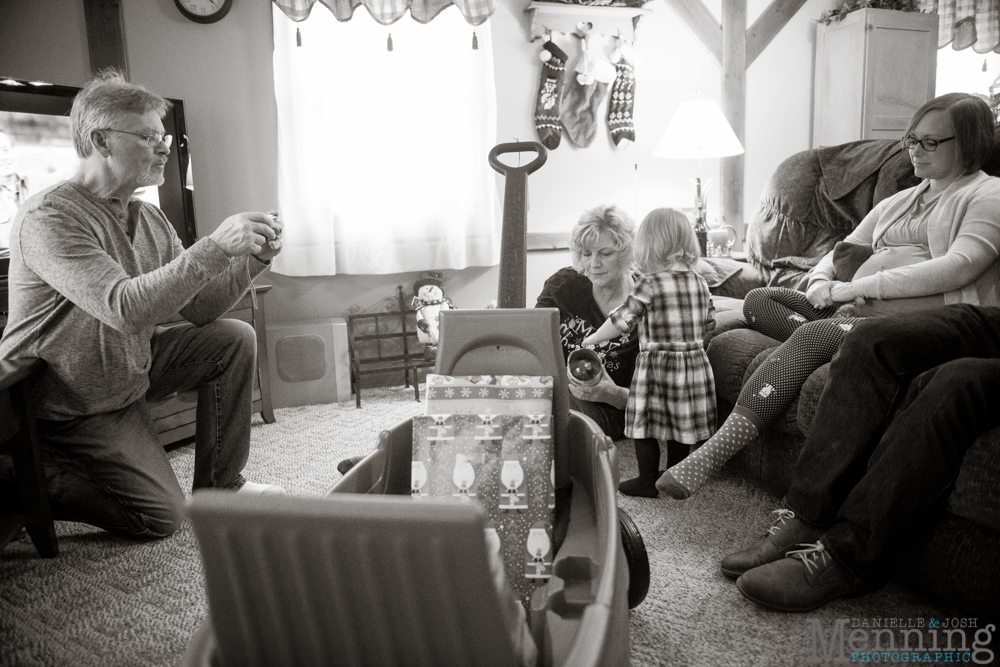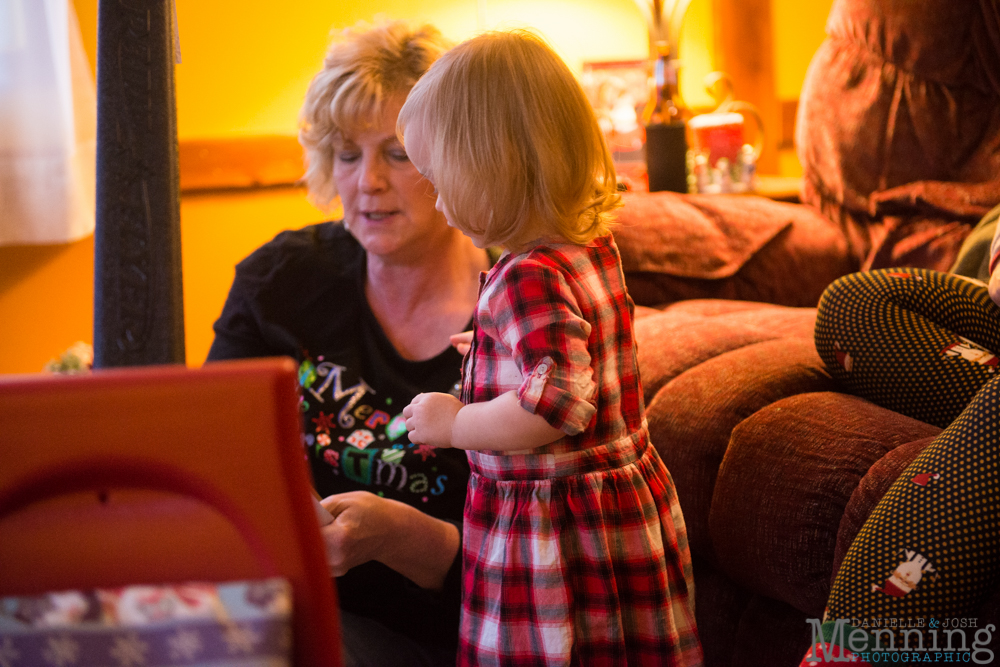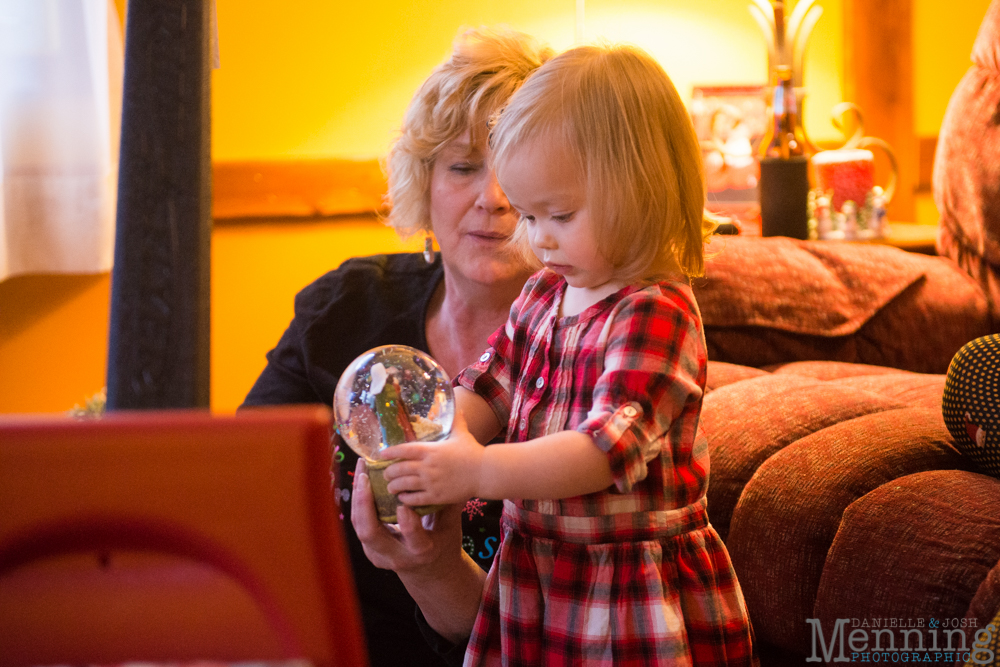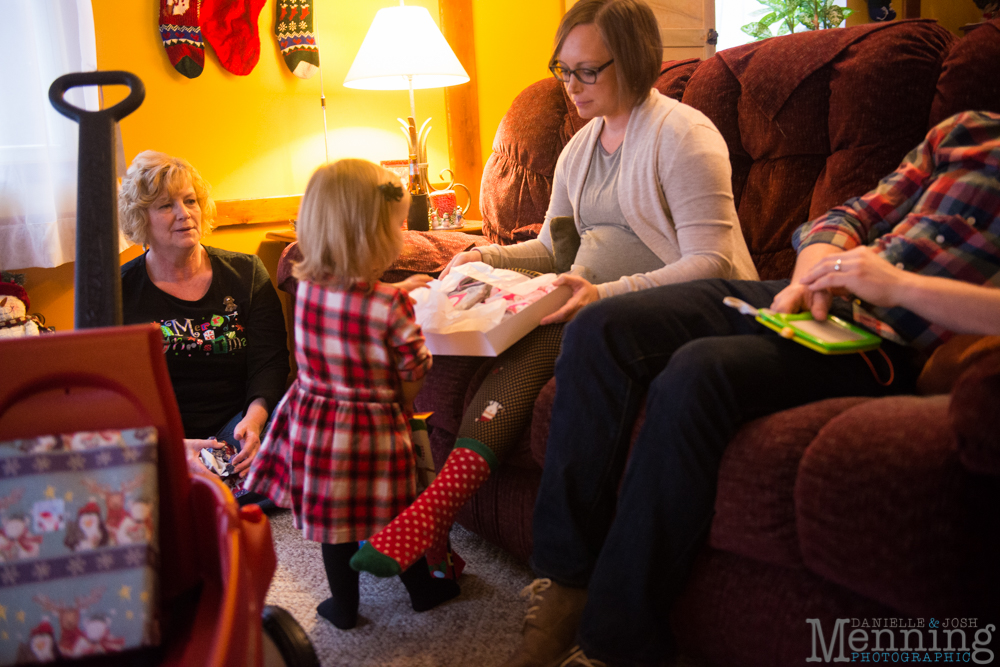 She loves pajamas. She picks out which ones she wants to wear each night for bed.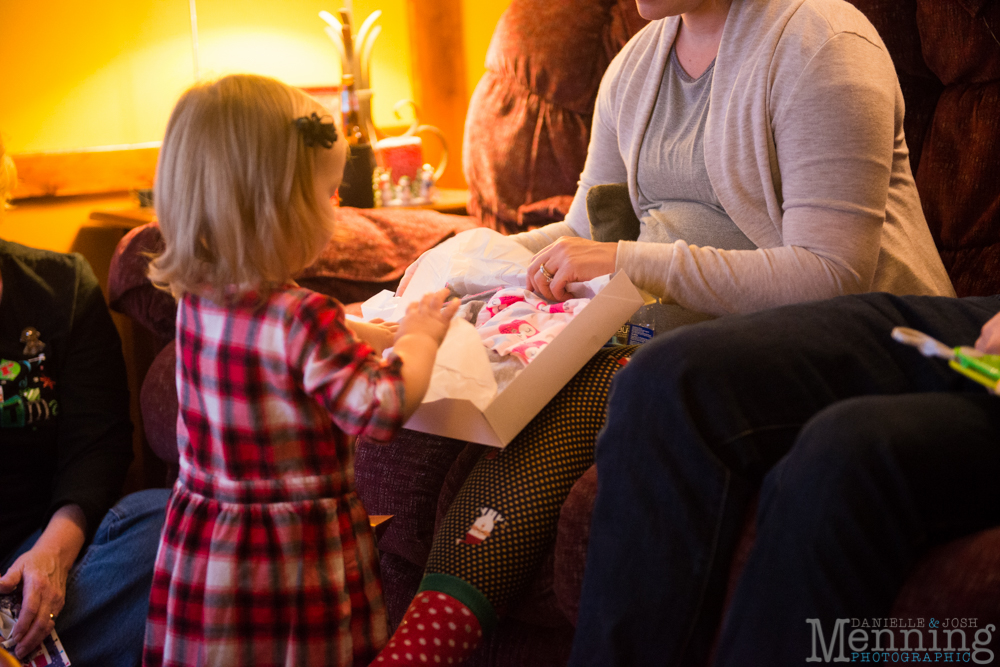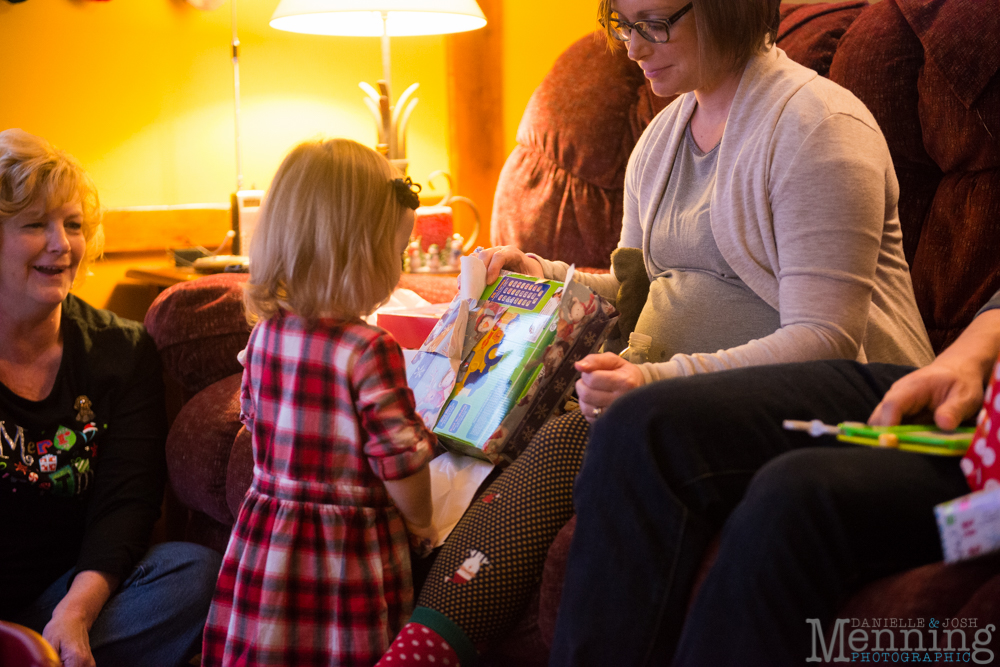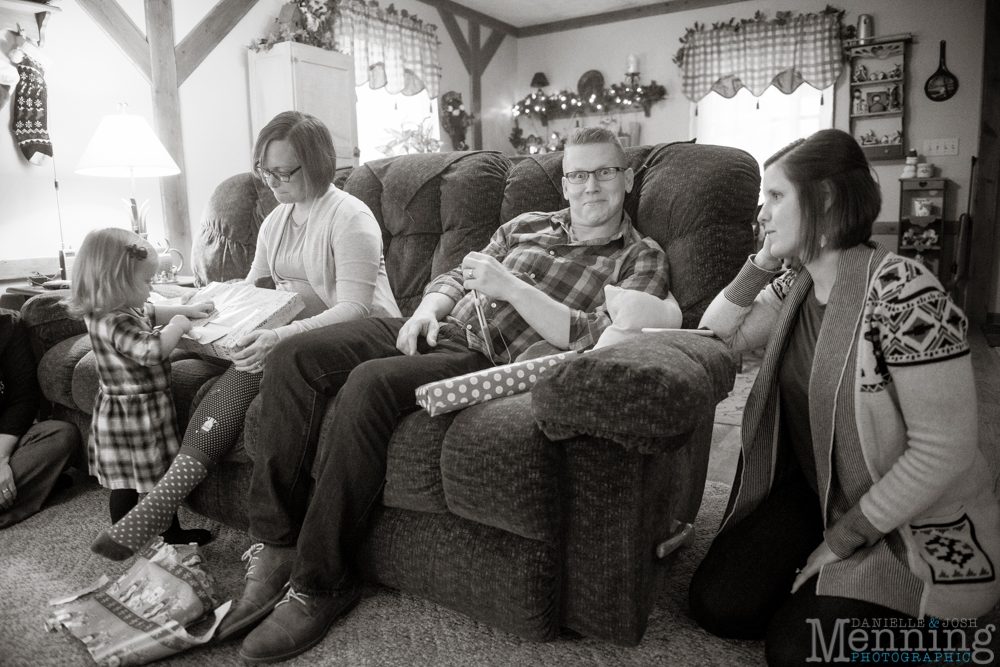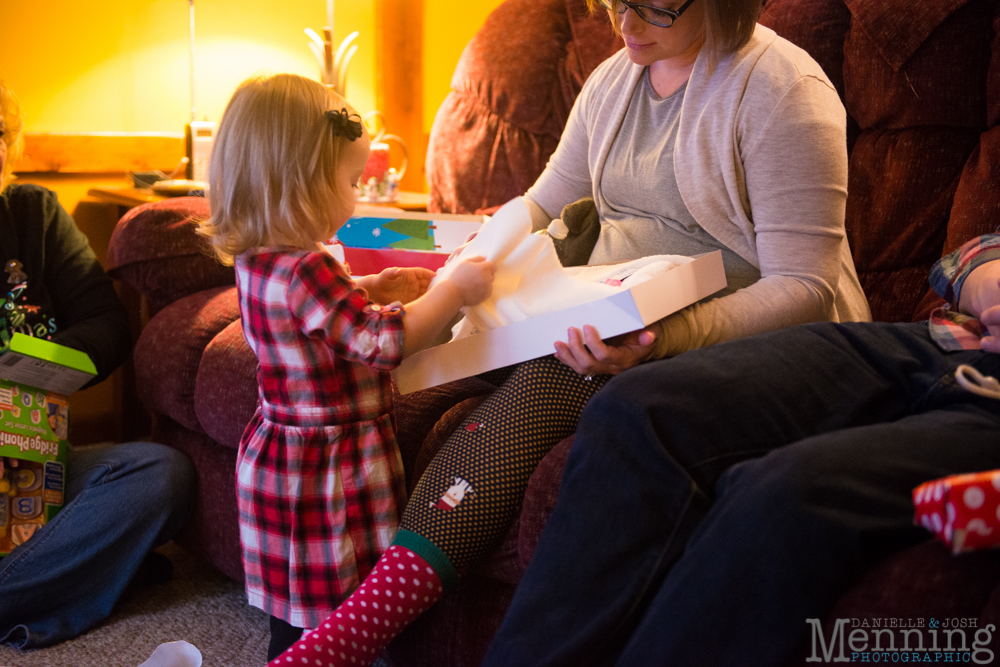 She also liked her gifts from Uncle Justin & Aunt Lisa. We already had Christmas with Josh's sister Jessica & her kids a couple of weeks ago when she was home from Columbus.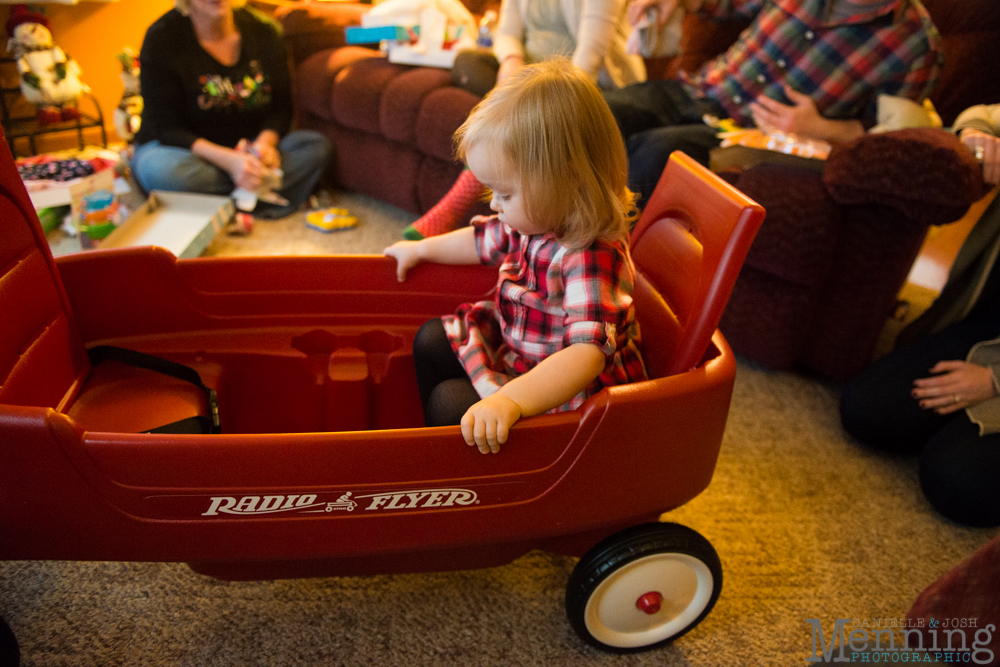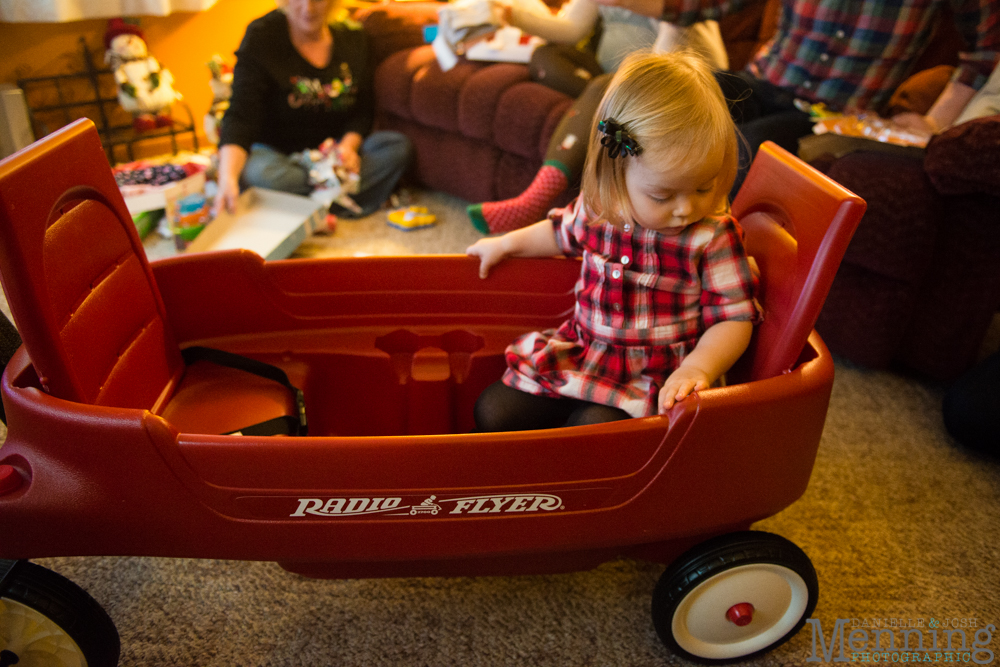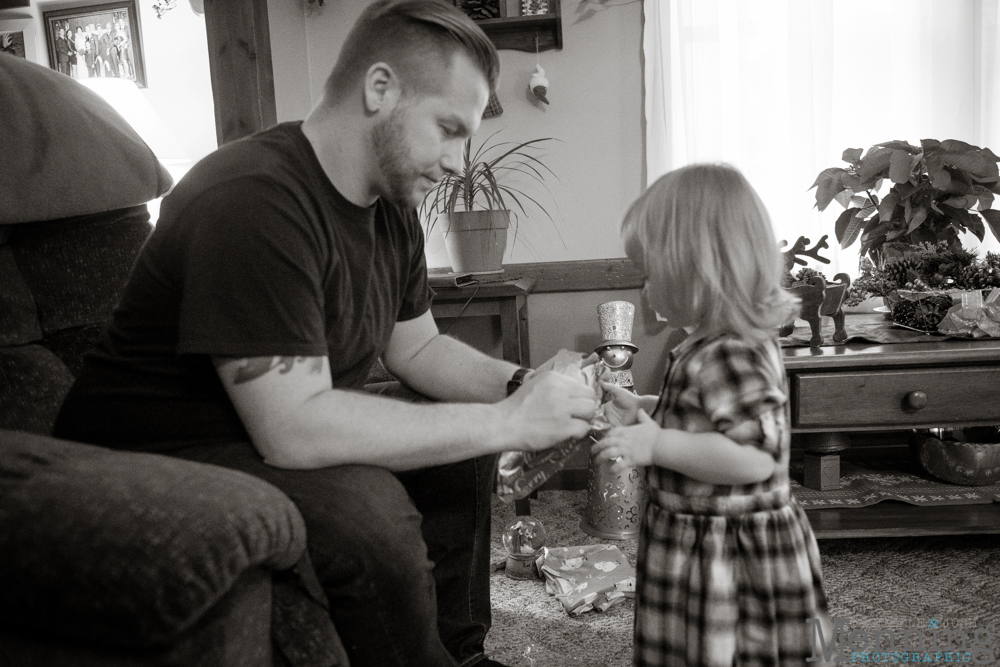 Tenley helped us pick out some of the gifts for her grandparents this year, which was really fun. We didn't even ask her to & she chose some owl socks for Grandma Shishi & lotion for Grandma Cheryl. It was so cute that she heard us saying we were shopping for them & took initiative to choose gifts for them!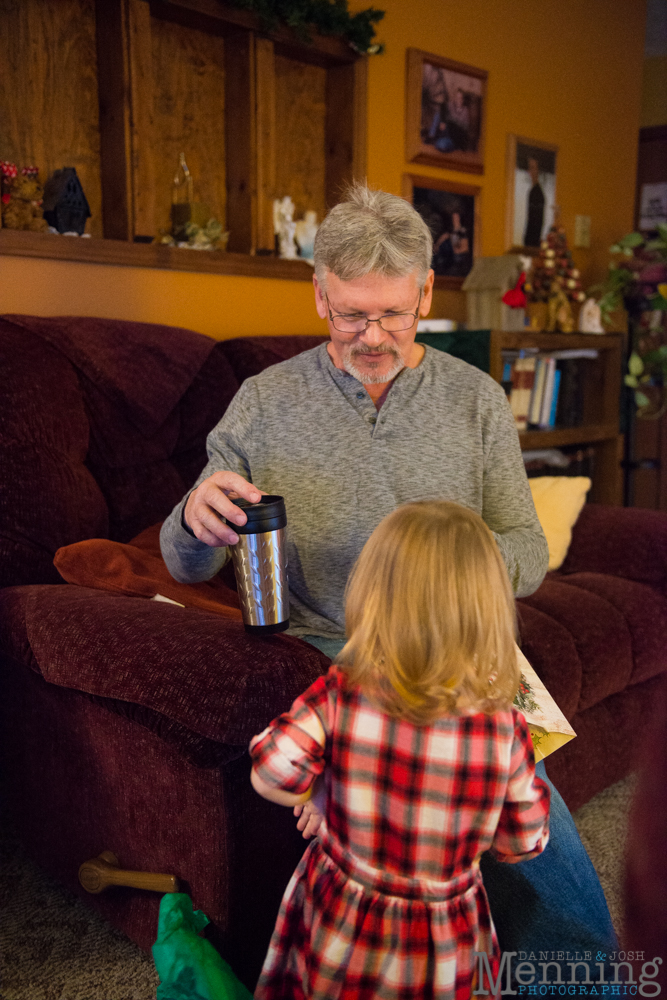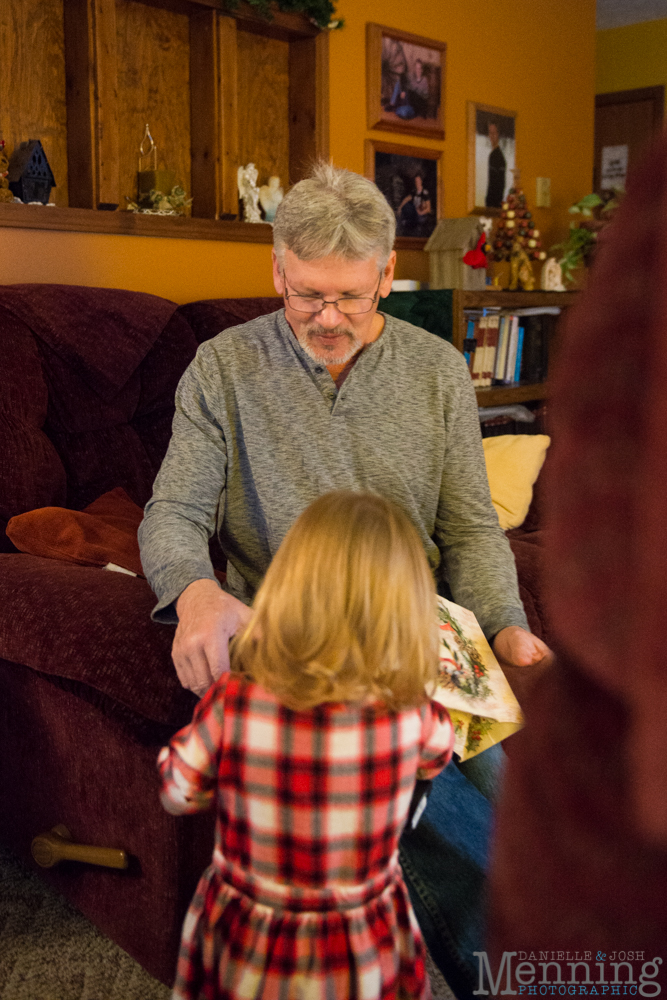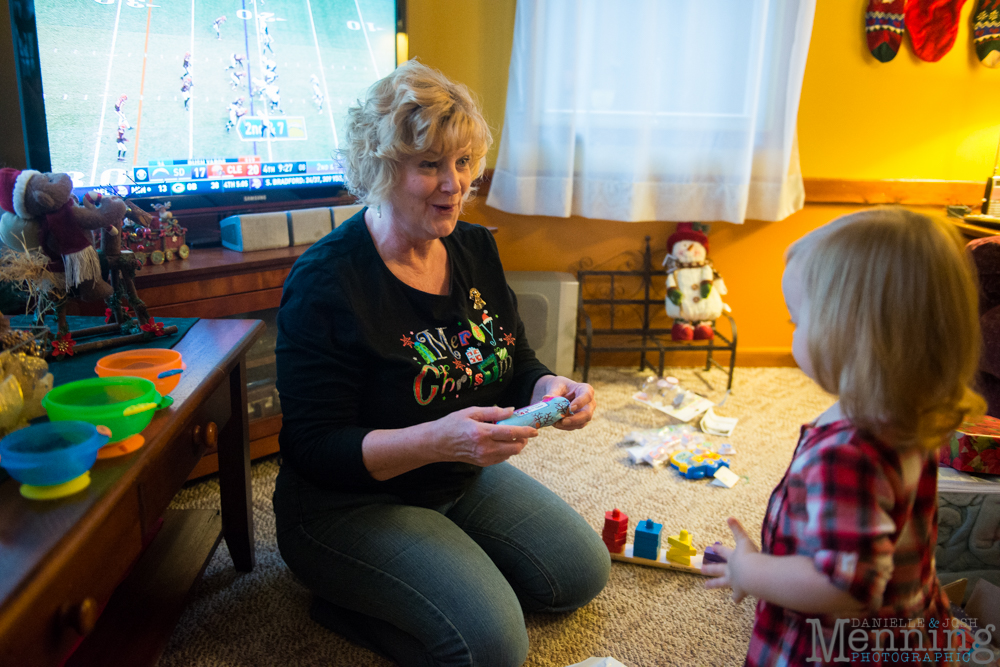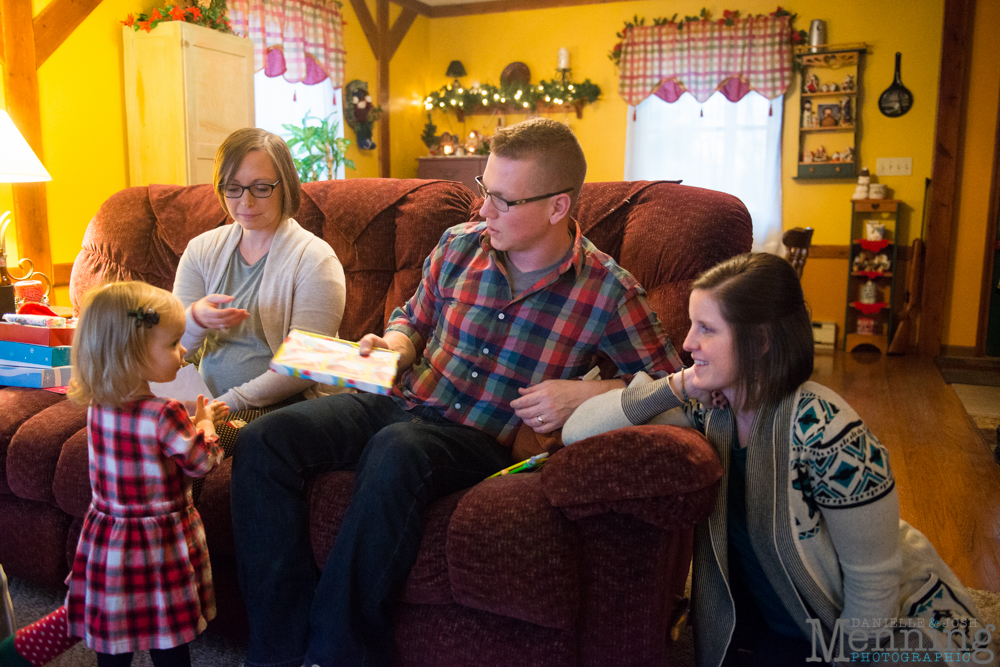 Josh's brother knew what his gift from Birdfish Brewing Co. was before he opened it.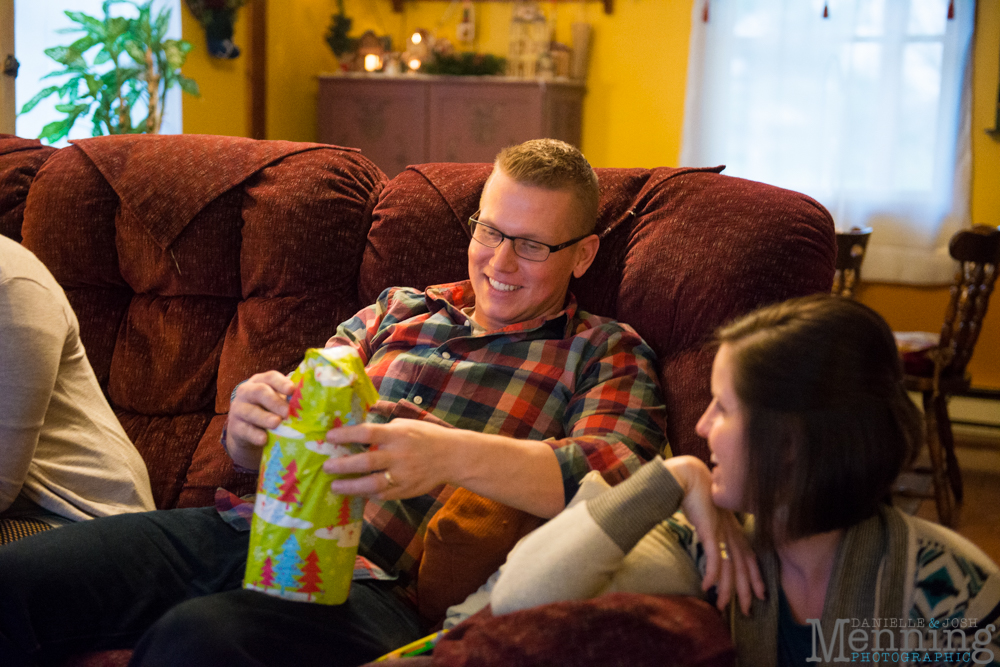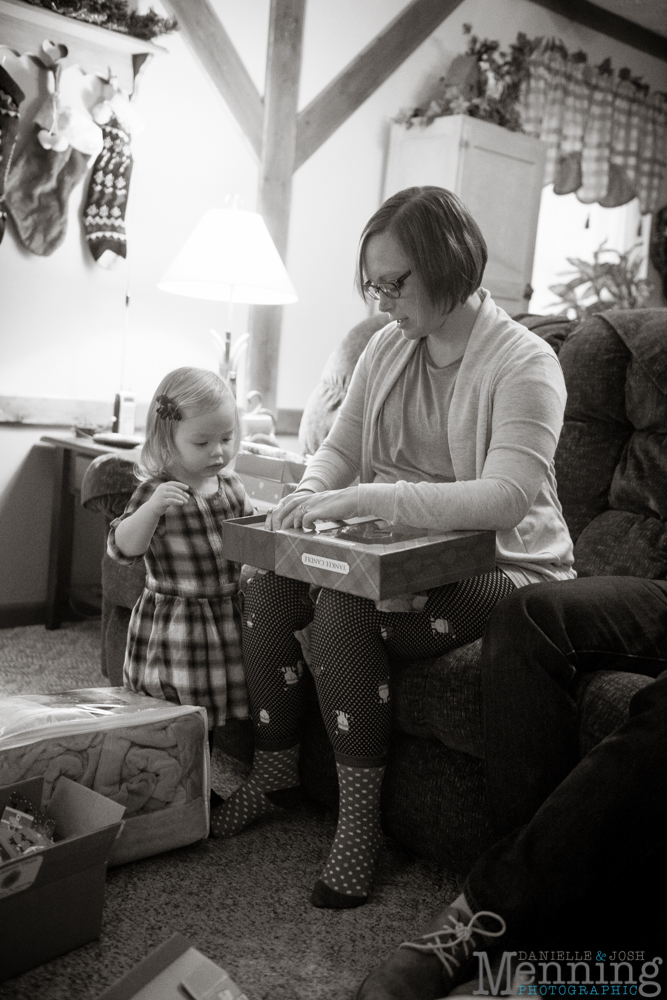 I'm 30 weeks along with Tenley's little brother or sister. Time is flying by in this pregnancy!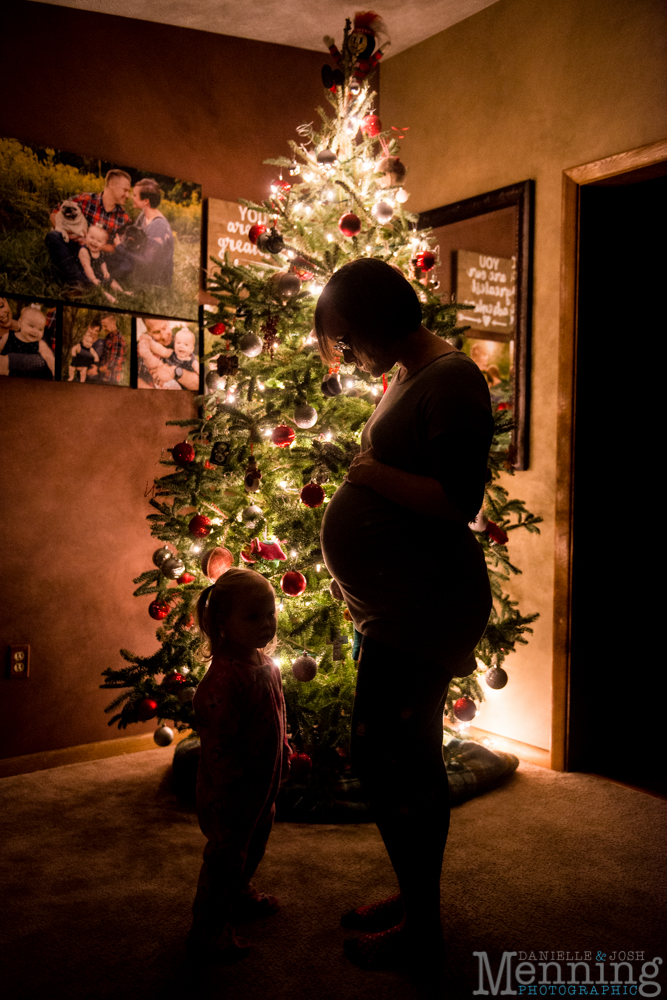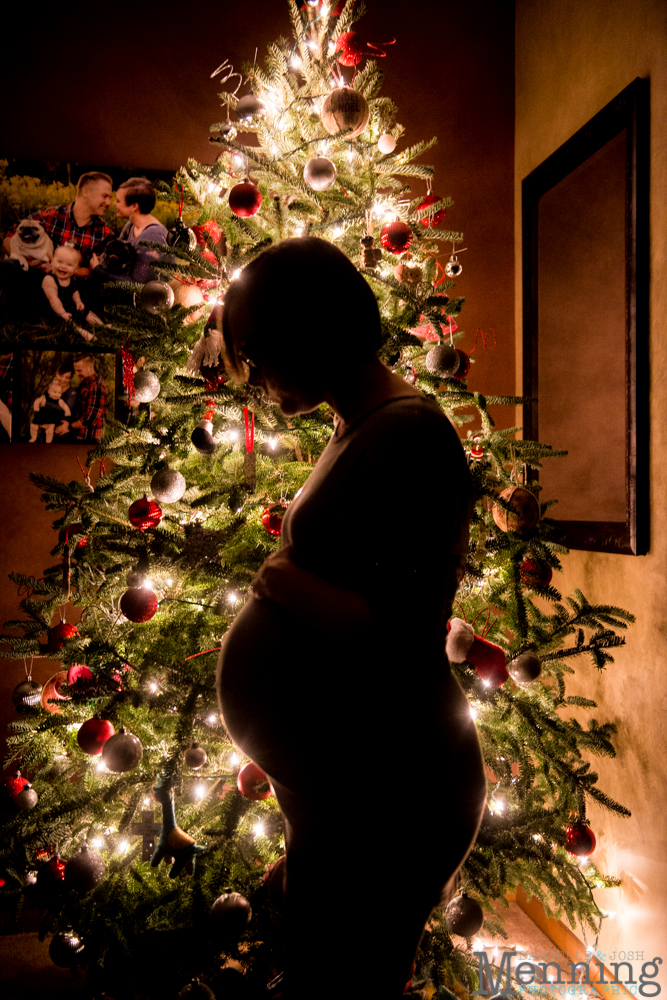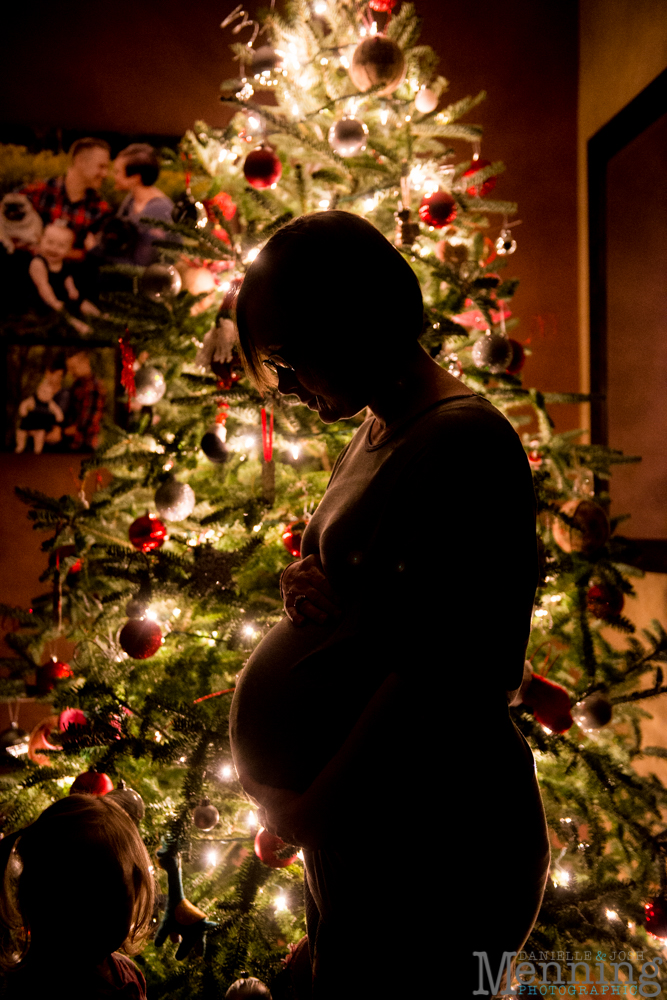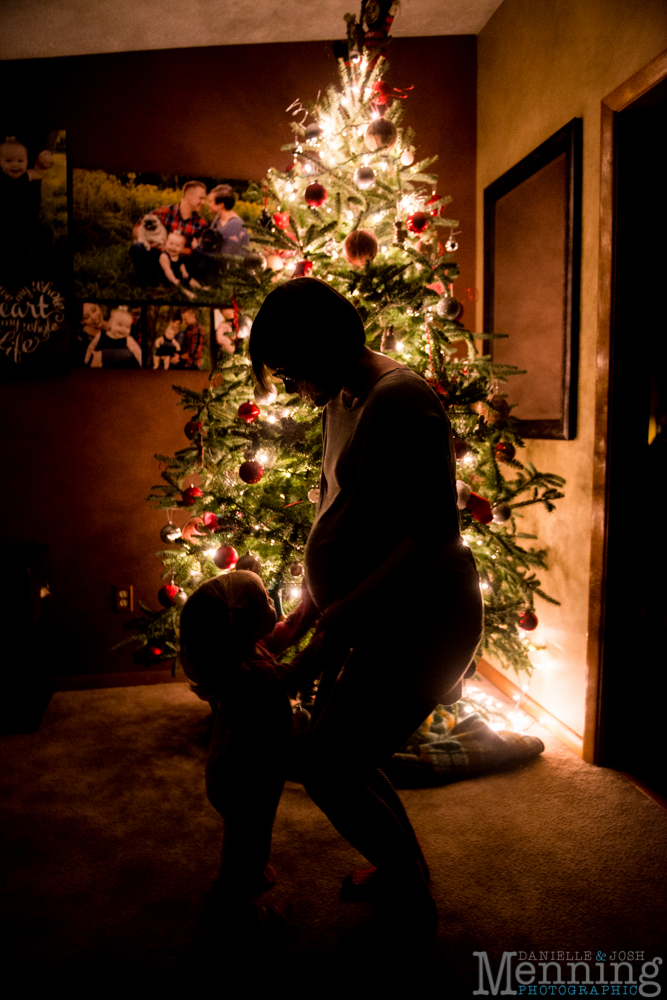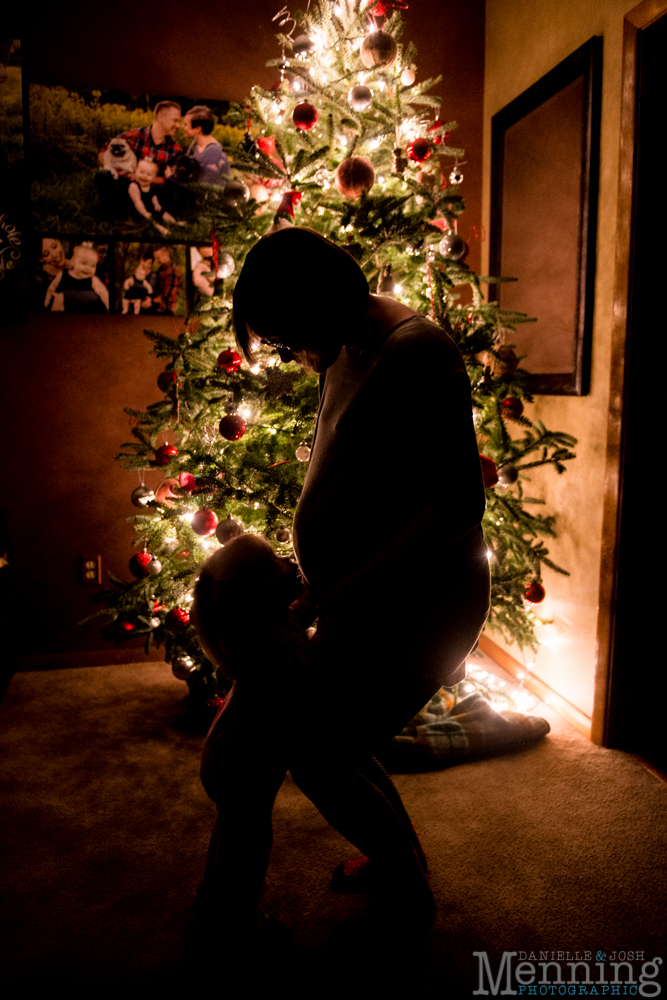 Just like when my sisters & I were growing up, Josh & I decided to start a tradition with Tenley (last year on her first Christmas) for her to open a new pair of Christmas pajamas on Christmas Eve that she can wear that night.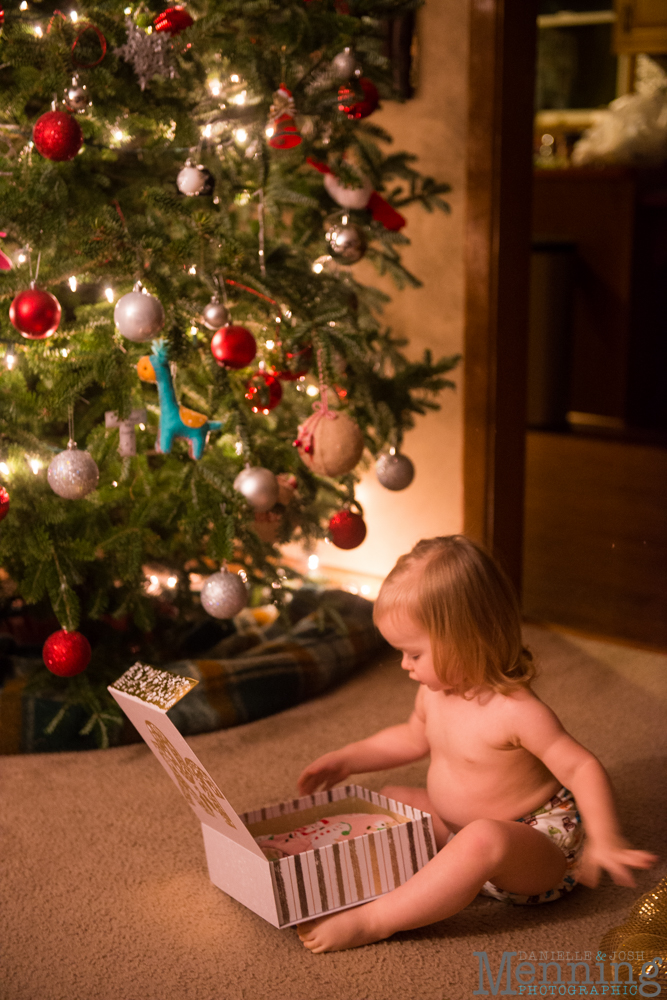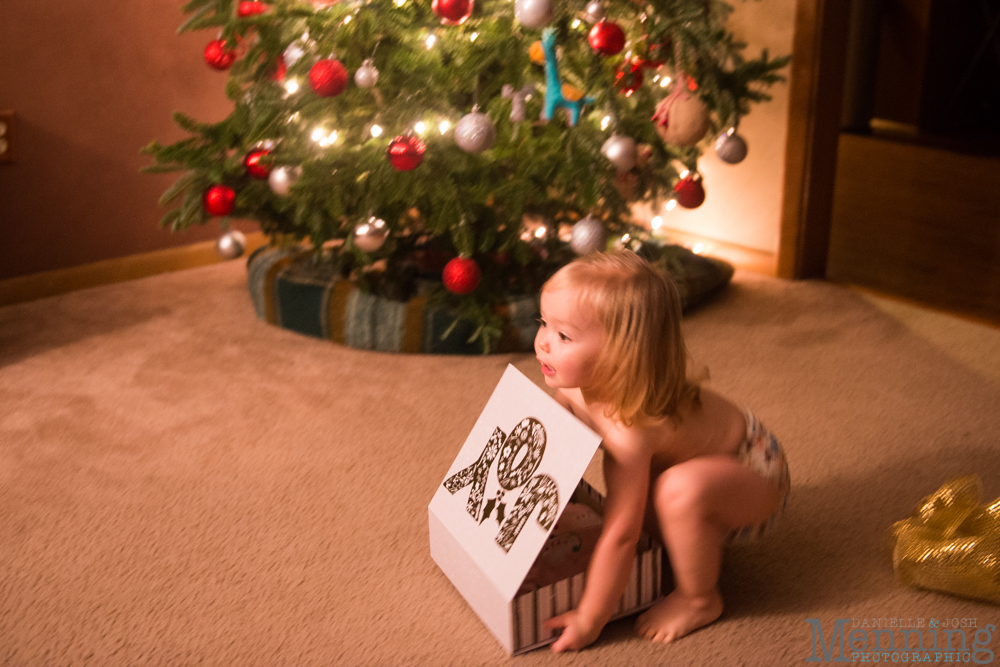 She said, "Put the reindeer jammies on."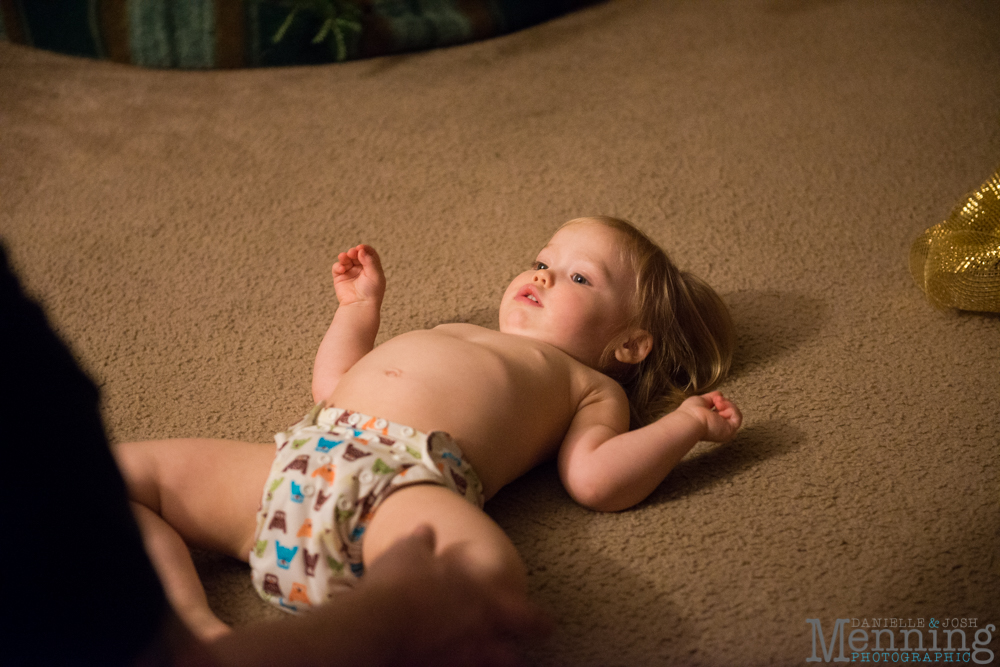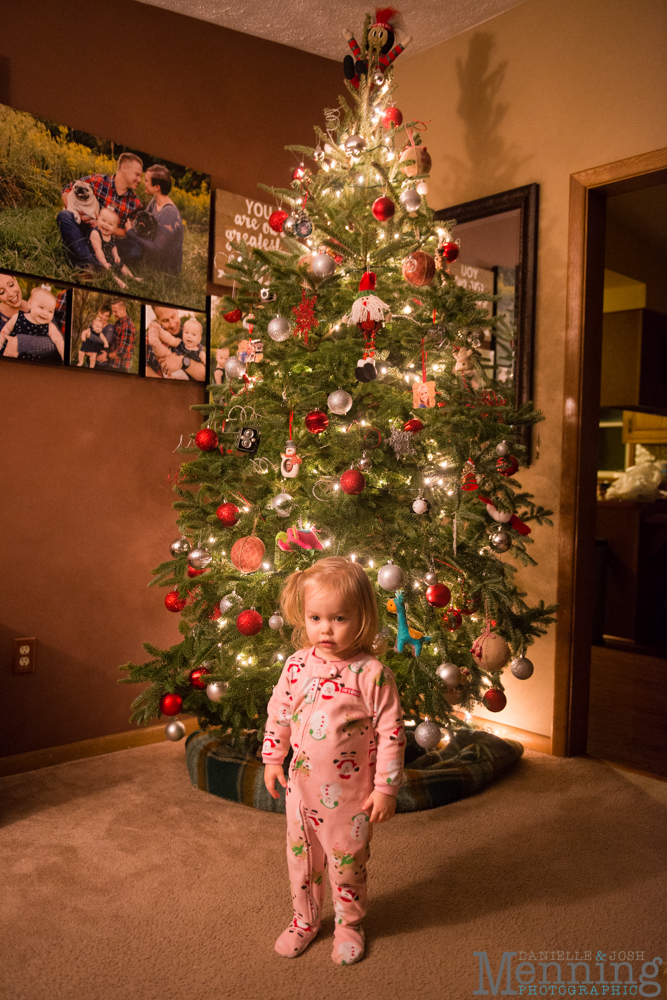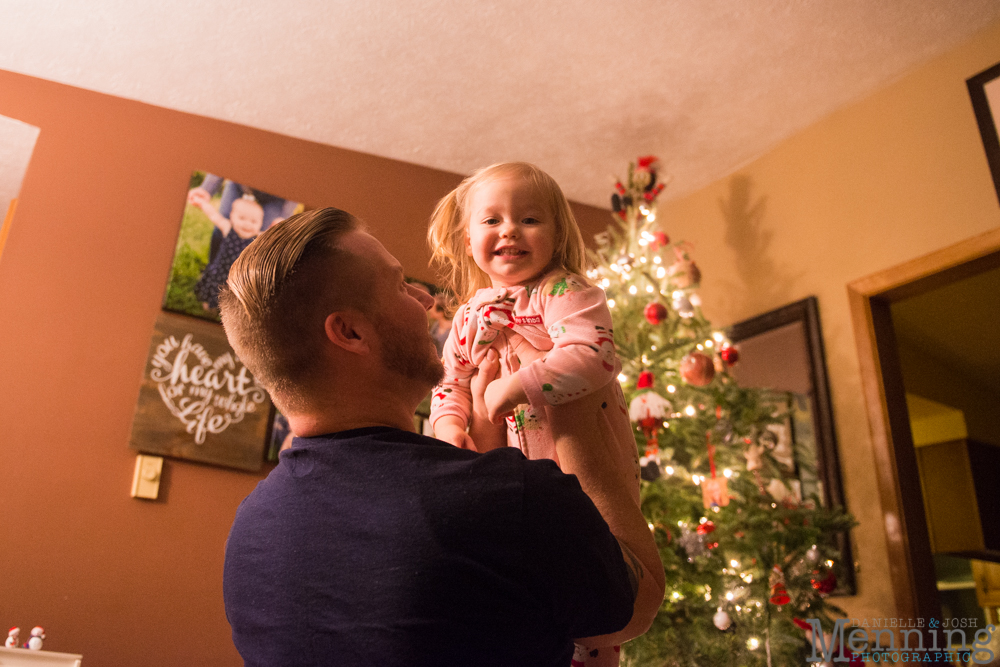 Then it was time for Christmas morning with our little family at our house!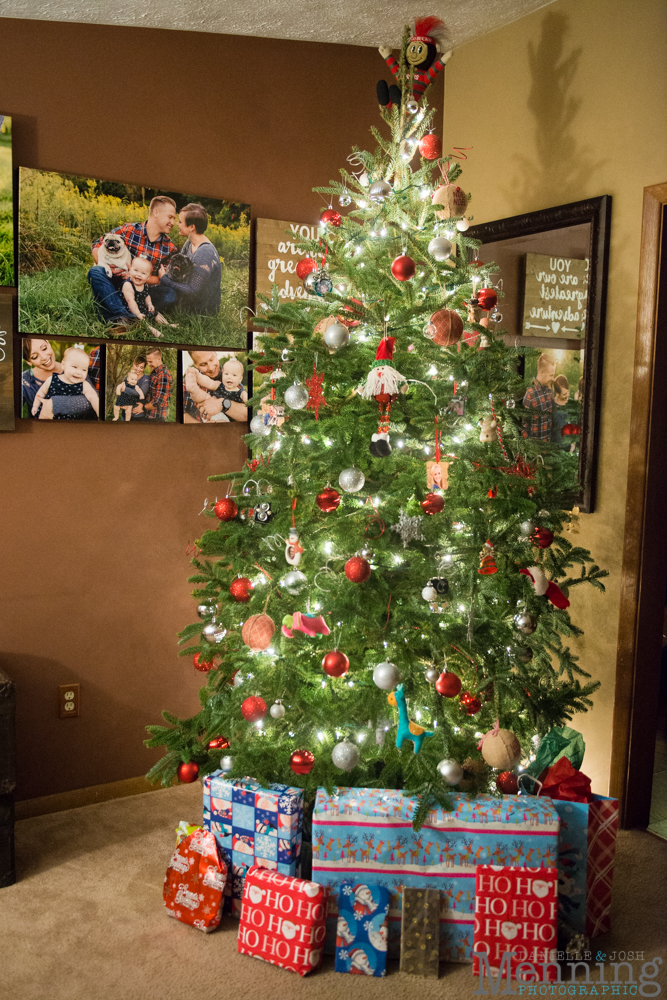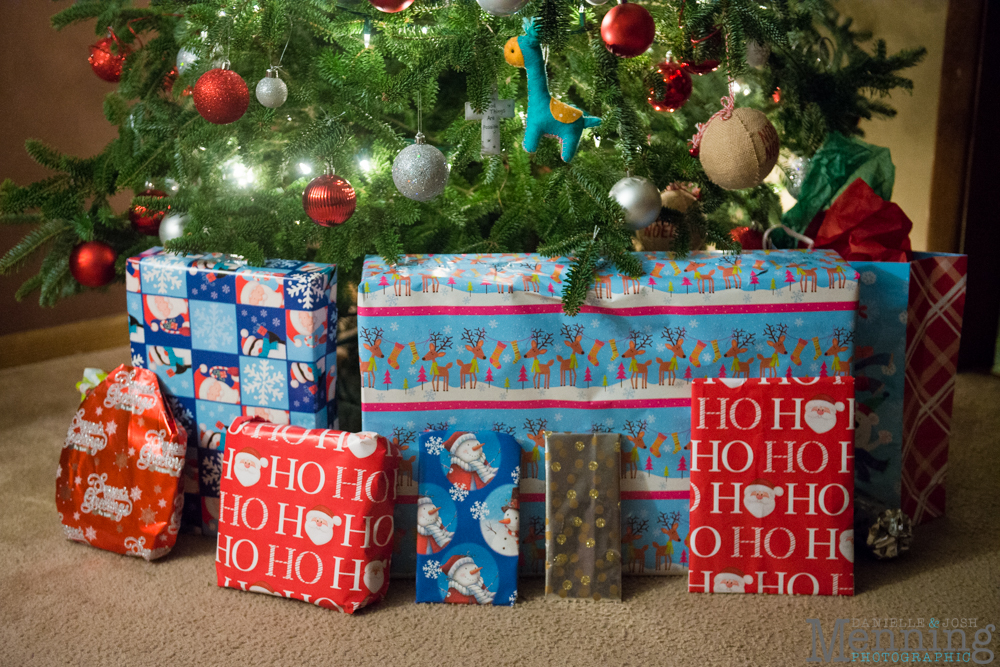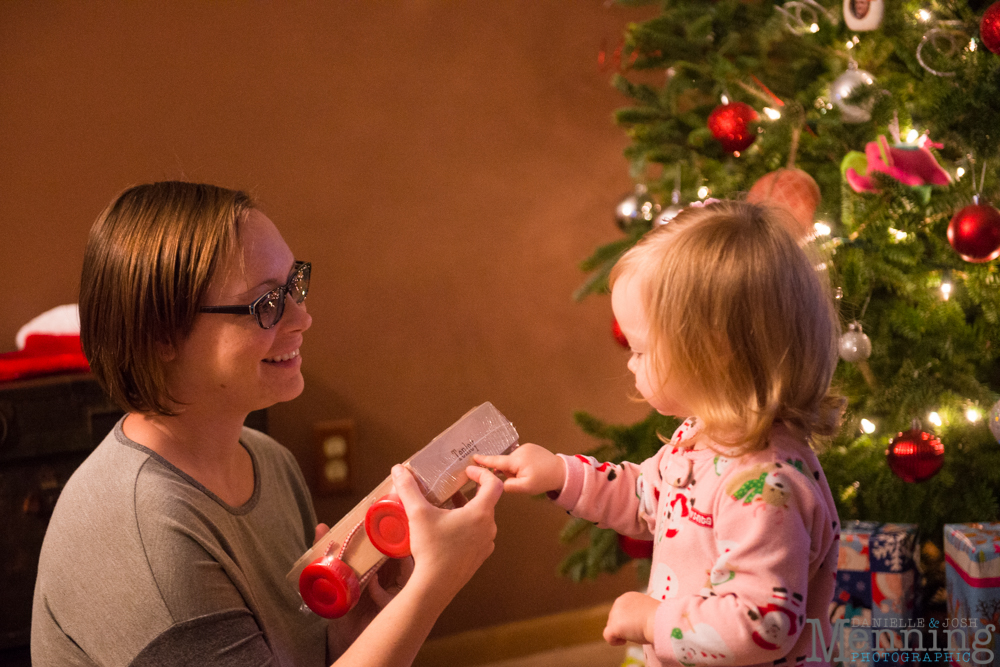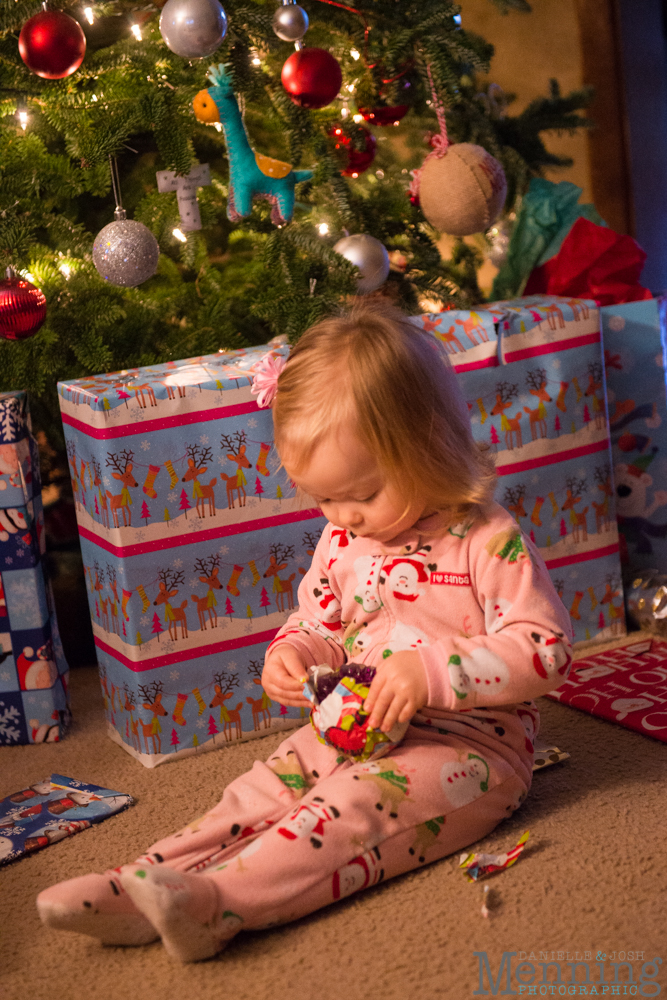 Tenley loved opening gifts &, BONUS, she didn't want to eat all the wrapping paper like she did last year. haha!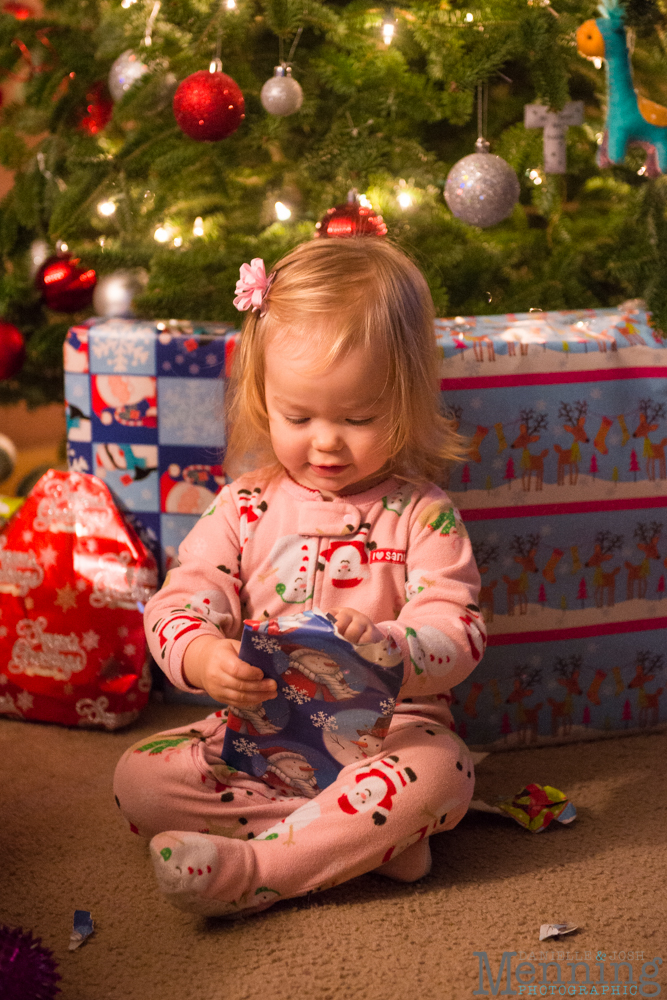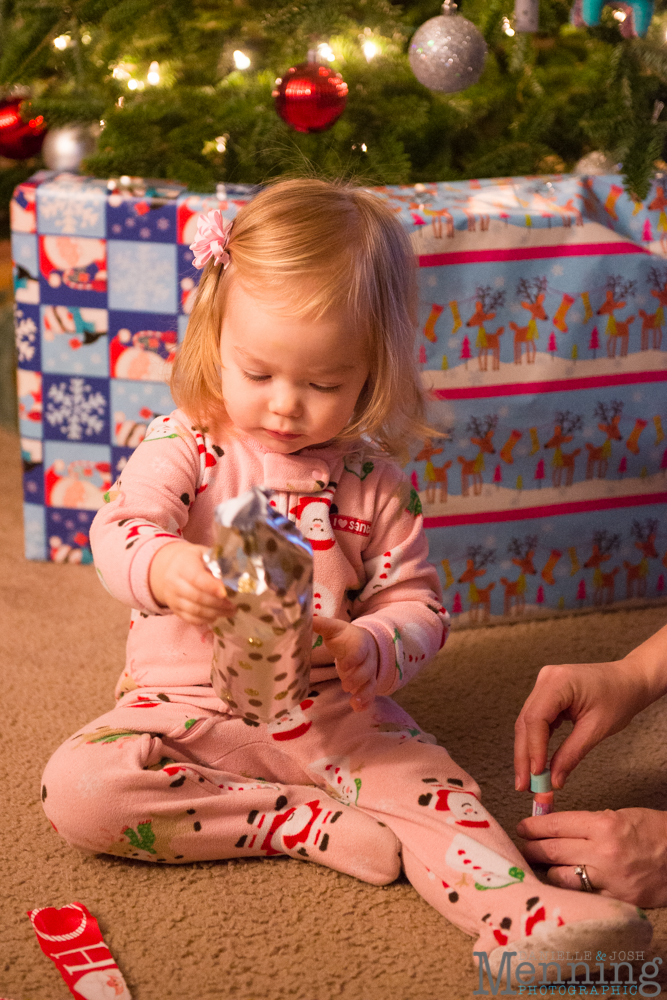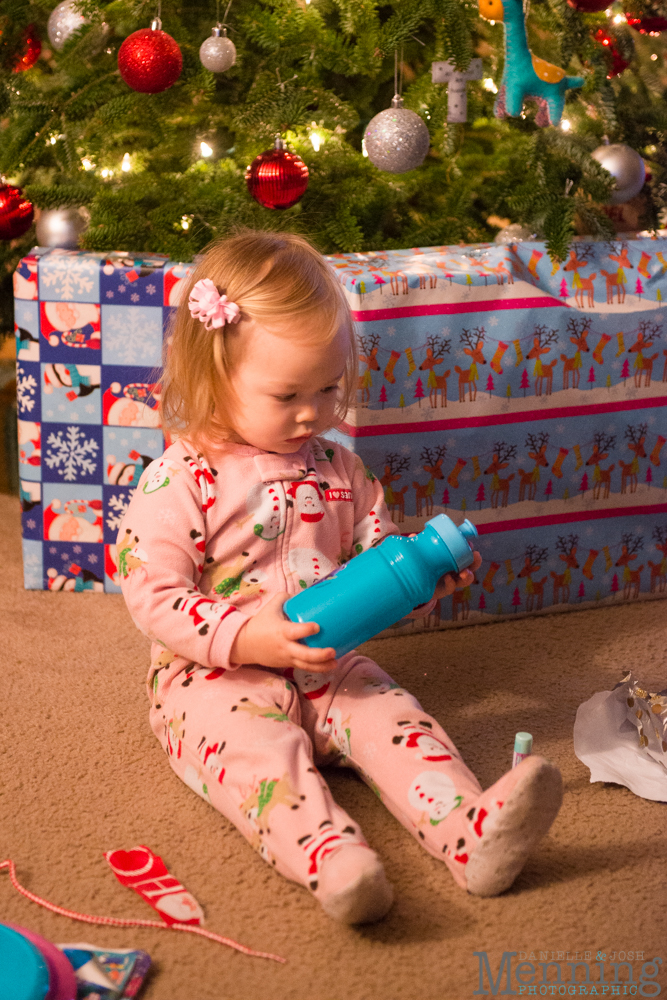 She got to help Norris & Punky open their gift from The Pet Hydrant.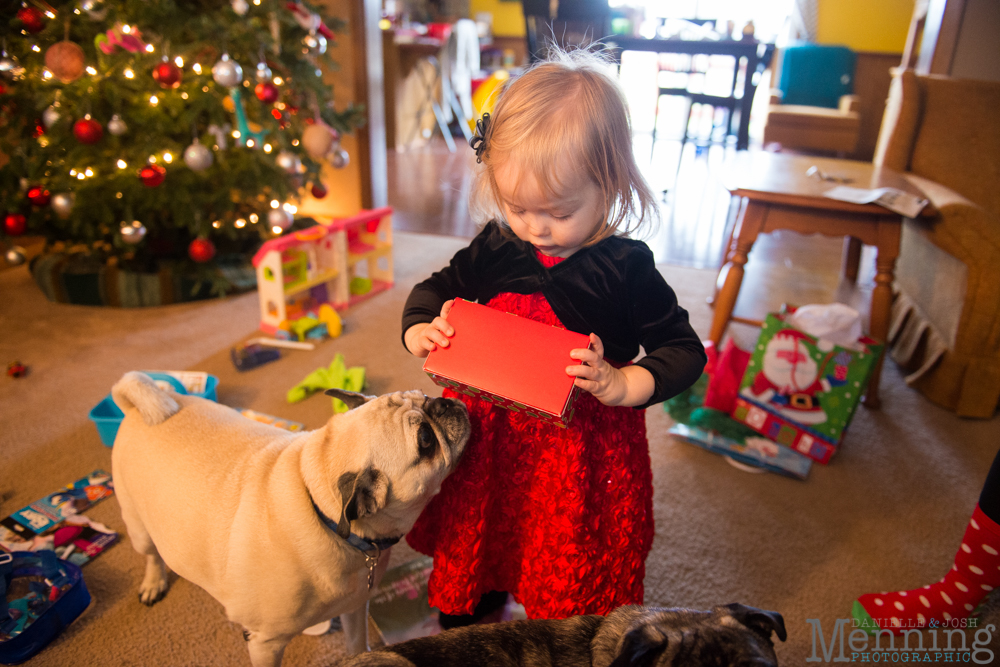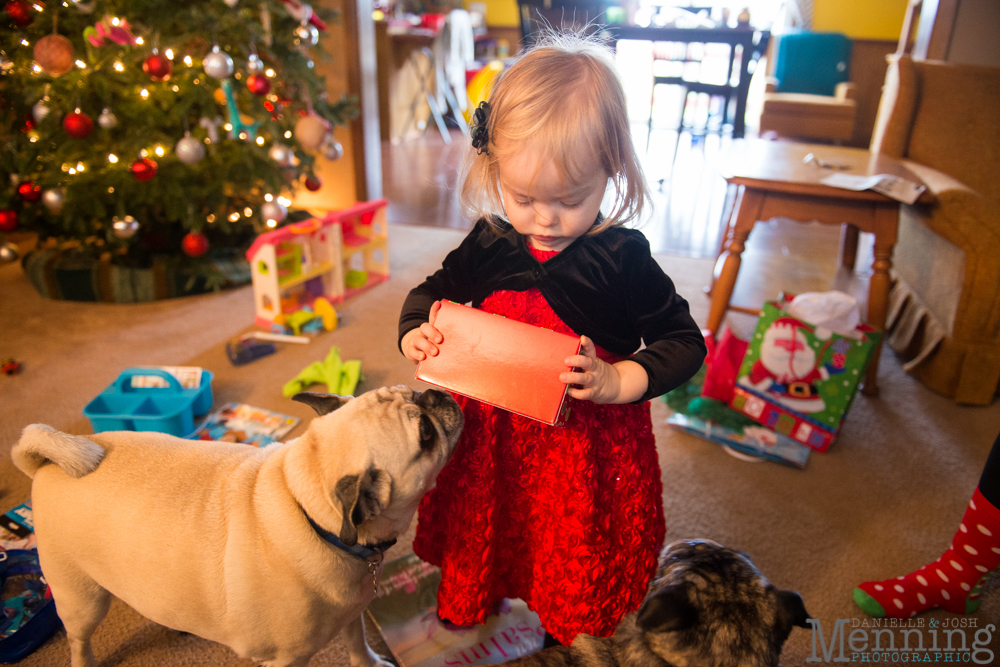 Doggy cannoli.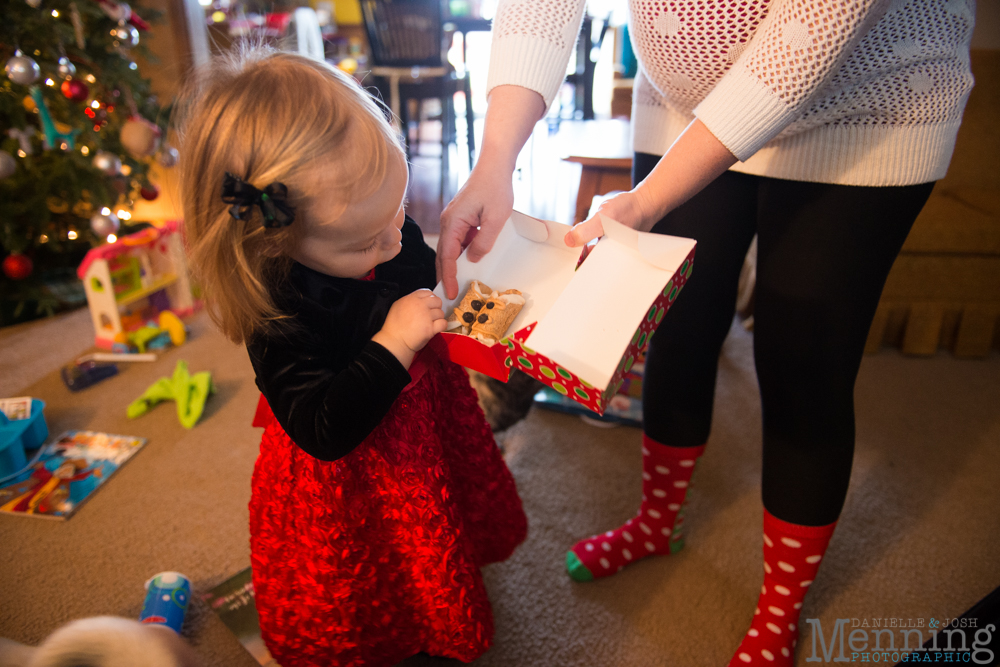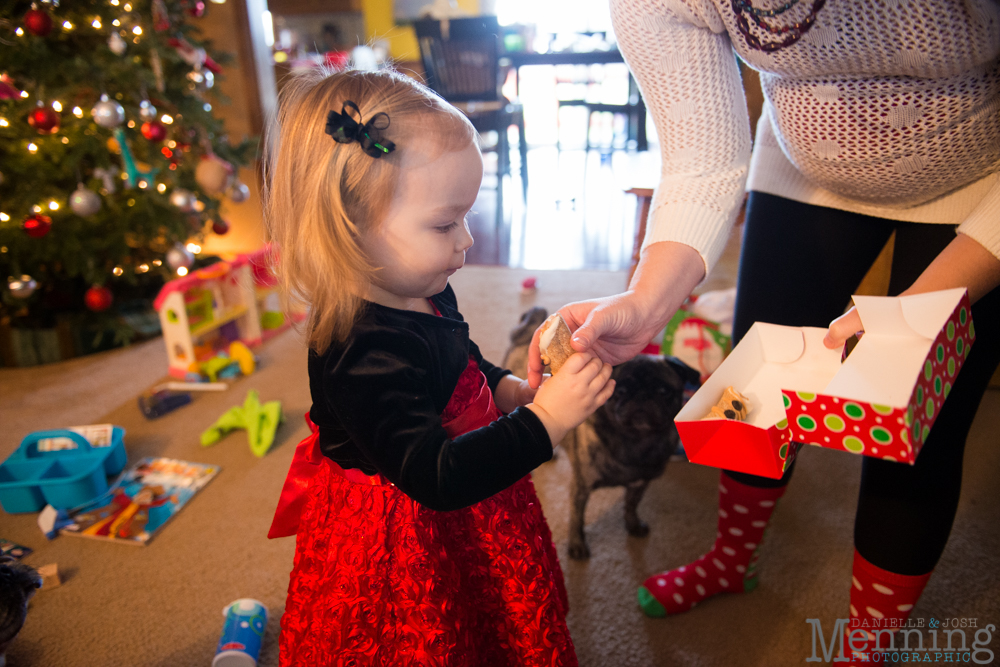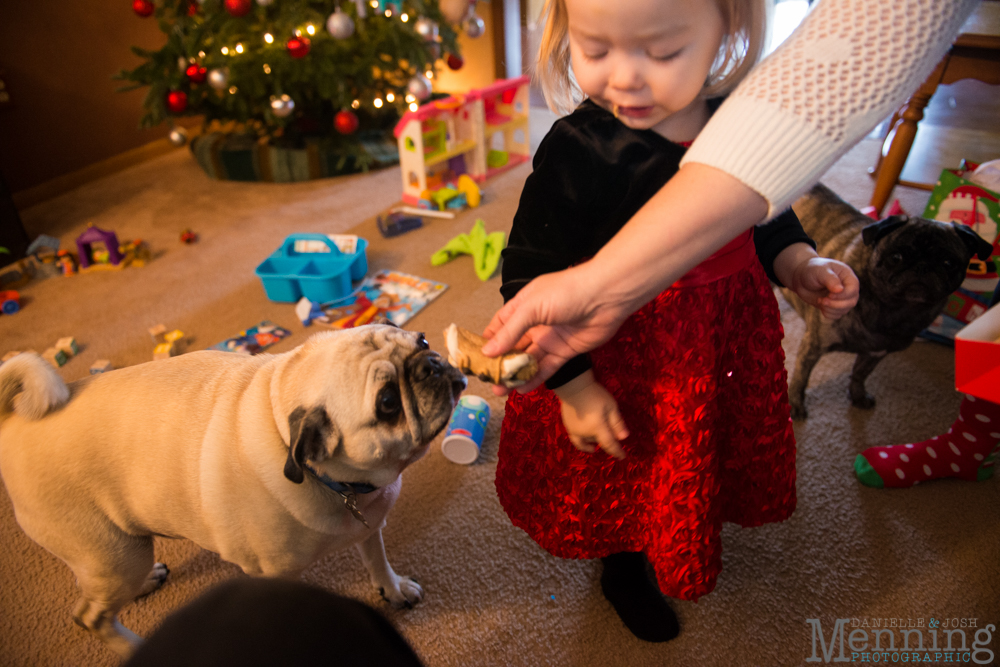 LOL. Tenley did quickly sneak a bite of that, but she was not a fan, as you can see. hahaha!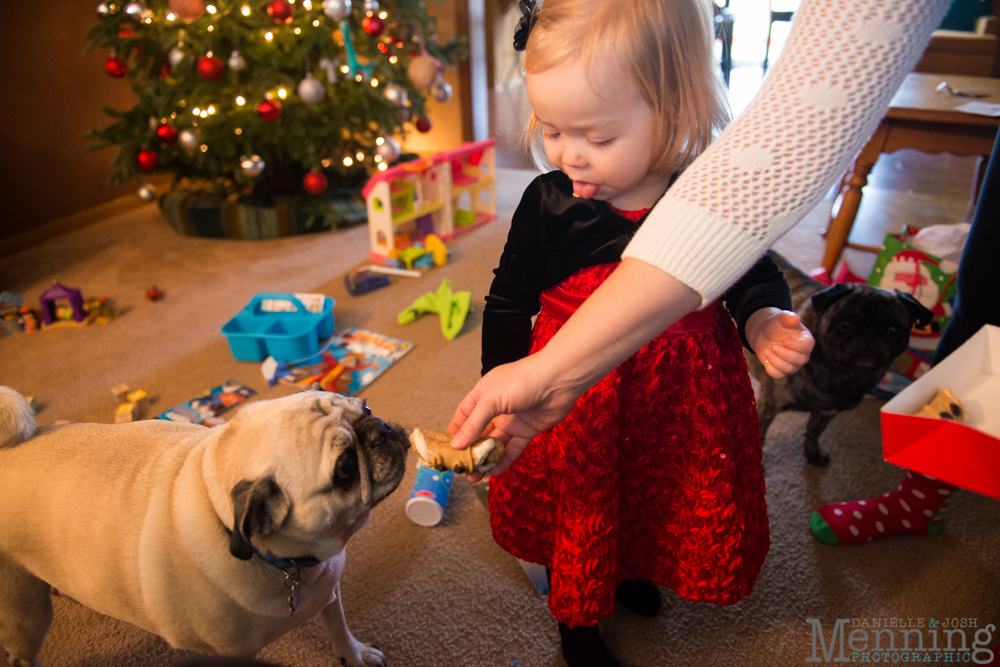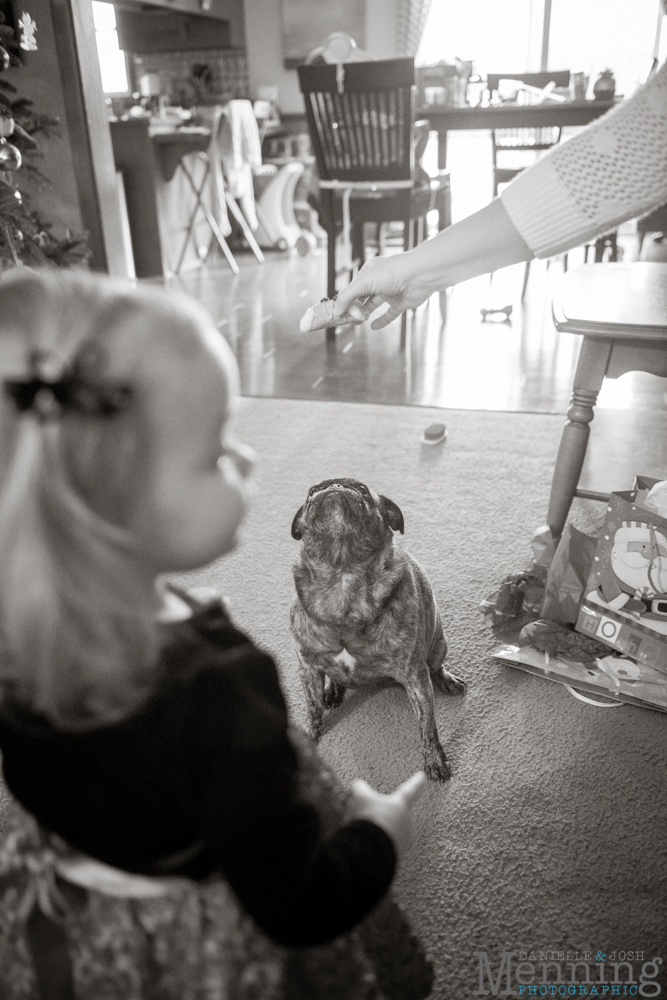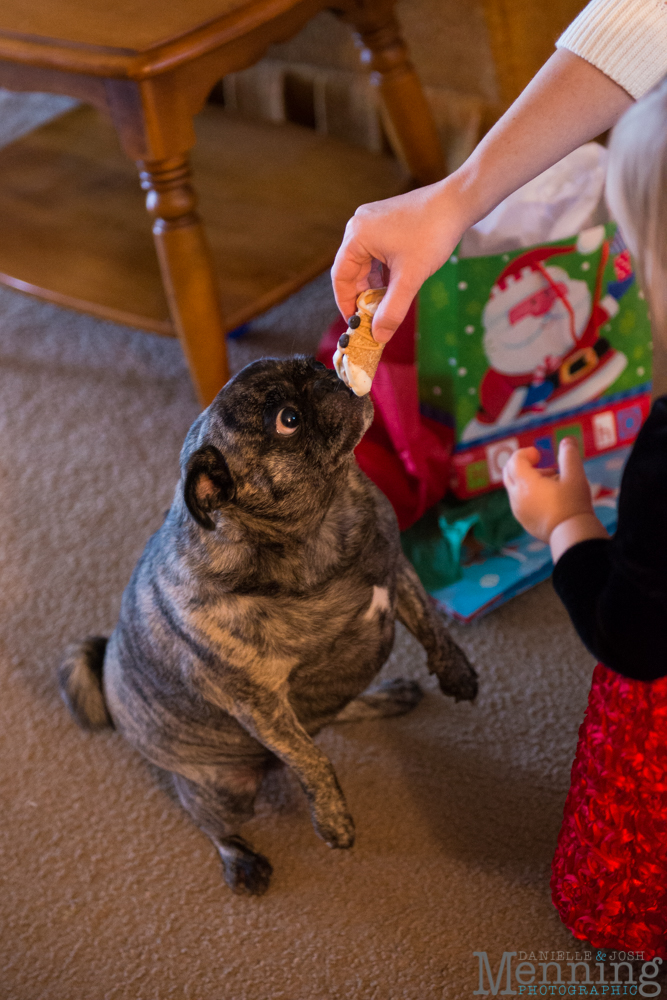 This was her fancy Christmas dress for church.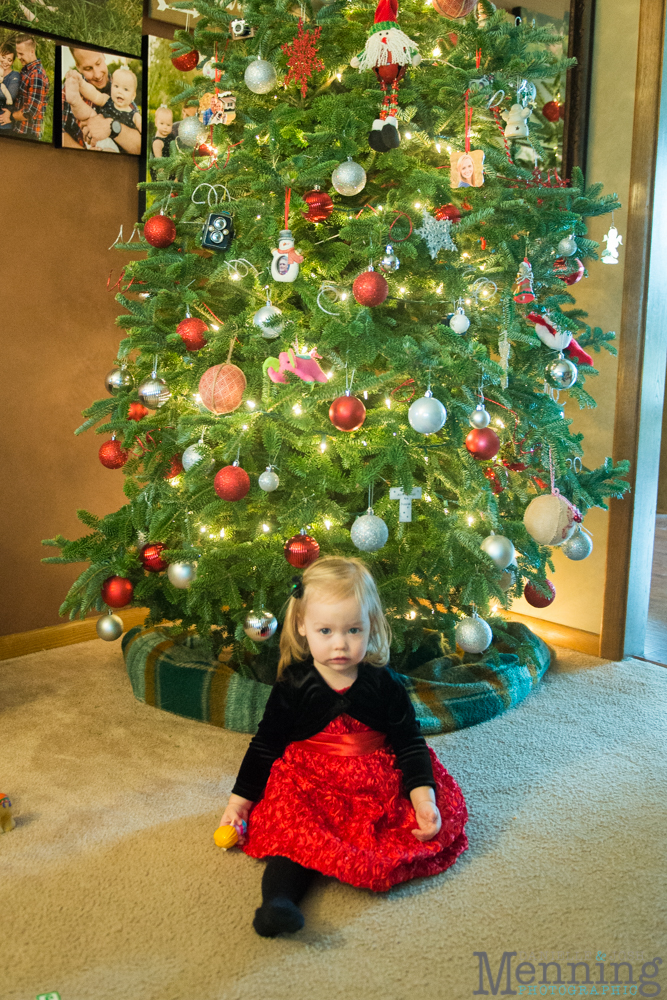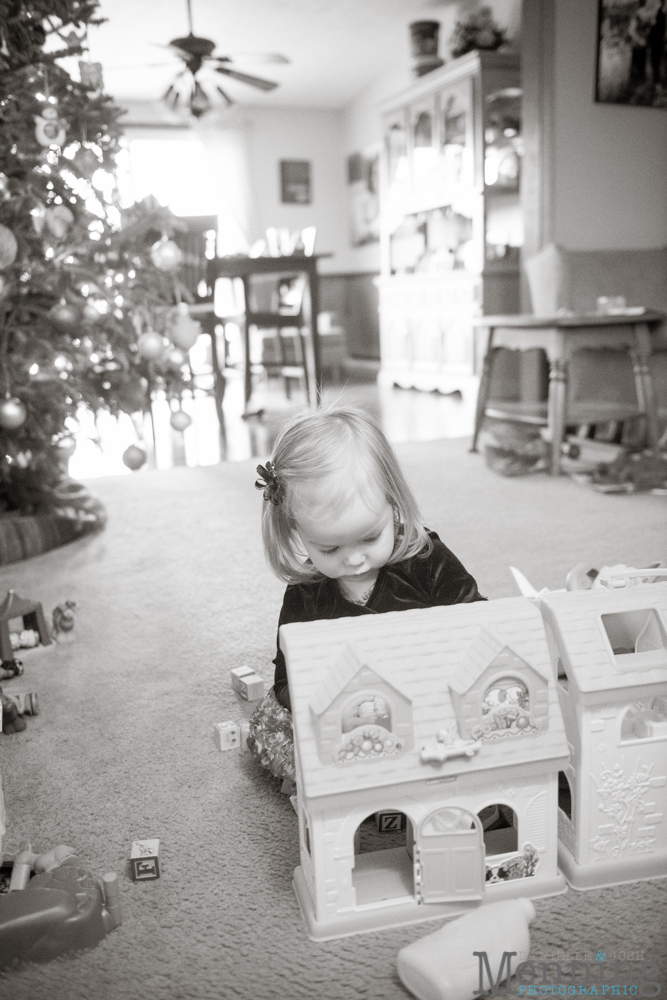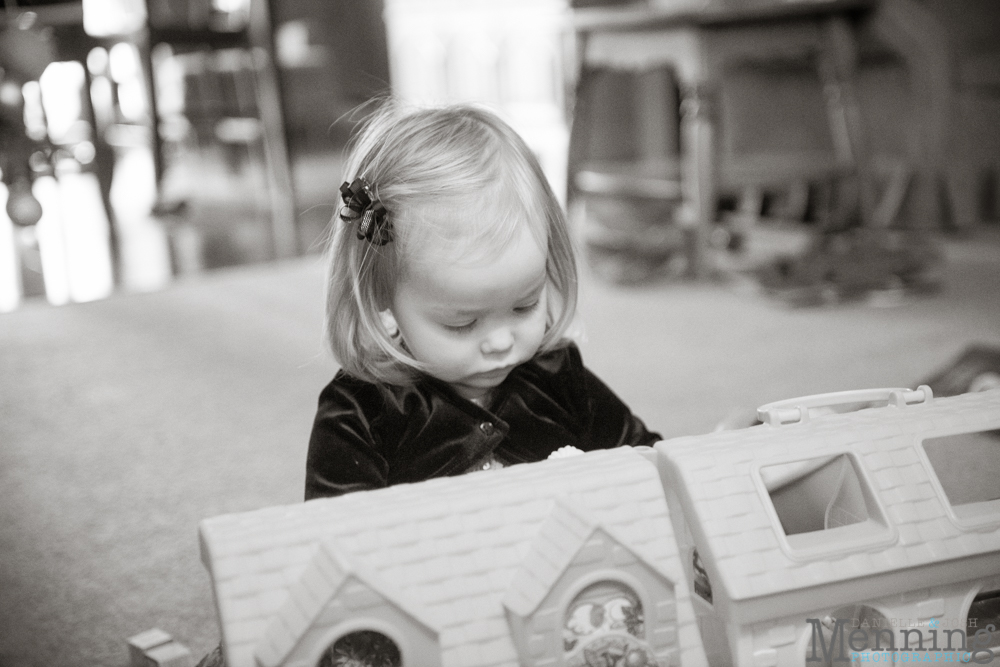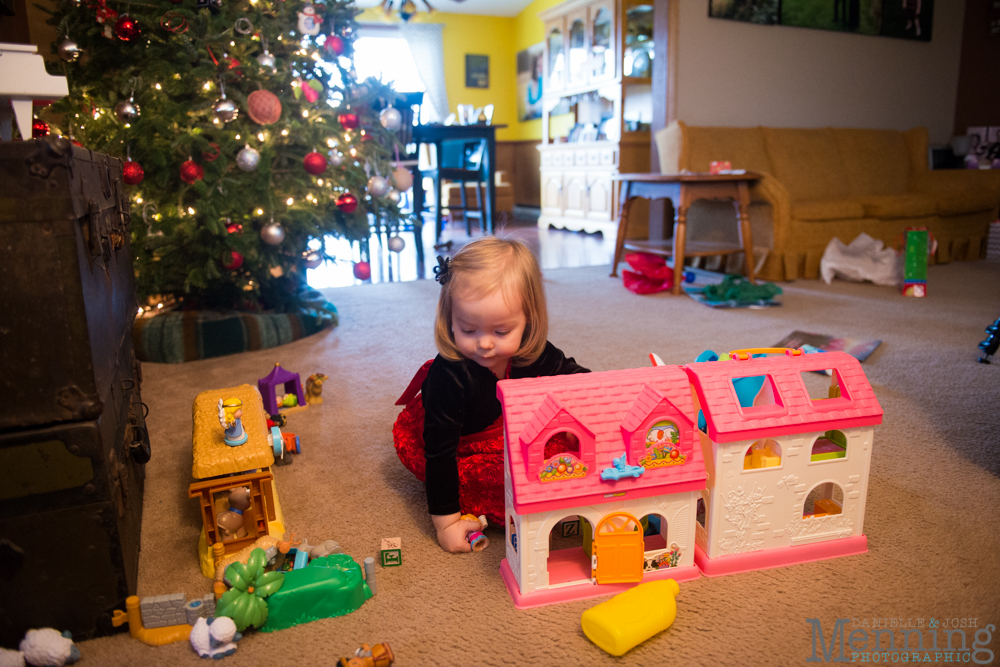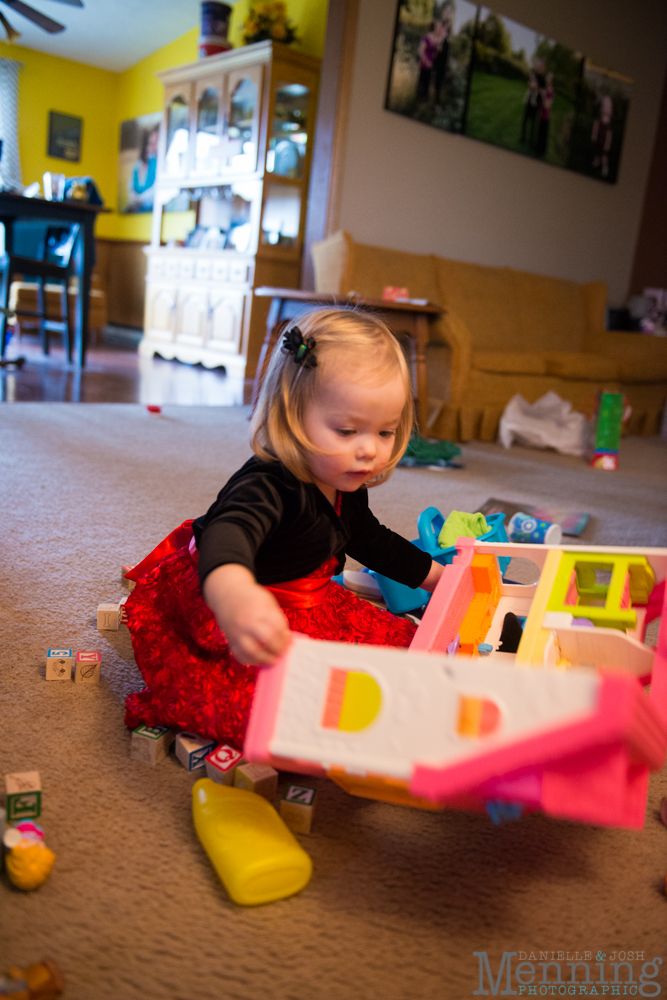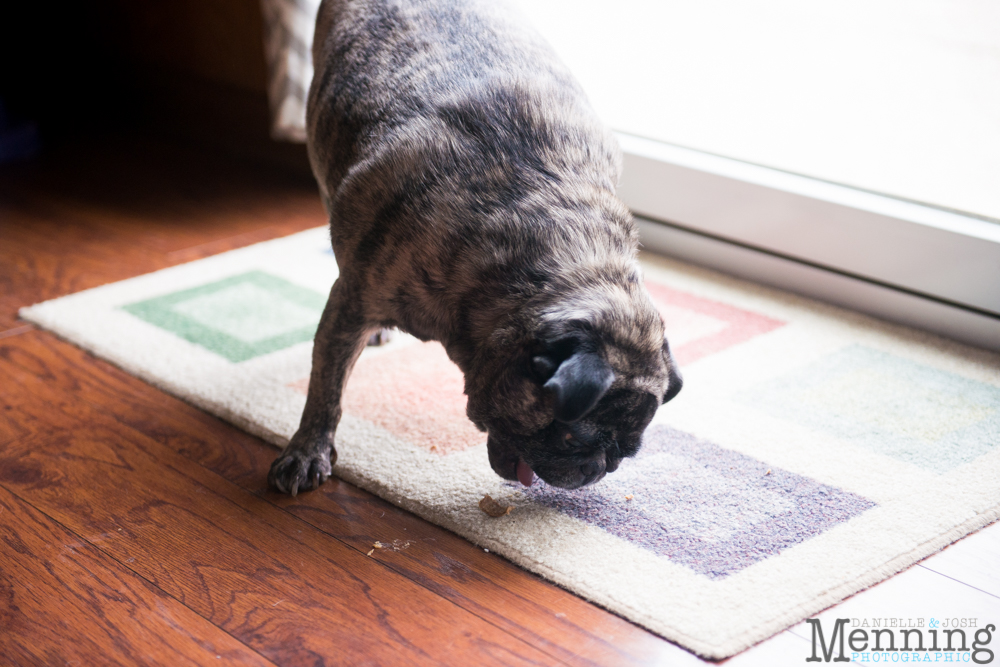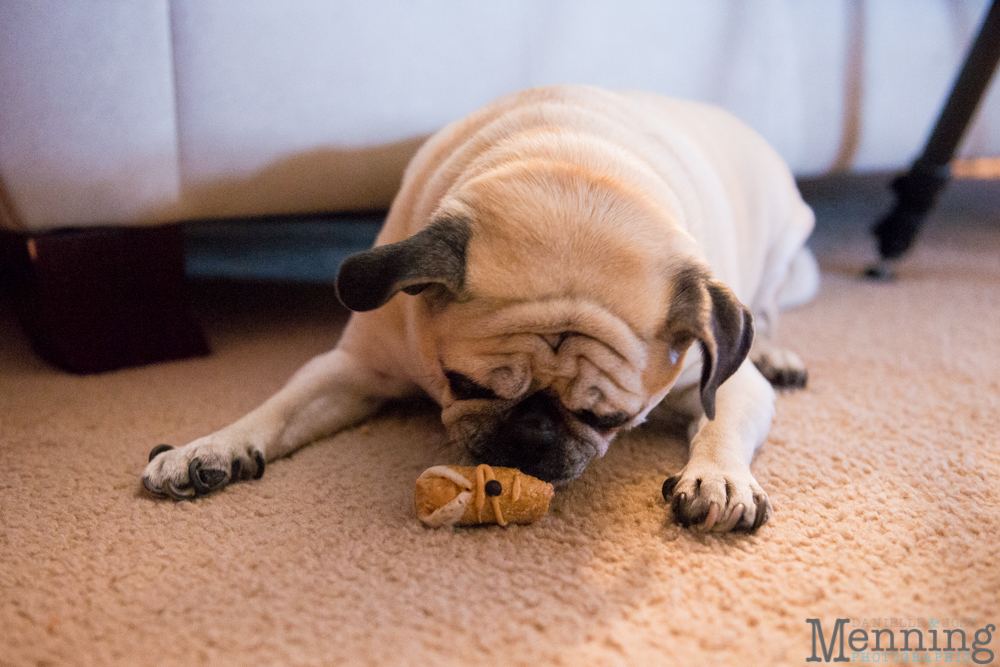 After church she was really tired & napped on me while she cuddled the baby.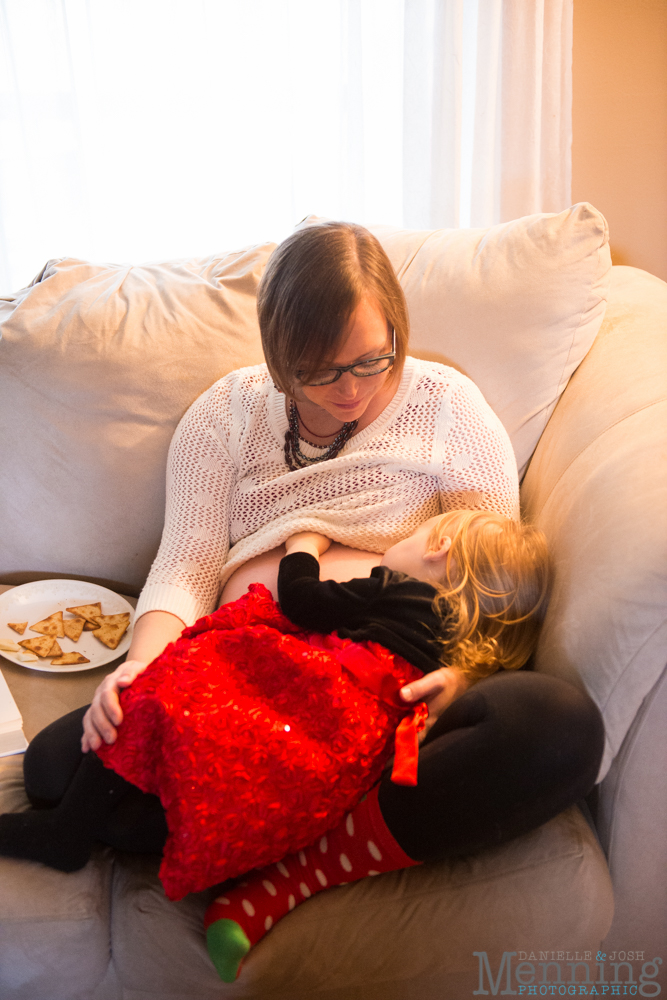 Then it was time for Christmas with all of the cousins, aunts, and uncles at G-ma & Tata's house. We did a white elephant gift exchange this year.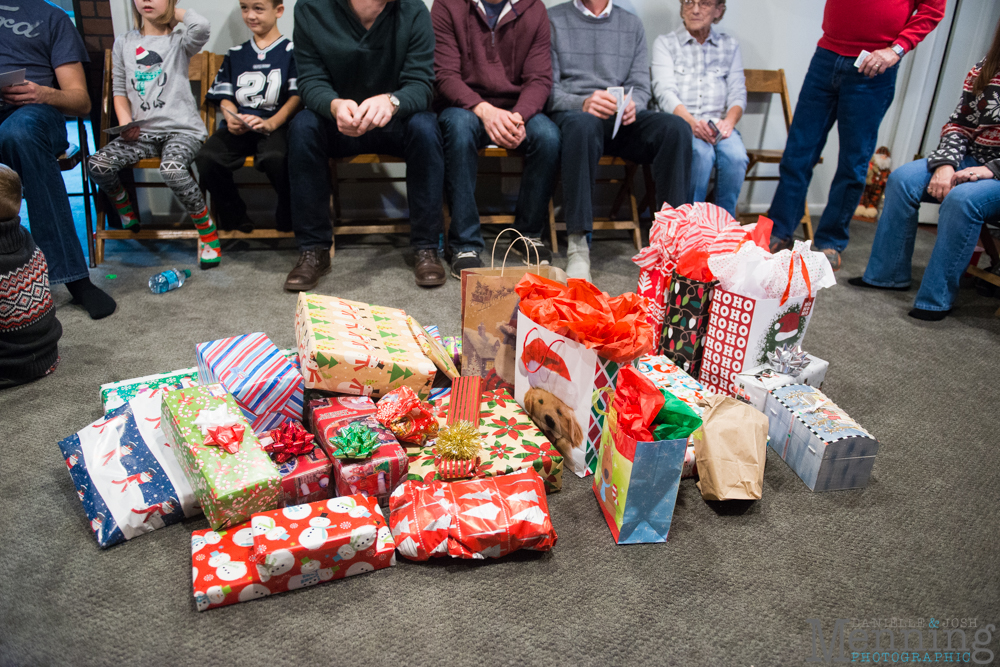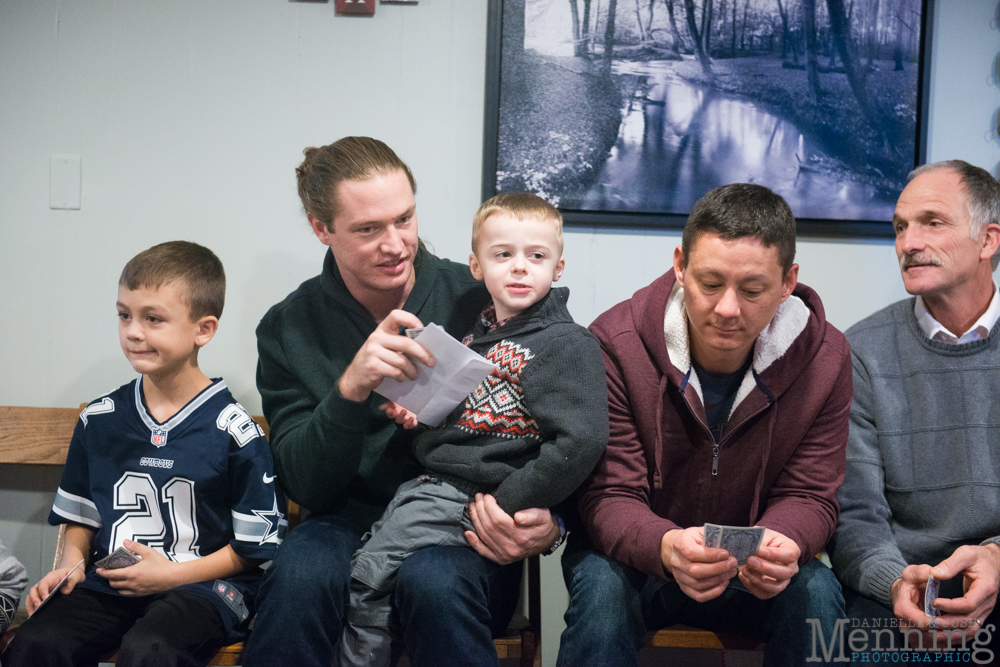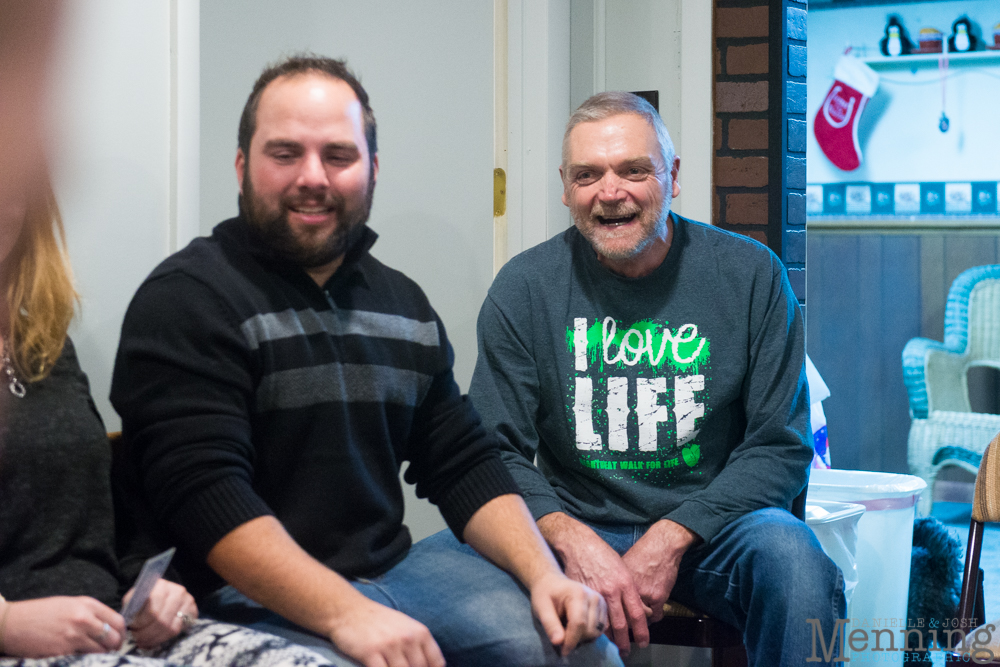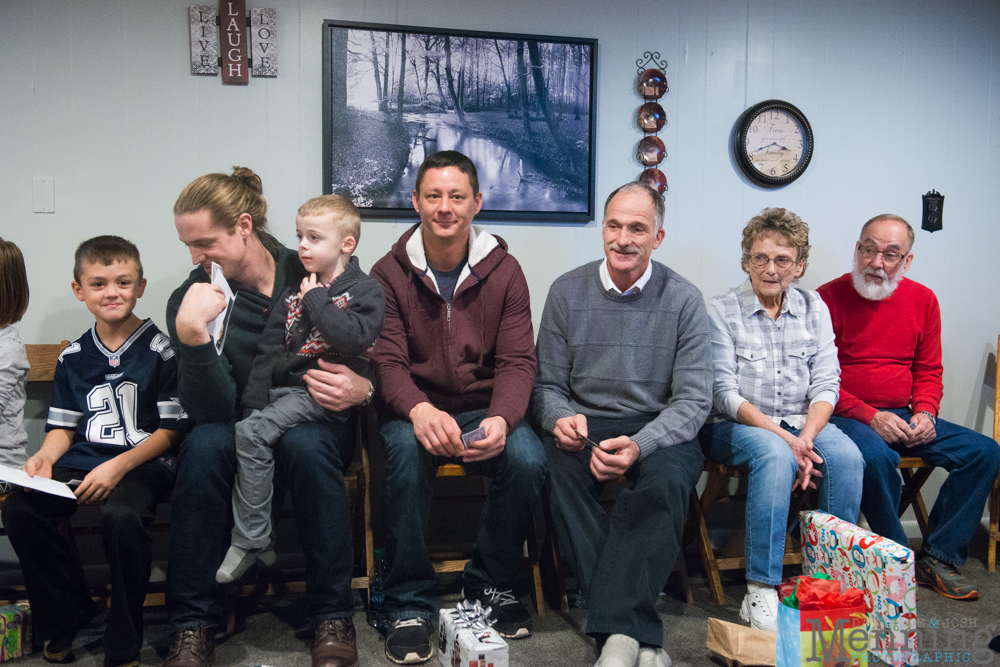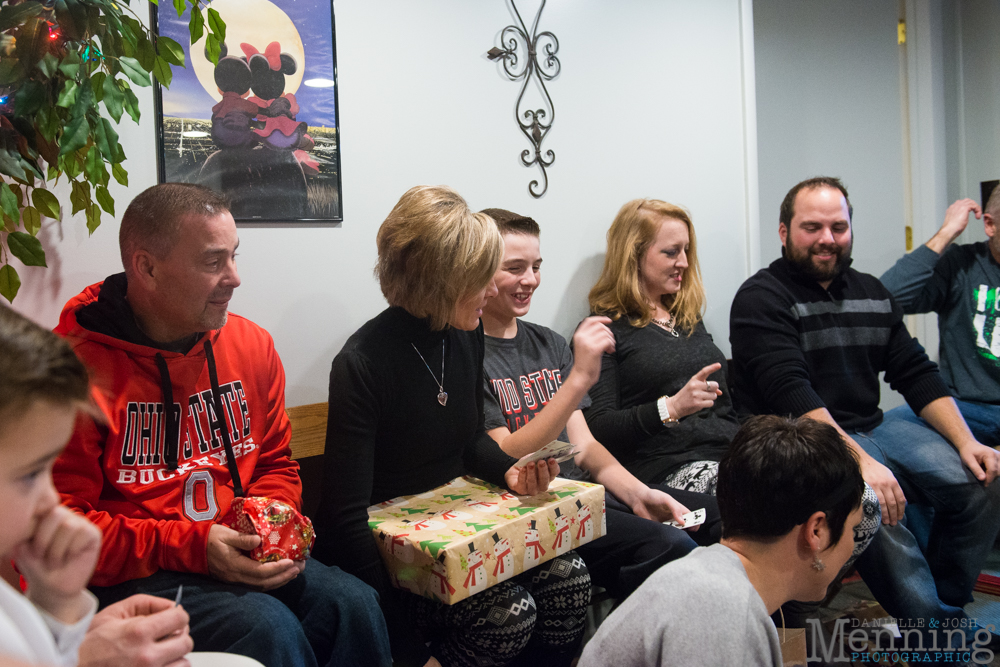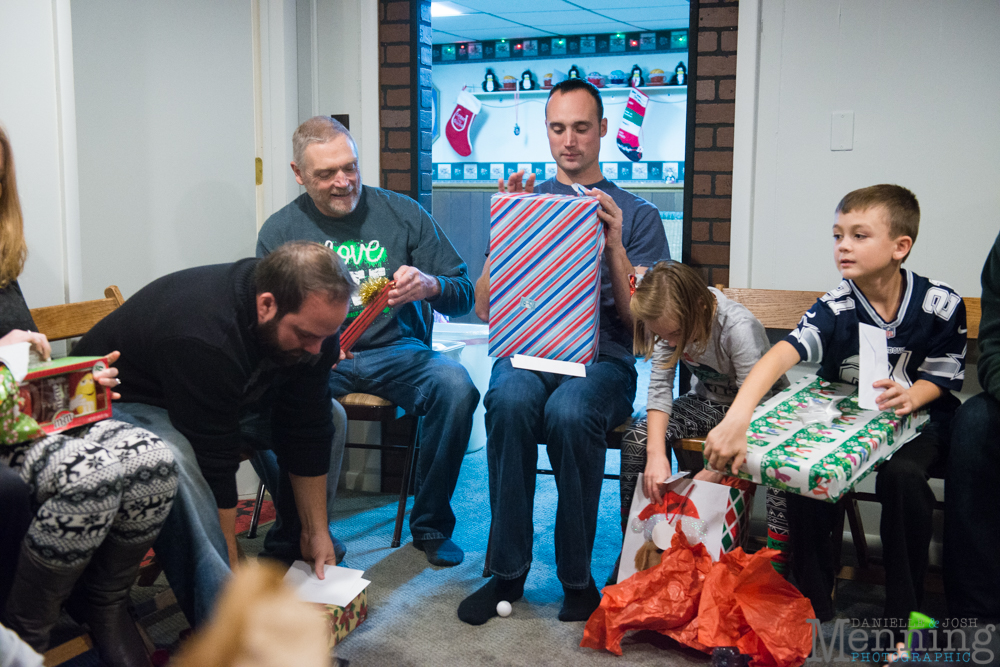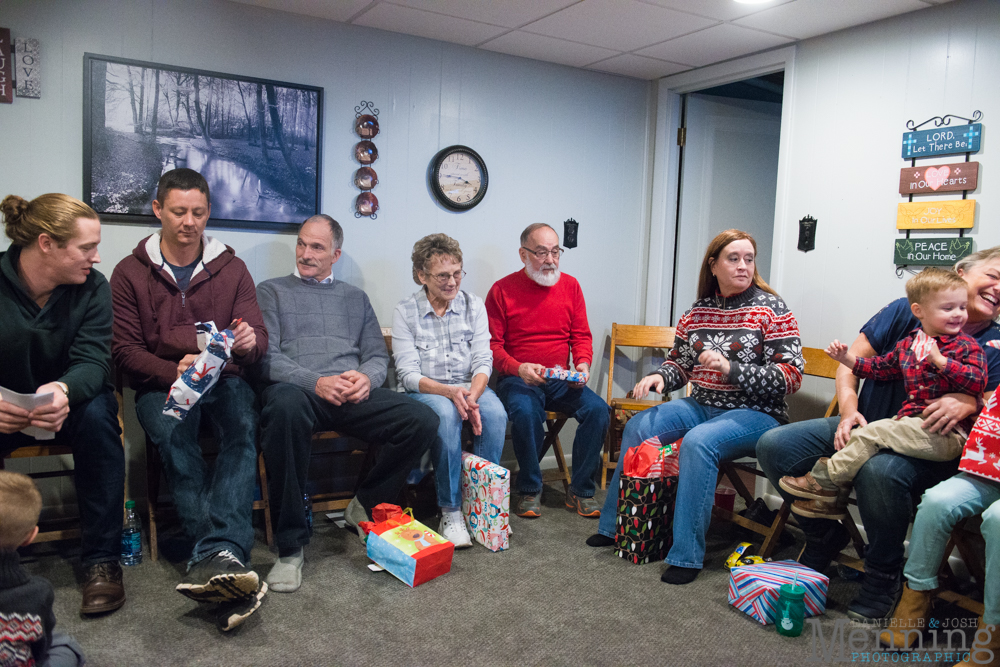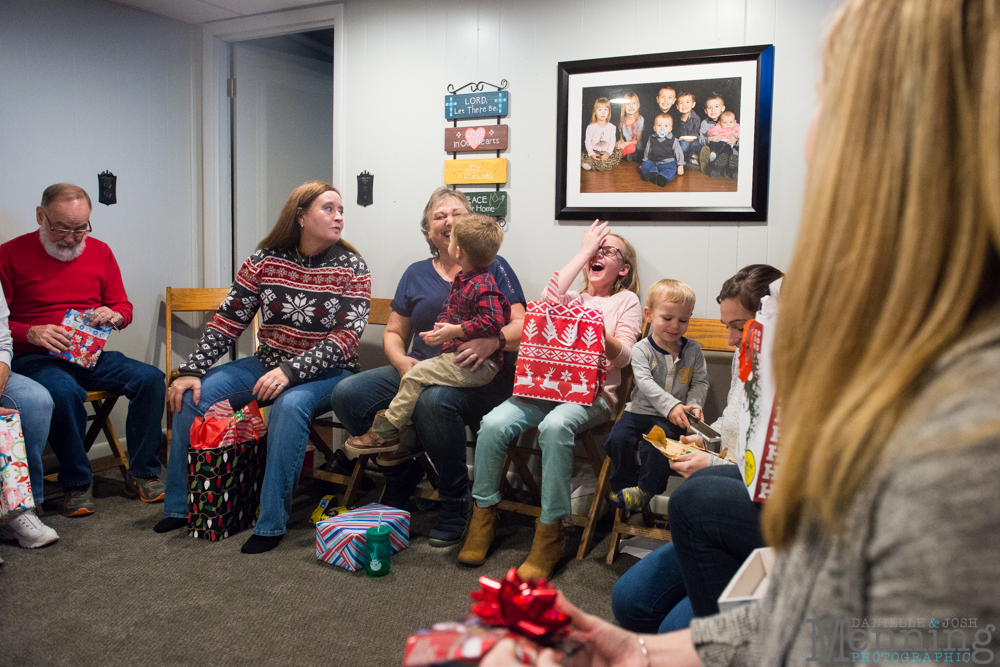 There were lots of laughs, lots of kids, and lots of chaotic moments. We made lots of fun memories.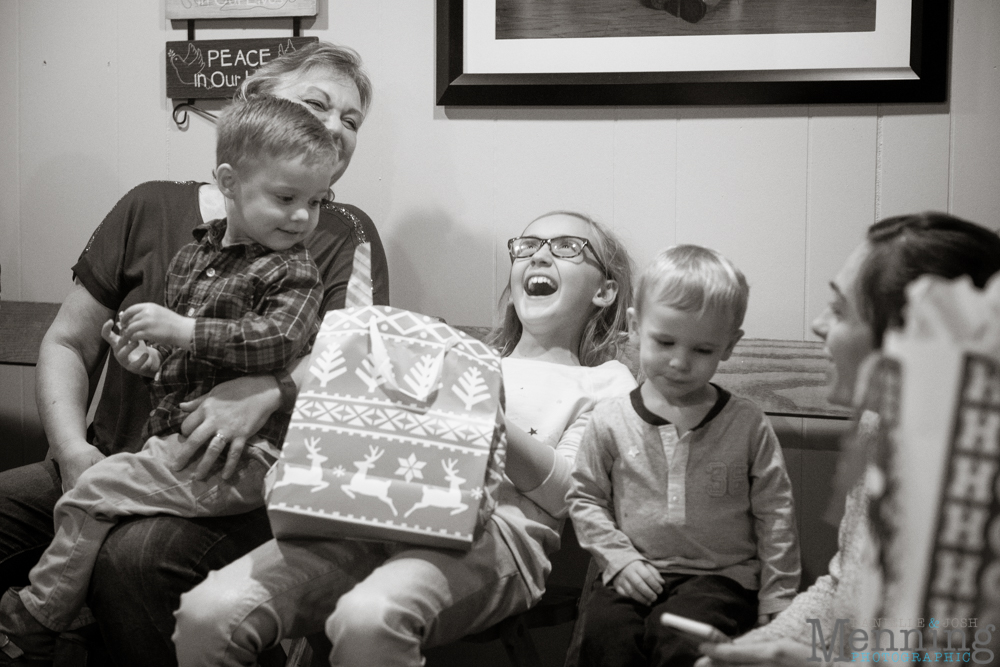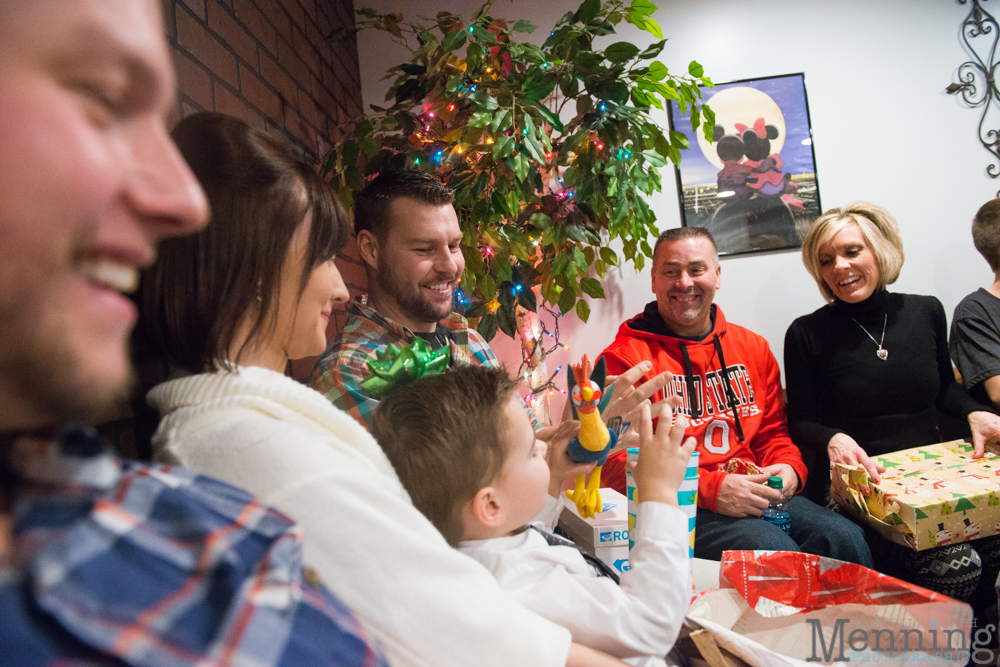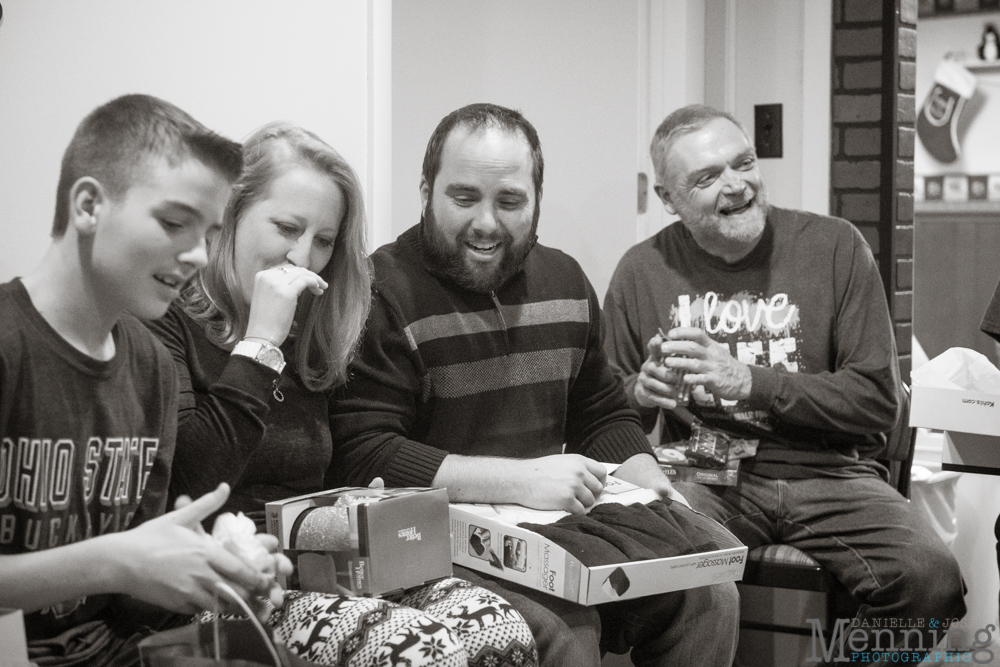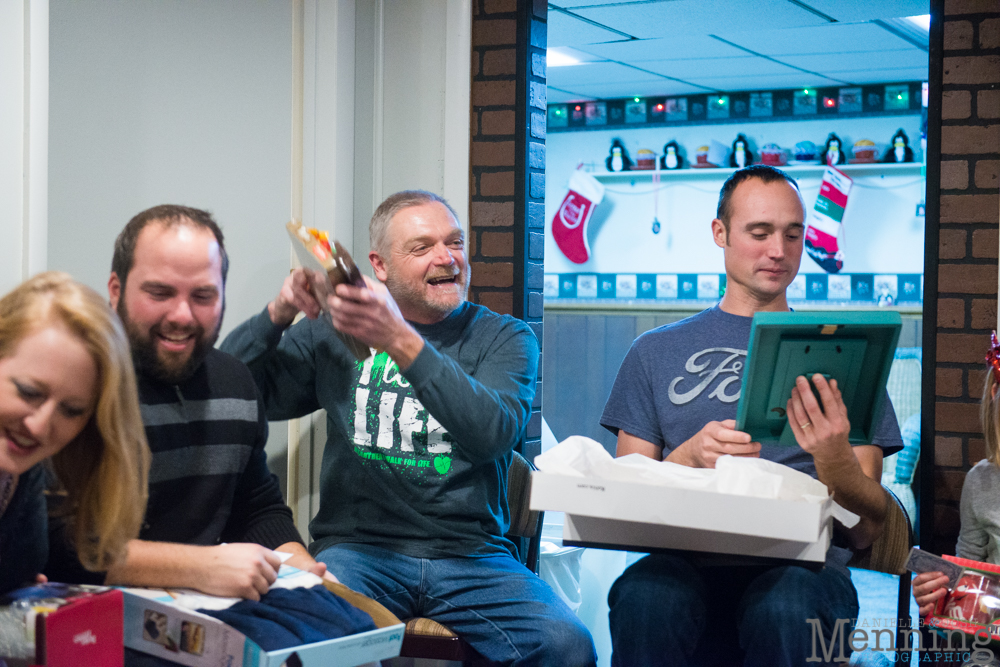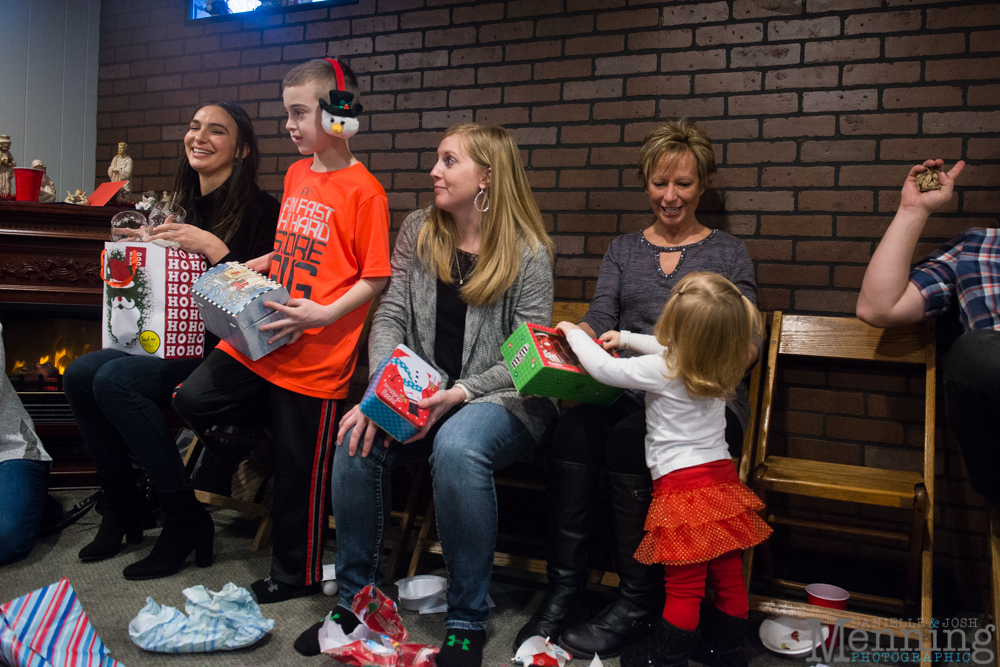 Josh's white elephant gift he received.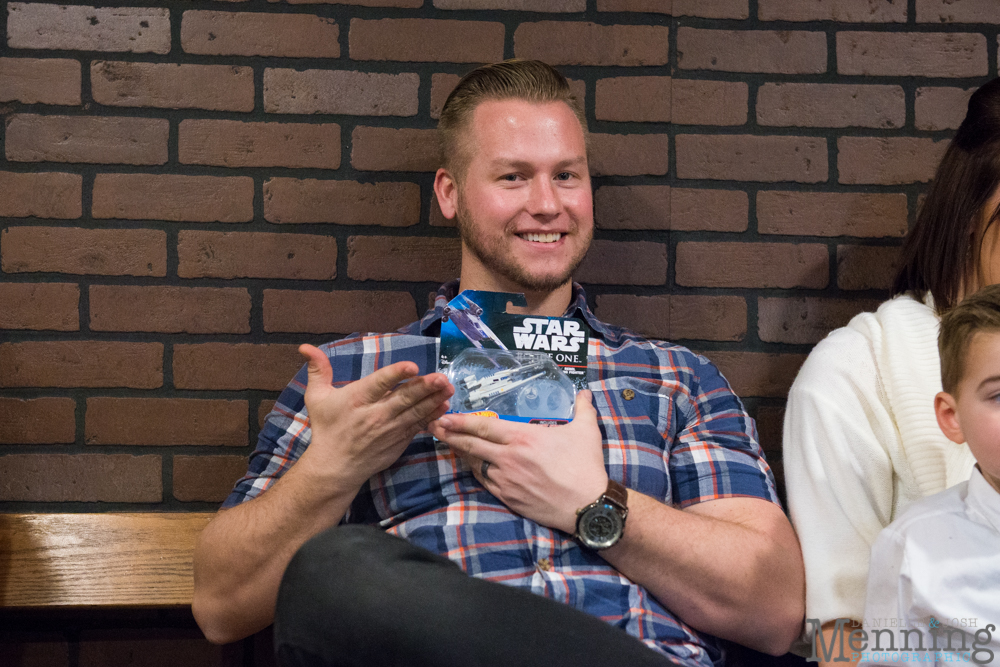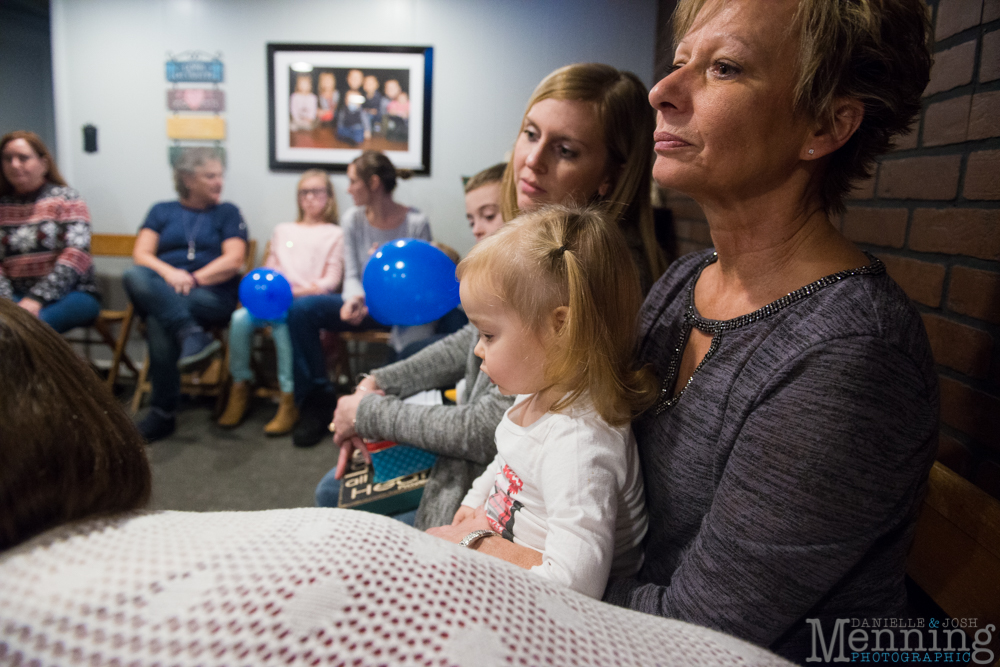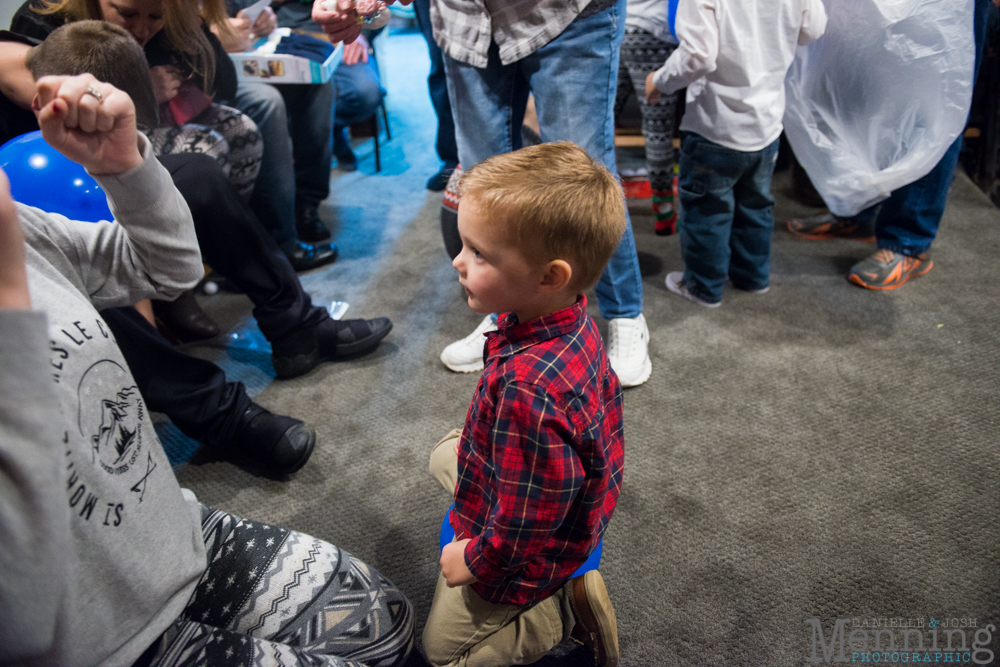 The great grandkids each got to pop a balloon from G-ma & Tata. There was cash money inside.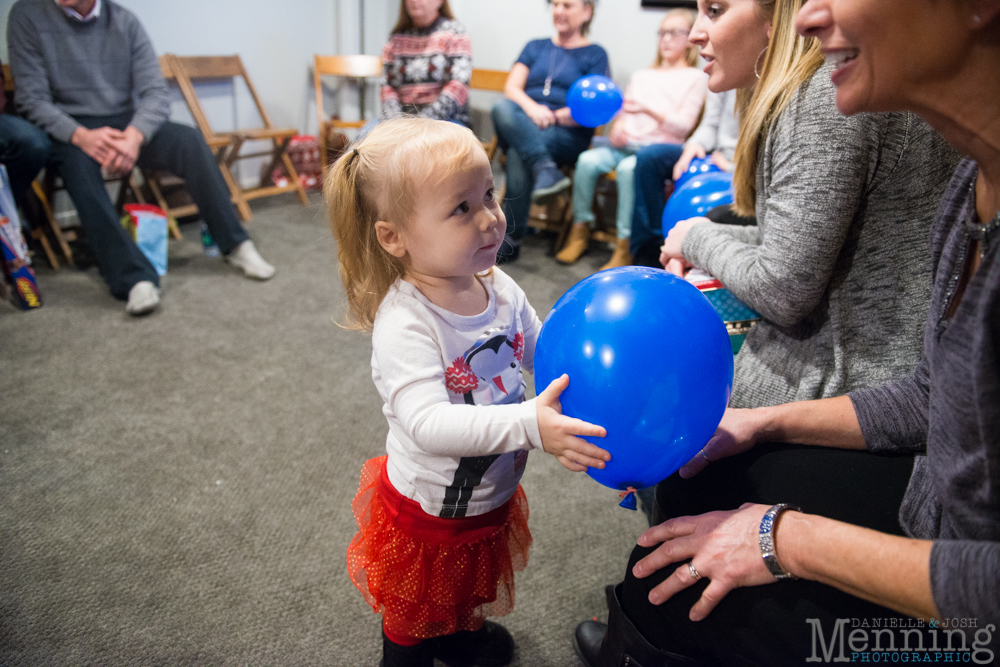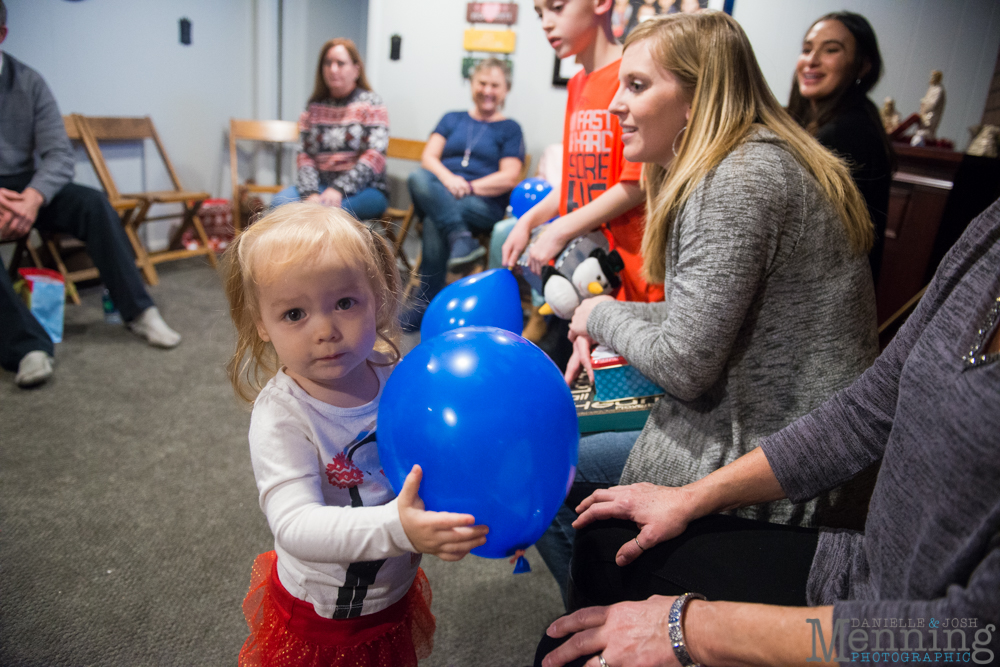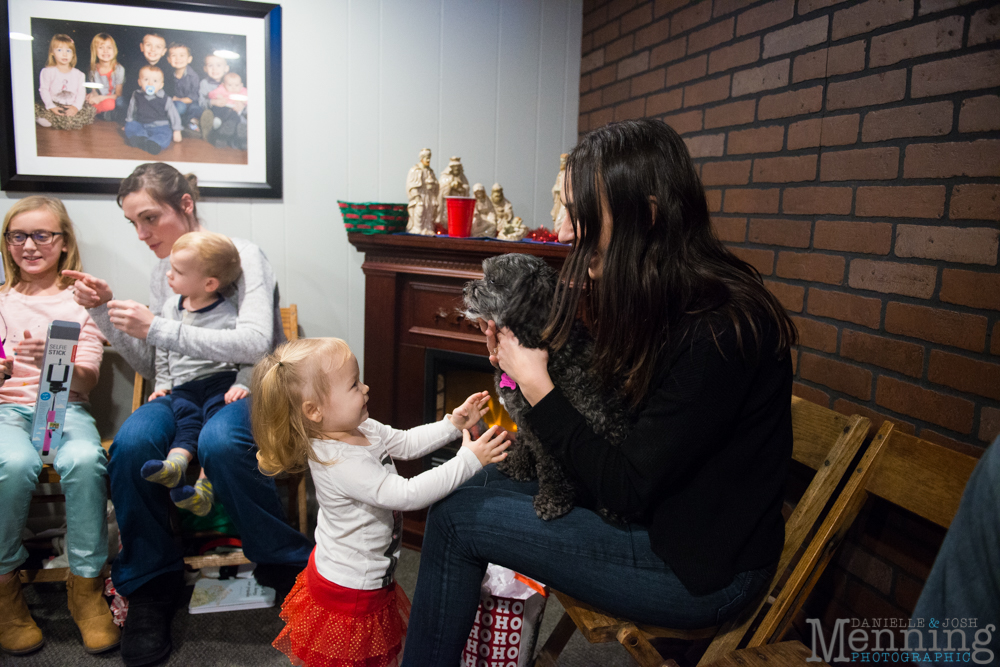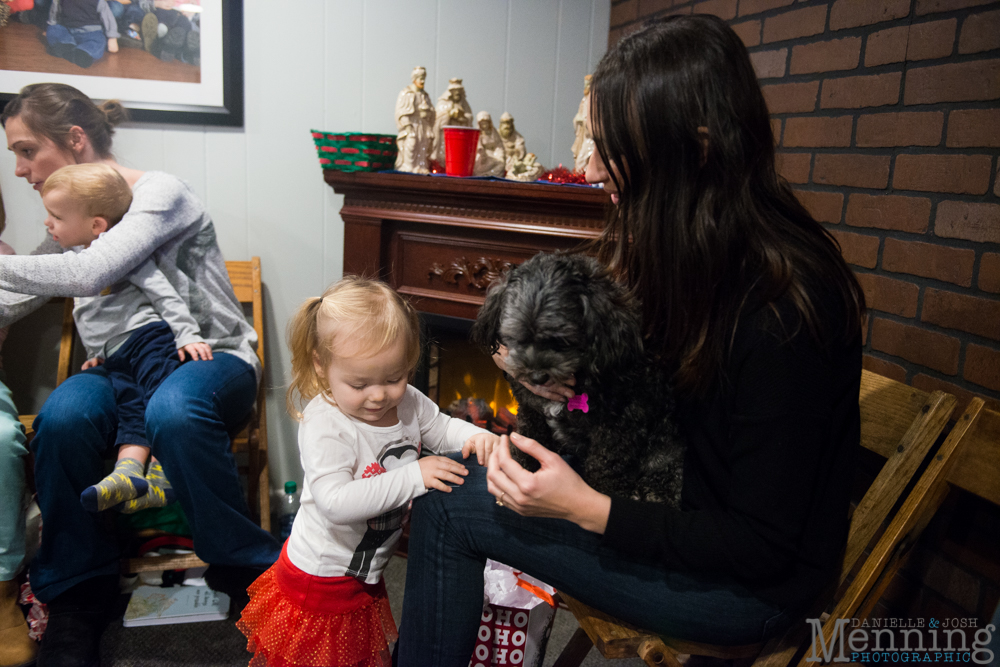 You gotta love Tata- the real Santa.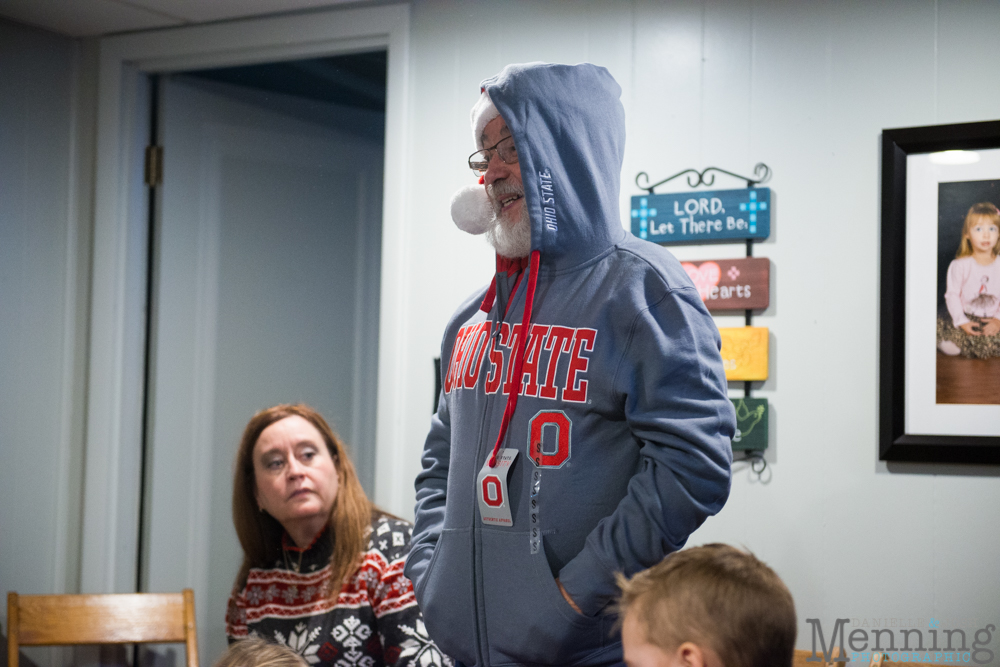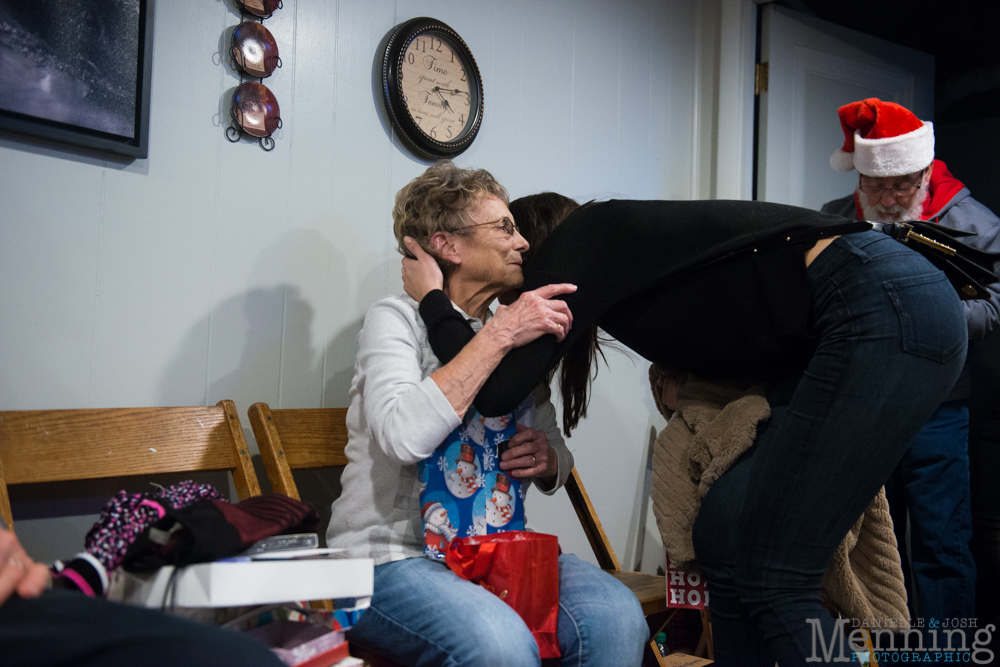 My G-ma is such a pretty lady.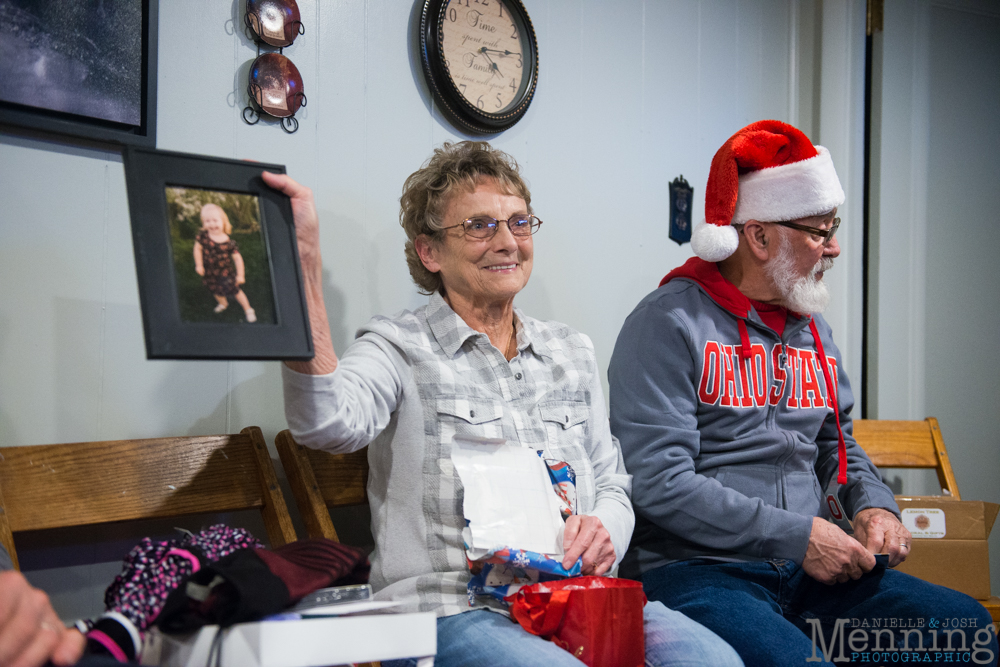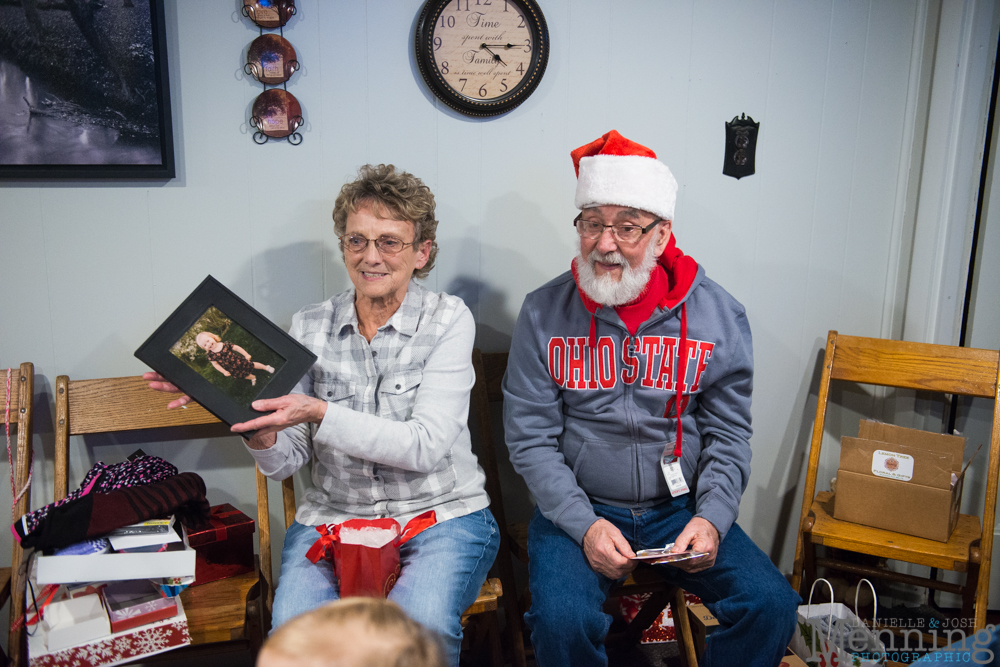 They are cuties.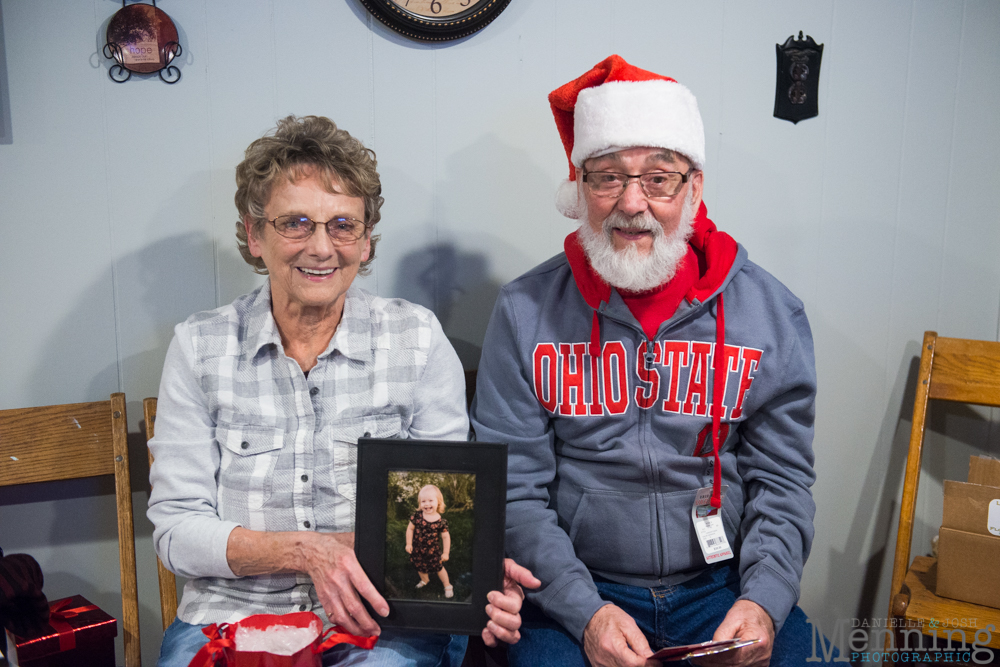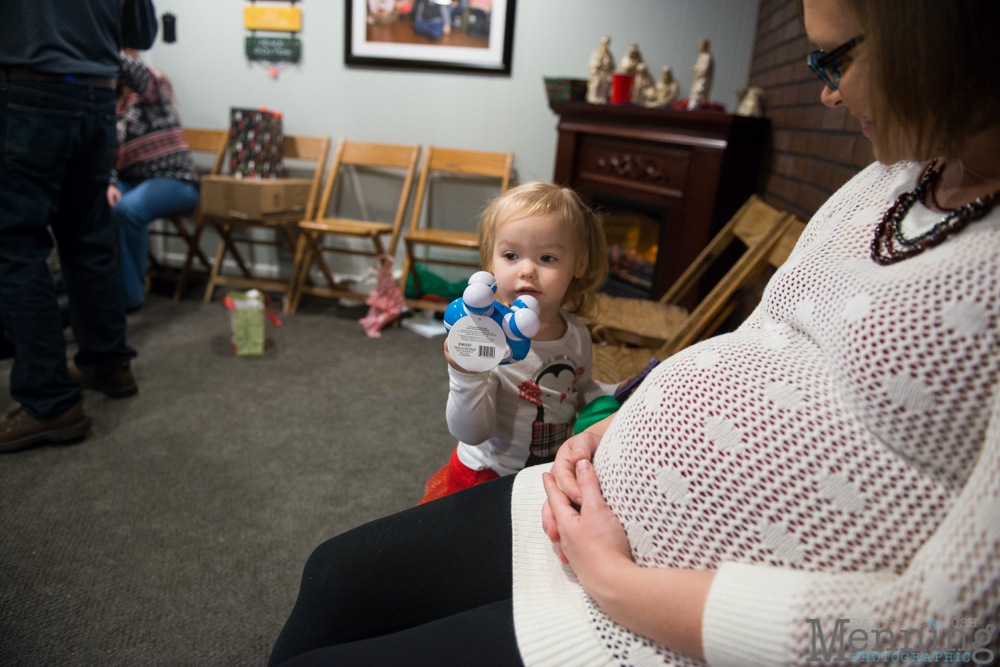 Addie was telling Papa secrets about her cousin Hayes.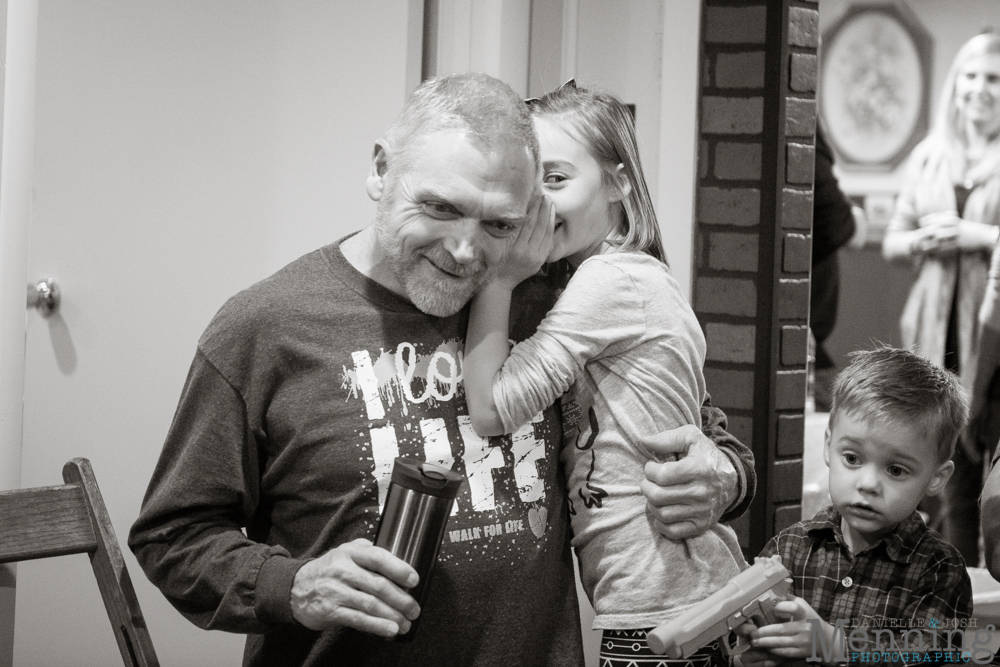 Hayes came to investigate, but Addie told Papa he better not tell.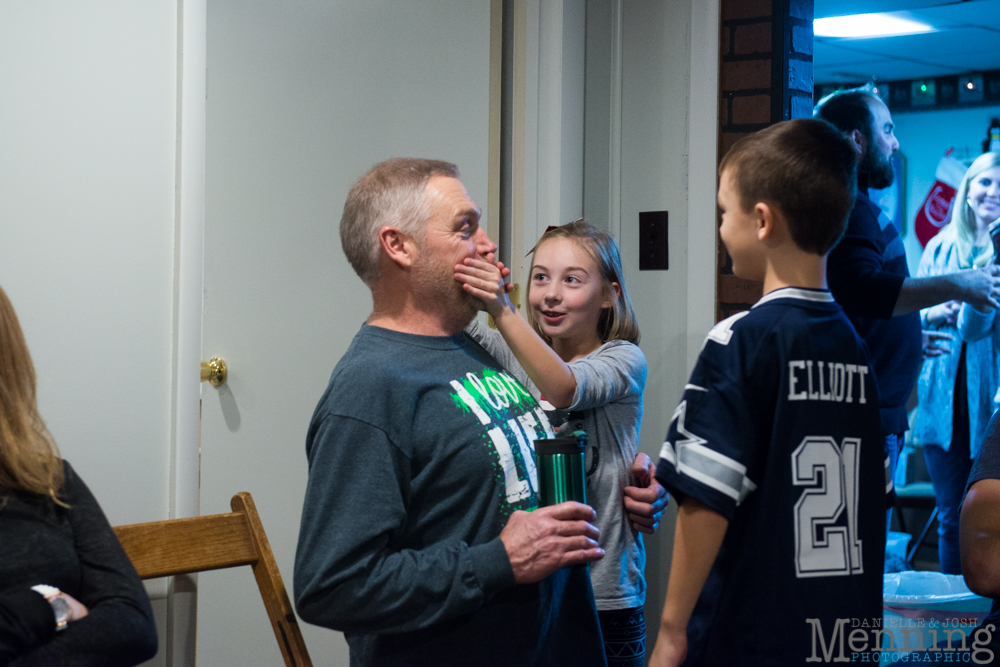 These are all of the great grandkids except the two little girls who live in Florida. Missed you, Kristy, Sims, Kitt, and Alice!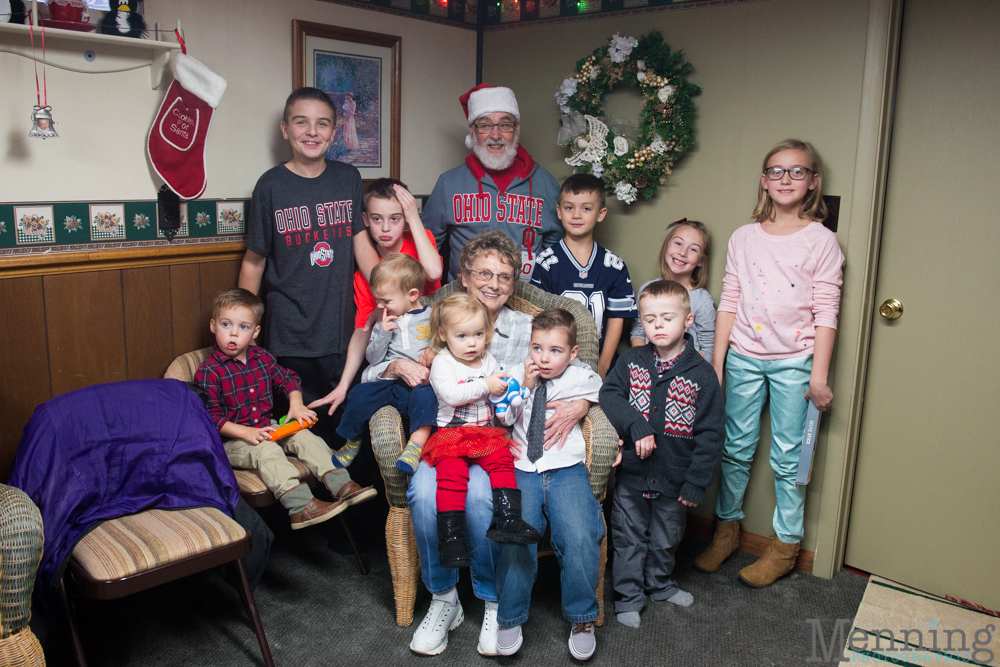 Then Tenley got elbowed.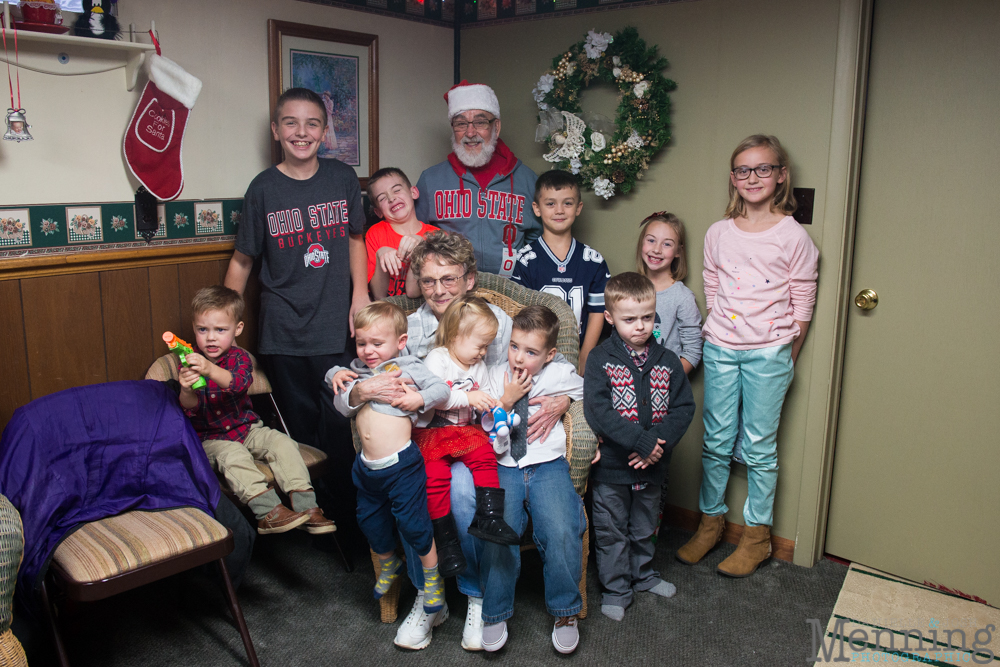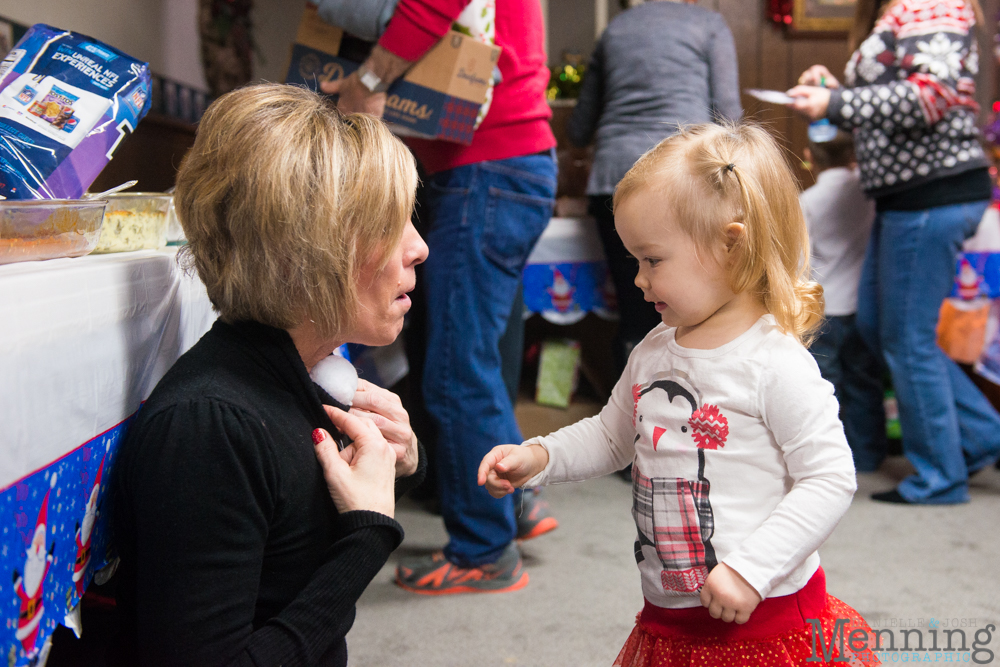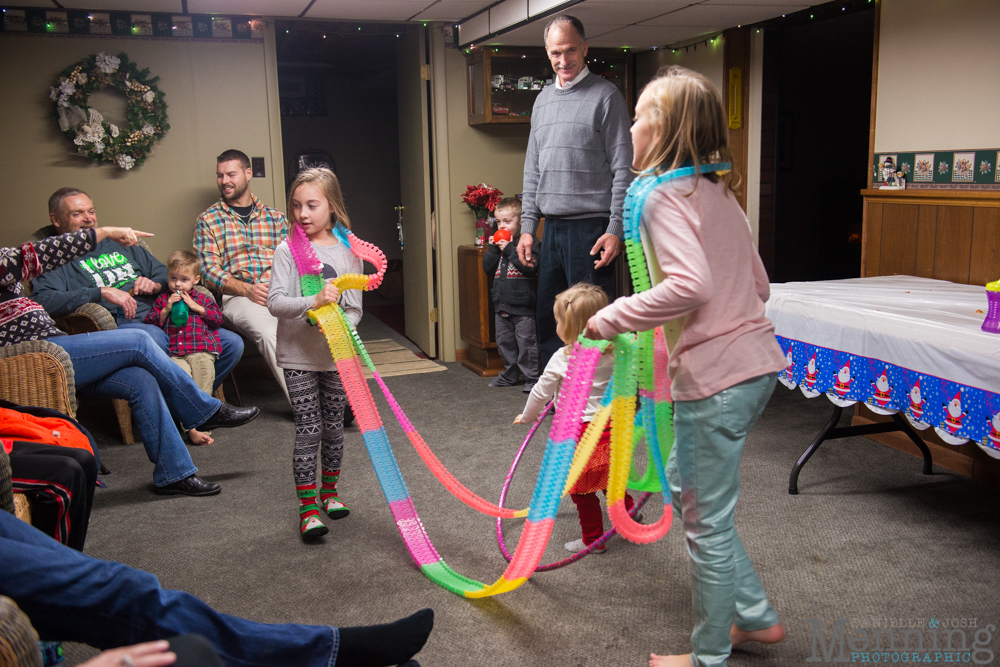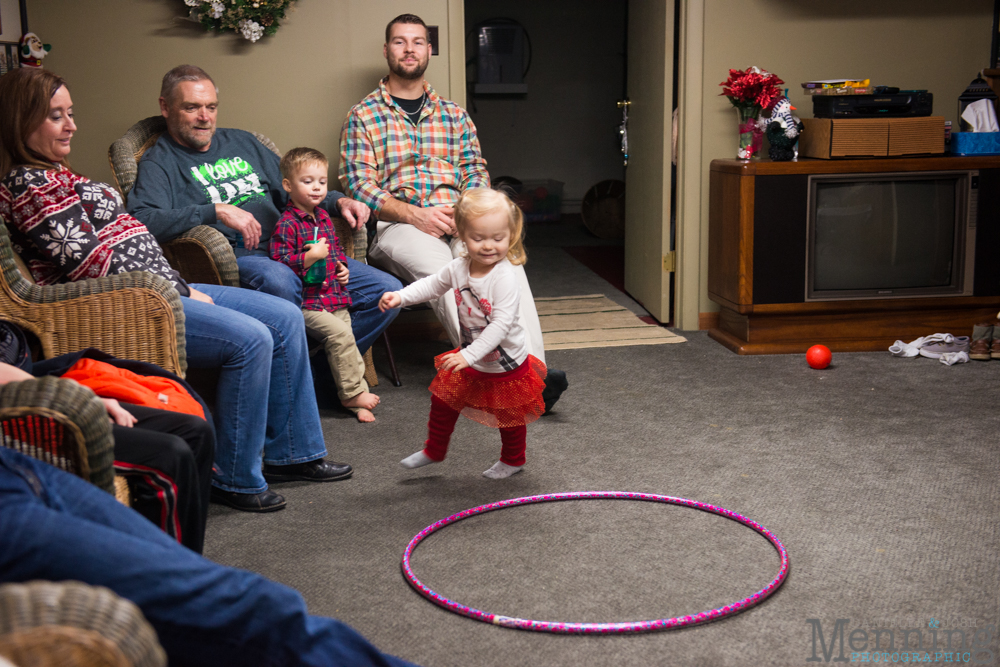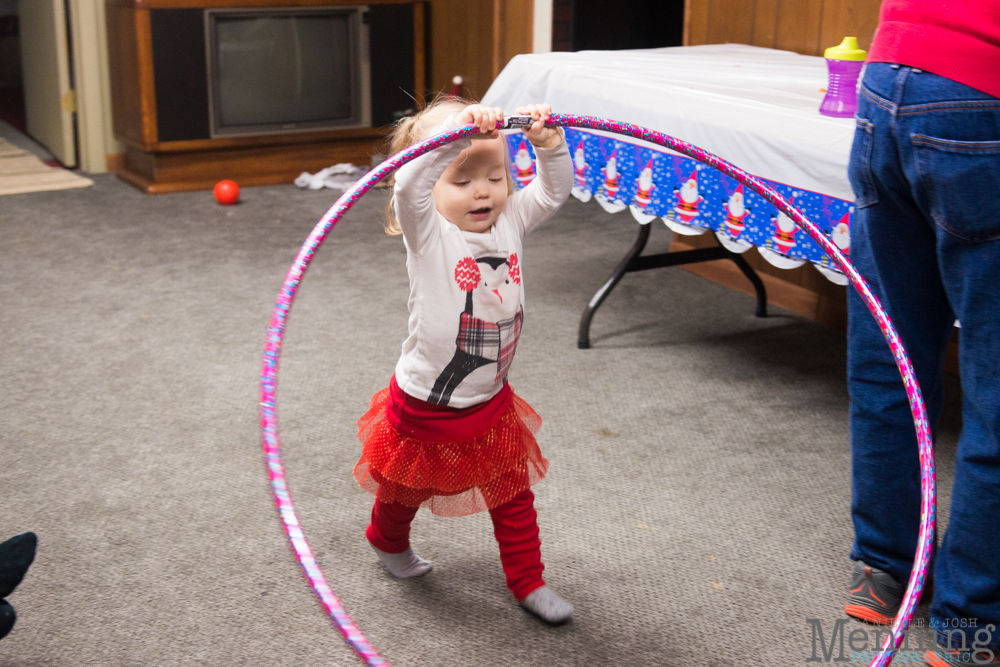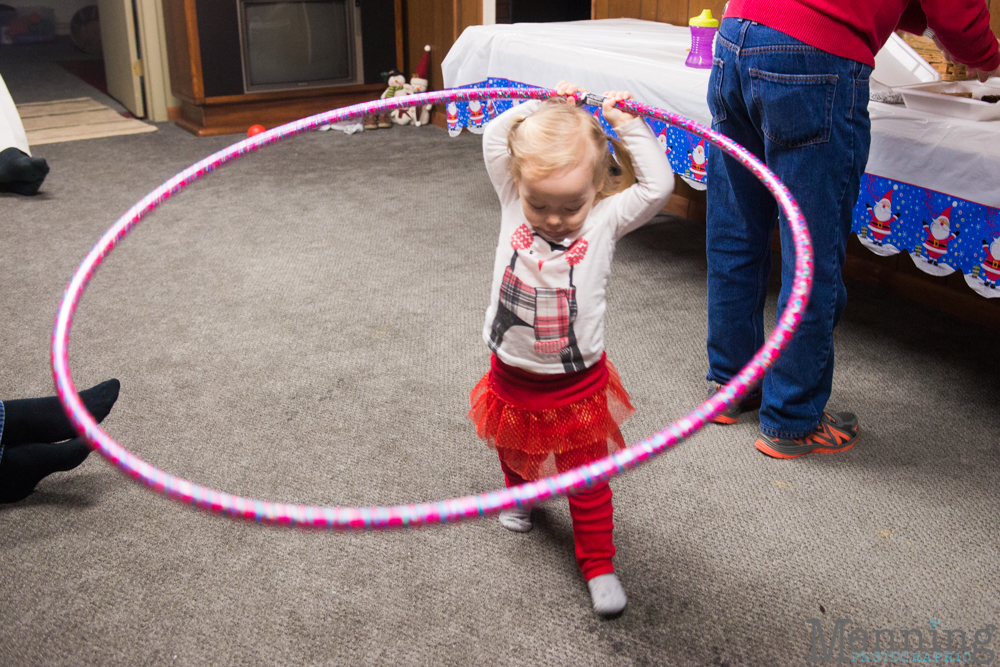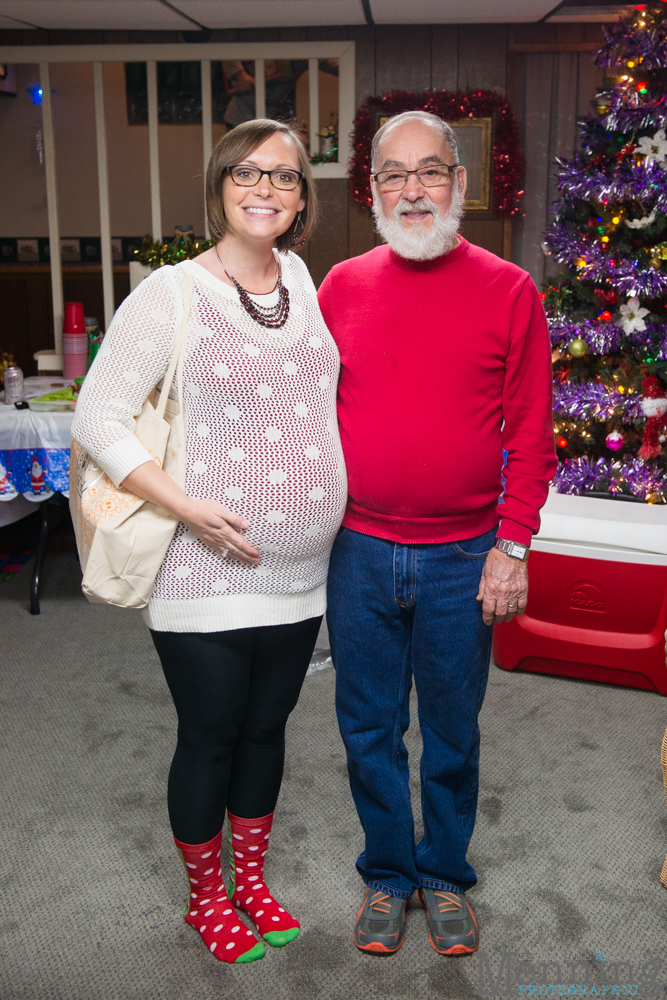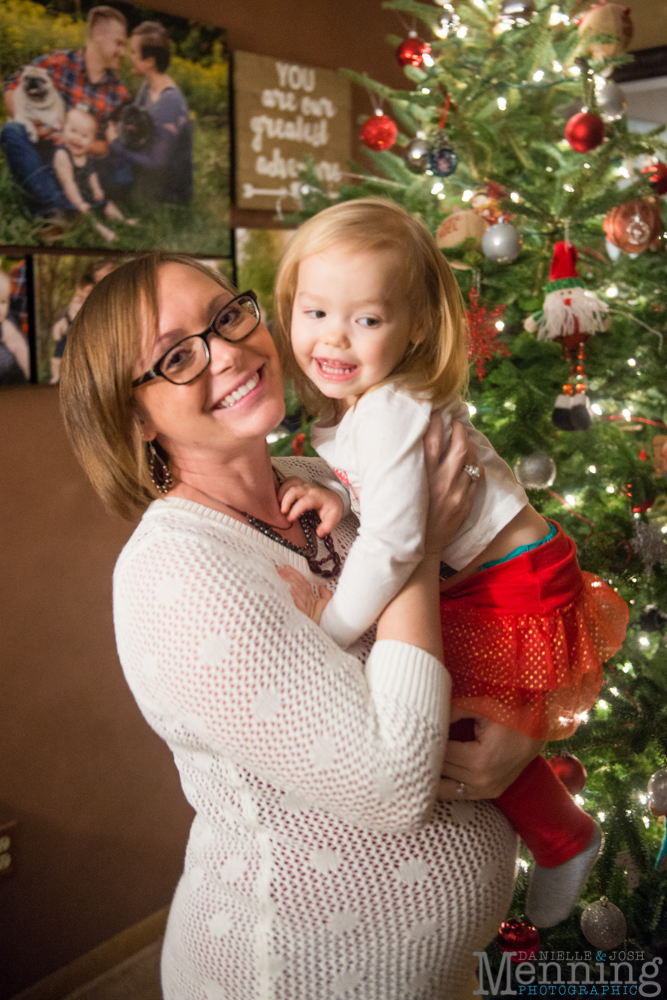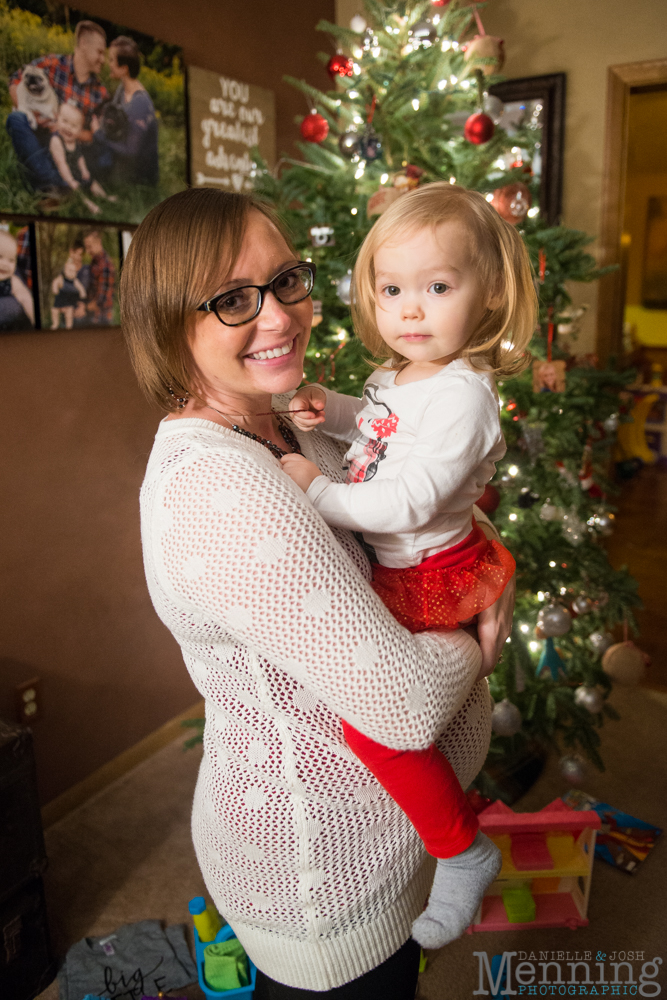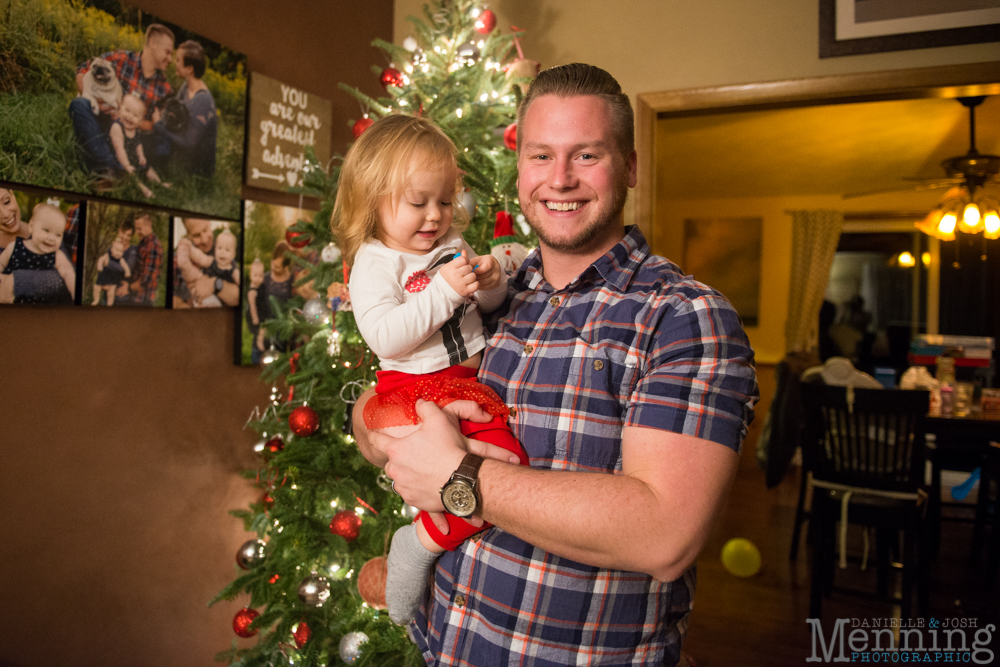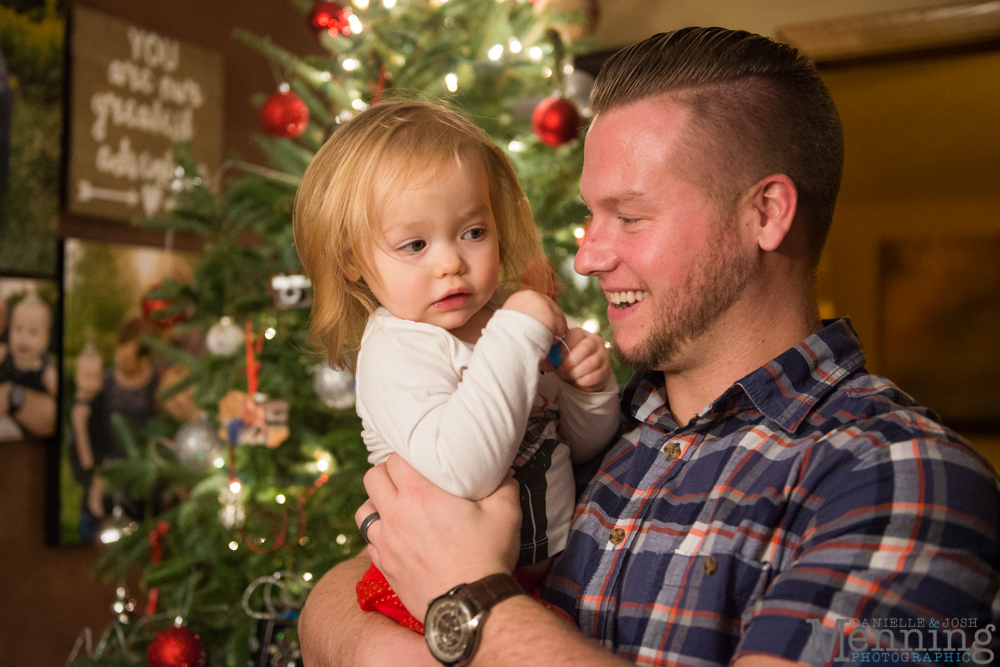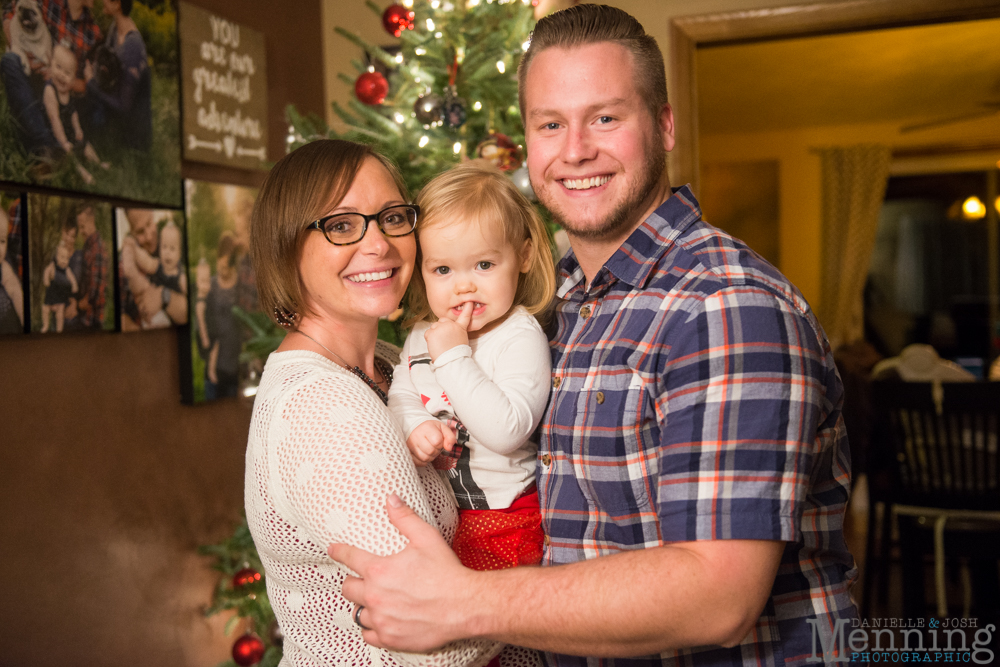 Monday was Christmas at my parents' house. They got a purple painted tree if you recall from our blog about our Christmas tree adventure.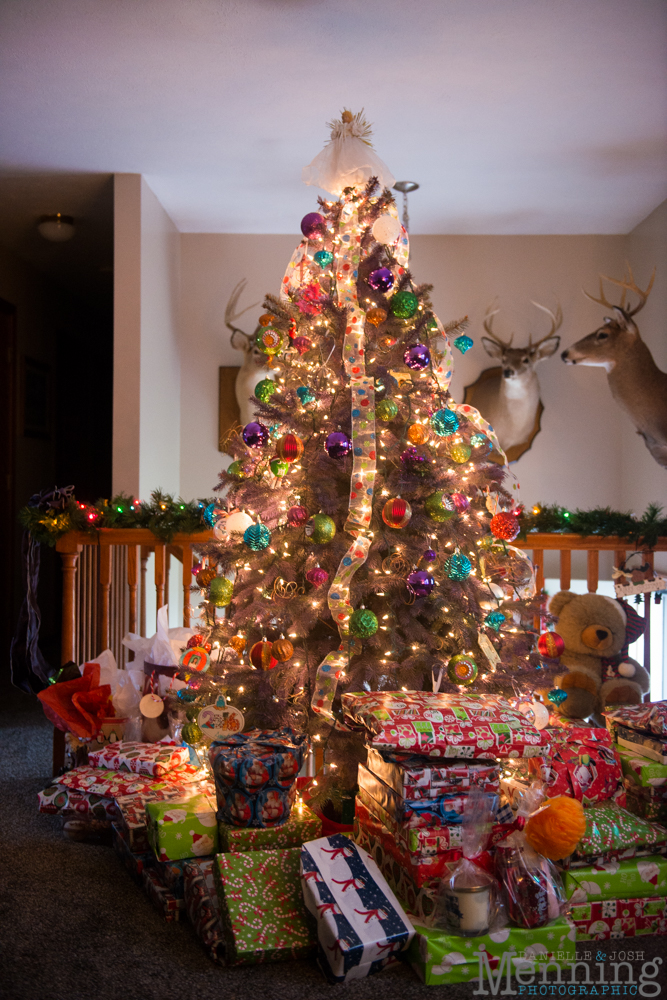 These are my sister Angie's kids with Tenley. Adorable, aren't they?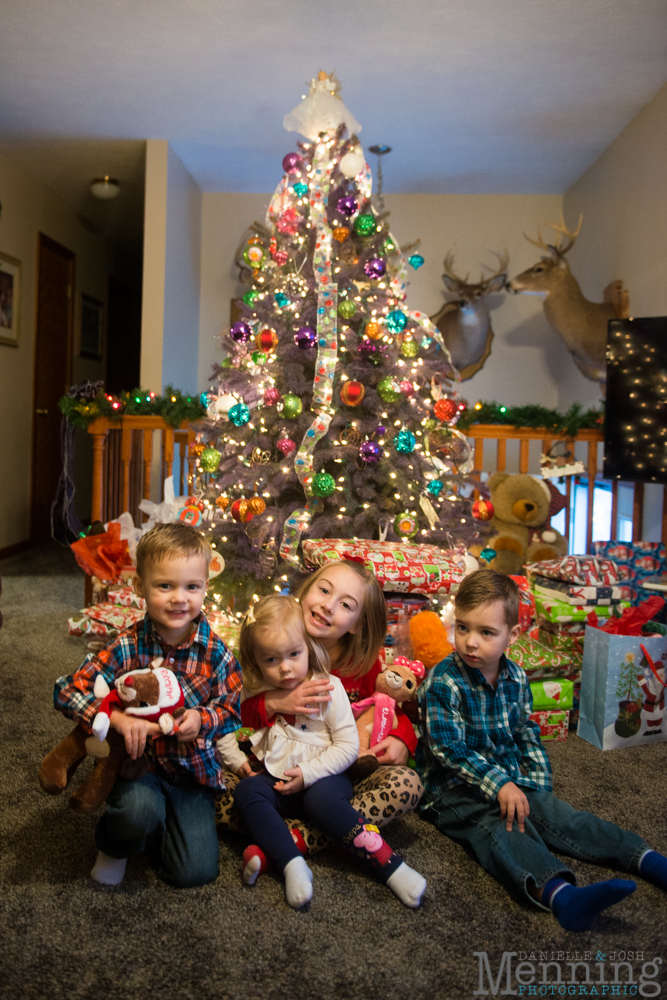 That's my mom. Tenley calls her Grandma Shishi. It's a long story.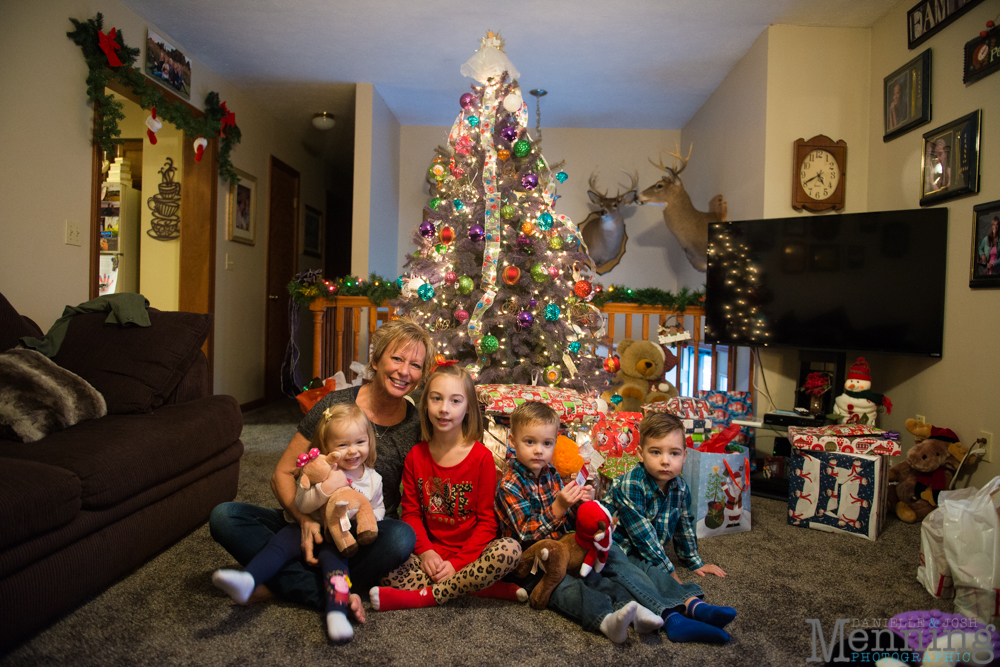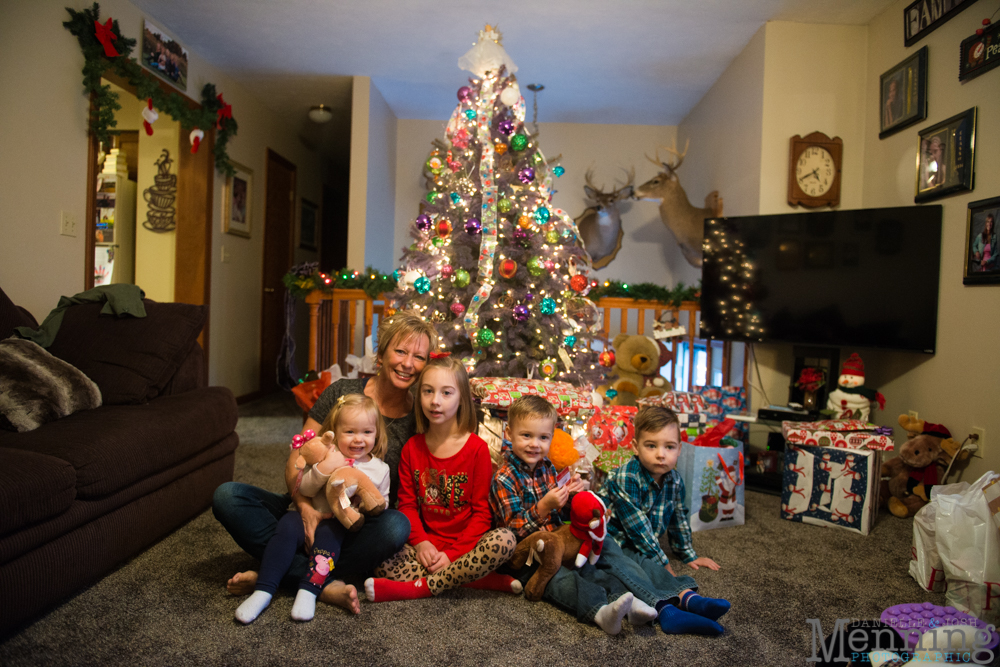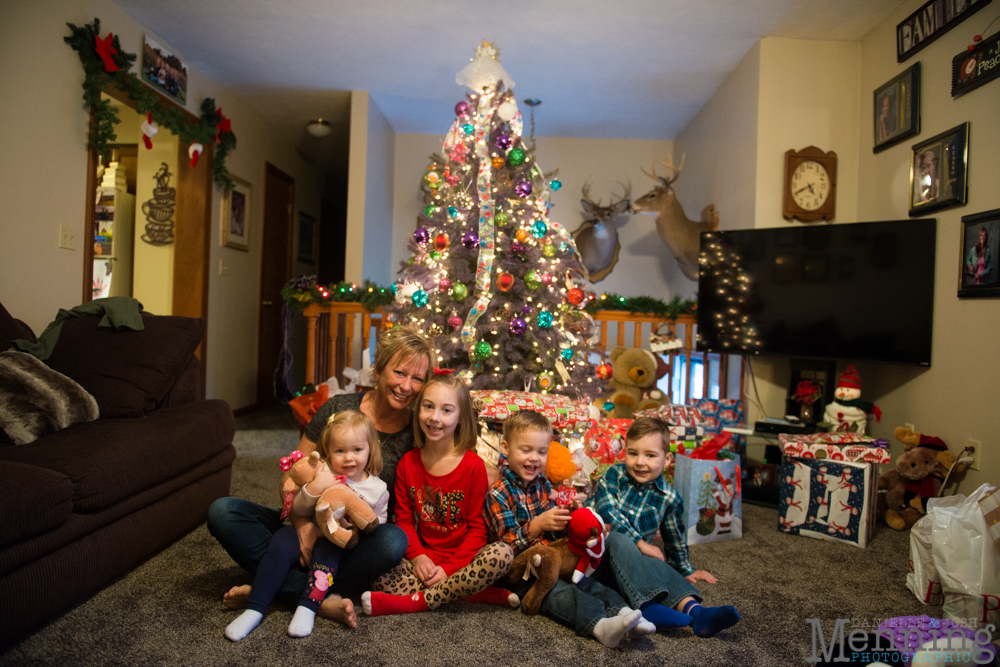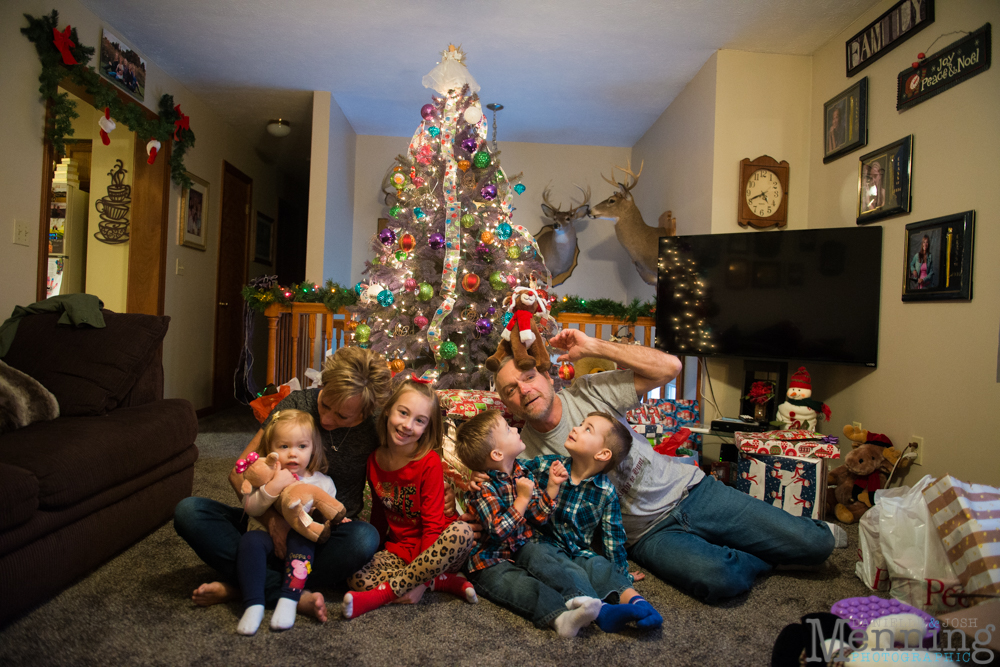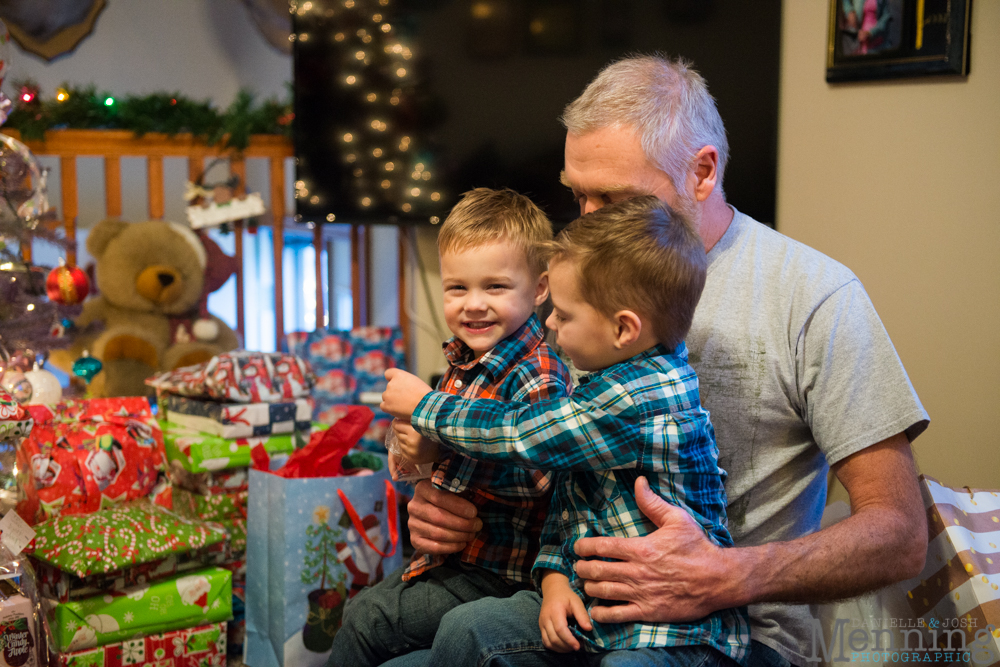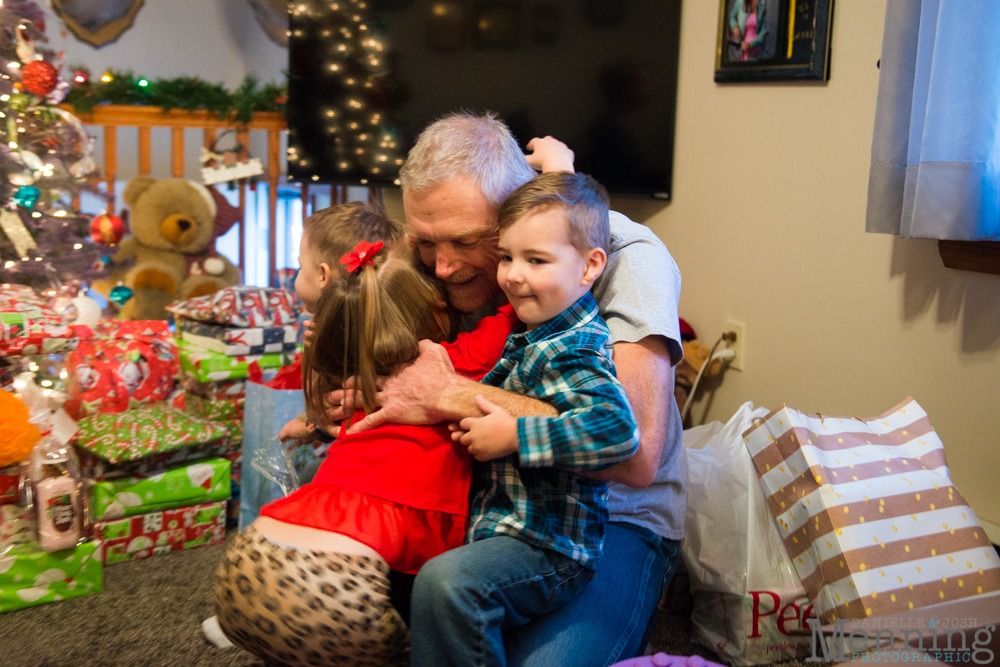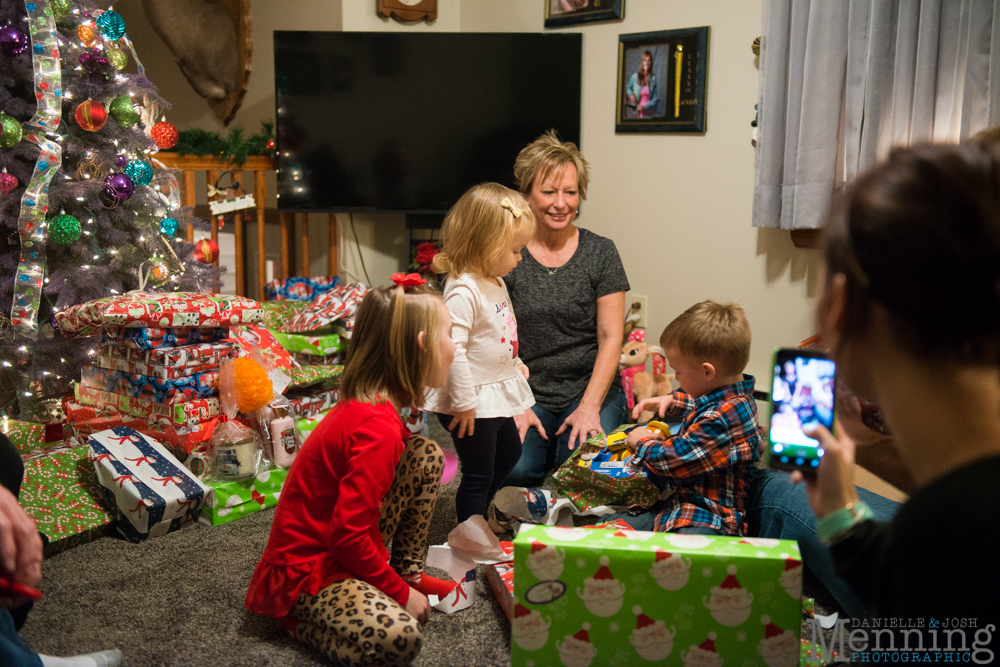 We were missing my sister Lisa & her husband Scott that day. They came to visit a couple of weeks ago from Boston.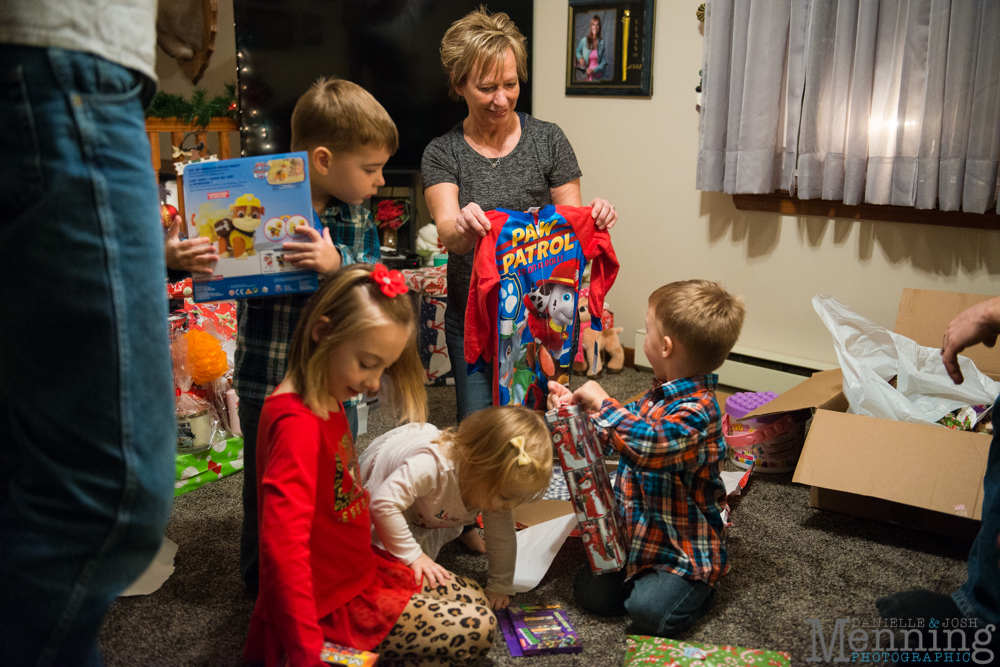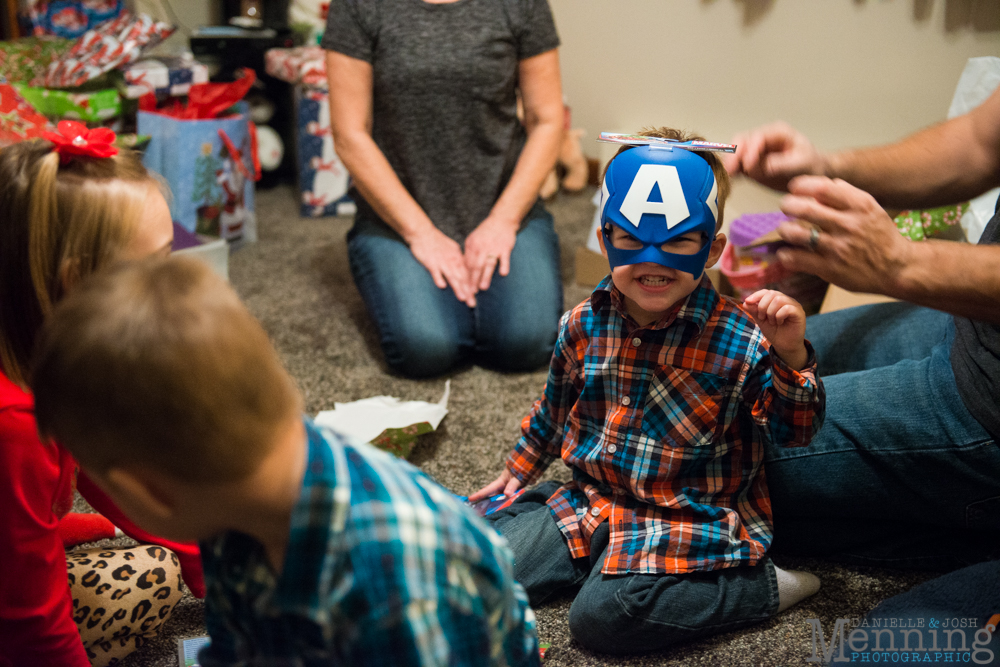 Tenley loves her Aunt Angie & smelling candles.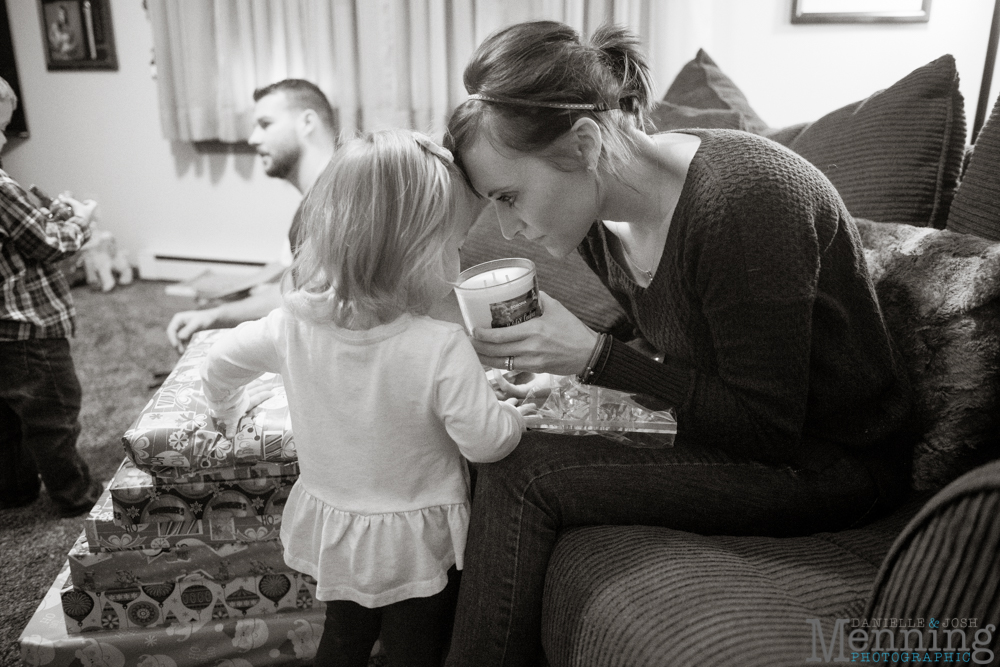 She's coming around to Uncle Jim slowly but surely.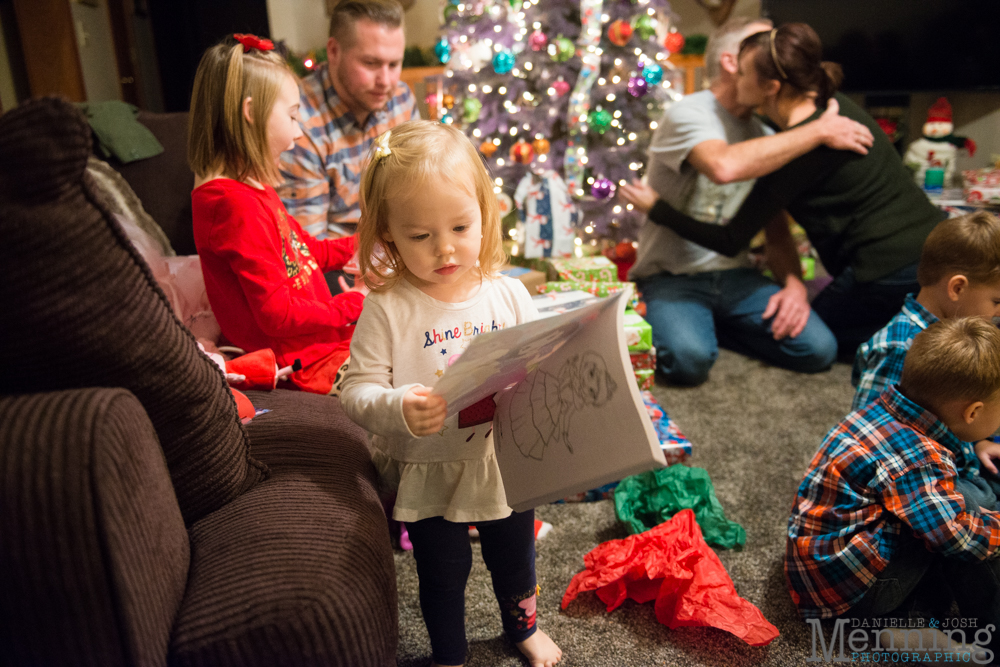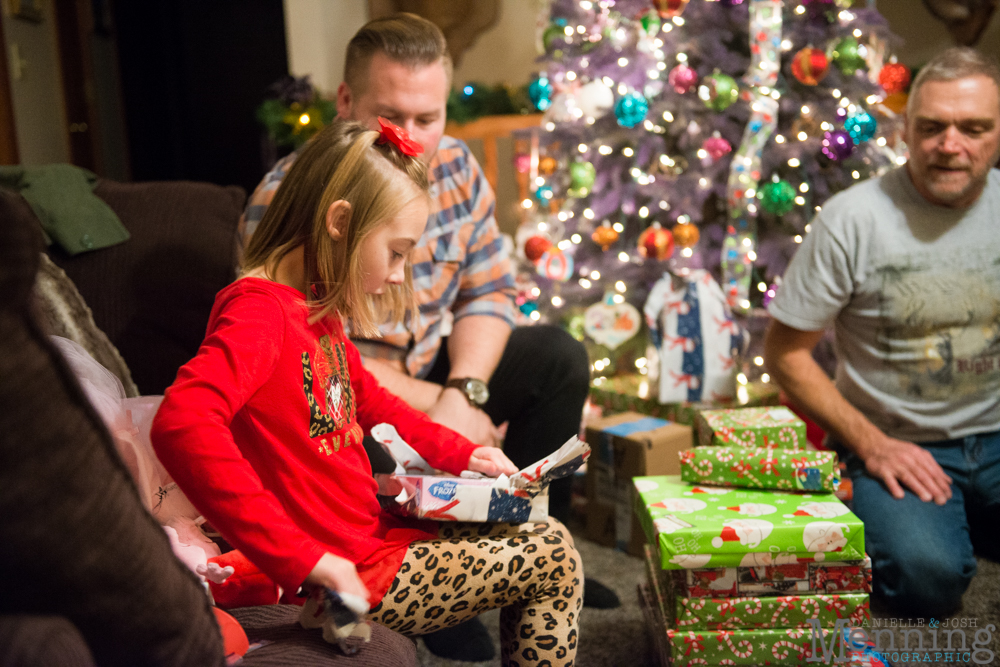 It's so difficult to believe my little niece Addie is six years old.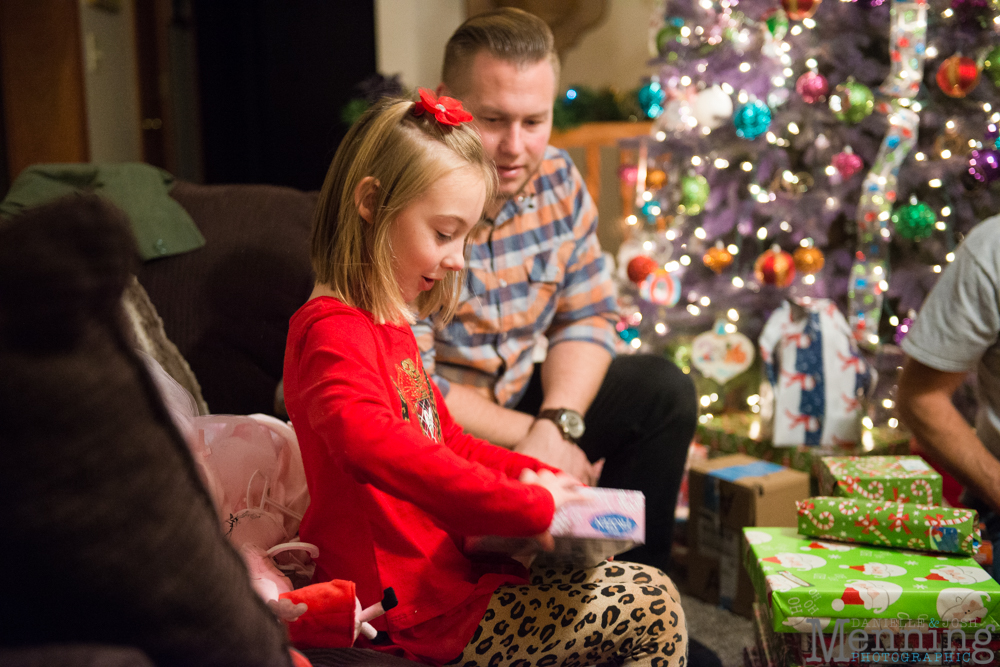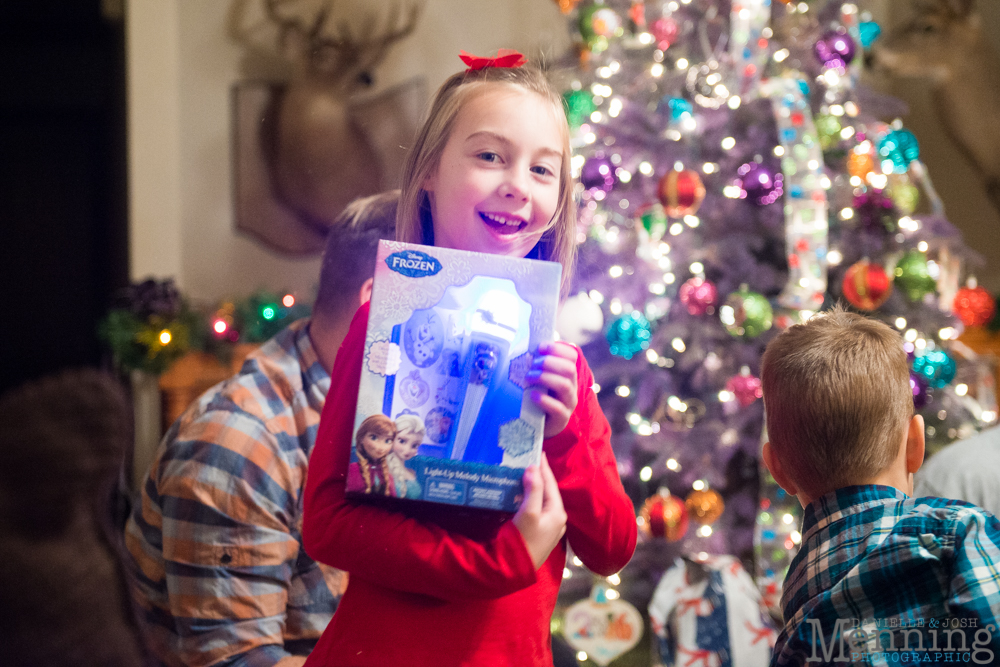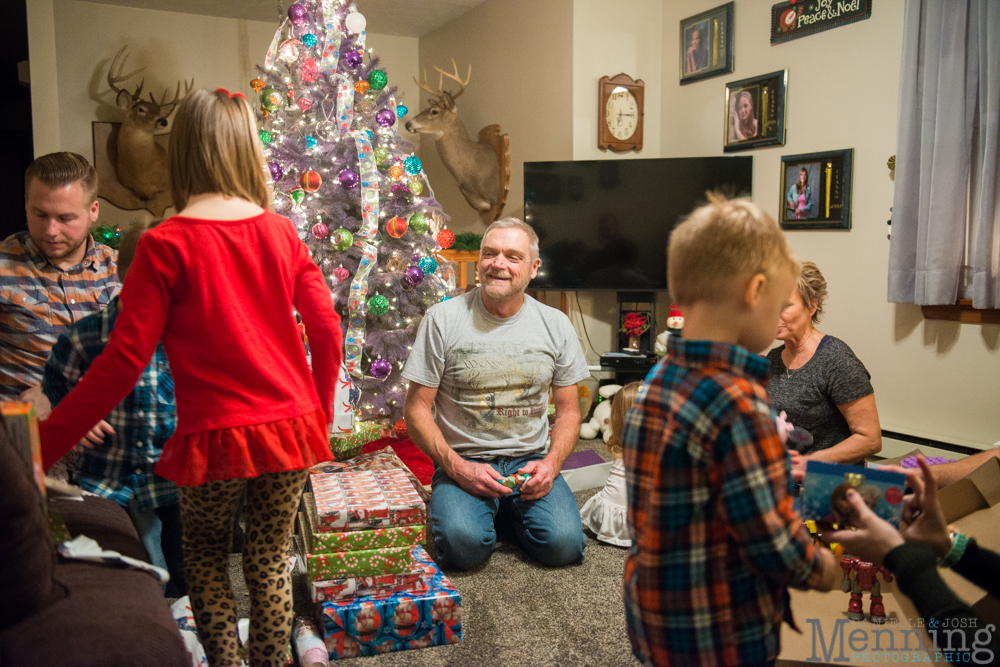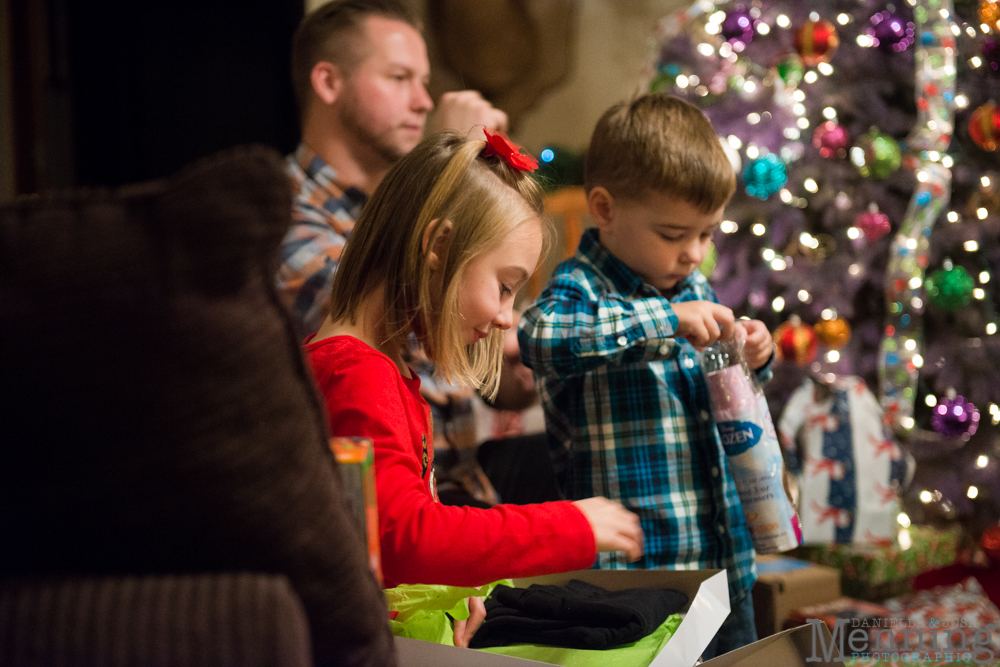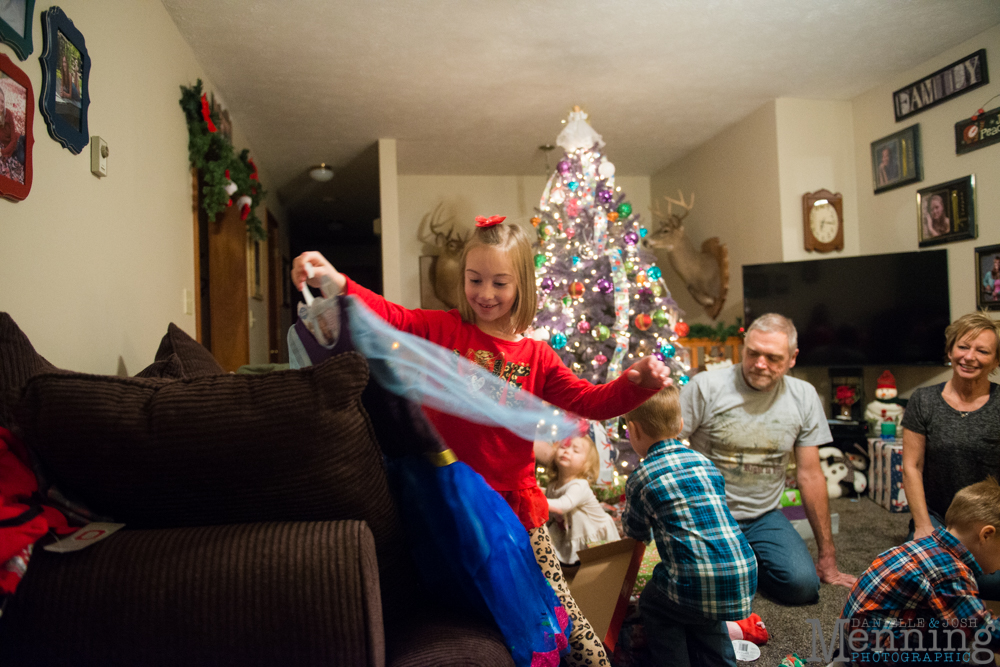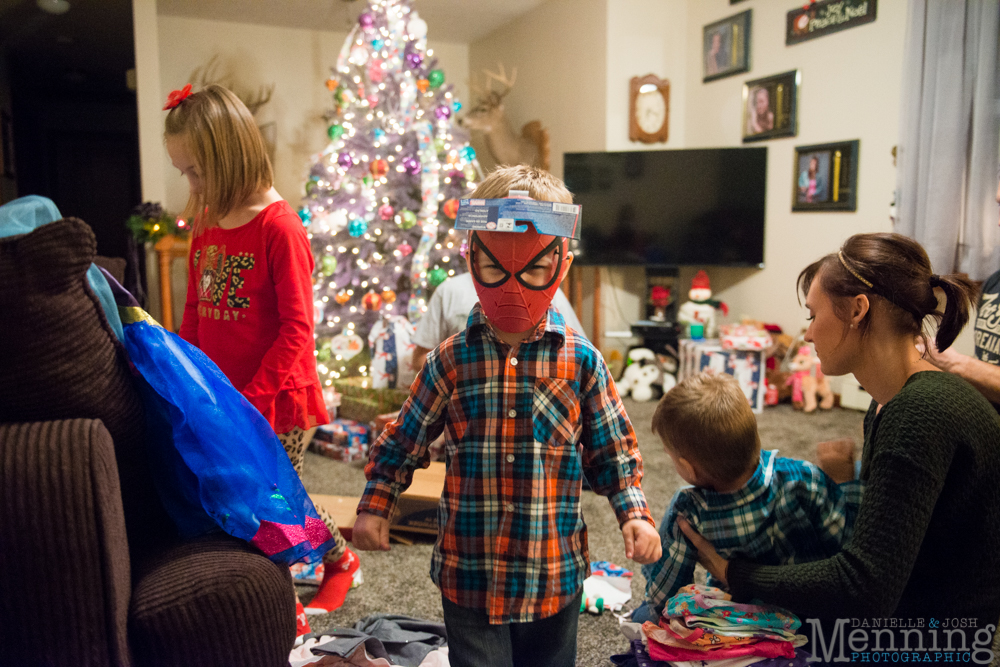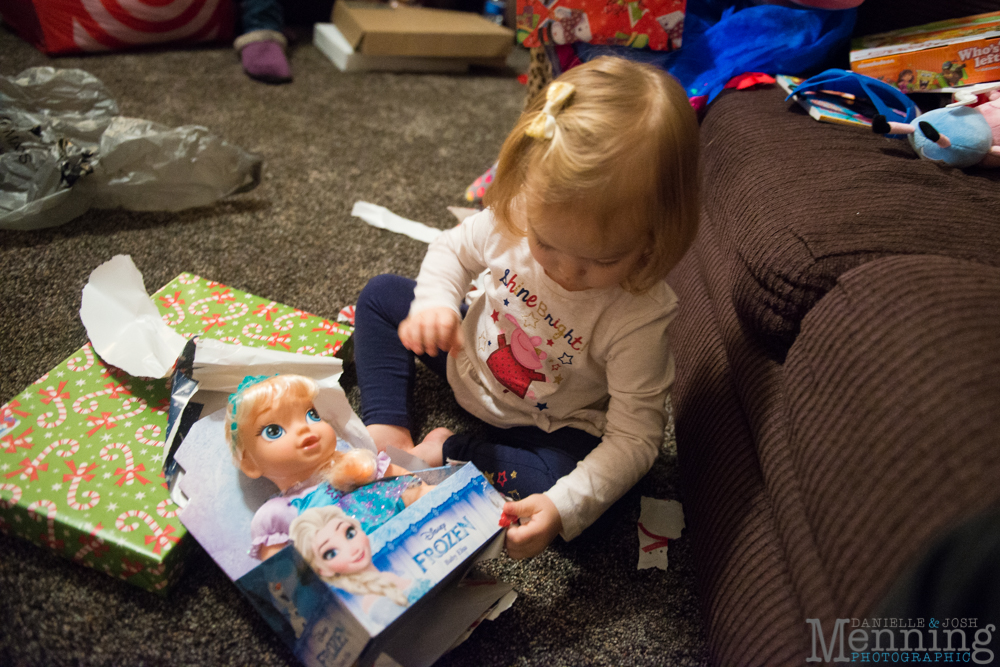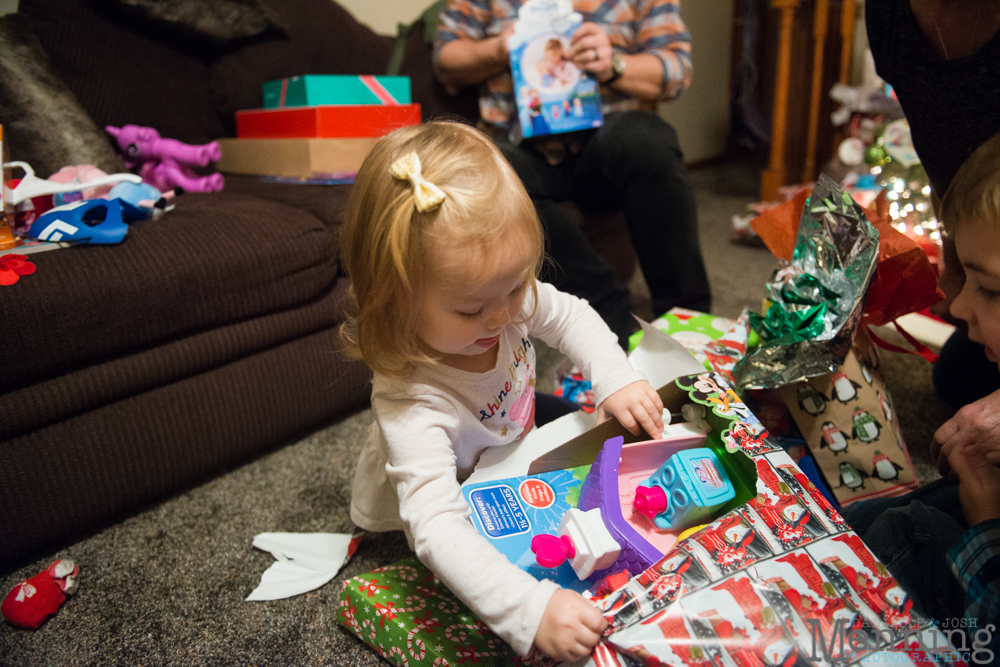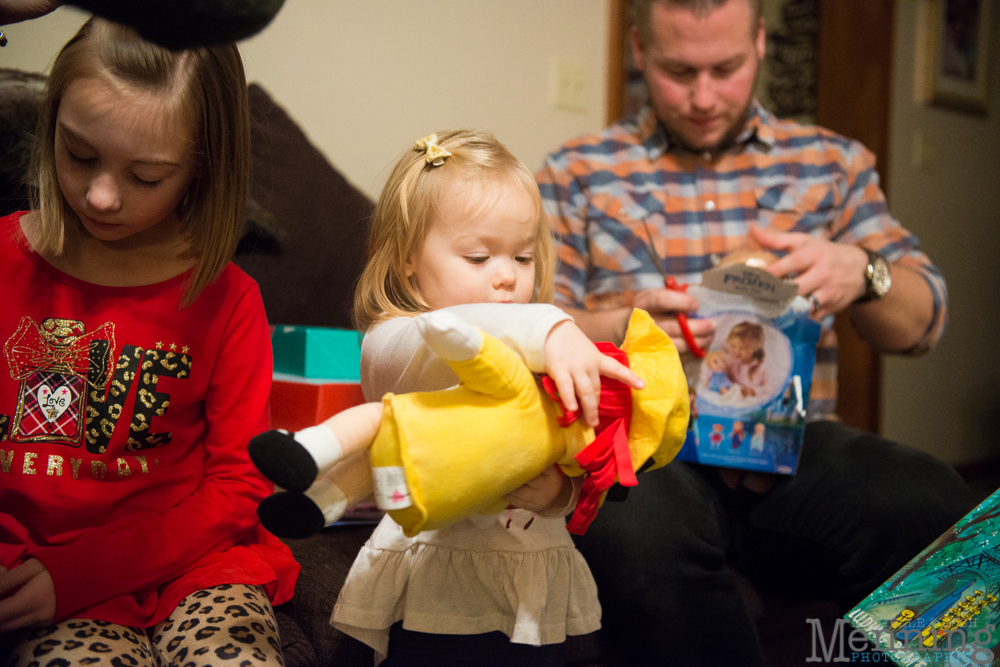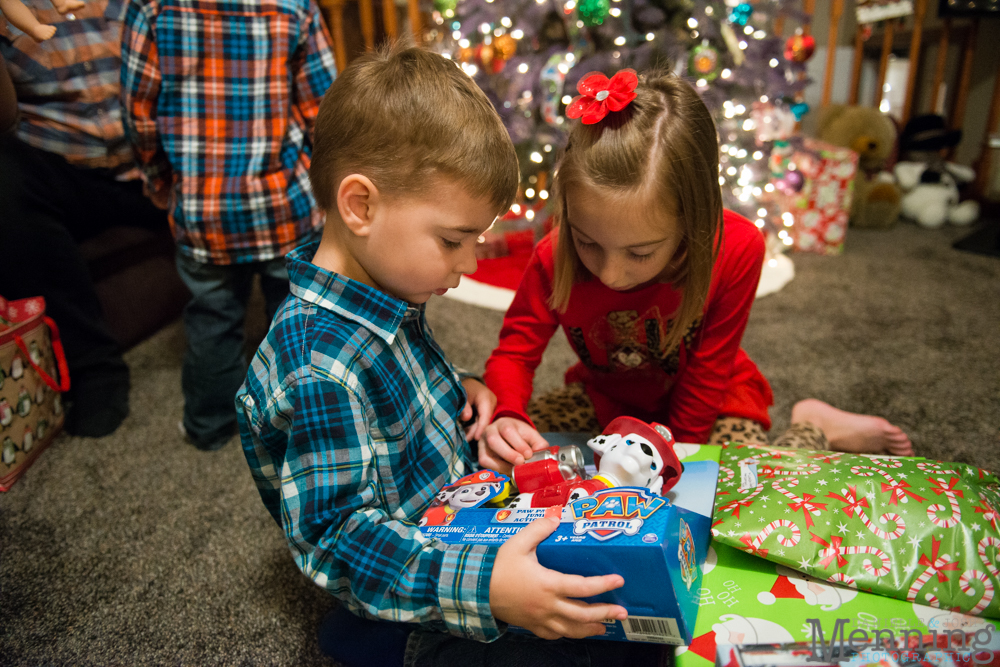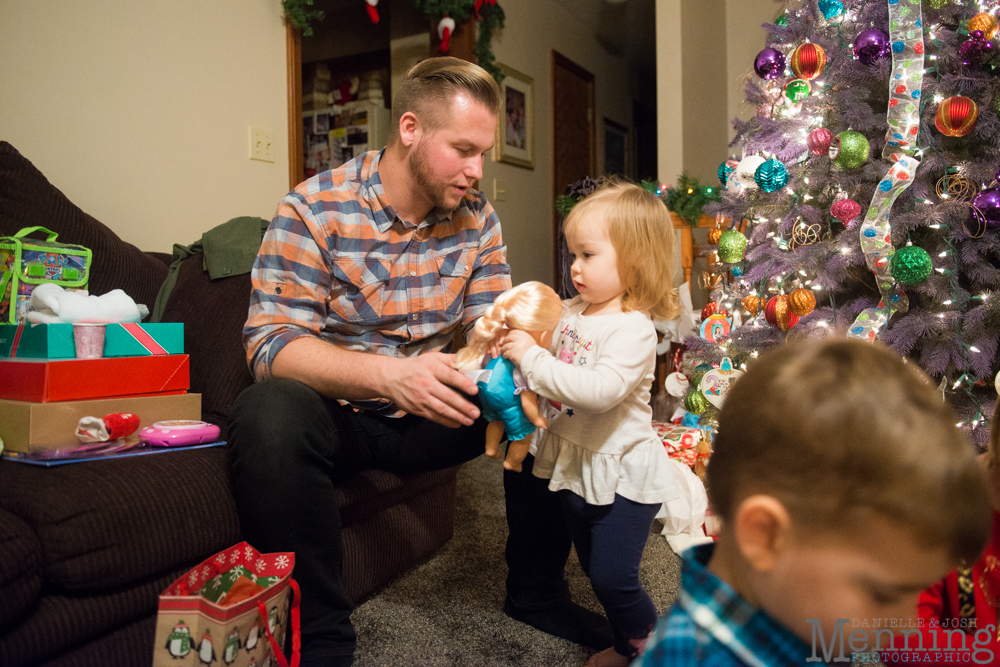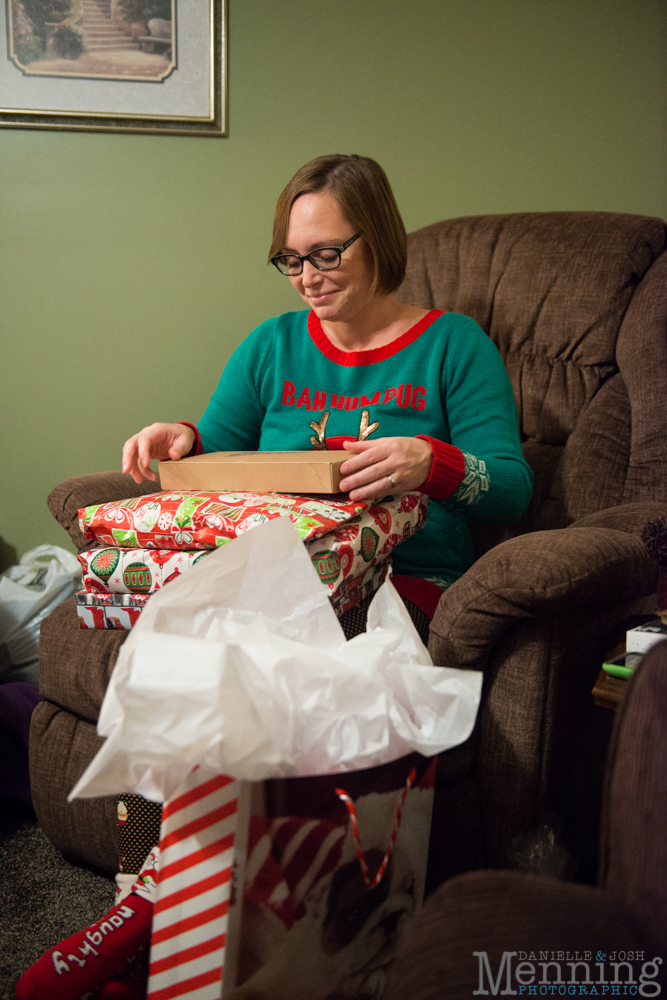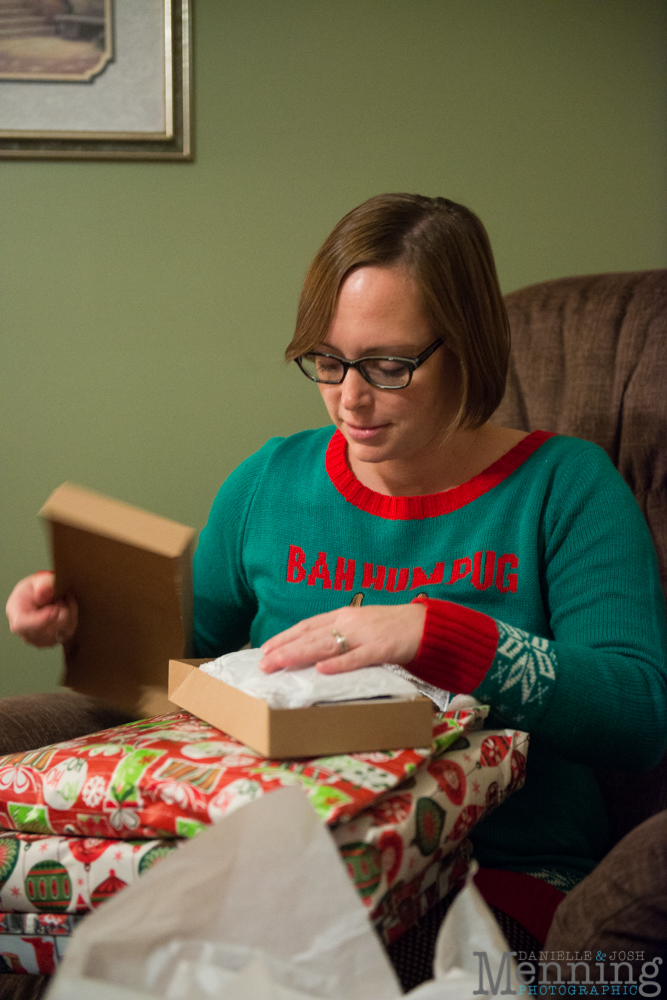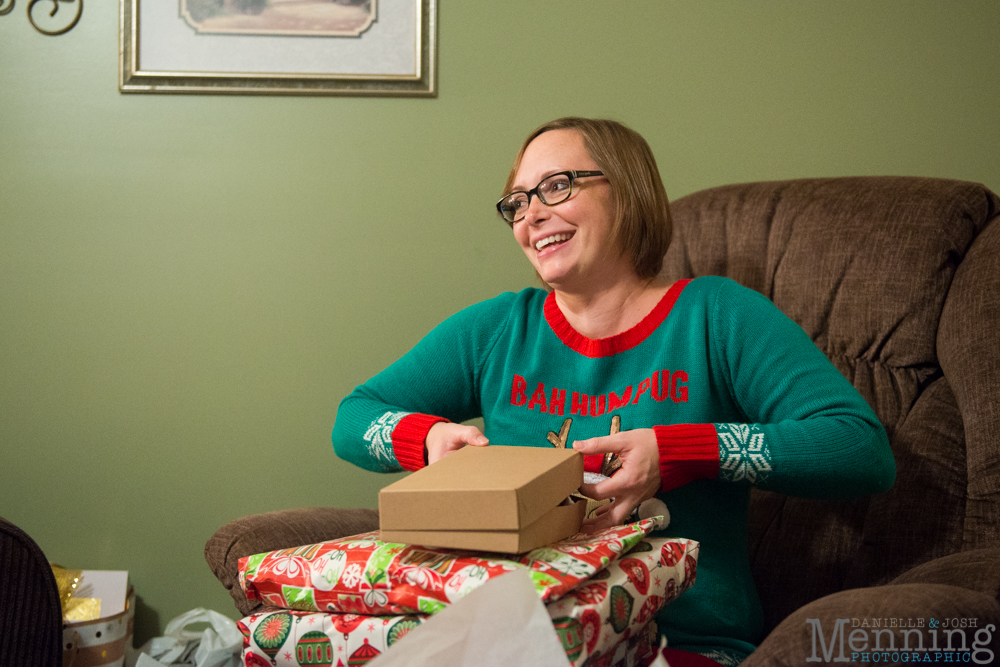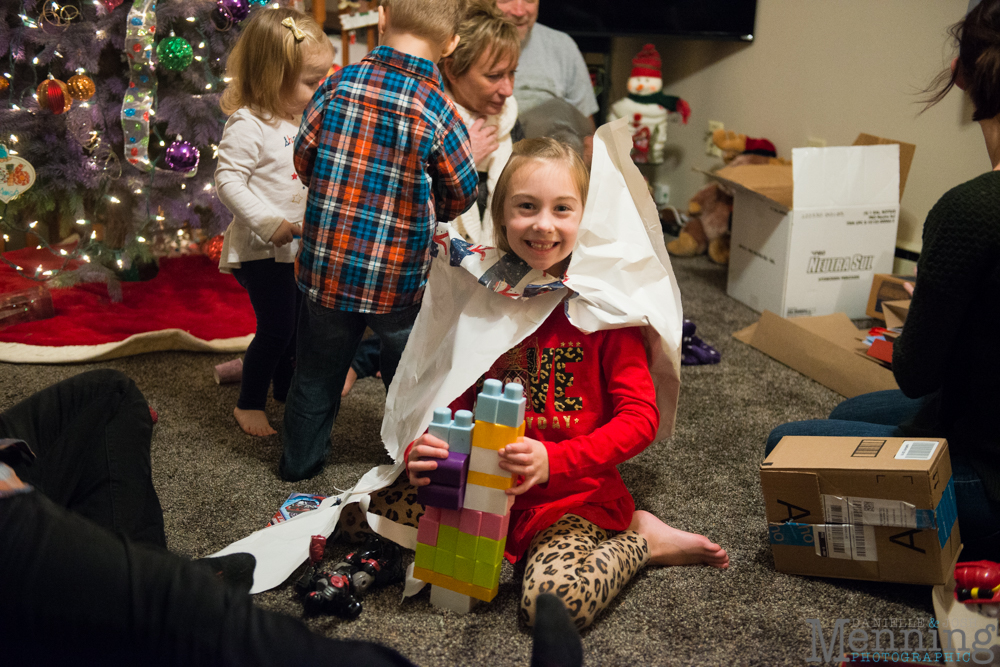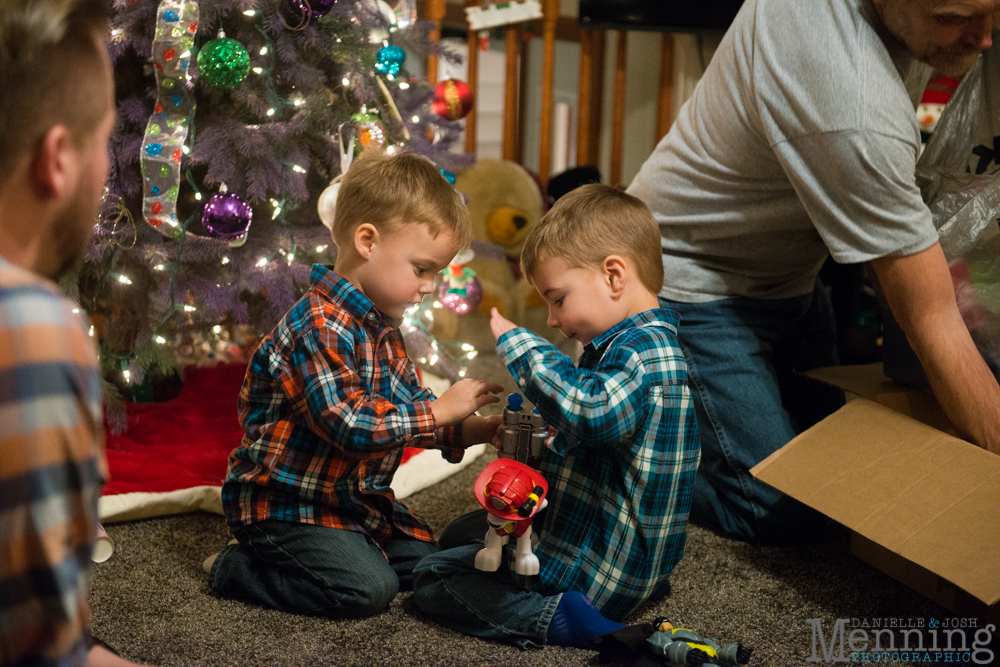 Then it got crazy. haha.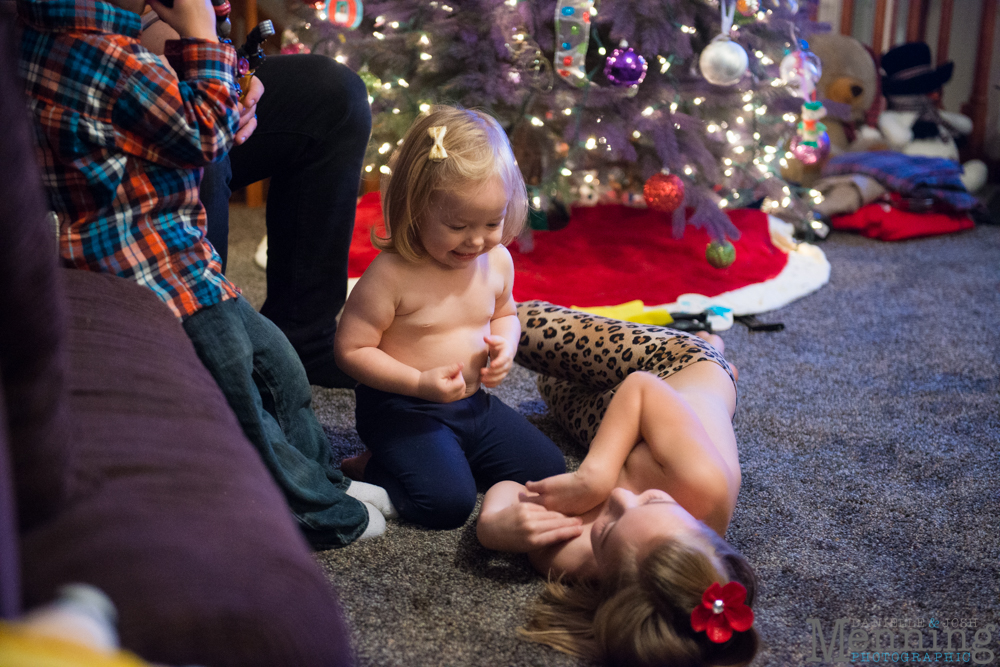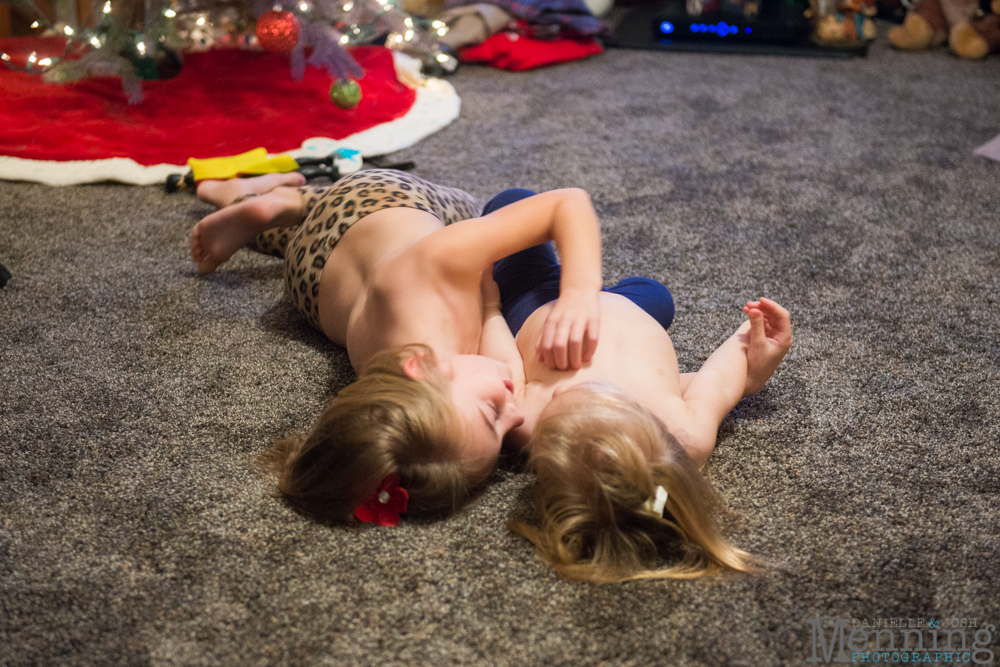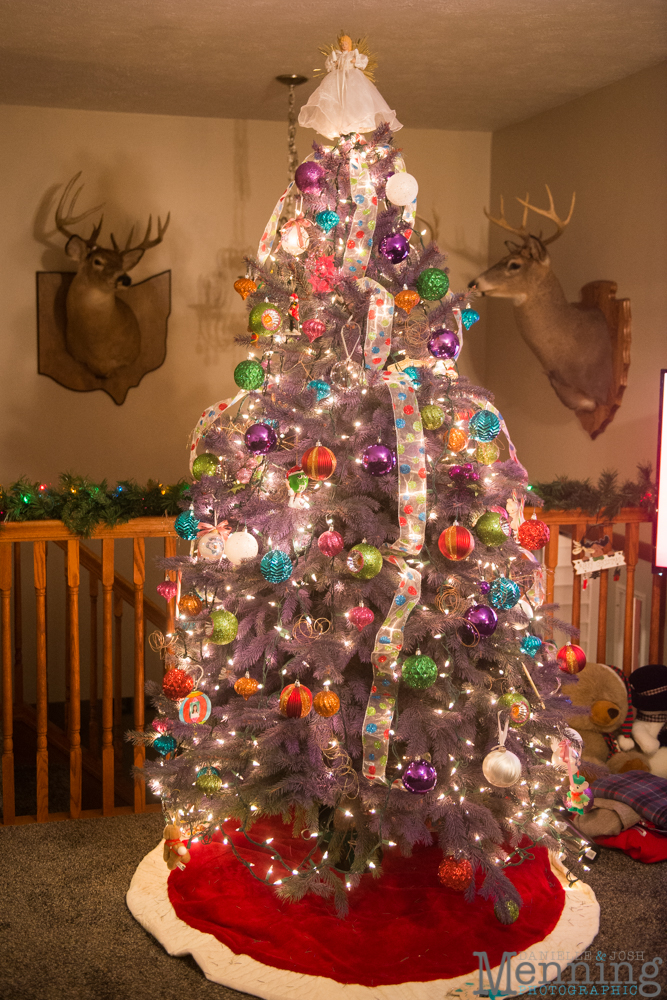 Mom & Dad got me the Bah Hum Pug shirt. It's too silly & perfect with my baby bump.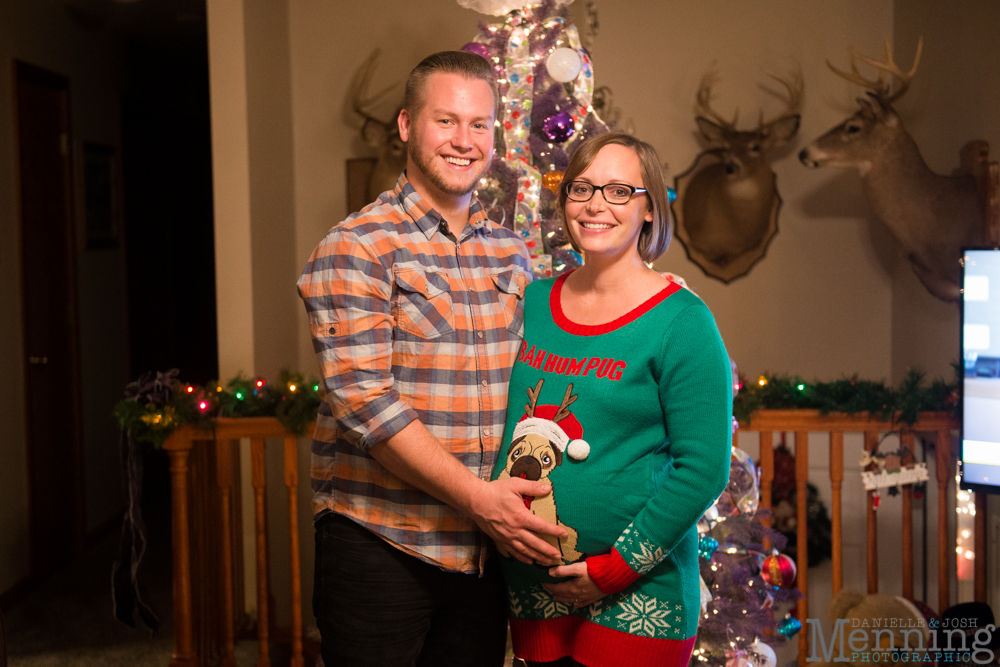 It was in the 40s on the 27th so we took the wagon out for her maiden voyage.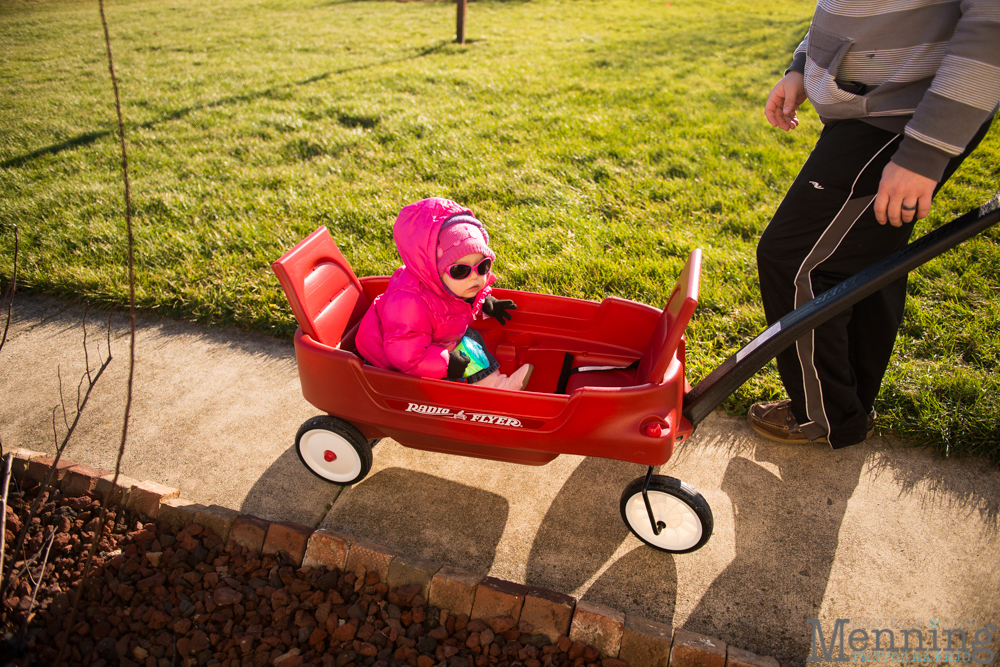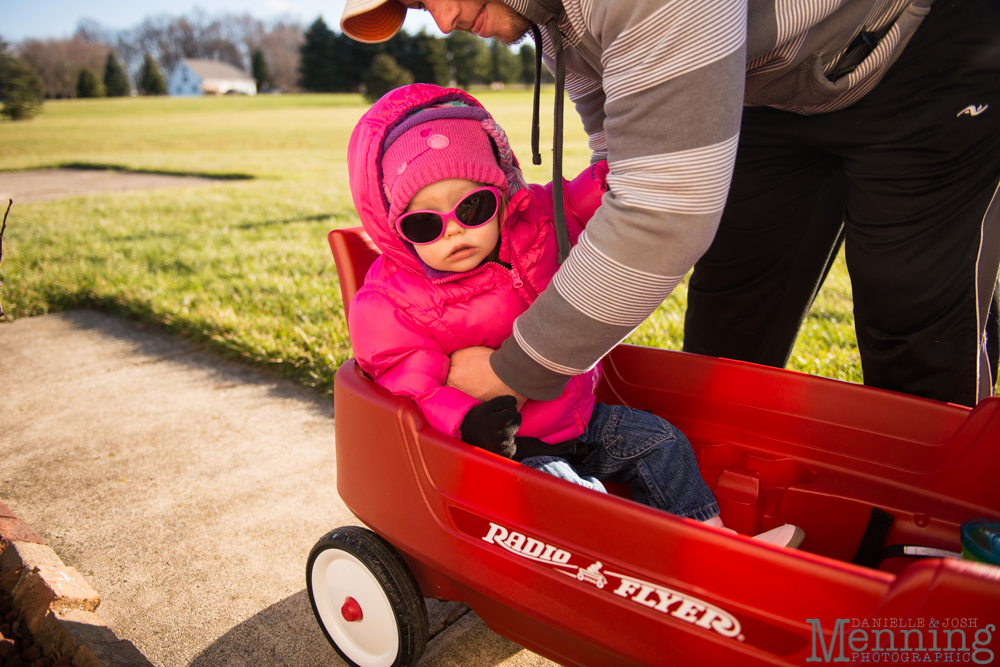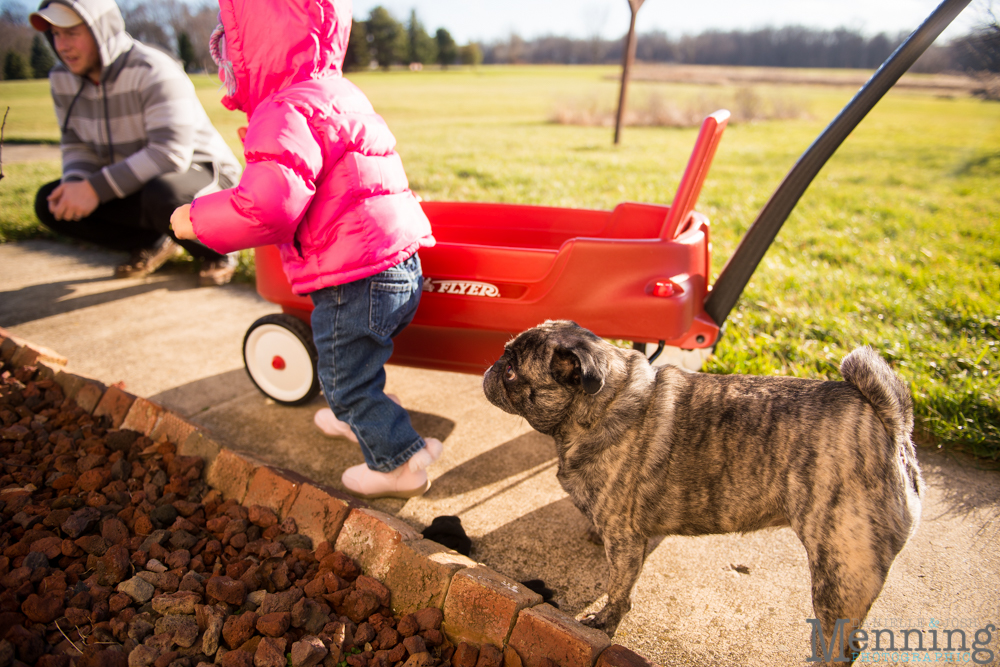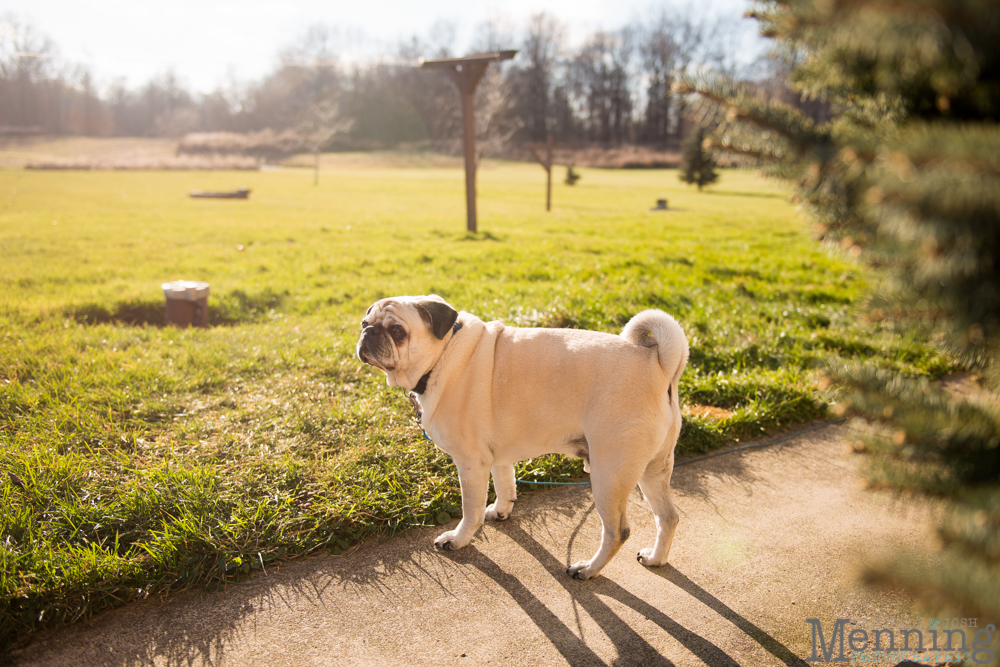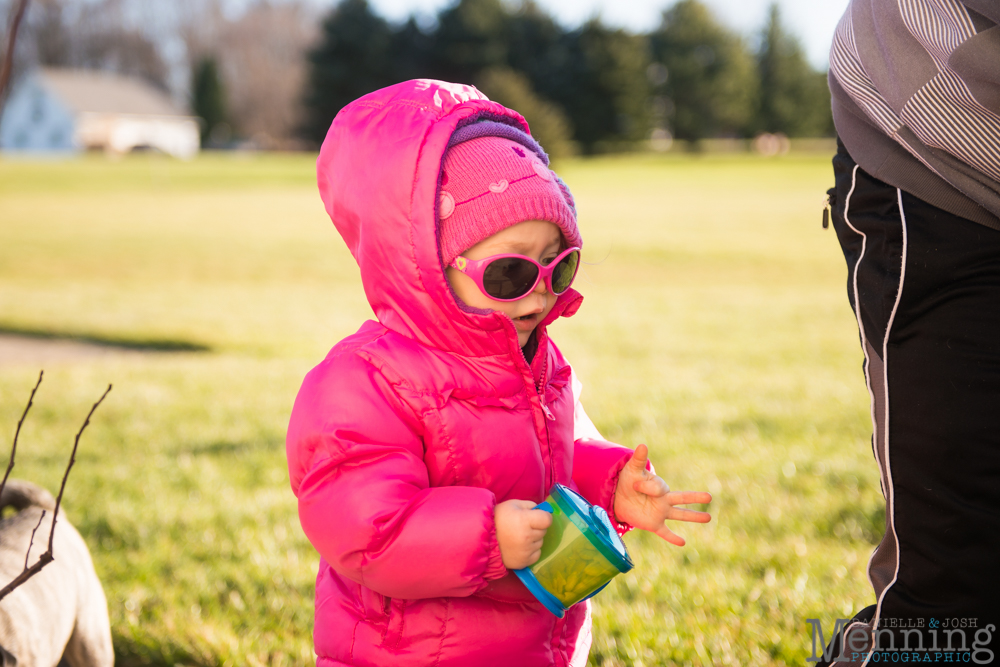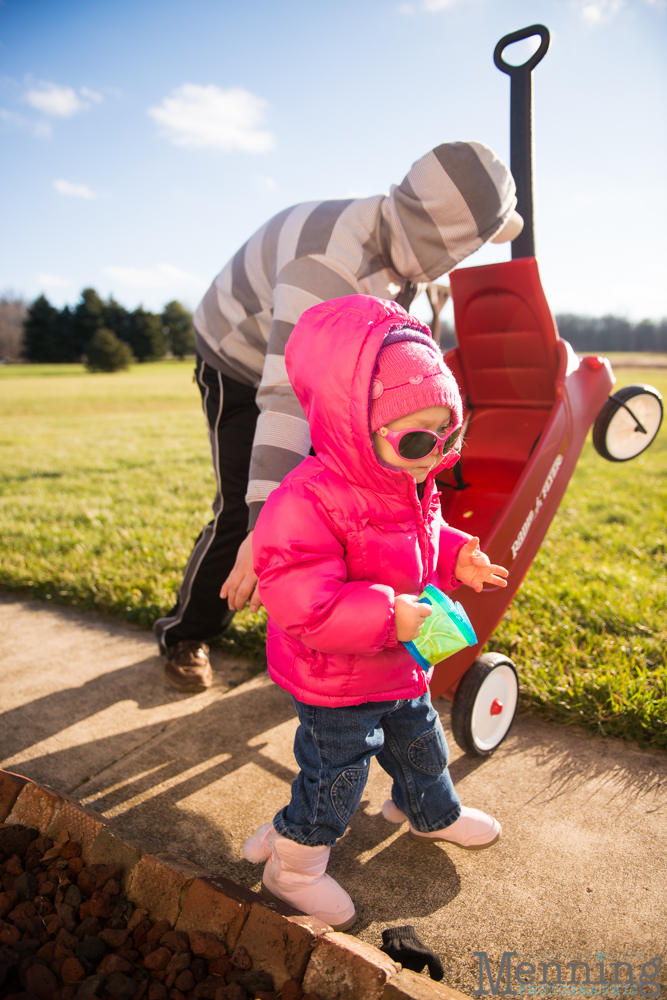 Tenley wanted her pug siblings to join in the fun. It was really funny. Norris stayed in there when bribed by Tenley's goldfish crackers, but Punky wanted no part of it.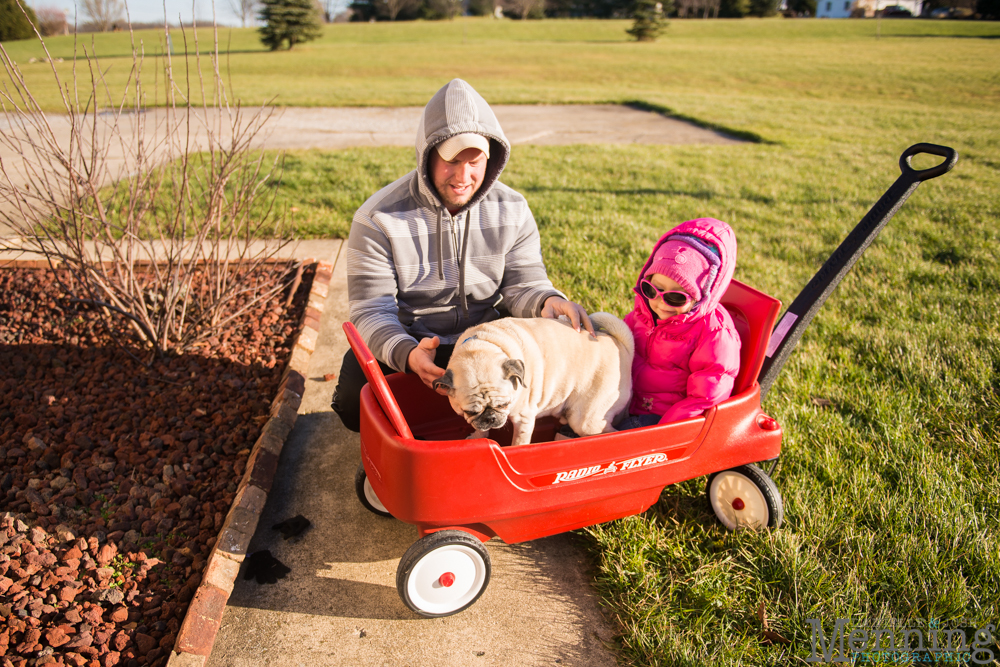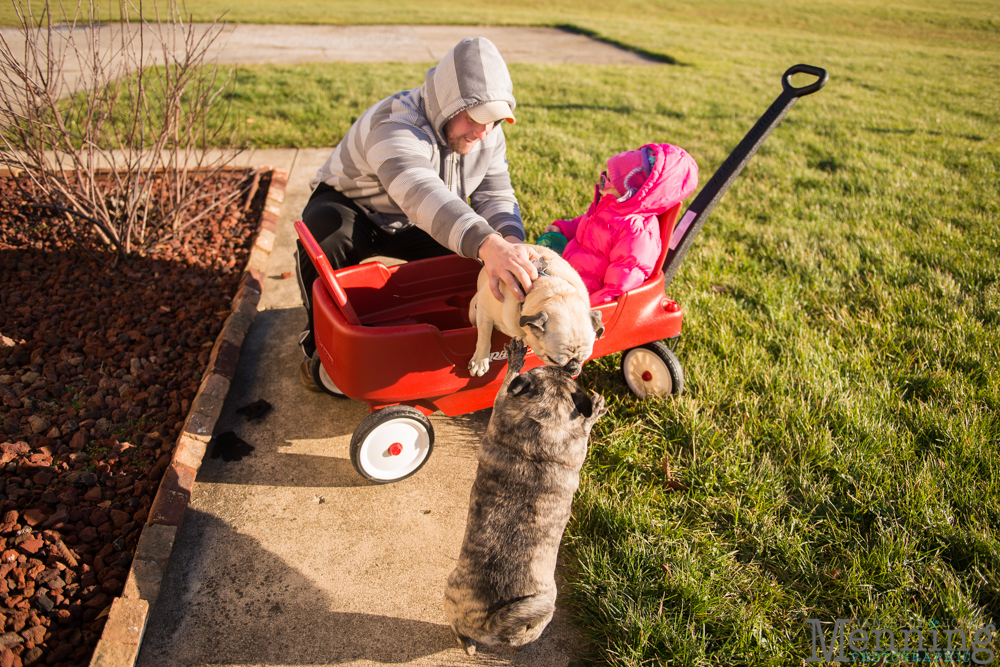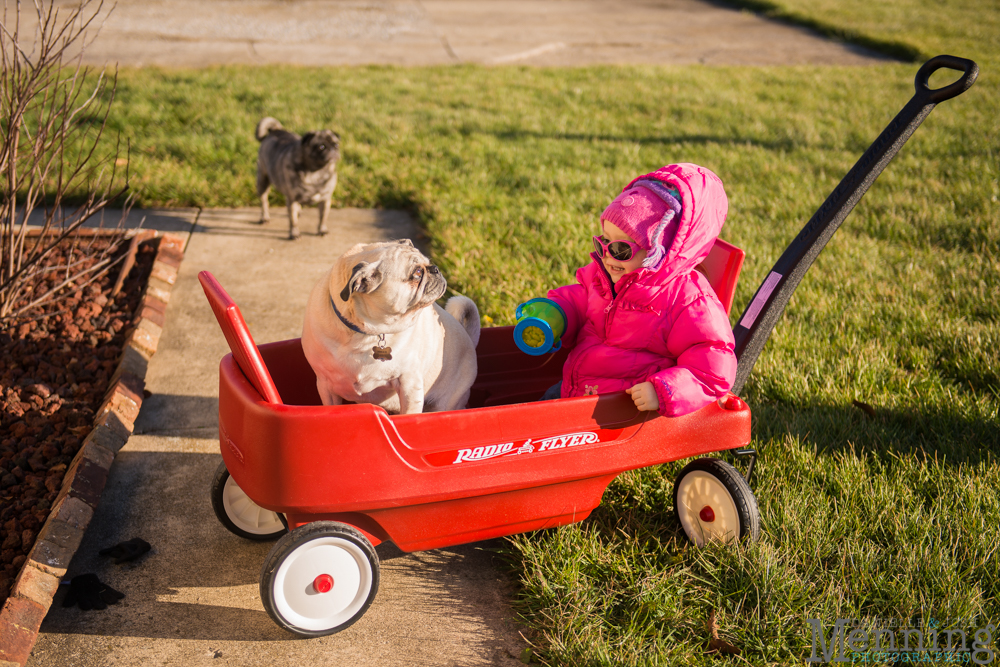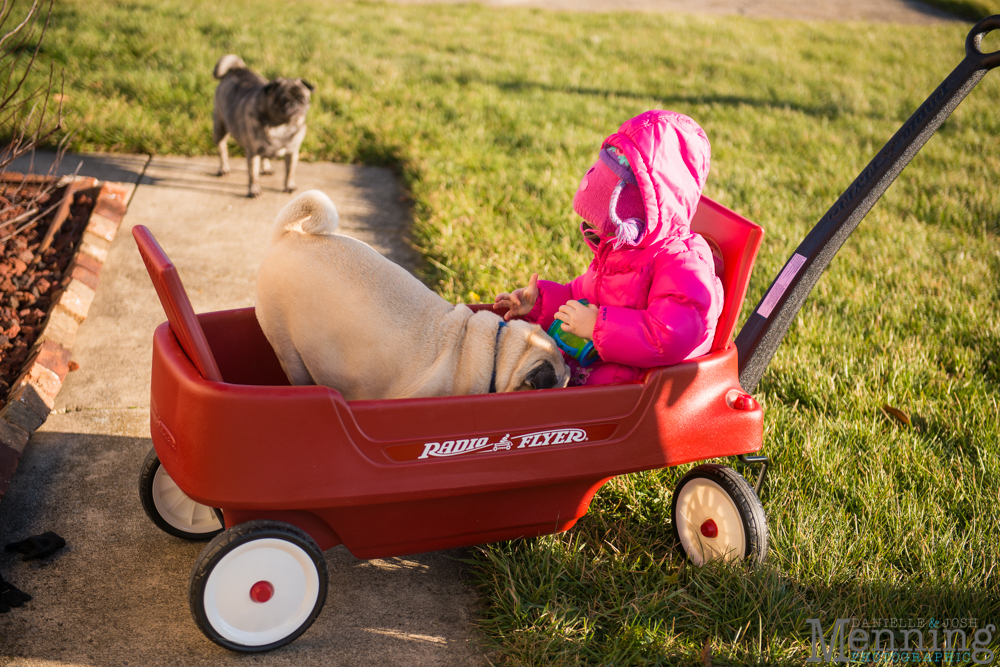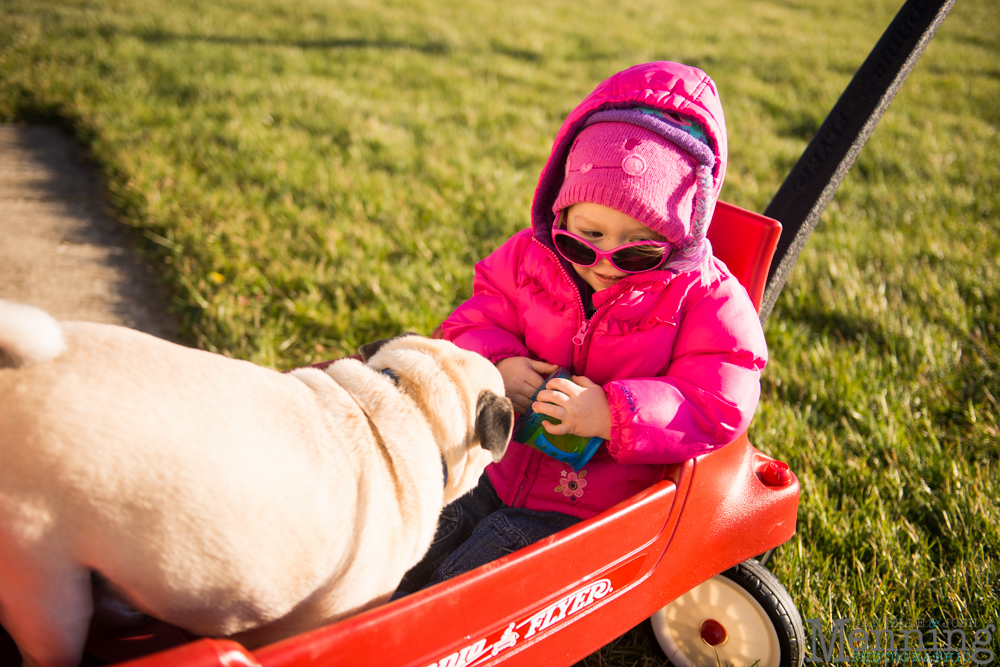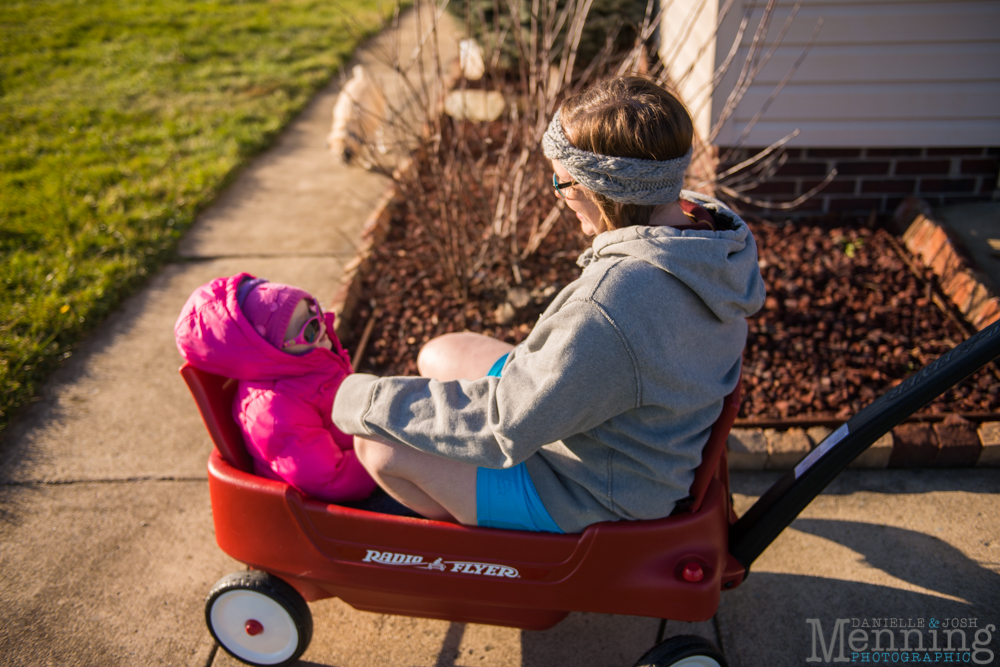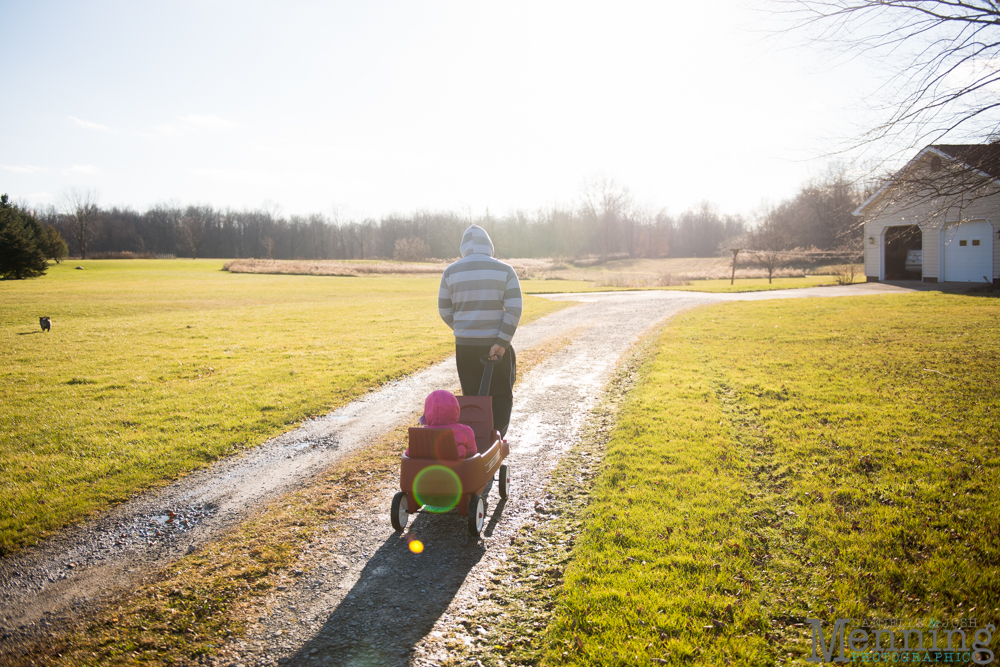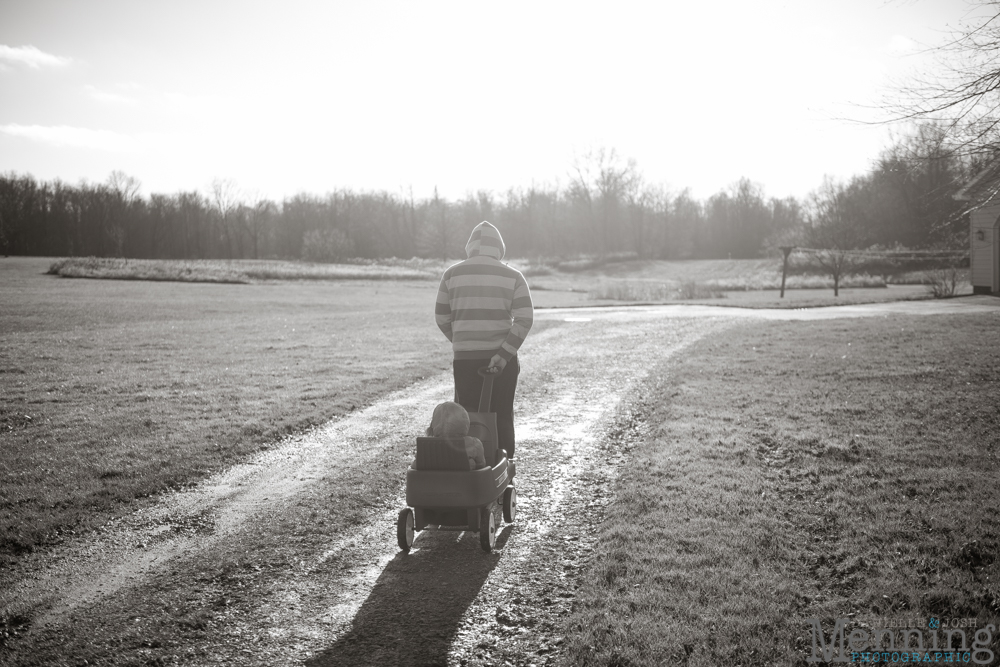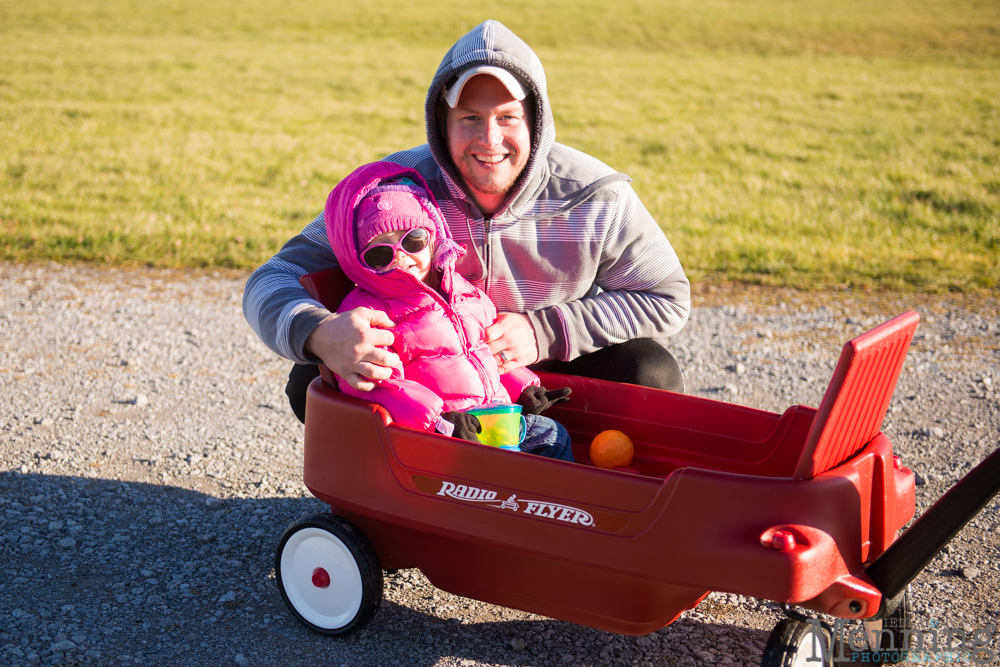 As we reflect on all of the blessings & challenges this past year has brought to us, we are constantly reminded of God's grace & of how God has placed the perfect people in our lives at exactly the right moments. We're excited to see what 2017 will bring our family. . . most especially in early March when we find out if our baby is a boy or girl after he or she is born!
Thanks for stopping by our blog! If you liked this post, you may like:
Instagram | Facebook | Twitter | Pinterest | Google +