Loved. Happy. Joyous. Excited. Cherished. Honored. Spoiled. Ecstatic. Those are just a few words to describe how we felt last weekend at our baby shower. Our family & friends surrounded us with love & smiling faces; we could feel the joy and excitement radiating from them! It's such a blessing & truly humbling to be surrounded by people who love us so much & who already love our baby. My mom Melody, Josh's mom Cheryl, Aunt B, Uncle Dale, Aunt Robin, Uncle Mike, G-ma Charlotte, Grandma Esther, Angie, Amy, Jamie, Jill, Cheri, my dad Larry, and Josh's dad Damon all helped us so much with the baby shower; we can't thank these awesome people enough for being such helpful & supportive presences in our lives! We love you all!
I really liked the Cute As a Button baby shower theme that I saw on Pinterest (where else, amIright?!) because it's great for a gender neutral shower & because (I know I'm extremely biased) I think our baby is way cute already just judging from his/her ultrasound photos. Here are our invitations that Josh designed. I blocked out my mom's phone number so you can't creep on her. 🙂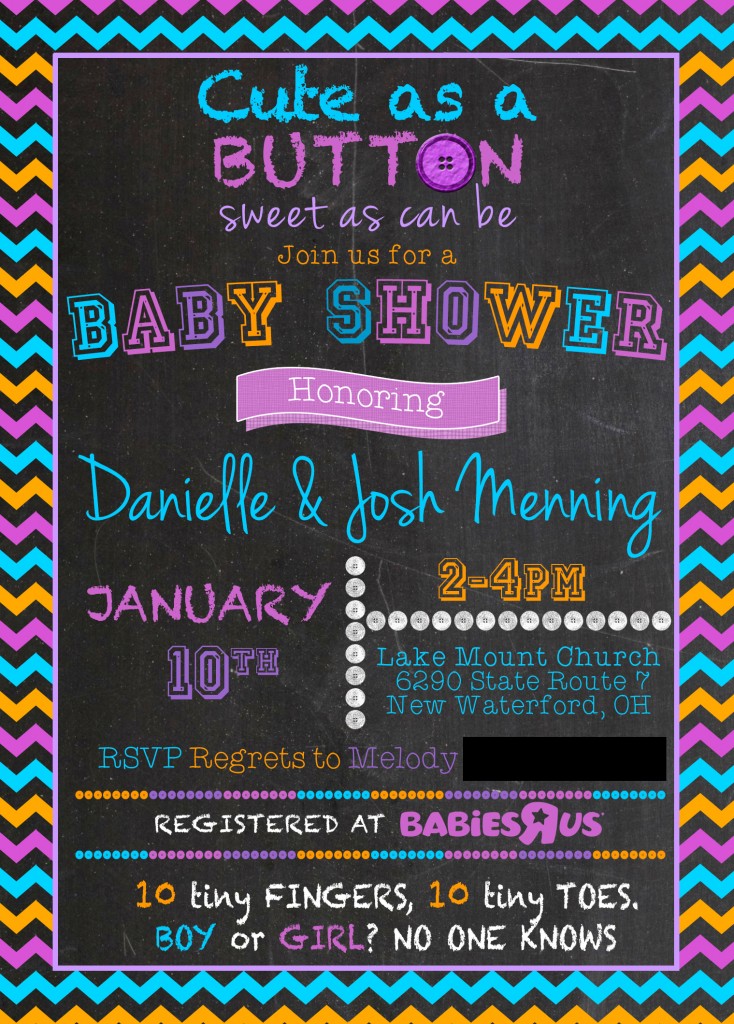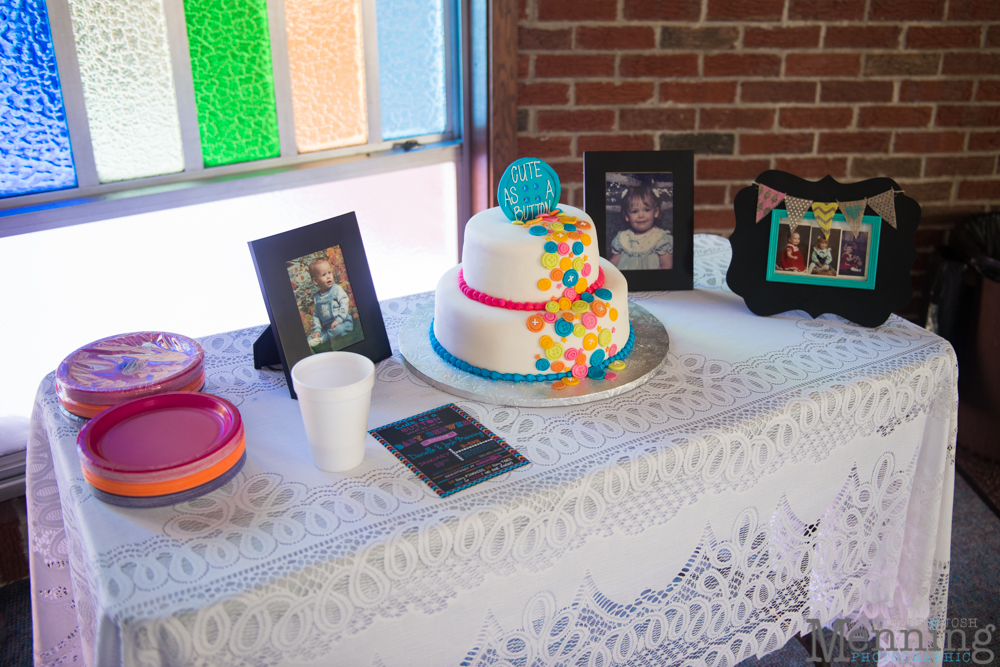 Western Reserve Sparkle made our cake & we loved it!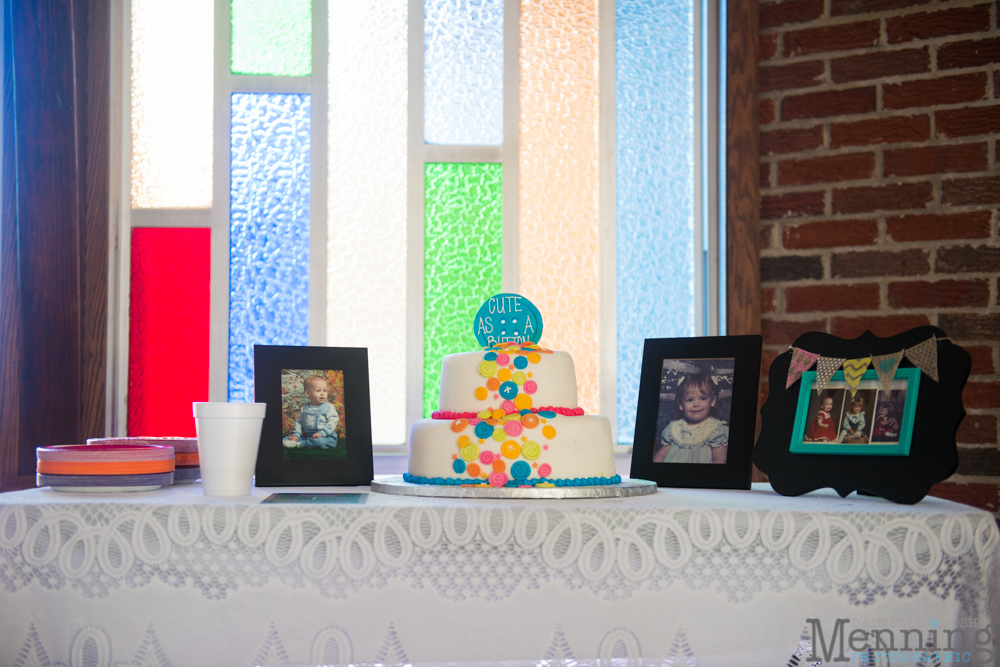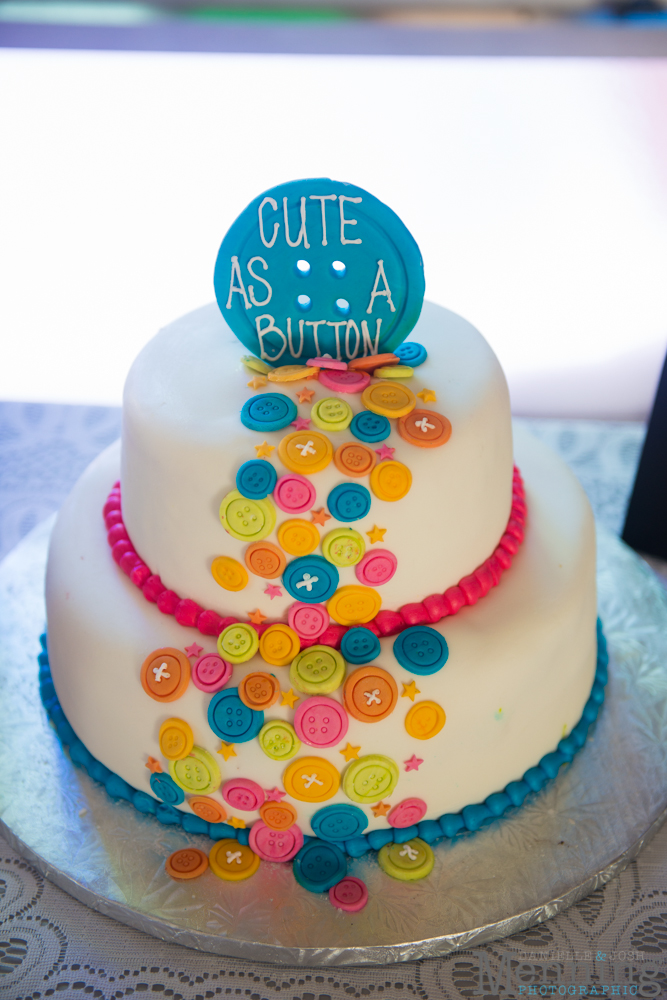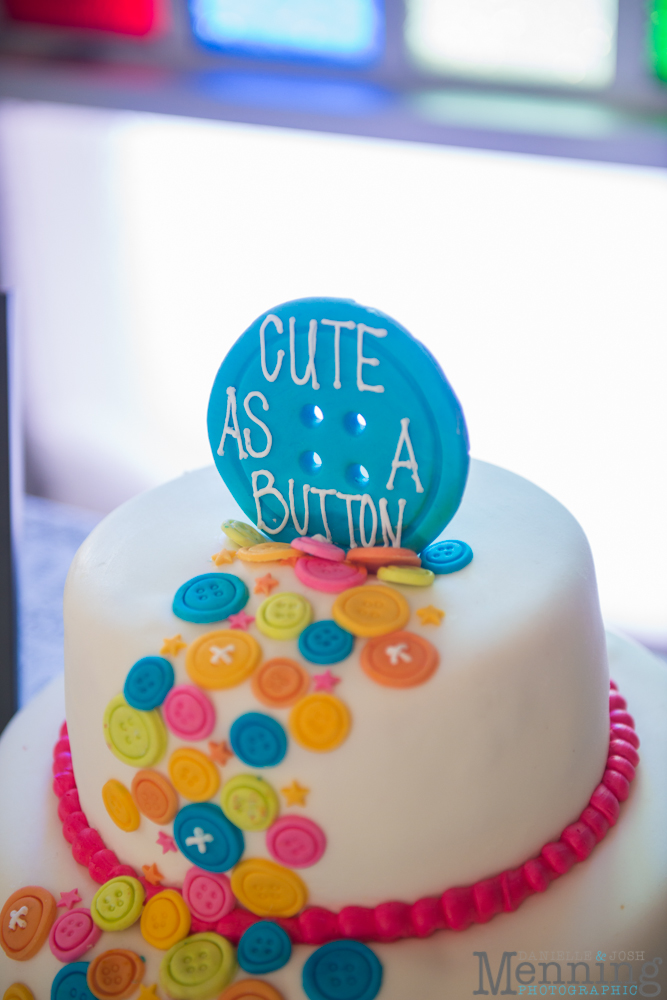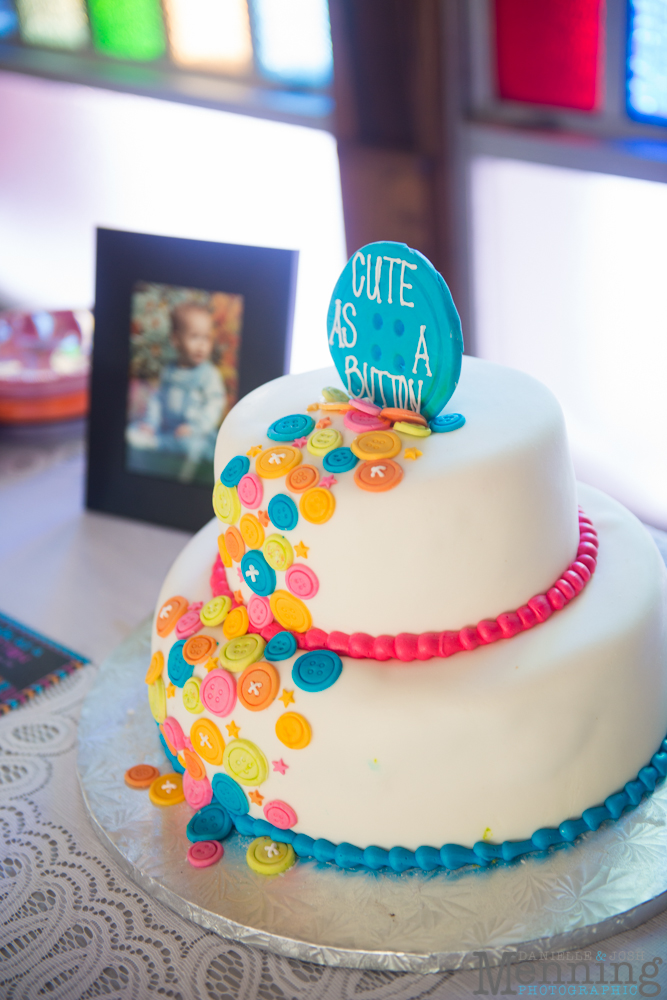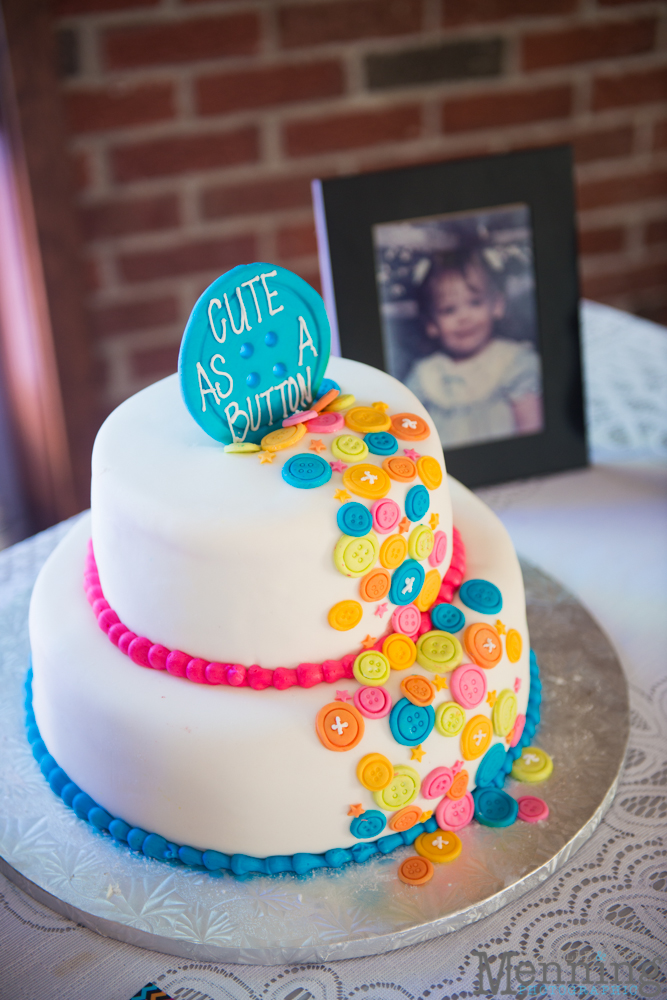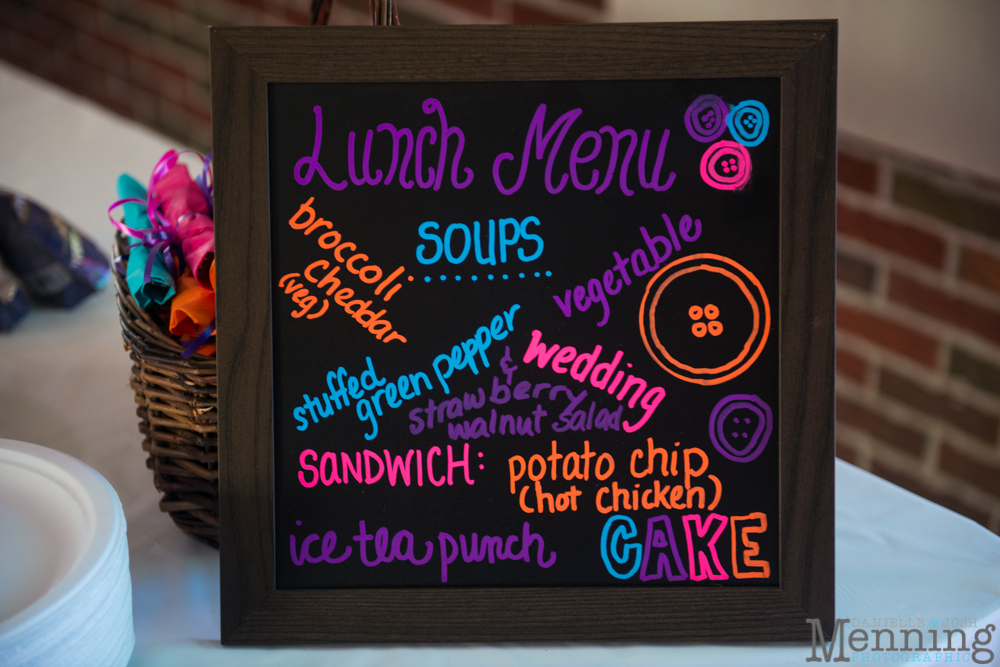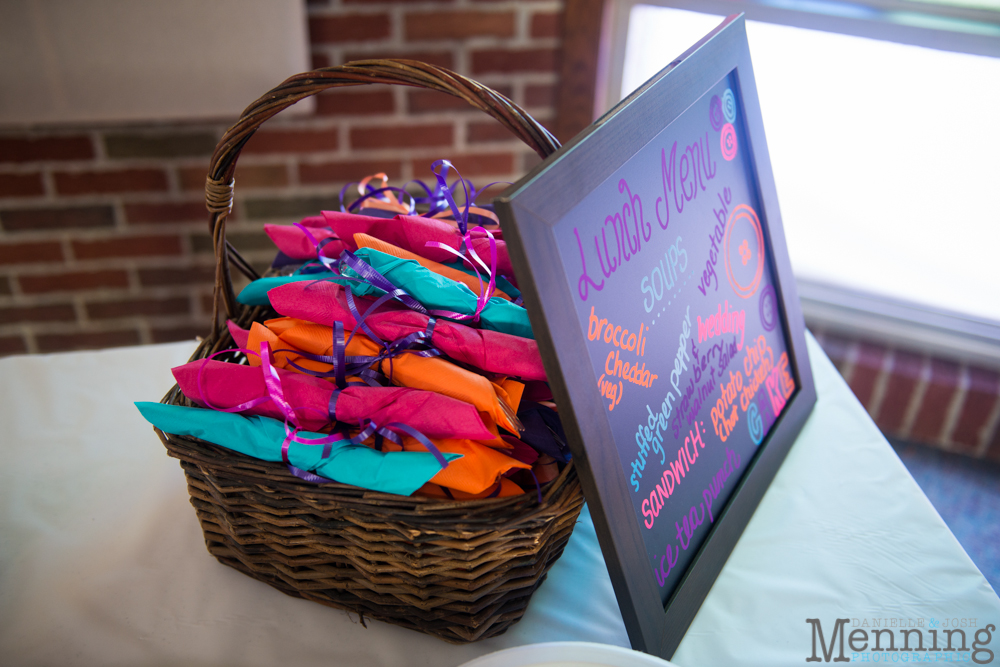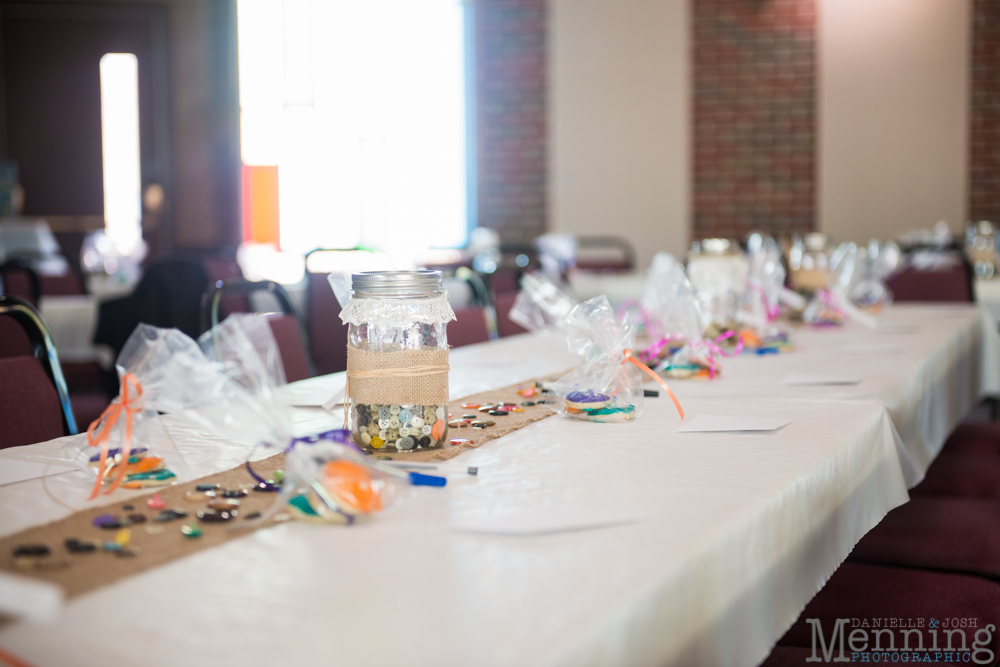 Our favors were little sugar cookies that looked like buttons. They were delicious because they were made by the one and the only Tammy McElhaney from our church. She is a top notch baker!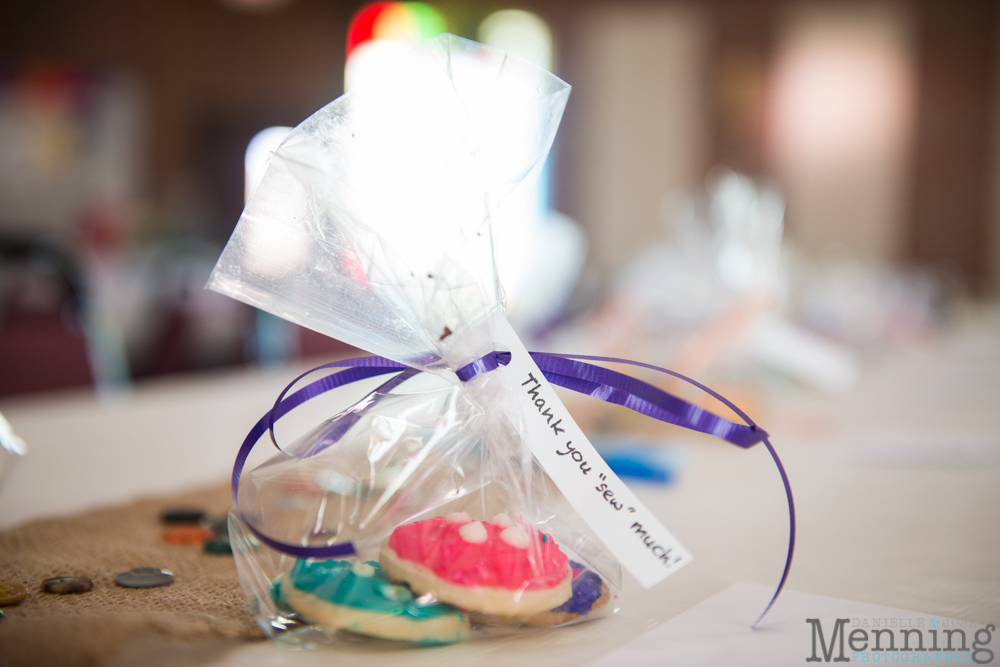 We used burlap runners for the table decor along with decorated mason jars full of buttons. We also scattered buttons on the tables. I got some buttons from my mom and some from Josh's mom. I also ordered a few containers full of assorted buttons from Amazon Prime in order to have enough for what I wanted to do. 99% of our decorations and party supplies came from Pat Catan's.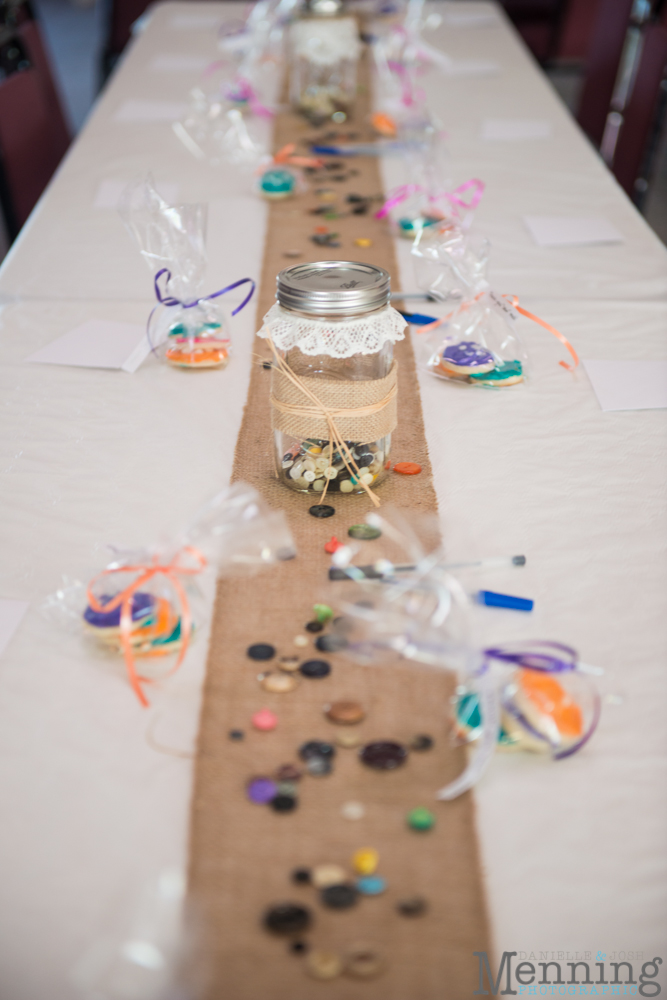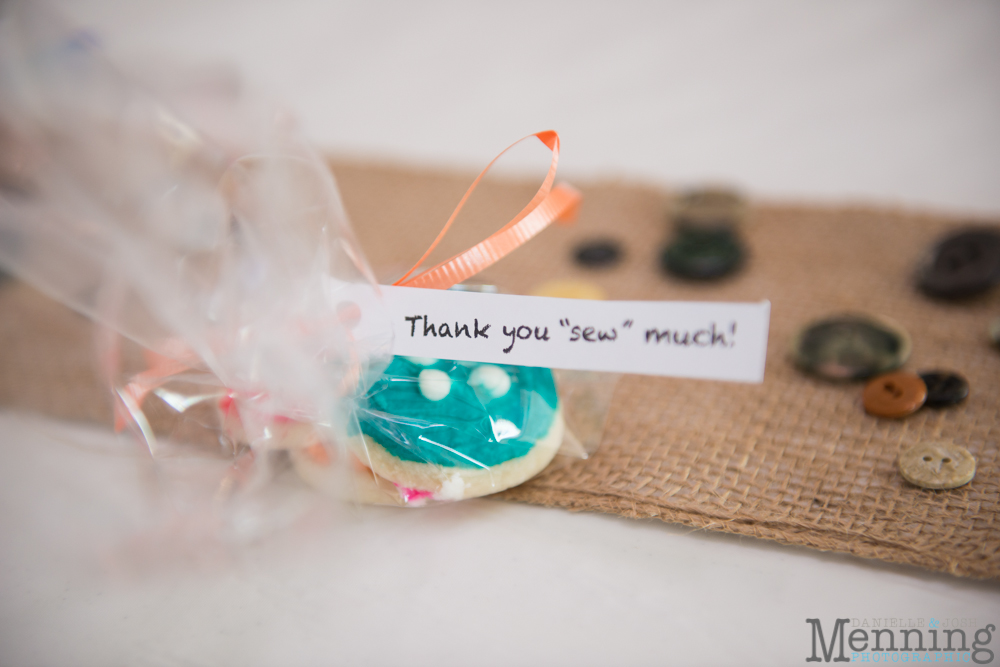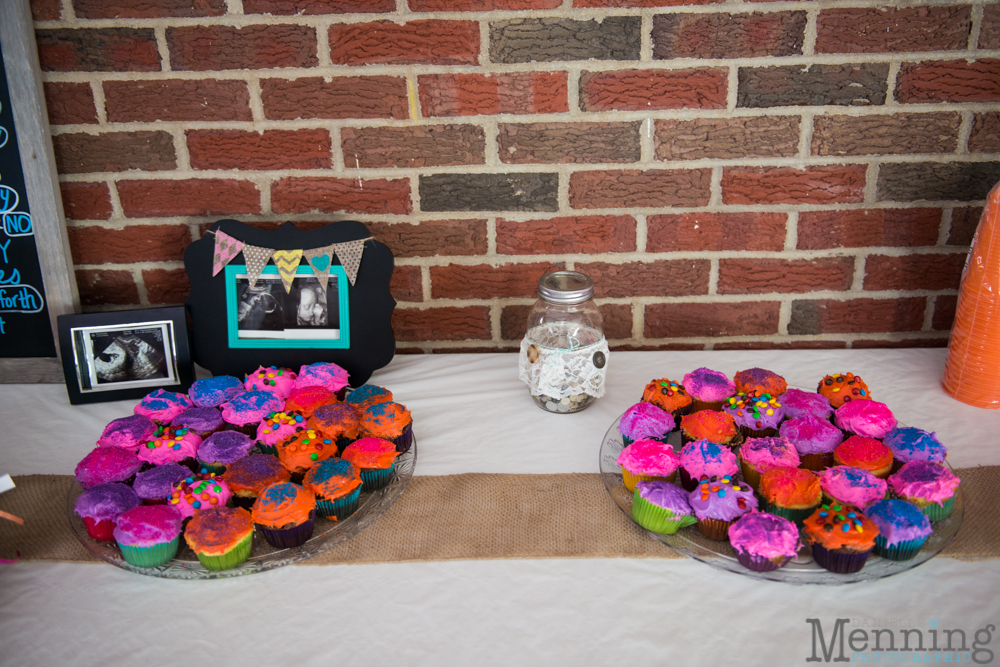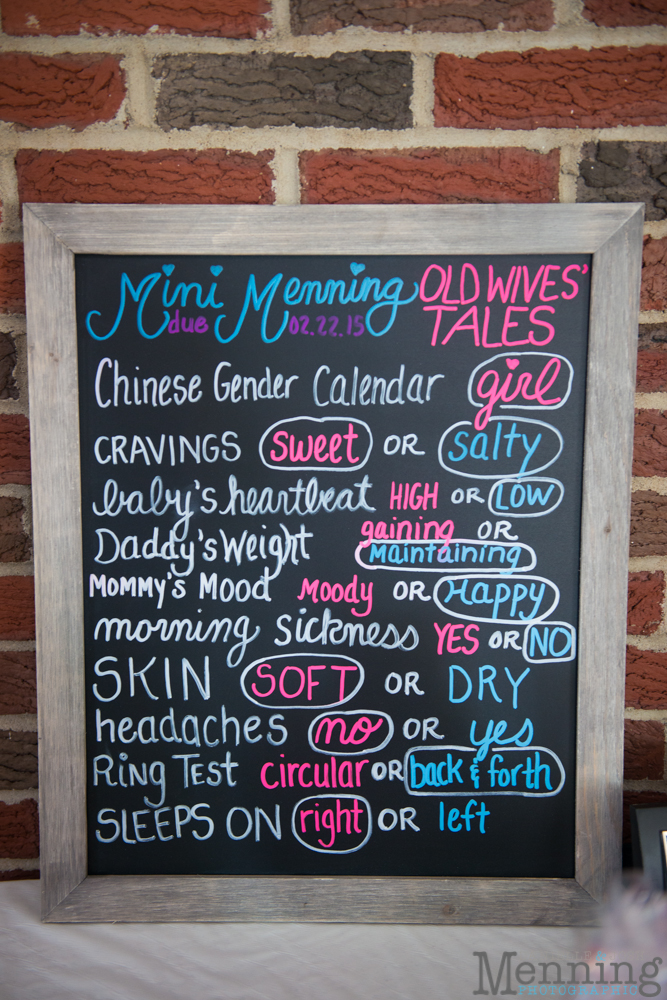 I made most of the decorations myself. I had fun with it, but it was slightly annoying because I've recently been dealing with pregnancy-induced carpal tunnel, which makes my hands & wrists numb, tingly, and weak. It's nothing too bad and I can definitely deal with it! My pregnancy has been so smooth & wonderful. I'm not complaining about this one bit! It's just a fact of my life right now; my midwife says it'll subside a few weeks after baby is born.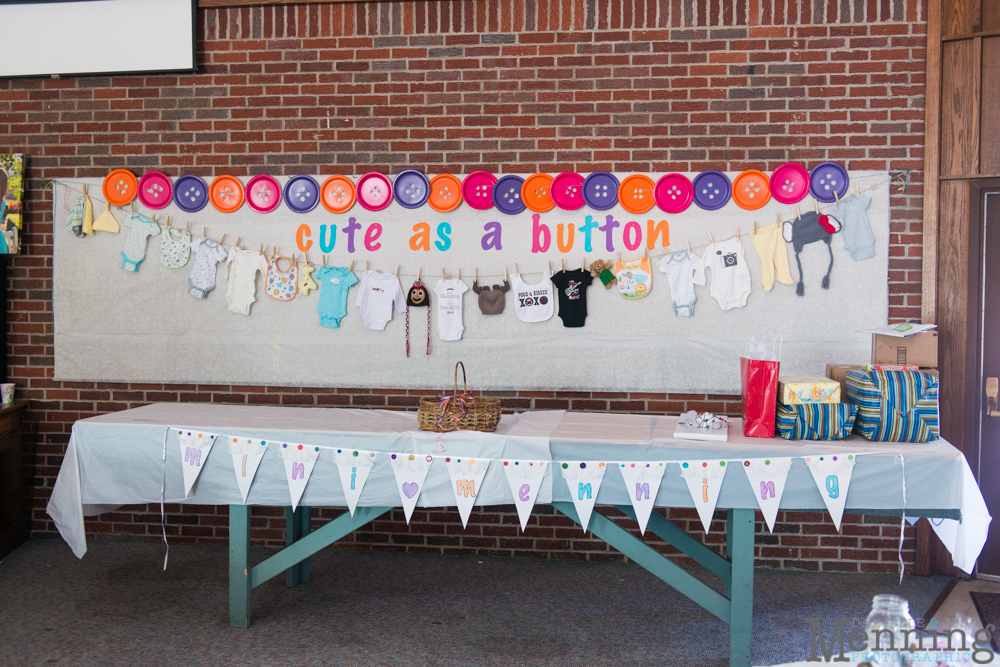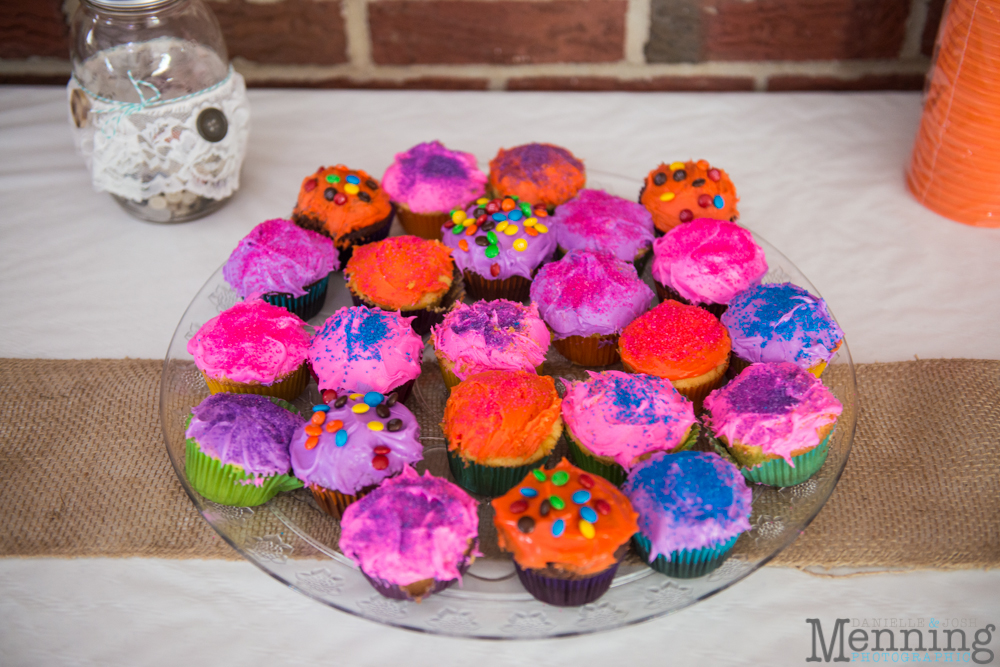 My friend Jill helped me with the paper plate button banner. It was nice to hang out with her while she was on break from teaching and chat about everything going on in our lives. She has two beautiful daughters & I know I can ask her anything about pregnancy, childbirth, and parenting. She's the best.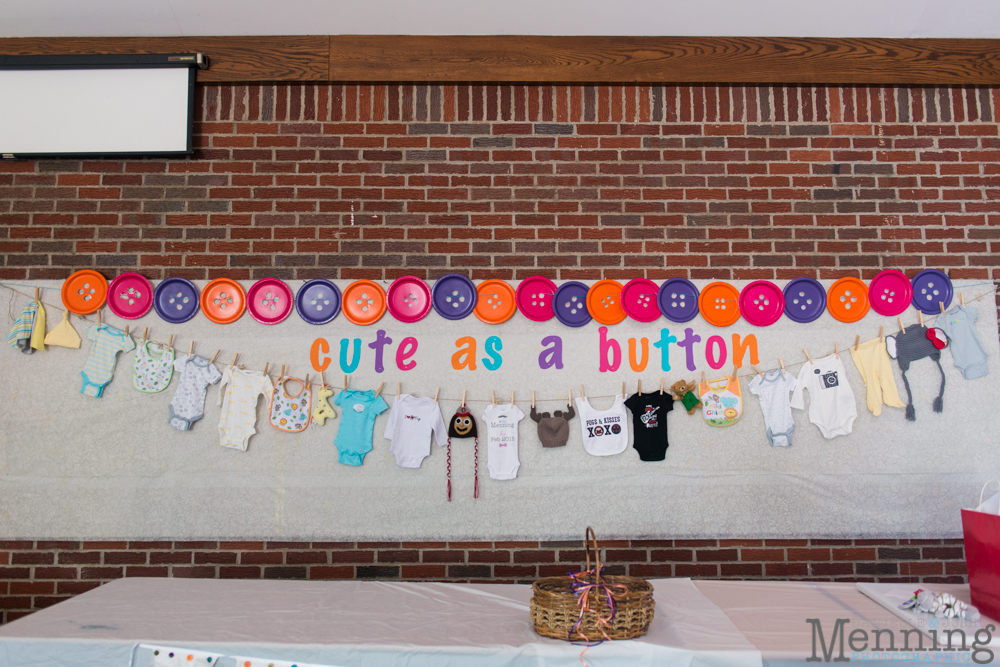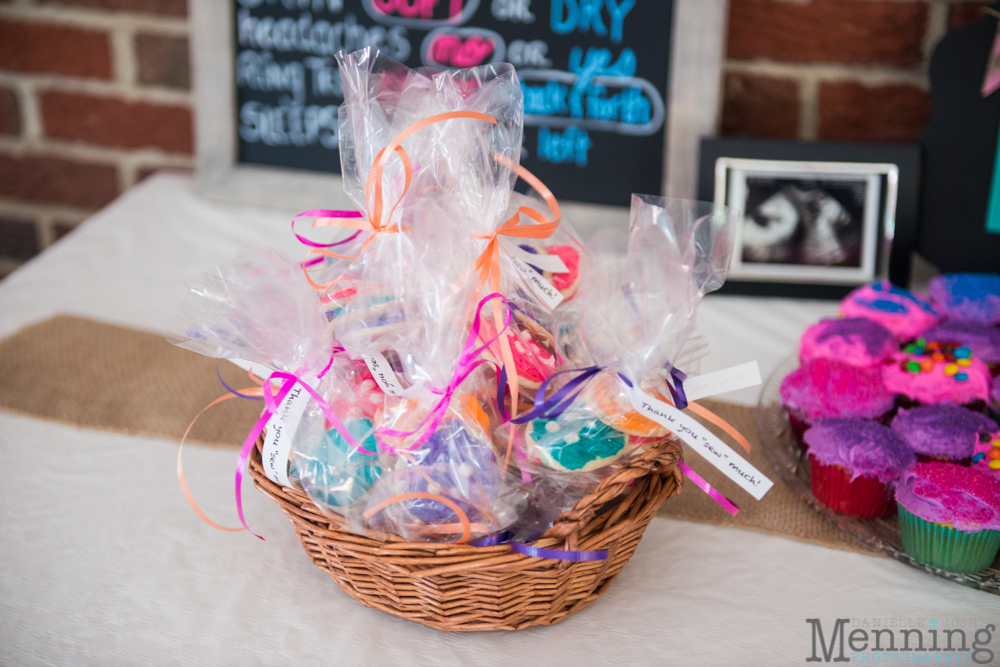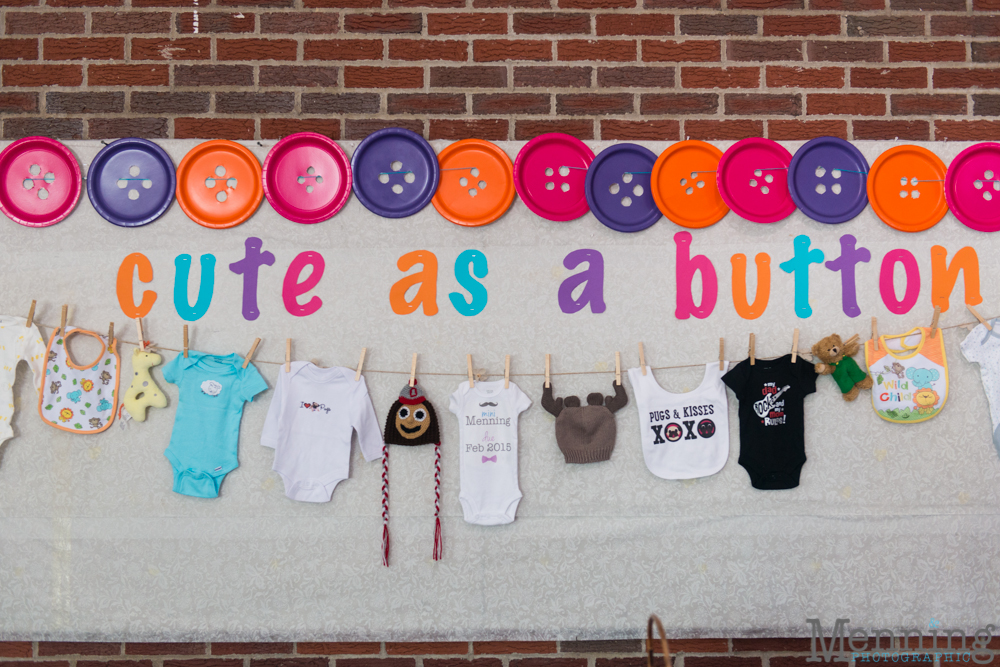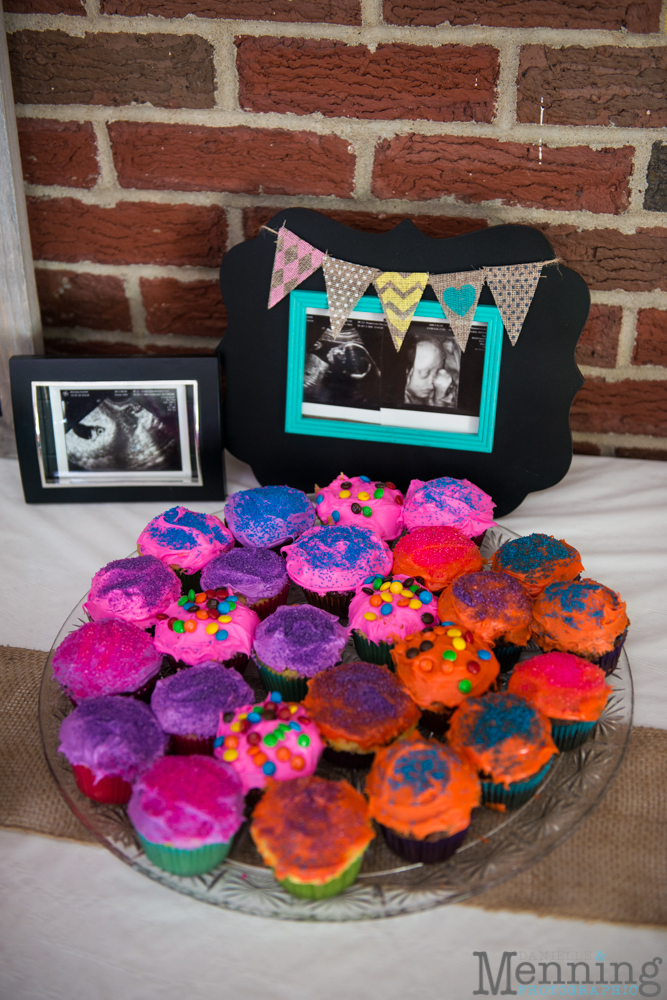 We can't wait to see our baby rock out all of this cute swag! 🙂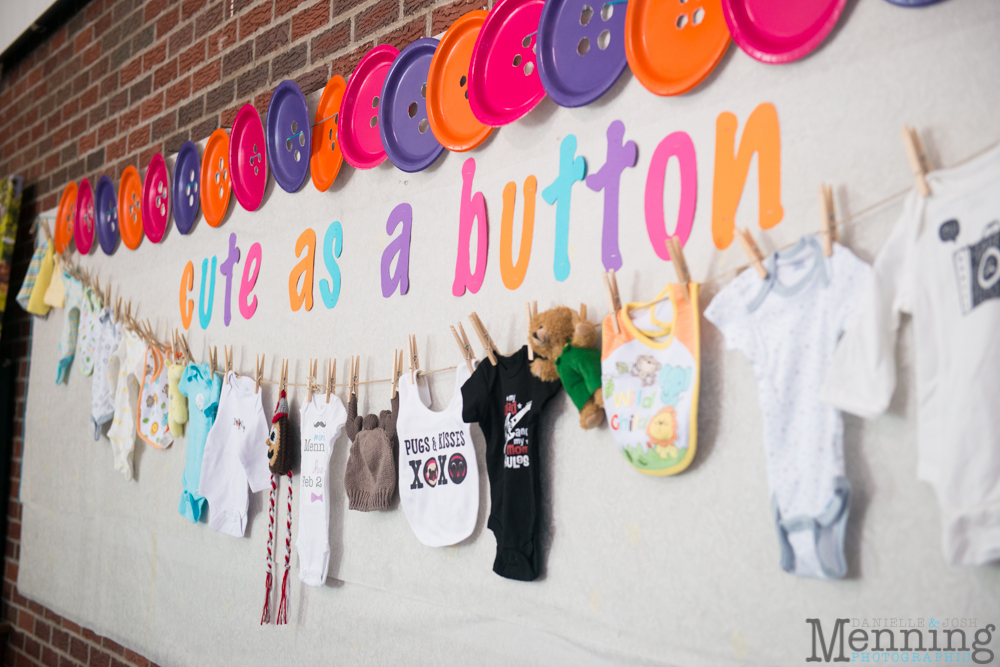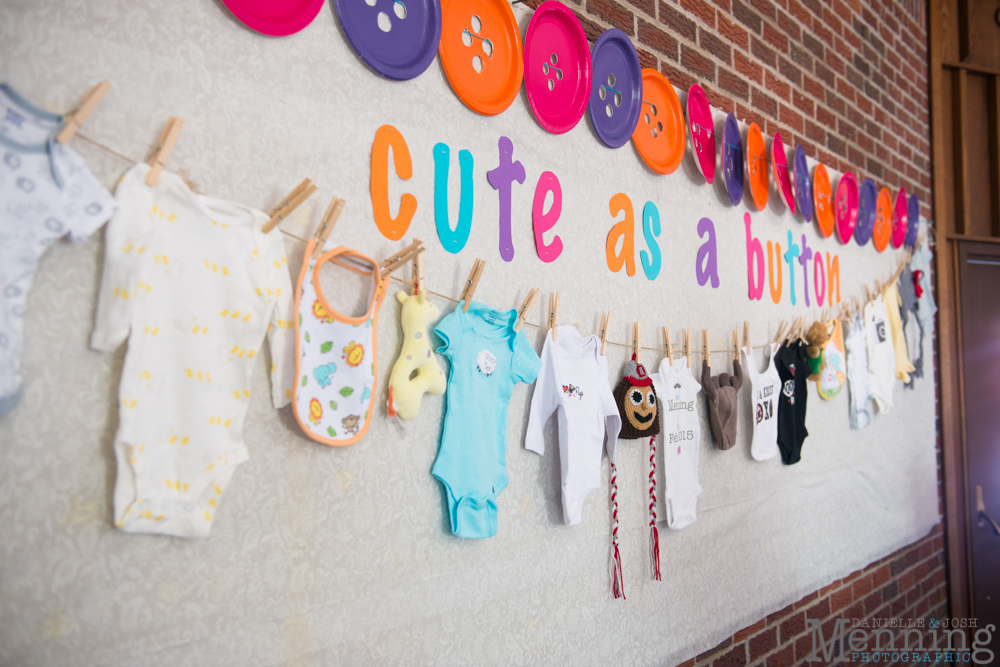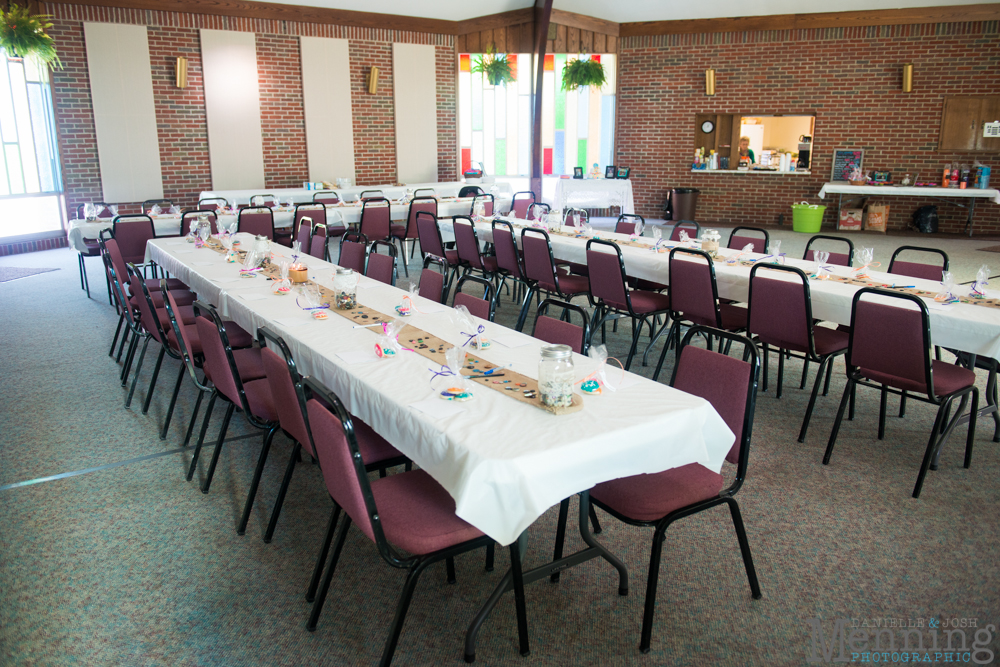 I'm pretty sure we had about 80 people at the shower & it was overwhelming (in a very good way) to look out at everyone's beautiful face & see how happy they all are for us.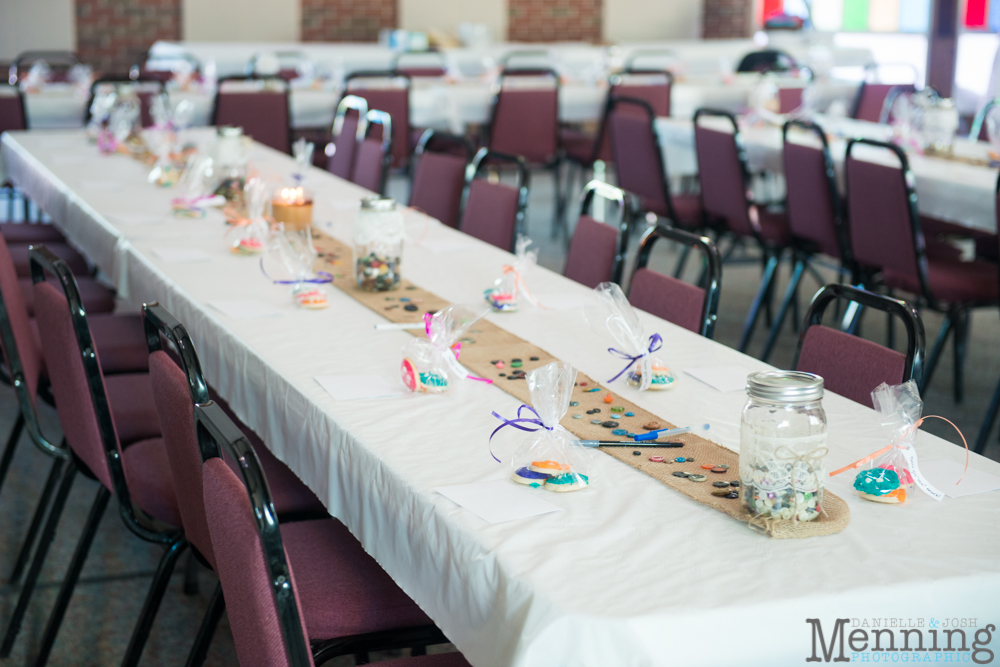 The Bath & Body Works goodies were prizes for guests. We didn't play games because I'm not a fan of shower games so we drew names from the envelopes guests filled out for their "Thank you" notes that I've been writing all week in spurts (I have to take breaks because of my hand).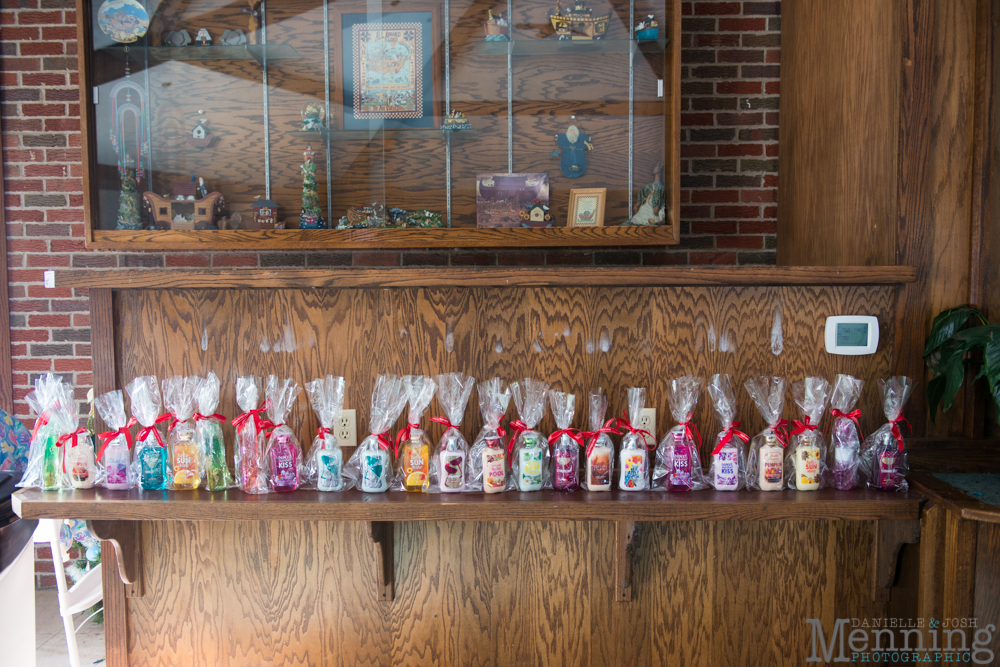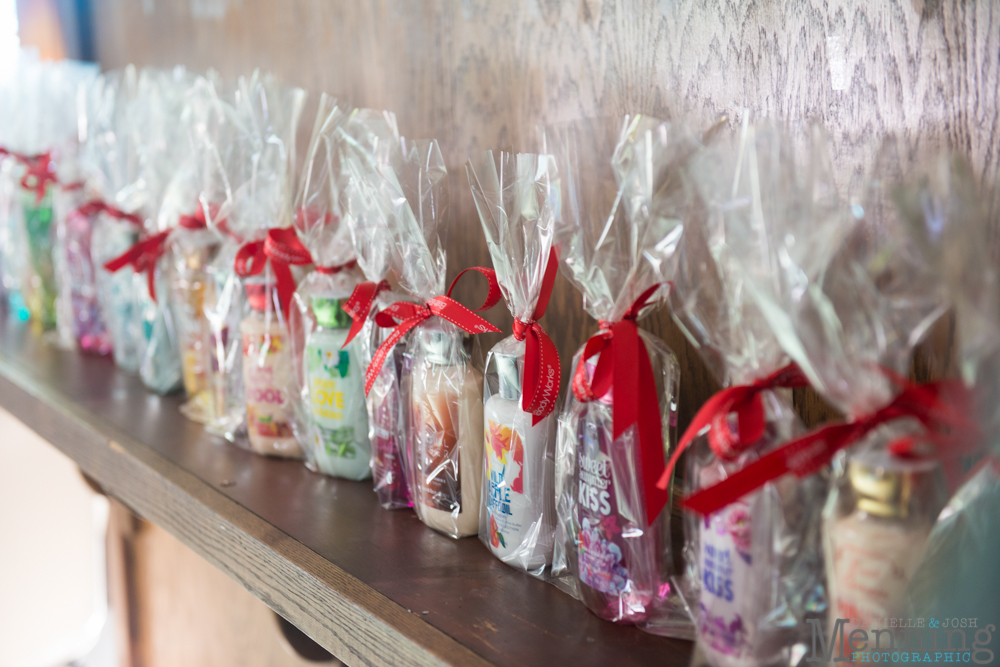 The kids enjoyed their own special table.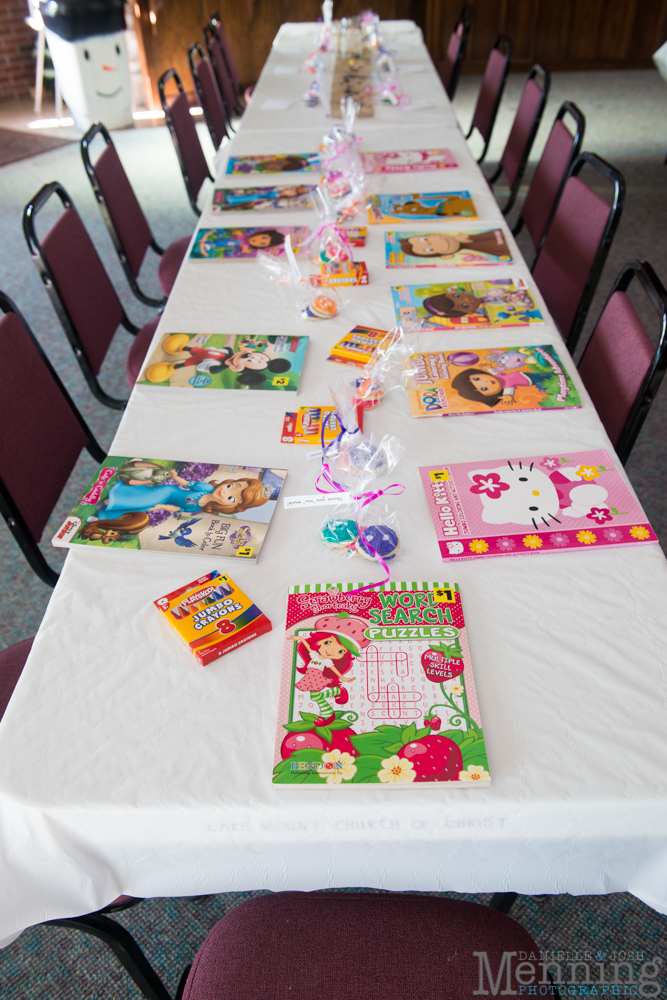 So many lovely gifts from so many generous people!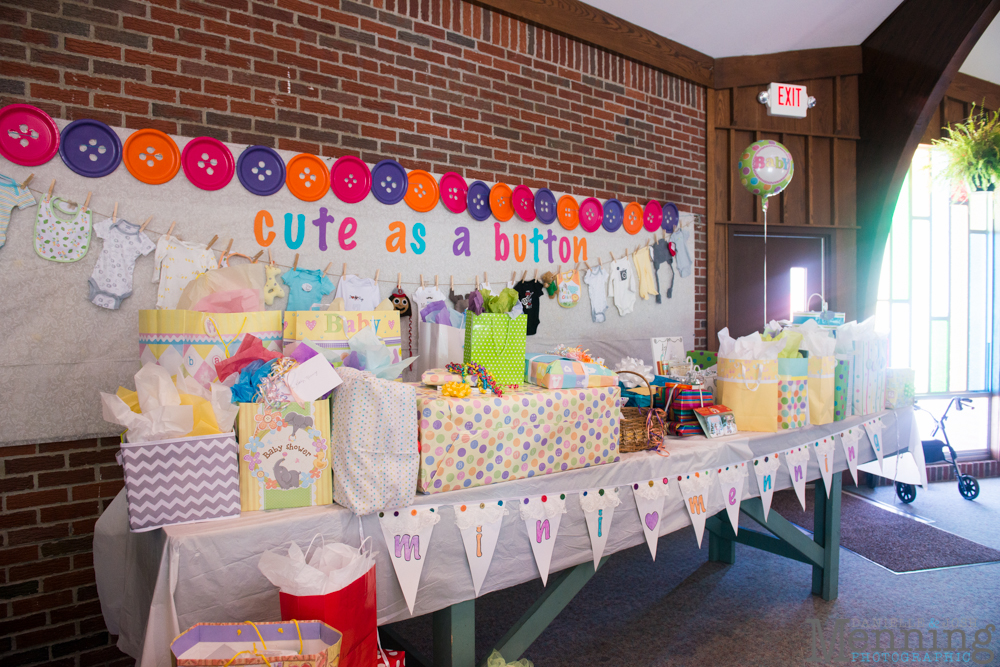 We had fun opening all of the gifts & I wore the good old Garth Brooks lavalier microphone so everyone could hear me in that spacious room. Thanks to our cousin Cheri for snapping some photos as we opened gifts.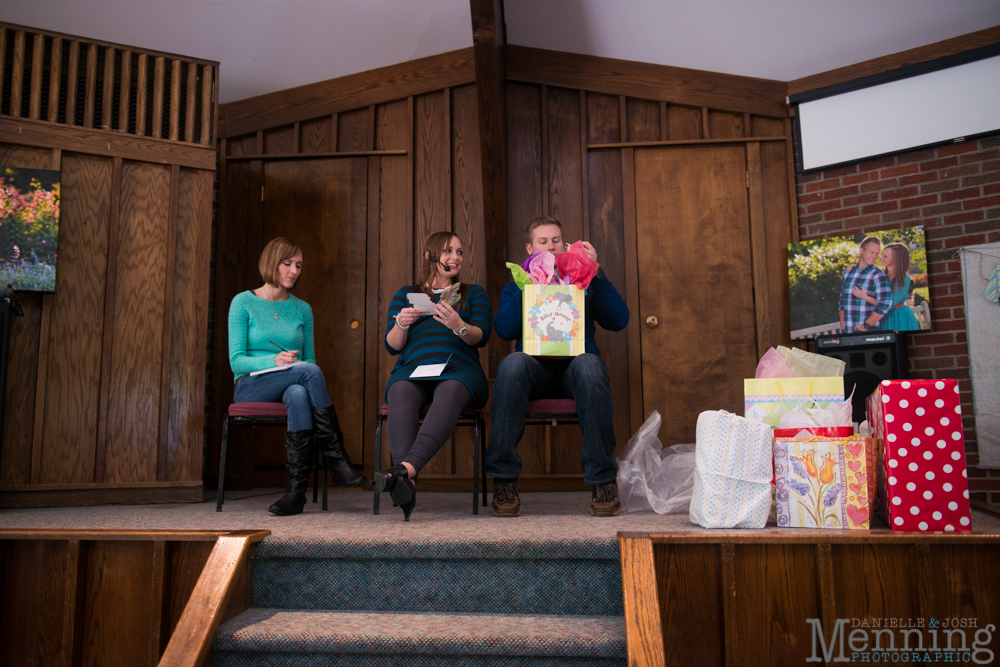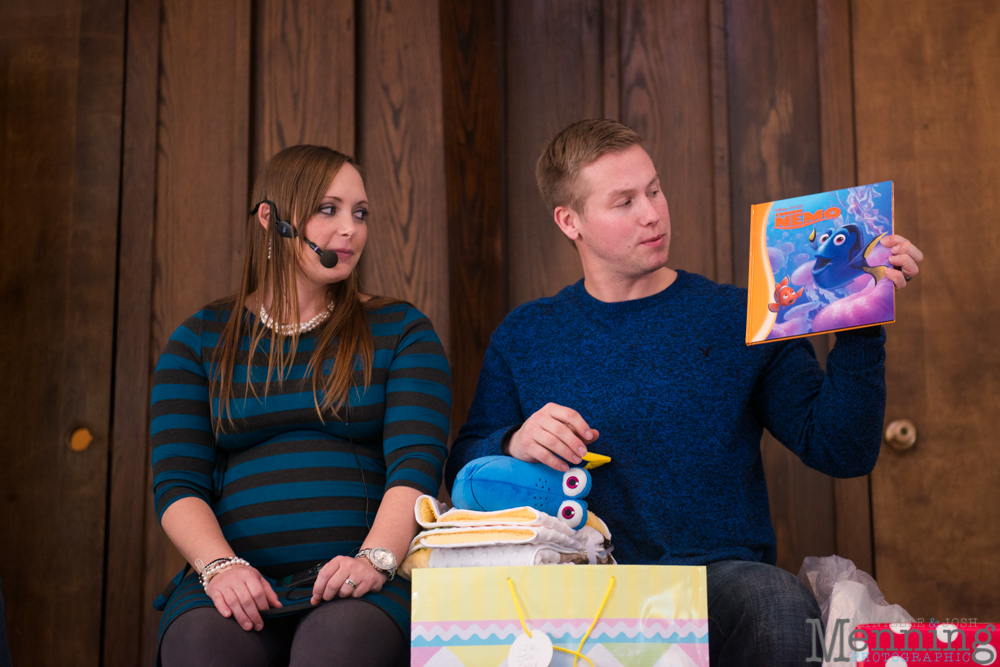 We got lots of cute stuff & lots of useful stuff!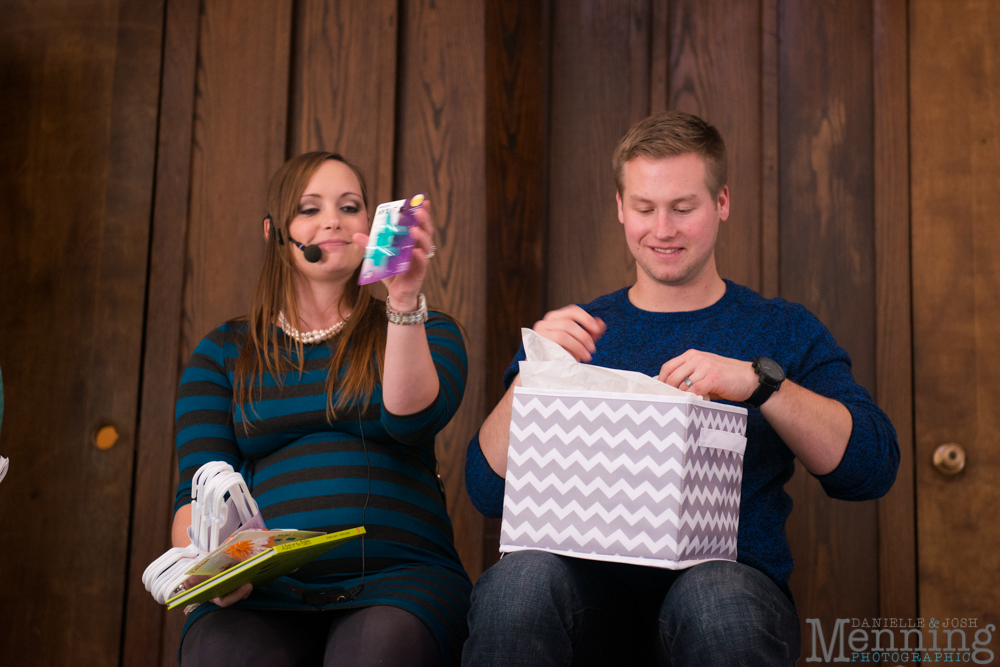 Our friend Kate made the baby these cute Ohio State booties. . . Go Bucks!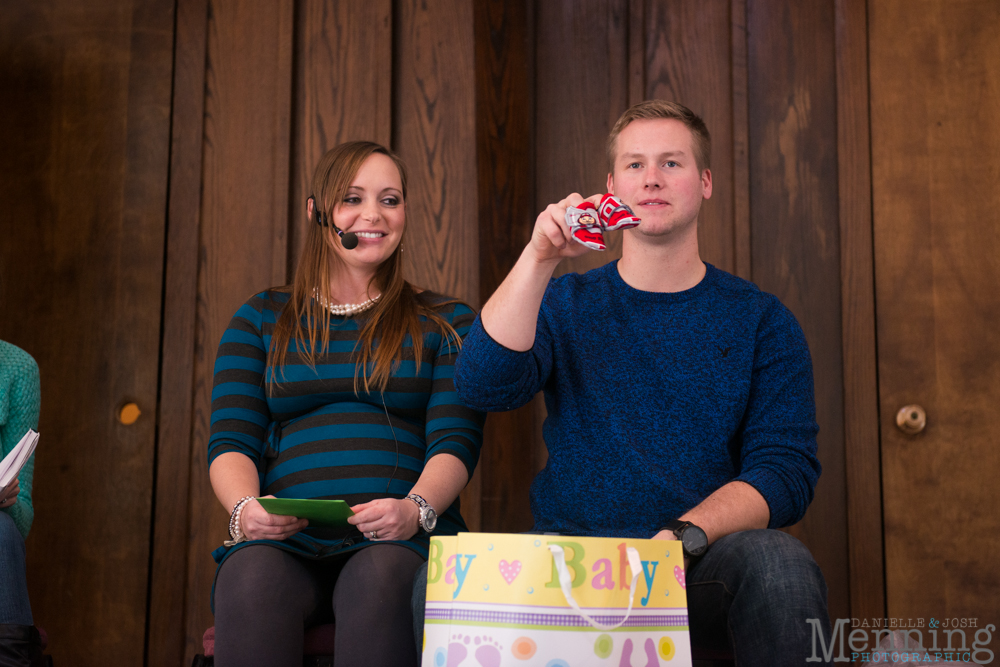 A personalized photographer baby burp cloth: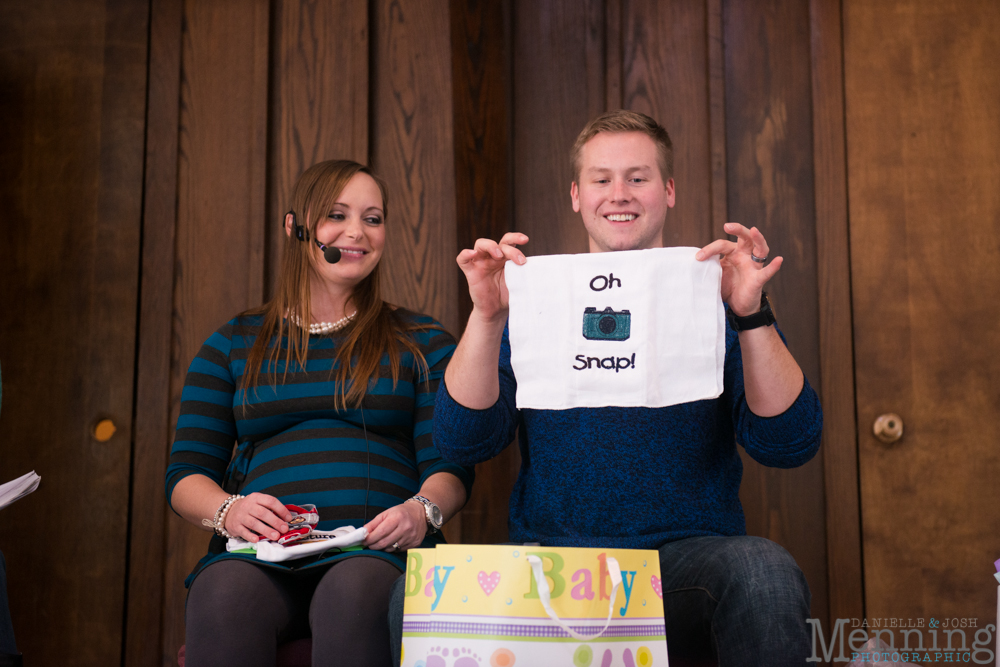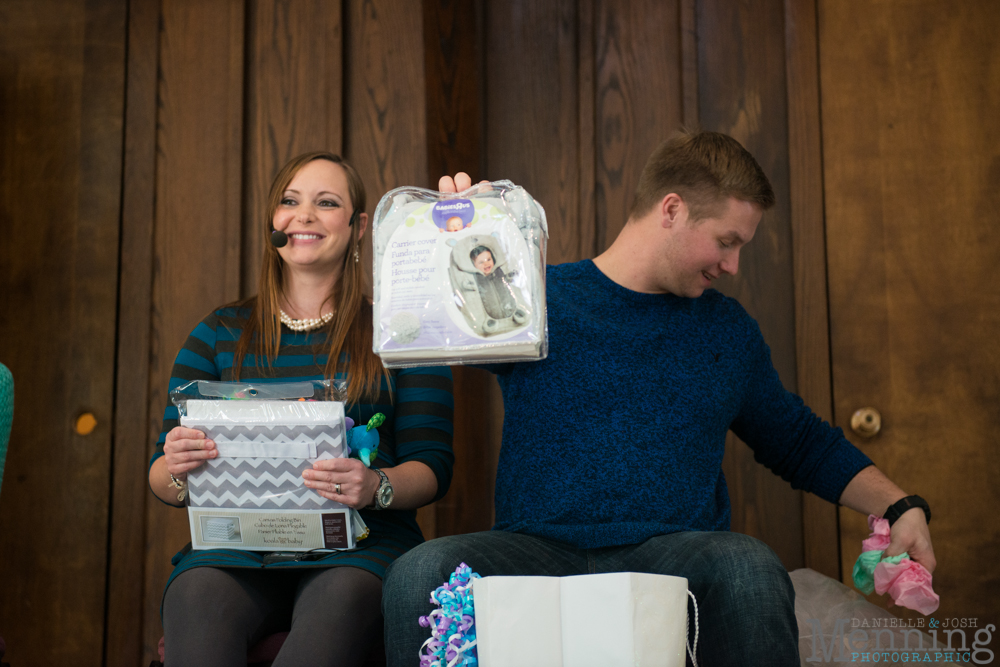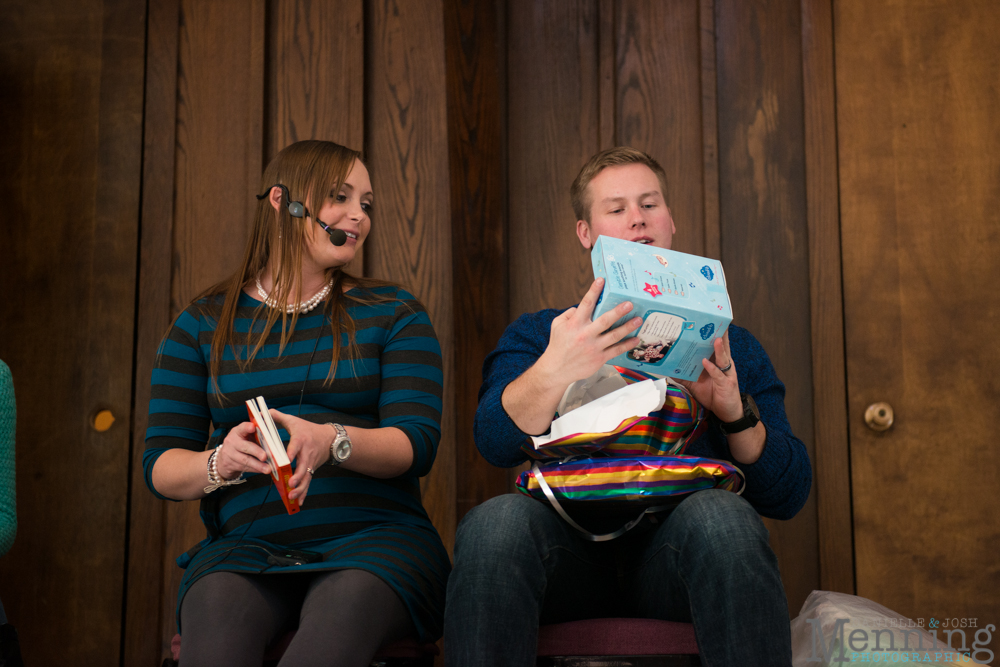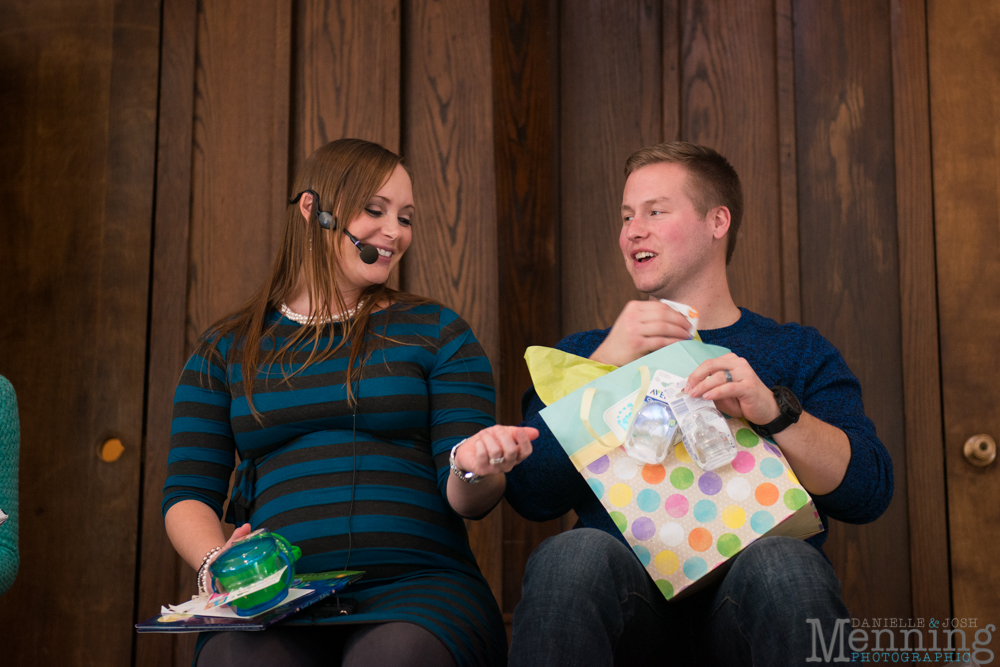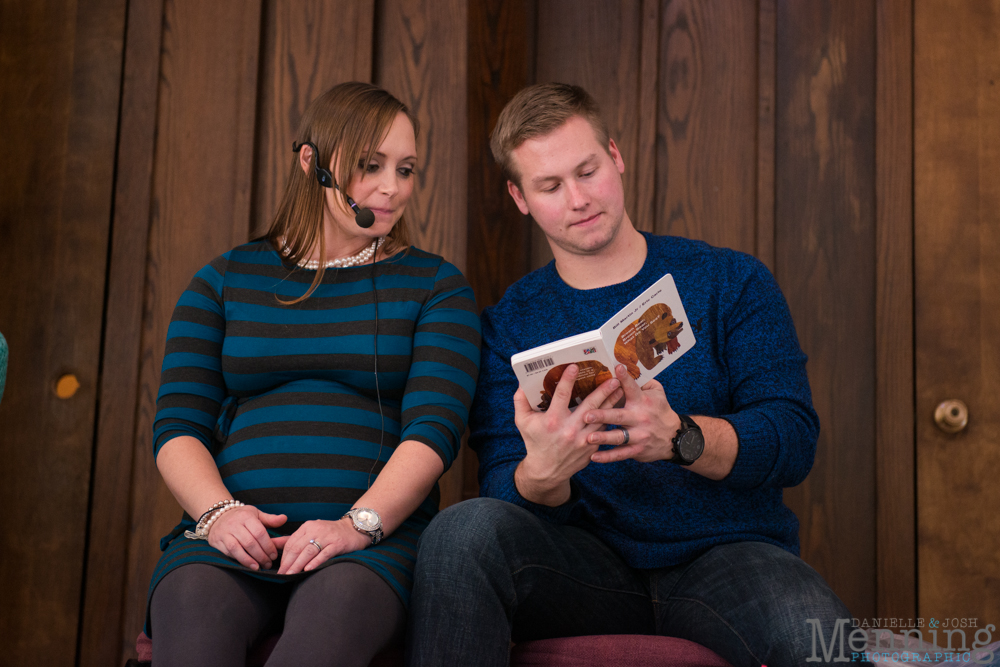 My youngest sister Angie helped us record everything for thank you note purposes.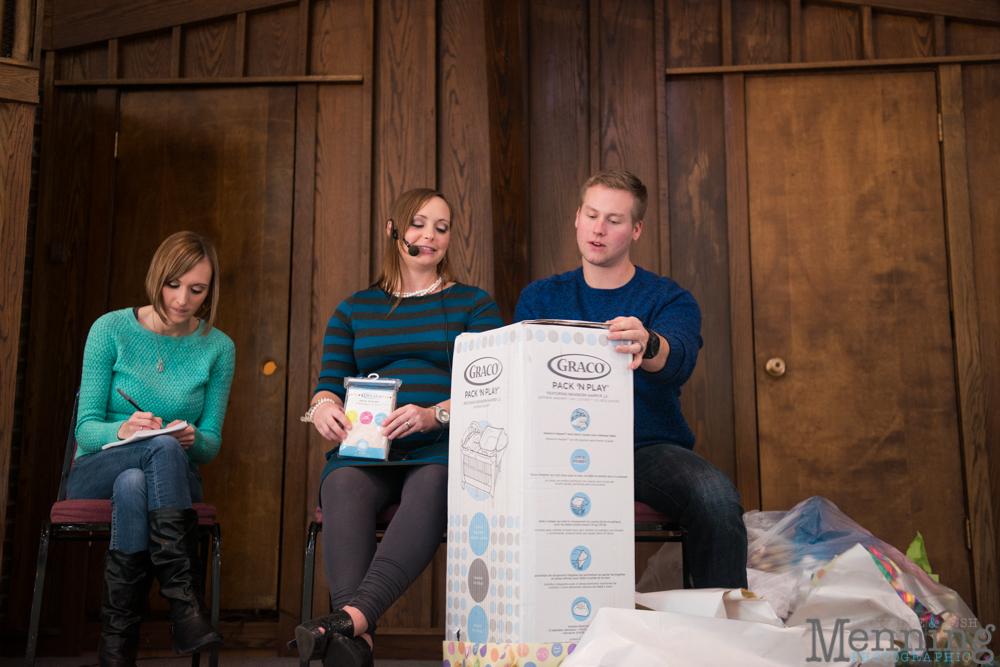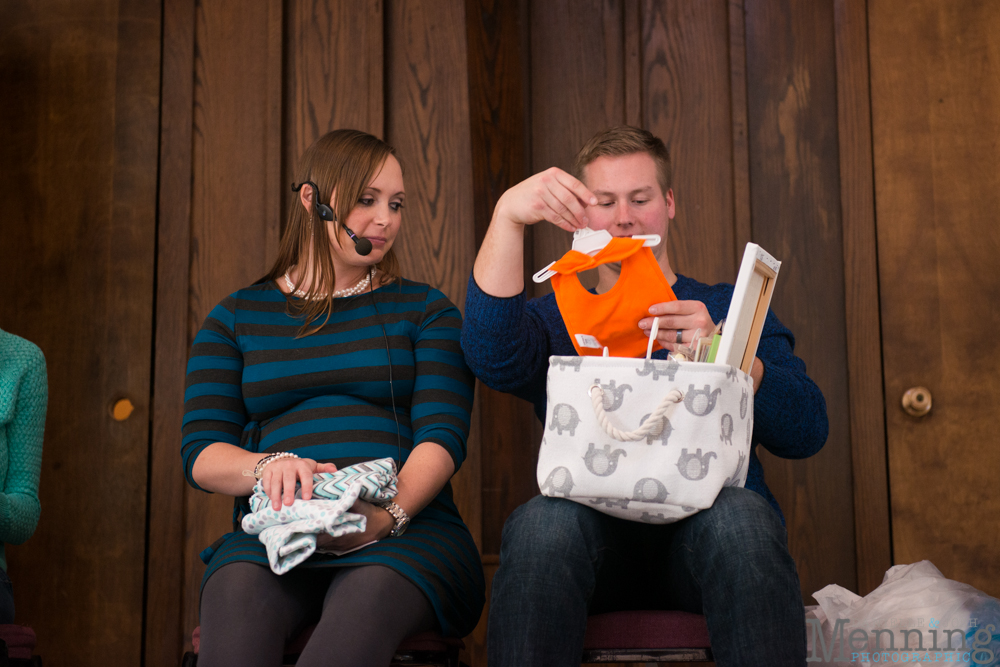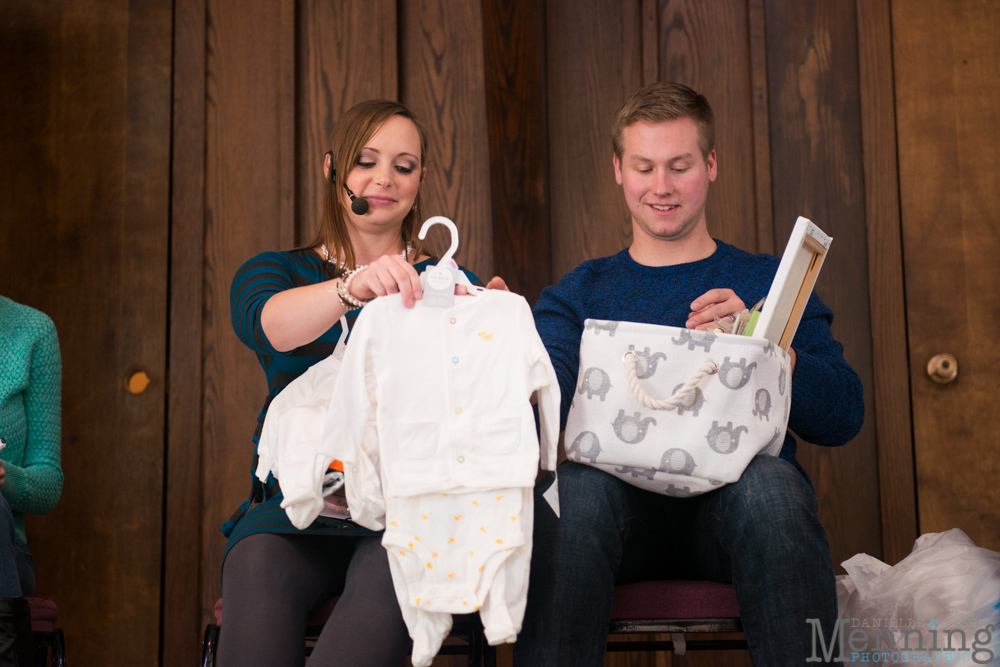 These Chick 'n' Pug books are so adorable! I can't believe I've never seen them before.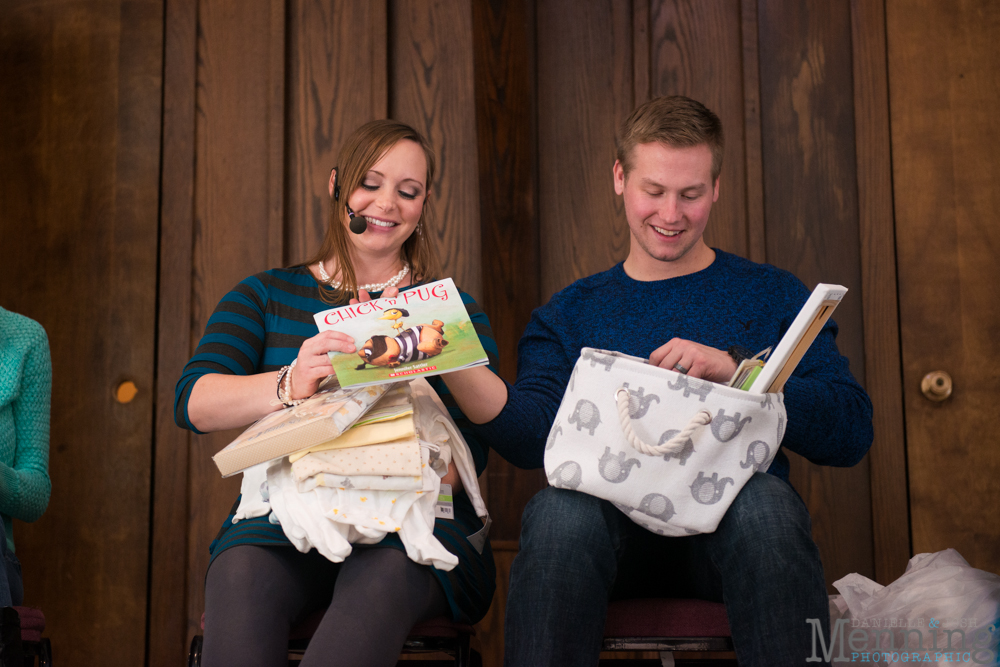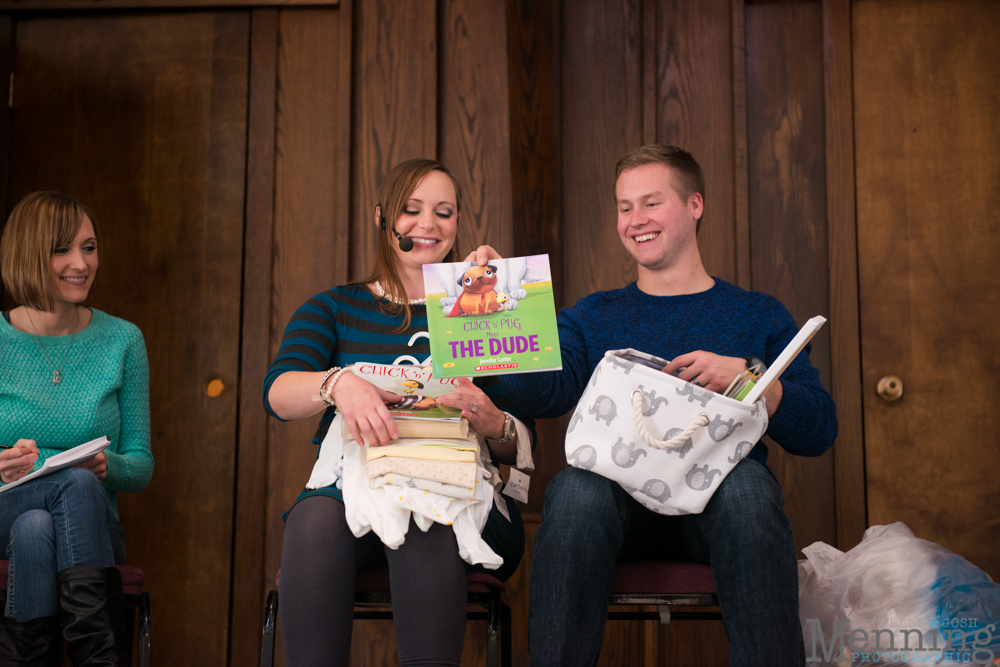 This homemade gift from Jill is very special to us & will coordinate with the nursery perfectly.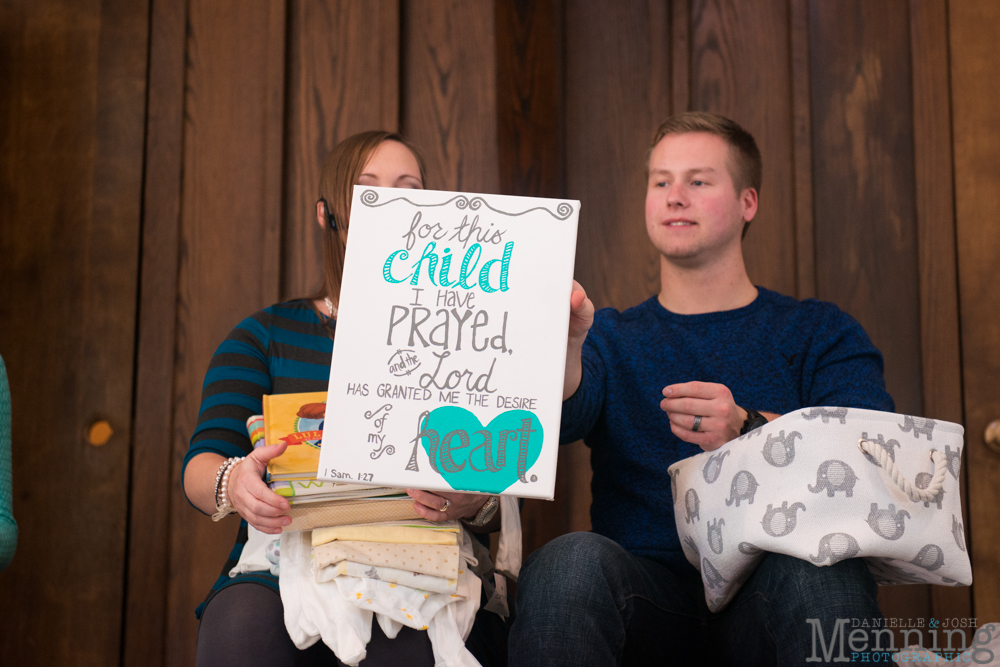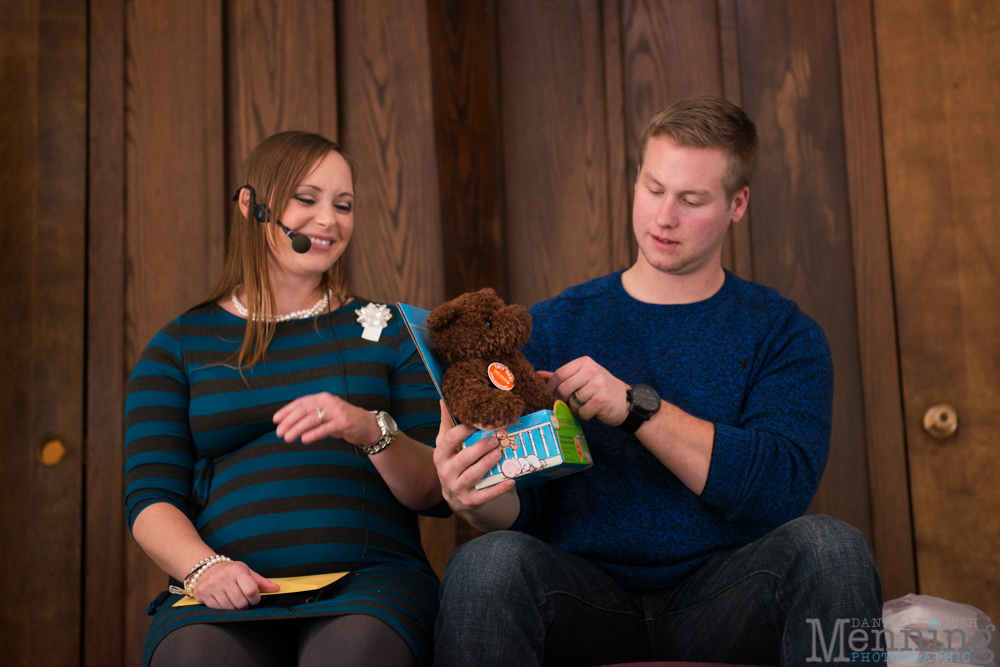 And then we FaceTimed with my friend Ashley who recently moved to Texas while we opened gifts from her & her husband.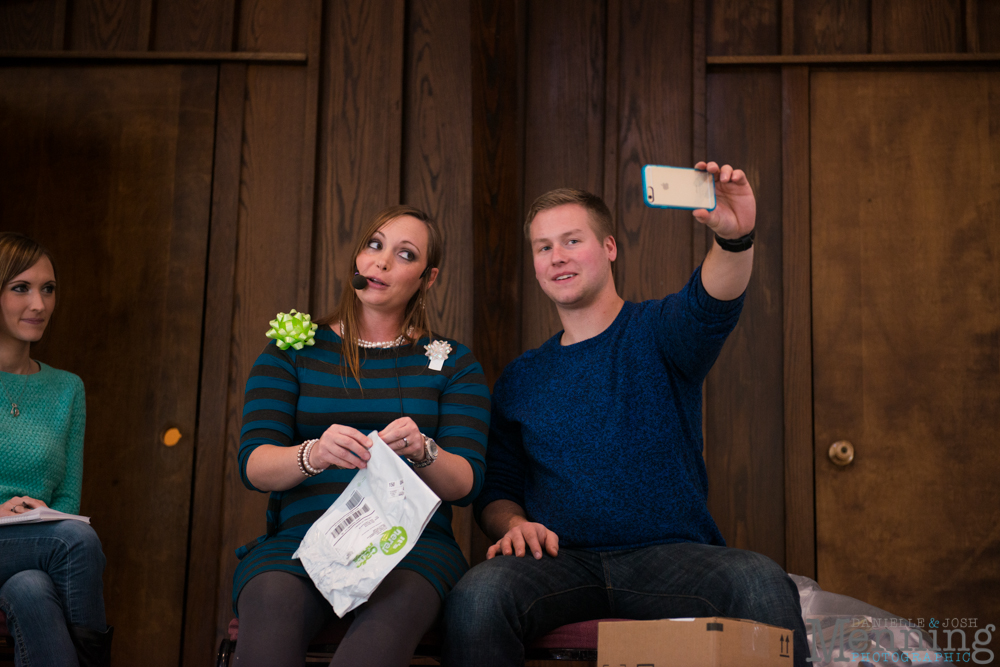 It was kind of a joke, but our friend Nic just had to get Mini Menning this huge stuffed elephant because Josh scanned a stuffed elephant in Babies R Us when I wasn't looking that costs $200.00 & I deleted it off our registry when we got home. 🙂 Â So Nic found this elephant and sent it our way.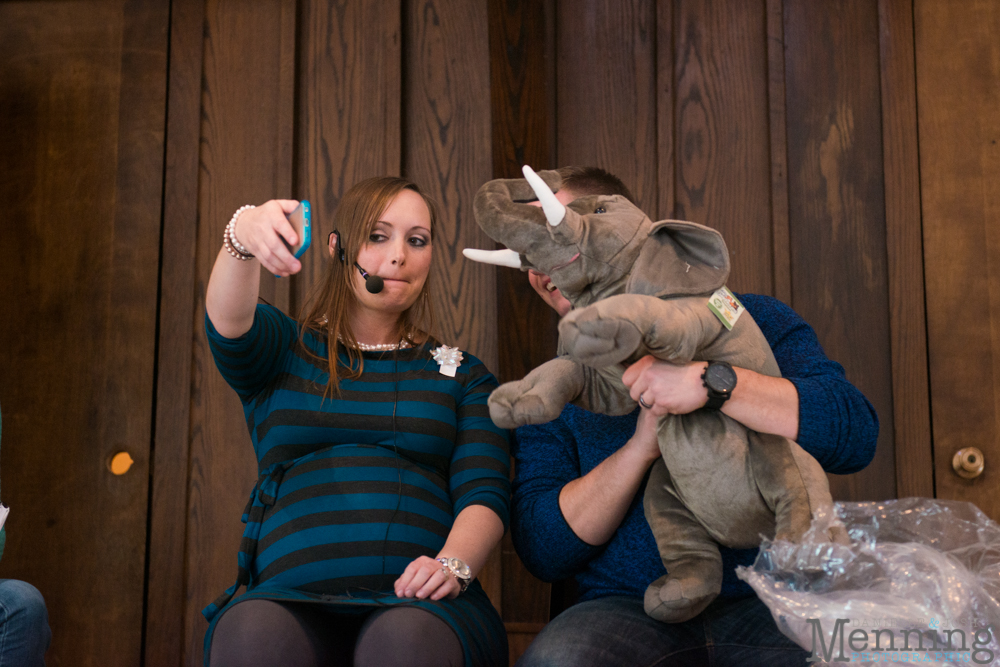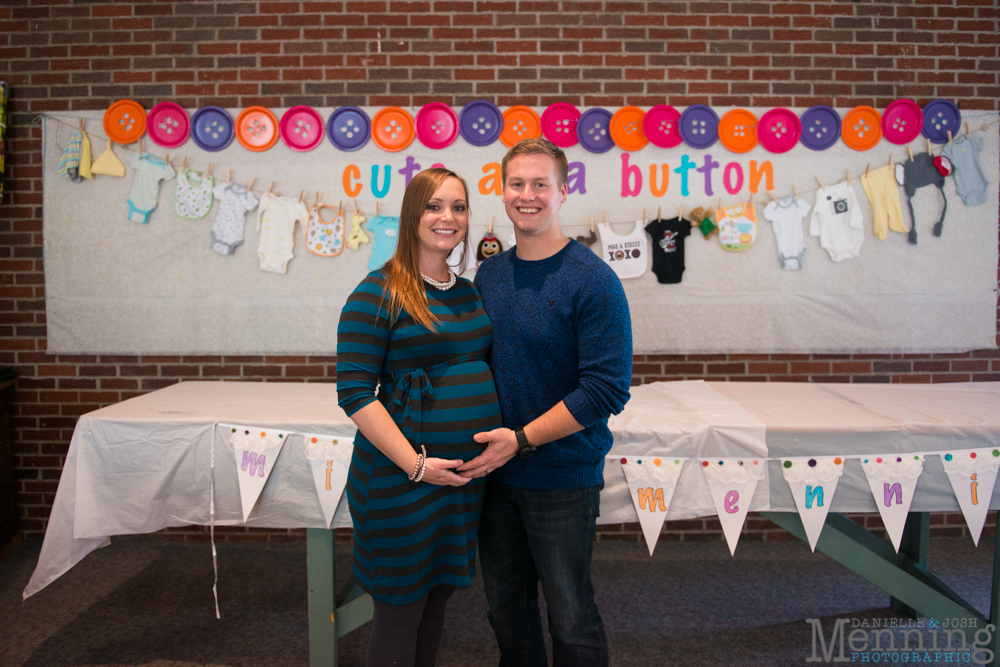 Two Menning Photographic brides in this bunch! And Melissa (in the blue shirt) is expecting, too! One of Mini Menning's Aunt Lisas is on the right. I have a sister Lisa & a sister-in-law Lisa. 🙂 My sister Lisa lives in Boston so she didn't make it to the shower, but she has her flight booked to Ohio to visit when the baby is born.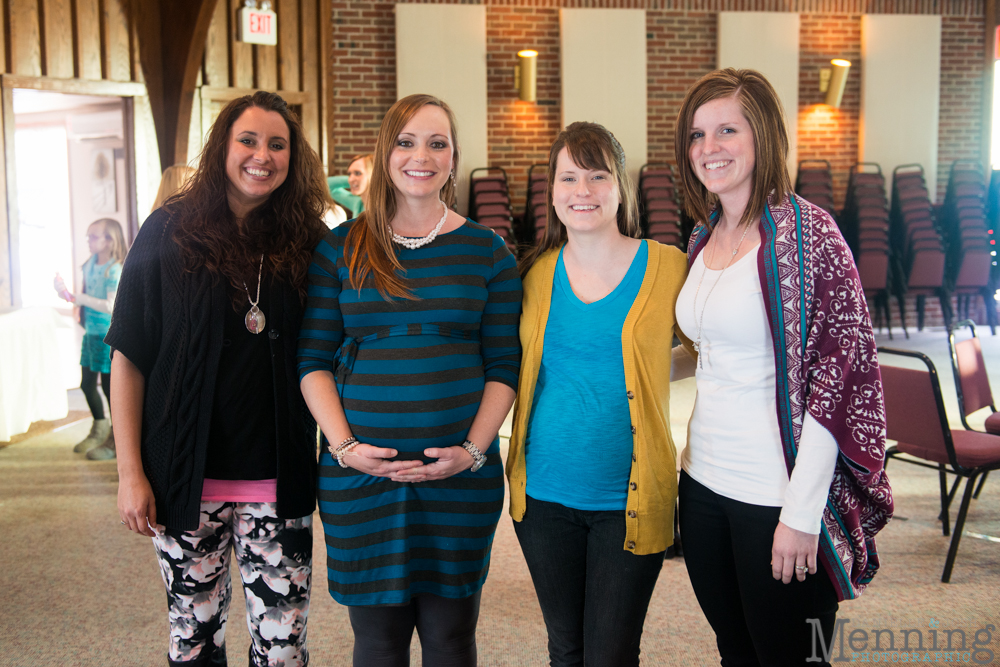 I do have one regret from the shower, which is that I really wish I would've gotten in some photos with more people! We were so busy with everything and making sure to visit with everyone at least a little bit that photo opps didn't really happen. We'll have to make it a point to get photos of all of our family members & friends meeting the baby for the first time!
While we were packing up and cleaning the church, we noticed through the windows that the sunset was gorgeous so we hurried outside to take advantage of golden hour.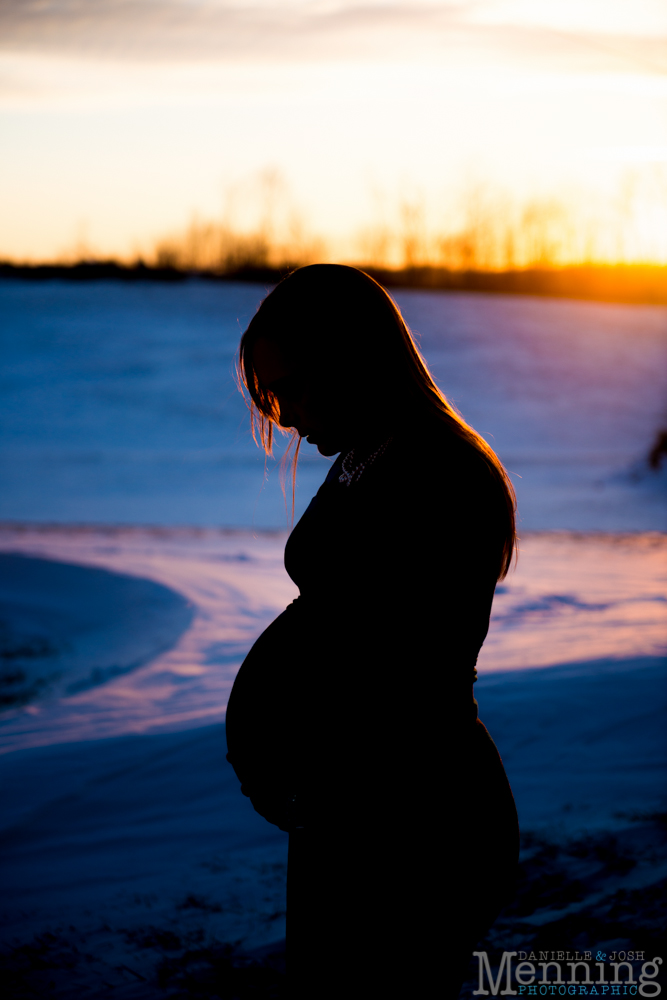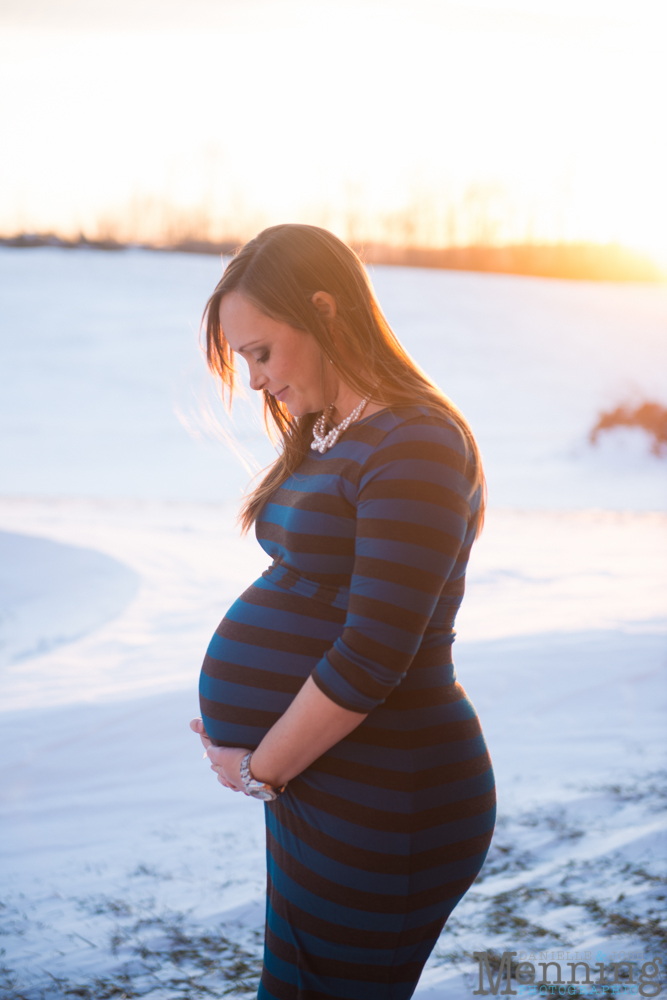 I honestly don't know how my stomach can expand any more than it already has, but Mini still has 5 weeks (give or take) to grow in there! We'll keep you updated on how gigantic my belly gets!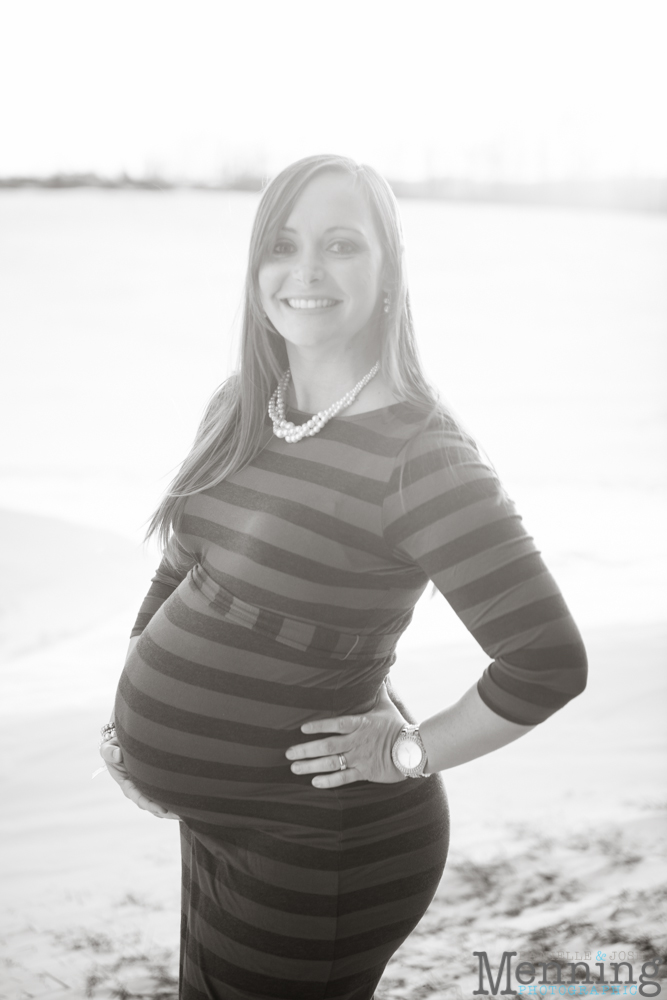 Thanks again to everyone who has shared in adventure with us! We love you all!
You can also stay updated with our photography & non-photography related fun here: Instagram | Facebook | Twitter | Pinterest | Google +