We couldn't have asked for a more beautiful November wedding to photograph than Alethea & Adam's wedding day this past Saturday! They are a funny & laid back couple & we had so much fun with them! They had us cracking up, but they also had their guests in tears because they are so sweet together- just wait until you see Adam's reaction to Alethea walking down the aisle! We love marriage & truly believe in its beauty as the greatest human relationship, which is why getting to photograph couples like Alethea & Adam on their first day of marriage is such a privilege to us! It allows them to create a legacy that'll tell their story as a couple when they were first starting their marriage journey. Decades down the road, these photos can show their grandchildren how silly their grandfather was, how arresting their grandmother's blue-green eyes were, and the romantic interaction between them on their wedding day as a young couple. We're so grateful to Alethea & Adam for trusting us with their wedding day memories & we hope you'll enjoy this wedding  blog post. If you're married, maybe seeing these photos will help you recall something that happened on your wedding day that you may have forgotten. If you're engaged, maybe you can look at these photos & think about how you'll get to join the married club soon & how you can't wait to love & serve your spouse. If you're single, maybe this post will help you develop the list in your mind of your ideal spouse and the things you'd like to be to one another once you're a married couple. If you never want to get married, maybe you can look at these photos & appreciate them for the fact that they're creative & pretty. Whatever the case may be, I hope this blog post will bring you happiness of some kind today no matter the reason you stumbled upon it. Thanks for reading! And to Alethea & Adam, congratulations! You two are absolutely wonderful together & we're excited to show you more photos soon! For now, here are just a few of our favorites!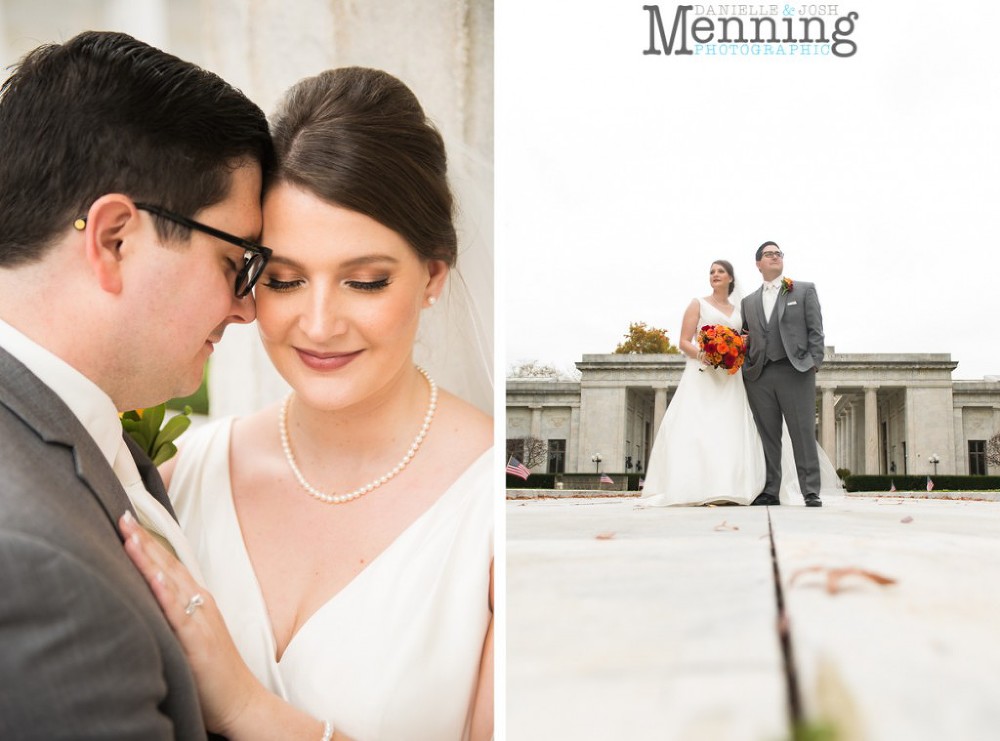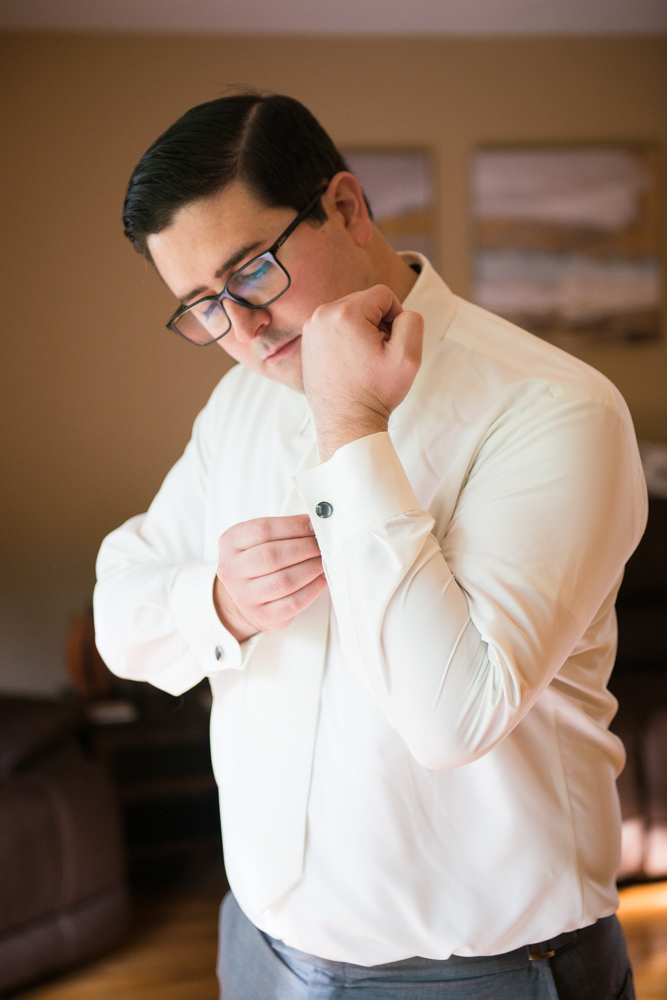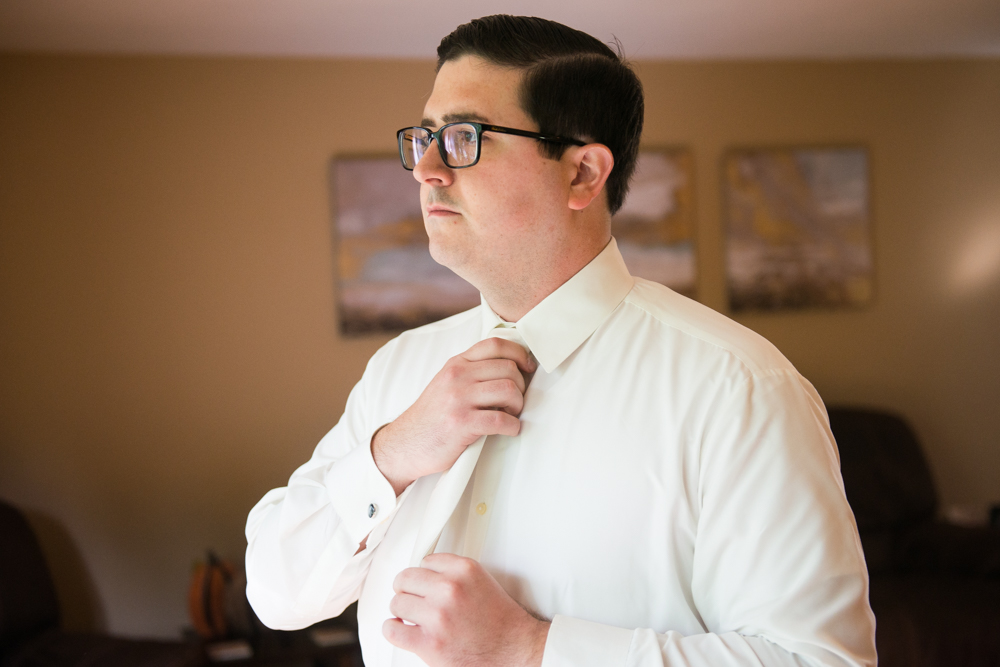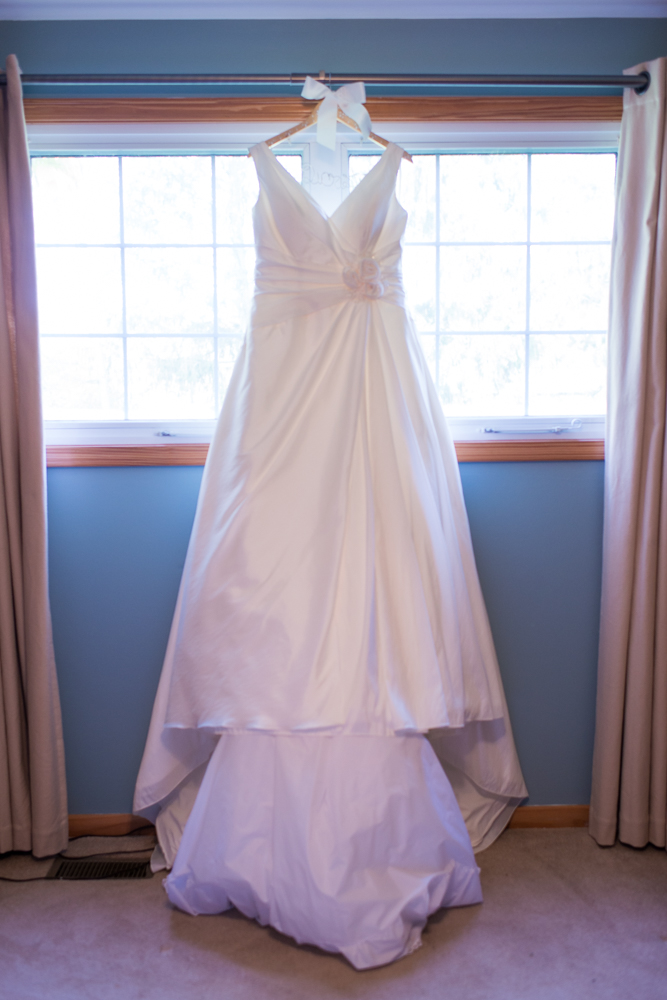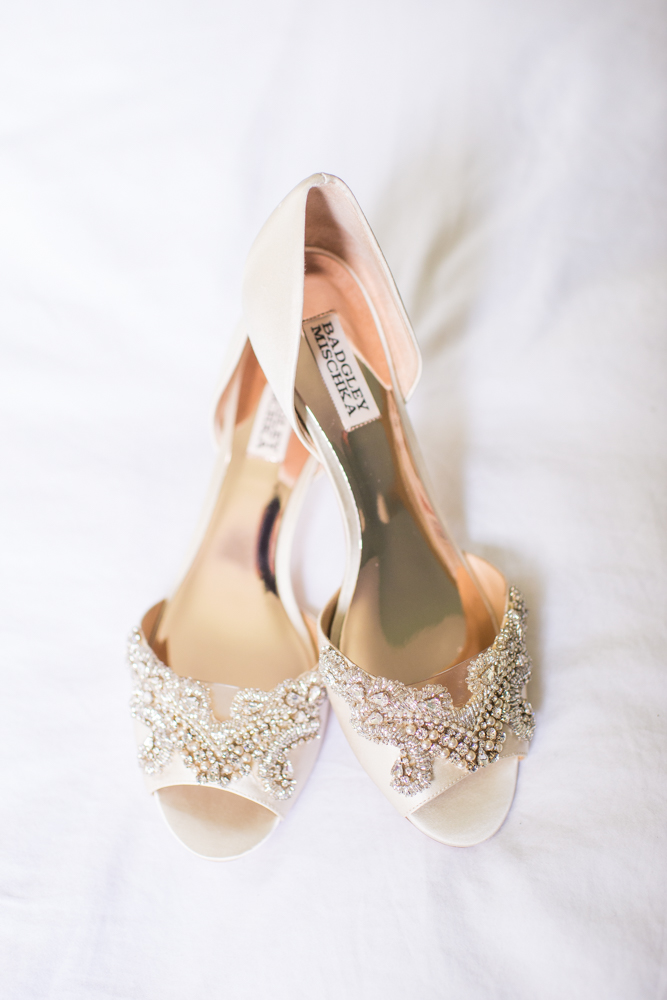 It was great to be able to photograph Alethea's bridal details on a family heirloom dresser. Alethea & Adam are family-oriented & have lots of sentimental family heirlooms in their home. Love that!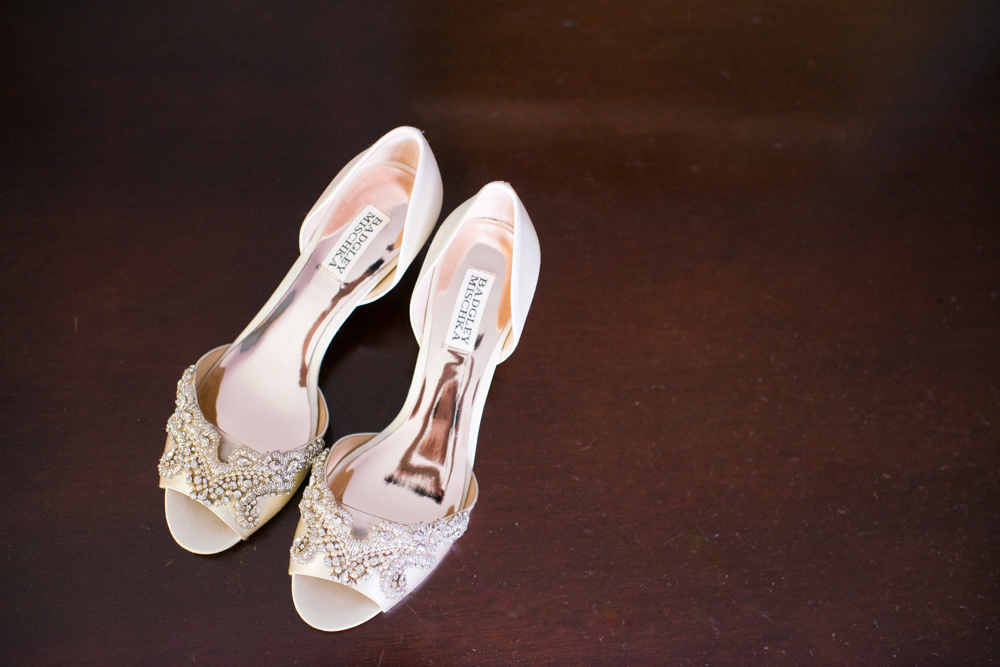 Alethea's grandmother's purse is vintage perfection.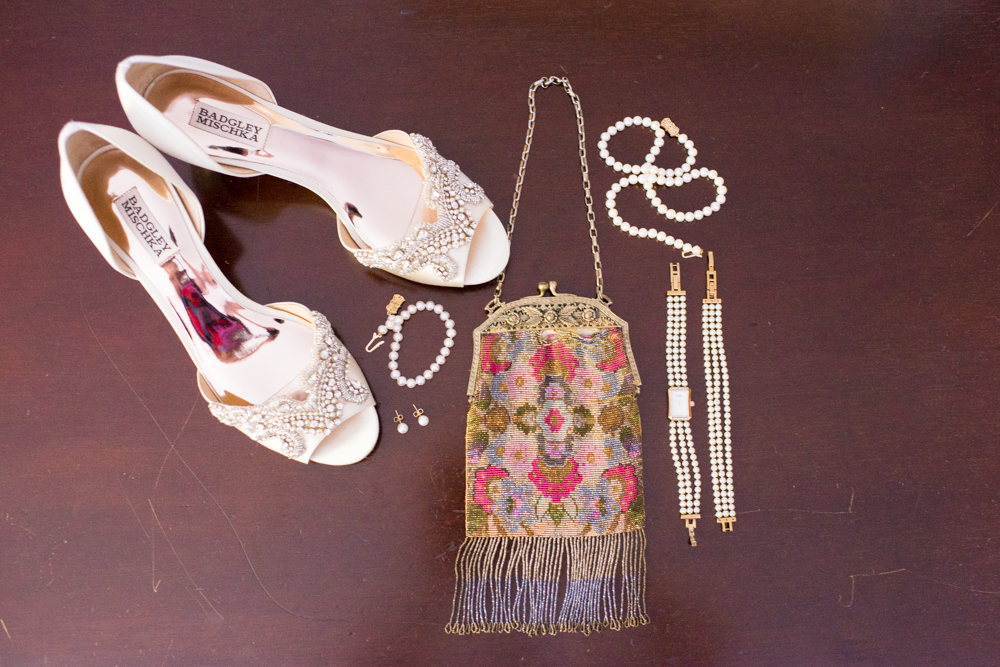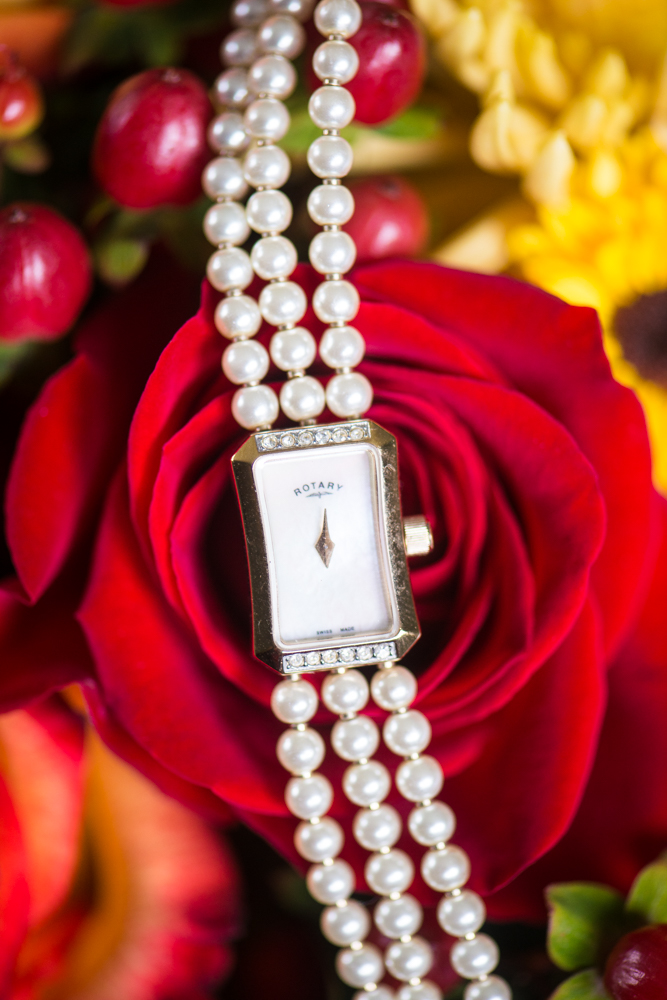 Connelly's did a fine job with the pretty Fall flowers!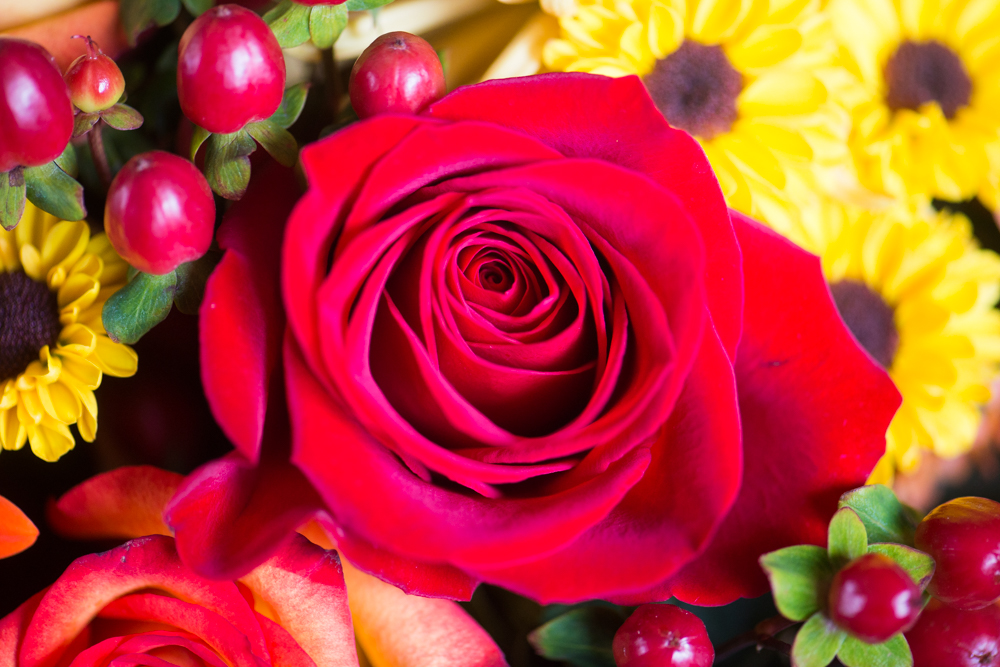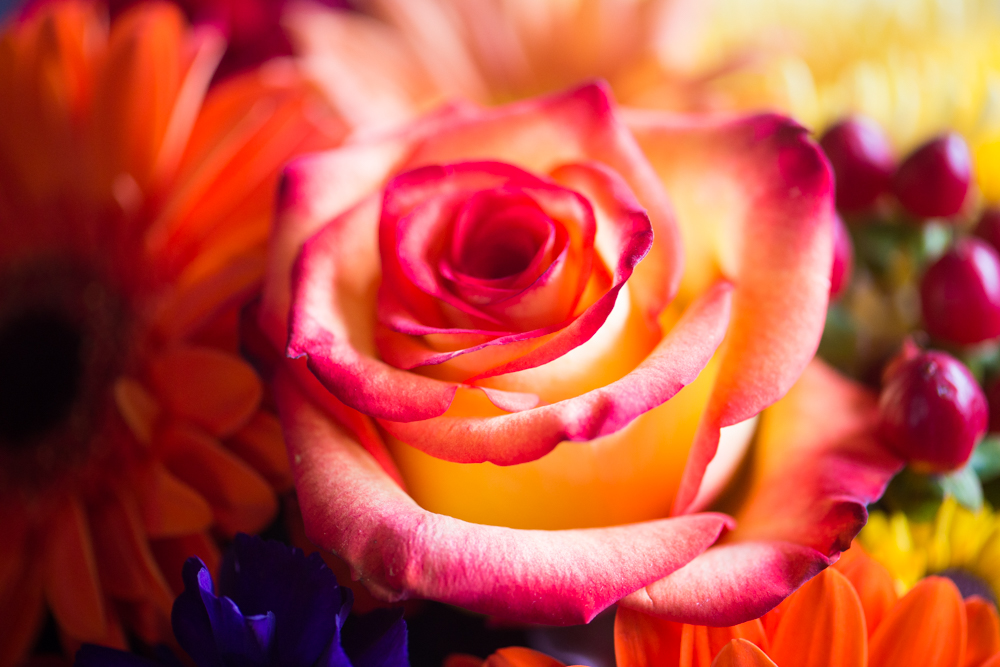 Alethea was a breathtaking bride. Classic. Elegant. Lovely.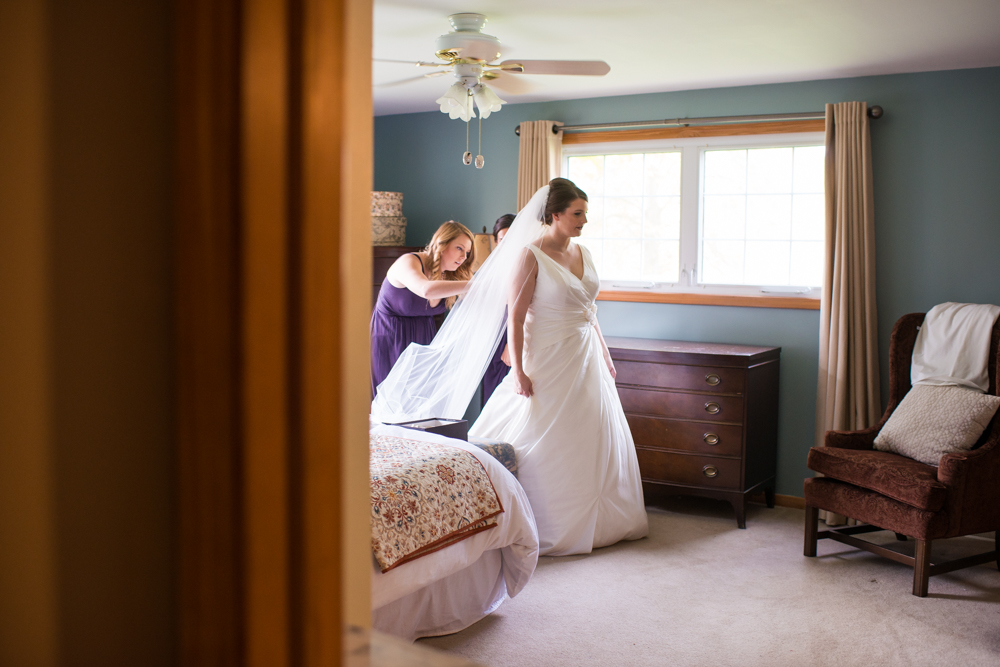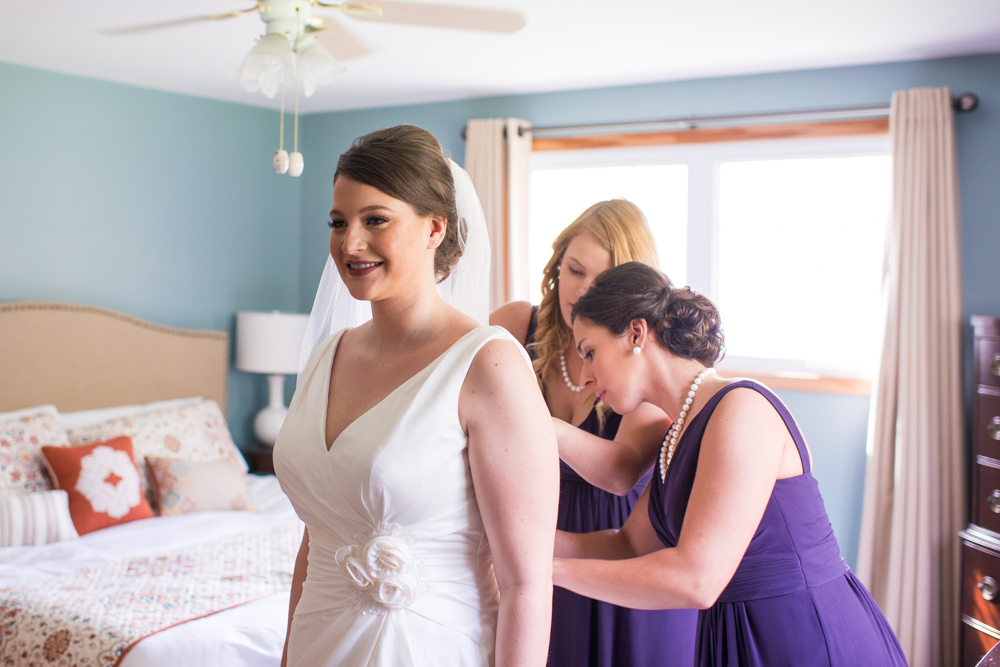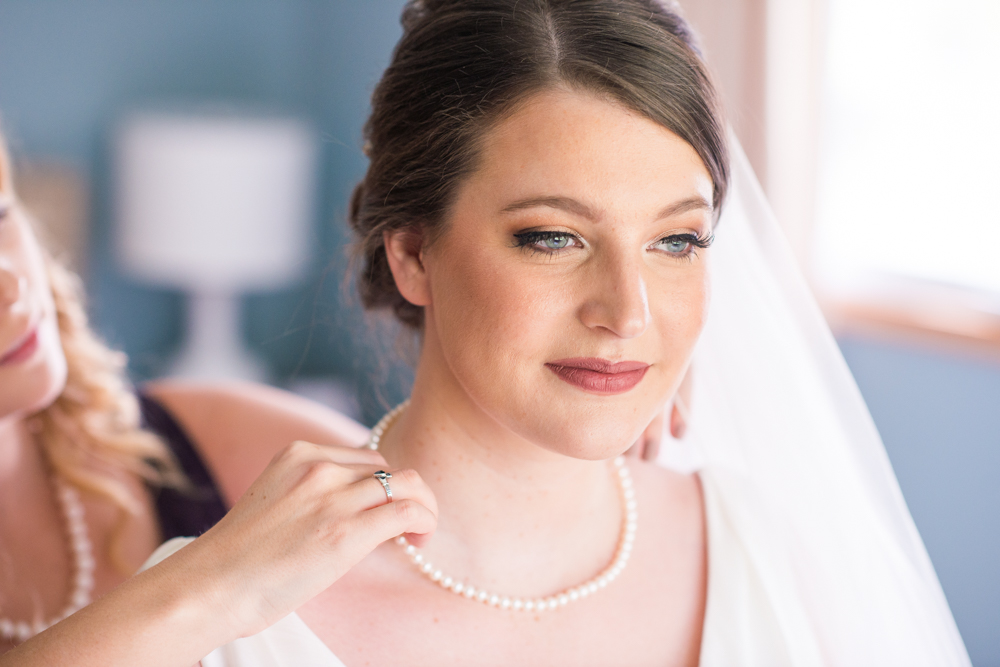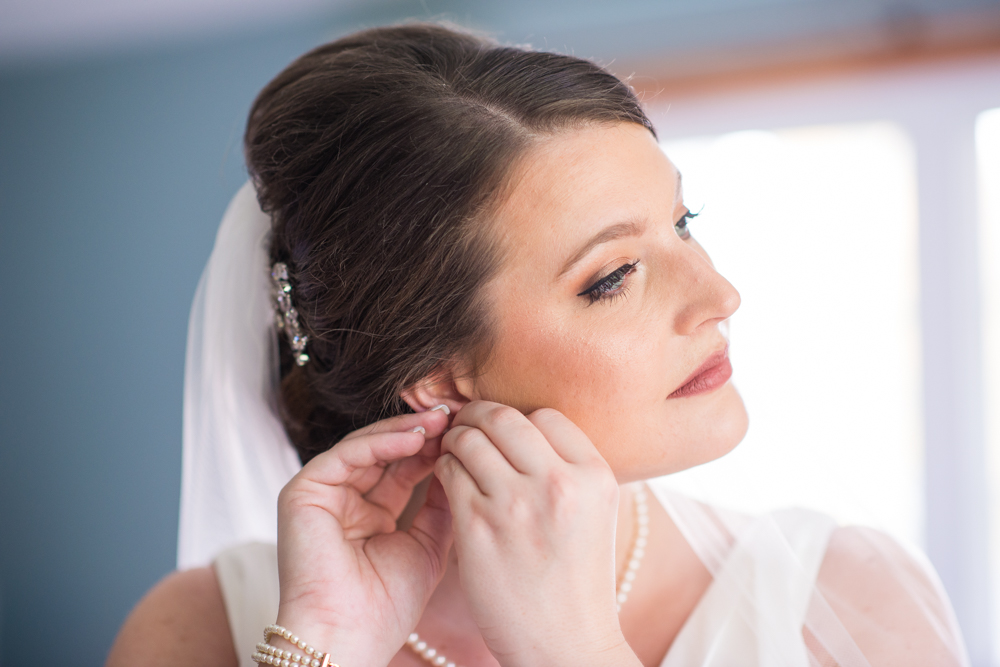 Their wedding ceremony at Our Lady of Mount Carmel in Niles was a beautiful one.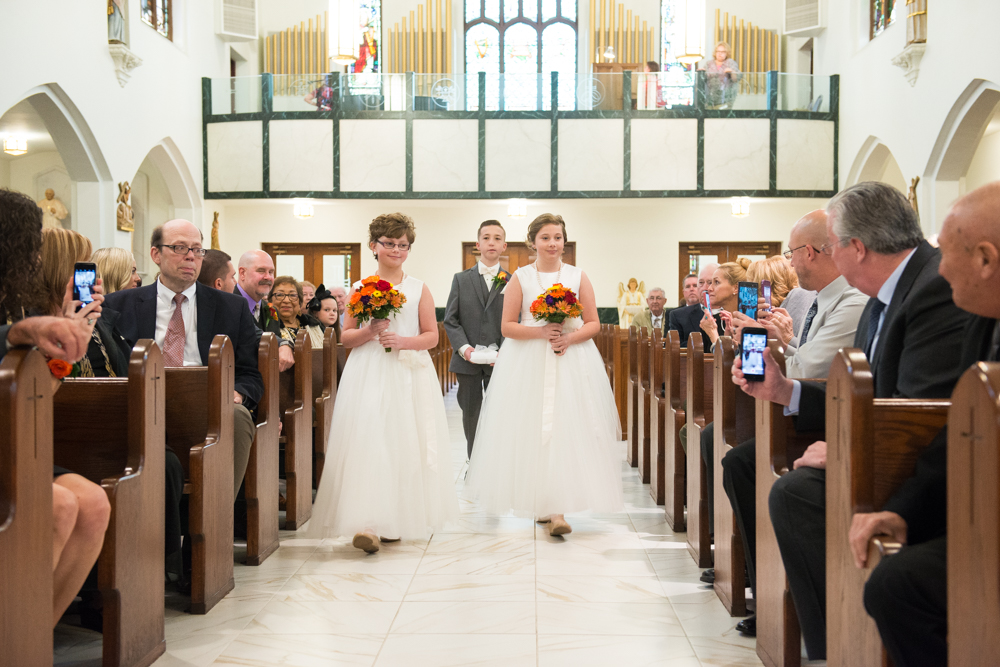 We love everything about Adam's reaction to seeing his bride on their wedding day. And his brother's Best Man reaction is great, too.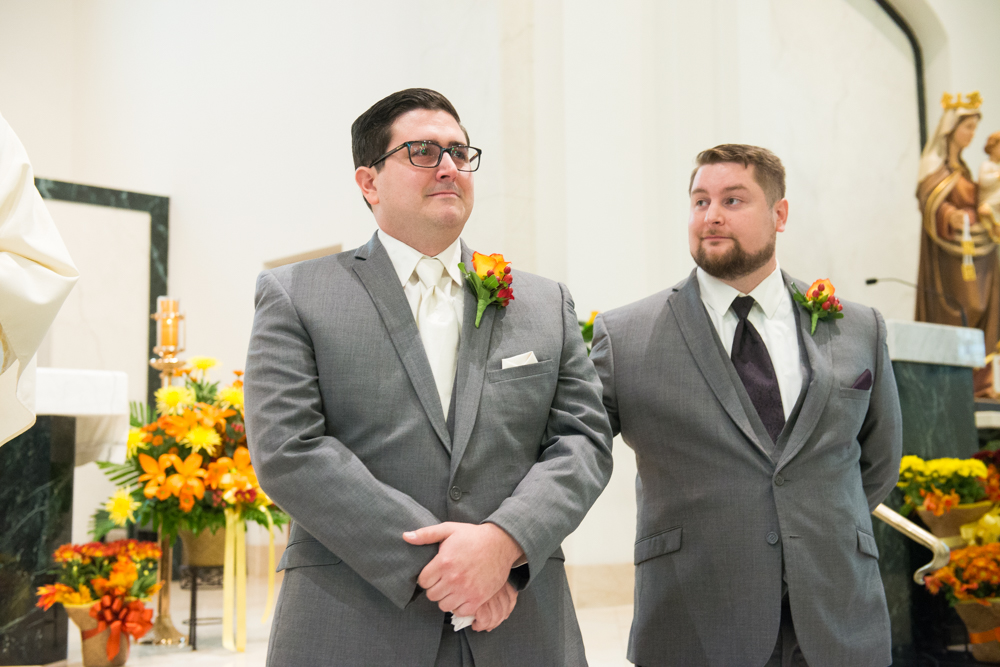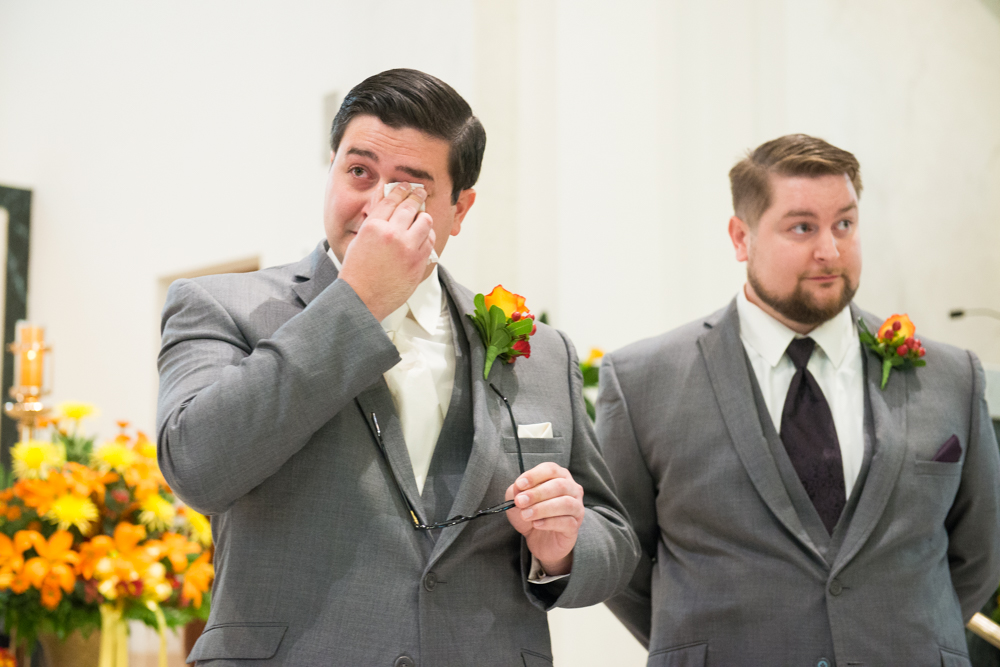 Feeling some feelings? Nothing a little butt tap can't help with.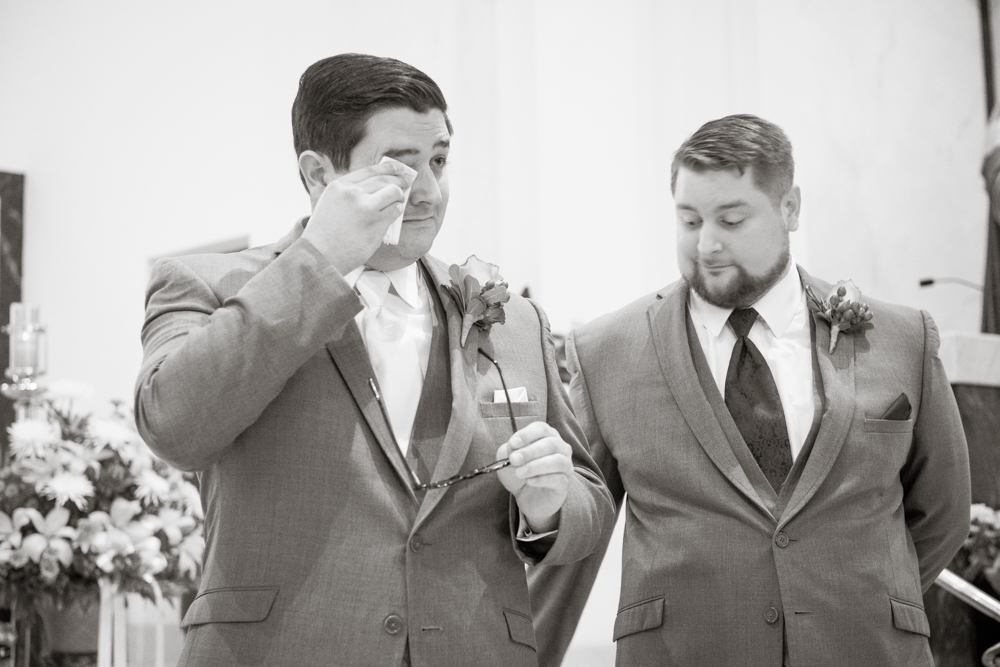 And I can see why he was tearing up! Stunning.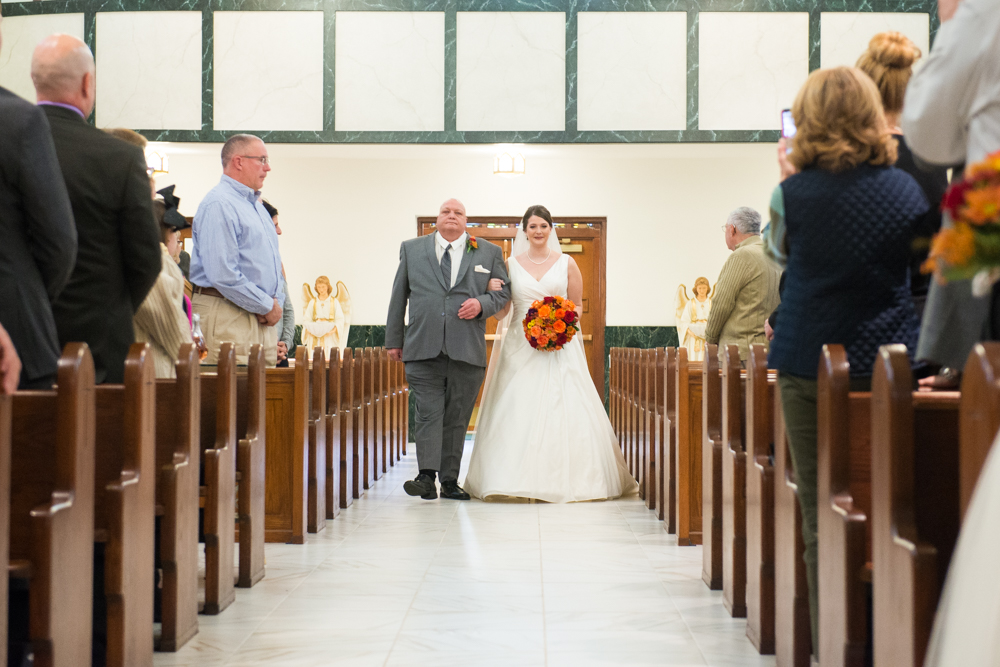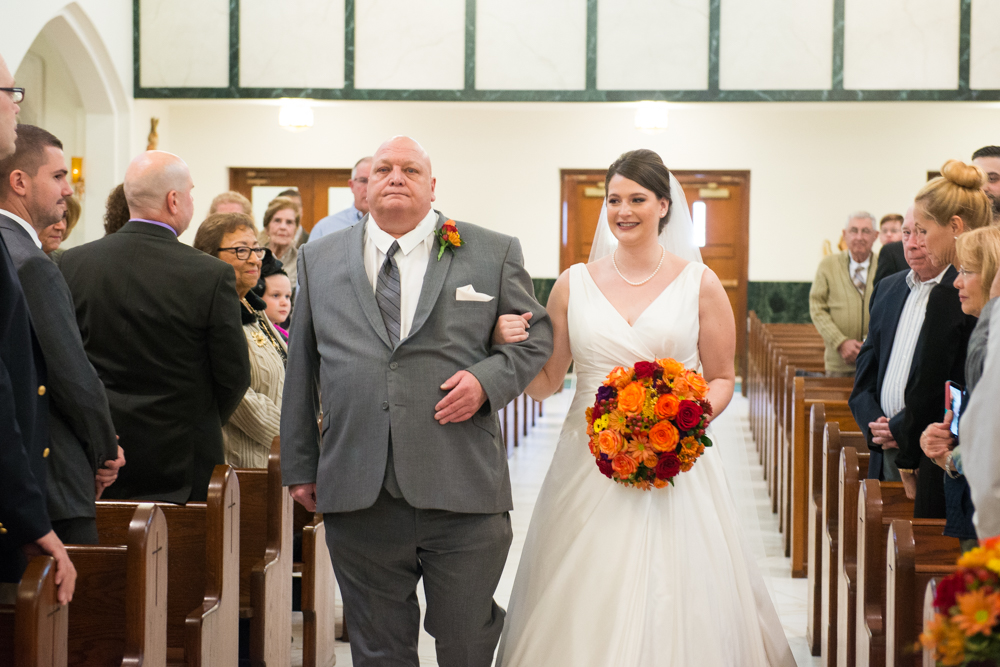 I was wondering if they practiced this. Her dad kissed & hugged her & shook Adam's hand simultaneously. Impressive!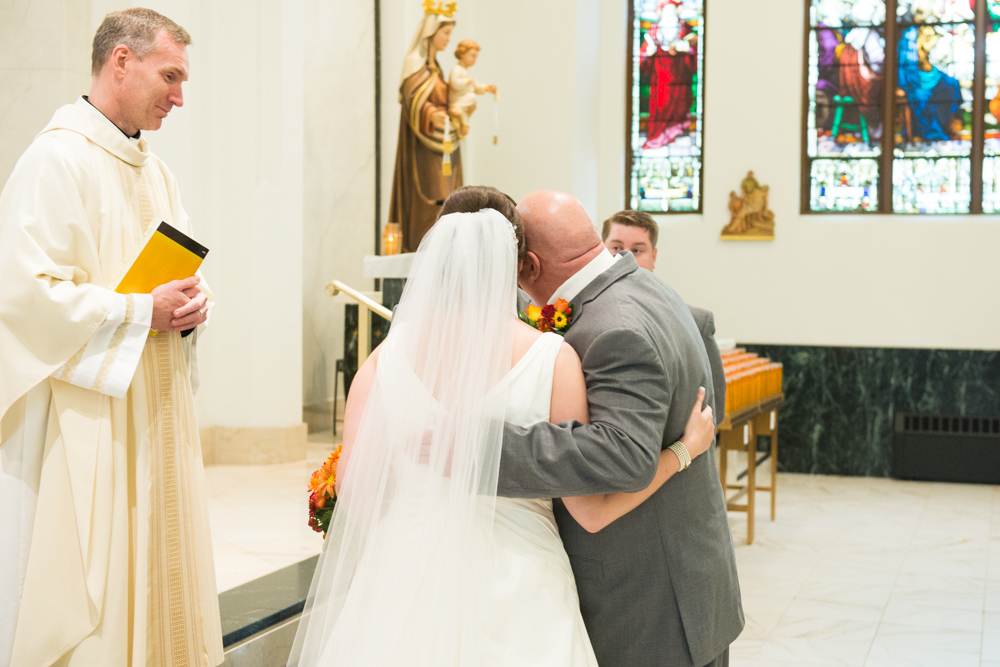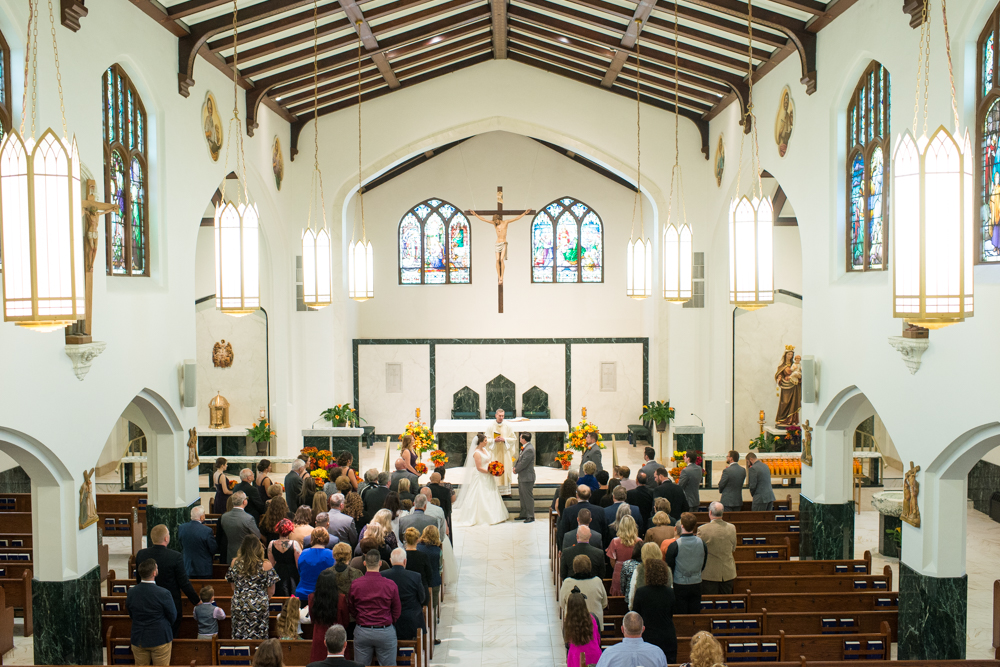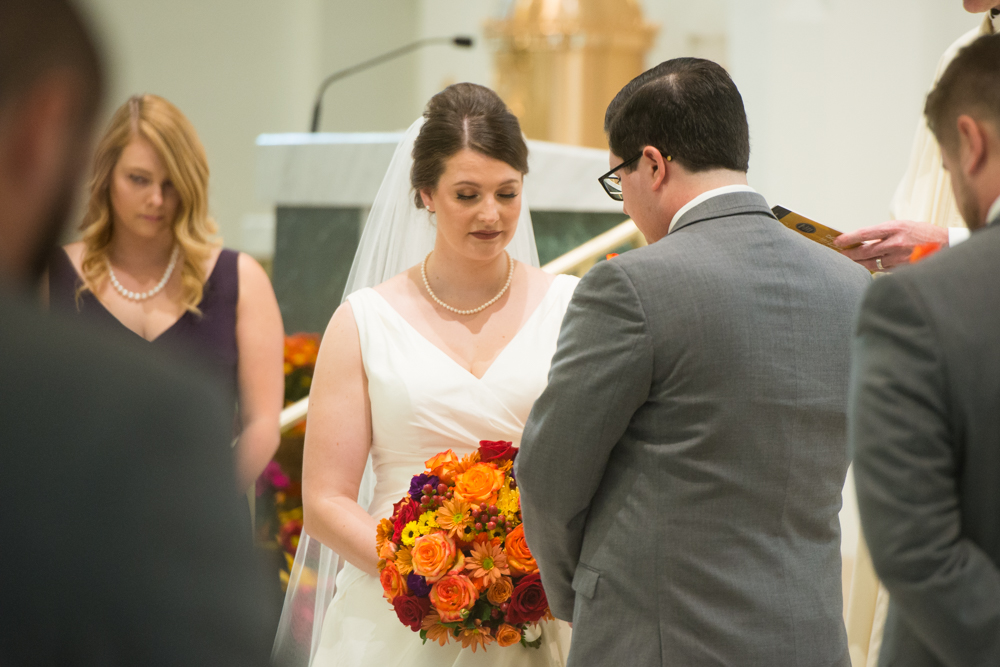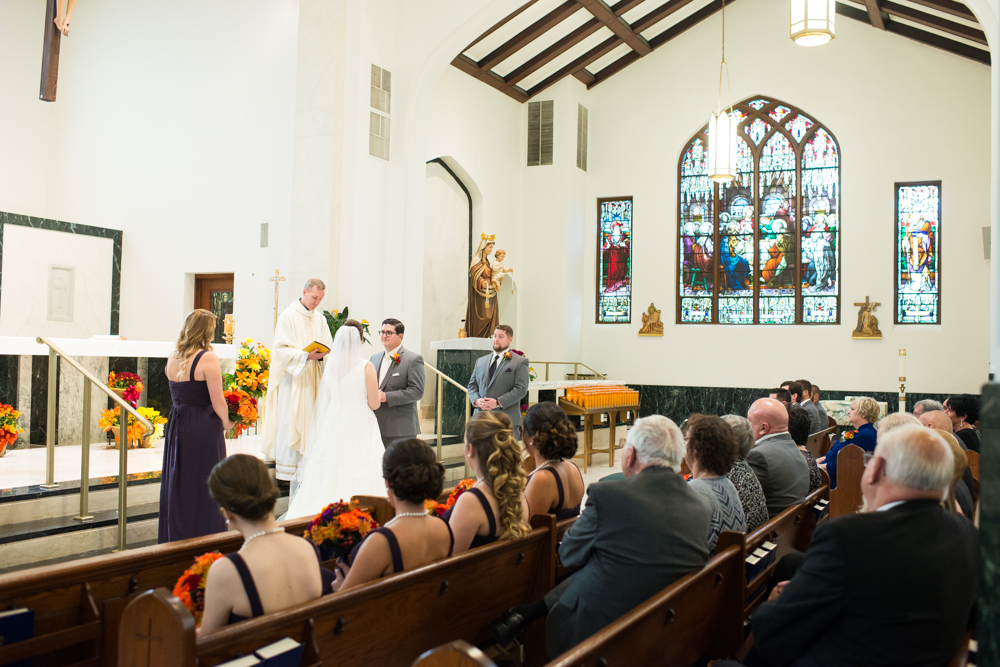 Married! Yay!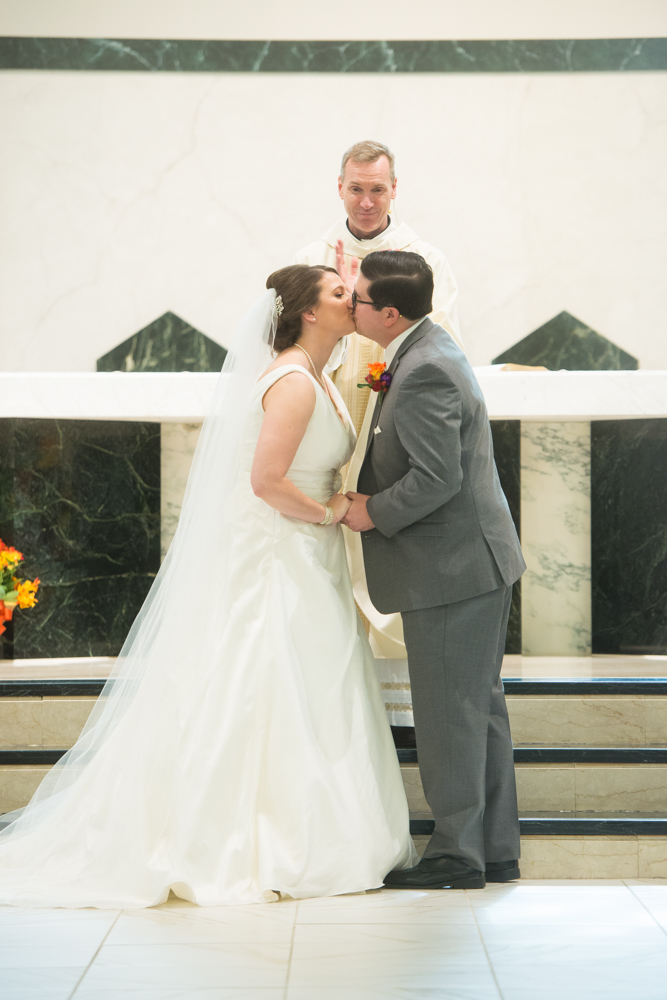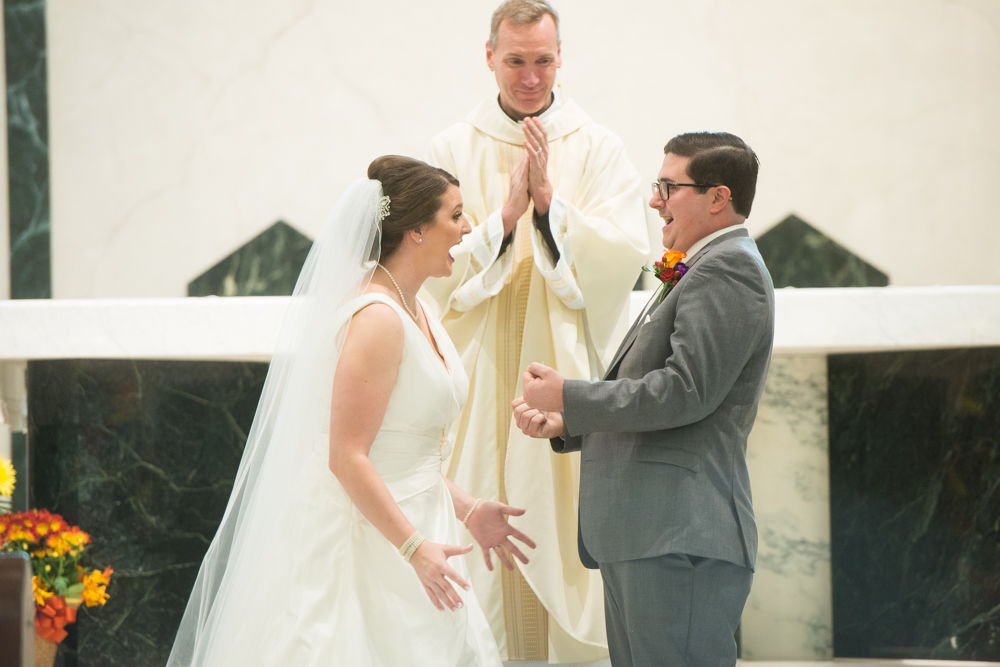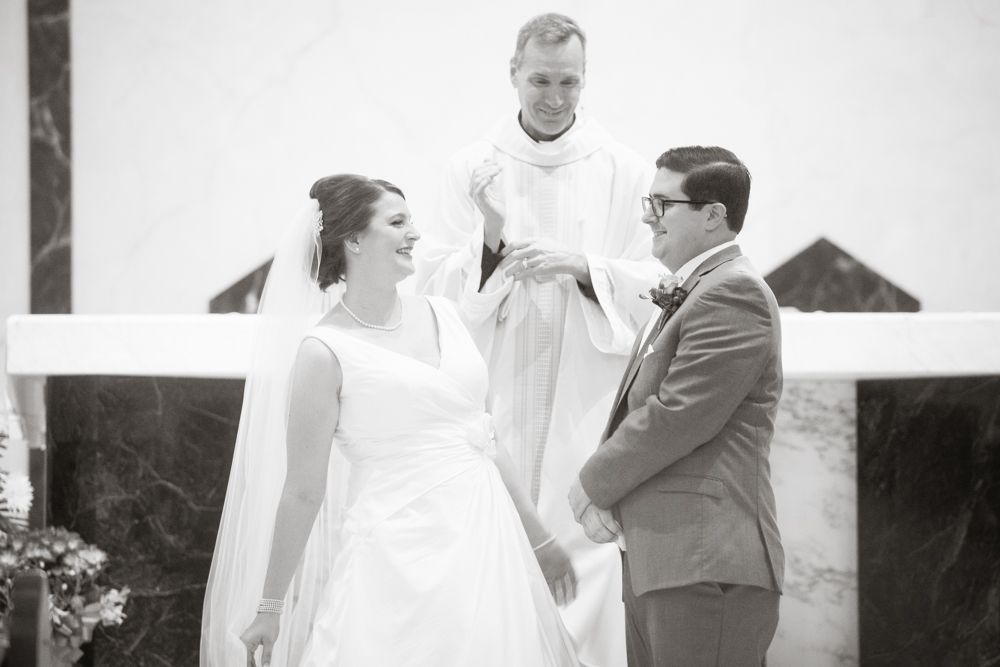 Seriously. . . these two are the best! Their joy was uplifting.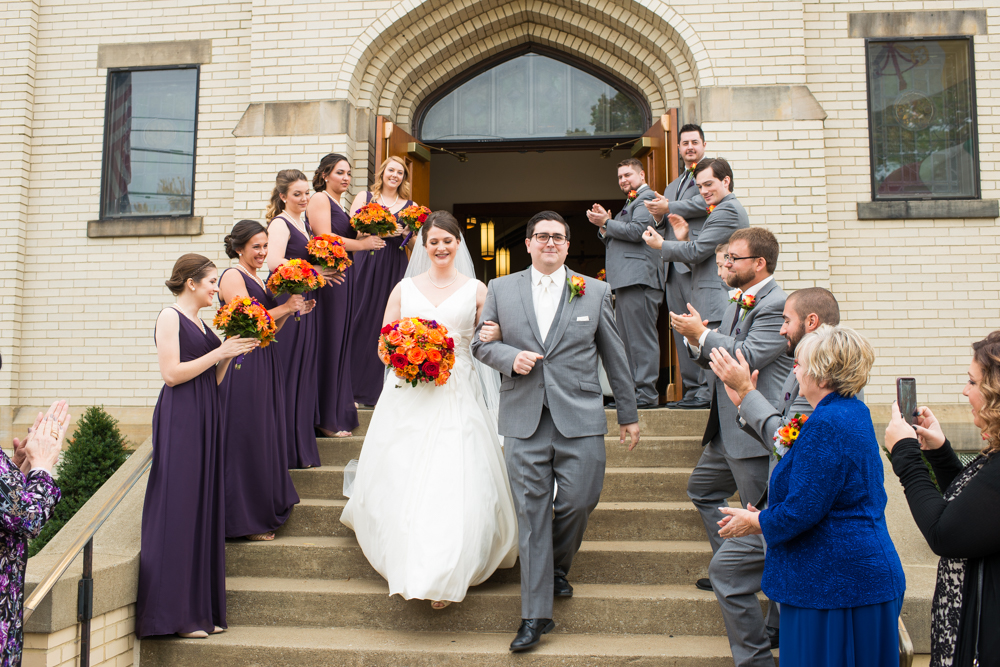 We took a short drive to the Niles McKinley Memorial Library for some bridal party & bride and groom photos. It was amazing weather for early November & we were thankful since most other days recently have been full of precipitation.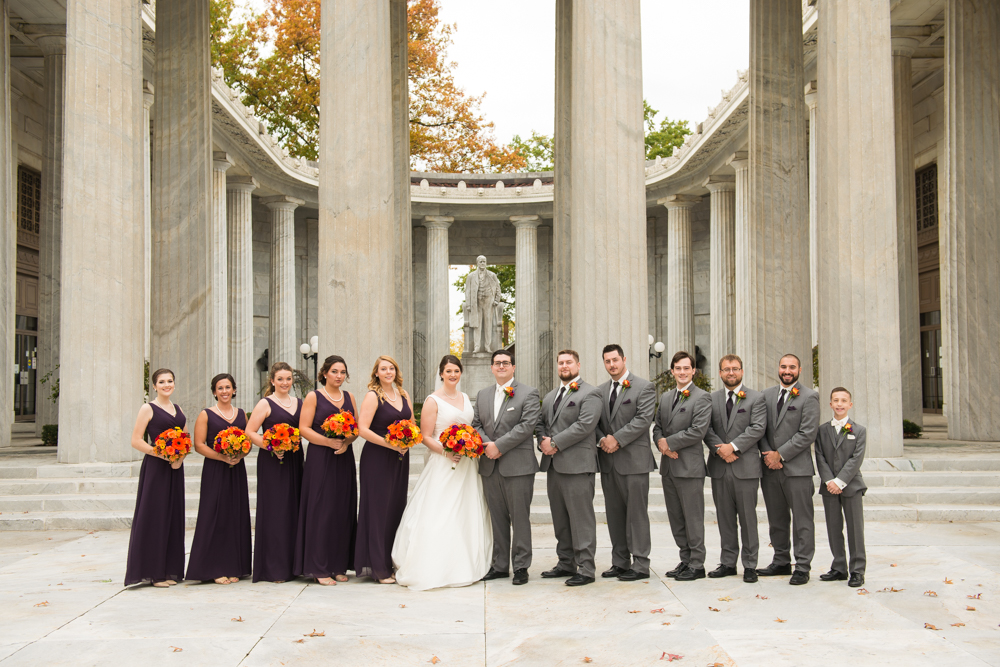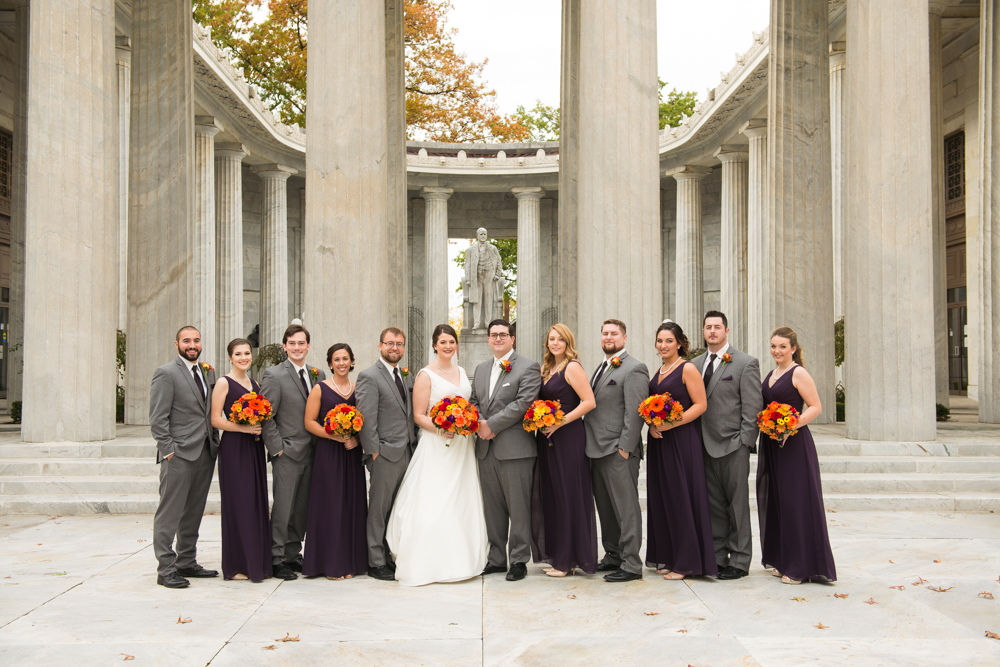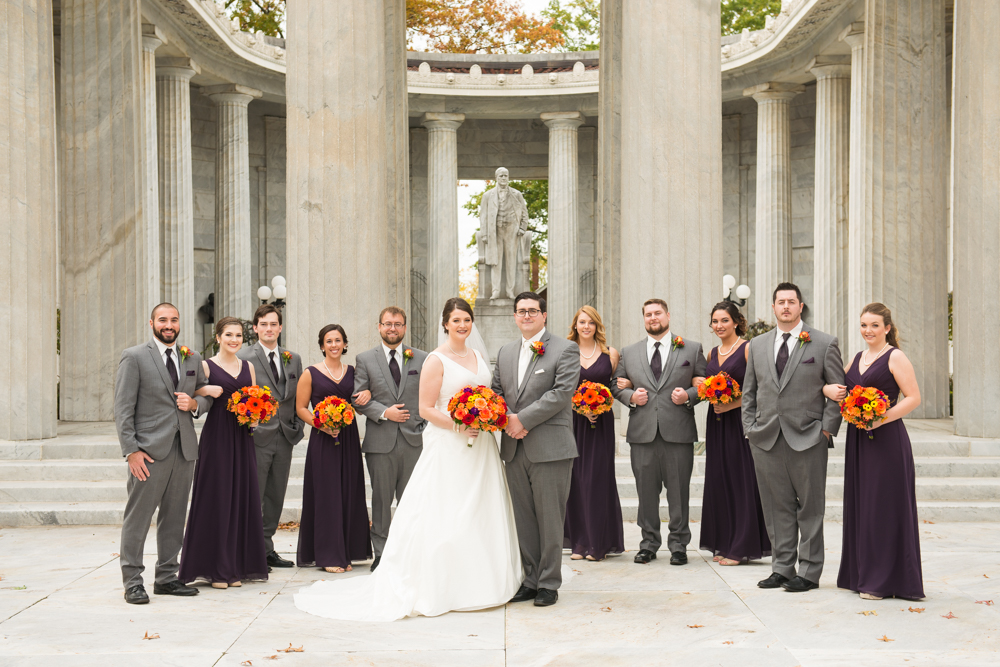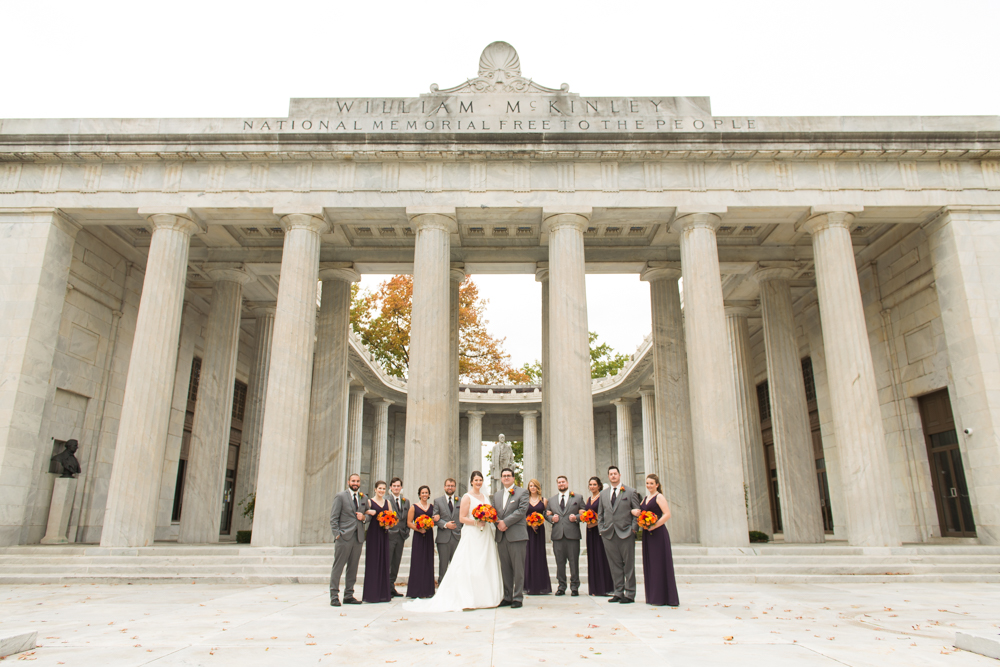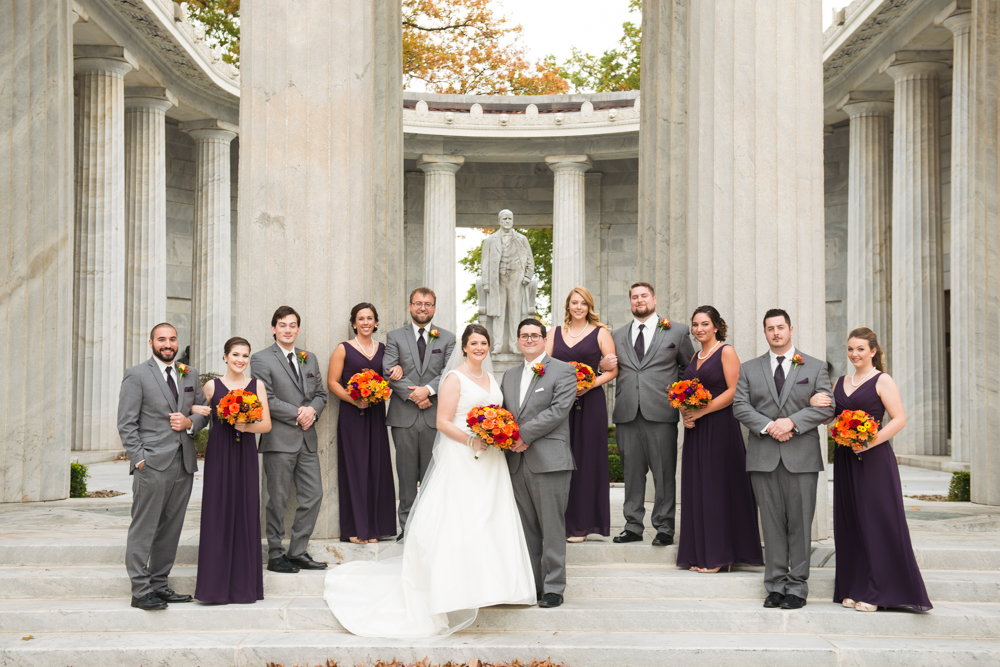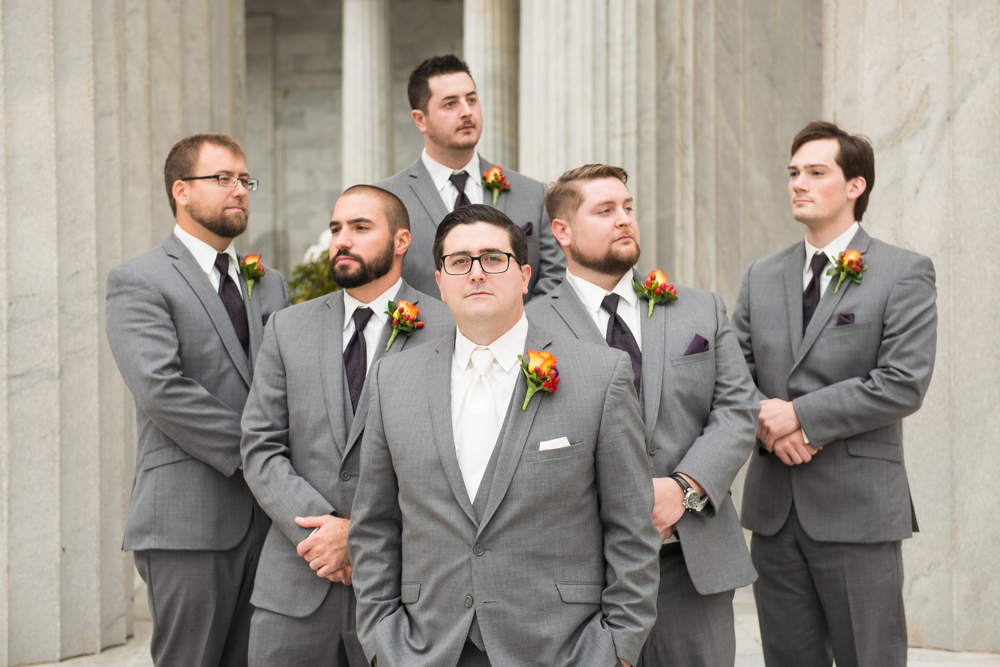 Lovely ladies.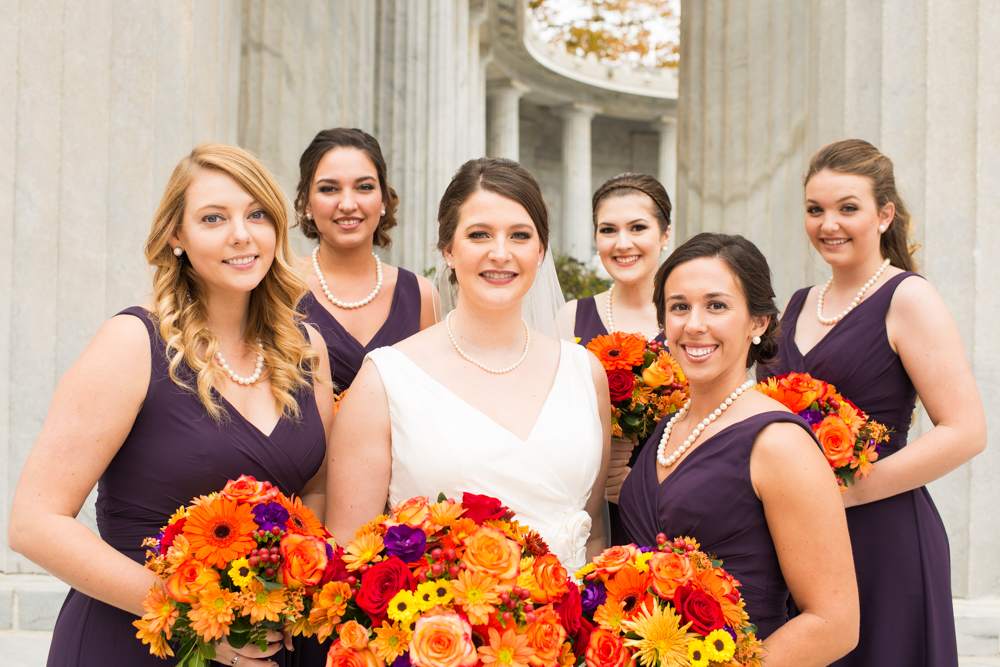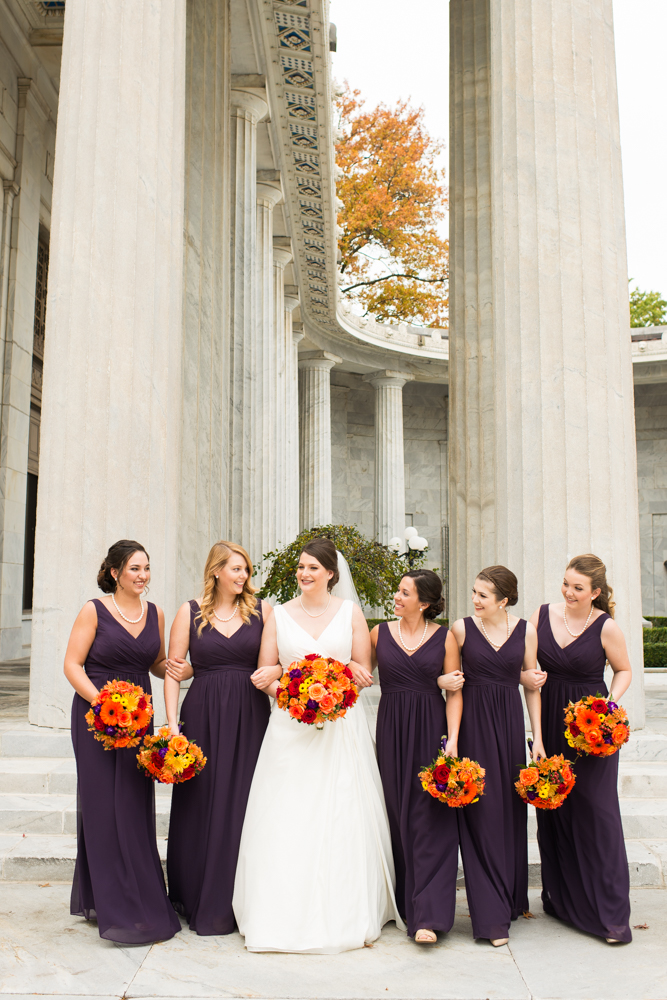 We really enjoyed our time taking portraits with Adam & Alethea. They have an amazing connection & share just the right mixture of laughter & romance together.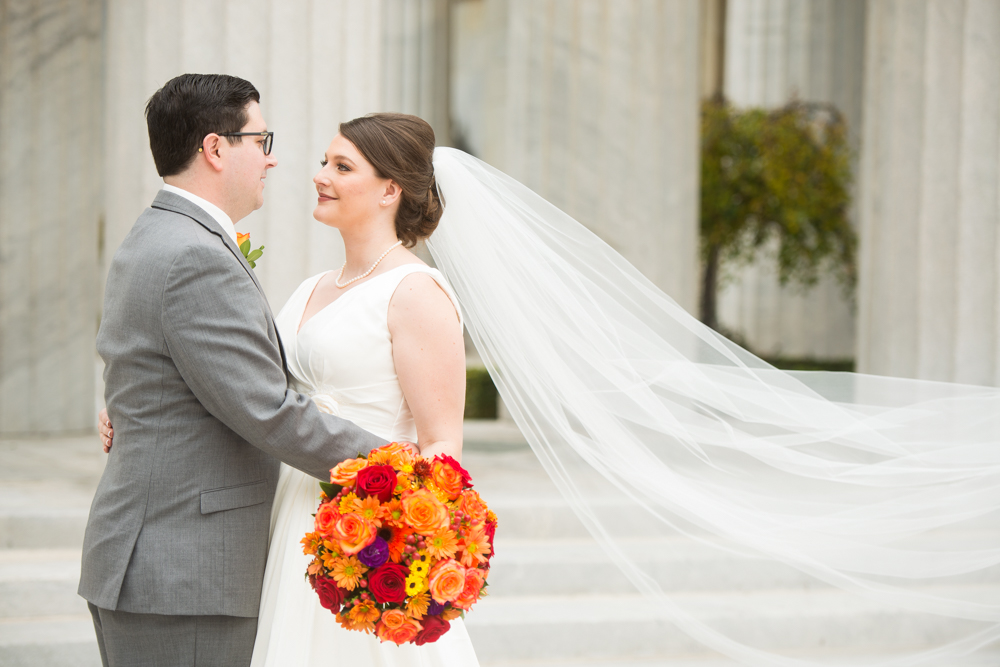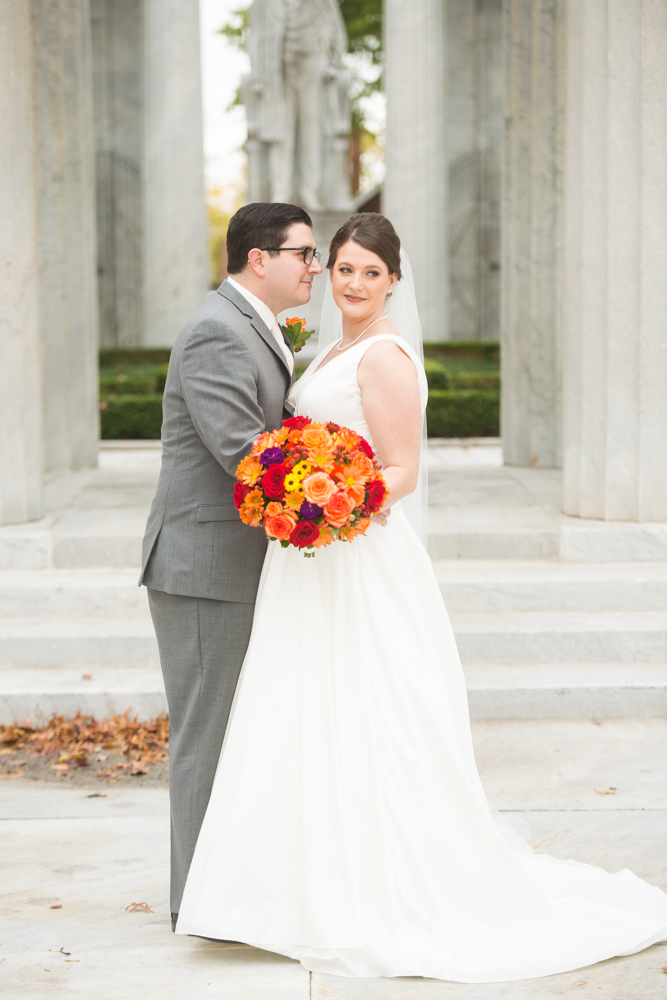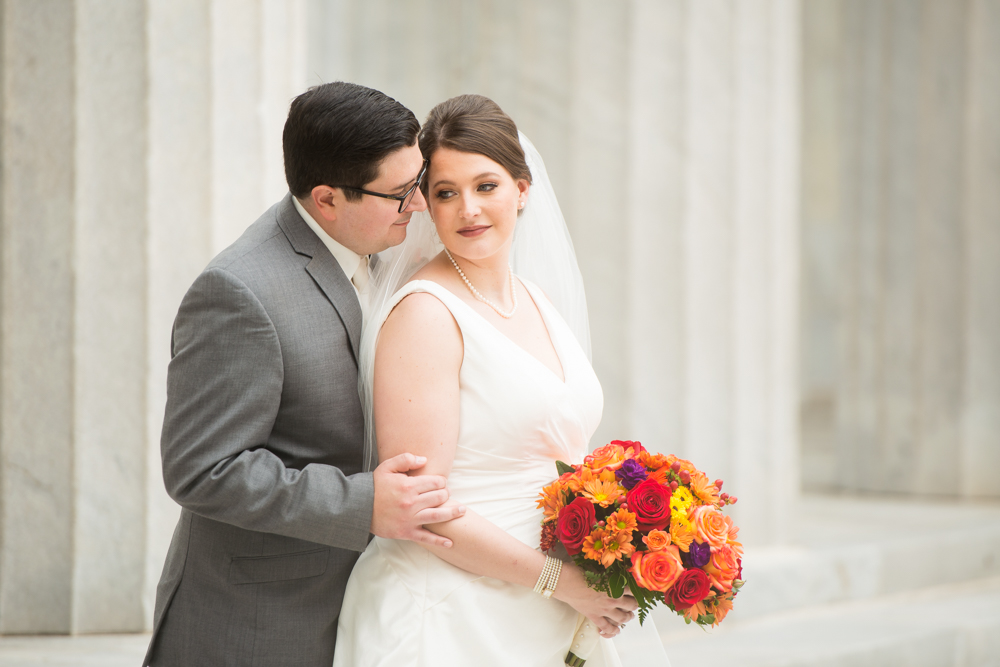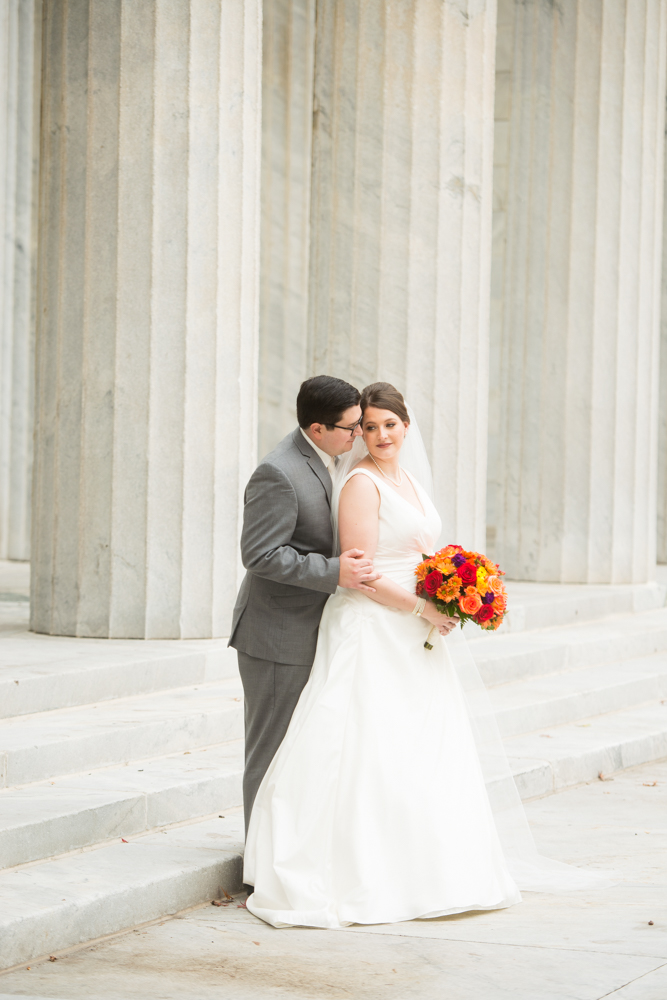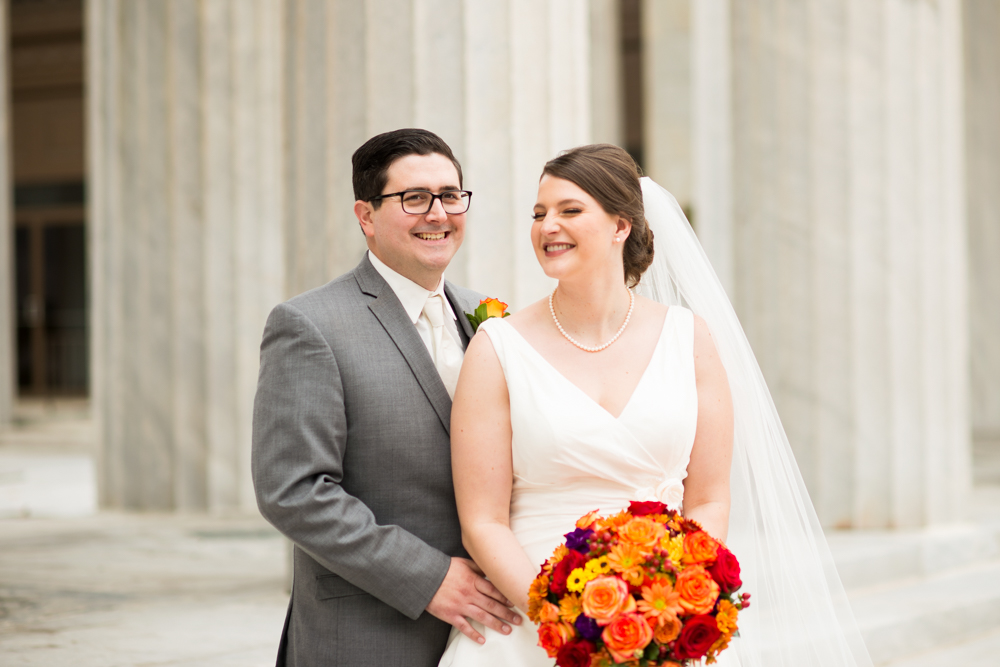 Don't you just LOVE wedding dresses with sleeves?! Everything about Alethea's bridal look said classic elegance & beauty.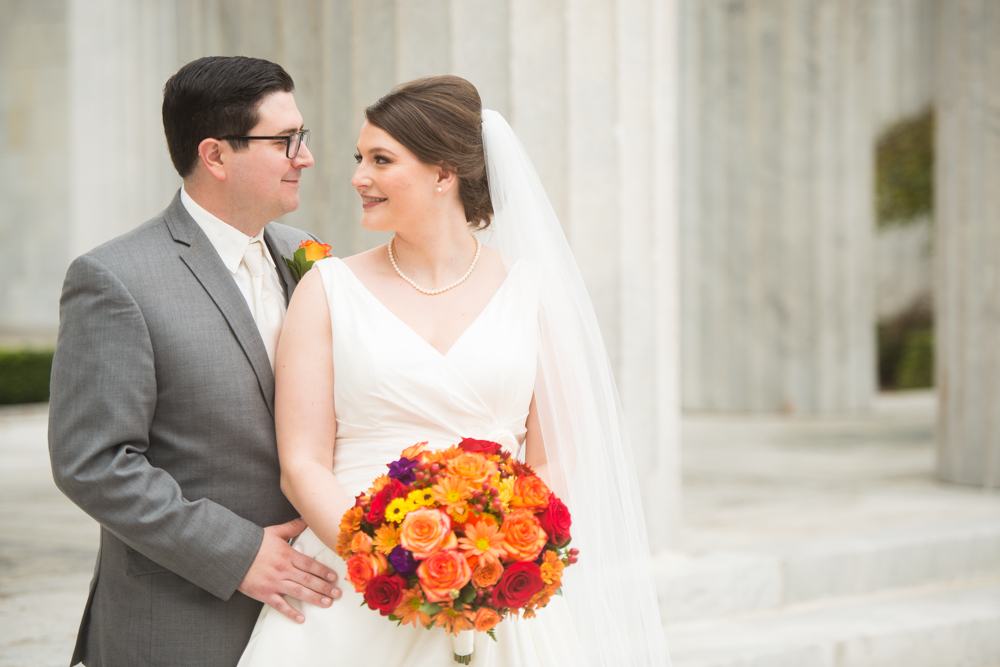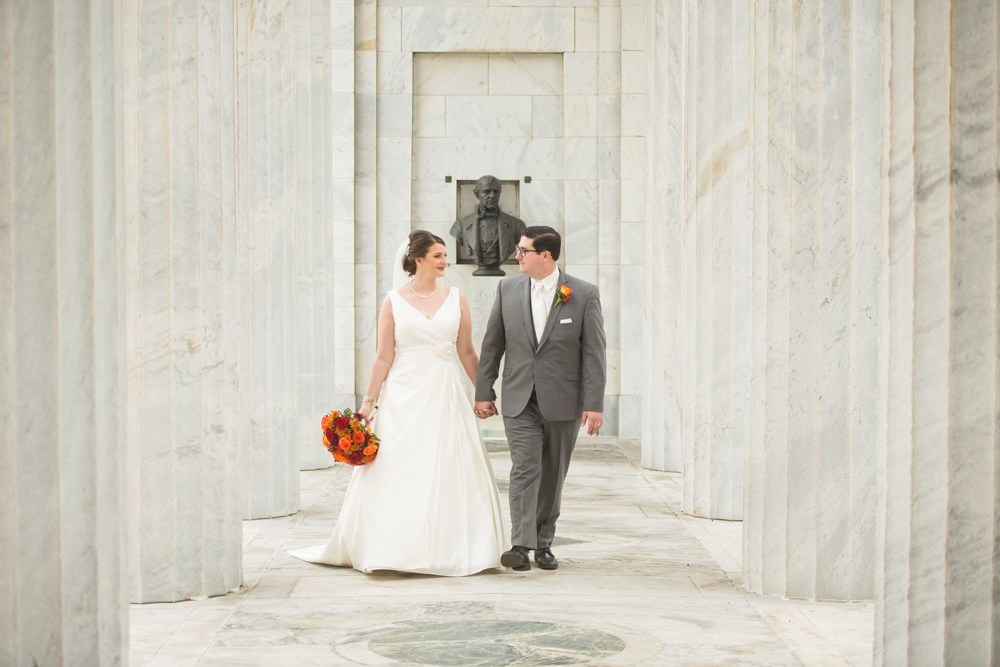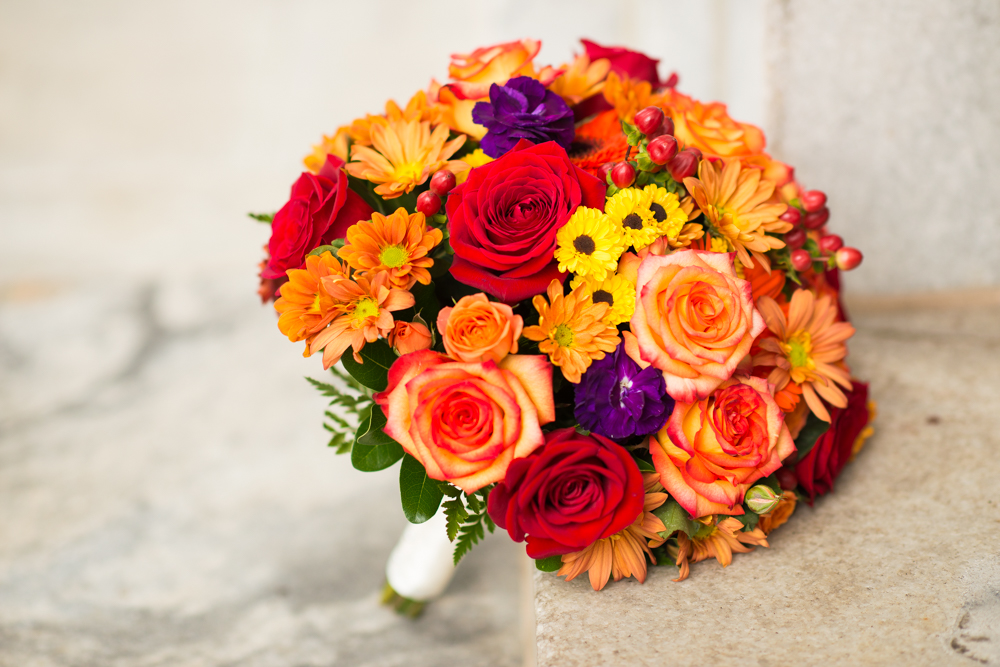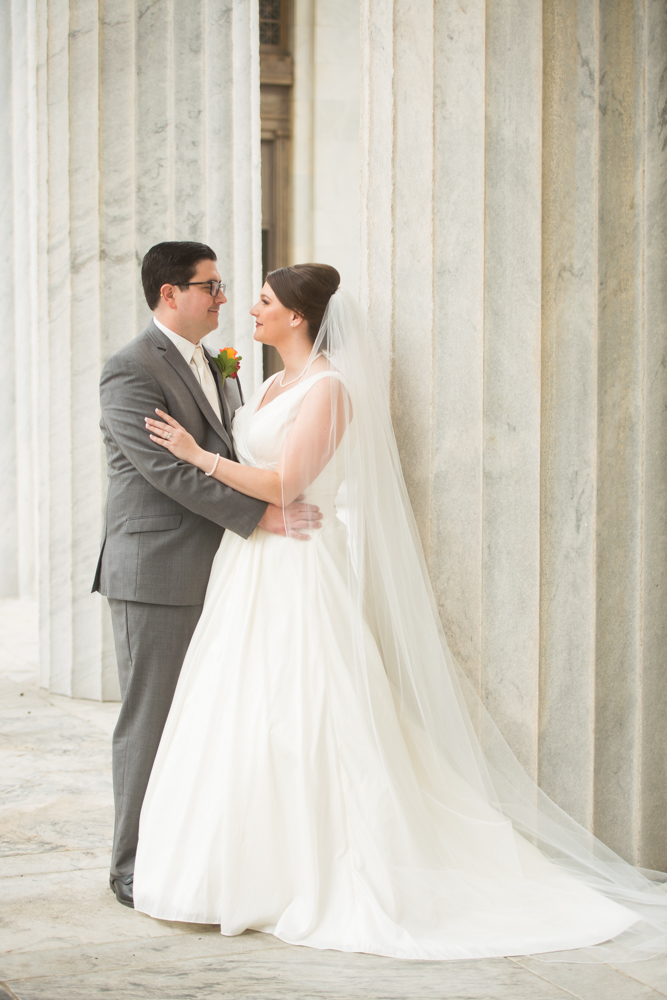 Quiet moments together on your wedding day are few. Soak them in when they happen.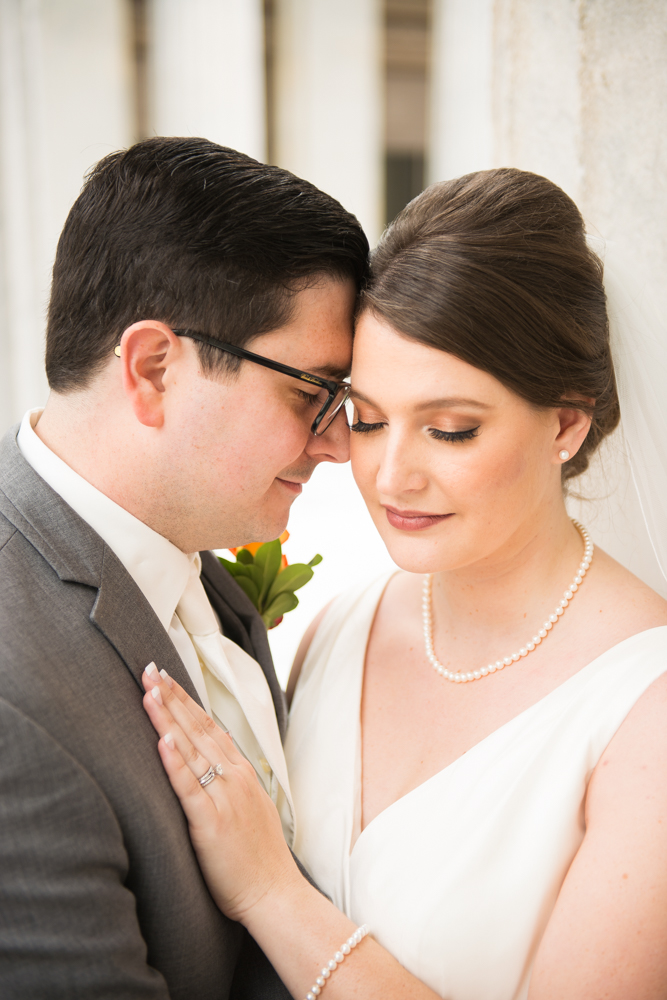 Seriously, Alethea. Just wow! Those eyes.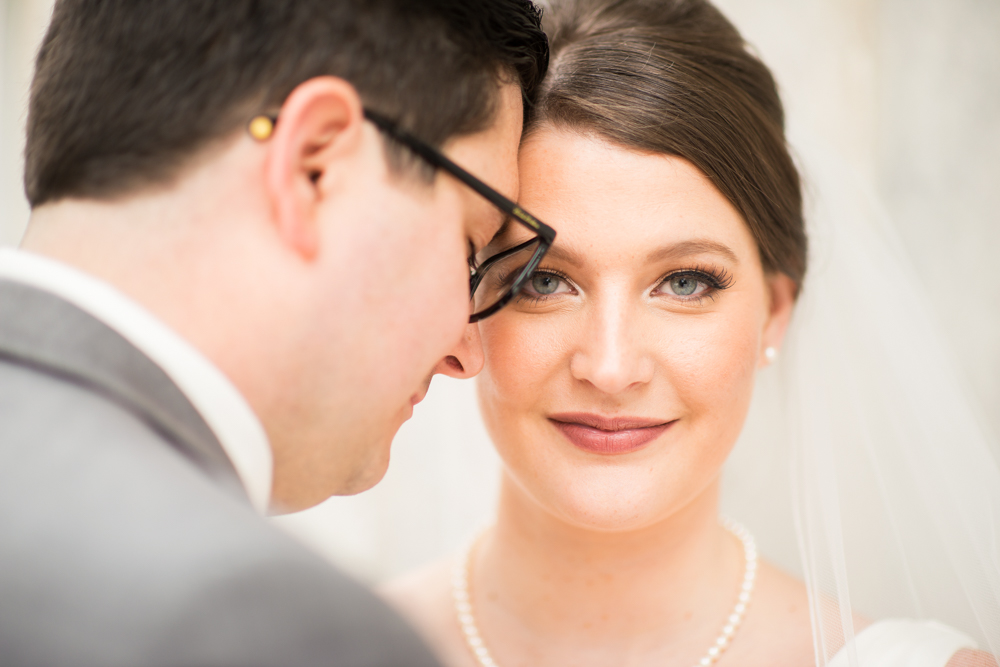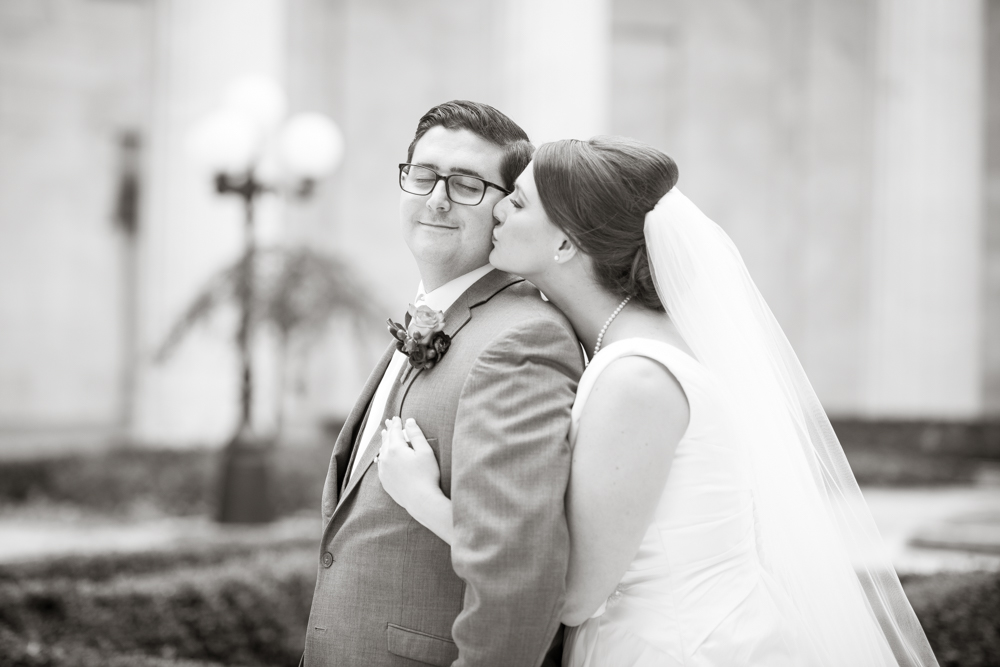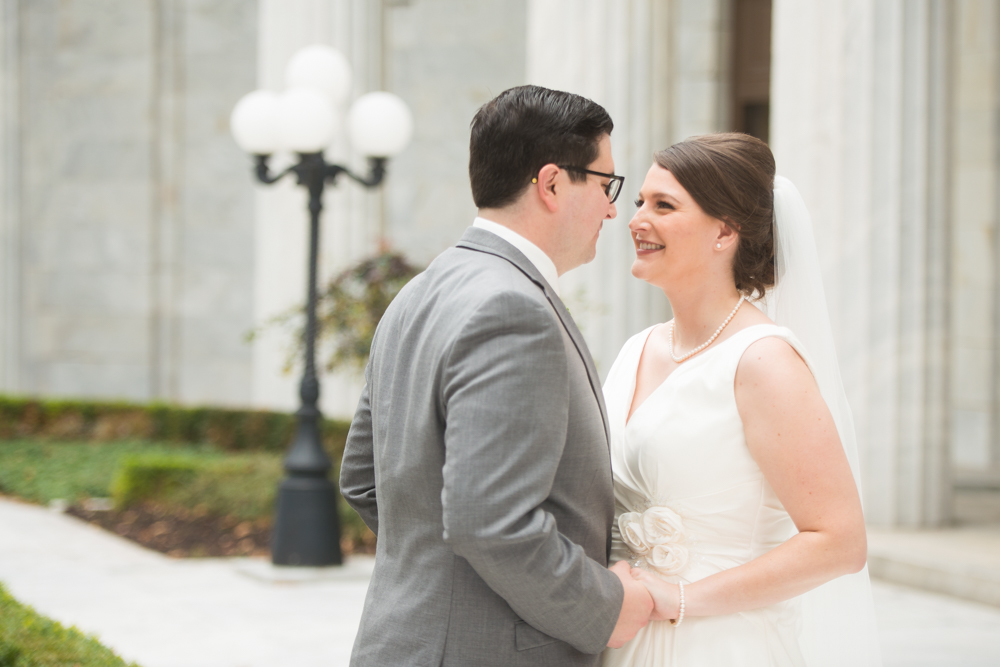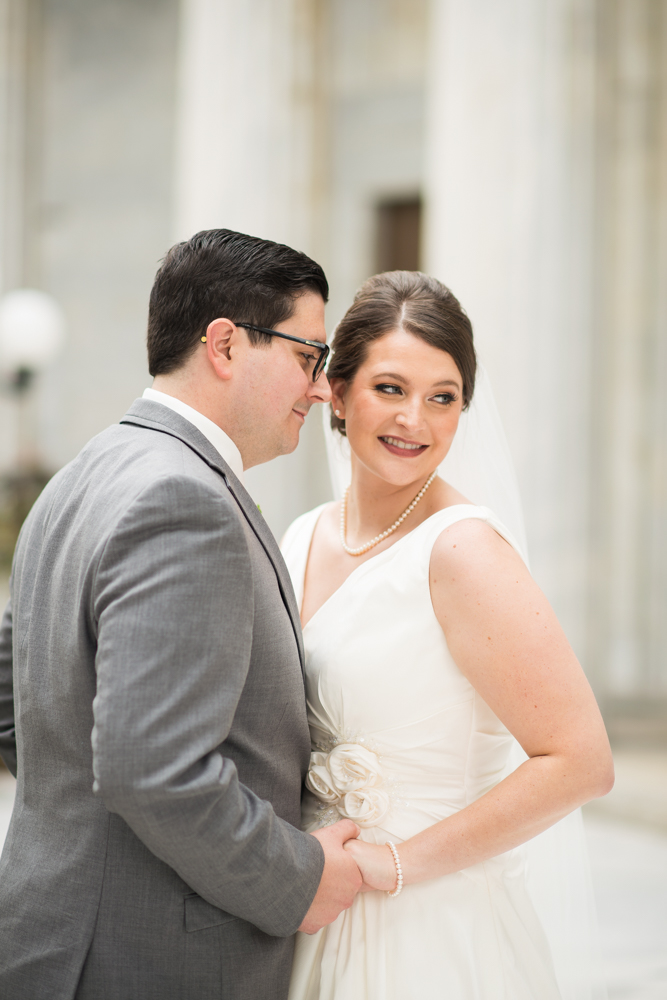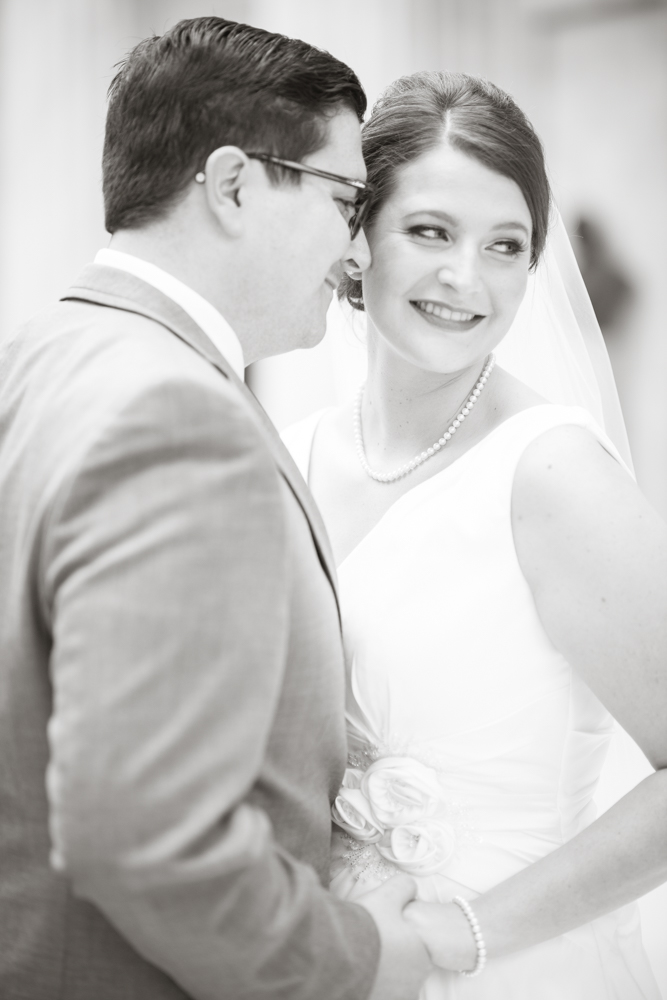 Although this Fall in Northeast Ohio wasn't the brightest (if we're being honest), all we need is ONE pretty tree & your portraits will pop!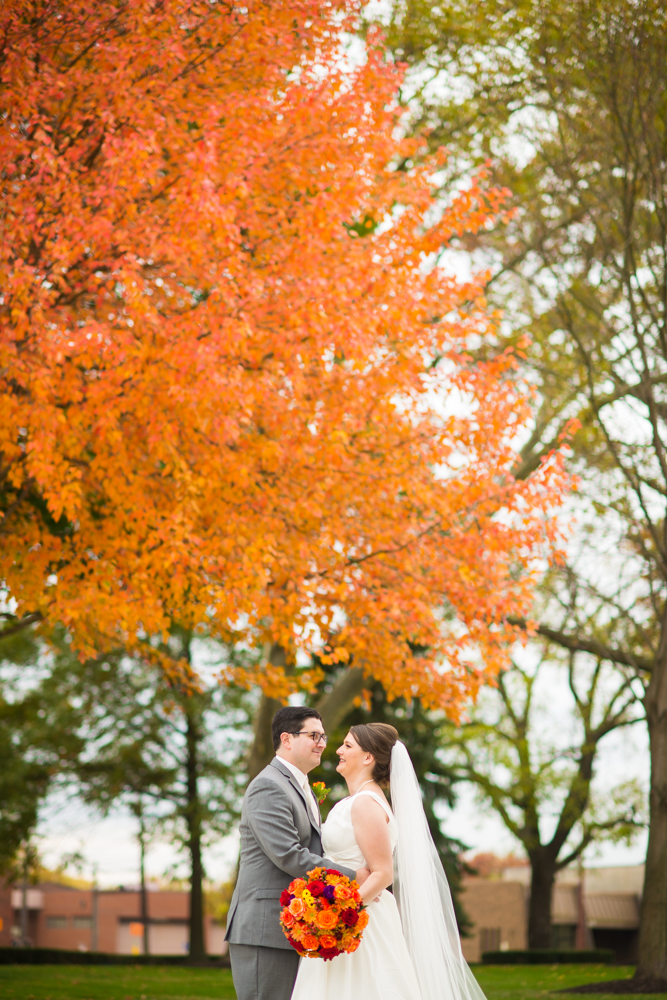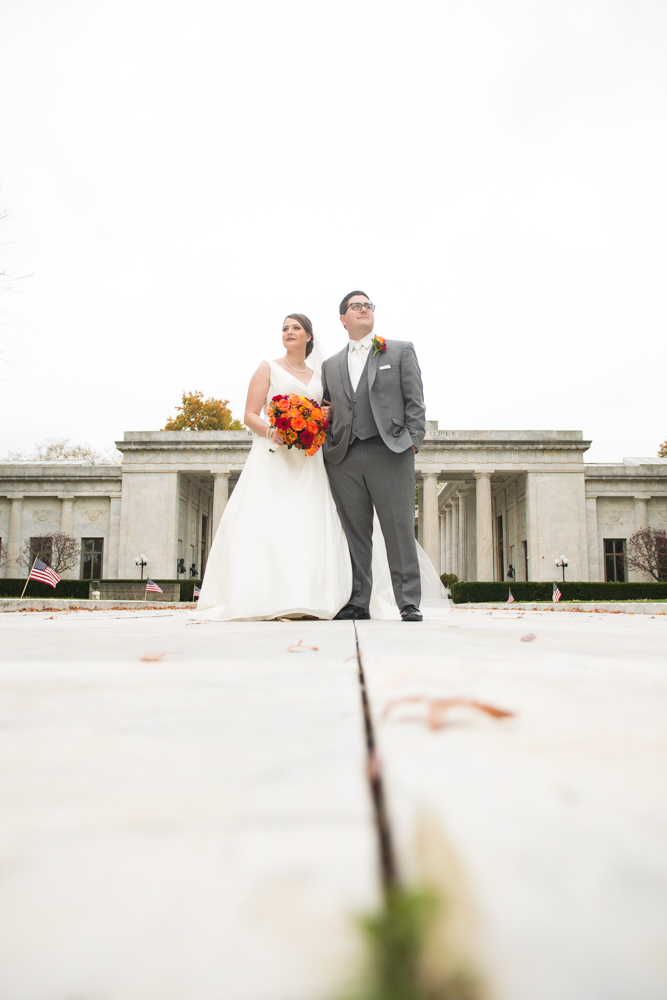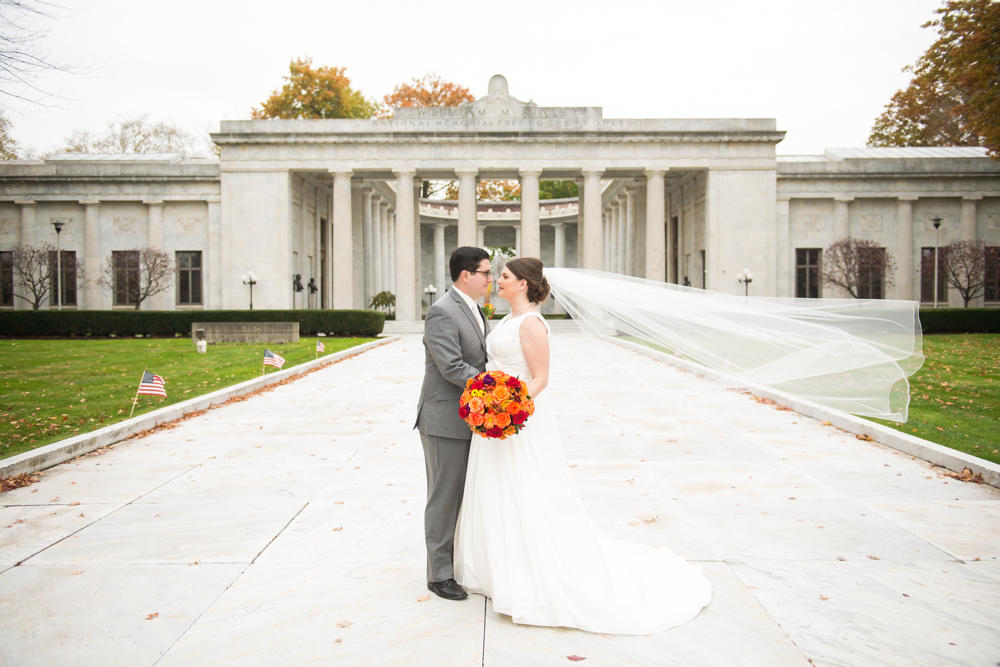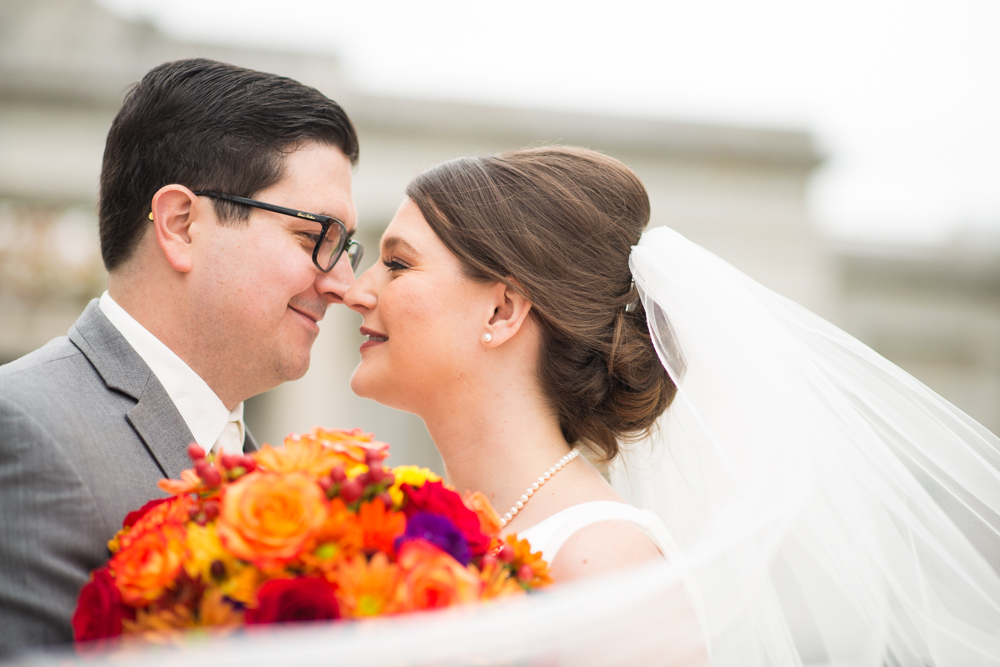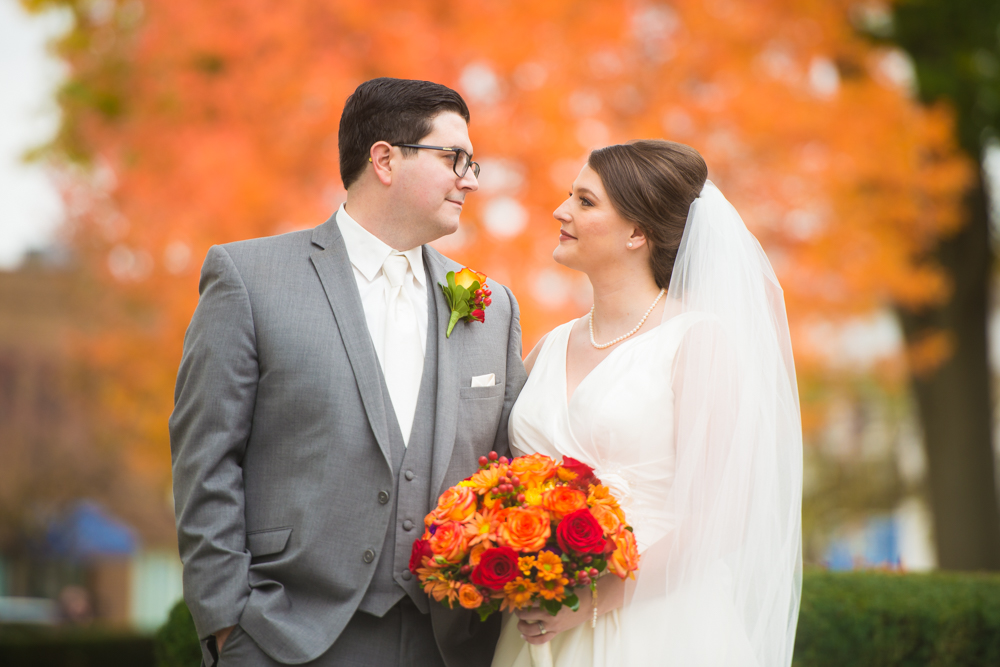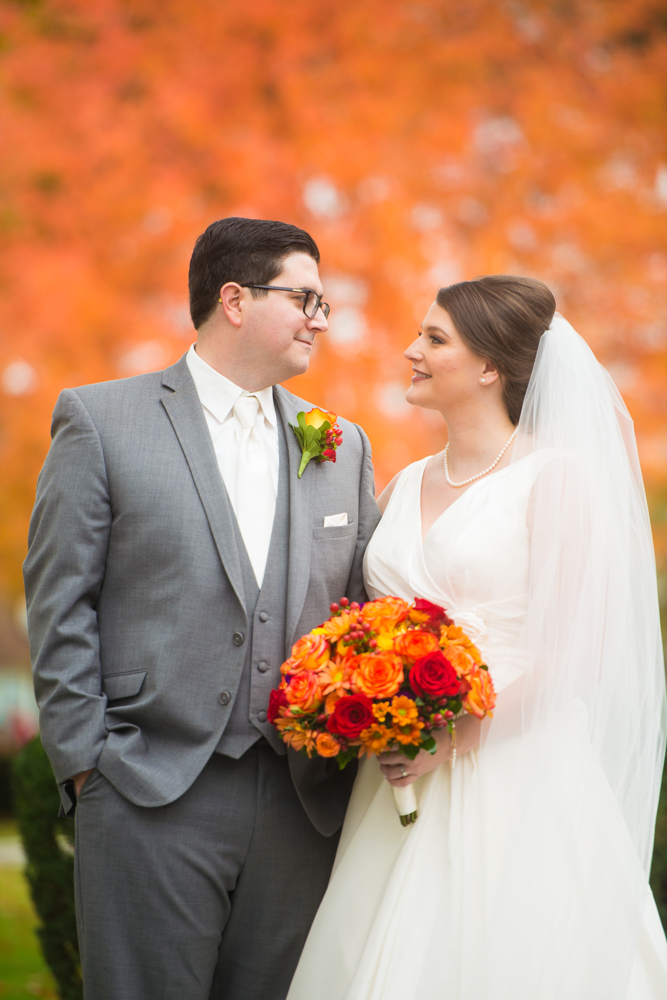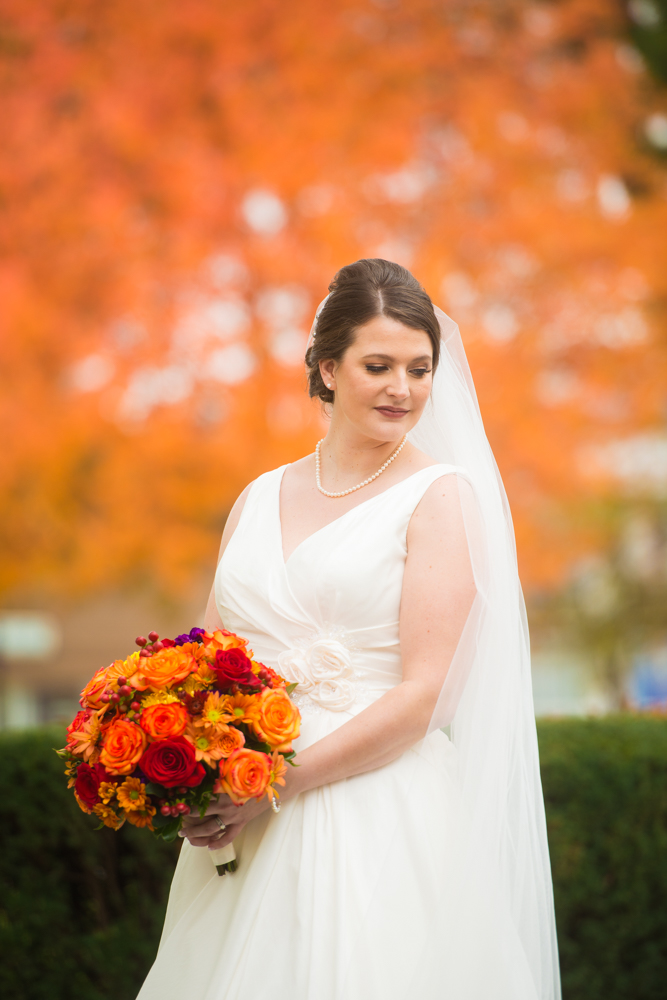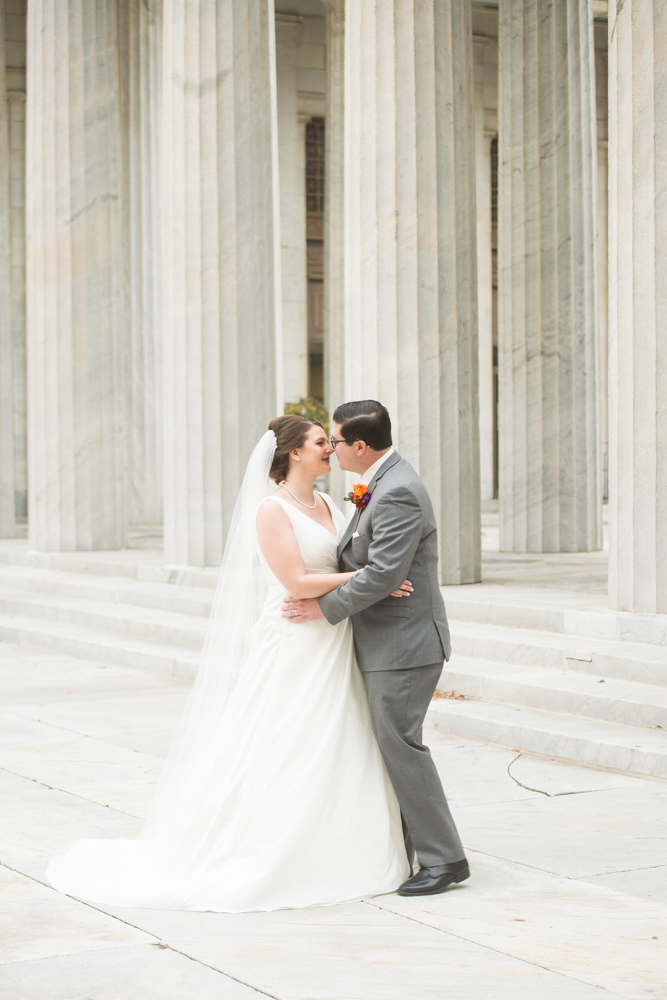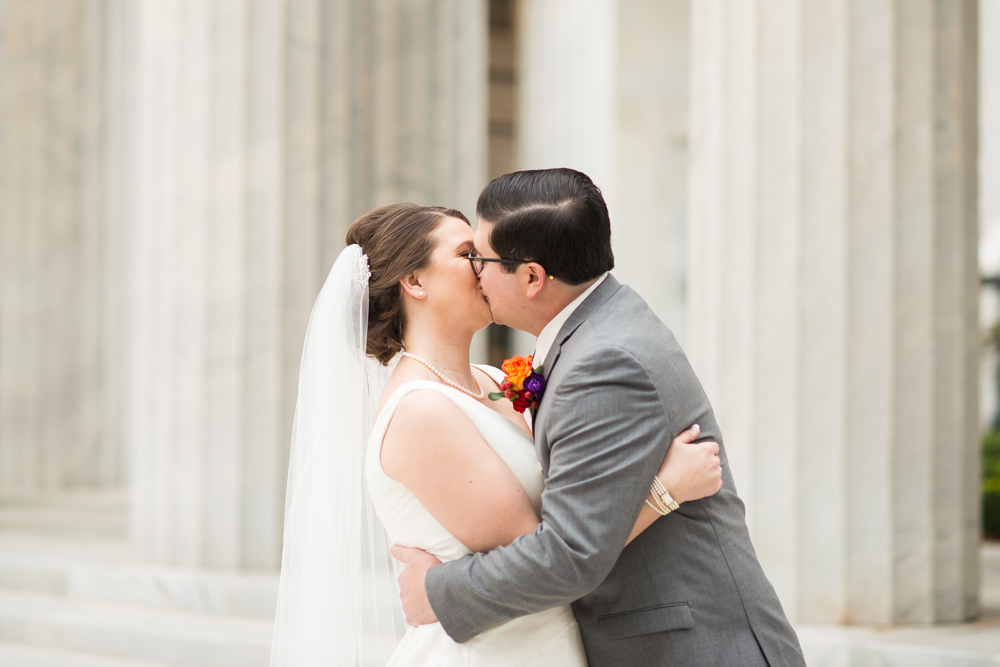 I can picture their grandkids getting a kick out of this shot.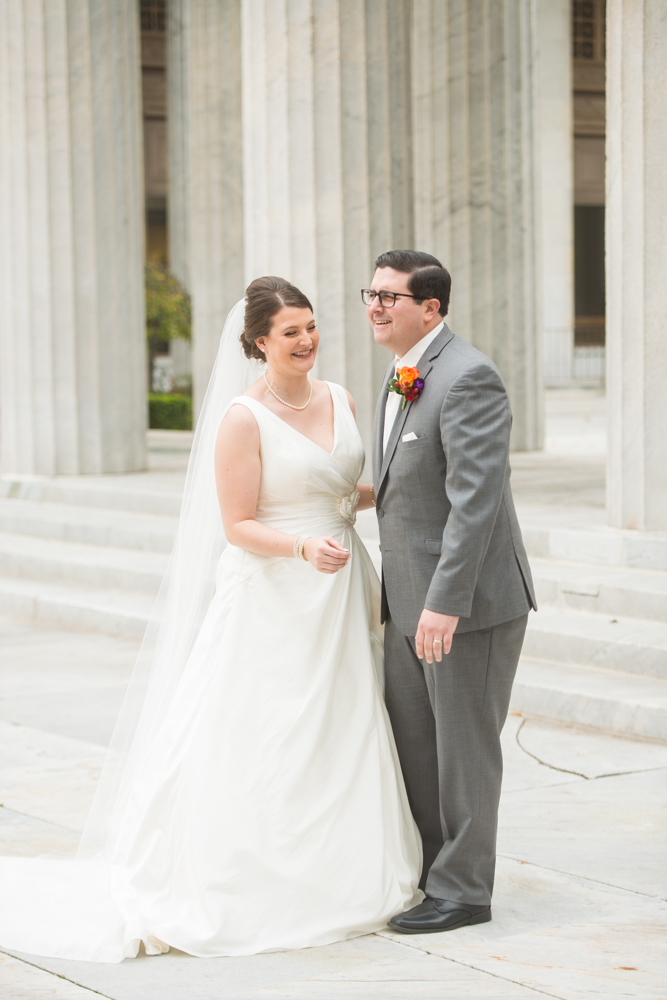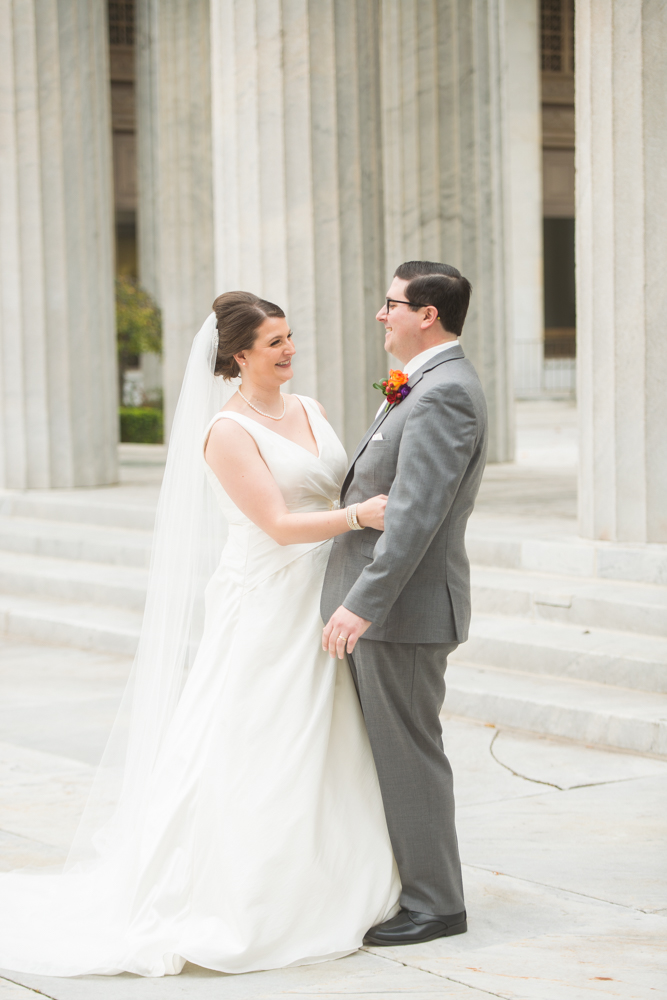 Thankfully, Adam & Alethea planned enough time to stop & visit Adam's grandmother who couldn't make it to the wedding or reception due to her health. She was really happy to see everyone.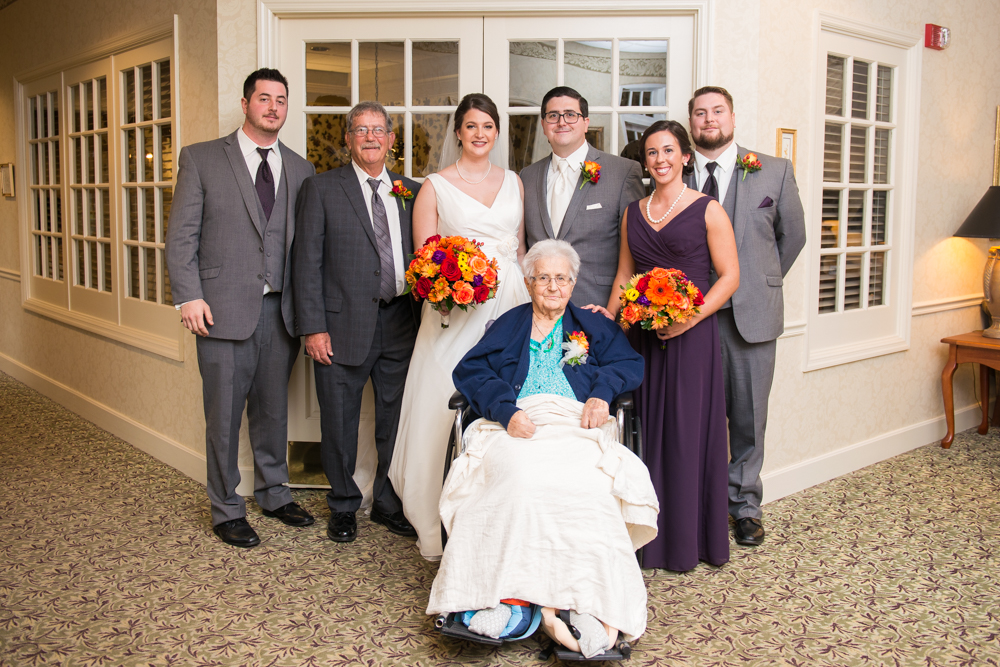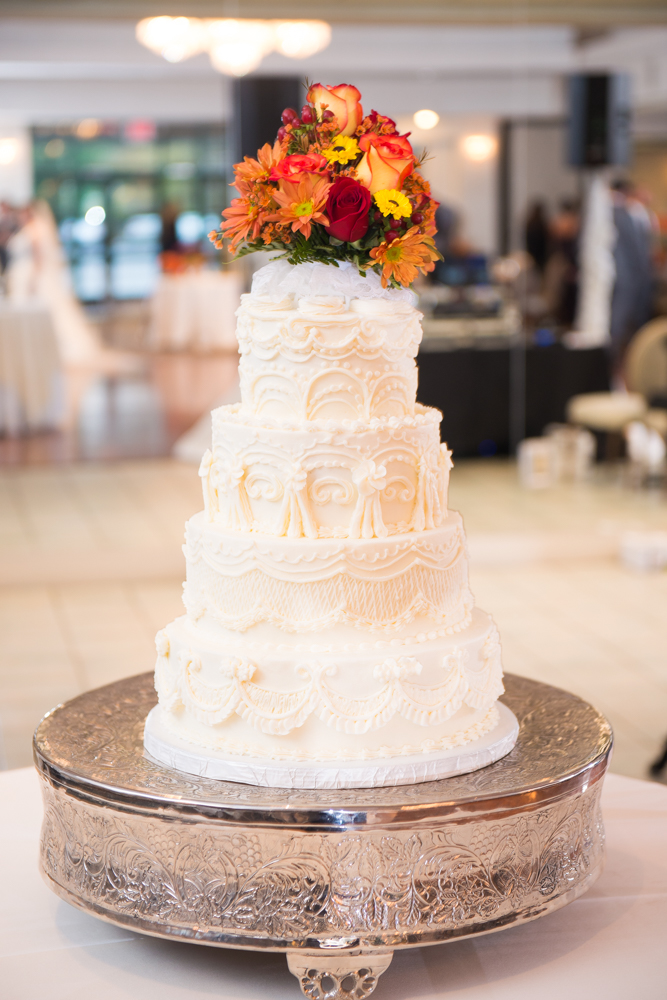 Leo's Ristorante was full of beautiful decor & delicious pretty sweets for guests to enjoy.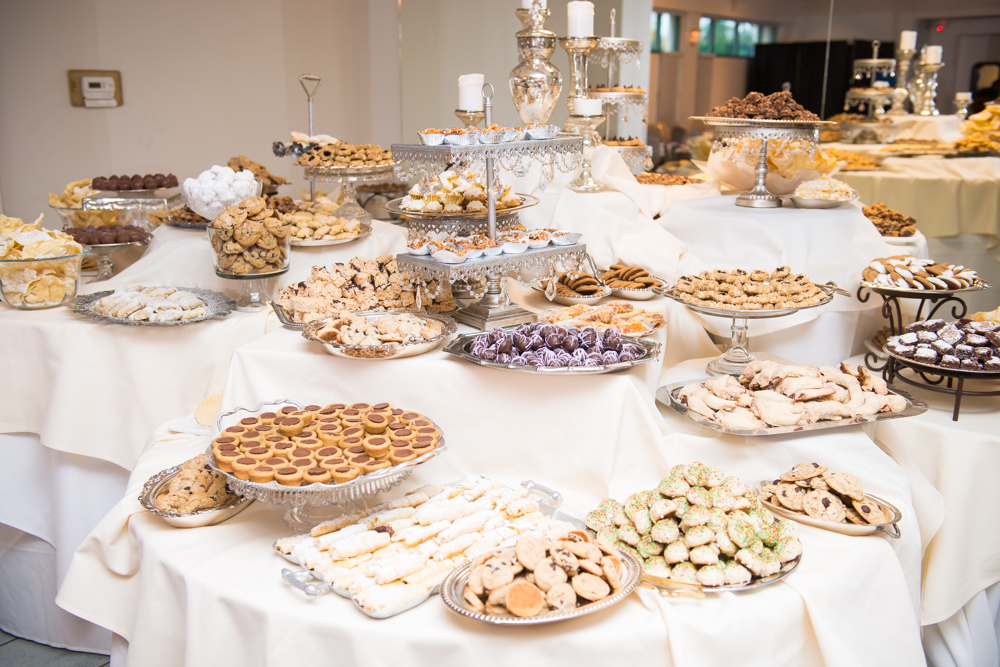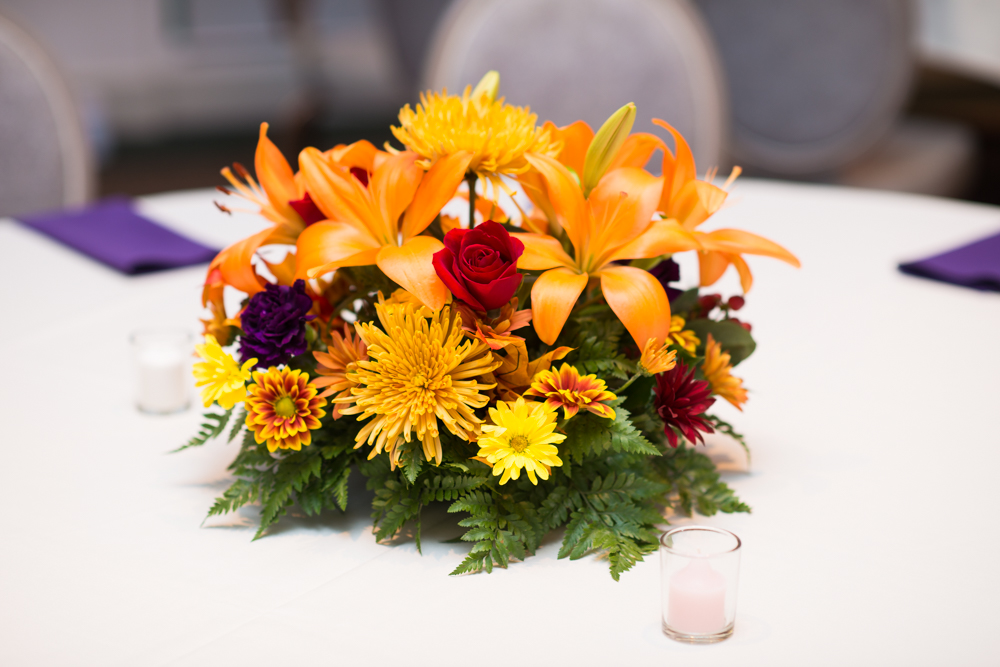 There was also gorgeous uplighting provided by Jeremy from D&R Audio.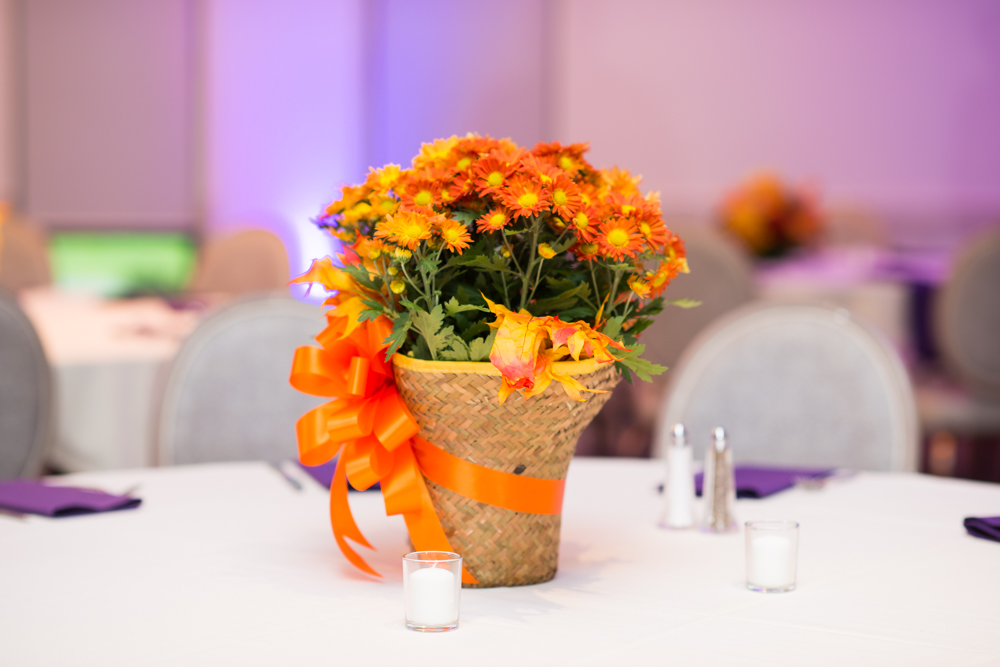 The toasts to the couple were emotional. It's always really fun to hear about the bride & groom from the people closest to them. Hearing how much they've impacted others' lives is one of our favorite parts about wedding receptions.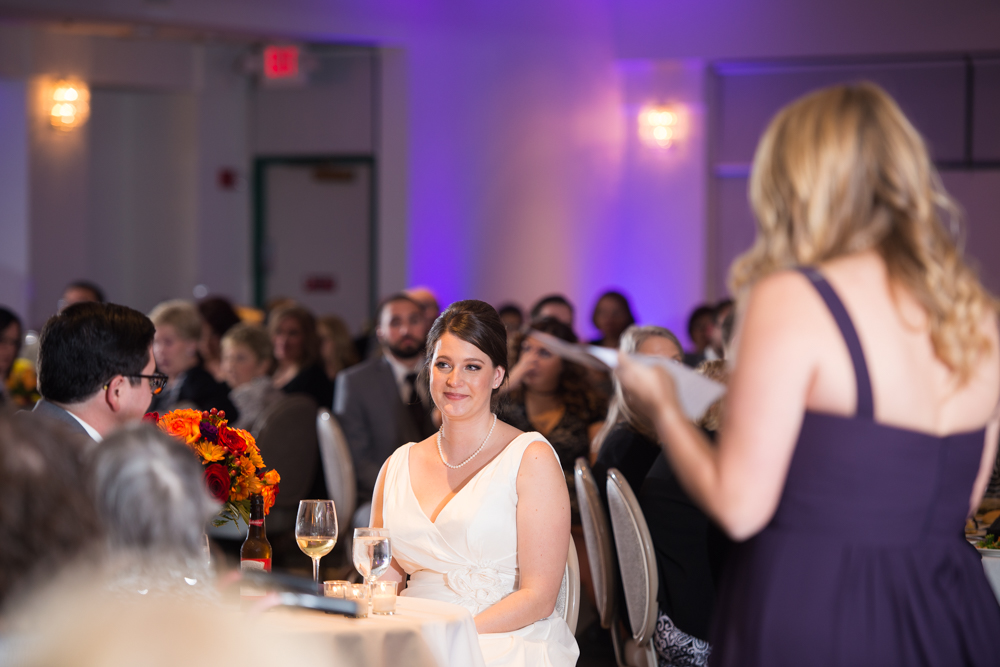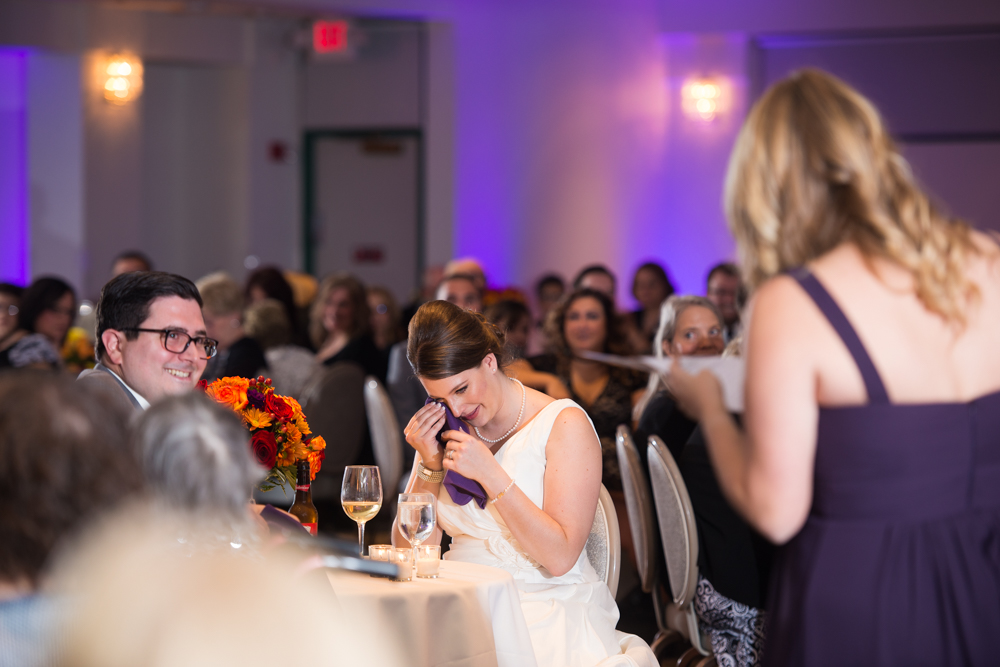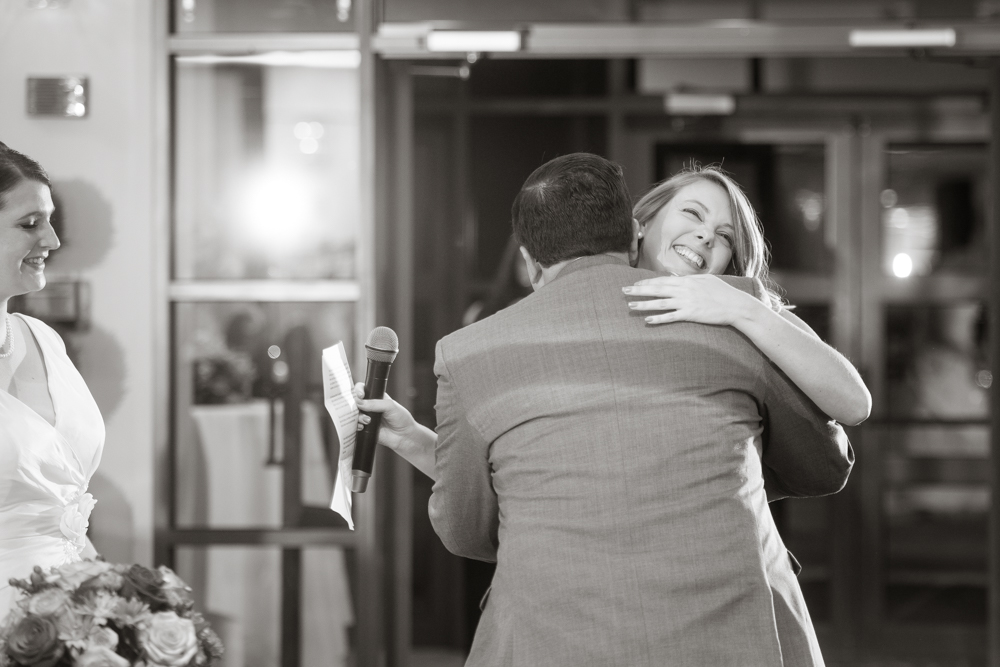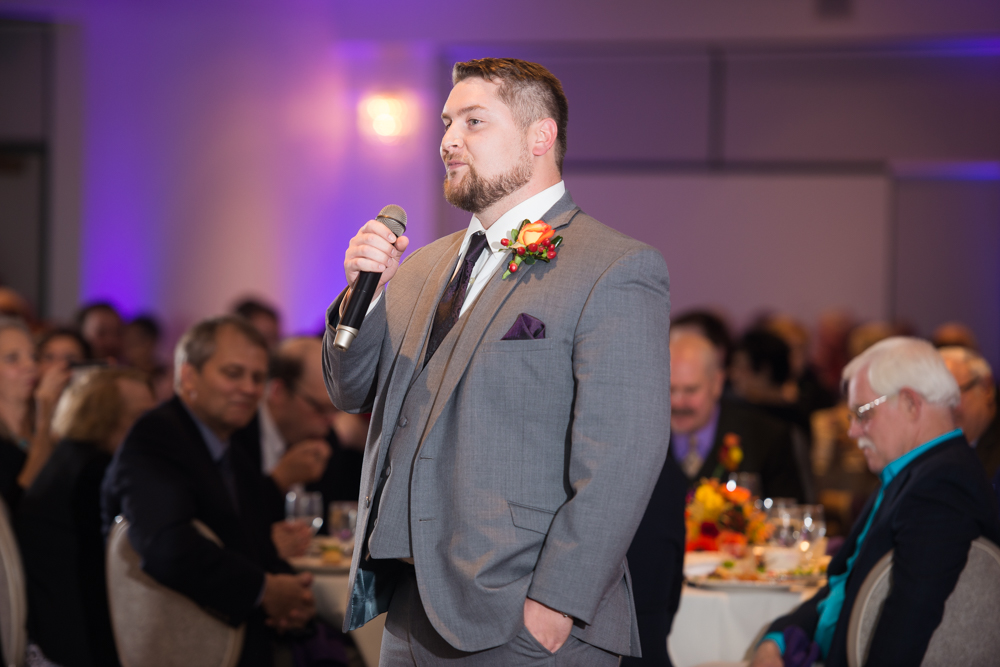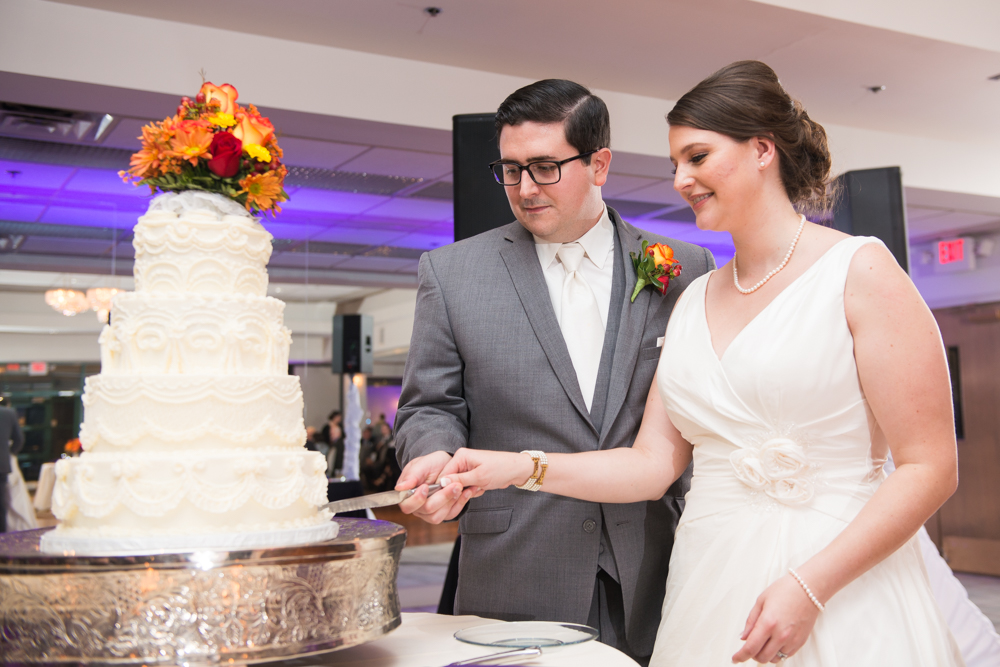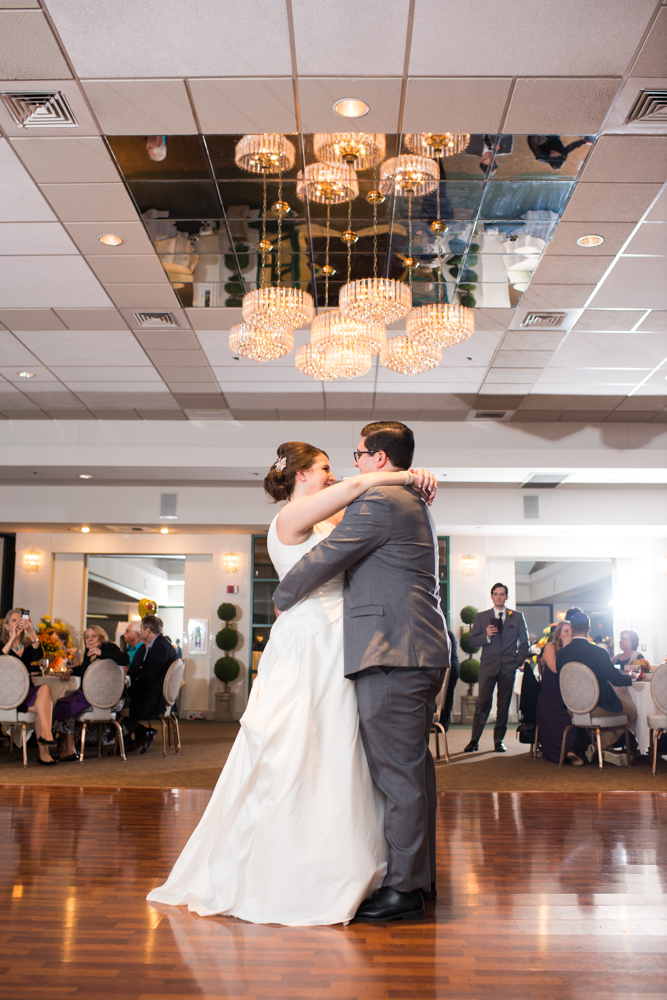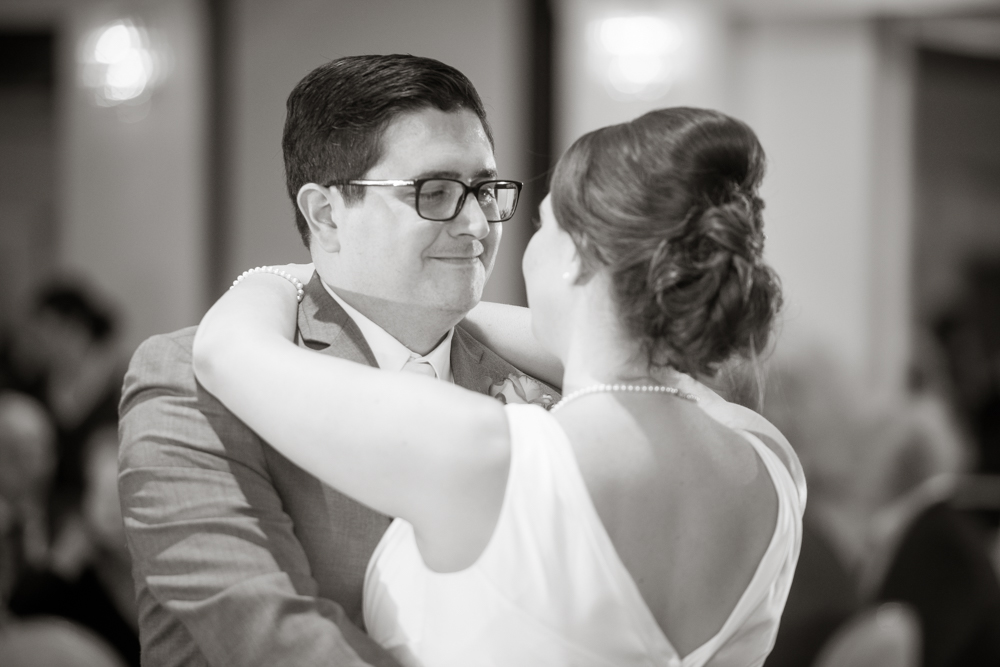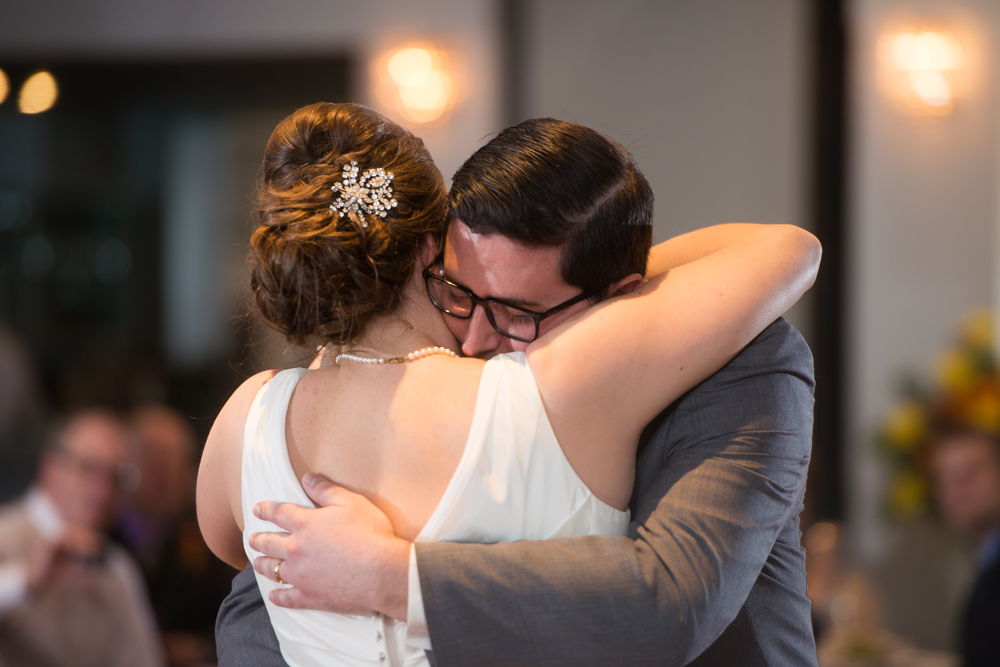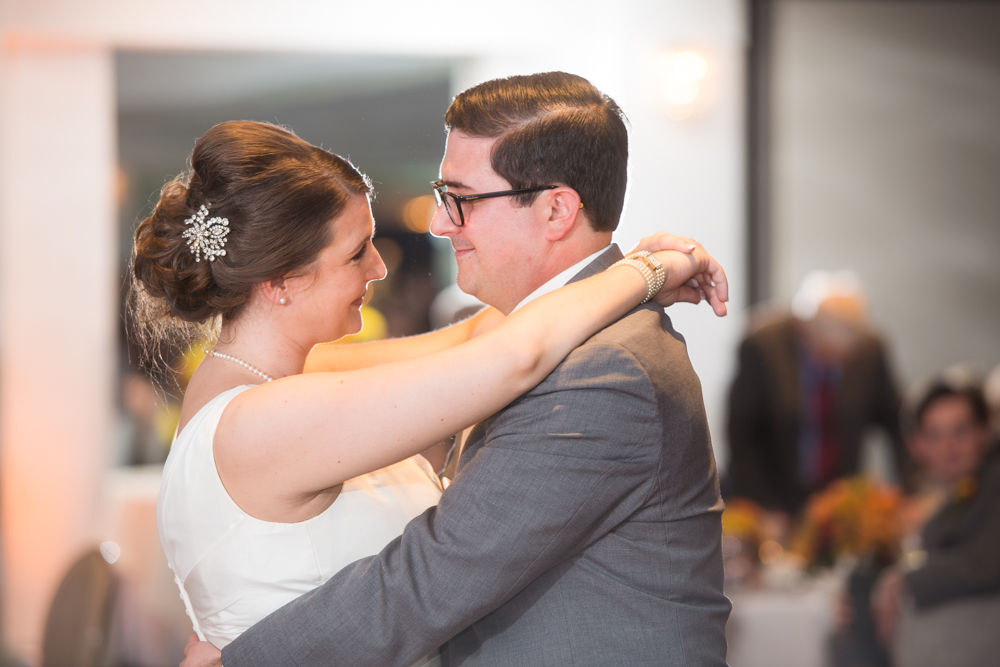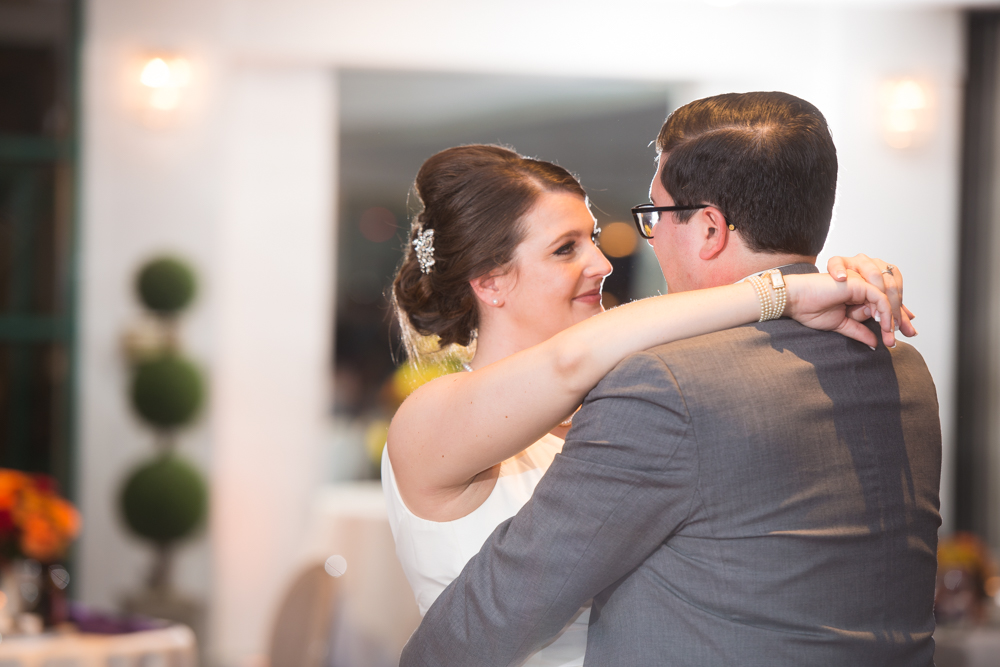 Alethea's dance with her father was so special & everyone could tell it meant a lot to both of them.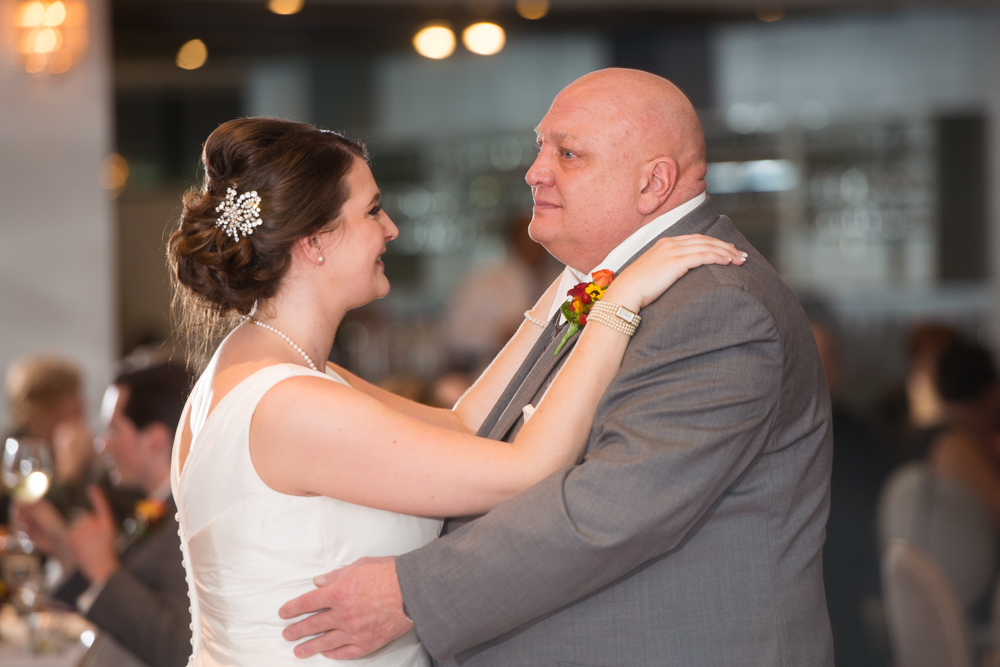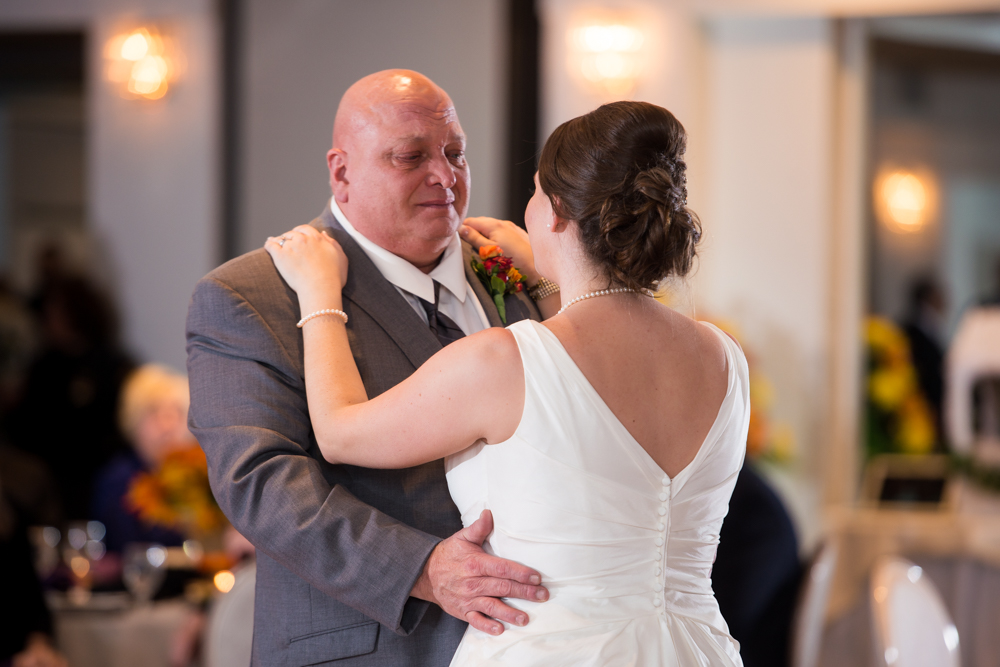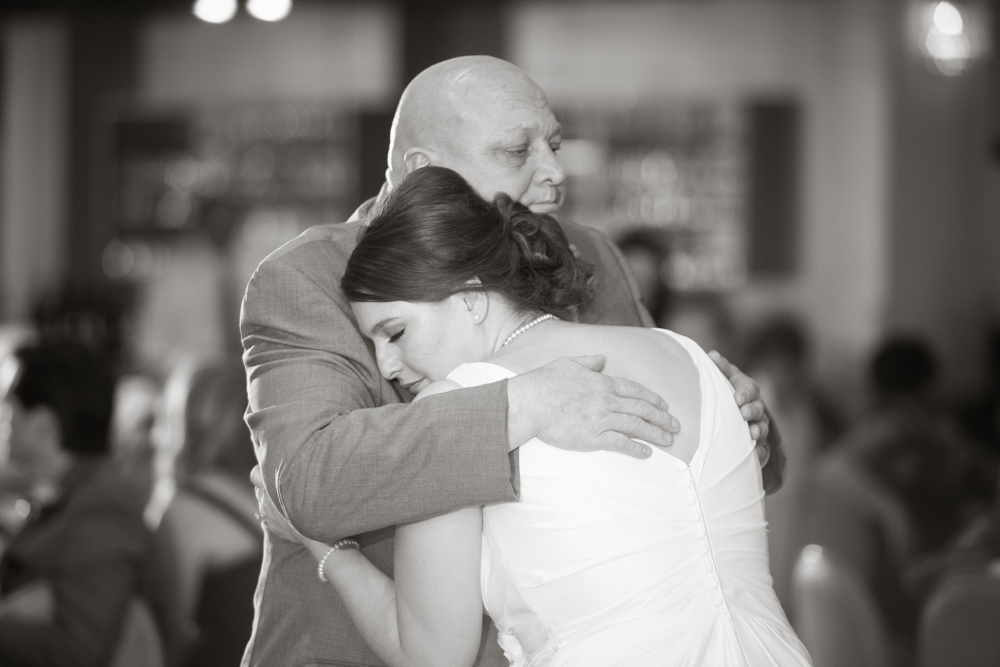 Adam & his mom laughed & teared up a little, too. That's the best combo.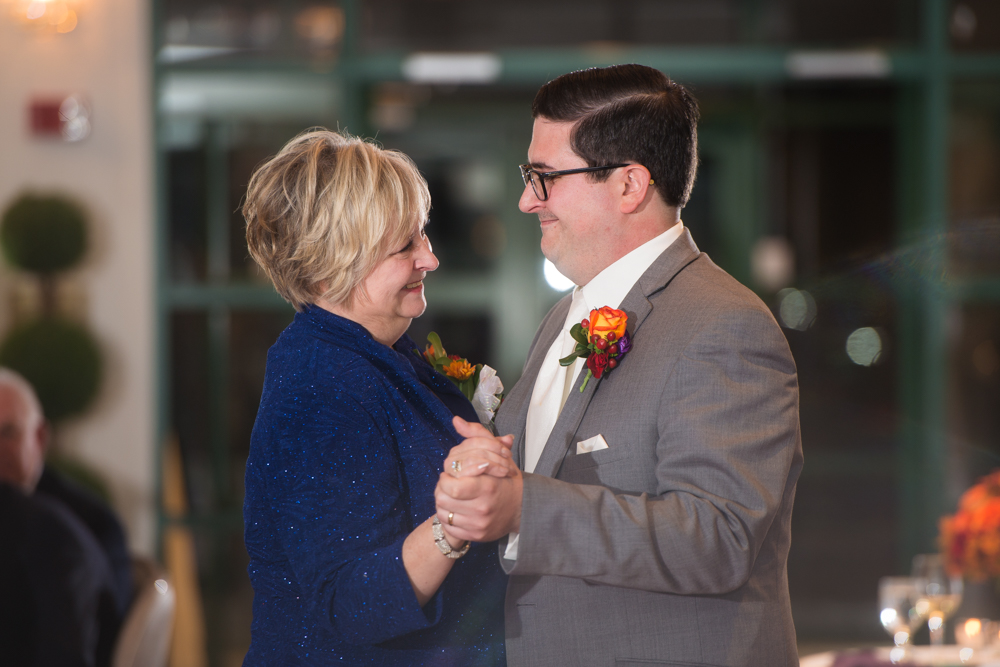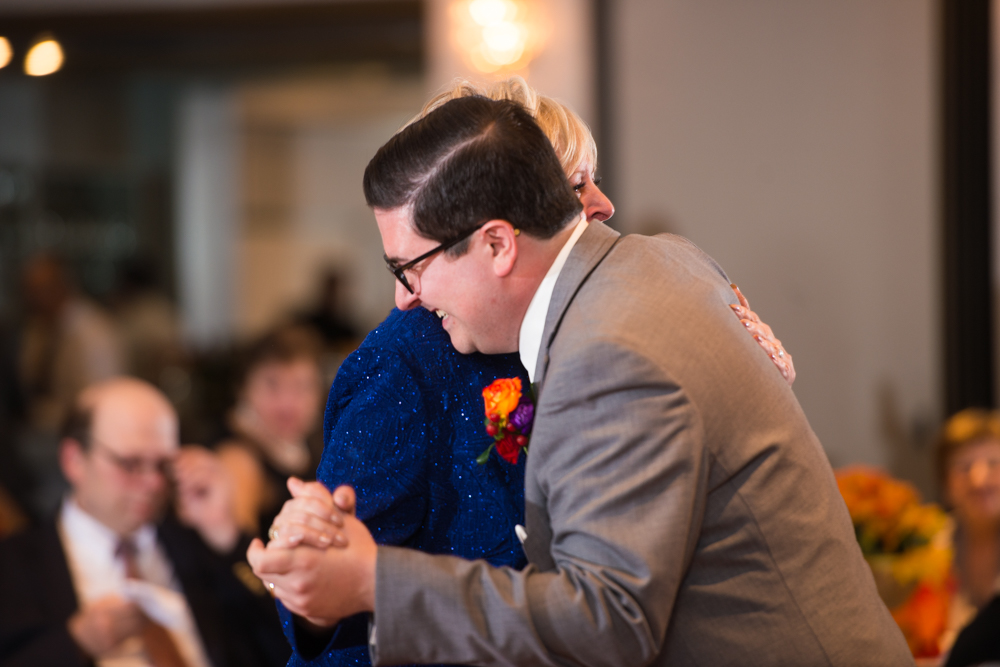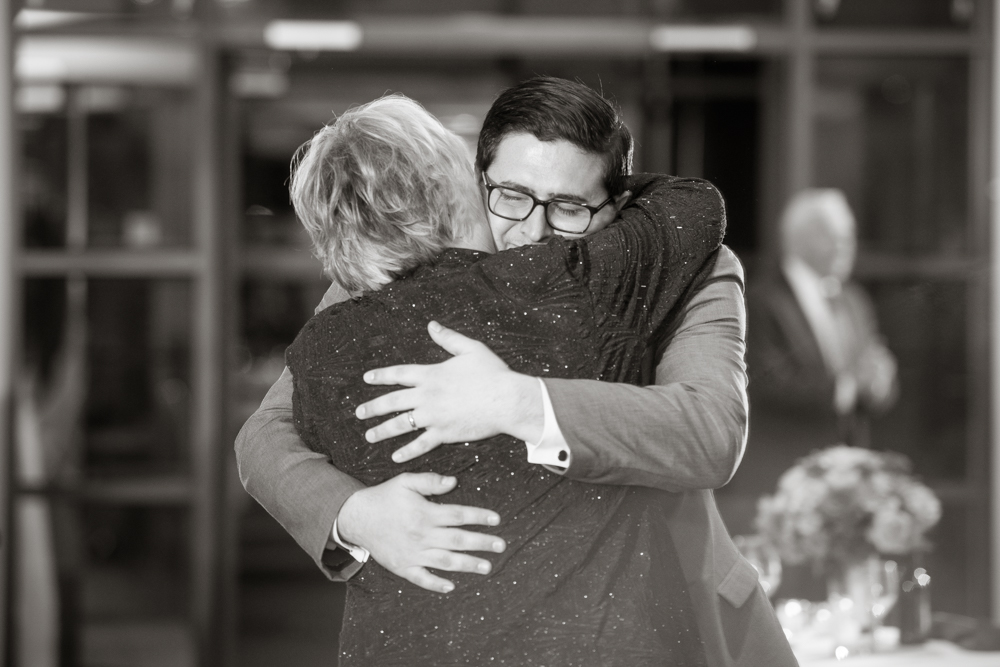 D&R did a great job and the guests had a blast! If you're a bride & groom who want your guests to dance and have fun, my best advice to you is DANCE & HAVE FUN. . . your guests will join.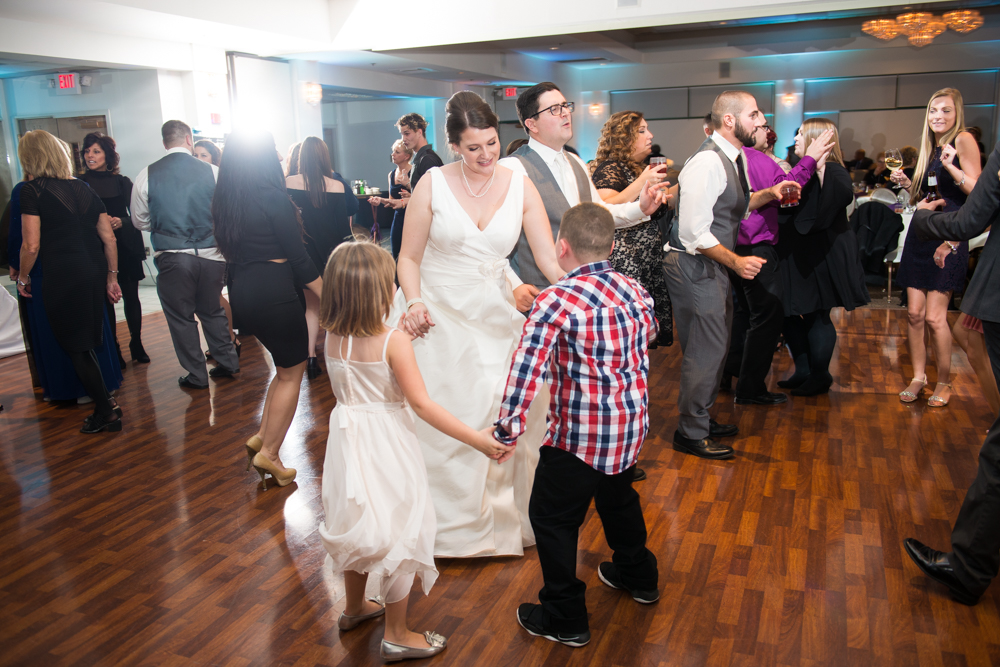 When you're burning up the dance floor & your tie becomes a handkerchief. ha!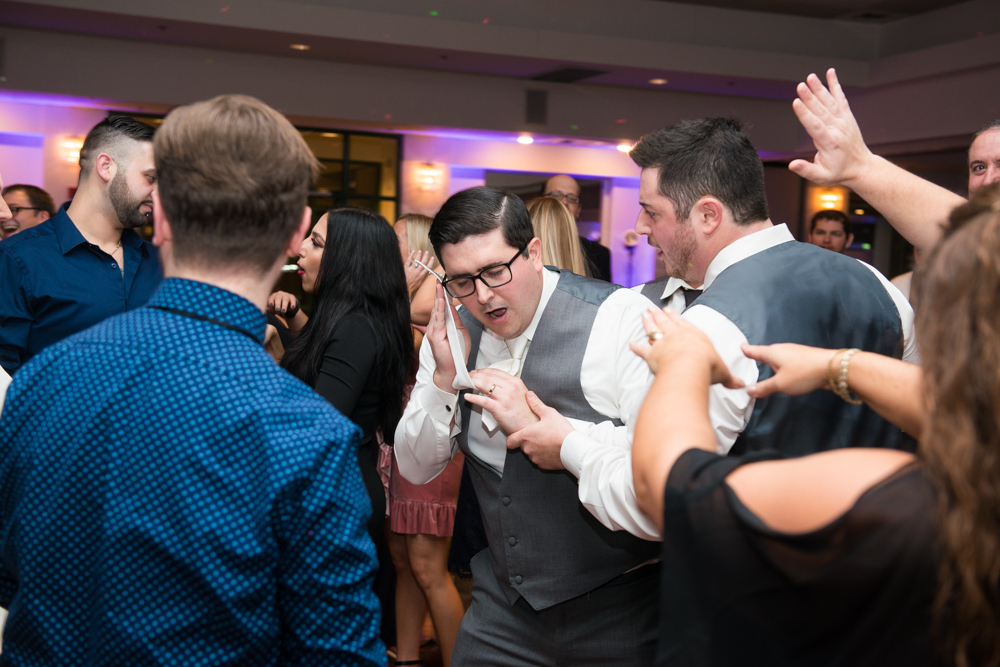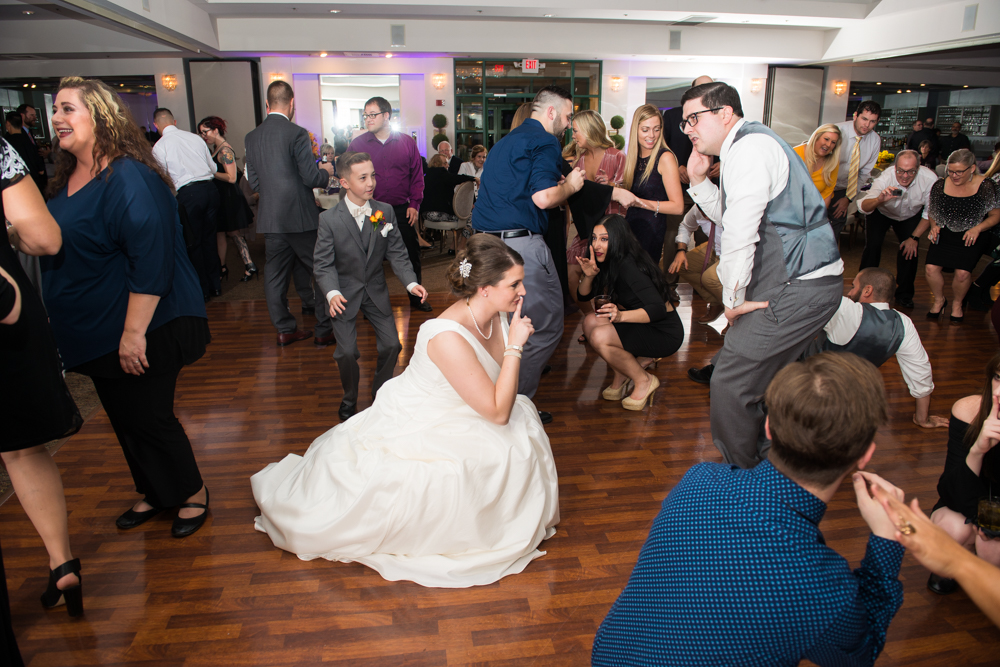 And we snuck them away for just a few more quiet moments together.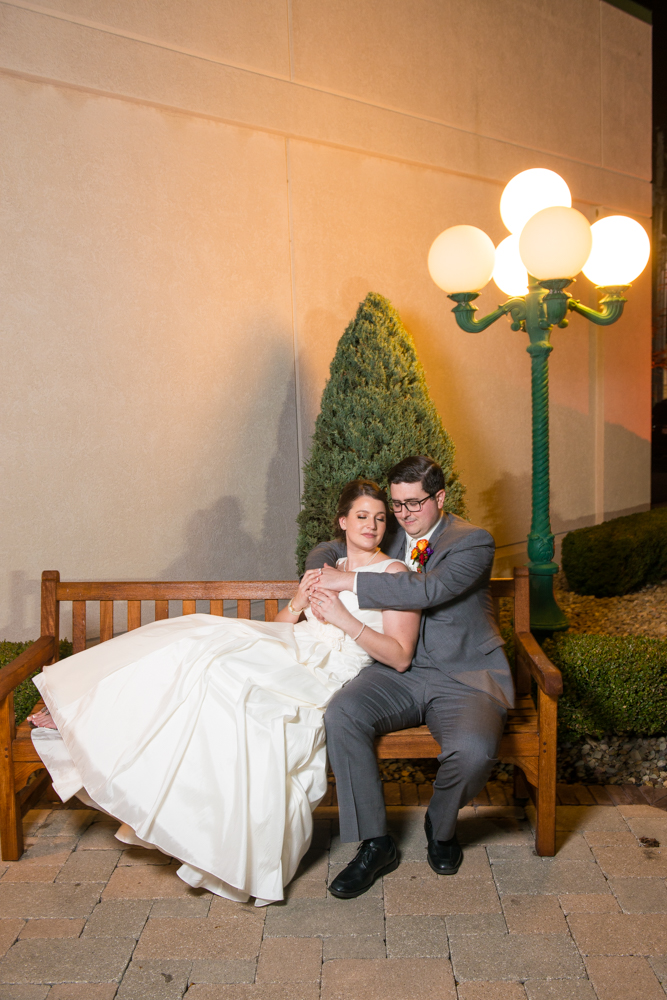 Alethea & Adam, you are amazing together & we're cheering on your marriage! Thank you for letting us be part of your wedding day & we sincerely hope the photos will bring you & your family joy for many, many years!
Instagram | Facebook | Twitter | Pinterest | Google +

If you're new to our blog, welcome! We're Josh & Danielle, married wedding photographers in the Youngstown, Ohio area. We're country kids & are raising our two littles (a girl and a boy) with a few acres of land to roam around on outside of Columbiana. We love marriage & all that it represents, which is why we believe wholeheartedly in what we do as wedding photographers! Thanks for stopping by the blog & feel free to look around & contact us about your engagement session, wedding day, or anniversary session! We look forward to talking with you!
If you liked this post, you may also enjoy:
Fall Engagement Session in Olmsted Falls