Alyvia & Josh's wedding day was too amazingly beautiful for words. We're thankful we got to be the ones to capture this chapter in their love story & we are so blessed to know them. They're perfect for each other & we're so glad God brought them together. A LOT of thought & planning went into making this day a success & we're happy to share the photographic results of those efforts! The day was emotional from start to finish & we both shed a few tears during various moments of the day that touched our hearts. The love between Alyvia & Josh is easy to see by the way they look at one another- it could melt anyone's heart! Â One of our absolute favorite parts of photographing this wedding was how the families treated us all day; they welcomed us with open arms, always asked if we needed anything, and treated us so well! They're so kind-hearted and generous! Alyvia & Josh are one of those couples who leave everyone they come into contact with happier & more uplifted than they were before they met them. There is definitely something special about this couple! Their St. Charles ceremony & DeYor Performing Arts Center/Powers Auditorium wedding day was a dream come true to the both of them & they gushed about how happy with everything all day. They were beyond grateful to their parents & everyone who made it possible! It was a Youngstown wedding for the record books! Just wait until you see the love these two share & all of the beautiful details that culminated in the most gorgeous fairytale wedding day we've seen!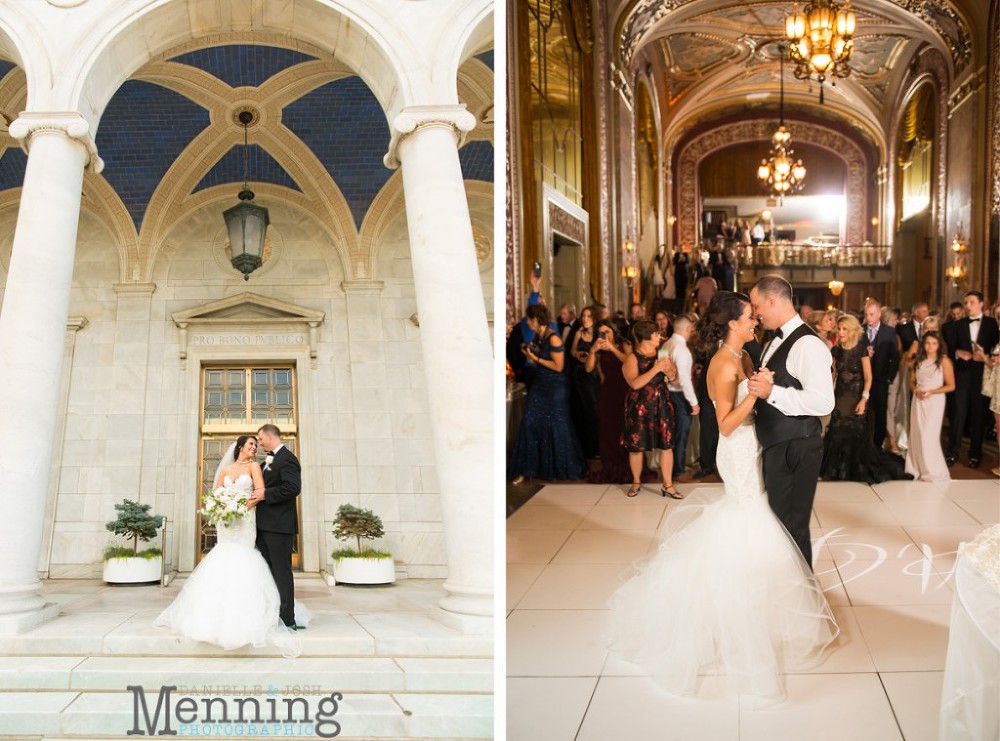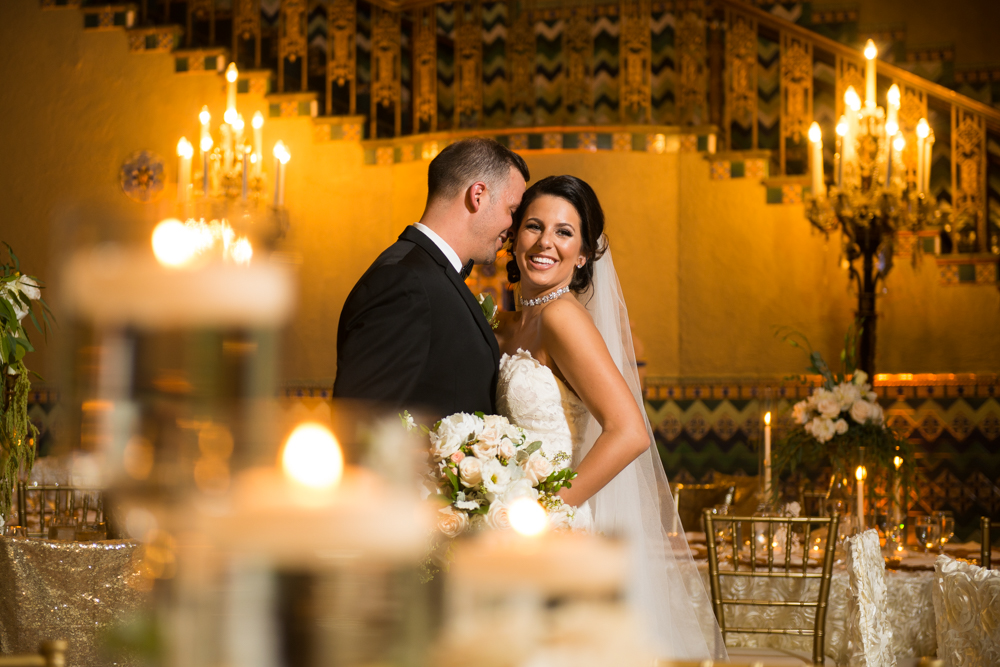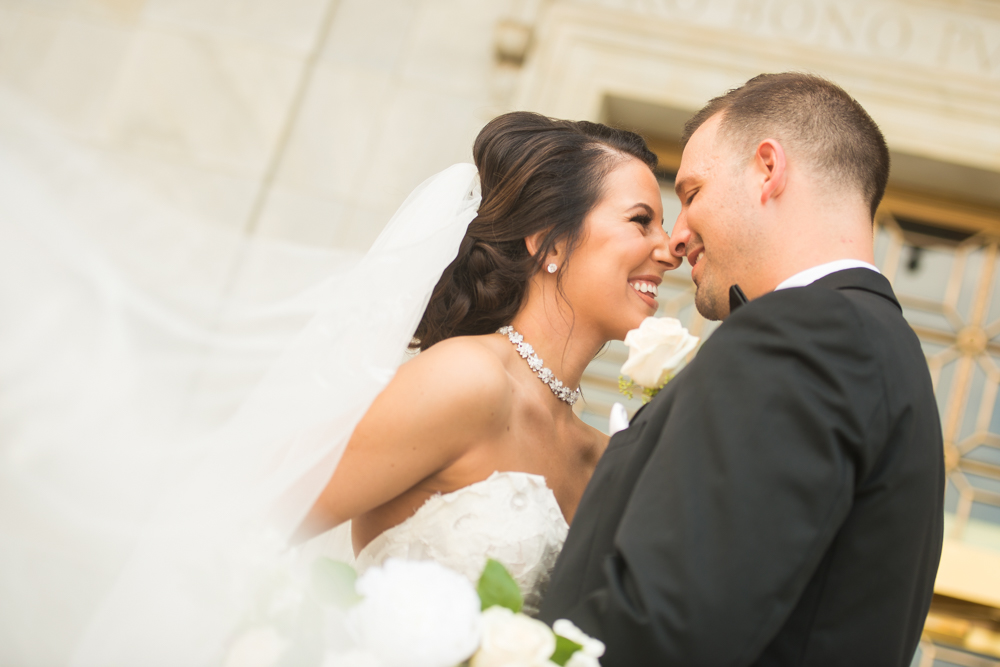 I started the day with Alyvia & her bridesmaids at The Makeup Boutique in Boardman. Jen Melia, the owner, & the other MUAs who work there are extremely talented & so much fun.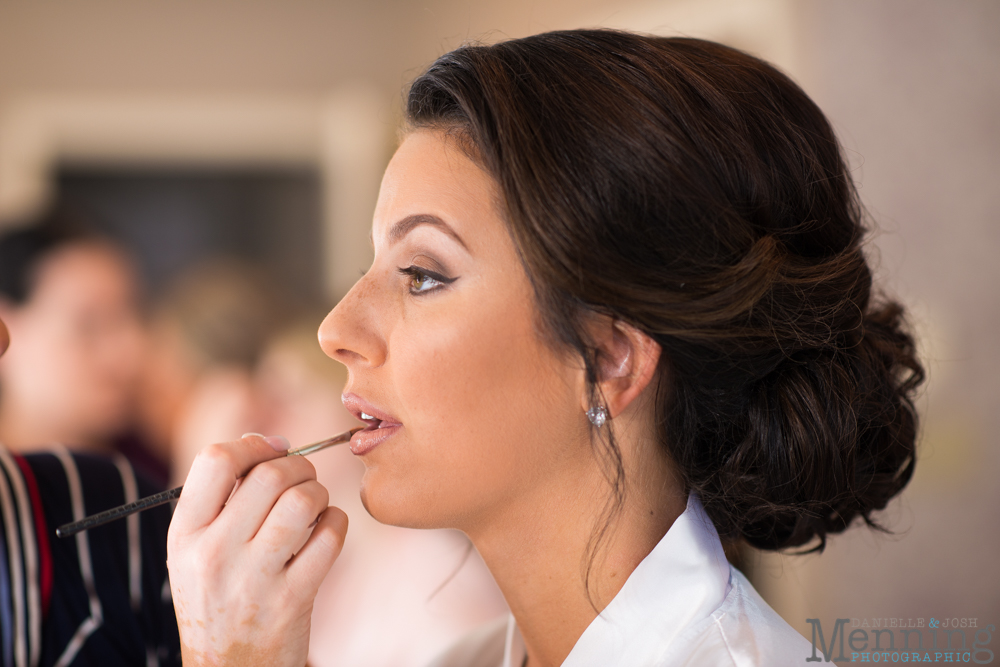 Alyvia is stunning always, but she was unbelievably gorgeous on her wedding day; she was effervescent!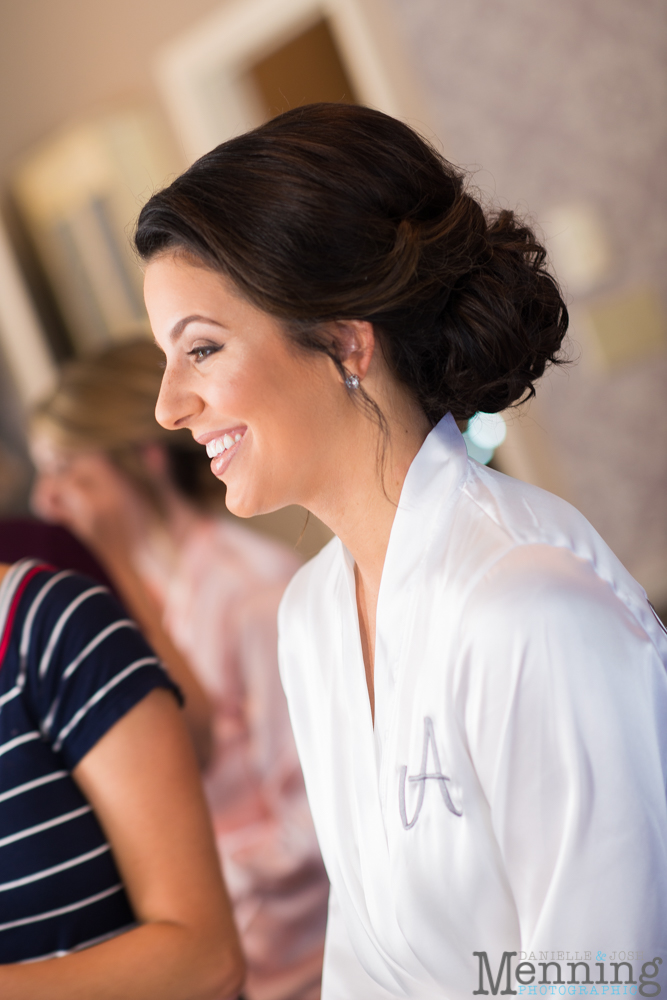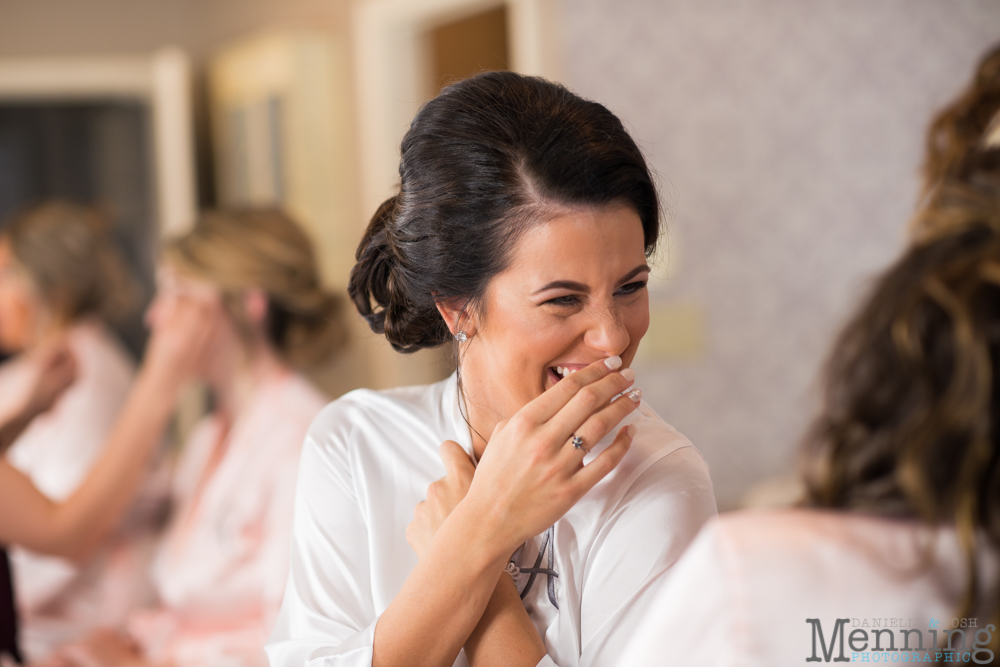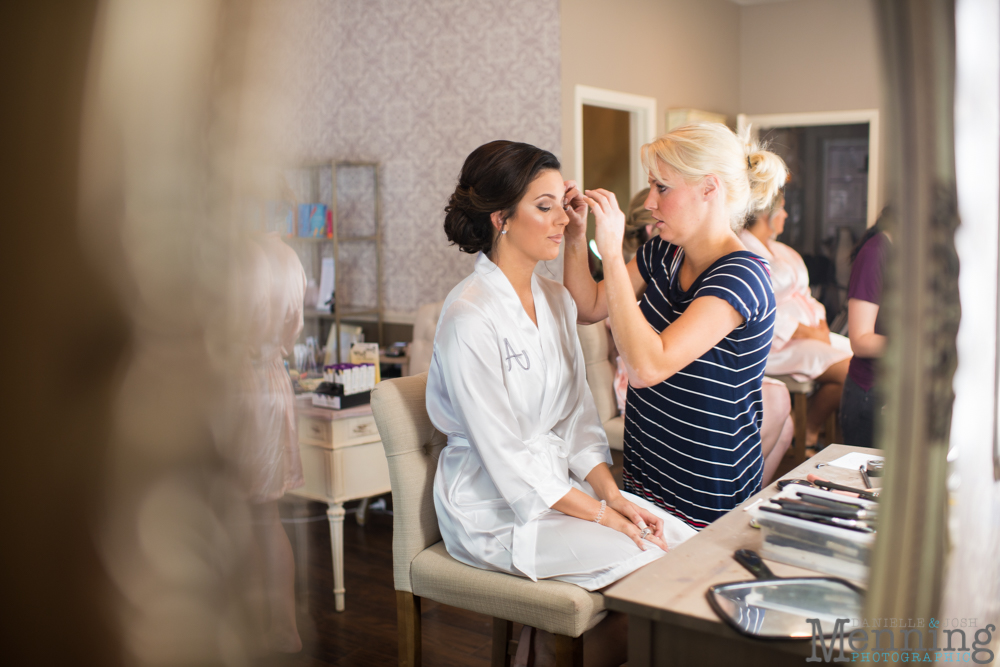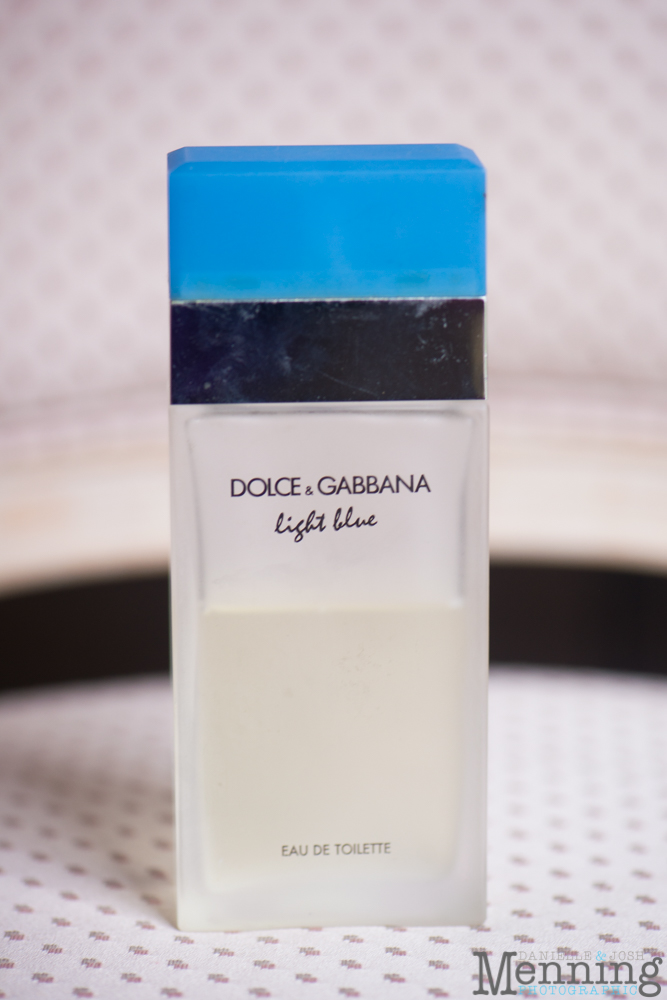 Alyvia's wedding day gifts from Josh: perfect! They (and the handwritten note from him) made her laugh & cry. It also made Emily from Jet Wedding Videography and me cry when we were photographing/videoing her open them!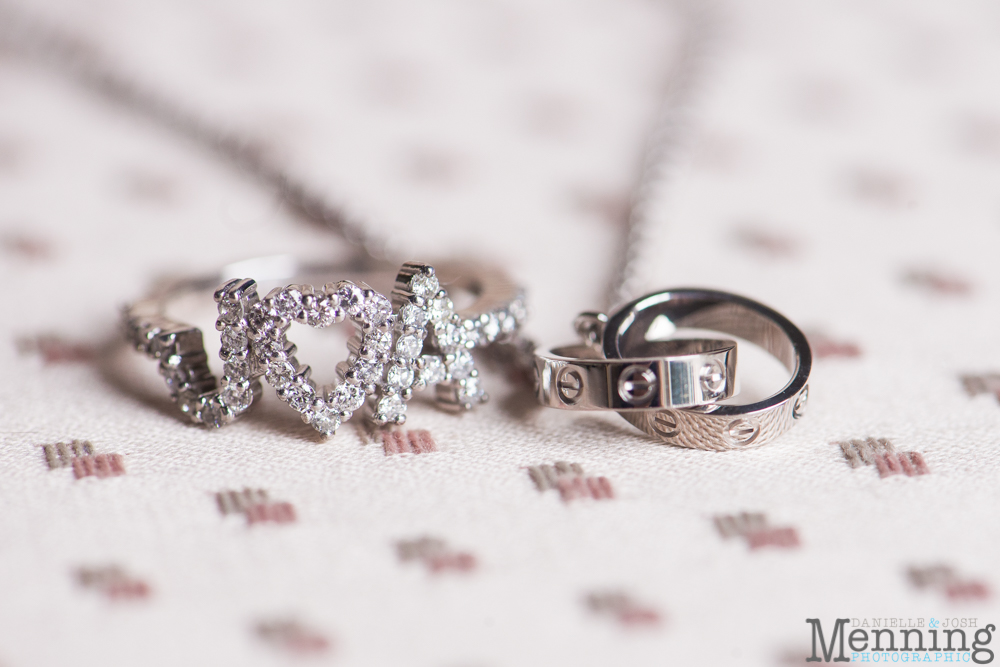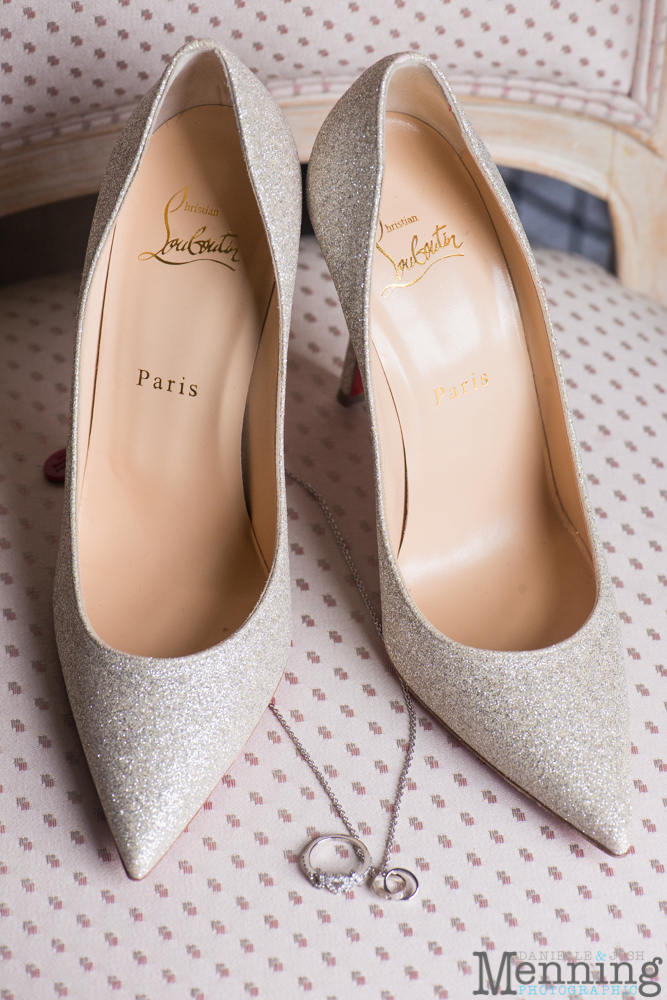 This dainty ring was Alyvia's grandmother's. It was her Something Old, Borrowed (from her mother), and blue.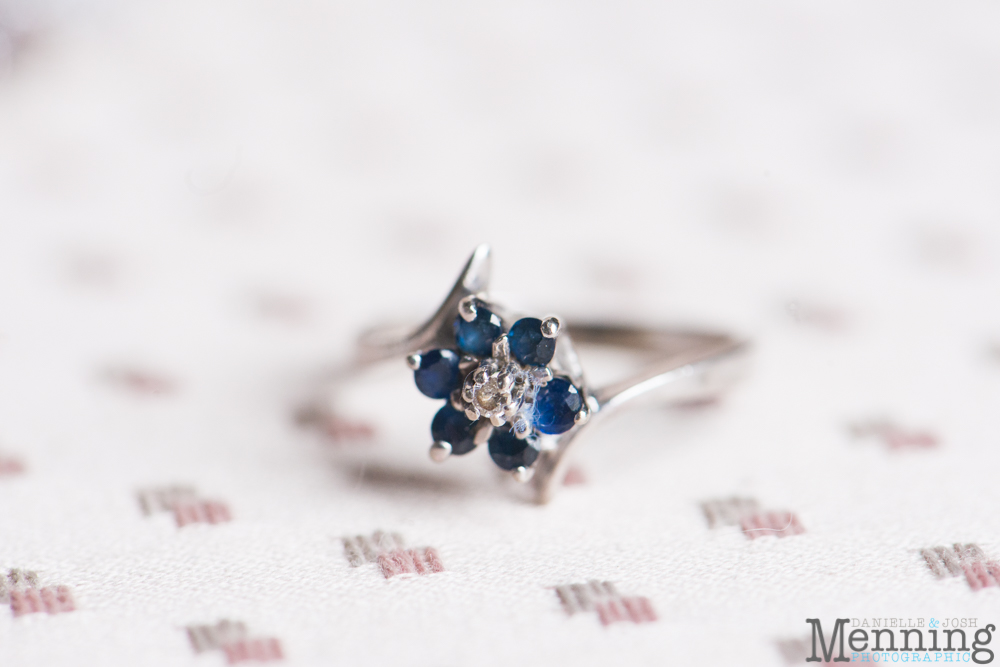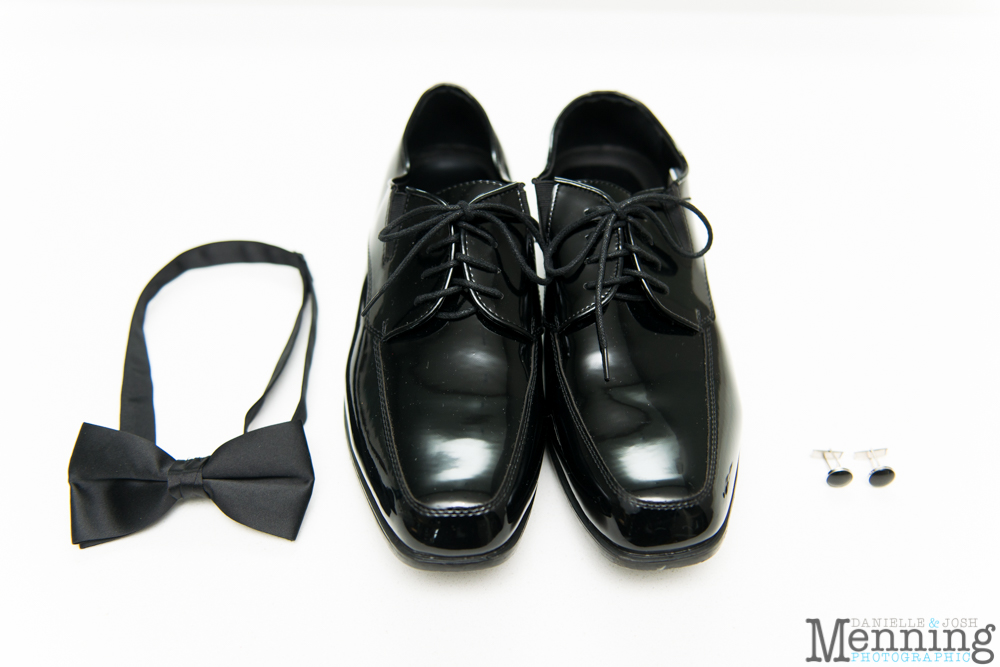 Josh (my husband and the other half of our photography duo) was with Josh (the groom) while he & the guys prepared for the day.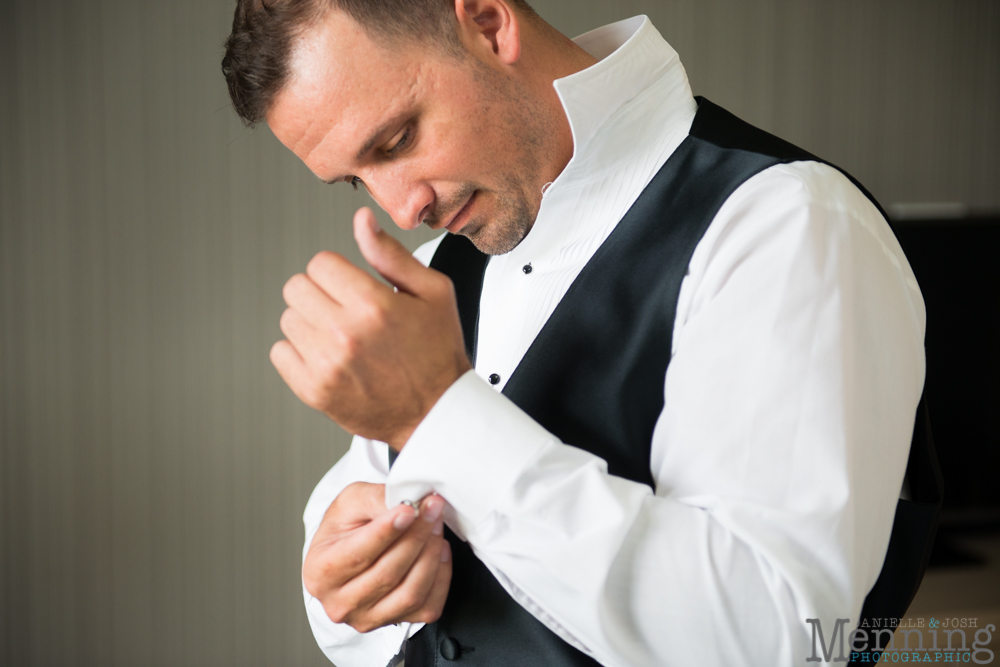 Looking classy and sharp.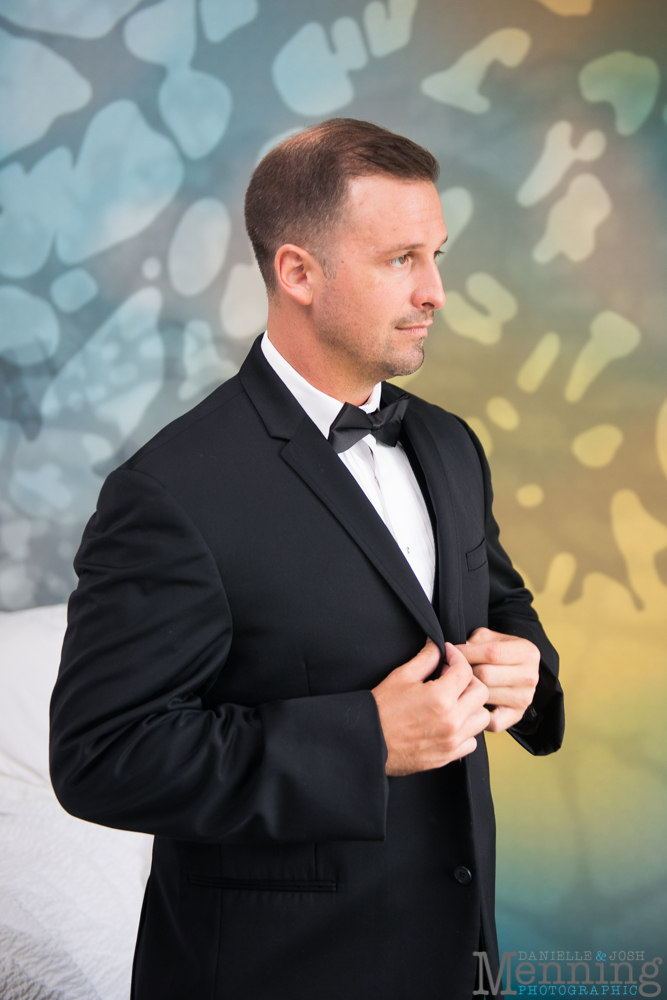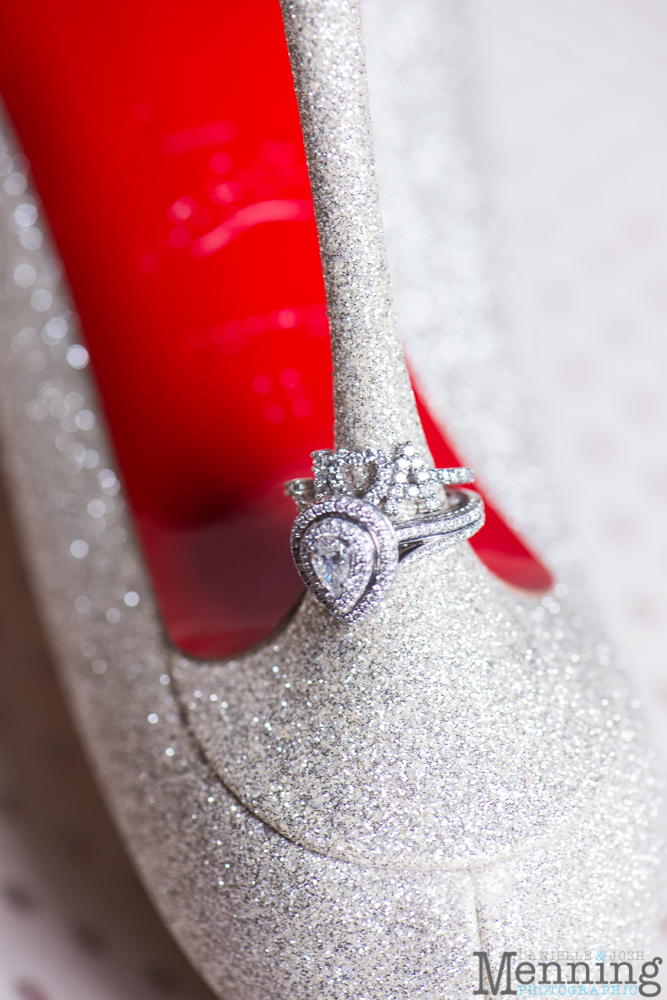 Alyvia found her wedding dress in Chicago & Evaline's Bridal in Warren was able to order it for her. It's a Hayley Paige gown & it allowed for two different looks throughout the day, as it transformed from a fit to flare with lace sleeves to a strapless corset bodice once the sleeves were removed when it was partytime!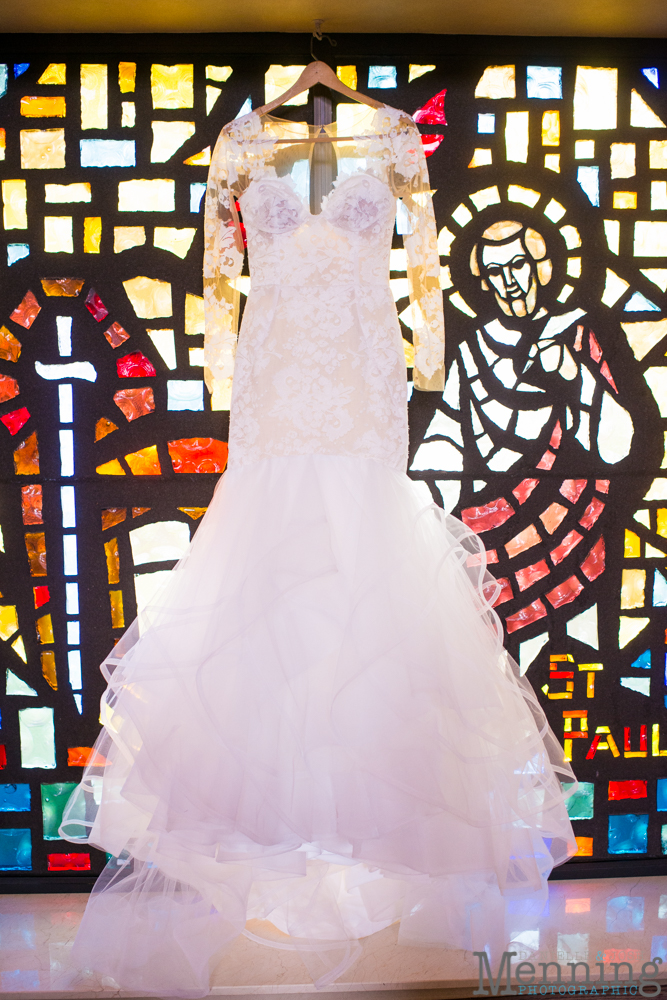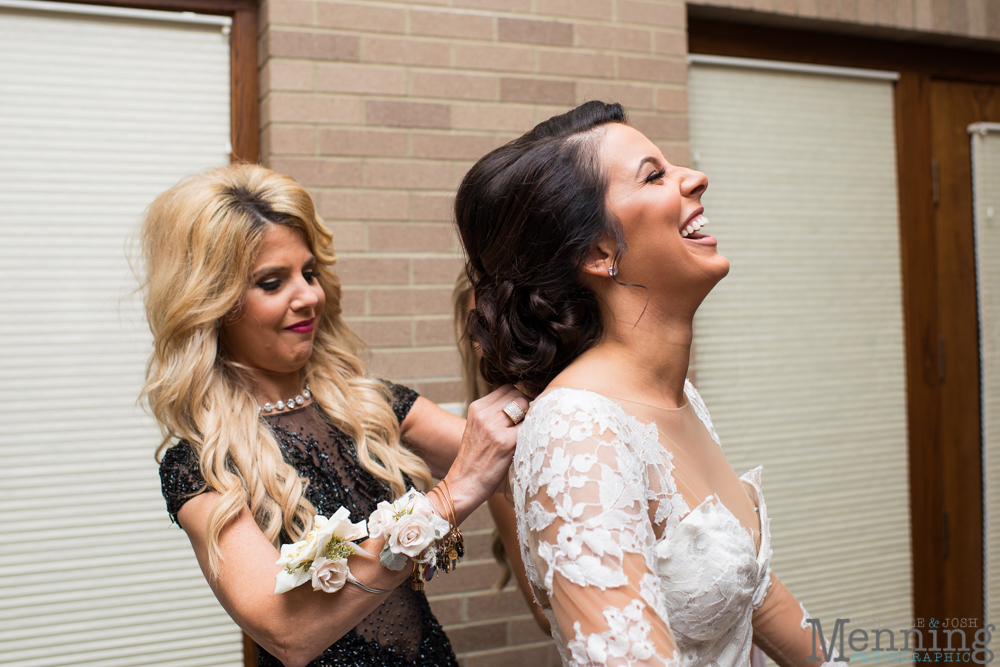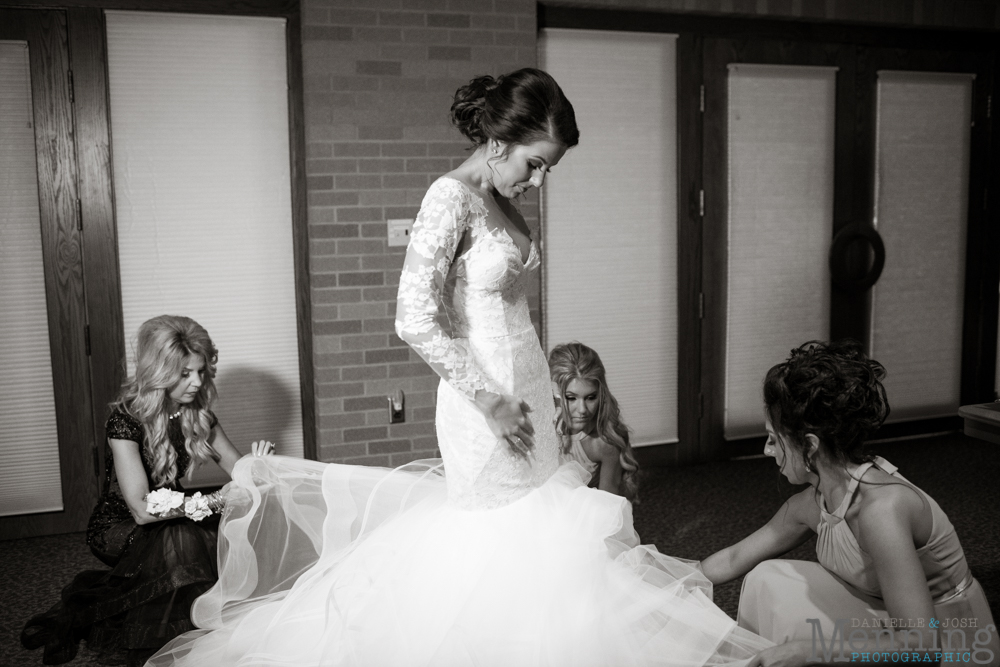 The dress definitely had a WOW factor! Just wait until you see Josh's reaction to seeing Alyvia walk down the aisle!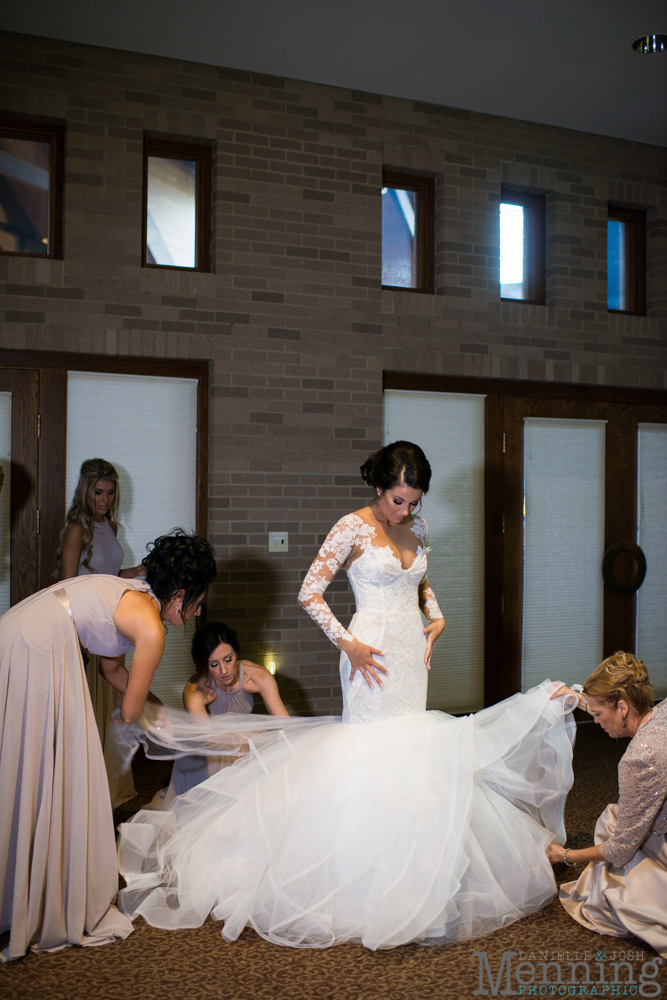 The romance was alive & well on this wedding day, as Alyvia had put together an entire journal full of their engagement journey for Josh. He was blown away by her thoughtfulness.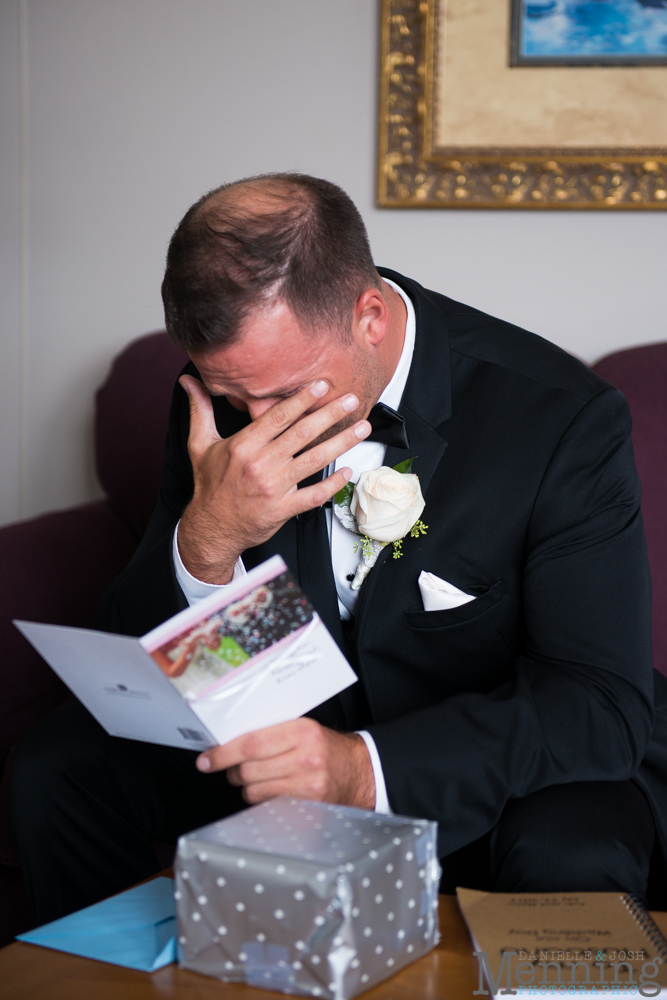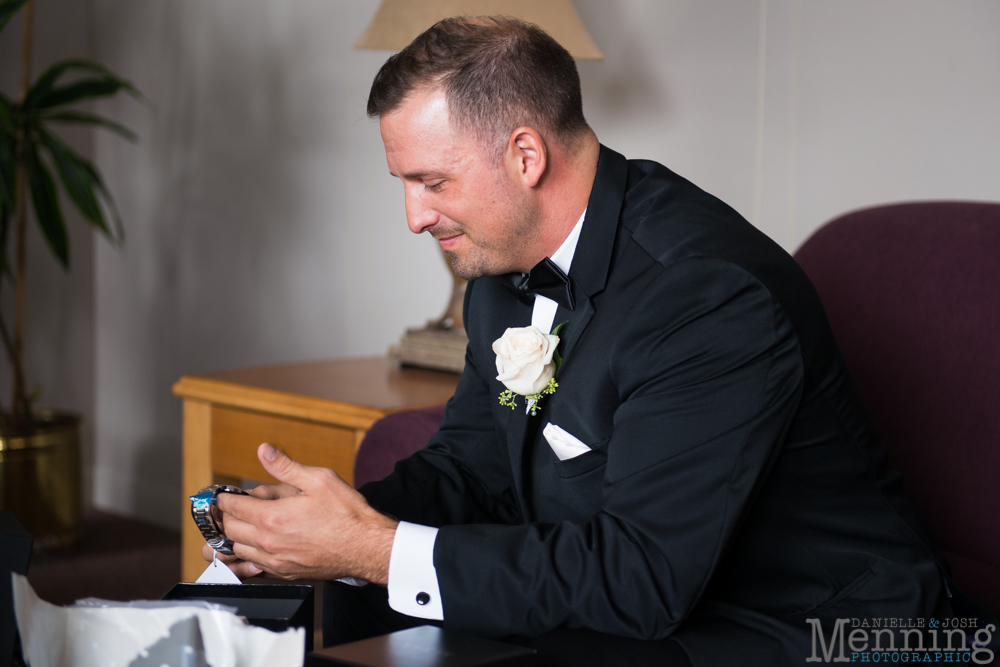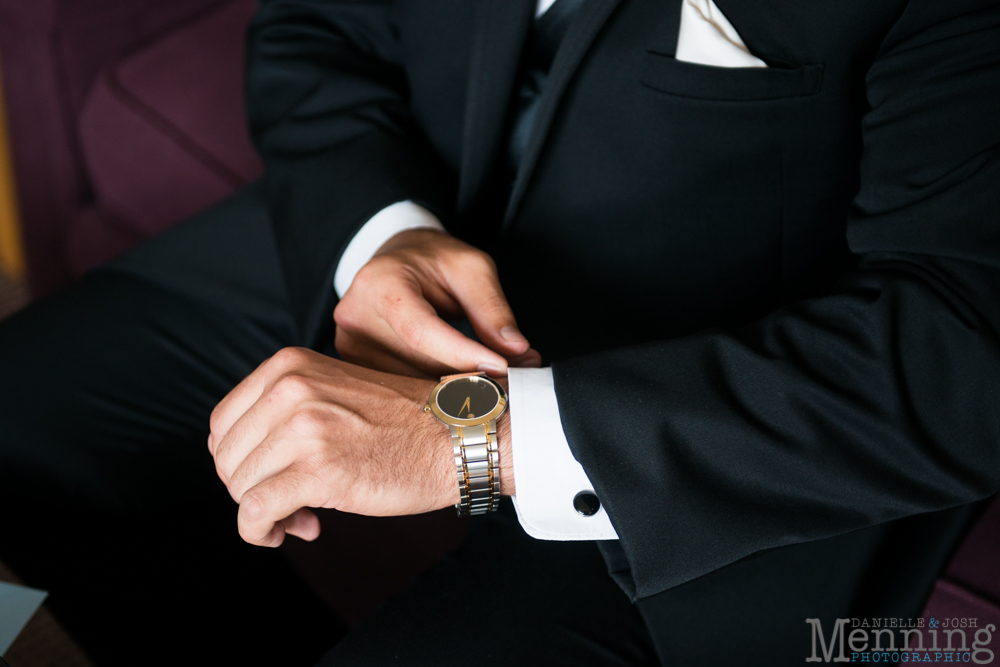 Blooming Crazy had the ceremony venue looking beautiful! Their floral work for the whole wedding day was outstanding.
I'll let the ceremony photos speak for themselves.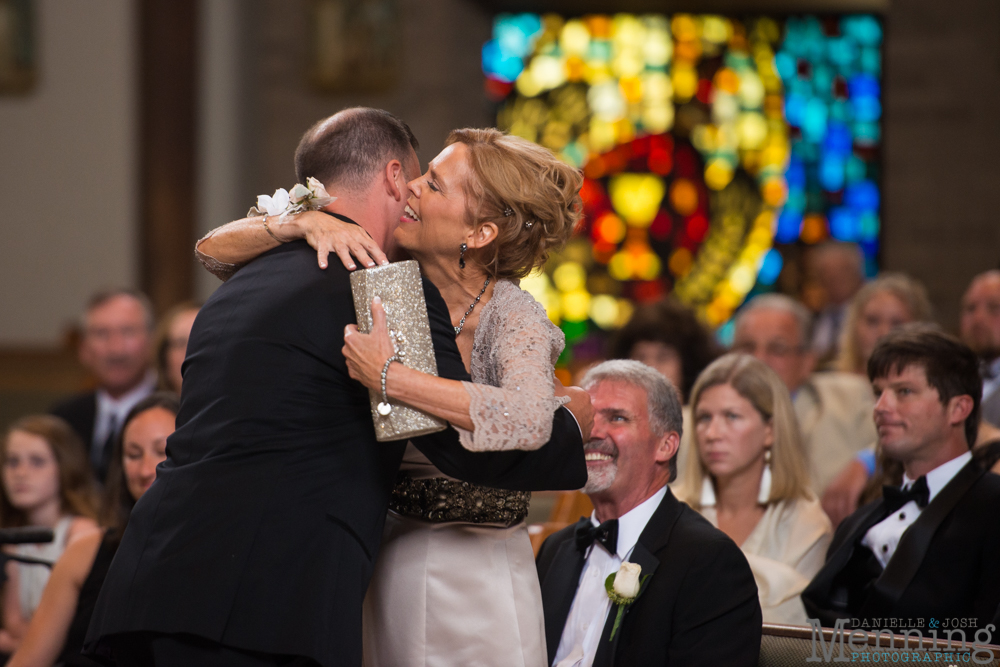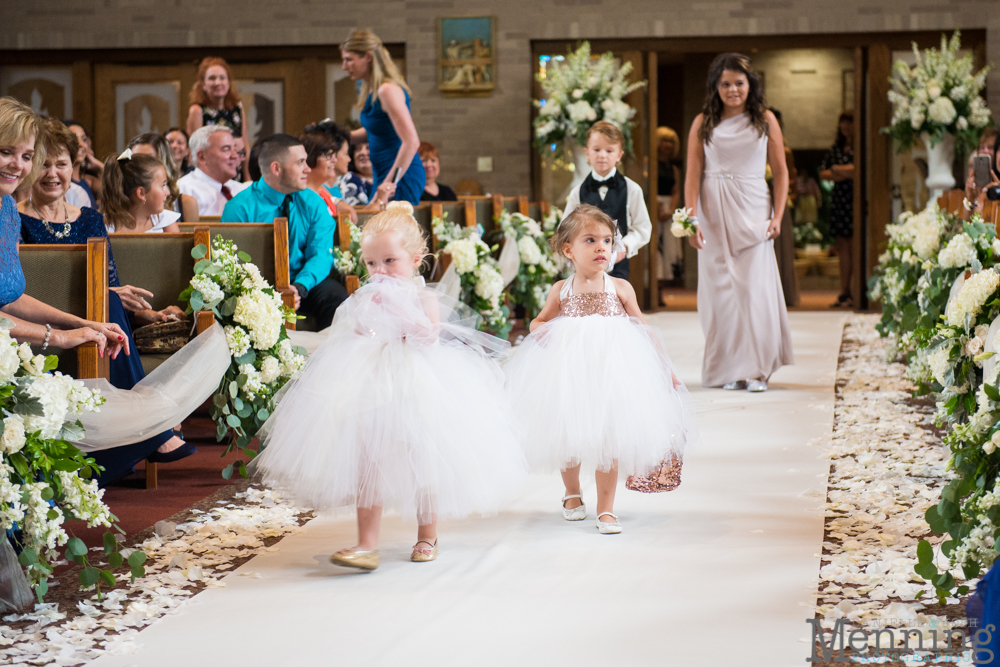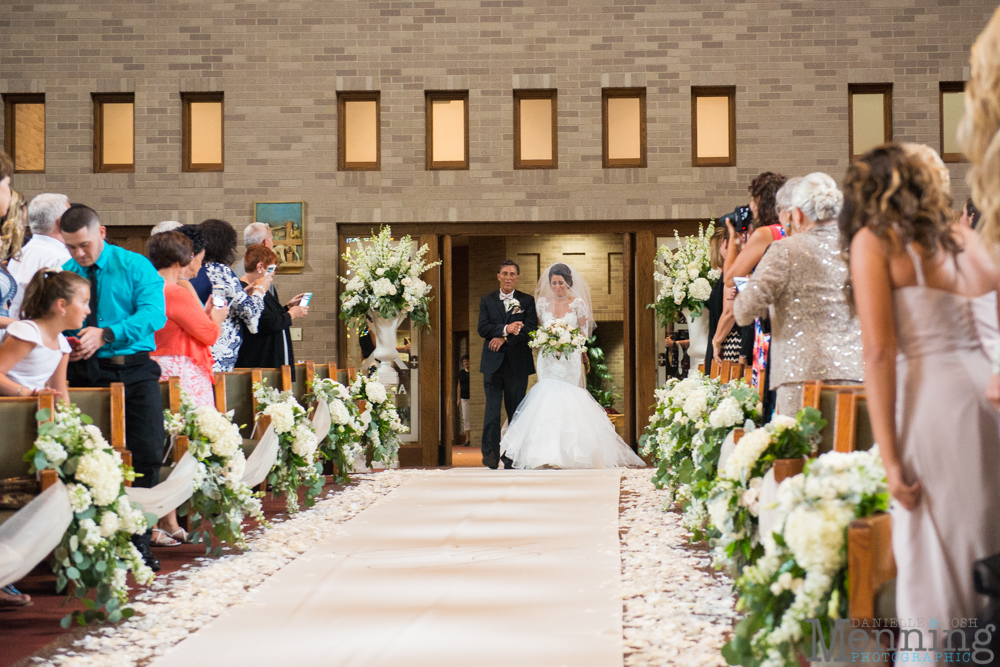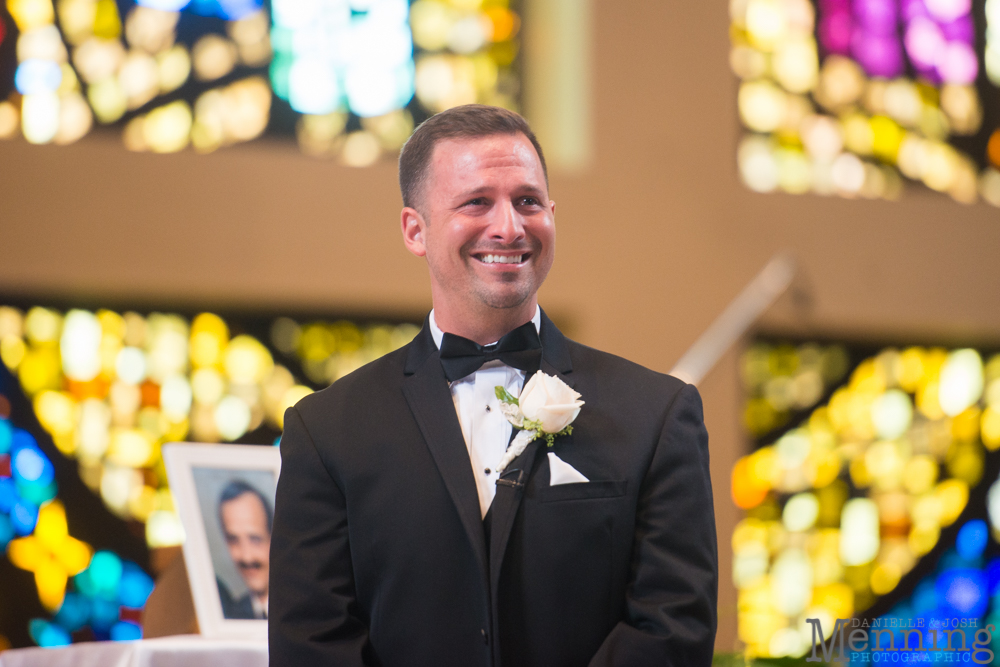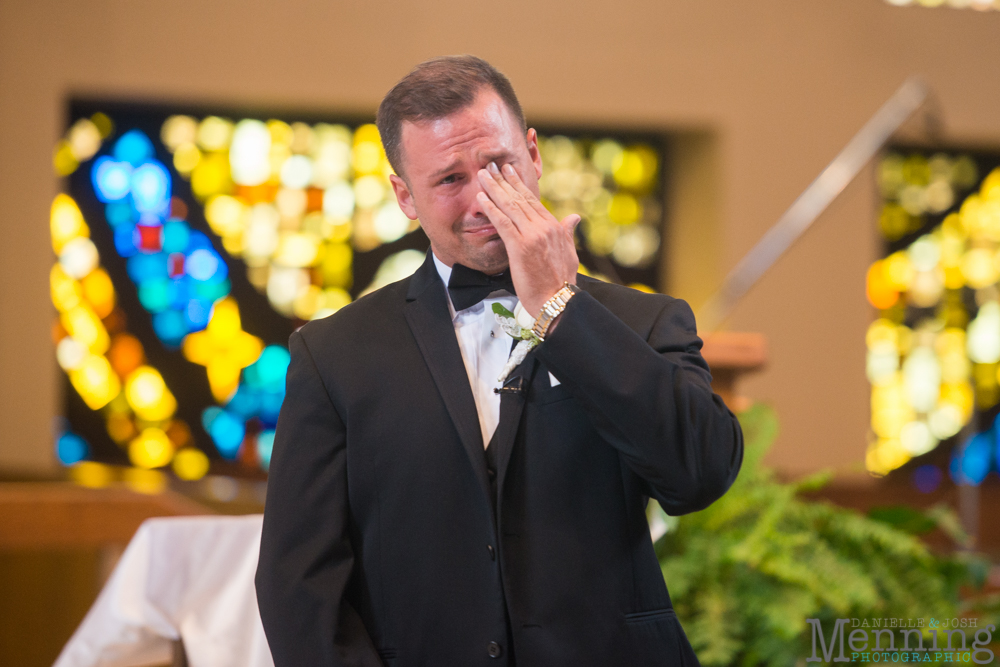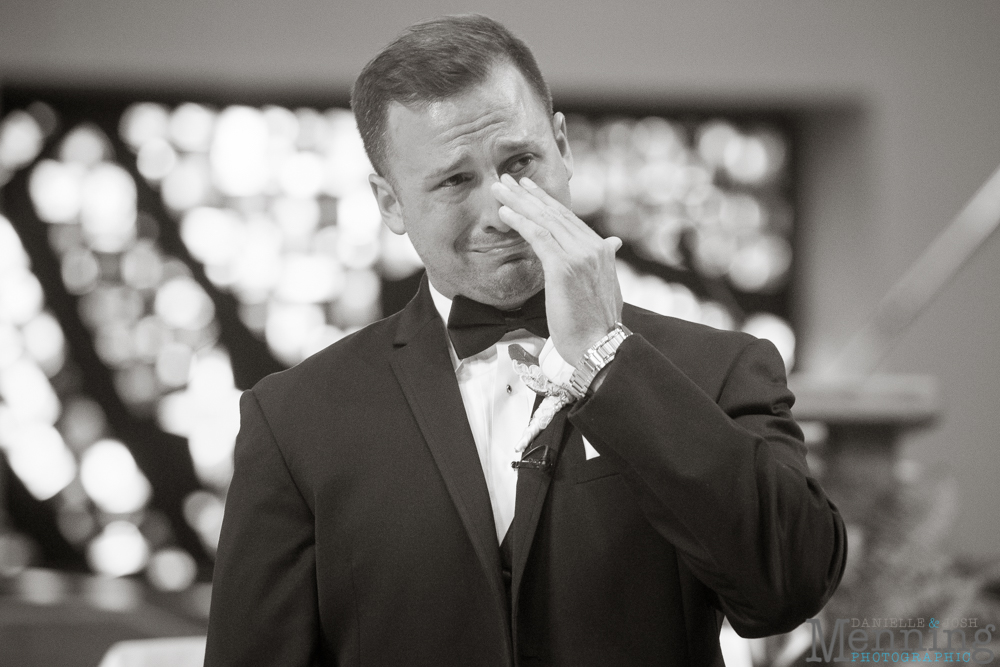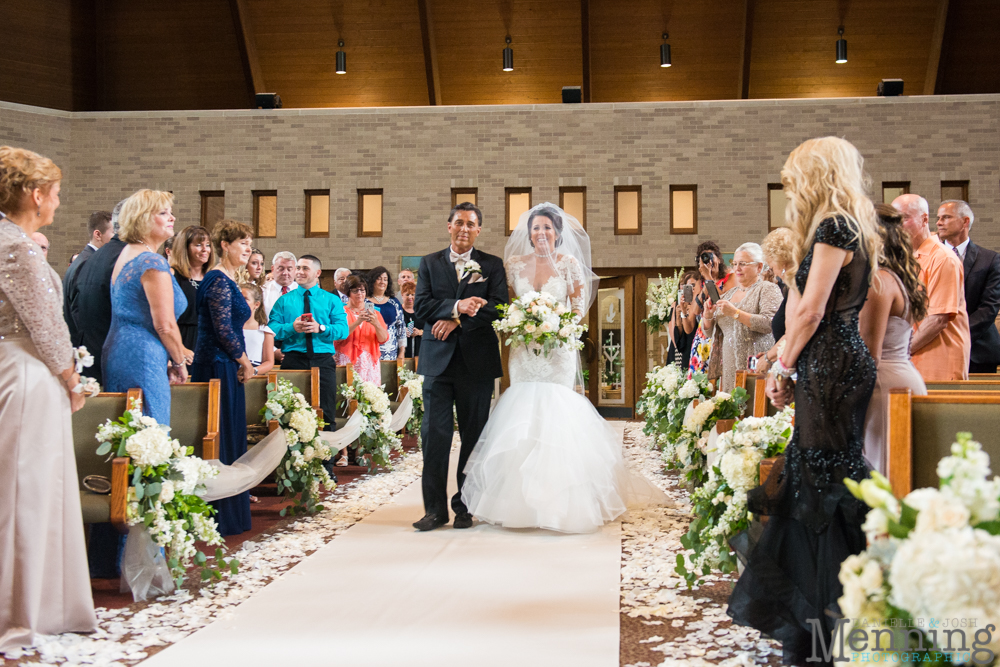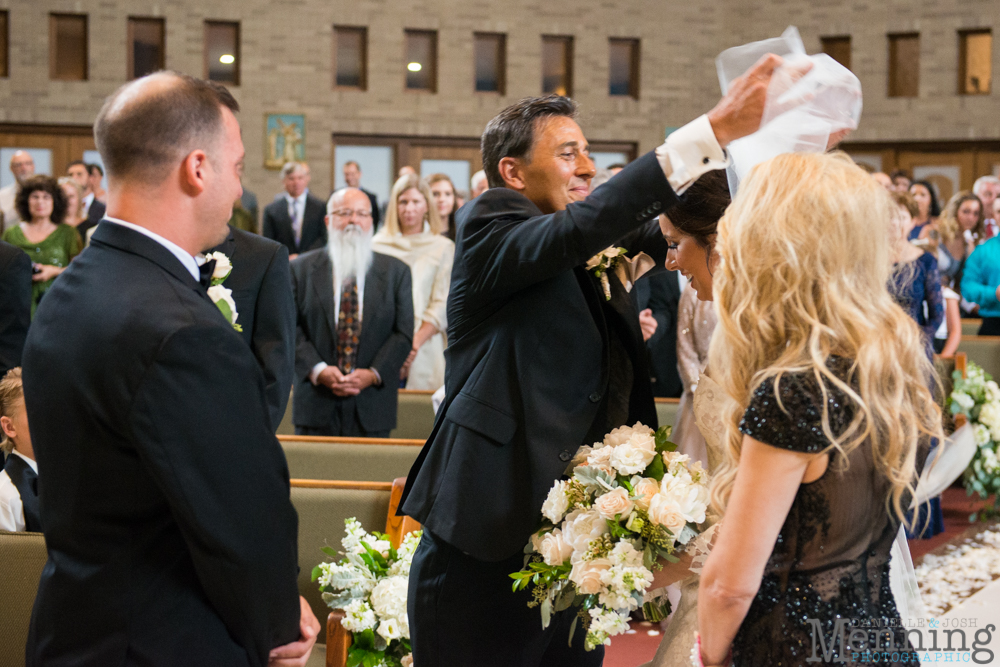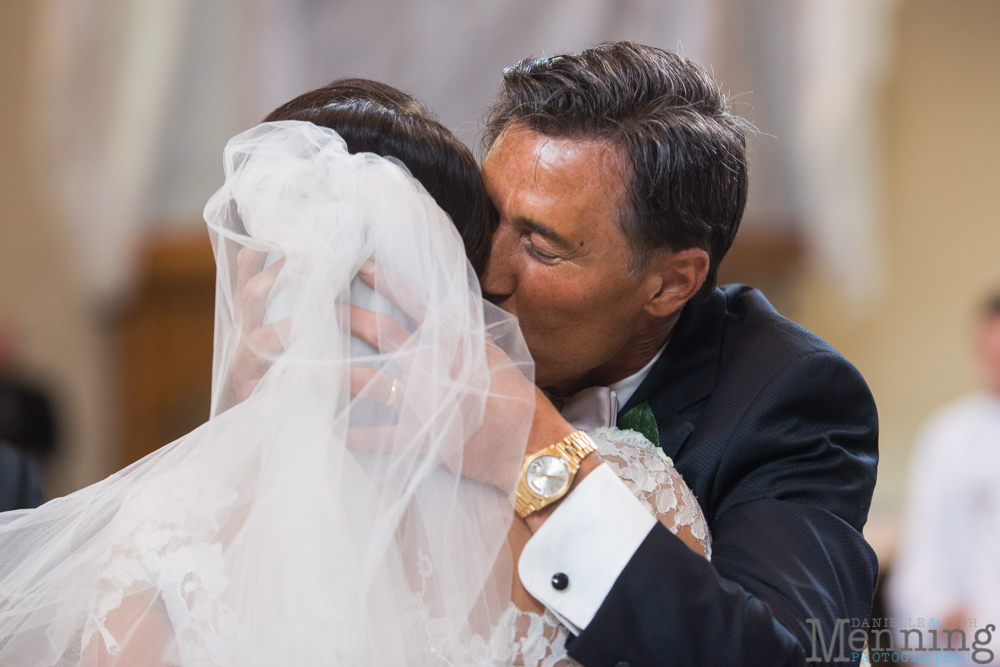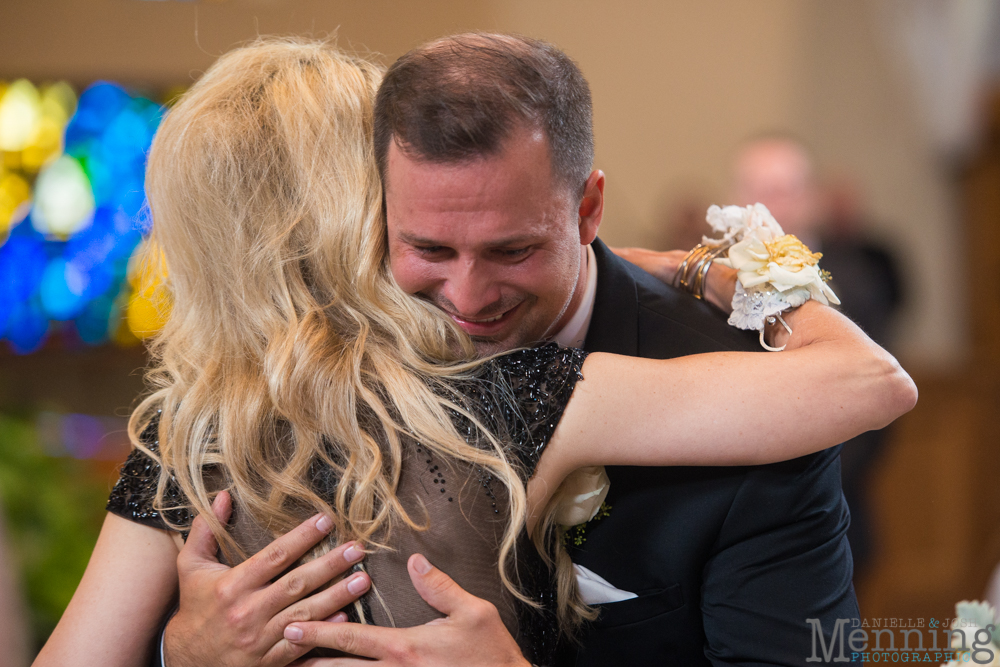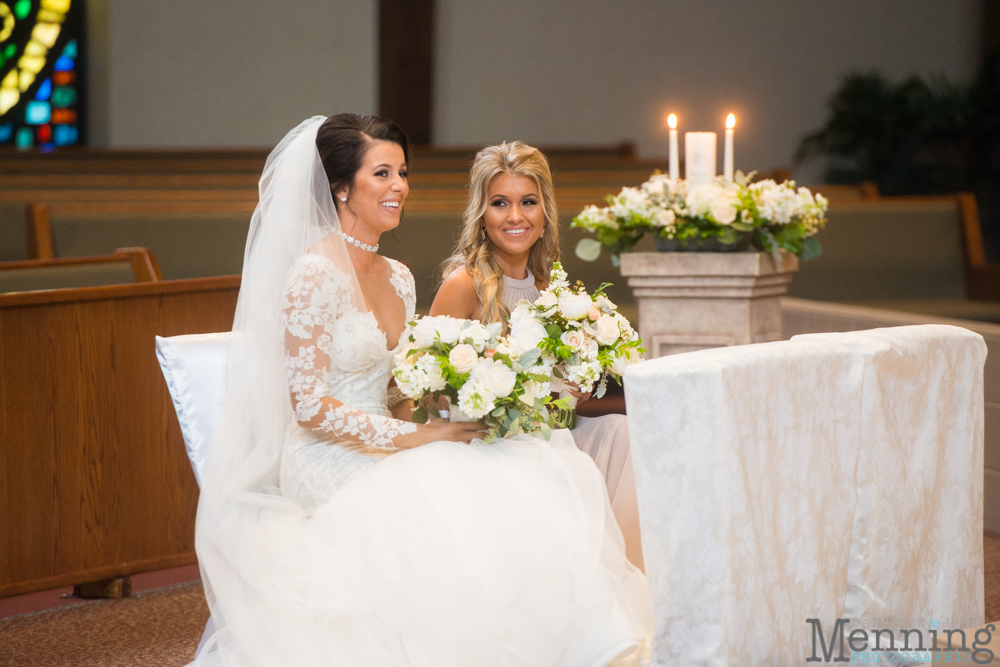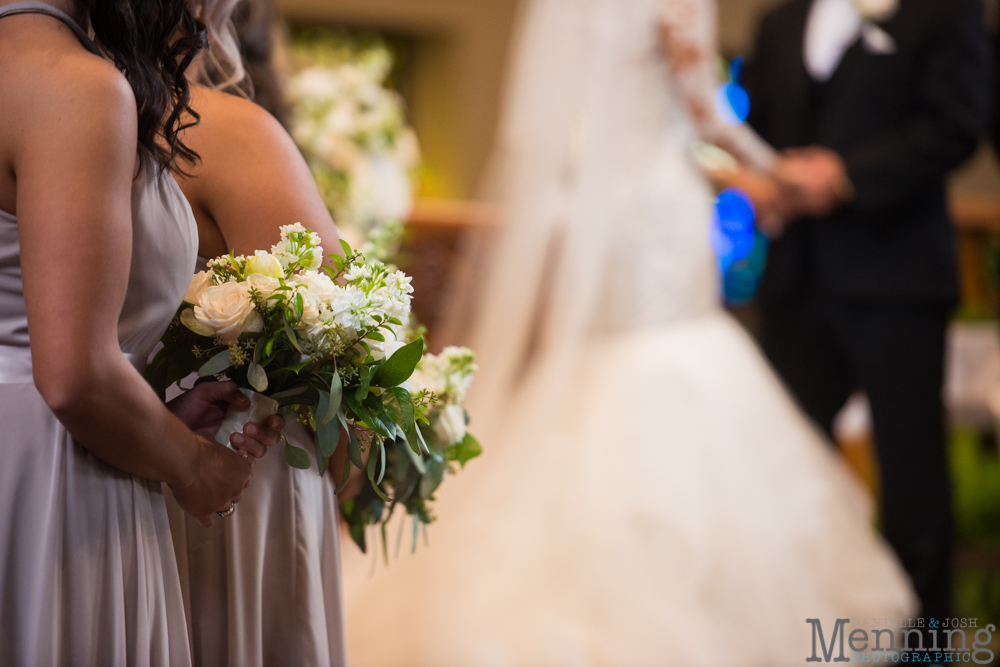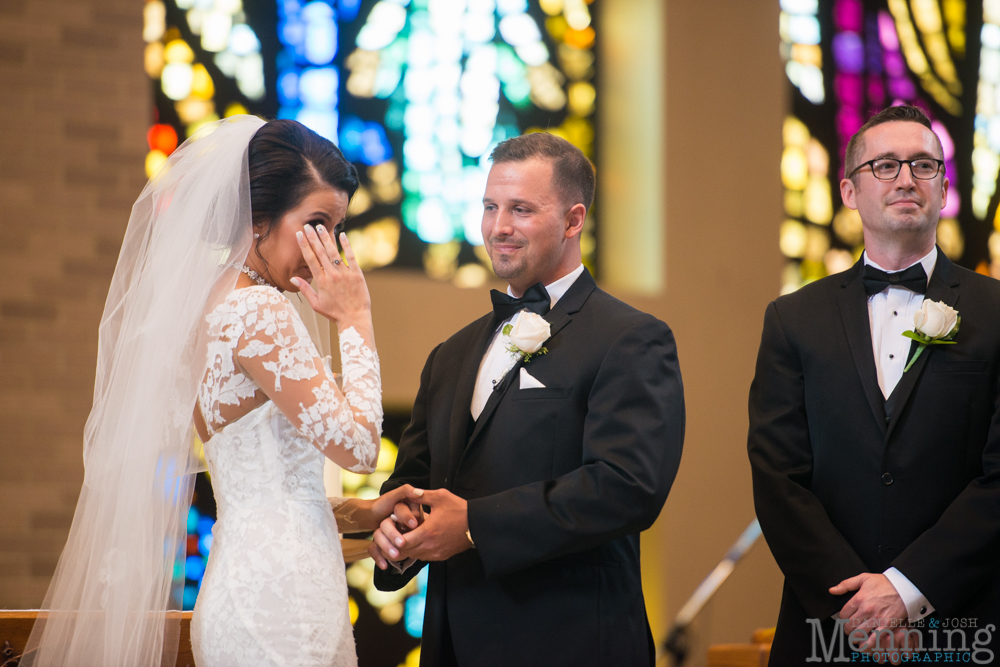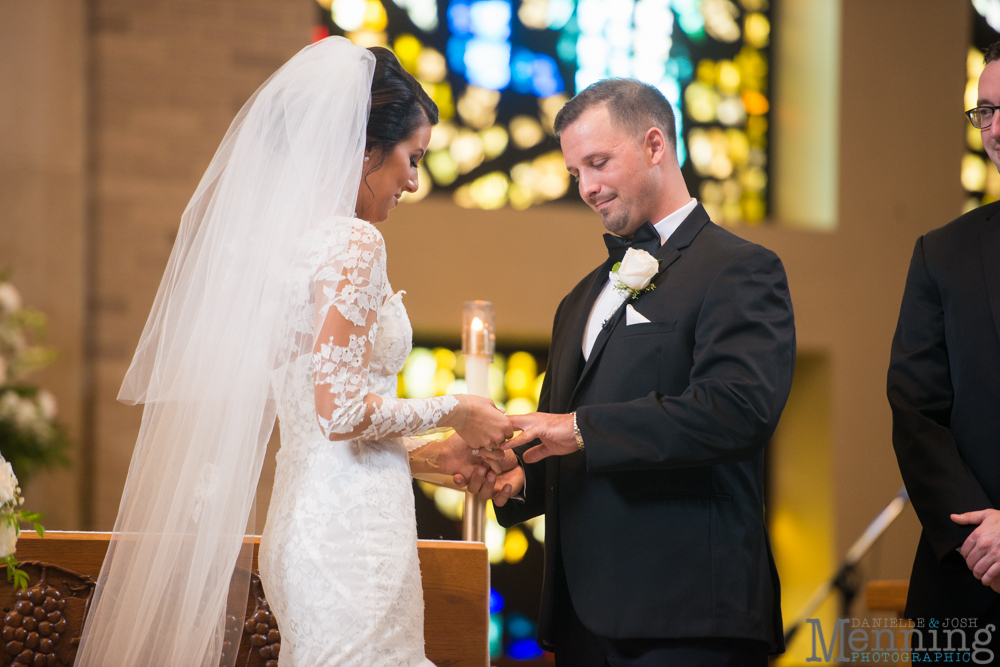 Their unity candle was being stubborn & they had to improvise; it made for some cute moments & the crowd cheered when they finally got it lit.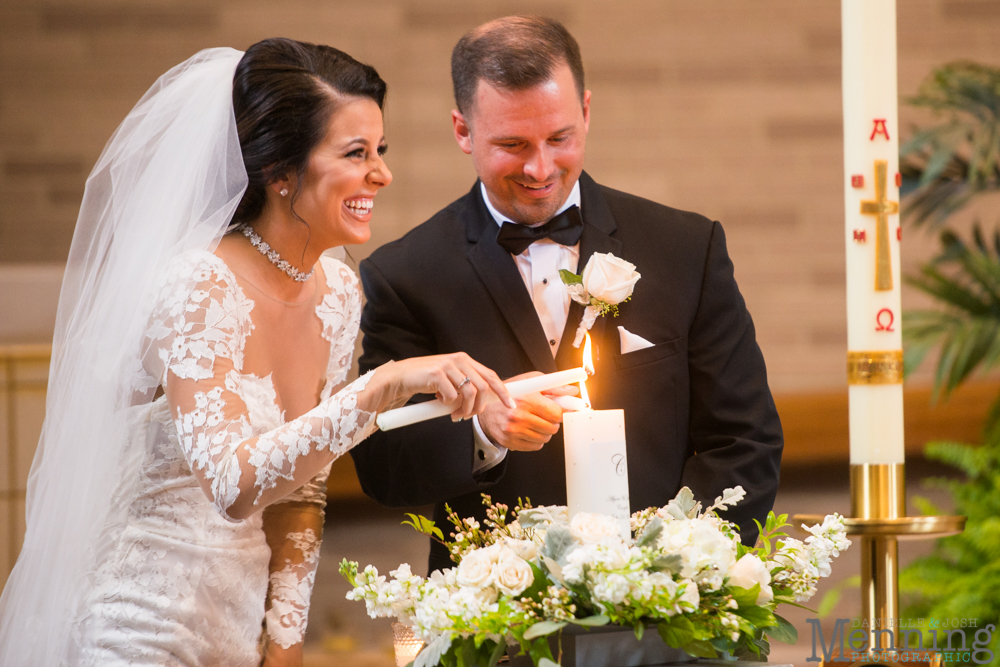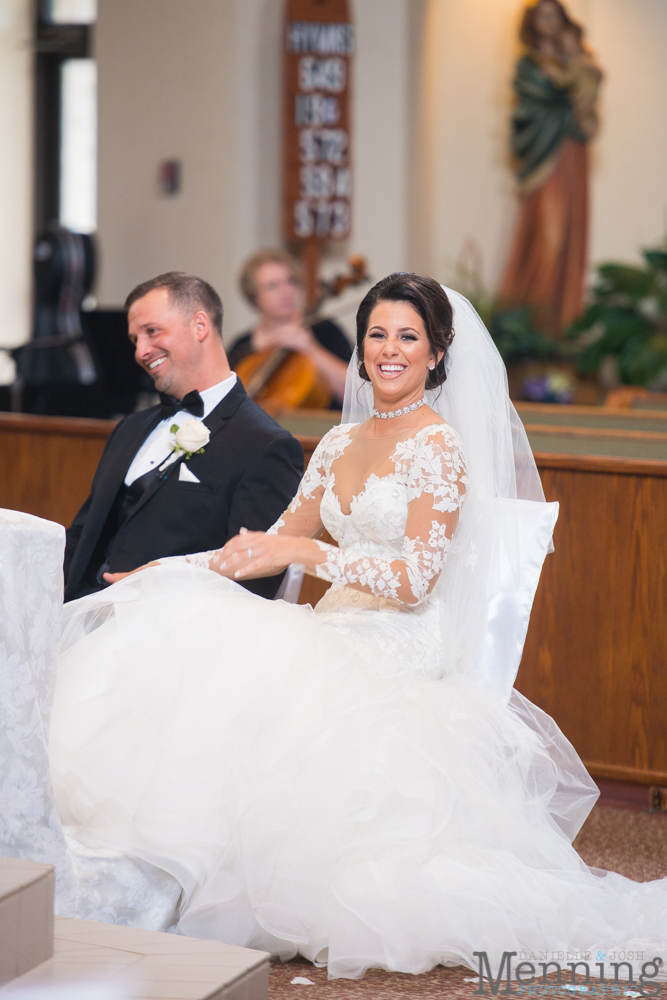 That moment your ring bearer loses his first tooth during the wedding ceremony. ha!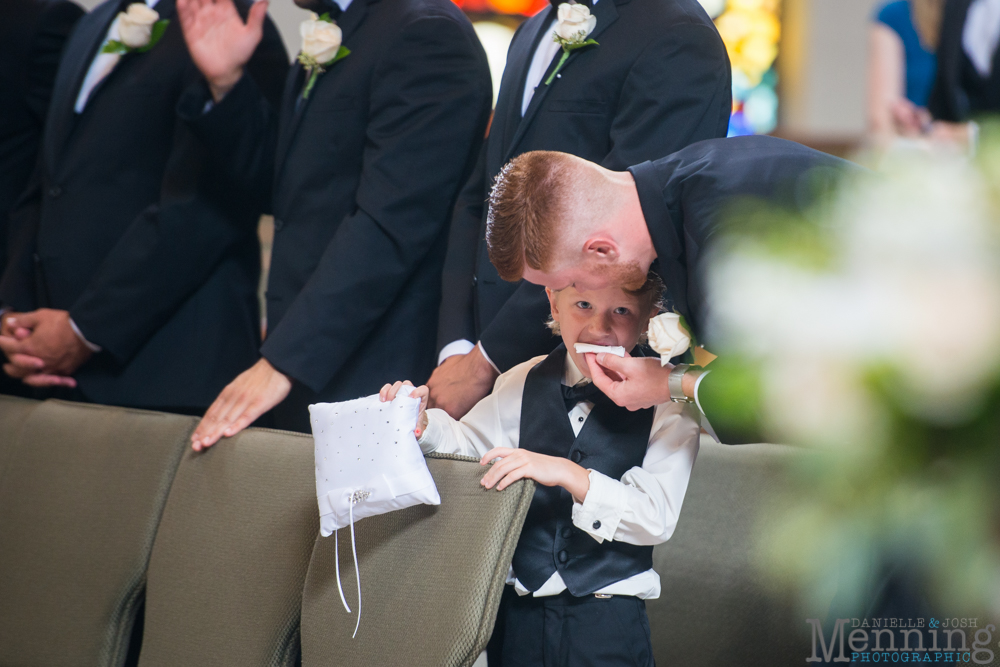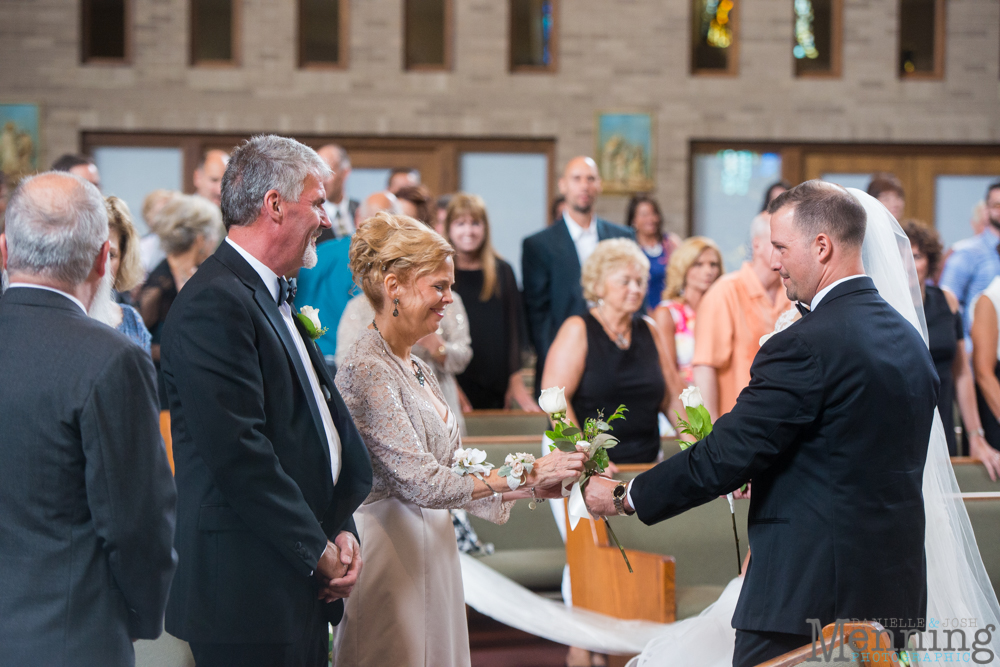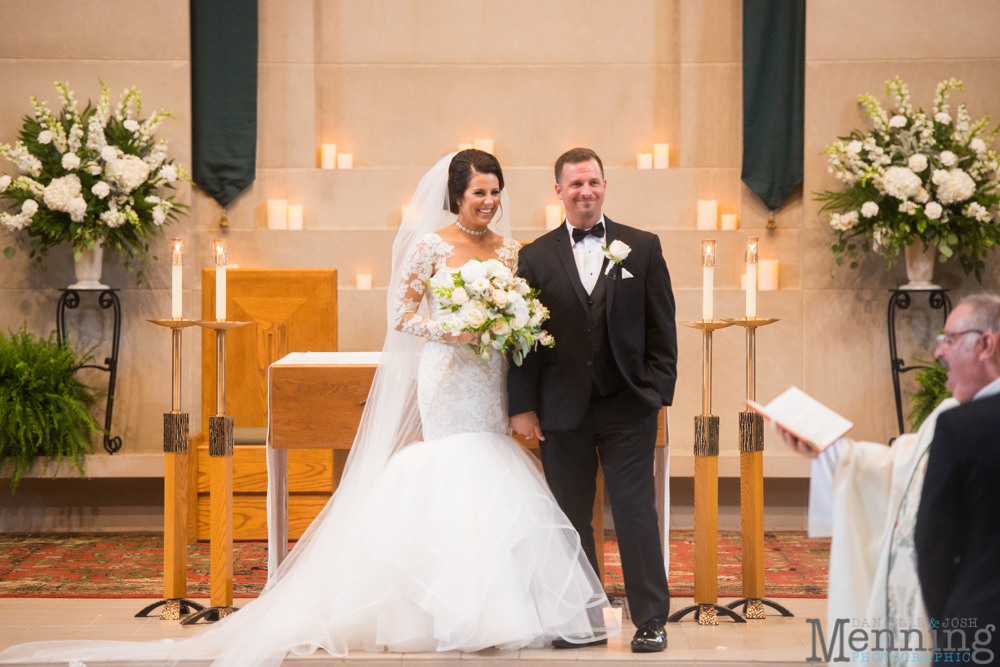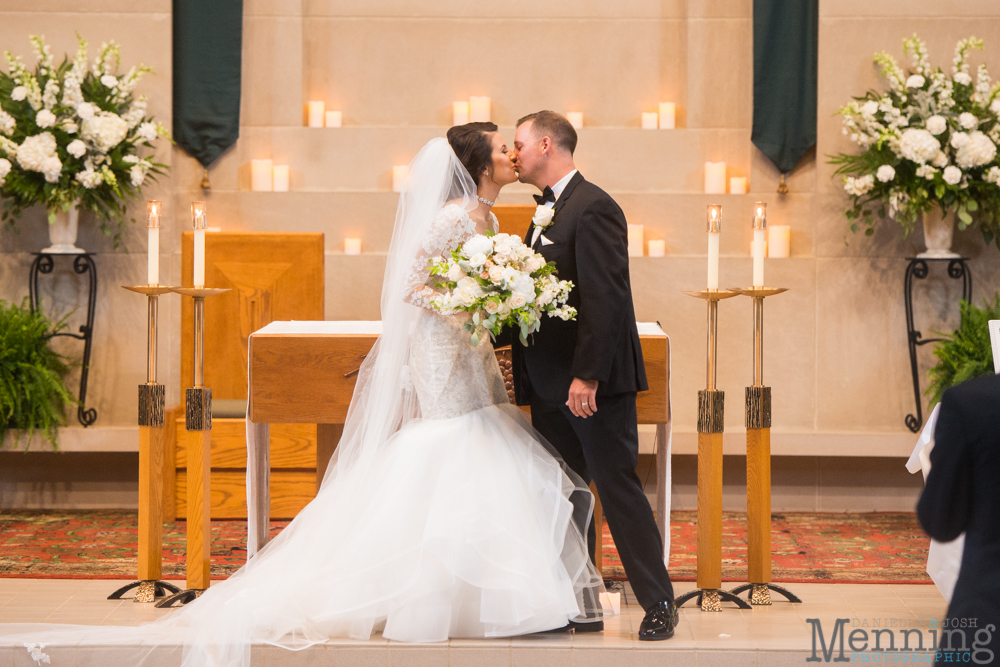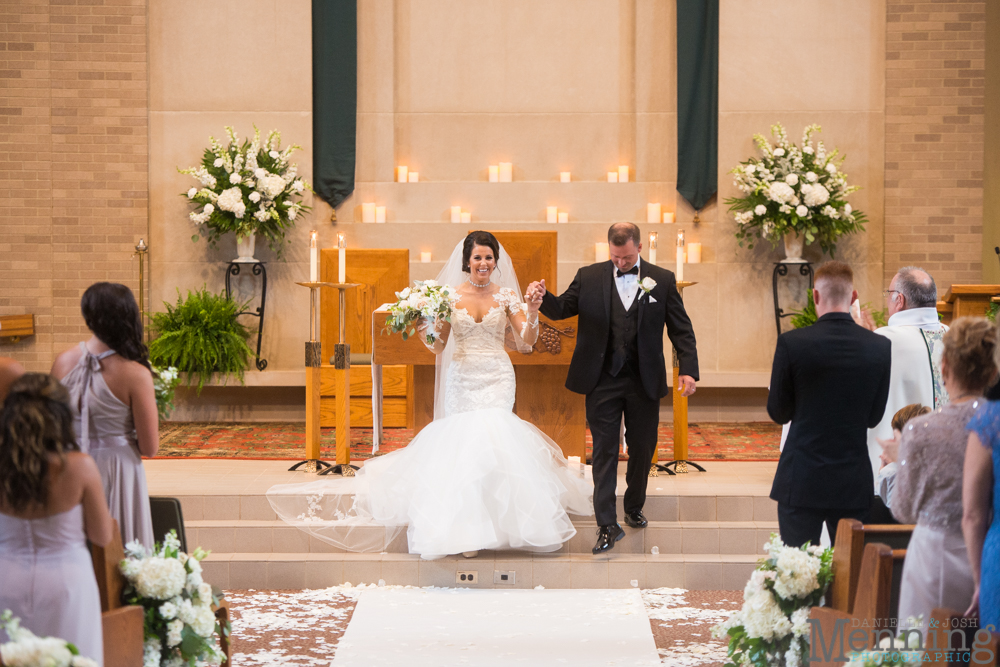 The most joyful couple on the planet on July 22, 2017!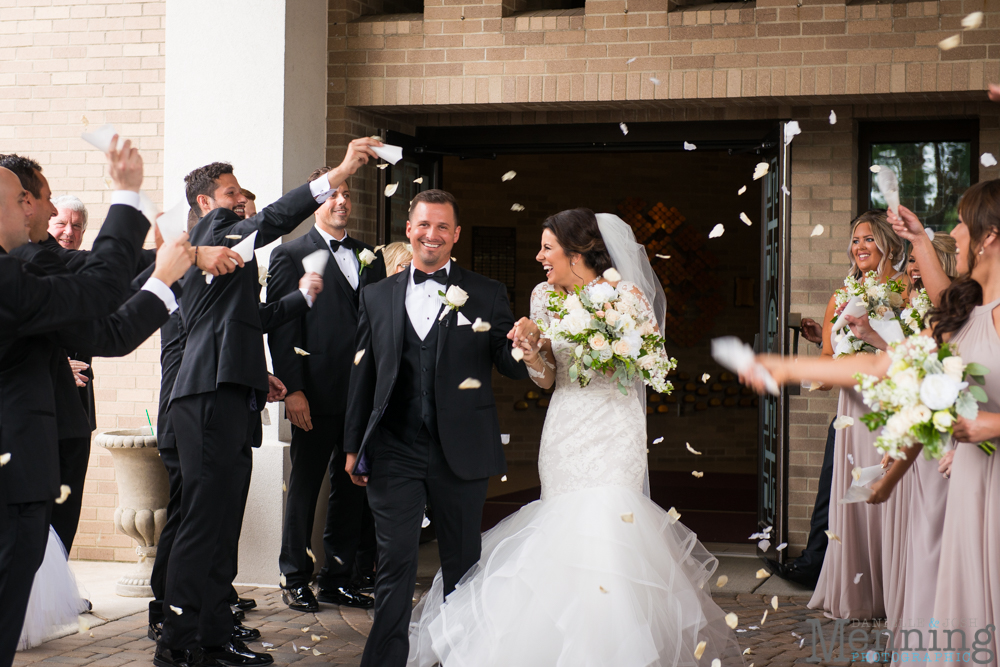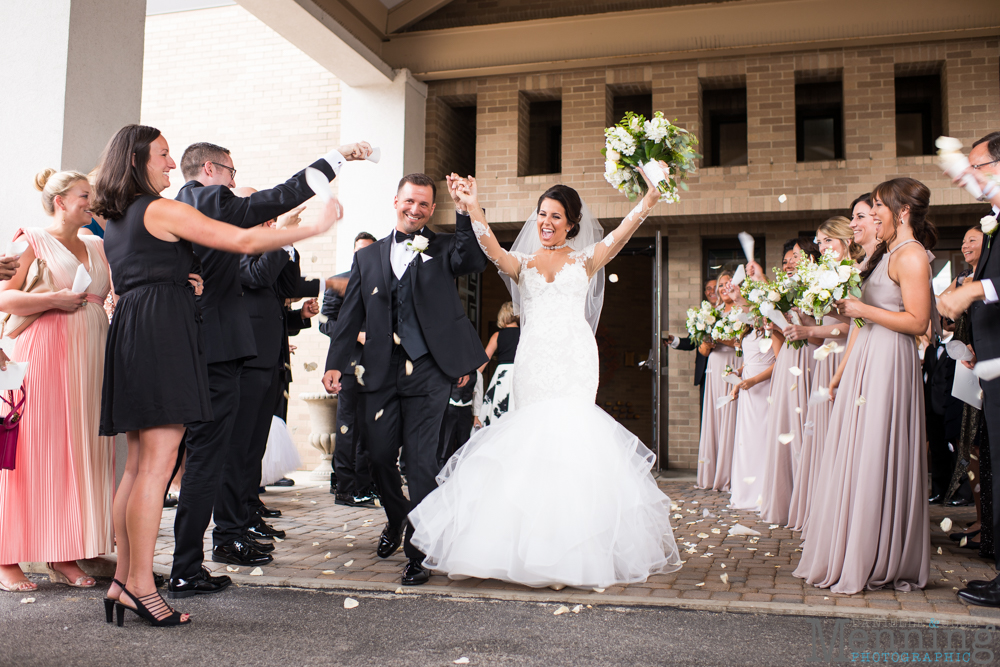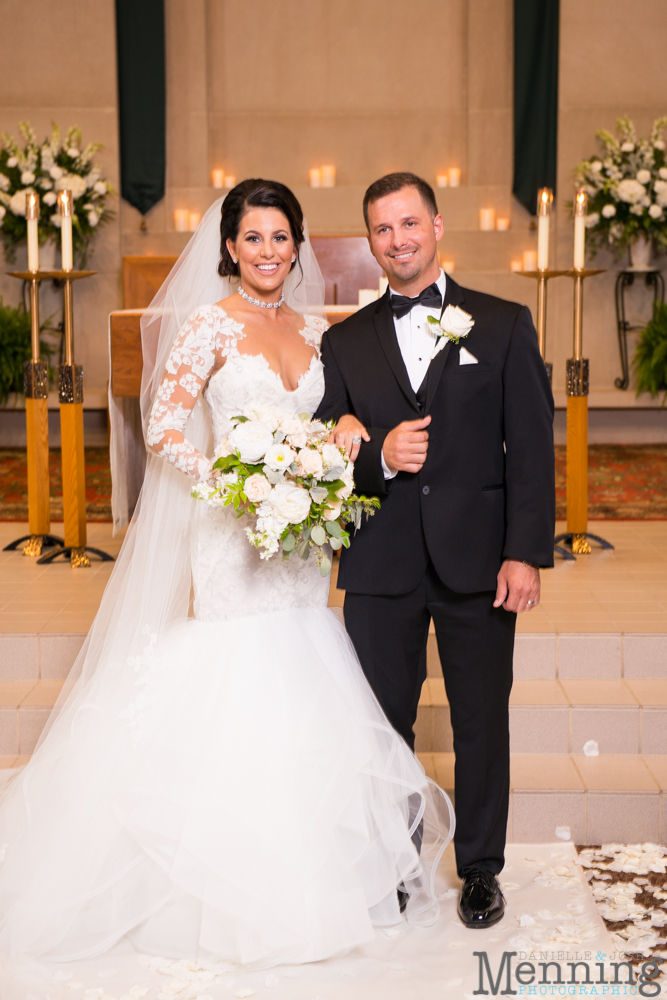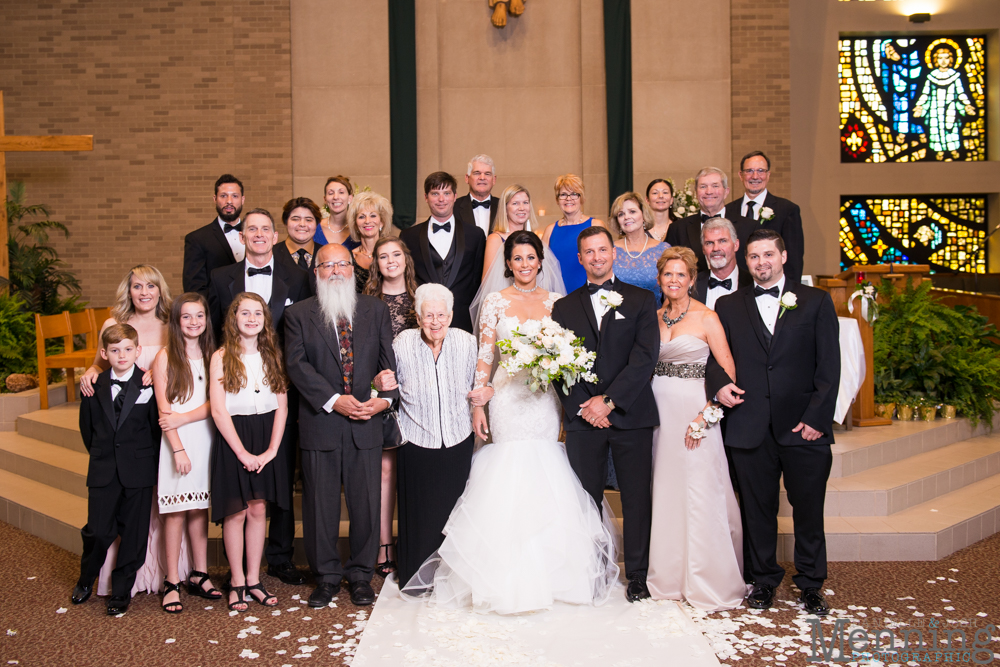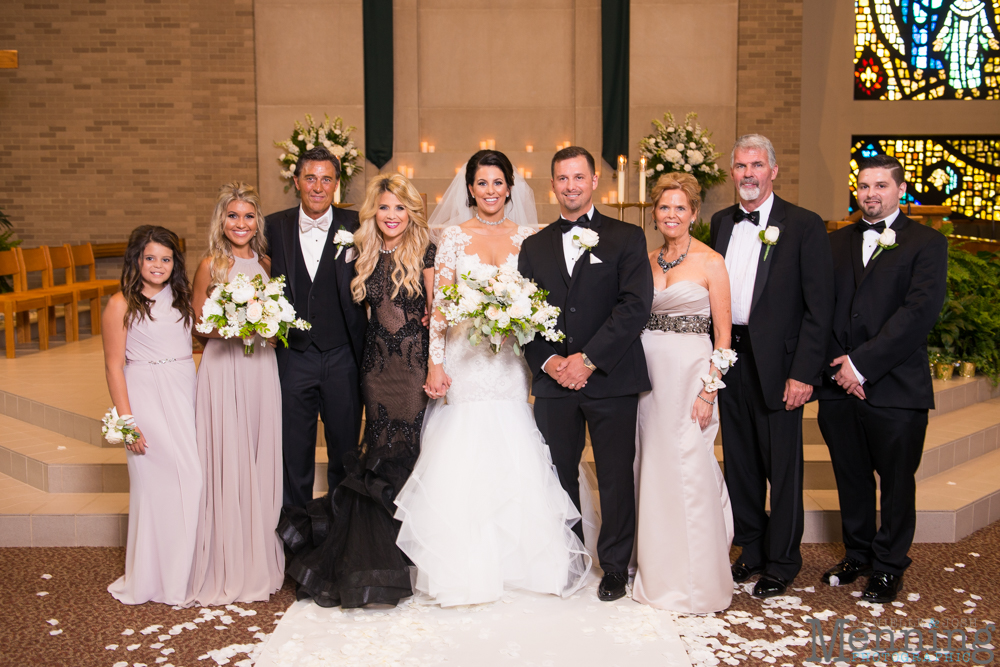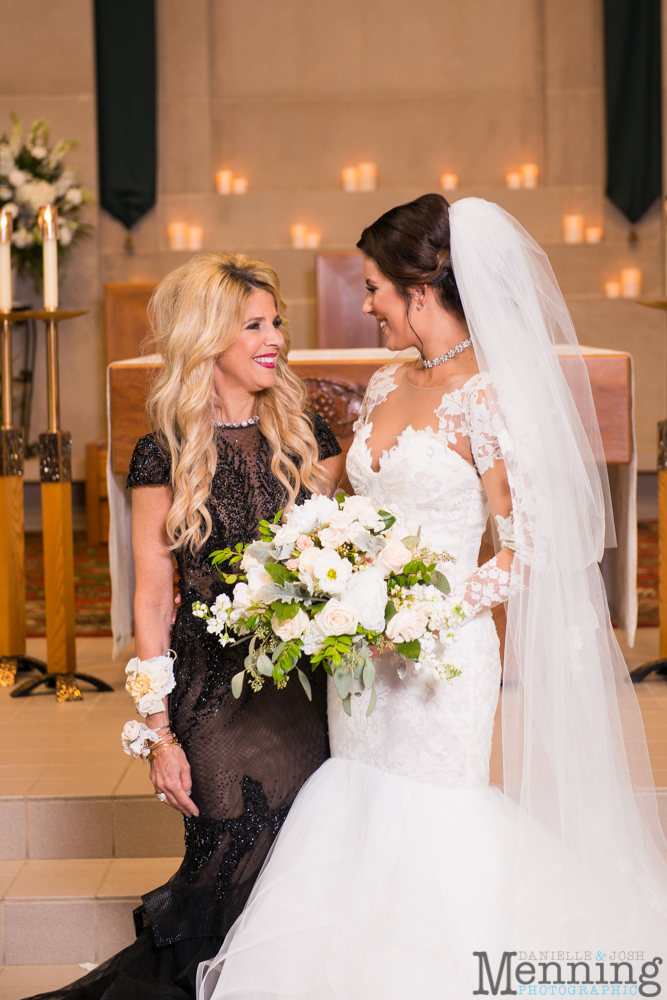 These ladies were so much fun all day! Alyvia has a great squad supporting her.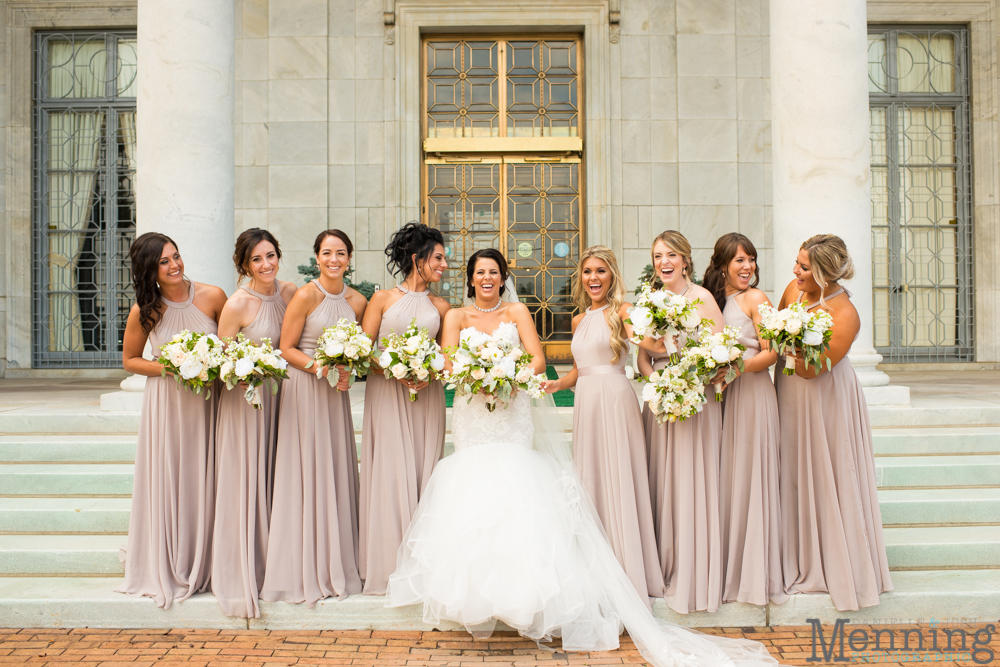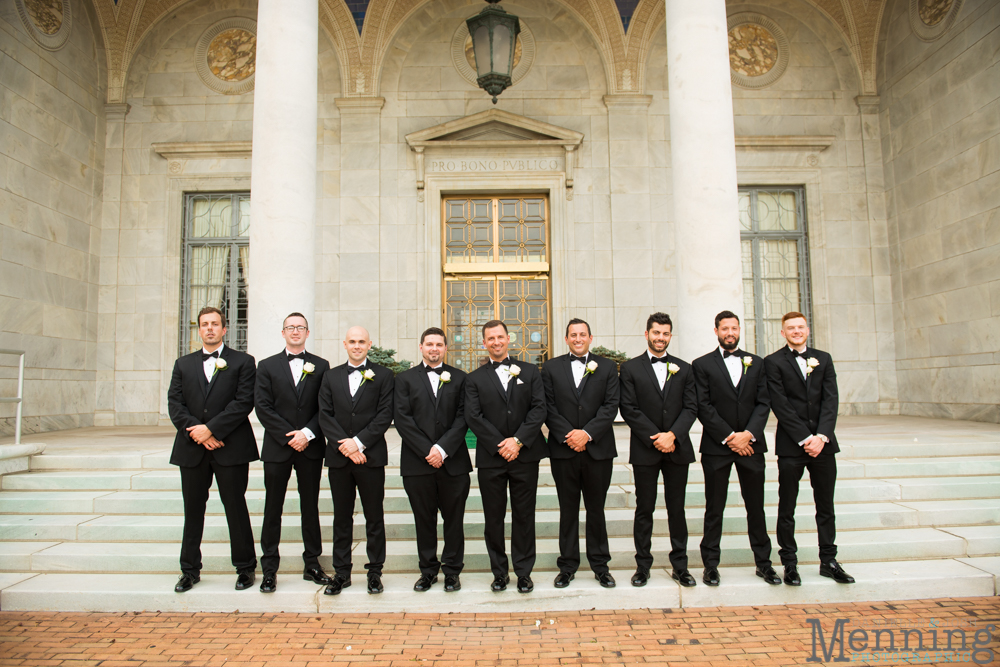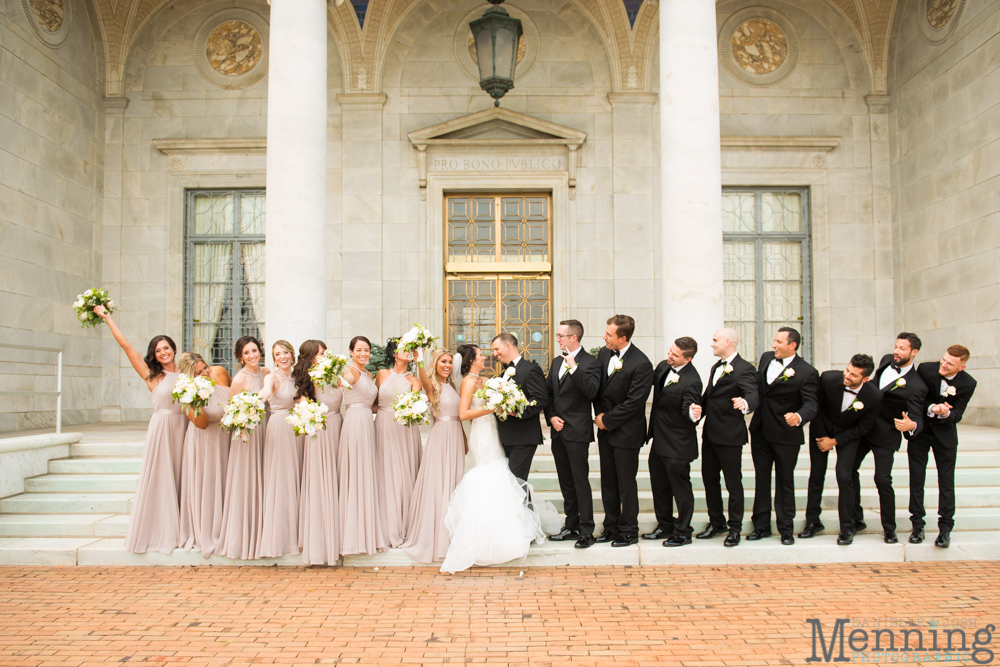 What a seriously great lookin' group!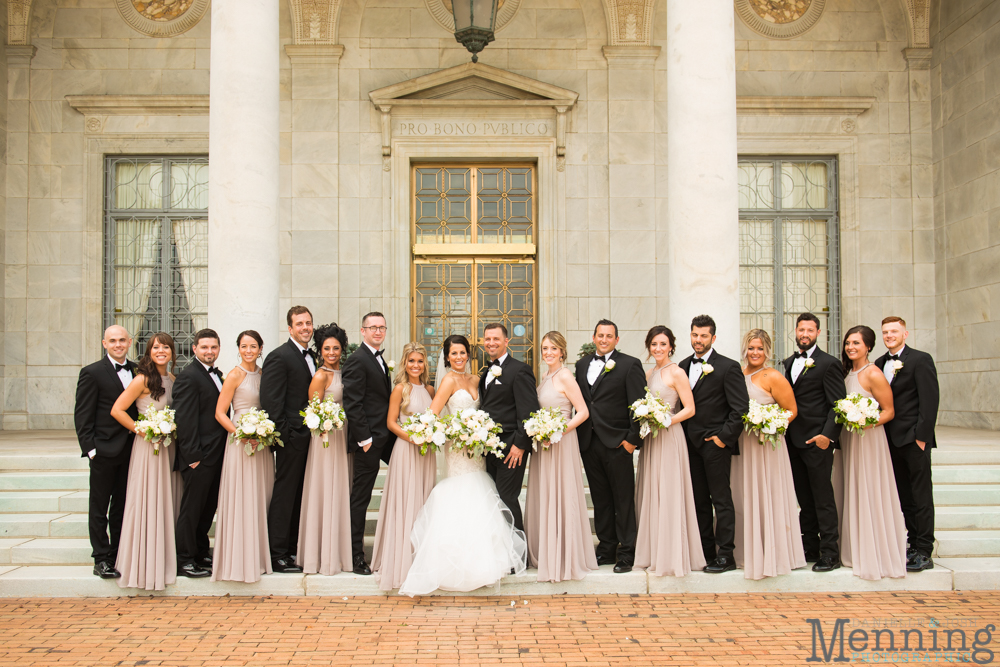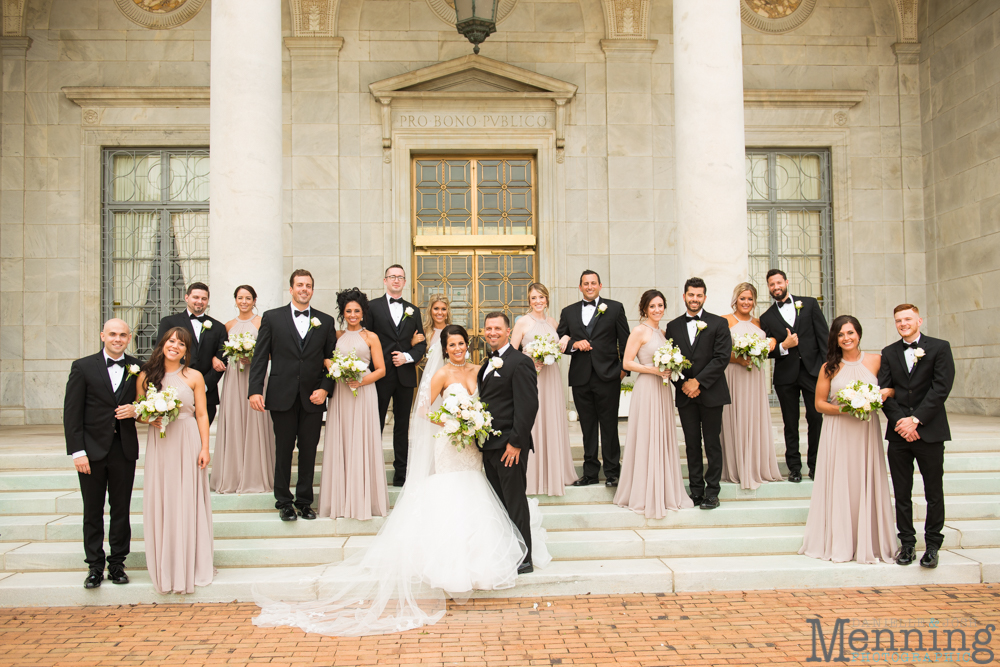 We loved that Alyvia & Josh's first furchild, Rooney, walked with Alyvia that day in spirit and Alyvia's bouquet was wrapped with lace from her mother's wedding gown.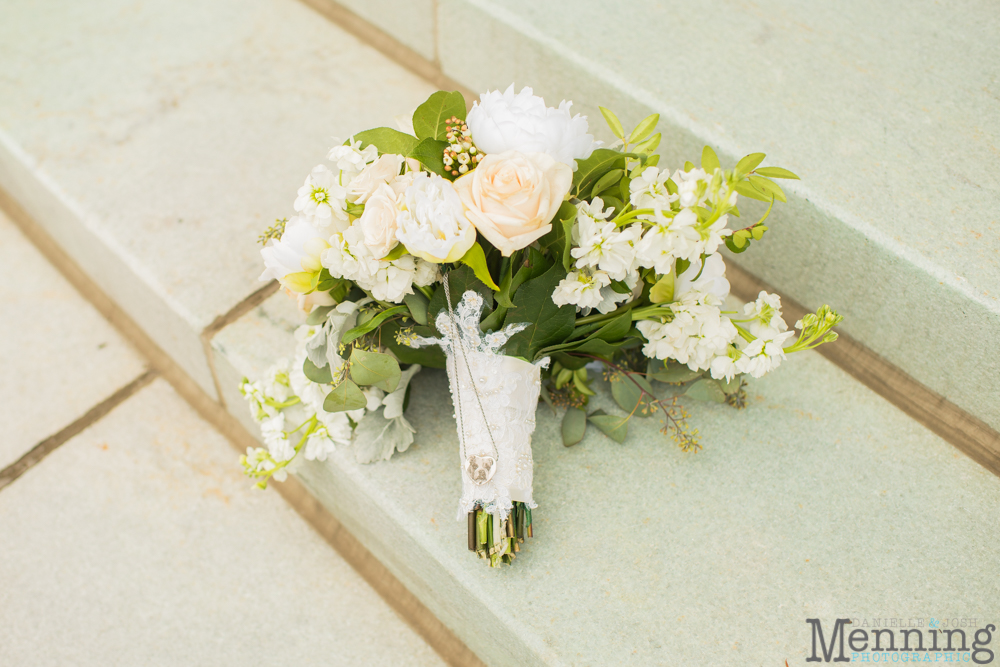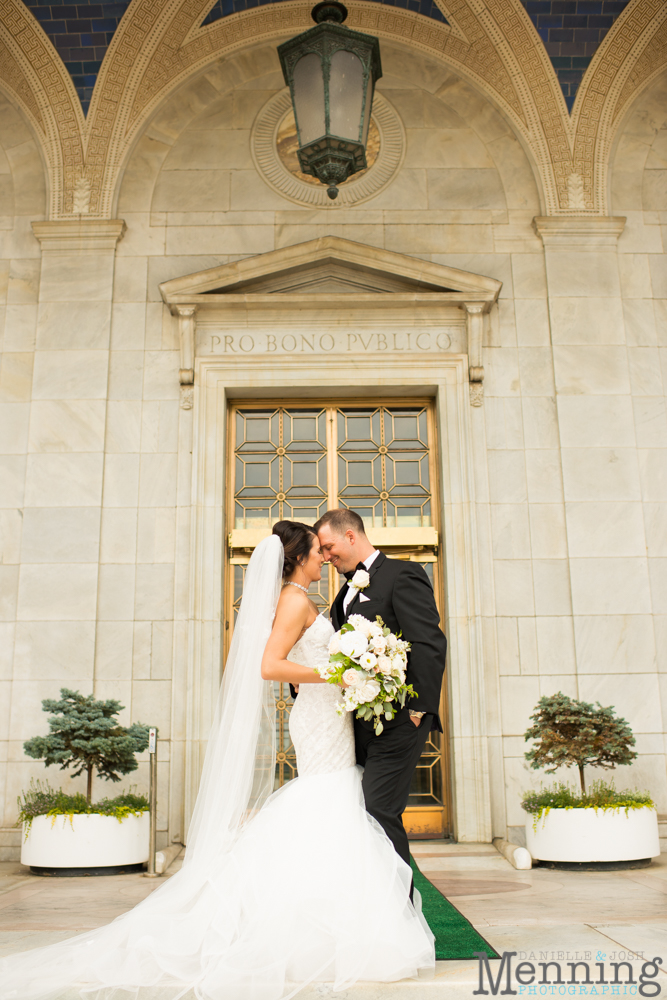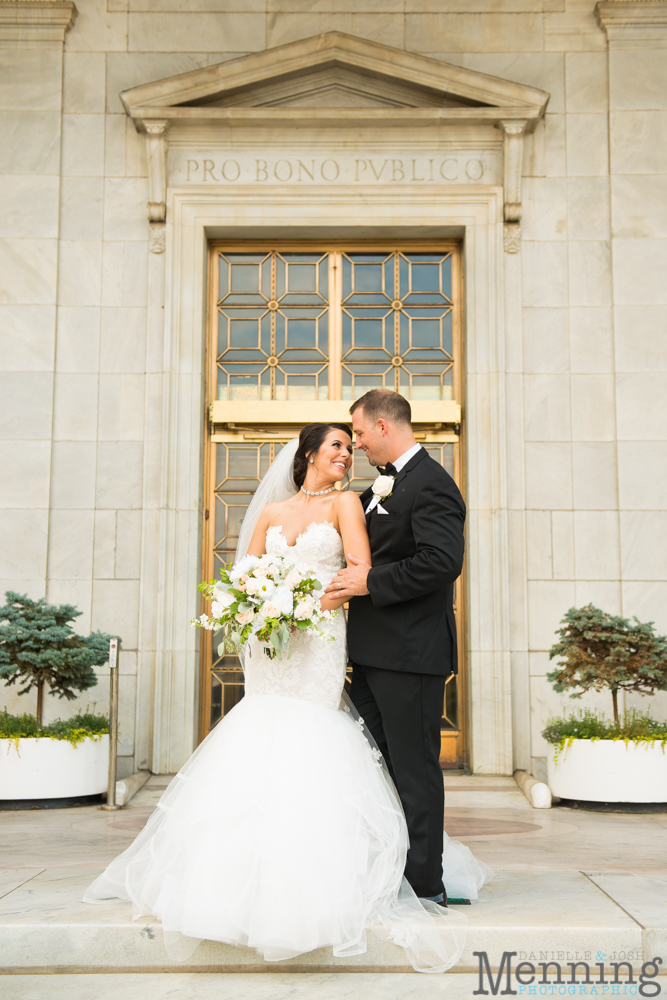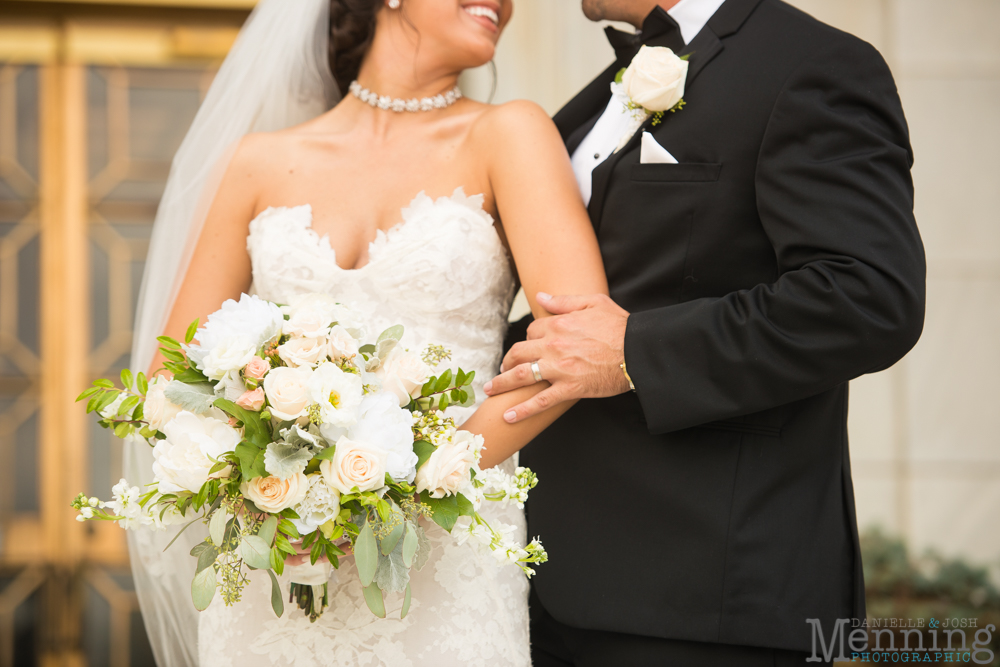 So classy, so elegant, so beautiful! We could've photographed portraits of these two all day! And we enjoyed some rain the morning of their wedding day for good luck, but once it was time for photos outside, the skies cleared & the sun graced us with its presence.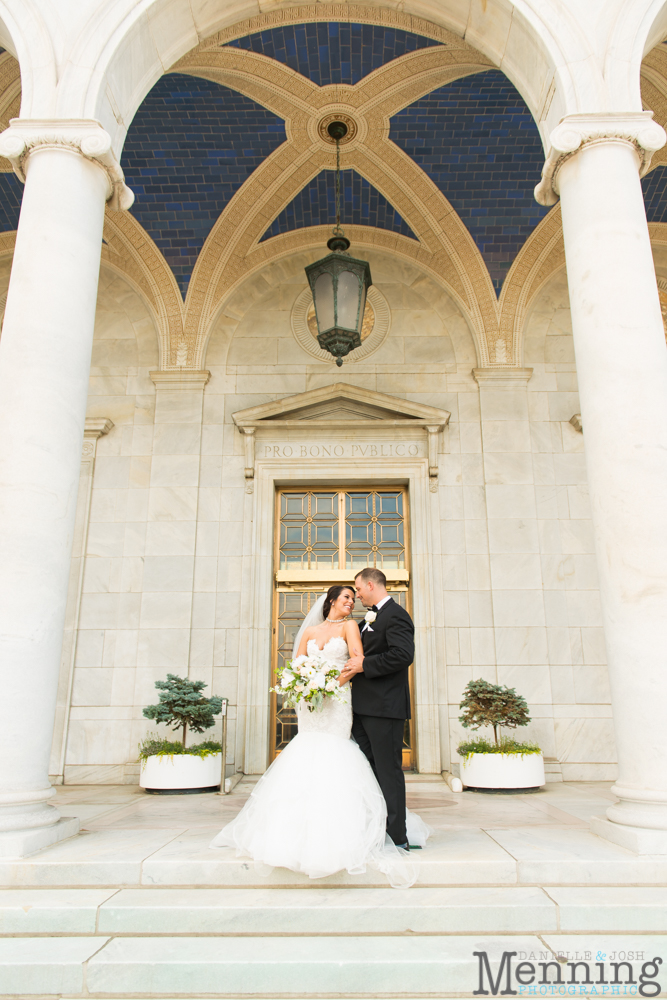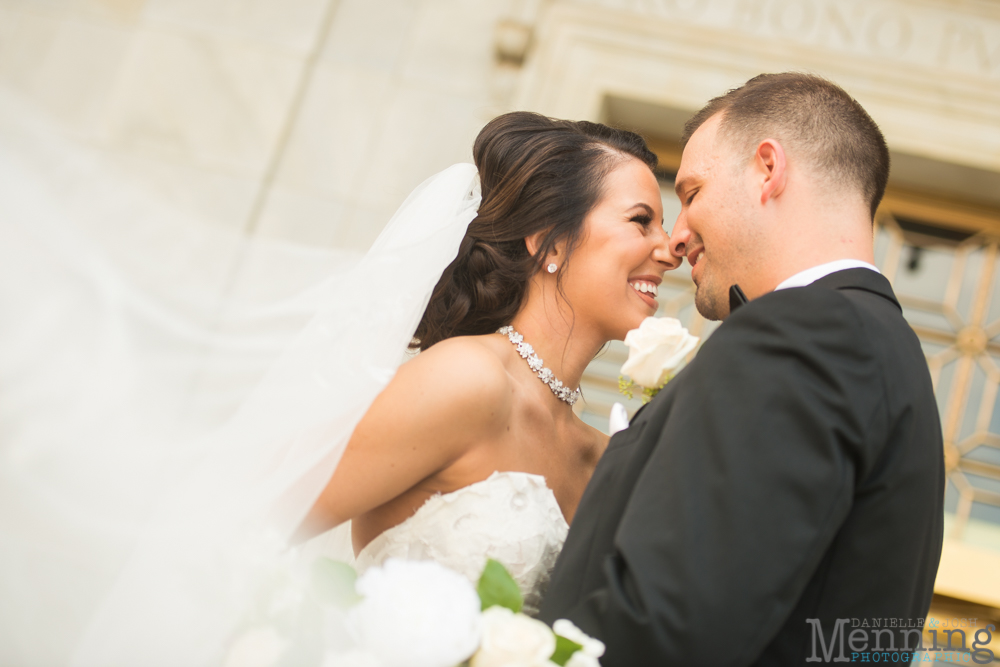 #thatveiltho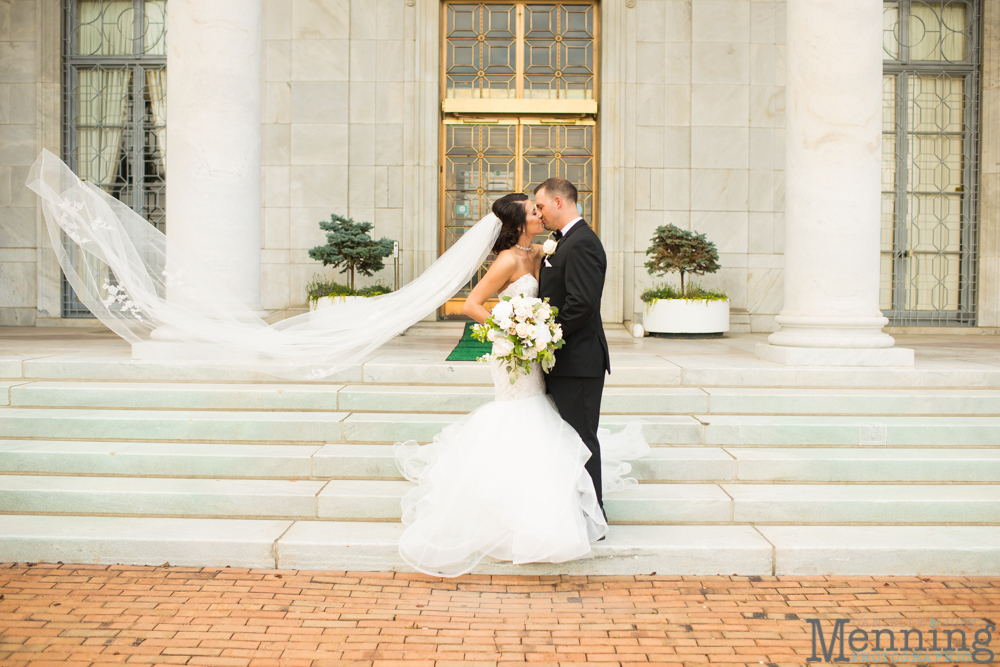 Seriously! Could they be any cuter?!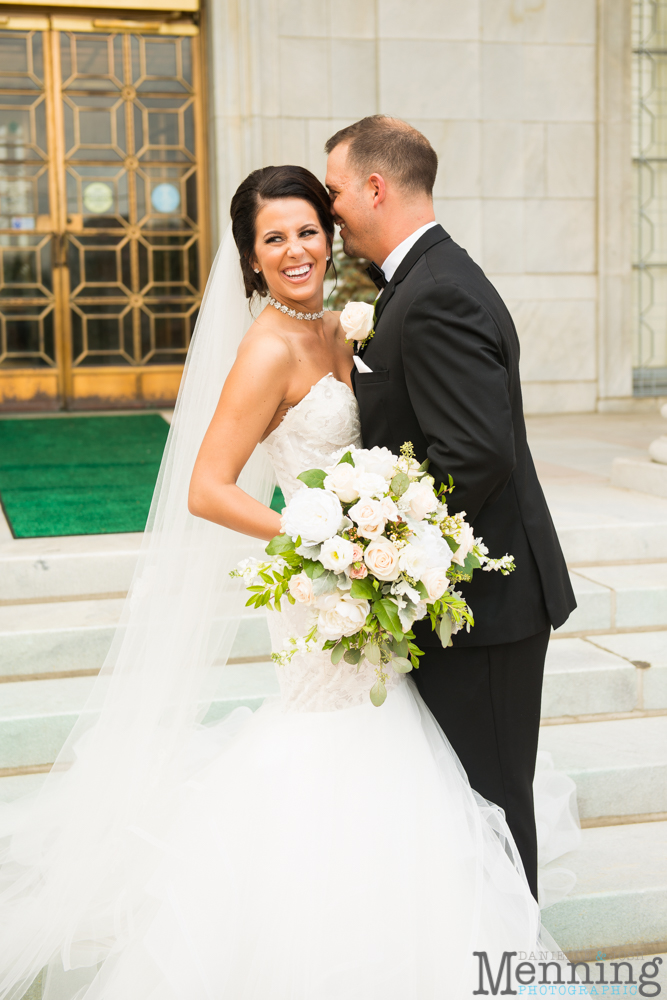 We loved their adorable guest sign in that included their sweet puppies! If you missed their engagement photo blog post with their furbabies, Ruby & Stan, you should definitely go check that out. It's HERE. That post will open in a new window. We'll still be here when you get back.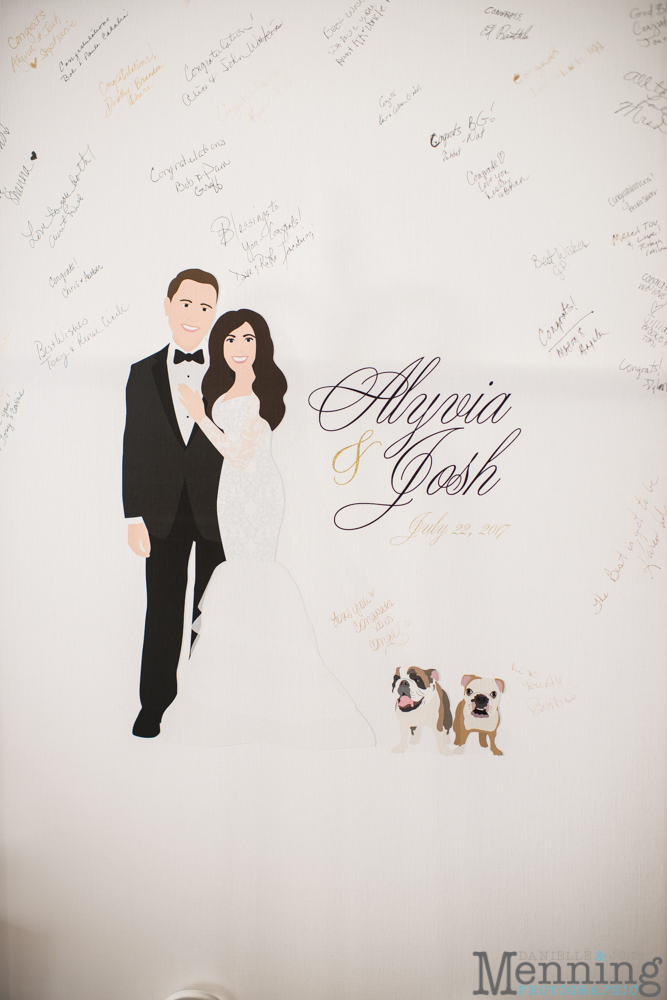 The team from The Social Studio did a great job with decorating & planning! 
The cocktail hour room looked gorgeous! And the hors d'oeuvres looked phenomenal! 
DeYor Performing Arts Center is definitely the fanciest event and wedding venue in Youngstown. It was looking extra classy for Alyvia & Josh's wedding day! Alyvia said it looked like a scene from Beauty & the Beast; they were both so ecstatic with how everything came together.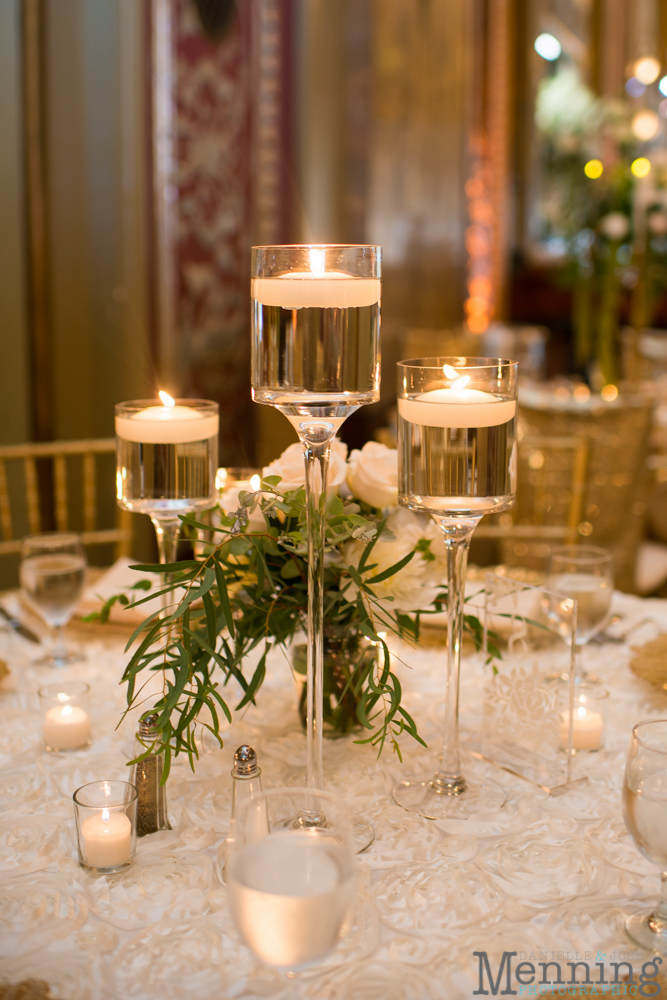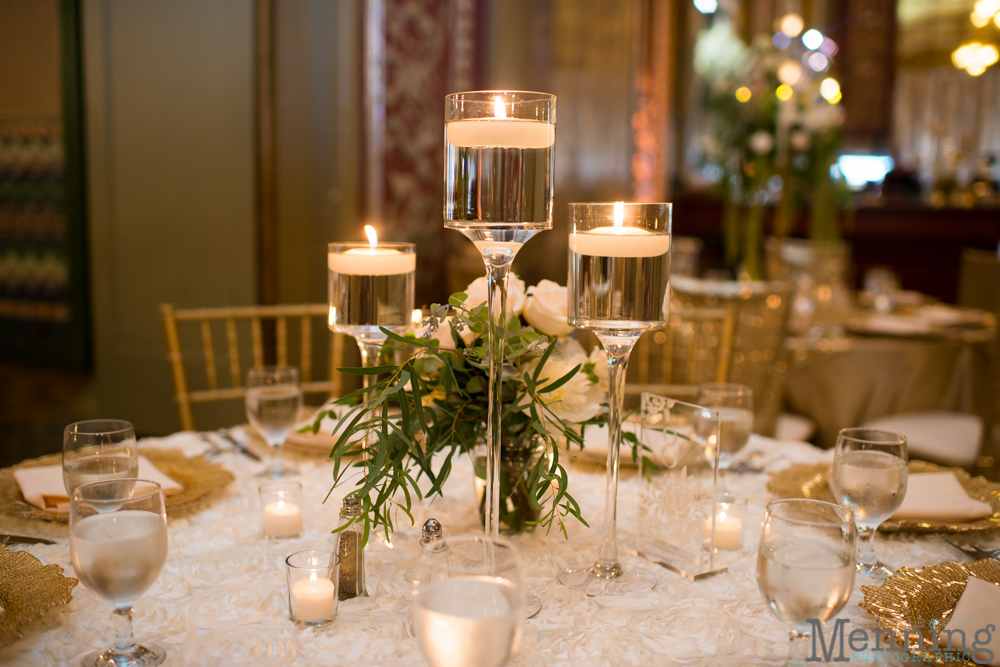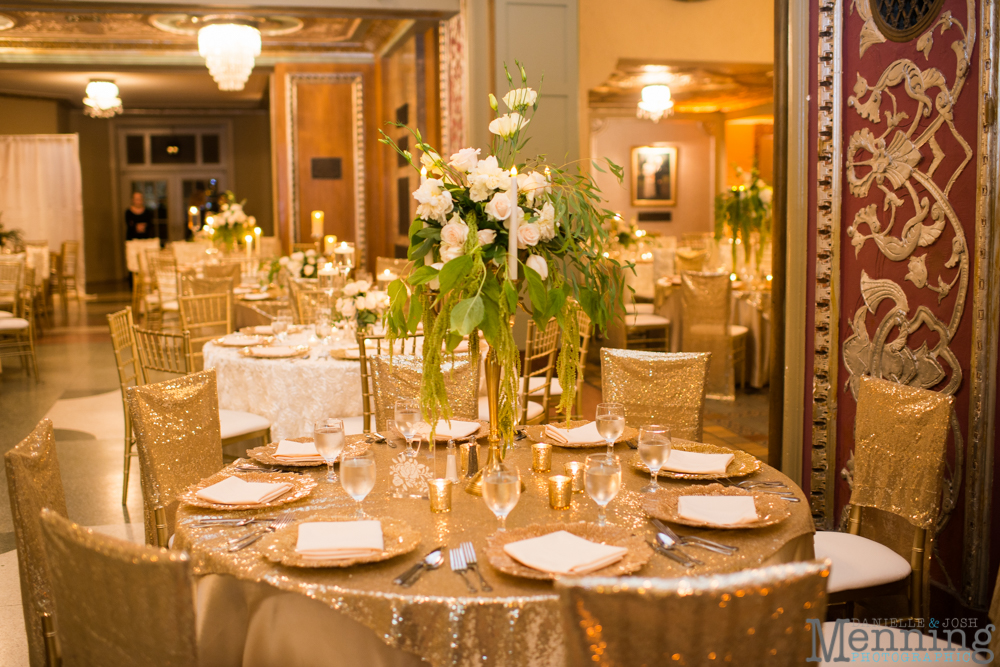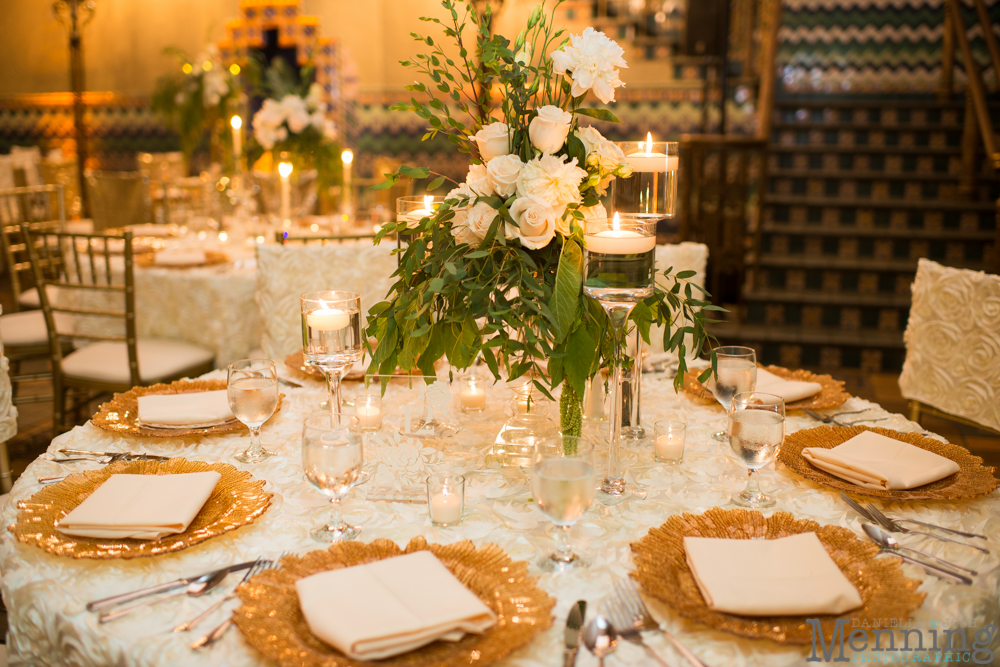 The warmth of the gold and sequins along with the classic and neutral creams, varying textures, & pops of greenery made everything look inviting & elegant. Â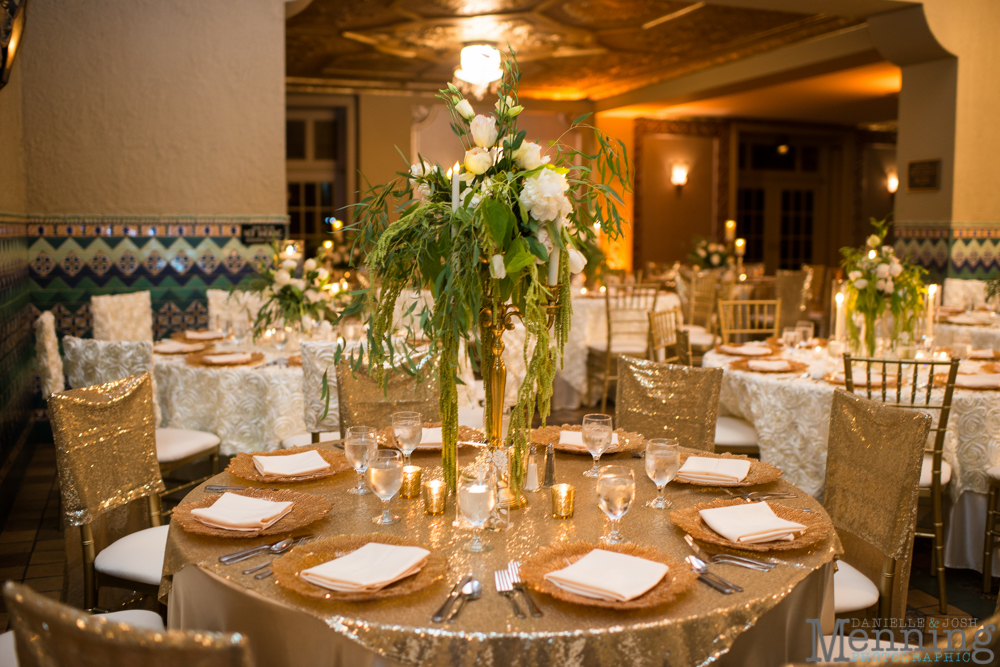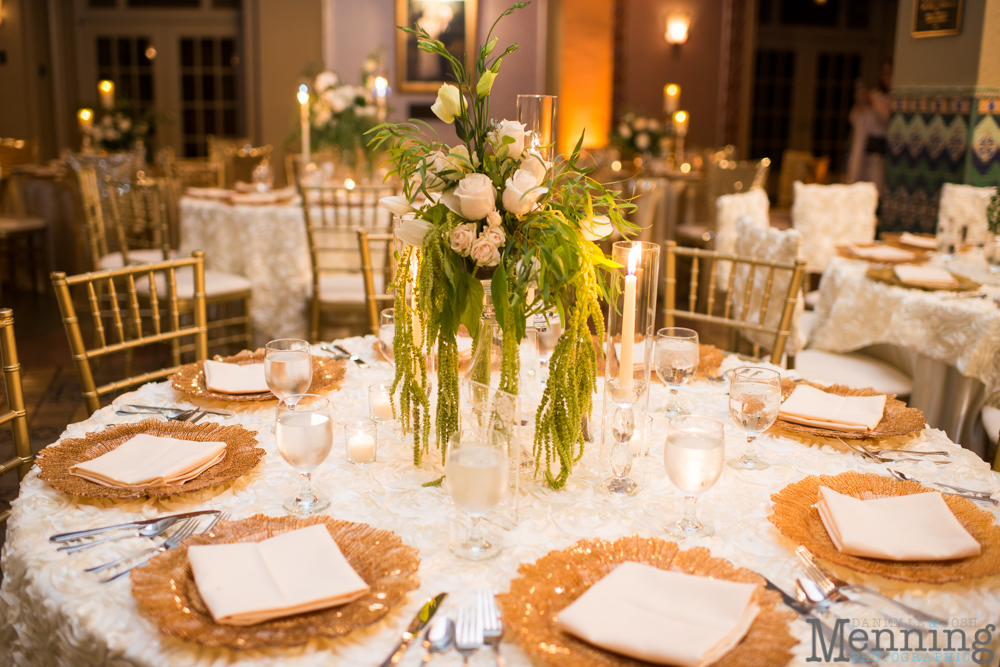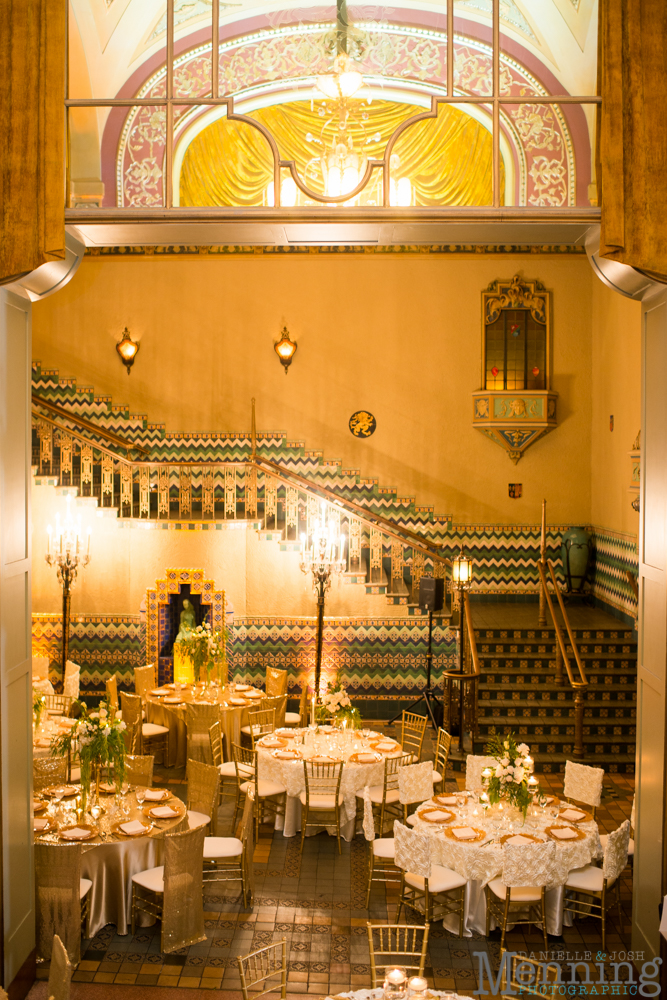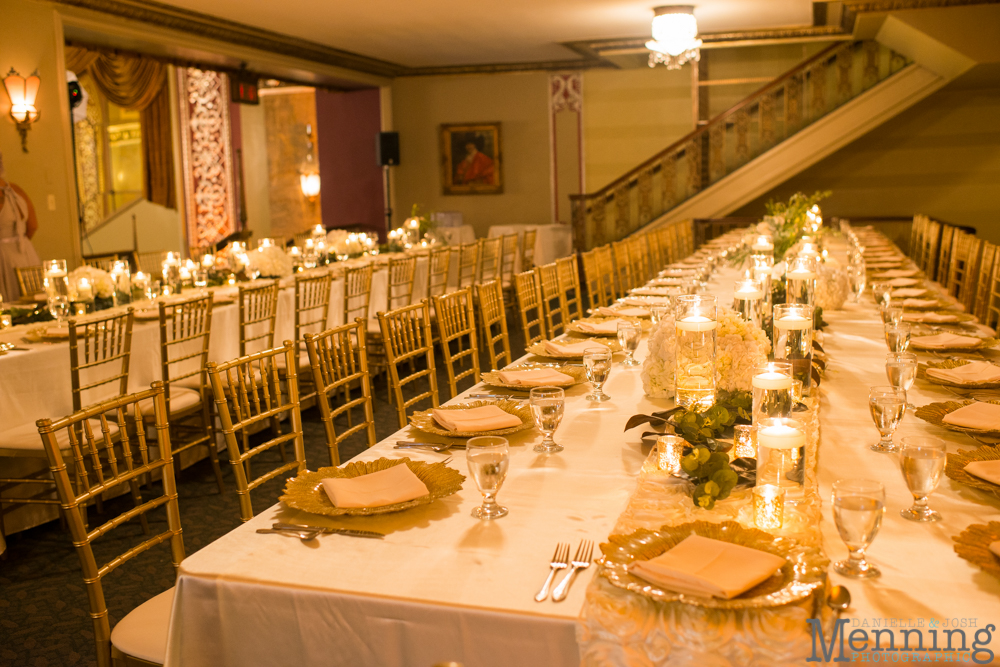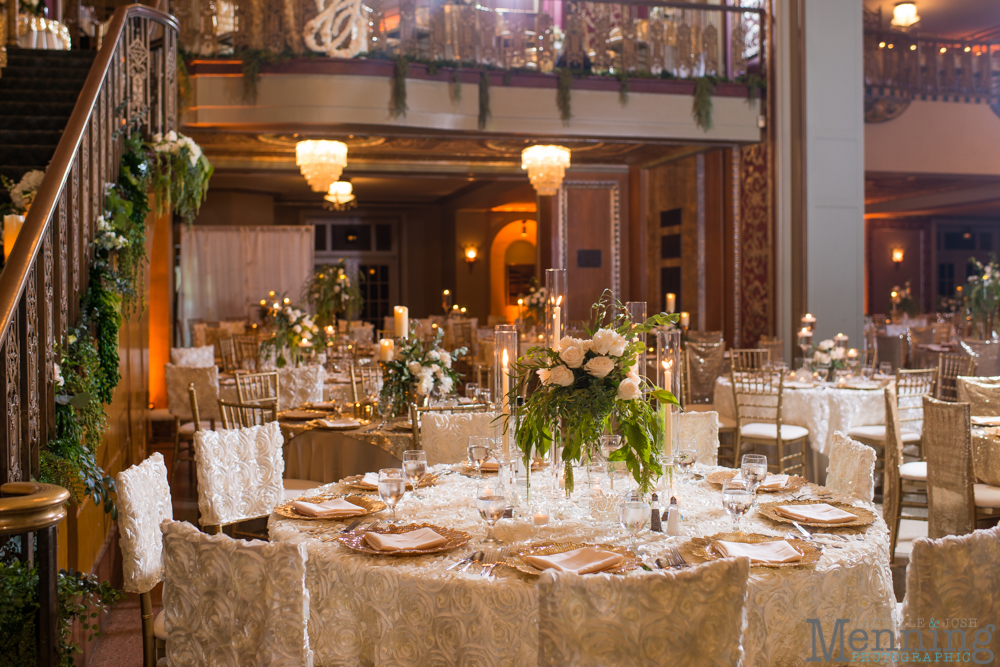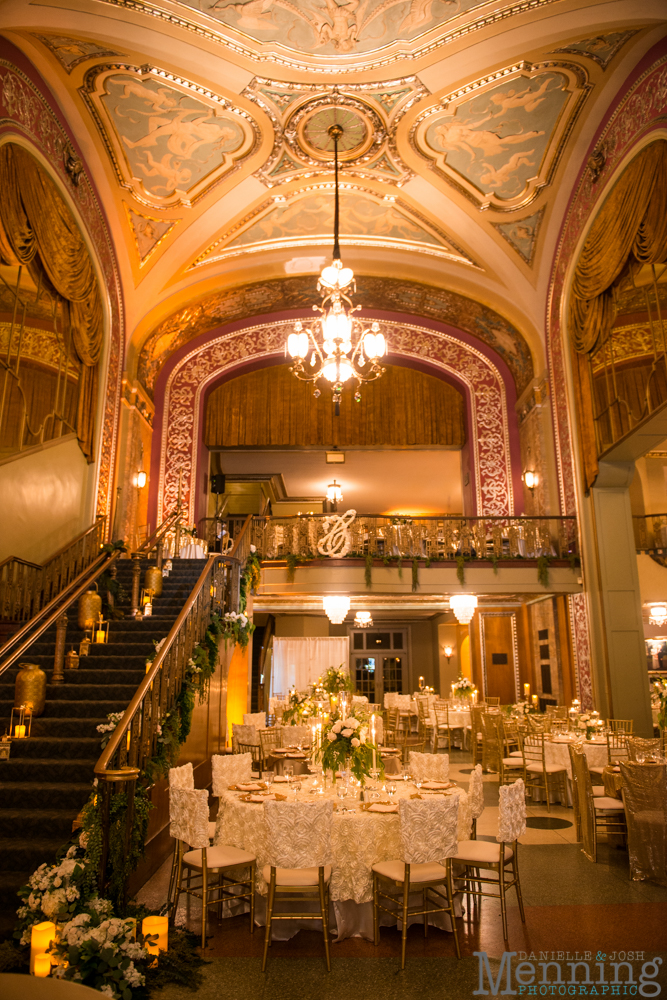 In the beginning of Josh & Alyvia's relationship, Josh lived in Chicago while Alyvia lived in Youngstown so they had little personal touches from Chicago included in their wedding like these favors for guests of Garrett's popcorn.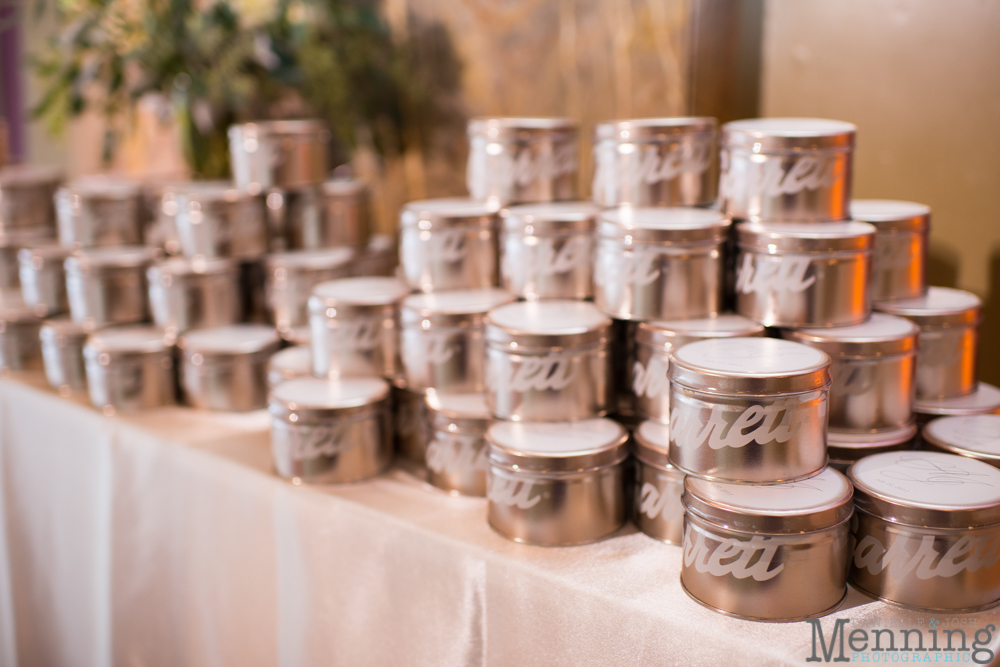 The Cake Boutique contributed to the WOW factor of this gorgeous wedding day with this grand cake!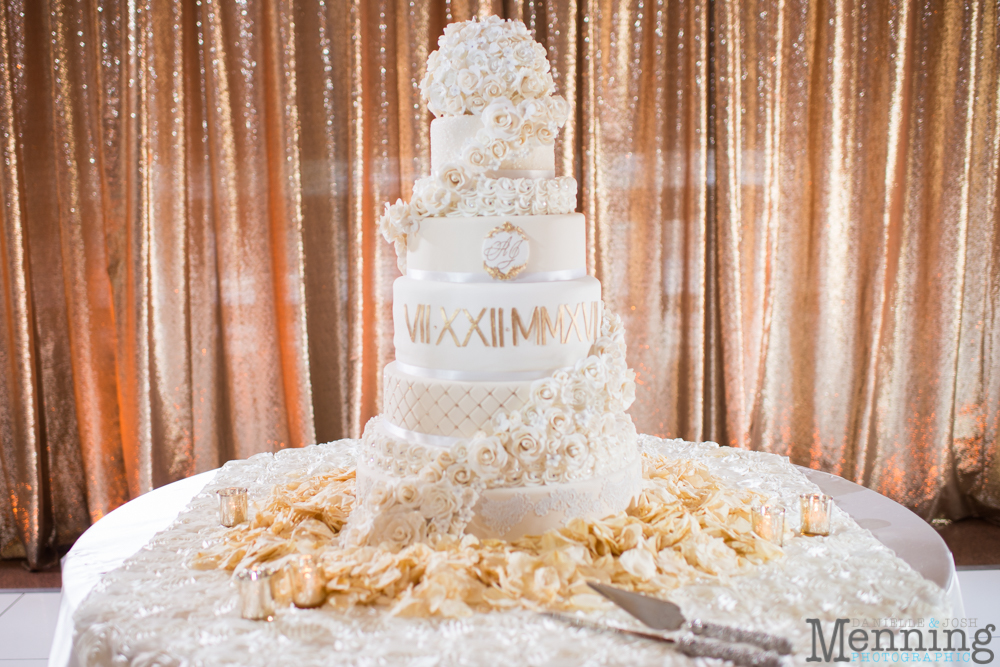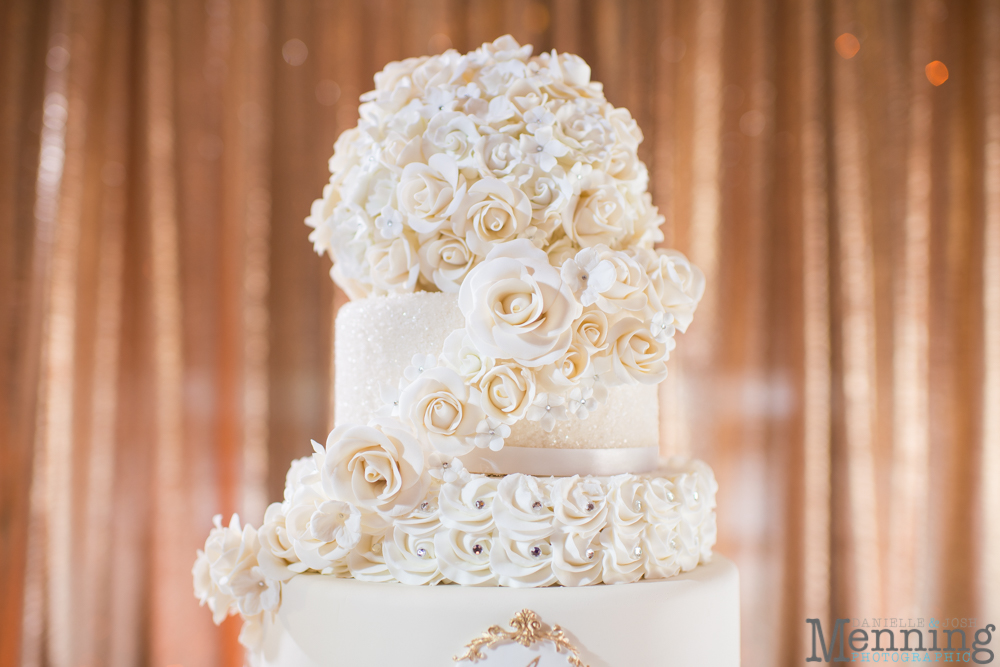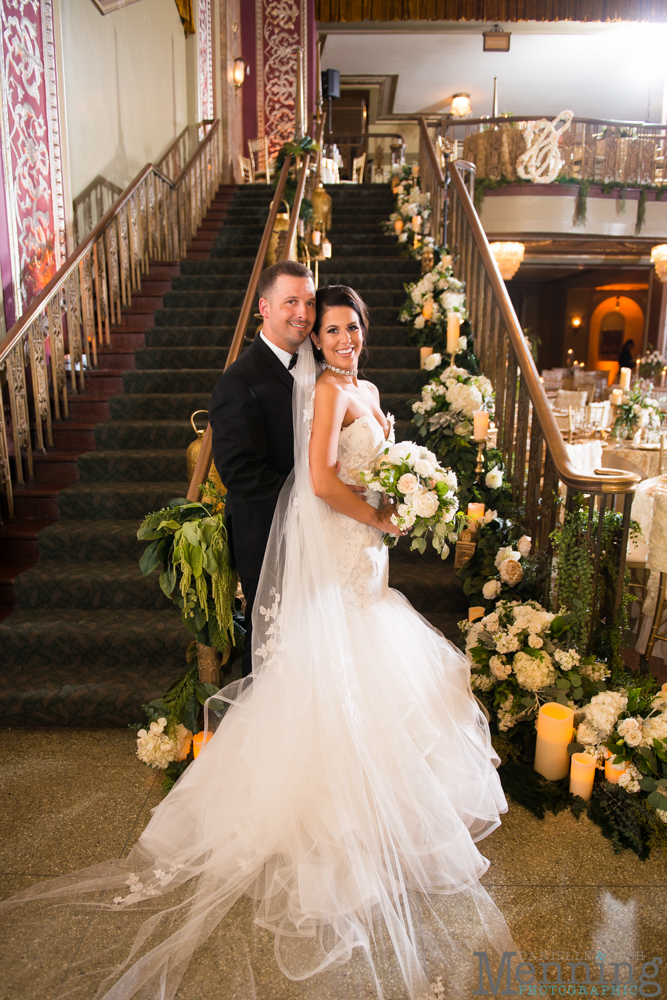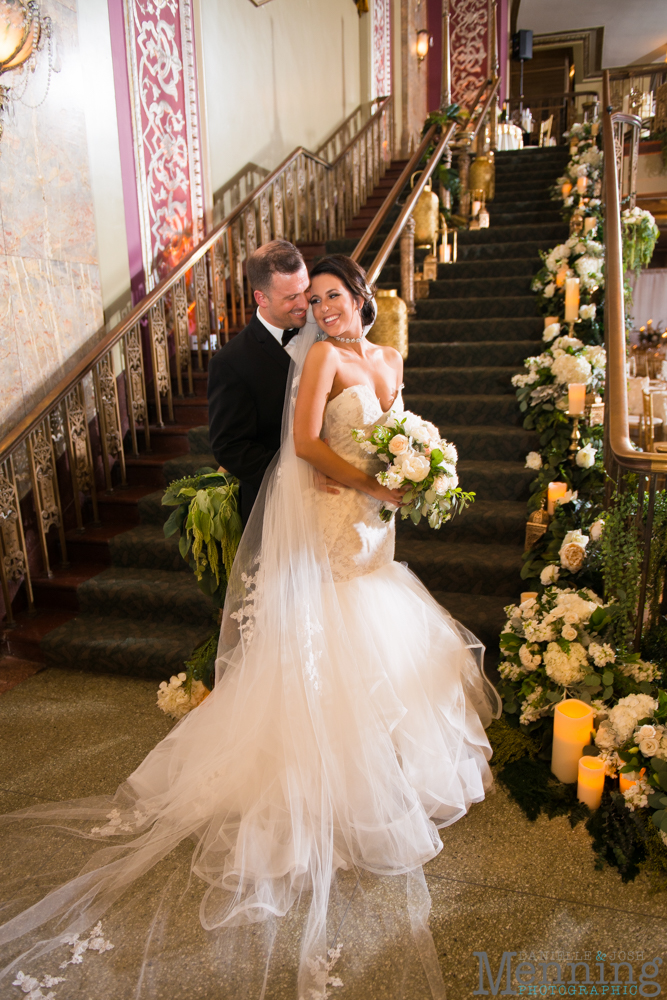 Their smiles! I love it!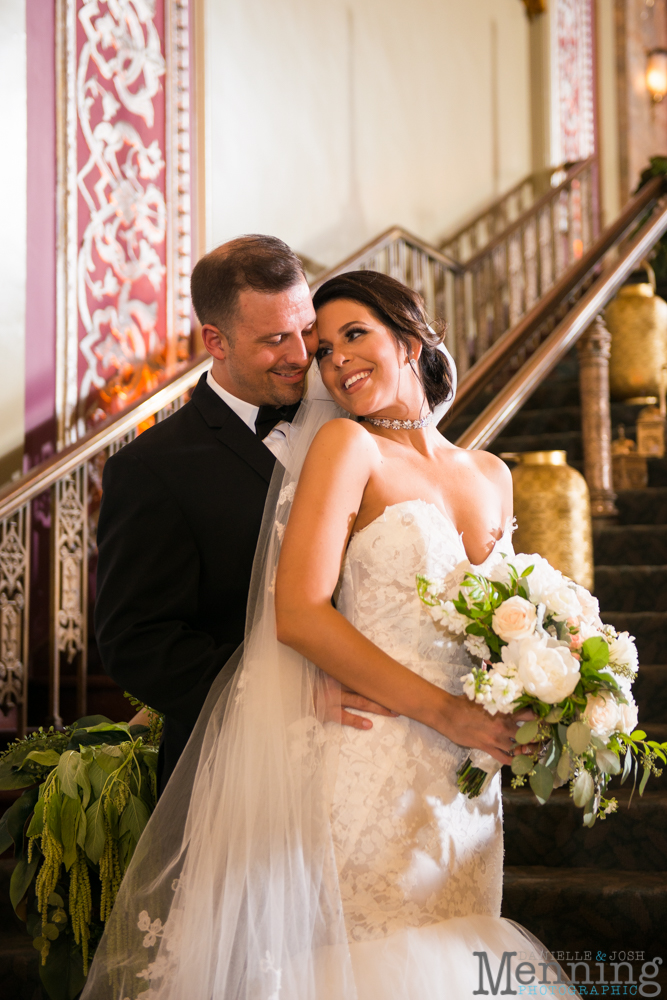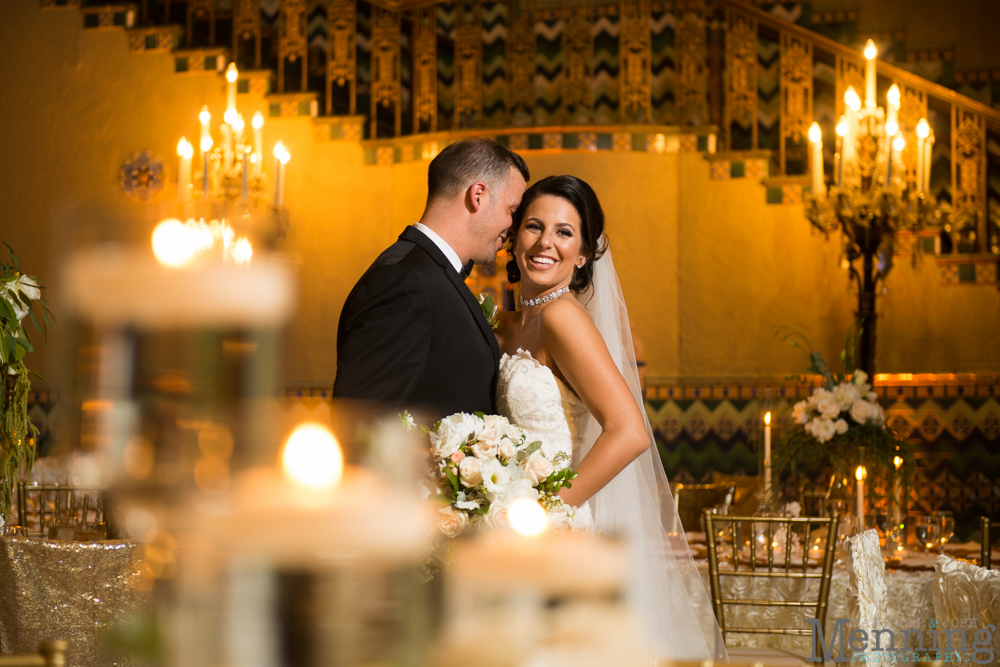 They belong together & this venue suited their style perfectly. . . I know I already said it, but it was such a fairytale!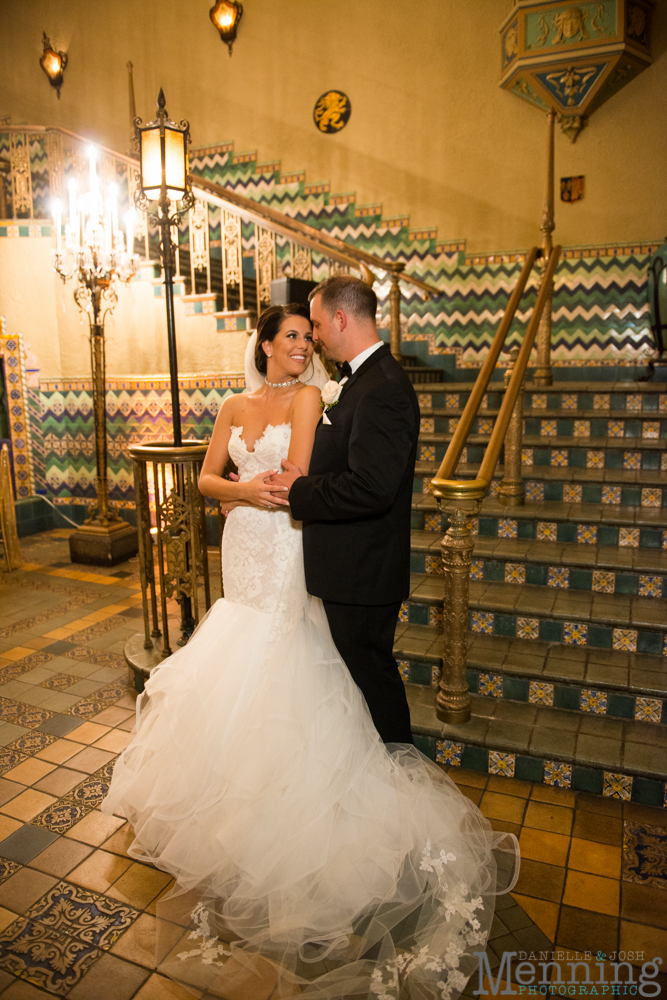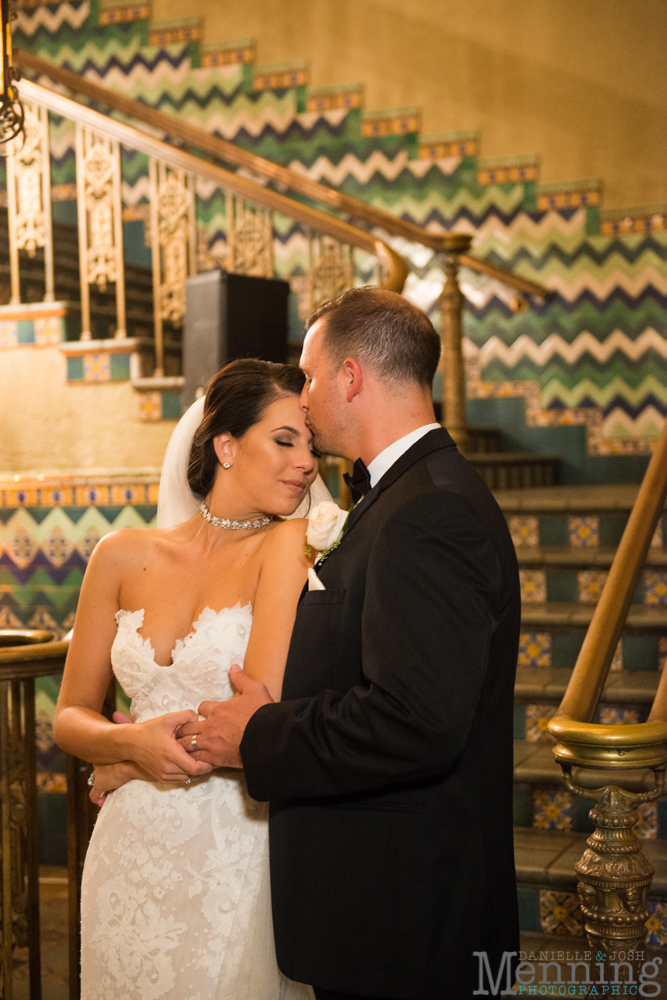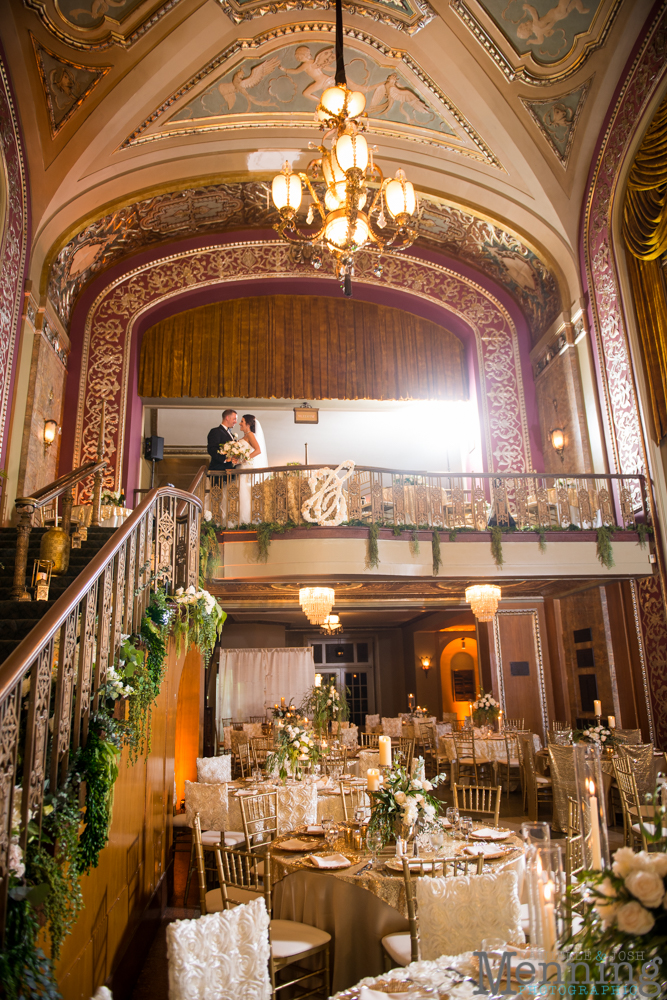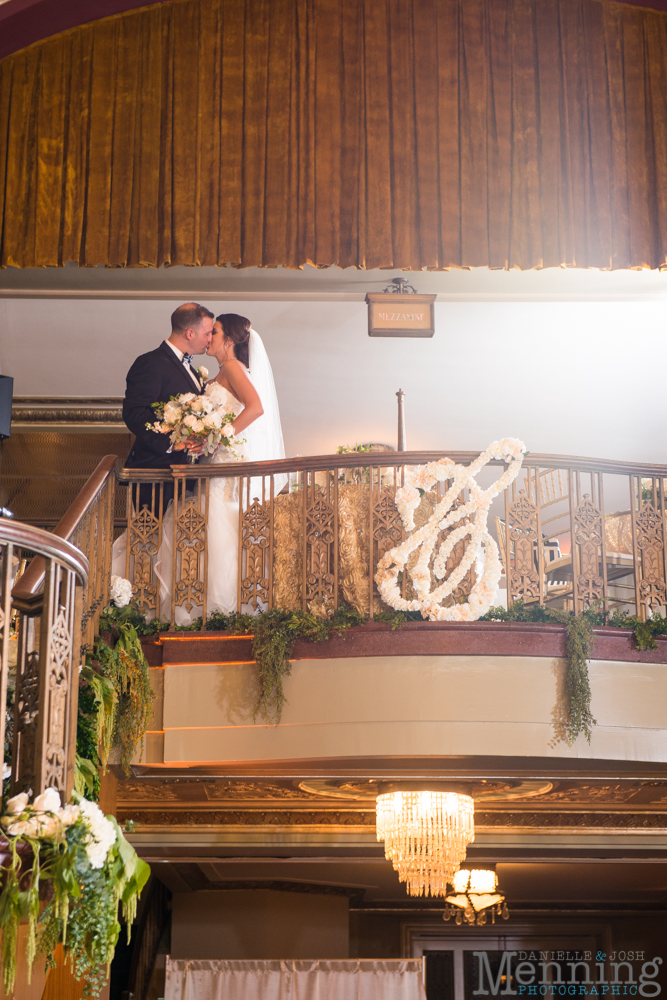 Then it was time for DJ Brian Price to introduce the bridal party & the new Mr. & Mrs.! They all made their grand entrance down the iconic staircase.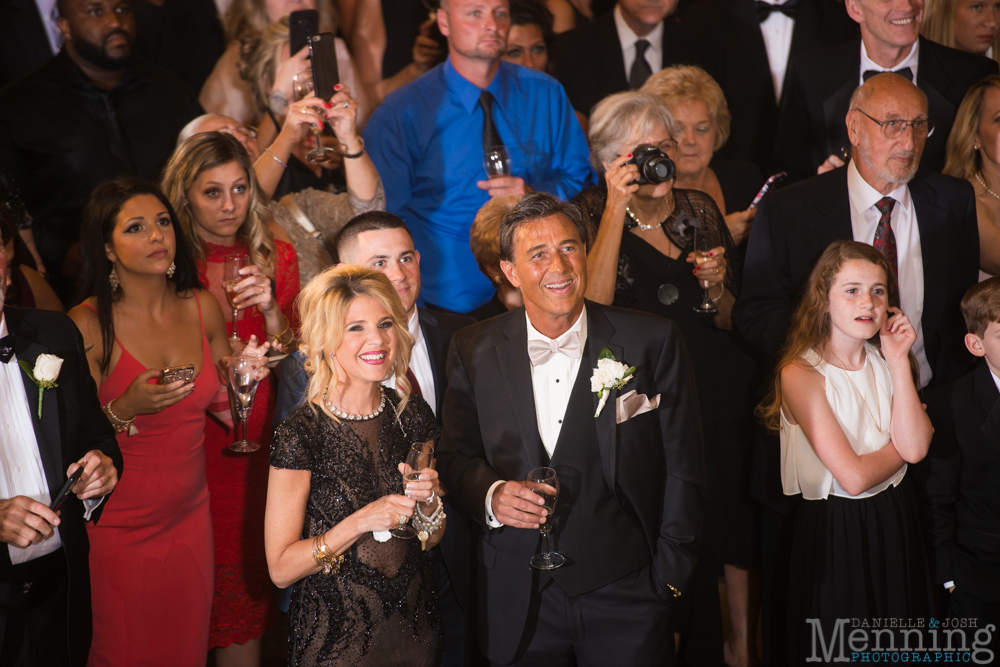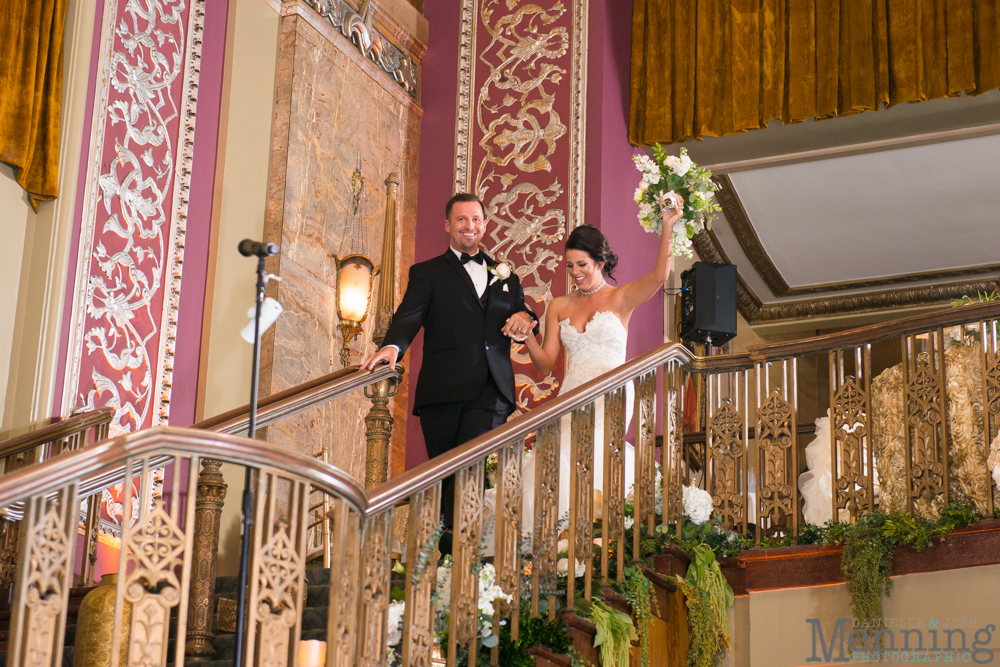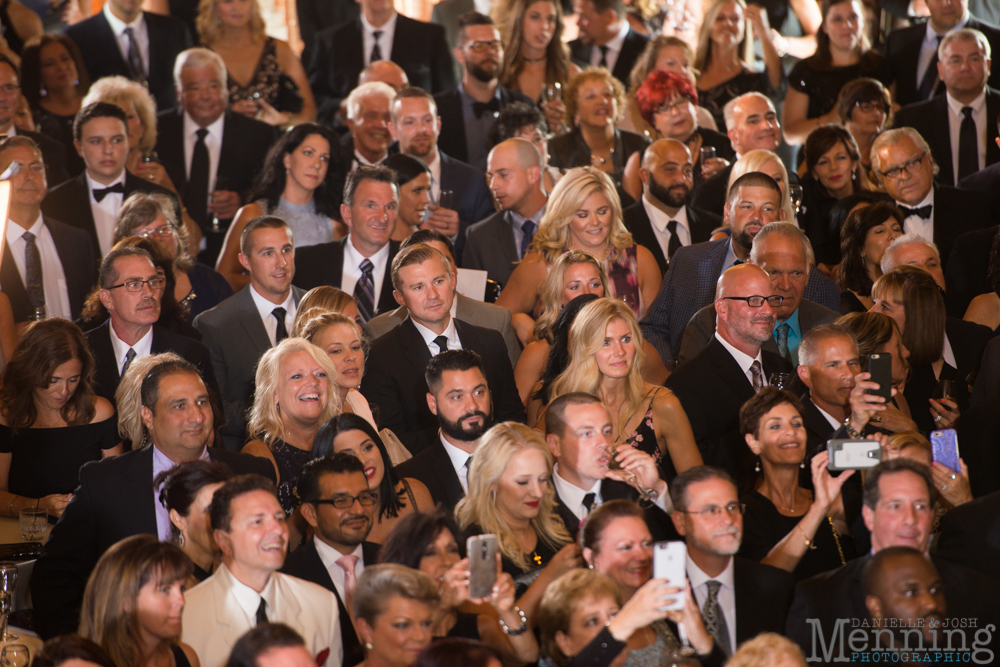 Alyvia's father's welcome toast was so touching. As a mom to a little girl who sees how our daughter adores her daddy (and a daughter to my own amazing dad), it really got me straight in the feels. I saw so many people wiping away tears even though he claims he's not a skilled public speaker. It was perfect.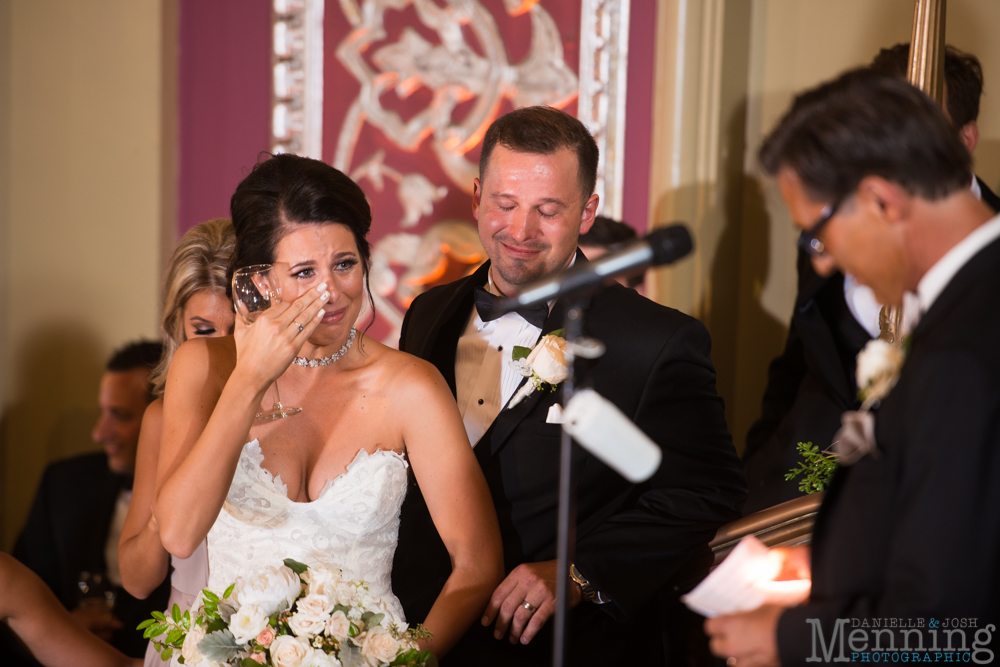 And now I need to warn you that there are a TON of photos of the dessert ROOM, yes, room. I was kind of extremely obsessed. You know our love for the Youngstown Cookie Table. Well, this wedding went beyond. There was an entire room dedicated to sweets. It was, no exaggeration, what dreams are made of. Move over, Willy Wonka! You have been replaced.
The Social Studio (again) did a fabulous job! They transformed the cocktail hour room into a dessert room so quickly. And it was jaw-dropping!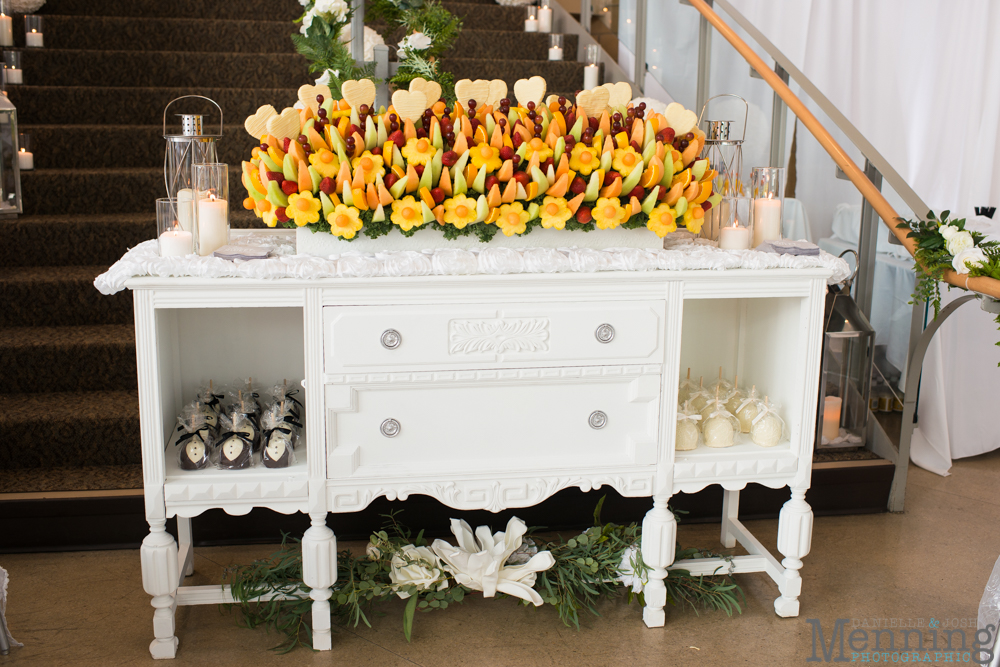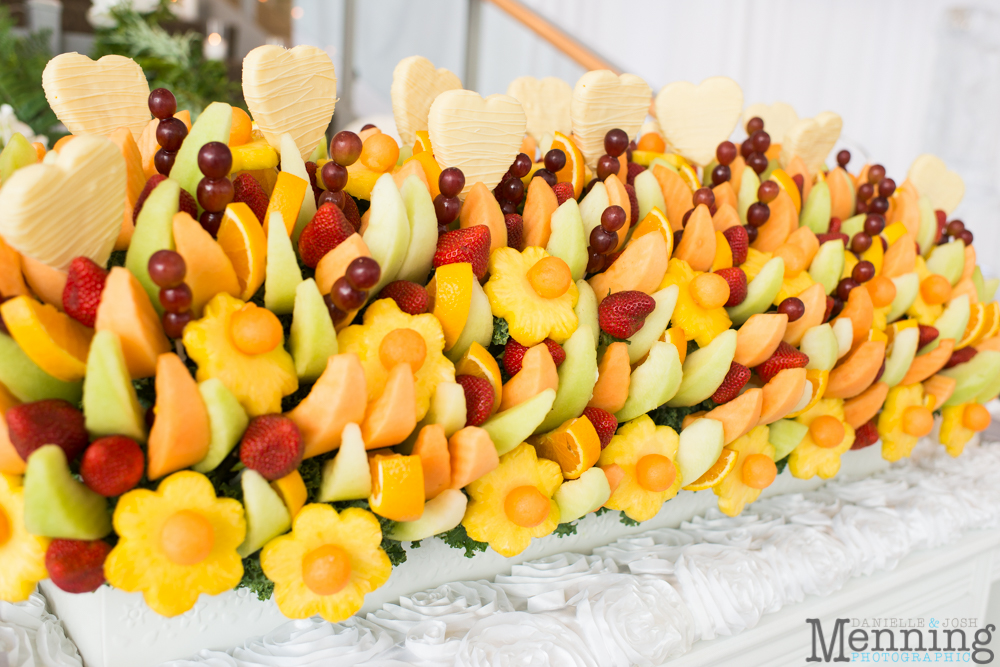 I loved this cozy little nook with white furniture!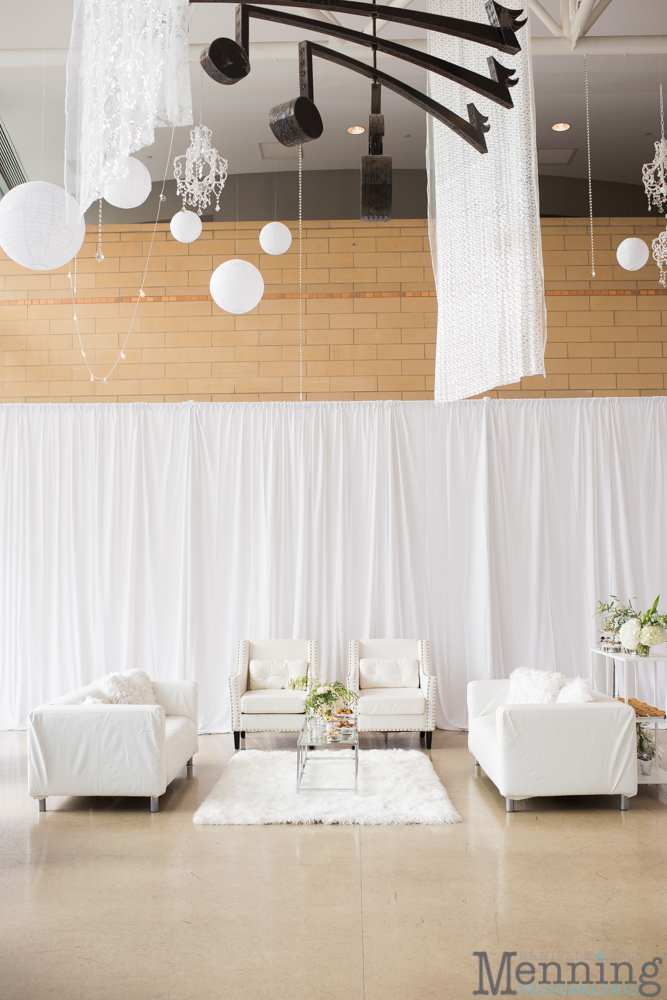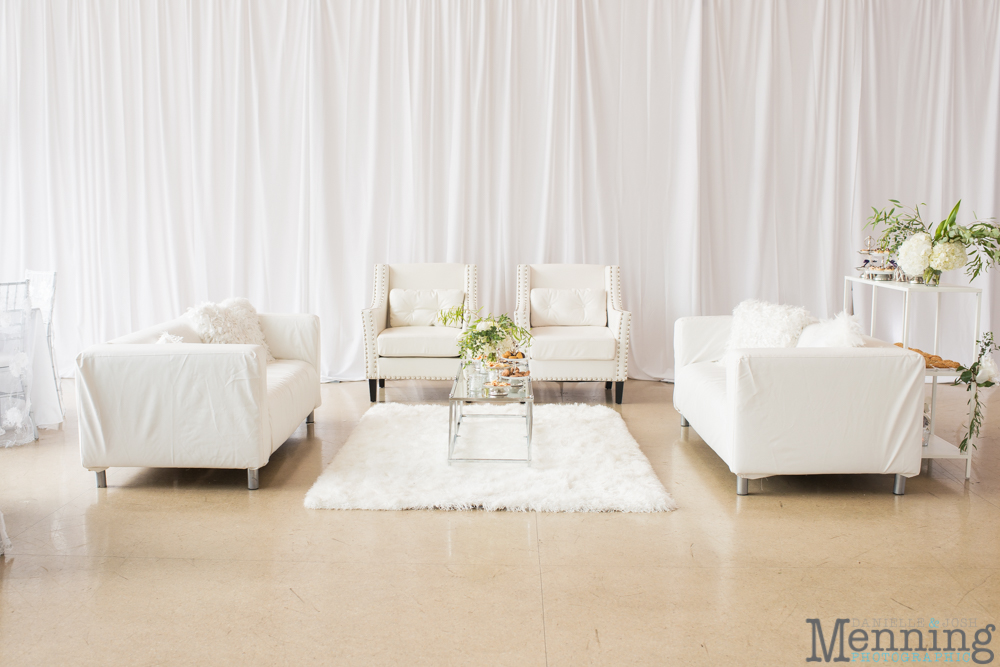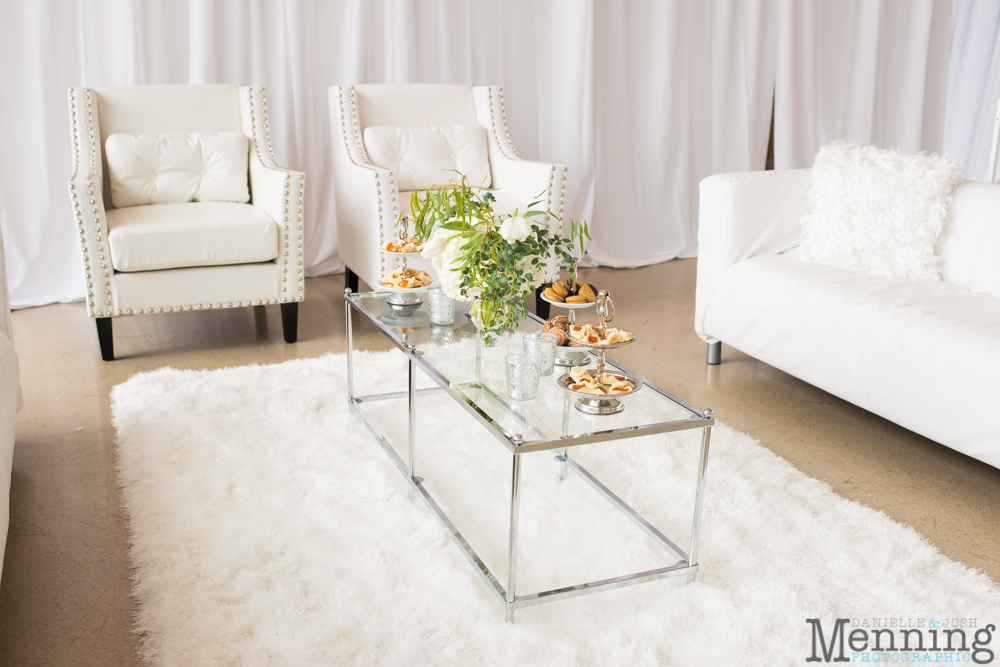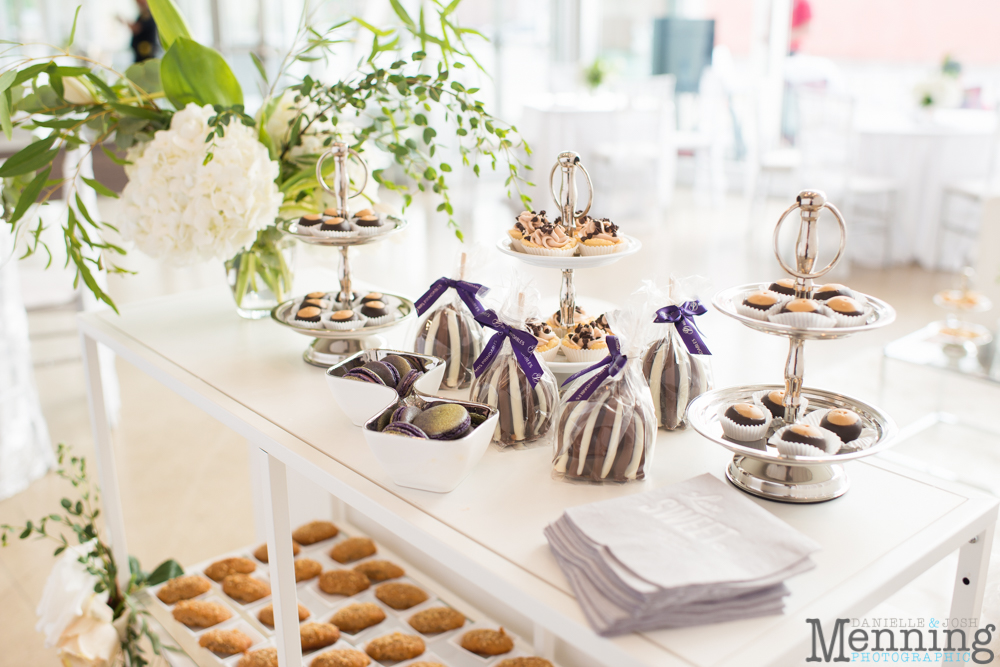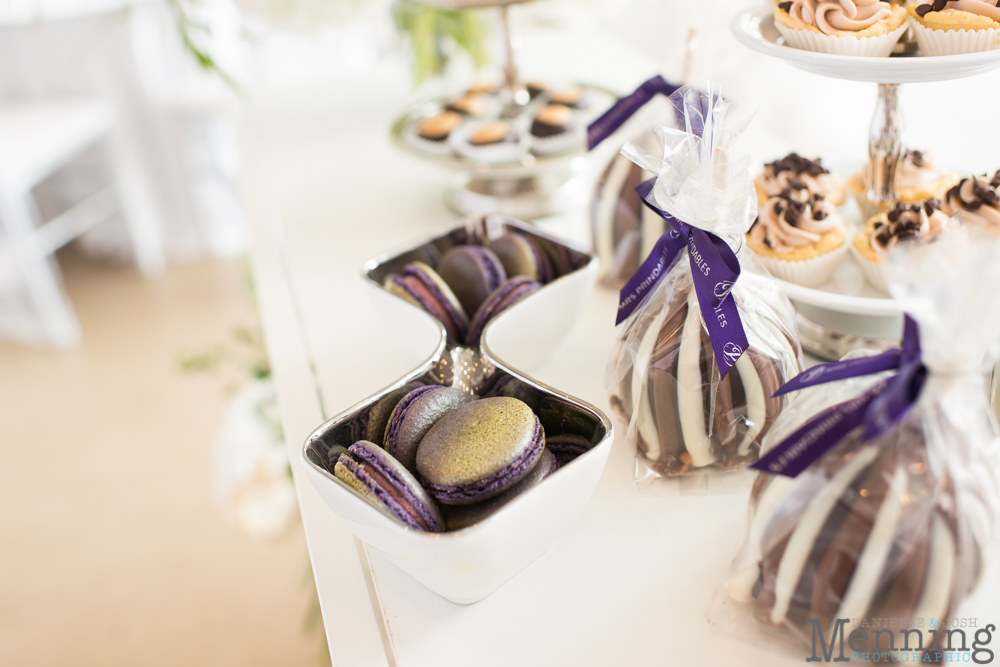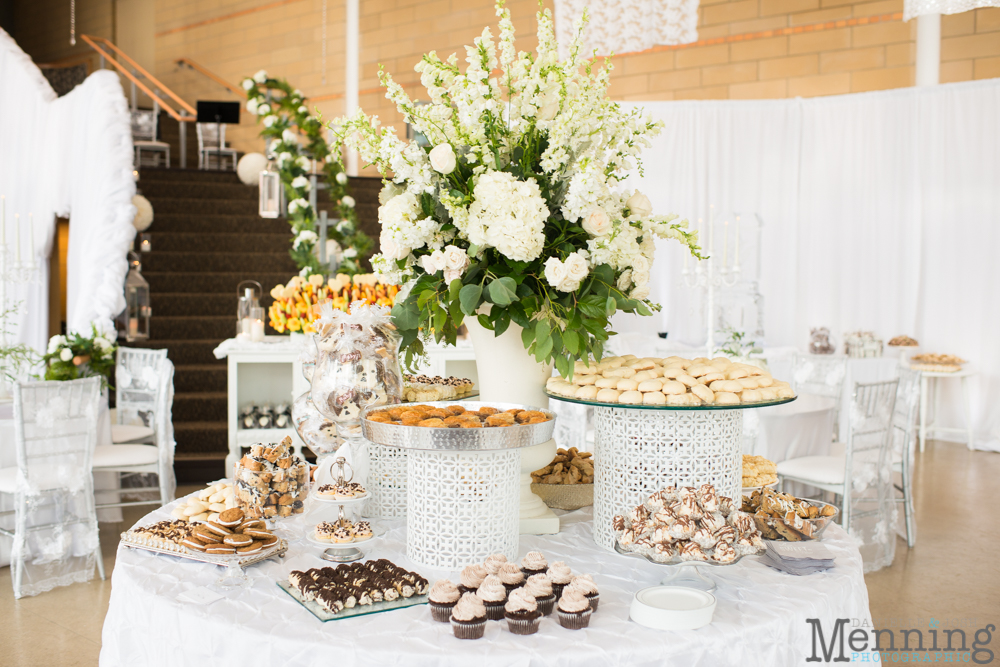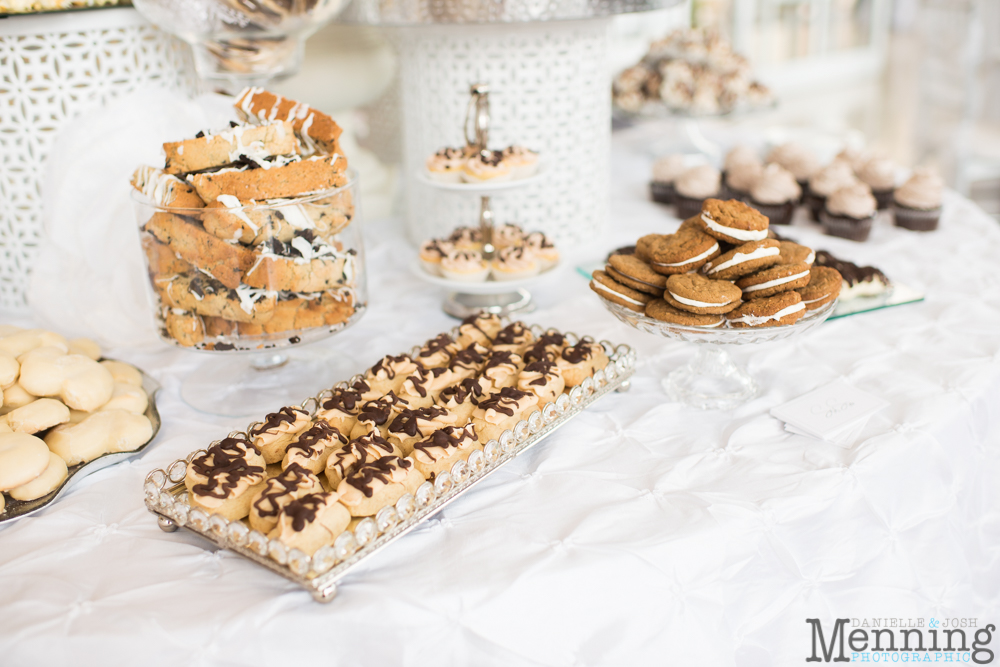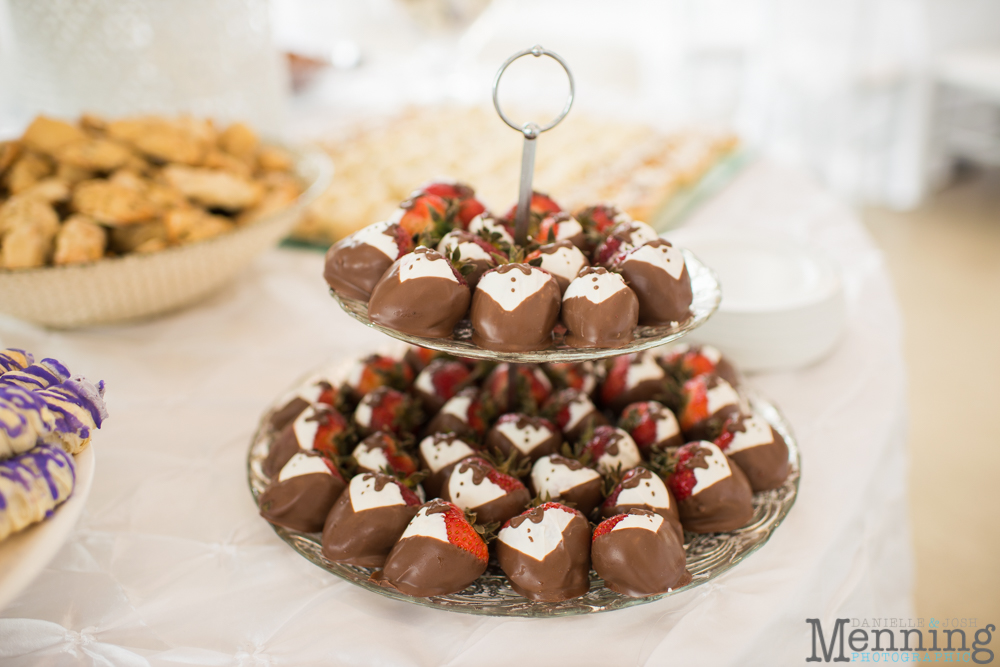 An entire table of cannoli. *Sigh.*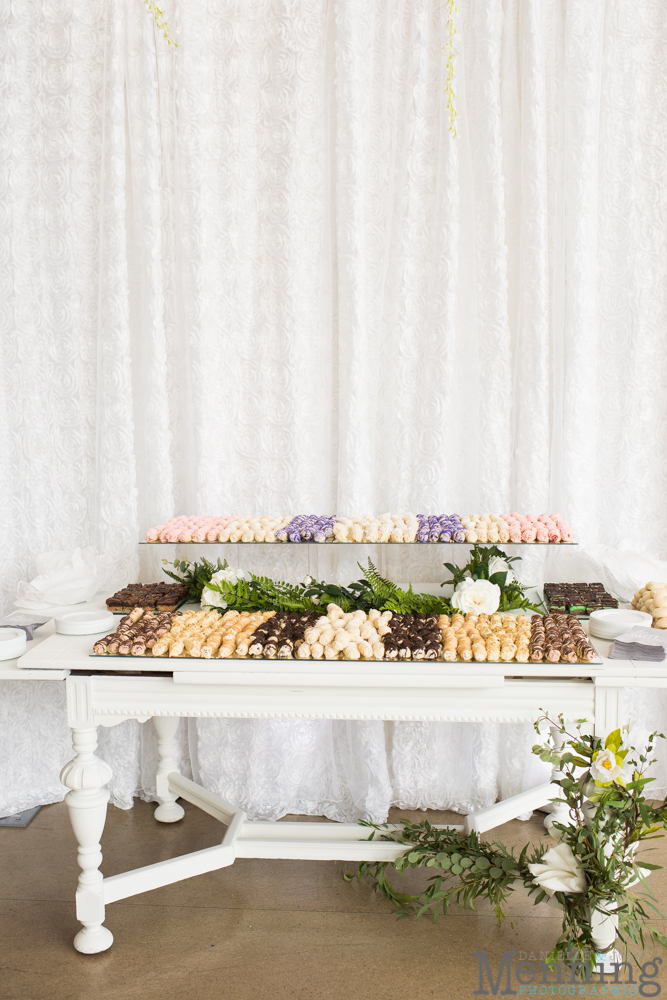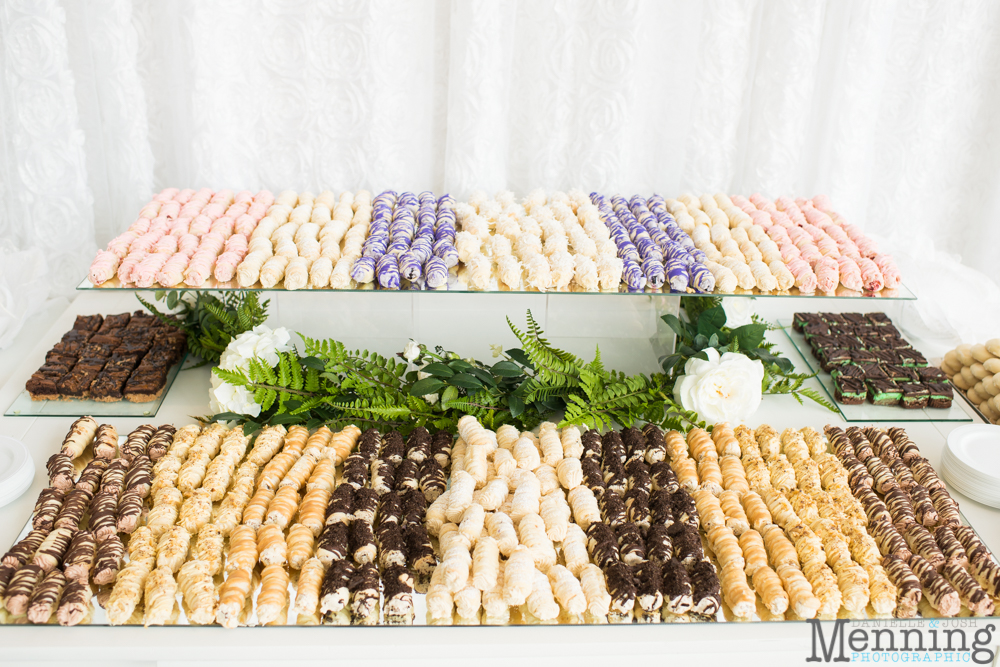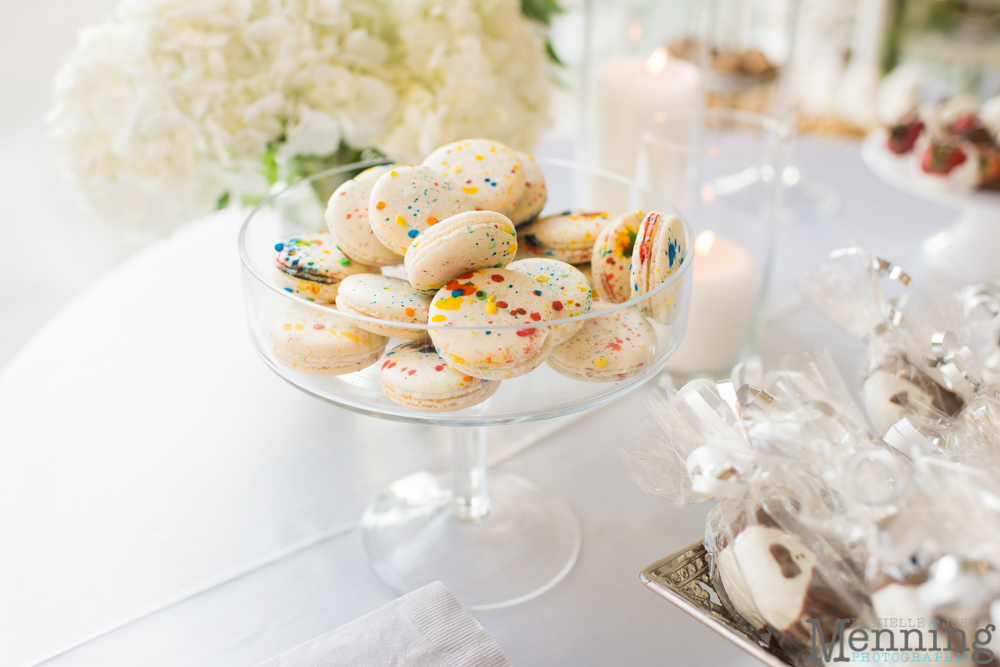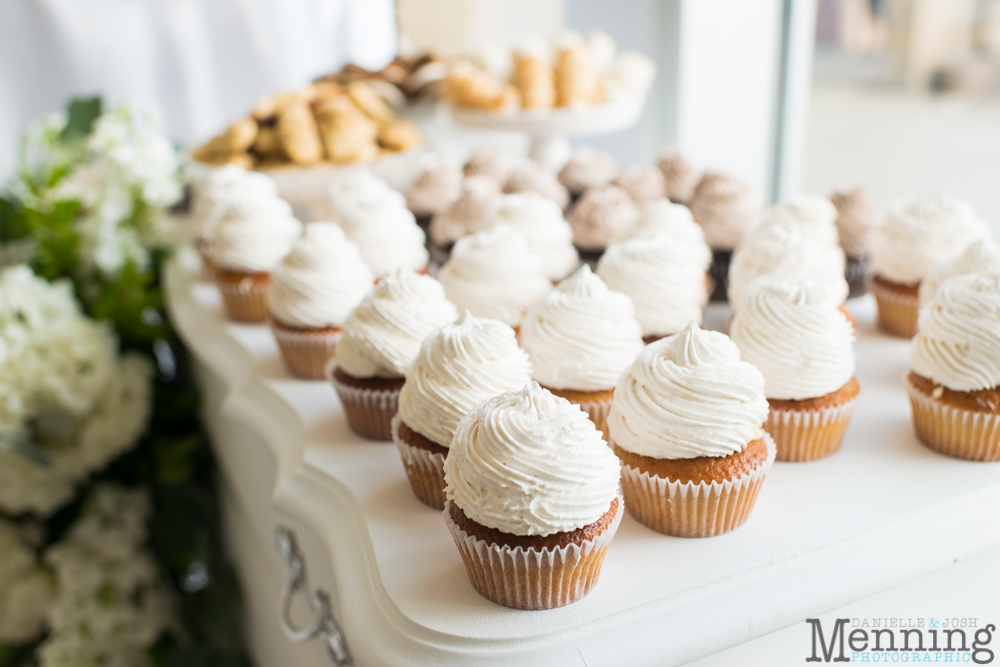 There was even a Dunkin' Donuts station with friendly assistants to make you a drink.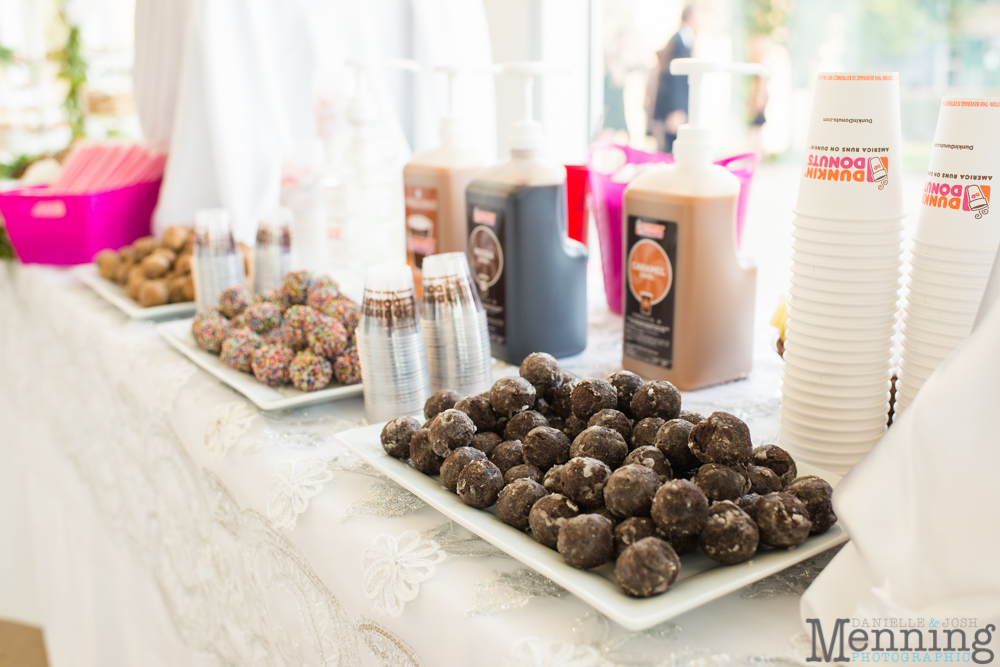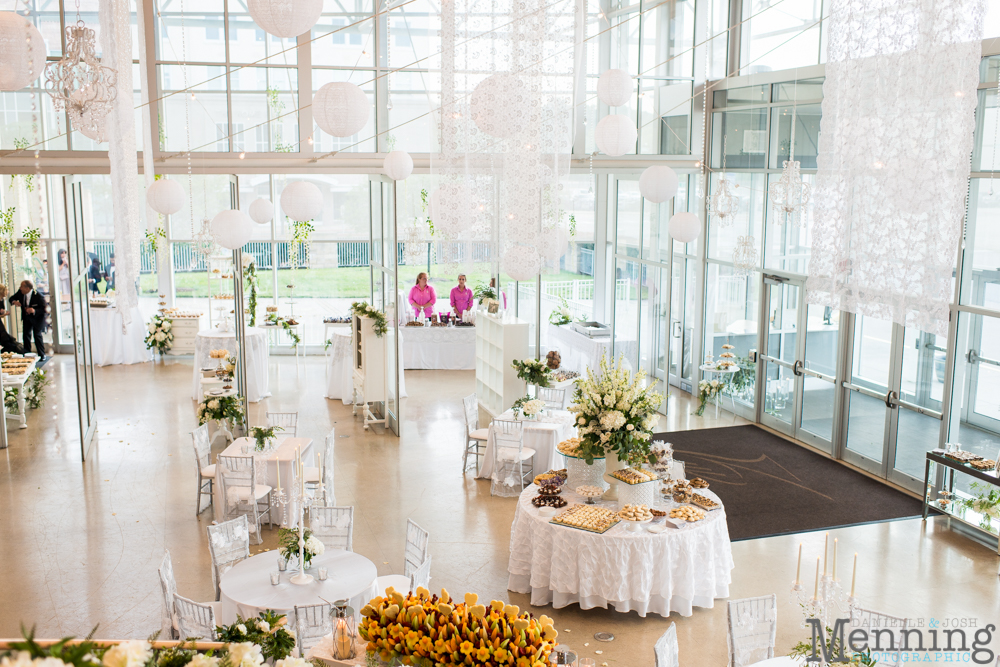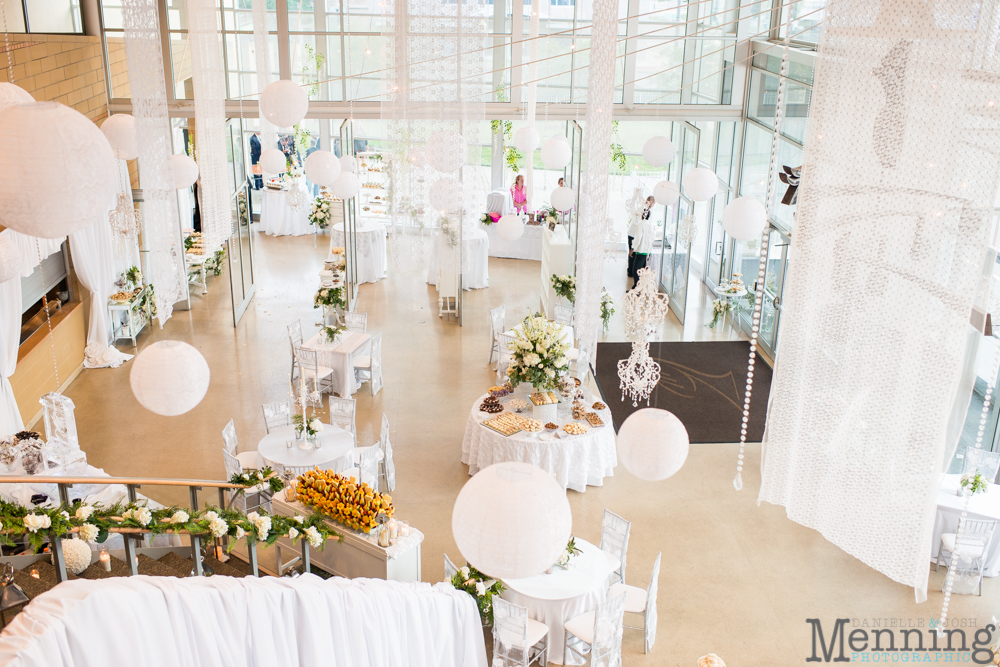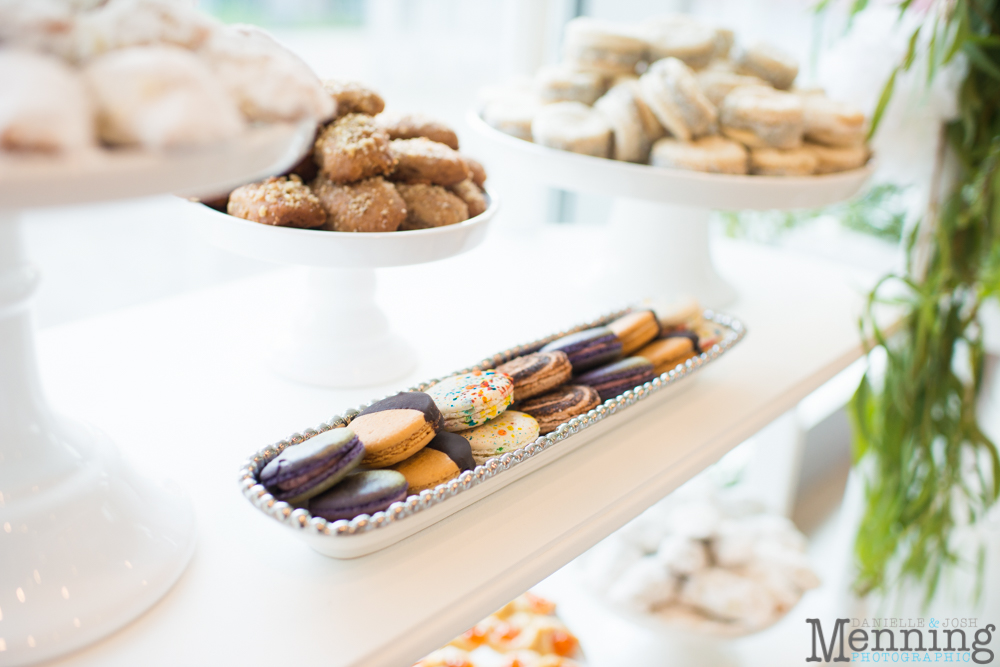 The adorable bulldogs, Ruby & Stan were well-represented.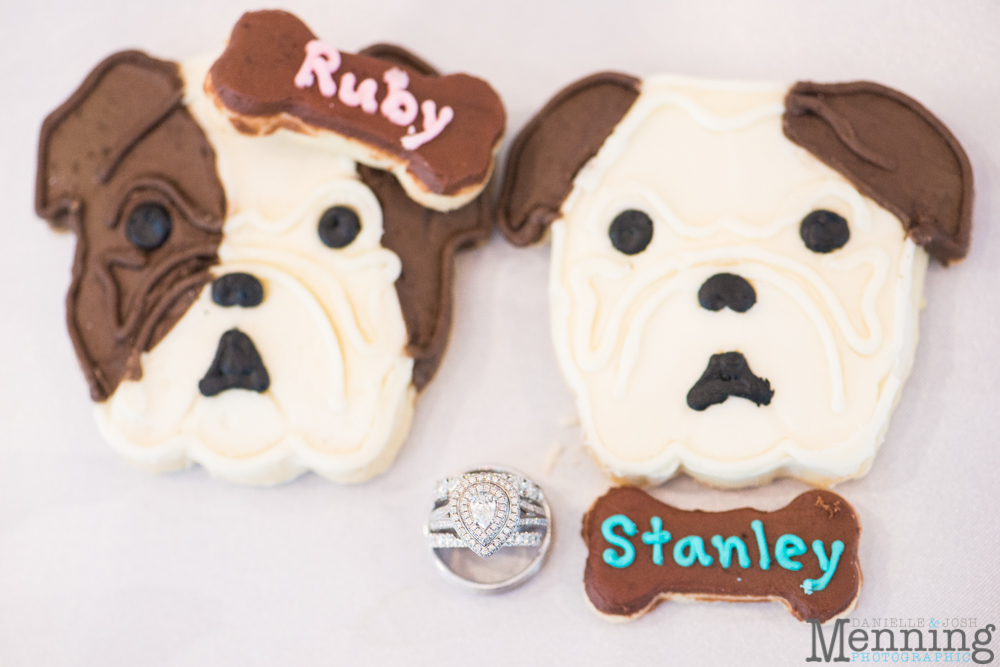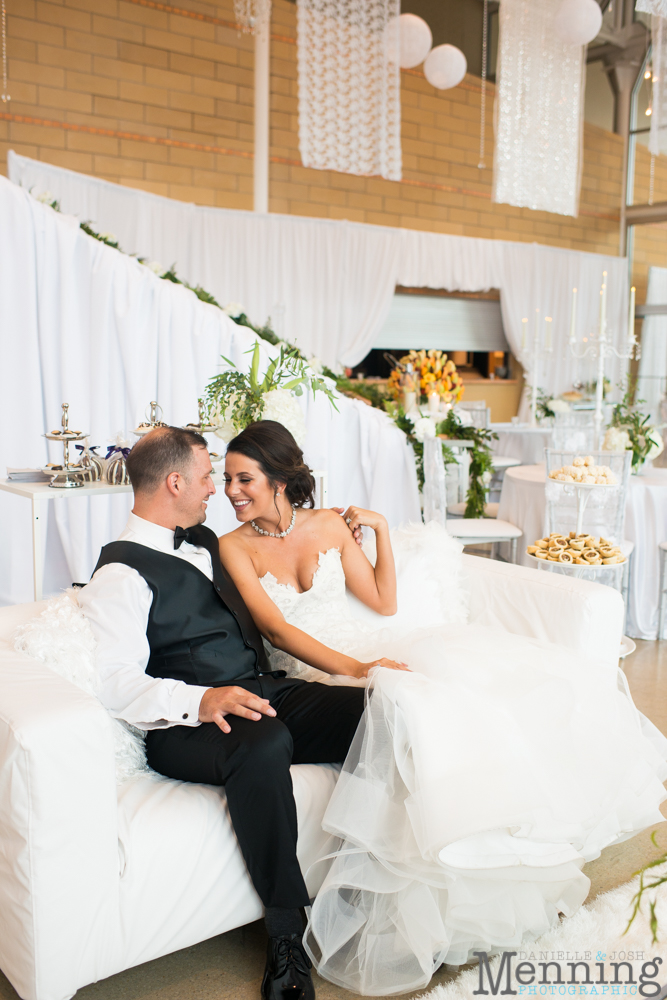 Gianna's toast was super sweet; she & Alyvia have such a special sisterhood bond.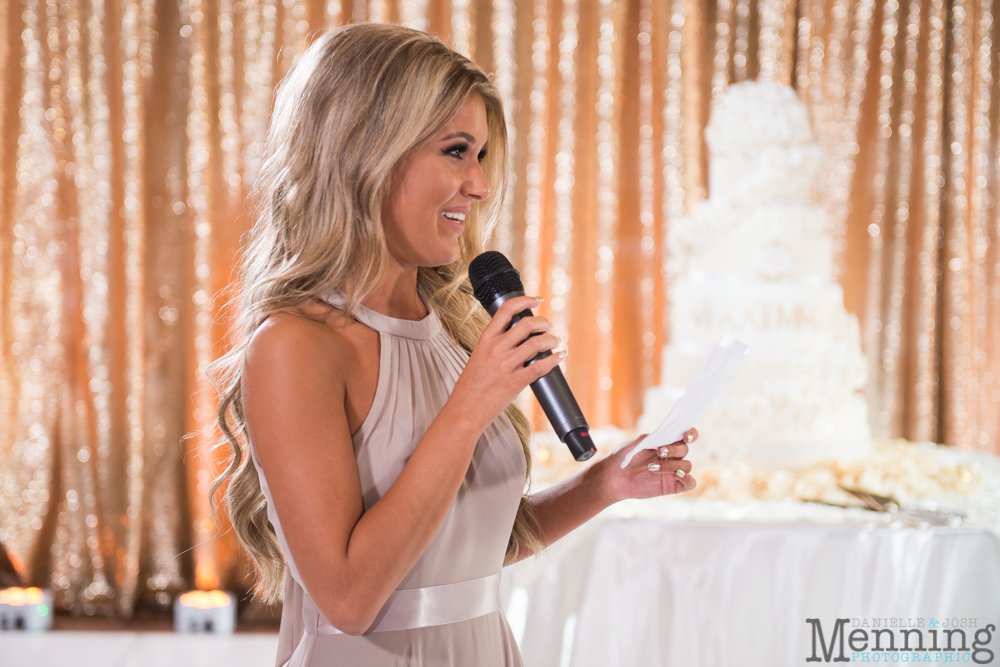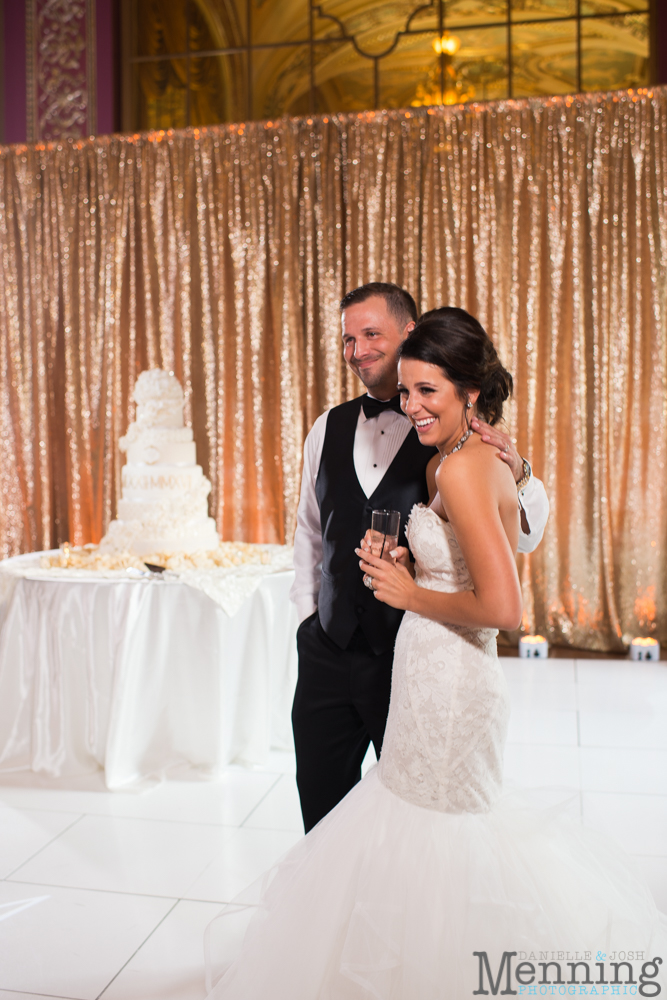 Gianna said she remembered many nights she sat up & talked for hours with Alyvia, but she remembers one night in particular really well. She said that Alyvia told her she just wanted to meet someone wonderful. The next night she met Josh.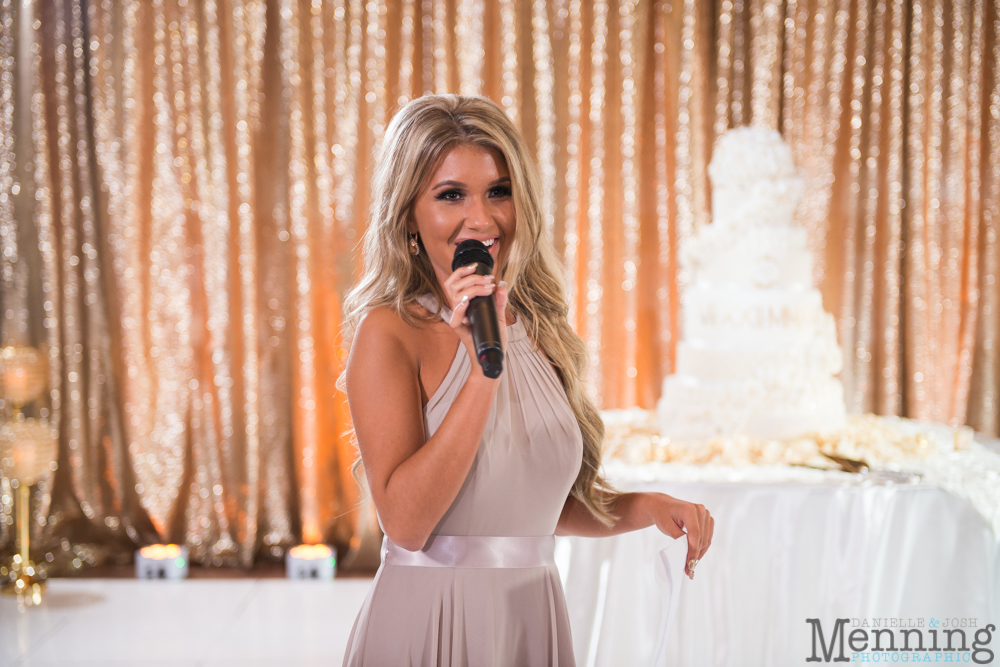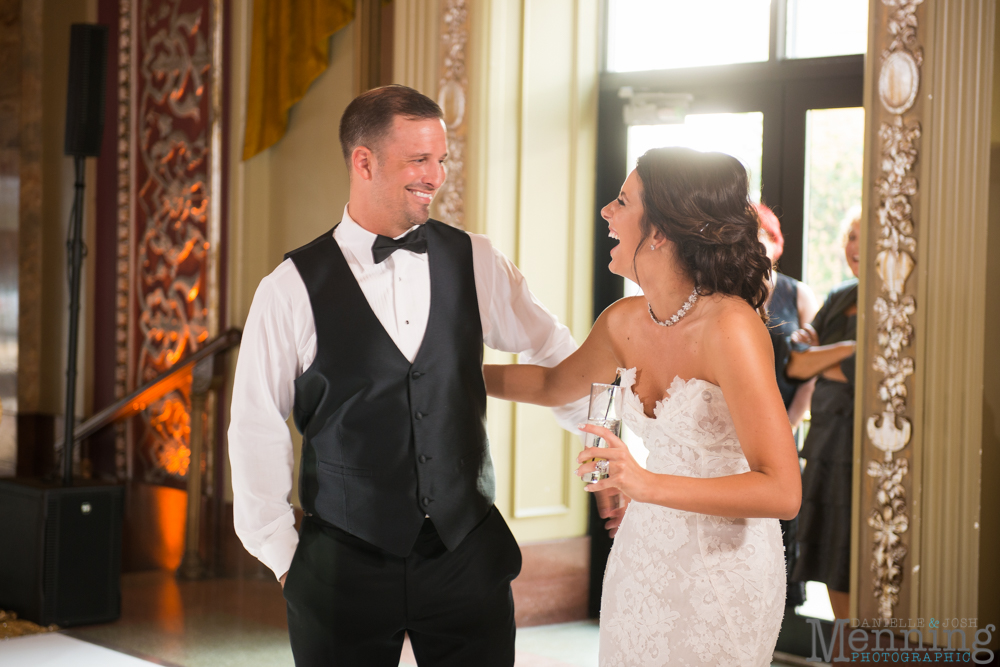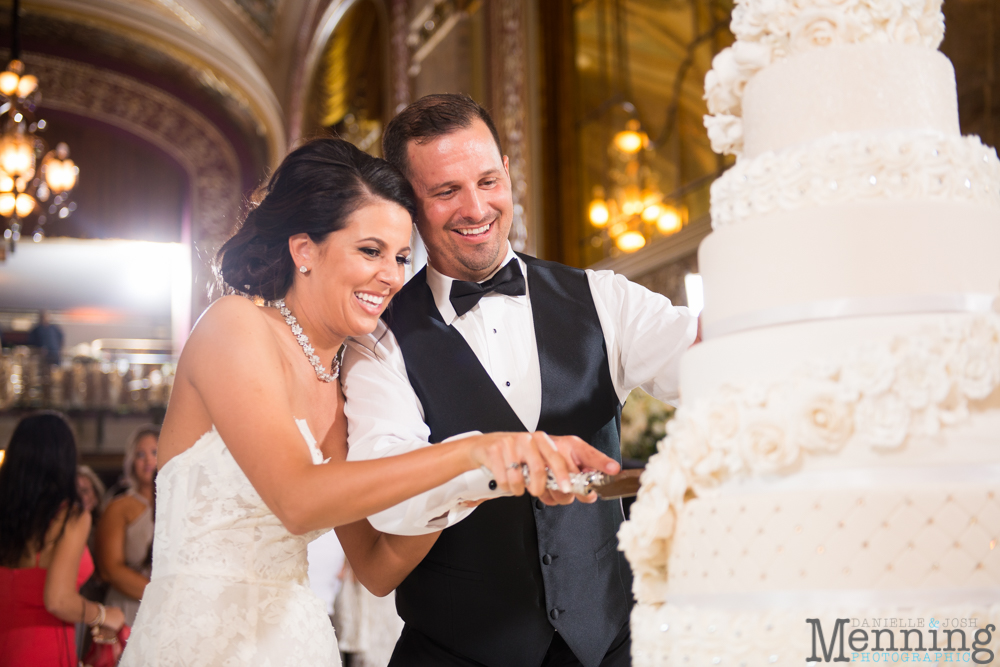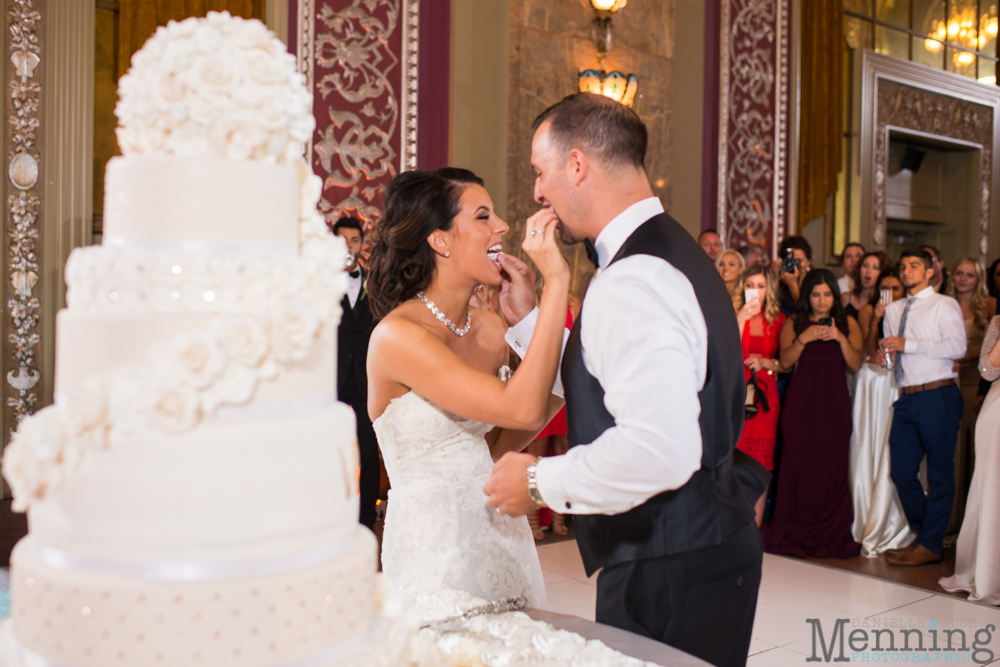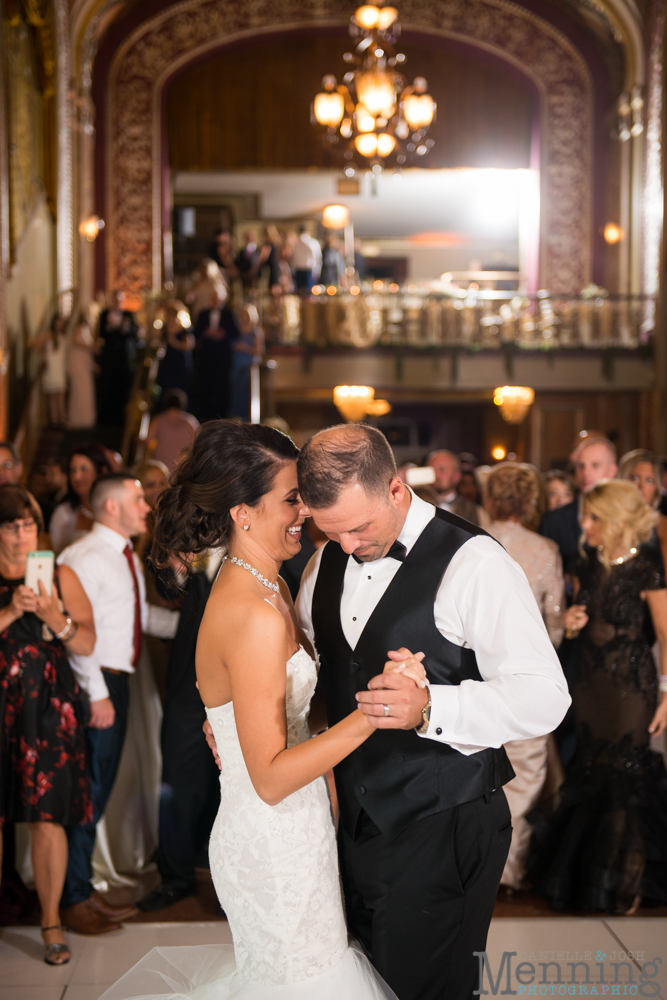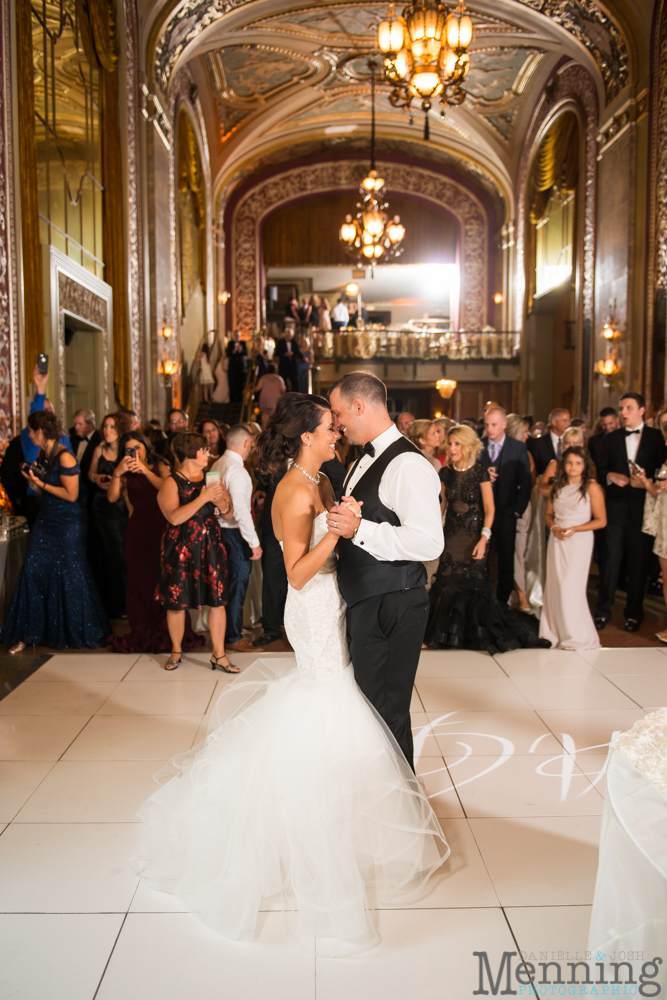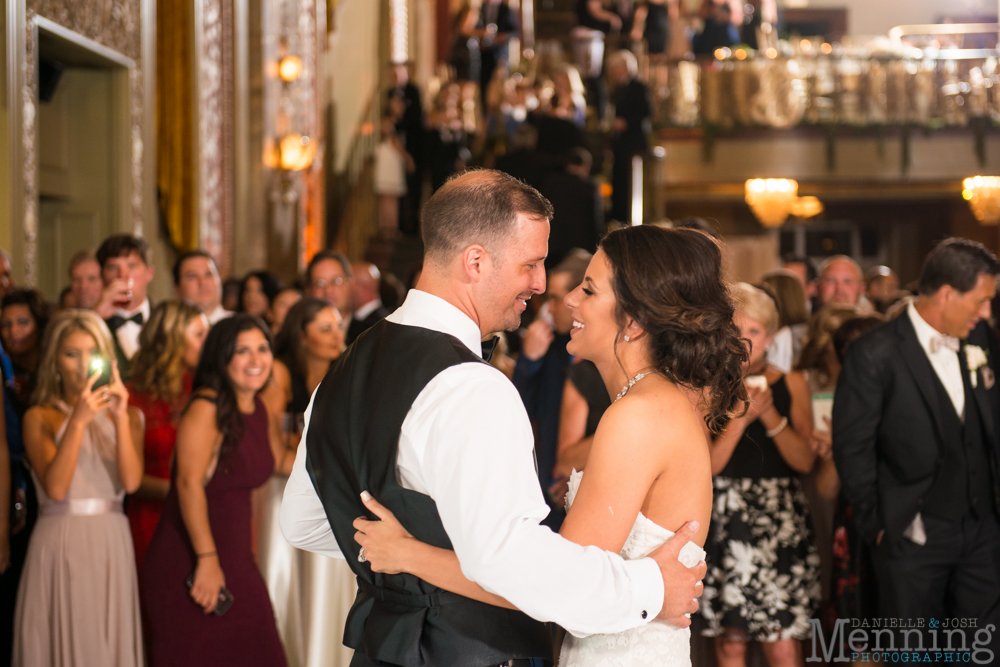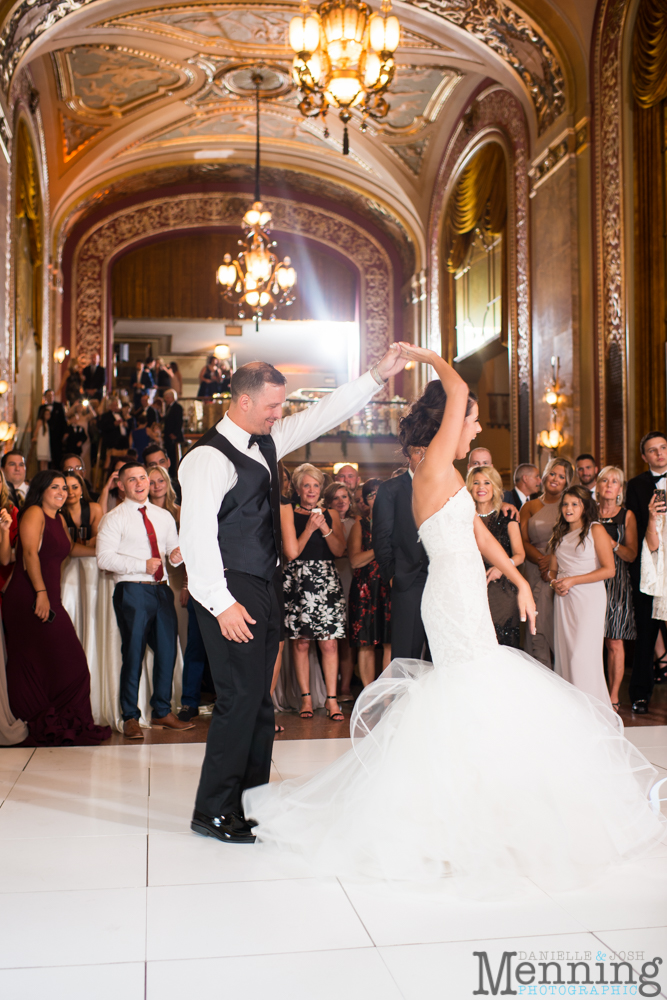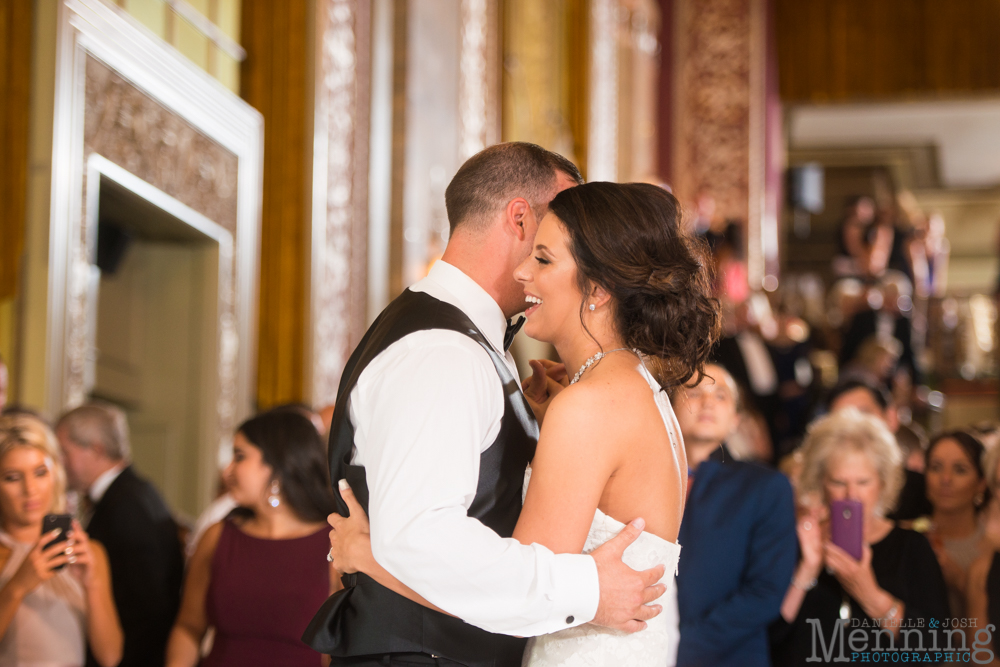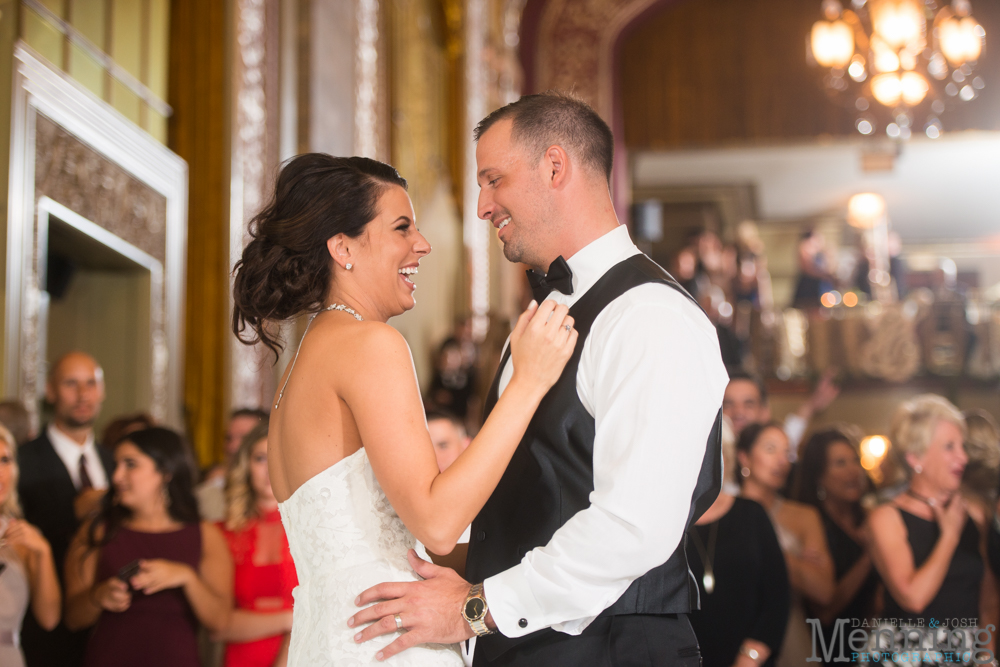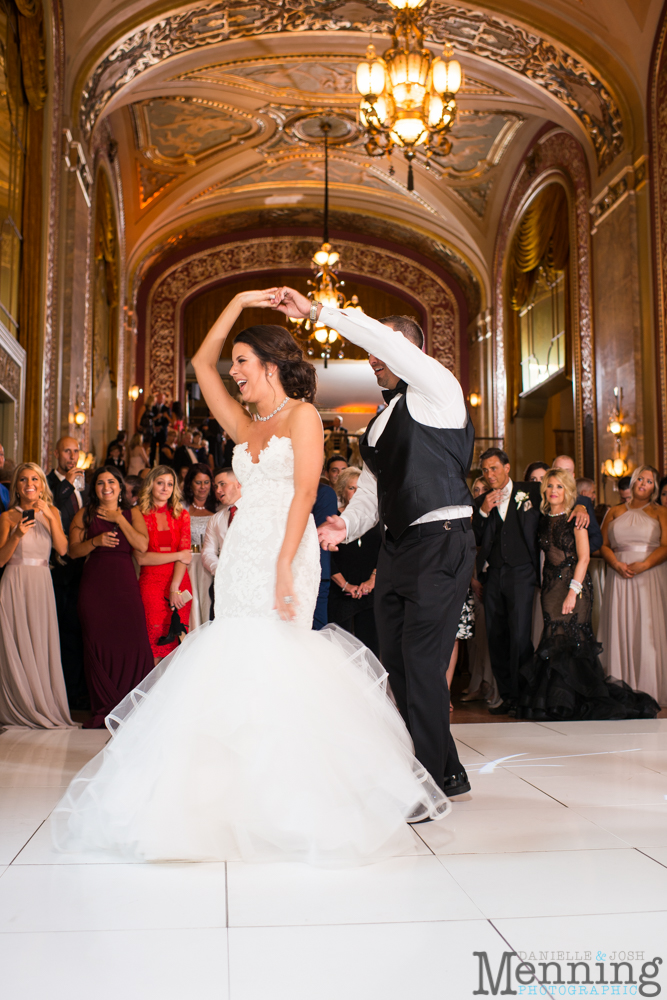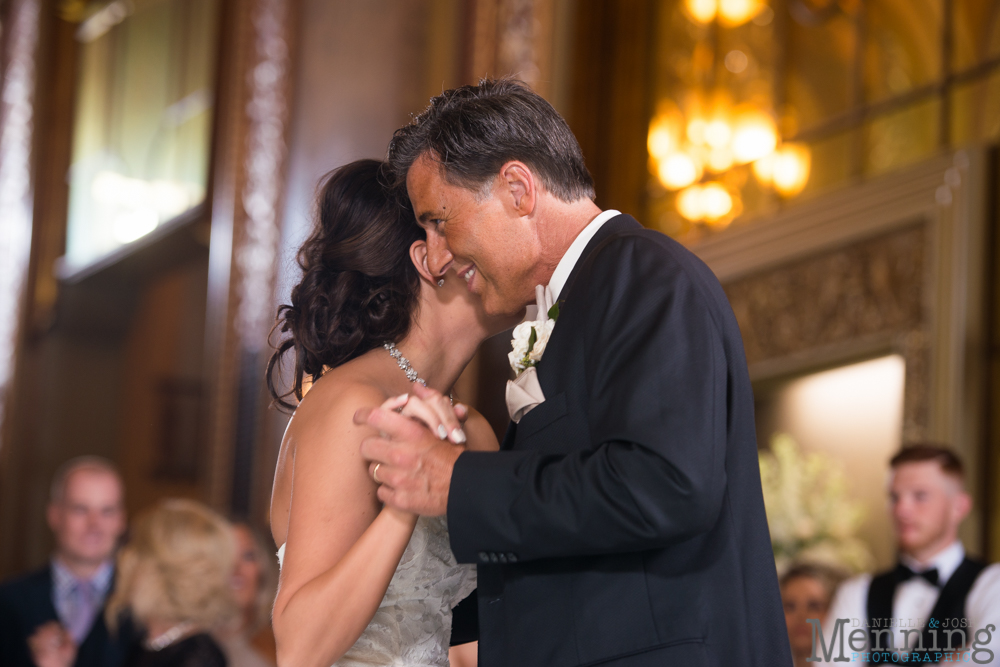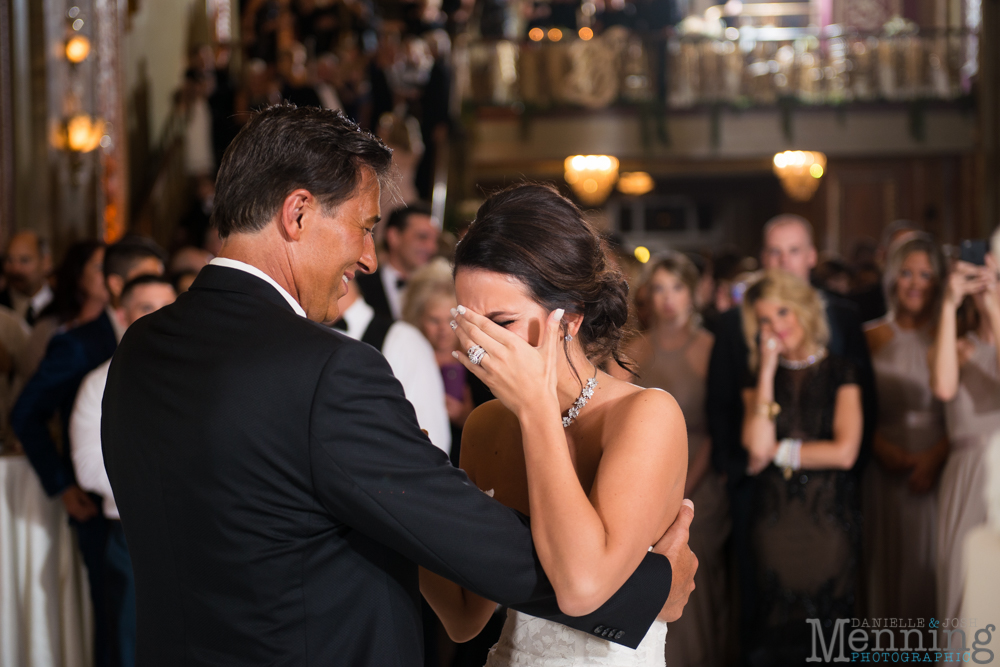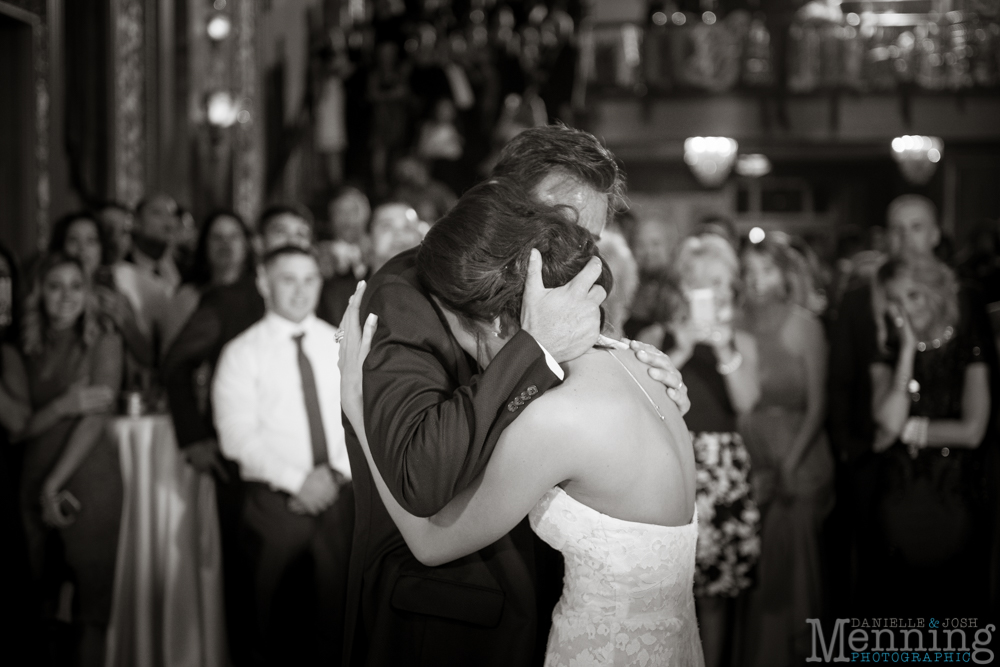 I loved how Alyvia's mom was adoringly looking on while her husband danced with their first daughter.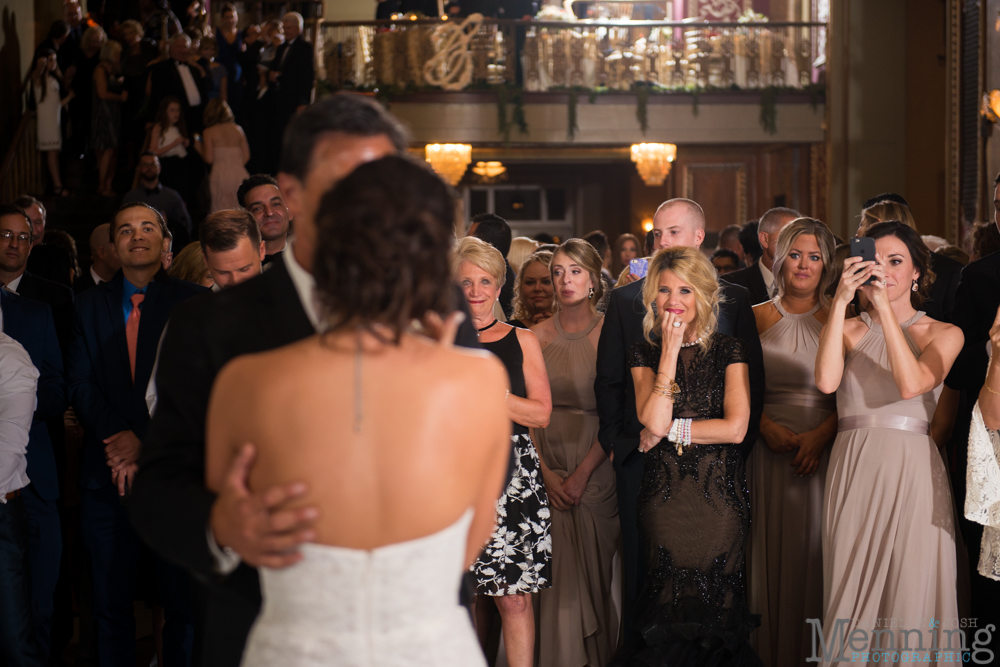 And then Alyvia & her dad surprised their whole family by bringing them onto the dance floor to finish out the song together as a family.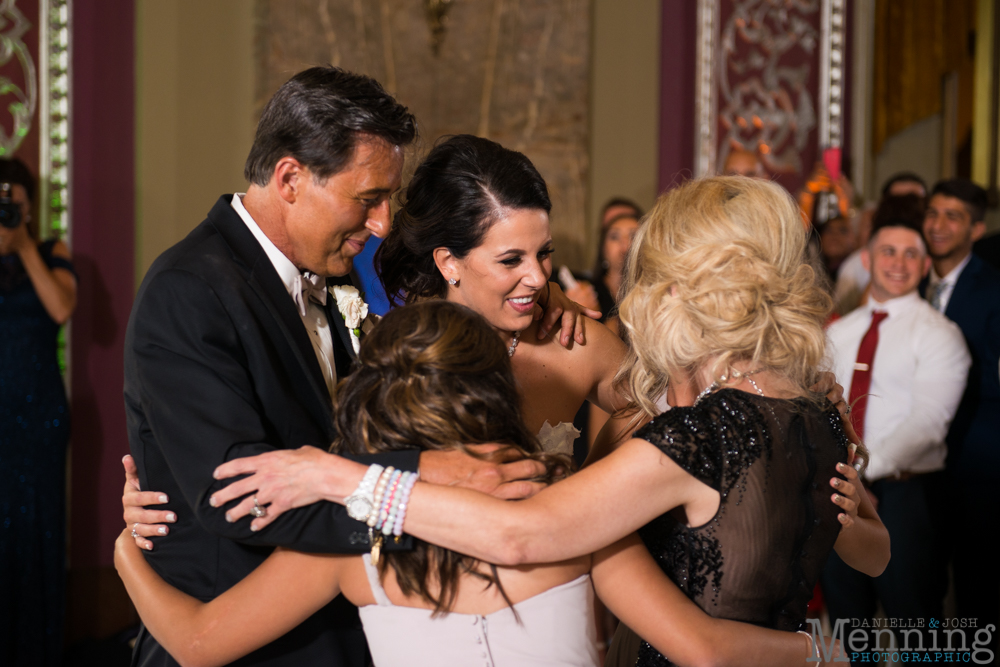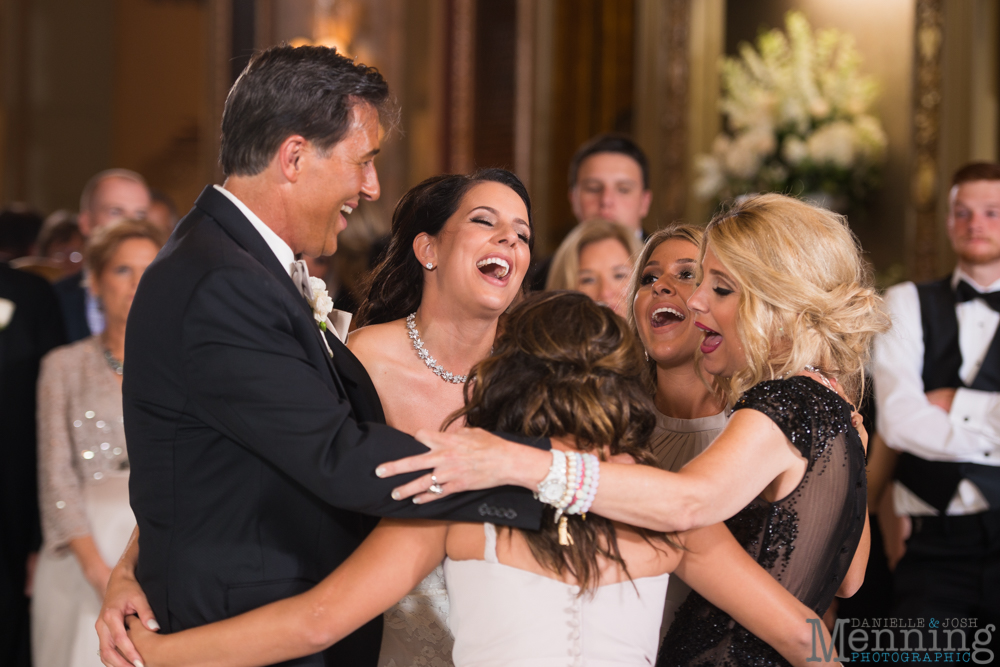 They are such an amazing & loving family.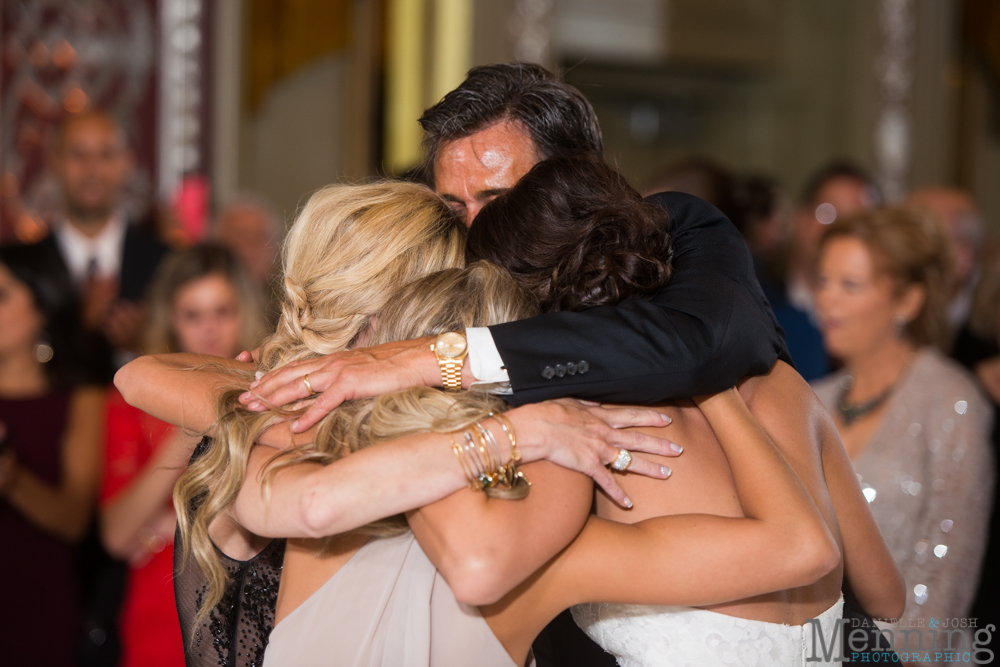 Josh & his mom were incredibly sweet together during the mother-son dance.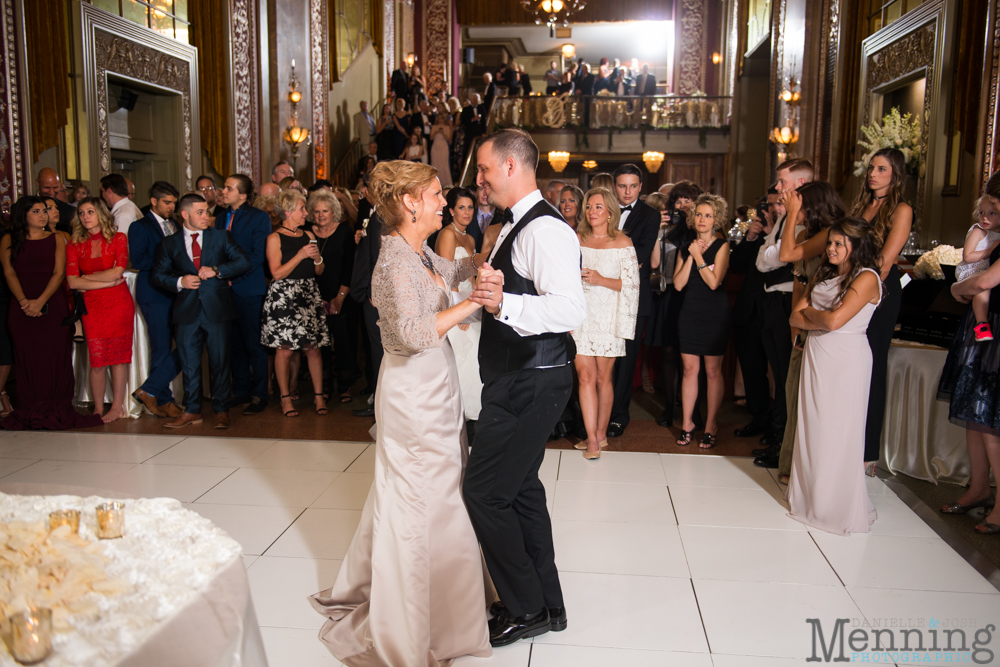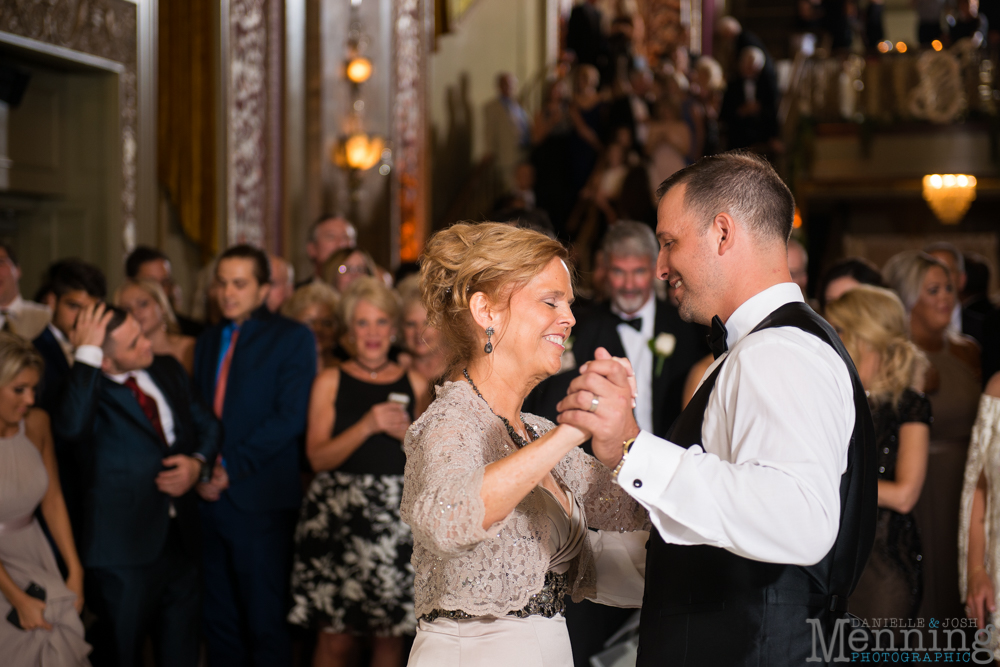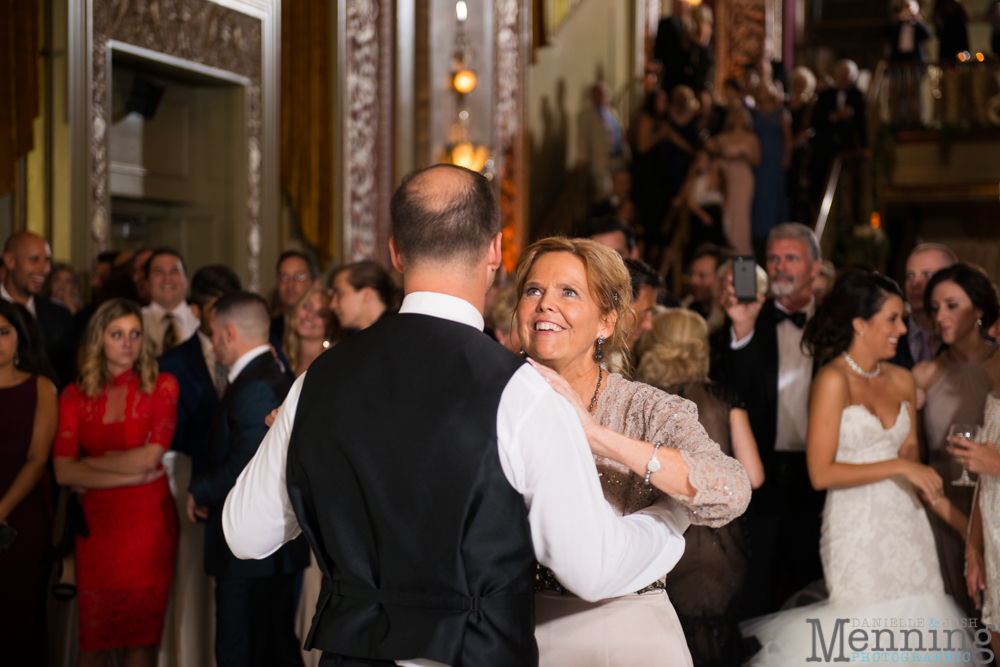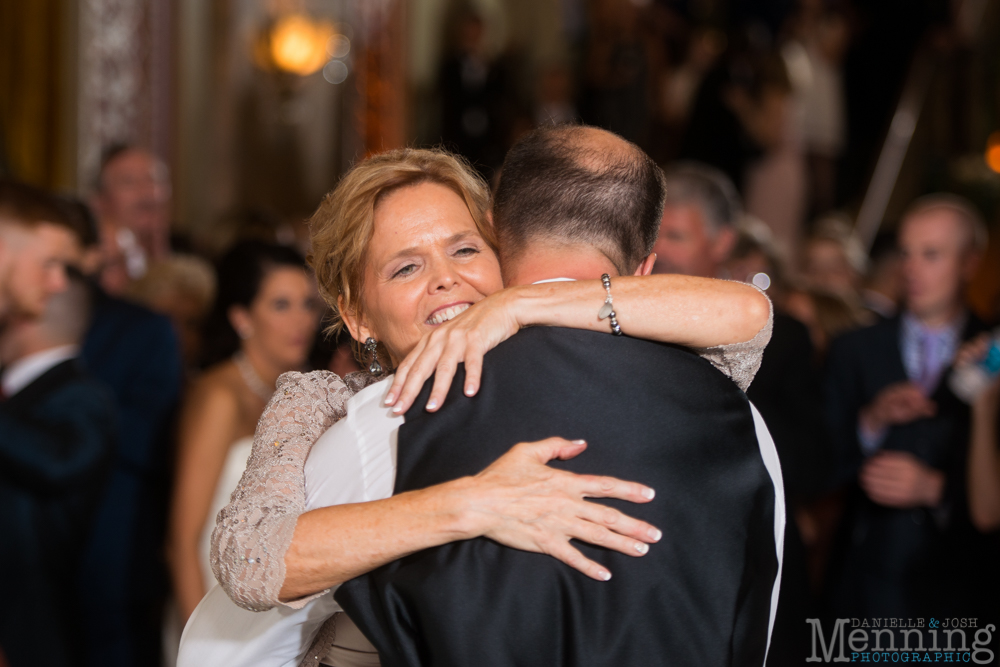 And Brian Price killed it, as always. He had the dance floor packed.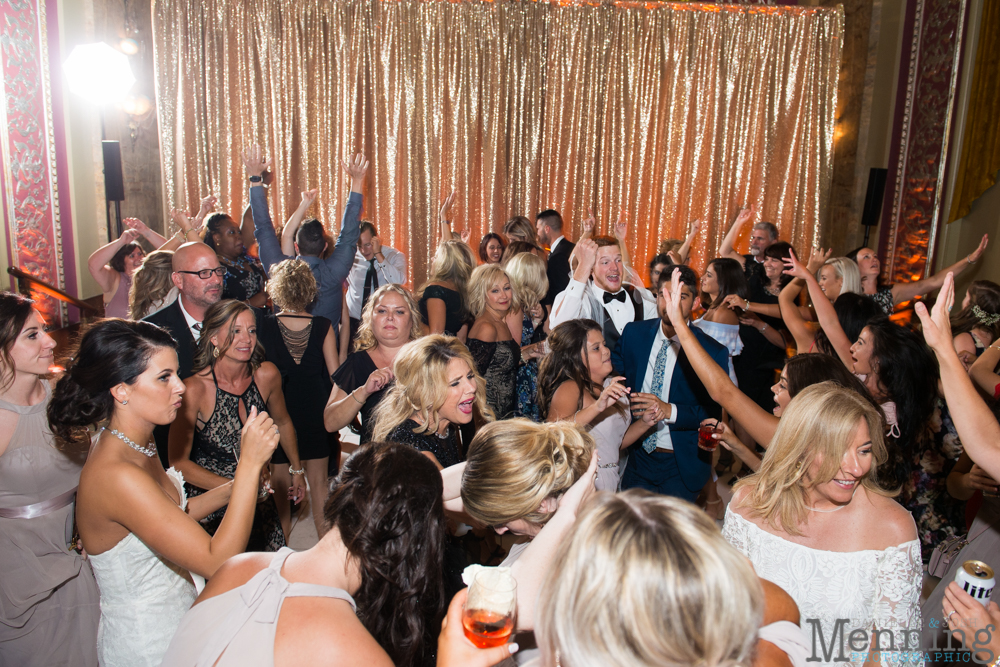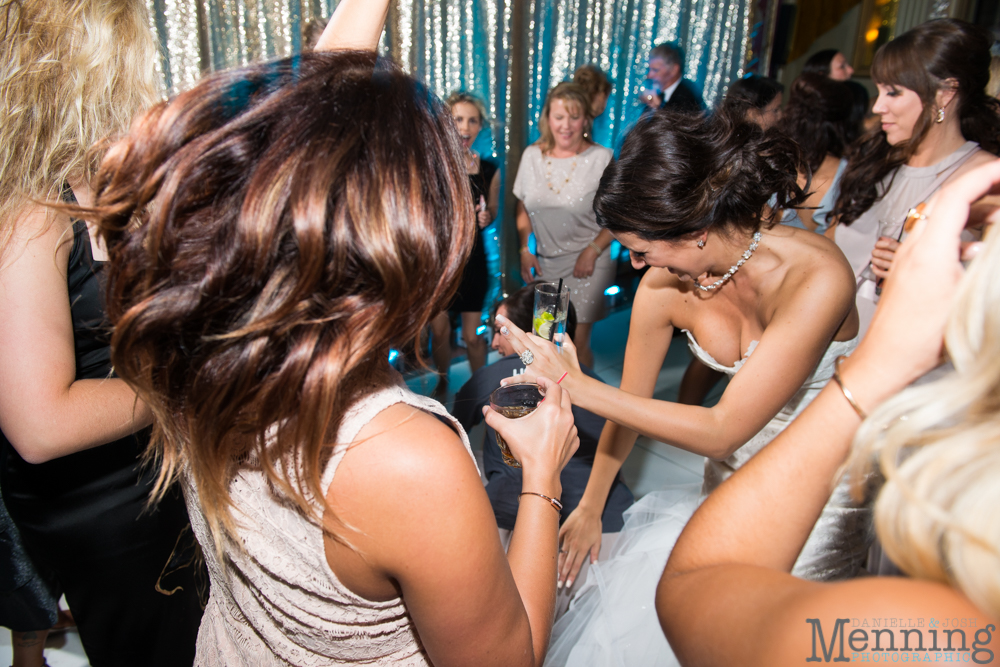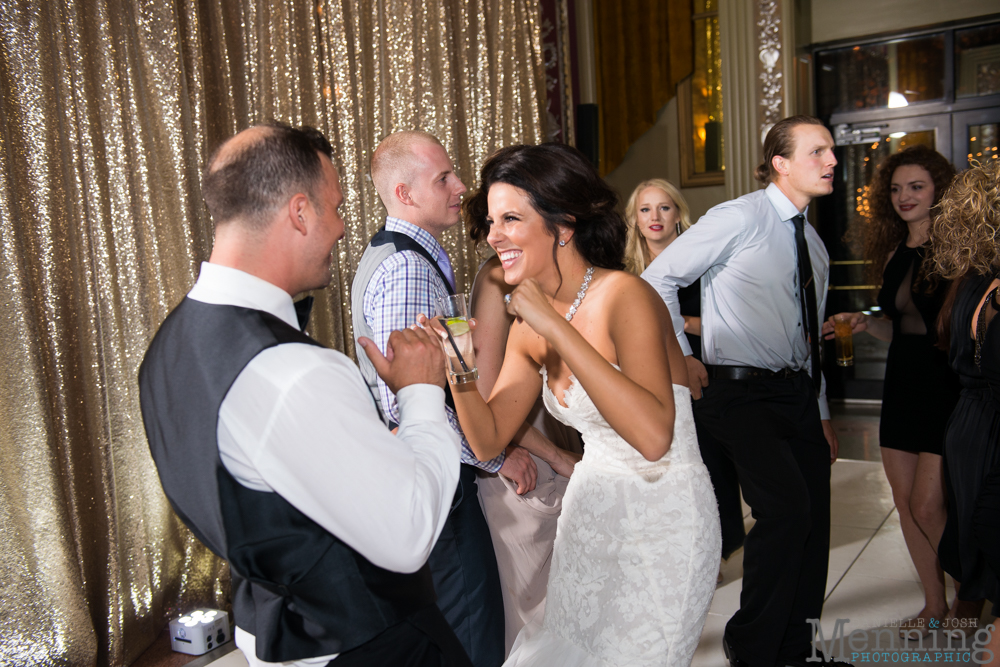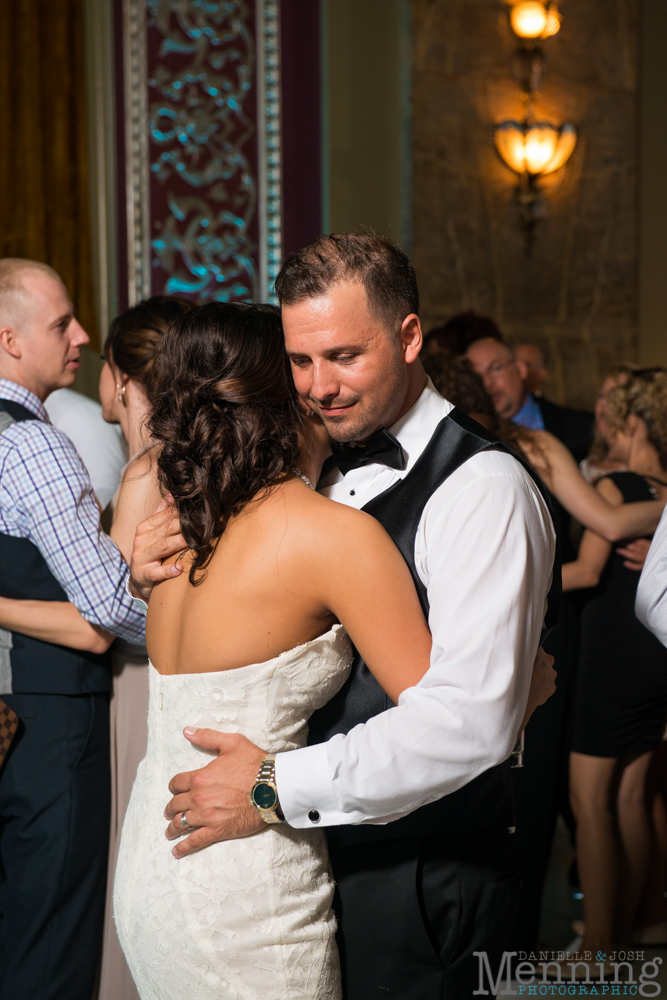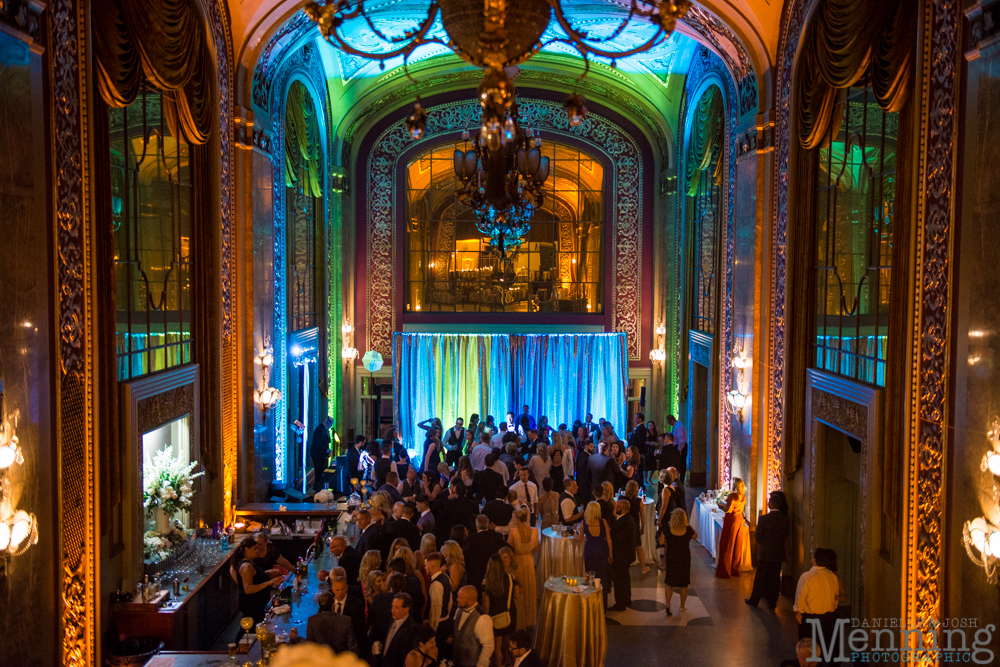 Alyvia & Josh, we can't thank you enough for choosing us to photograph this happy time in your lives & the beginning of your forever together. We have had such a great time getting to know you & to help tell your love story. We wish you all of the happiness in the world & decades upon decades of time together to grow closer & more in love every day.
If you're new to our blog, we're Josh & Danielle Menning, a husband & wife wedding photography team based in the Youngstown, Ohio area. We'd love to chat with you about your engagement & wedding photography! You can see some more of our work, cute photos of our daughter & son, and also some of our two crazy pugs here, too:
Instagram | Facebook | Twitter | Pinterest | Google +
If you liked this wedding blog post, you may also enjoy:
Stambaugh Auditorium Weddings