Wow! That's what I have to say about the authentic emotional moments & pure love expressed on Carly & Kevin's wedding day at Westminster Presbyterian Church & Avalon Inn & Resort in Warren, Ohio! Just wow! We felt blown away at so many points throughout the day because just when we thought there couldn't be any more surprises or fun planned, something else happened that brought us to tears or made us laugh out loud. Carly & Kevin have been together 8 years and they've really been through so much together. It was a joy to see them pledge their lives to one another.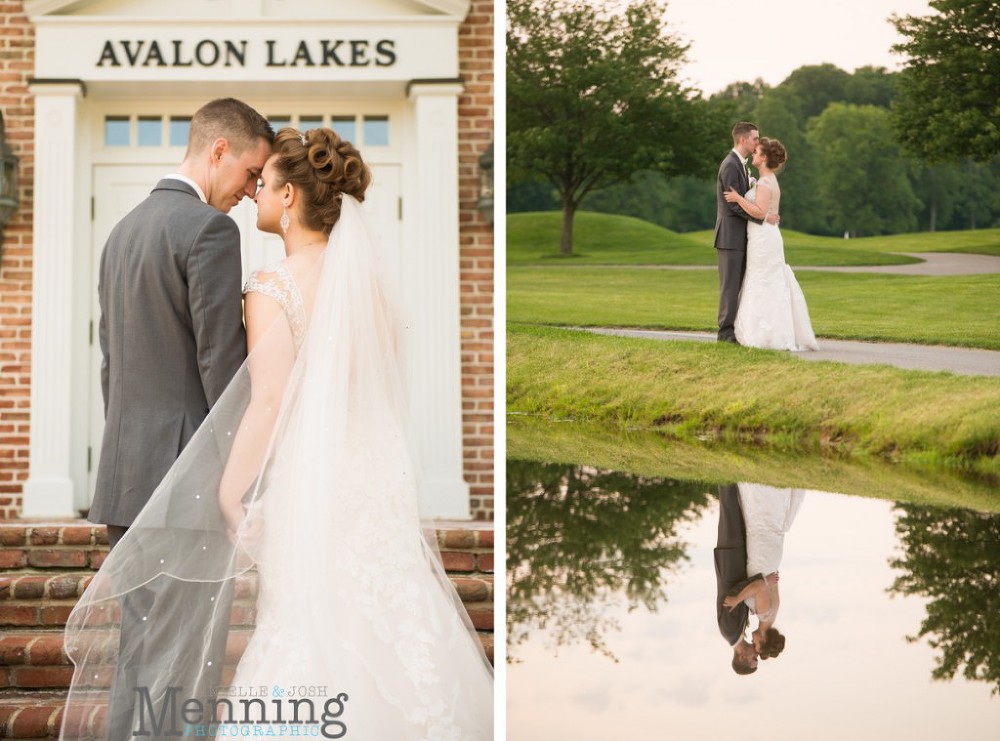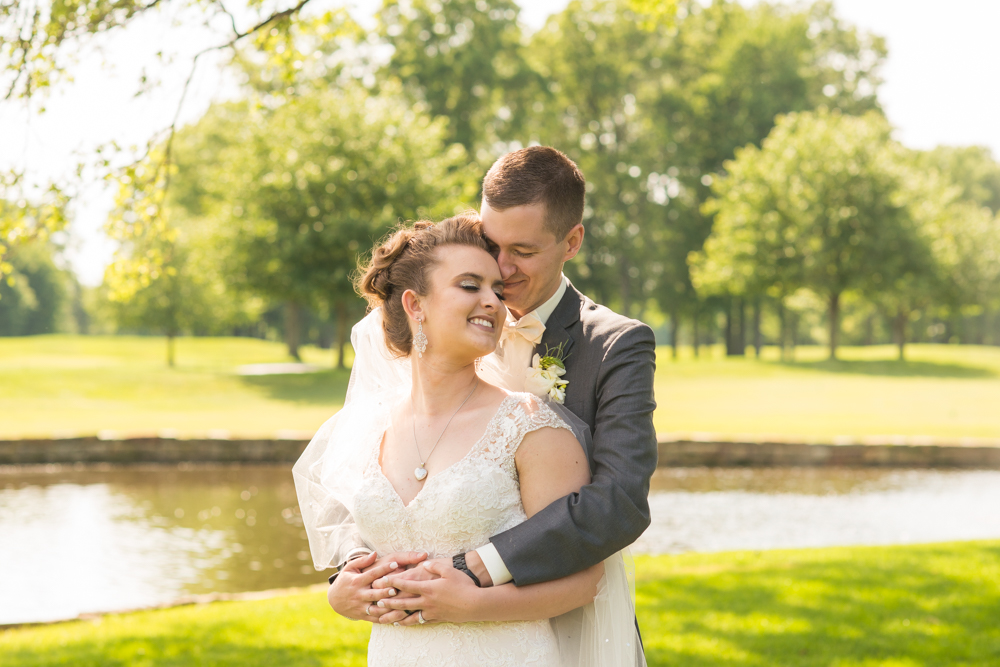 Carly loves details &, just like every wedding day, we were sure to capture them all!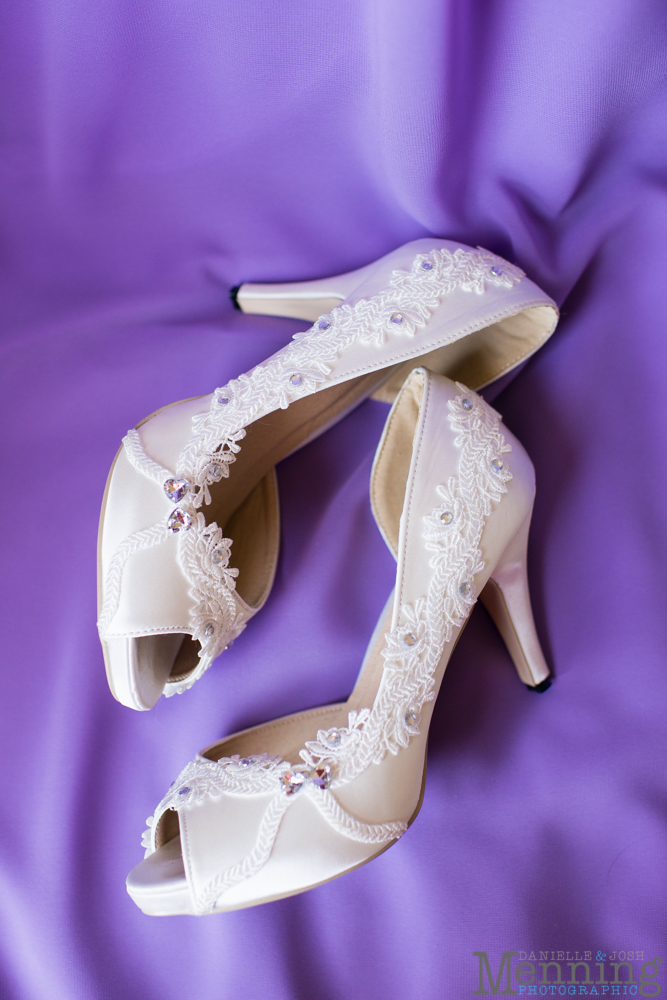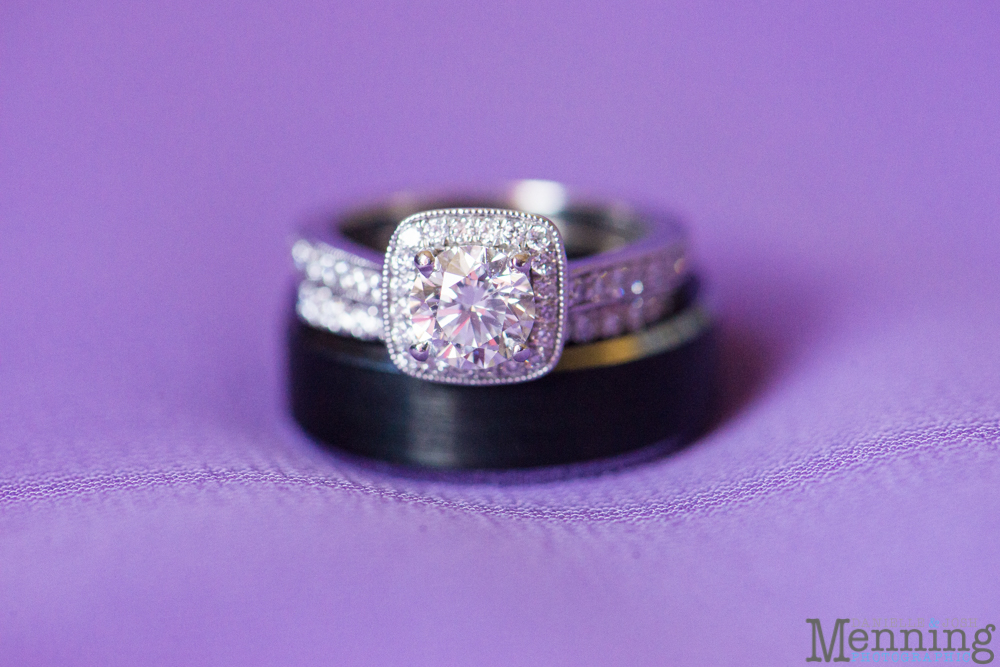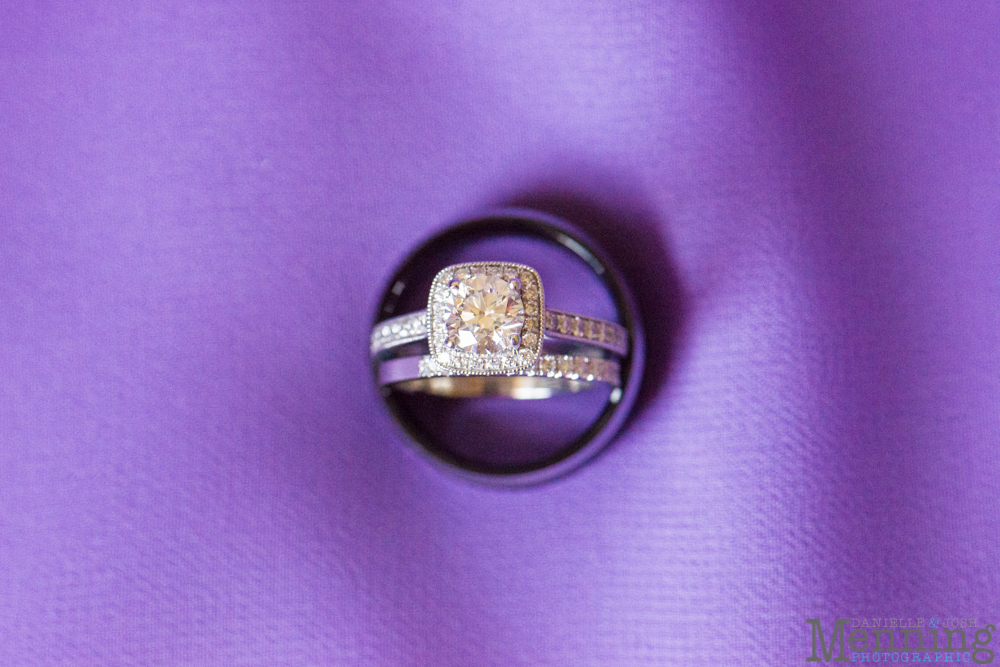 Bianca Heasley did Carly's makeup & we have to give her a shoutout! She just opened her own salon & spa & we're so excited for her! You should check it out &, brides, you can book her for your big day! She's so much fun to be around & will make your wedding day makeup her top priority. Her new salon is called Roots Salon & Wellness Spa. It's conveniently located in Boardman near the Southern Park Mall.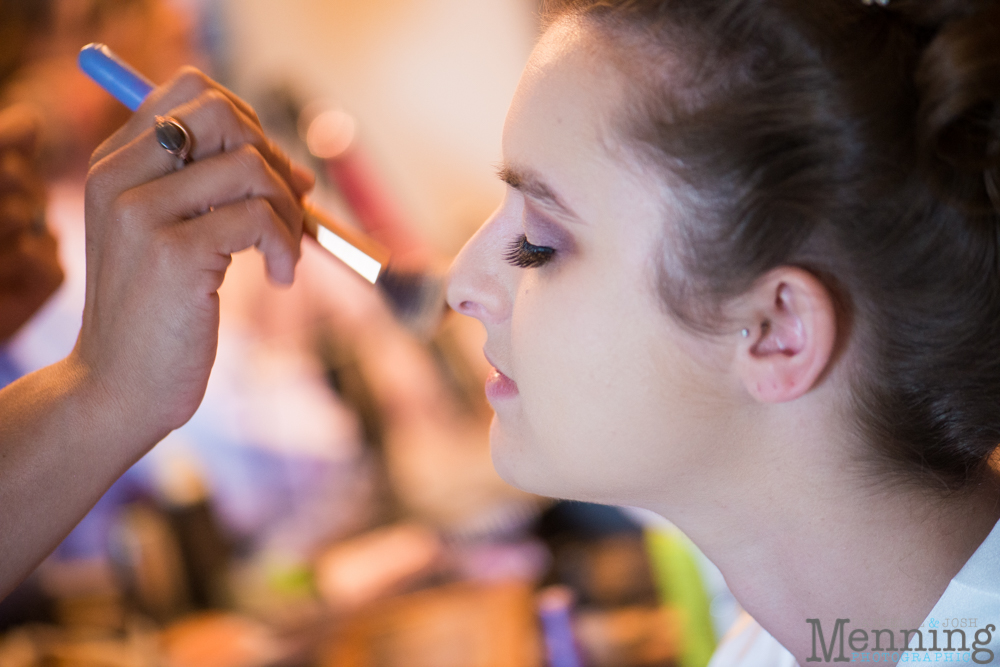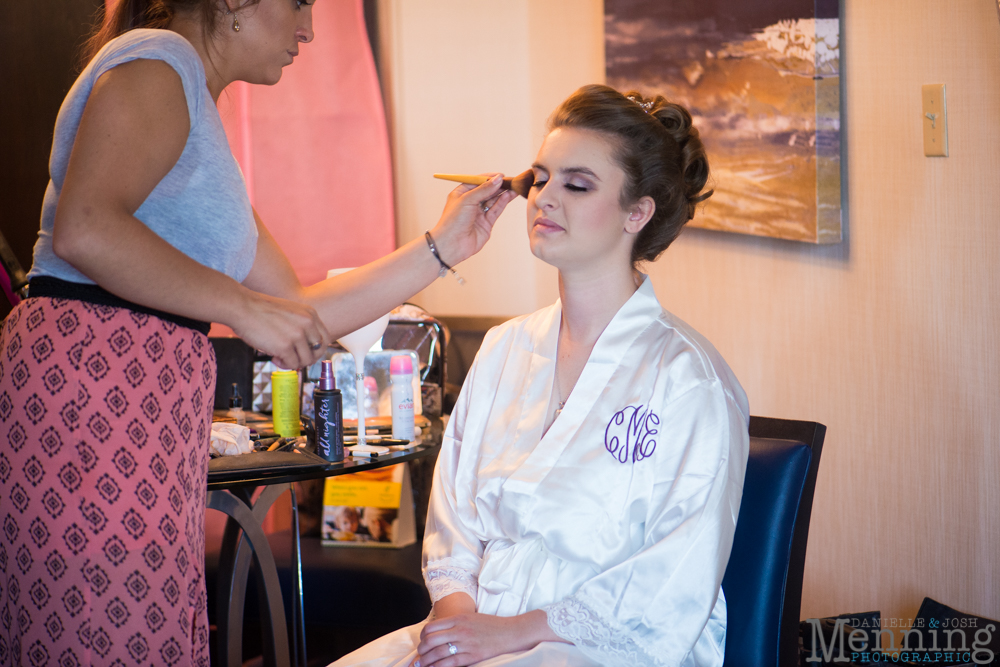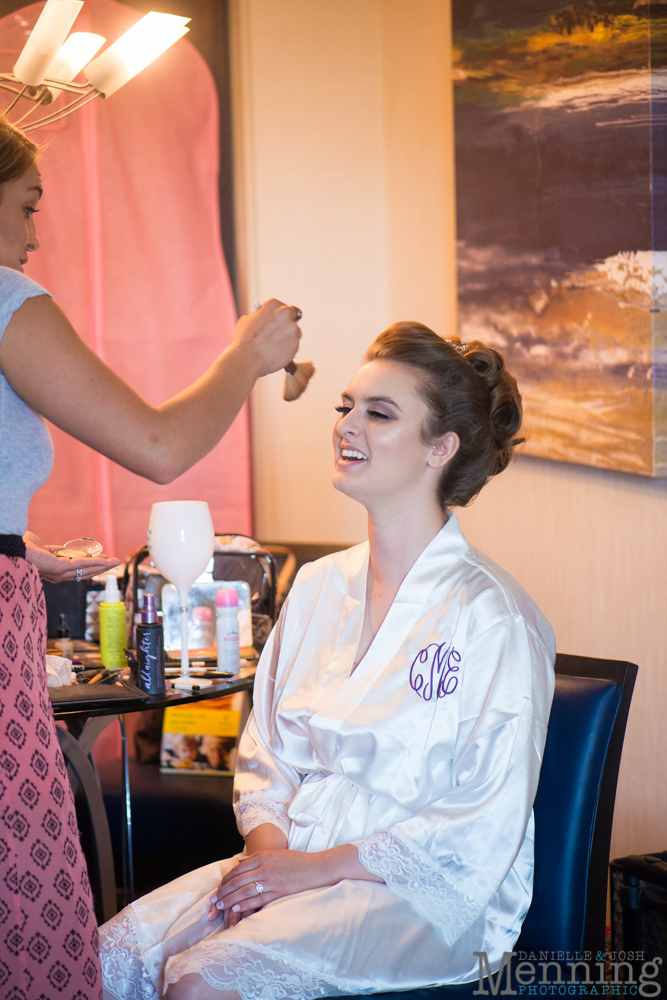 While I was with the ladies at the Holiday Inn, Josh was with the guys as they got ready at Kevin's parents' house. We loved his penguin socks. There were lots of penguins & butterflies throughout the wedding day. If you saw their engagement session blog, you read the story of how they got engaged at the penguin exhibit at the zoo since penguins mate for life & present their pebble to their forever love.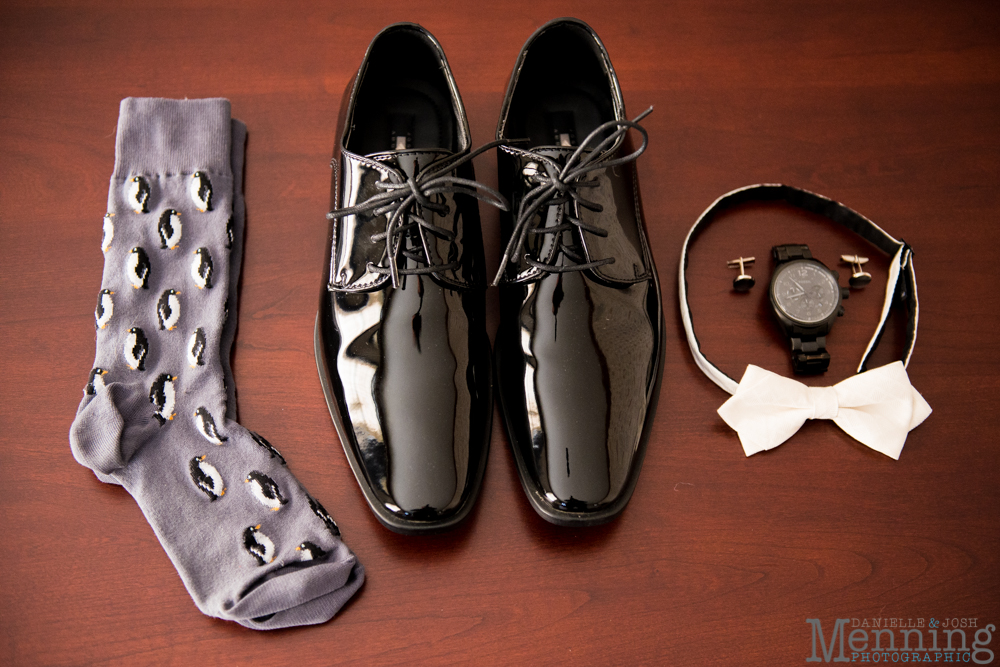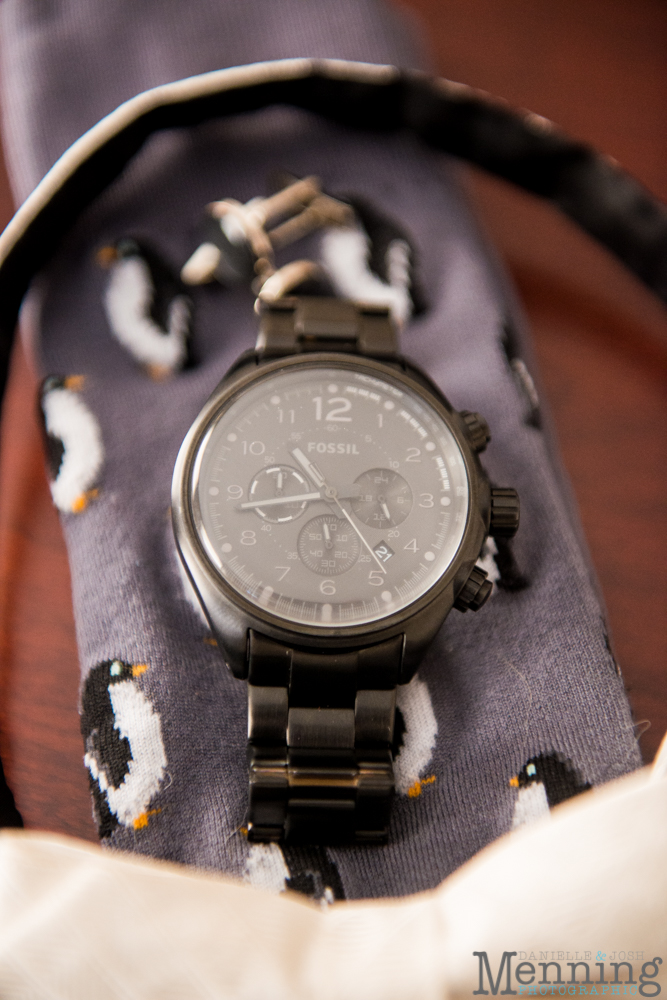 Carly got her wedding gown at Toula's Bridal in Canfield. Stunning! The sleeves & the beading were my favorite parts.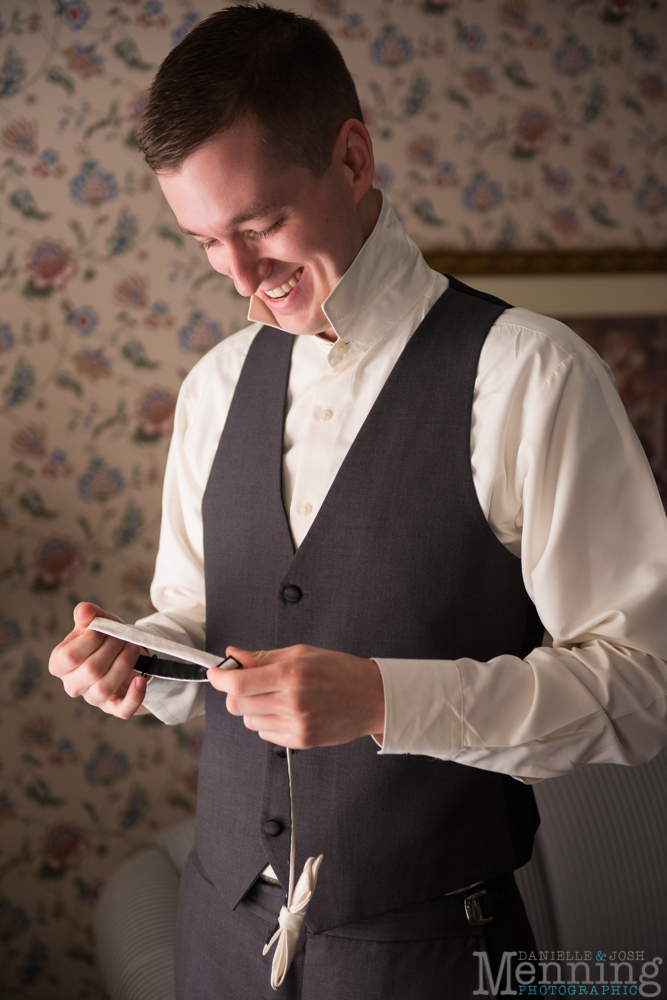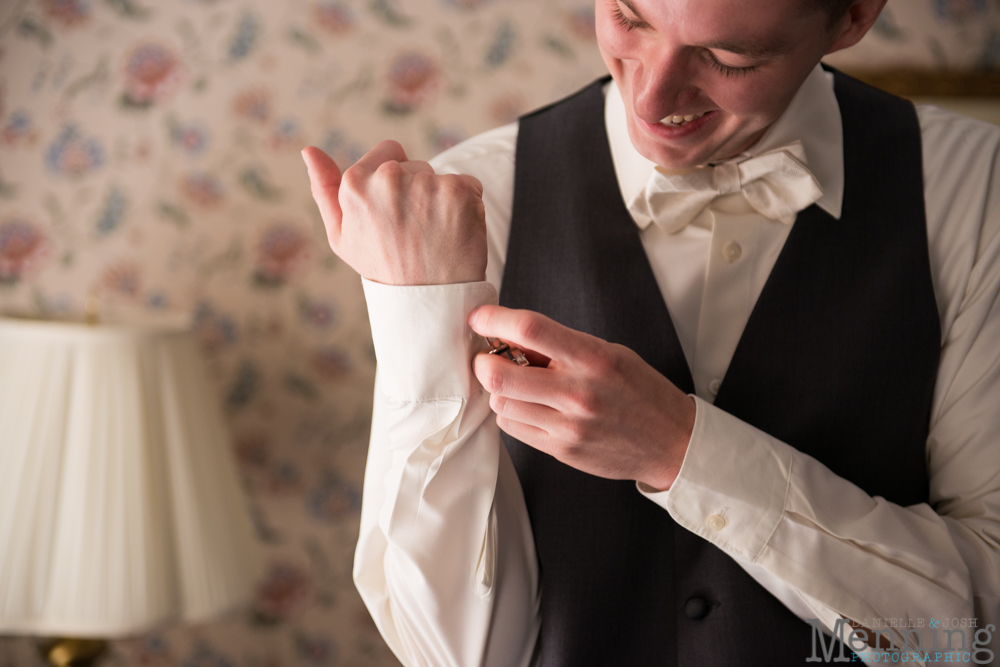 This adorable gift was from Carly to Kevin.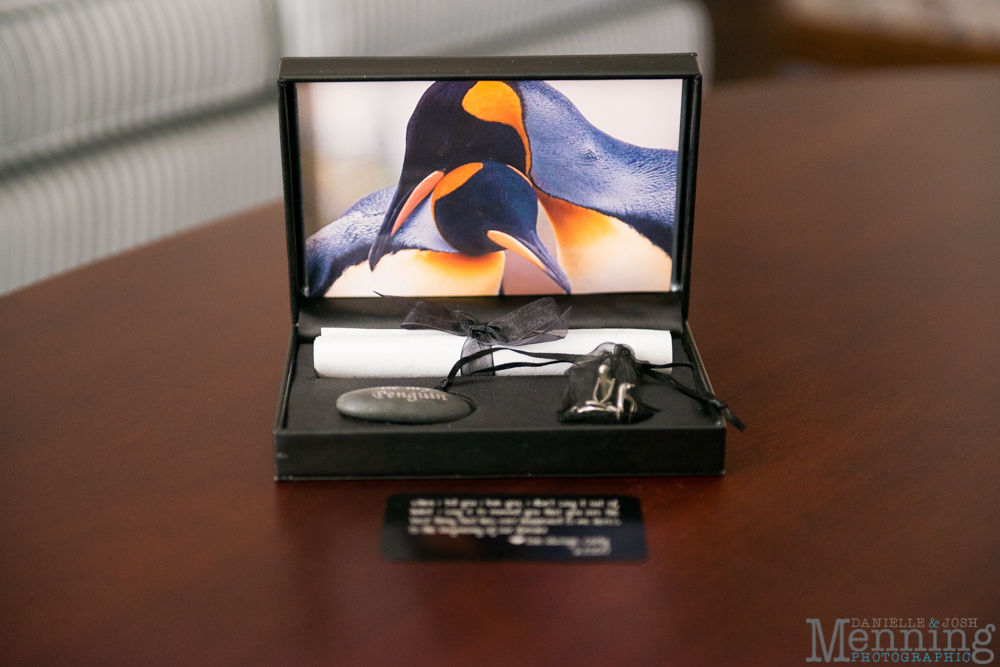 Penguin cufflinks. . . yes!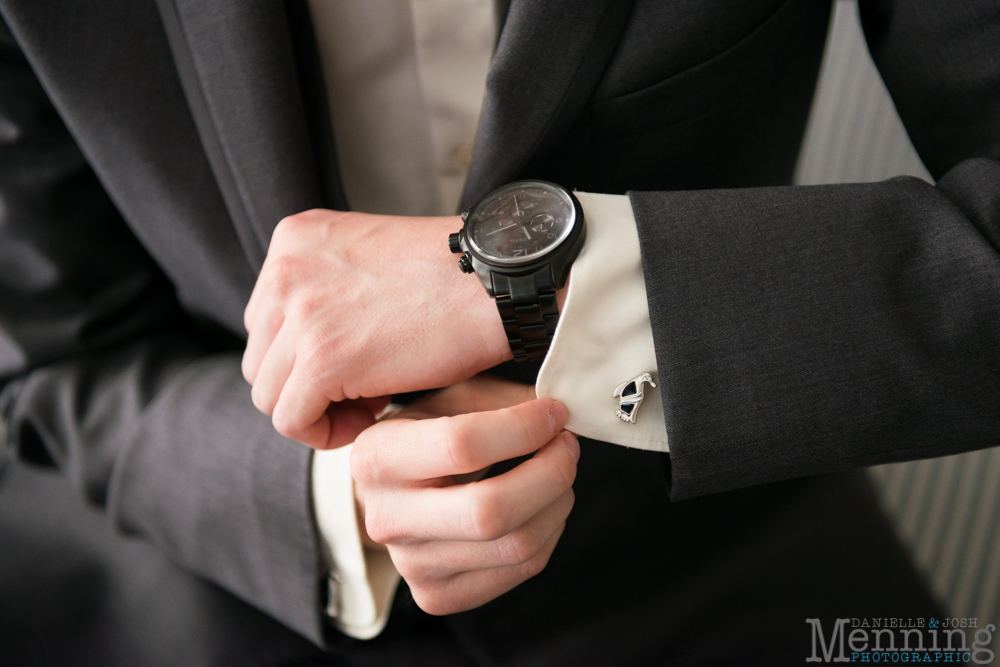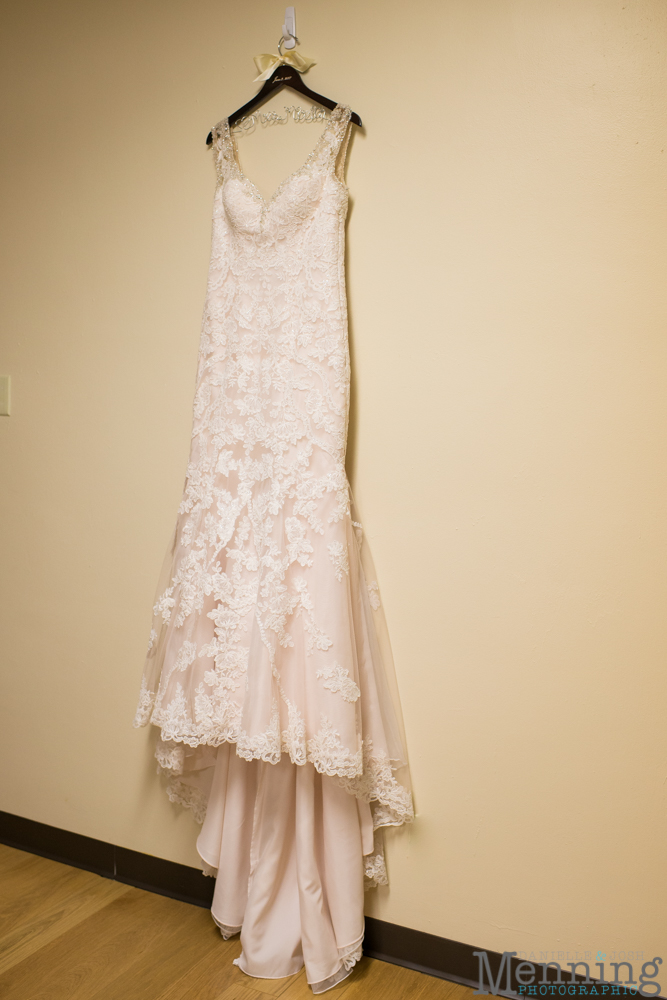 And this was when Carly opened her gift from Kevin, a ring with butterflies on it. Carly recently lost her grandfather in March & butterflies represent him to her.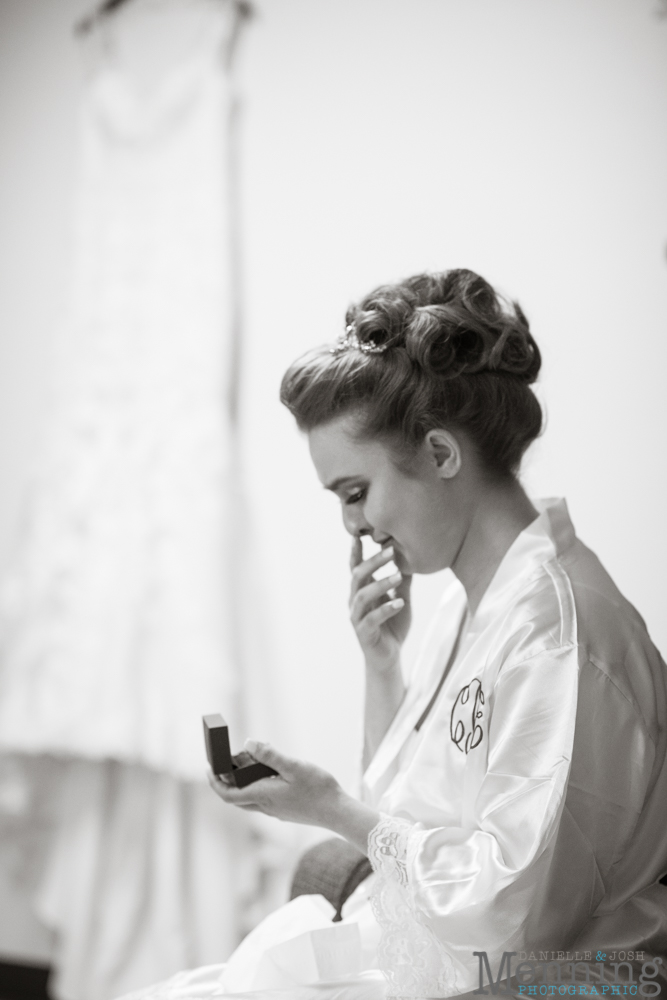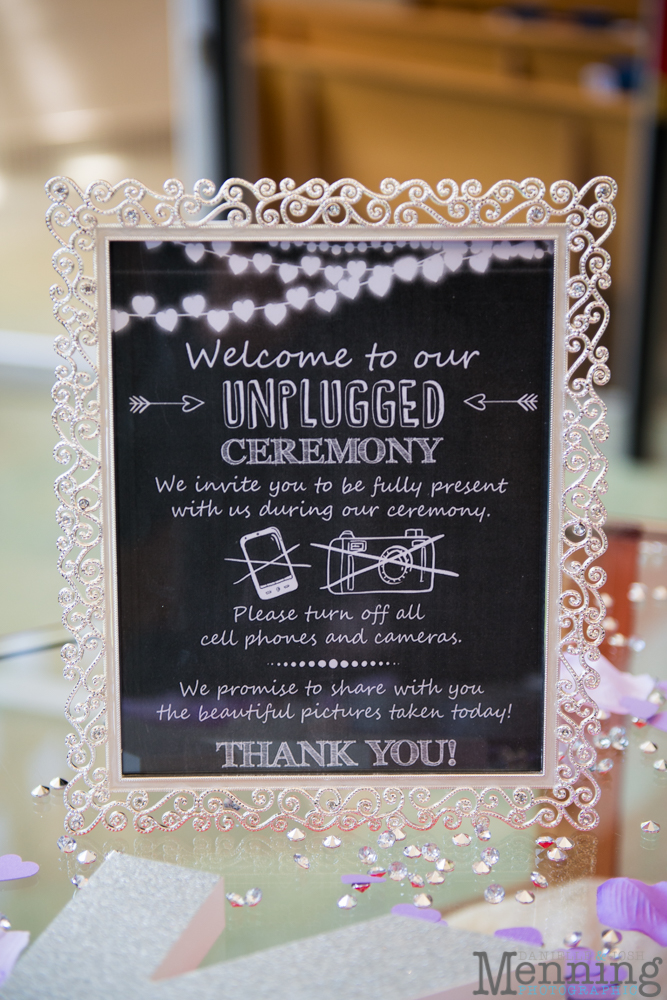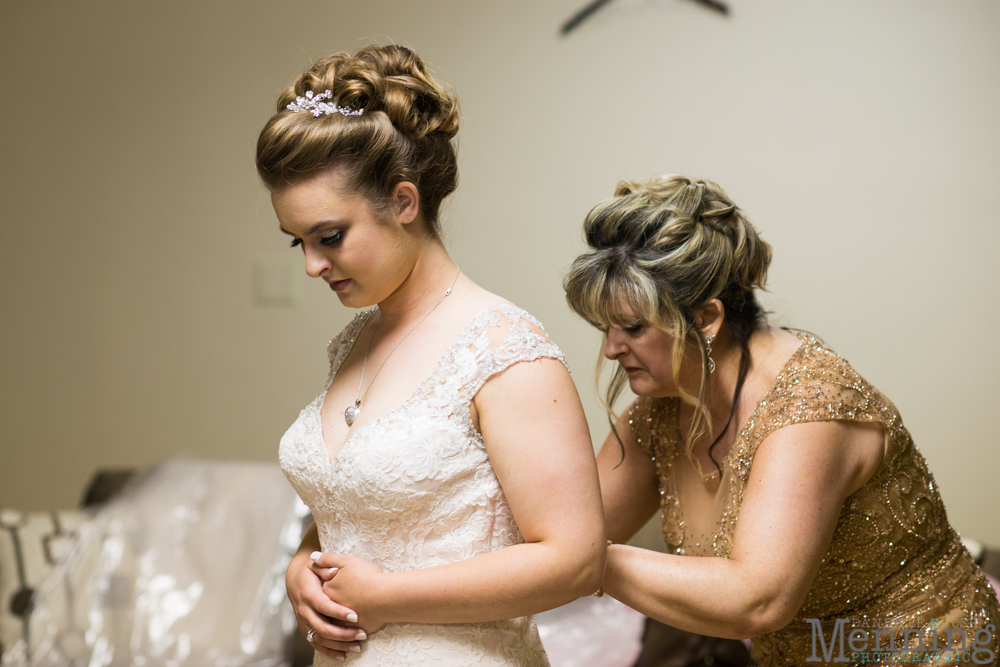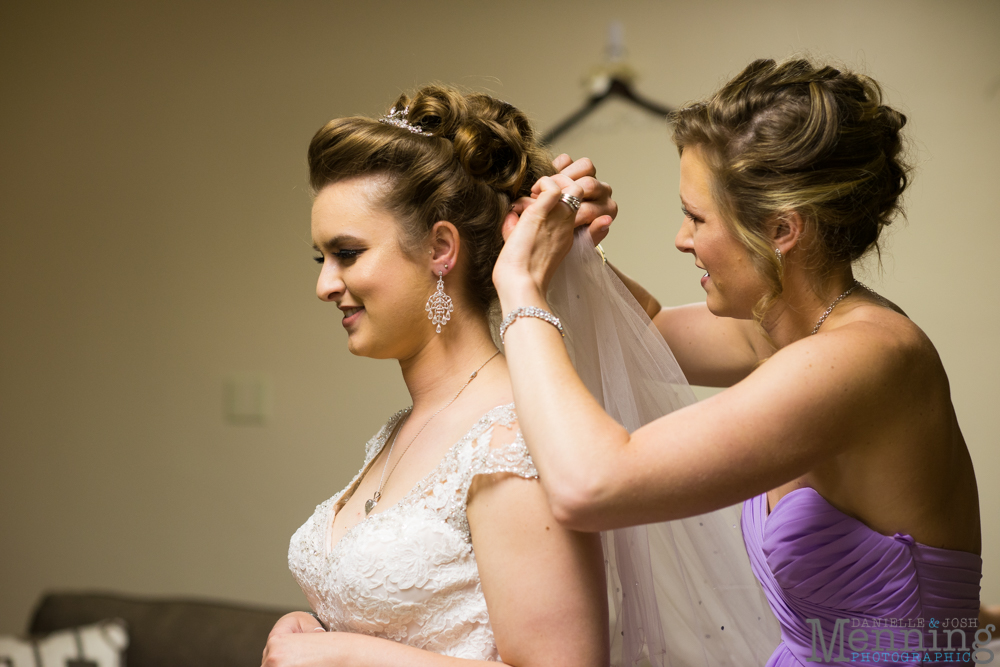 Carly & Kevin exchanged letters & shared a no-look first look prior to their wedding ceremony. Â These two are the real deal together. Their love is so sweet.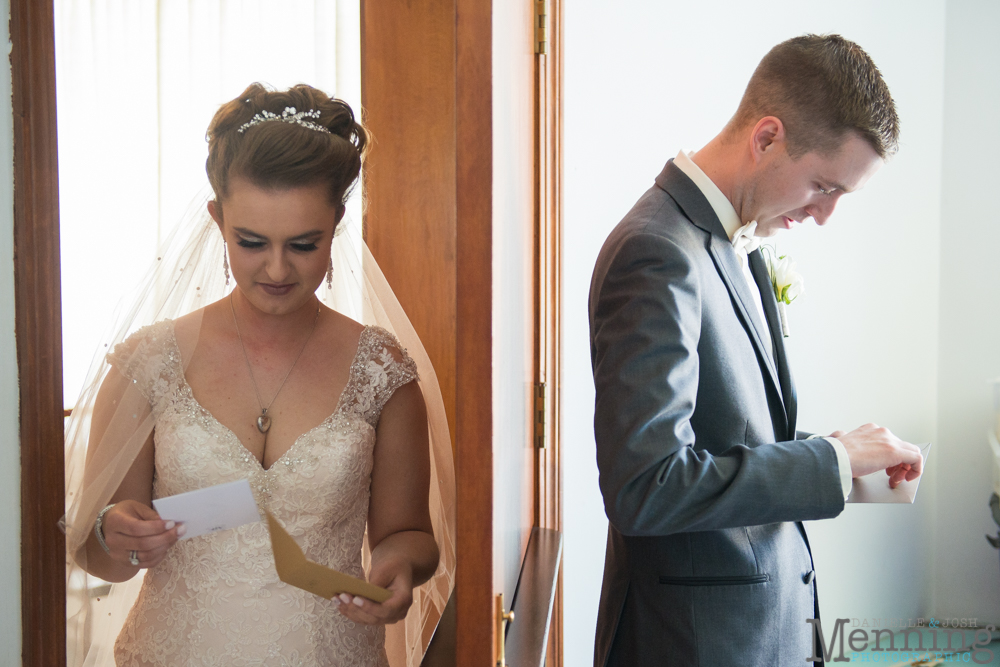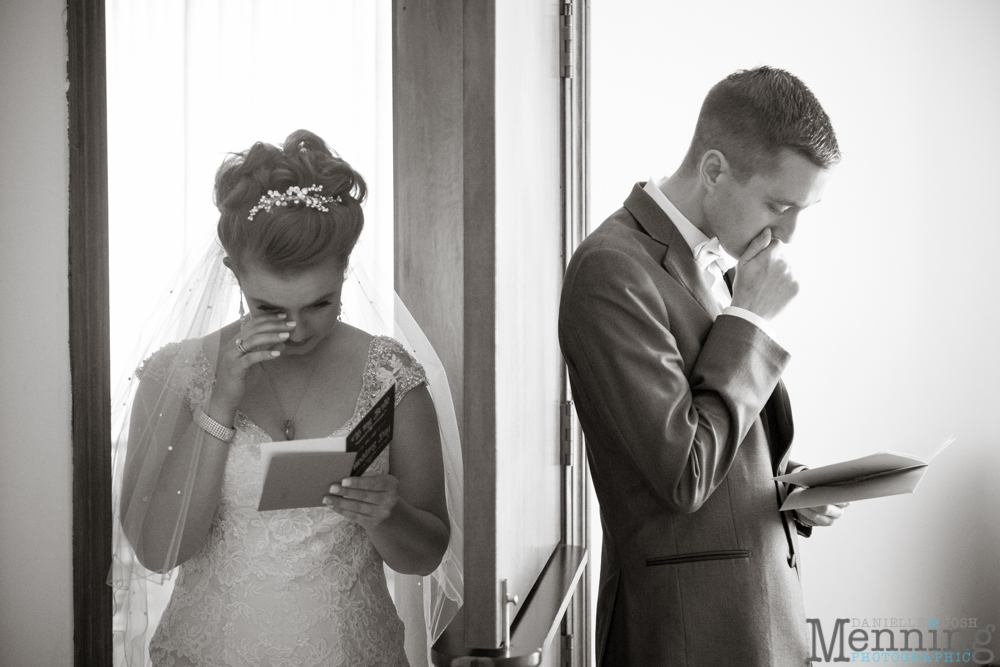 Then it was time for her first look with her pretty bridesmaids. You might recognize the bridesmaid all the way on the right. She was a Menning Photographic bride a couple of years ago. Kevin is her twin brother. They even got married at the same church as Carly & Kevin.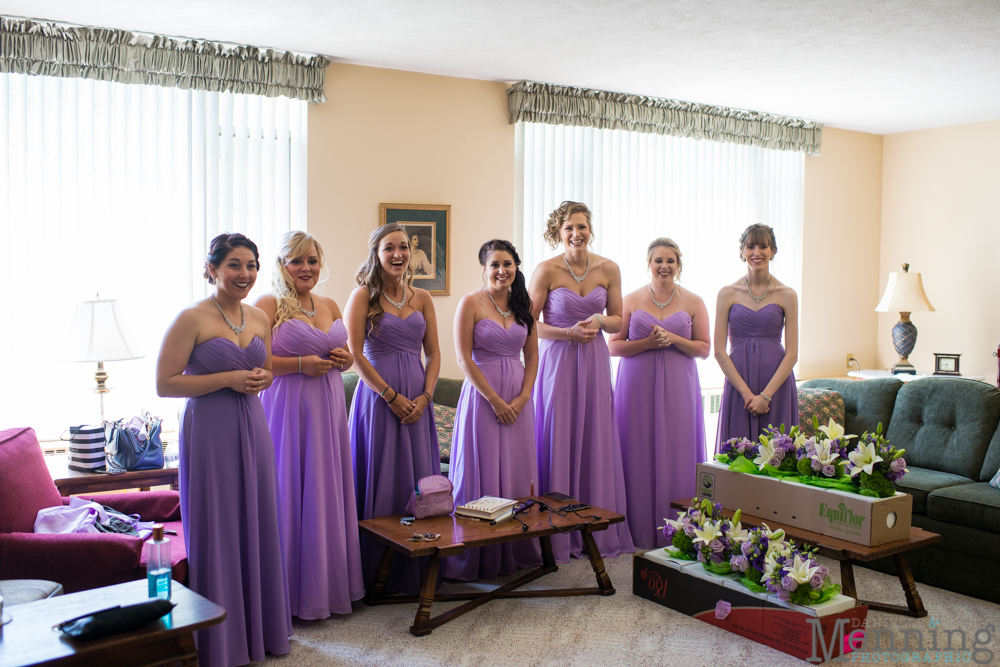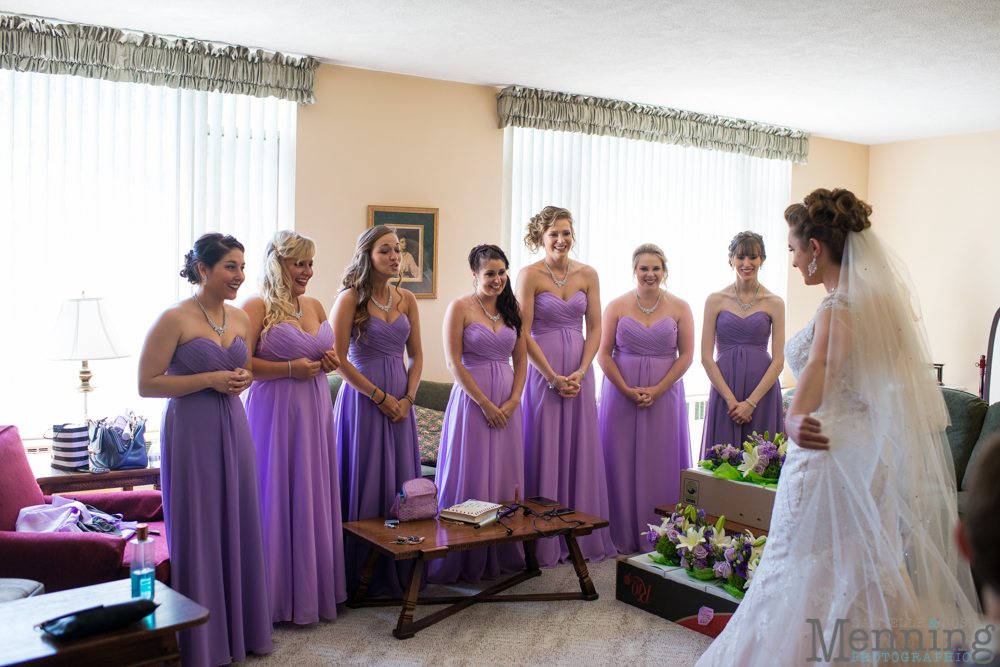 That moment when your adorable ring bearer tells you that you look absolutely amazing. . . heart melted!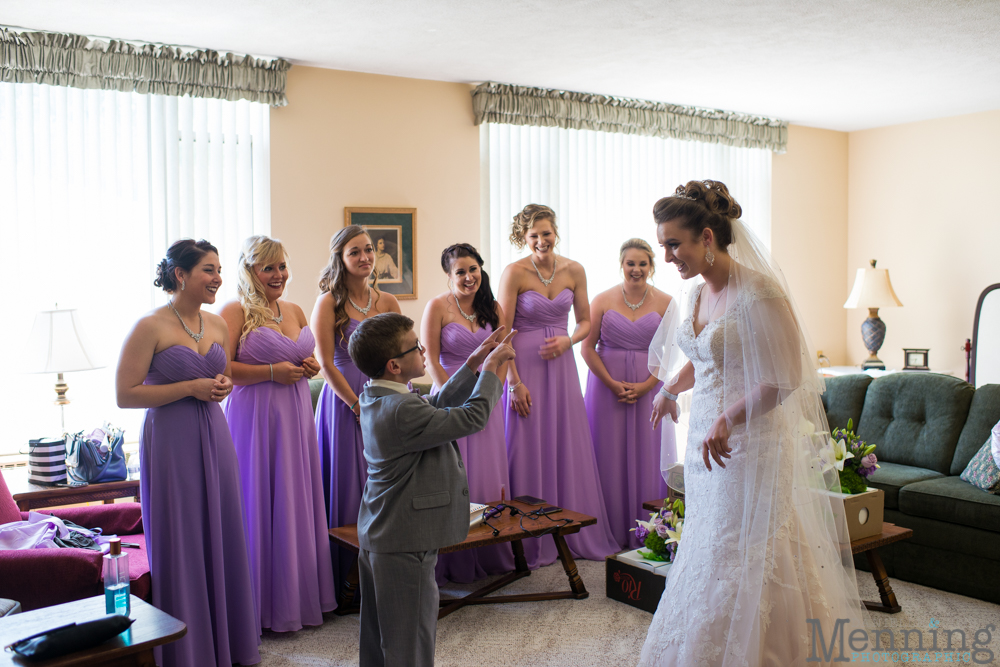 But, I mean, it's true! She did look absolutely amazing. The gorgeous blooms are from Royal Weddings.
A sweet mother-daughter moment just before the ceremony.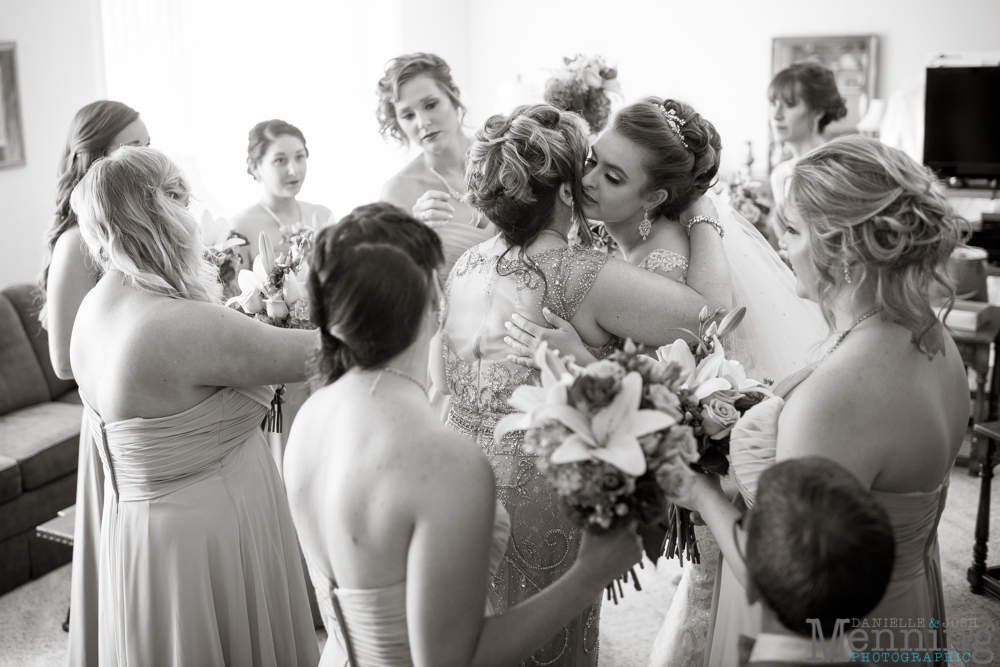 And then it was time for the wedding ceremony & for Kevin to see his bride walk down the aisle. He loves her so much.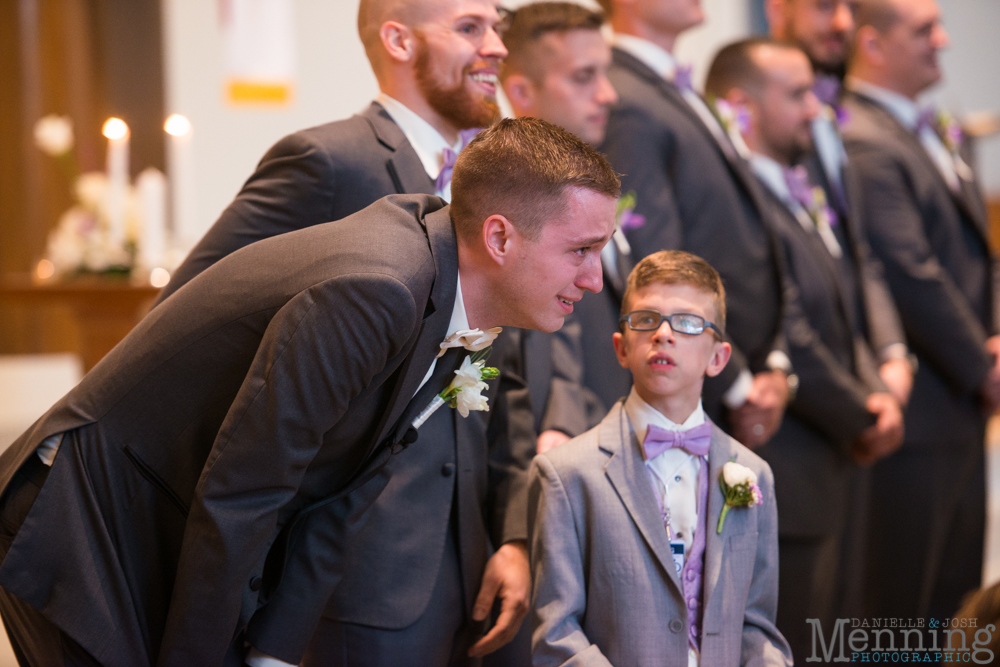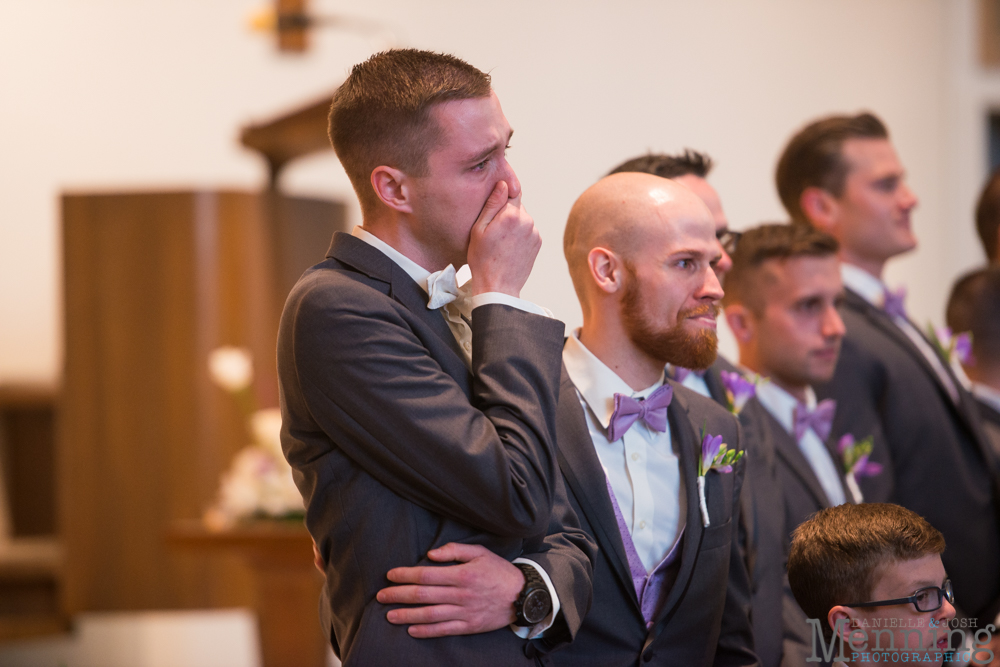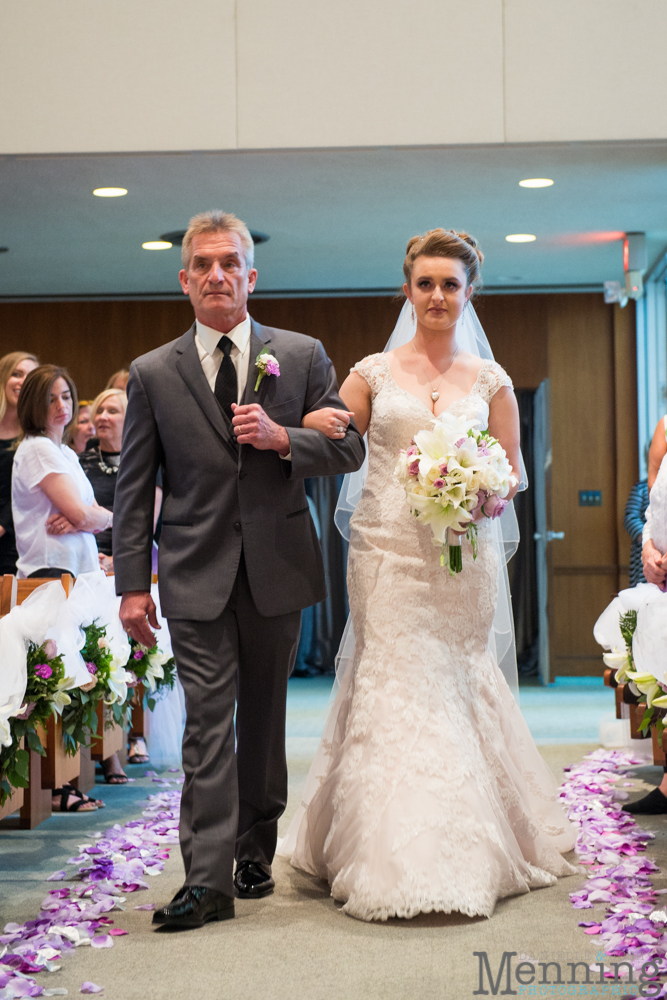 I loved that they hugged as soon as they saw each other. It was like they couldn't hold back.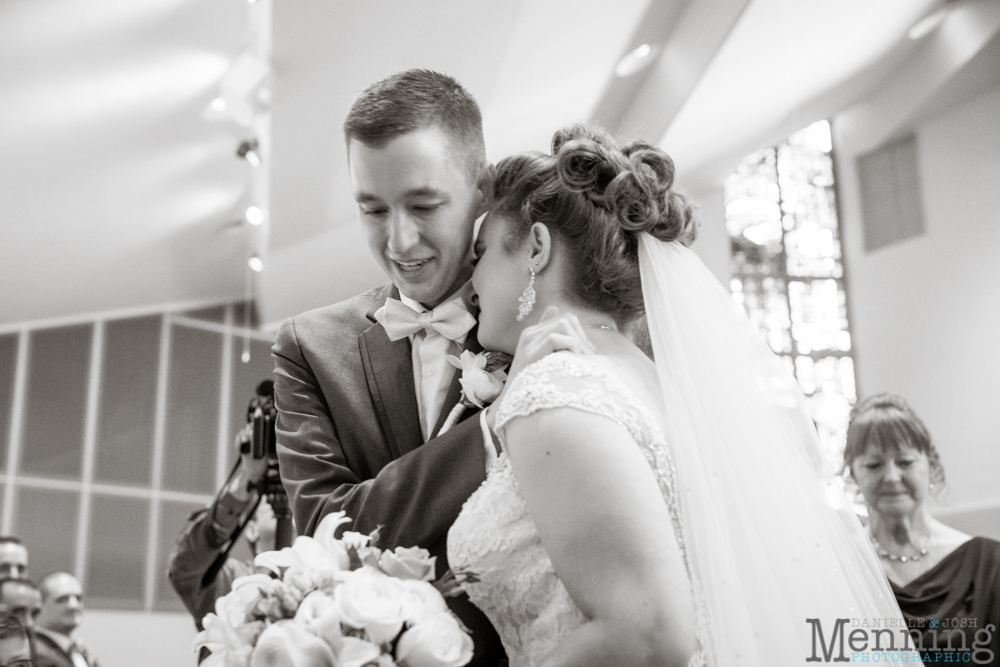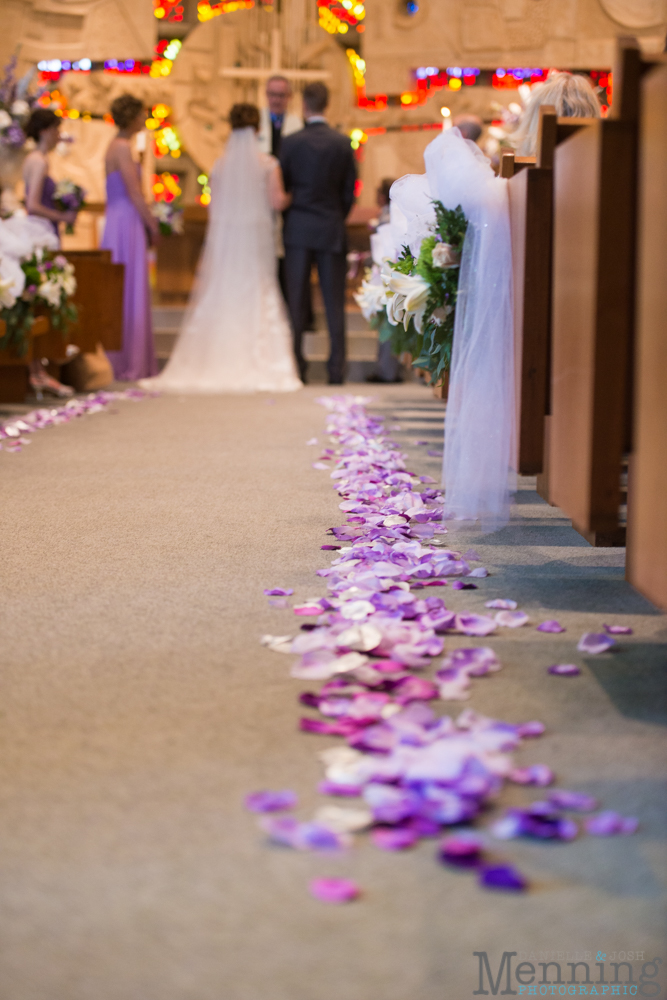 Their officiant's words during their ceremony were fun, sweet, and beautiful. He talked about how they would be sitting in a restaurant celebrating their 28 year wedding anniversary on a Saturday (he checked the calendar for the year 2045) & added in fun futuristic details while describing the wonderful qualities that they'd use to cultivate a lifelong partnership & beautiful marriage in the process.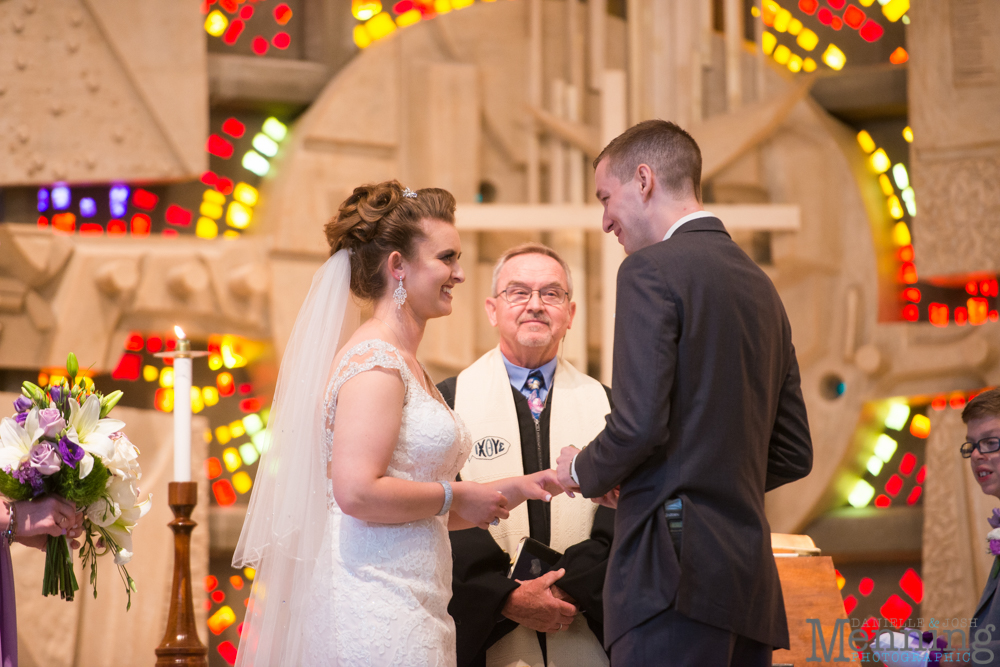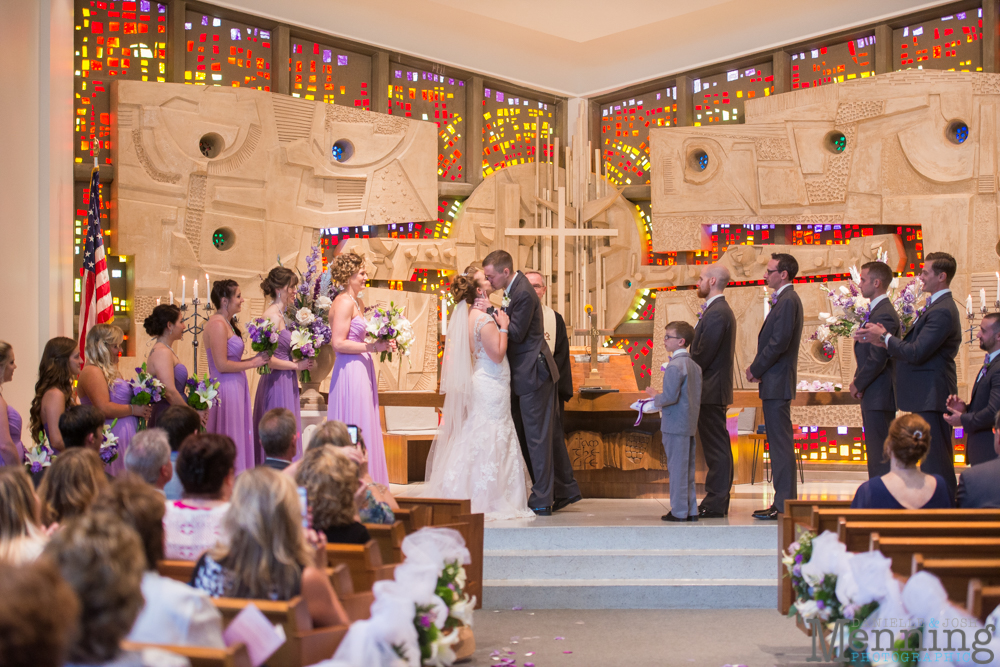 They placed a rose in the pew where Carly's grandparents would've sat.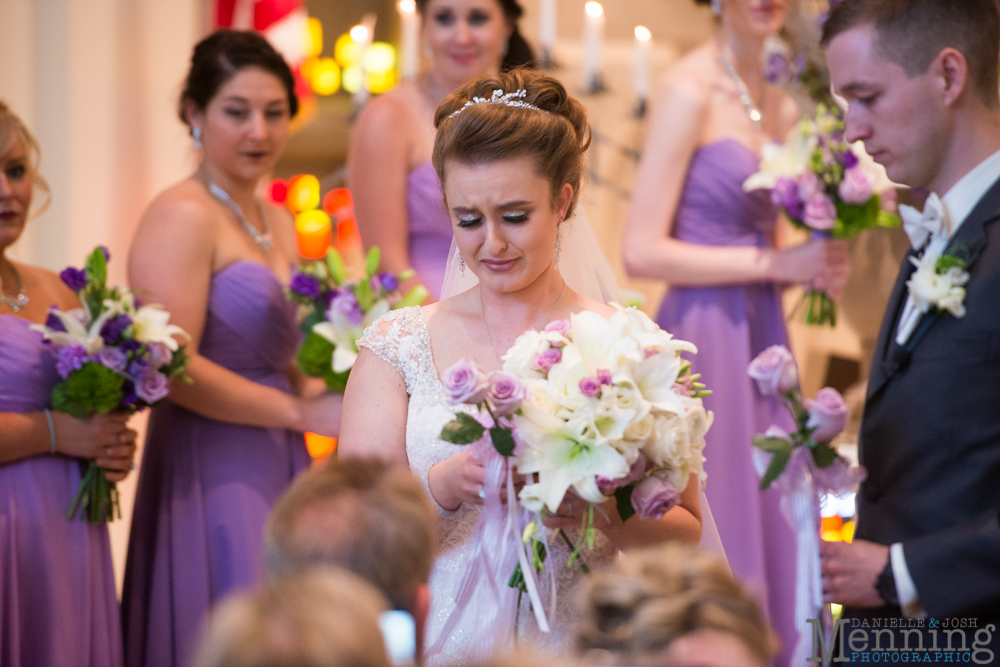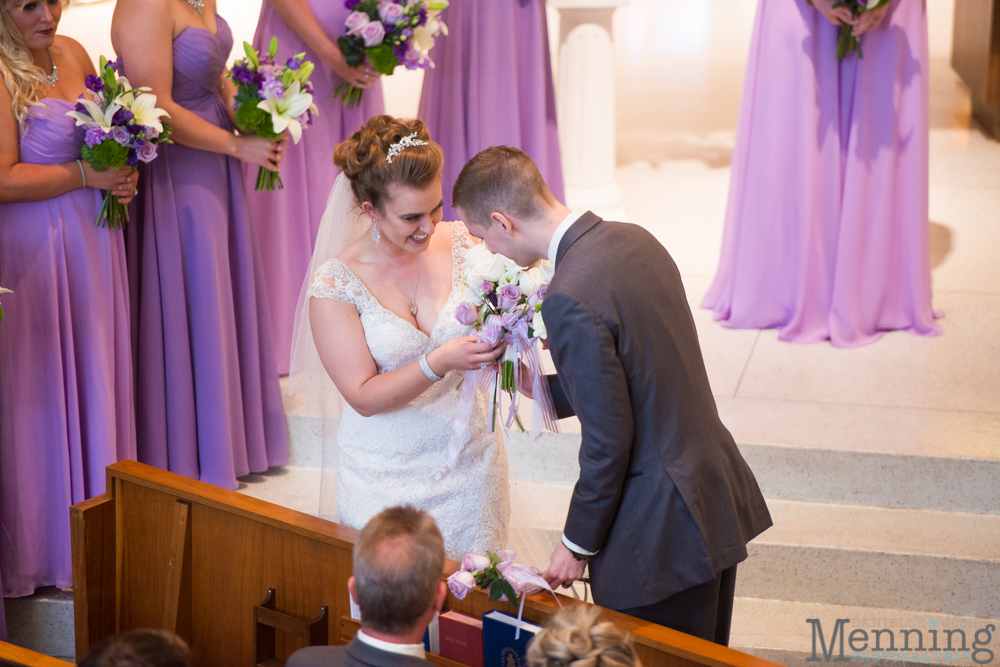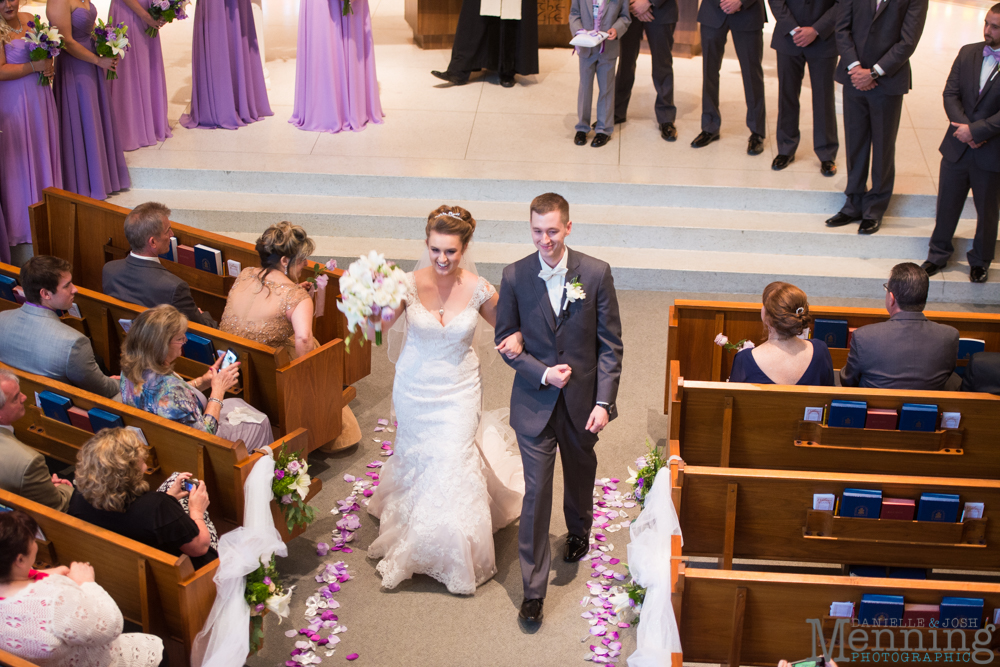 And they did a butterfly release, which was really cool! One butterfly stuck around with Carly for a really long while & she would like to think it was to comfort her hurting heart since she lost her grandfather only a couple of months ago.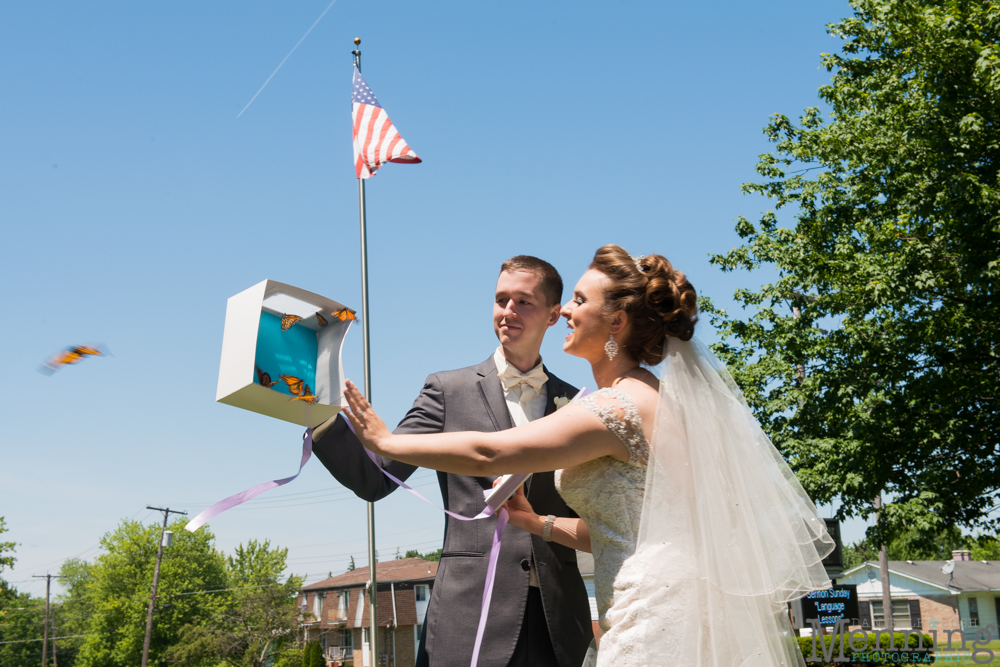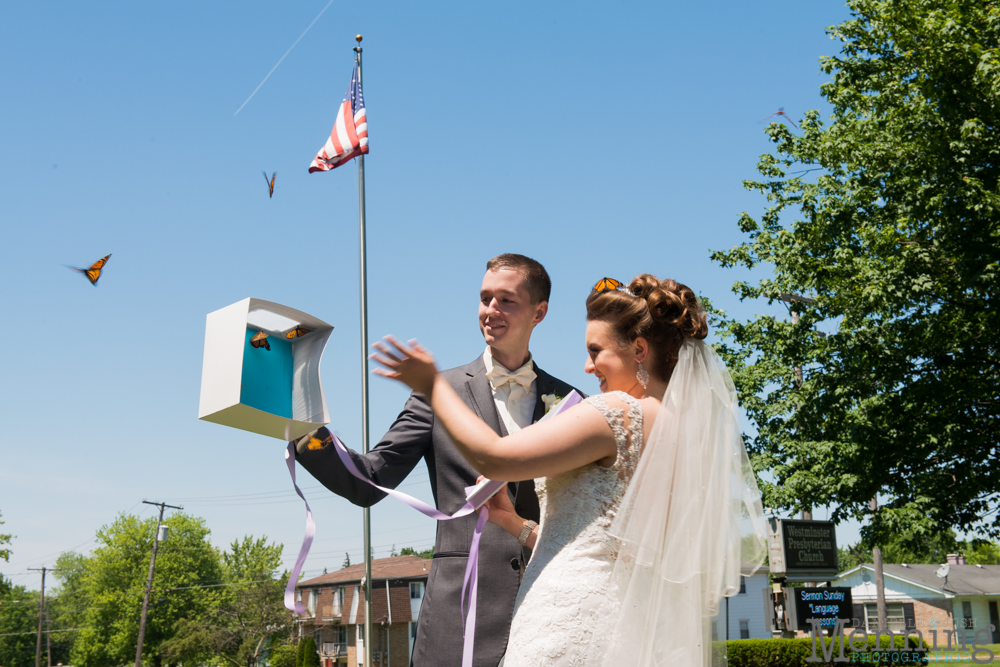 Then we went to Fellows Riverside Gardens for a few minutes. And Carly had something special up her sleeve for Kevin that he had no idea about. They recently adopted a dog, but they haven't been able to bring him home just yet because of everything with the wedding & honeymoon, but they'll be able to welcome him to their family & their home officially once they return. Well, Kevin asked Carly what she thought about possibly including their new friend Duke in the wedding photos, but she said that she wasn't sure it would work out. After talking with her Maid of Honor, Ashley, they both made a plan to tell Kevin it wasn't possible to include Duke & then to make it happen as a surprise to Kevin.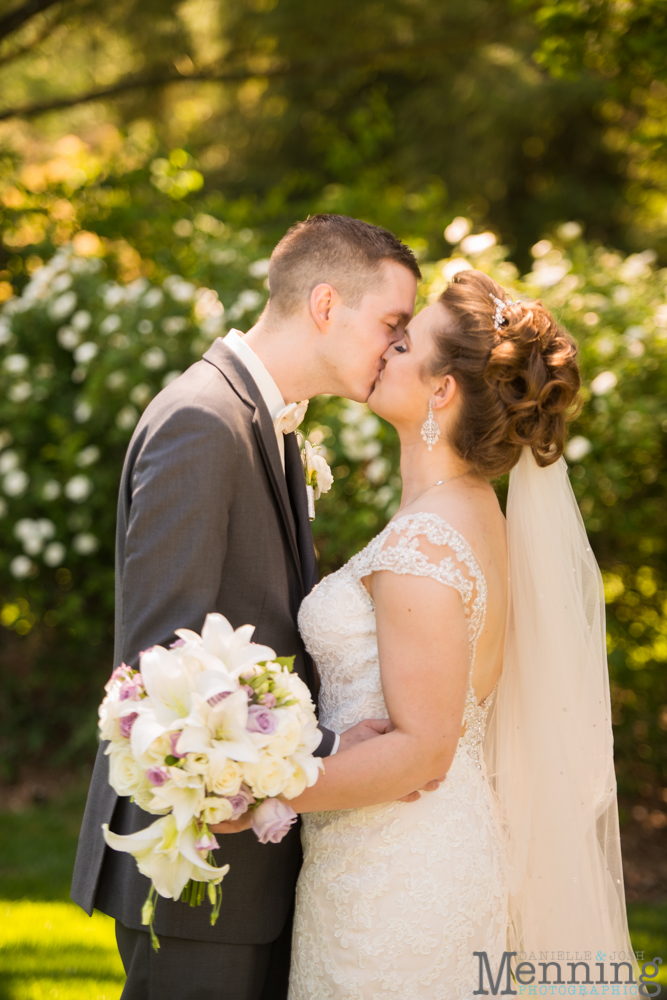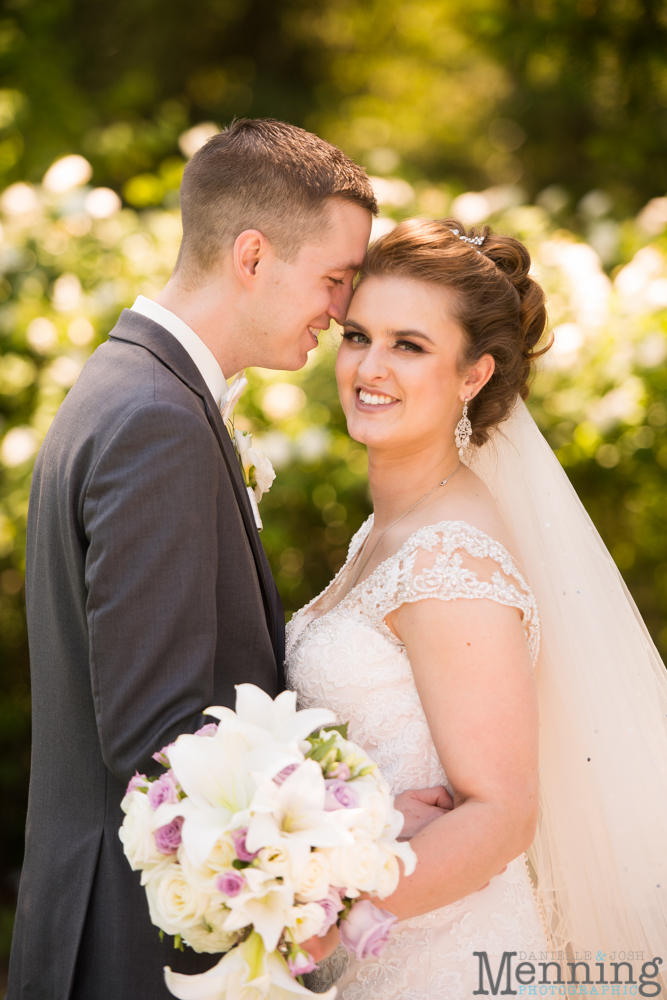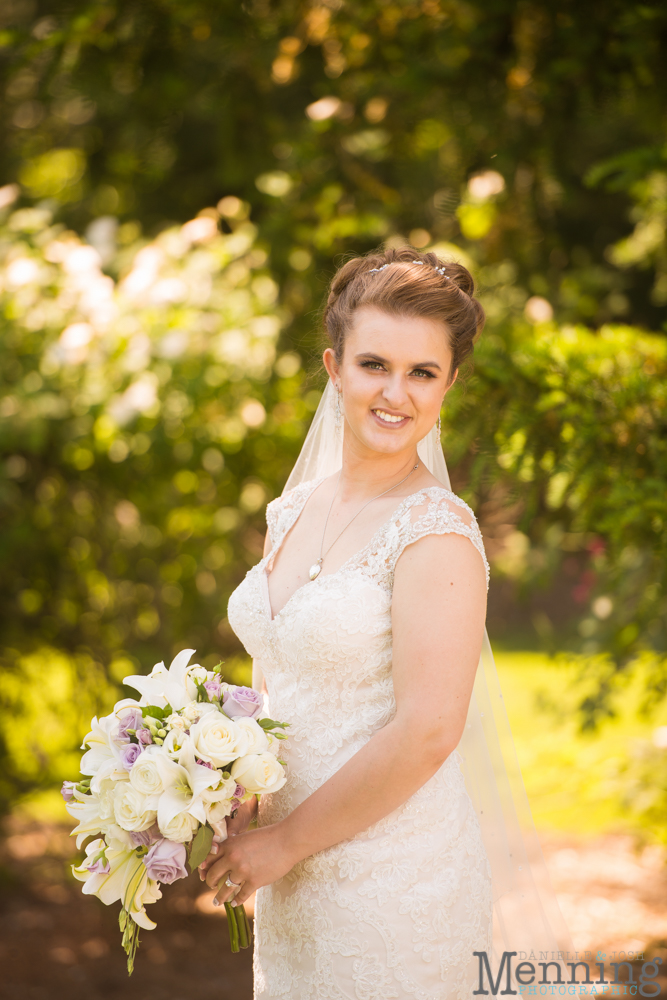 Kevin probably thought we were nuts leading him & Carly out to the parking lot of Fellows Riverside Gardens (lol!), but it was all for Duke! Since pets aren't permitted inside of the gardens, we had to meet Duke outside of them. It was such a fun moment seeing his face light up when he saw Duke coming along.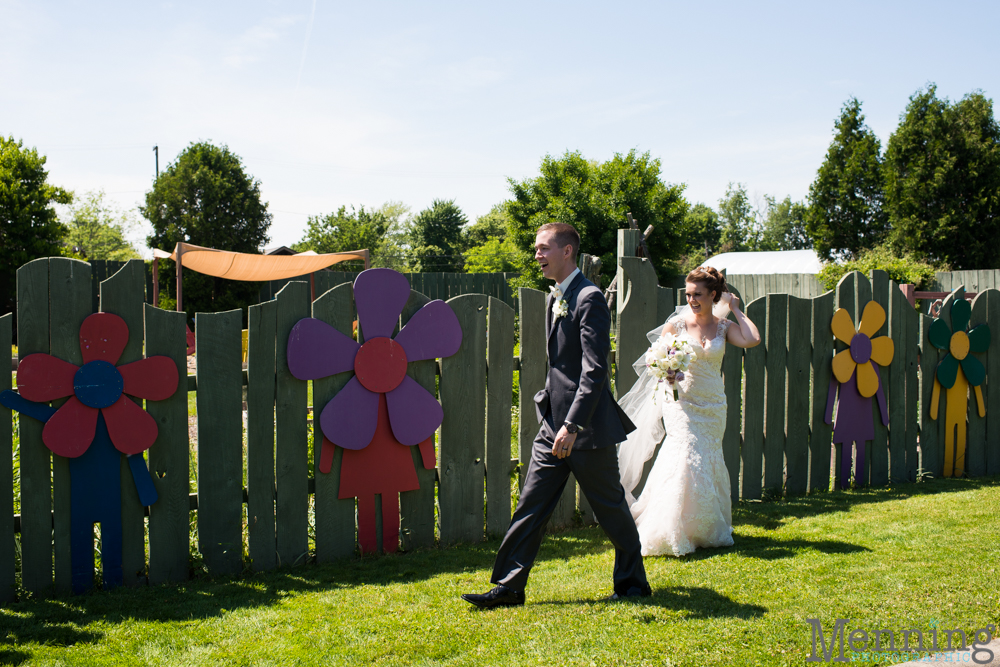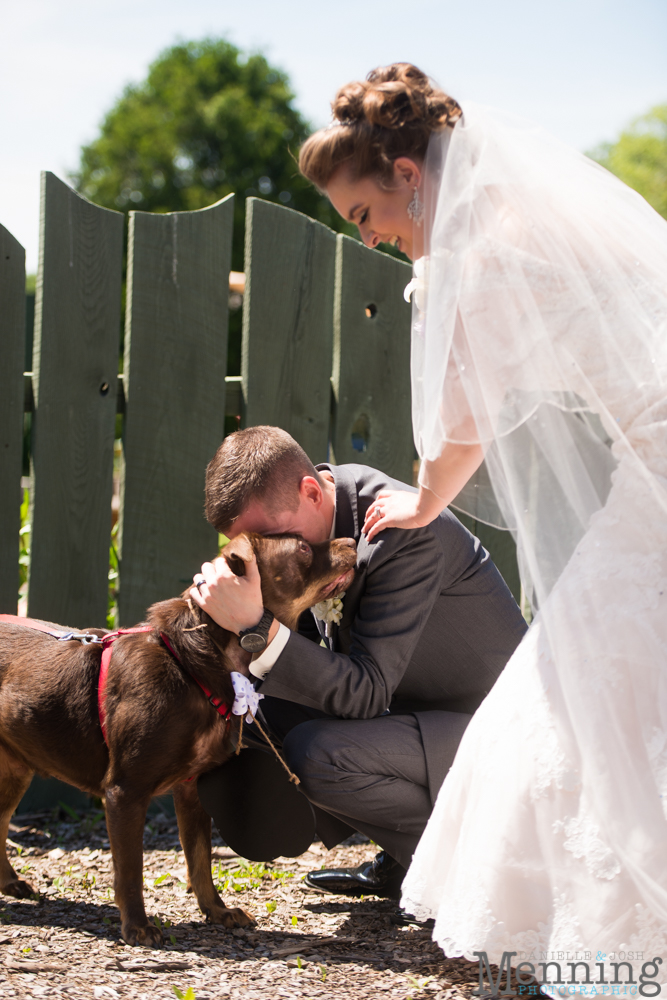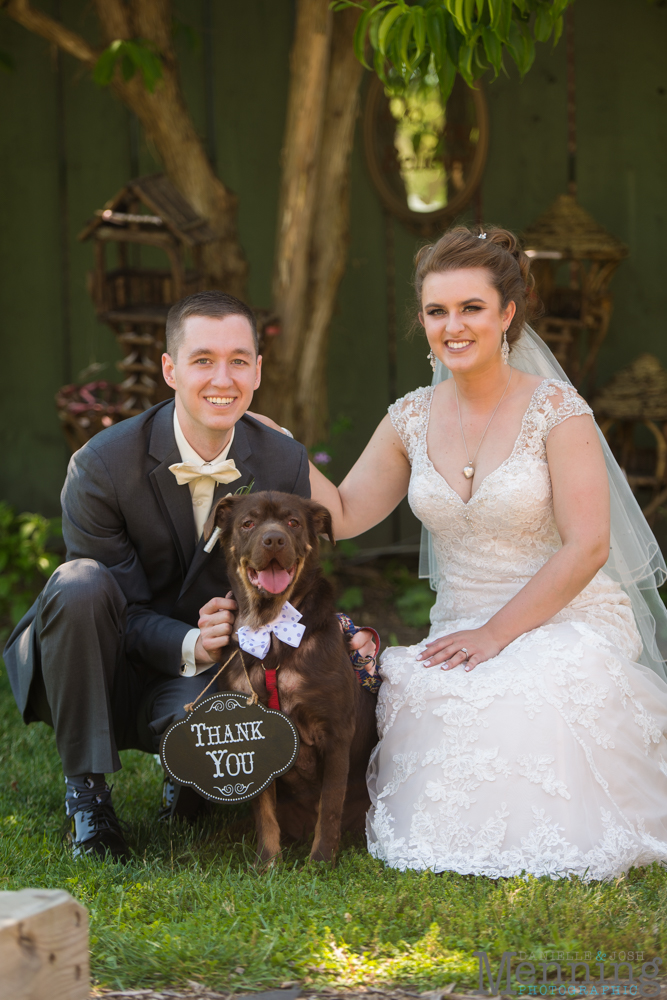 Then we went to Avalon Inn & Resorts, where the reception would be held, and took some photos with the bridal party & with Carly & Kevin alone.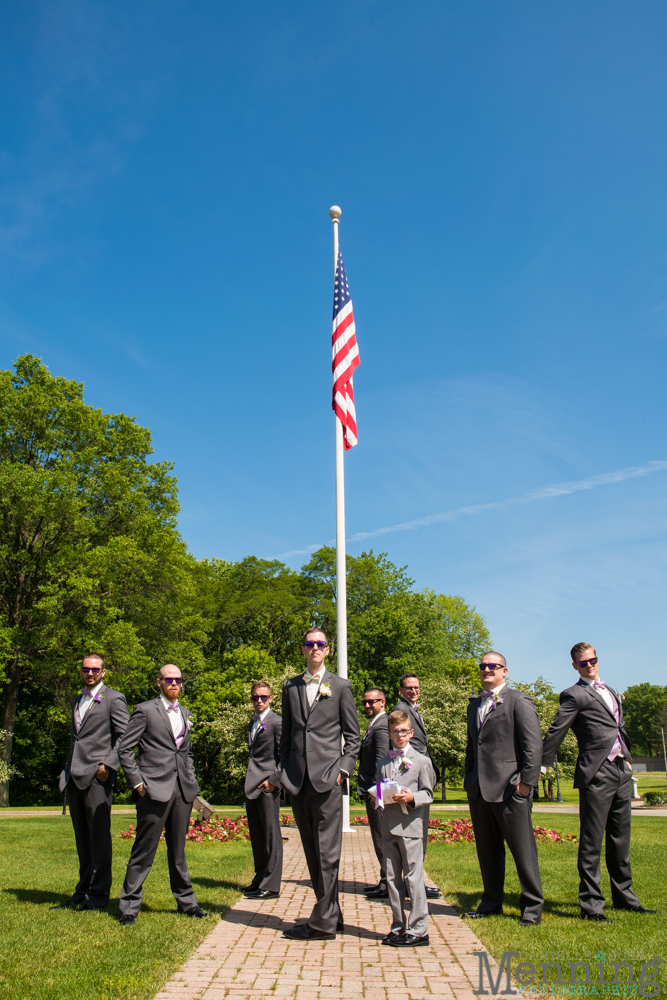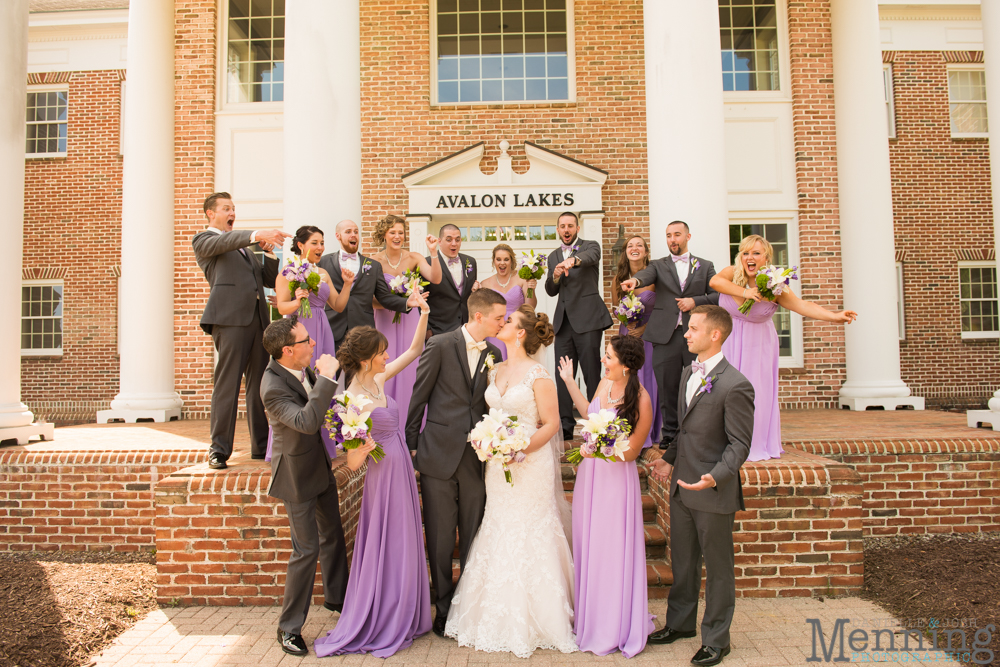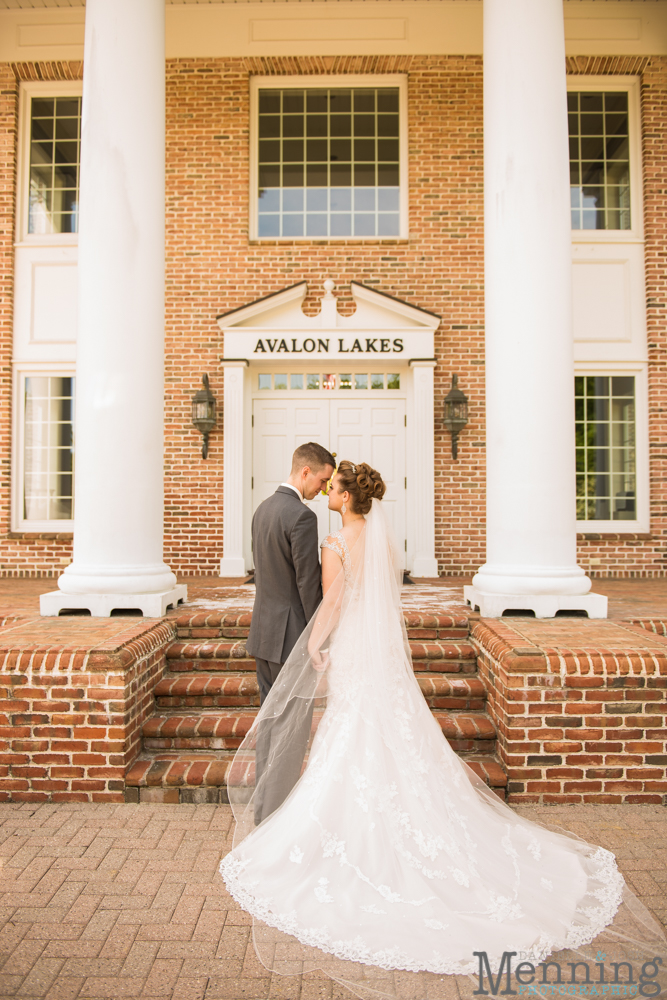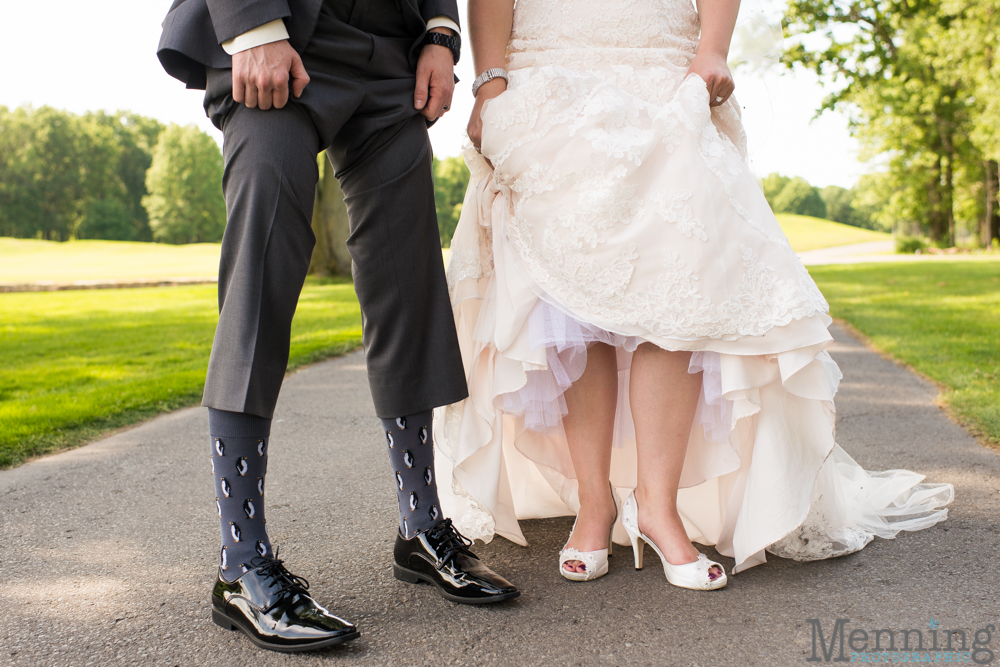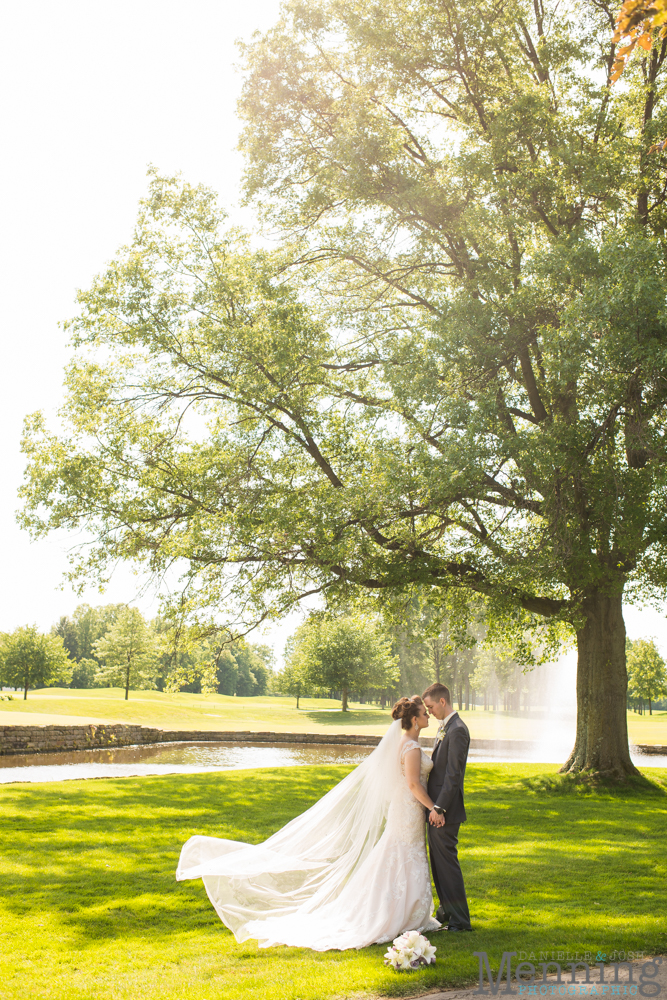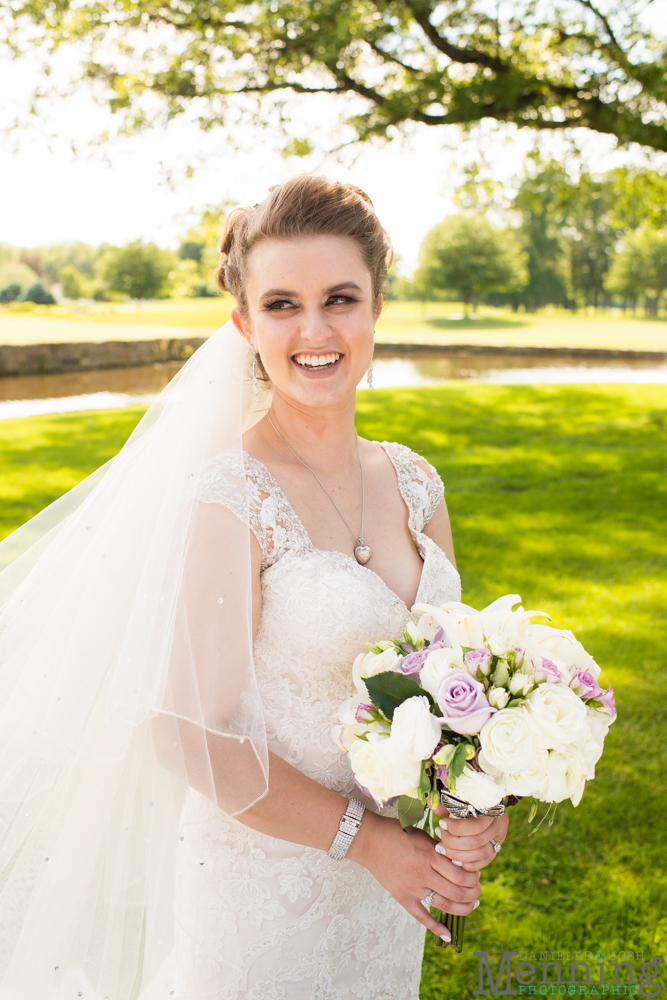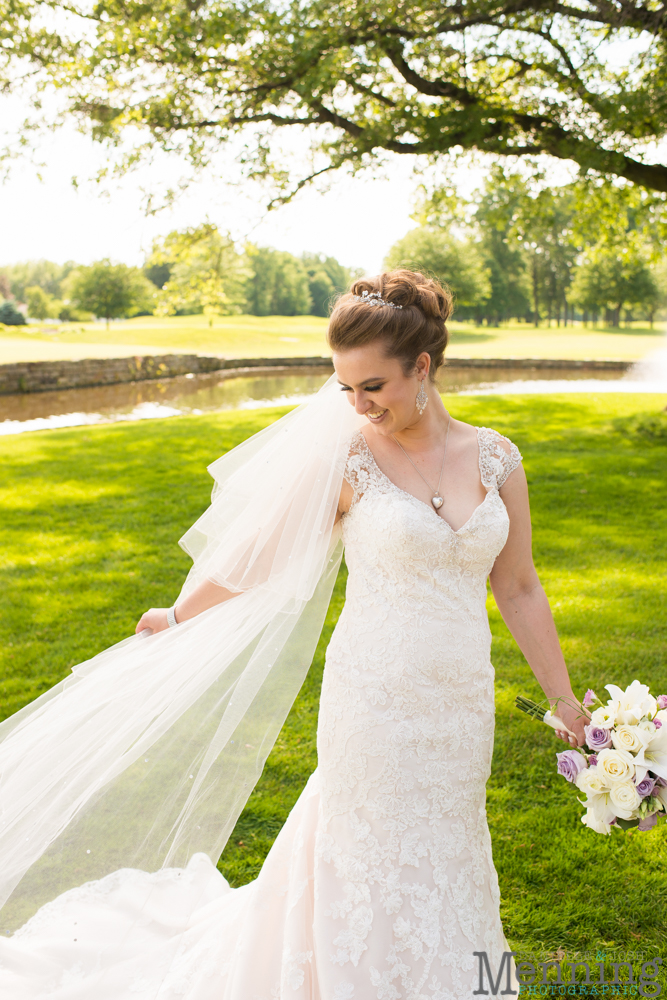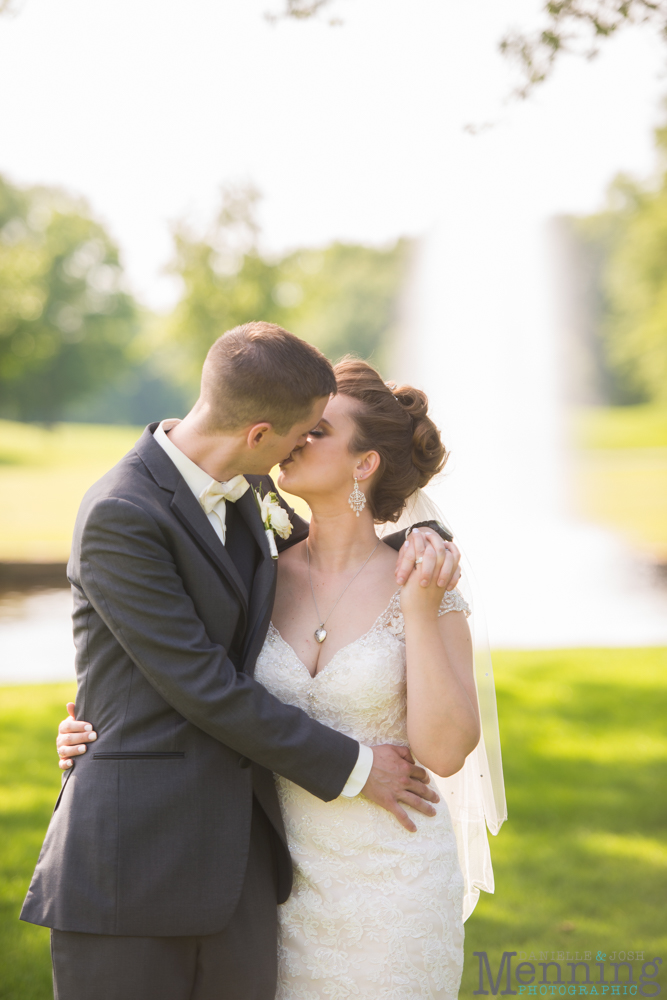 When Damon from D&R Audio & Entertainment does your uplighting, he does NOT mess around! Woohoo! That purple is beautiful! And the lovely cake is from The Cake Boutique.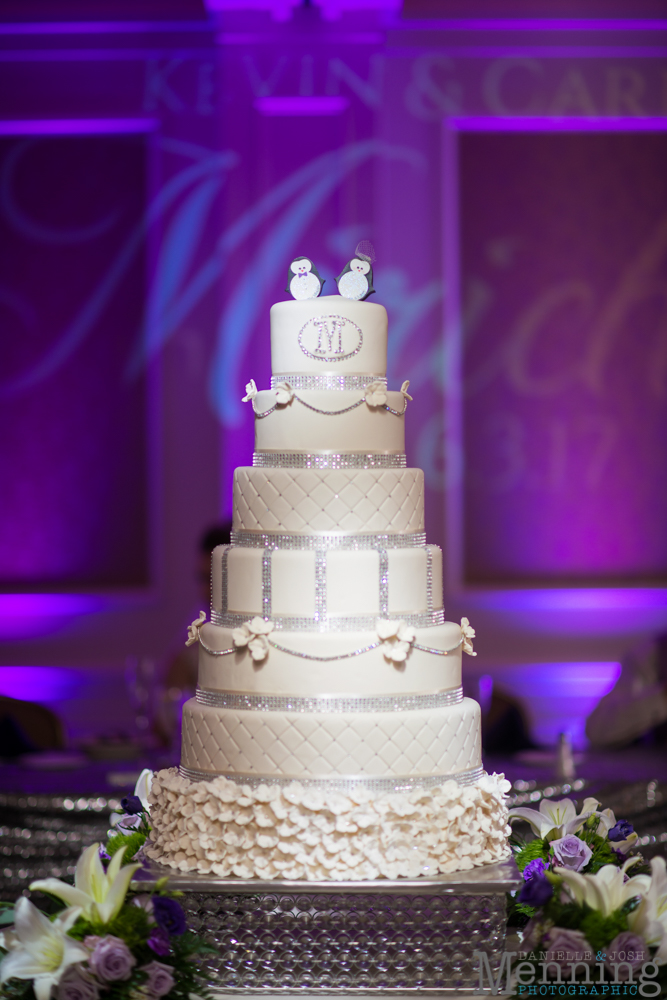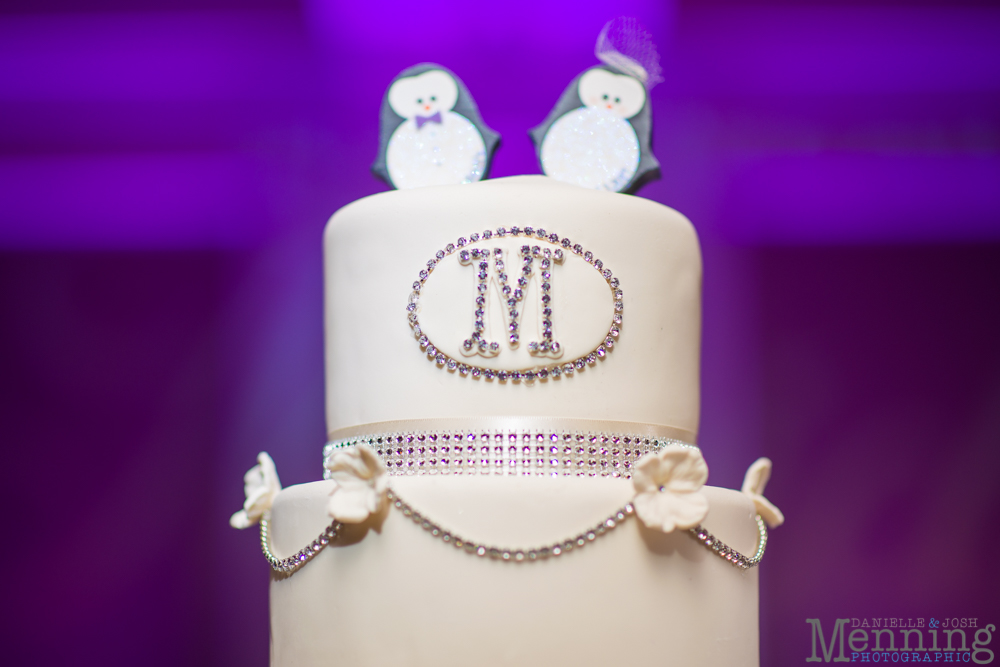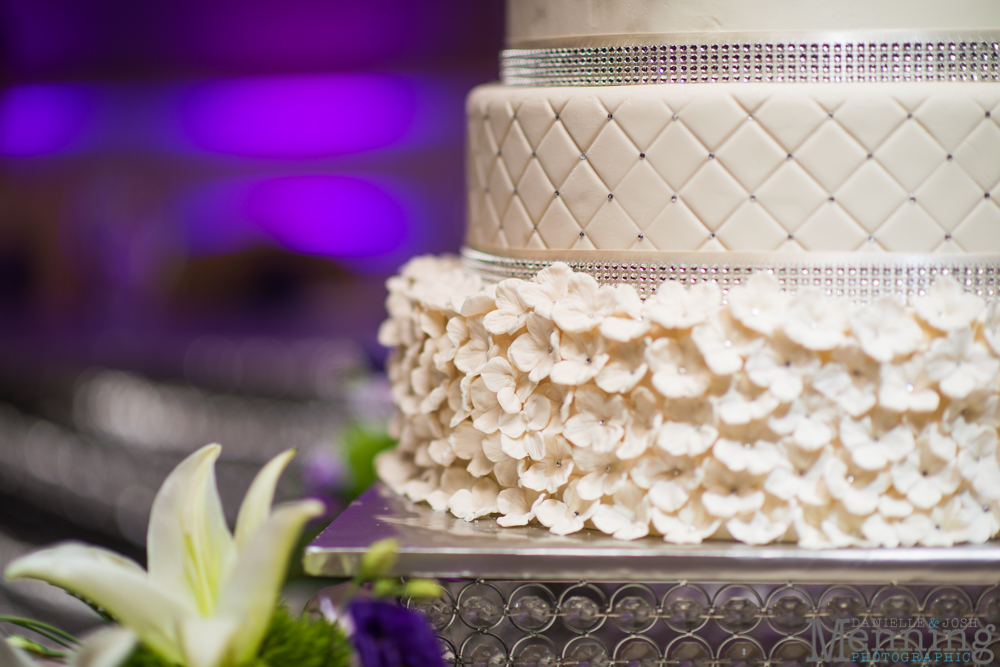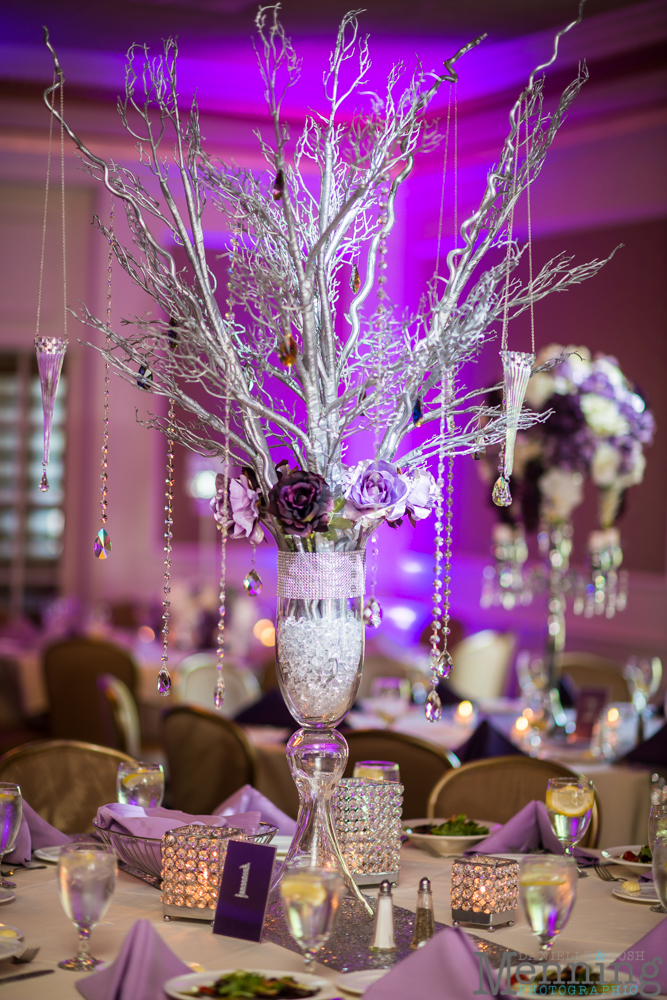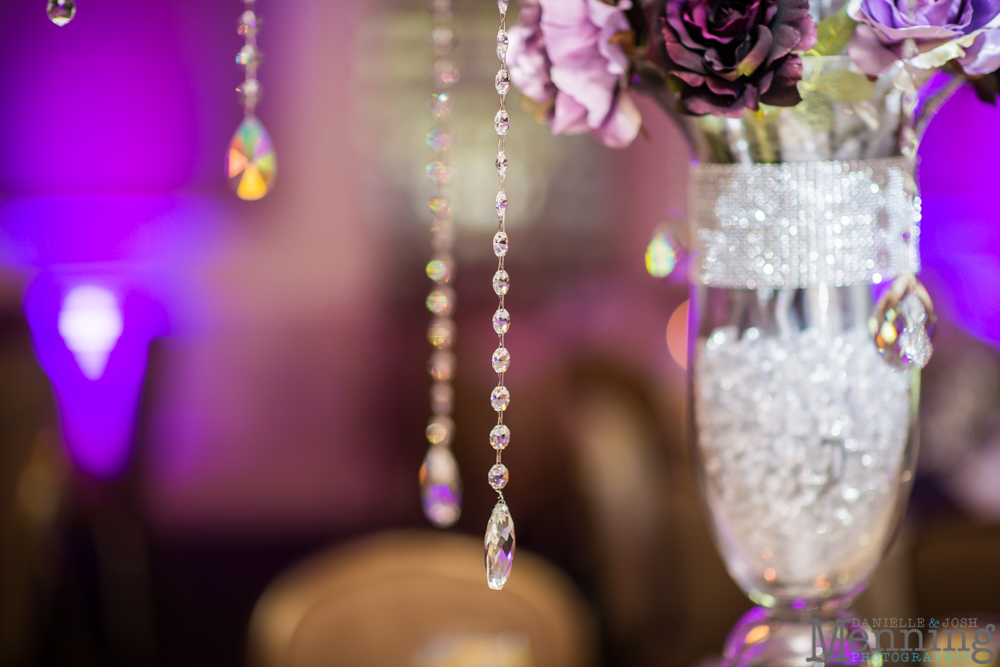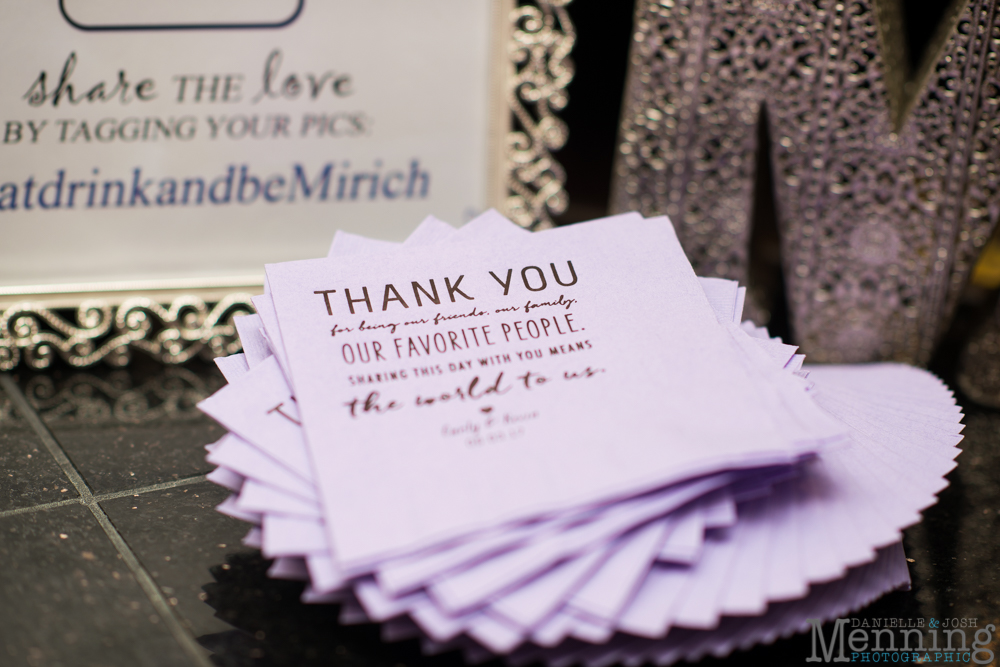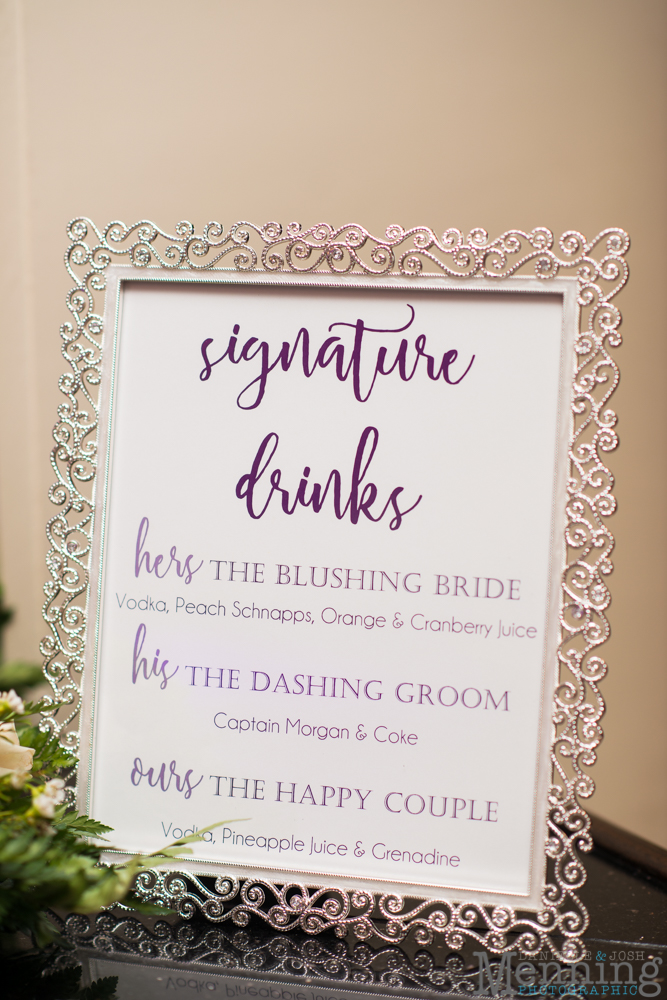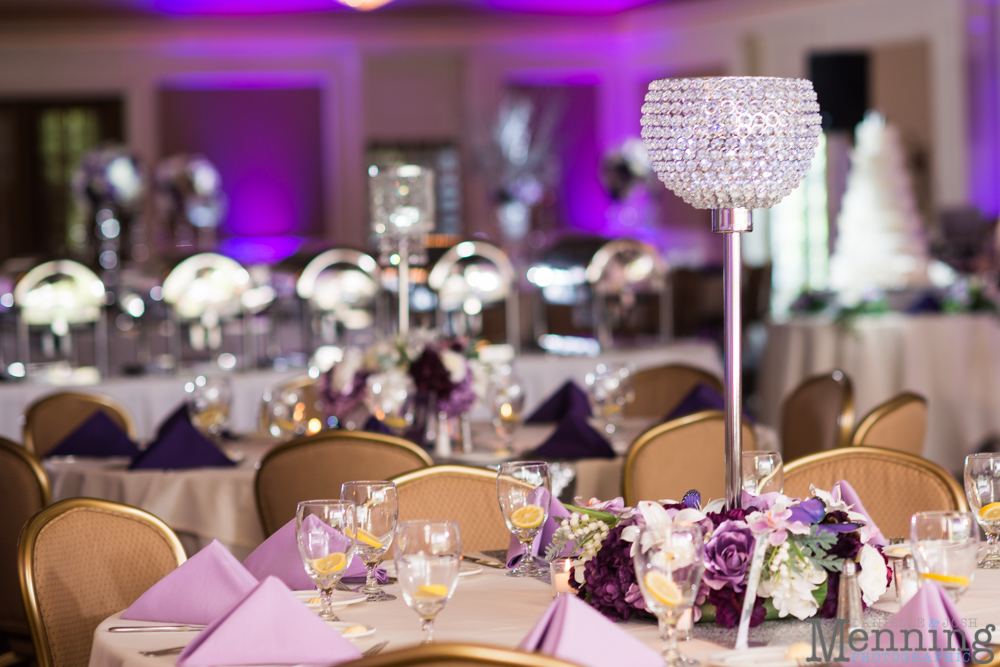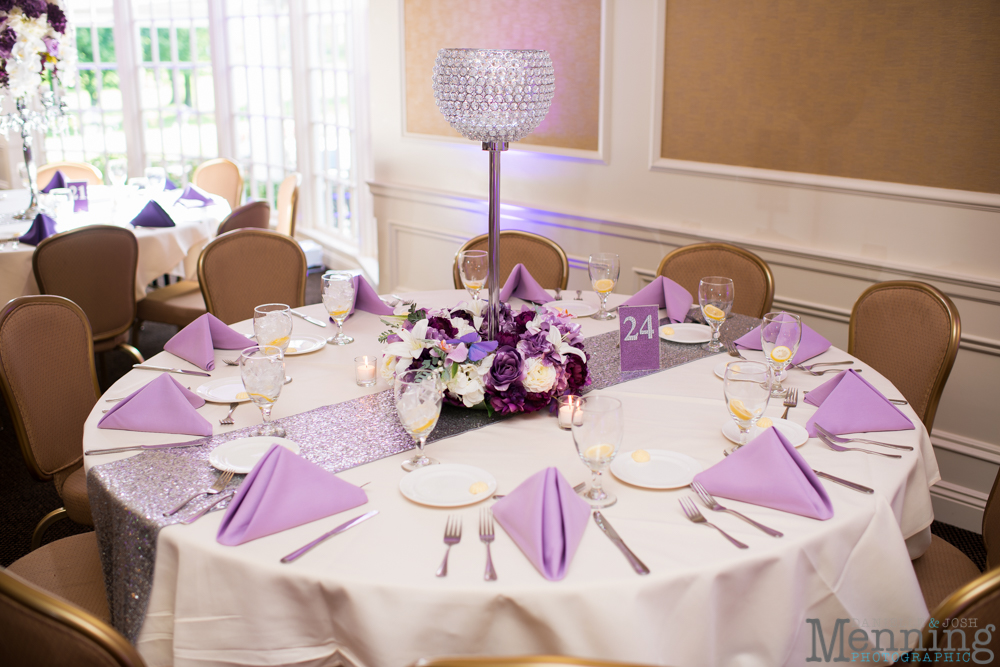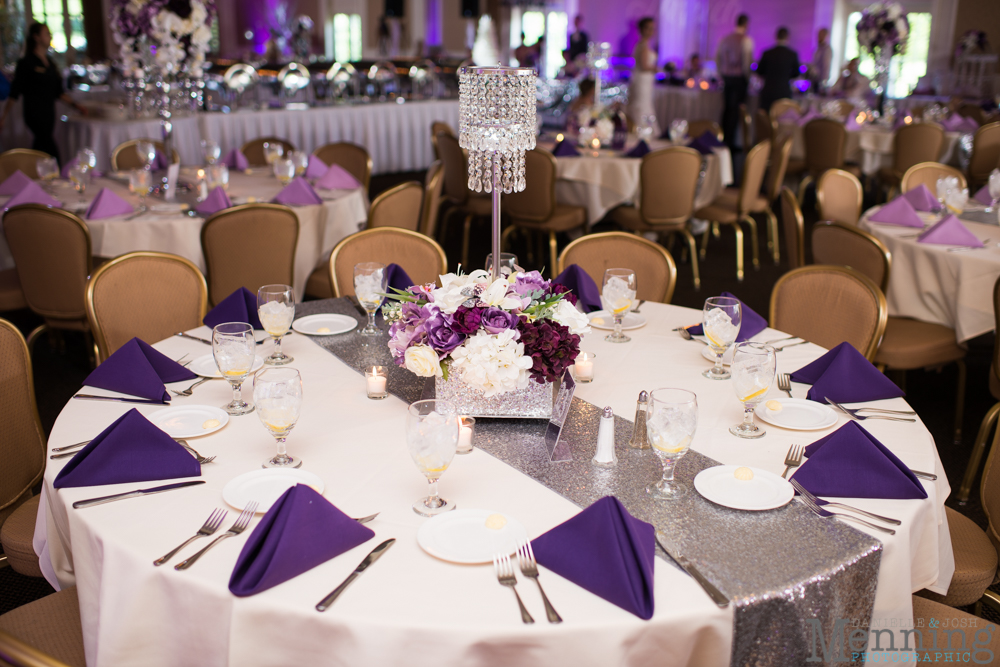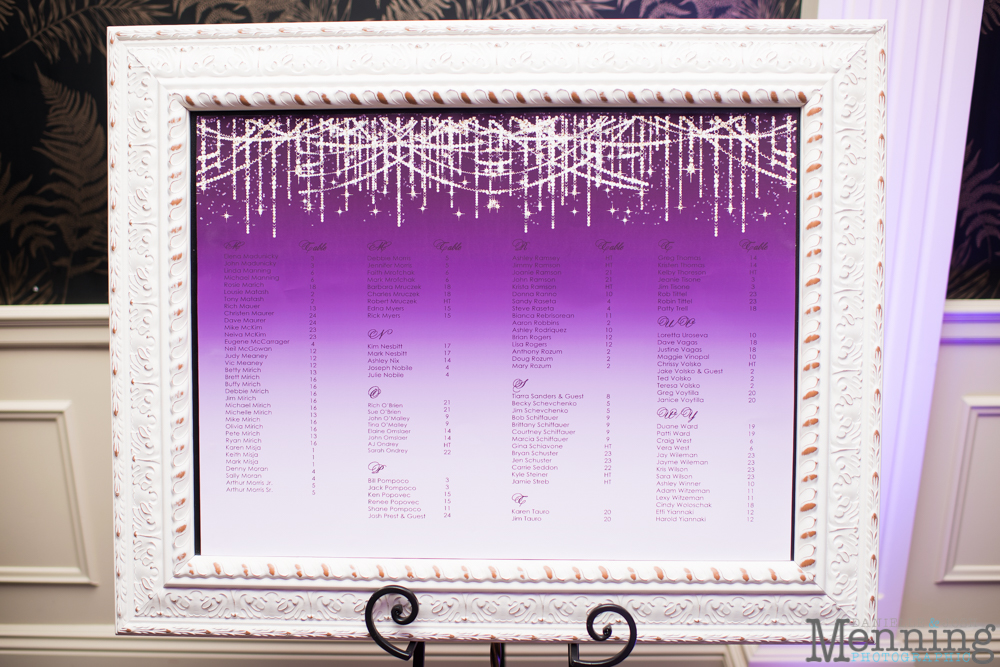 Oh, cookie tables. How we love thee.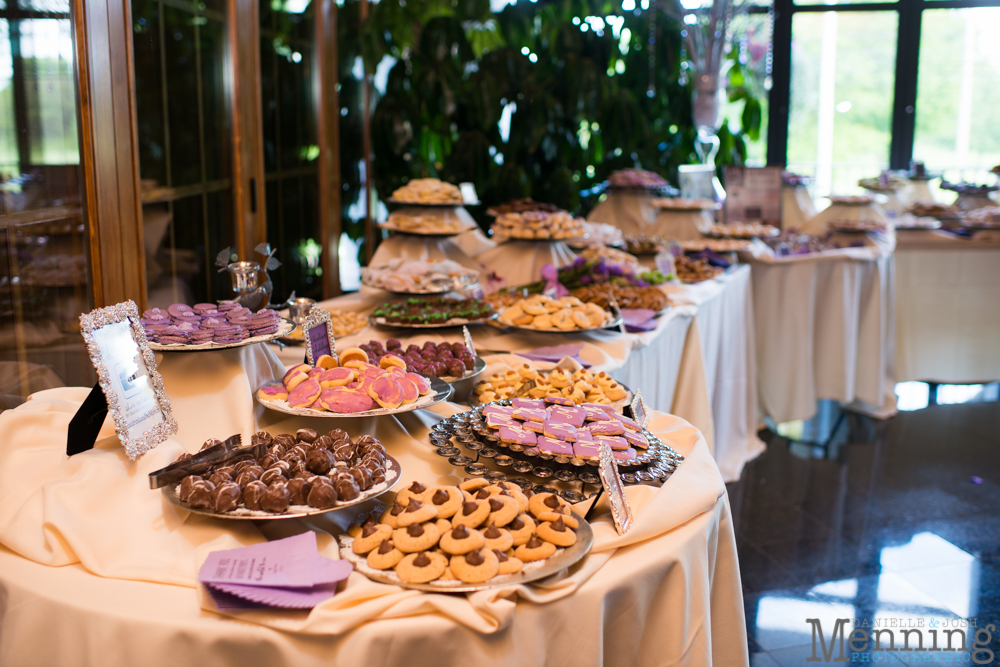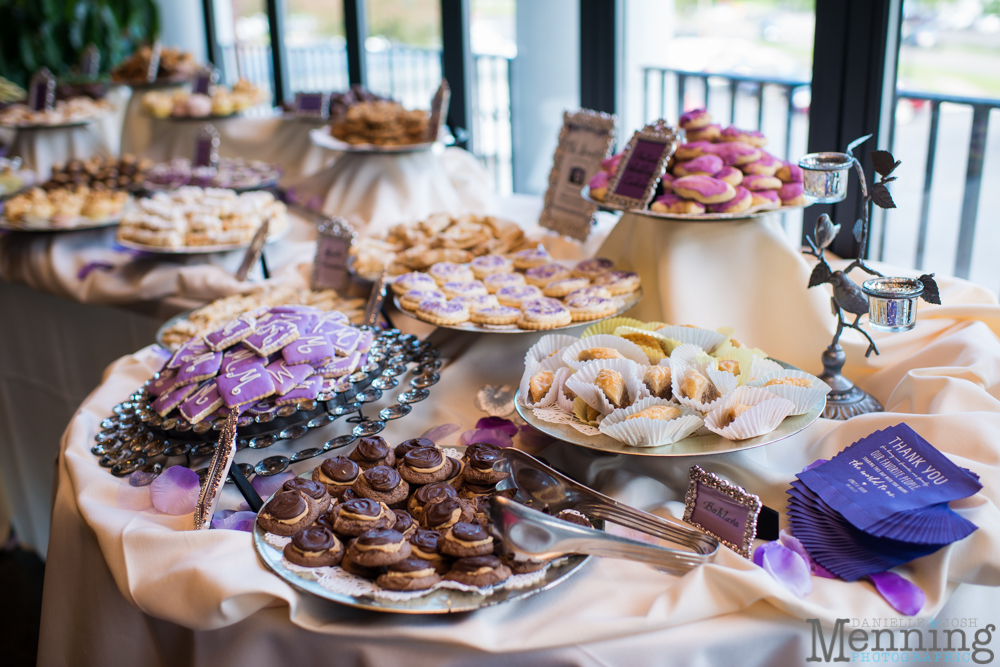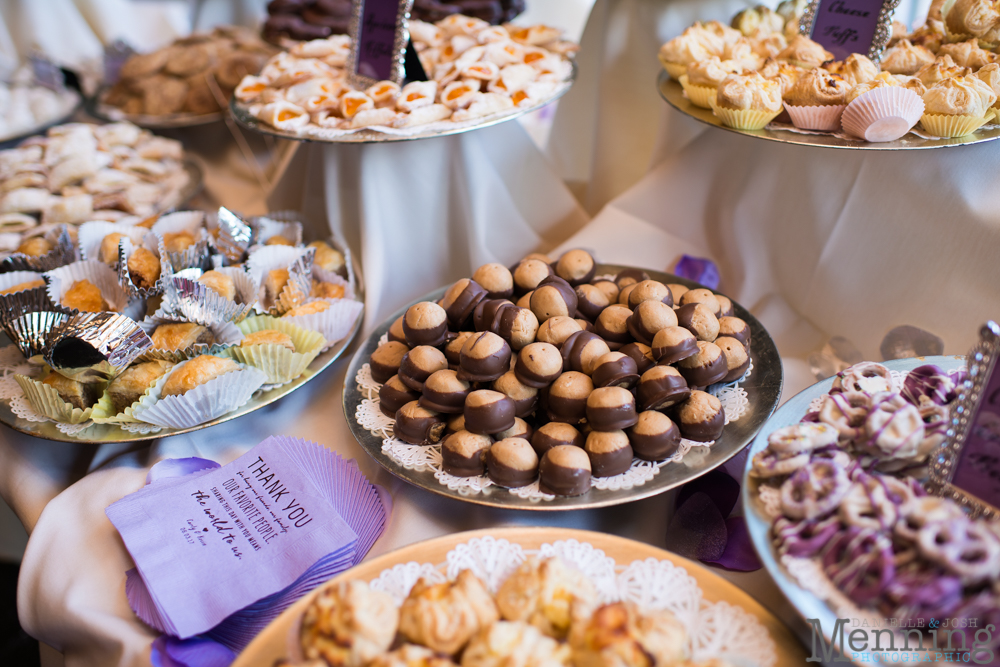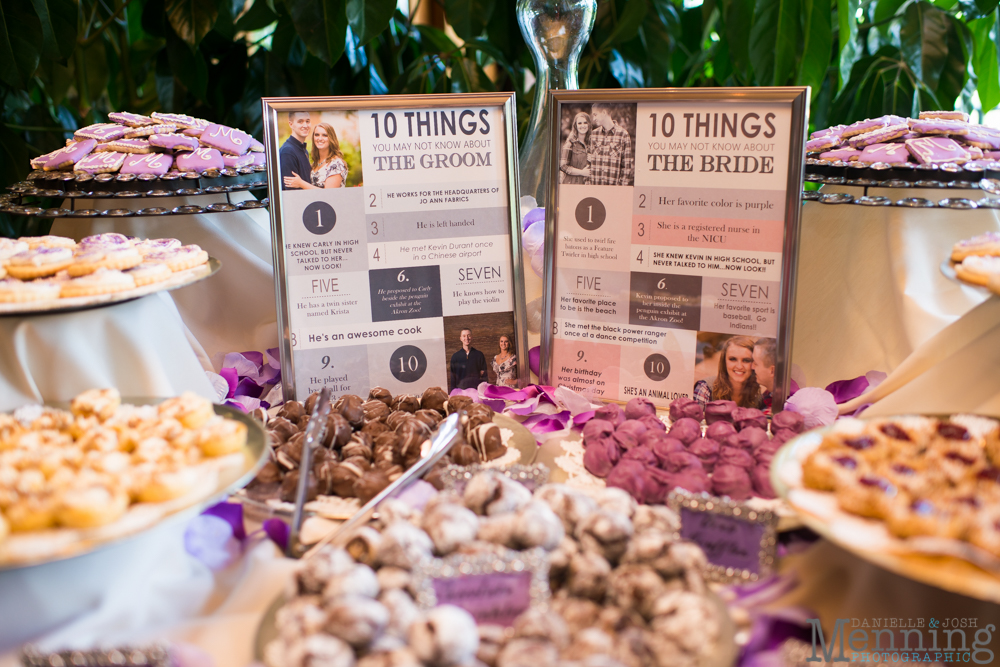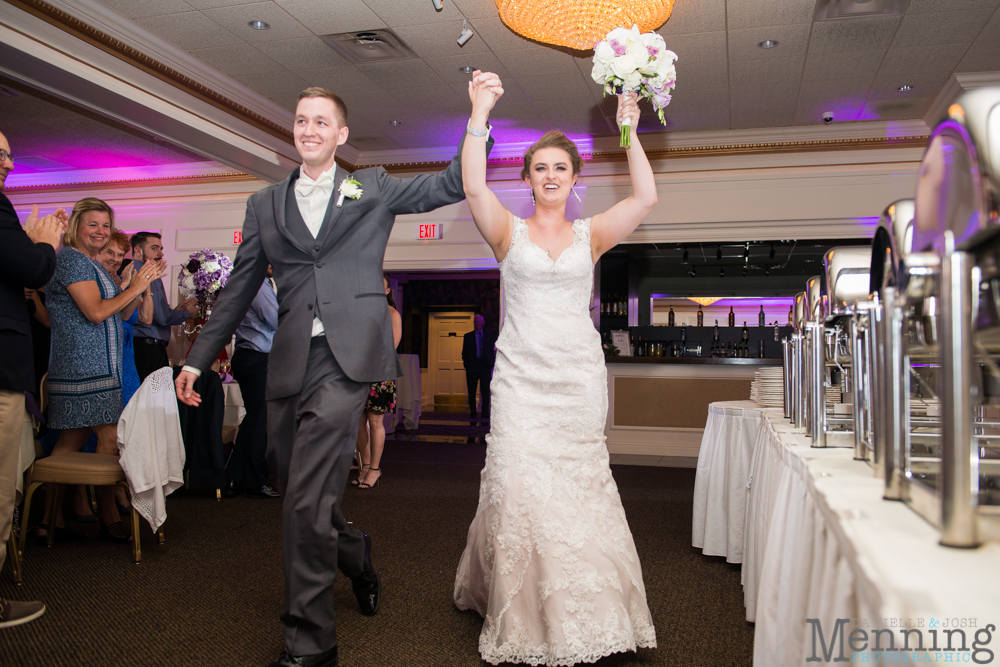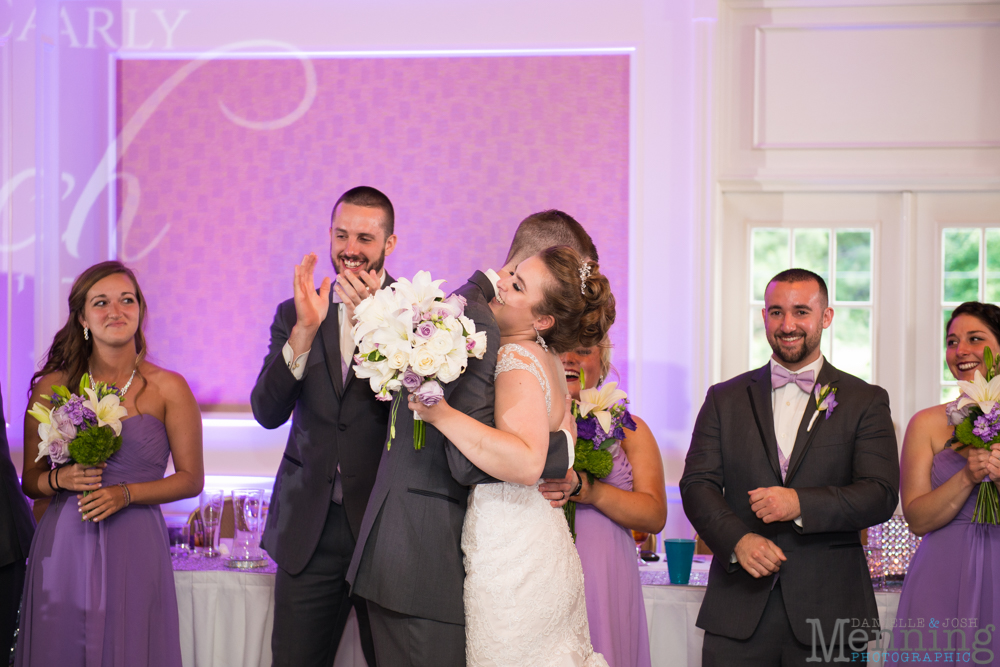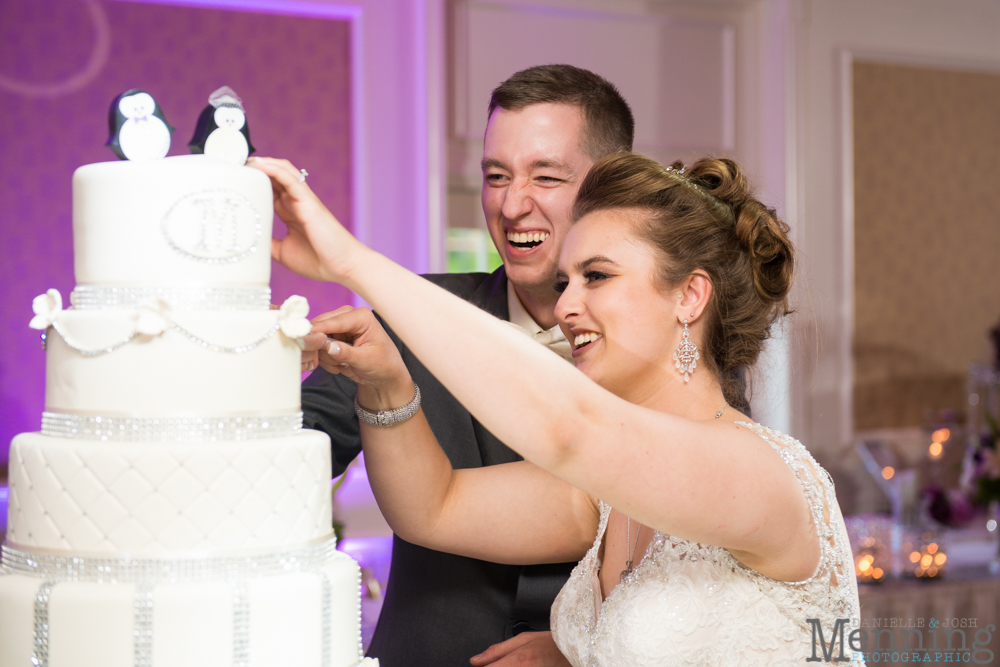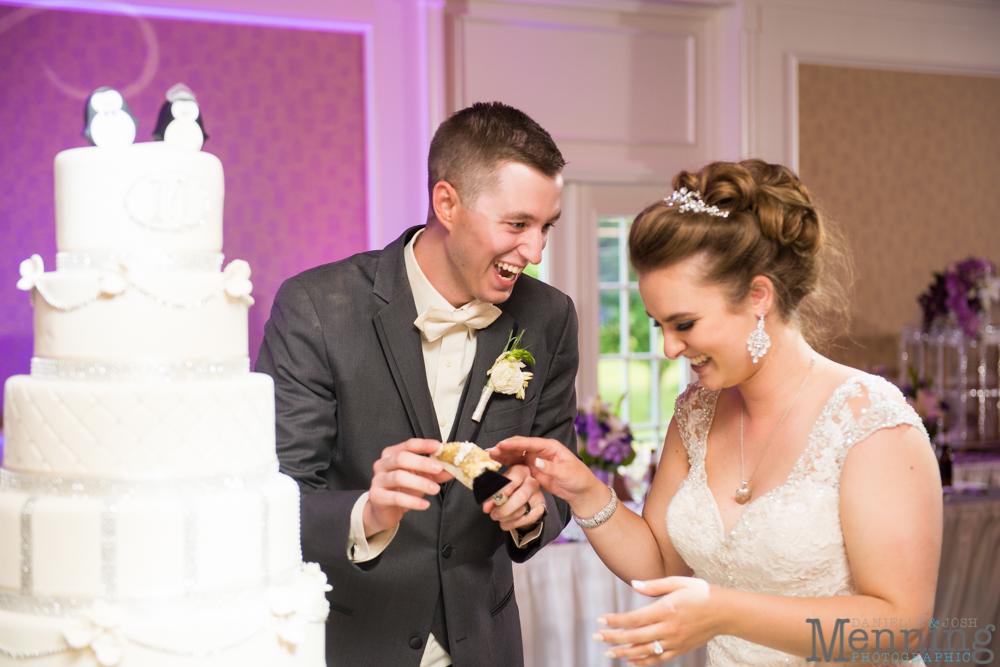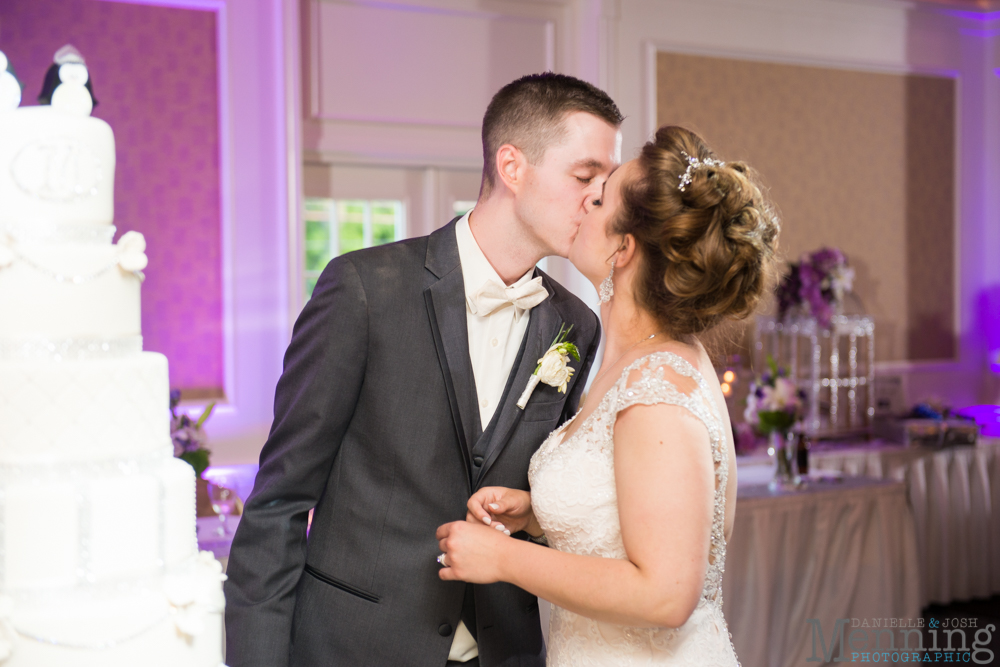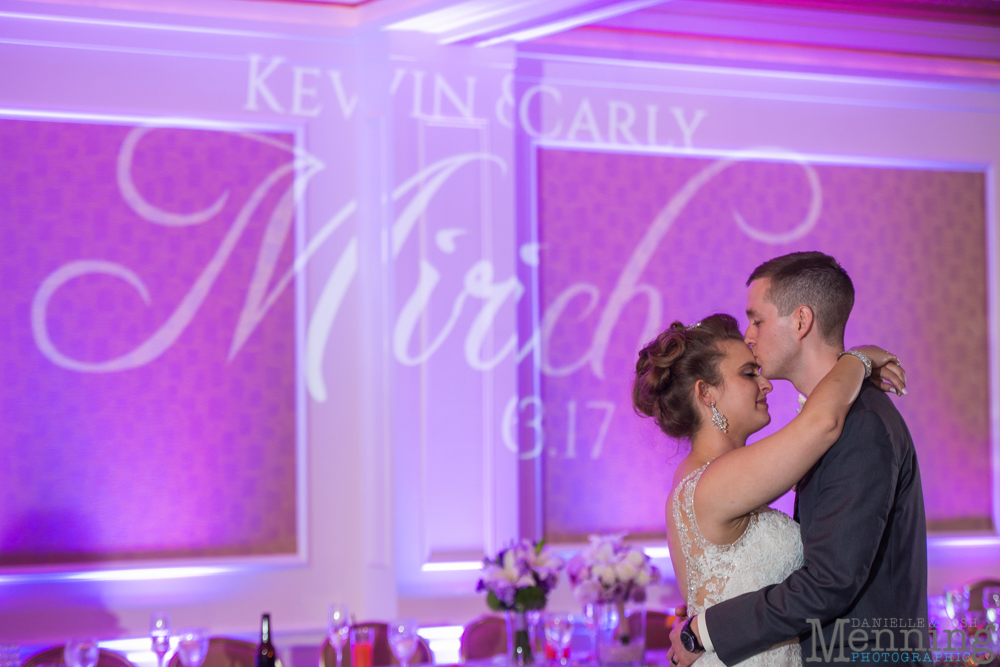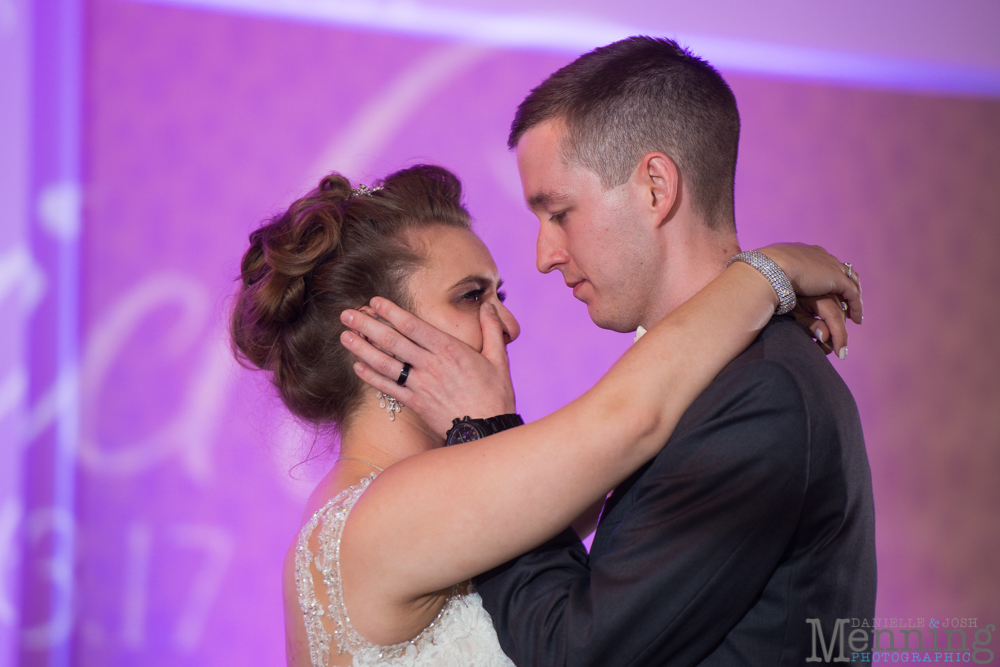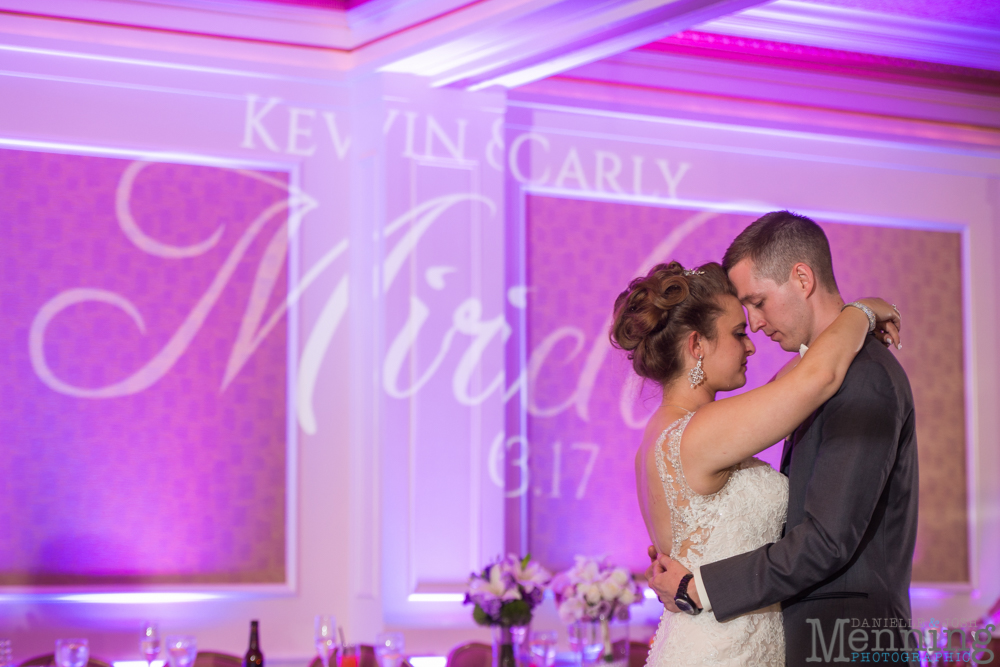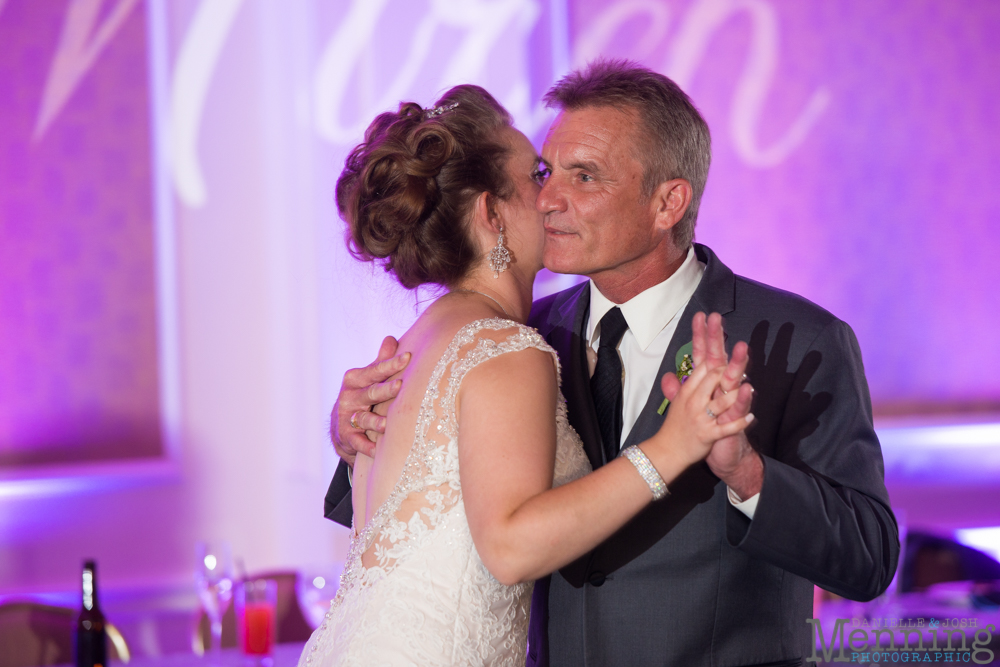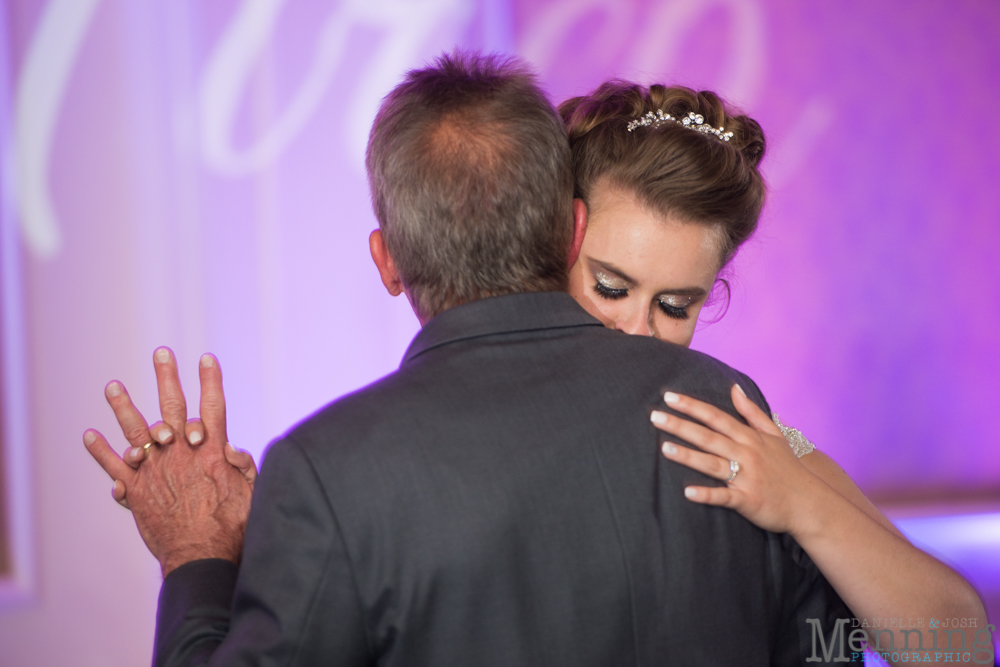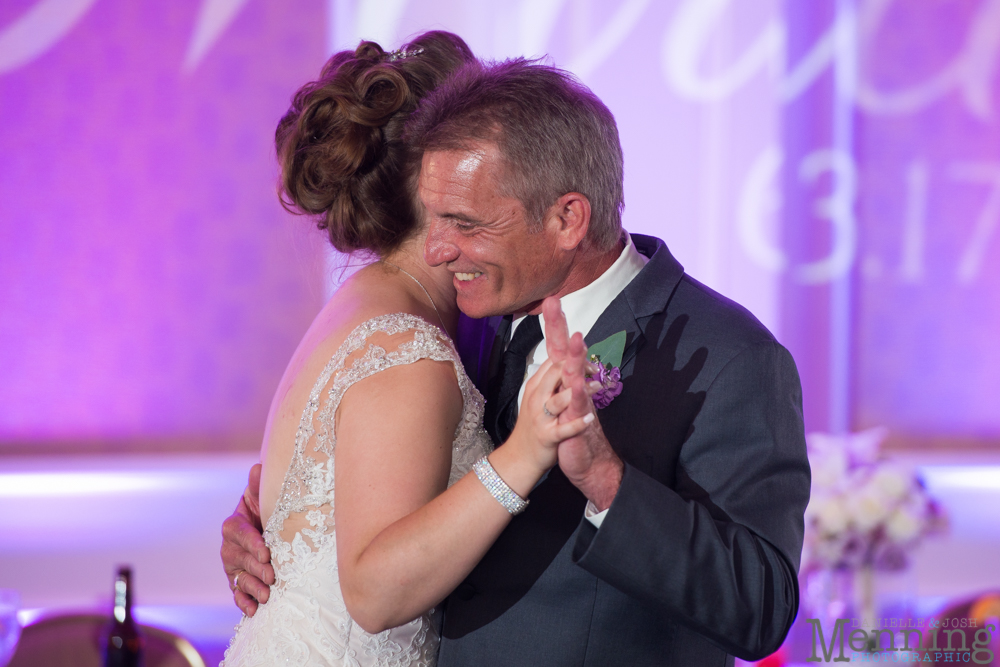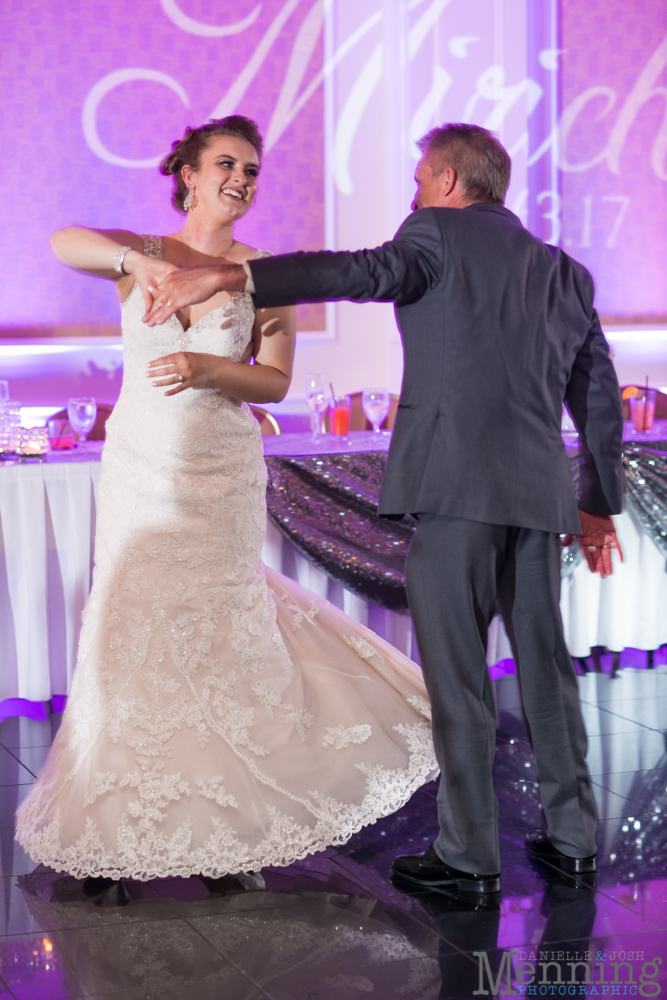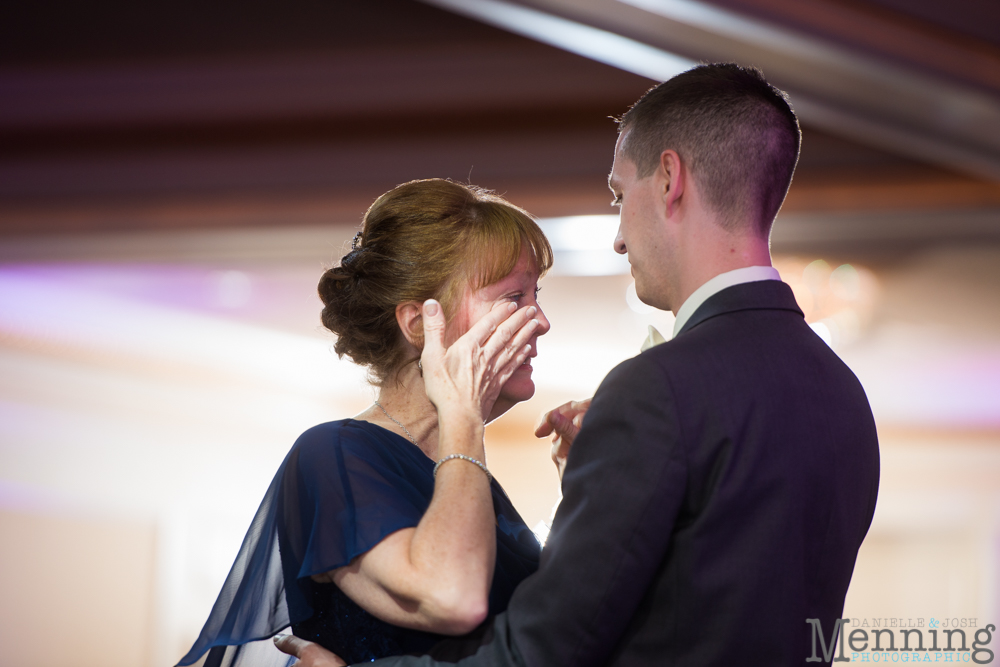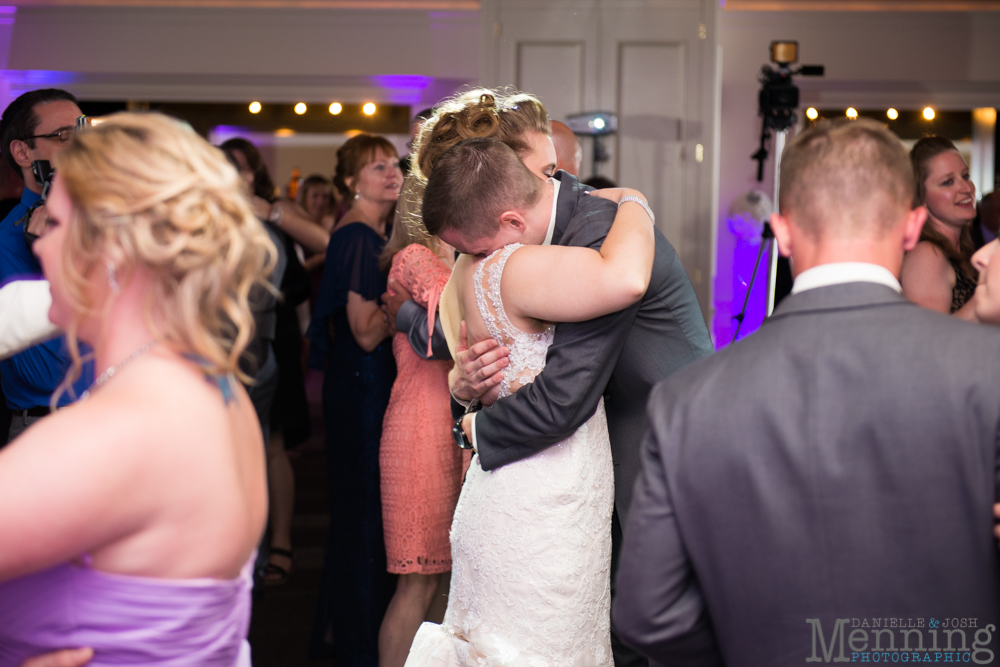 The reception was so fun & the dance floor was packed, which is why we always love working with Damon from D&R. He did their monogram, too.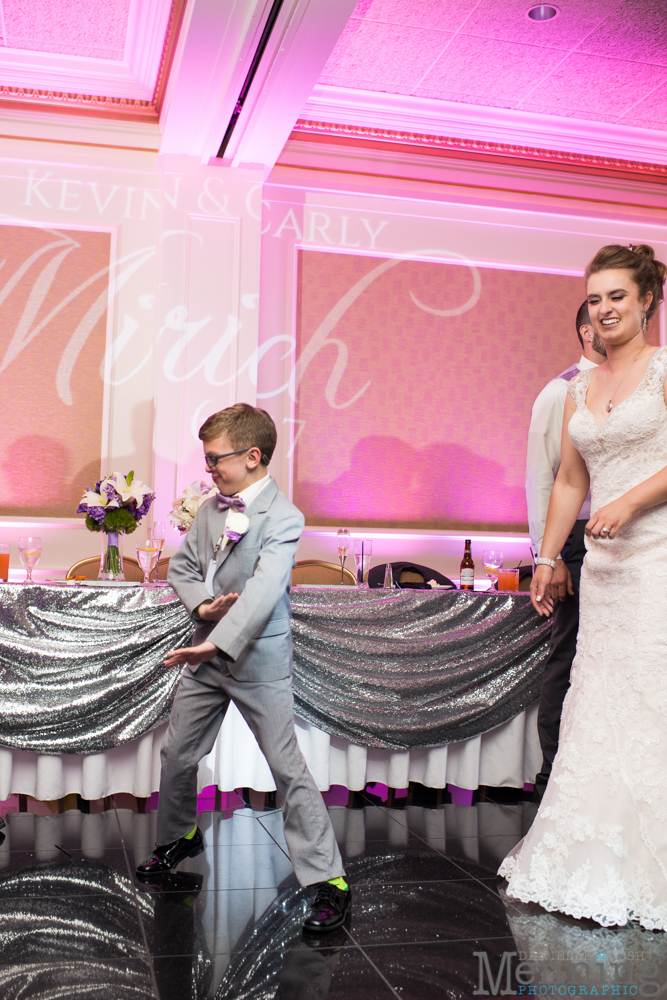 Kevin & Carly had seen our golden hour wedding portraits we had taken of past couples & said they definitely wanted to make time to do that, too. So we snuck them away for 10 minutes. Golden hour portraits have such dreamy, romantic light!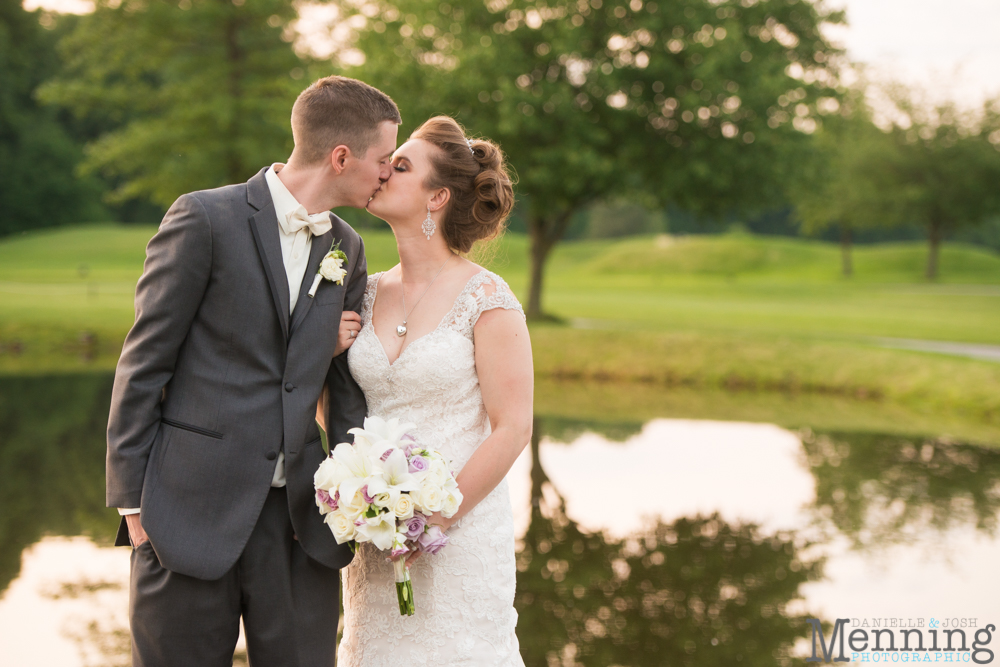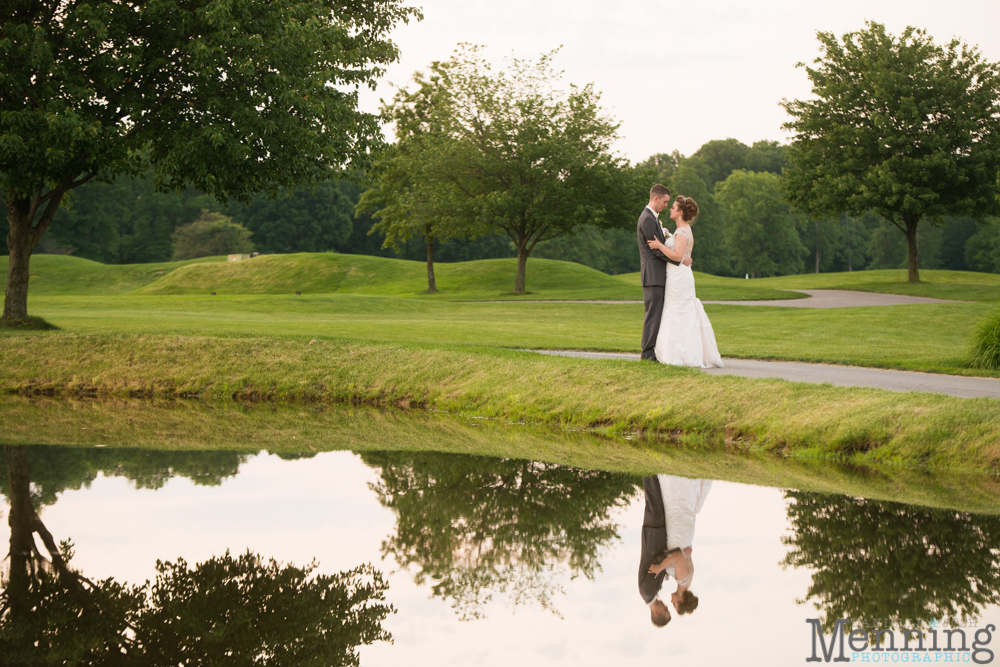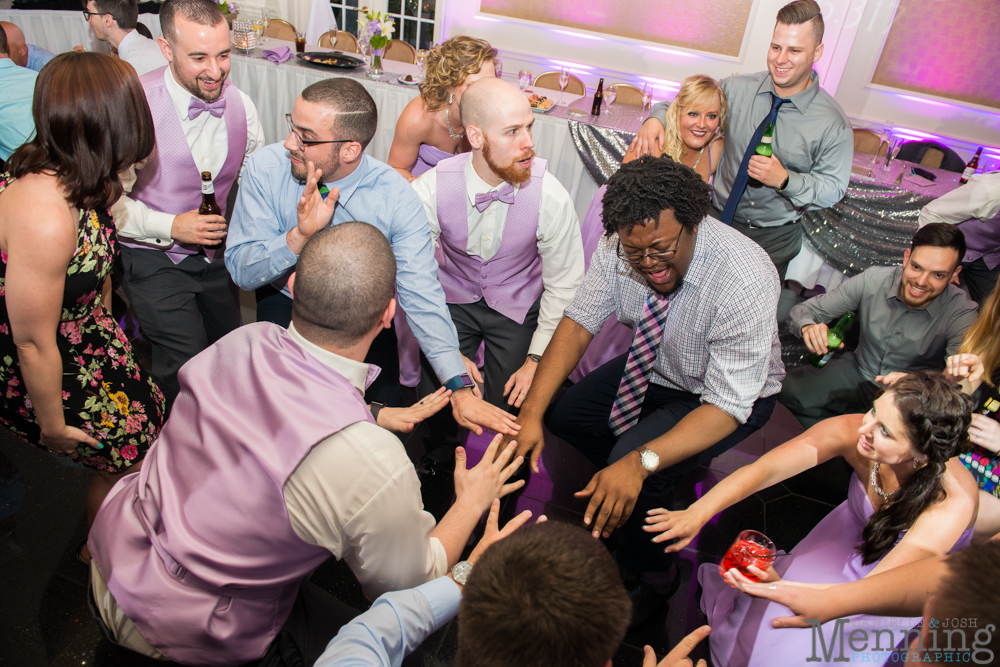 Krista & Jimmy, one of our awesome 2015 couples! We can't believe it has been two years already!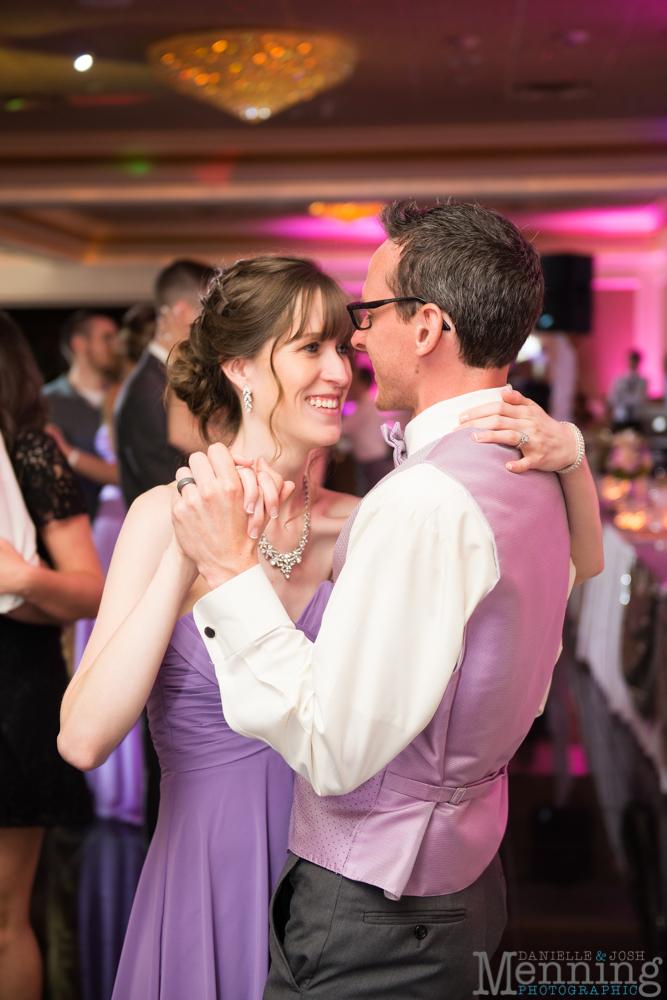 This was hilarious! A pretty single lady caught the bouquet so they sat her in the chair & told the guy who caught the garter that they were blindfolding him to make it more challenging. Then Kevin took the girl's place. The reaction when he took off the blindfold was priceless!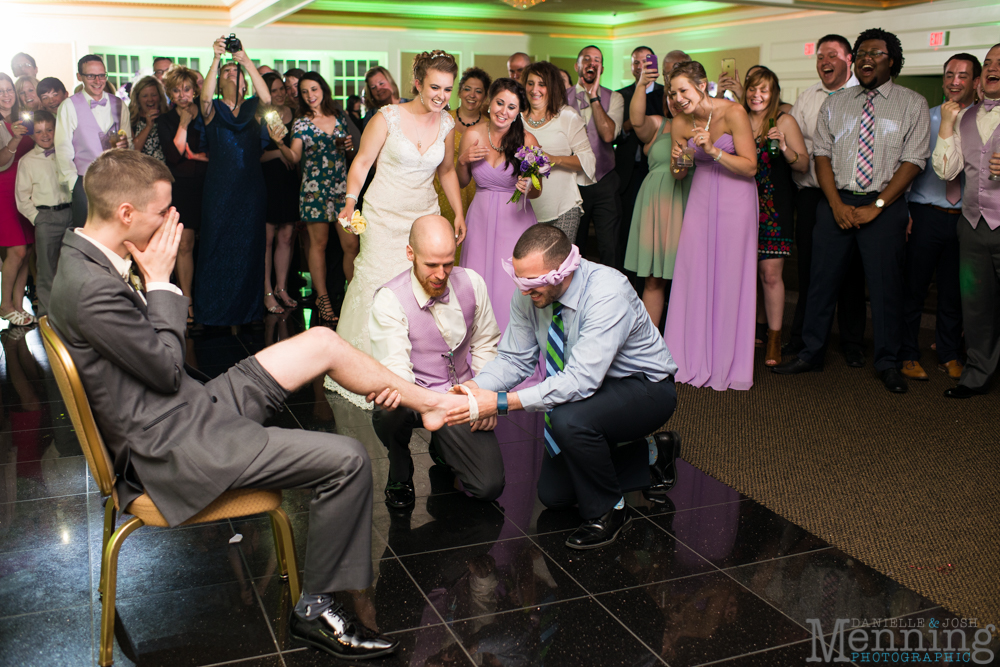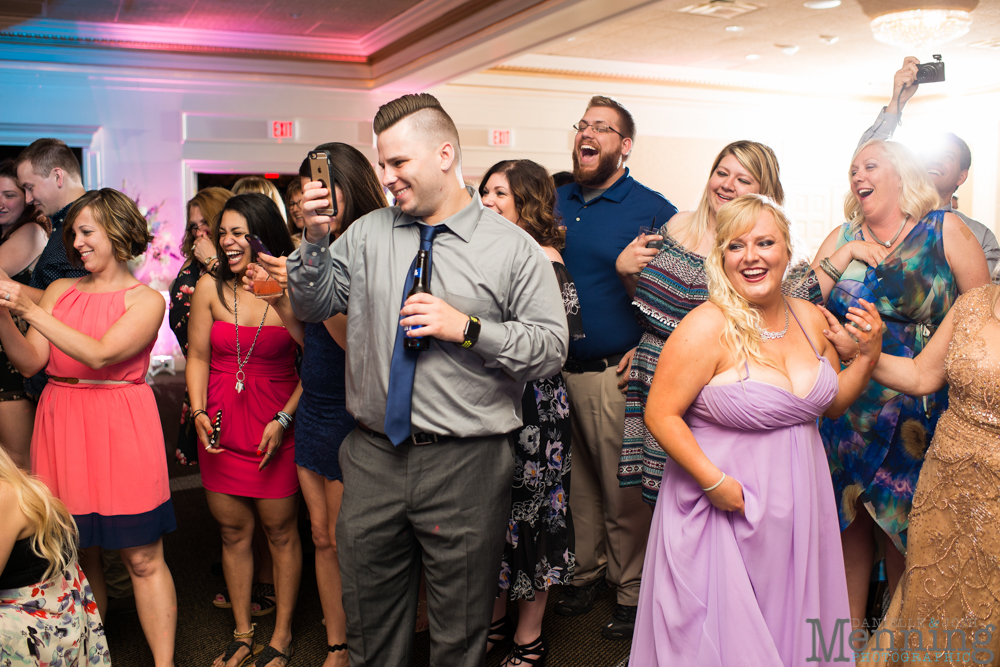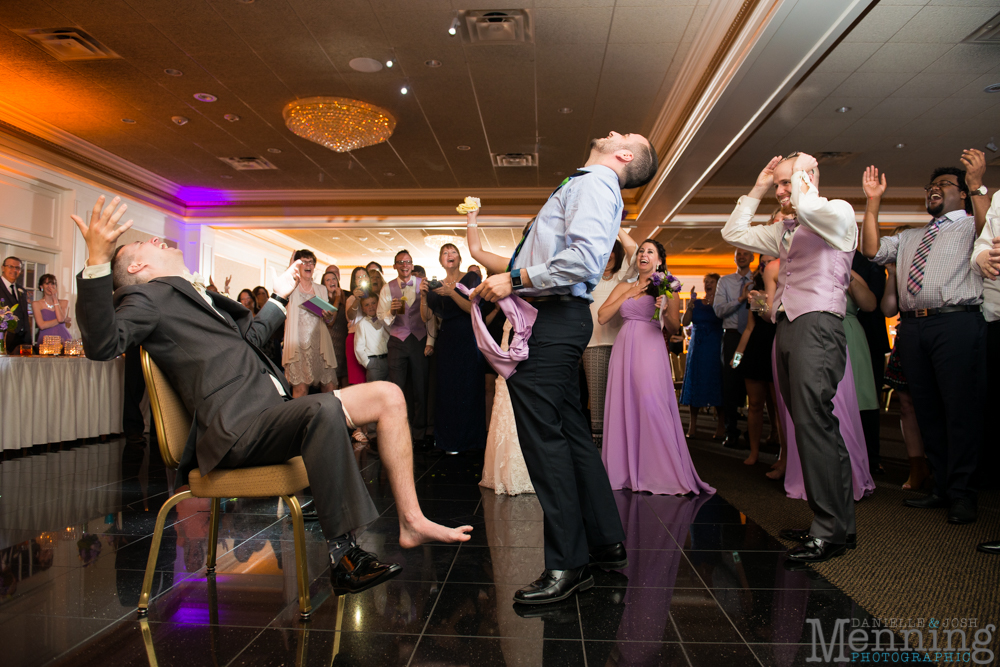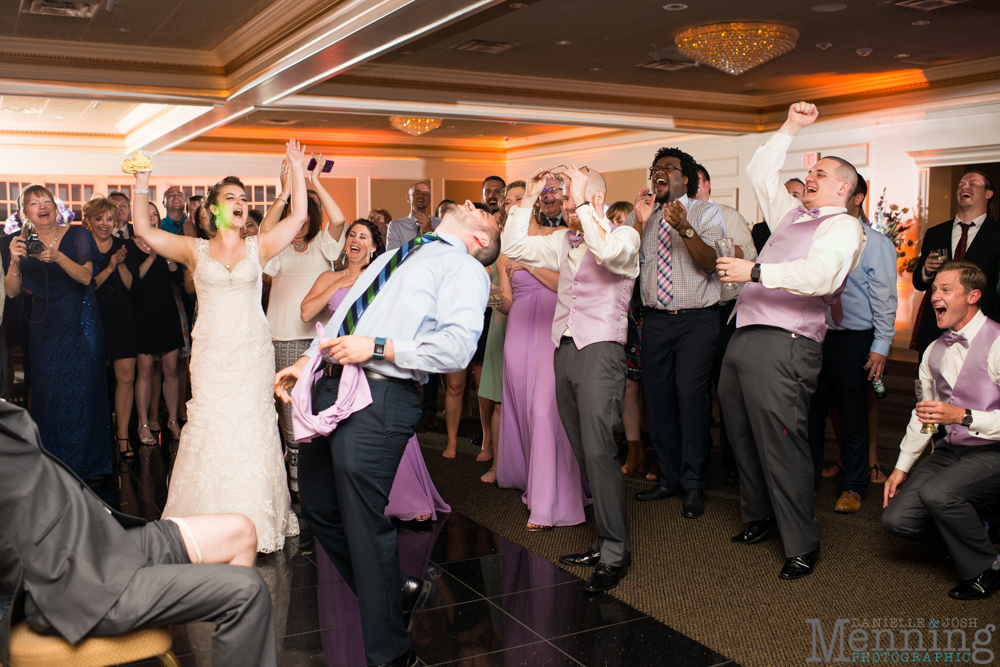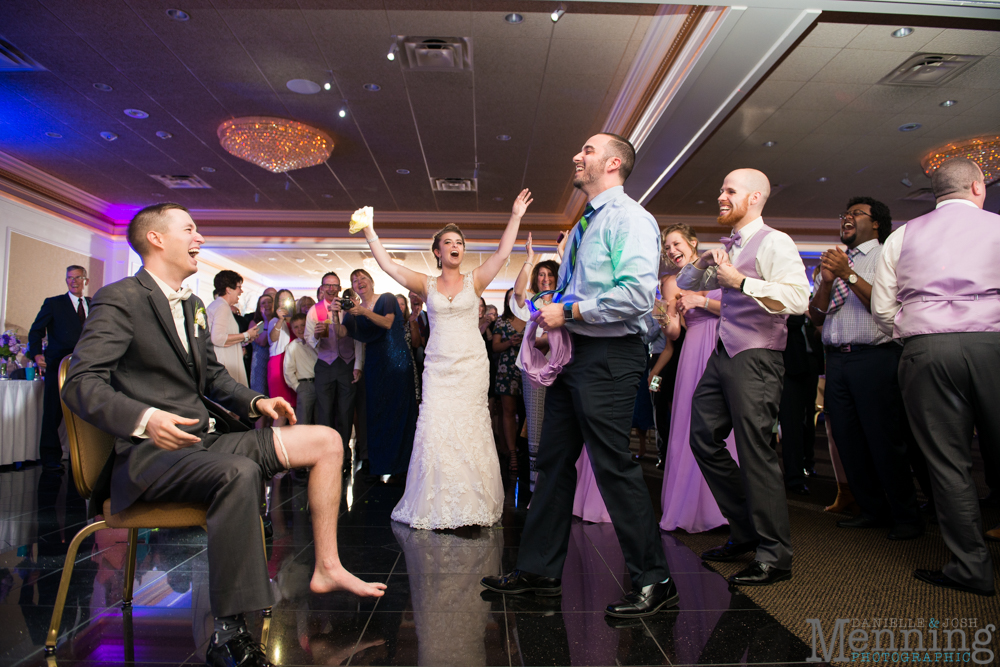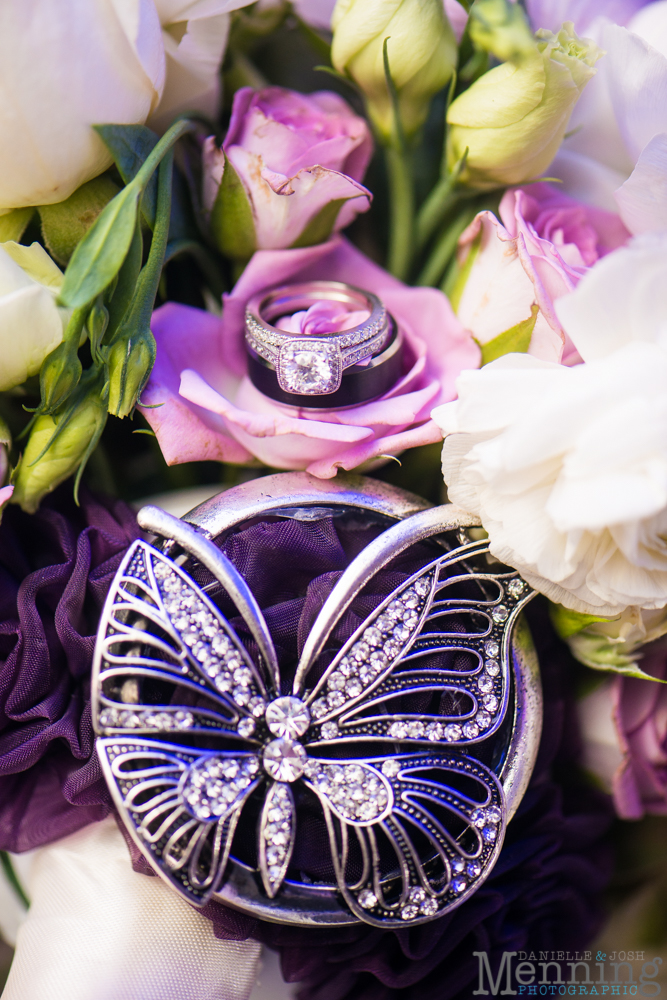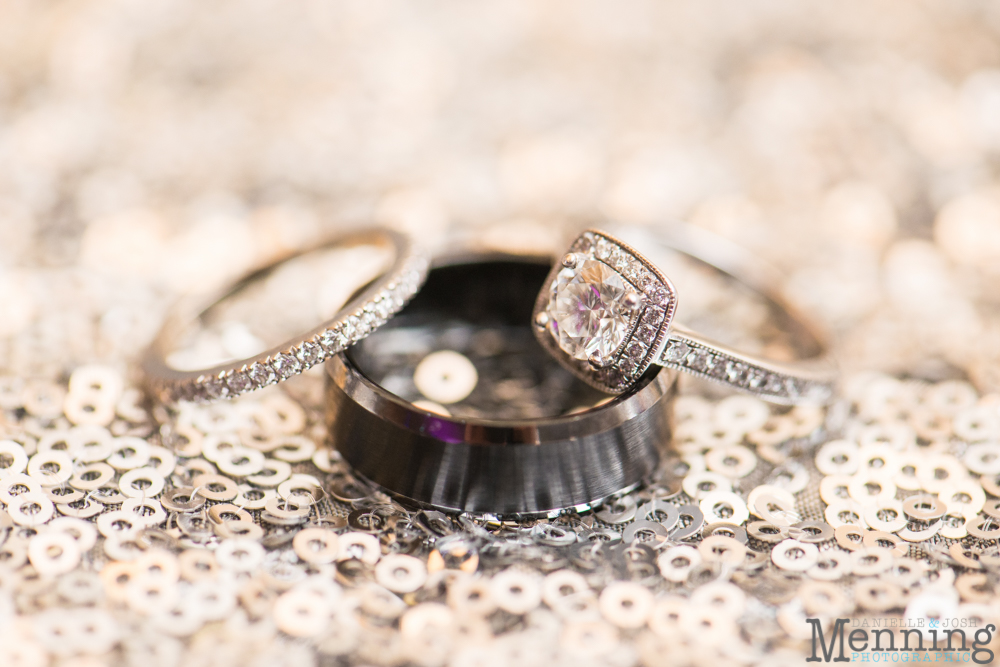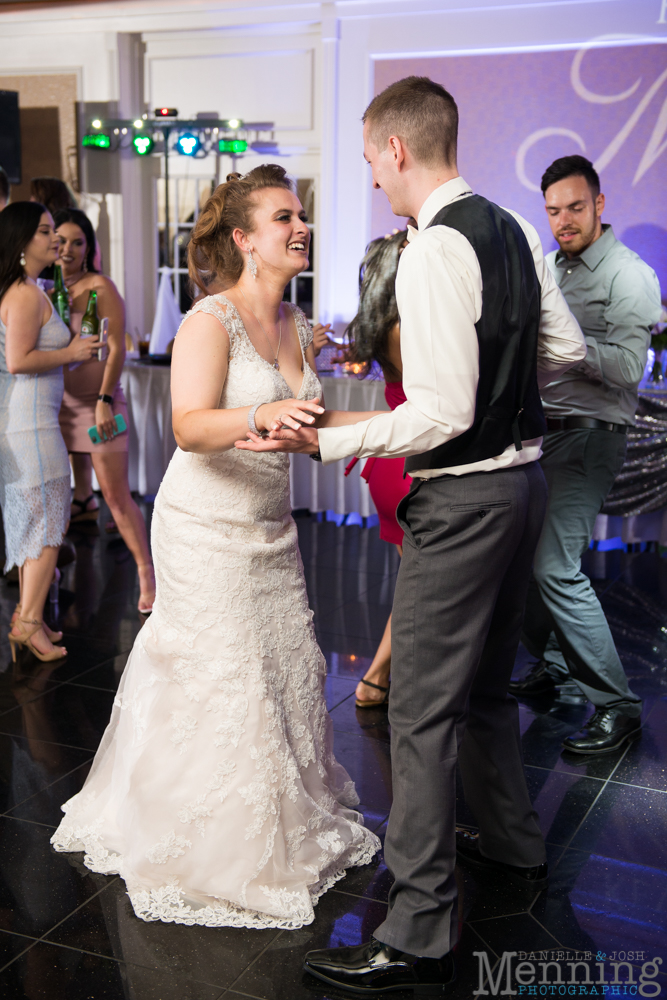 What a beautiful, fun day! Carly & Kevin, we had a fabulous time with you & wish you so much joy & closeness throughout your life together! Thank you again for choosing us to photograph your wedding!
Thanks for reading our blog! We're Josh & Danielle; we're married and we shoot people on their wedding days! We'd love to hear from you in the comments! How did you hear about our blog? Are you getting married soon? Connect with us & see if we're a fit for your wedding day photography! We can also be friends here:
Instagram | Facebook | Twitter | Pinterest | Google +
If you liked this blog post, you may also be interested in:
Classic, Kate Spade Inspired Avalon Inn Wedding in Warren, Ohio