Christina & Scott enjoyed a gorgeous Autumn wedding day featuring the most beautiful details that made Antone's Banquet Centre feel warm and cozy. Neither of them could've smiled more on that day. Their joy radiated throughout St. Columba Cathedral as they said, "I do." Their family members & friends were all so happy to enjoy the celebration, and we were so honored that Christina & Scott chose us to photograph the love!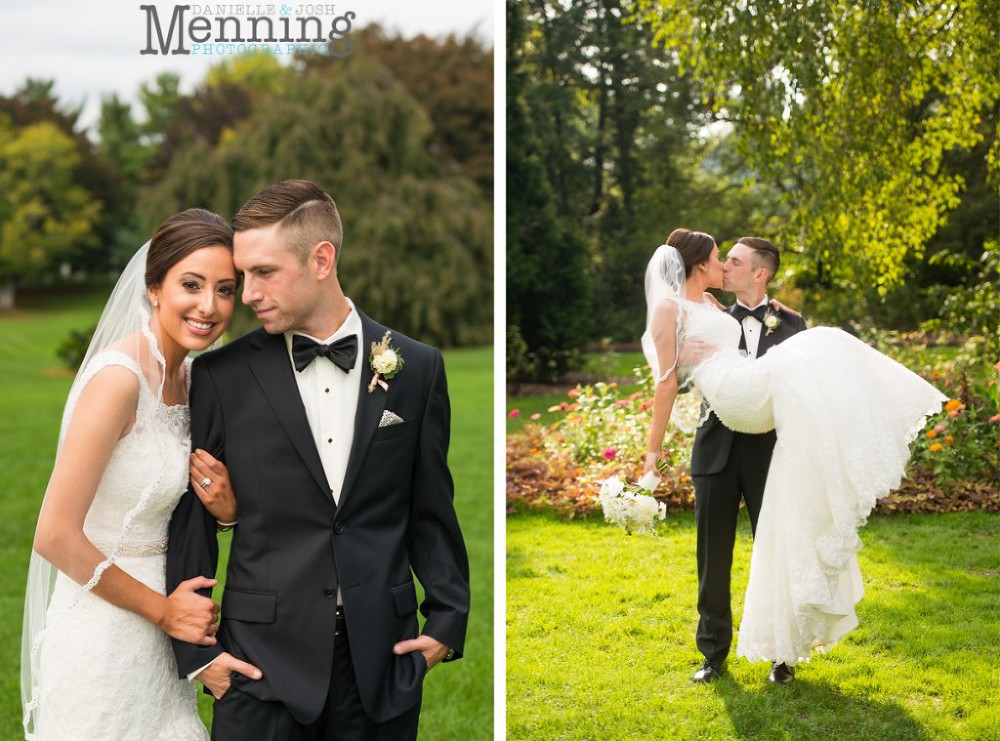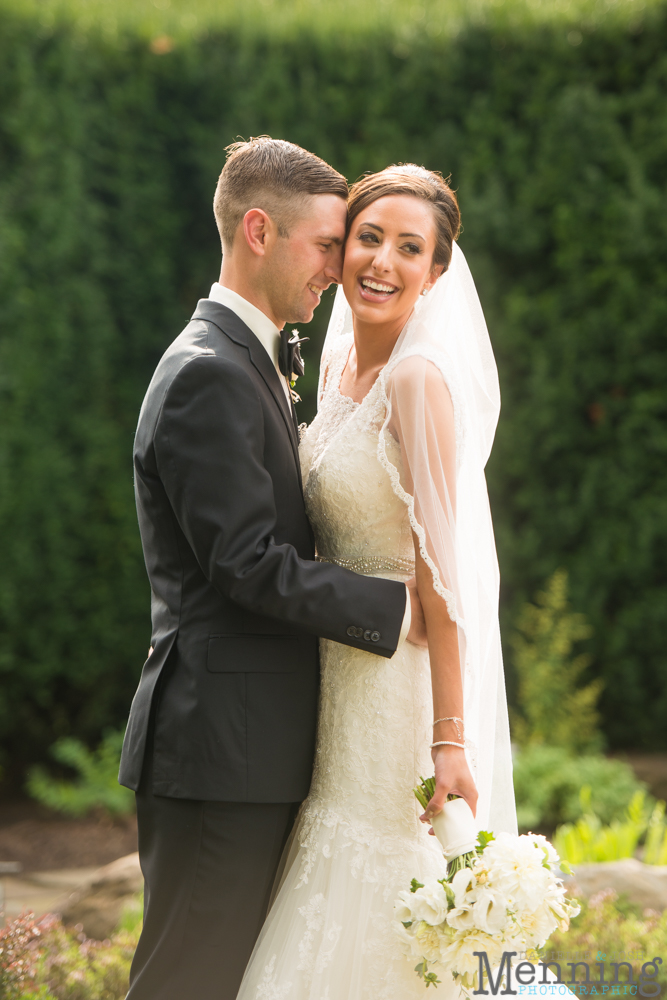 I started the day with the bride & her bridesmaids at the Holiday Inn in Boardman. Karisa from Smack did a fabulous job with bridal makeup! She's a sweetheart & (totally unrelated to makeup) is the most adorable pregnant lady. . . we're excited to see photos of that baby boy once he makes his grand entrance! This is purely an aside, but we are so thankful for all of the beautiful people that being part of the wedding industry in Youngstown has brought into our life! Speaking of that, we got to work that day with our friends Mike & Judy from Acclaim Wedding Videography & they do a fabulous job and are wonderful to work with!
Christina got her stunning gown at La Blanca in North Olmstead.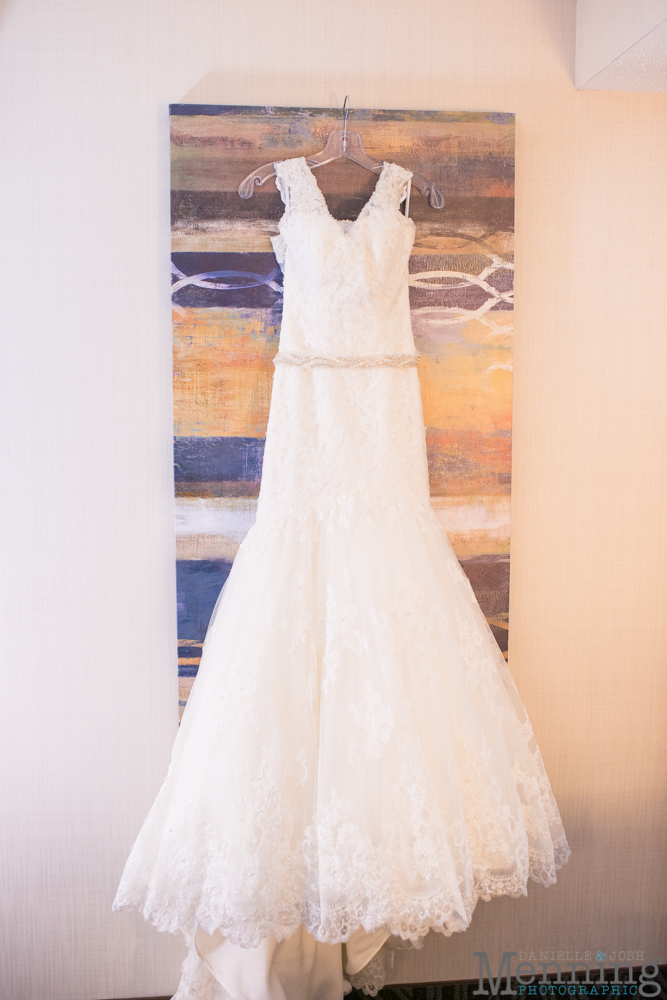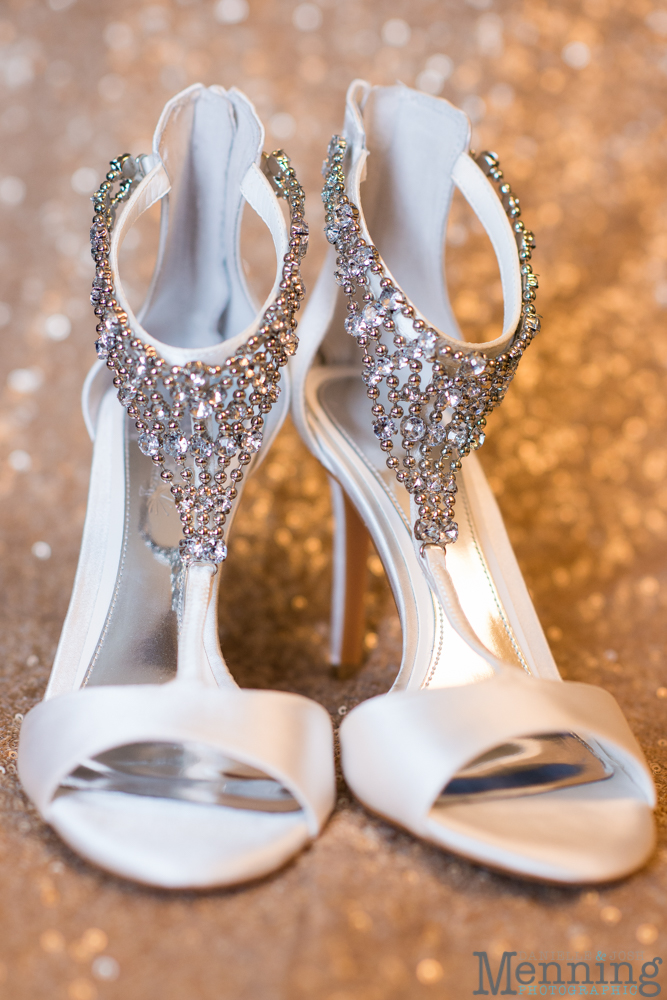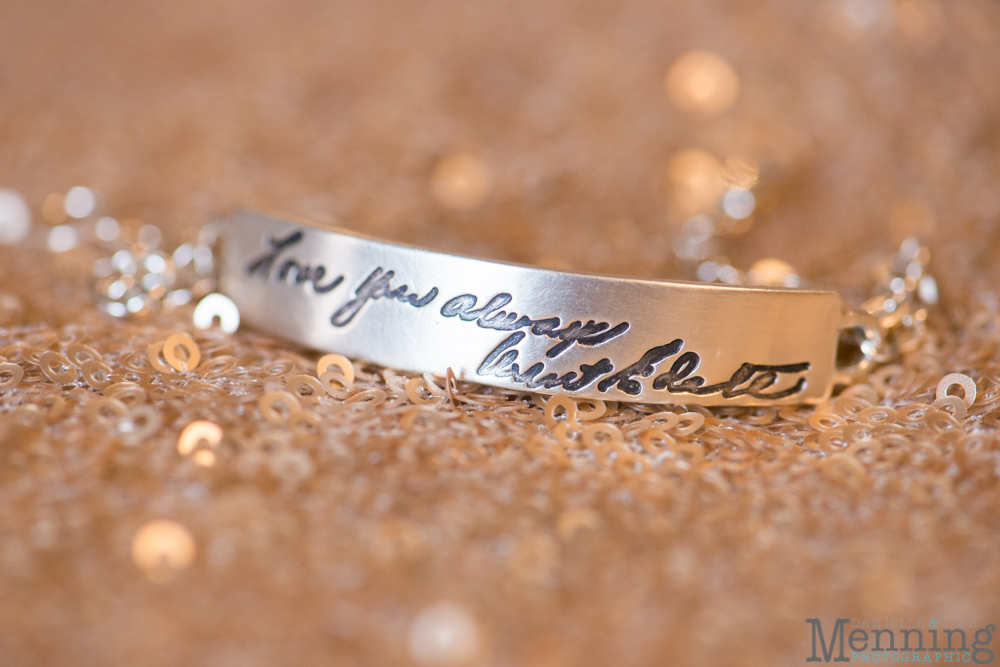 Isn't this the cutest wedding program?!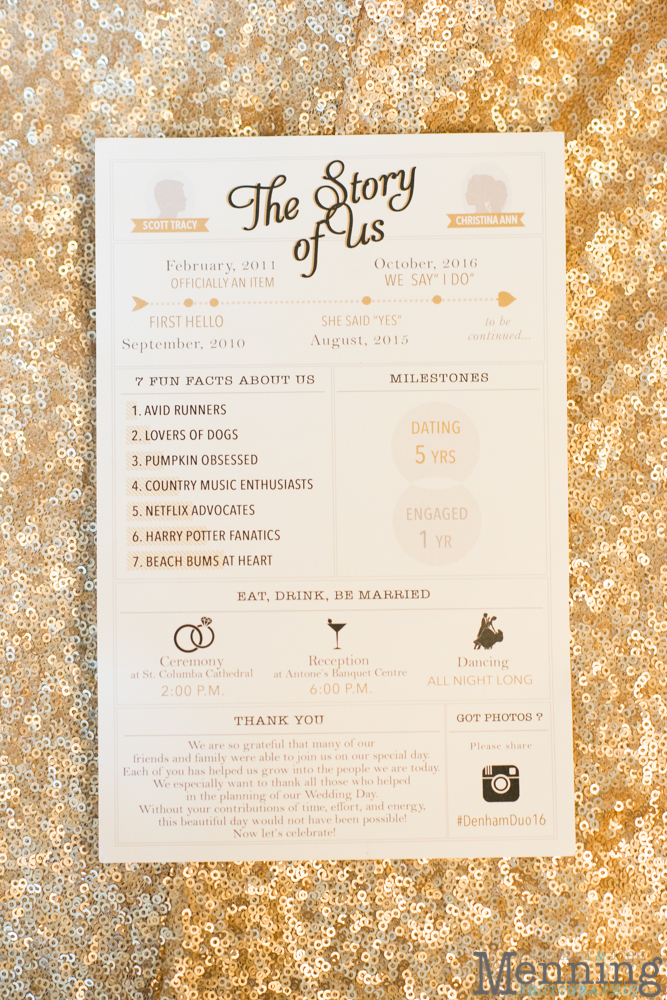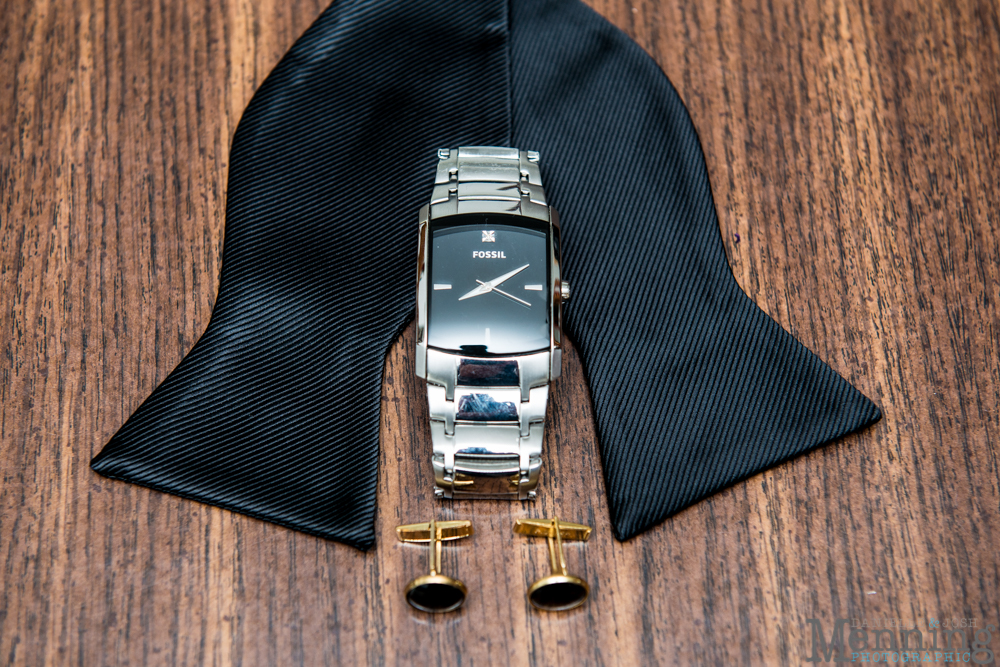 Josh was with the groom & groomsmen at a private residence.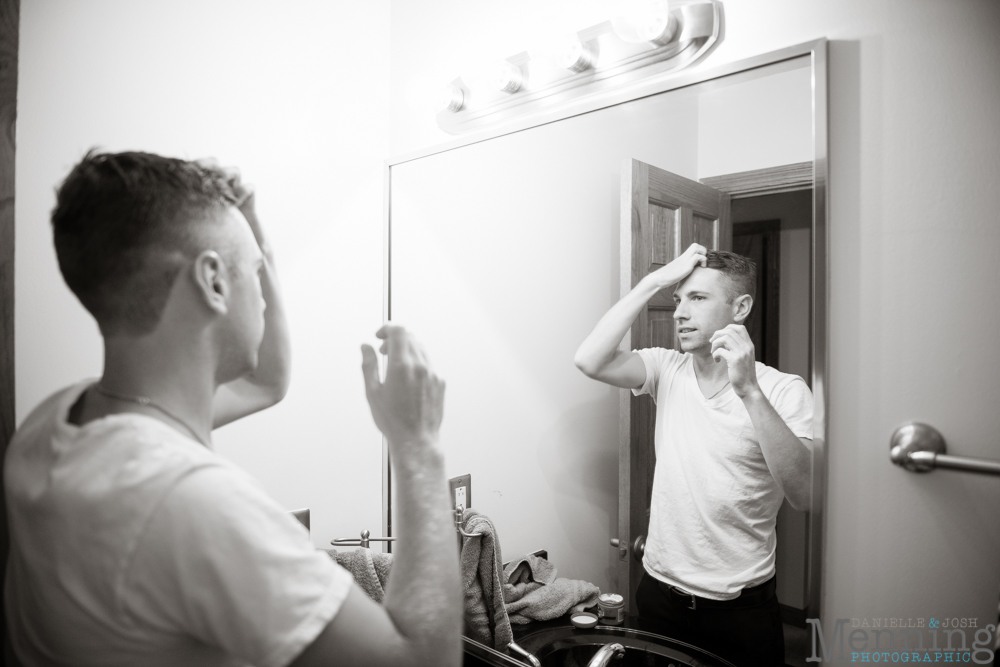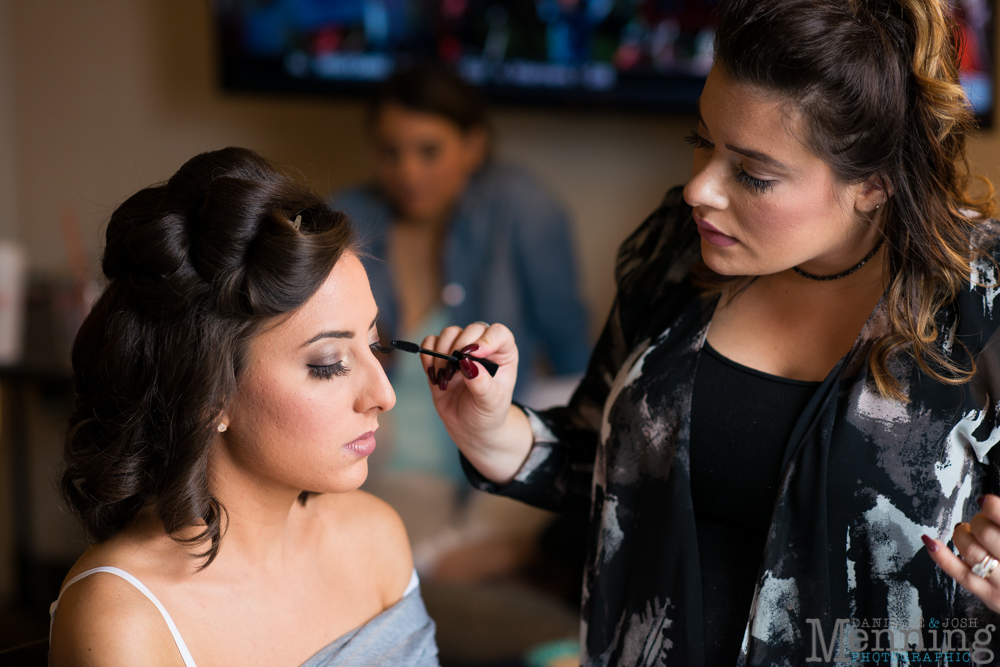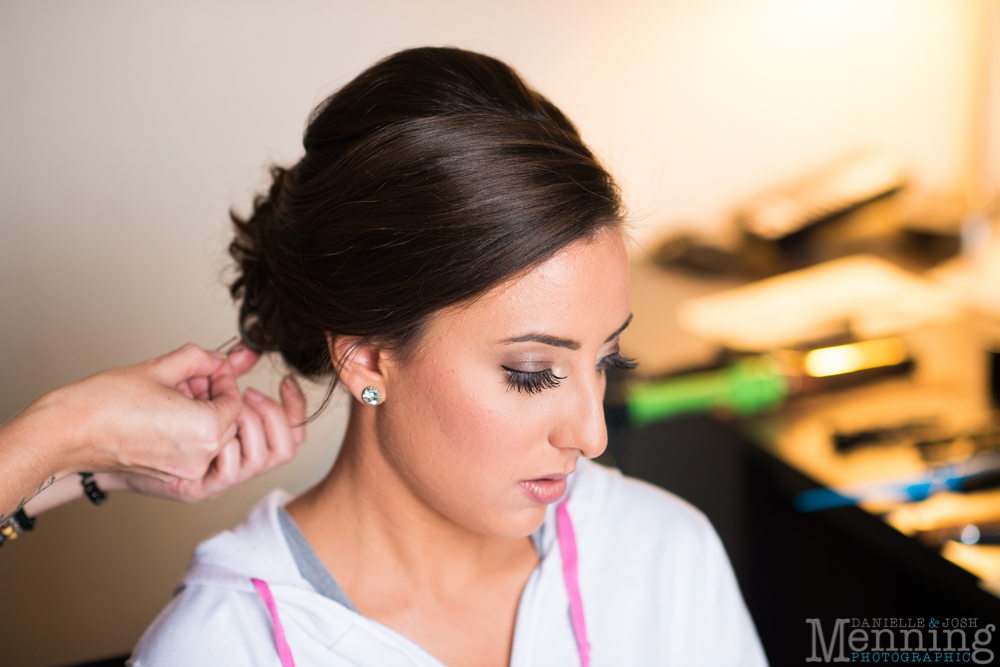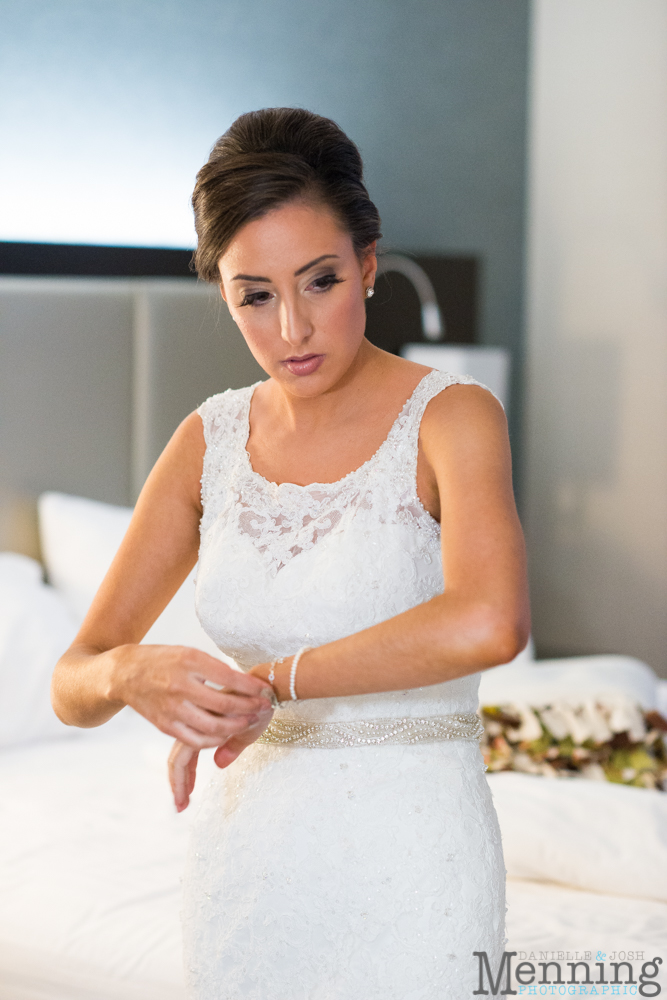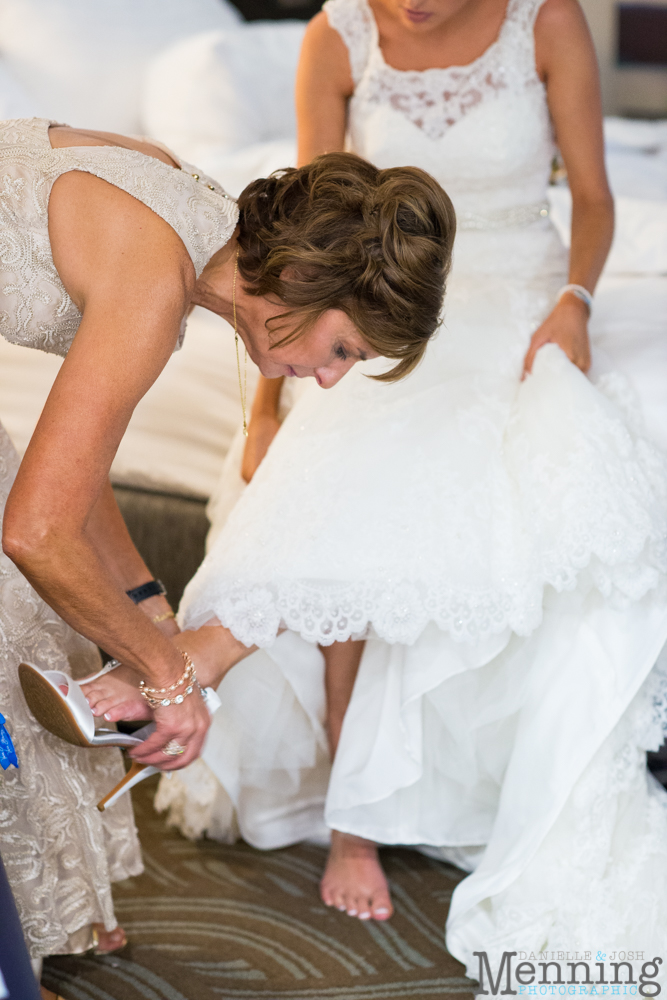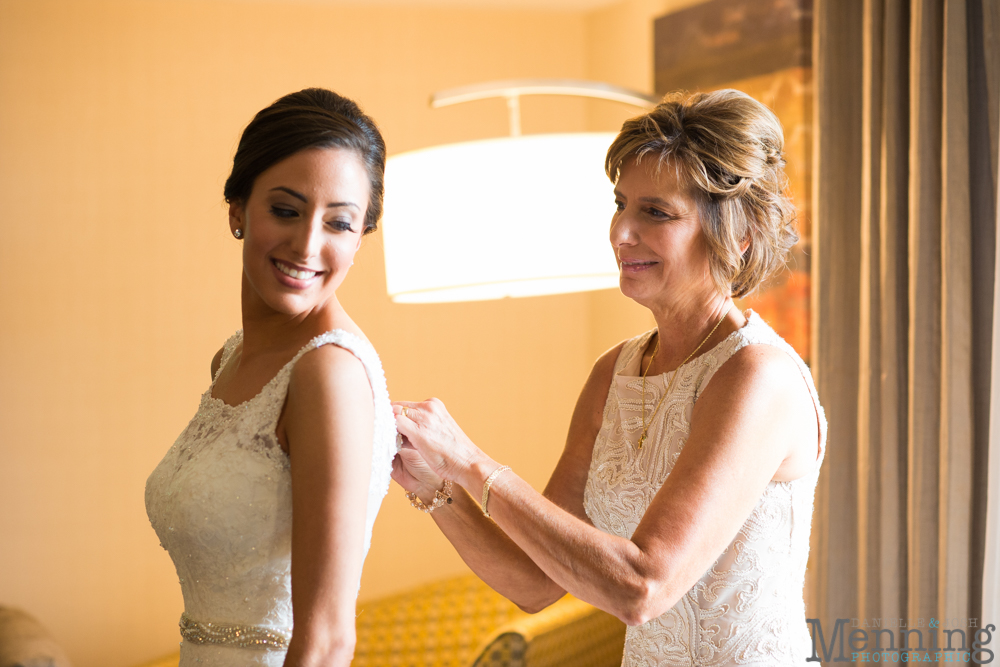 St. Columba is a grand & fantastic location for a wedding ceremony. The long aisle gives the groom & the guests plenty of time to admire the lovely bride.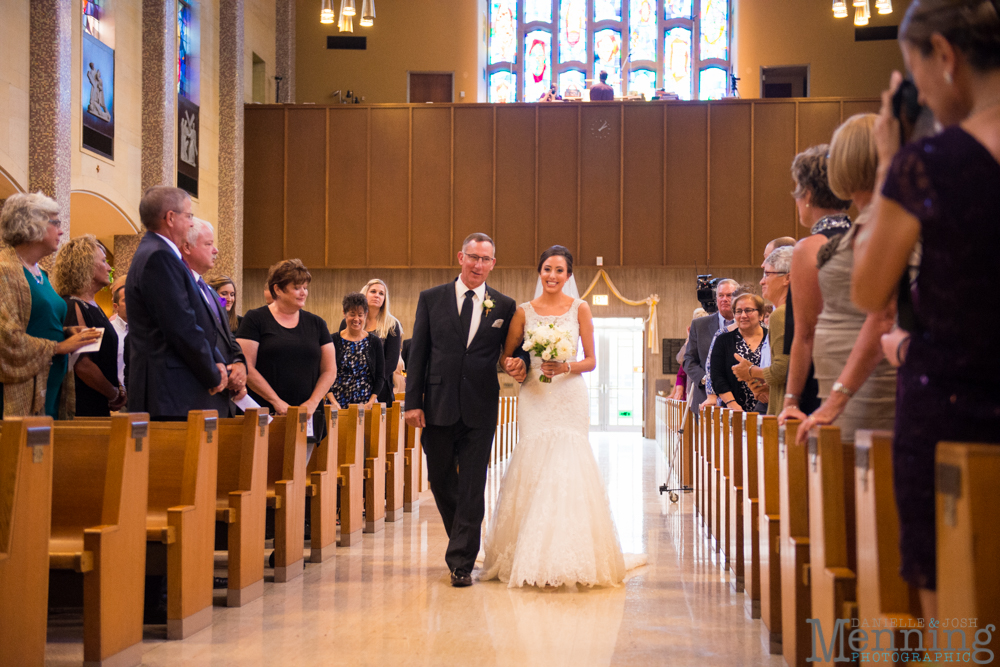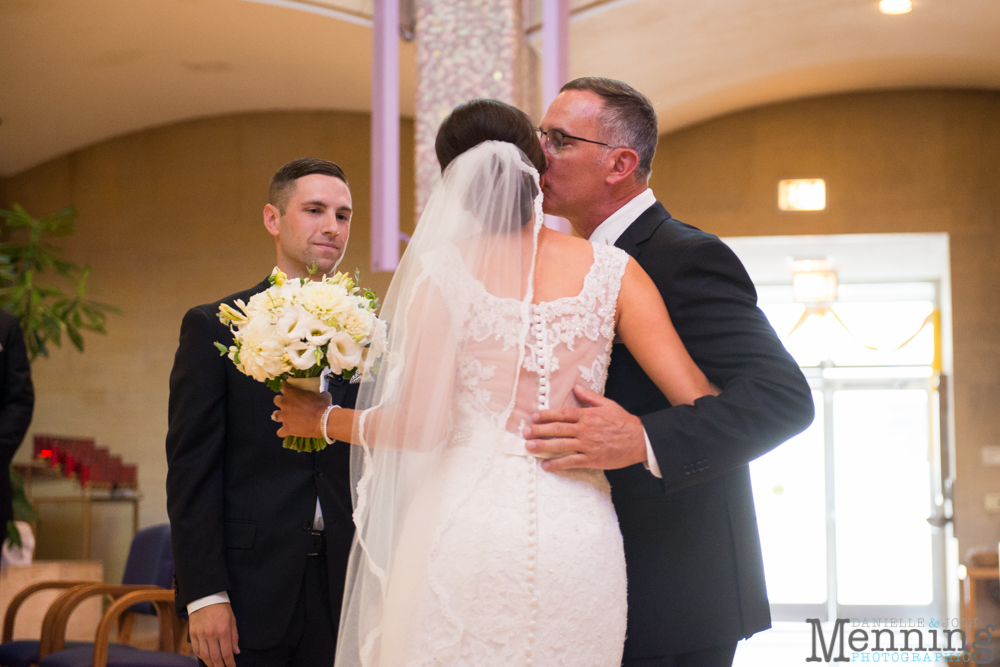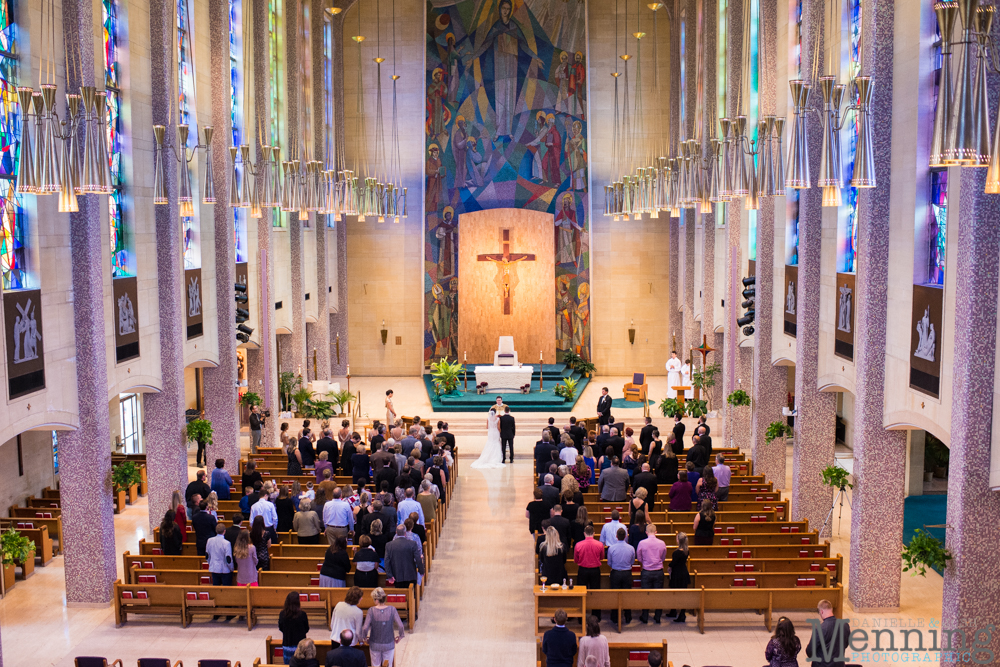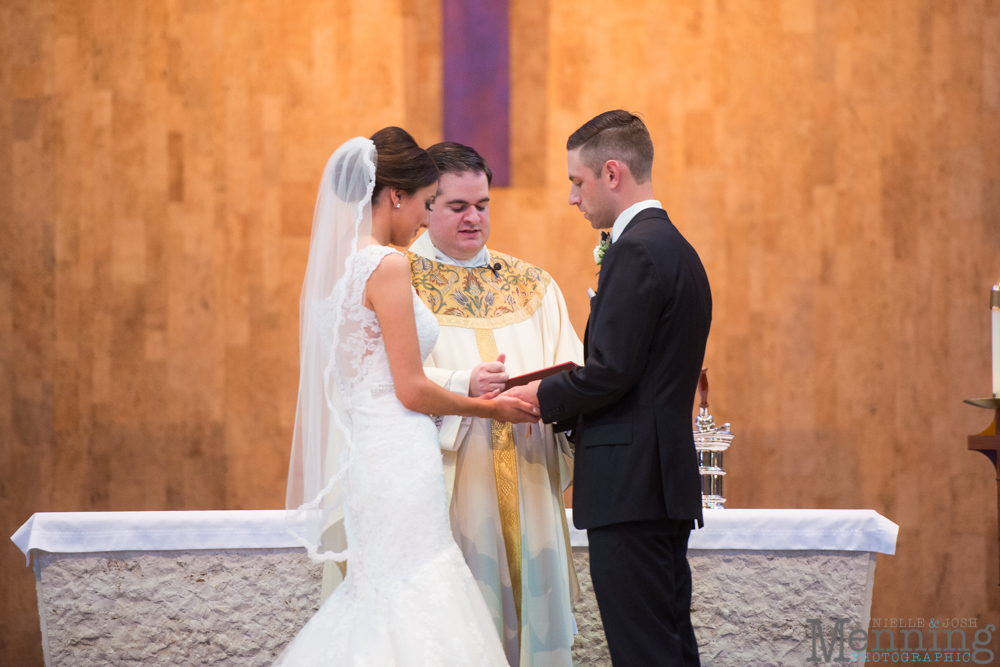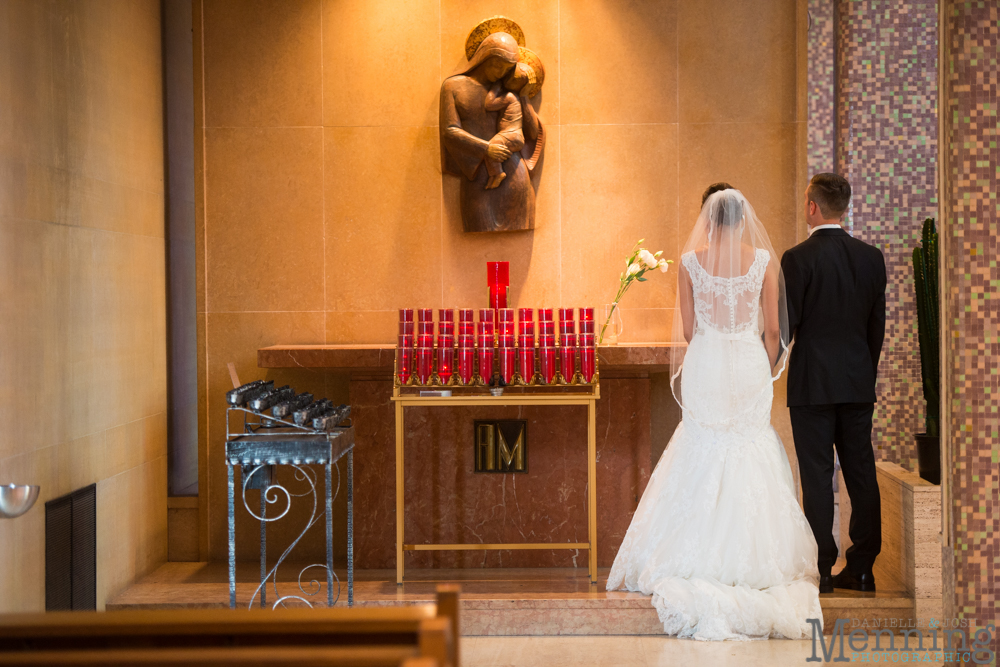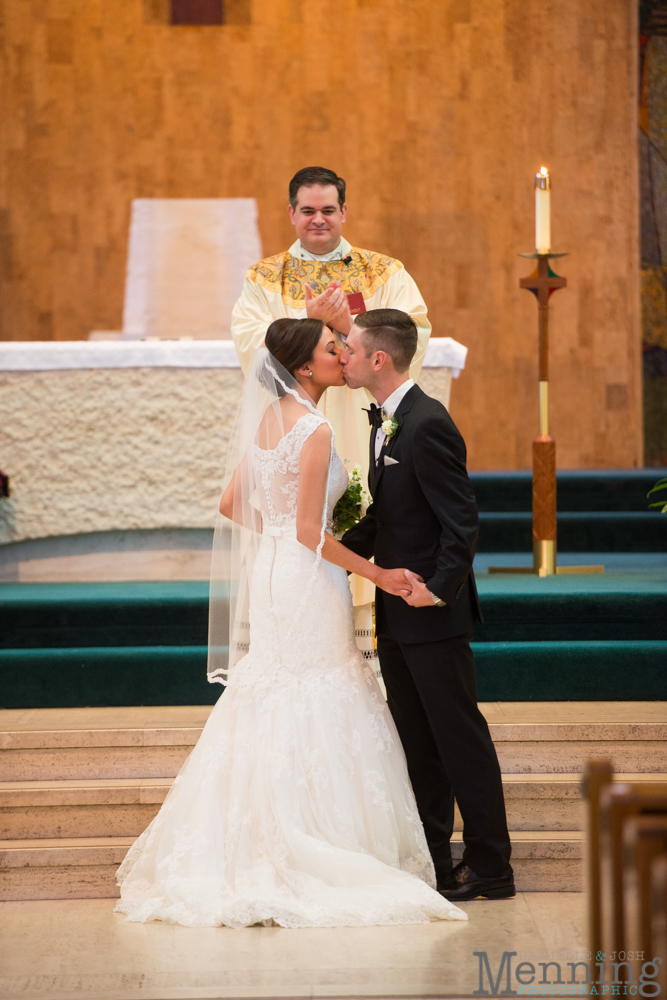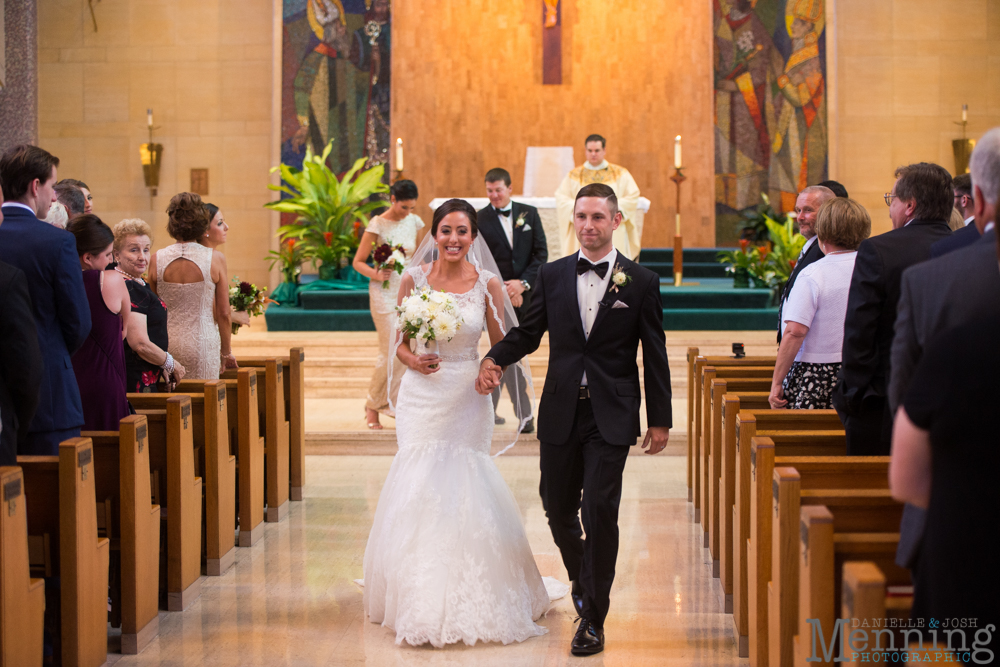 Despite a dismal wedding day forecast, the weather was amazing & the sun came out! We were all so happy. And, can we please talk about how phenomenal this bridal party looks?! Wowza! Christina & Scott did a great job stylizing the day & Tara from Fodor Tree Farm in Poland did a fantastic job with the wedding day flowers!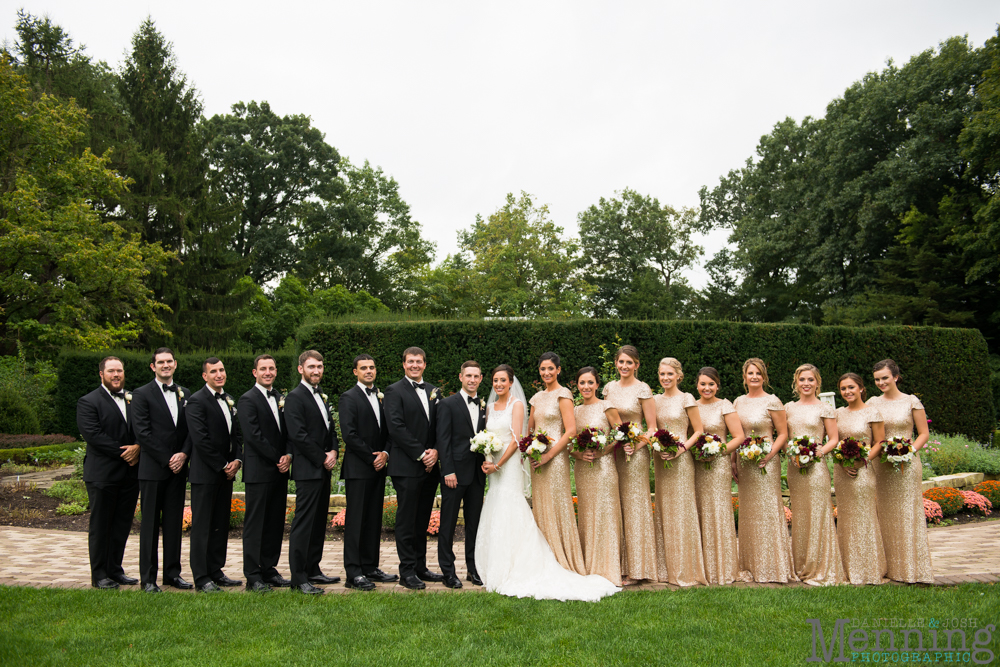 Tara & her husband grow these stunning blooms on their farm & her floral designs are always so pretty!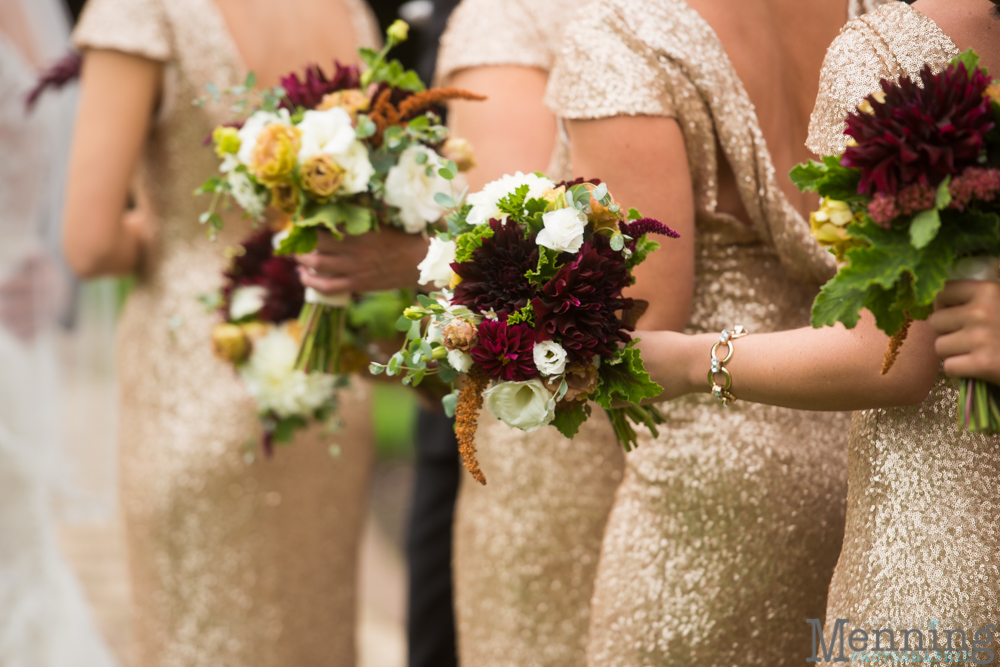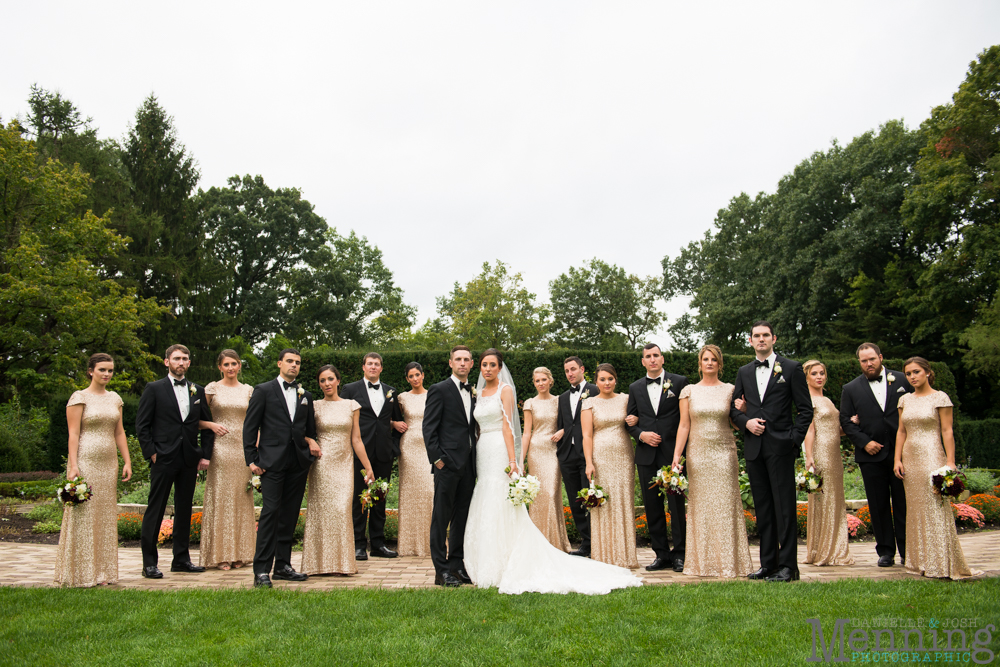 These dresses! And we're pretty sure that being good looking was a requirement to being in this wedding party. haha!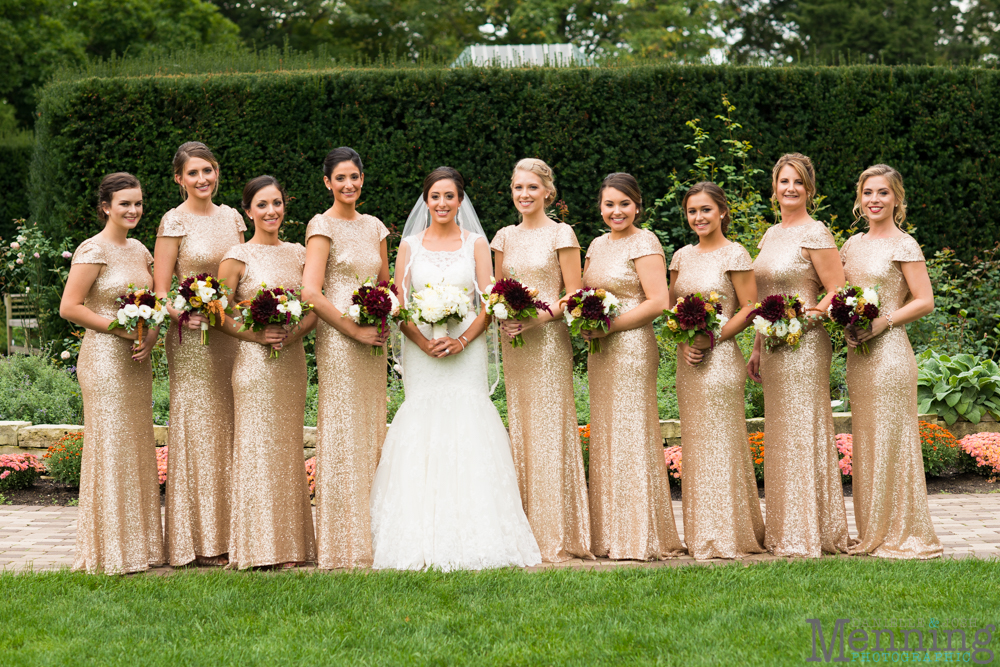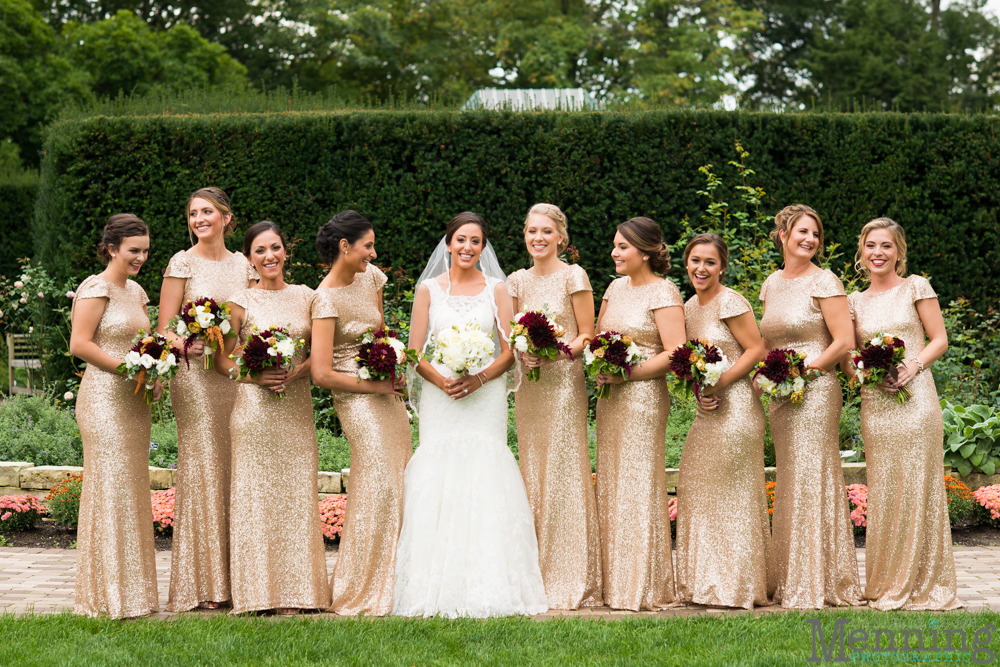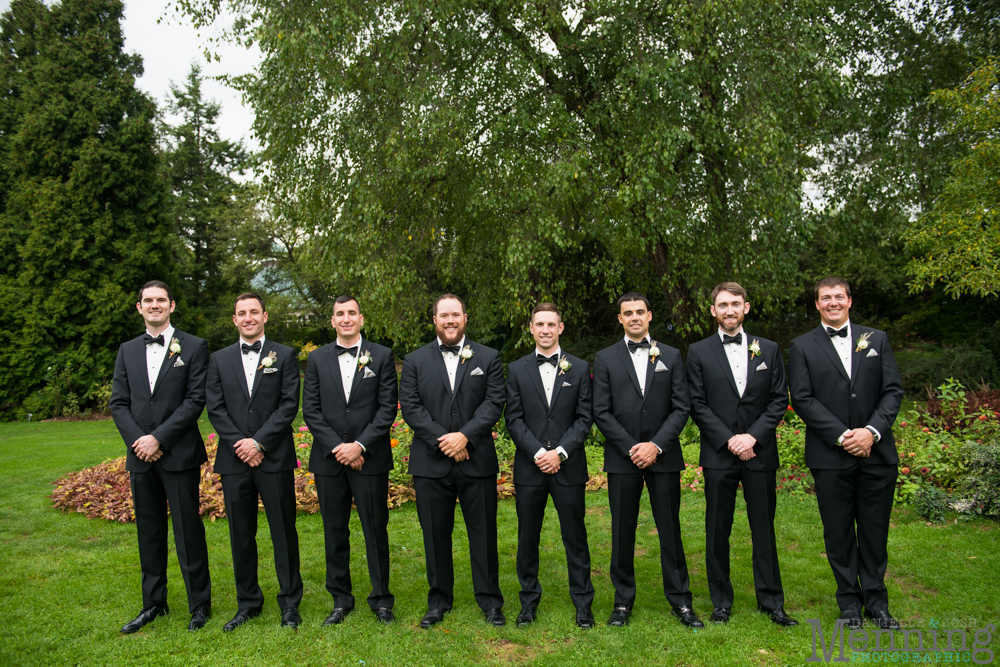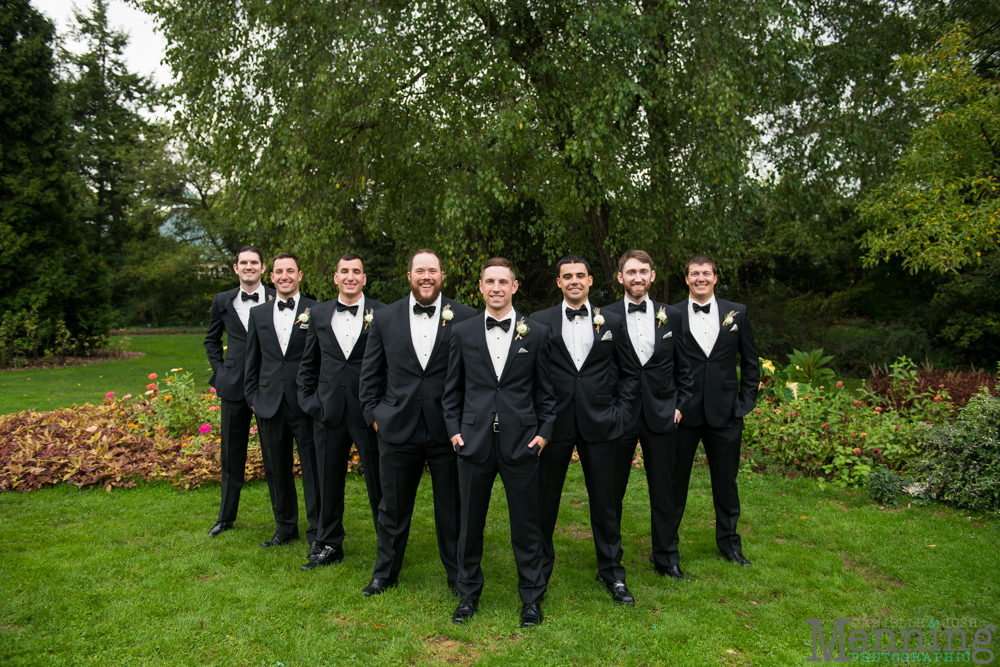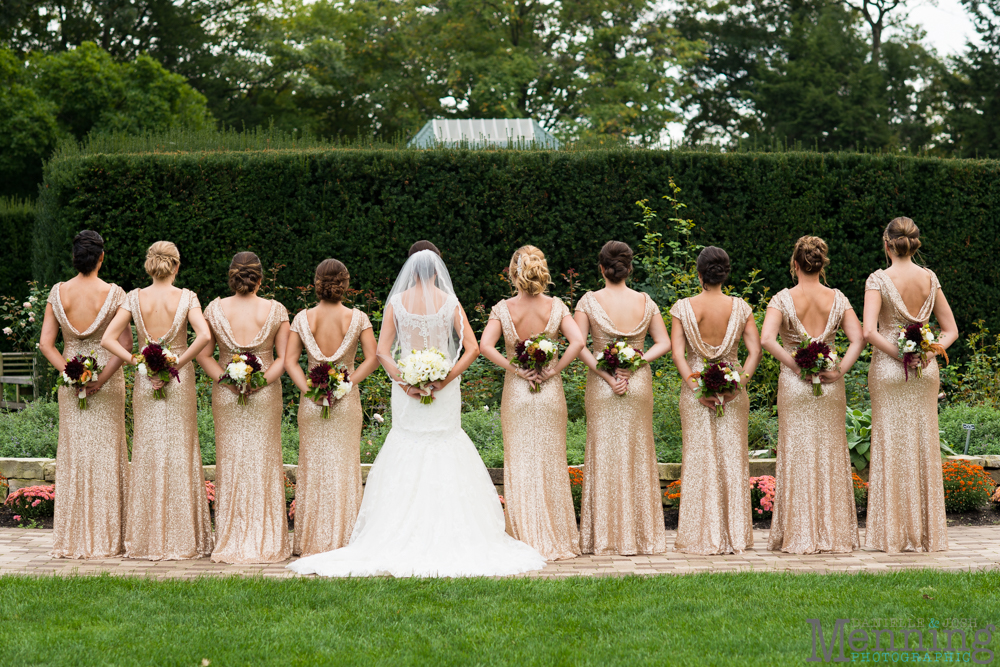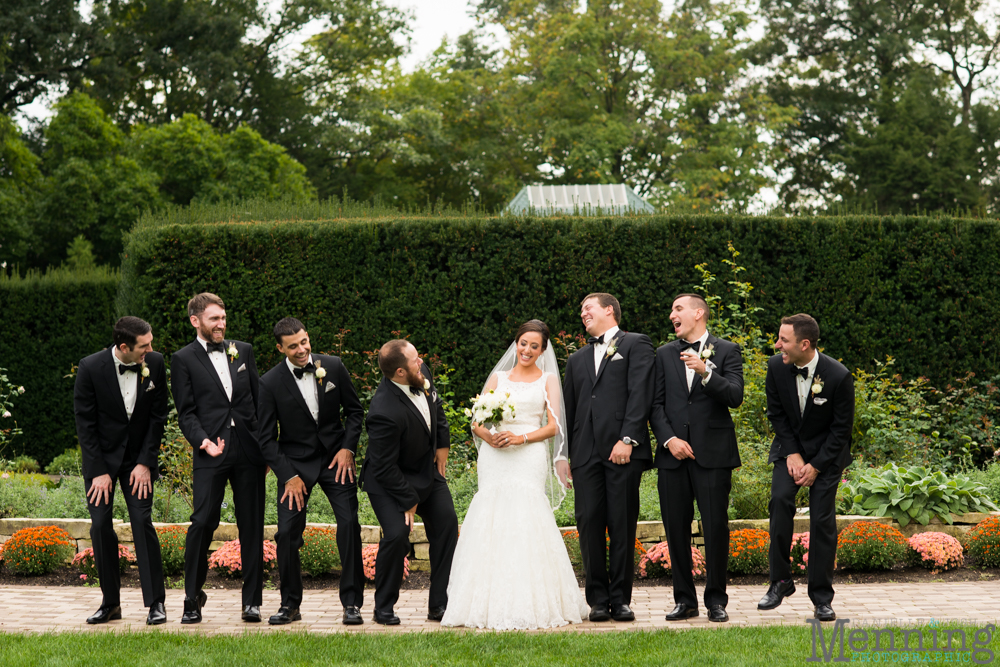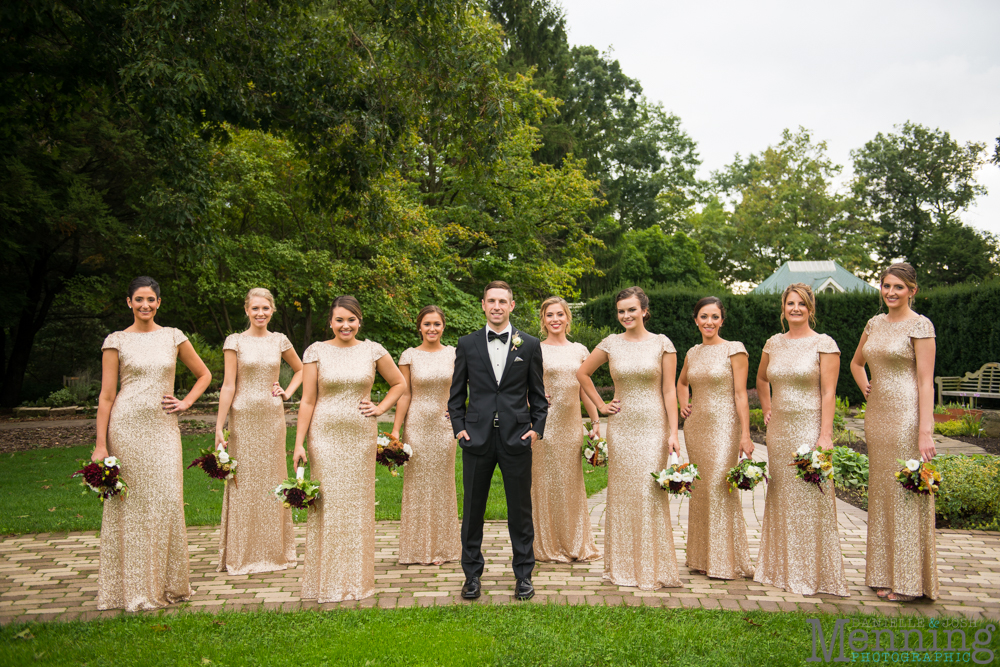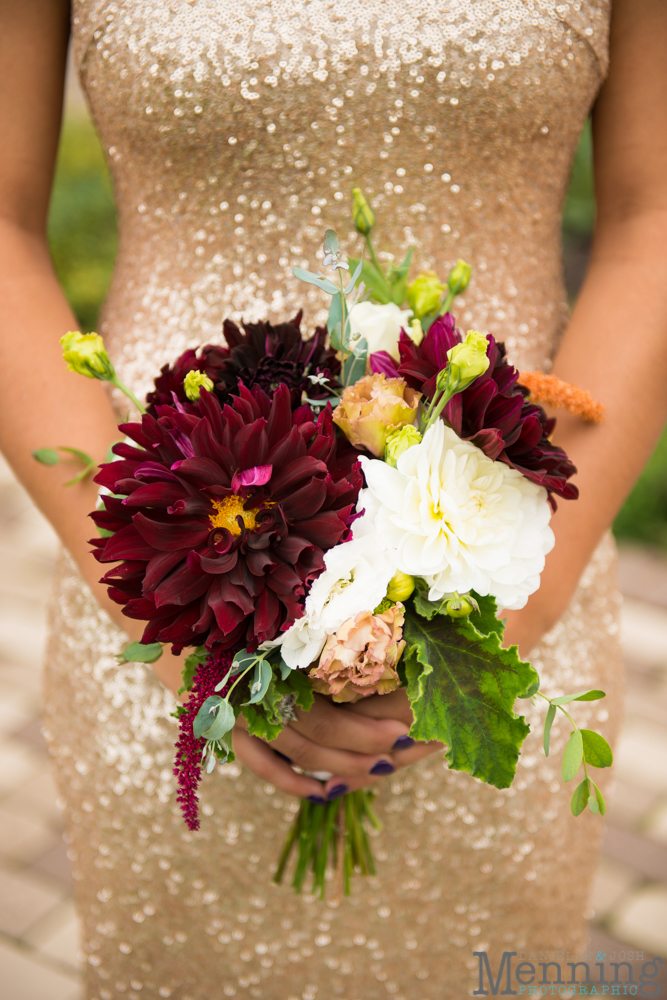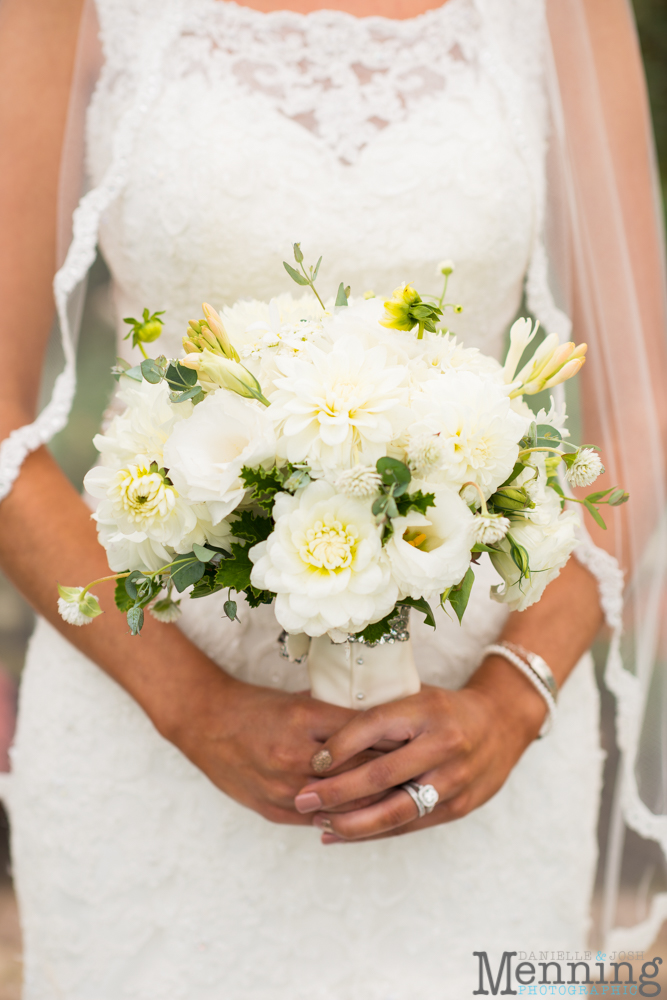 We couldn't believe the wonderful weather & the sunshine because the chance of rain was really high. We made it through portraits at the Rose Garden in Mill Creek Park dry & happy!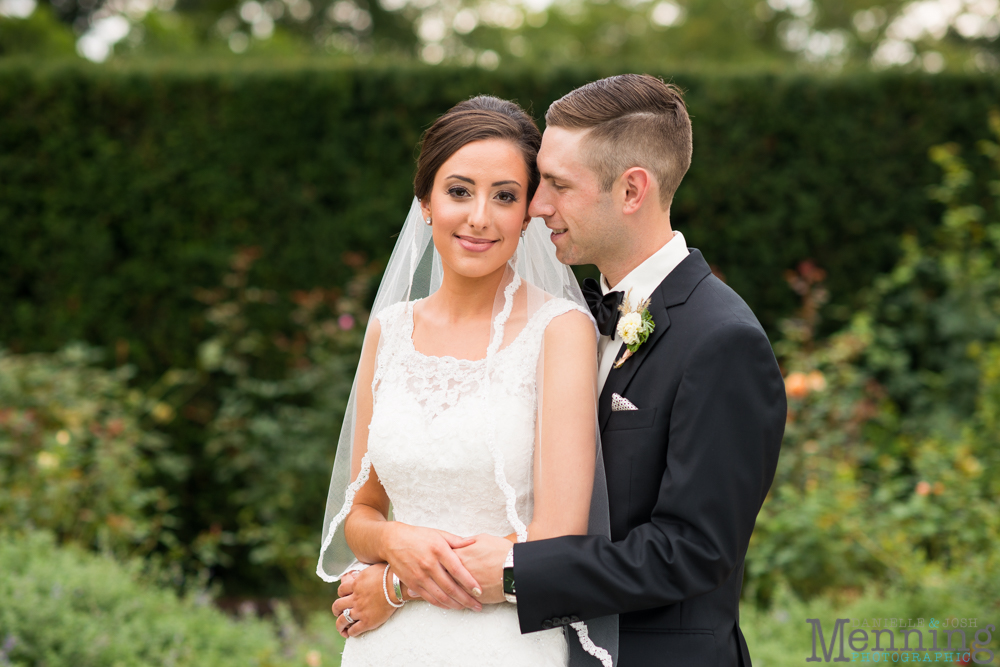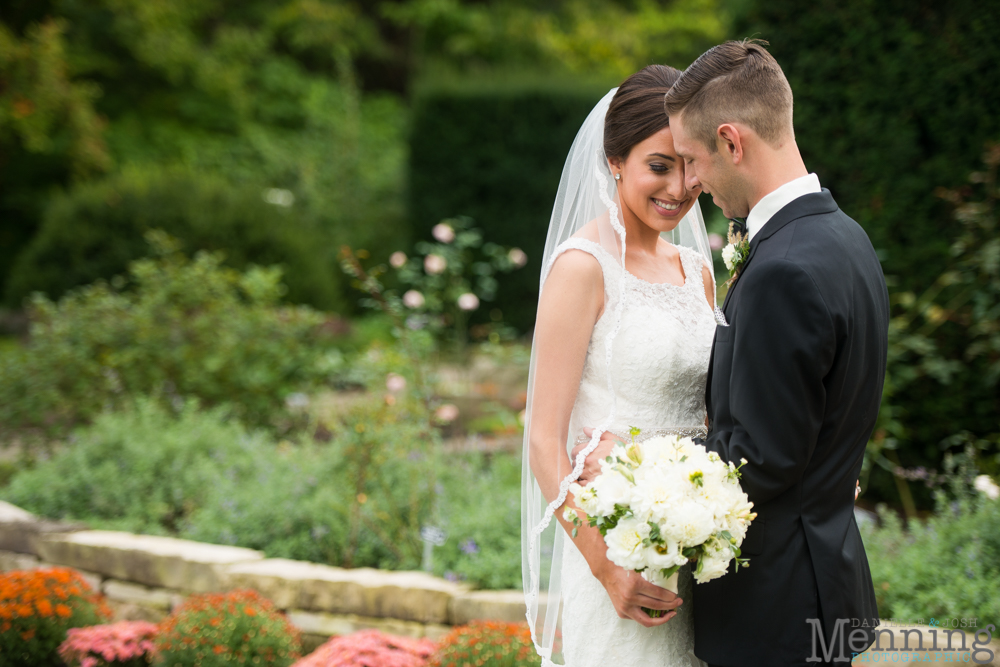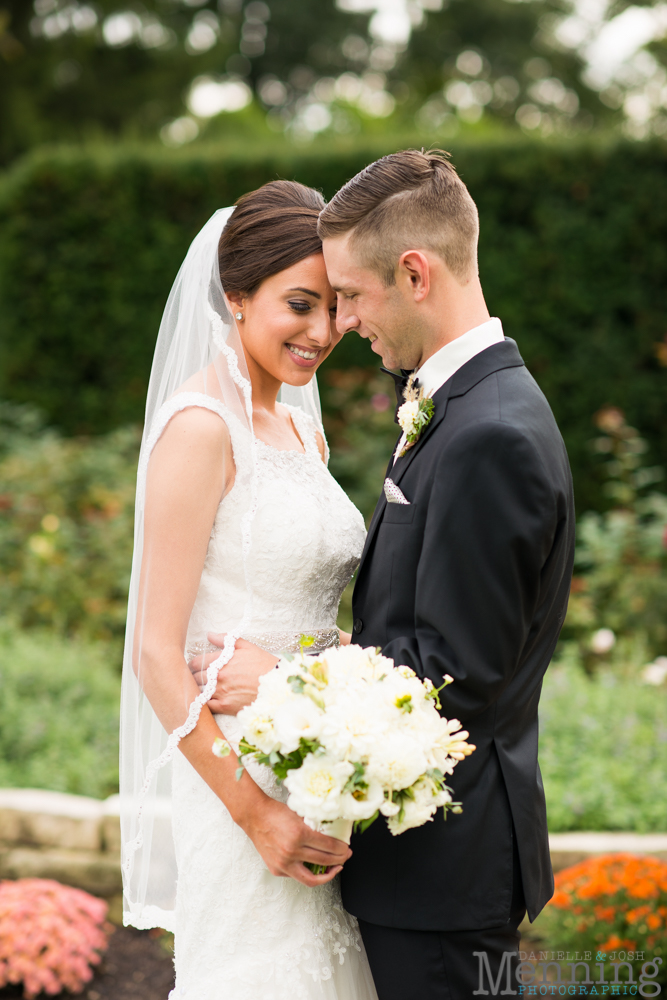 These two are beautiful together & very sweet. It was easy to see why so many family members & friends wanted to celebrate with them on their wedding day!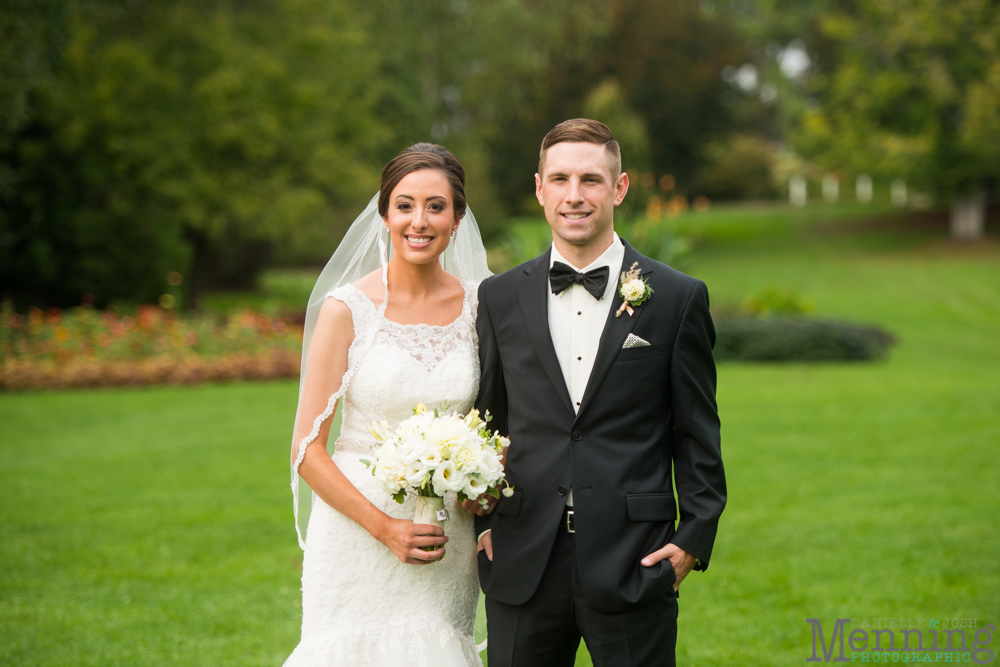 Christina is stunning always, but she was especially gorgeous as a bride.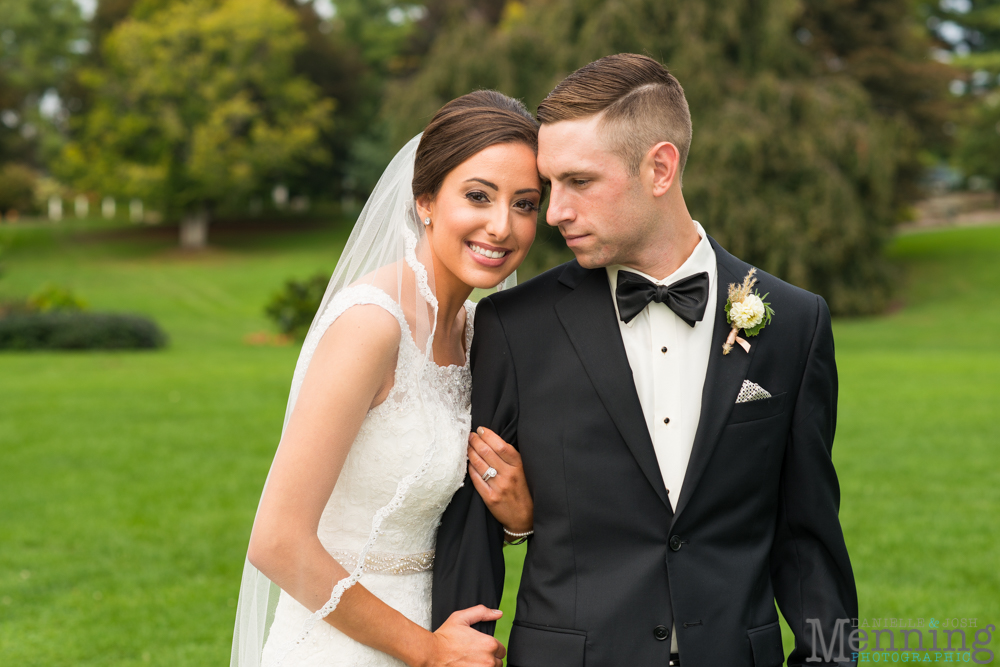 And I had to comment that day that Scott reminded me of James Bond in his black tux with the bow tie.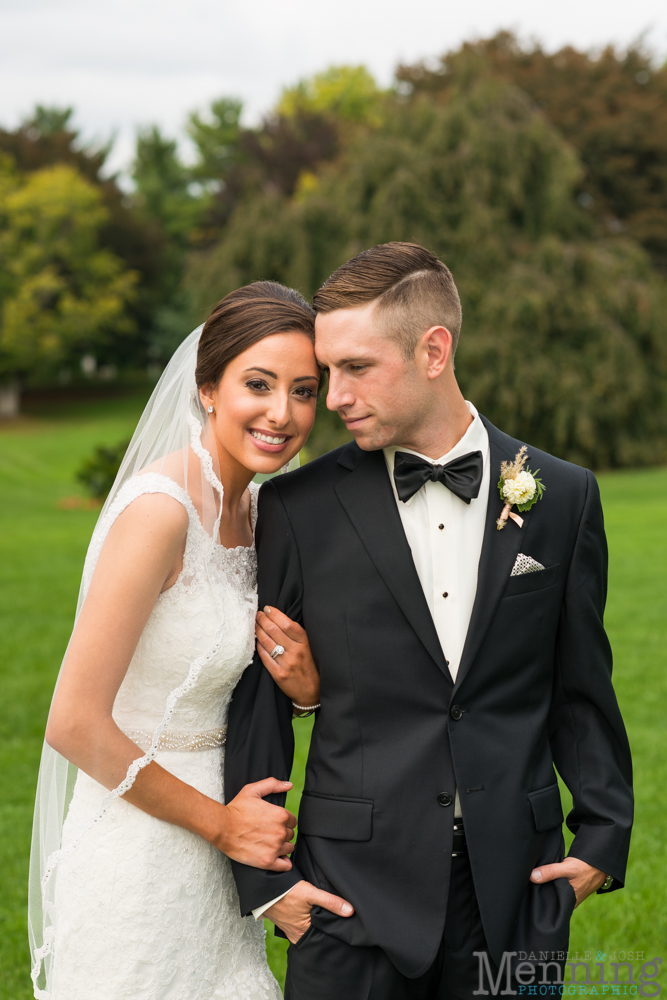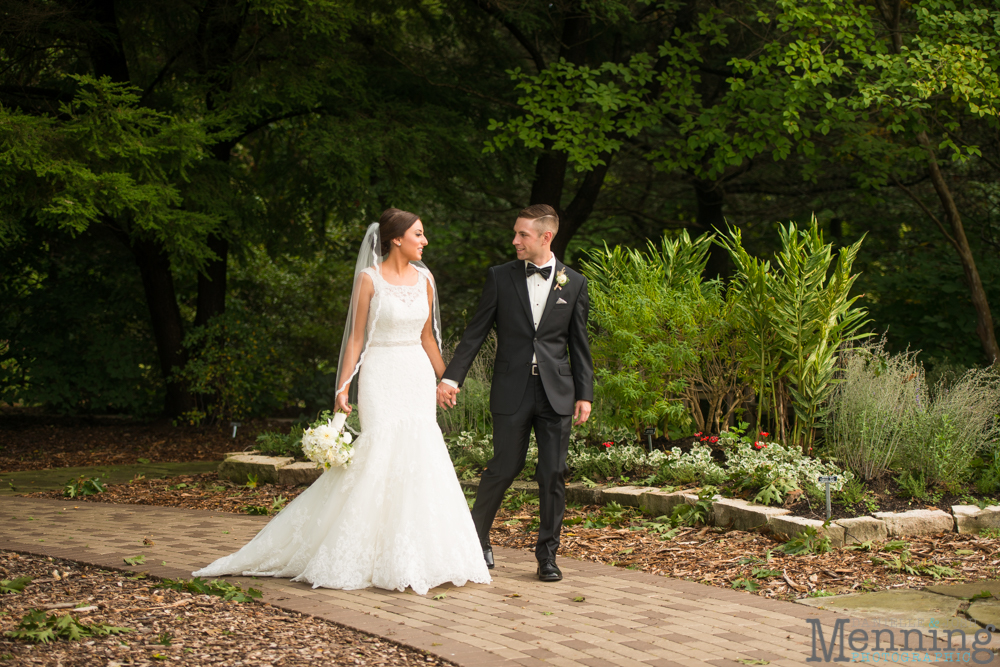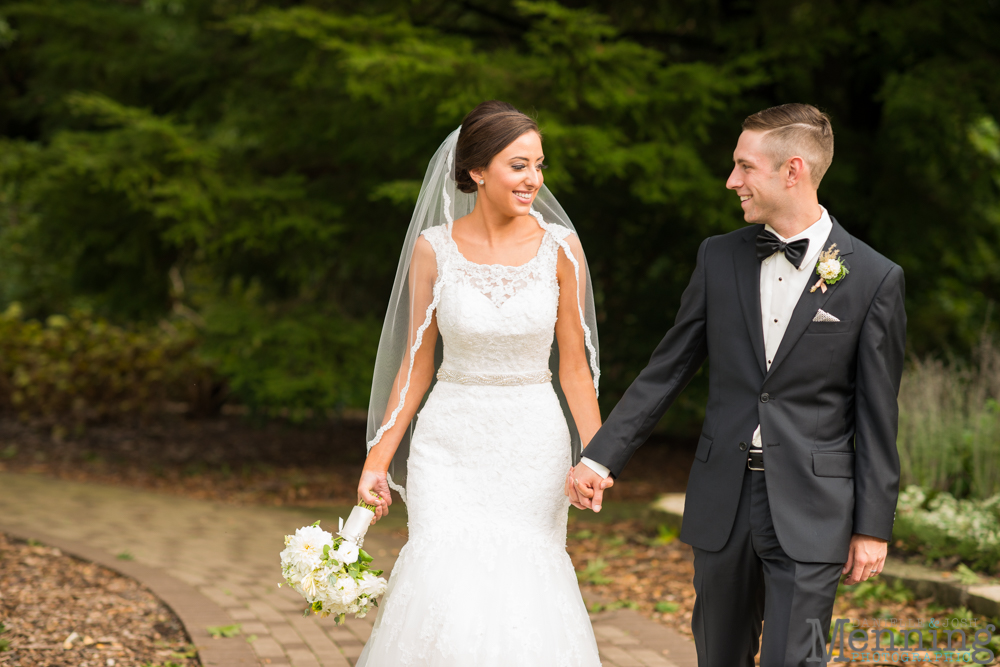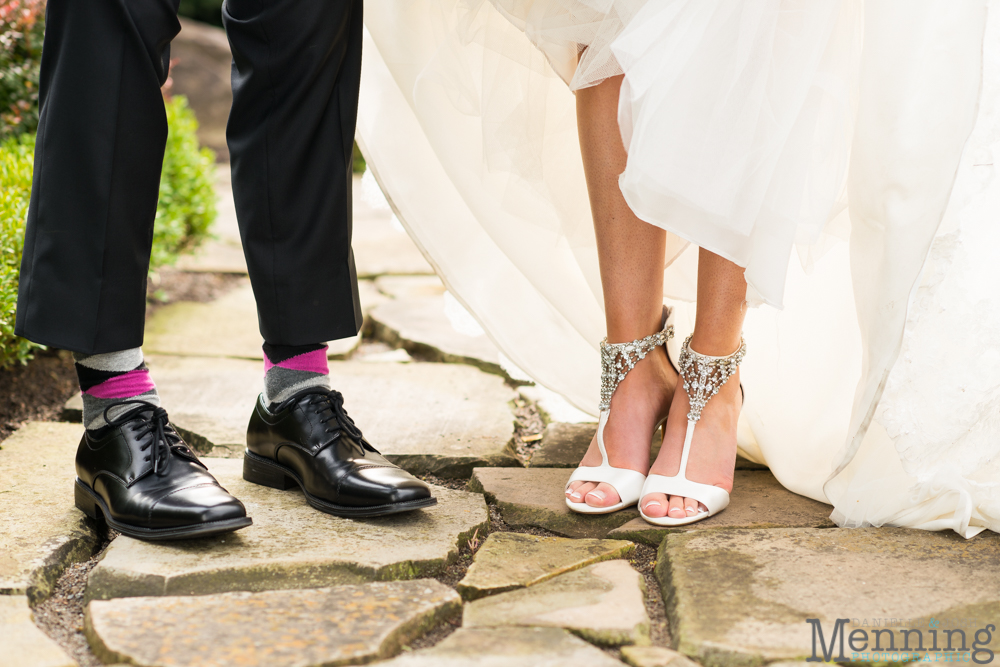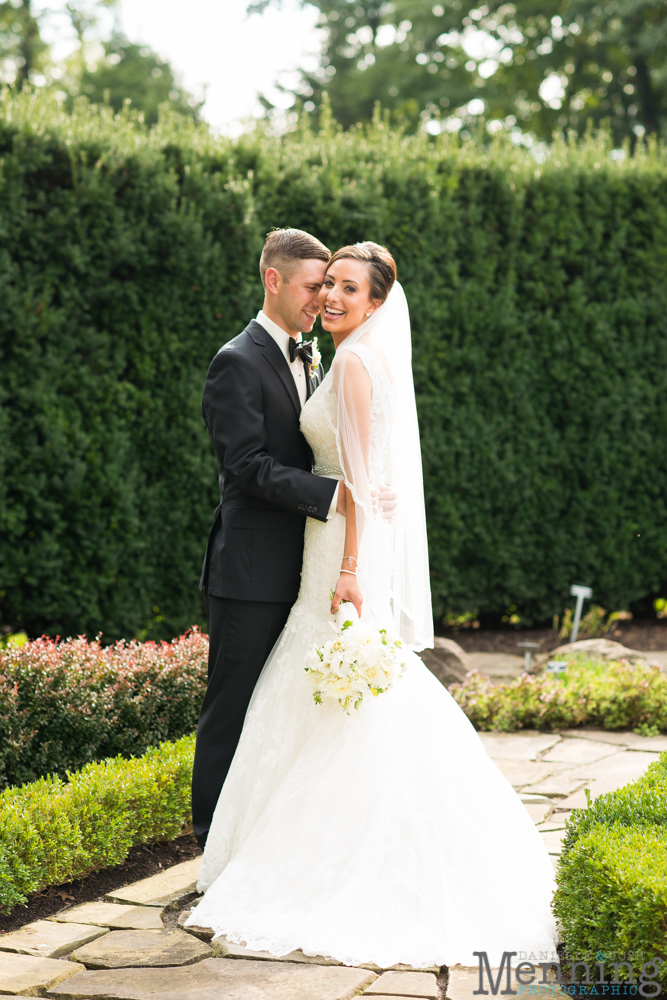 Their smiles just light up the world! Love is grand.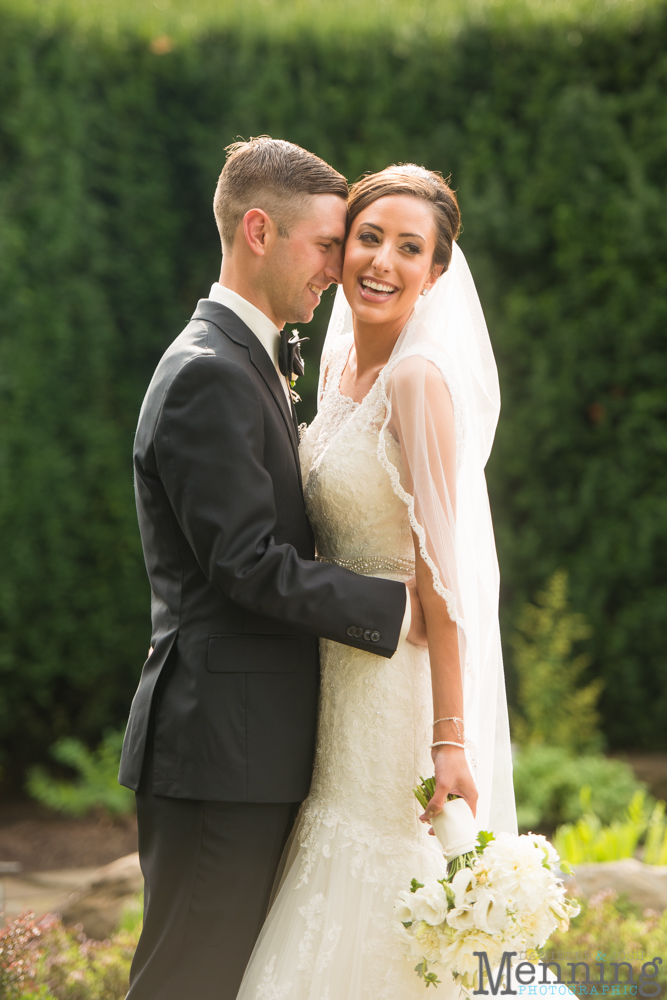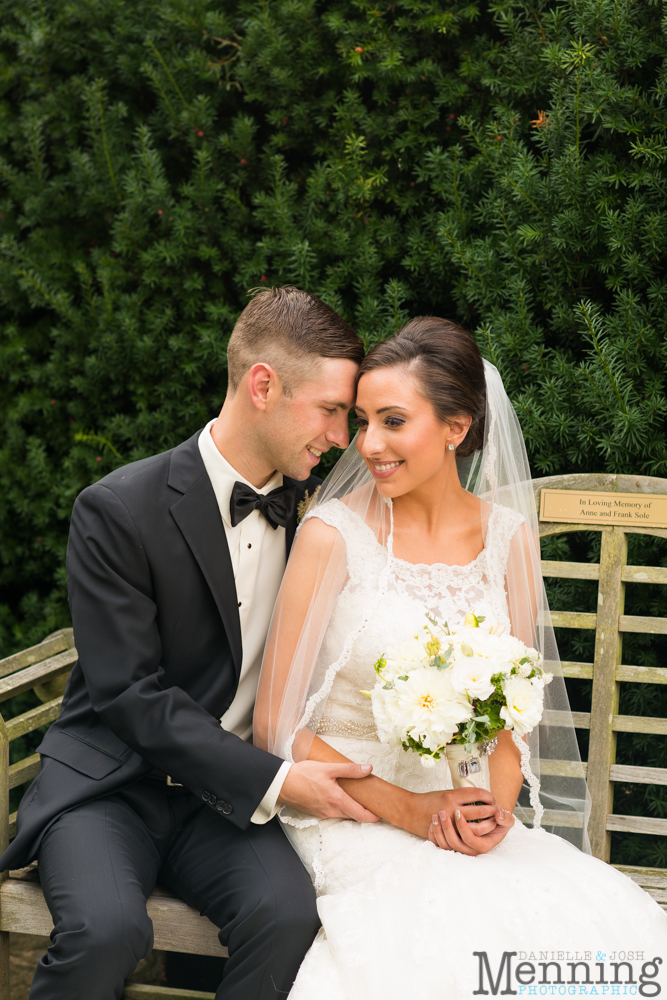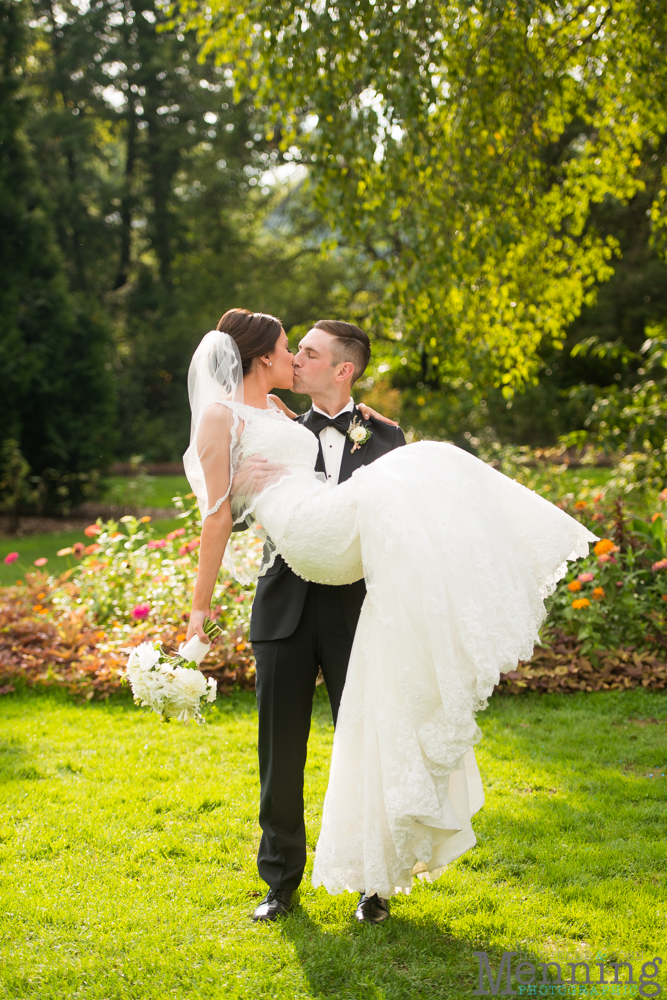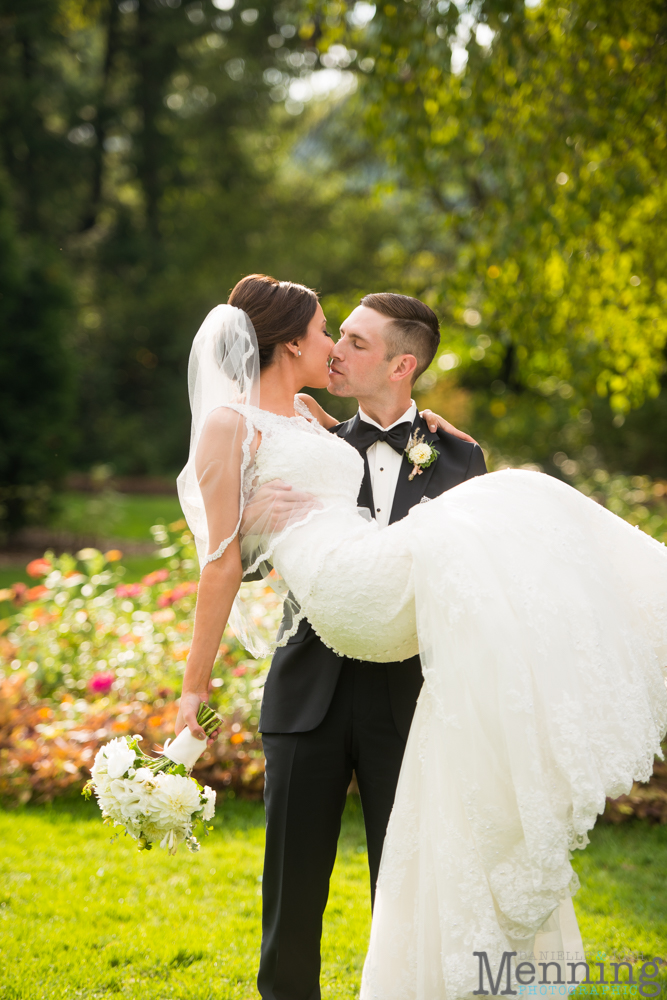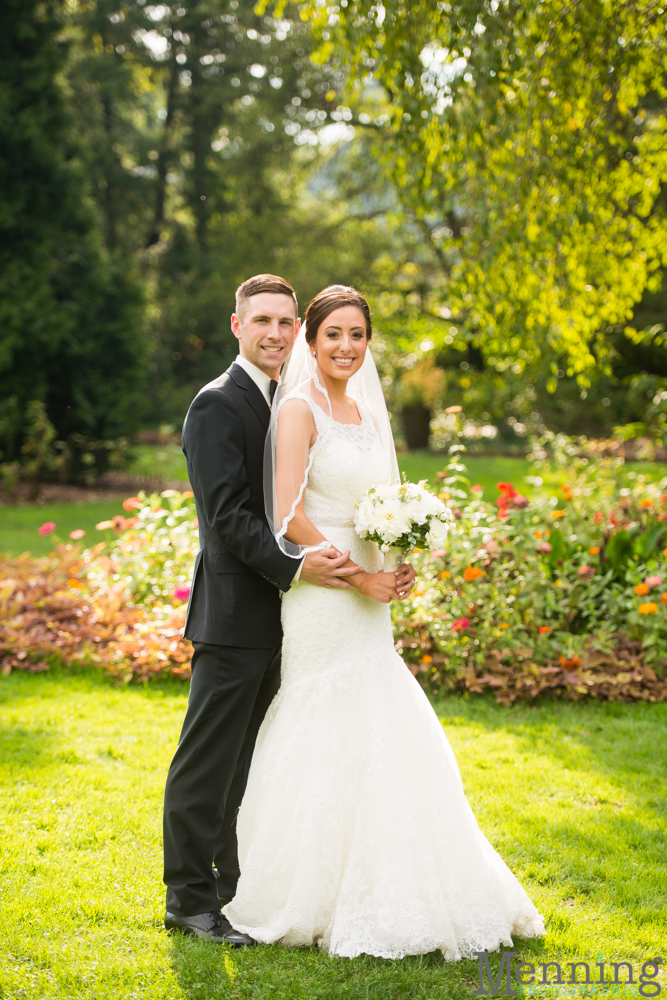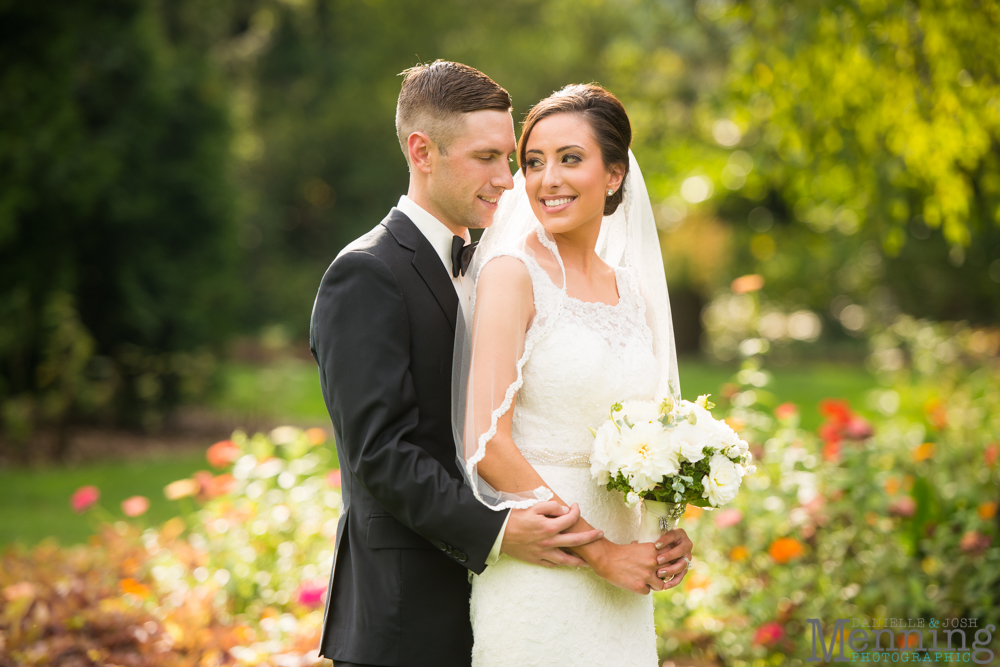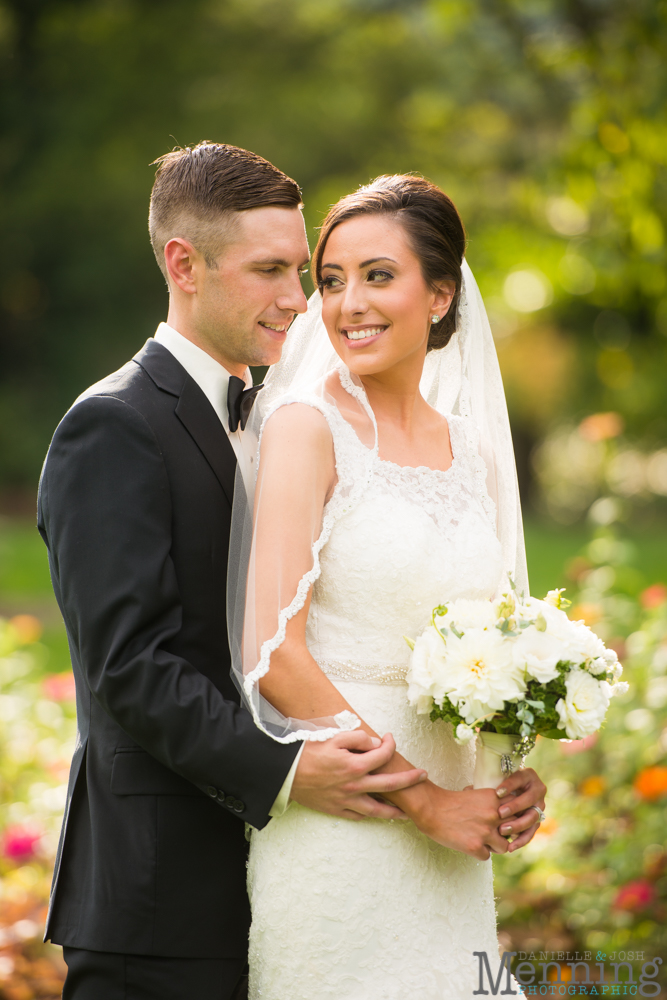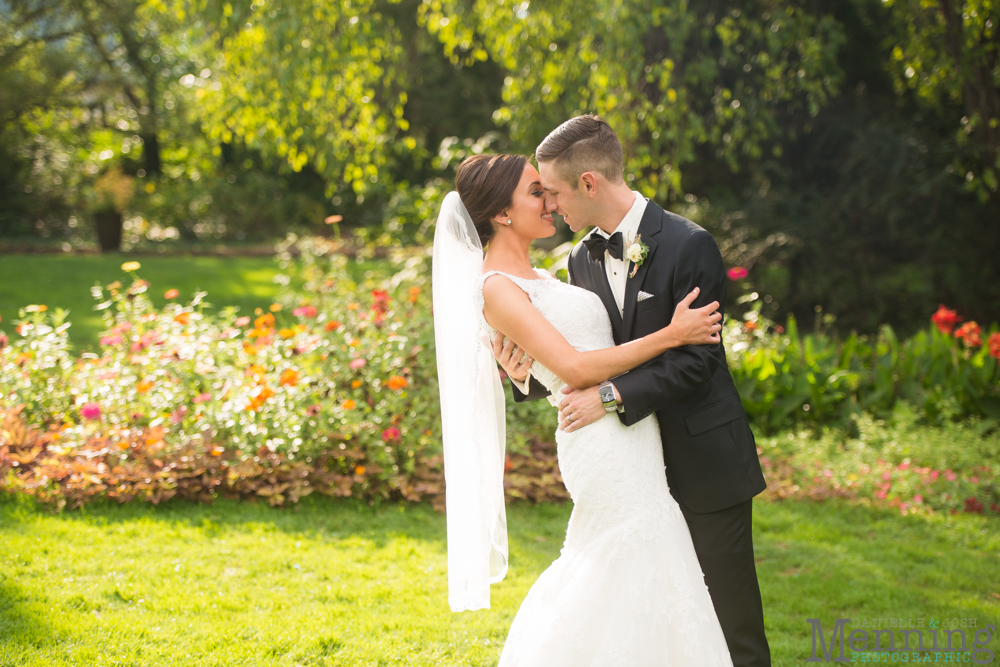 We unexpectedly got into a soggy area & Scott didn't hesitate for a second before whisking Christina up & carrying her out of there.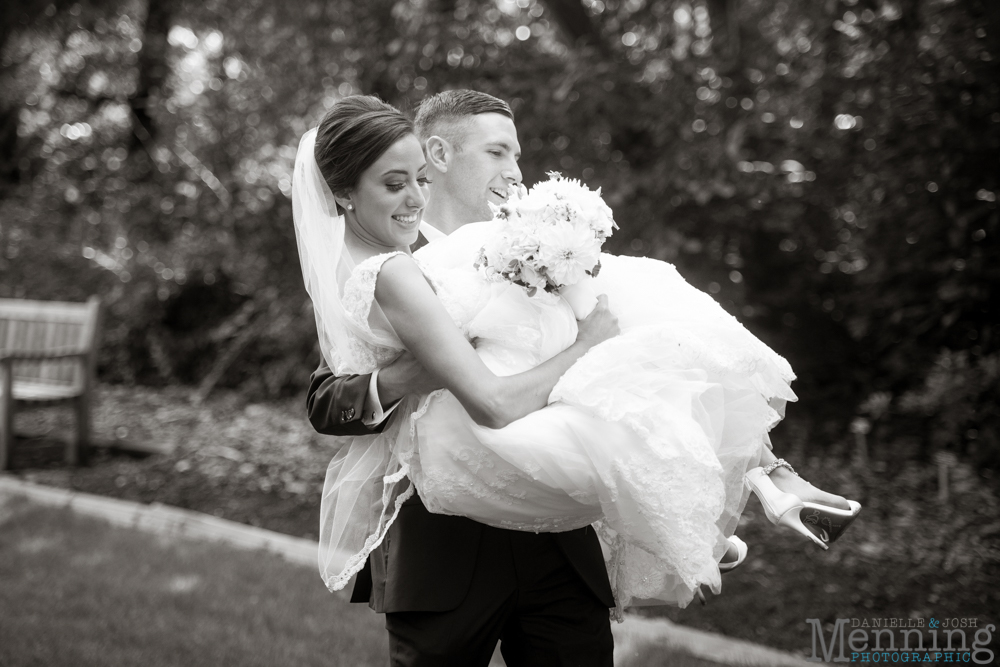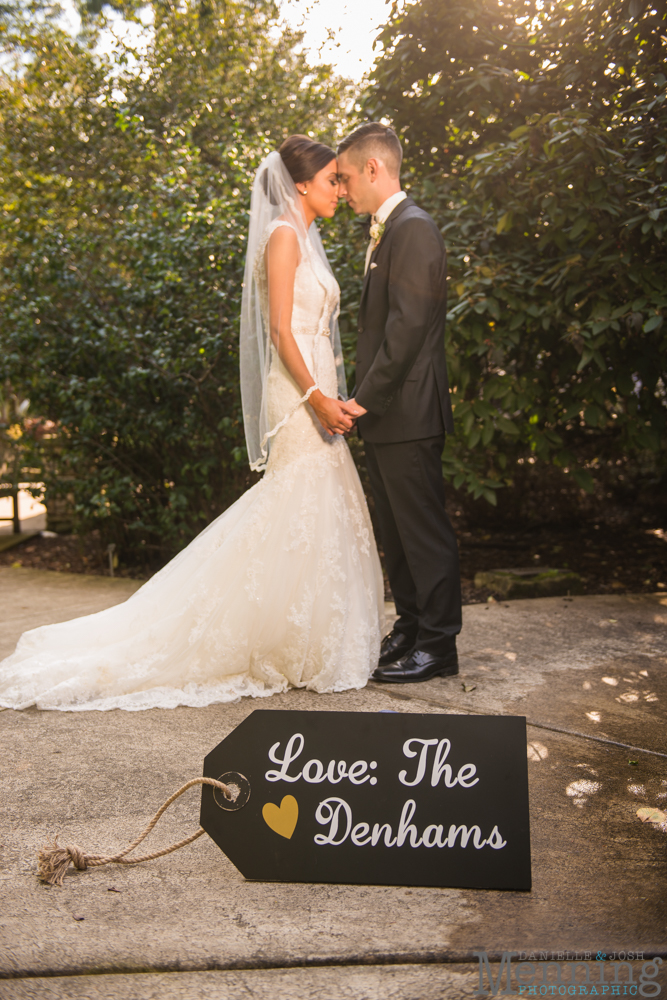 Like we said earlier, Antone's Banquet Centre was looking pretty and festive for the Fall season.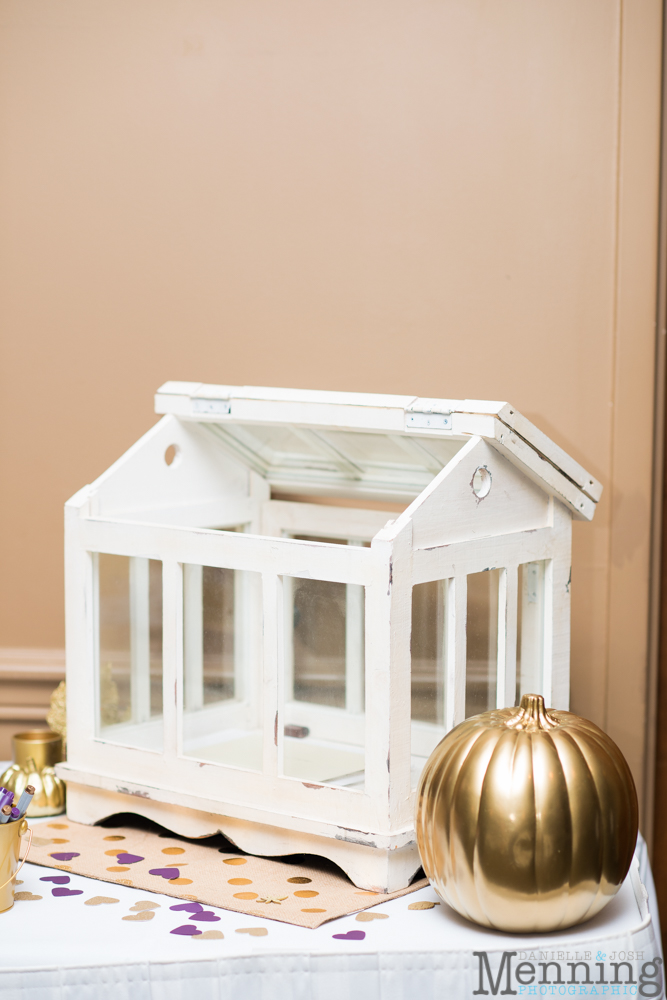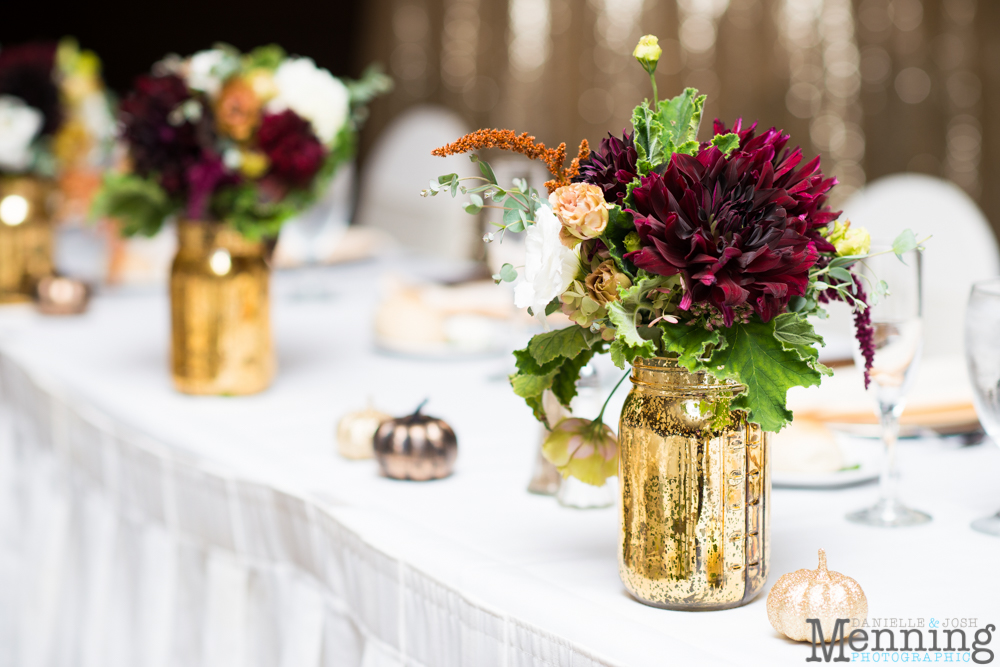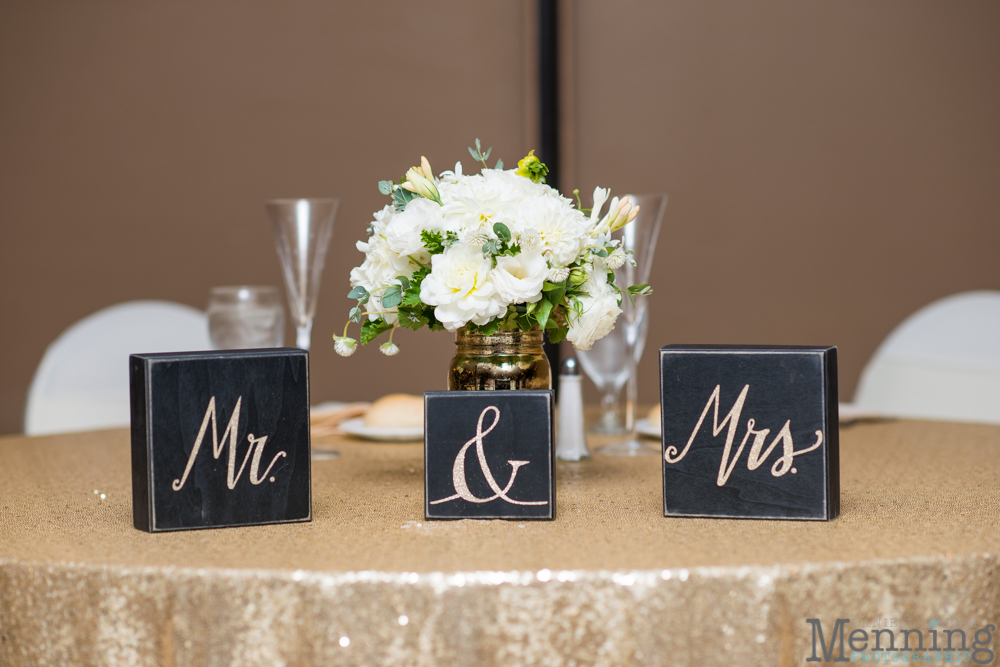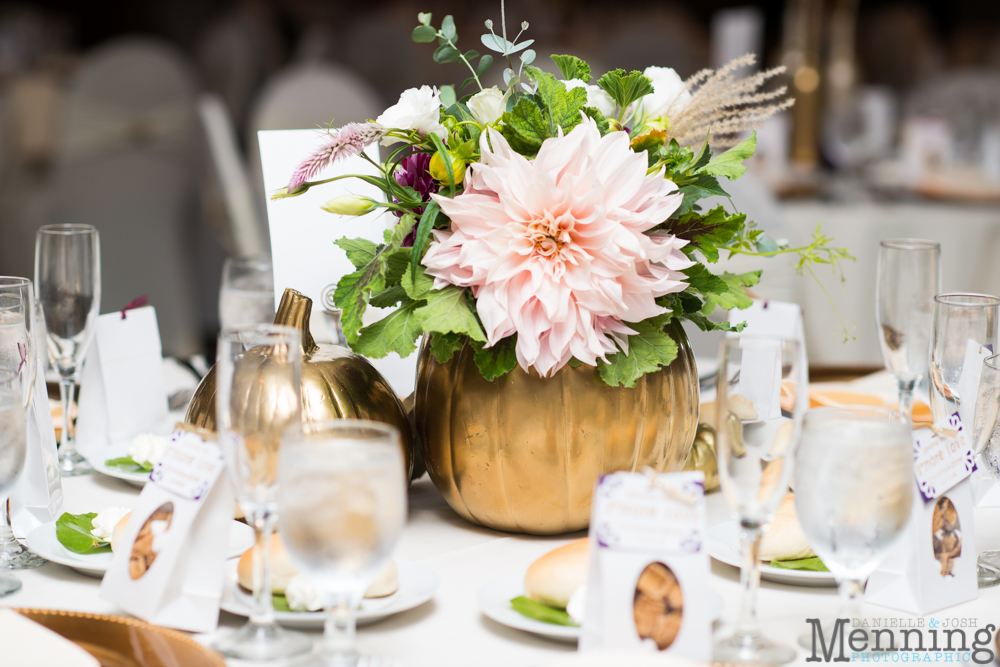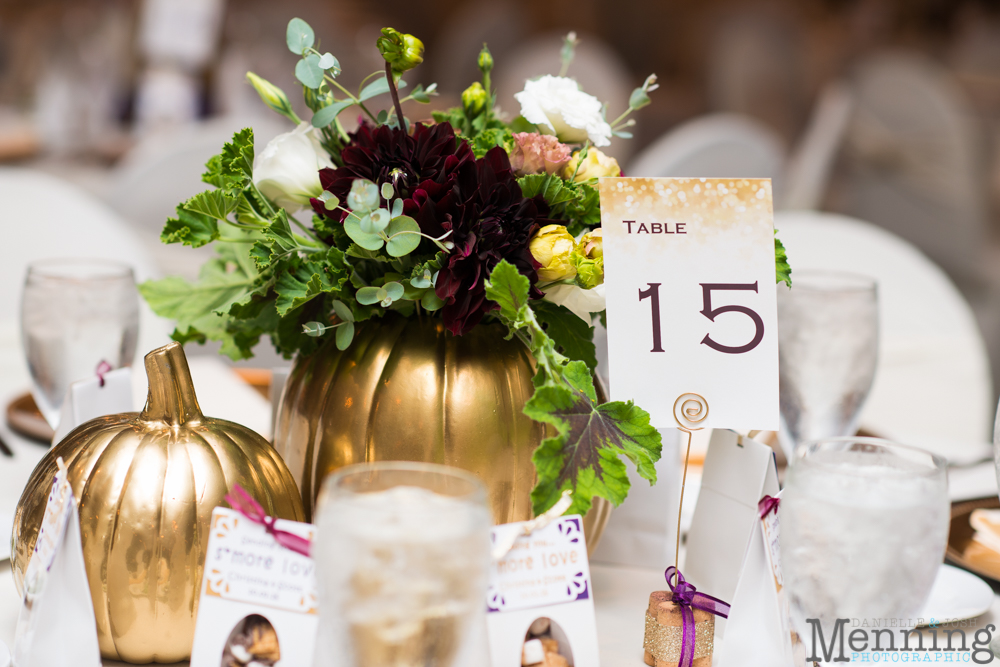 Bake Me Treats made the cute cake & topped it with their signature macaroons. Adorable.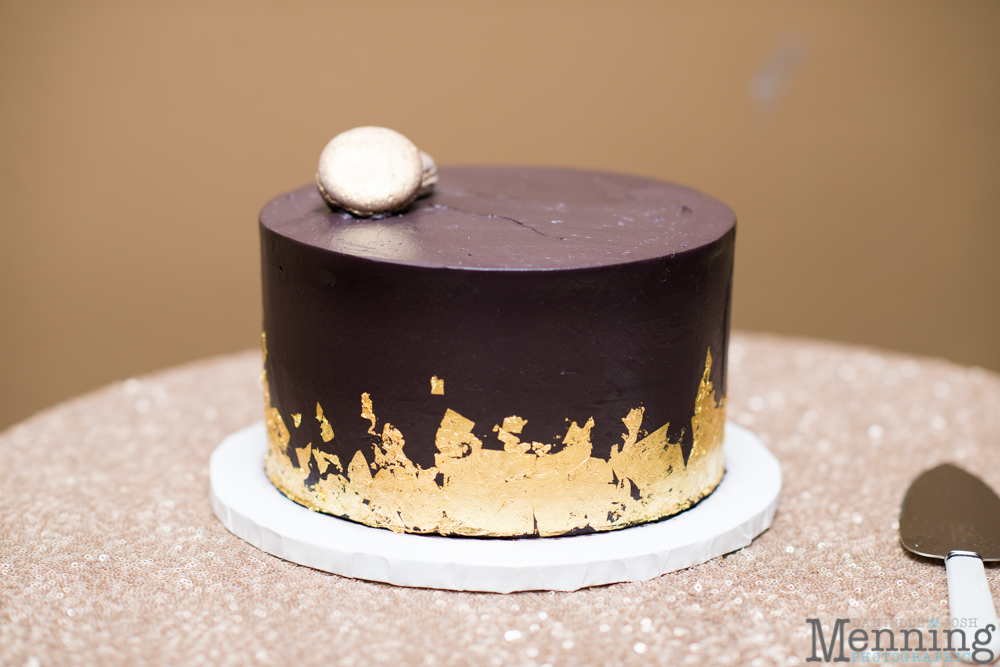 If you've followed our blog for any length of time, you know we love cookies & the amazing tradition of the Youngstown cookie table. We were straight-up in cookie heaven at Christina & Scott's wedding! This cookie table selection was UNREAL!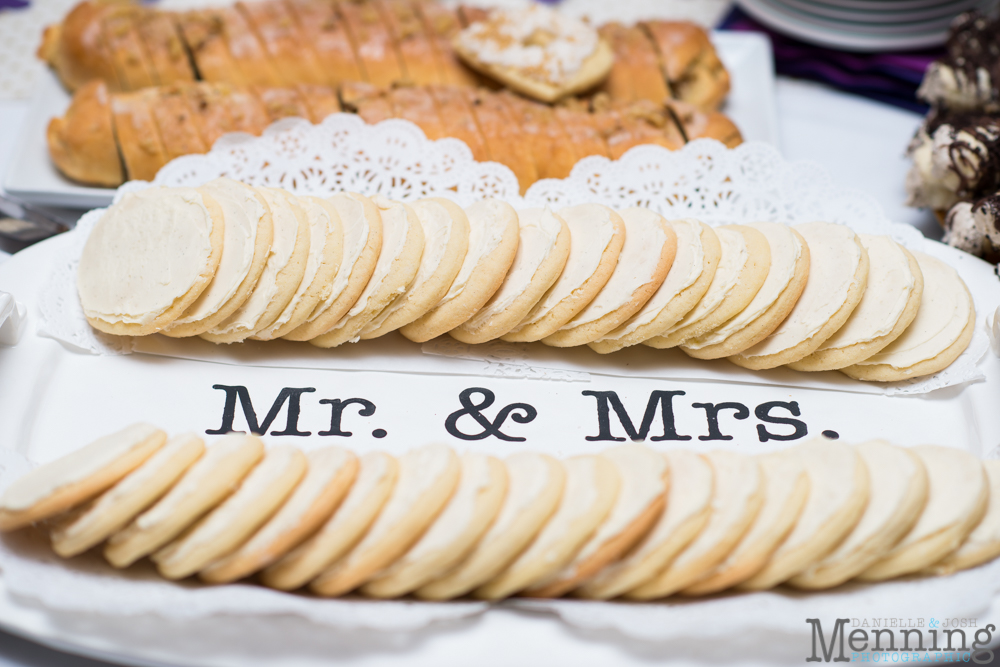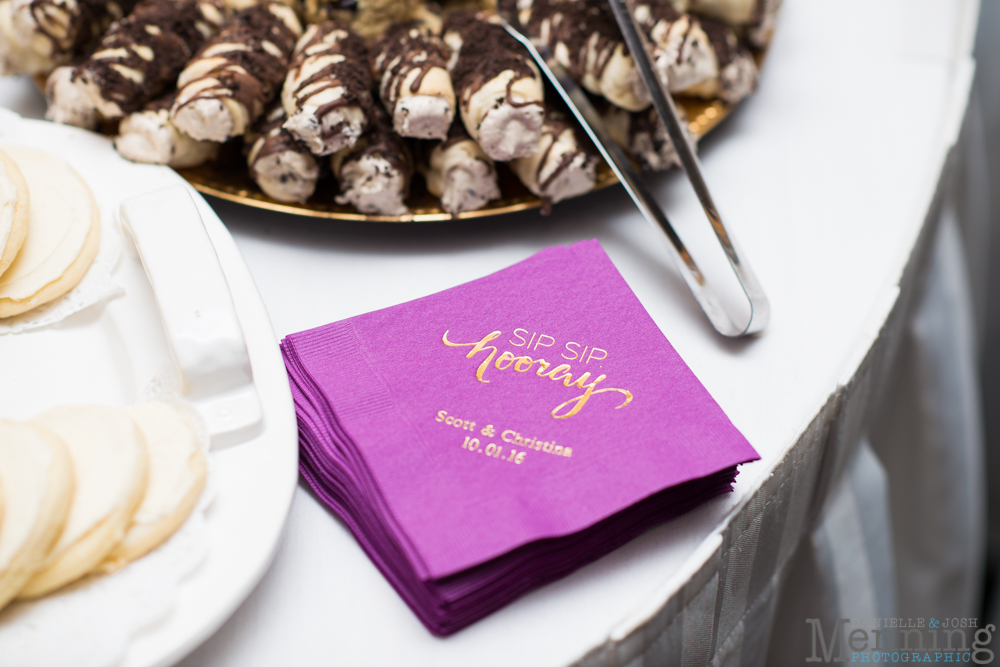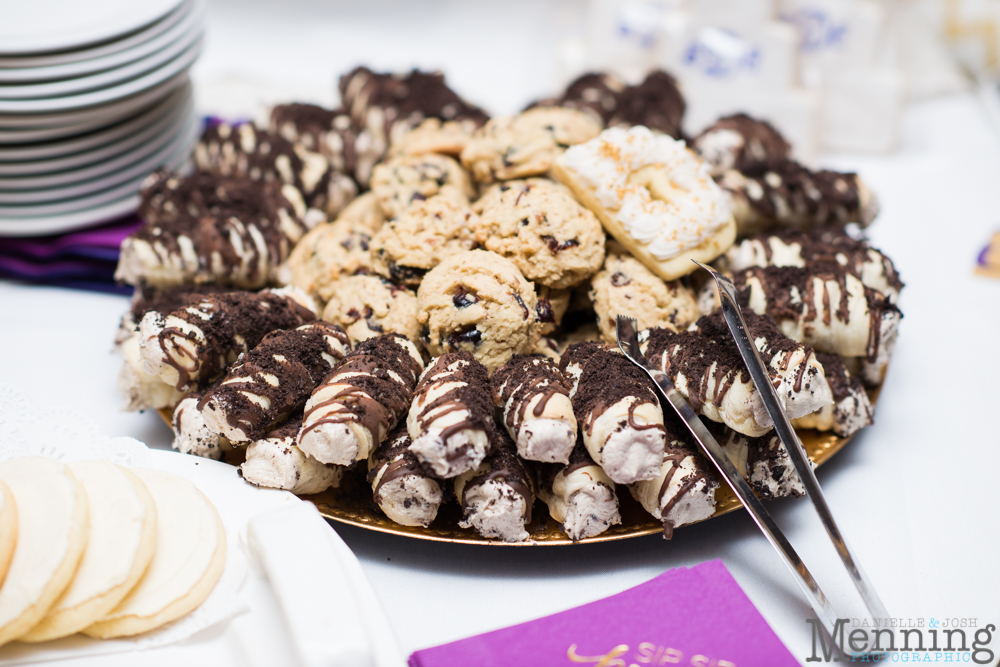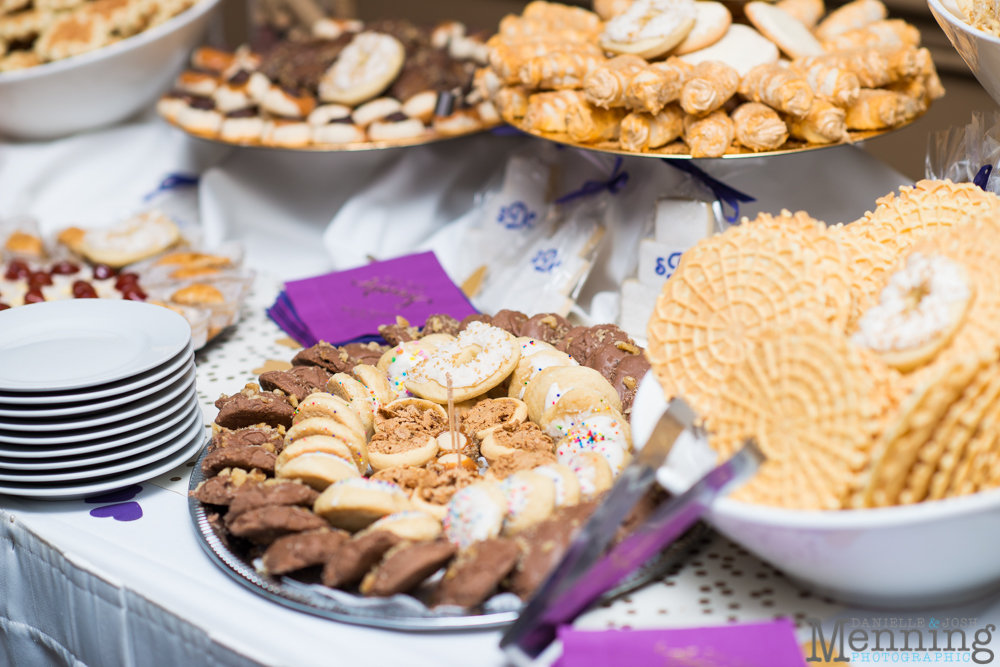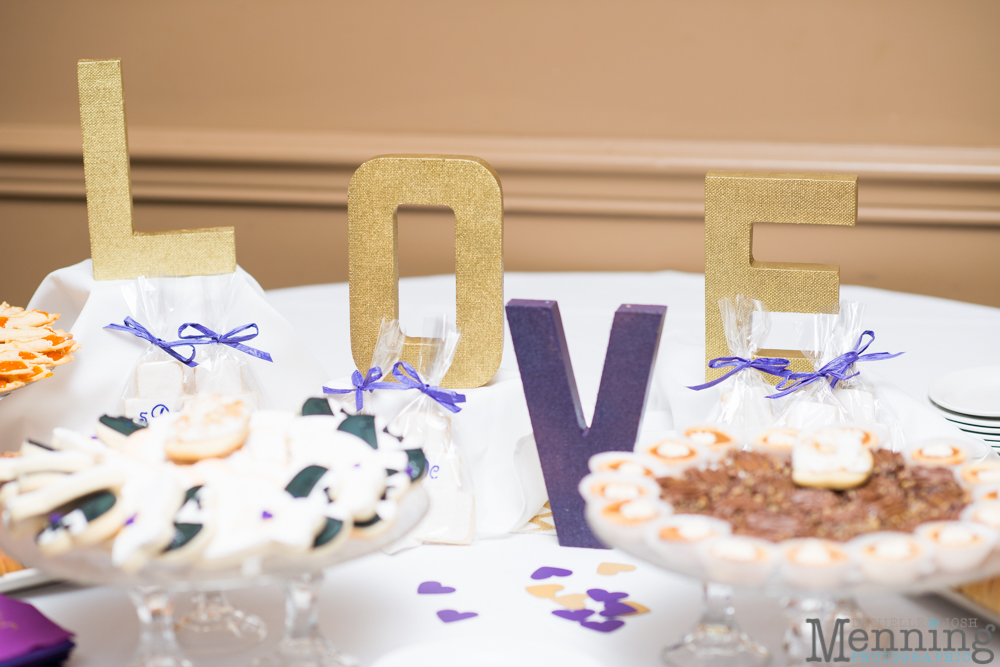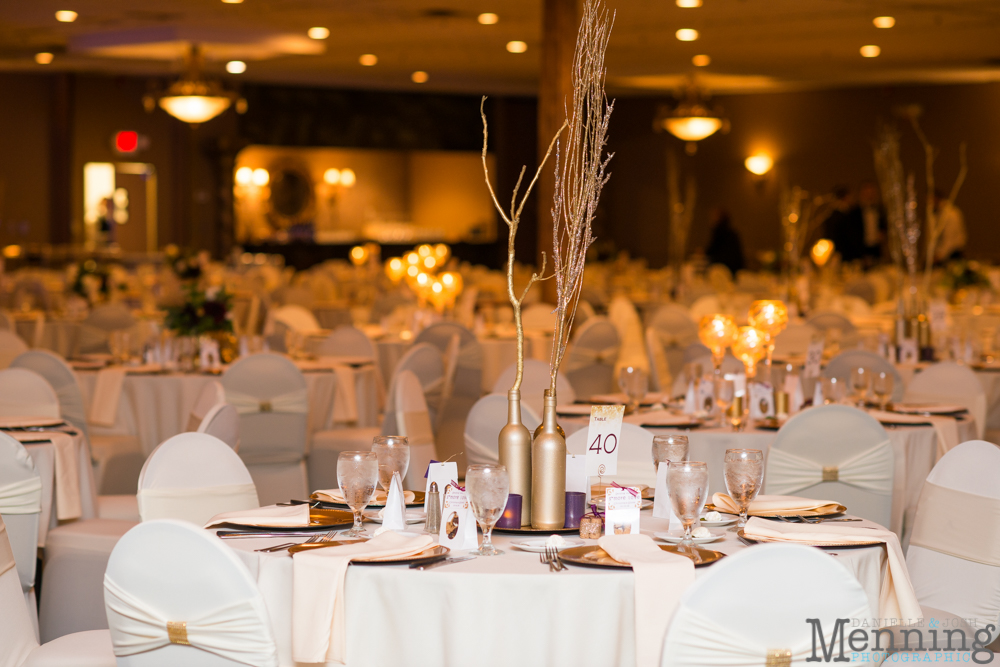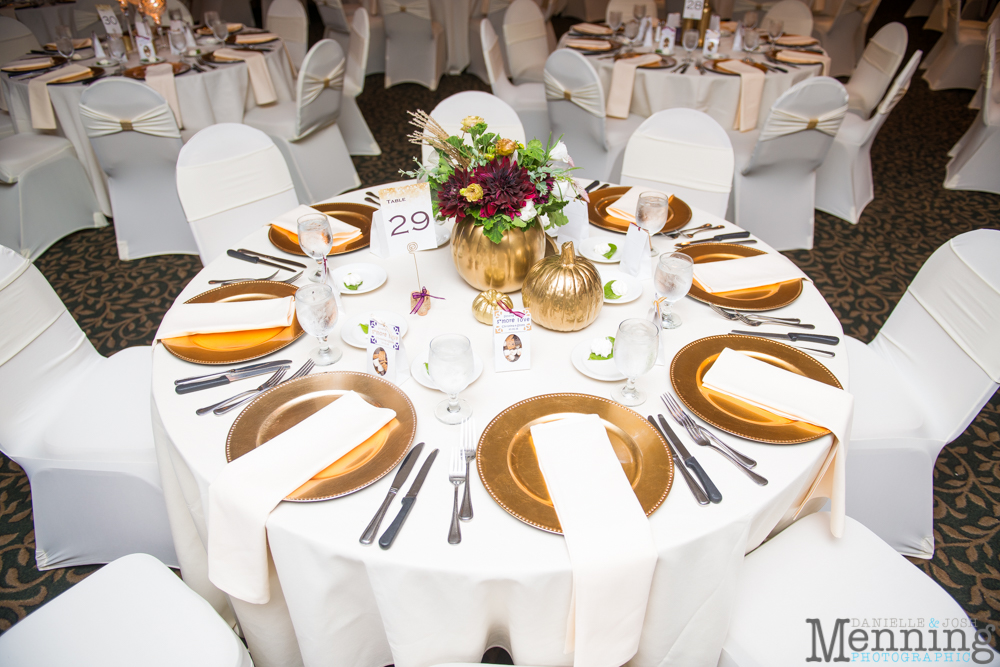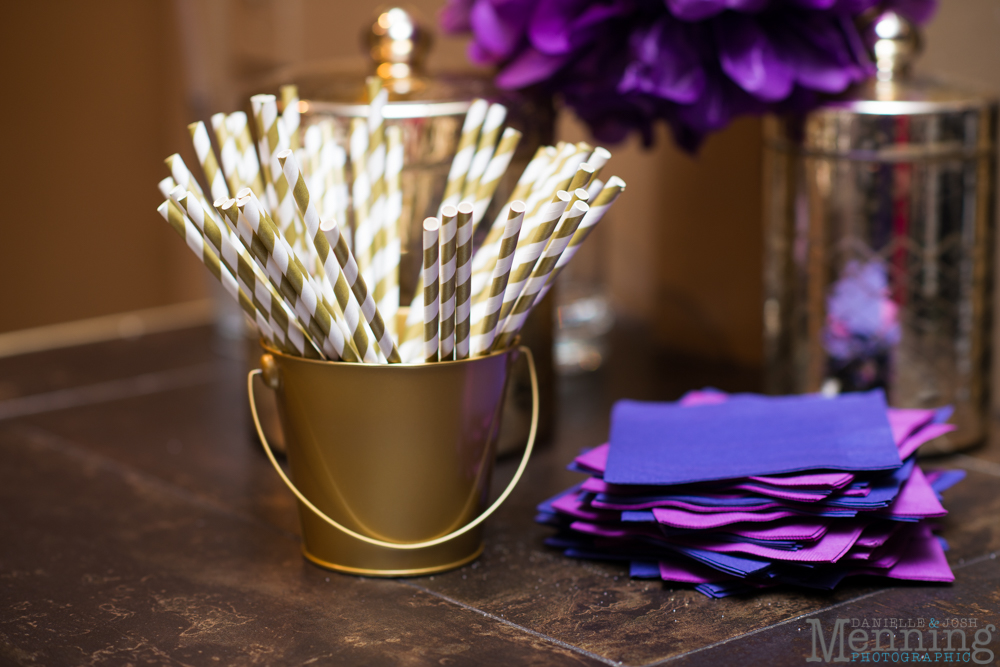 And, to make matters even sweeter, there was a S'mores Bar!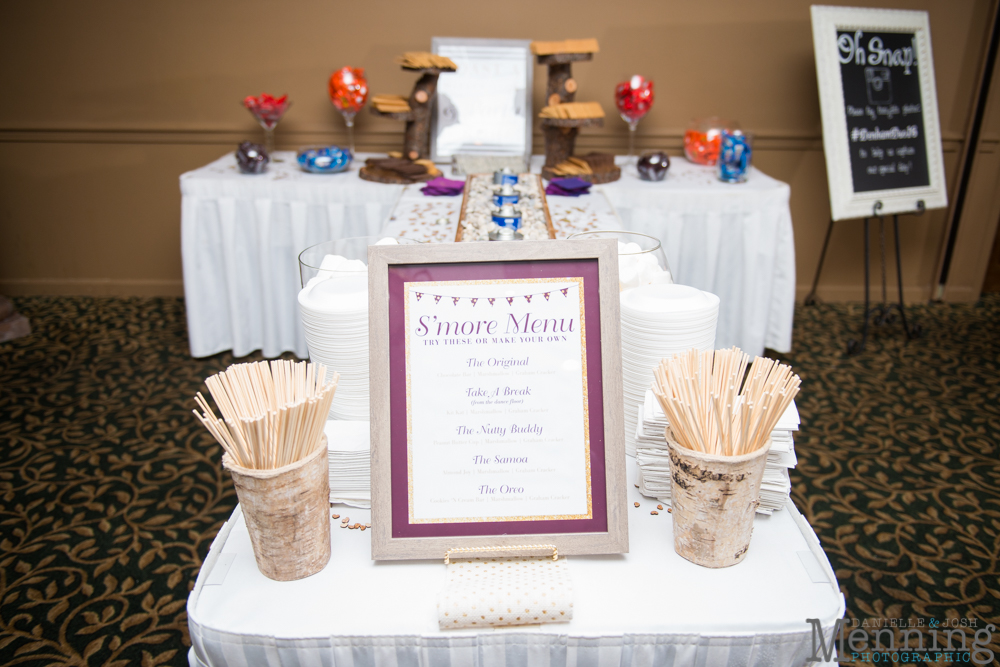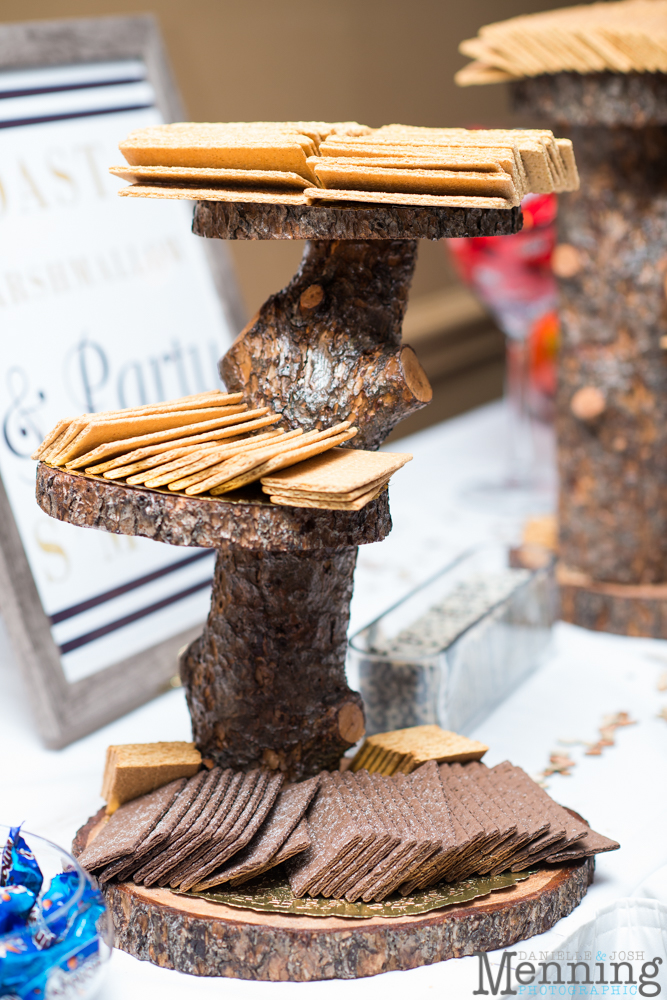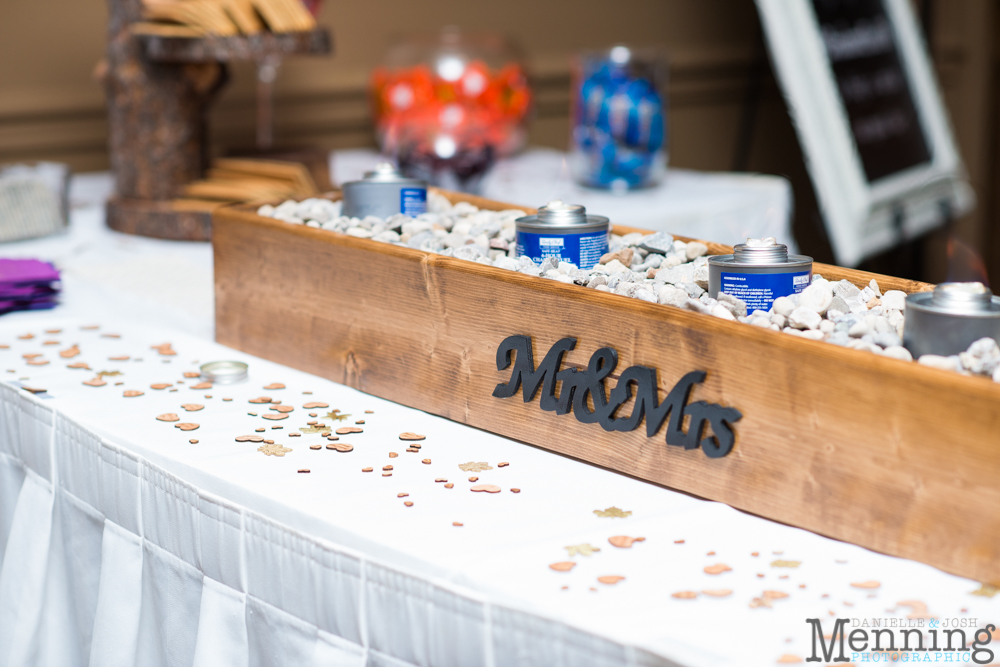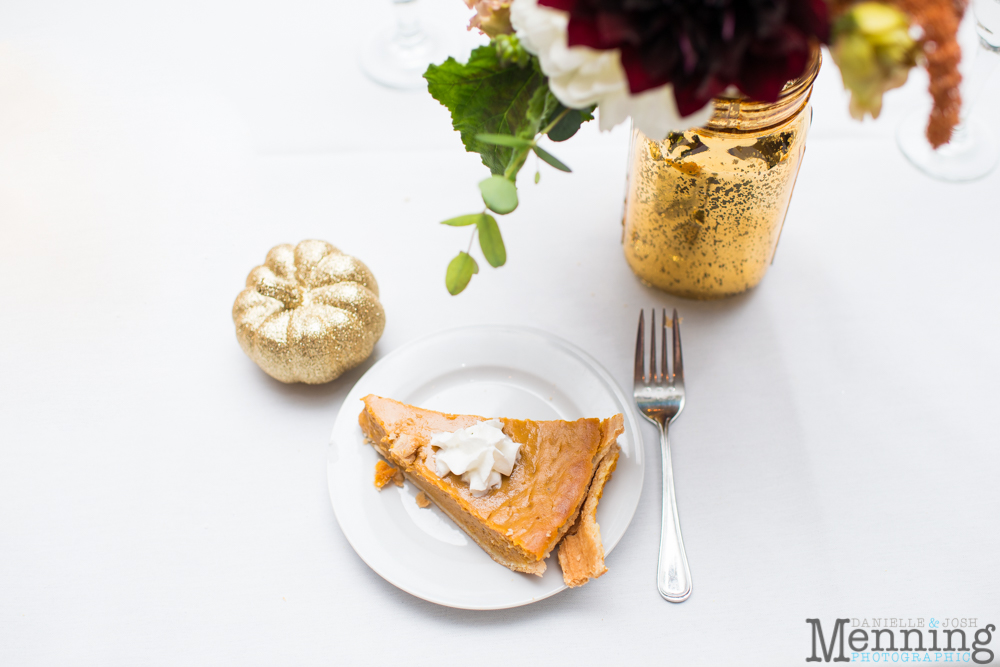 When Christina & Scott were introduced to the reception as husband & wife, Space Jam was blasting & they & their bridal party enjoyed a little game of basketball with an invisible ball. That sounds silly when I type it, but it was so much fun & the crowd loved it! It was a unique way to welcome the party.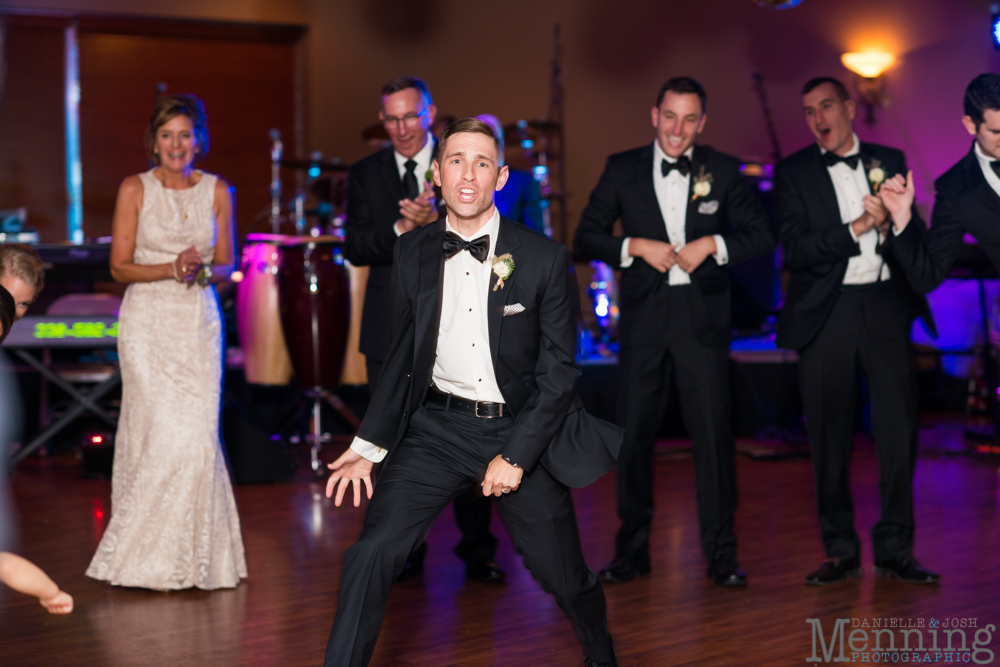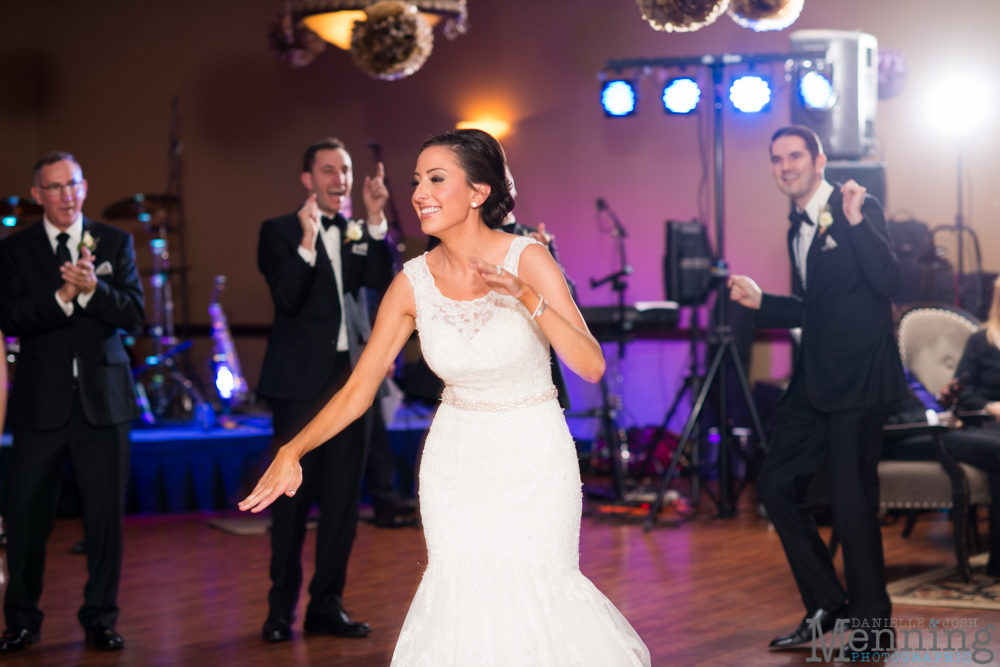 Plus, the photo ops were fun!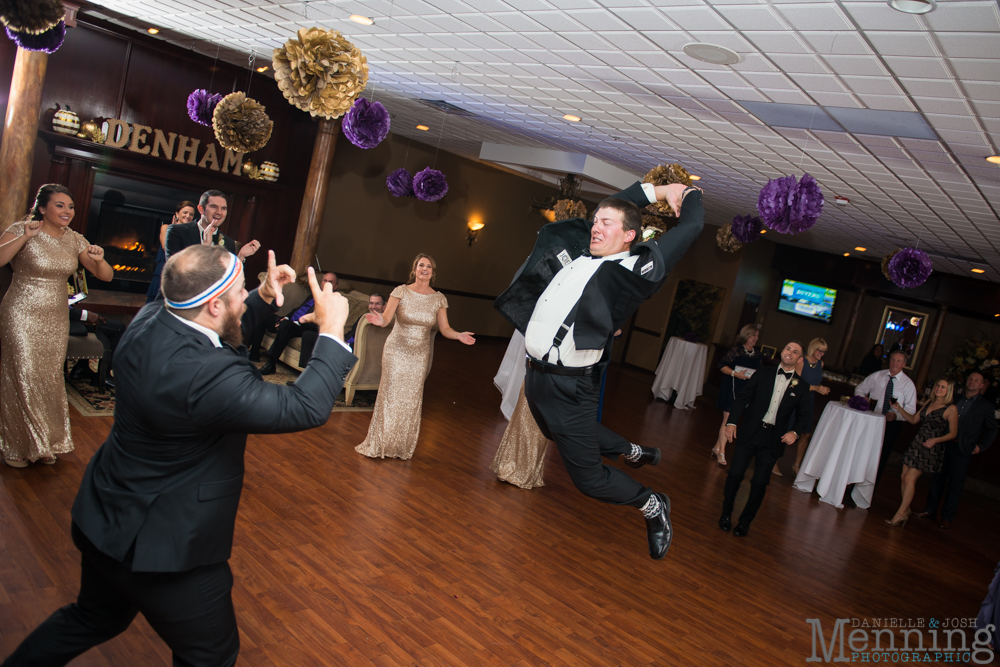 Their first dance as husband & wife followed & everyone watched as the romance & sweetness unfolded.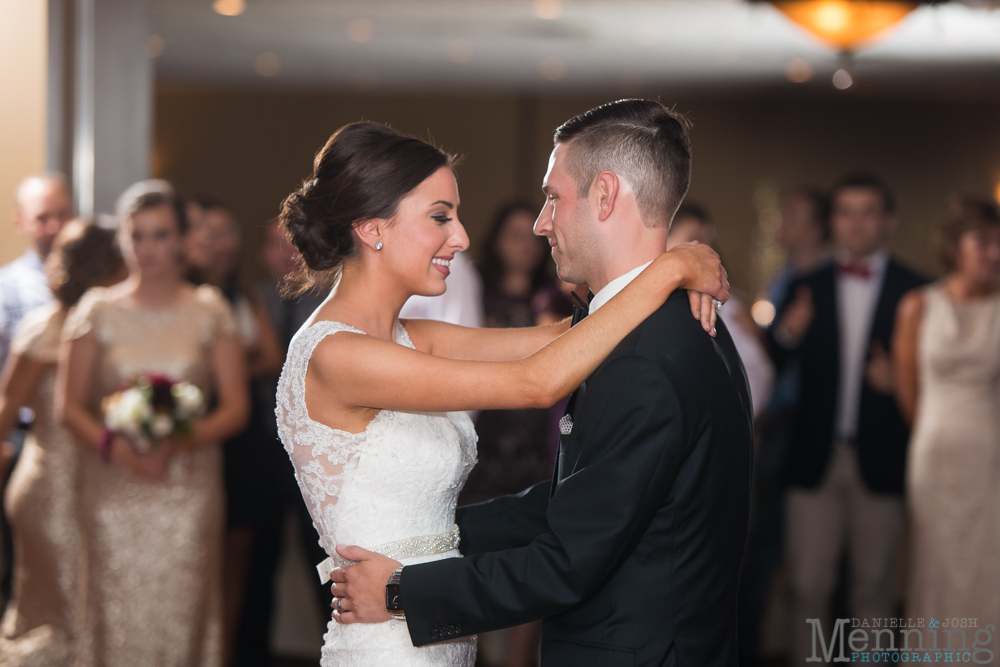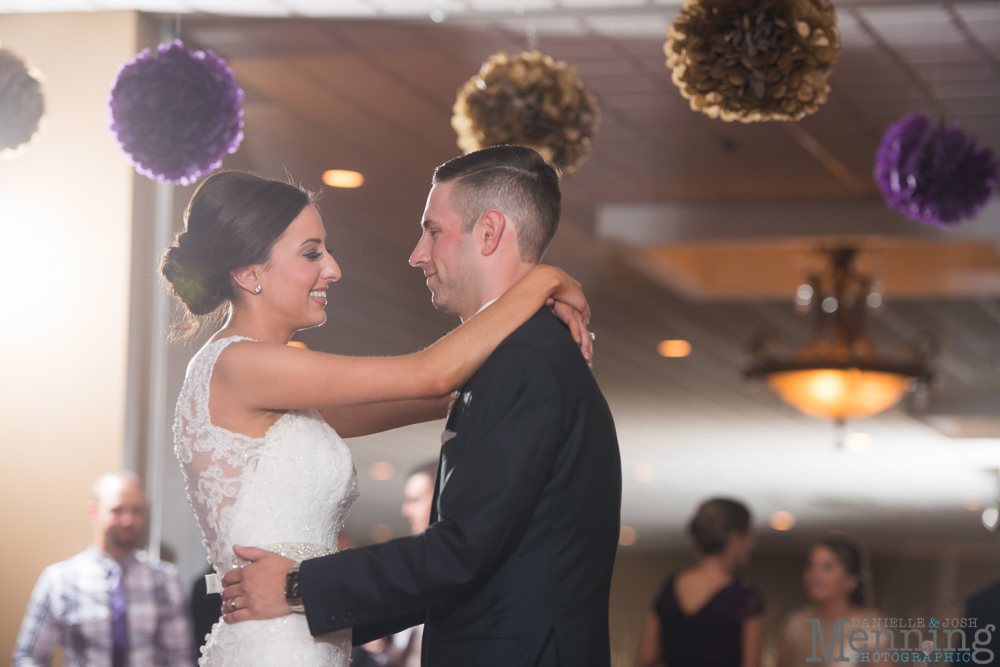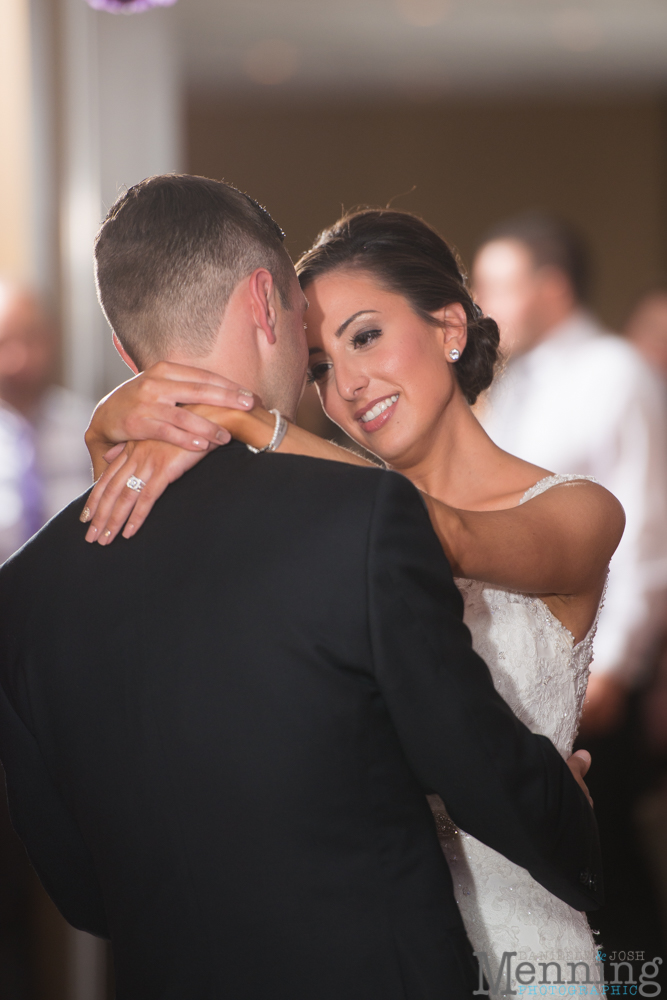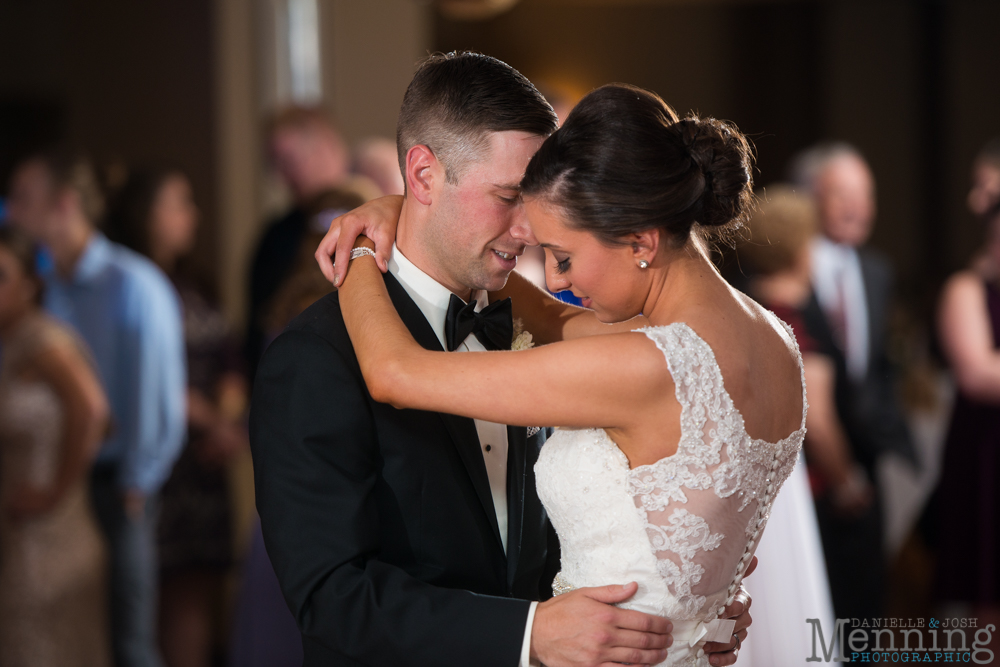 Father-daughter dances: a.k.a. the moment most people can't help but feel some feelings. It's just so sweet to see a daddy & his little girl.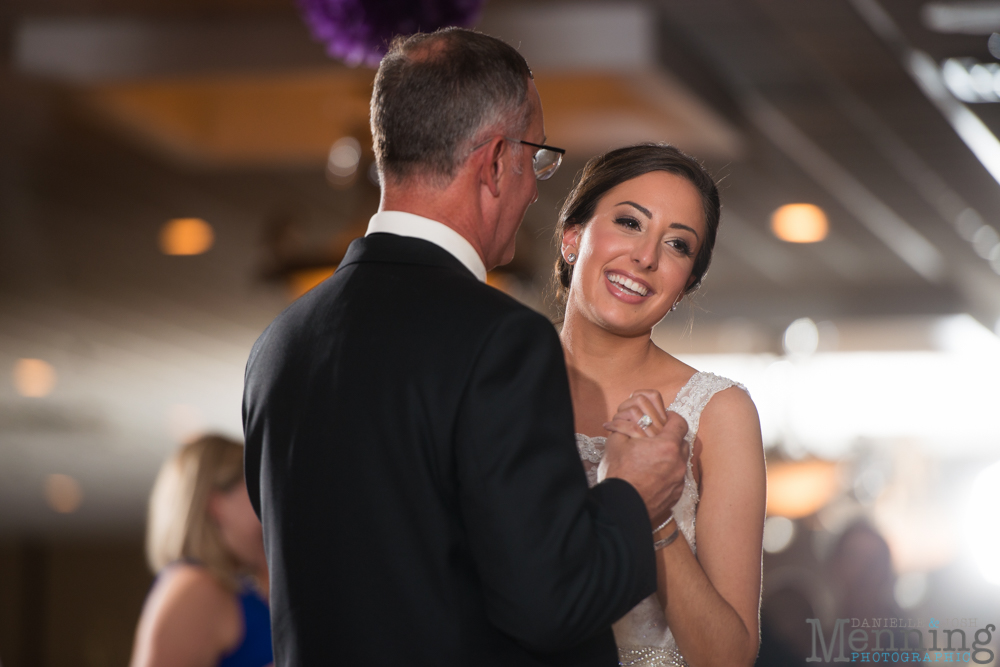 Scott & his mama were precious, too. I love that you can see the tears glistening in her eyes as she smiles at her son.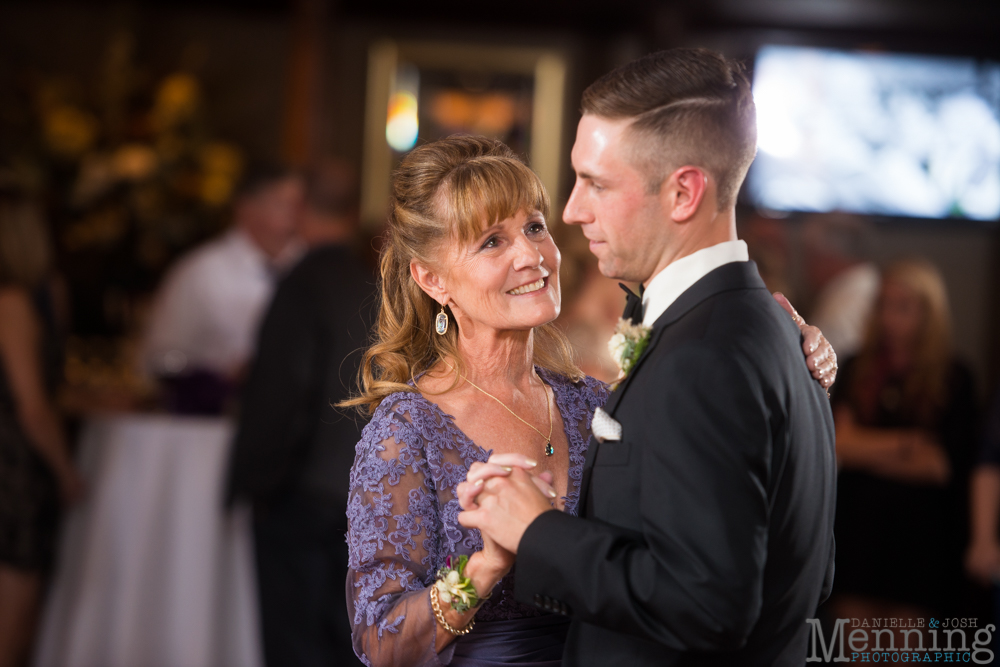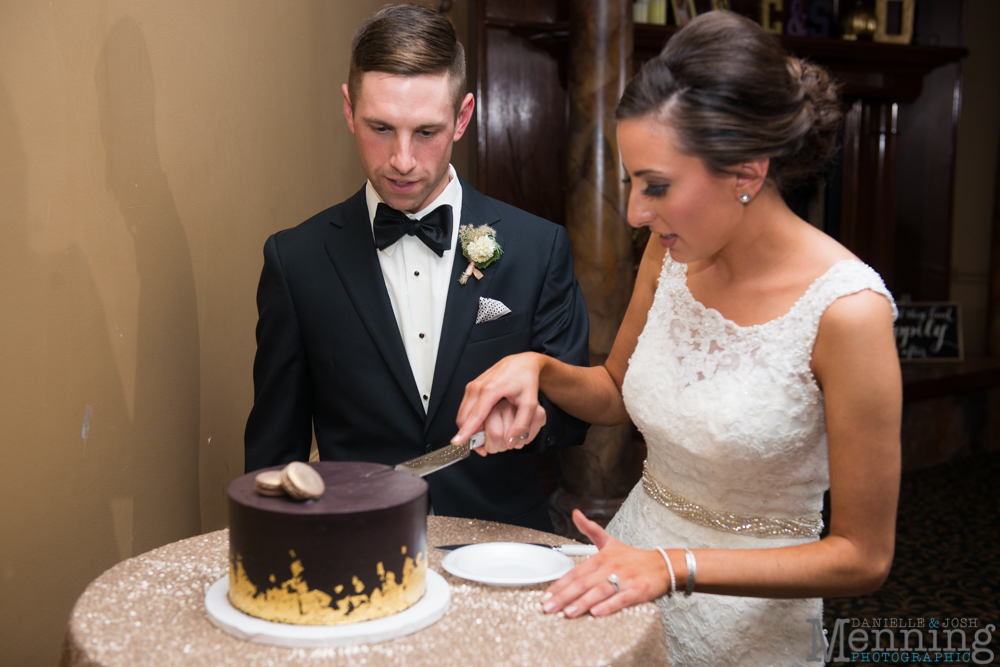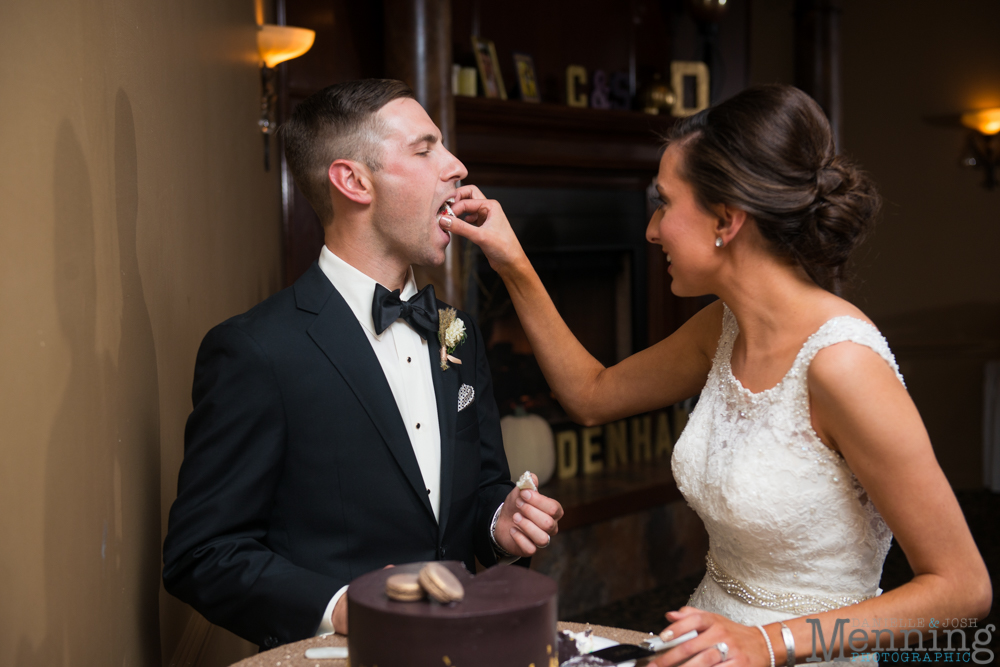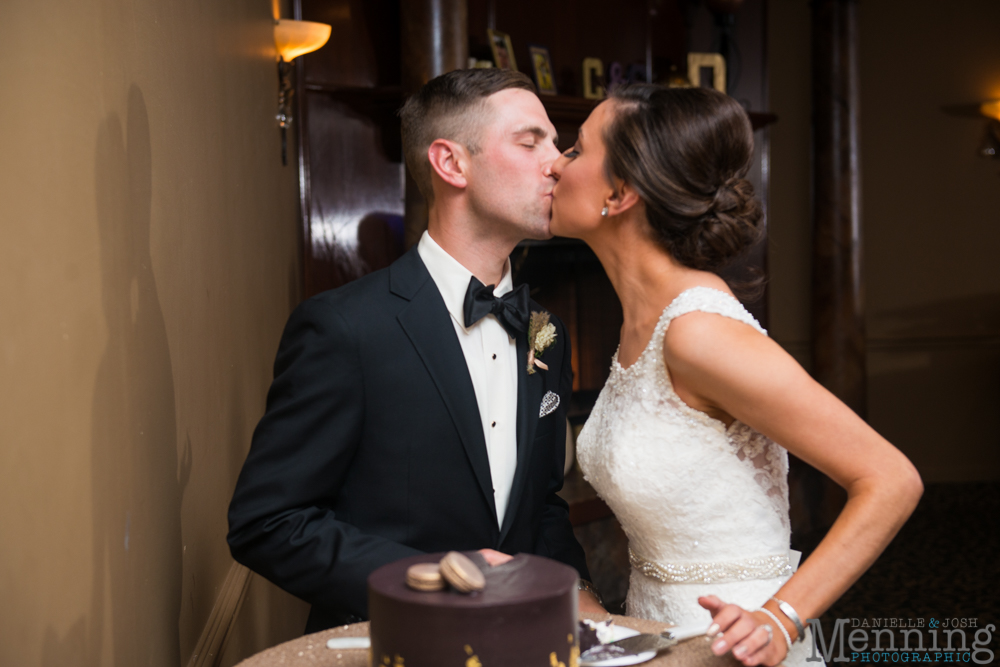 Rudy & the Professionals rocked it out & their energy was fabulous!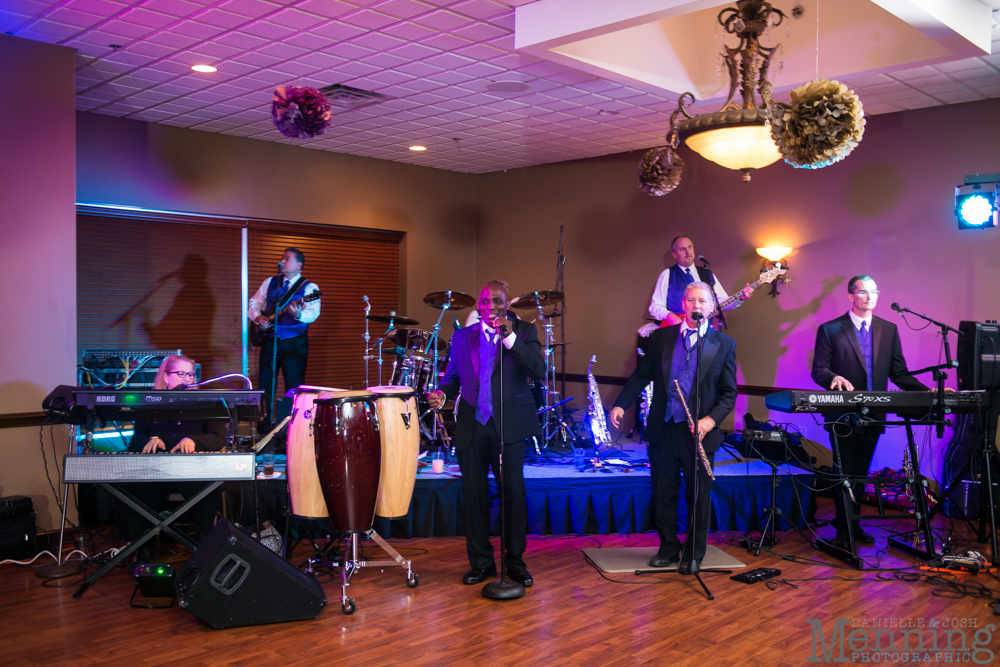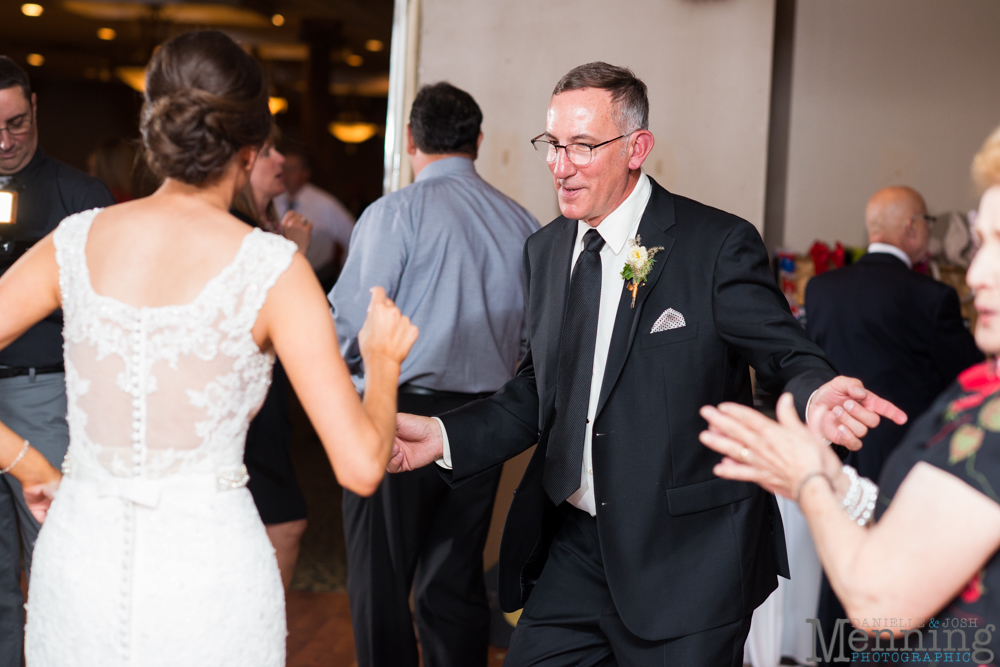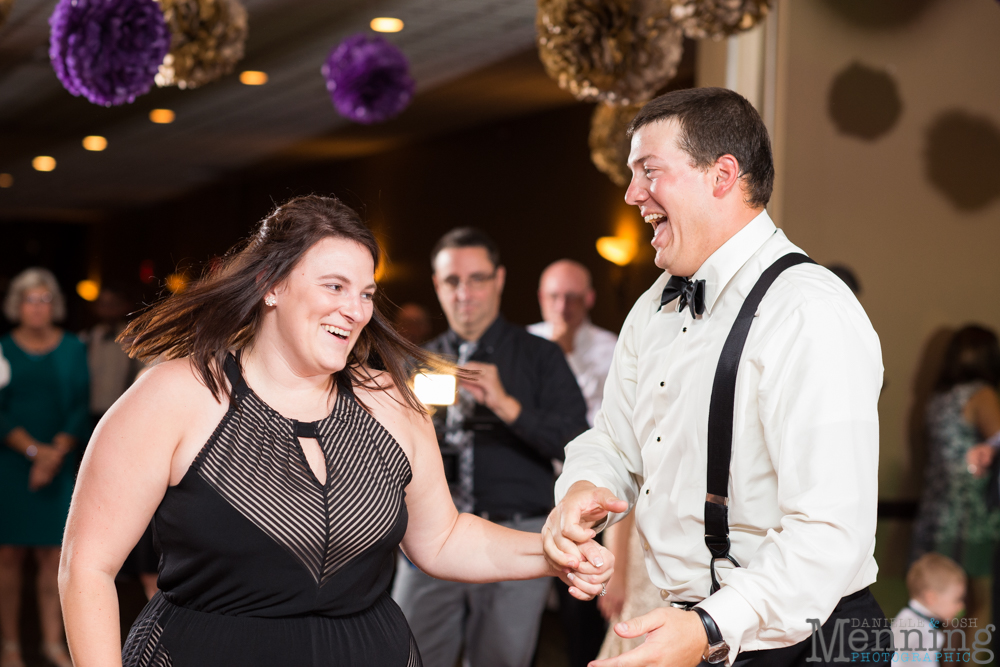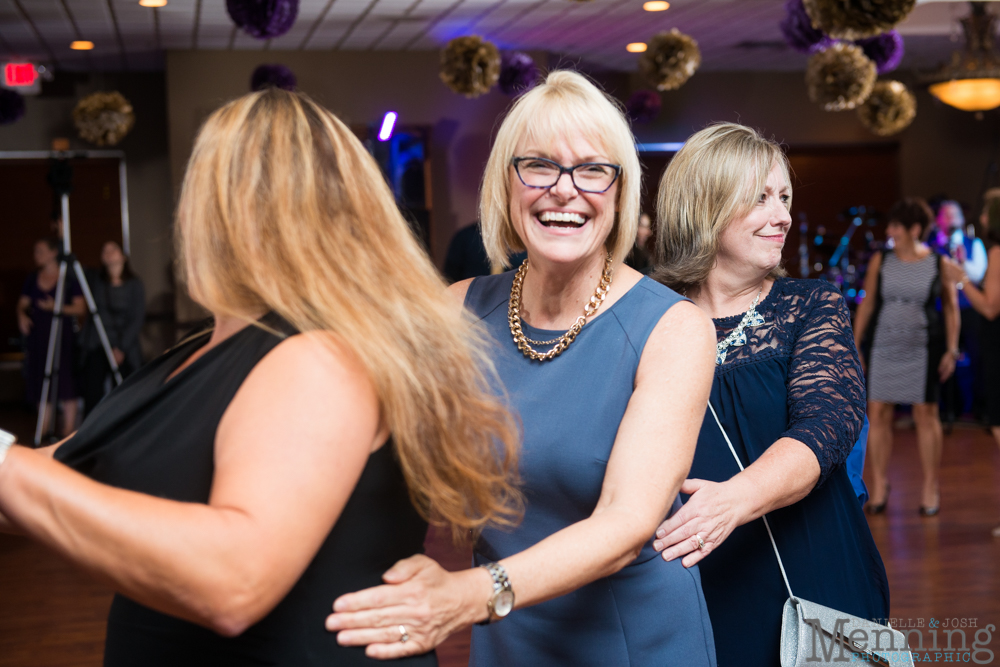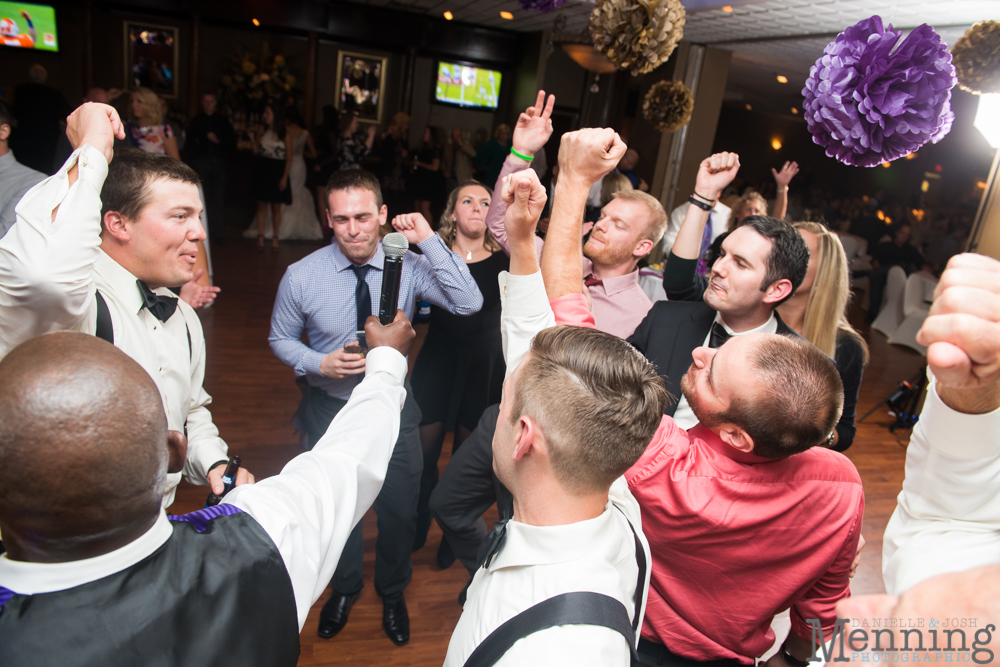 I love the interaction with the crowd. Rudy is a trip!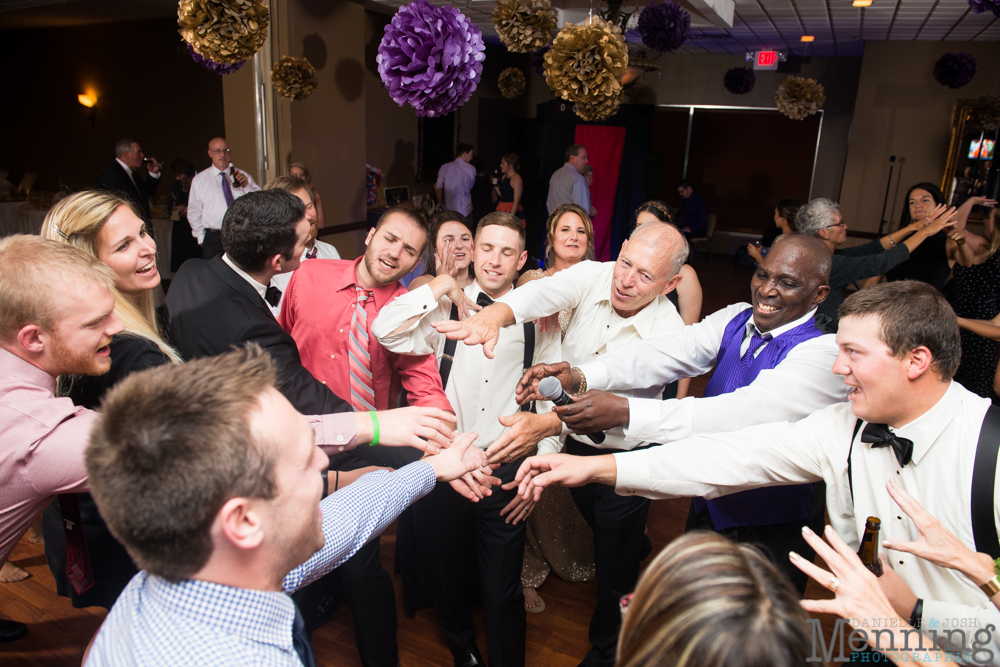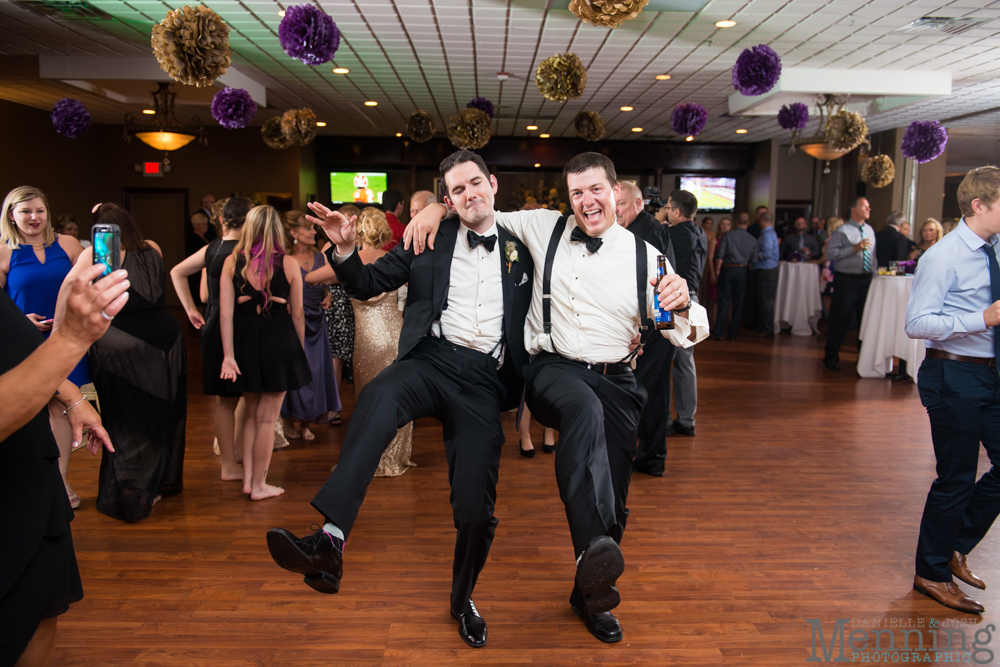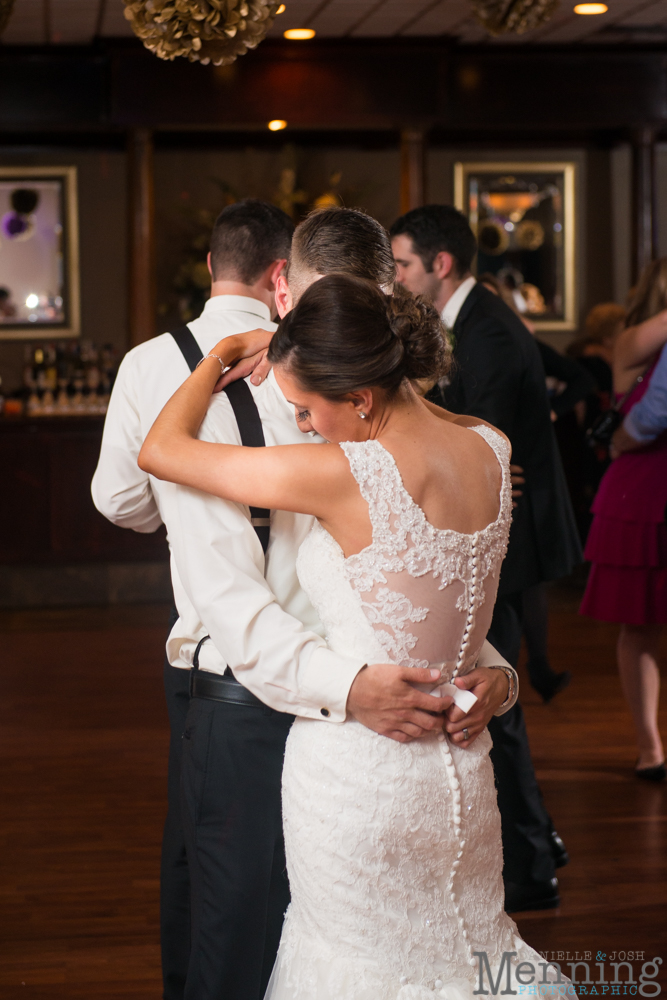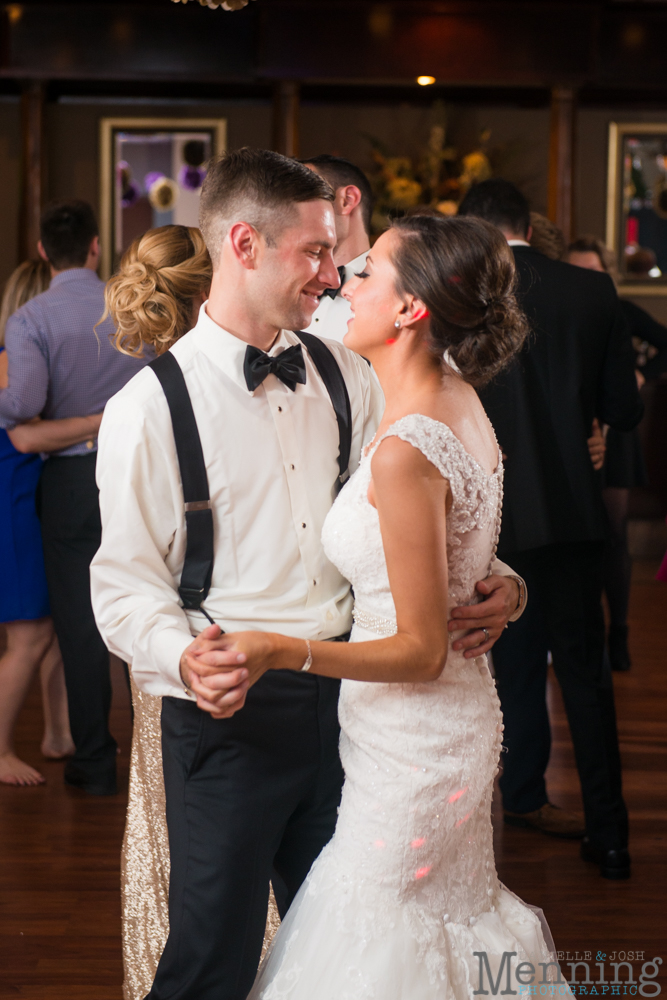 Gosh, these two! Aren't they adorable?!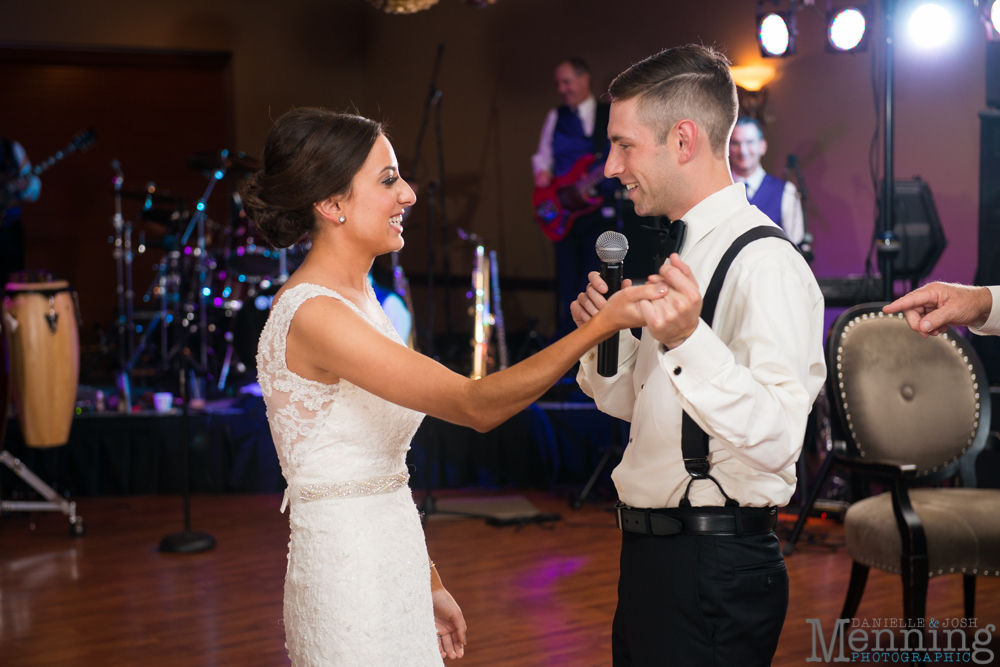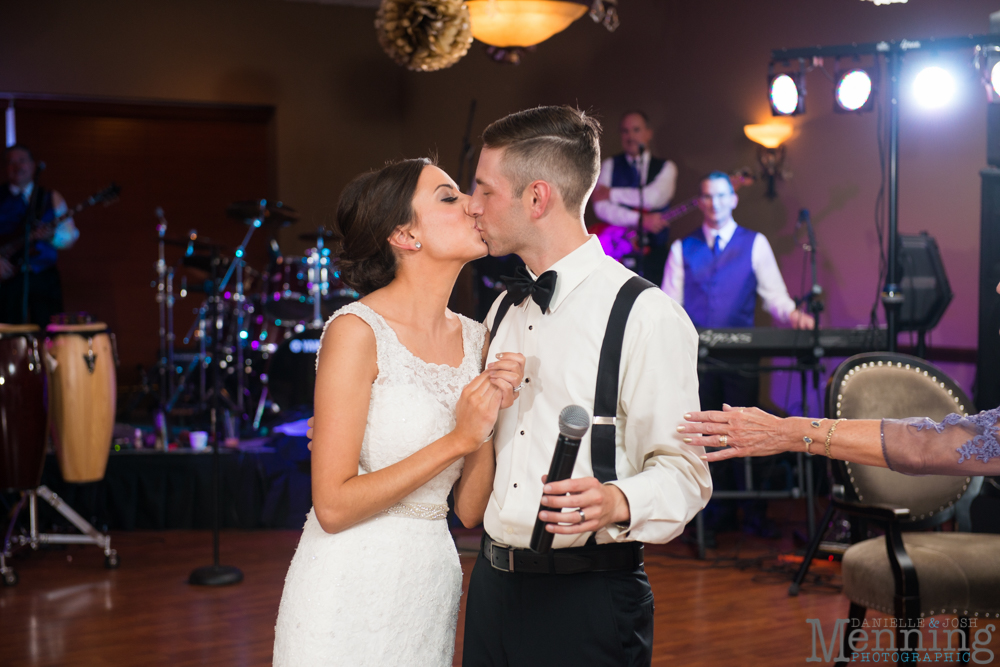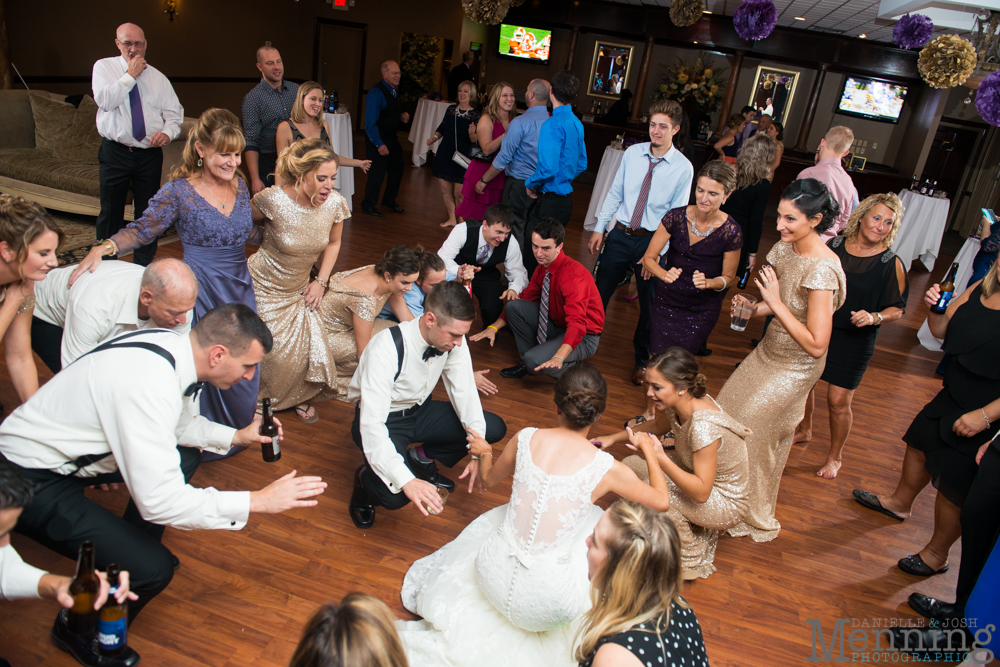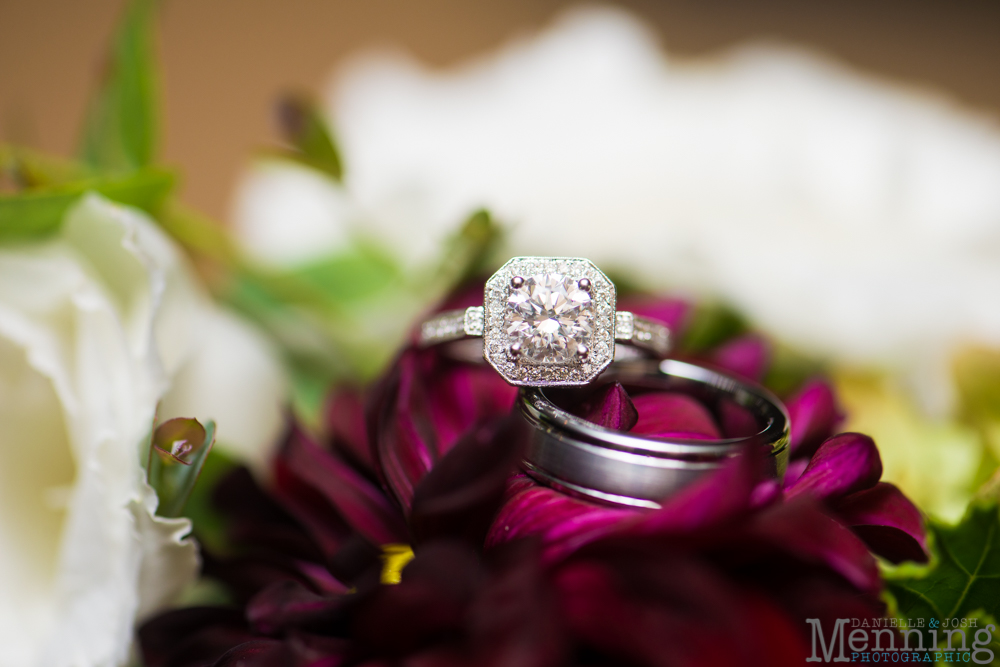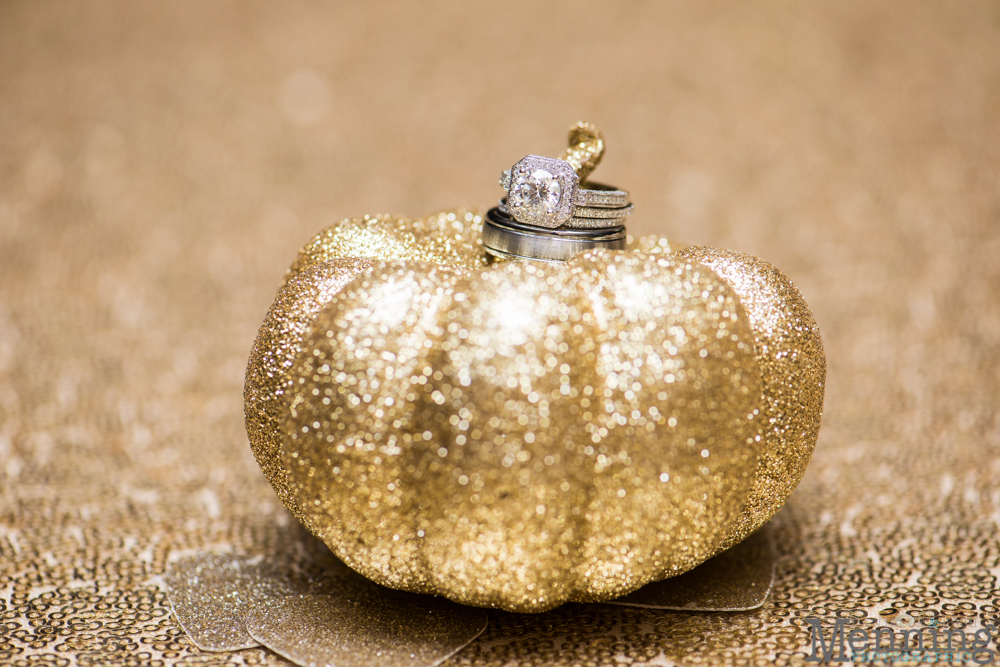 Christina & Scott, we had a fantastic time with you & your family members & friends! Your wedding day was a fairytale & it was our pleasure being a part of it all! We're thankful you chose us to capture it! We wish you the very best in your marriage.
If you're a new blog reader or you just stumbled upon our little corner of the Internet, hello! We're Josh & Danielle of Menning Photographic. We're a husband & wife wedding photography team based in Columbiana, Ohio & serving brides & grooms in the Youngstown, Ohio area & beyond. We write about all kinds of things on our blog from wedding advice to real weddings to fun happenings in our life. We're glad you're here! If you'd like more info from us just email info@menningphotographic.com! We'd also love to connect with you here:
Instagram | Facebook | Twitter | Pinterest | Google +