When we get to photograph an adorable & fun couple on a lovely late Spring day, it's a great day! Brittany & Adam's engagement session was full of laughs & they have one of the cutest & most well-behaved little dogs we've ever photographed! Just wait until you see little Enzo sitting pretty with a cute sign around his neck showing off the wedding date! You'll be overcome with a cuteness attack. Speaking of cuteness, Brittany & Adam have a ton of it together. They've been together for something like seven years & are high school sweethearts. They're one of those couples whose friends probably always knew they'd eventually get married. Their families absolutely adore them together & have already considered them part of their family even before they got engaged. We had such a great time with them at Mill Creek Park & downtown Youngstown & we're excited to share some of our favorite images with you from their engagement session.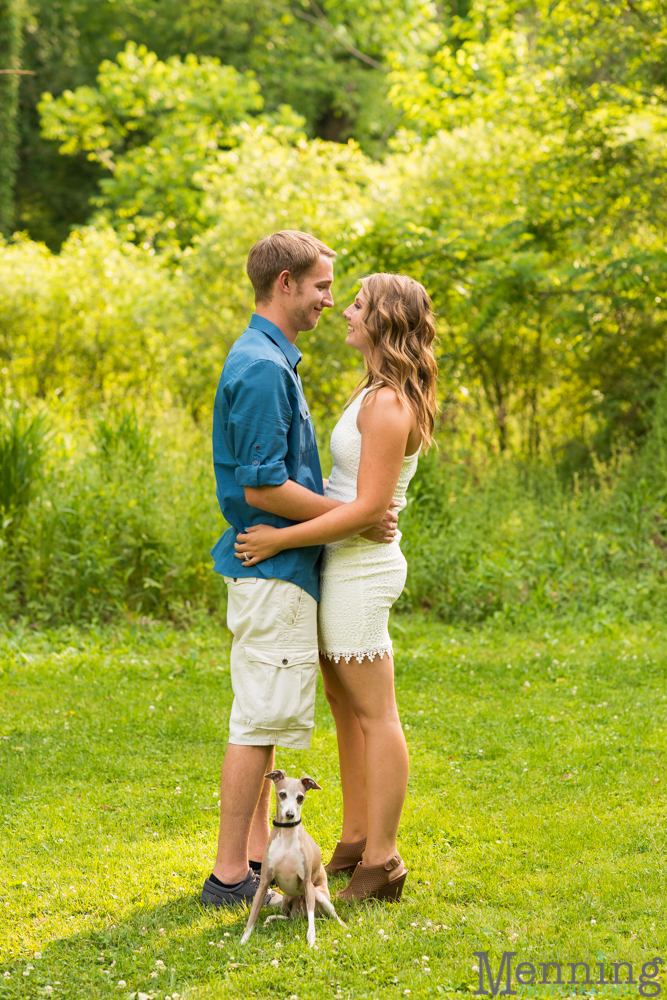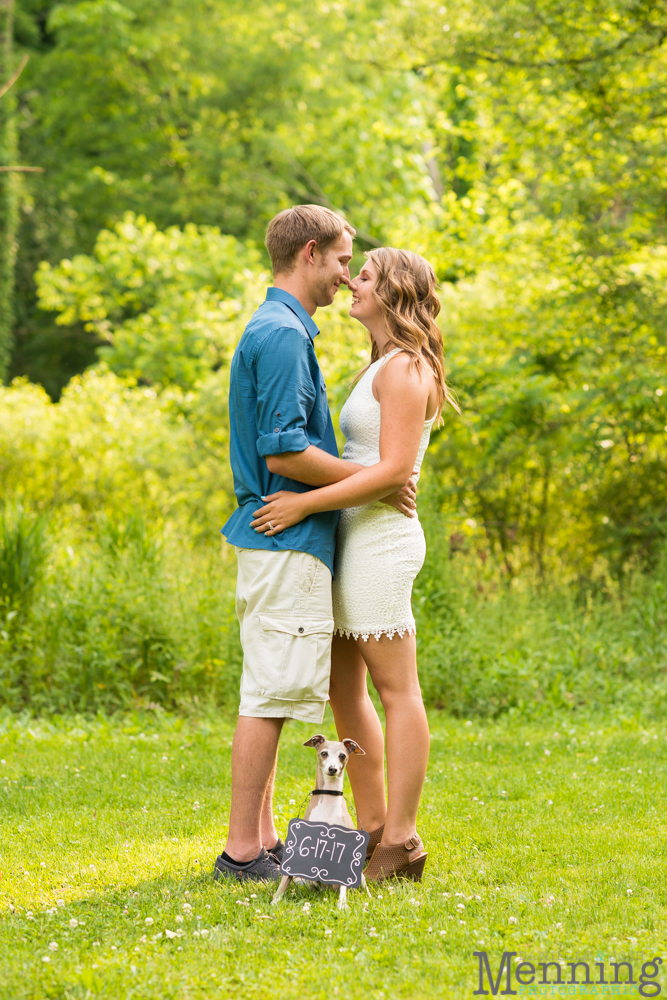 We started off the session with Enzo & he seriously could not have been more photogenic.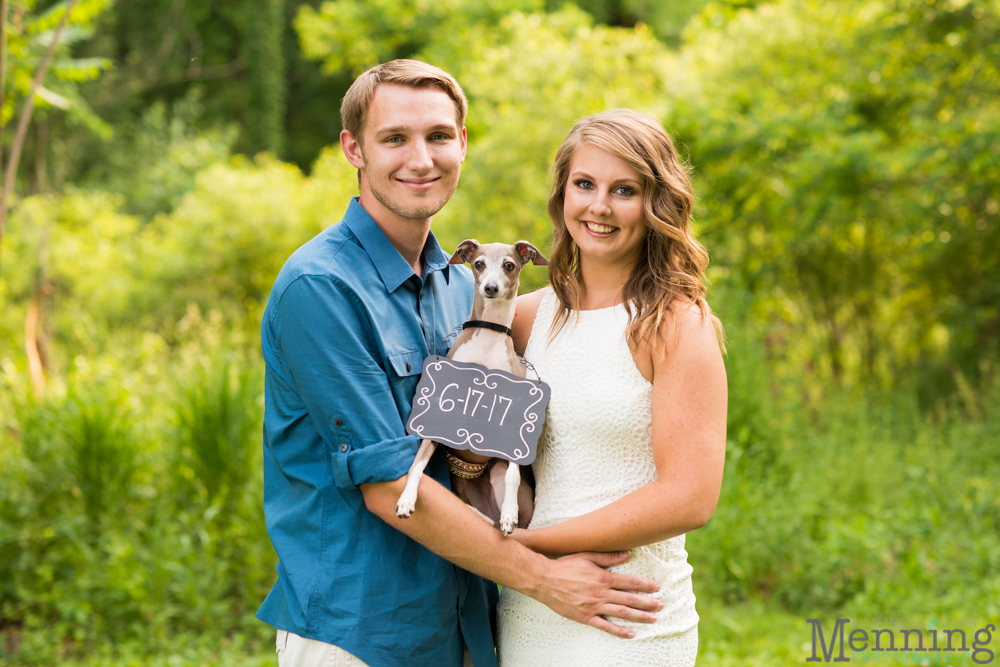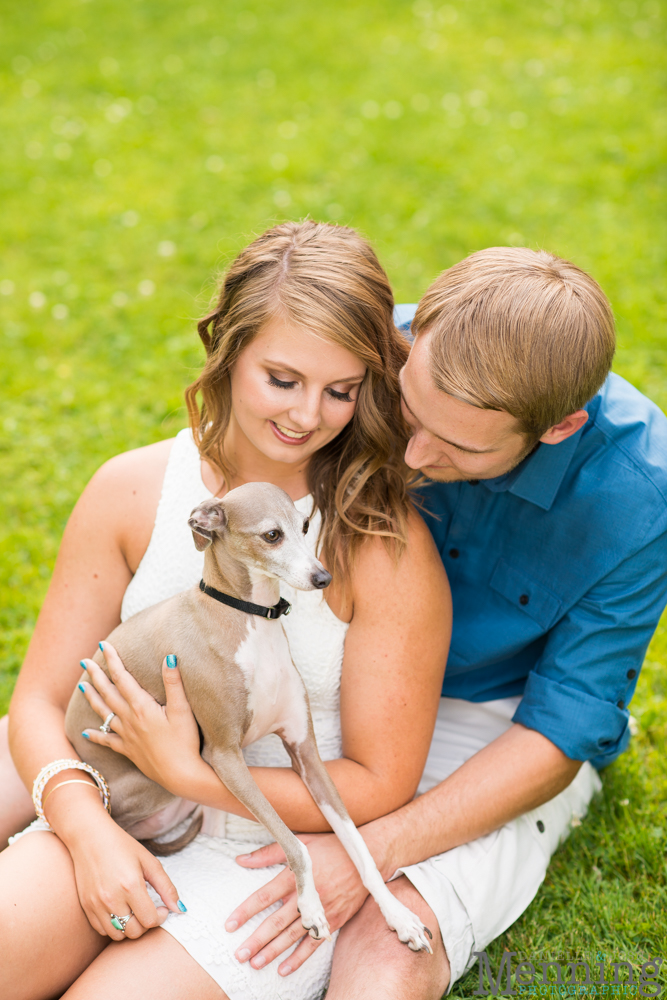 Thanks to Brittany's awesome mama who got him to perk up his ears & look at the camera & then took him home after his modeling debut was complete.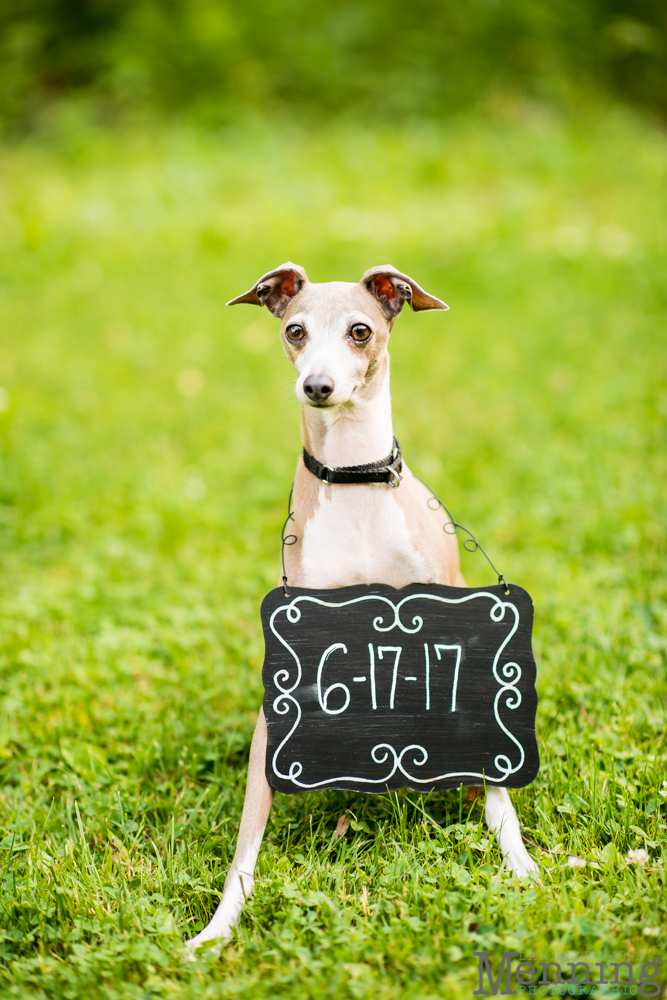 Adam is smitten with Brittany & would do anything for her. In fact, they recently relocated their life together to Georgia because Brittany accepted a job offer there. They miss their family, friends, & Suzie's Dogs & Drafts, but they love adventuring together in a new state amongst trees with beautiful Spanish moss & bugs the size of their heads. Okay, maybe that's an exaggeration, but they said the bugs are pretty darn huge.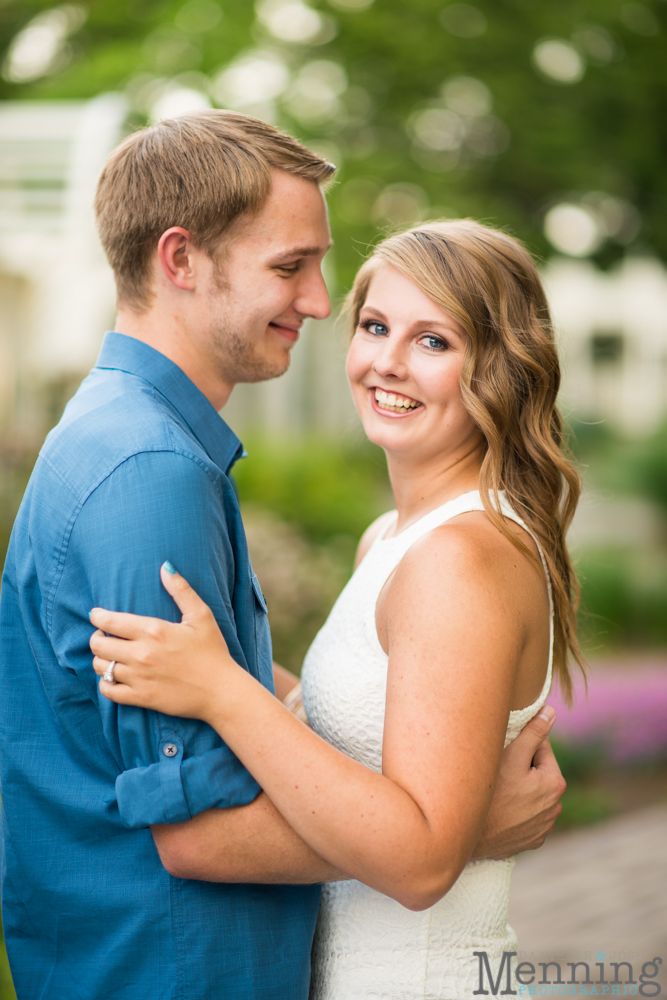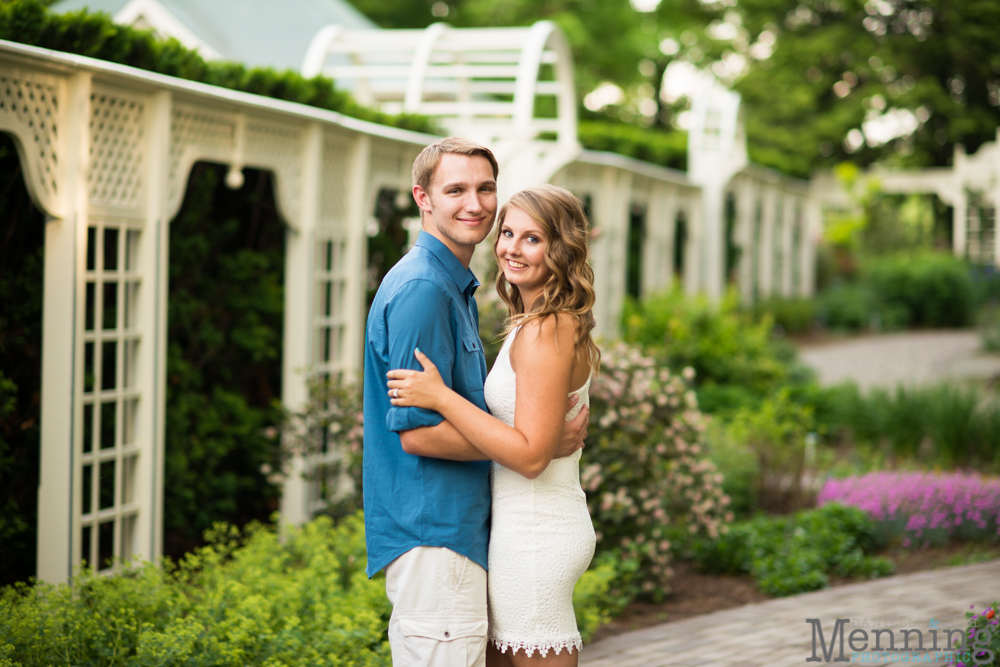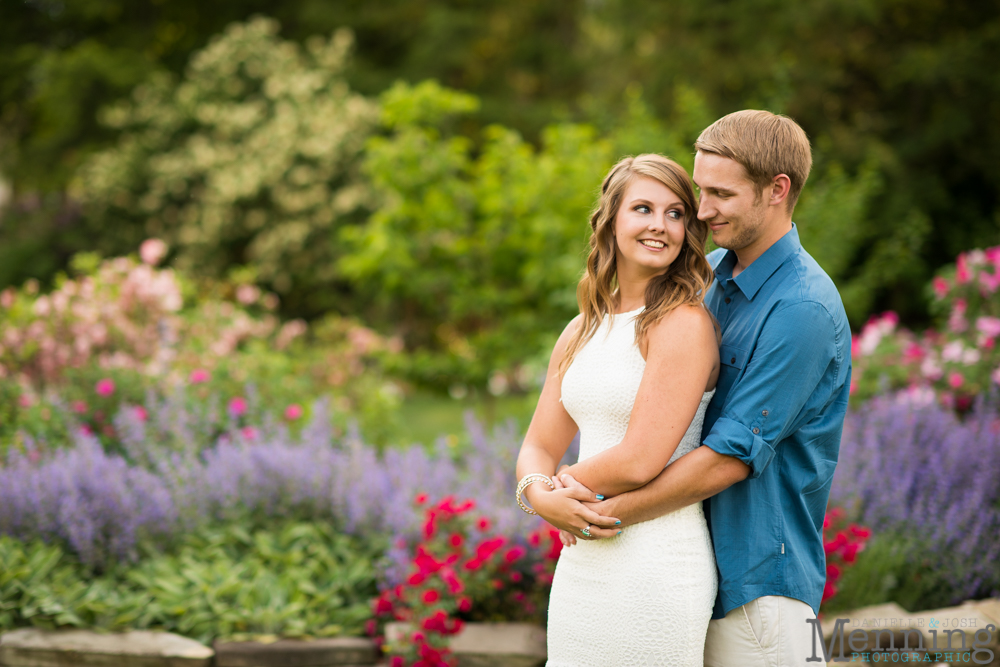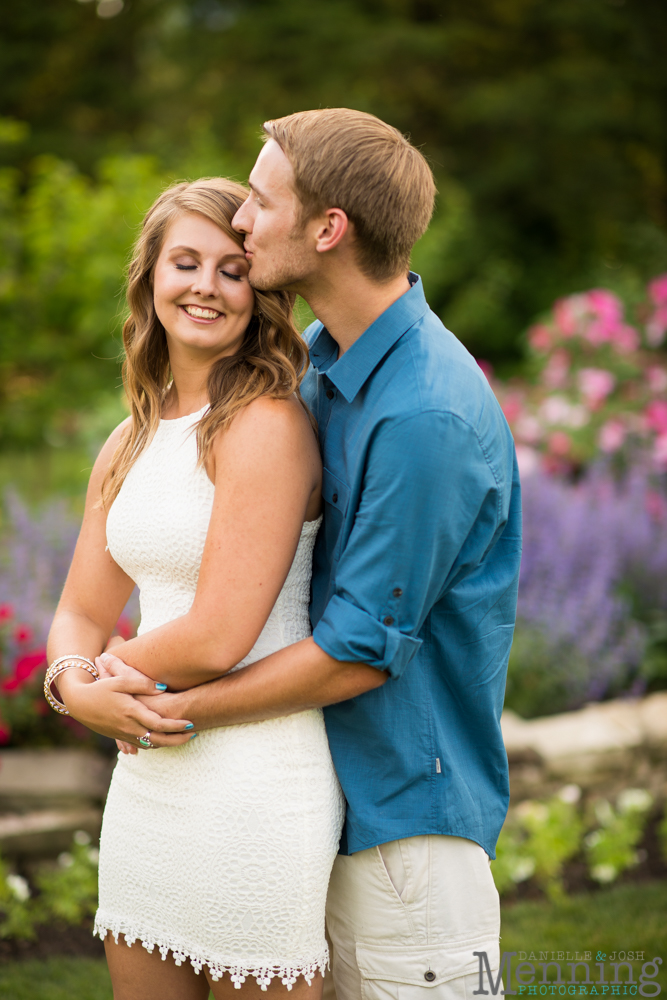 I love how comfortable they are together, how they share so many interests, and how they are best friends. They don't take themselves too seriously & are both fluent in sarcasm.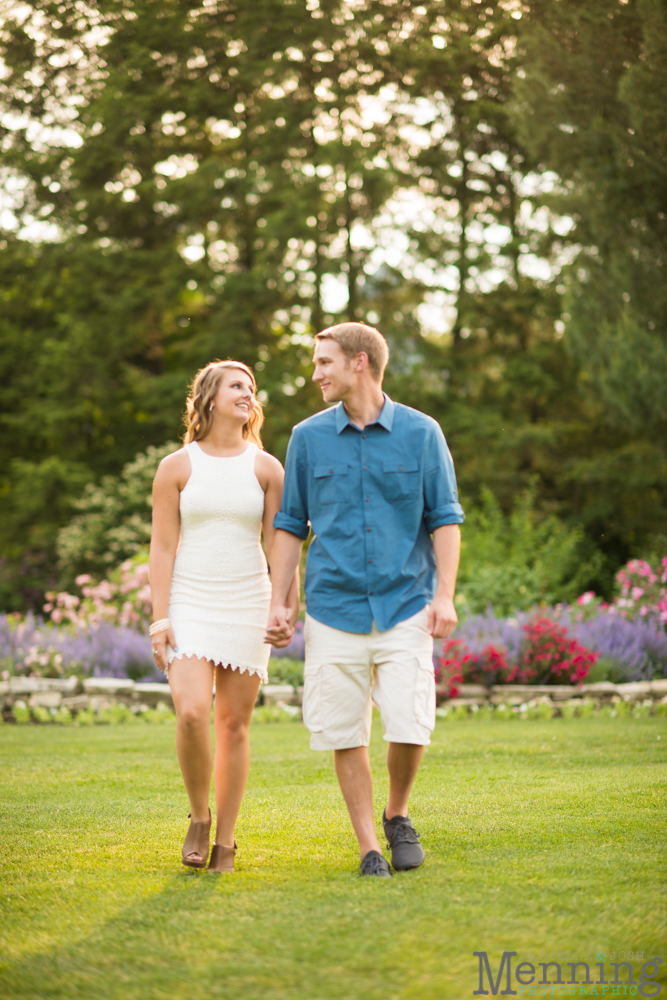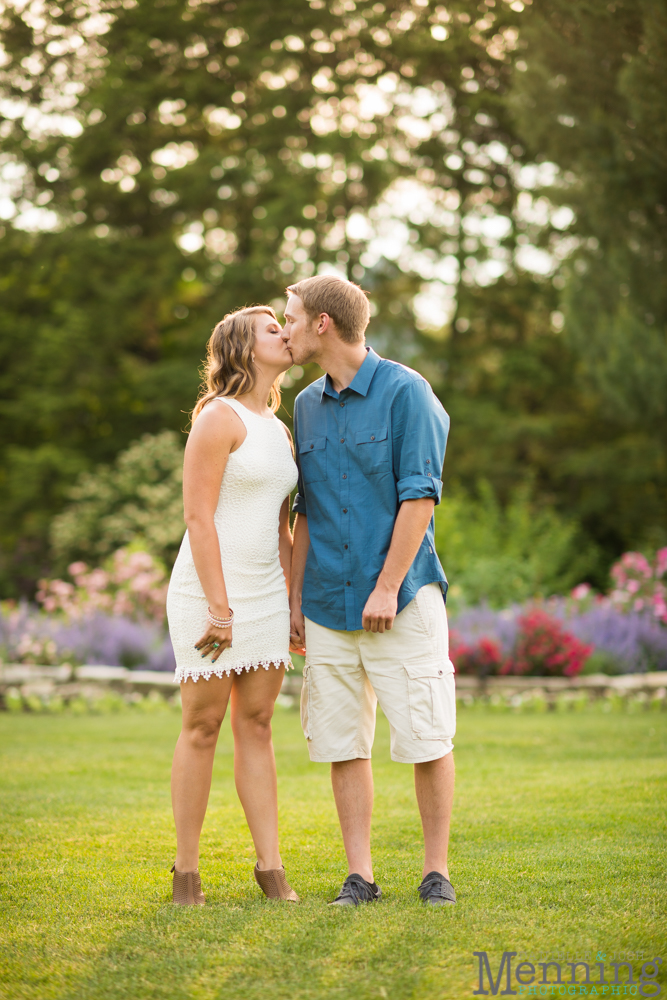 And doesn't Brittany look downright amazing in that dress?! I can't wait to see her as a bride next year!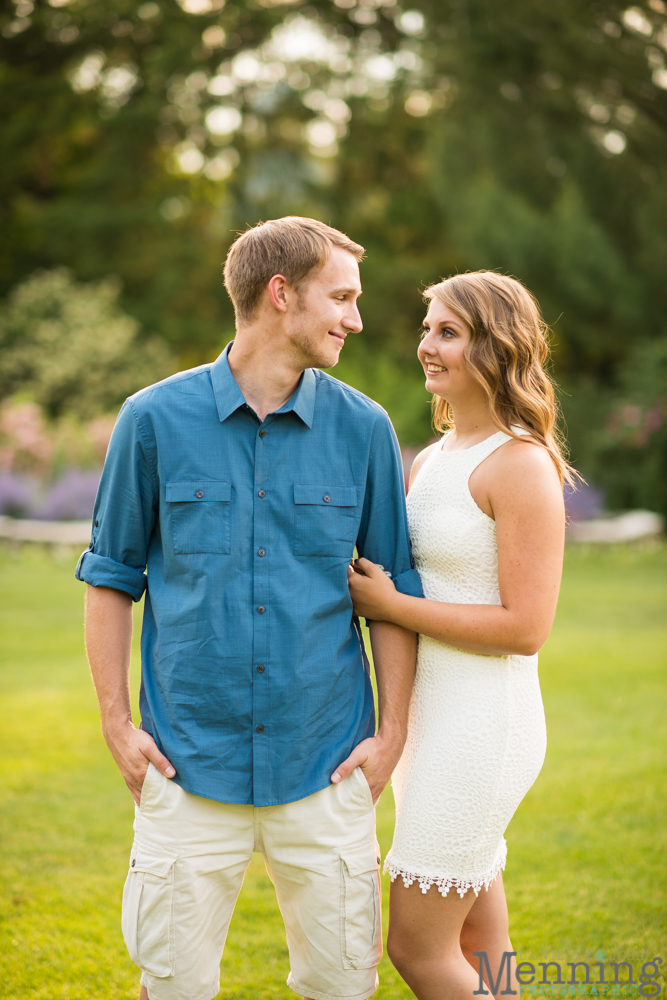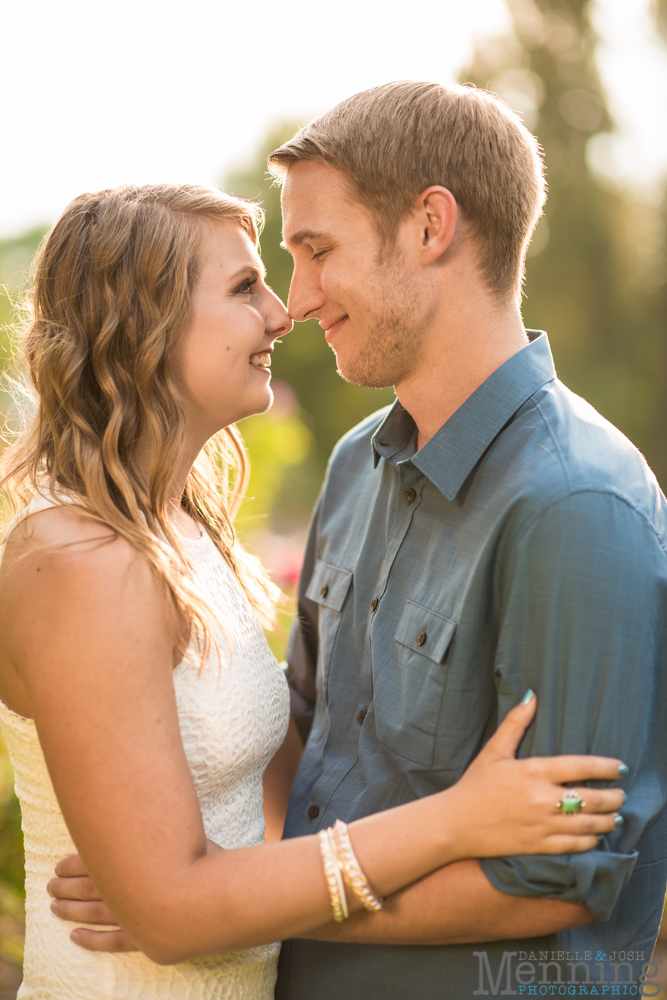 We shared this on our Instagram & couldn't help but joke that we are the butterfly whisperers & this is just one of our talents, but seriously. . . we were FLOORED when this happened during the session! Unreal!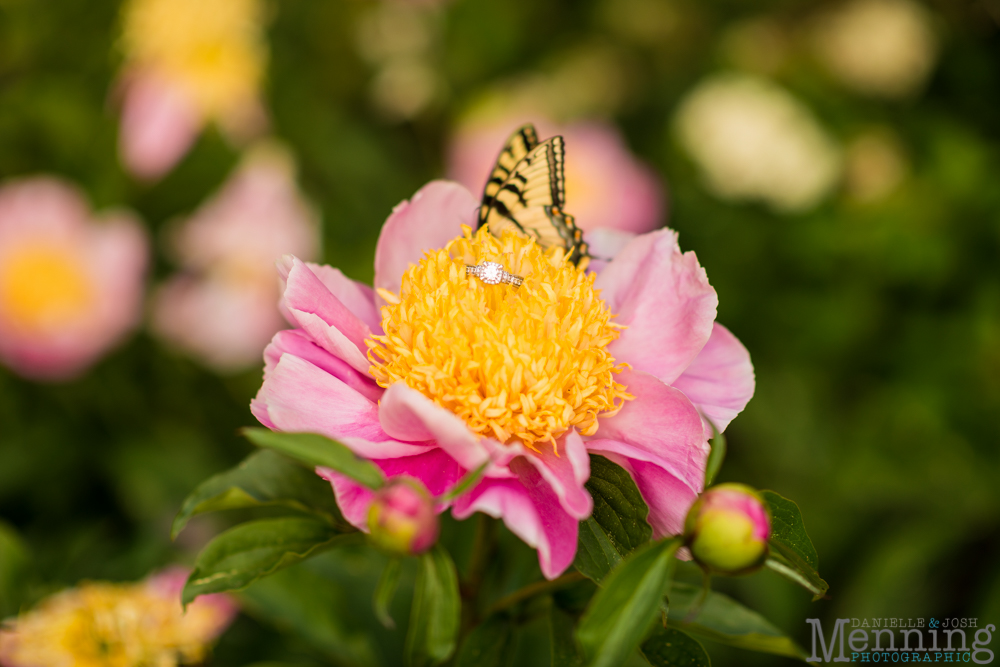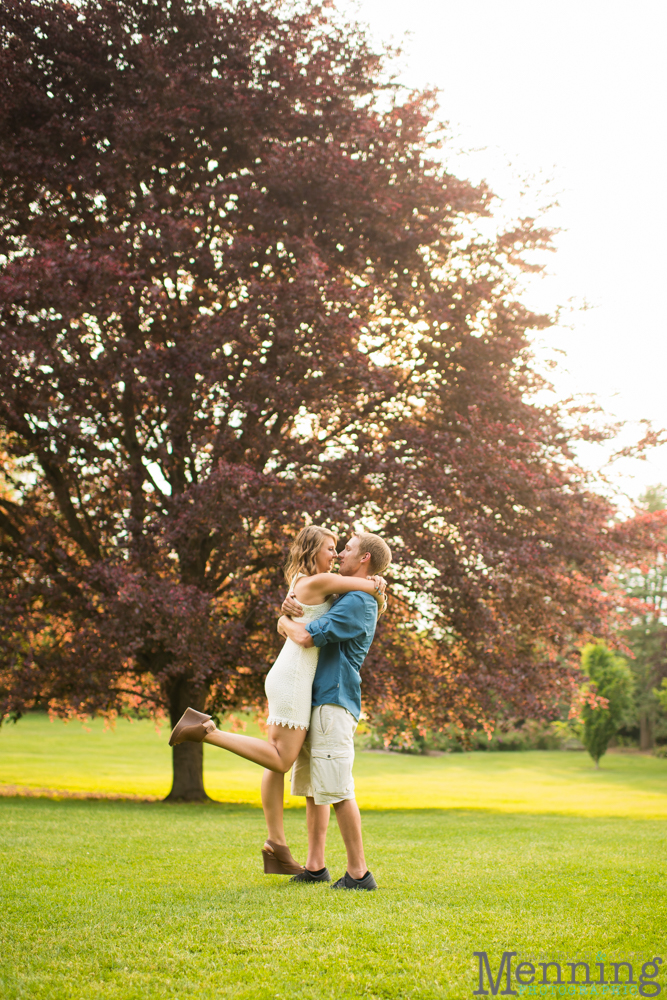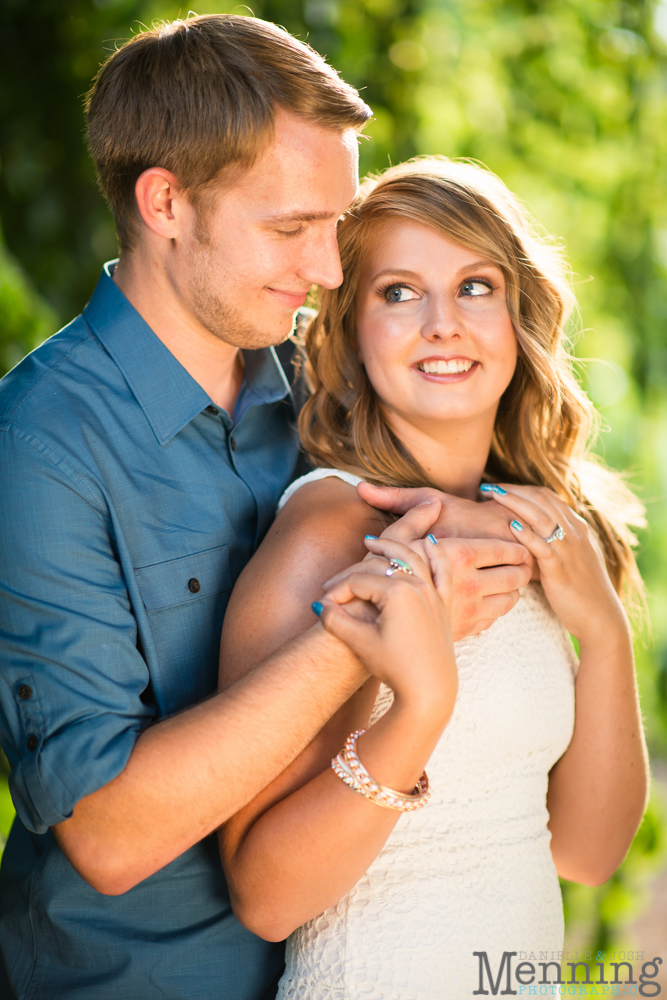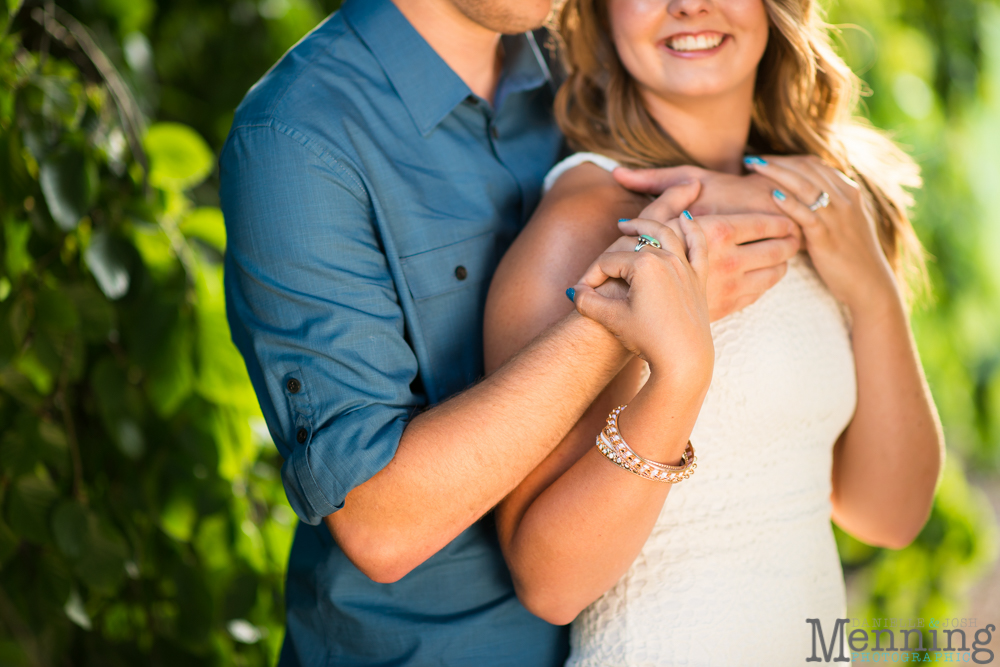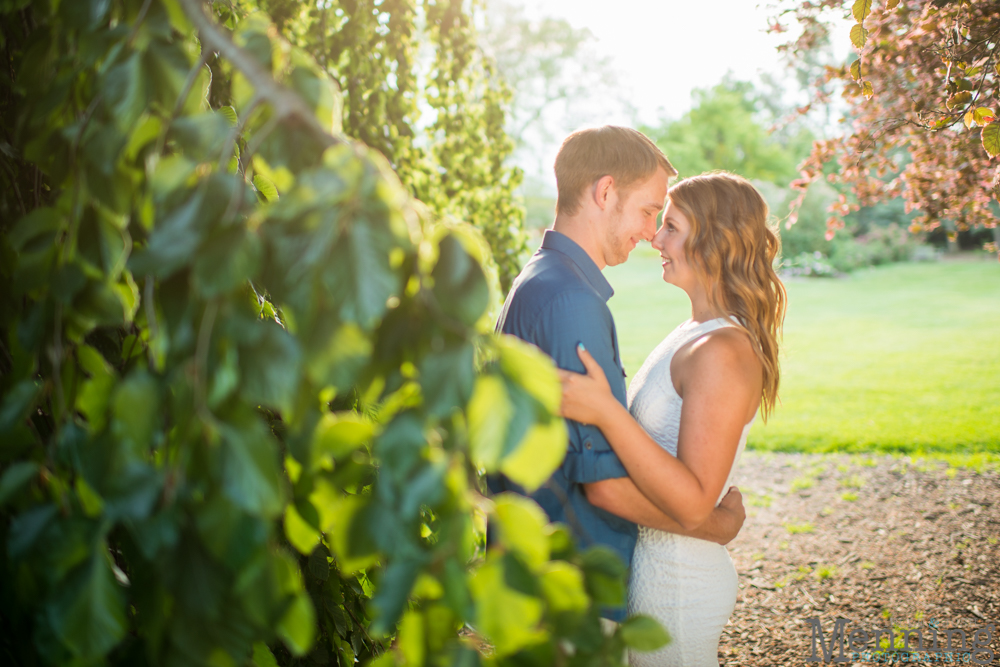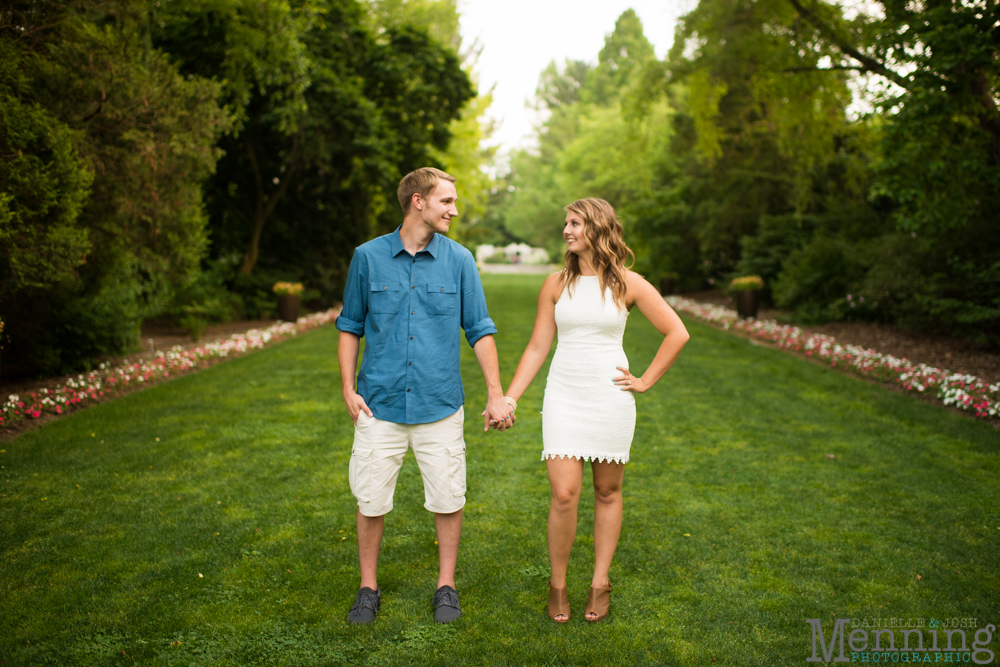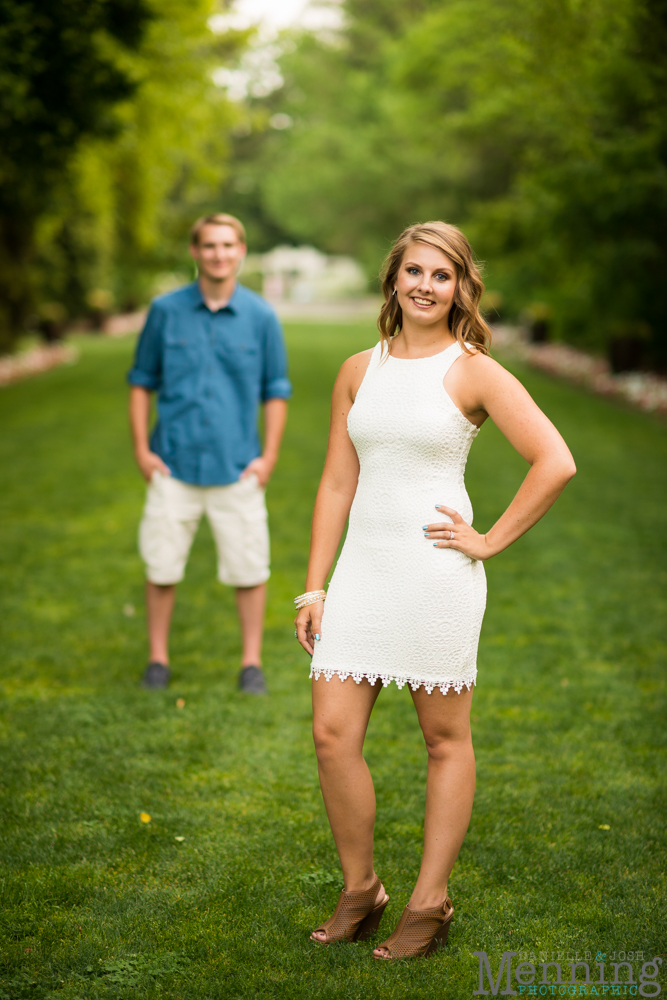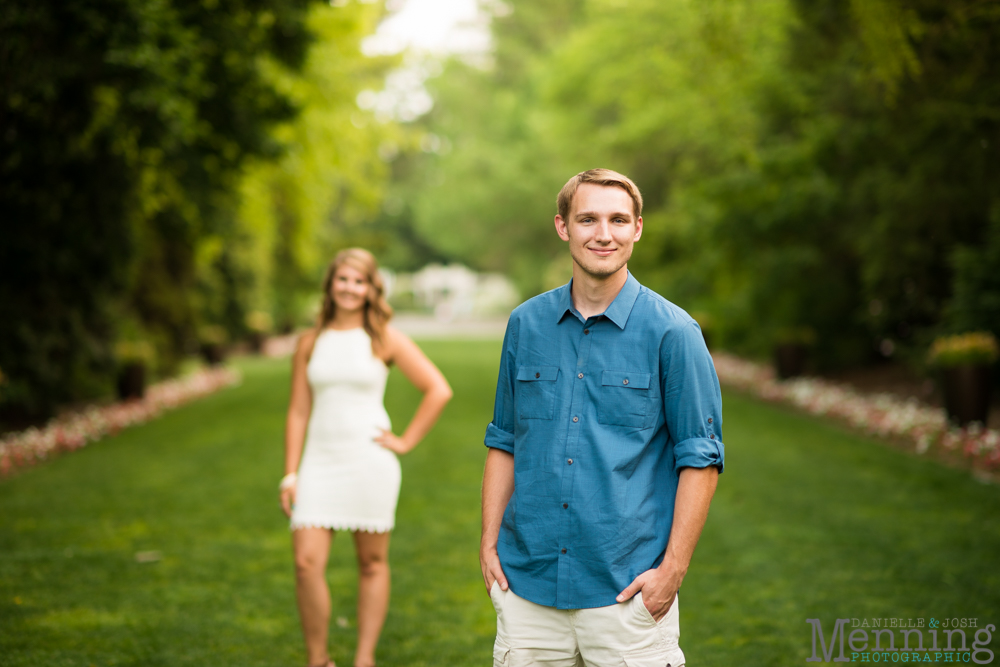 After our fun at Fellows Riverside Gardens, we headed to downtown Youngstown for a few.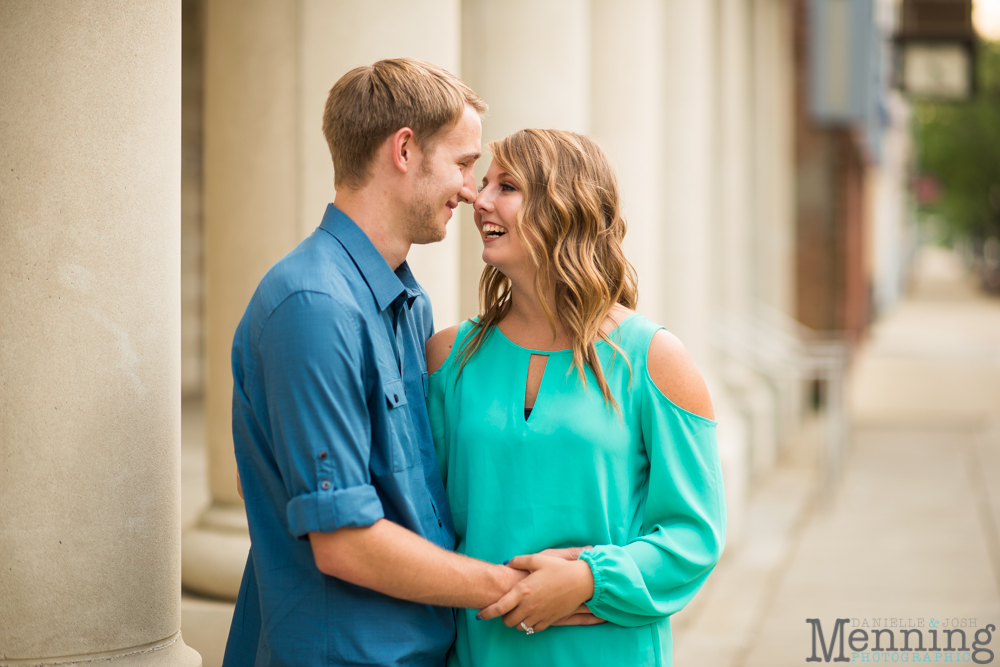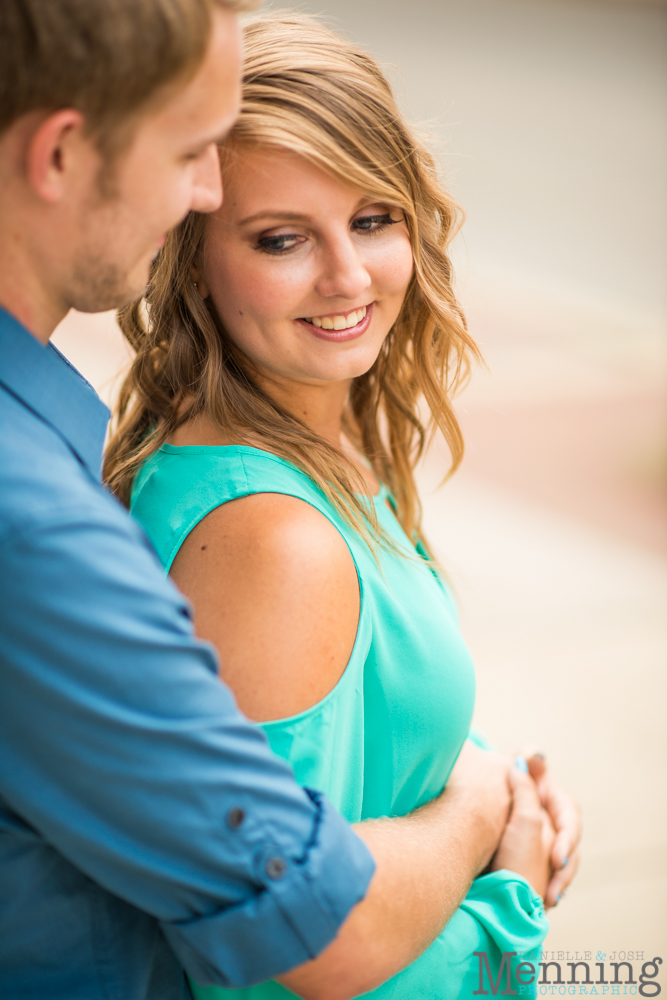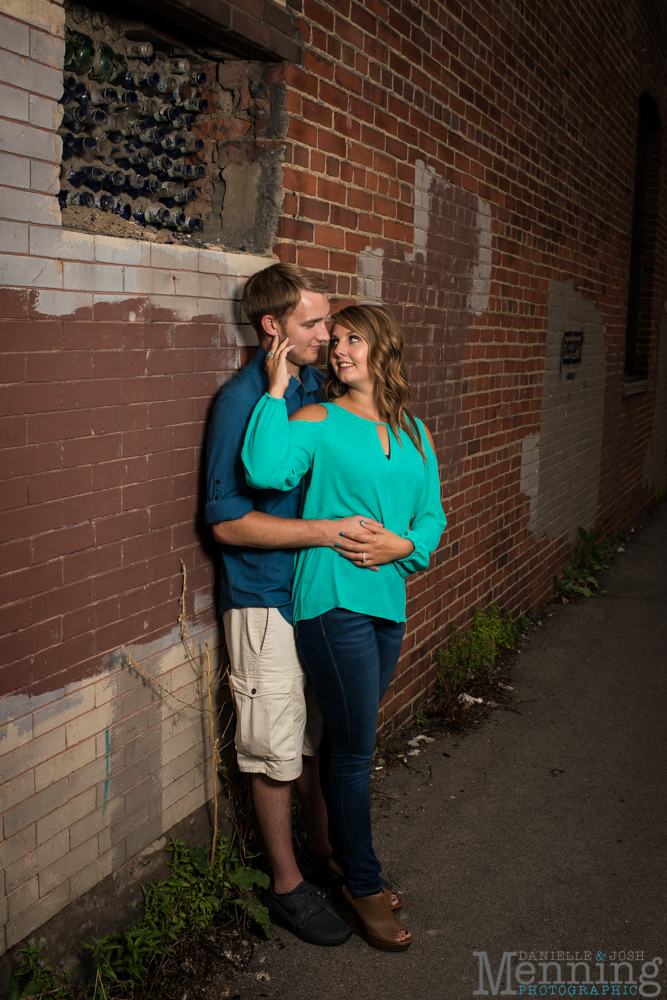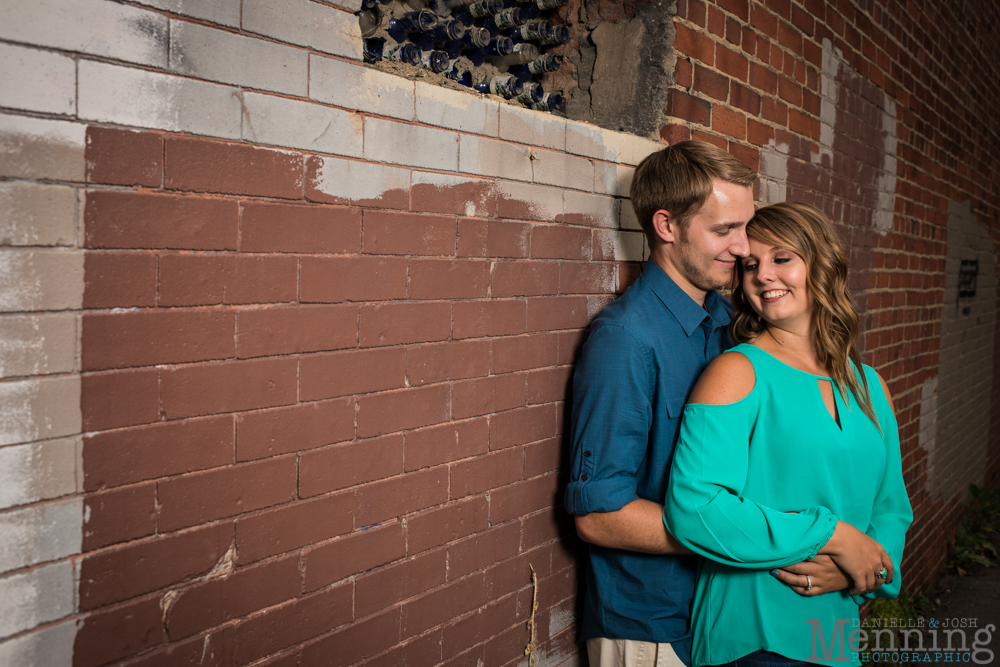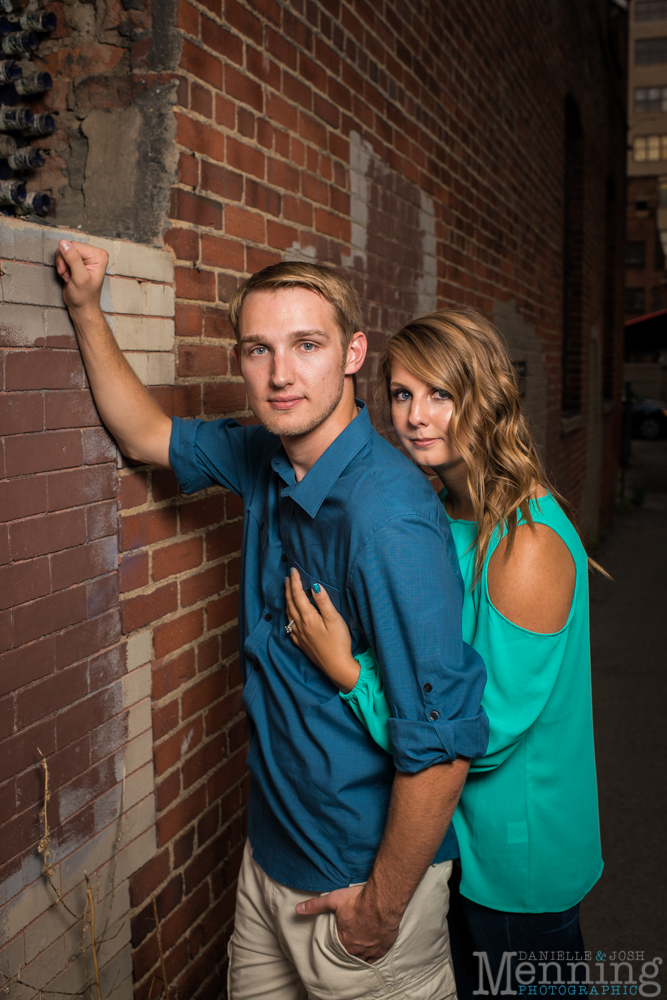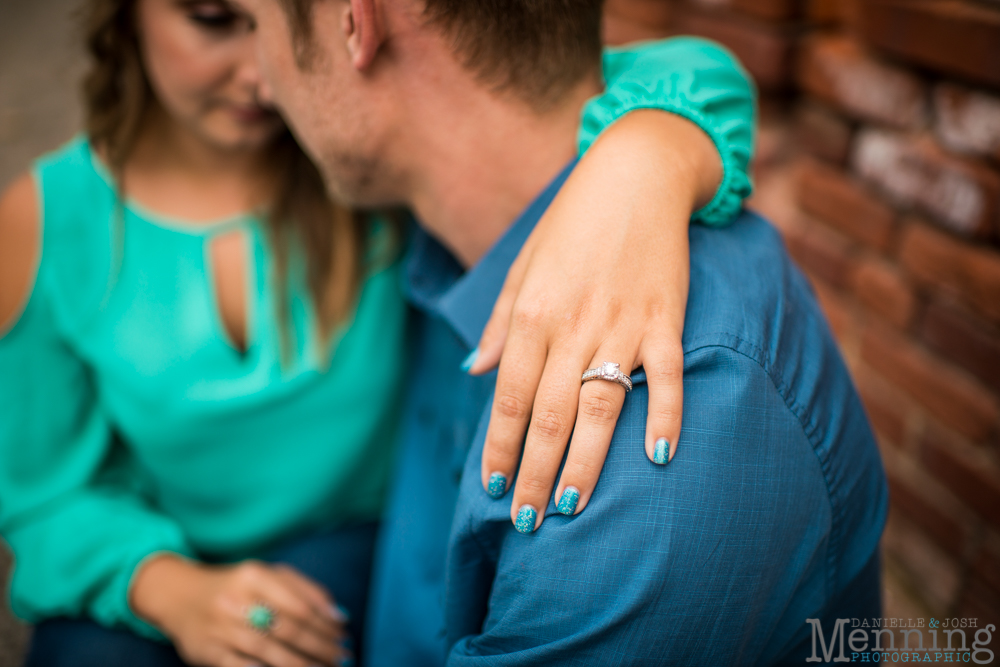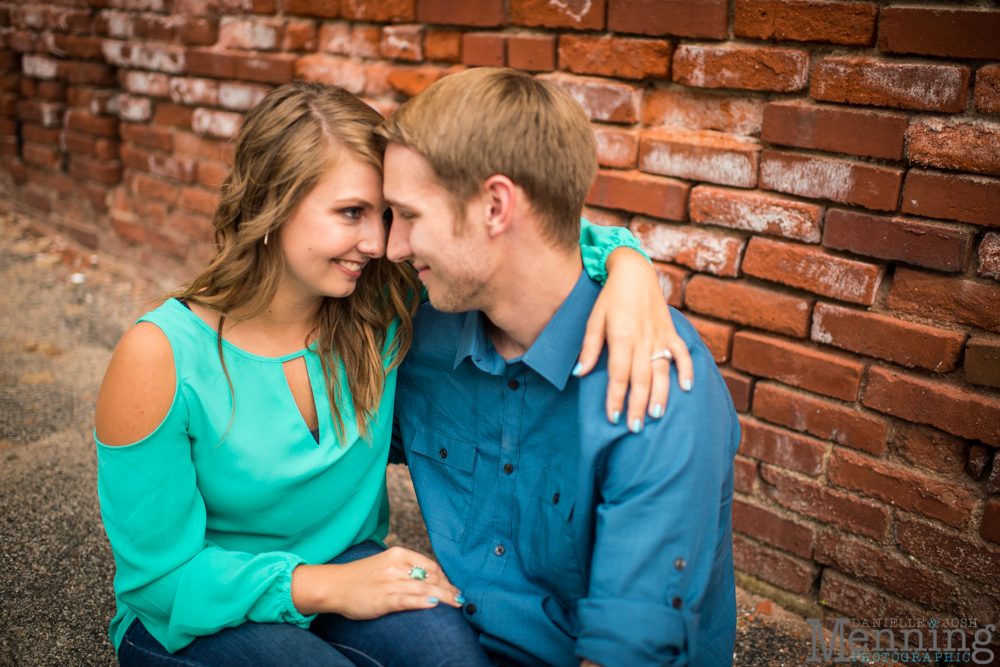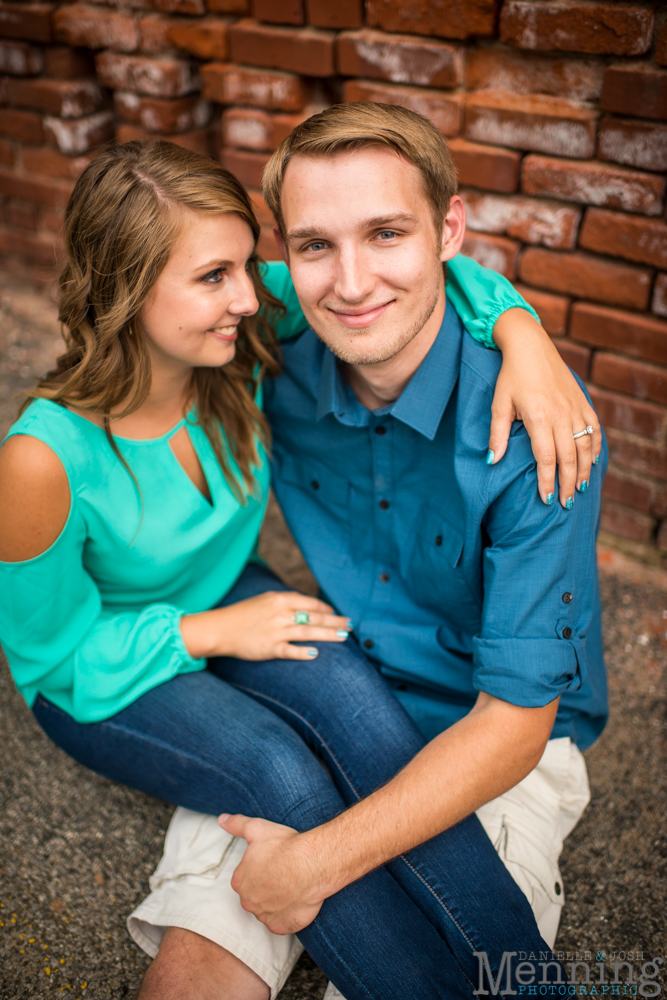 Brittany got her makeup done at Magnolias on the Green in Canfield, by the way.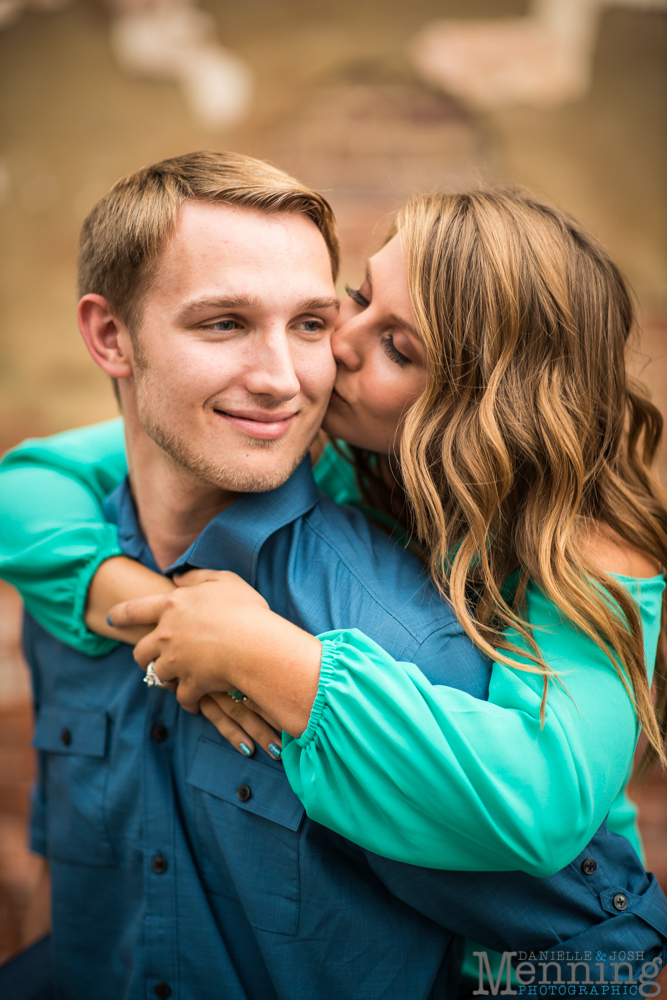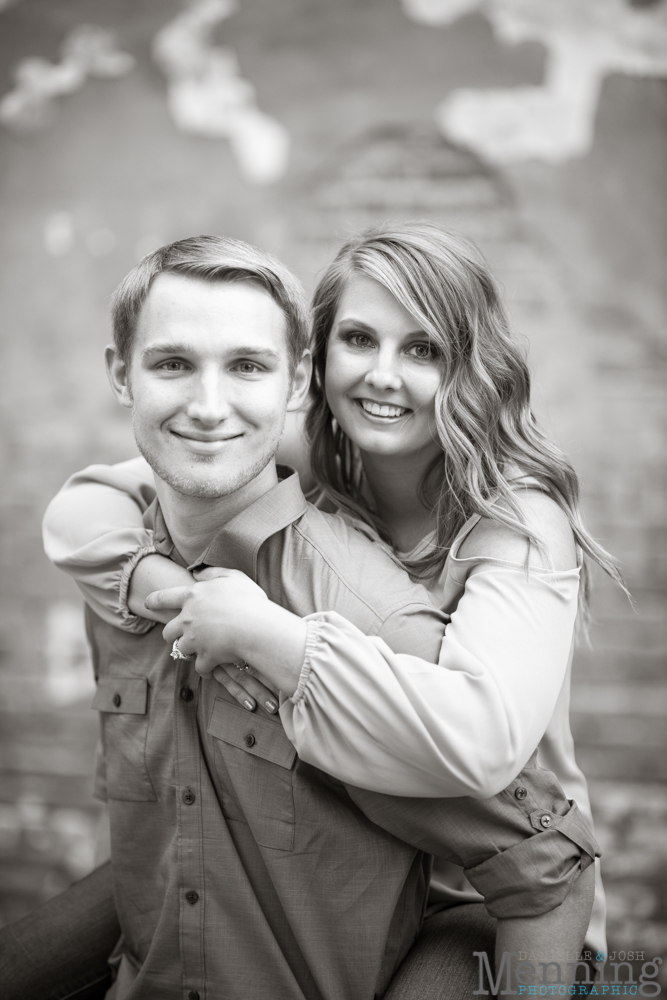 Oh, you need to hear their proposal story! He asked her to marry him at one of their favorite places to go together- the Canfield Fair! He got down on one knee beside the giant rooster full of love locks & had a special love lock signifying the importance of their relationship & a gorgeous diamond for her. She was so surprised &, of course, said yes. They even have photos of the very moment he asked! Awesome!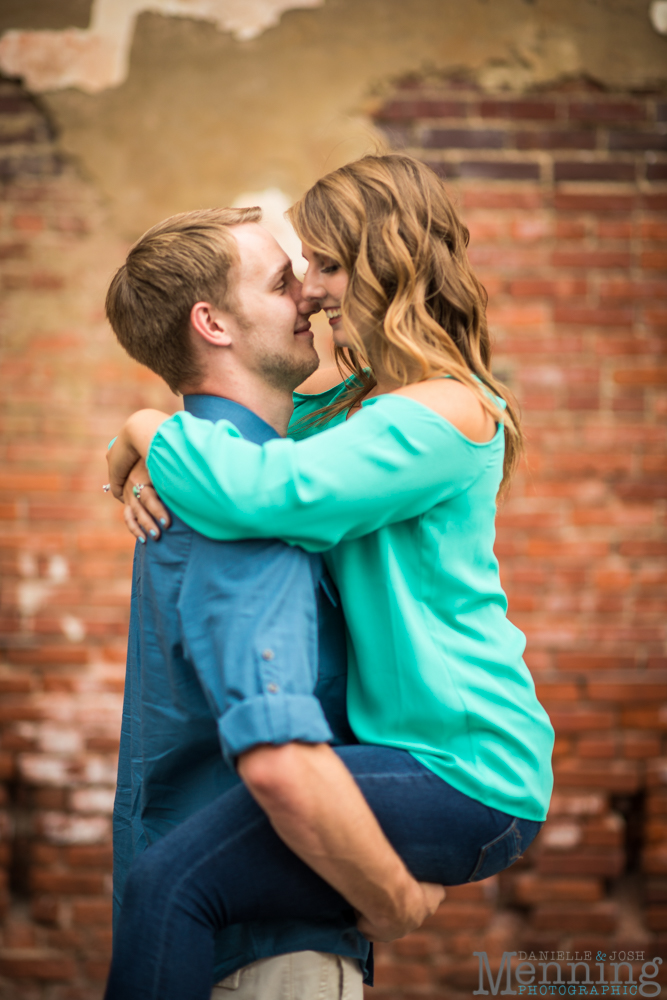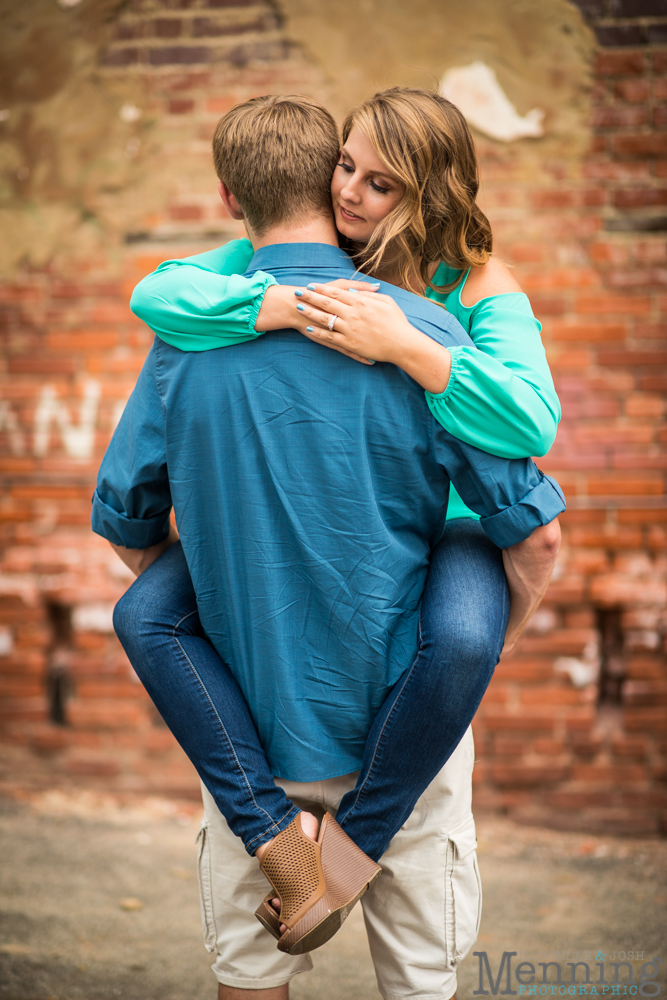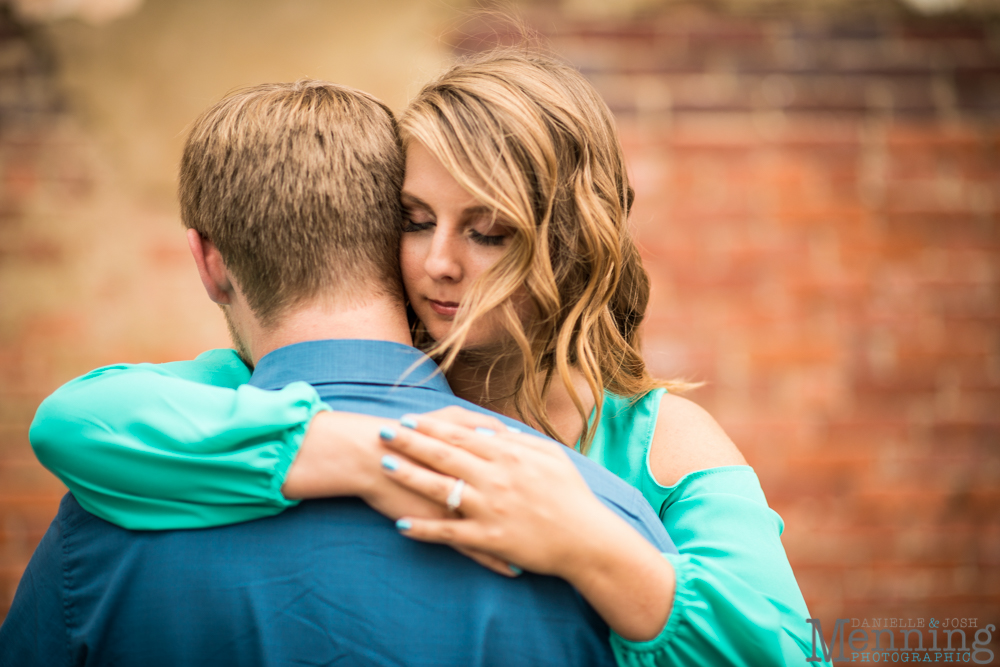 At the end of the session was time for some fun with our flashes & their new Subaru.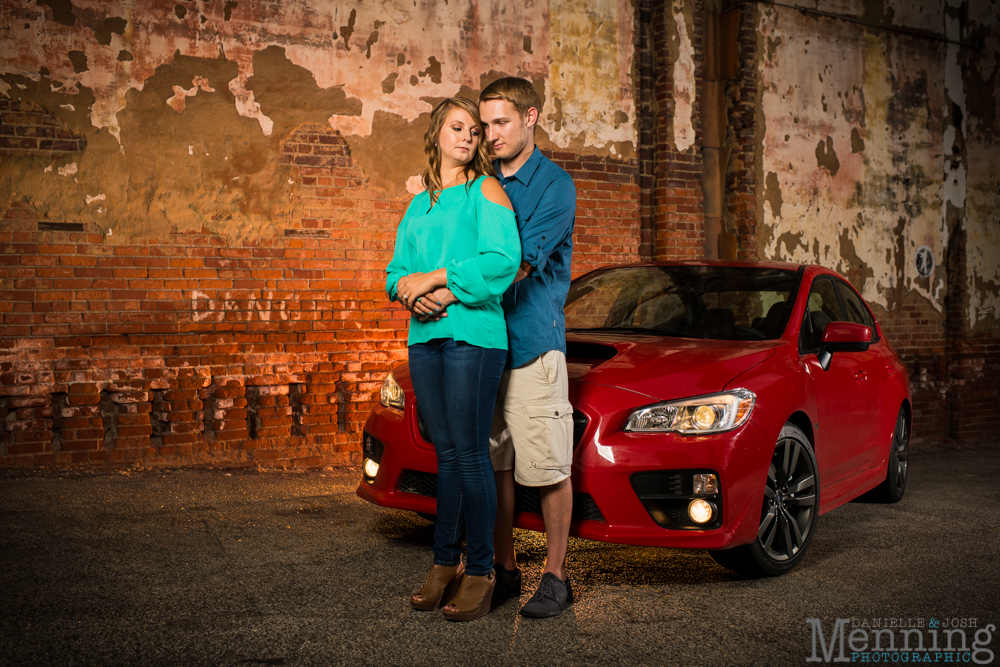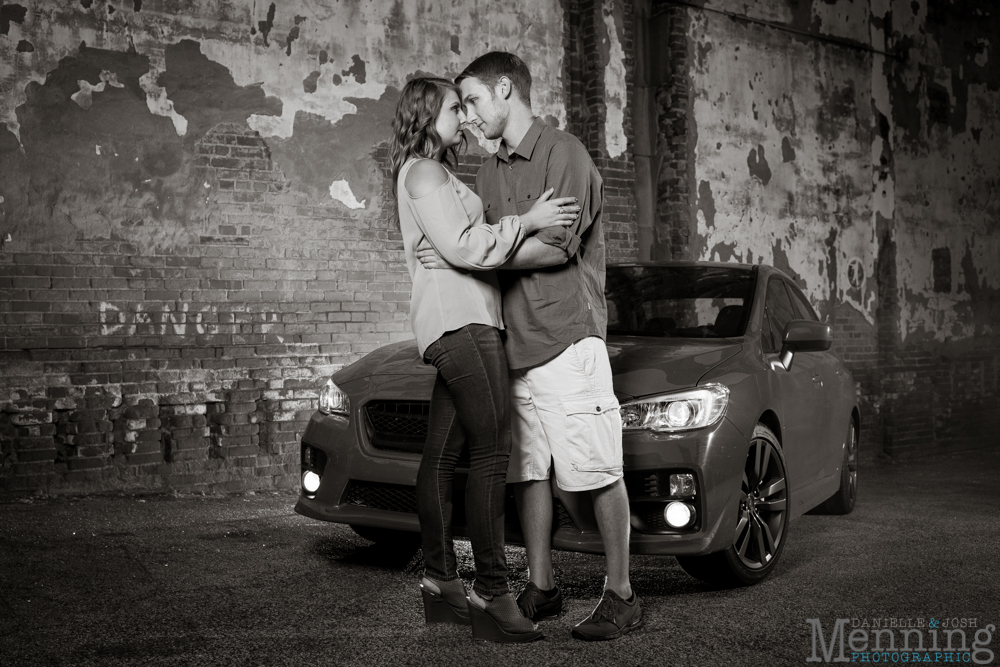 It's always cool to have the ability to provide our couples with a variety of images from their engagement session that range from soft & sweet to more contrasty, dark, and edgy. Brittany & Adam rocked out the whole session!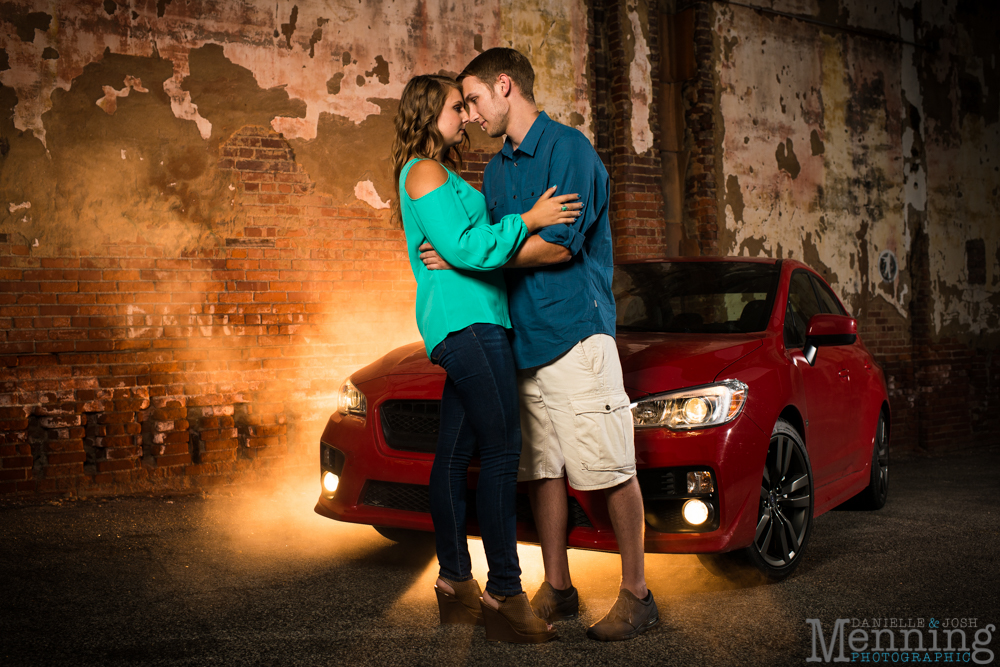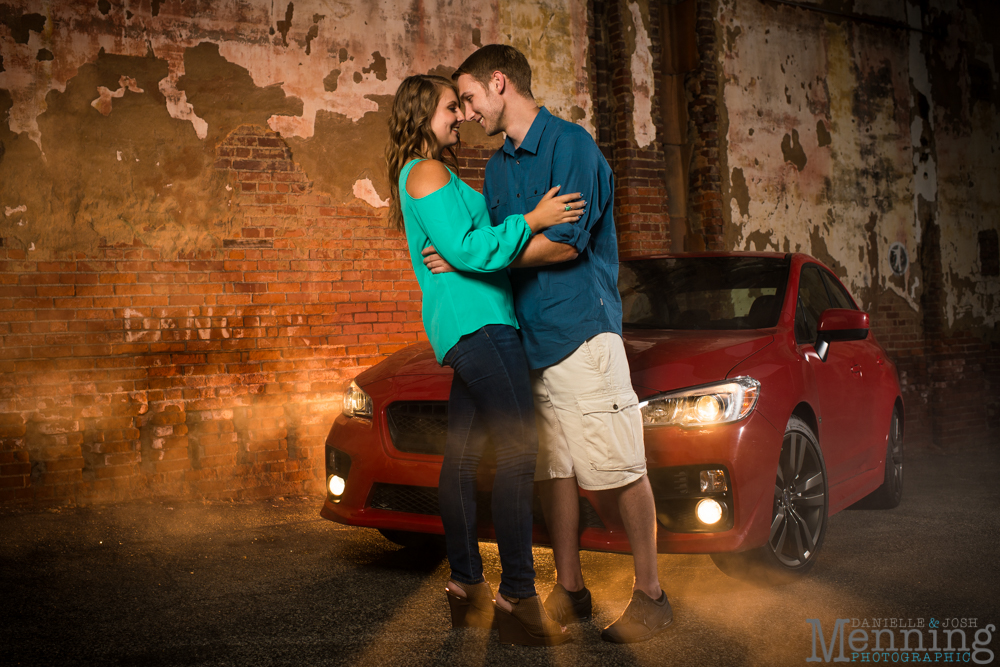 Thanks again for choosing us to be your engagement & wedding photographers, Brittany & Adam! We are looking forward to getting to know you guys throughout the planning process! You are a great couple!
If you're new to our blog, we're Josh & Danielle Menning, a husband & wife wedding photography team based in the Youngstown, Ohio area. We'd love to chat with you about your engagement & wedding photography! You can see some more of our work, cute photos of our daughter, and also some of our two crazy pugs here, too:
Instagram | Facebook | Twitter | Pinterest | Google +