Josh should really be writing this post because he's our gear nerd, but I'm the blogger. So here goes! Have you ever wondered what cameras and lenses & other goodies we use? Well today you will find out the answers to those burning questions you've been losing sleep over! hehe! It's a What's in Our Camera Bag post. Something funny? We have three or four other DSLR cameras lying around & I took this photo with my iPhone.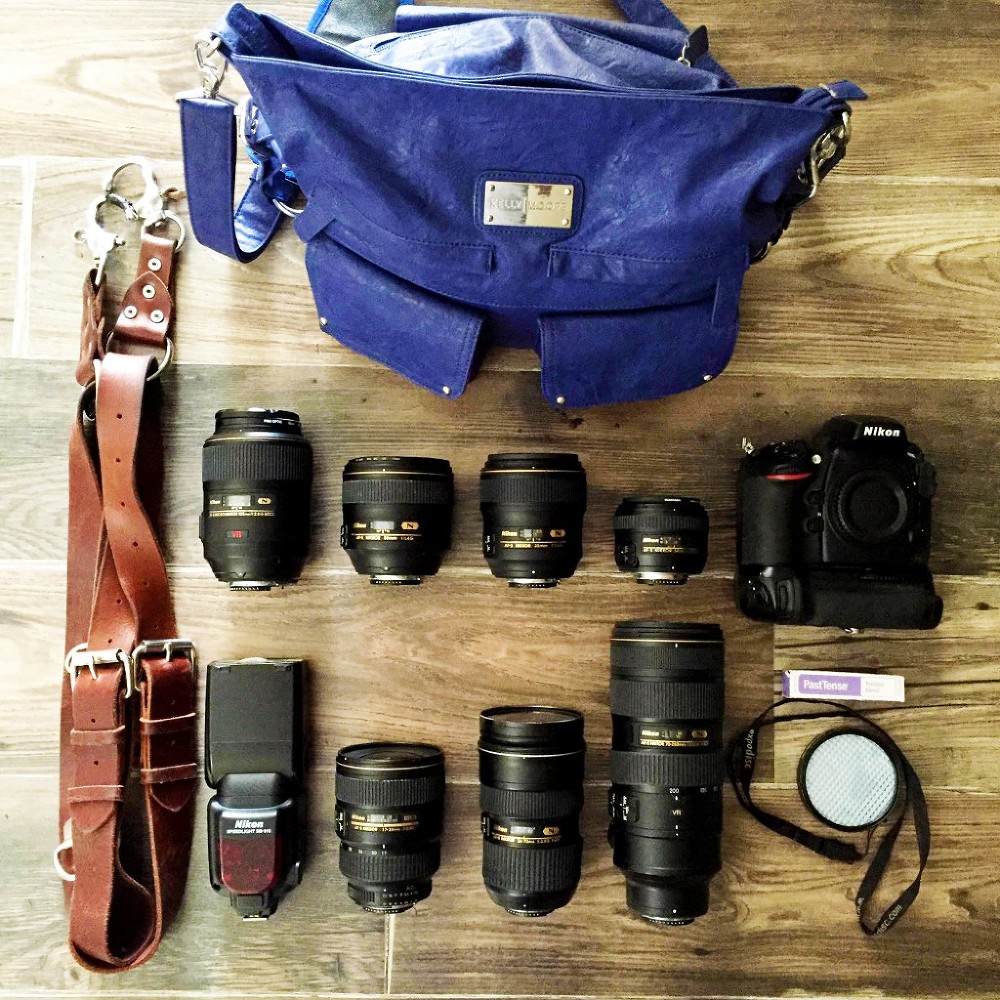 That blue beauty that breaks my back with its heaviness every wedding day? That's my trusty Kelly Moore bag. It's the 2 Sues. I've had this particular bag for a few years & it has held up amazingly; it's high quality & functional & I'd highly recommend it! You can go to the website linked above to see how awesome the bags are on the inside. I'm pictured with my bag below in my natural wedding photog element- always making those dresses & veils look perfect.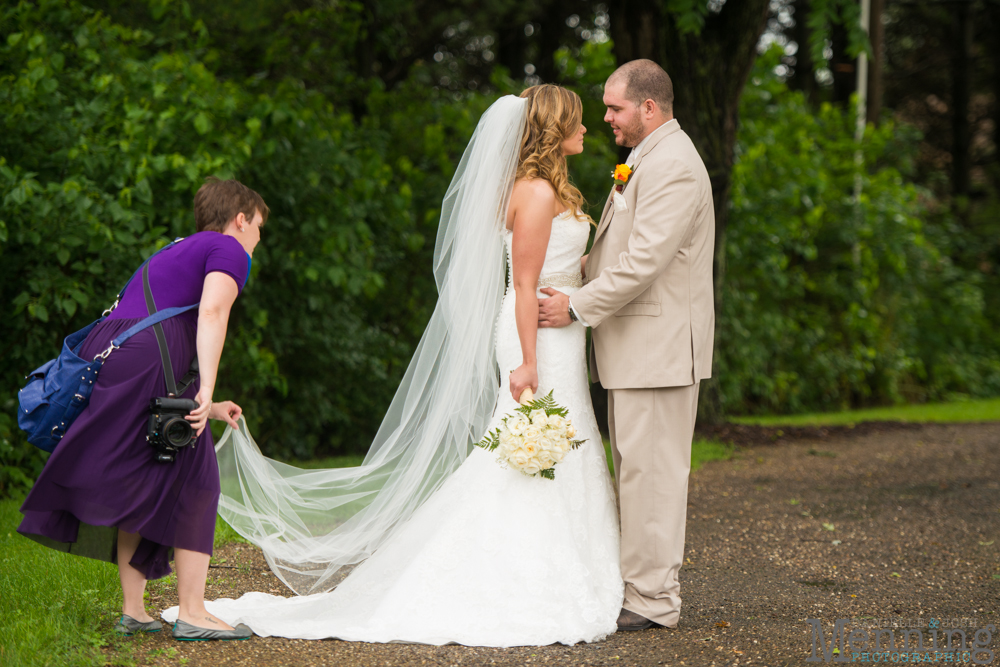 The leather gun holster looking piece on the left is Josh's Holdfast Moneymaker. Little old grannies at weddings have asked him if he hangs from the ceiling with that (um. . . wow) and many people have asked him where his guns are. It is a conversation starter, that's for certain! He loves it & since he started using it in 2014 his back problems after wedding days have been non-existent. I'm 99% sure I'm going to go the Holdfast route starting this wedding season & get one of my own. Below is an action shot of Josh with the Moneymaker on & Mike from Acclaim Video Productions makes an appearance, too. The reflector attached to Josh in the below photo is not pictured in our gear shot, but we use reflectors all of the time!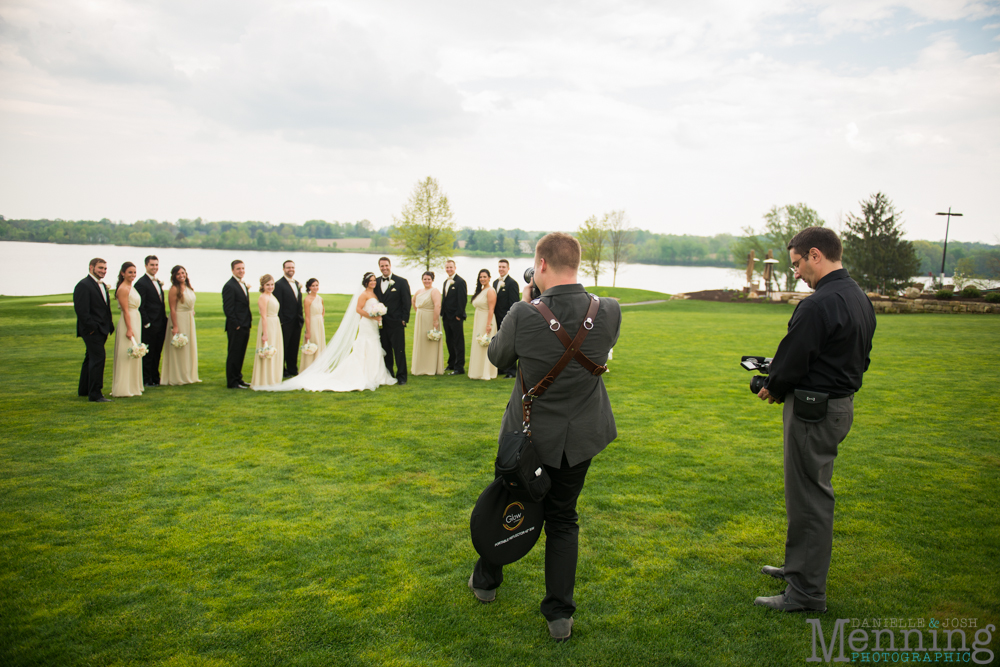 The lenses from left to right in the top row are the Nikon 105mm f/2.8, Nikon 85mm f/1.4, Nikon 35mm f/1.4, and Nikon 50 mm f/1.4.
The camera bodies we use on the regular are Nikon D800s. We also have three backup Nikon DSLR cameras on reserve for wedding days just in case!
The speedlight is a Nikon SB910. We use these flashes connected to our hot shoes & we also use PocketWizards (not pictured) to remotely trigger AlienBees B400s (not pictured) during receptions. Â We also use our Elinchrom Quadra Ranger for off-camera lighting sometimes. Plus, we have various softboxes & umbrellas. We can possibly get into the off-camera lighting equipment we use on wedding days in a different post.
The lenses pictured in the bottom row are the Nikon 17-35mm f/2.8, Nikon 24-70mm f/2.8, and Nikon 70-200mm f/2.8.
We do have duplicates of some of the lenses, but I only included one of each for simplicity's sake.
The kaleidoscope looking guy to the right is one of the niftiest little pieces of equipment ever. It's called an ExpoDisc & we use it to set exposure and a custom white balance in our attempt to nail exposure & color in camera so we have to do very little editing in post!
The little rectangular box holds a roller ball of doTERRA's PastTense essential oil in case we get a smidge of a headache (usually from not having a chance to eat or drink much all day from breakfast to dinner- wedding days can get crazy & we try our best to eat our packed lunches, but sometimes it's running & gunning so PastTense comes in handy!)
That's it! Riveting, I know! Let us know if you have any questions- info@menningphotographic.com We're happy to help!
Instagram | Facebook | Twitter | Pinterest | Google +