I write this blog with a smile on my face & a heart full of excitement that is welling up inside of me & overflowing. For a long time now, I've been trying to come up with a way to express my thoughts about competition, comparison, and loneliness. I've alluded to it a time or two on the blog, but I haven't delved into it in depth in the way that a topic like it deserves.
As creatives, we tend to be hard on ourselves. Sometimes we feel inadequate. We scroll Instagram & feel like we'll never measure up. We aren't photographing destination weddings in Italy or Spain or Australia or being published in international magazines or blogs or jetting around to speak at national photography conferences. Our daily Instagram posts aren't full of fresh flowers we just happen to have in our perfectly polished office space full of natural light & the newest & swankiest furniture. Nope. Not even close. If we aren't careful those little sneaky snippets of comparison can sneak up on us & build upon one another & fester. This comparison game (like we wrote about HERE) is a game everyone loses.
We've found that one way to overcome the desire to compare ourselves to others (especially their online presence) is to meet them in real life! Be friends! Help one another! Encourage one another! Lift one another UP! Realize that you're all human, you all have insecurities, and you all find yourself engaged in the comparison game sometimes. So very often, once you meet other creative entrepreneurs like yourself, you'll realize that you're all searching for connection, for community, and for friendship. Instead of being in competition with one another and feeling the nagging negativity of comparison, your friendship can help everyone feel connected, empowered, inspired, and enlivened. We creatives can all use our energy to encourage one another and build one another up rather than tearing one another down.
The reason I'm so full of excitement is that, thanks to two wonderful creative entrepreneurs Natalie Franke & Krista Jones, we have a way to connect and be part of something HUGE- an international movement amongst thousands of creative entrepreneurs who value community over competition and to connect with one another so that we can encourage & inspire one another rather than comparing ourselves to one another & remaining isolated.
Natalie Franke is a wedding photographer, too, and she wrote a blog awhile back that really struck a cord with so many creatives. You can read her blog HERE. Because of the outpouring of interest she received following her blog post, she and her friend Krista decided to dream BIG & to gather fellow creatives in their area & beyond who believe in this idea. The idea that we're all stronger when we build one another up. That "a rising tide lifts all boats" & that it's on US- the creatives of now- to pave the way toward positivity & community. The movement is called The Rising Tide Society.
The Rising Tide Society is all about #communityovercompetition. And we are SUPER EXCITED to announce that we're bringing it to Youngstown! The Rising Tide Society meets the second Tuesday of each month in various cities around the U.S. & beyond. Josh & I couldn't be happier to organize & lead these Tuesday Together Youngstown hangouts!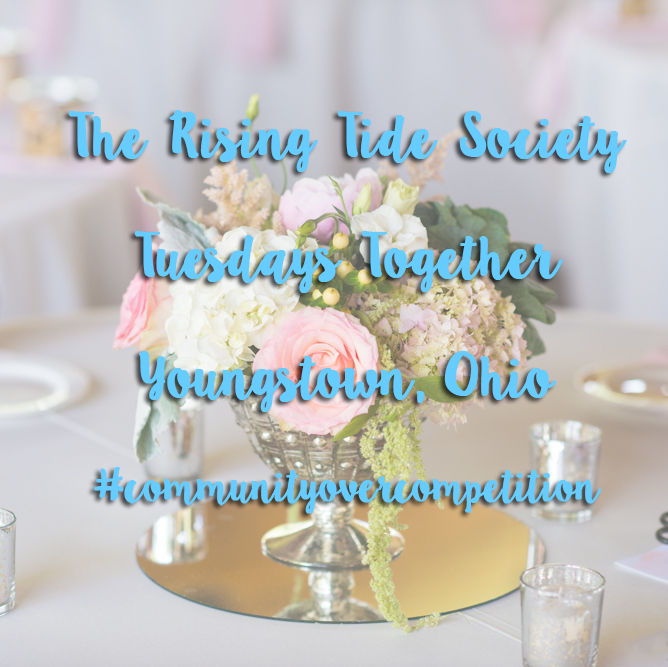 Who is welcome? All small business owners and creatives (both men and women!). Here are some examples, though this is certainly not an exhaustive list:
artists
bloggers
boutique owners
calligraphers
designers
event planners
florists
photographers
stylists
wedding pros
writers
& more!
What to expect:
– Open discussions about topics relevant to small business owners (social media, websites, client care & more)
– The opportunity to meet and connect with others in your area who understand the hustle involved in running a small business
I'm passionate about this so this post is getting lengthy. I need to wrap it up so I'll simply ask that you please contact us about how you can get more information. Our first meet-up is going to be Tuesday, September 8. The location and time are TBA, but please email us at info@menningphotographic.com to be on the list to receive more info. We'll also add you to the Facebook group for TuesdaysTogether | Youngstown, Ohio.
We're all in this together. Let's spread positivity & love. Let's lift each other up. Let's make waves!
More about the Rising Tide Society & TuesdaysTogether:Â http://www.risingtidesociety.com/
See more from Menning Photographic here: Instagram | Facebook | Twitter | Pinterest | Google +