Kacie & Dillon's Gervasi Vineyard wedding day was exquisite. Not only was everything extremely gorgeous from the dress to the flowers to the venue (hello, stunning vineyard!), but Kacie & Dillon are beautiful on the inside, too. They're so kind, welcoming, fun, generous, caring, loving, genuine. . . I could seriously go on. But at some point, you'll get tired of reading my gushing about these two & you'll want to look at the pretty photos. But I mean it! Kacie & Dillon are the kind of people you want as your friends because they're fun to be around and they'll do anything to help anyone. Not only that, they are unabashedly in love with one another & aren't afraid to show emotion, be romantic, or seem silly to others. Their love is forever & we're so glad we got to be there to witness & photograph the start to what is sure to be a wonderful, lifelong marriage.
I got to hang out & photograph the ladies at Arra Hair Salon & Spa in Chagrin Falls. I have to mention that all of the stylists there were super cool- they had edgy hair & wore the most fashionable clothes. Although I never think I can pull anything like that off, I like to admire others who can! Kacie could've rolled out of bed and showed up to the wedding & she would've been stunning because she's a natural beauty, but she decided to get spruced up a bit at the salon. 😉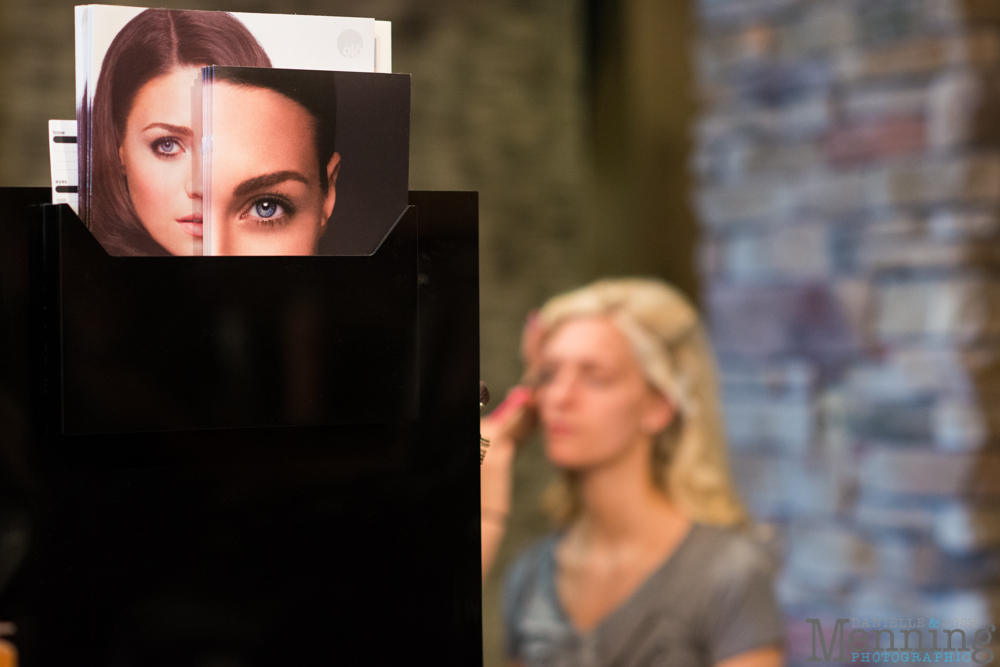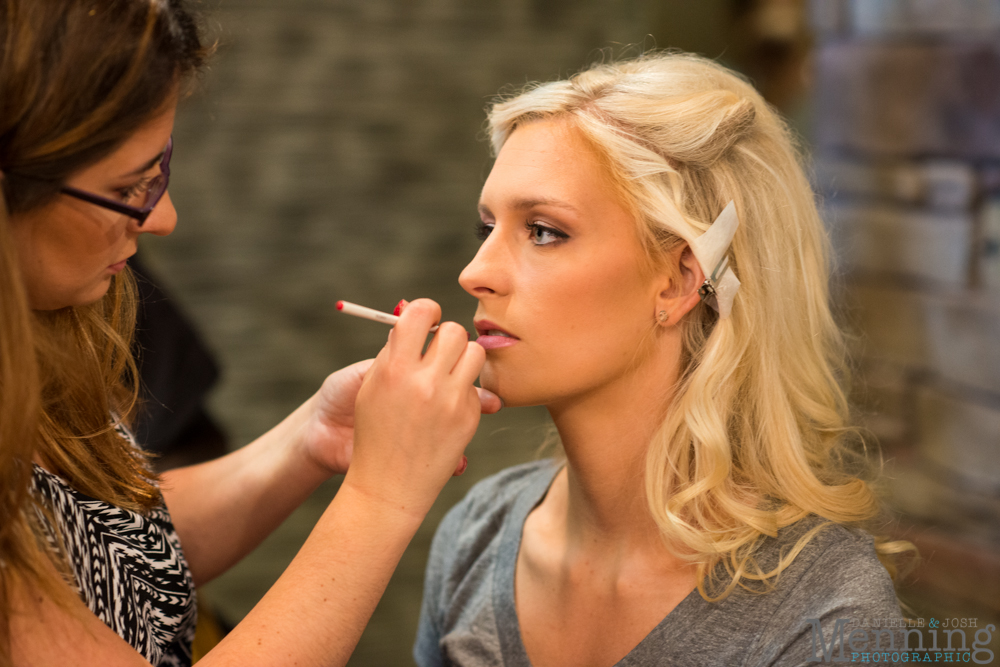 Josh was chilling with the groomsmen and the groom at the Hyatt Place in Canton.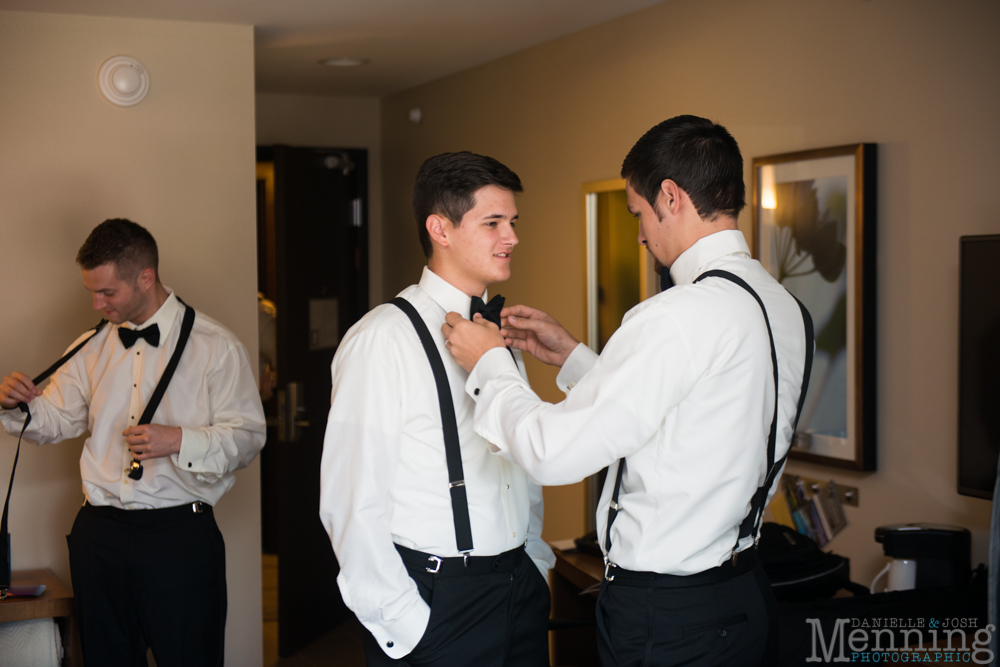 The classic black tuxes with bow ties looked great on everyone.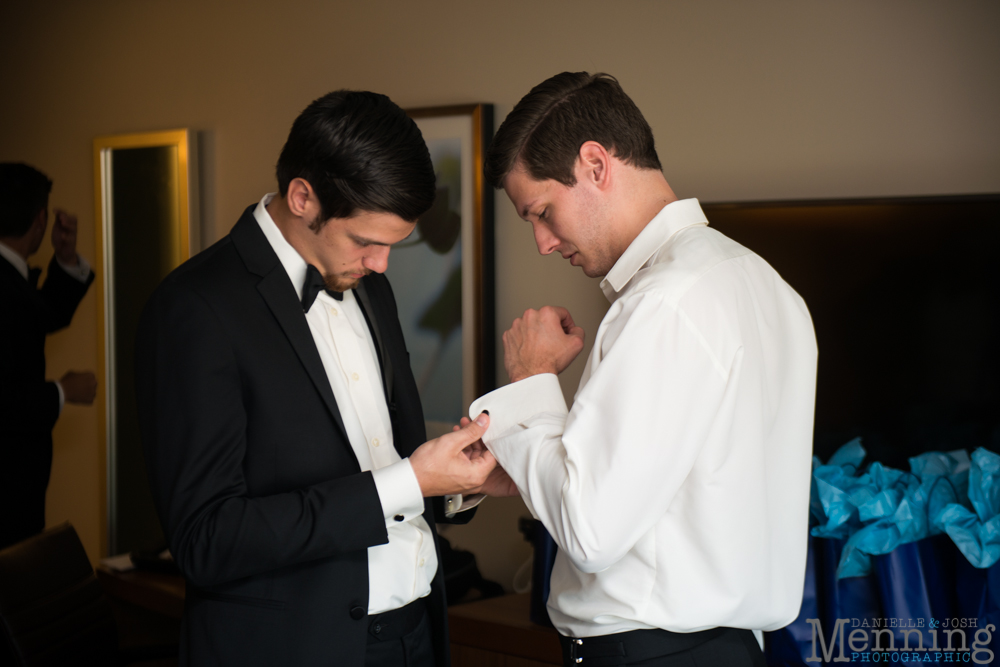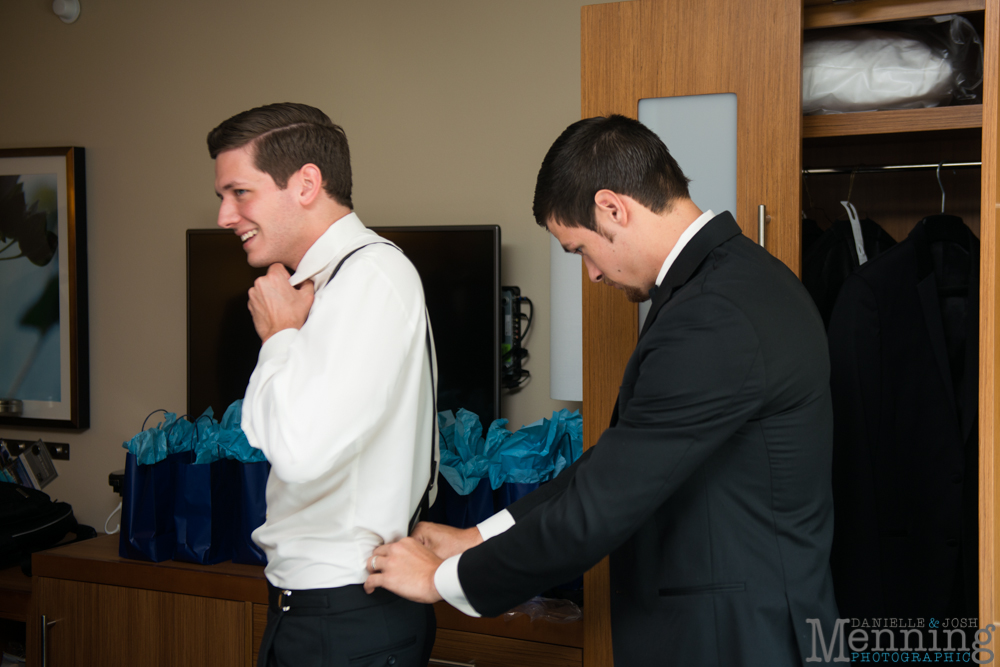 Dillon was such a handsome groom & was smiling all day.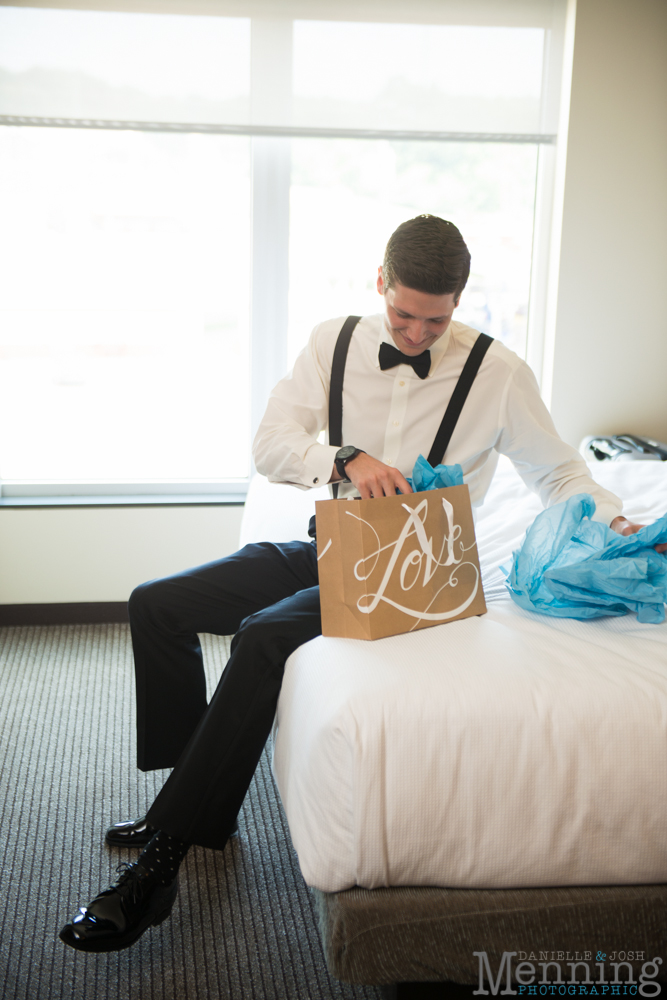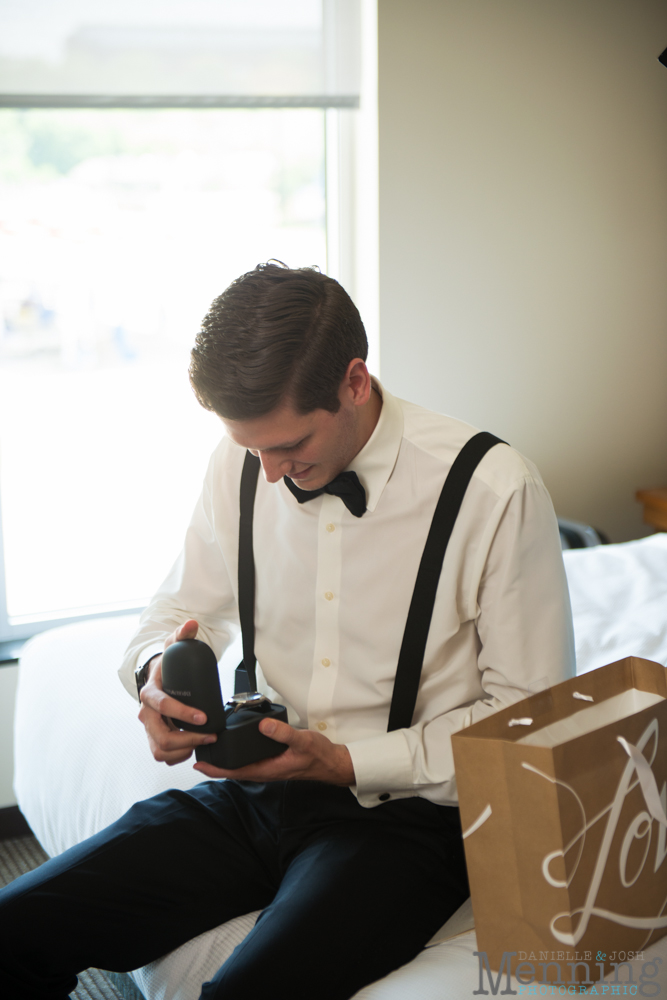 Kacie got him a new watch for his collection.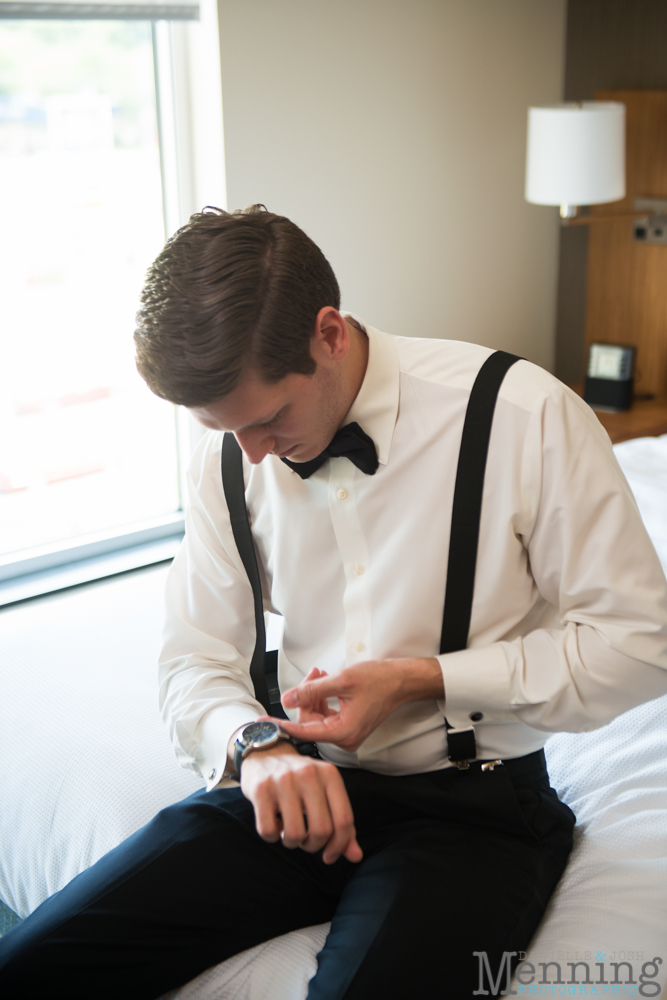 He sat down to pour his heart out to his lovely bride in a wedding day letter. Just wait until you see her reaction. He's quite a romantic.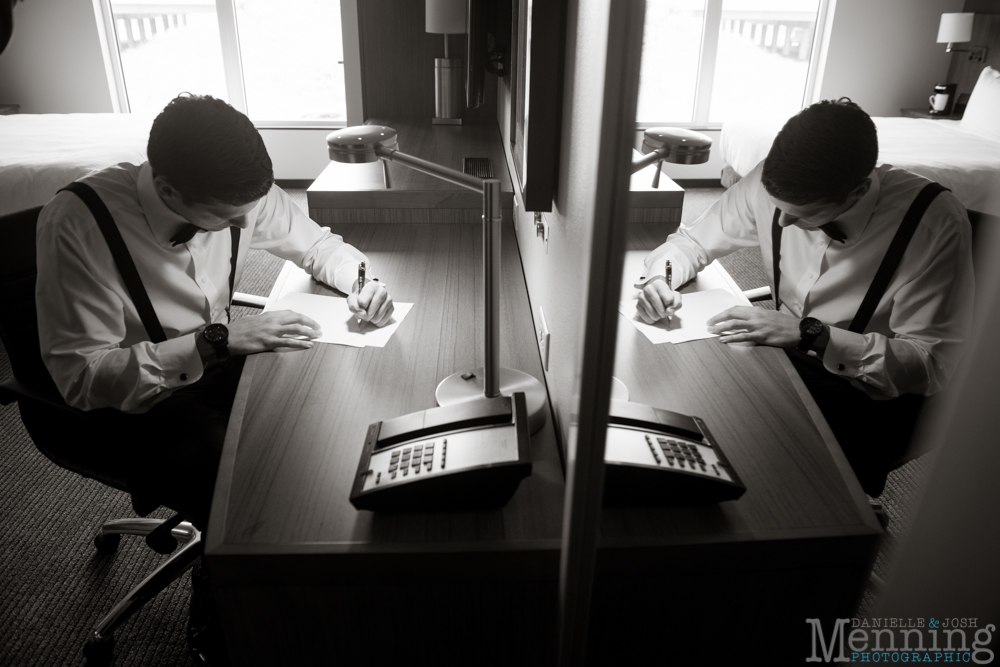 This dress was pretty much everything. It was very Kacie & it fit perfectly with the elegant day.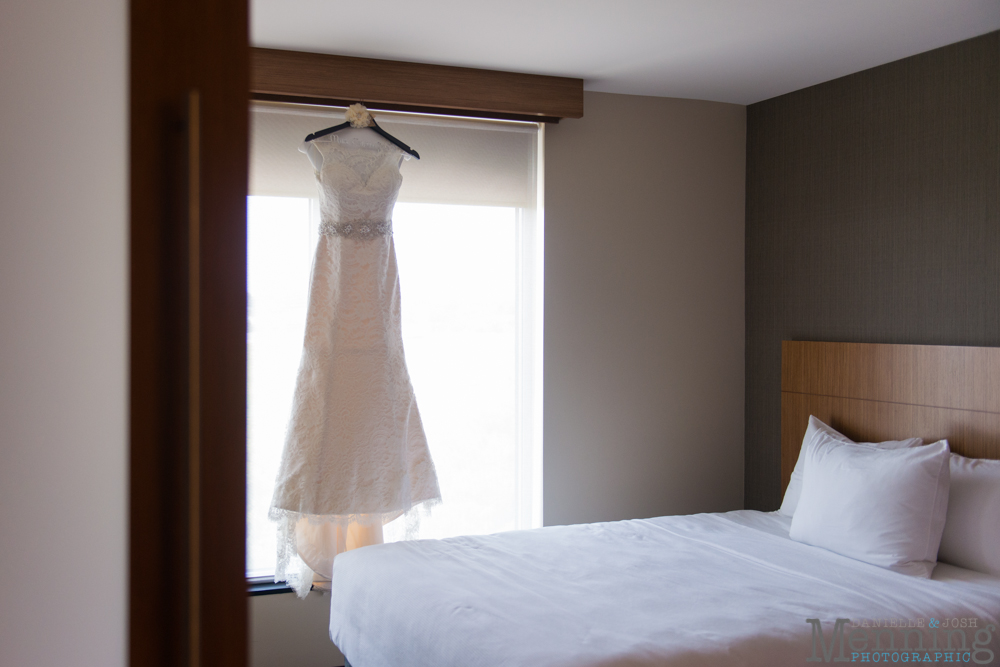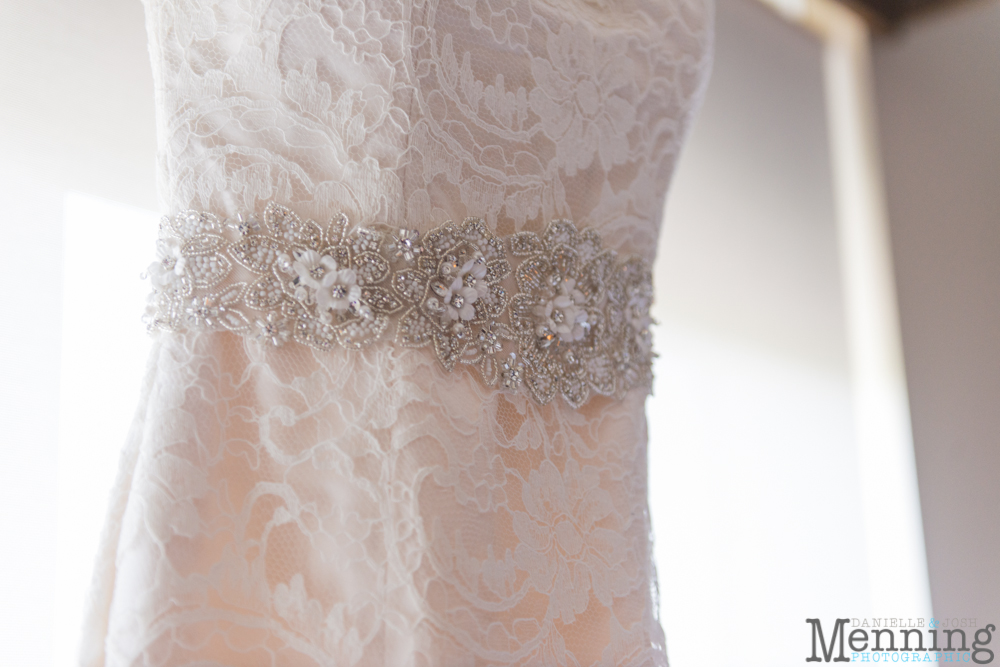 Kacie's Badgley Mischka shoes. . . such a soft & pretty color!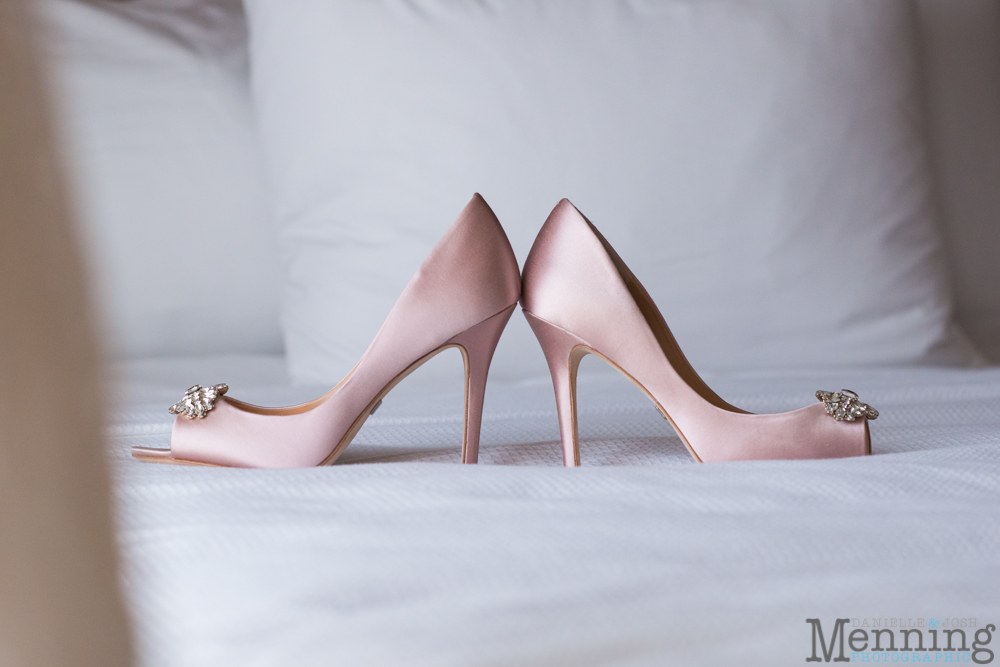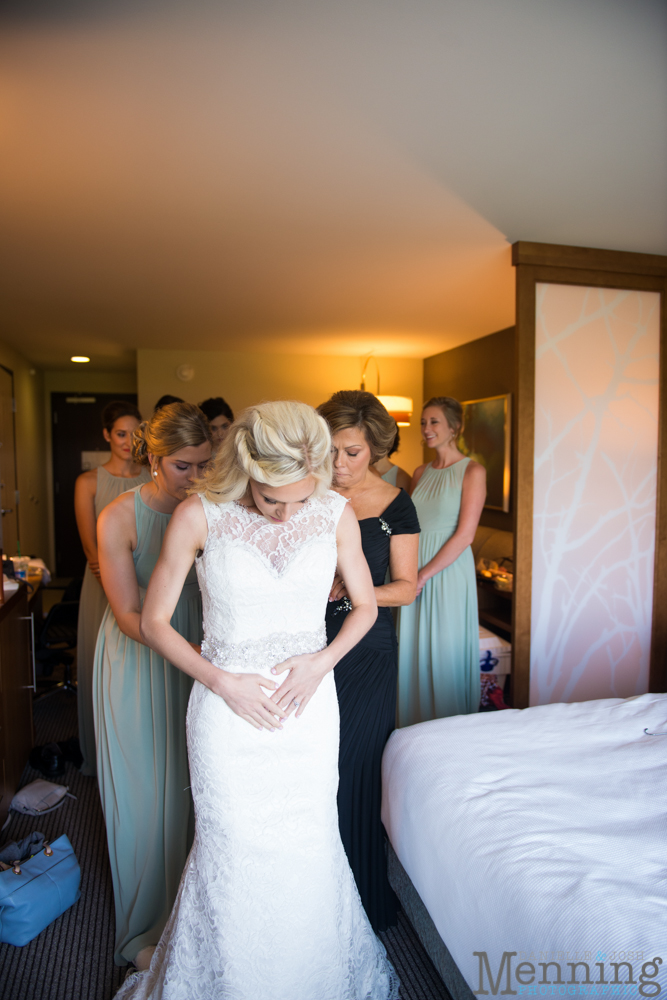 Another gorgeous aspect of the day to add to the ever-growing list? This bridal party! Stunners!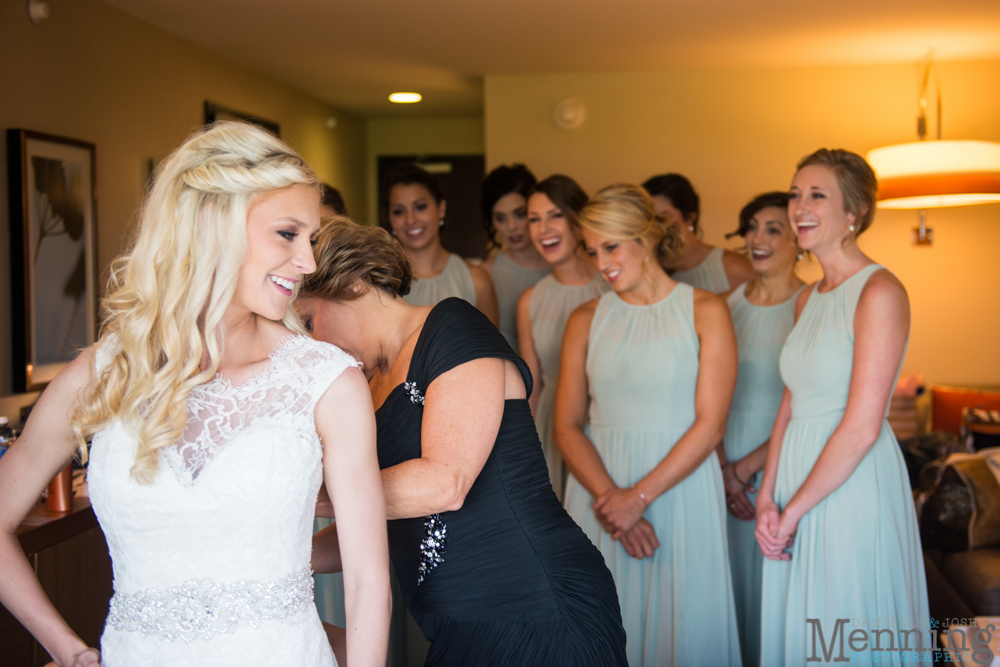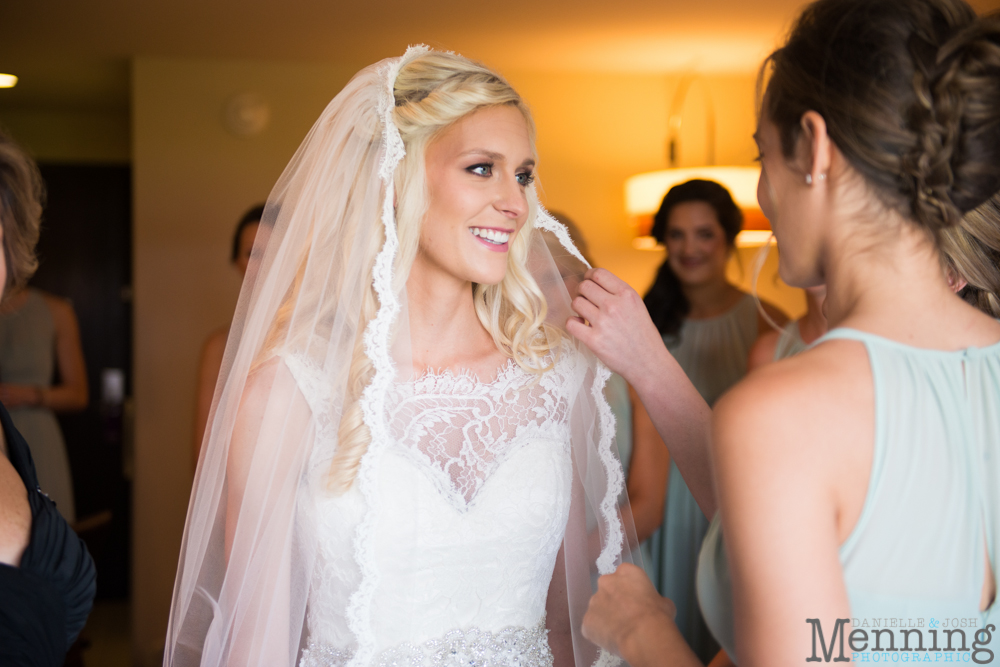 This moment of prayer for Kacie & Dillon's future was one of my favorite parts of the day.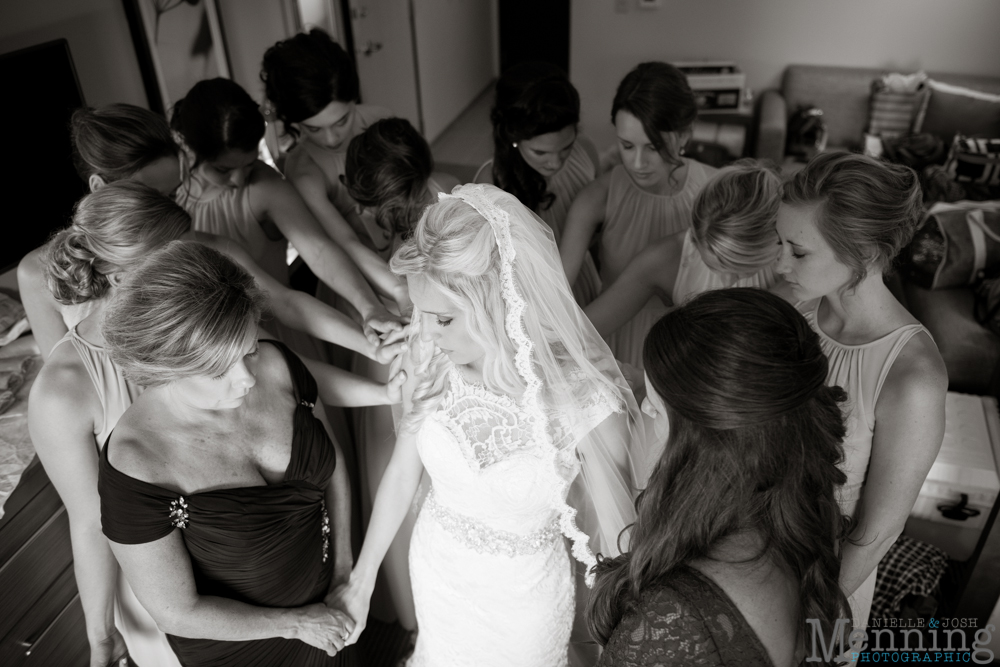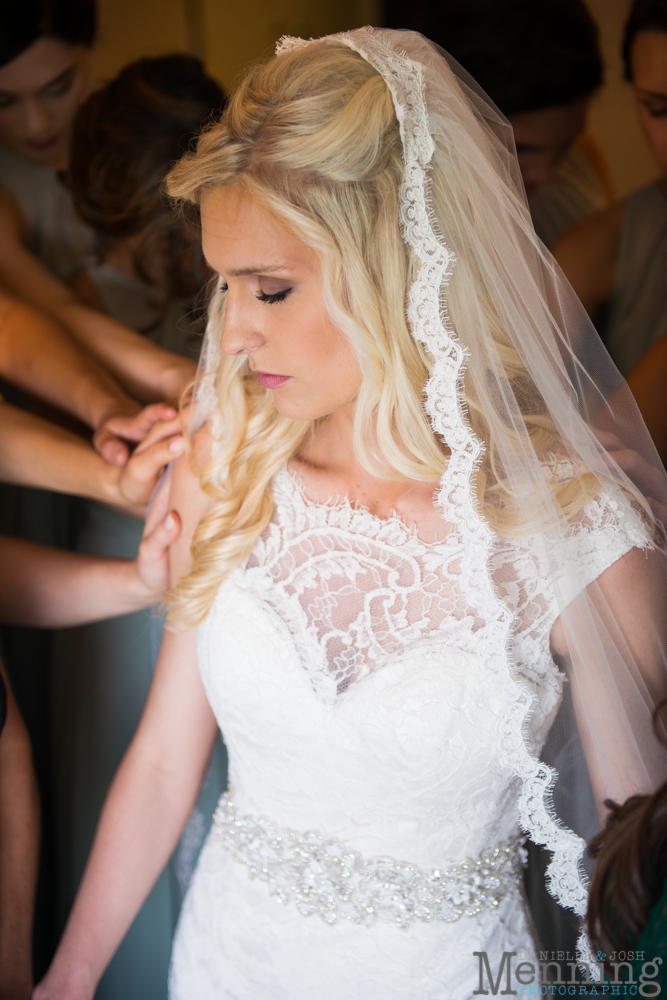 Then she tried to read Dillon's letter. I say "tried" because it was hard to see through all of her happy tears.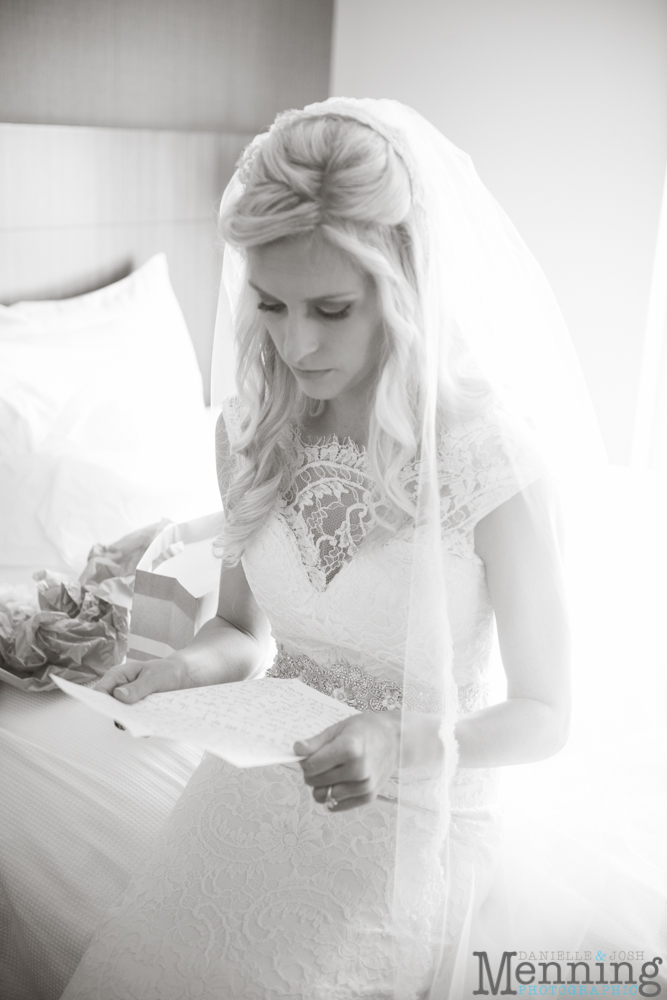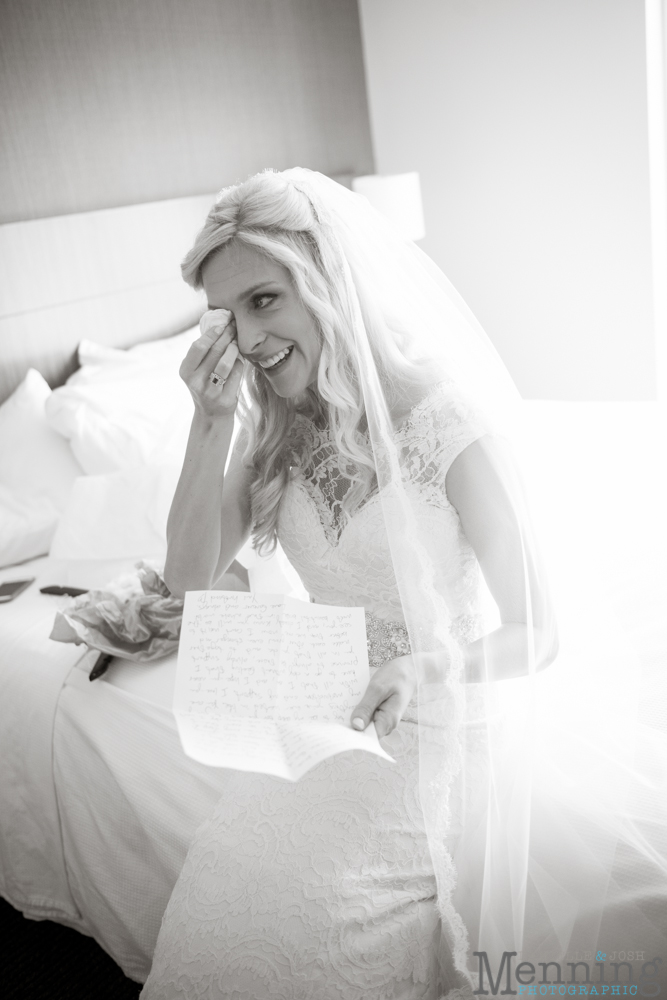 Then it was time for the first look. We hung out with Kacie & Dillon recently & they both expressed how happy they were that they decided upon the first look for their wedding day. They loved sharing that moment just between the two of them before the wedding ceremony. And they really liked how the timeline flowed after they had the family photos & bridal party photos finished before the wedding ceremony started. Their first look was another of my favorite parts of their day. Shoot, who am I kidding?! The whole day was amazing! I can't choose a favorite part!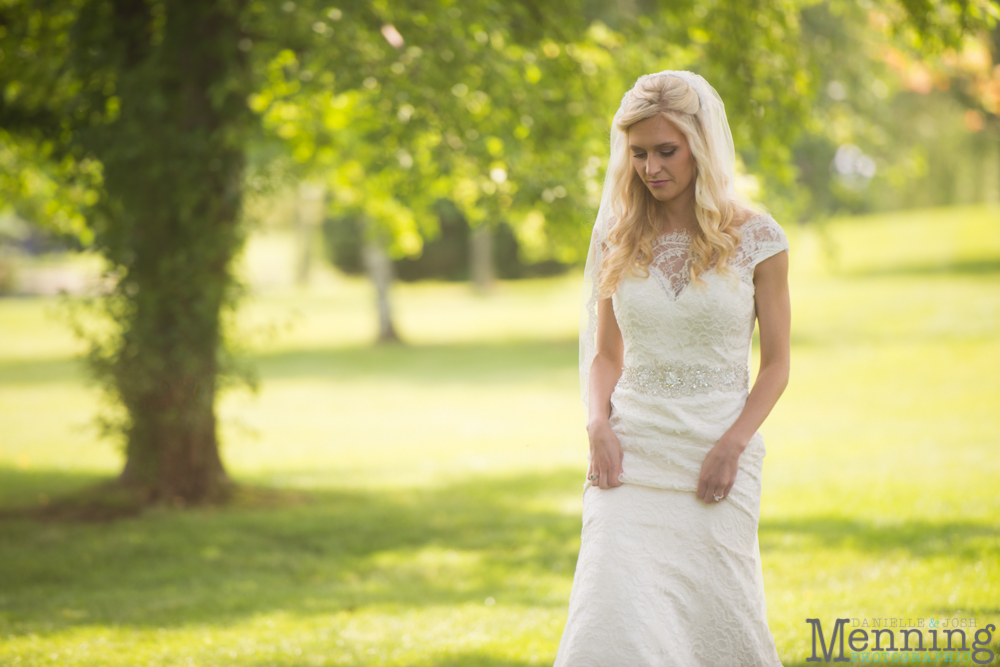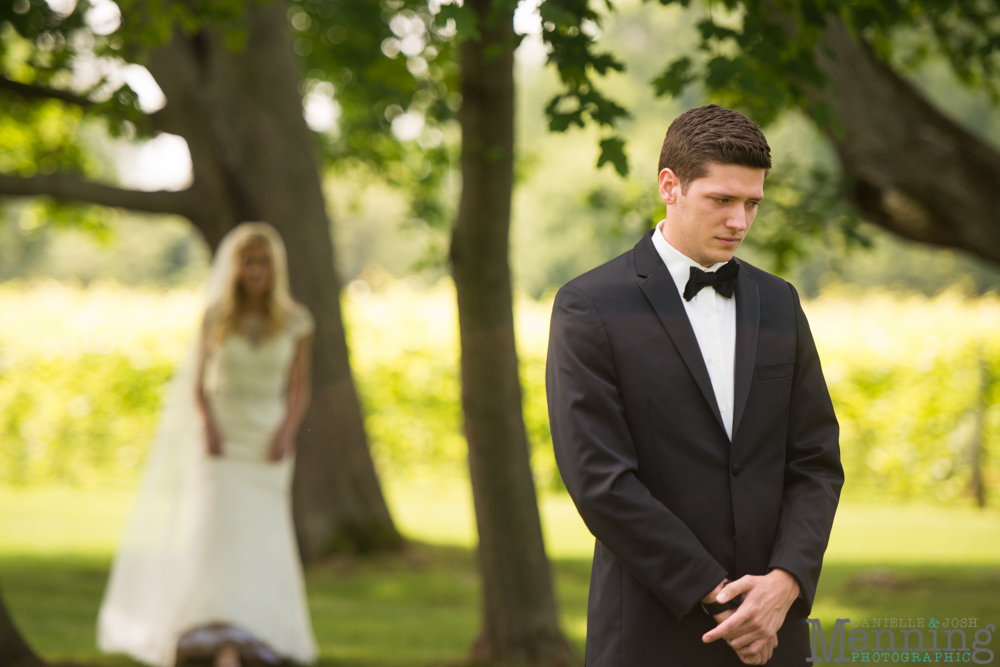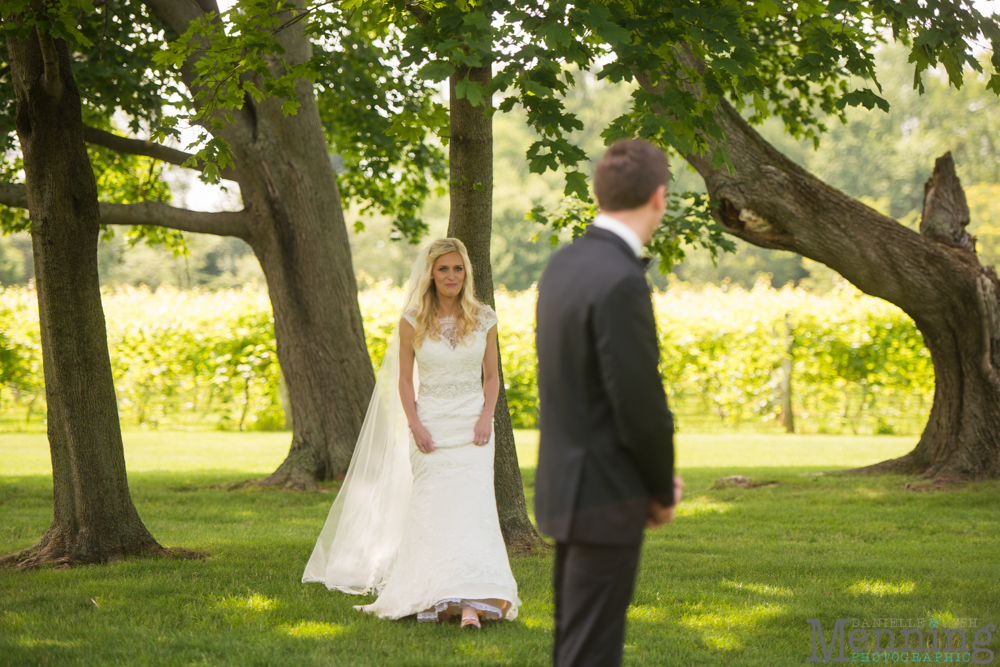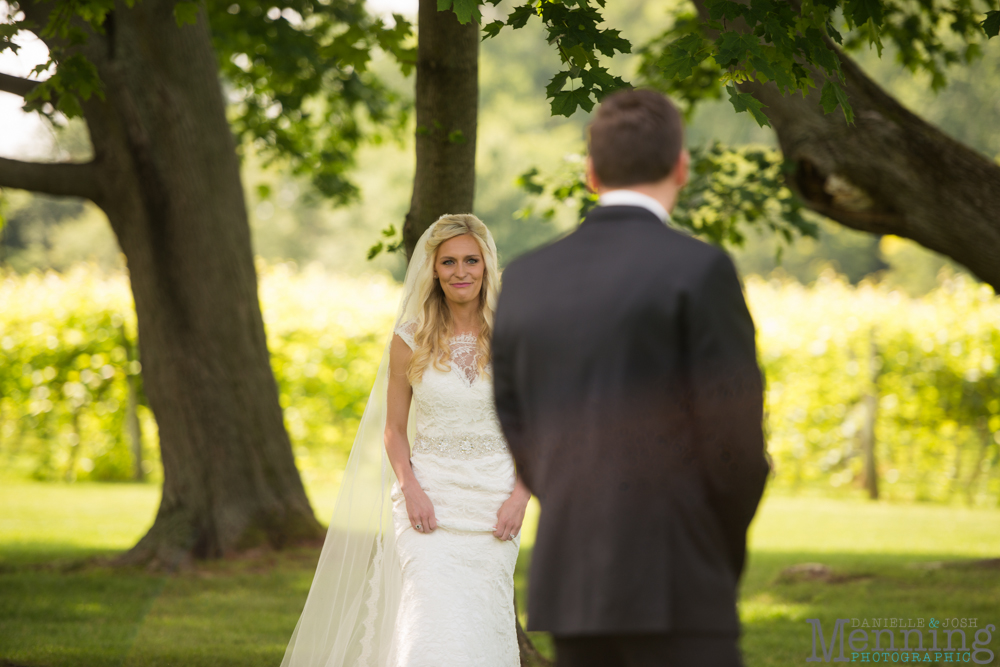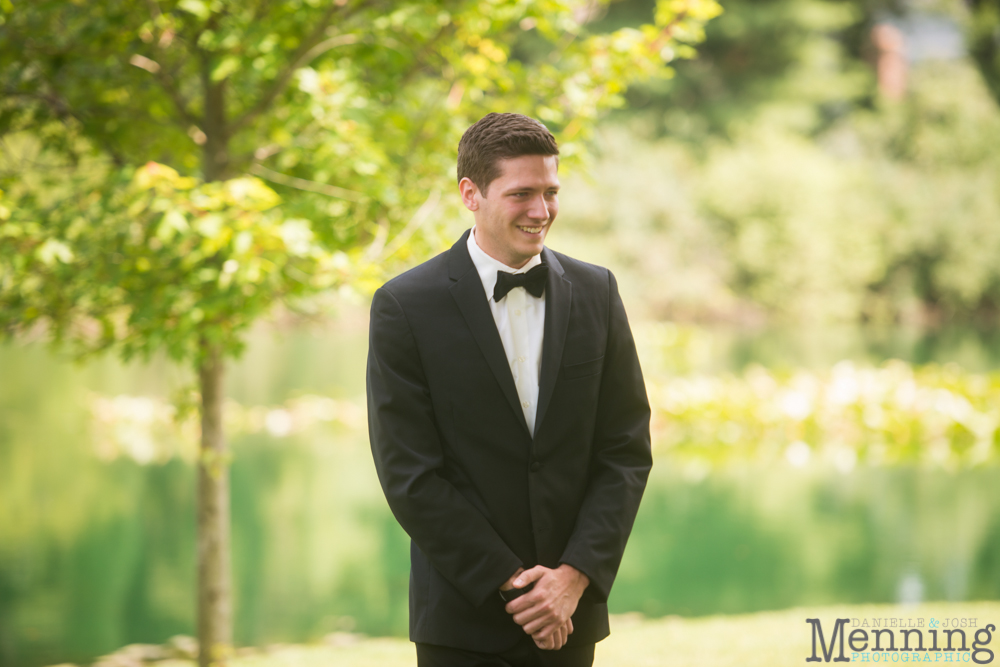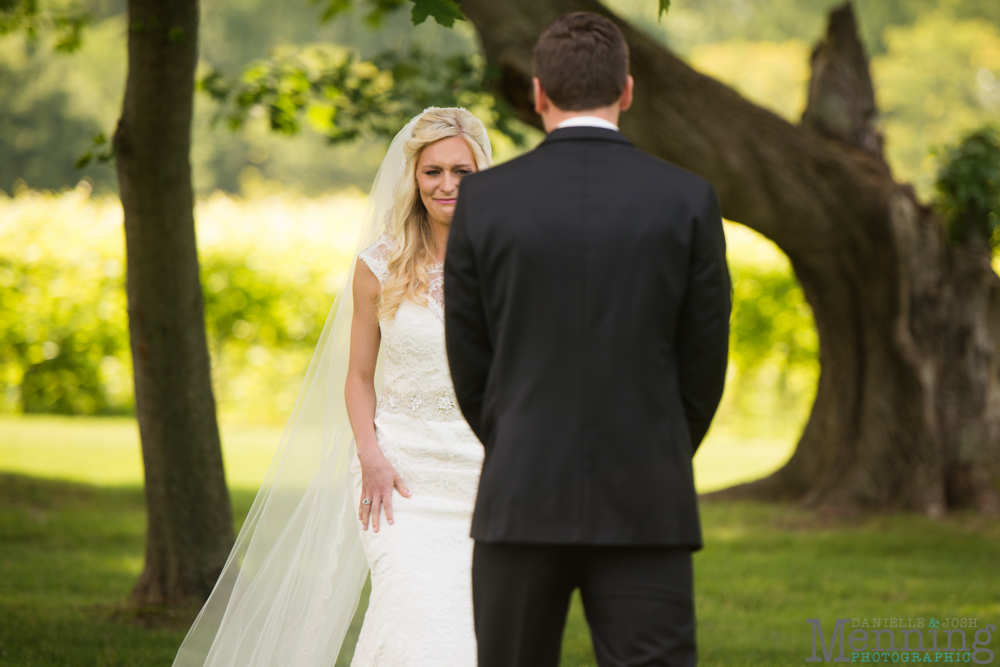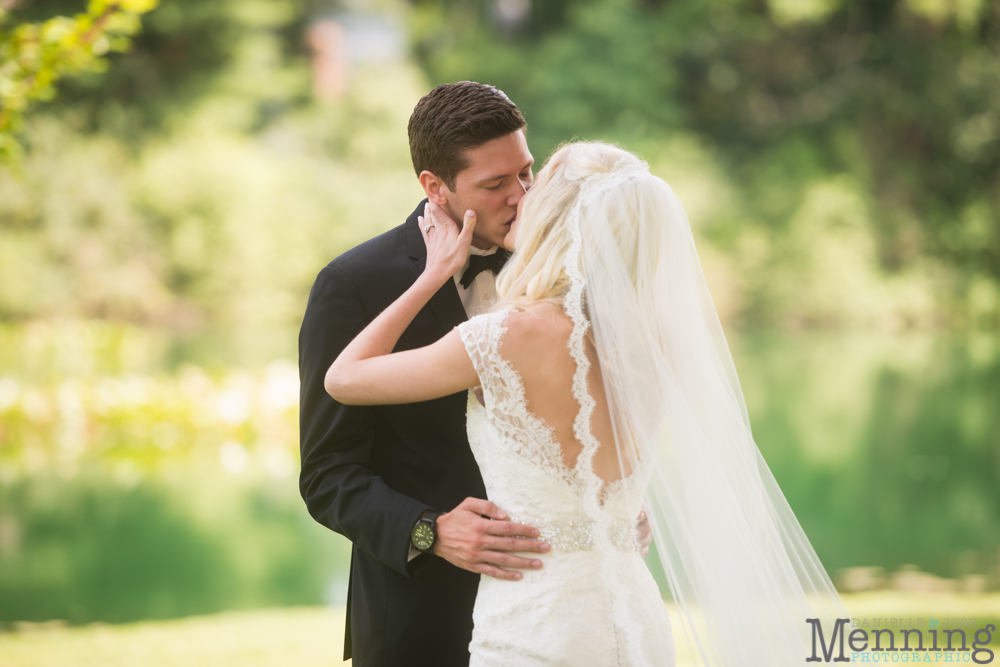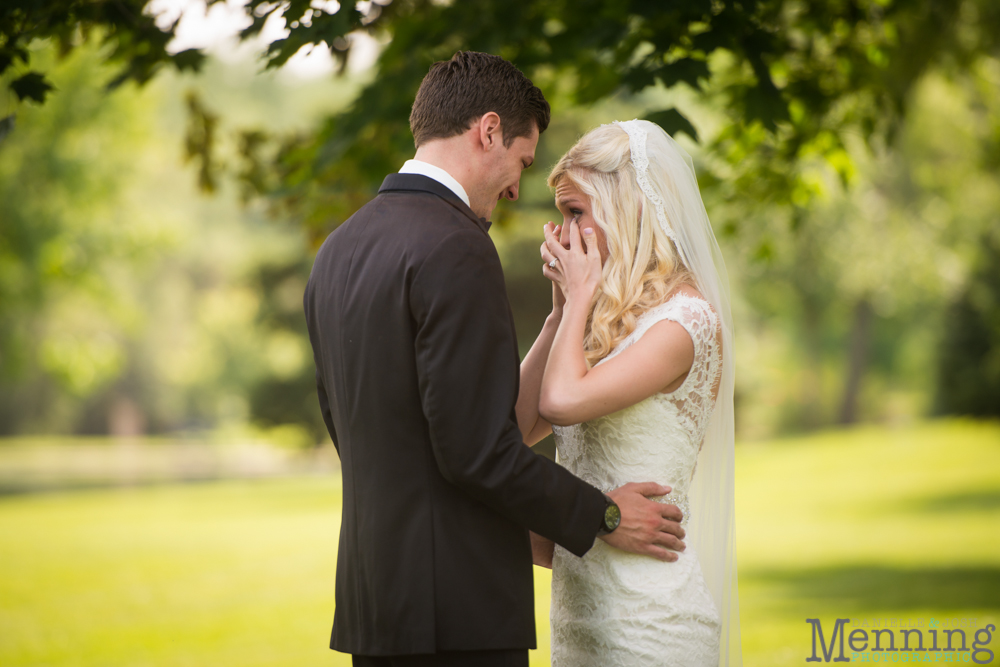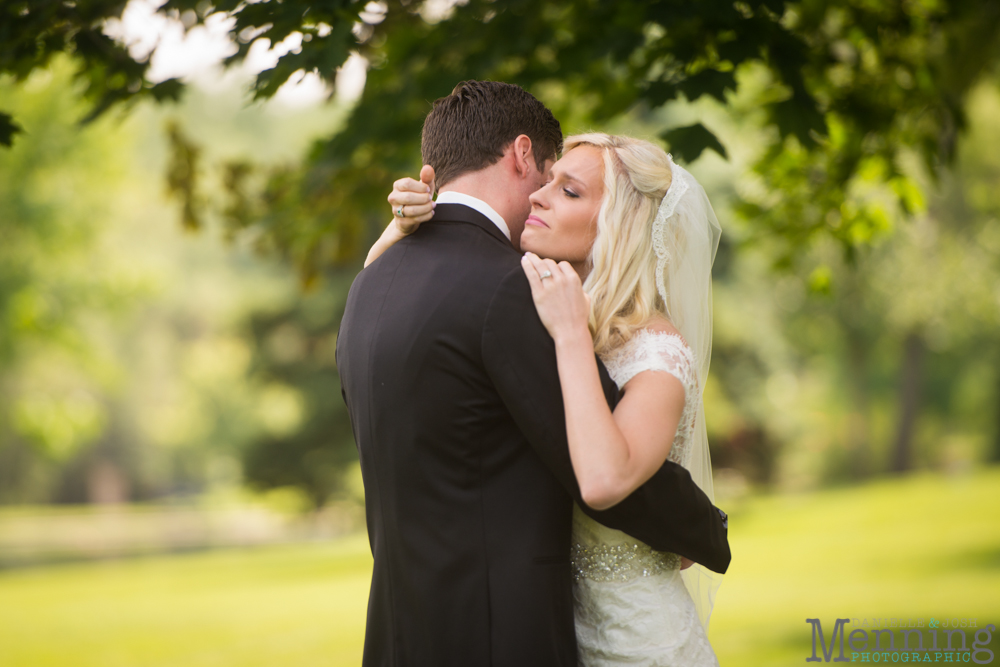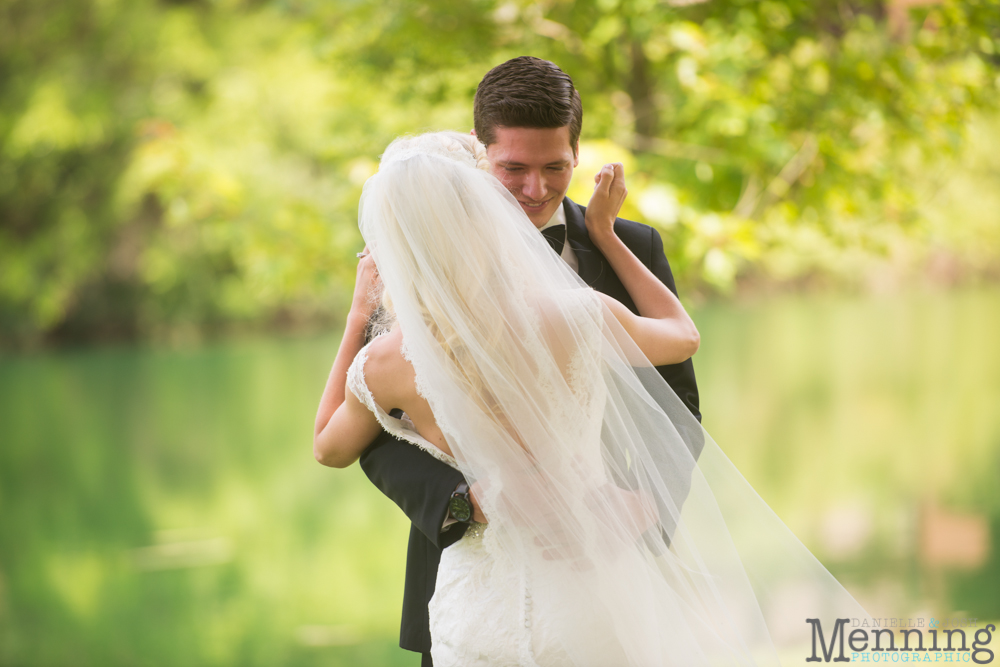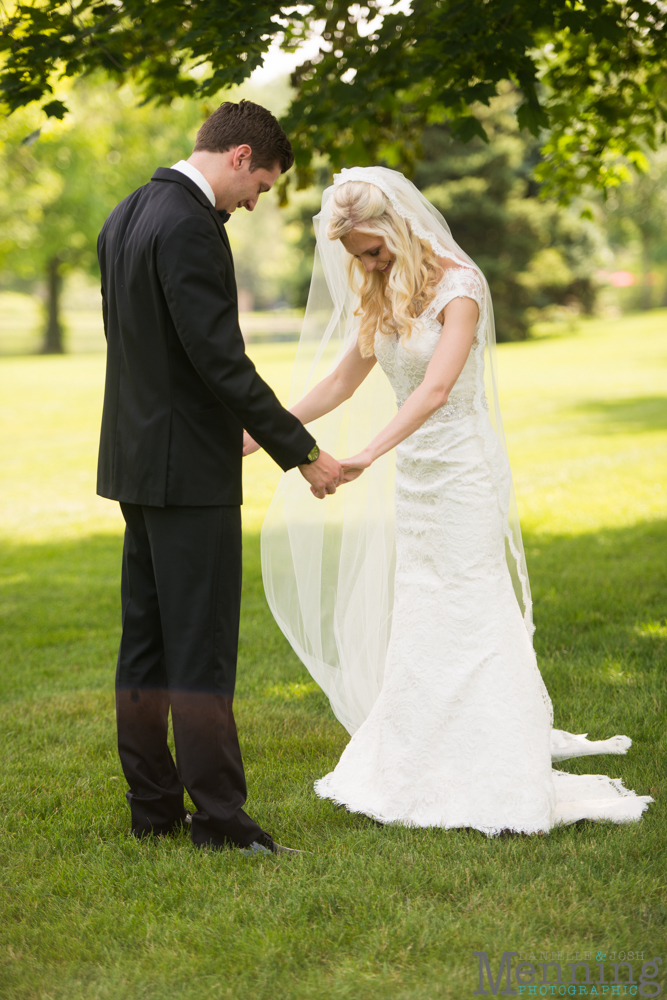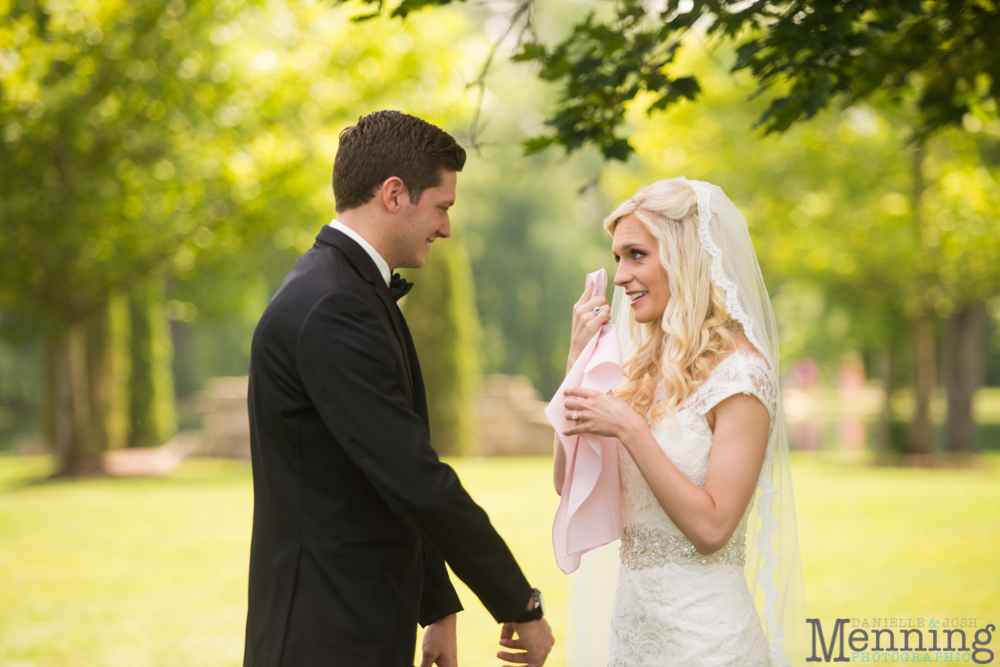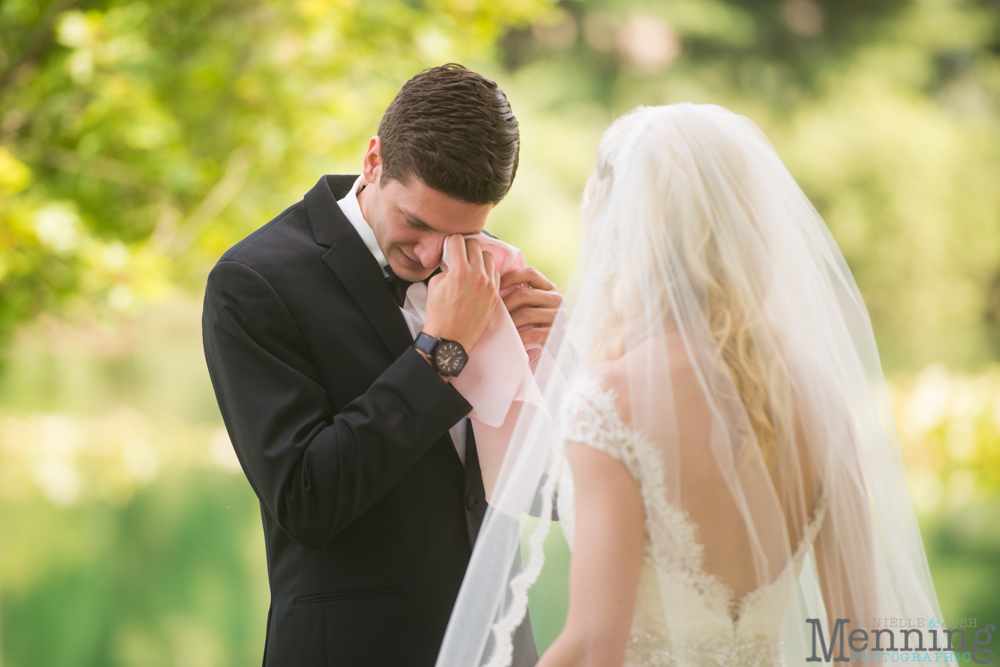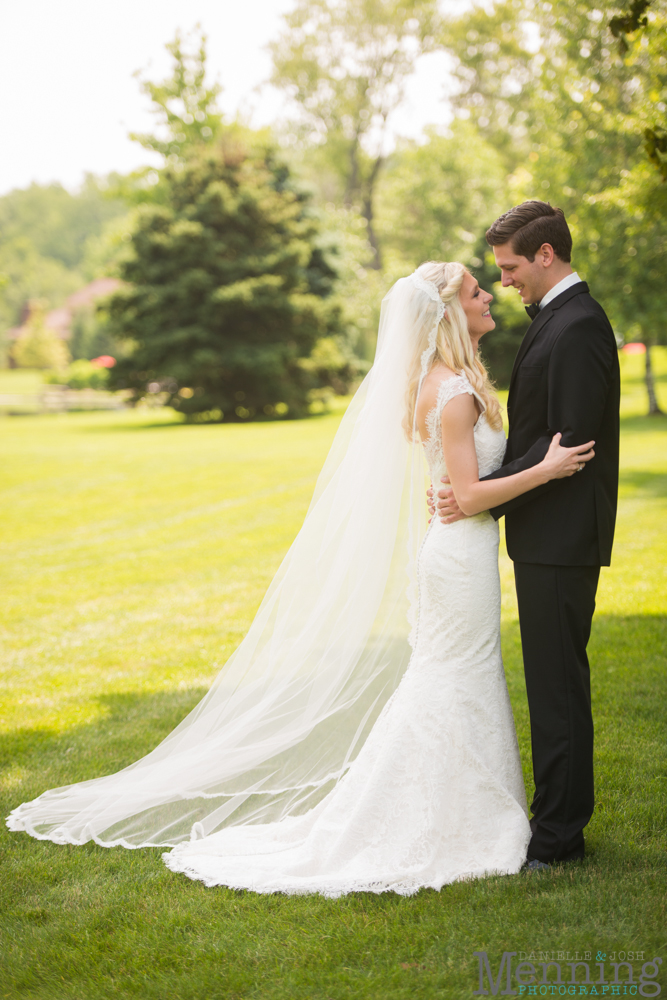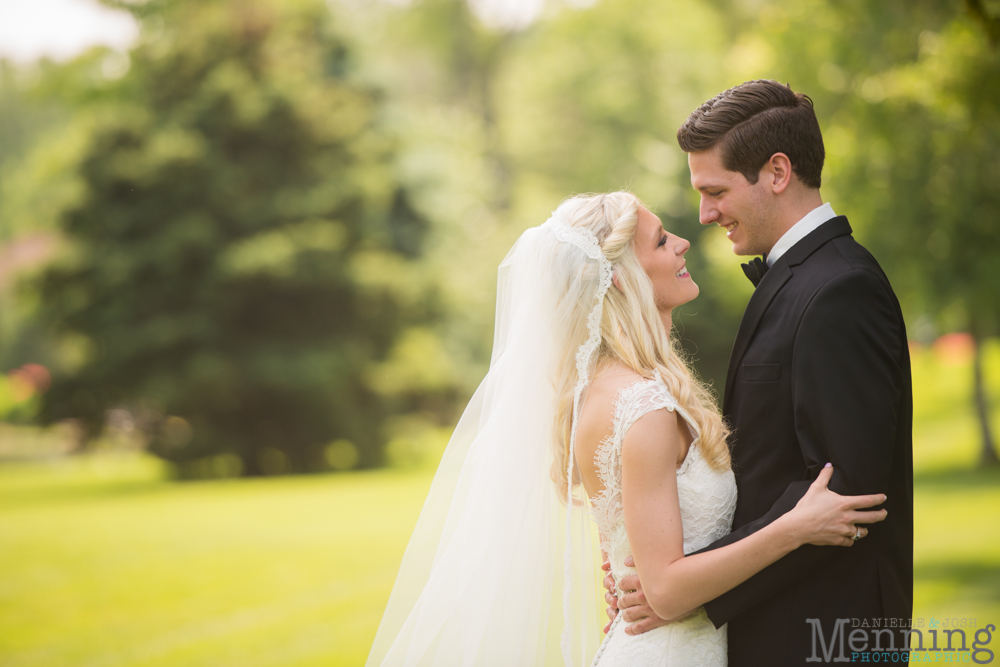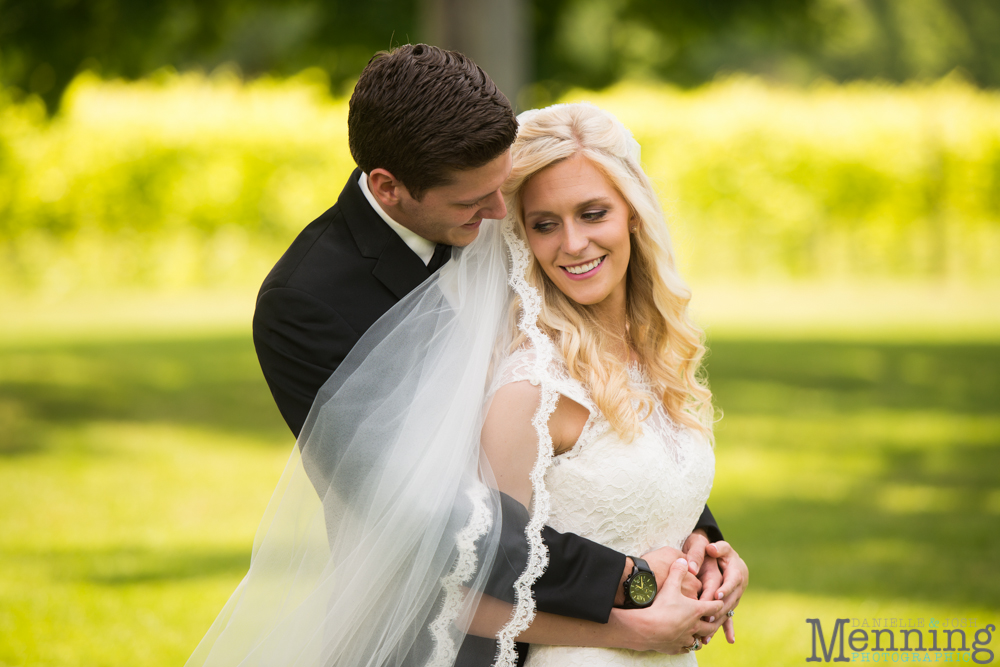 I love that they got engaged at Gervasi Vineyard, too. Dillon planned the most elaborate and romantic proposal for Kacie! You have GOT to read that & check out their engagement photos! Don't worry, the rest of these photos will be here when you get back. . . promise!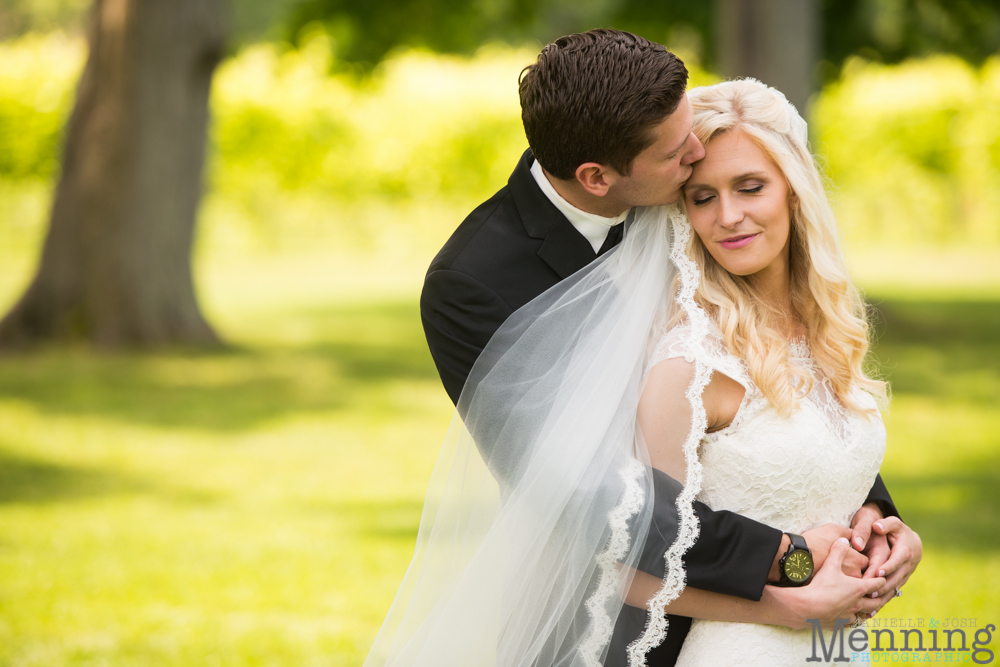 Are they not THE cutest?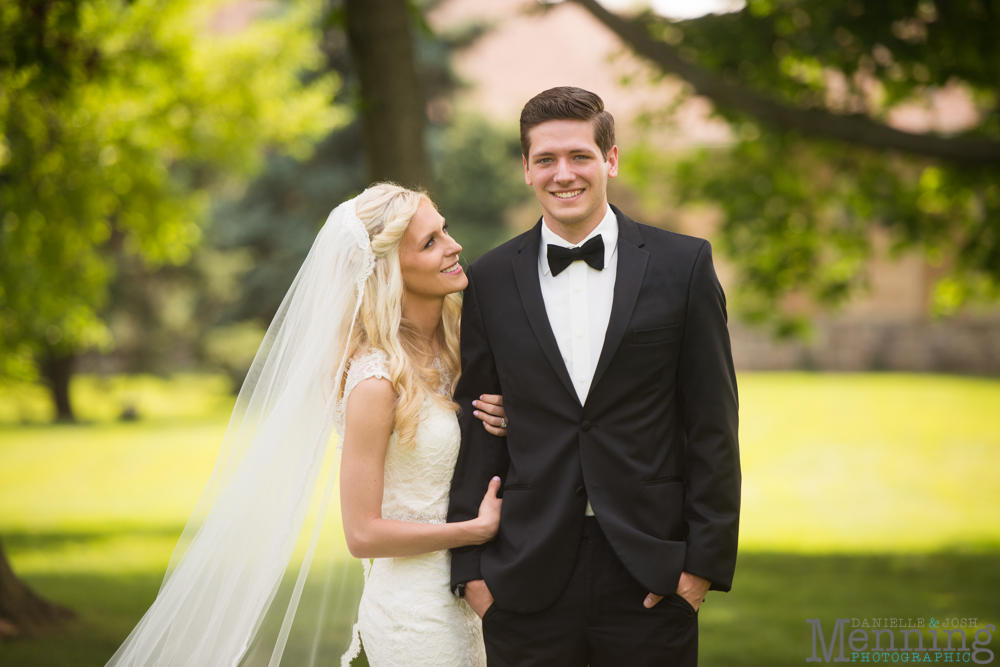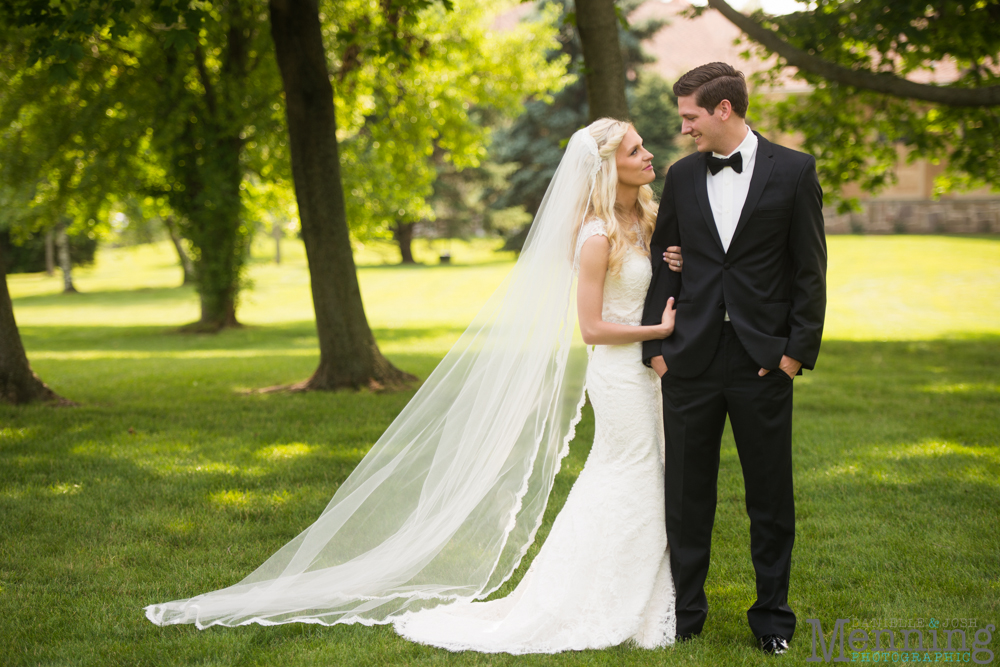 Kacie & her dad also decided to do a first look. We told a little story about this moment on our Facebook page, but it bears repeating here, too, because this was (you guessed it) one of my favorite parts of the day. The father-daughter first look had FOUR people in tears. . . Mr. Blank, his beautiful daughter Kacie, AND both of us photographers. It was so beautiful to see the love these two share. Mr. Blank shared this moment with his daughter before he walked her down the aisle and then he gave a speech at the reception. He said he had always been Kacie's #1, but realized after a while that Kacie & Dillon were dating that he had become #2 in her life. It was difficult, but he knew he was giving her away to a man who would be there for her, who loves her as Christ loves the church, and who will sweep her off her feet each and every day. Fathers who show an example to their daughters of what a husband should be are the best fathers there are!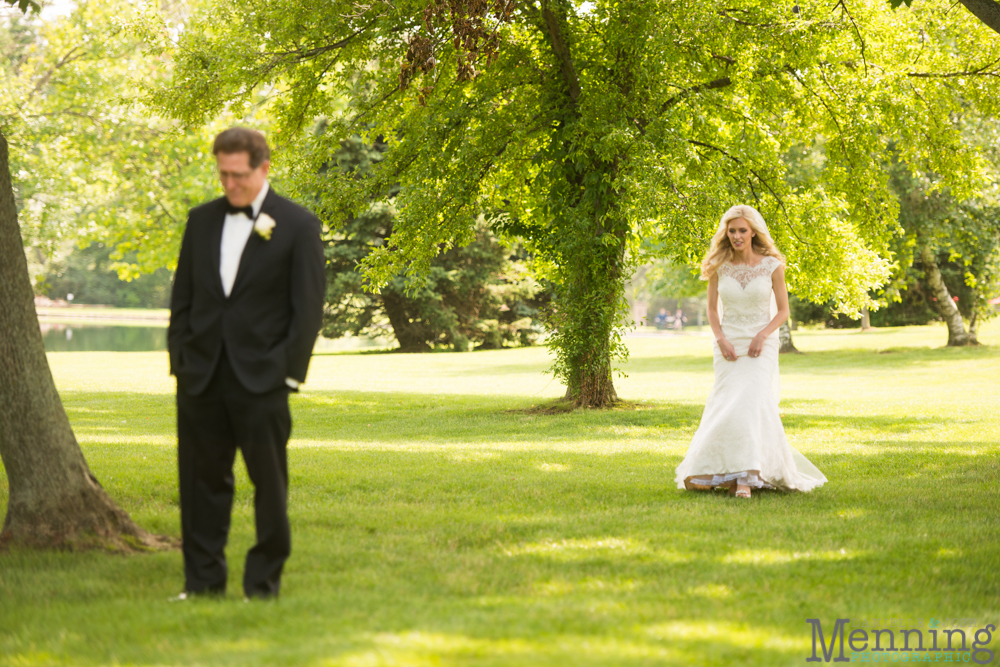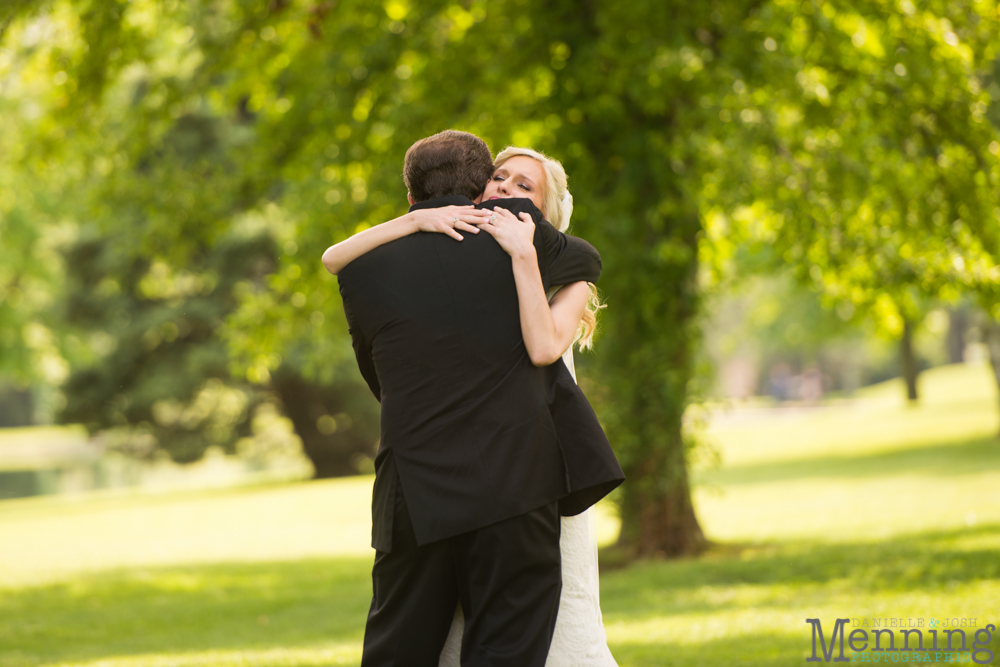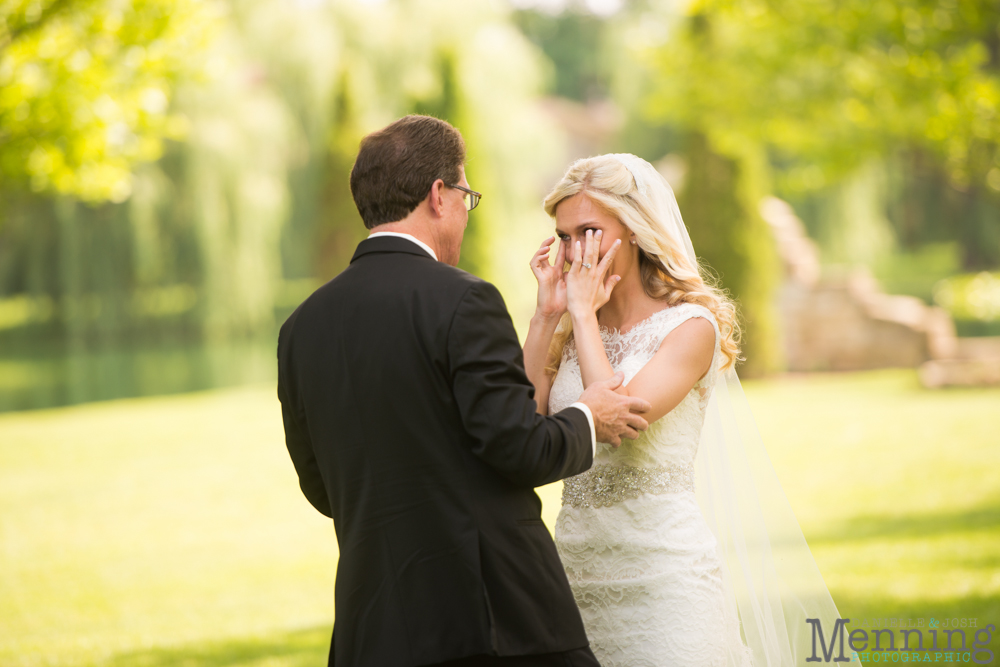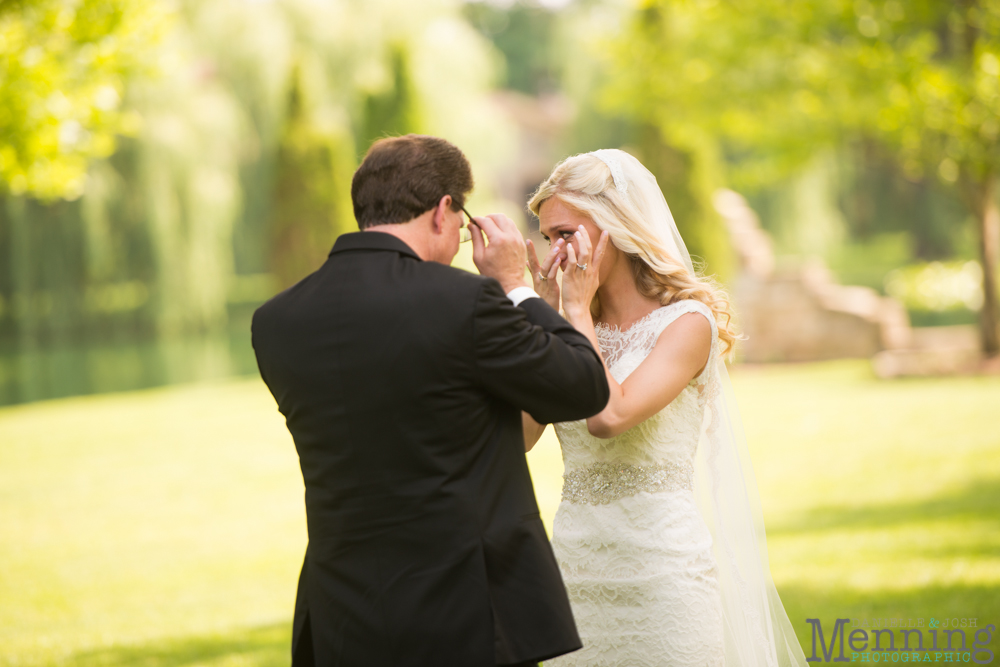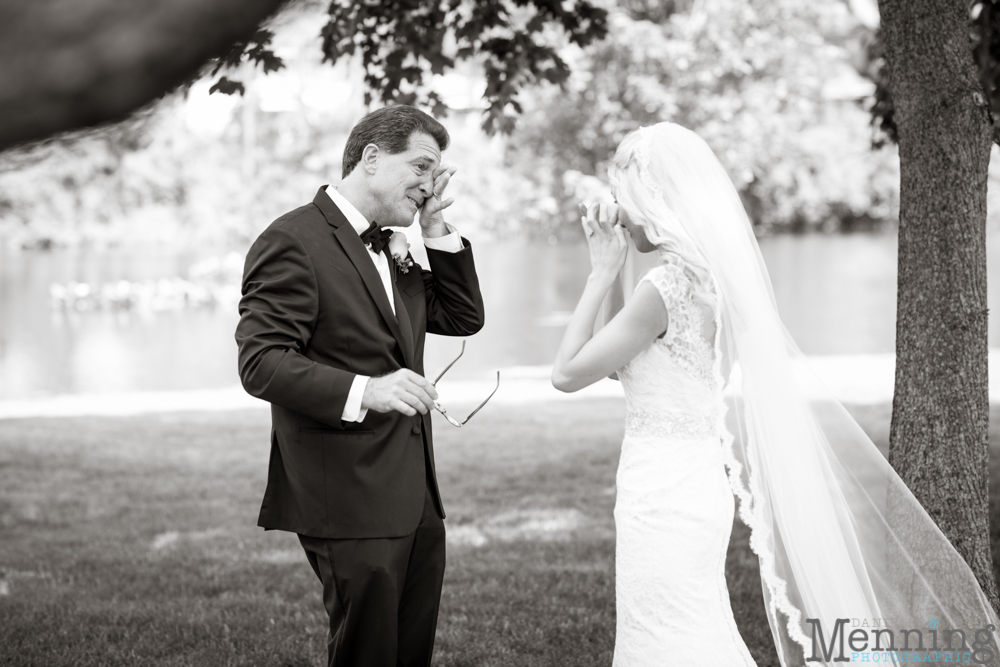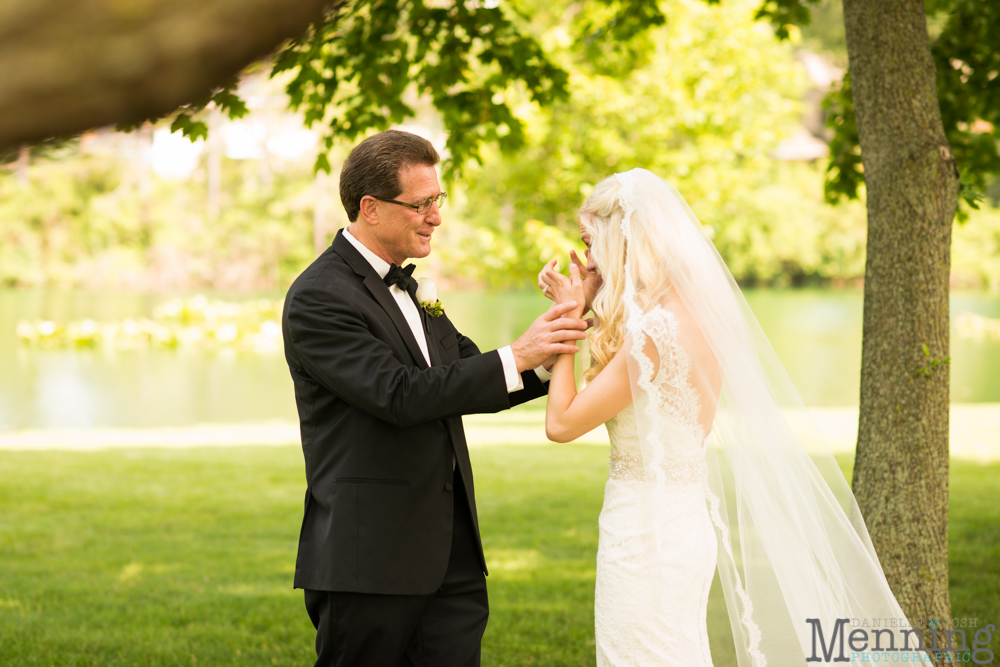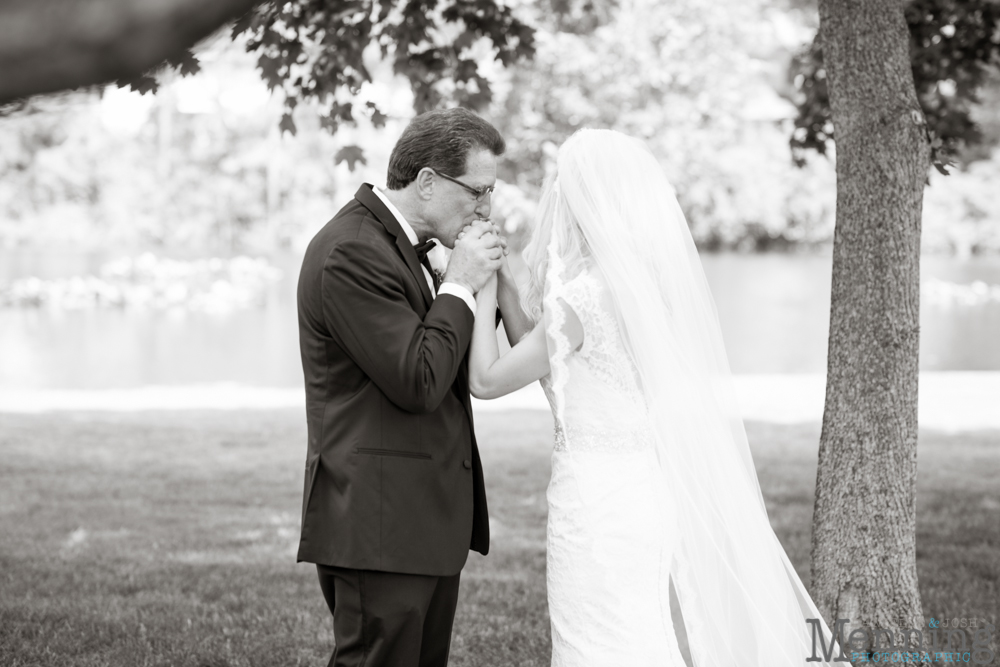 Because of the first look, we had plenty of time before the wedding ceremony for relaxed family portraits.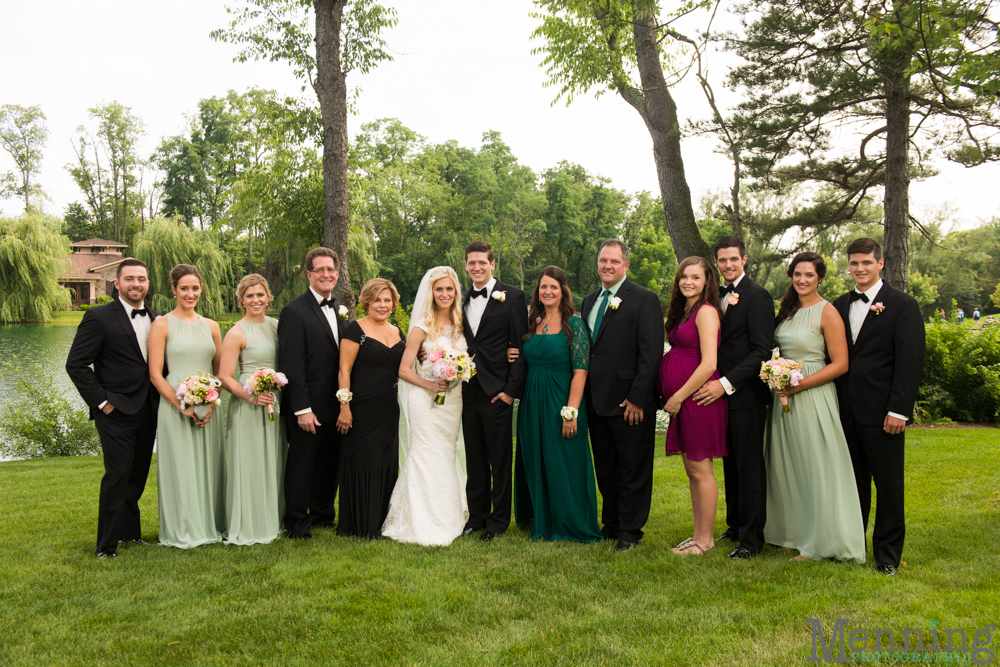 And bridal party portraits. This entire bridal party look was like it was made for Gervasi's stunning grounds full of weeping willow trees reflecting in the lake below the bright blue sky without a cloud.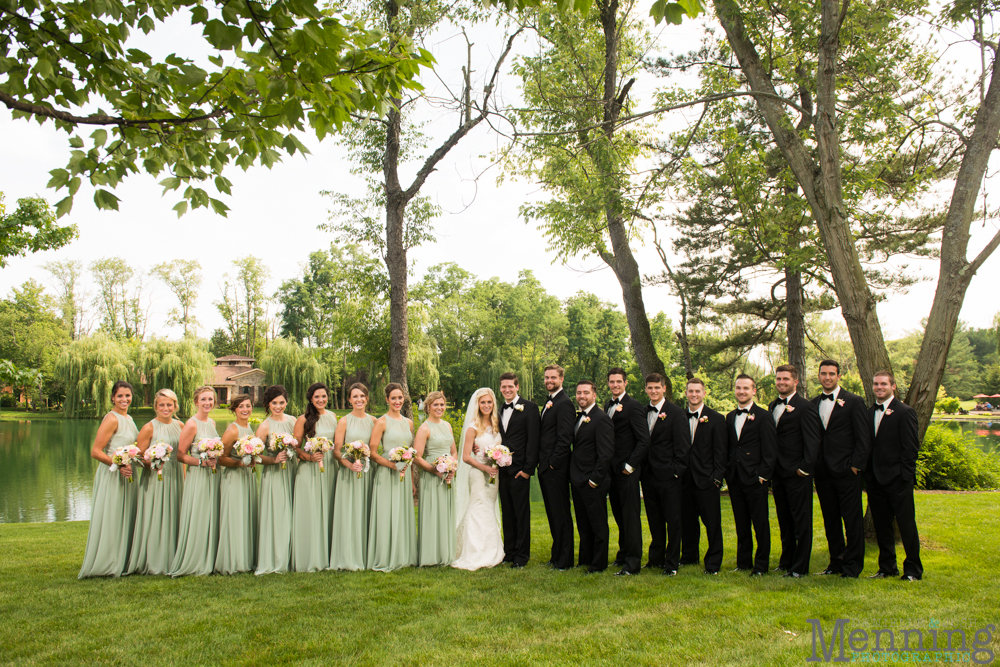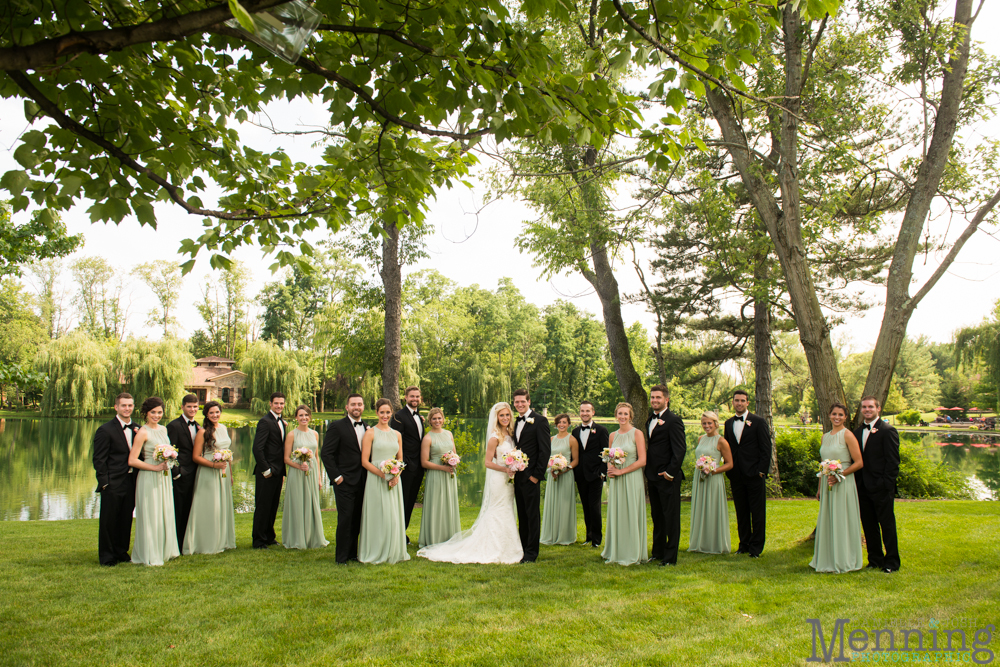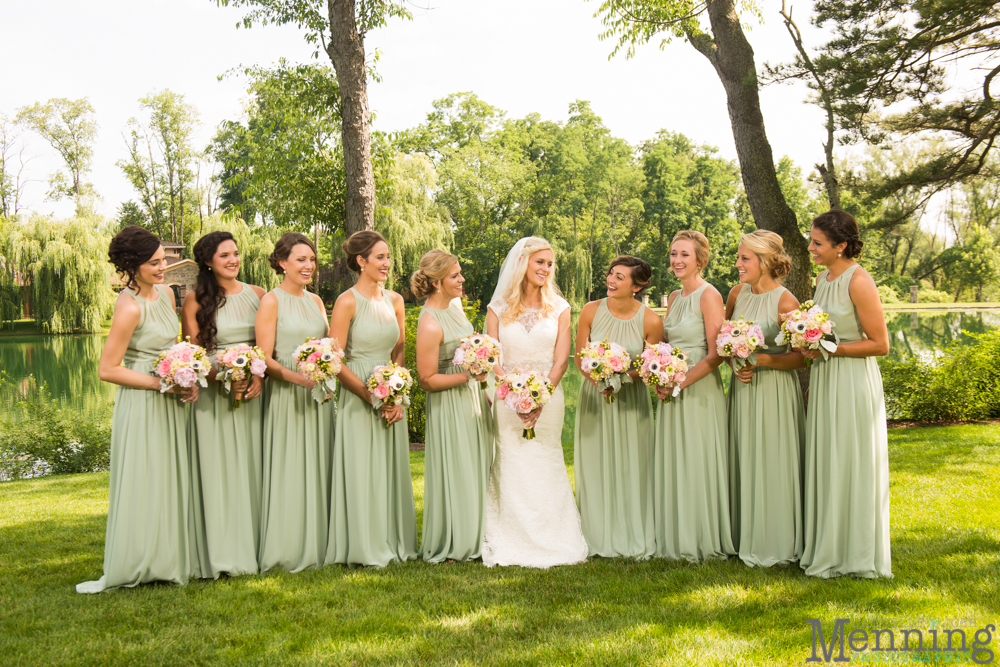 Kacie & her sister Jamie always give their big brother a smooch for family photos so Kacie's wedding day was certainly no exception.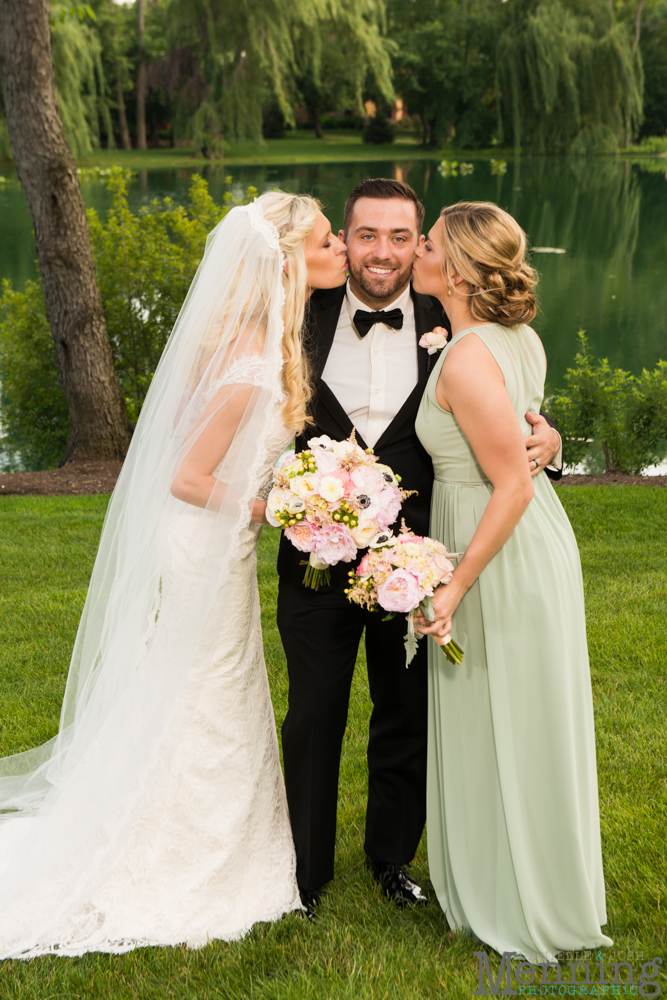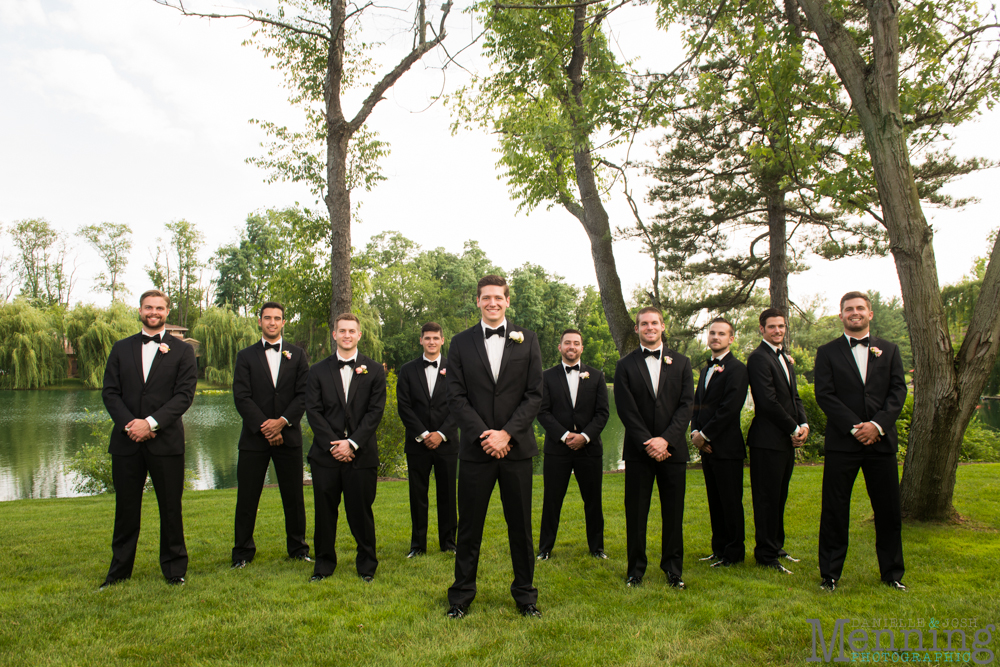 The Pavilion at Gervasi is simple & pretty in its own right, but with their elegant gold, blush, and pistachio decor, everything looked perfect.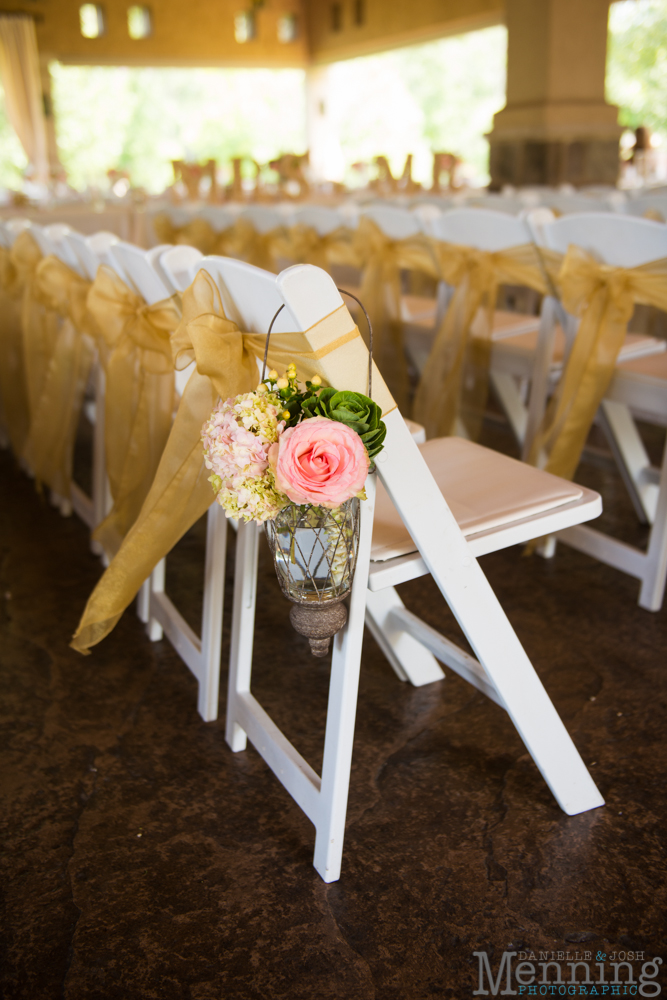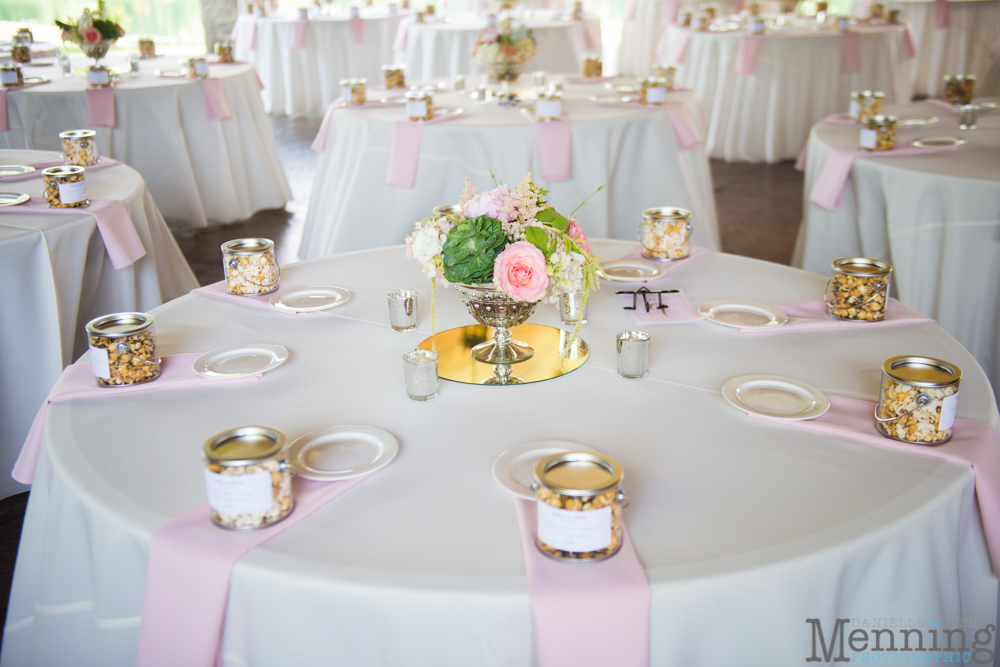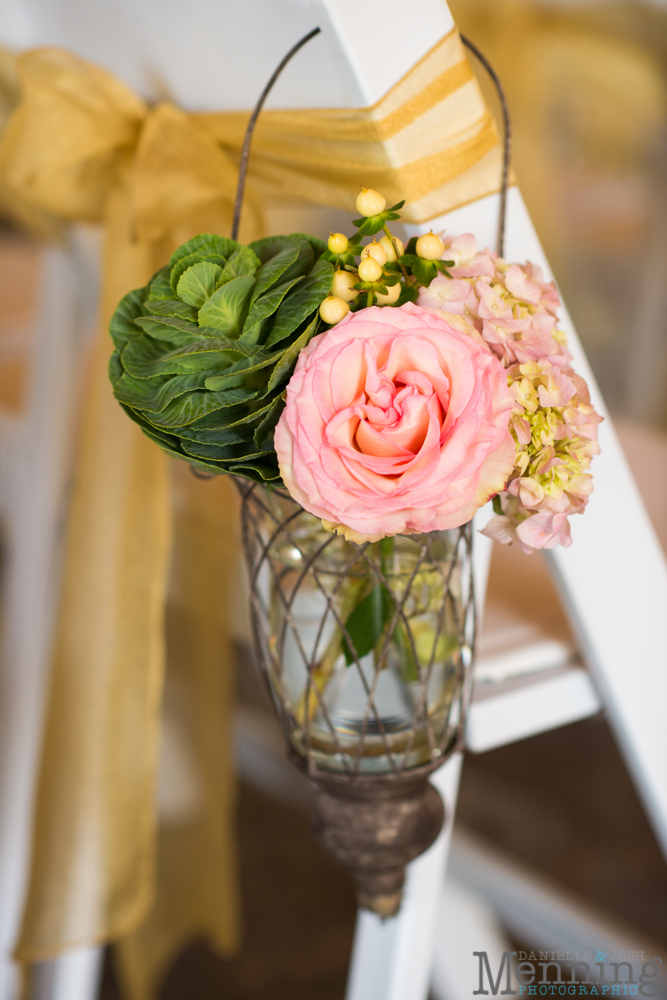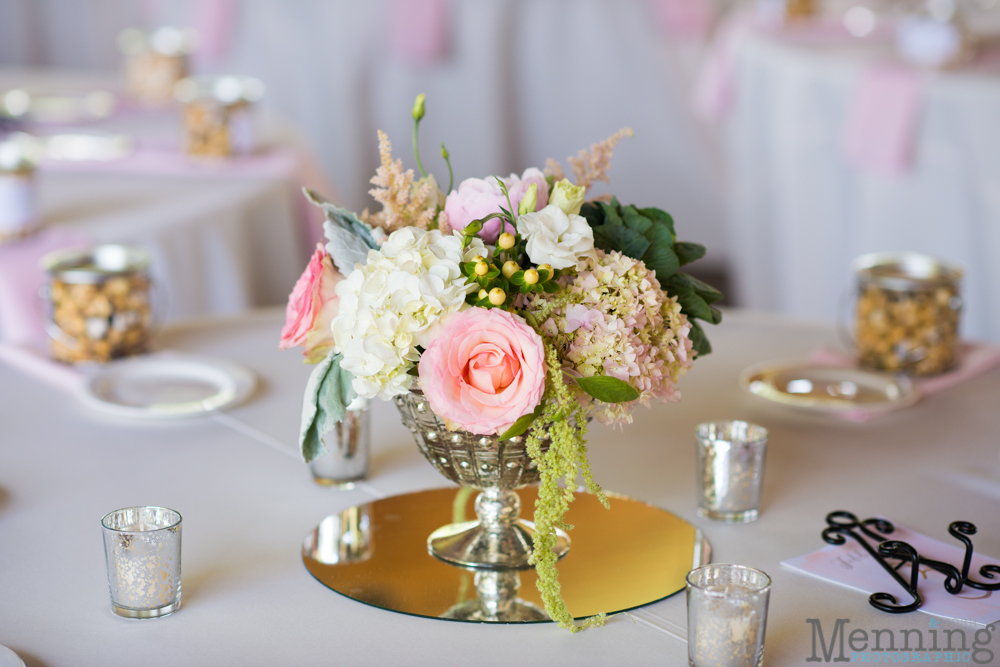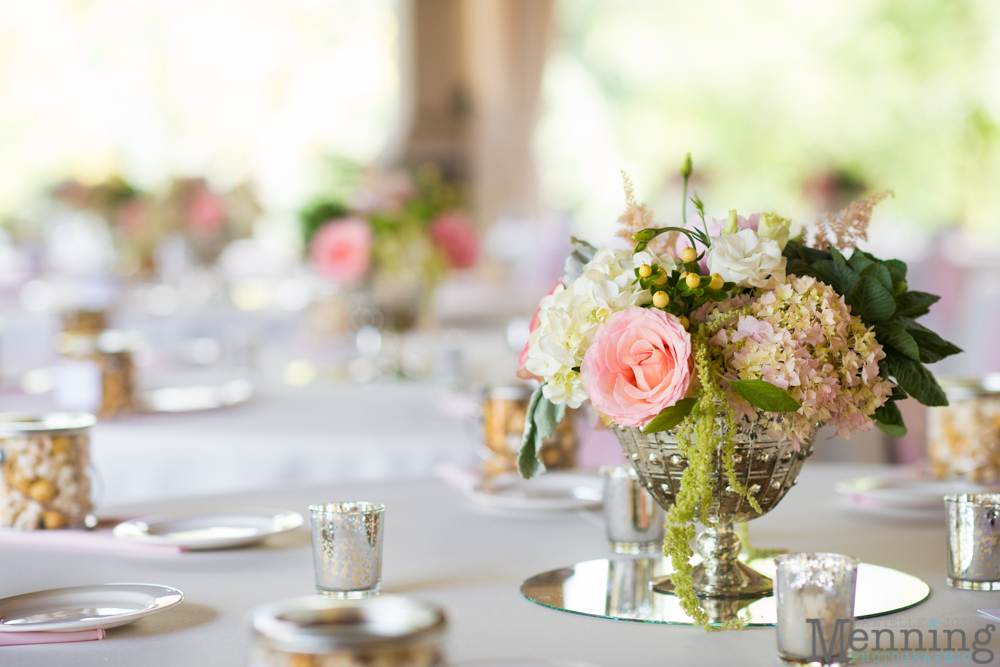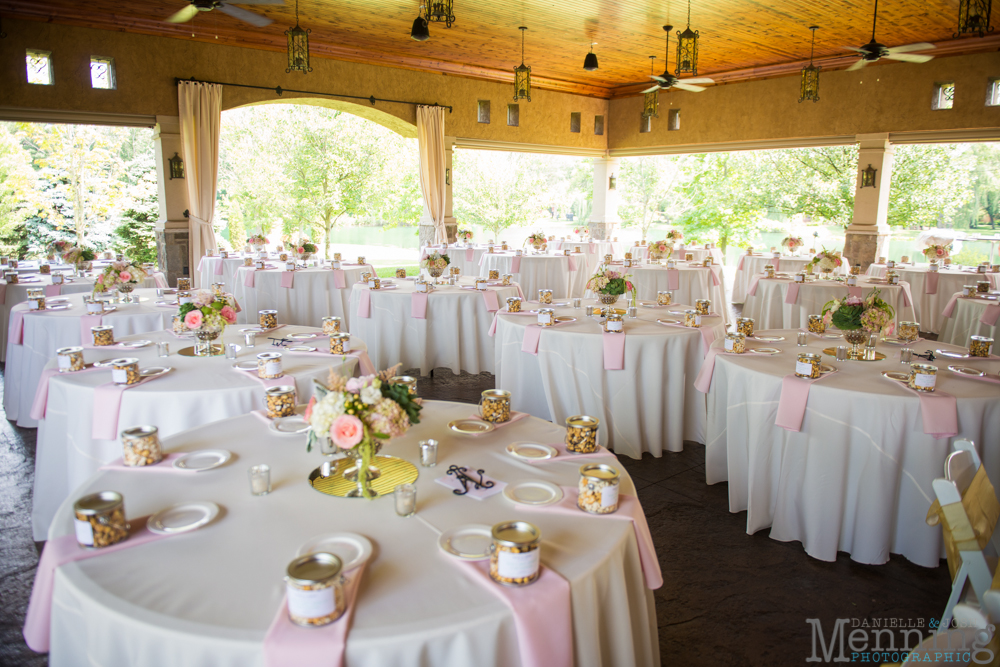 Dillon & his dad made this cross for the ceremony backdrop.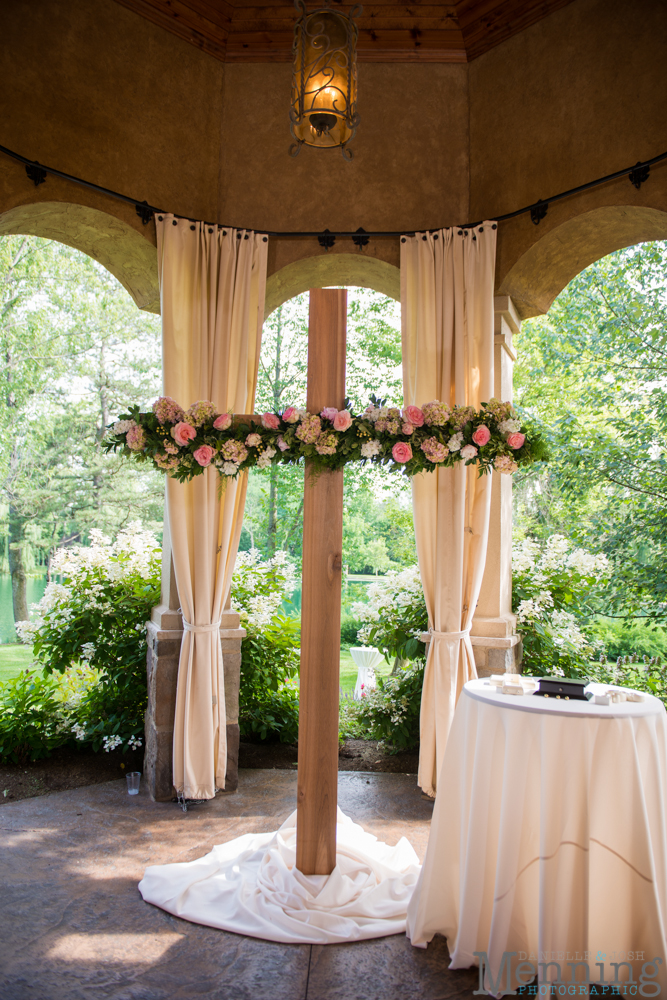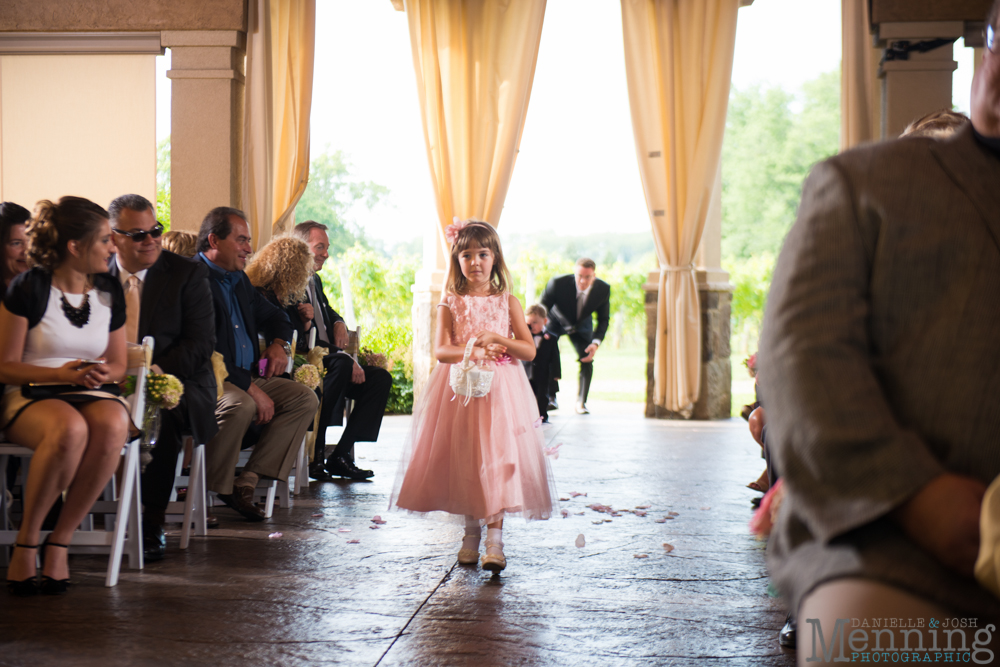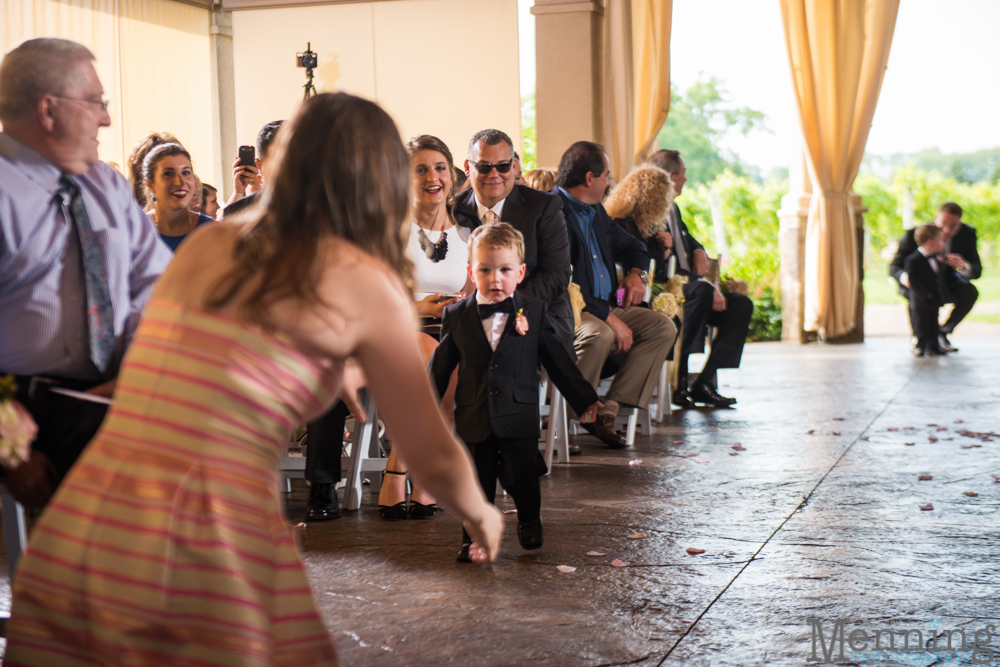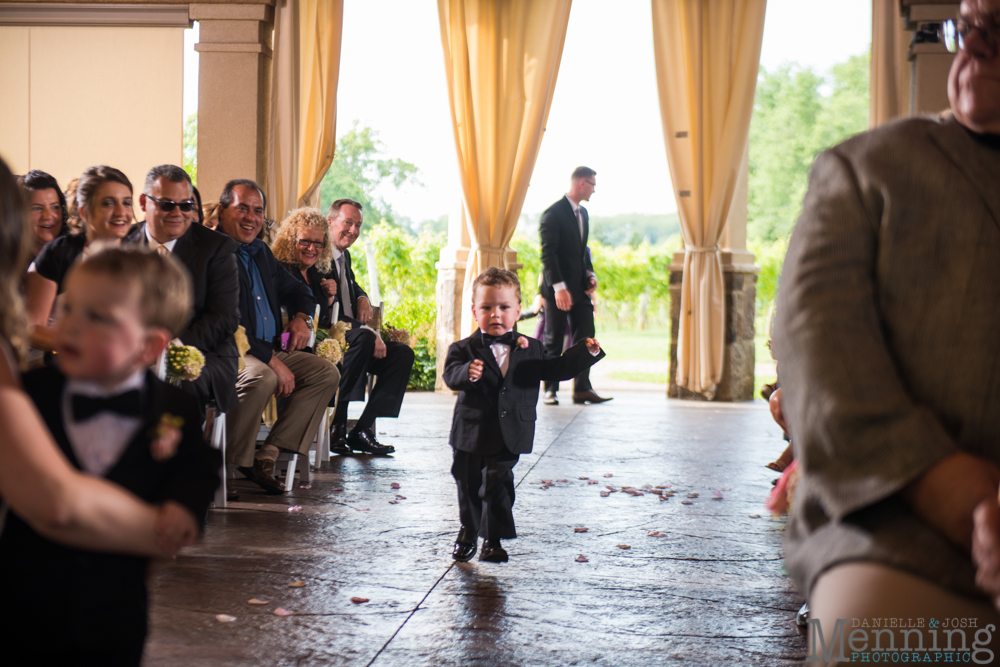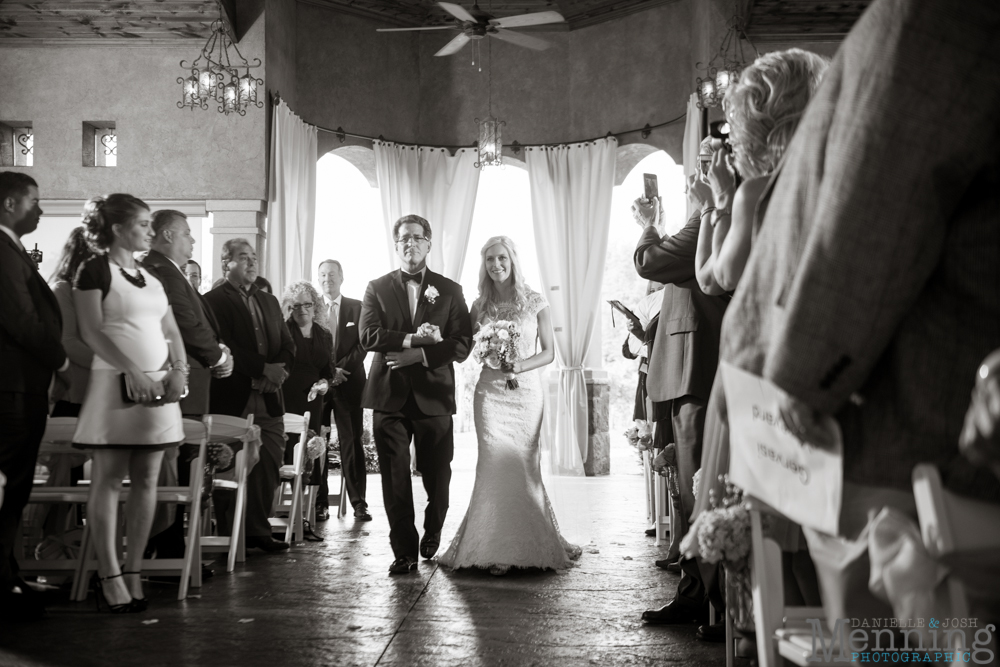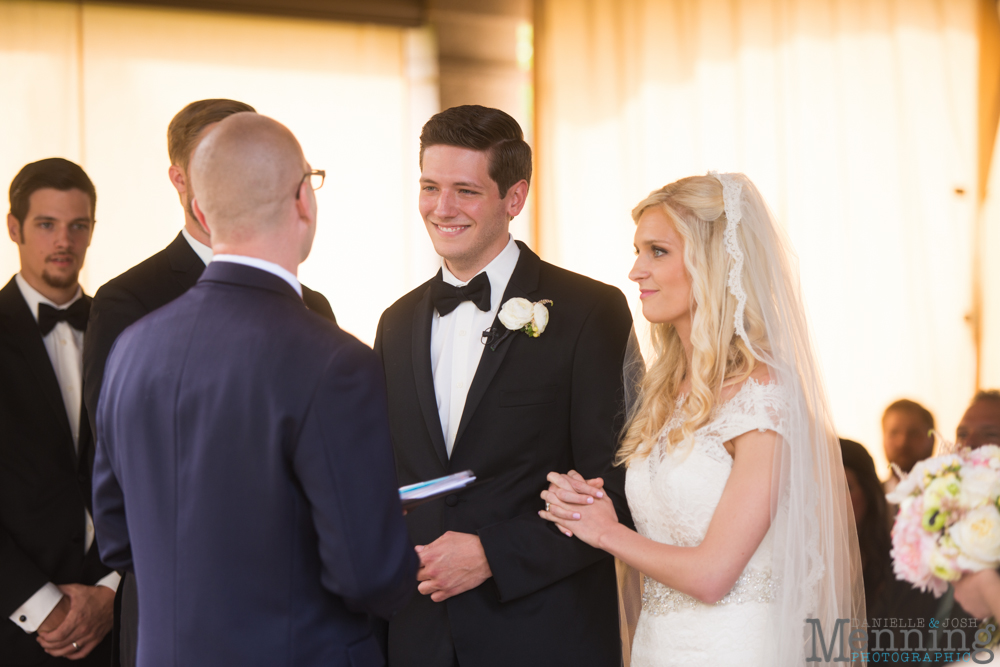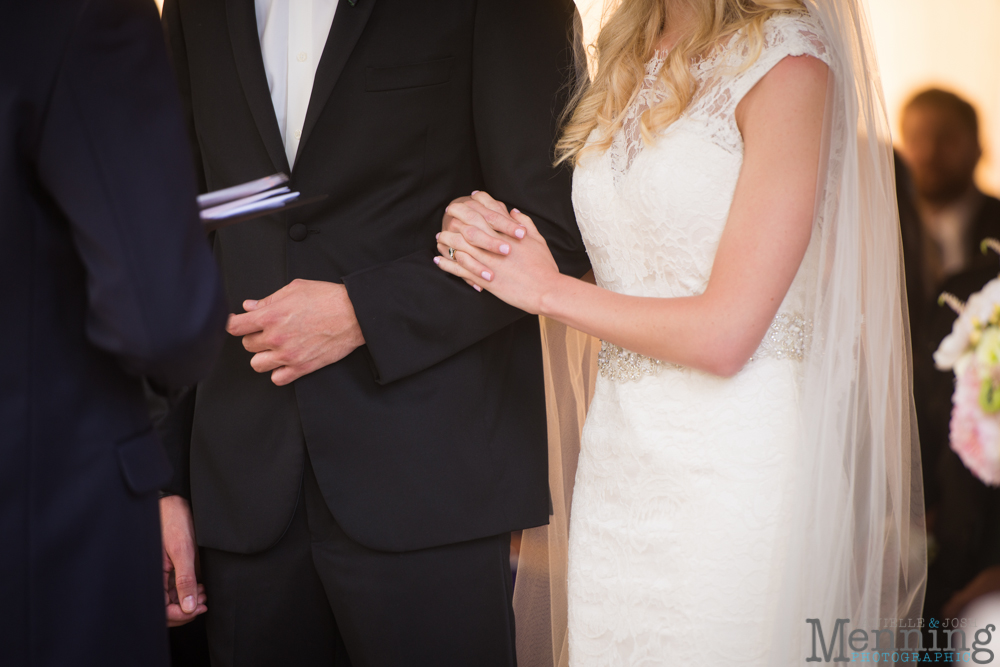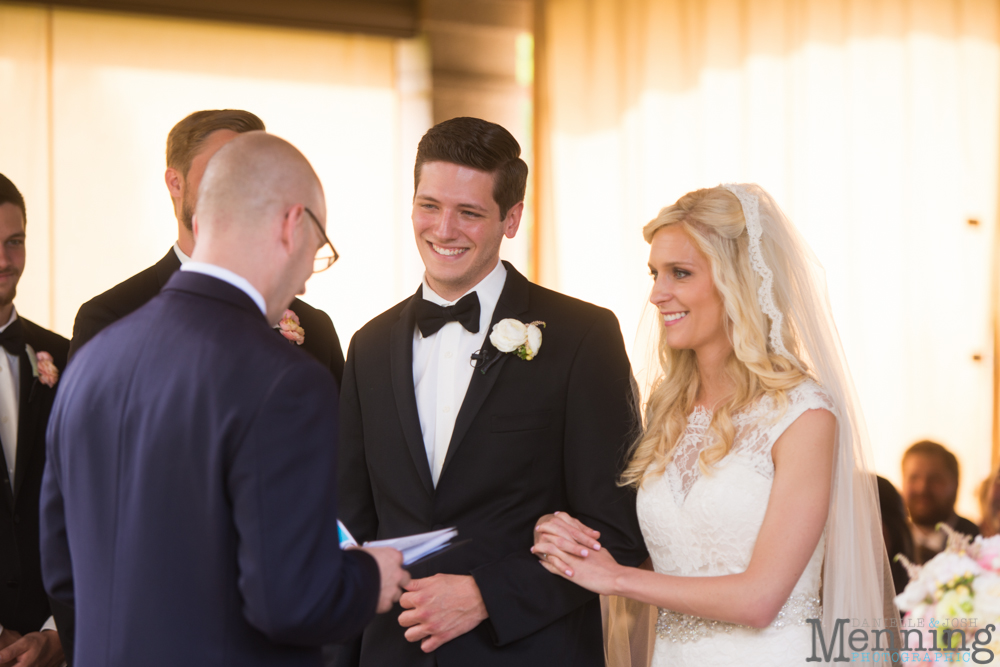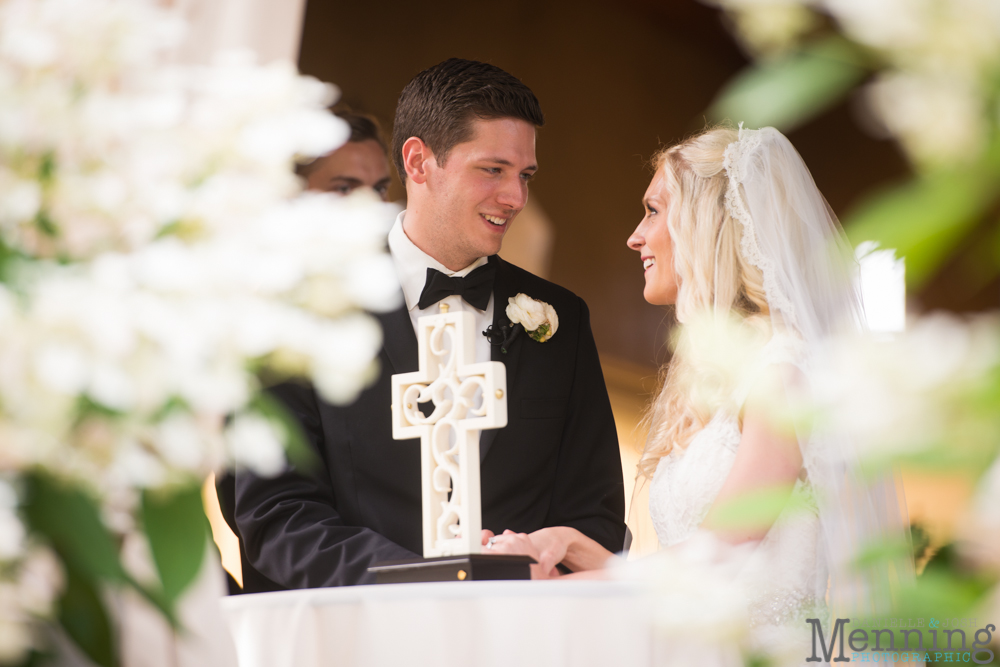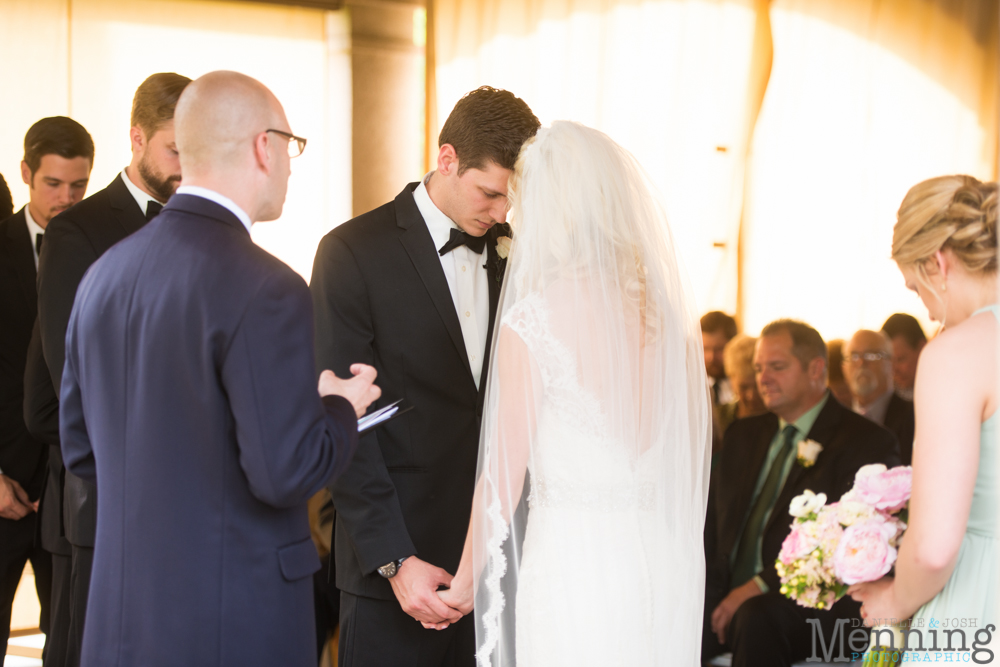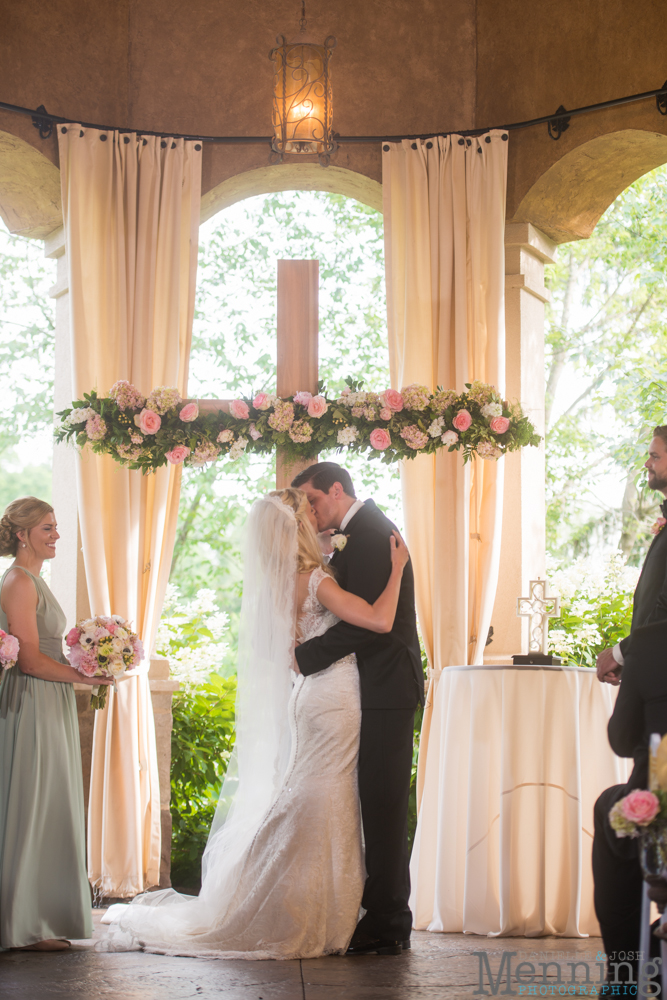 Now that's a first kiss!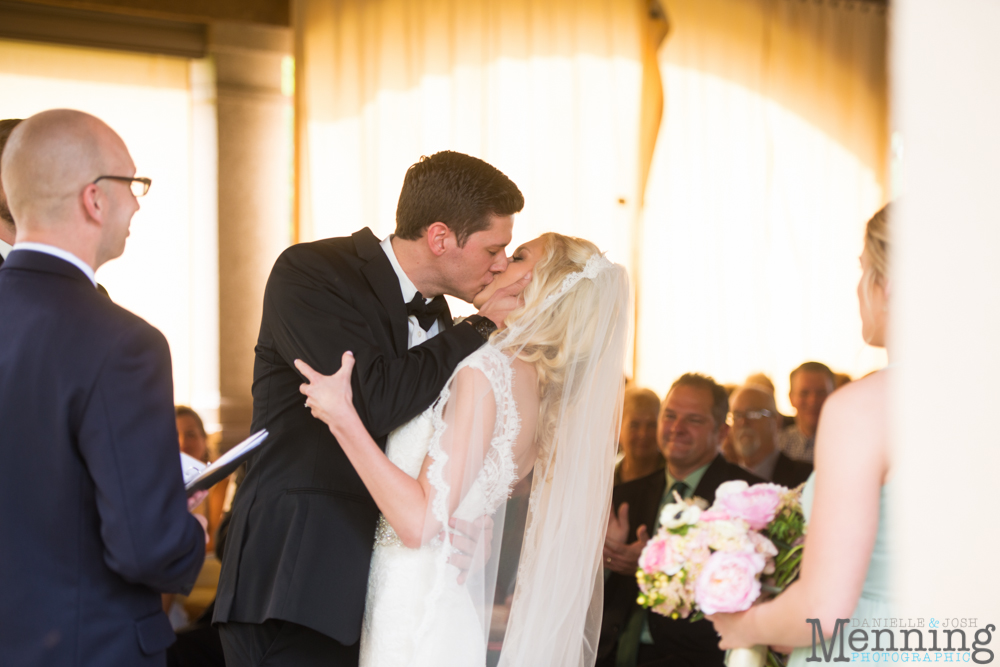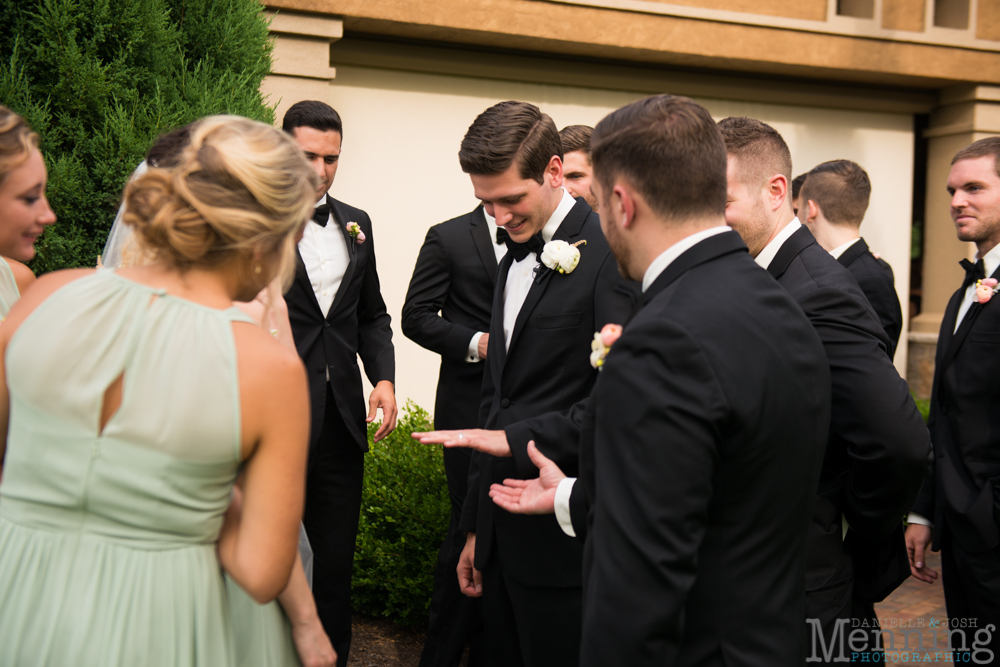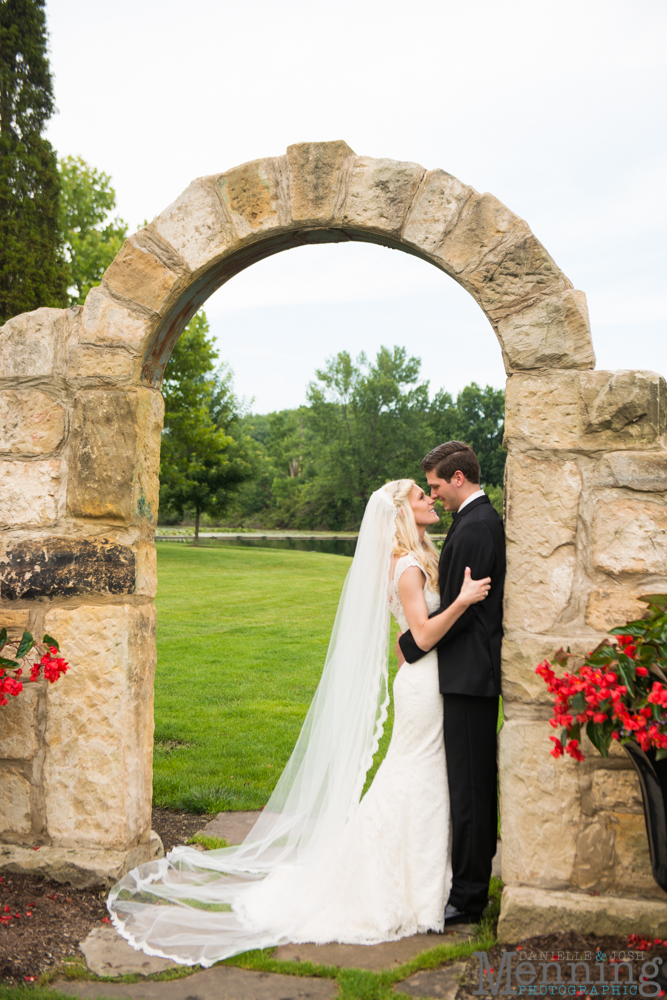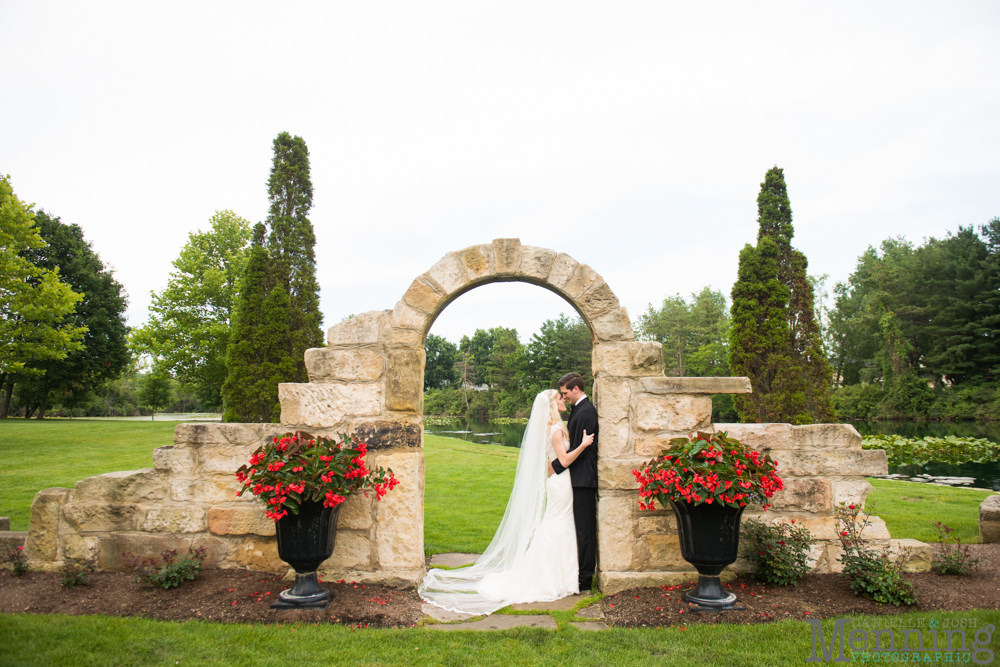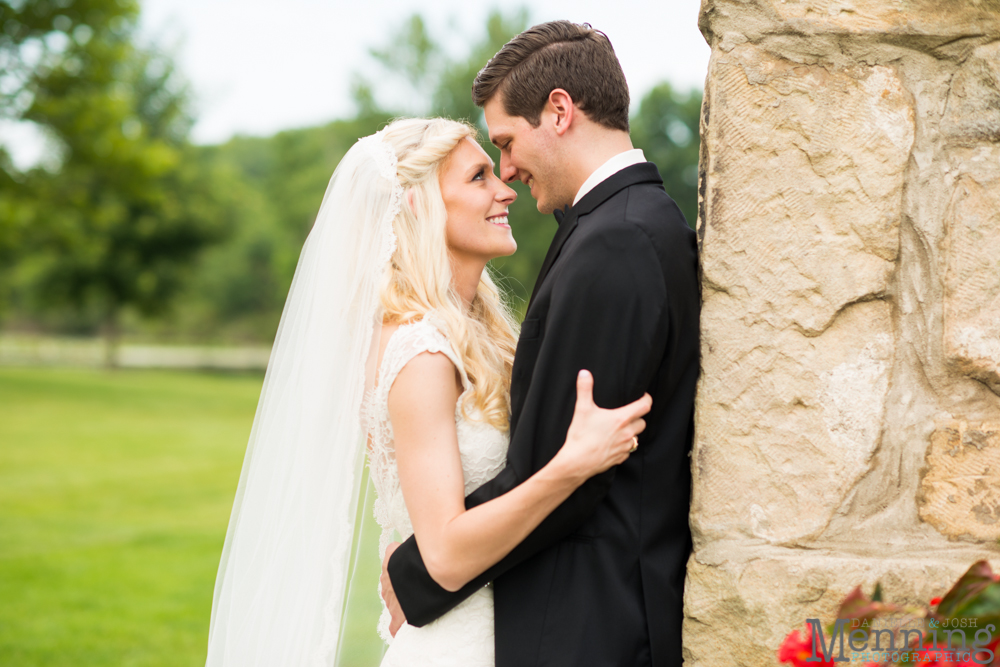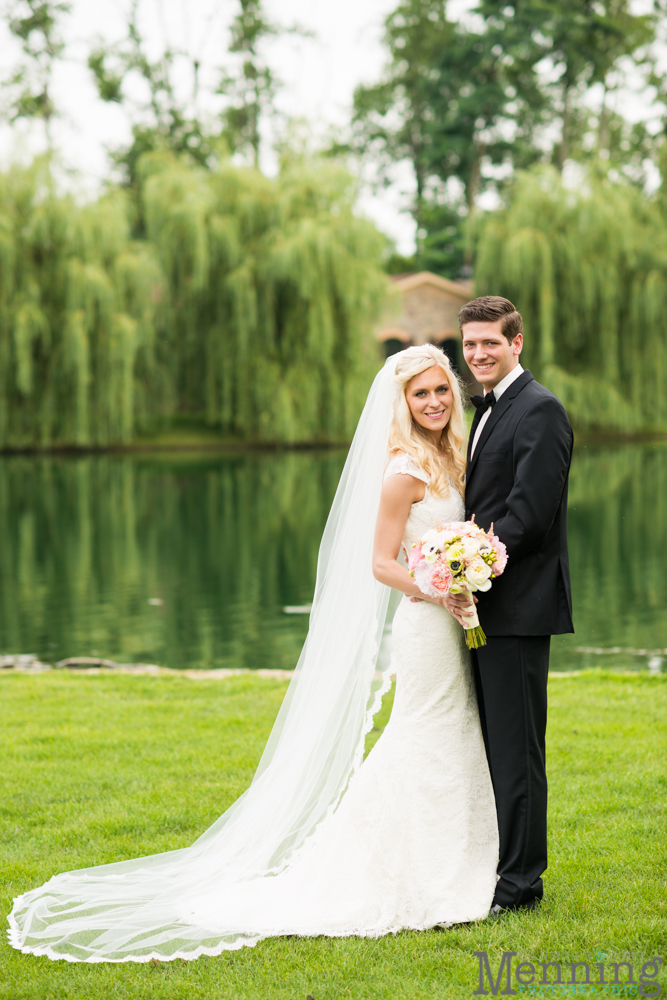 Everything about Kacie's wedding day fashion was on point. Gorgeous! Her gown is from Catan's Fashions in Strongsville.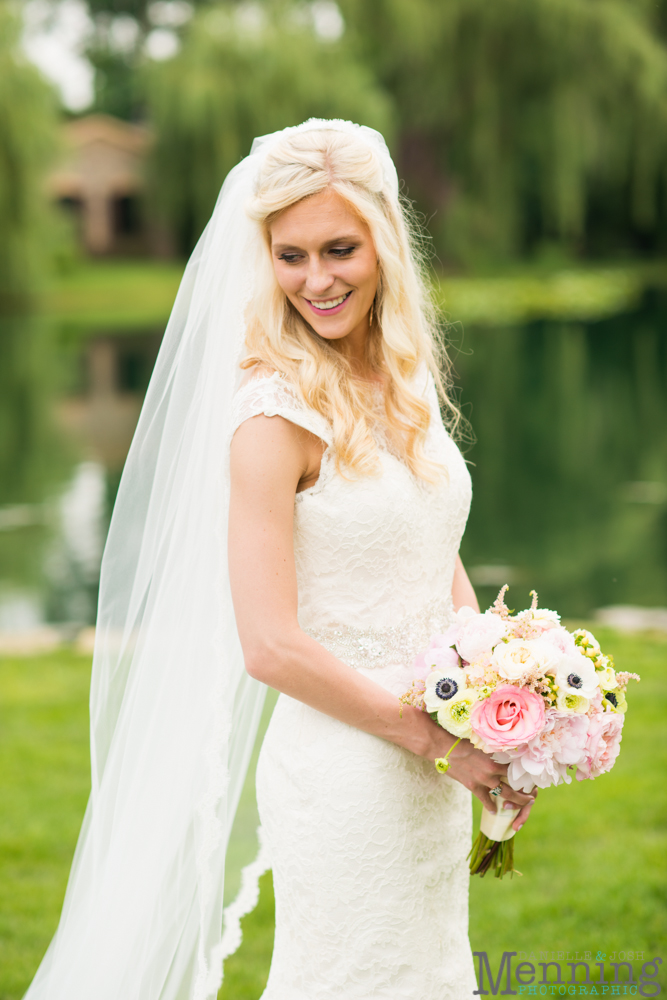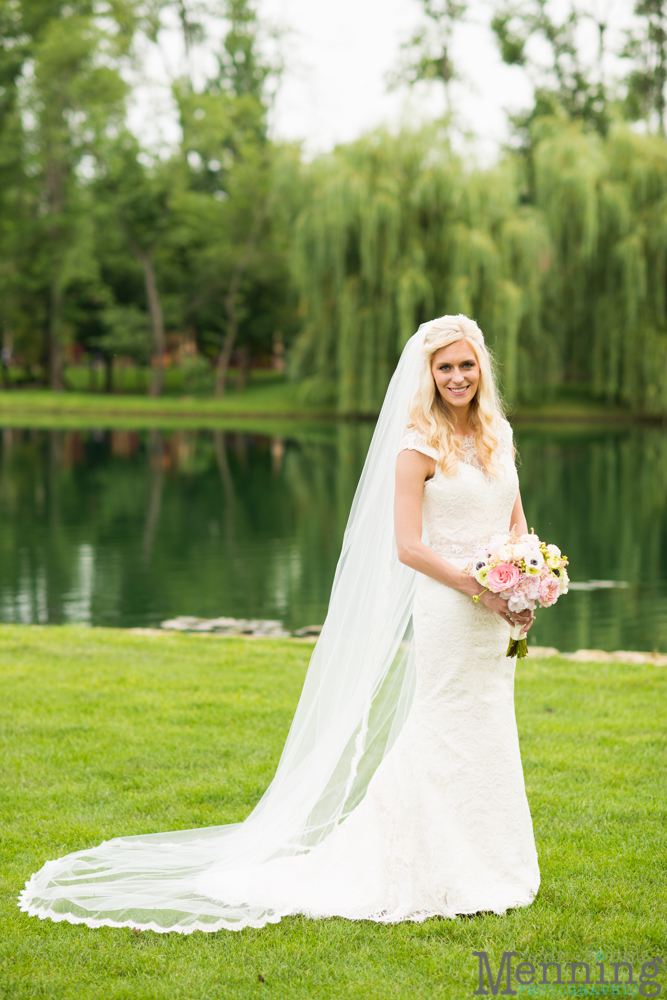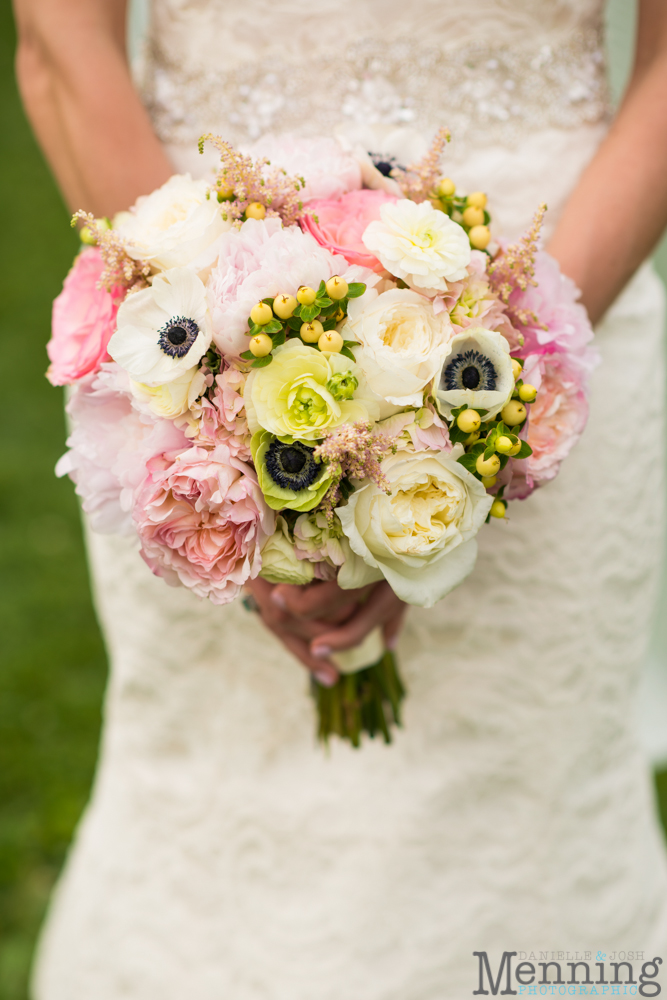 Dillon was also looking quite excellent.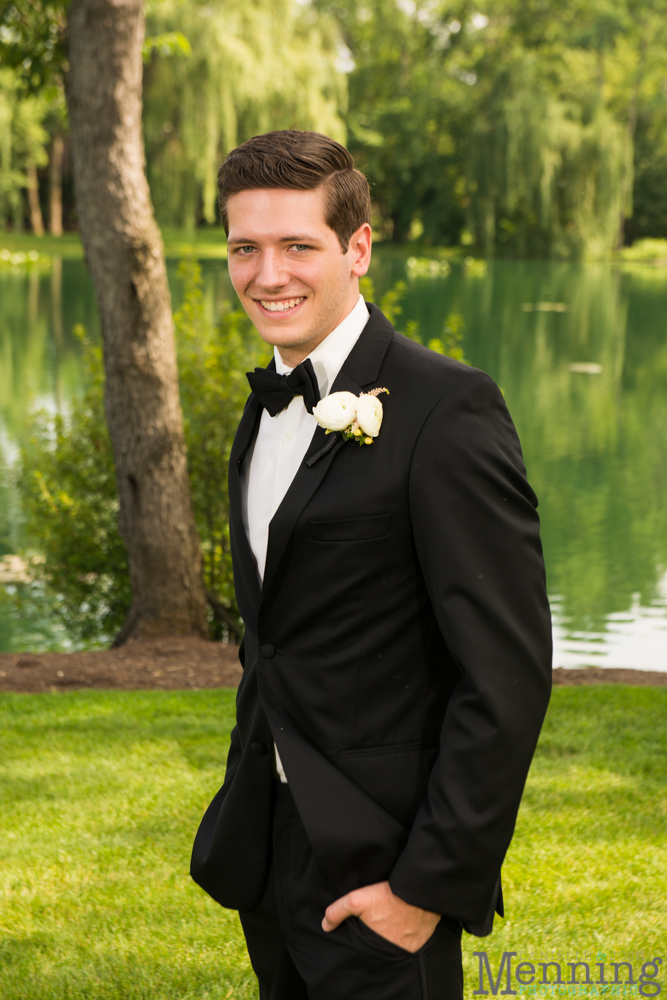 And as a pair. . . they're breathtaking.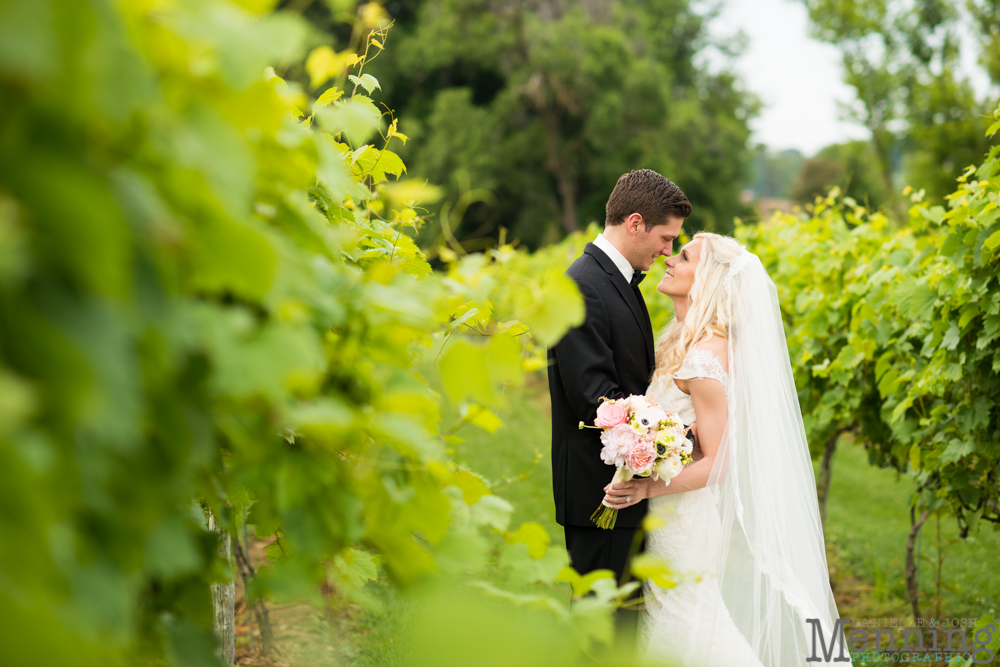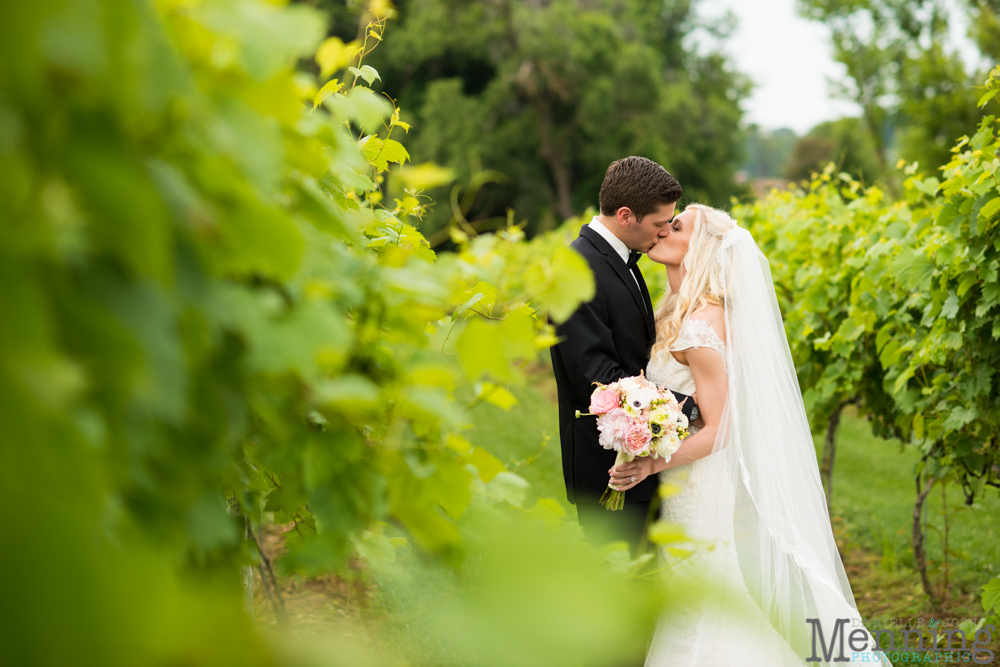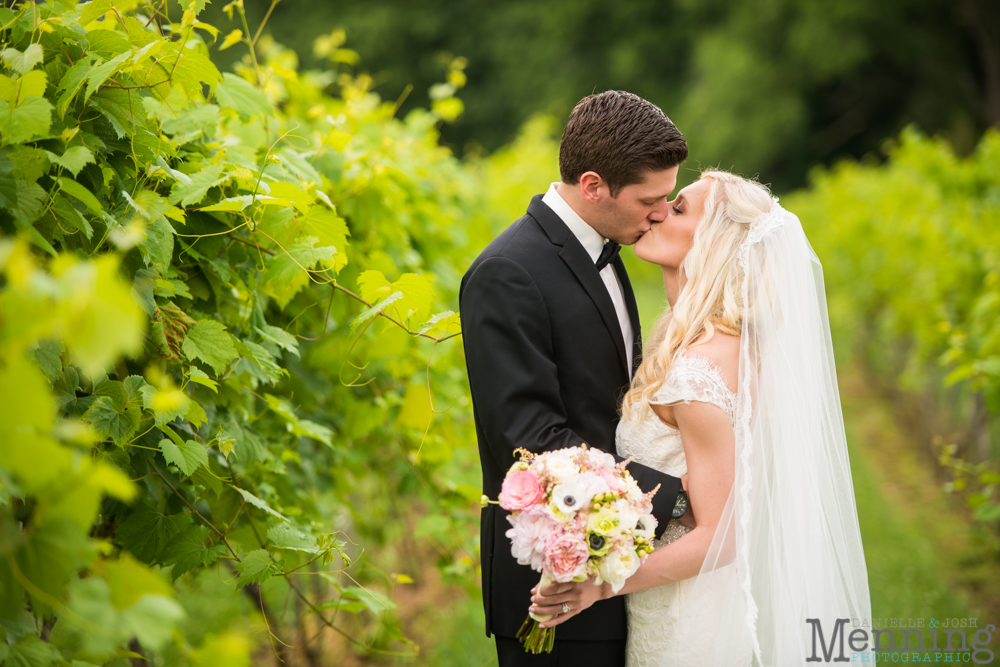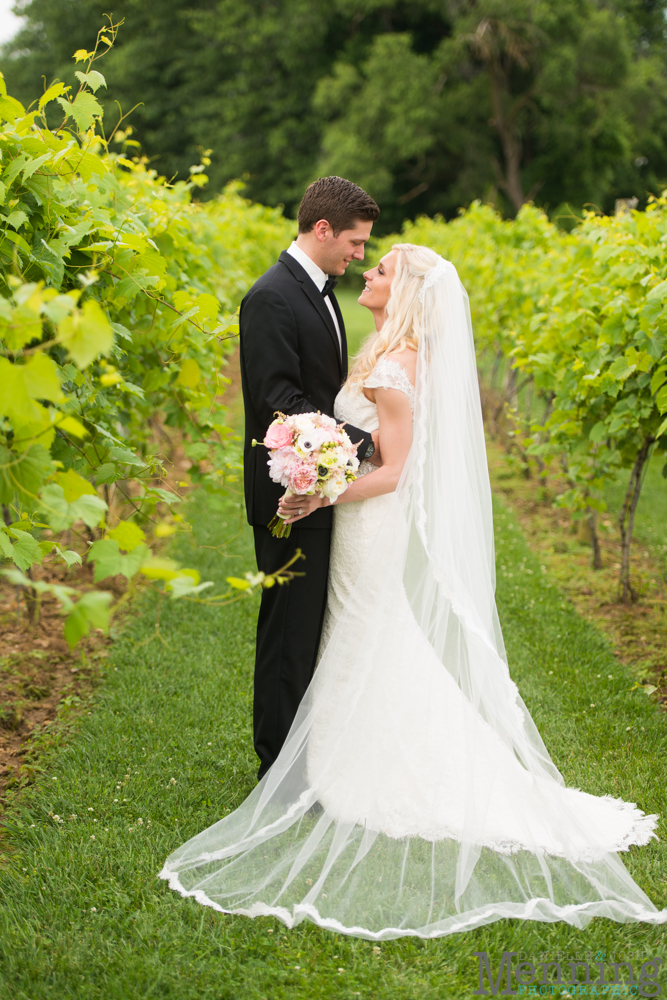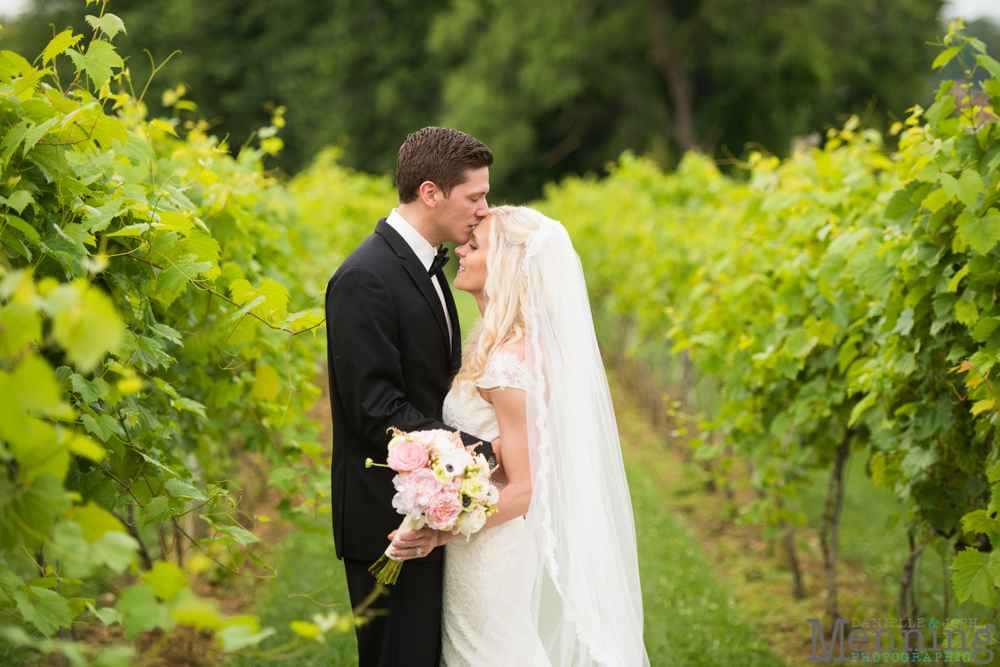 They ordered a big wood print for their new home & we're so excited to see which image they choose for it! Any of these will be so great as a unique work of art on a piece of maple to decorate their home.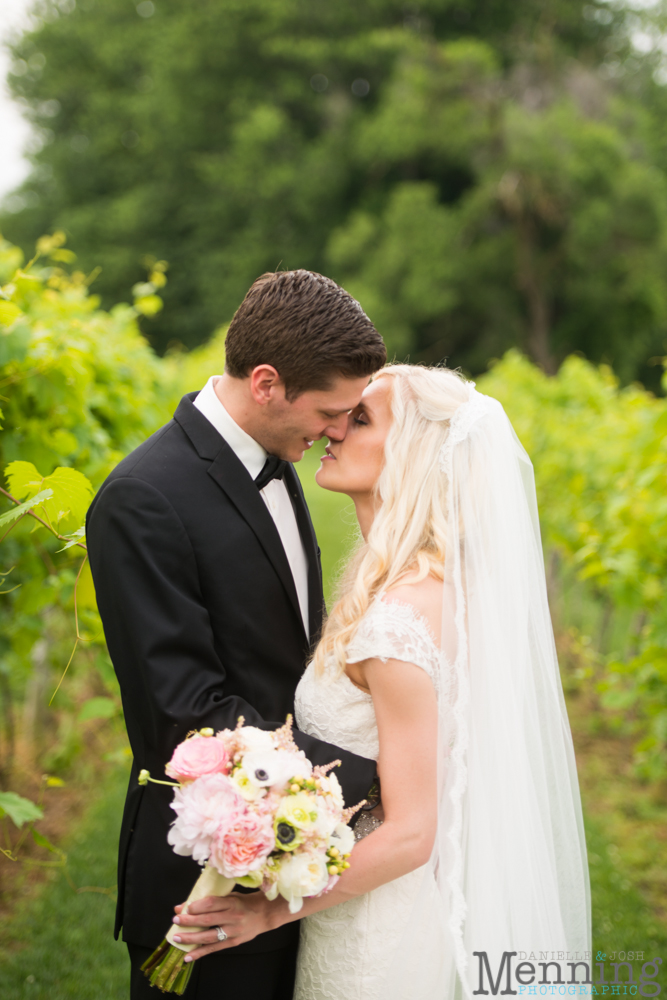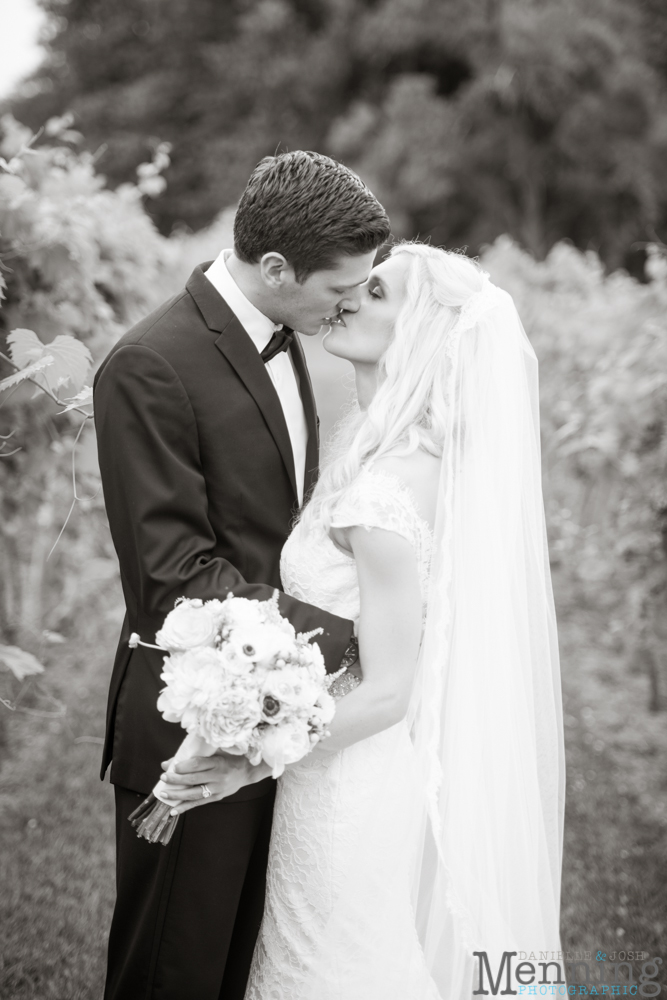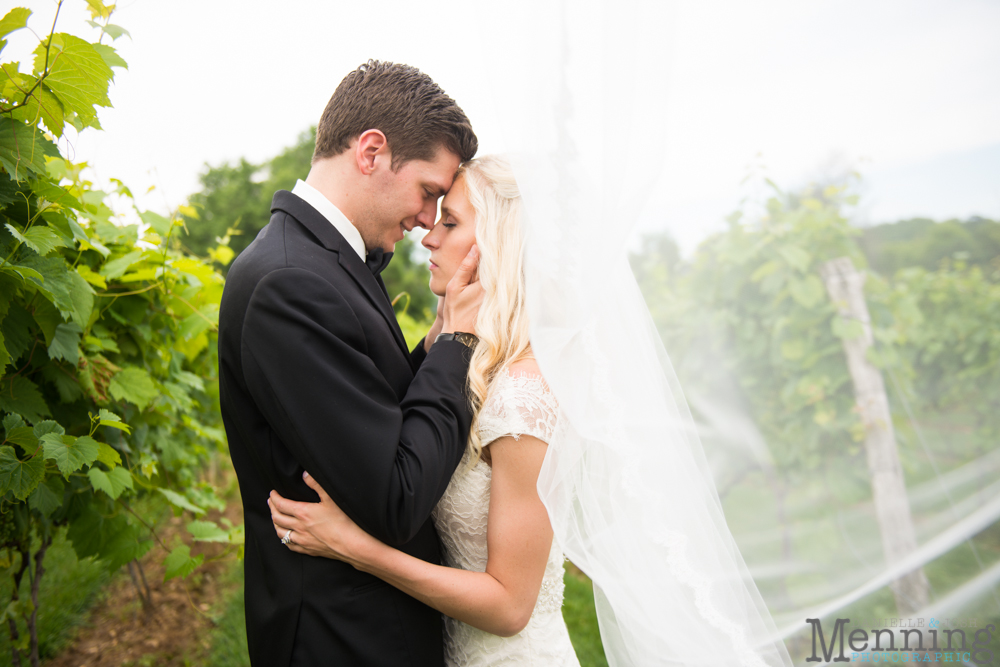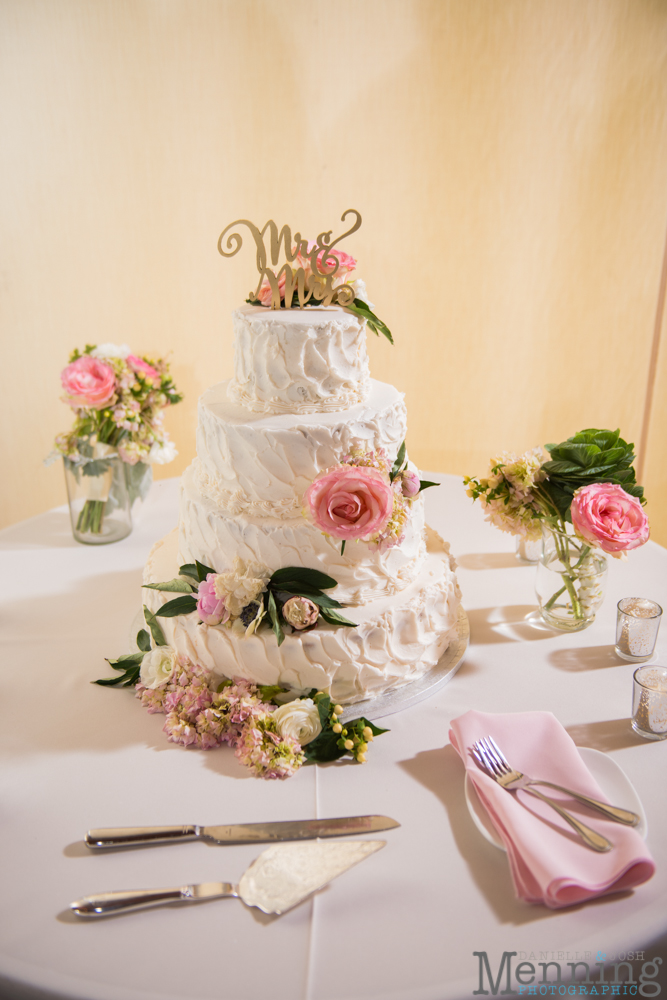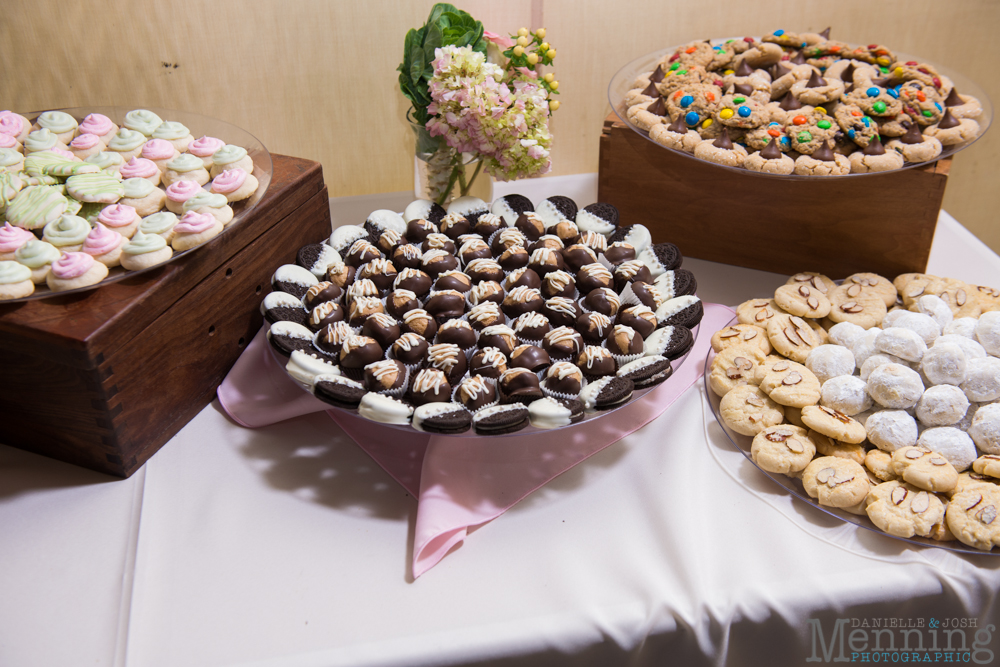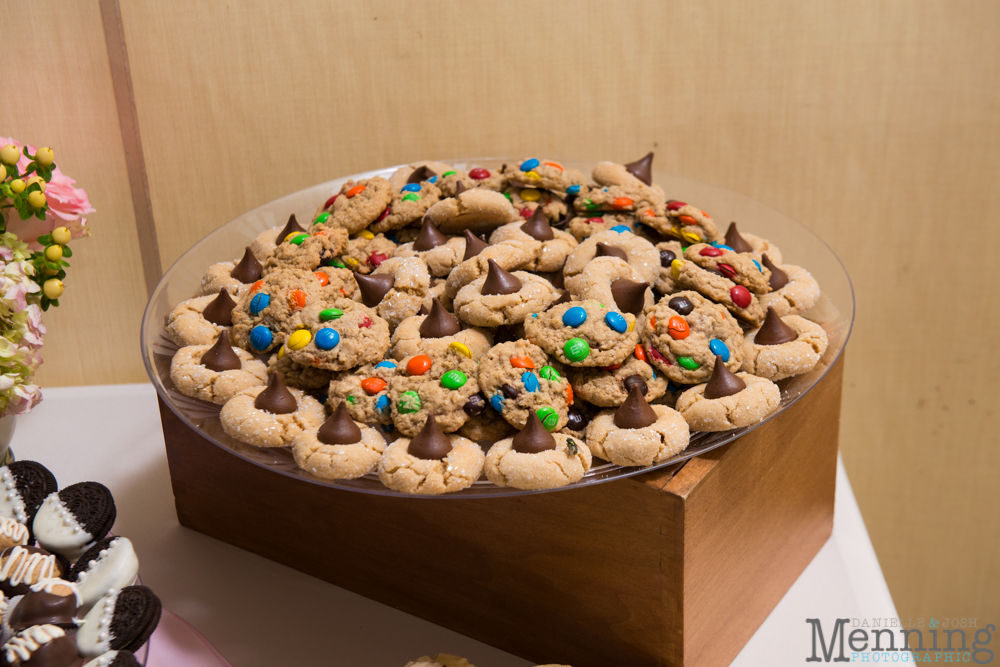 While the guests enjoyed cocktail hour, the staff at Gervasi was busy switching the pavilion from ceremony ready to reception ready. They did such a great job, were quick, were efficient, were helpful, and were organized. They were like staging ninjas!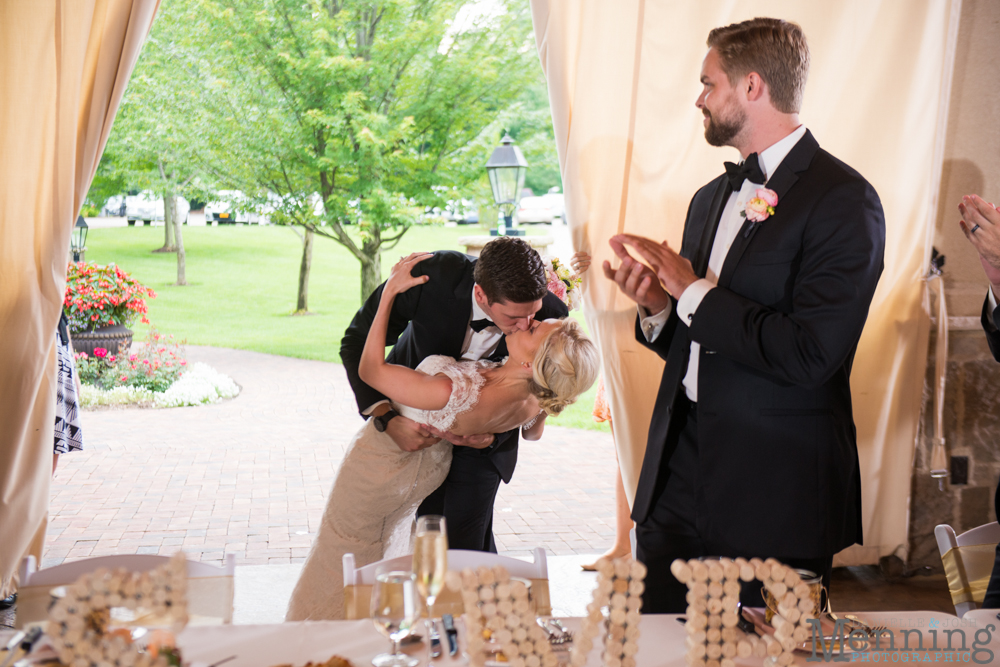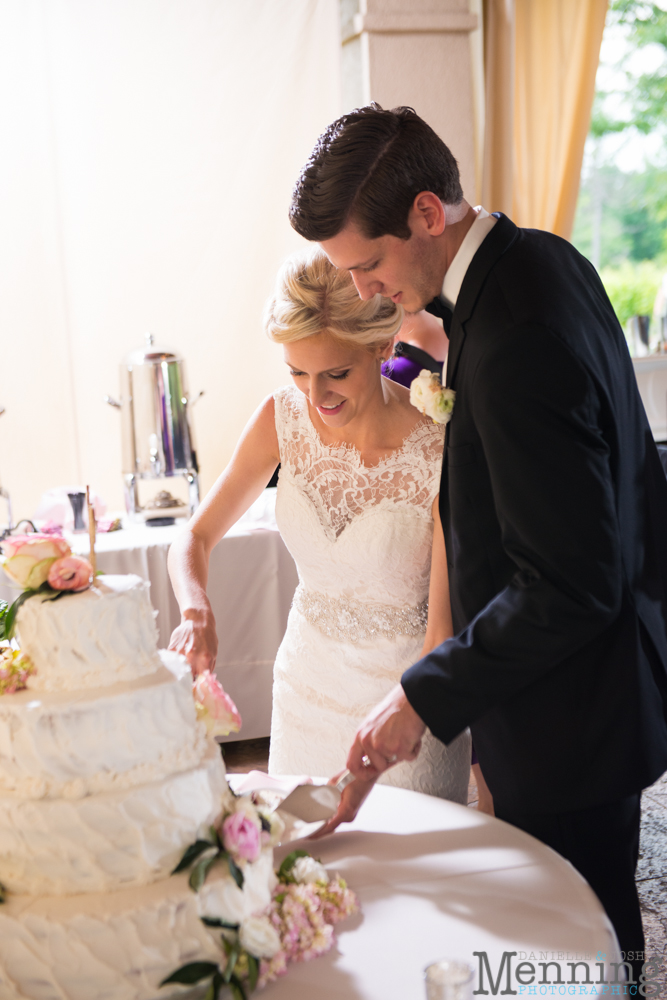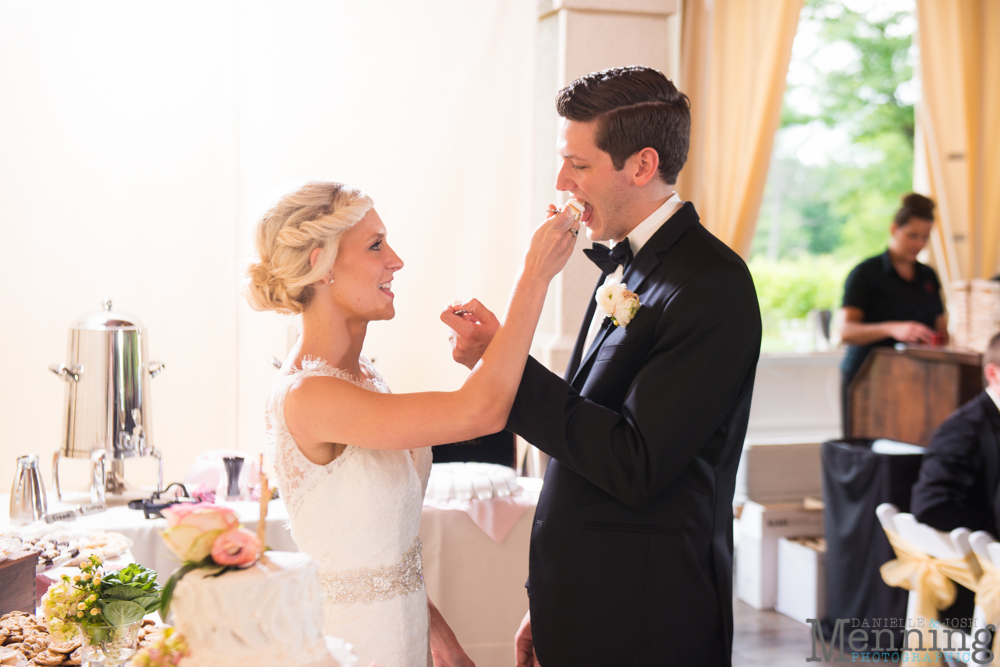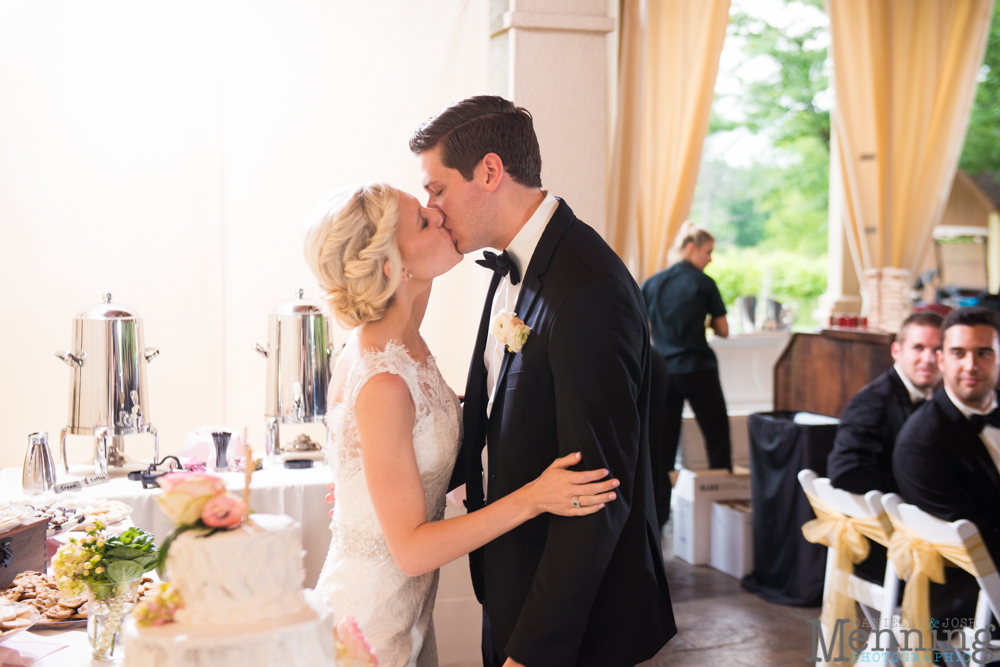 Kacie's sister Jamie did a fabulous job with her toast.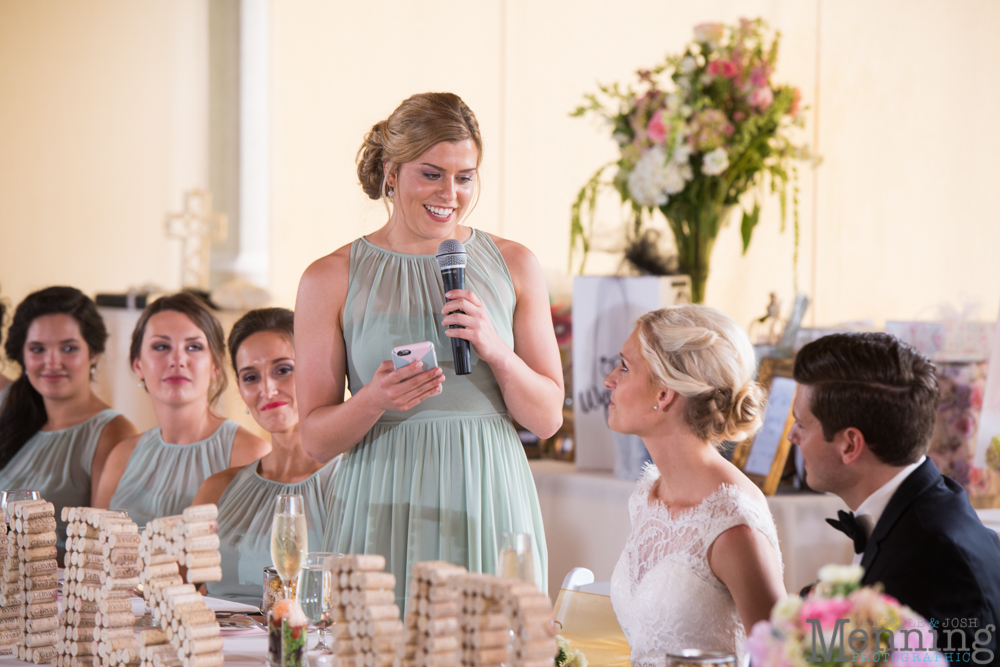 As did Dillon's friend.
And here's one shot from Kacie's dad's aforementioned speech.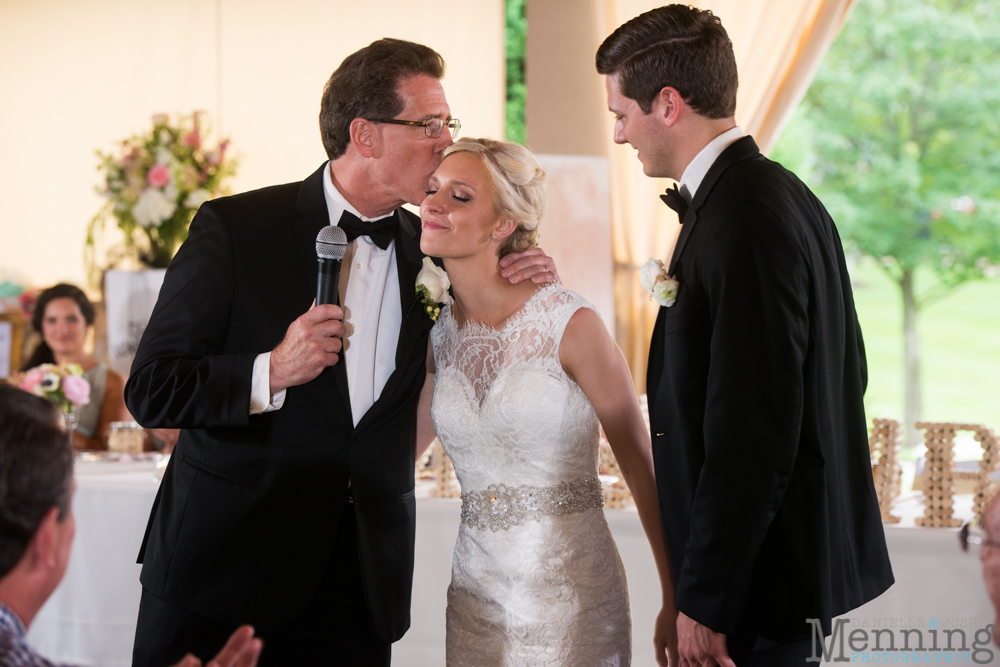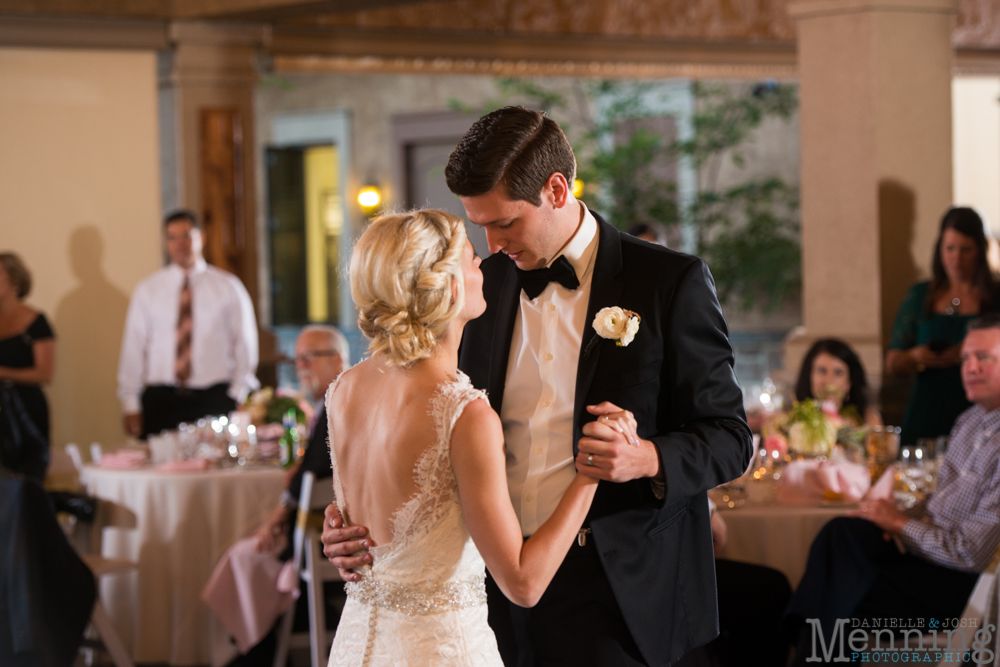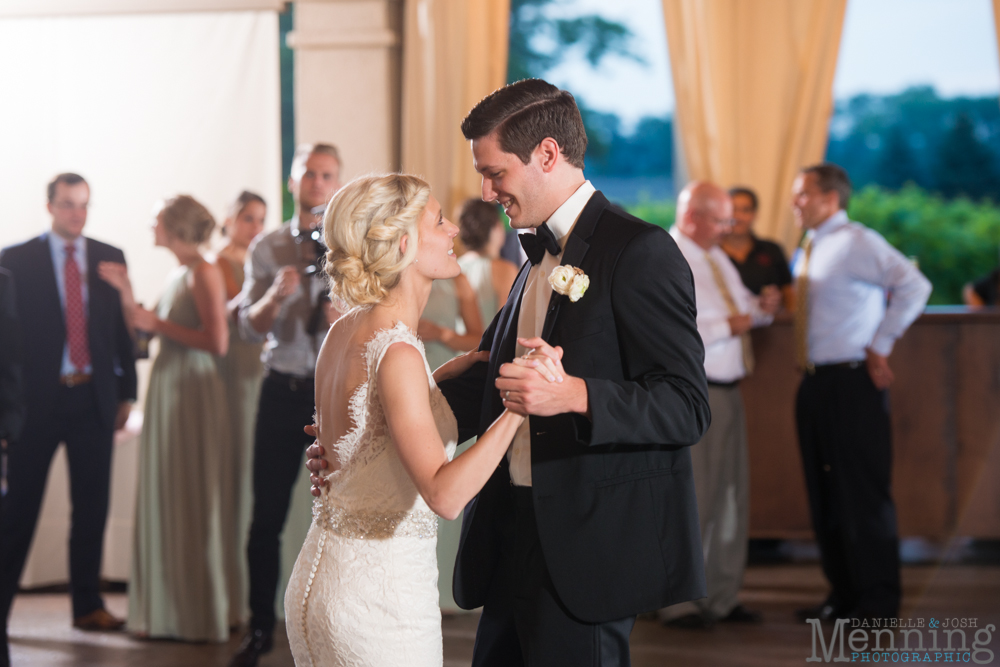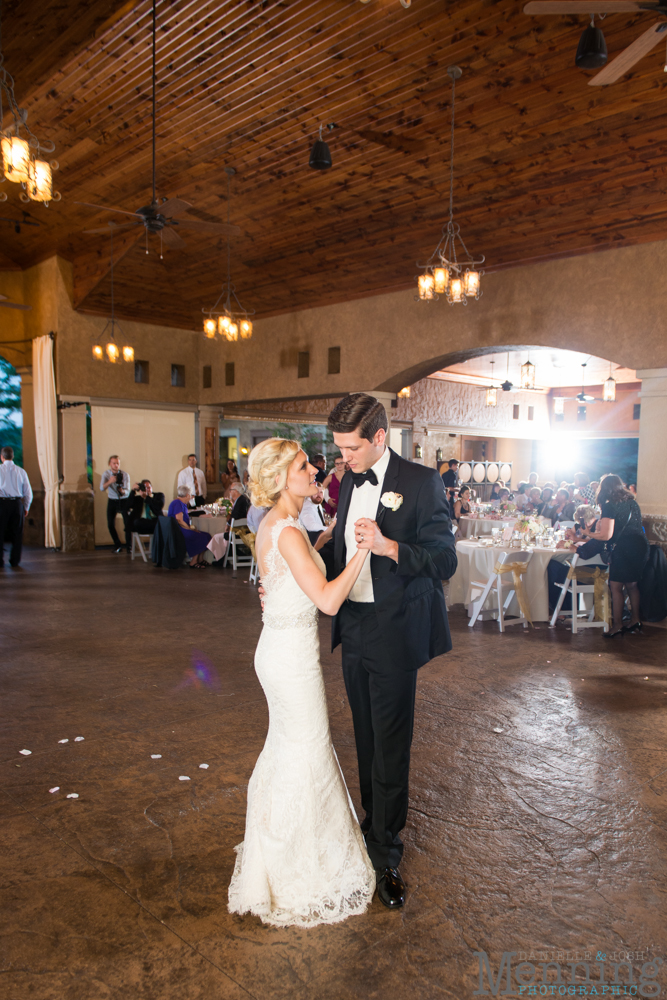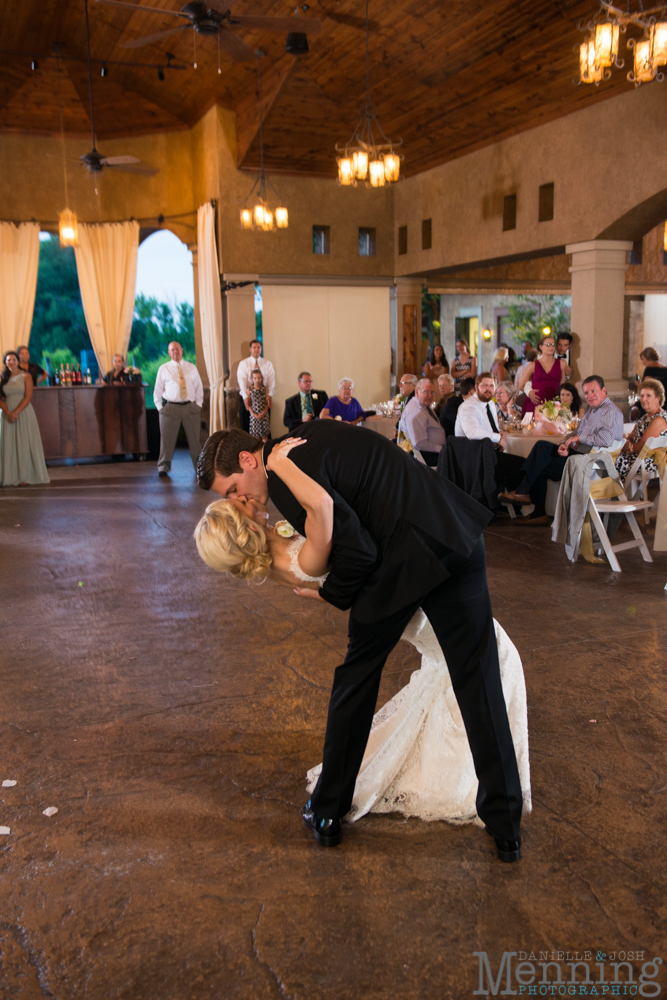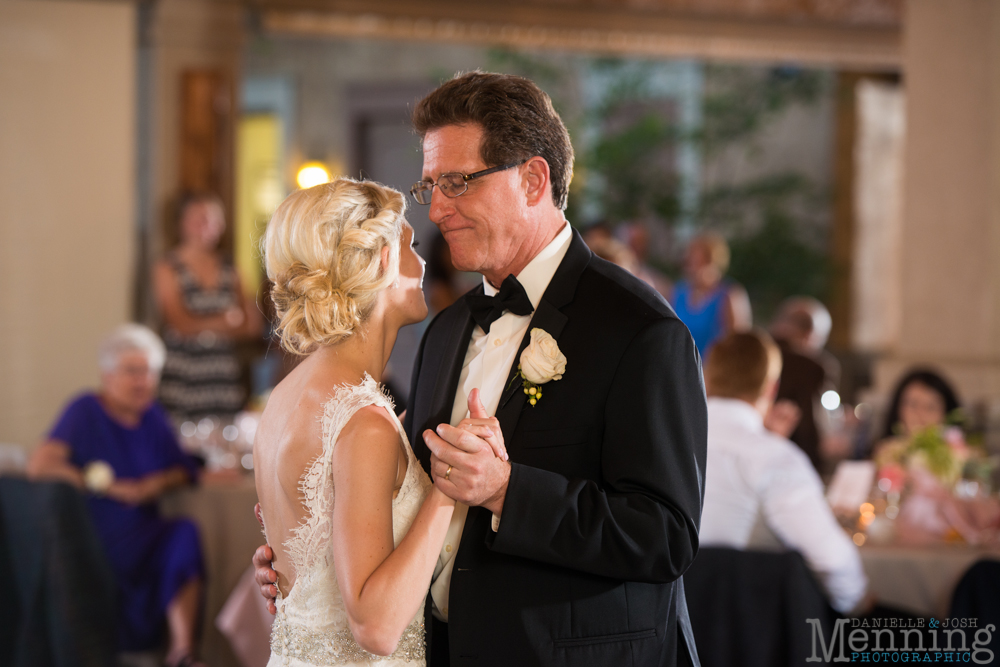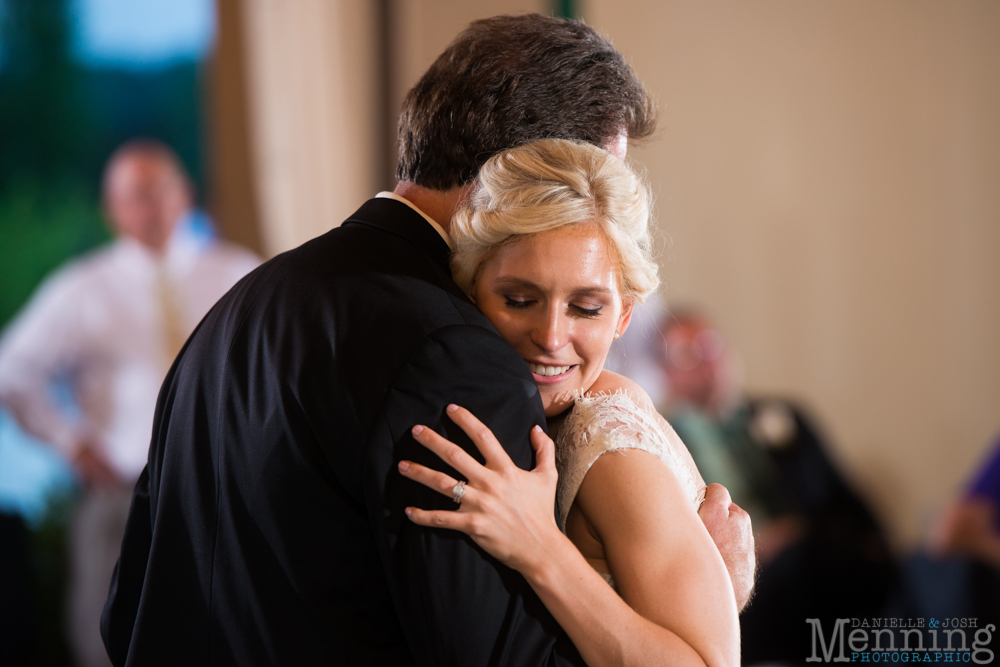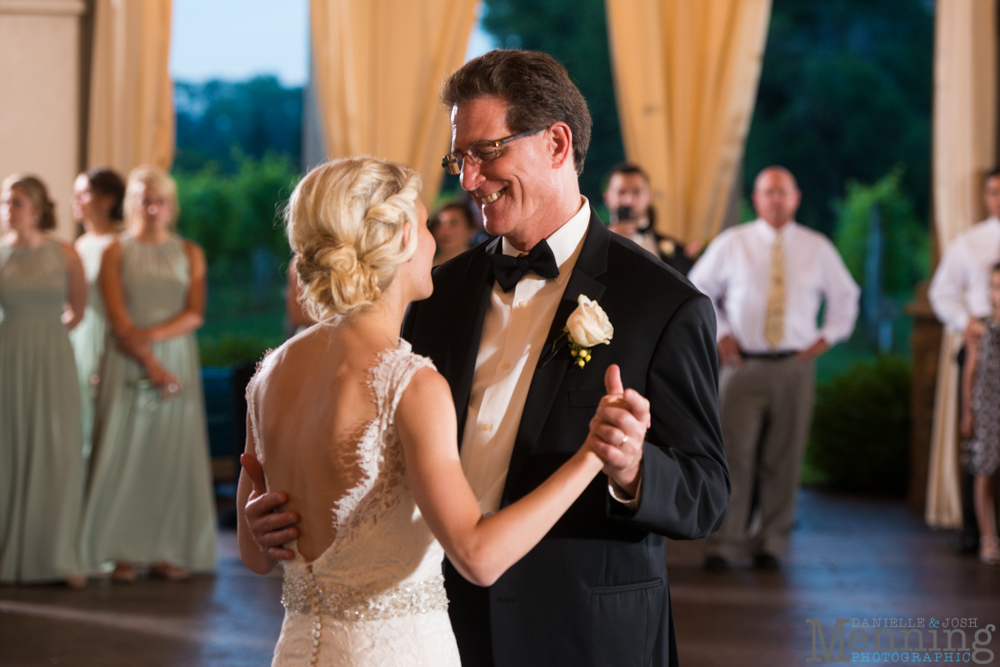 Another reason we loved this wedding day was that everyone was so kind & welcoming to us. Both Kacie's parents & Dillon's parents were such great people, which is why it's no surprise that Kacie & Dillon are, too.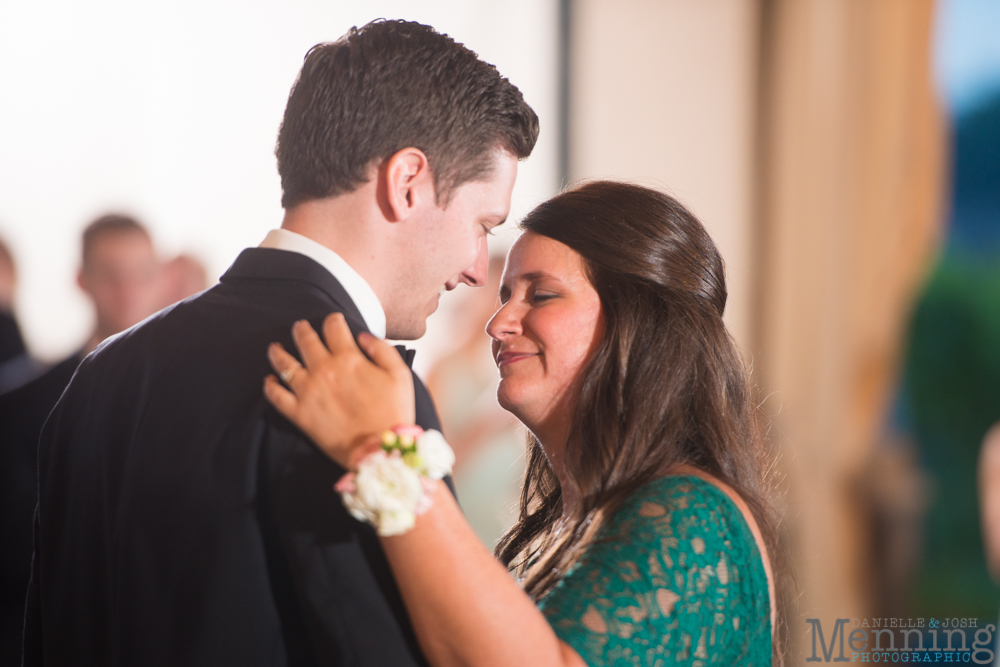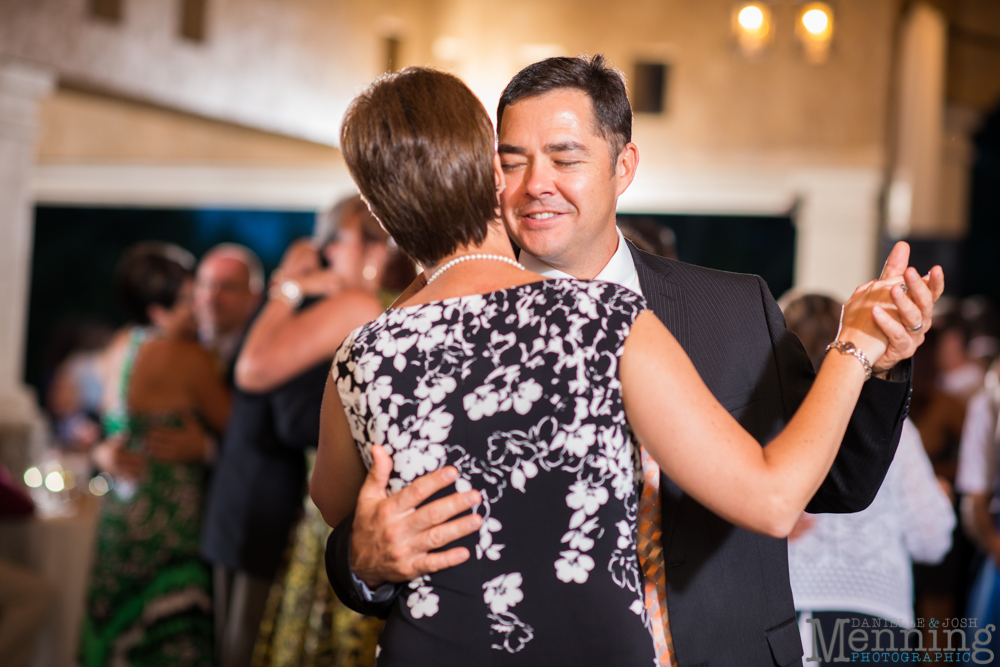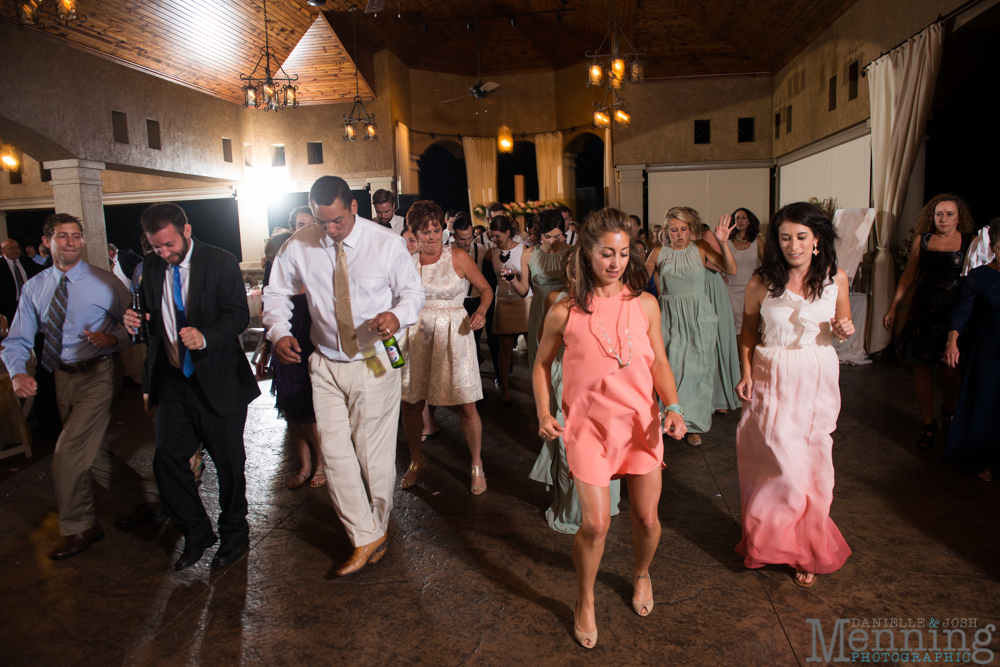 The reception was a blast. I'm pretty sure no one wanted to leave.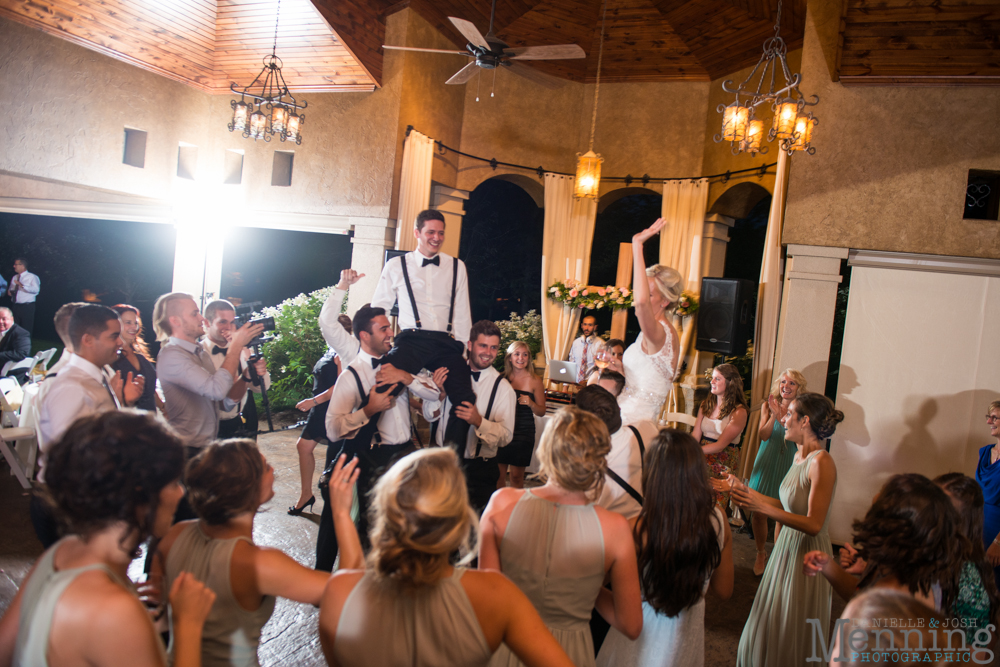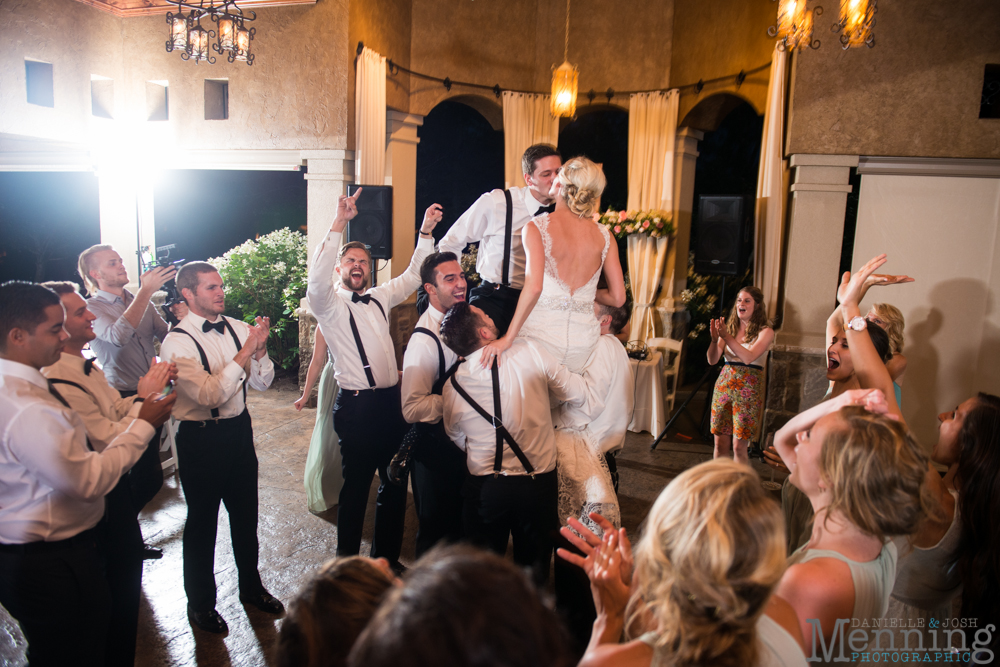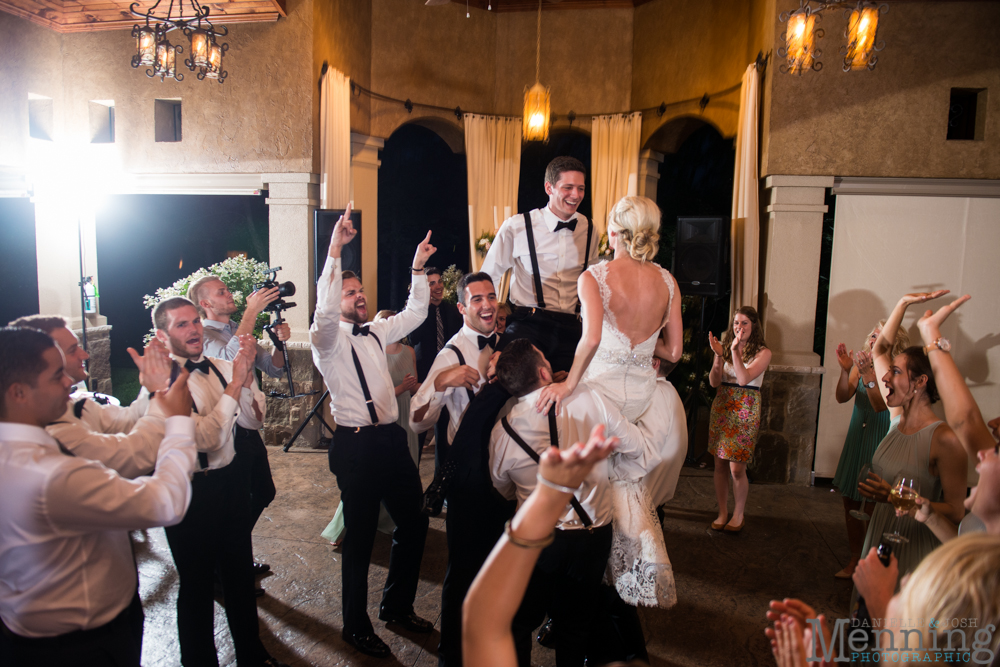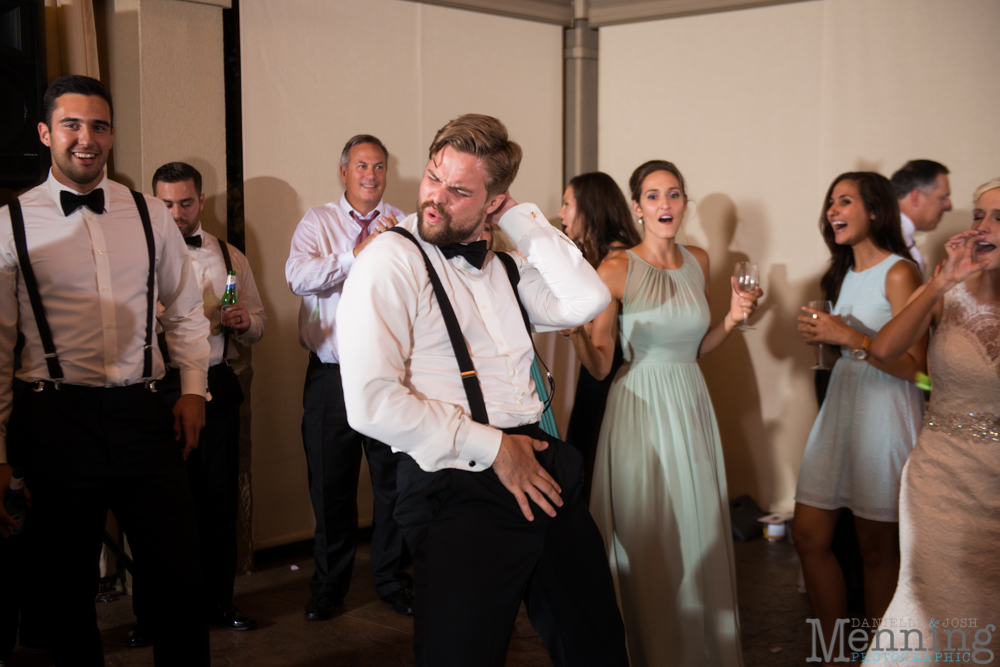 The guests had access to late night snacks.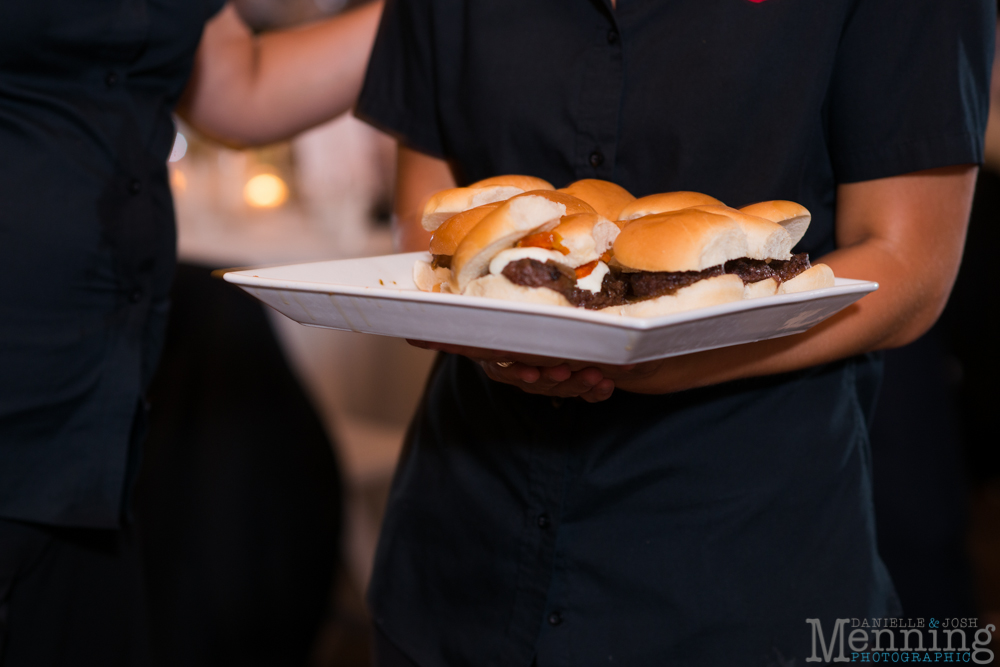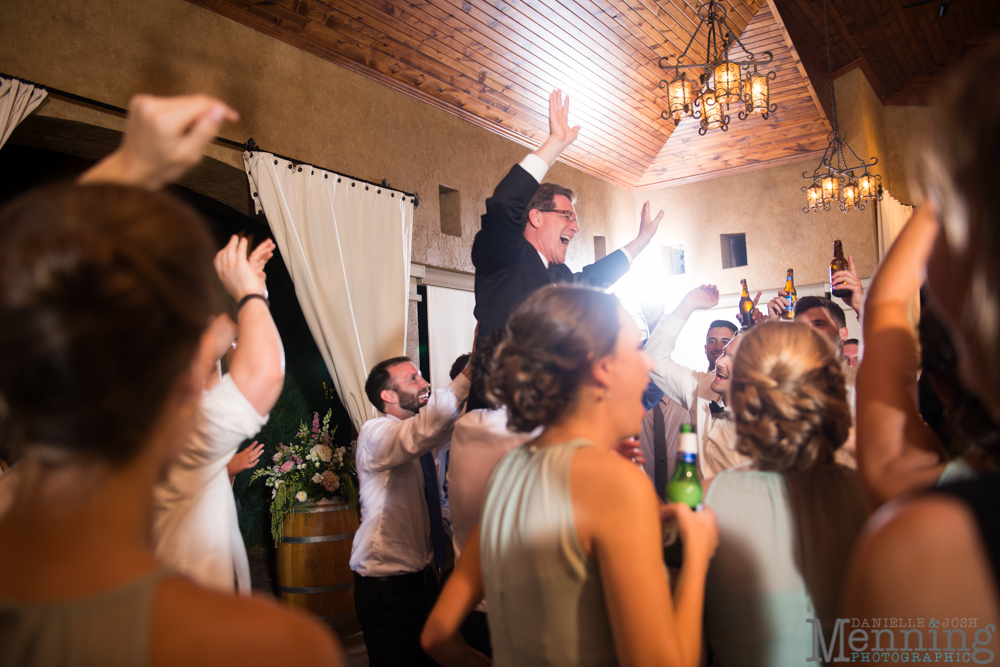 And the videographer (Ben of Right Hand Films)Â was a fun dude. He wanted us to grab a couple of shots of him flying his drone.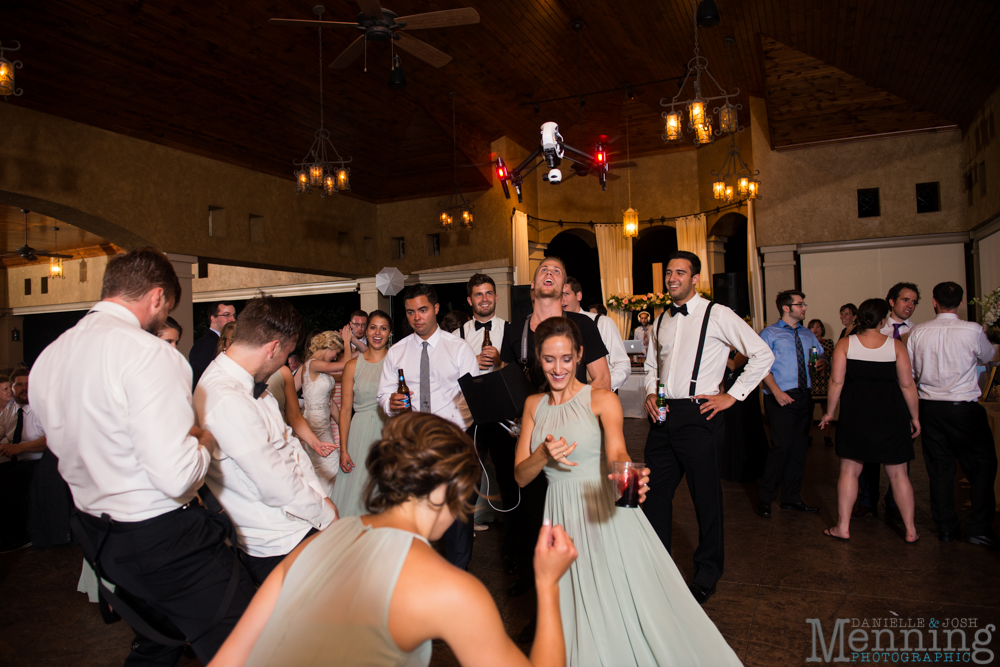 haha That drone was pretty sick.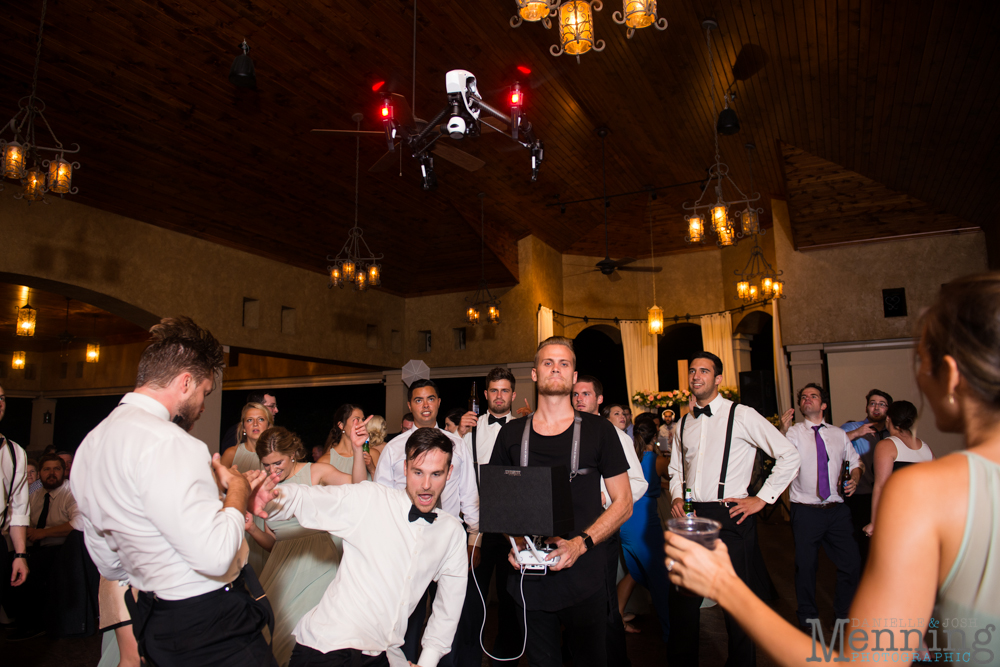 Yay sparklers!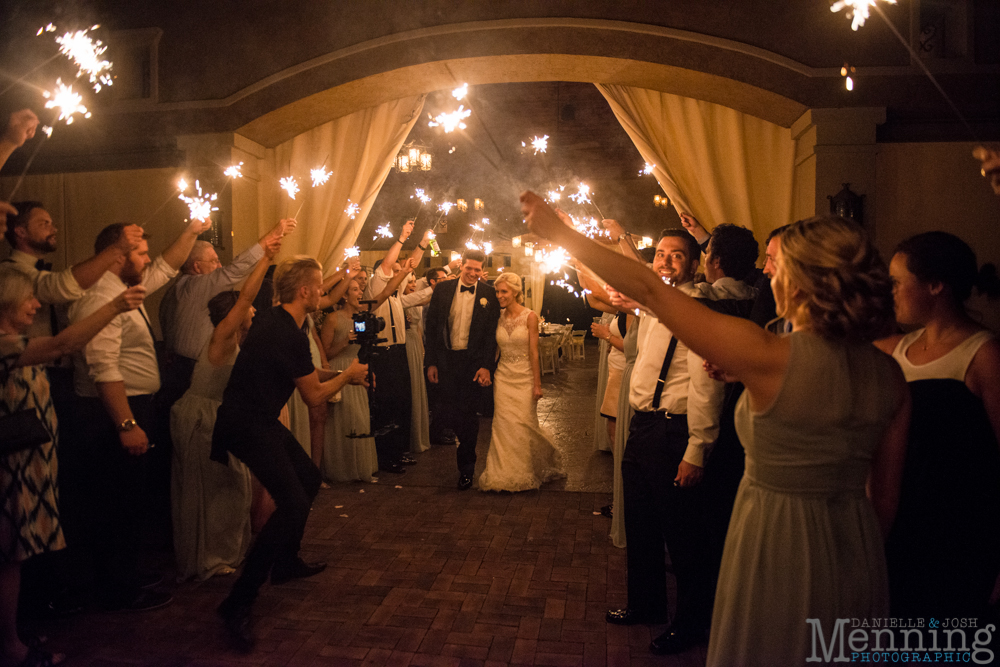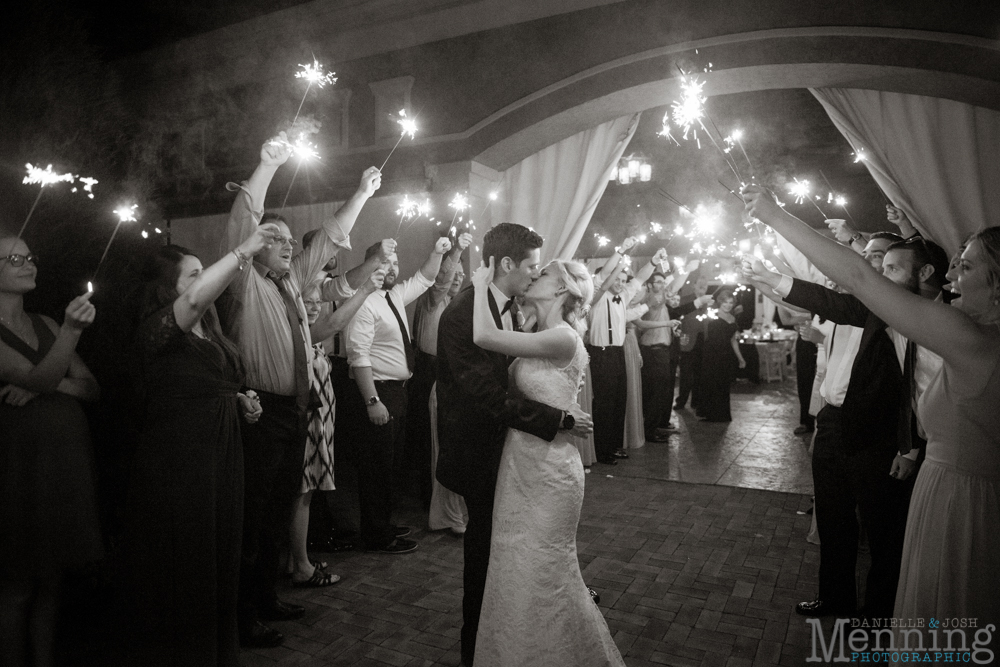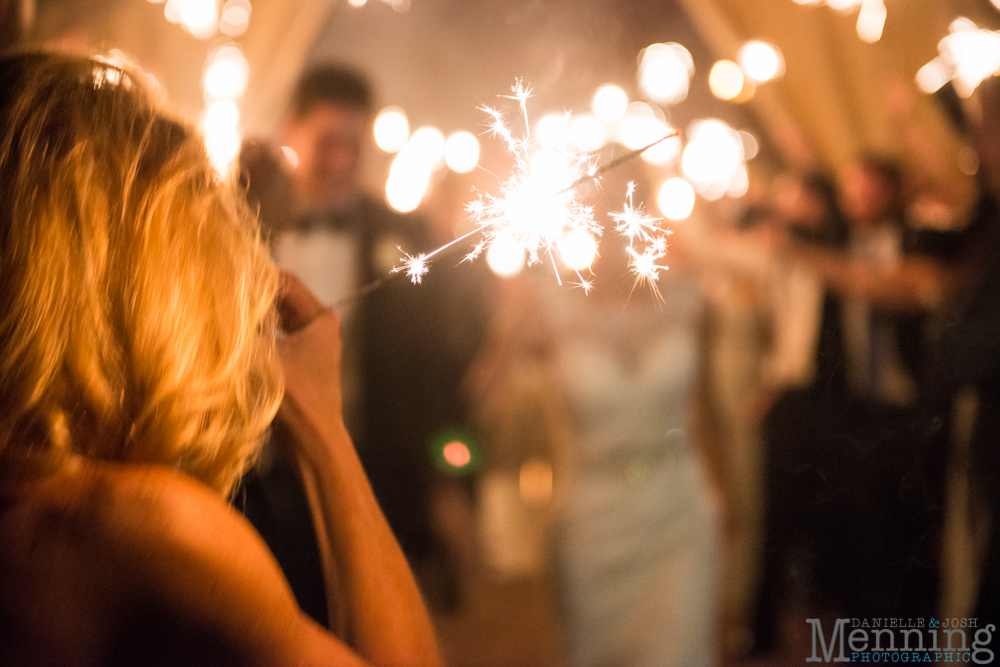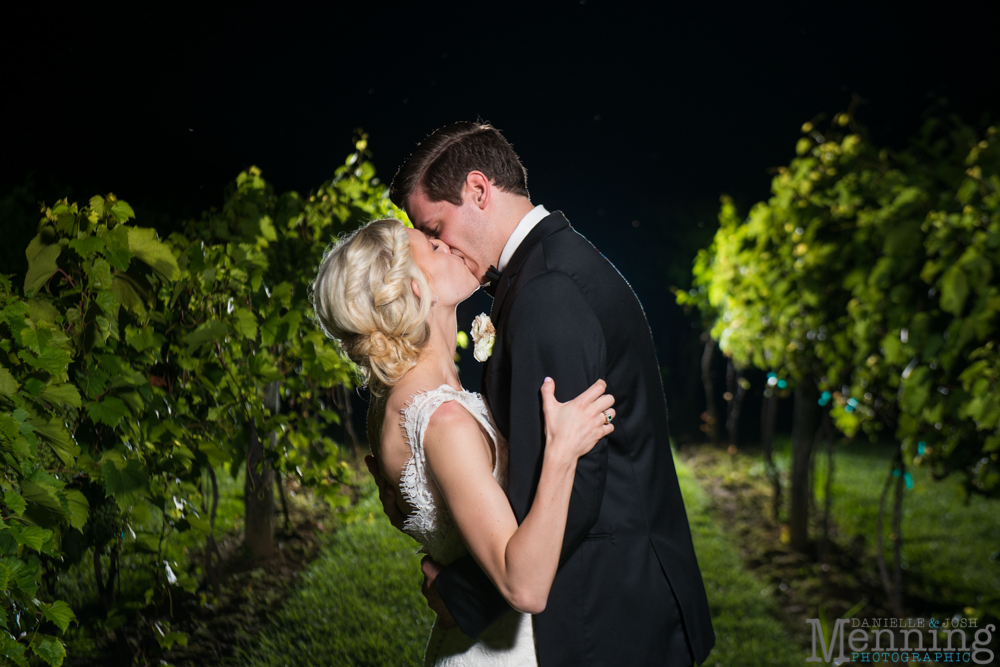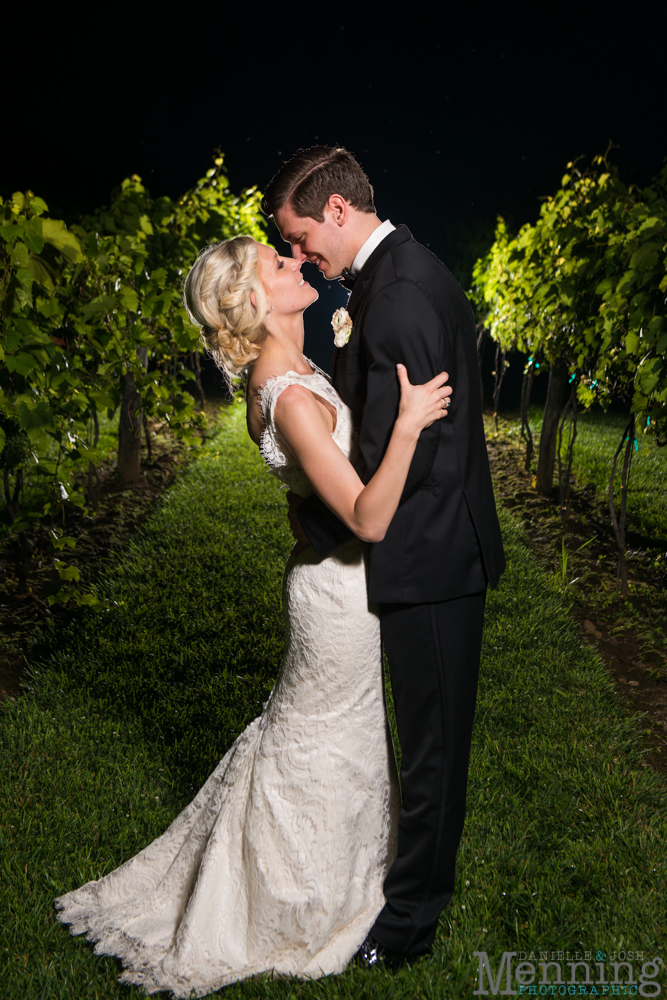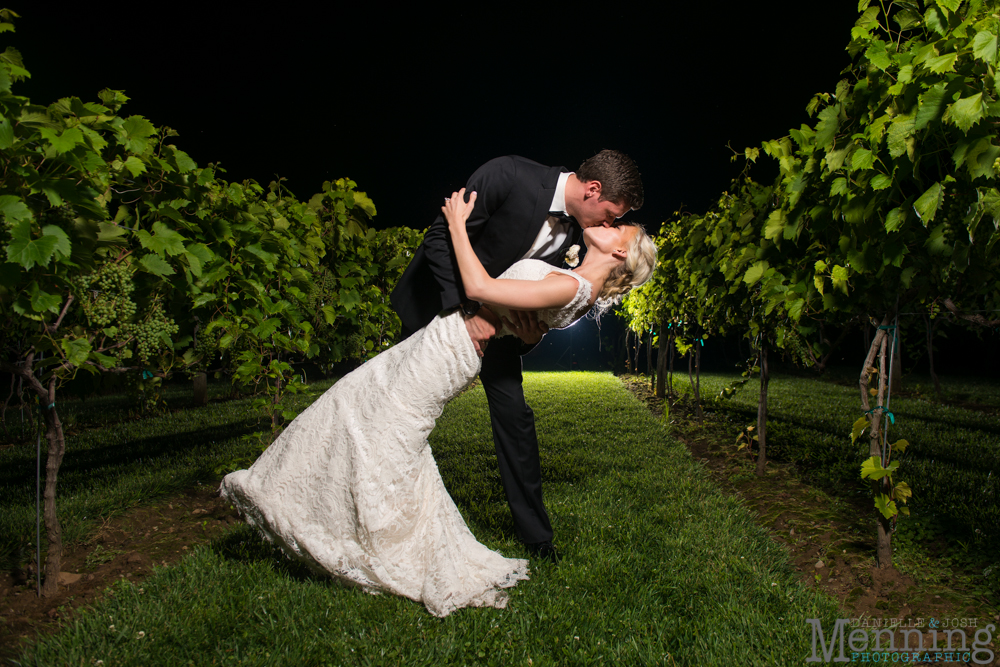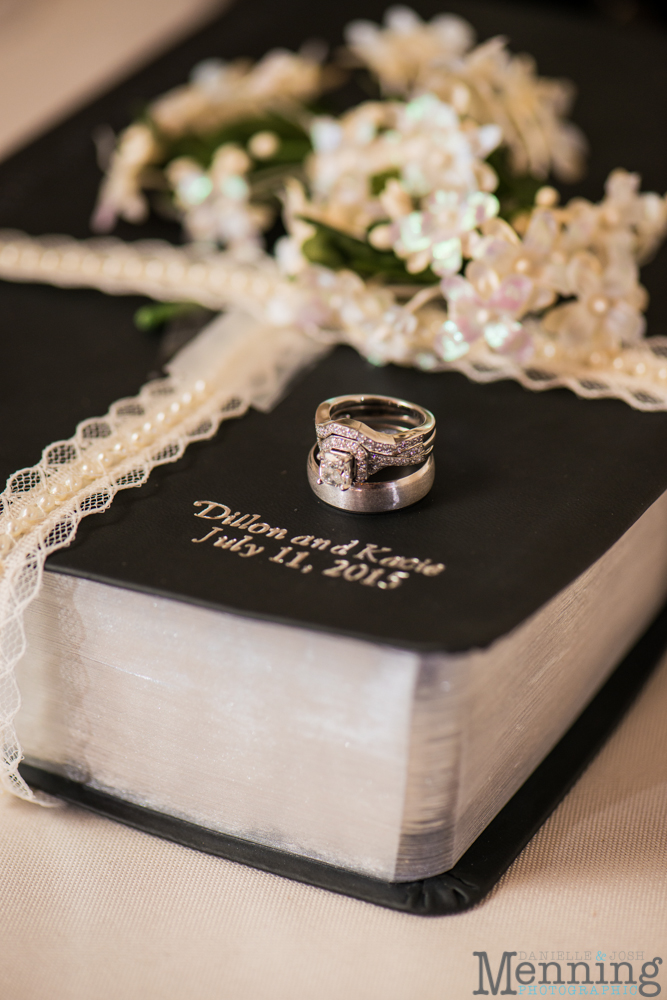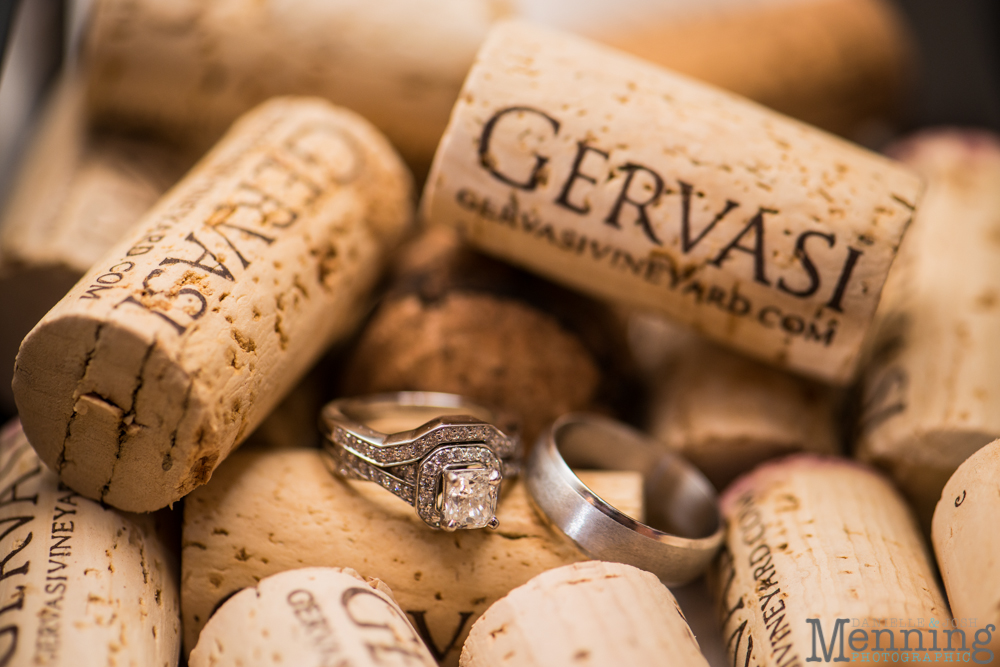 As you can tell, we had a fabulous time with Kacie & Dillon & wish them the very best throughout their life as a married couple! With God as the center of their marriage, they'll conquer anything together & we're confident that they'll do great things! A huge thank you to Kacie, Dillon, their families, their bridal party, and Gervasi for a great day, for making us feel welcome, and for being so much fun!
Instagram | Facebook | Twitter | Pinterest | Google +