When you're planning a wedding, there are so many decisions to make! You don't need anyone to tell you that the chocolate cake and buttercream frosting is where it's at for you. . . you have your trusty taste buds for that. But you may be torn between the more "traditional" way of seeing your fiance for the first time on your wedding day- as you walk down the aisle- and a different way of doing things- seeing each other before the ceremony in a more intimate setting known as a first look. We're sure you have lots of questions and maybe a lot of different people sharing their opinions with you. Wouldn't it be nice to hear from real brides who got married recently and whose opinions are unbiased? Well, we've got you covered on the blog today! A few Menning Photographic brides from 2014 and one from 2013 have graciously agreed to share their time & their experience with you so you can have some real brides' opinions & perspectives on those questions you've been wondering about for your own wedding!
Cassie & Byron's wedding and reception were at The Lake Club. Because of their first look, they were able to see each other in a relaxed, fun, and intimate way before their wedding ceremony. Additionally, they worked out their wedding day timeline so that they could have their bride & groom portrait session, their family formal photos, and their bridal party photos all completed before their wedding ceremony. The day was stress-free and fun. They and their family members got to hang out with the guests during cocktail hour instead of scrambling to get photos finished. Here's what Cassie had to say:
"We decided to do a first look for our wedding for multiple reasons.  We wanted a non-stress timeline for our special day.  We had both our ceremony and reception at the same venue which didn't leave much time in between to take pictures.  It was fall and we didn't have a lot of daylight to work with.  We wanted to be able to attend our cocktail hour and do a receiving line.  But, most importantly we wanted the intimate moment of seeing each other to be special.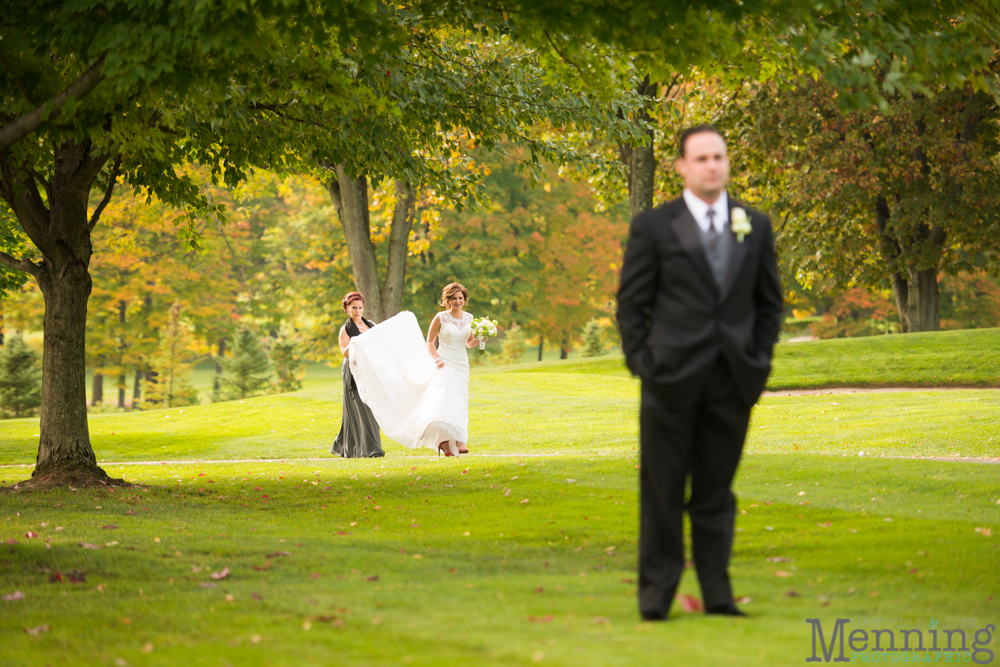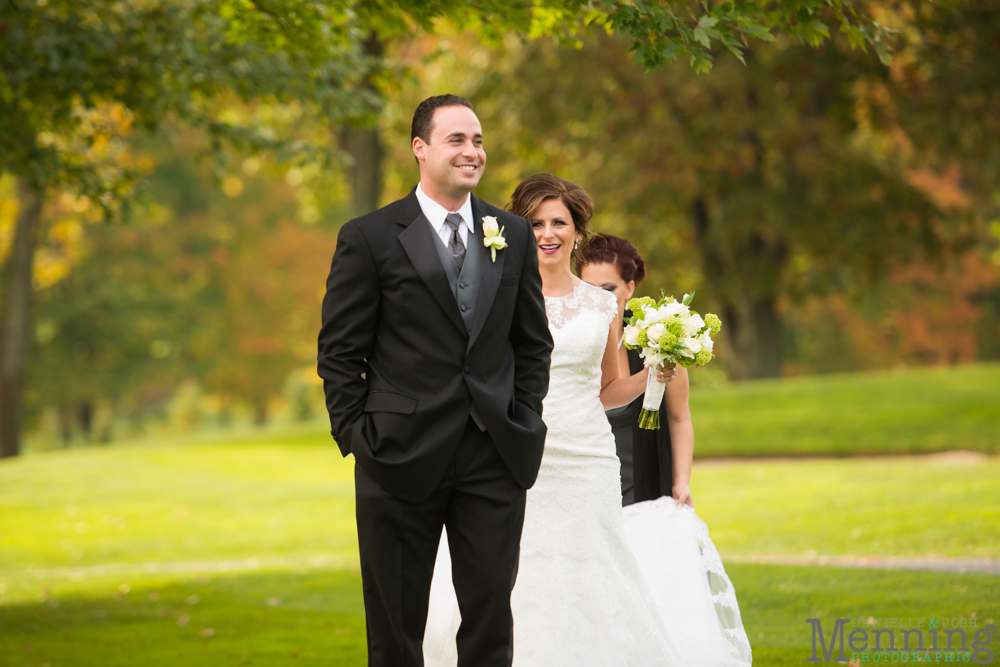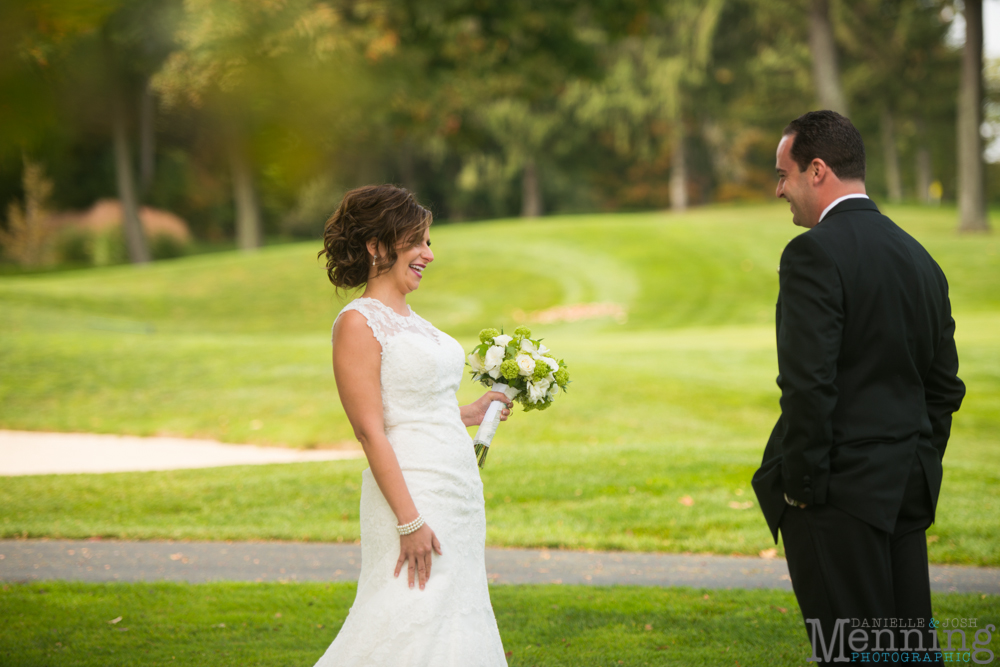 We both were nervous and excited.  When I walked up behind my soon to be husband my heart was skipping a beat and I had butterflies in my stomach!  Having the ability to see him before the ceremony gave us the time to admire each other and take the few moments together before the whirlwind of our wedding day happened!  That moment was extremely special to us.  It was  one of the only moments where it was just us!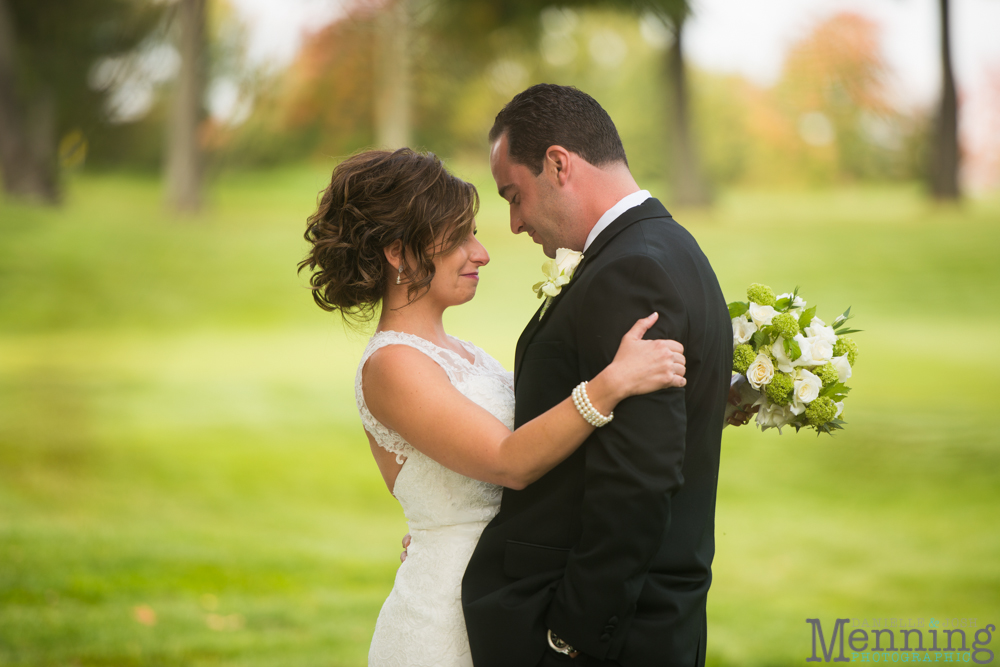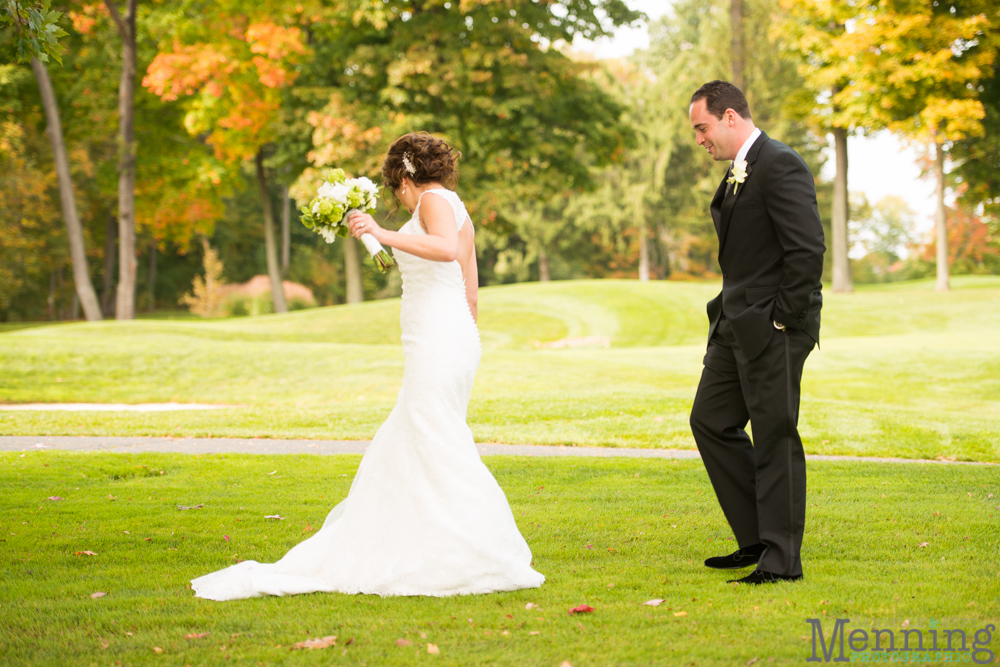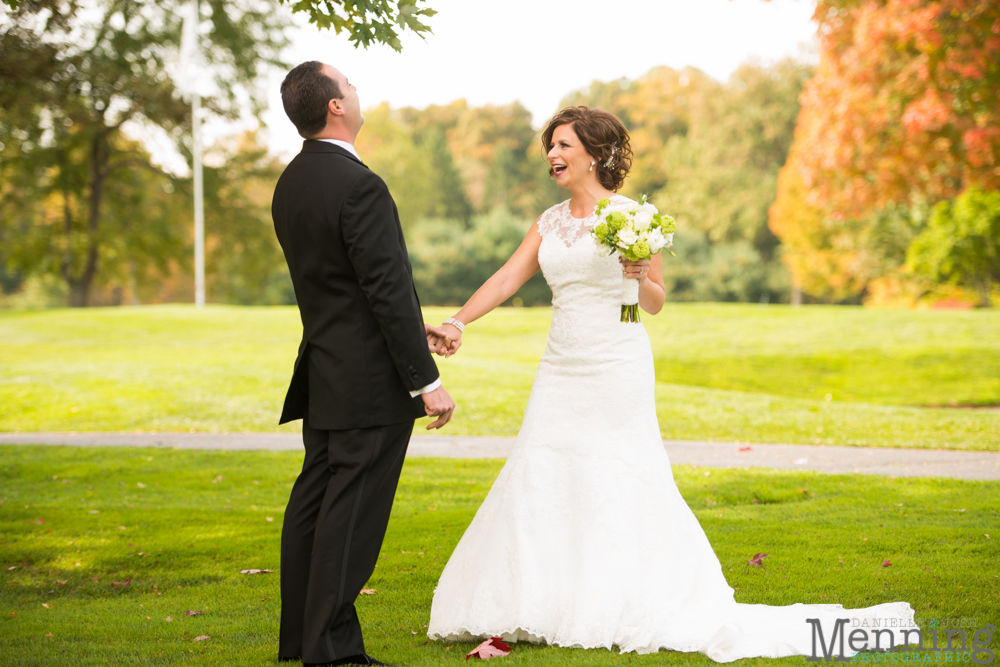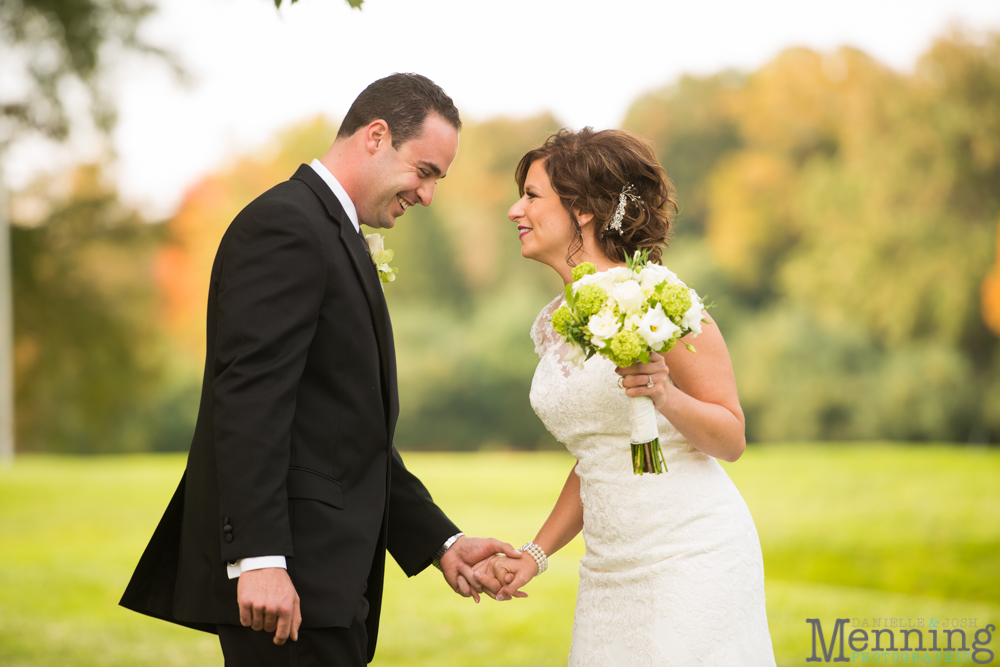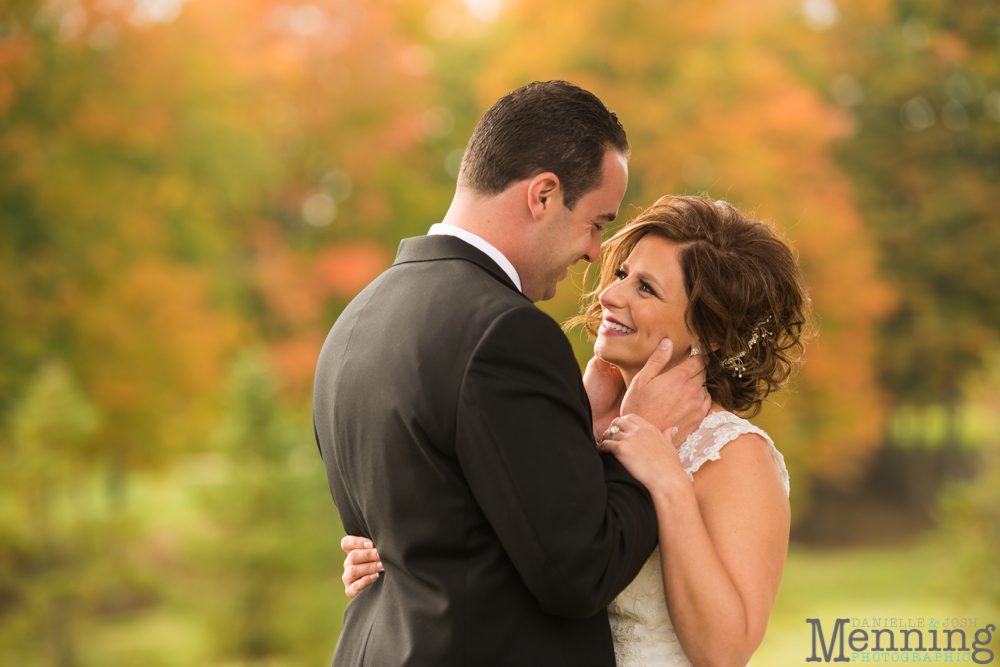 Doing the first look made our timeline stress free.  We were able to do ALL of our pictures prior to the ceremony.  We even had a little time before the ceremony to sneak away and have our own moment.  Once the ceremony starts it is a whirlwind.  Having the pictures done gave us the ability to enjoy the cocktail hour with our guests and our bridal party was free to mingle because we were done with the pictures.  
Byron is a very traditional guy and the idea of a first look wasn't his favorite.  He does believe the benefits of doing a first look out weighed the negatives.  After doing a first look he would definitely recommended it to other bride and grooms.  I loved the idea of it!  It took a little convincing on my part for Byron to do it and he was glad he did!"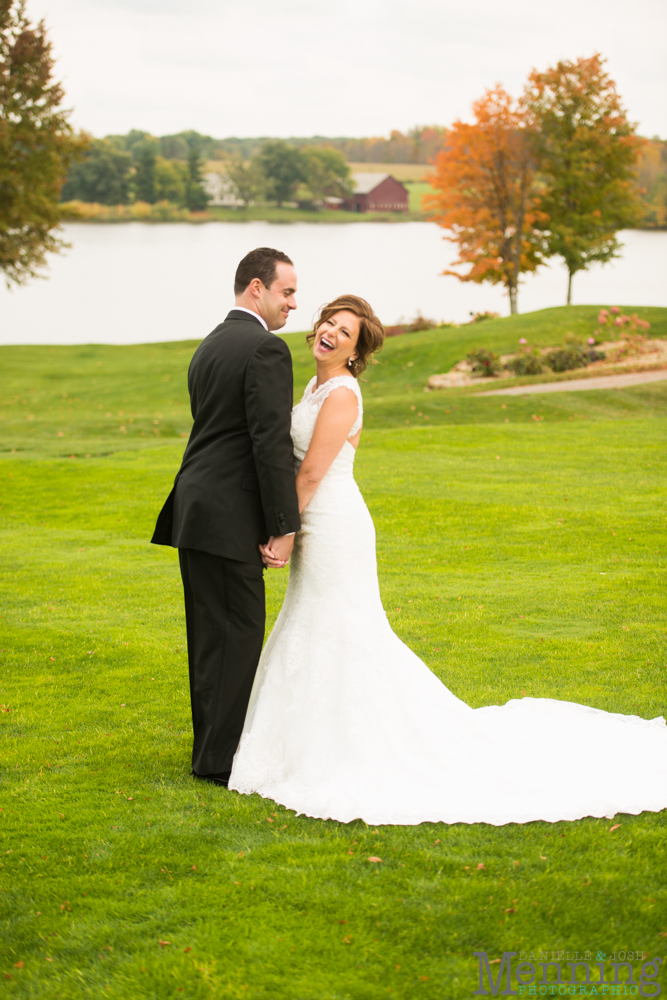 Kelly & Mitch's wedding & reception were both at The Links at Firestone Farms. Because both were at the same venue, the first look made a lot of sense. Like Cassie & Byron, Kelly & Mitch were able to attend the cocktail hour and hang out with their guests, which was really important to them. The first look also allowed them to express some emotions in a much more private setting than in front of their entire guest list as Kelly walked down the aisle, which they really were thankful for. Before the ceremony, we completed the bride & groom portraits, the family formals, and the bridal party photos. Because the light was dreamy after the ceremony, we snuck Kelly & Mitch away for about ten minutes for a few more photos & they still got to enjoy 90% of the cocktail hour! Here's Kelly's take:
"We decided to do a first look for logistics, as it made planning the day easier.  Plus I couldn't imagine all of my family and friends in one big room having fun while I am outside taking pictures!  The way I see it, this was the only day in my life where all of these people would be together, so there was no way I was missing out on that!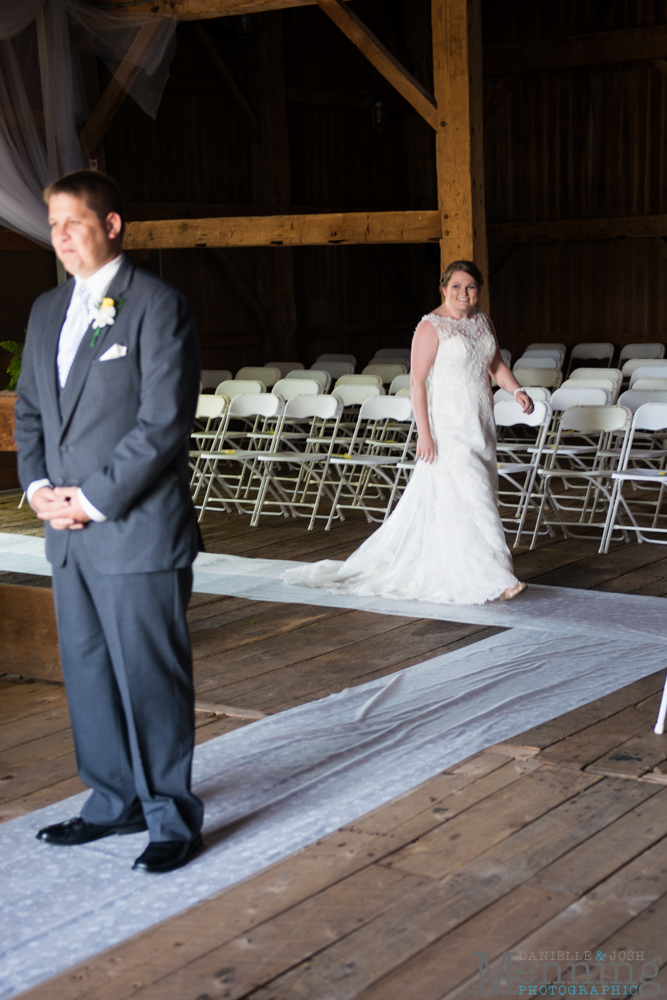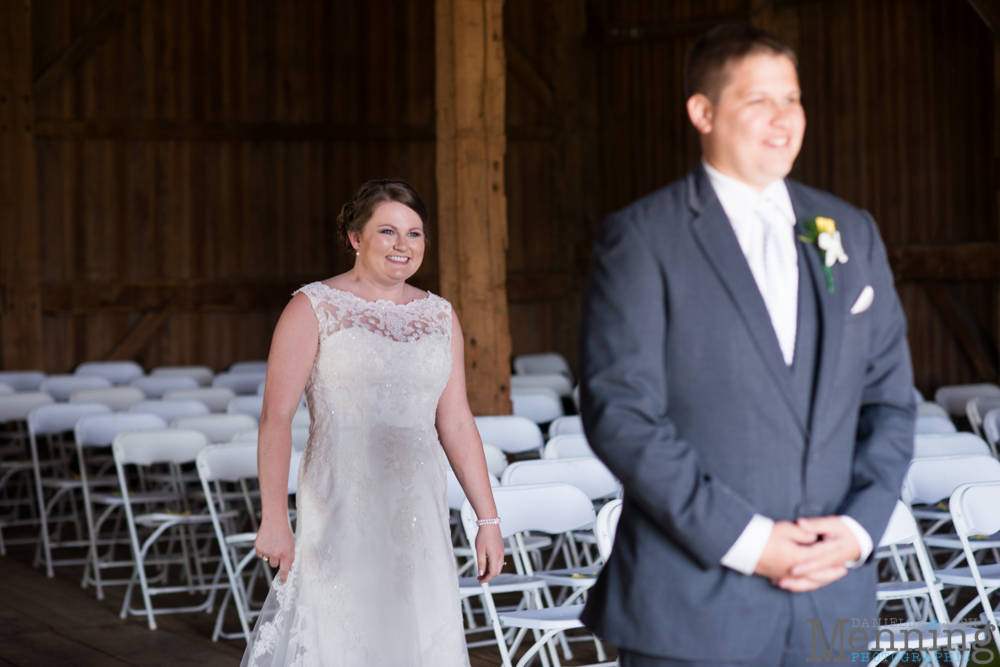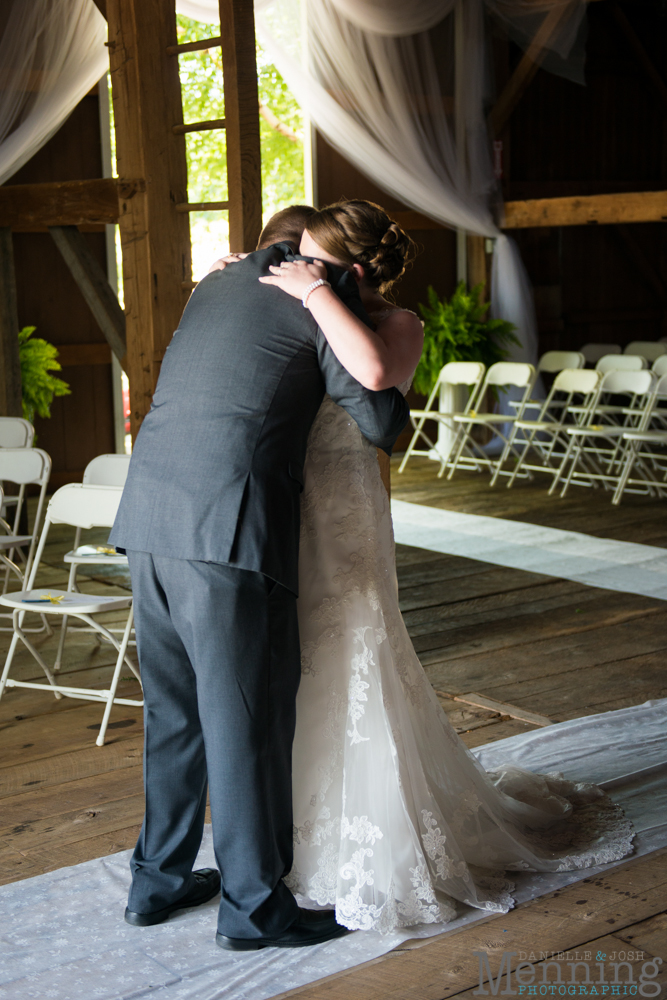 I didn't realize how important the first look would be to me when all was said and done. It gave us 5 minutes alone to appreciate each other on an otherwise completely busy day. I honestly do not know how I would have made it through the ceremony if we hadn't spent that time together.  There would have been a lot of ugly crying, I can tell you that much.  Plus there were so many important things we said then, about how each other looked, how we felt, how the day had been.  If the first time you see each other is during the ceremony, you don't have the opportunity to share these things with your soon-to-be spouse.  The first look definitely didn't take away from the moment going down the aisle.  My dad said it best as we were approaching the aisle: 'You're really clammy.  That's a good thing because this is serious.'  All of the emotion was definitely still there. Luckily my family didn't have any objections to the first look.  But I did see on 19 Kids and Counting that Derrick and Jill were with each other on their wedding day before the ceremony… so if they can skip that tradition, I'd say the rest of us can too."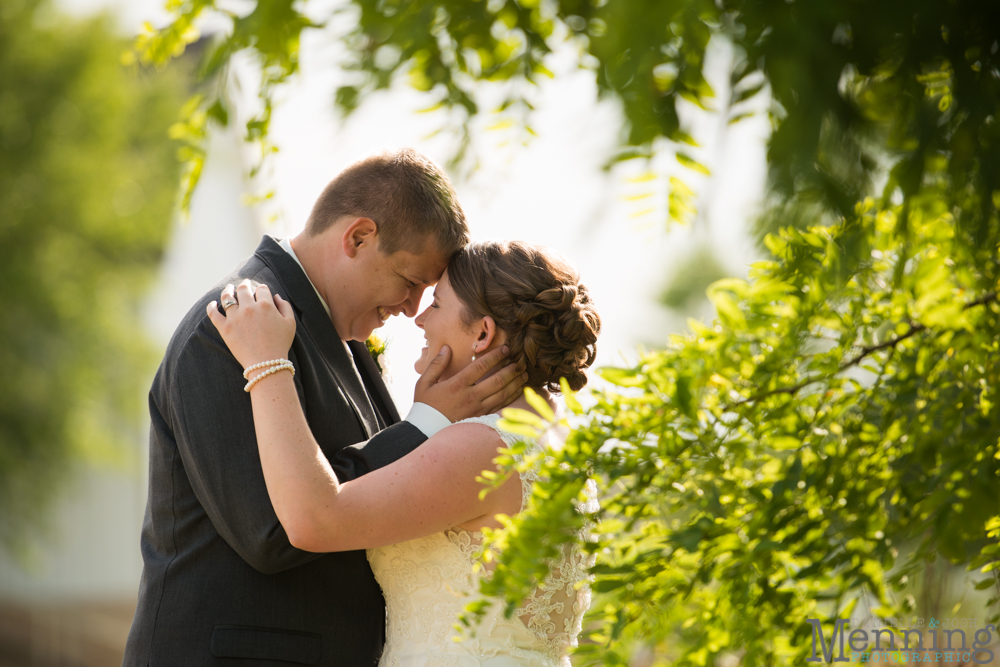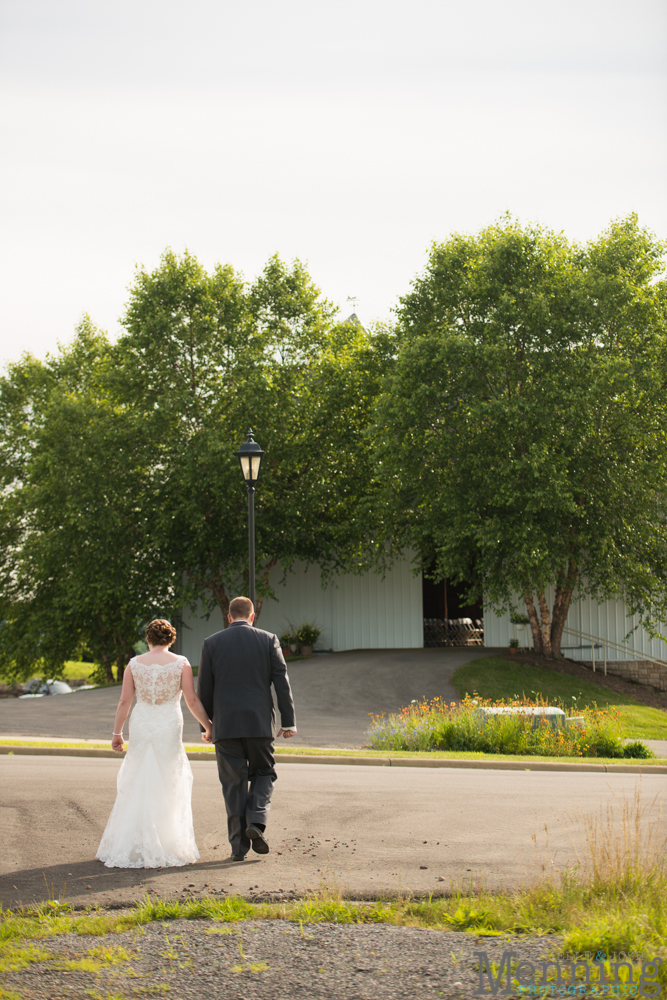 Holly & Billy enjoyed a beautiful wedding and reception at The Lake Club. The first look was a topic of much discussion for them & Holly's family. Here's what Holly would like to share:
"Billy and I tossed back and forth the idea of first look since we first talked about our photographers. I had always wanted it, Billy was 'sort of' ok with it, but once I talked him into it explaining all of the benefits, we had to convince our parents. Both families believed the first time Billy saw me should be coming down the aisle, and were very strongly opinionated with it. Closer to the wedding, I finally decided (as a lot of brides do) that I was done trying to please every one else and wanted to do what was best for Billy and I on our day. I explained to my mother the benefits, and that this would in no way take away from that moment I walked down the aisle.
We decided to do it because we both wanted those few moments of just us on OUR day. I got to spend just a few moments with my husband to be with fresh makeup, fresh hair, and all the excitement. I hated the fact that if we went traditional and would see him the first time walking down the aisle, I couldn't talk with him and have those few candid moments with each other. So many brides walk down the aisle, eyes front, knowing EVERYONE is looking at you and you can't have your moment with just your husband and take it in. With our first look, we were able to talk, sneak a few kisses, and we got a good look at each other. That dress is a lot of money and you want him to see every inch!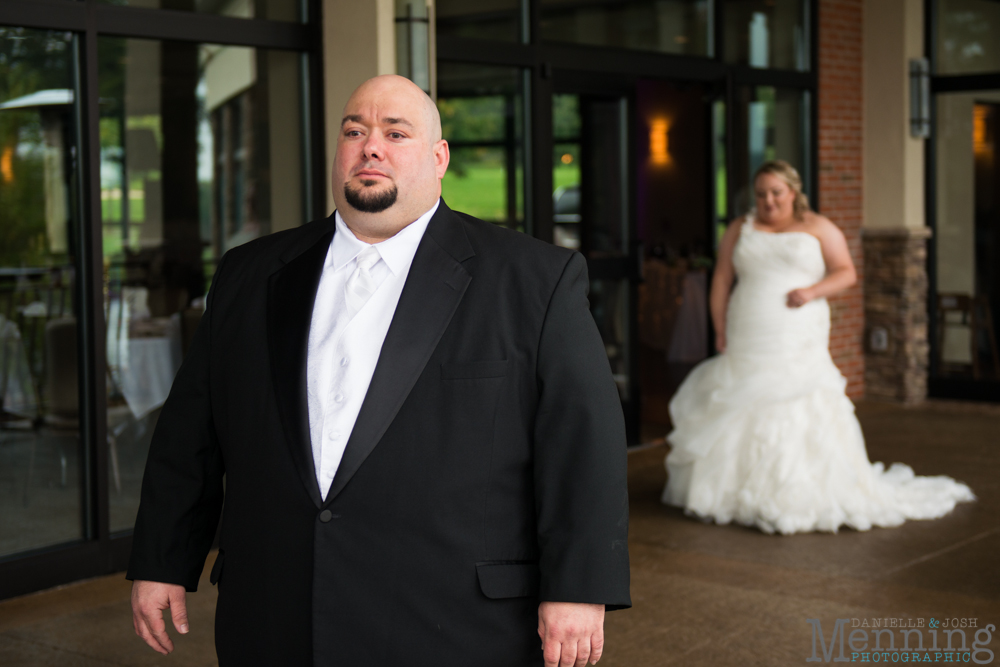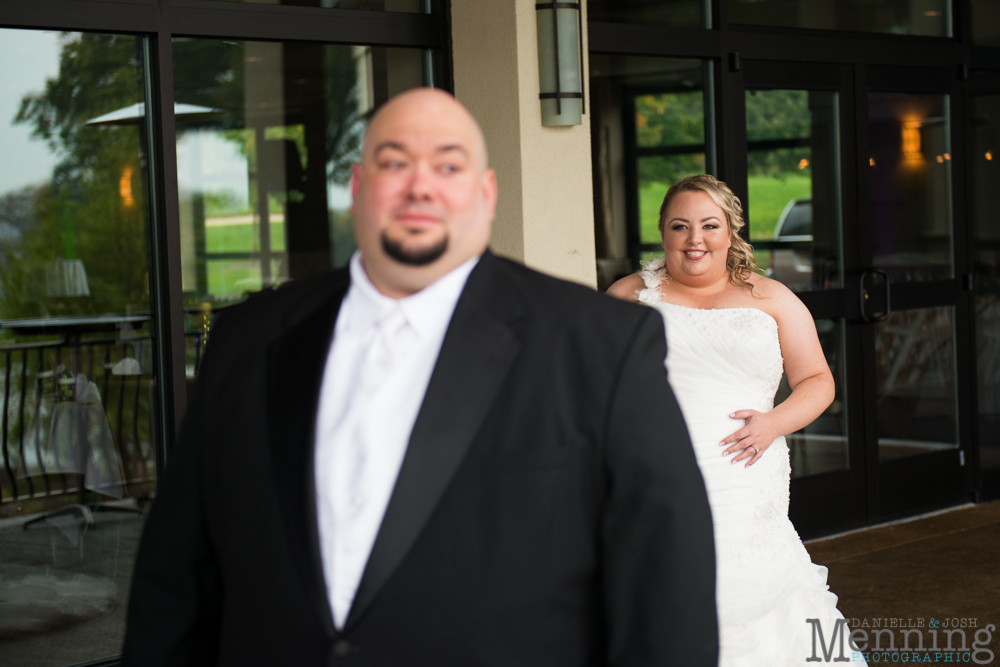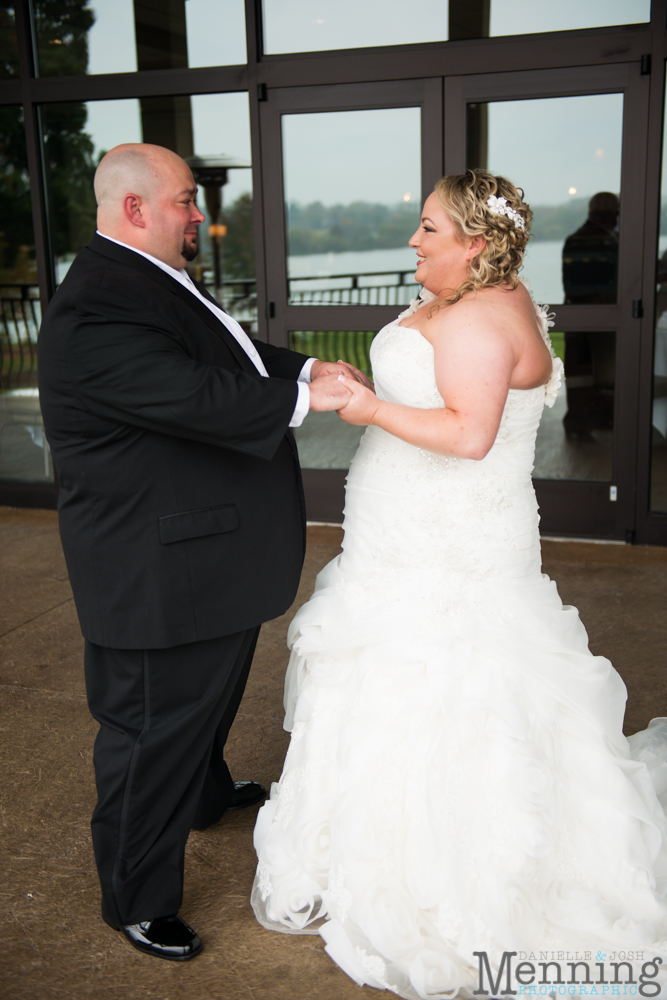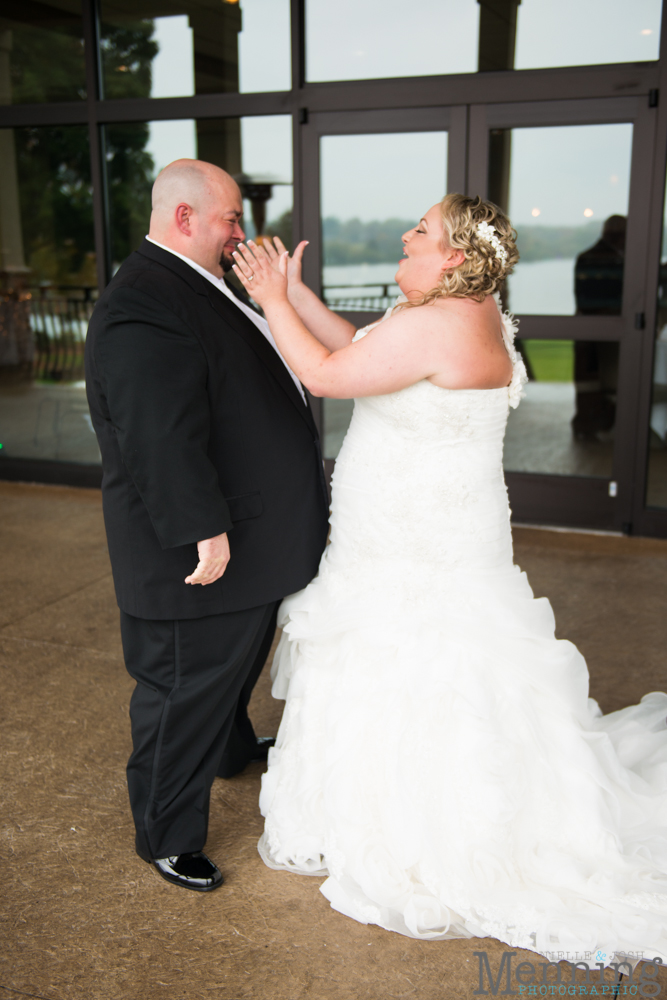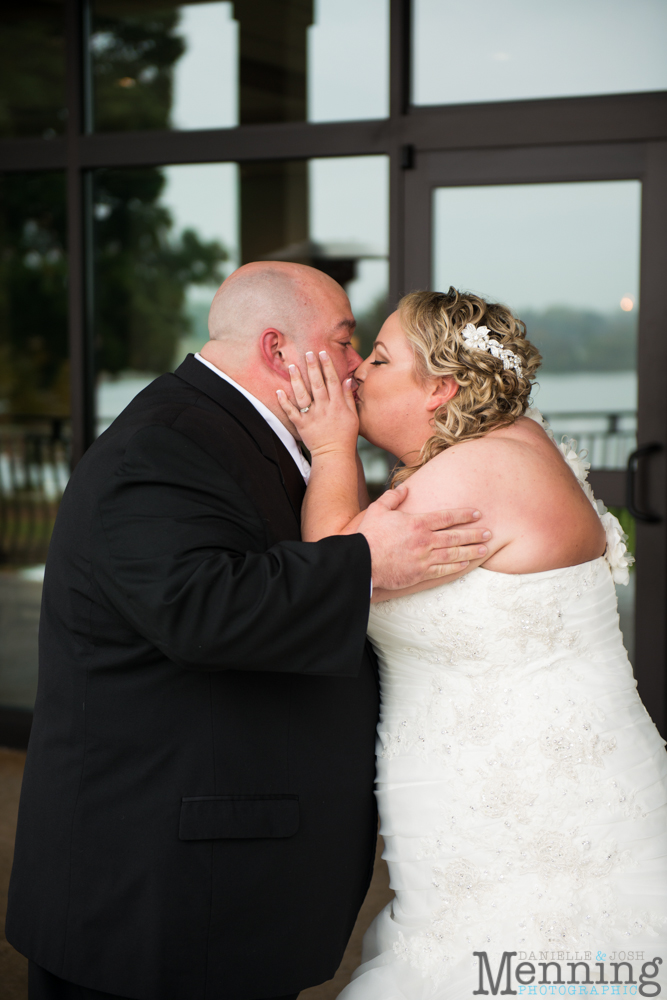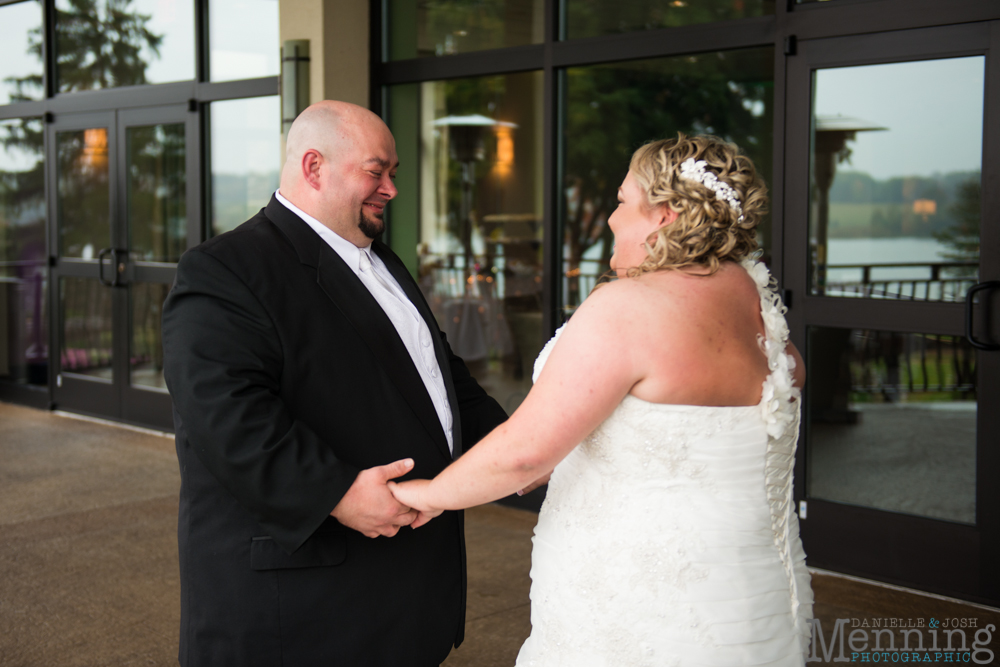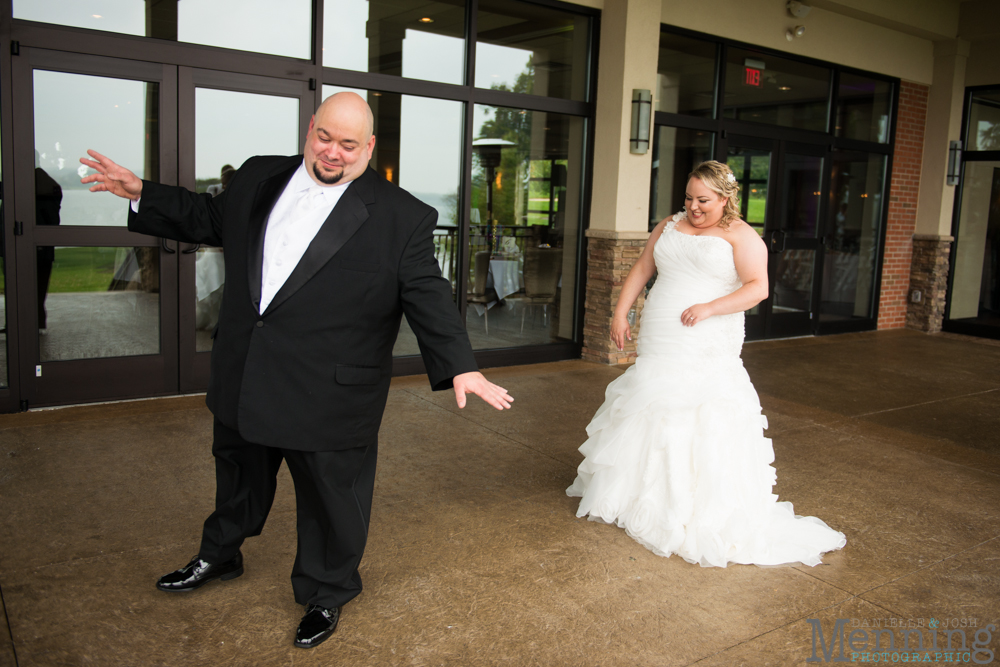 We were also able to fit in all of our formal photos with our families and bridal party which worked out perfectly. Our ceremony was directly before our cocktail so I wanted my family and bridal party to be able to enjoy the cocktail hour. They're guests too! I didn't want them wrapped up in photos the entire time. So during cocktail hour, my husband and I were able to sneak off, have a few more moments with outdoor pictures and came back and enjoyed the end of cocktail hour with our guests.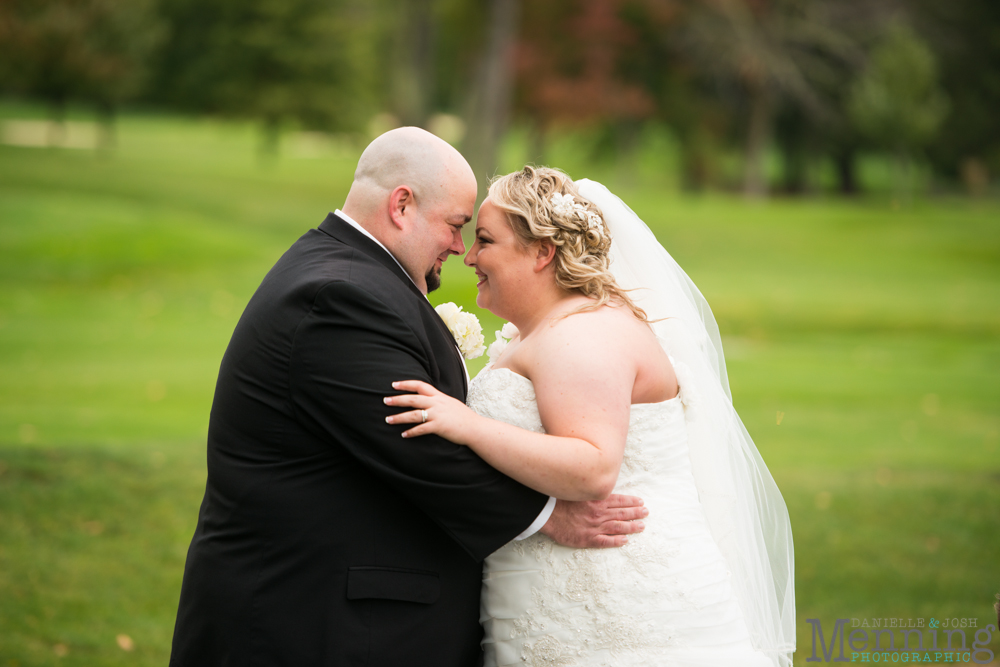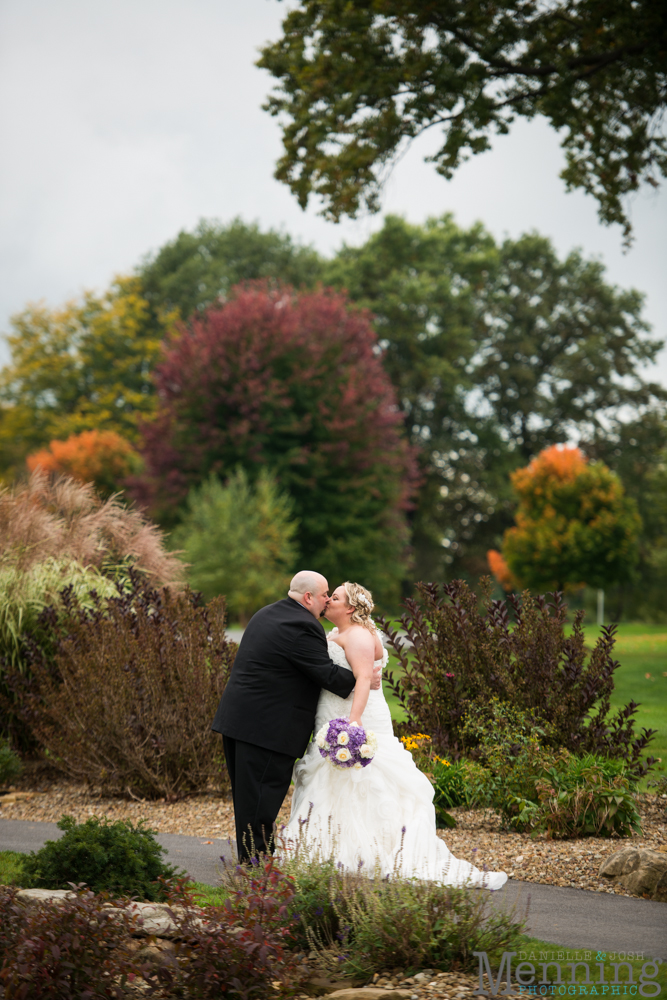 The first look in no way took away from the moment I saw Billy or the moment he saw me. The photos speak for themselves. They clearly show Billy's emotion (he's the crier of the two of us) and my excitement to walk down to him. I still was able to wipe tears from his face (pictures of that too) and it was still incredibly special.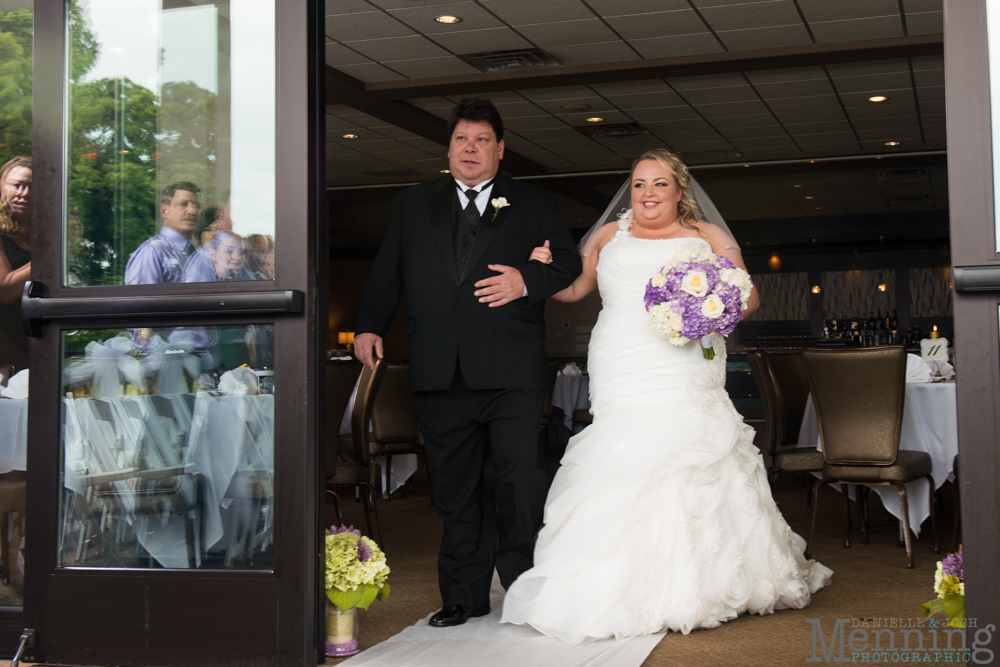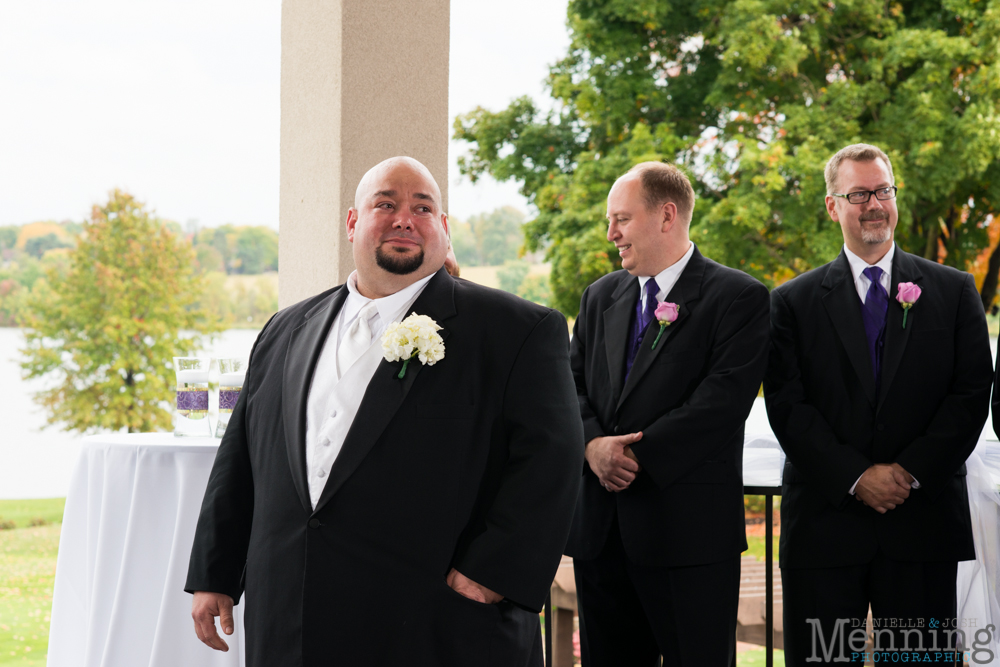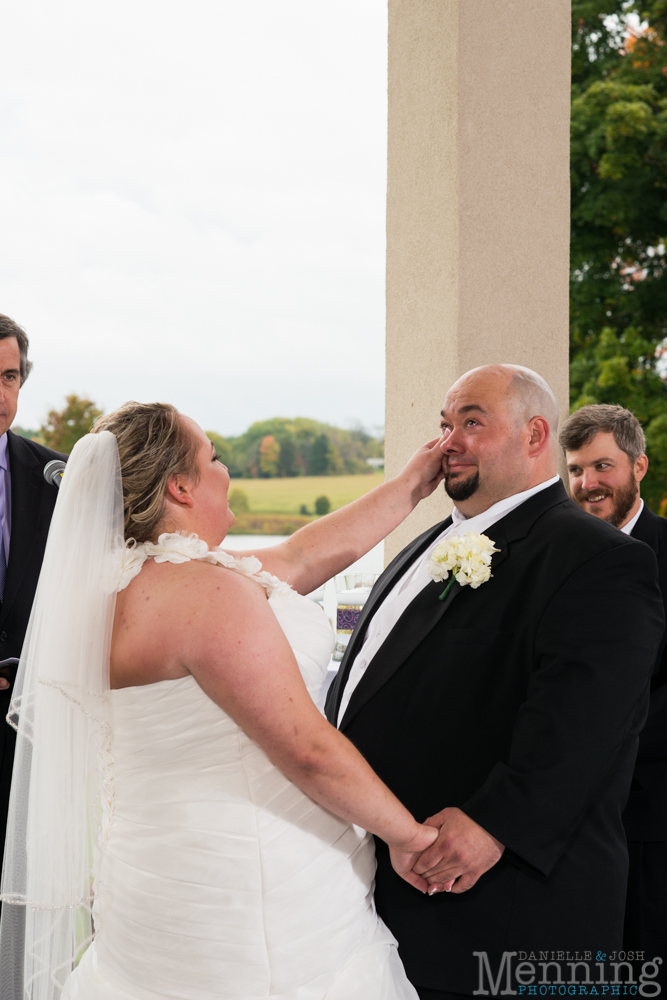 Right before the first look I was nervous/excited. I wanted it to be strictly just us and Danielle was fantastic at making sure that would happen. I walked out the door and told Billy to turn around and I'll never forget his face when he did. Every single girl in the world deserves to see that face like Billy had when he saw me for the first time as his wife in a private setting. So many men are afraid to show that emotion during any occasion, let alone a wedding. During the first look Josh and Danielle do such an incredible job that you don't even realize they're there. It really does feel like it's just the two of you in that moment.
Overall the first look really made my wedding day go very smoothly. It helped the formal photos go very smooth and everyone looks fresh, it took nothing away from walking down the aisle, it allowed my family and bridal party to enjoy themselves, and it made for some of the best photos from our wedding day where true emotion is shown." Â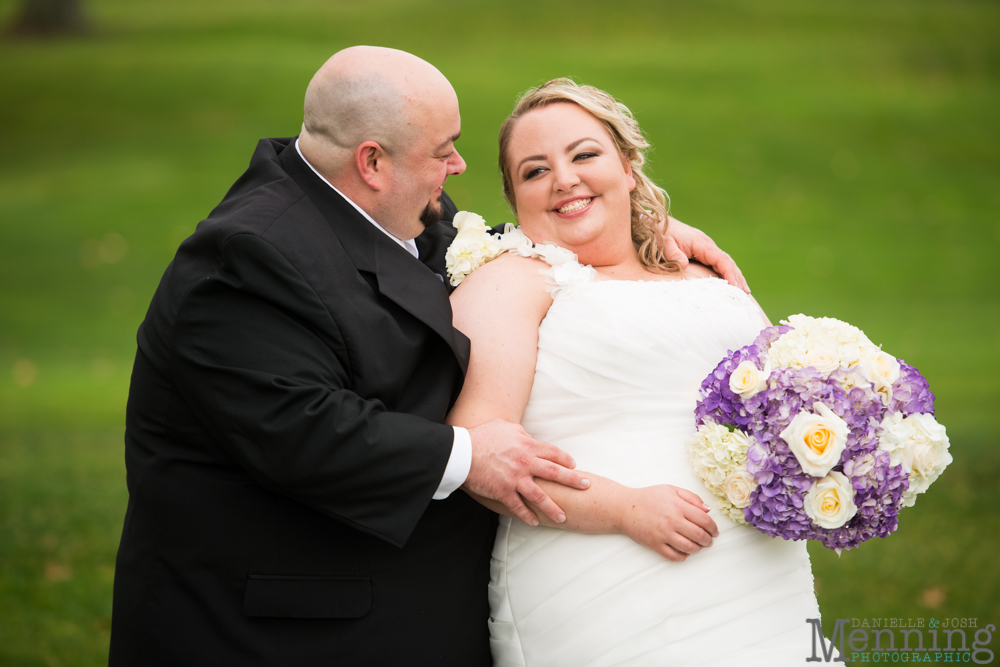 Sarah & AJ's wedding day circumstances are different than all of the above brides & grooms, but they still wanted to do a first look on their wedding day. They had a huge time gap in between their ceremony at St. James Meeting Place in Boardman Park & their reception at
Antone's.
Honestly, a first look was unnecessary time-wise. They had plenty of time for photos in between their ceremony & reception. But they wanted more. 🙂 And they wanted to see each other more on their wedding day. Those sound like awesome reasons to me! Here are the details from Sarah:
"We debated for awhile, but we finally decided to do a first look because we wanted more time between the ceremony and reception for pictures and to relax and enjoy what we were doing that day. I also get anxious about big events and I knew I would be so anxious about the big day. The person that calms me down the most is my now husband. And I was so happy to have a moment with him . Â . Â . just us before everything else. It took away a lot of the pressure on myself, while waiting for my entrance into the ceremony. I was no longer anxious and I was excited for what was about to happen.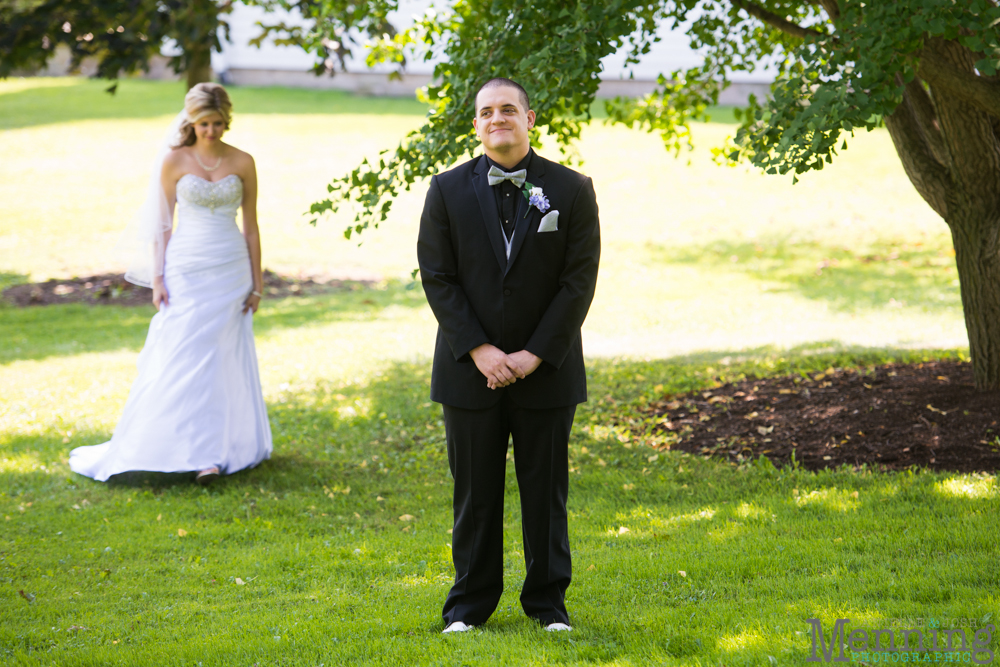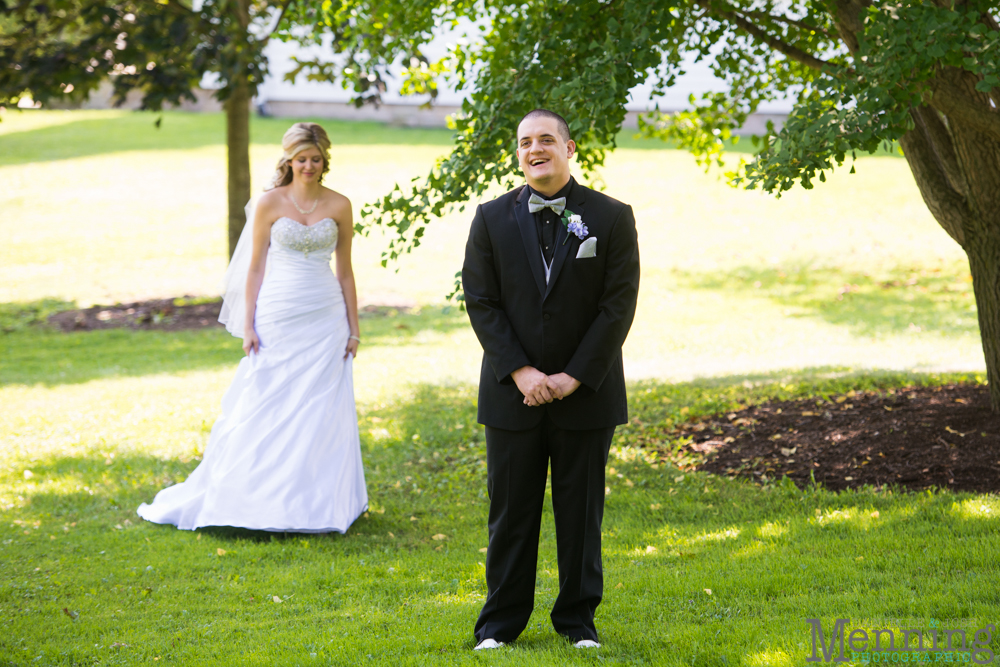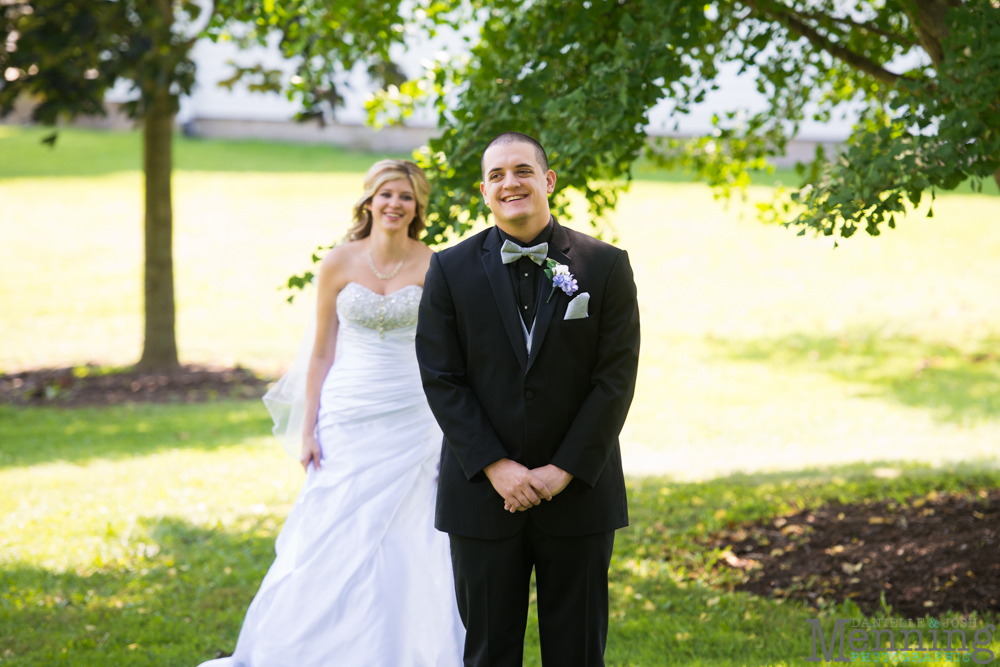 Walking up to him was like drumroll in your mind. I couldn't wait to tap him on his shoulder for him to turn around. We couldn't stop smiling. It was great to be able to hold each other before the ceremony. And have a moment together without other eyes on us. We could be just us. It was relaxing, and emotional between just us.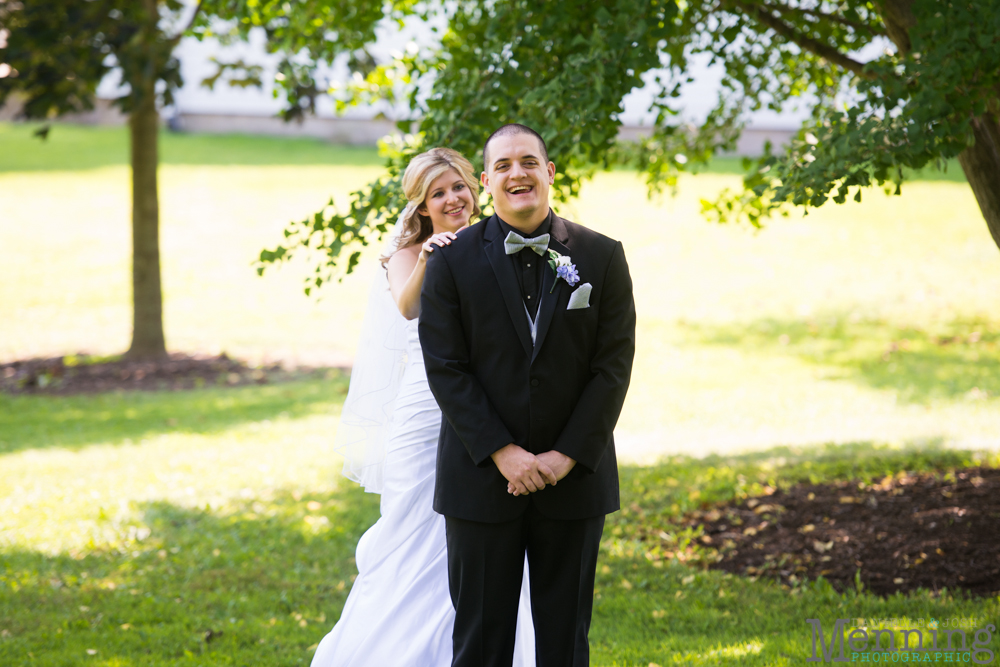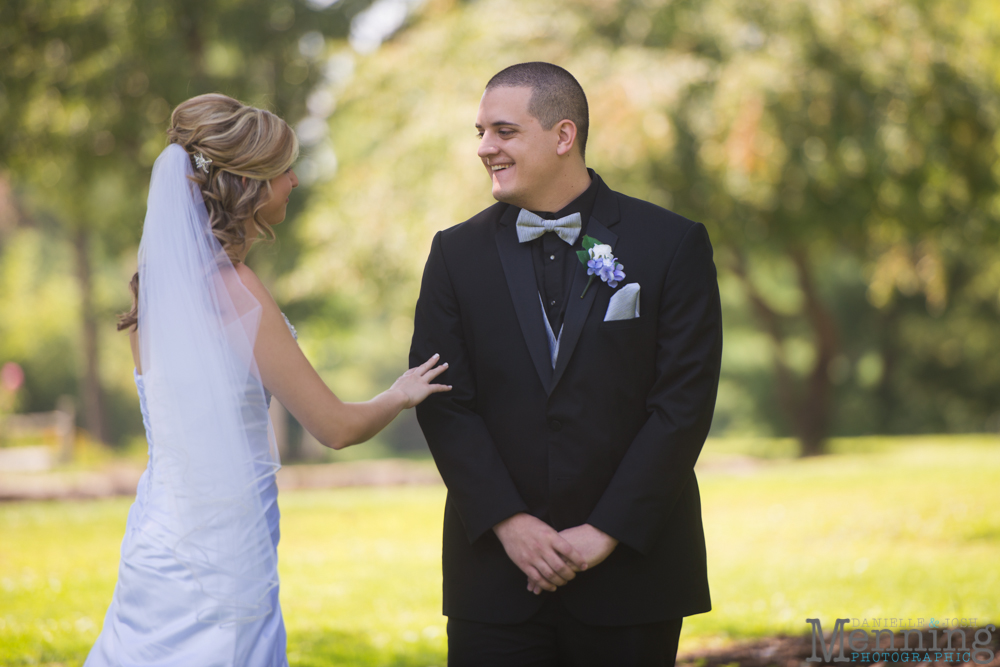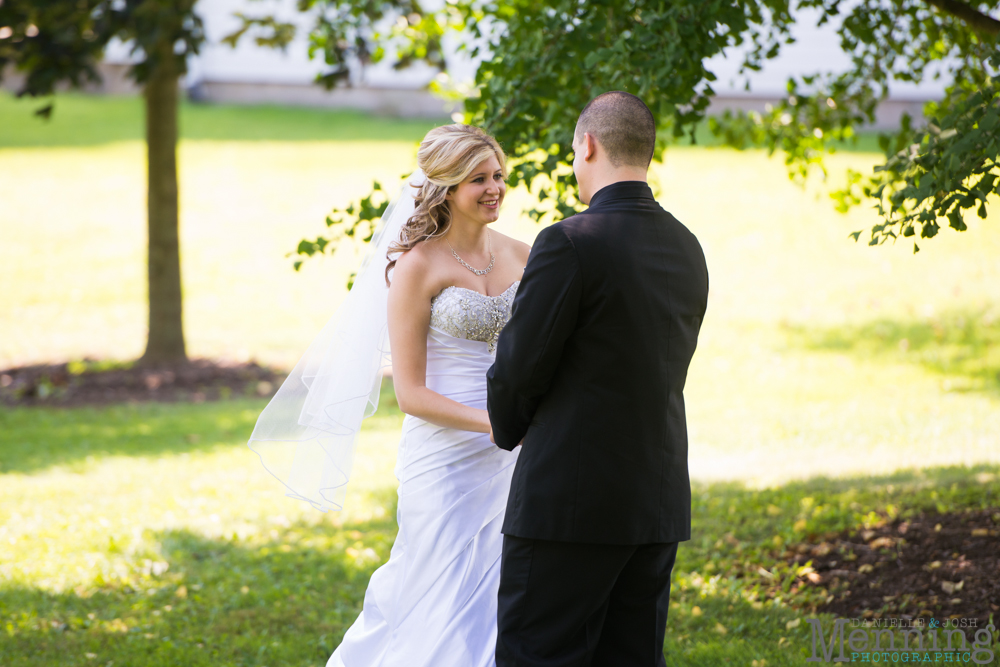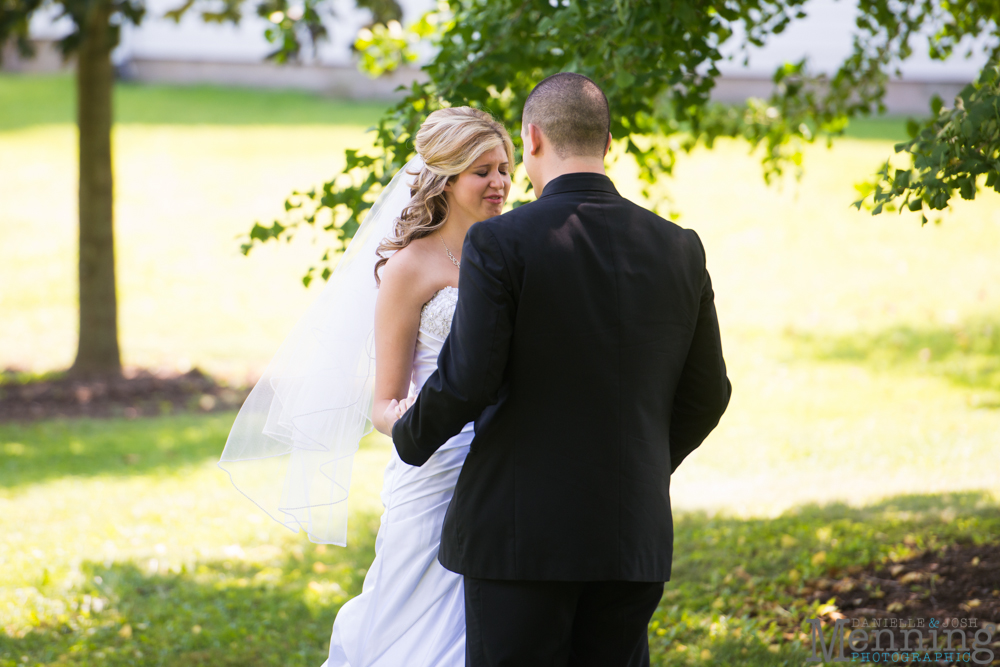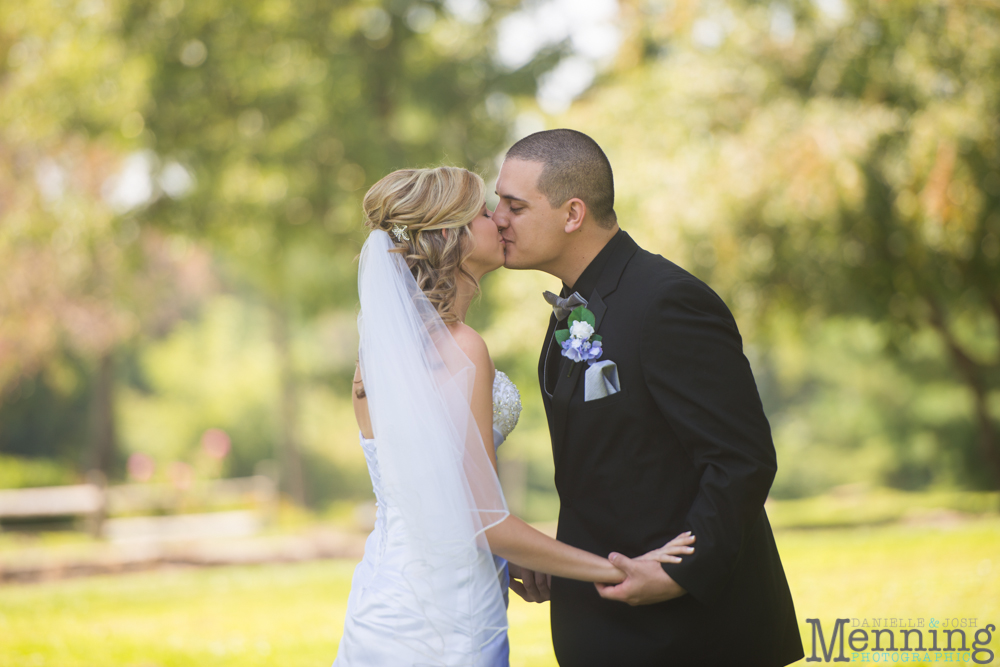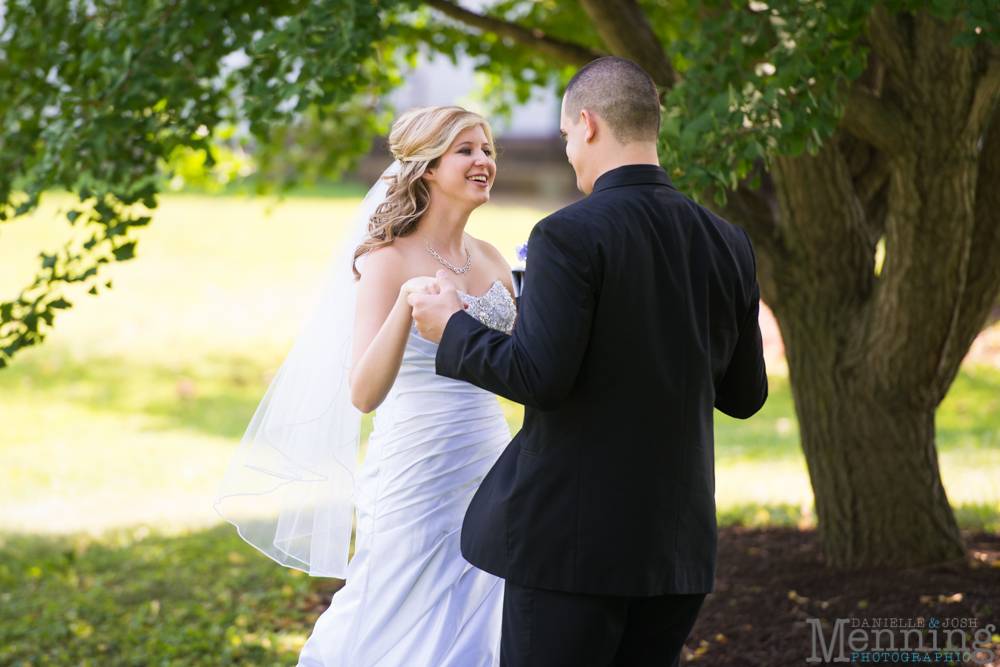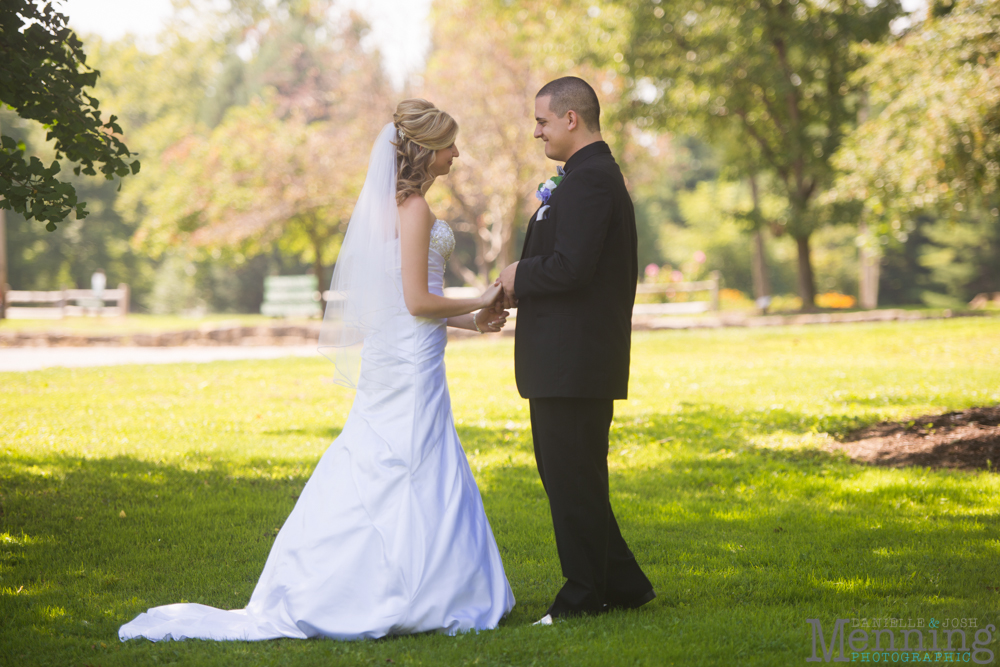 I don't think the first look took away from the moment when I walked down the aisle because we had our moment before. I know we enjoyed our moment more with a first look. I think the moment without the first look would have been different. I wouldn't change it.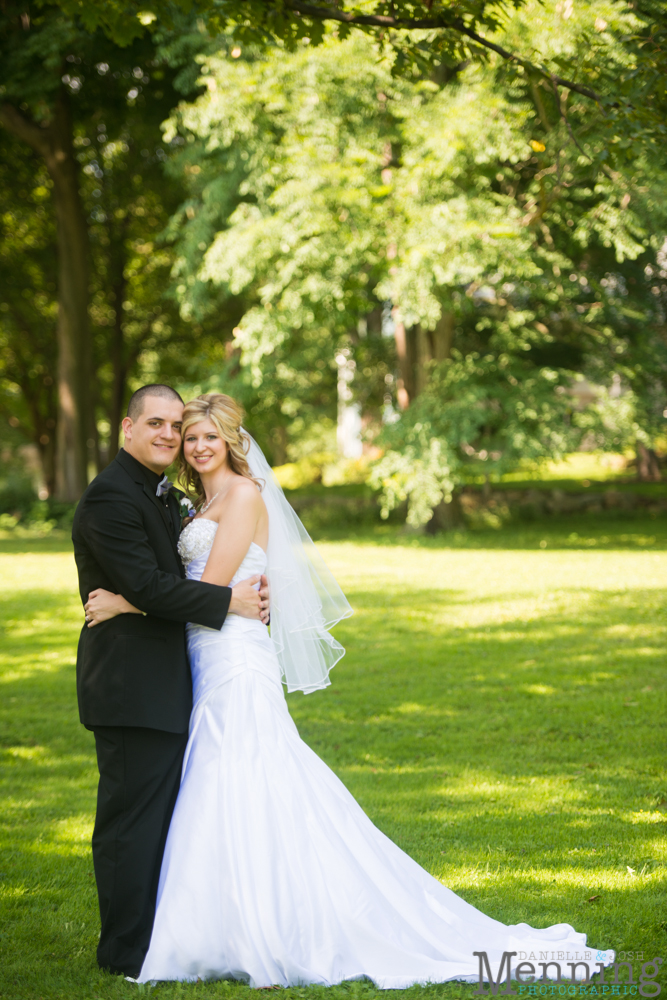 Menning Photographic (MP): Did the first look free up time for you to enjoy cocktail hour on your wedding day? Sarah (S): Yes, we were able to relax and take more time. It didn't feel rushed.
MP: Did the first look streamline the timeline of your wedding day? S:Â Yes
MP: Would you recommend that other couples do a first look? S: Yes. If you want a more private moment with your fiance, it was worth it. Plus it does free up time. You may not remember every second of your wedding day years from now because it was a blur, but you will remember special moments like the first look.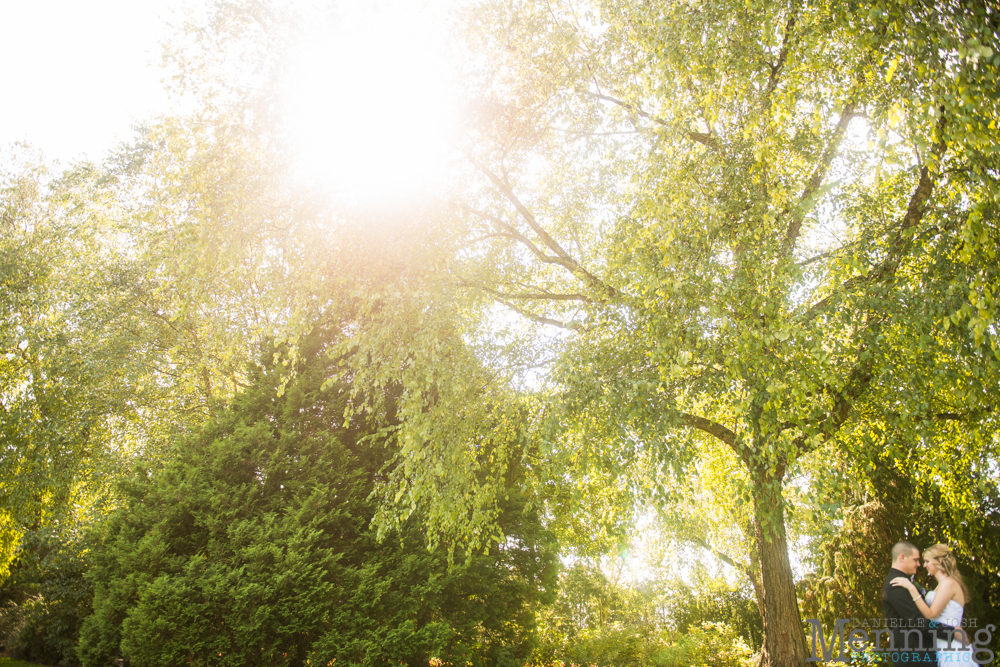 MP: What was your favorite aspect of the first look? S: Relieved my anxiousness and made us more comfortable to let go and react to each other.
MP: Did the first look relieve butterflies you were feeling before the ceremony? S: Lol yes… I think I mentioned that already a few times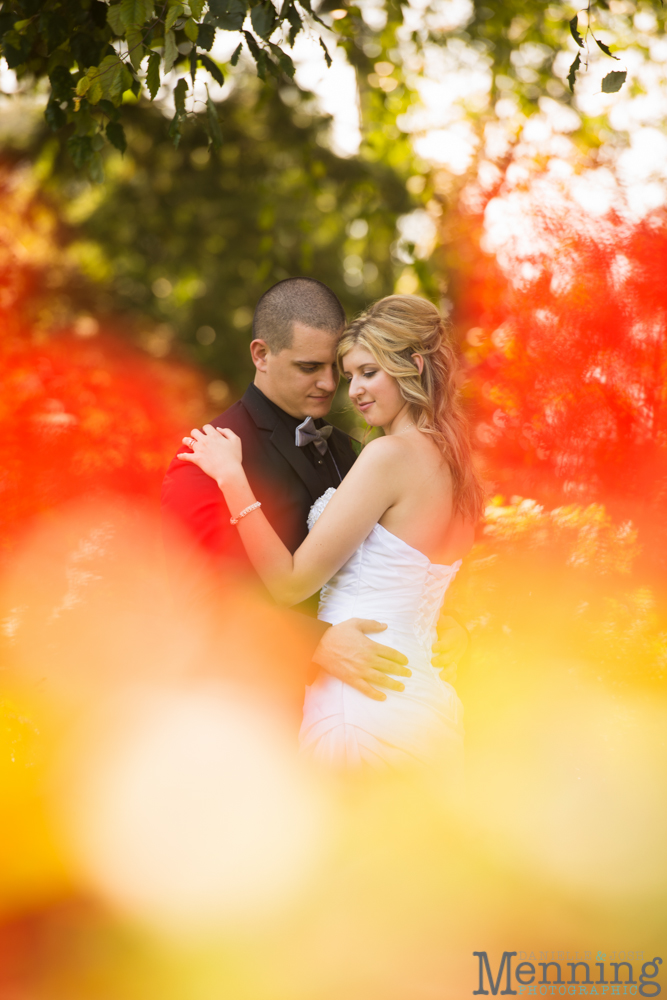 MP: Did the first look relieve time-crunch stress? S:Â We had hours between the ceremony and reception but it made us feel like we could take our time at all of our photo stops
MP: How does it feel to look back at the photos of your first look? S: Amazing! Some of our best photos were done. We were both fresh (me with hair and make up) and it was a very hot day. It was nice to get them done before it became too hot. You can see in our faces we just saw each other and you can see the emotions!
MP: Did it bother you that first looks are supposedly less traditional or did that make it even more exciting? S: It did bother us and that's why it took so long to decide. When you think about your wedding day, you imagine the first look, when the doors open and you walk in. We didn't want to lose that traditional moment but after much thought we decided on the first look.
MP: What would your advice be to brides & grooms whose family members are resistant to them doing a first look? S: In the end, it's your day. It's your moment. Many people didn't even know we did a first look anyways. And in years, those who did probably won't even remember. But you will. If you want it and it's important to you, do it. You also can explain your main feelings. Once I really explained why to my husband and our families most understood. Some didn't but they still said it was our day. In the end, it's the vows in the actual ceremony that matter."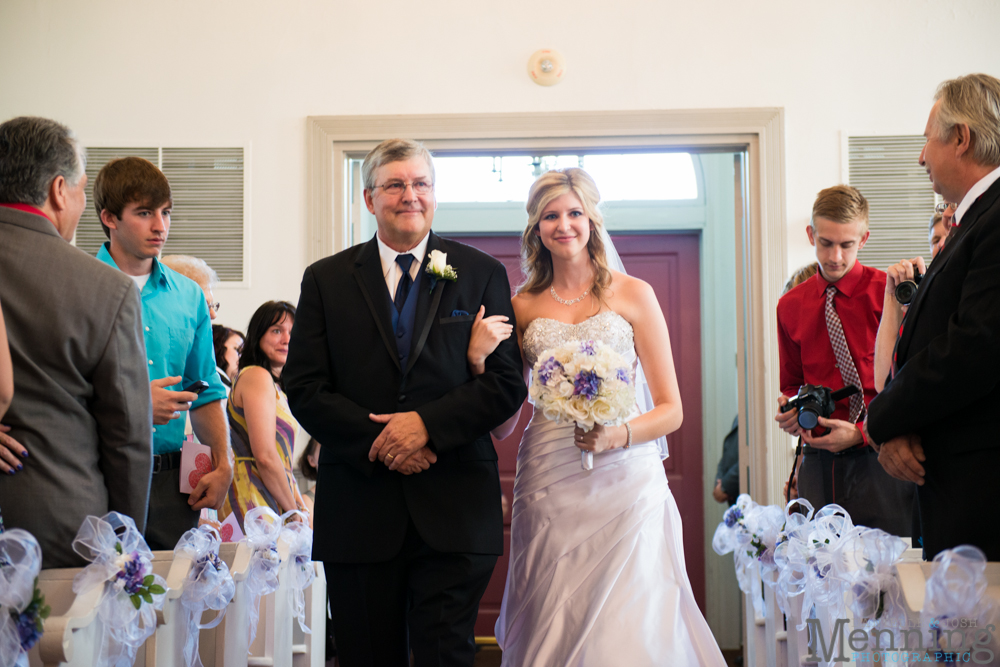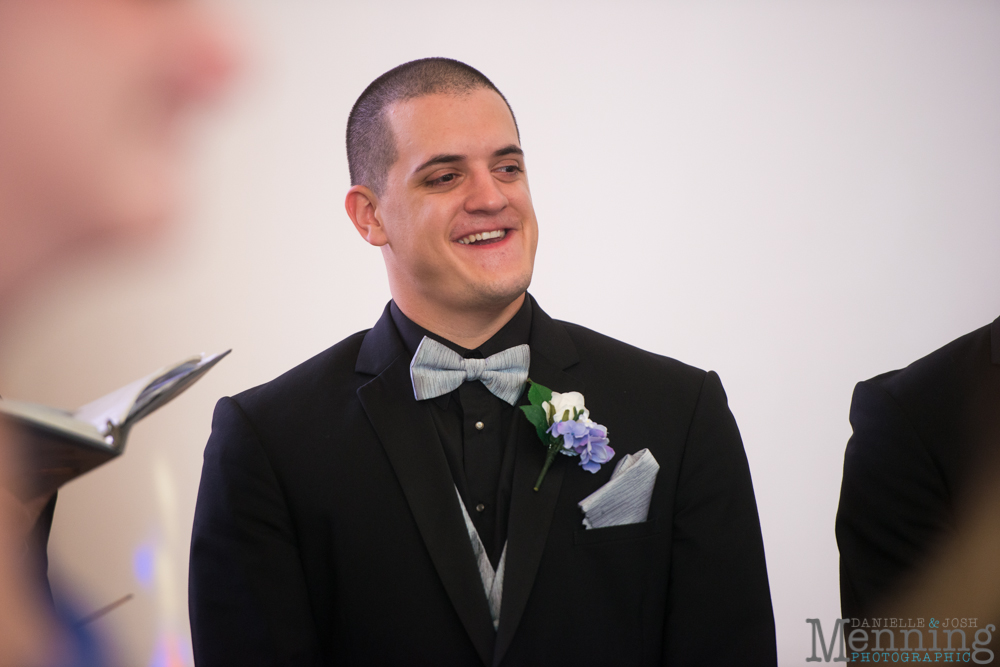 Angella & Dan's wedding & reception were both at The Gathering Place at Darlington Lake. They had a ton of great reasons for wanting to do a first look. Â We're so happy that they did, too; they wouldn't have gotten any bride & groom portraits outside at that gorgeous location if they hadn't because it rained the rest of the day! Here's what Angella had to say:
"I read a lot of articles, blog posts, and stalked countless wedding photography sites with First Looks as the subject. I couldn't find a downside to doing a first look – except that I would get complaints from my more traditional family. Then I read the article which explained why the groom couldn't see the bride before the wedding…that whole 'I need more goats for her' thing. I was 100% sold. I asked Dan what he thought and he liked the idea.
I was nervous and excited during the first look and it was really nice to get to see Dan and spend some time alone with him before all the craziness of the ceremony and the reception. And his reaction was awesome. 🙂 It was also really great that we have some pictures together while my hair, makeup, and dress were in pristine condition and his tux was wrinkle-free and his boutonniere wasn't mangled and dying like it was after the ceremony. Also I'm so happy we did a first look because it rained the rest of the daylight away. If we wouldn't have done the first look there would be no gorgeous picture of Dan and me in front of the corn field which is our favorite of the first look photos.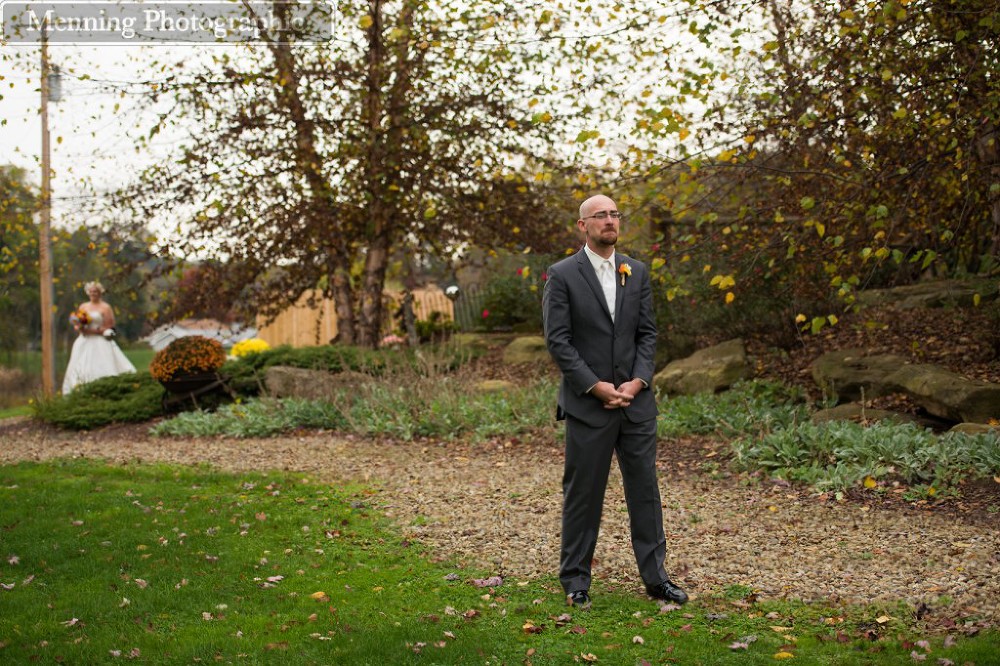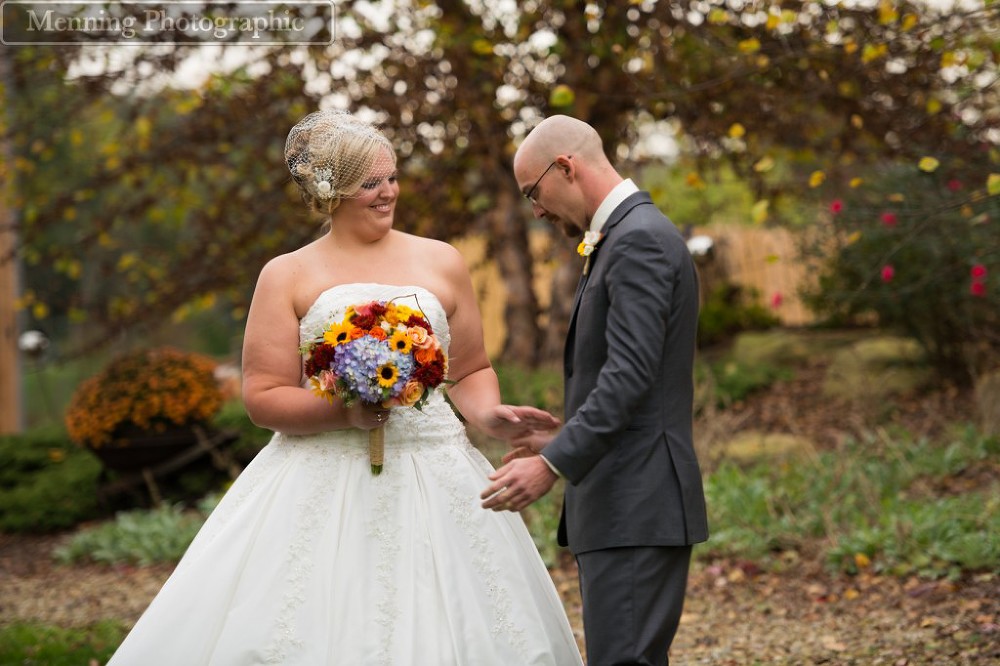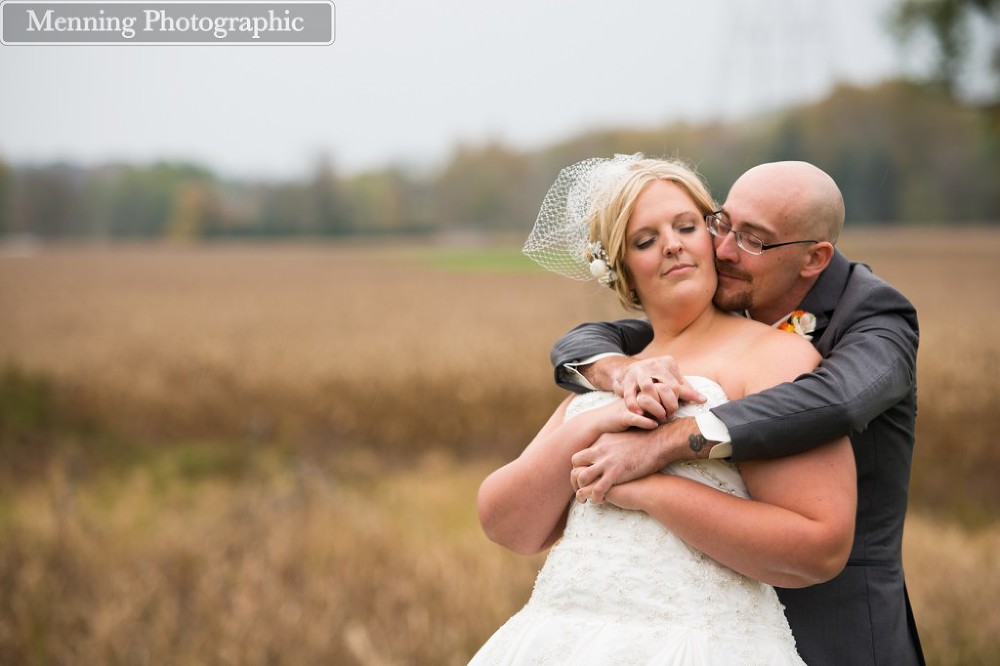 I don't feel like the first look took away from any special moments during the ceremony. It's still a big deal! My dad walked me down the aisle and gave me away (while also dropping his pocket knife on the ground…). I was calmer than I might have been if I wouldn't have seen Dan earlier.
I believe the first look did streamline our wedding. It was at least easier on the wedding party. It gets really dull waiting around for staged pictures after the ceremony. And the wedding party never gets to do cocktail hour, in my experience. With the first look out of the way all we had to do was the group shots of family and the wedding party and we could enjoy the rest of the day.
I highly recommend that couples do a first look. At least consider it. My sister didn't because she didn't want to break tradition but we are two very different people. They passed notes to each other around the door and I thought that was sweet and resulted in some cute pictures they'll cherish. I know it's not for everyone but we were so happy we made the decision. It was relaxing to see each other without everyone around and staring, or groomsmen making kissy noises and whistling. It was perfect for us because the weather would have ruined our chances of outdoor pictures after the ceremony, we both still looked very put-together because we hadn't been wearing or clothes (or makeup) for hours, and traditions are made to be broken.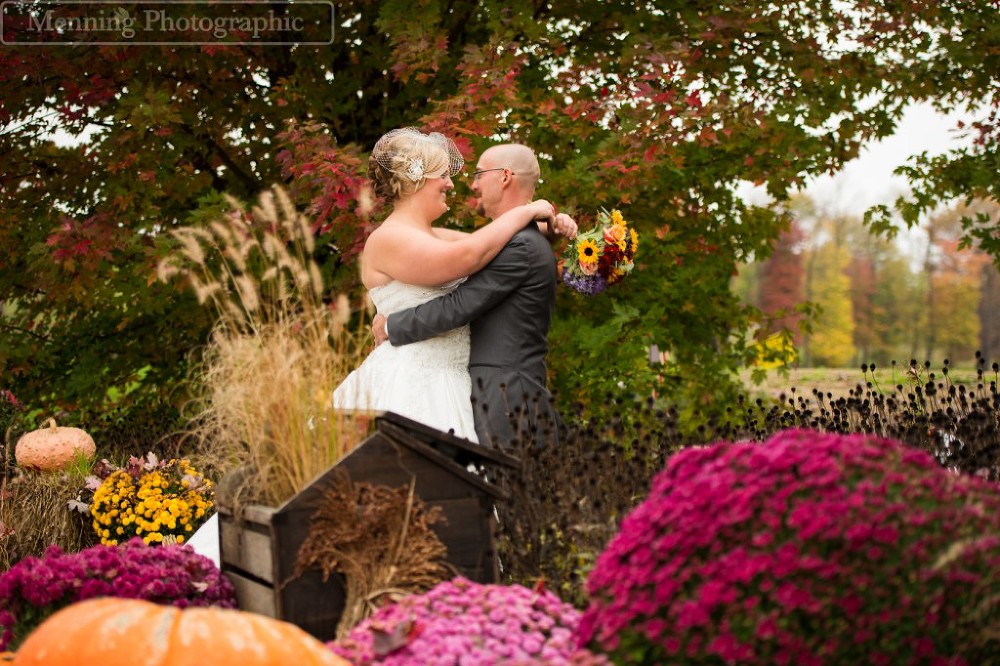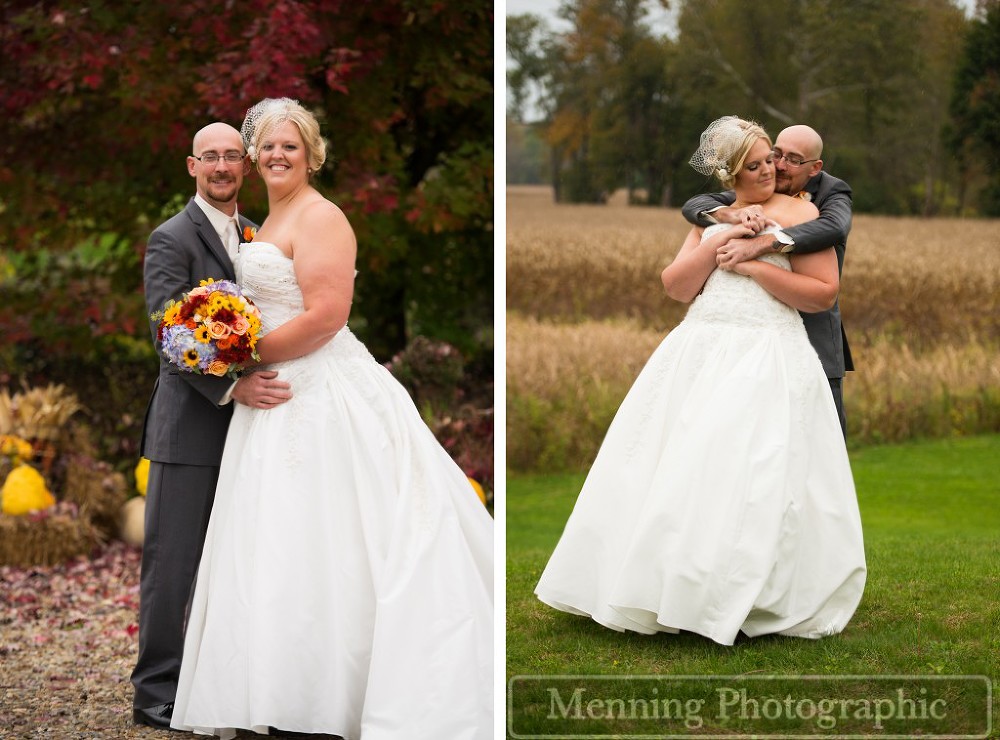 Advice: It is YOUR wedding. I talked to Dan about it to see what his thoughts were and when he agreed that he liked the thought of a first look that was the opinion that settled it for me. My mother was the vocally resistant one. I sat down with her and showed her beautiful first look pictures from other weddings and went through my favorite articles and blog posts with her. She still wasn't thrilled with the choice…until after the ceremony! Josh and Danielle put together an awesome slideshow during dinner that ran during the reception and then Mom was so happy and even bragging about the decision. Also, while the bride and groom are out doing pictures it gives mothers and other wedding party members time to themselves to get ready without worrying over the bride (or groom). Maybe they can even relax for 30-60 minutes before the ceremony."
Our brides have some amazing advice! We want to sincerely thank them all again for their help with this blog & for their time & input! First looks can do so many wonderful things for your wedding day; consider them all when making your decision!