We recently received an email from one of our awesome 2015 brides who is thinking about wedding day logistics & getting her timeline ready. . . her wedding is in September & we're so super stoked she's planning those details now & asking for our input! We LOOOOOOOOOOOOOOOOOVE helping our couples with their wedding day timelines! We want all of our brides & grooms to have the best and most ultimate wedding day experience possible & get the most out of the day in terms of having a meaningful, happy, beautiful, and sacred wedding ceremony to be bound to the love of their life (most important part, right?!); having fun with each other & their family & their friends; getting to speak with all of the guests they've invited to share in the day; and, of course, getting beautiful portraits of the two of them, relaxed & mantle-worthy family formal photos, fun & classic bridal party portraits, and silly & emotional candid moments throughout the entire day. The thing is, if we don't help you & give you advice with the timing of events prior to the wedding day, it's out of our hands on the wedding day. We don't mean to sound harsh, but if you decide not to take our advice about your timeline & then you end up only having 5 minutes for bride & groom portraits, we'll shoot as quickly & as creatively as we possibly can within that timeframe, but those definitely are not optimal conditions for us to create art. So please contact us early and often. . . we're serious when we say we really love to help! You can also read this Wedding Day Timeline post we wrote awhile ago.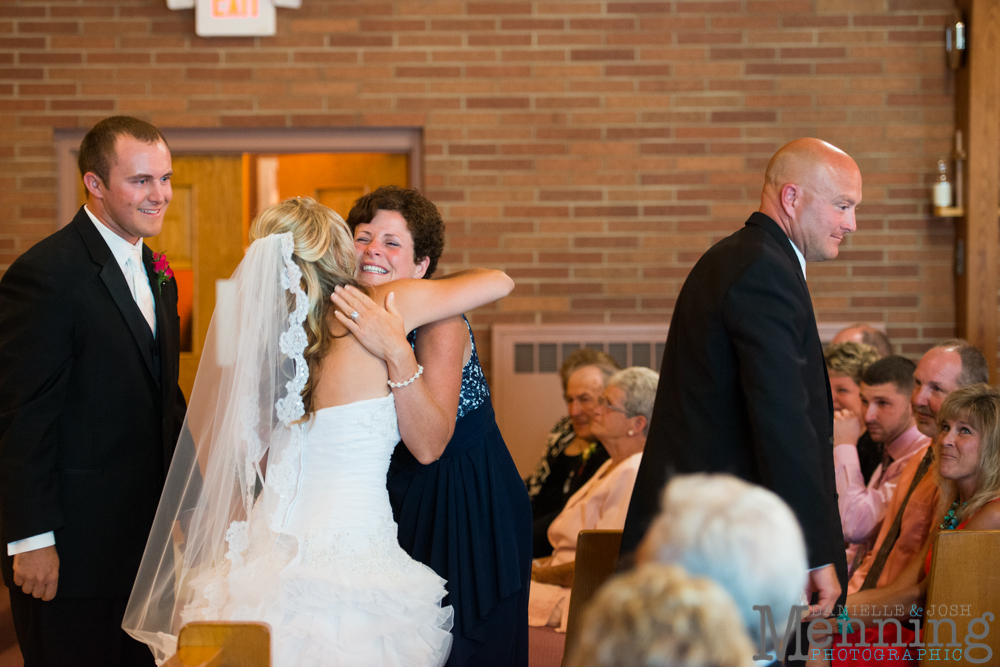 One question our 2015 bride asked in her email to us was about the receiving line. She said that she wanted to know our opinion on receiving lines & that she knows it's time consuming, but it's also a great way to ensure that the bride & groom get to at least say hi and thank each guest for coming to celebrate with them. So after photographing nearly 100 weddings with way differing timelines and many different numbers of guests, we can confidently say that receiving lines can be GREAT and receiving lines can be . . . not great. 🙂 It depends on how you arrange your timeline & how you plan for it.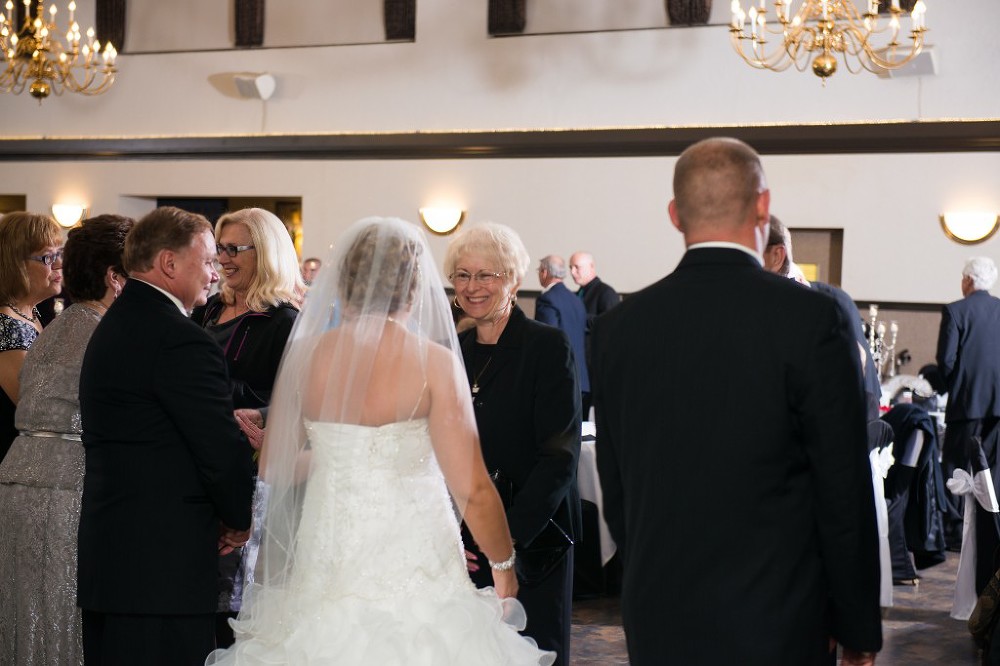 Receiving lines are a great way to make sure that you'll get to greet each guest and thank him/her for sharing in your day! Greeting and thanking each guest at your wedding is a MUST. And we're sure it's something you want to do. Oftentimes, having a receiving line is the best way to accomplish this task without missing anyone. There are caveats to this rule- if you have fewer than 50 or 75 guests or so, you can almost definitely get around to greet each guest during your 4 hour reception (and even more so if you're planning on having a cocktail hour). If you're having over 100 guests or, like many of our clients, more than 250, it's almost impossible to get around to greet and thank each guest at your reception unless you're planning on spending the entire 4 or so hours doing so. . . say goodbye to eating, cake cutting, dancing, and just being in the moment to enjoy yourselves. You'll be going around to tables for most of the evening and feeling pulled in a thousand different directions trying to catch up with old college friends and say hi to your mom's friend who's standing in your peripheral vision just waiting to get her turn. It's daunting with that many guests & having a receiving line is one way to accomplish the goal of getting to talk with everyone. Plus, you'll be standing right next to your new spouse (yay!) so you can introduce him/her to people he/she hasn't met yet. Sometimes when you're going around to tables at the reception, you get caught up somewhere and can get separated so you may not be able to introduce your spouse to people they haven't met yet.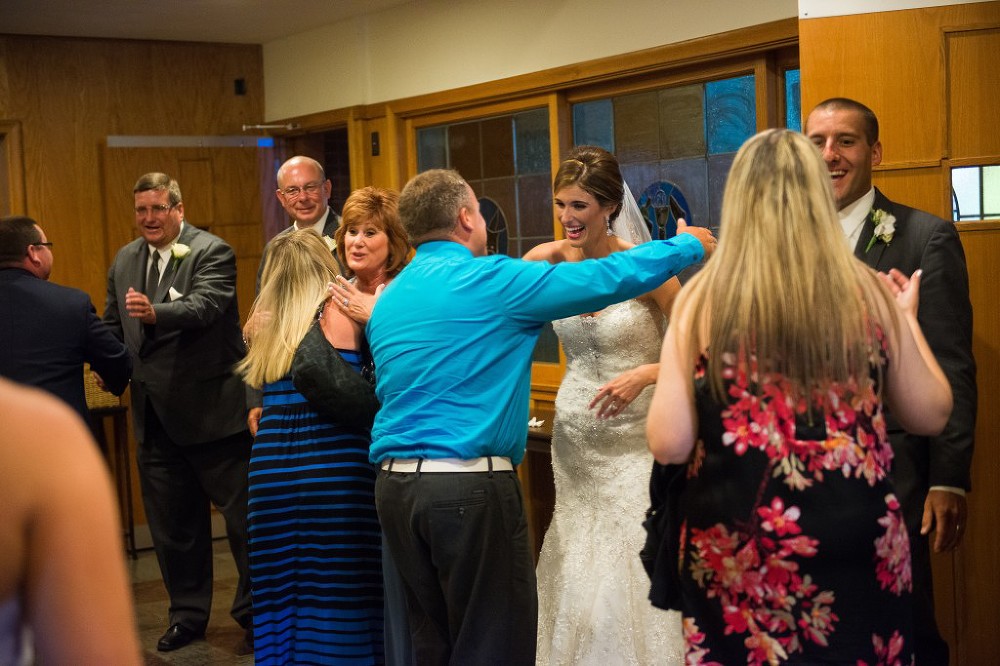 Now that we've established the positive aspects to a receiving line, we're pretty sure you might be asking, "What could be bad about having a receiving line?" Well, the act of having the receiving line isn't bad, but it can be a negative thing if you don't plan ample time into your wedding day timeline for a receiving line. We've also photographed weddings that weren't supposed to have a receiving line due to time constraints between the ceremony & reception, but a receiving line inadvertently ended up happening. That's where planning comes in! Here's an excerpt from our Wedding Day Timeline blog: "We unfortunately see [accidental receiving lines] happen pretty often. The bride & groom get married, they're extremely excited, they are standing together hugging and kissing in the area just outside of the church or ceremony location, and their guests (who are naturally excited, too) start filing out of the church/venue. If you're standing there, they're, of course, going to come over to you and talk to you and hug you. It's a natural response. We're not saying that receiving lines are inherently bad. They're great when they're intended and when time is allocated for them (approximately 45 minutes for 150 guests). They're not so great when you didn't have a first look, you want to have all of your formal photos taken during the time between the ceremony and the reception, and the amount of time is only an hour or 90 minutes. To avoid accidental receiving lines, escape to a secluded area immediately after the ceremony. Don't just stand in the back where everyone will be exiting.  It'll be fun just being alone anyway! And have your officiant announce that guests can make their way to the reception. That way, there'll be no confusion/lingering."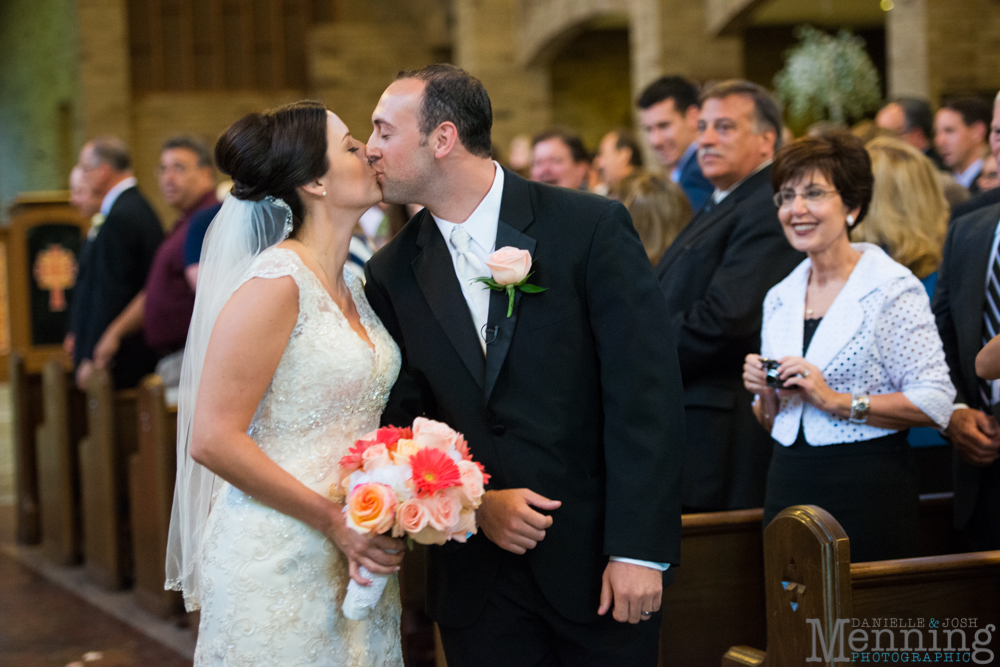 If you have time built in for a receiving line because of a first look or because of a large time gap in between your ceremony & reception, here are a few details you might want to know about the logistics of a receiving line:
Where/when- You can choose to have a receiving line immediately following the ceremony at the church/venue or you can have a receiving line as guests arrive to the reception venue. Make sure you're in a space that accommodates the guests in line as well as you two & your parents and that guests who cannot stand for long periods of time can pass through the area to go be seated without having to stand in line. We've seen couples release guests by row after the ceremony and that approach works, too! An aside- if you have ample time in between your ceremony & reception, we've found that one of the most convenient and comfortable timelines is to have the ceremony, hide so you don't have an accidental receiving line at the ceremony venue & ask your officiant to announce to the guests that they can proceed to the reception, have time for family formals, bridal party portraits, and bride & groom portraits, get to the reception venue before all of the guests, enjoy a relaxed meal with your bridal party and parents, freshen up, then greet guests in a receiving line as they enter. That way, guests can immediately enjoy their meals upon arrival and will not have to be dismissed by table or wait in long lines. This only works if there are hours in between your ceremony and reception- if you're interested in taking this approach, ask us about the specific number of hours you'll need & we'll help based on your unique situation.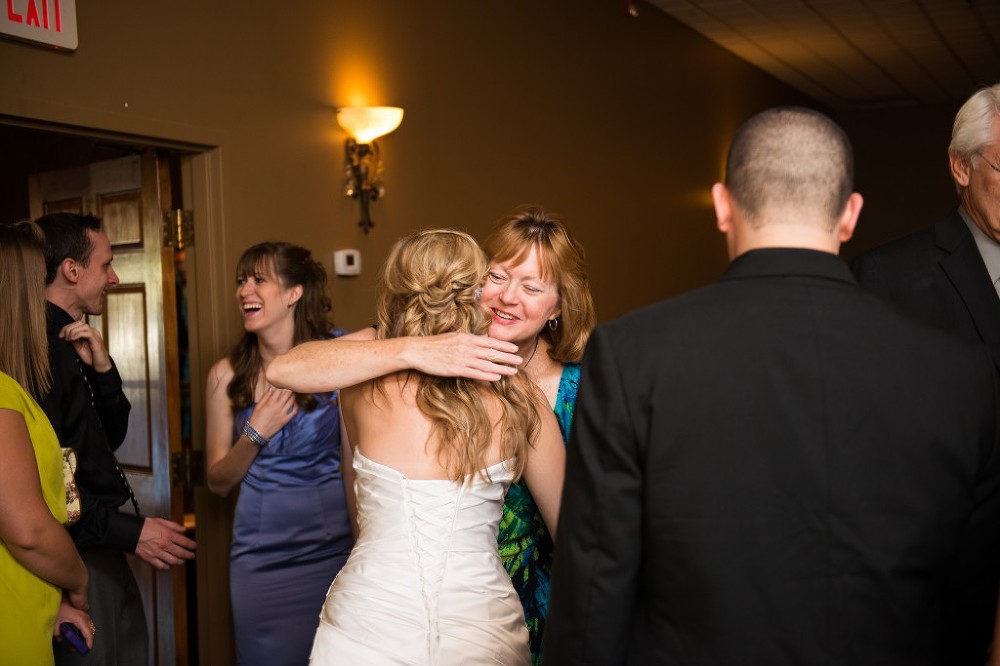 Who- Traditionally, the bride's parents (hosts of the wedding) stood first in line to greet guests, followed by the bride & groom, and, finally, followed by the groom's parents. These traditions have changed throughout the years & the order of people in line isn't the most important thing. The most important thing is that the bride & groom are there to greet and thank guests. The rest can be tweaked based on your unique situation. Grandparents can also participate in the receiving line if they would like to and are able. Also, you may wonder how to deal with a situation involving divorced parents. The following is from The Knot: "This may be one of the stickier situations you'll encounter when orchestrating the big day, and the resolution often depends on the relationships between the relevant parties. If your parents are divorced, they should not stand next to one another in line — even if they are sharing hosting duties — as this gives the impression that they are still a couple. Instead, place Mom on one side of you and the groom, then the groom's parents, then Dad. If this arrangement doesn't sit well, consider placing another family member or an honor attendant between them. And what about stepparents? Should you include them too? That depends: Do you have a good relationship with them? Is your mom/dad capable of sharing this duty with your stepmom/dad with civility and grace? You should strive to make everyone feel as comfortable as possible. If this arrangement gets the green light, simply have your father stand with his new wife, and your mother with her new husband. This way guests will understand the relationships." We'd add that you should be open and communicate well with all of the parents before this situation arises (well before the wedding day) in order to make sure that everyone is comfortable with it ahead of time to avoid any awkwardness or hurt feelings.
Wedding party members may stand in the receiving line, too, but it's not necessary. It's completely up to you & honestly we think it's unnecessary unless the wedding party members are close family members.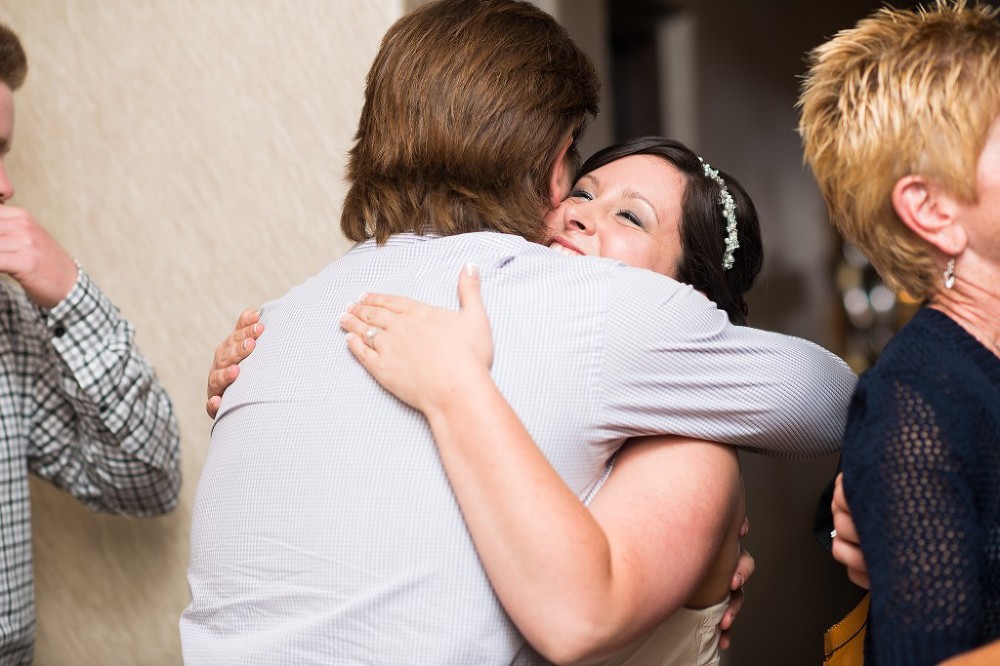 To sum up, receiving lines or releasing rows are amazing ways to exchange heartfelt greetings and thank yous with your guests. These are the people whom you invited to share in one of the biggest days of your life. . . that means they're important to you & you definitely want to at least get the chance to say hi and thank you! As long as you incorporate enough time into your wedding day to have a receiving line or to release rows, it's a wonderful time full of happiness that you won't forget. Just don't be surprised if your veil gets yanked with hugs (you may want to take it out if possible). 🙂 We hope this helped with your wedding planning &, like we said, we're here to help our couples so ask us any questions you have before the big day arrives!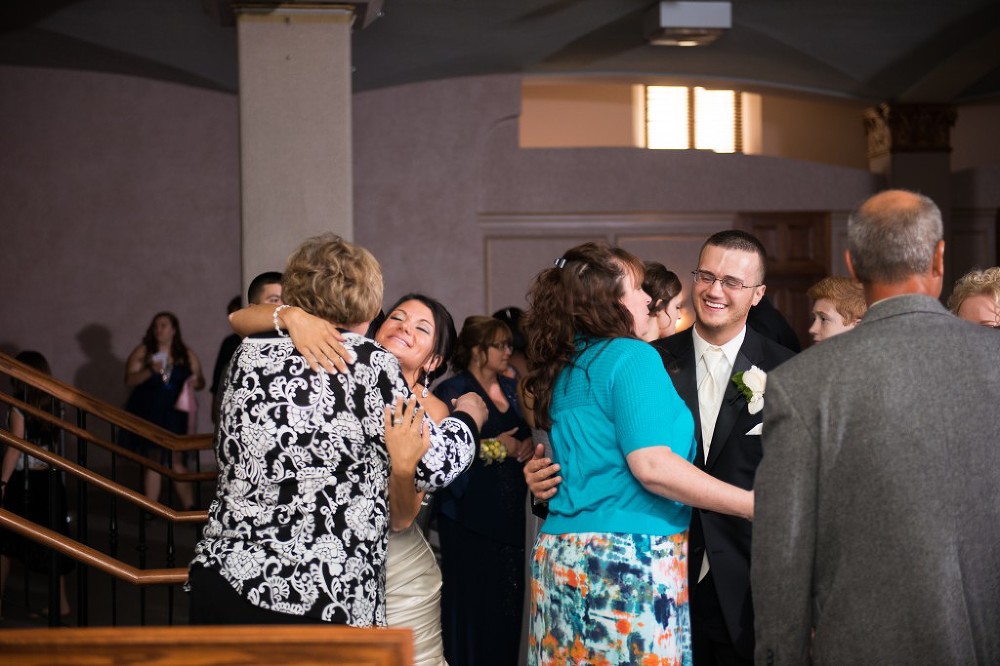 Instagram | Facebook | Twitter | Pinterest | Google +