Brielle and Josh are best friends, camping buddies, fishing partners, and parents to two of the cutest and most fun dogs we've met through our photography business. Their wedding venue fit perfectly with their laid back, country, fun-loving personalities. And their wedding day, though a little rainy at certain points, turned out absolutely wonderful! Just wait until you see the sunset! Snode's Restored Country Barn in Minerva, Ohio was the site for their ceremony and reception & it couldn't have been more fitting.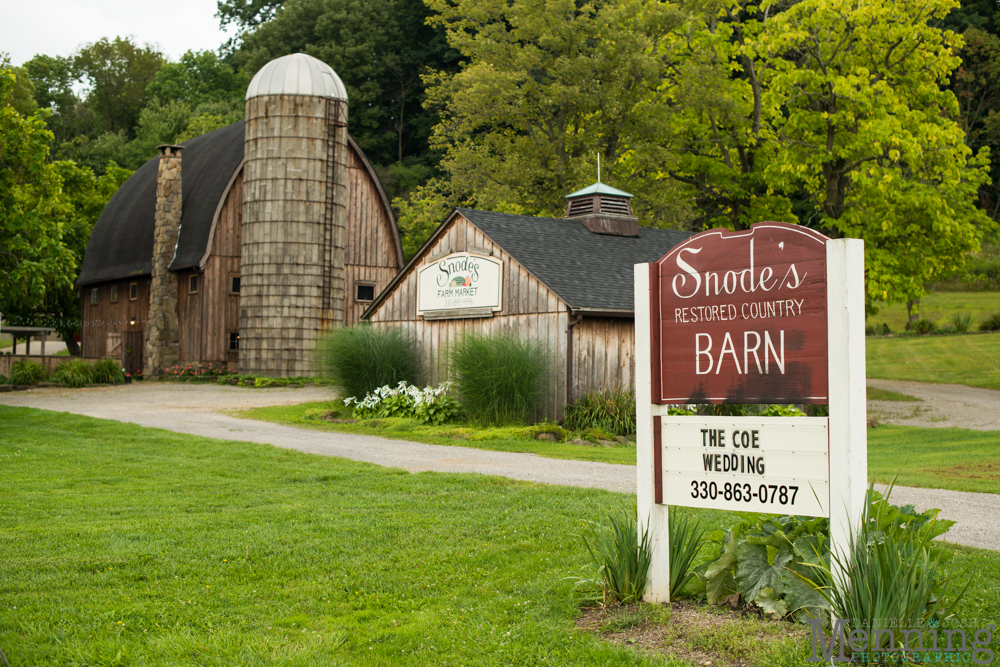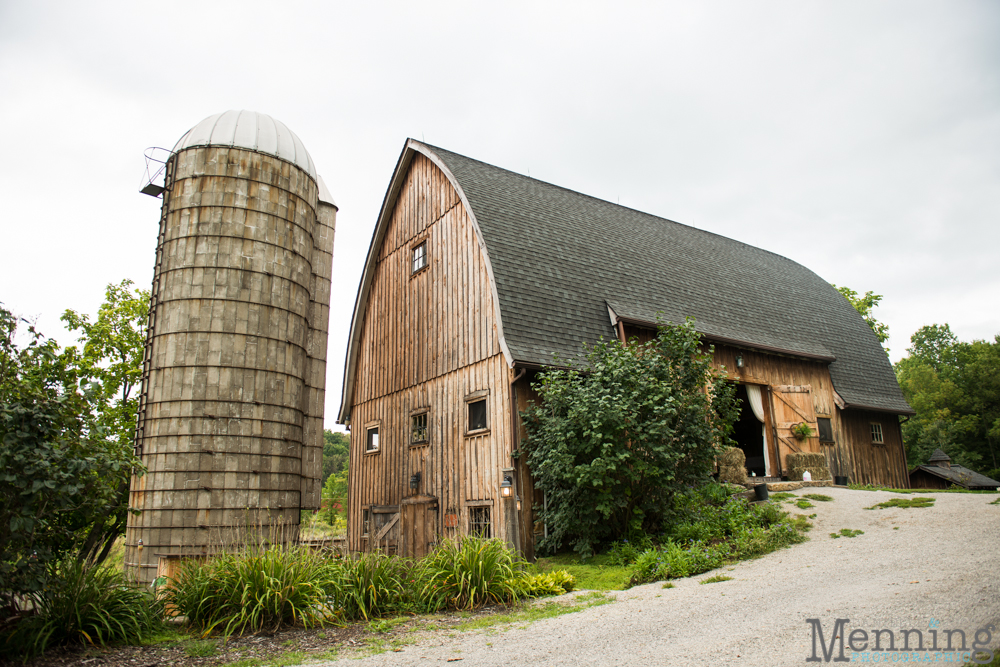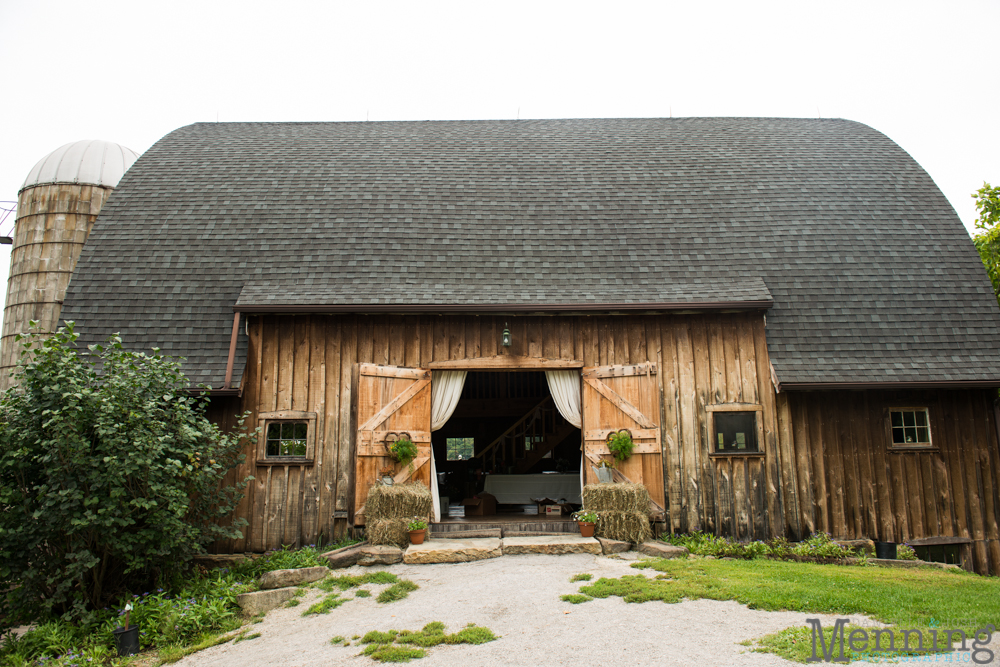 Josh made this mailbox for their cards.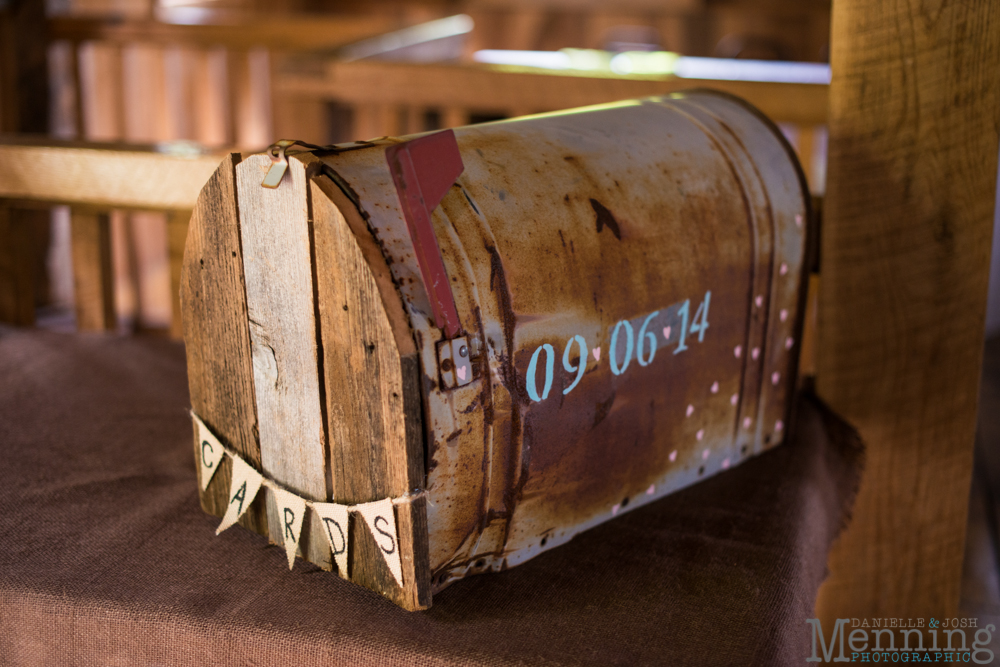 The "143" means "I love you" (one letter word, four letter word, three letter word). Josh got Brielle a bracelet as a wedding gift with "143" on it & she wore it on the wedding day. It's a cute little saying they've been using for years.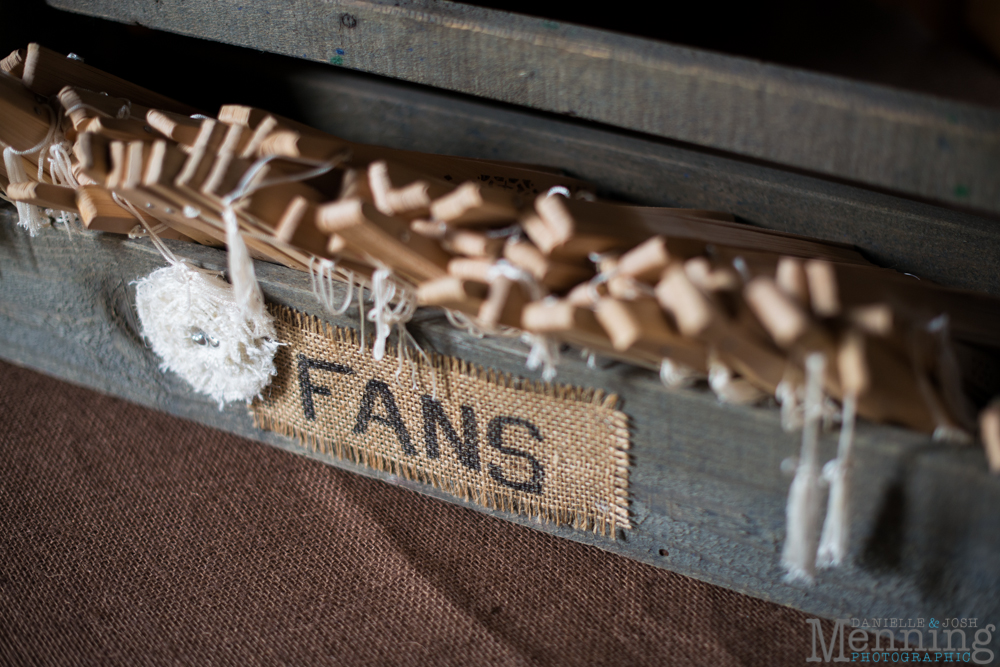 You'll love the flowers for this wedding! Jenny and her awesome team from The Willows by Wehr did the wonders.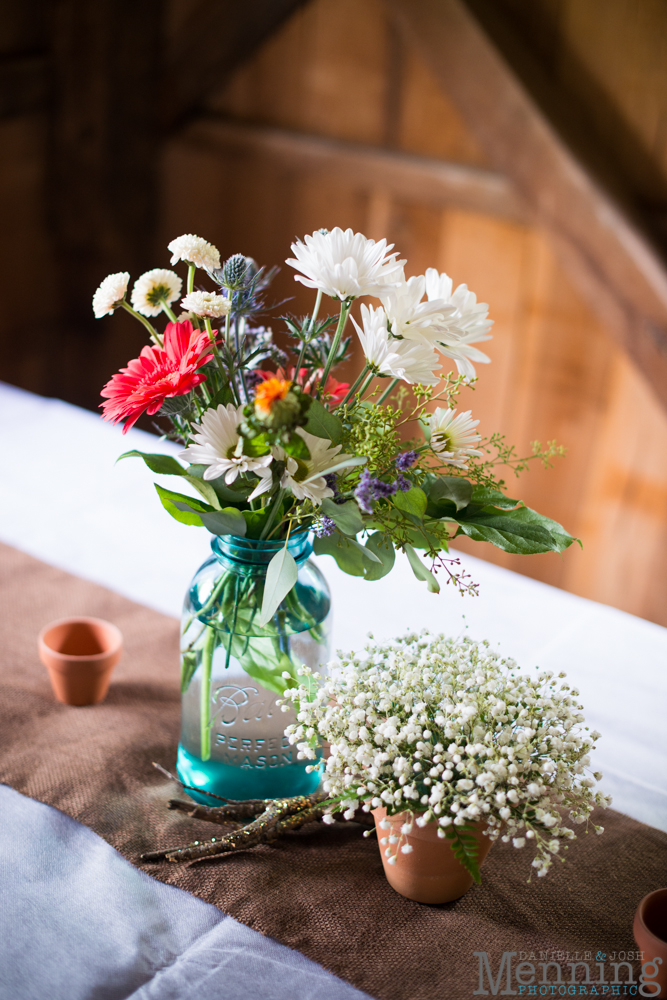 I hung out with Brielle & her bridesmaids at a hotel in Carrollton while they were getting their hair and makeup done. They were so much fun!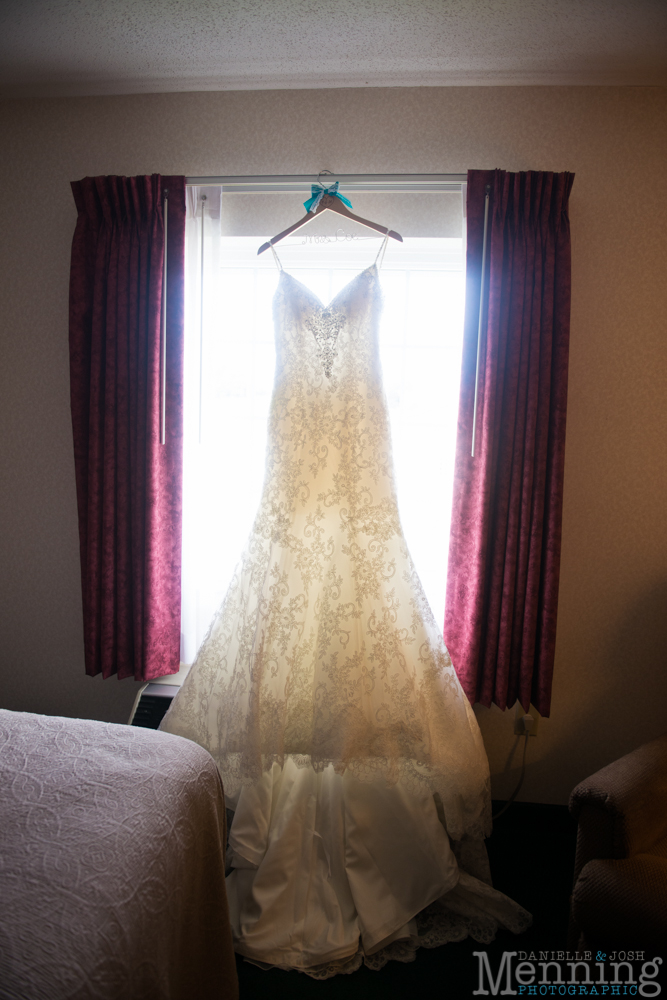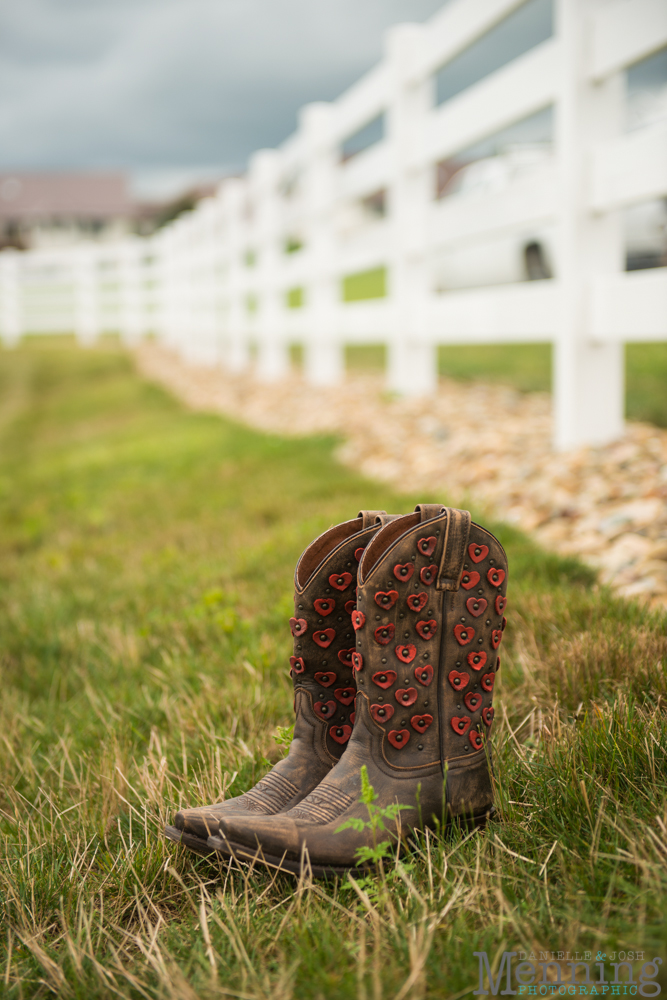 My friend Becky did all the girls' makeup. She does an amazing job. I can't recommend her enough! Brides, let me know if you want her contact info & I'll get it to you ASAP! She comes on location so it's super convenient for you.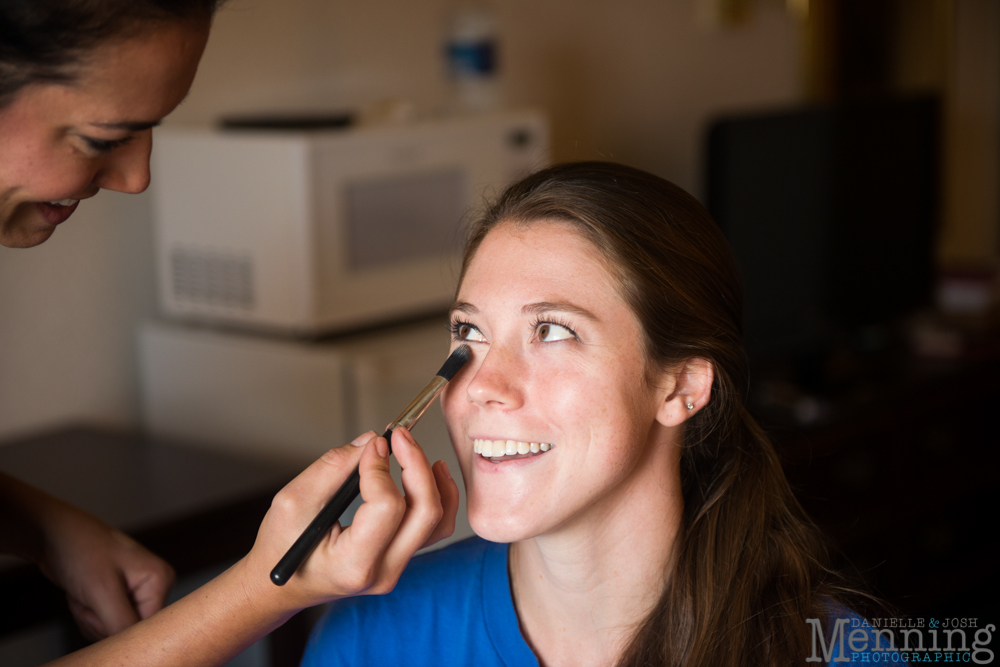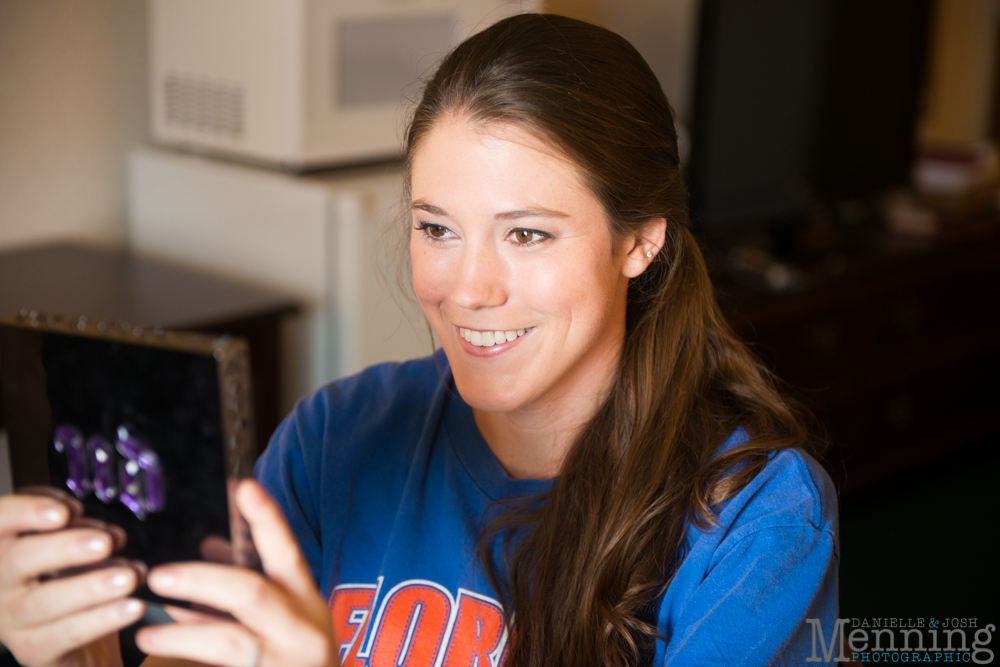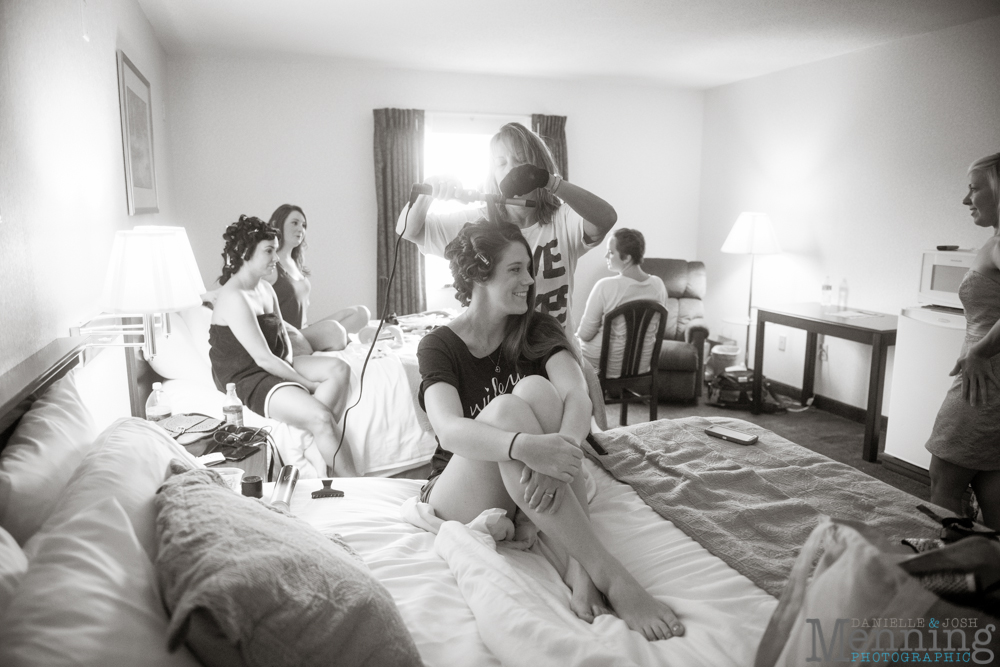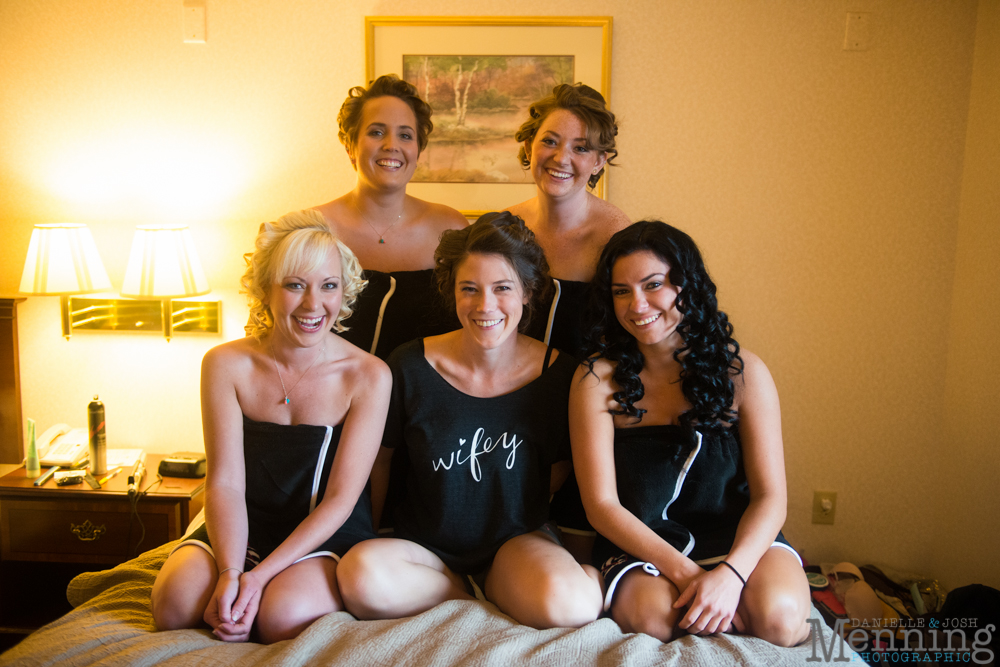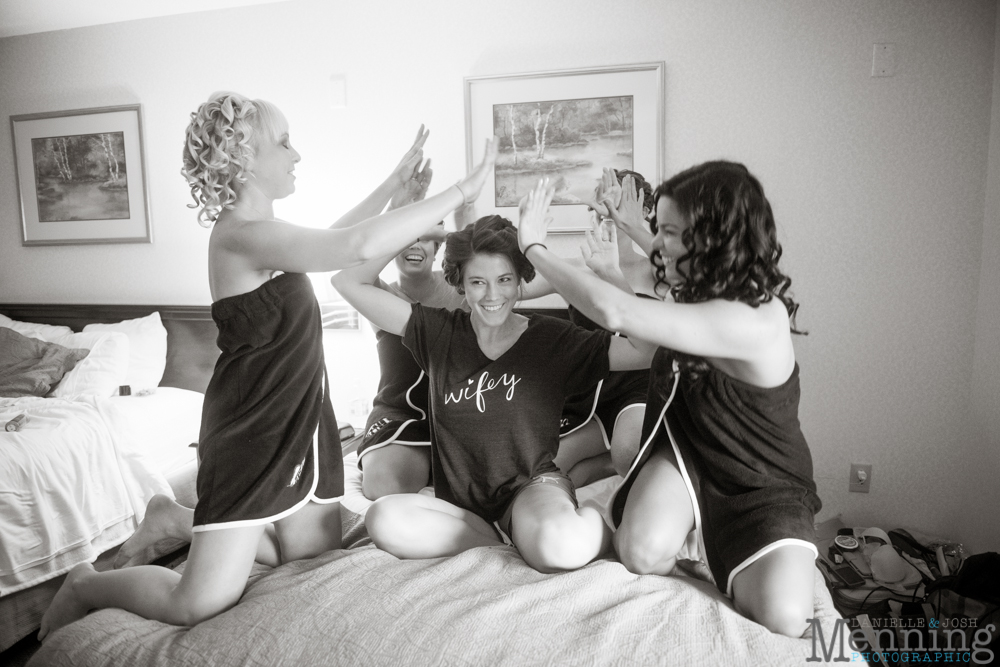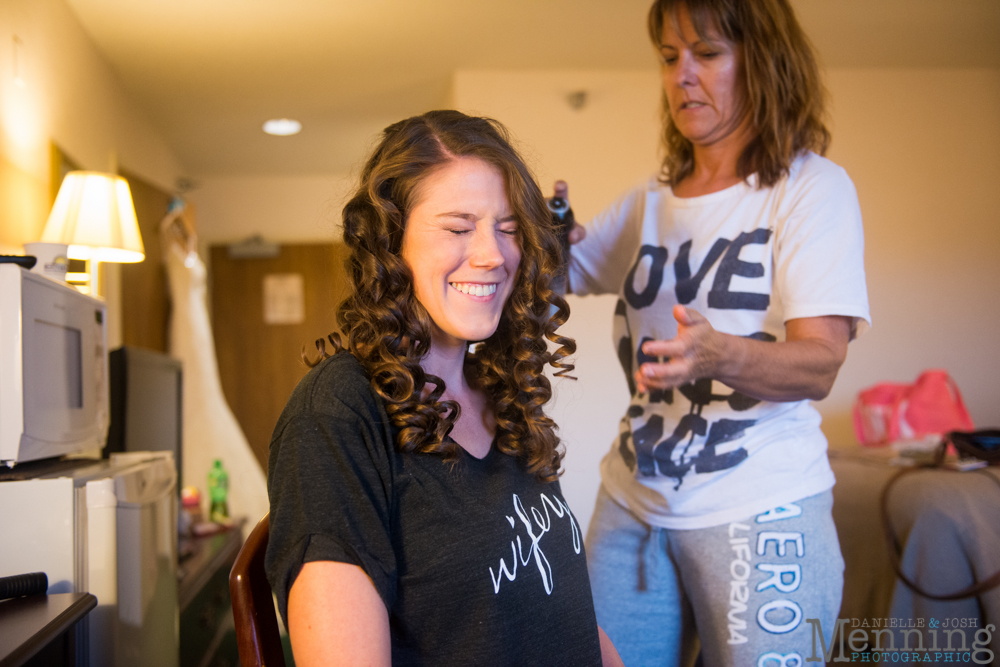 Brielle said that this dress was everything she had previously said she didn't want in a dress . . . before she tried it on. I think that happens with a lot of brides & their wedding gowns. I always say to just go into the dress shop with an open mind as much as possible & see what fun you can have! 🙂 Brielle looked STUNNING in this dress!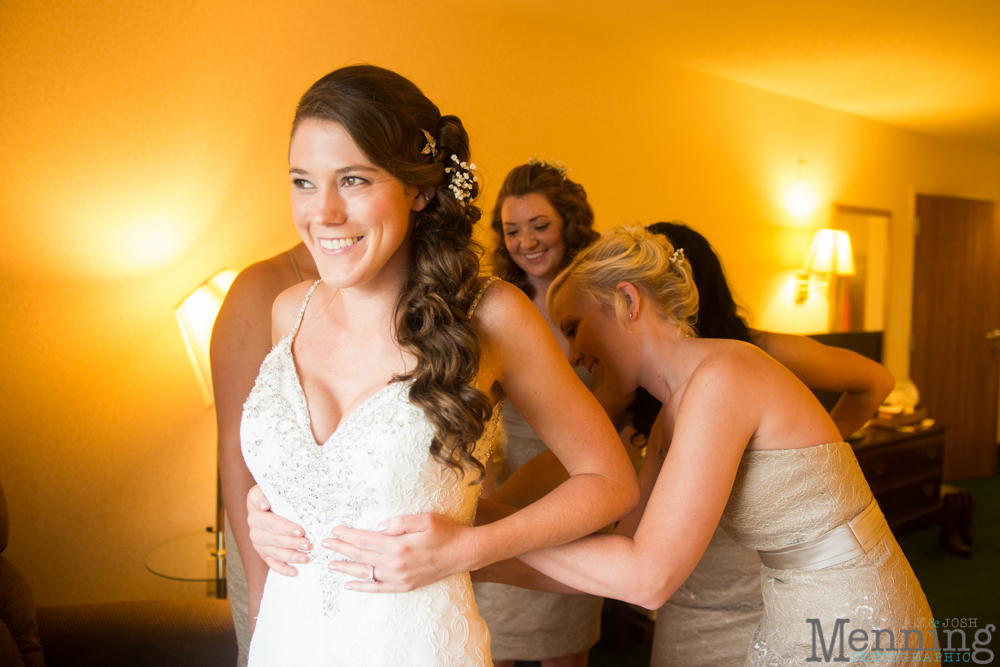 While I was with Brielle, Josh was with Josh. 🙂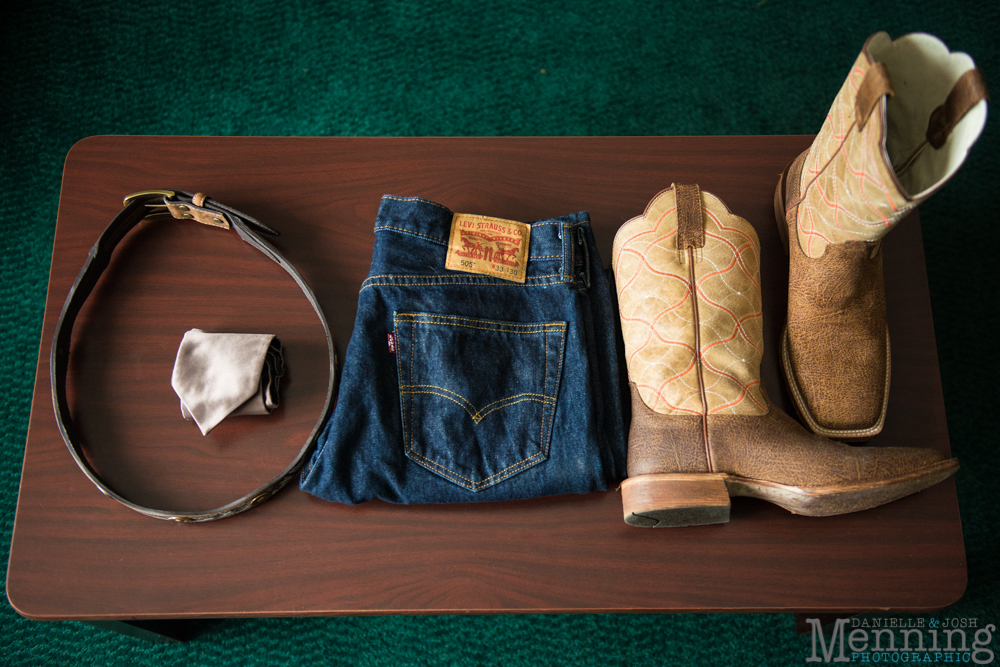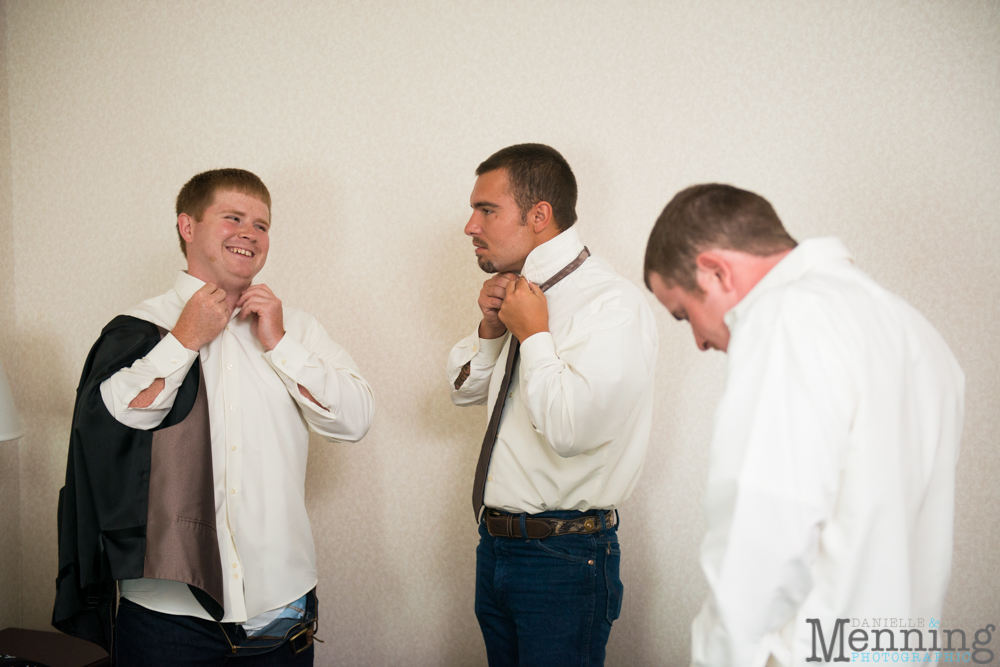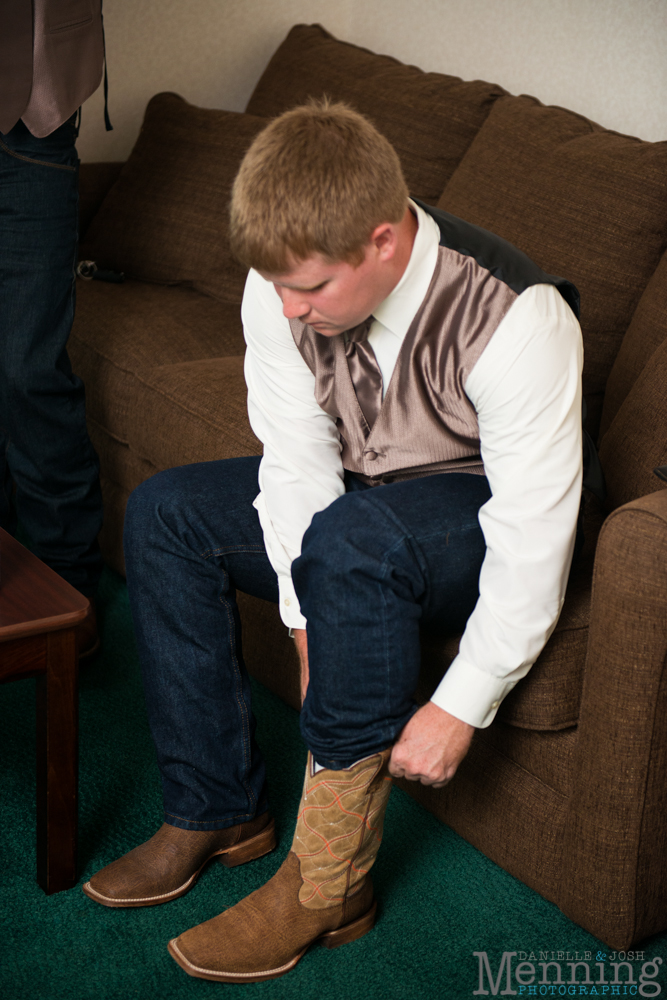 And then we got to do a first look! Brielle & Josh knew that they wanted to do a first look for many reasons. For one, they loved the thought of seeing each other MORE on their wedding day. They also knew it would work best with their wedding day timeline because their ceremony and reception were at the same venue & they wanted the ceremony to simply flow into the reception. So they got to have this moment before their wedding ceremony together. Just the two of them getting to see each other and hug each other and kiss each other and talk to each other (We were there, too, of course. . . far away with our zoom lenses). 🙂 LOVE it!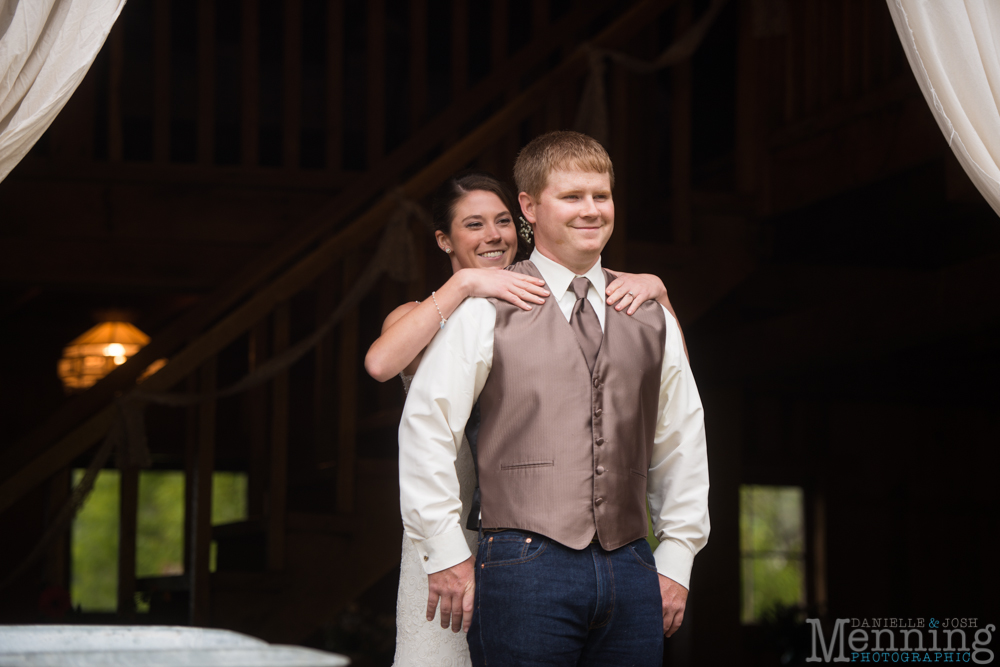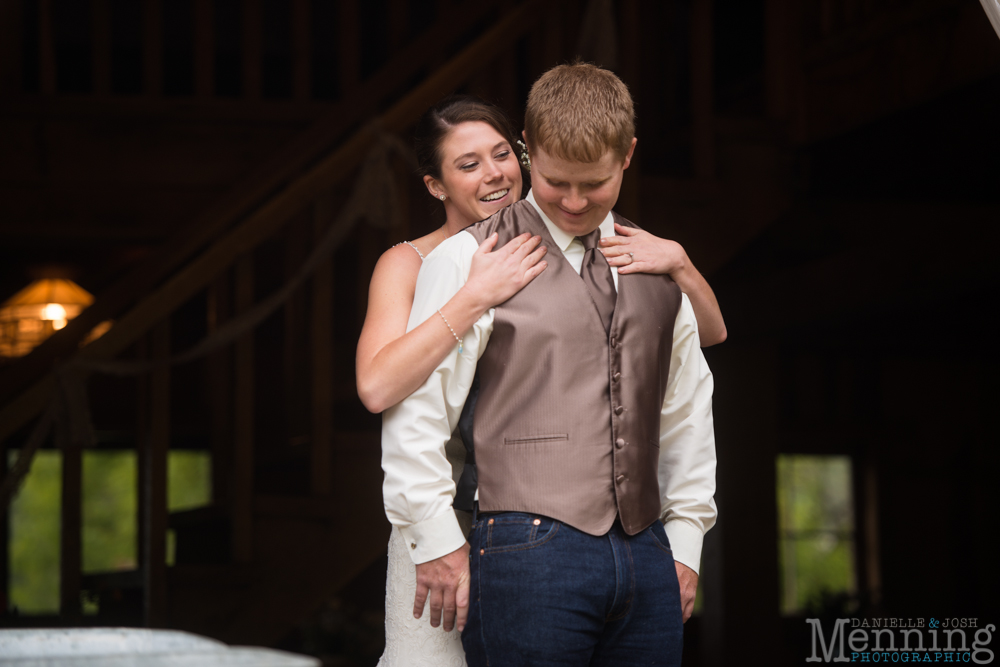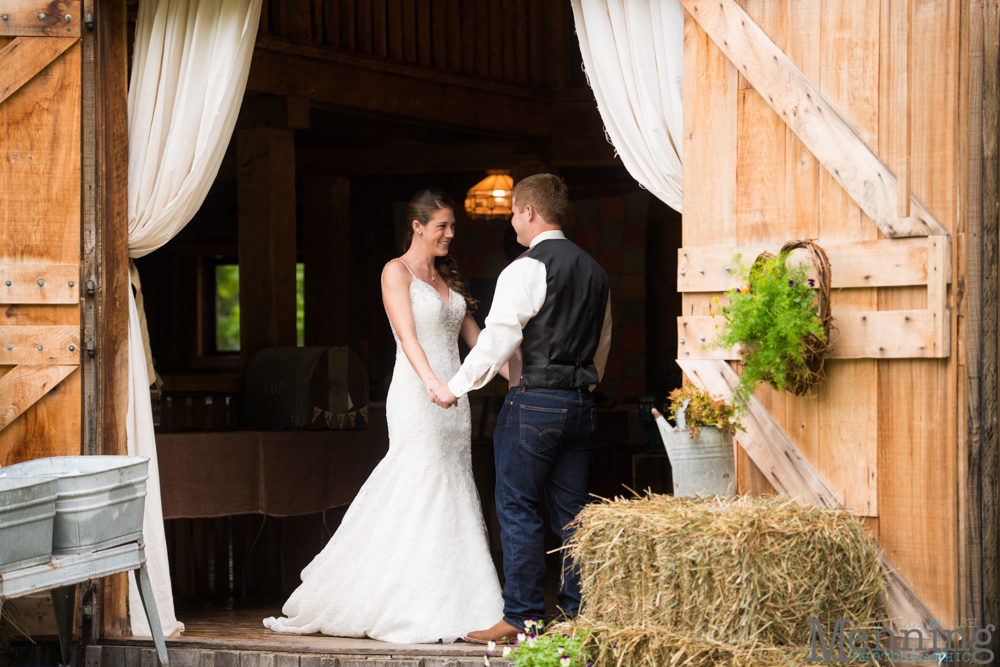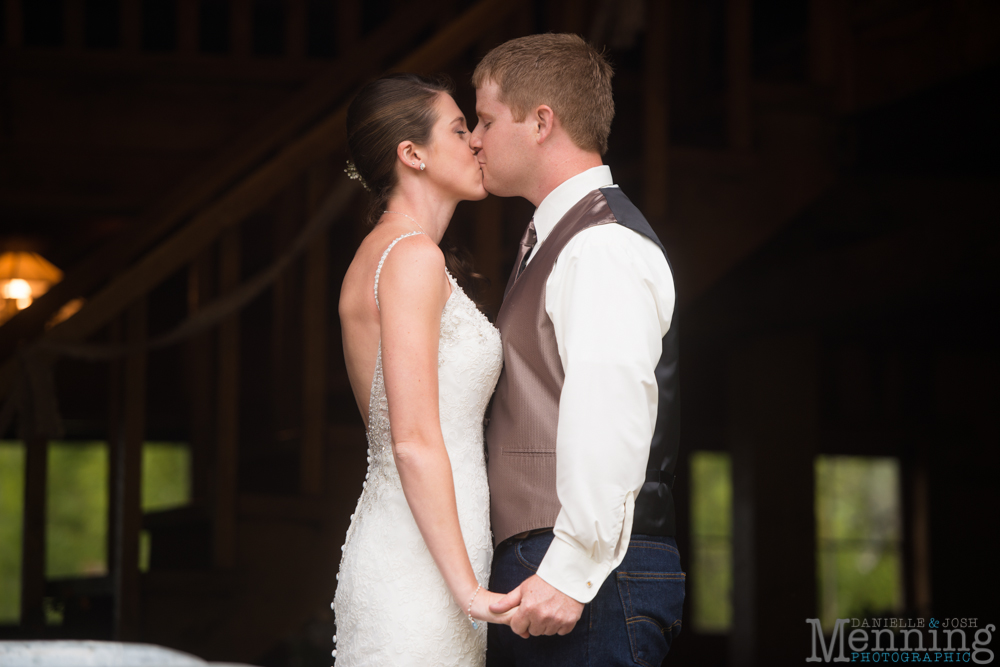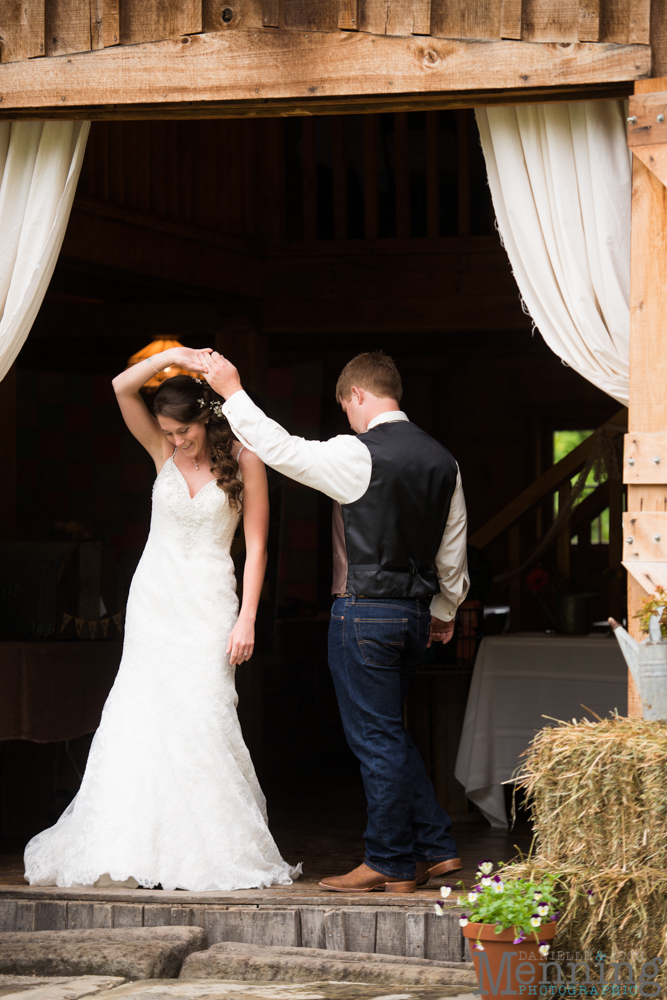 Josh checking her out: 😉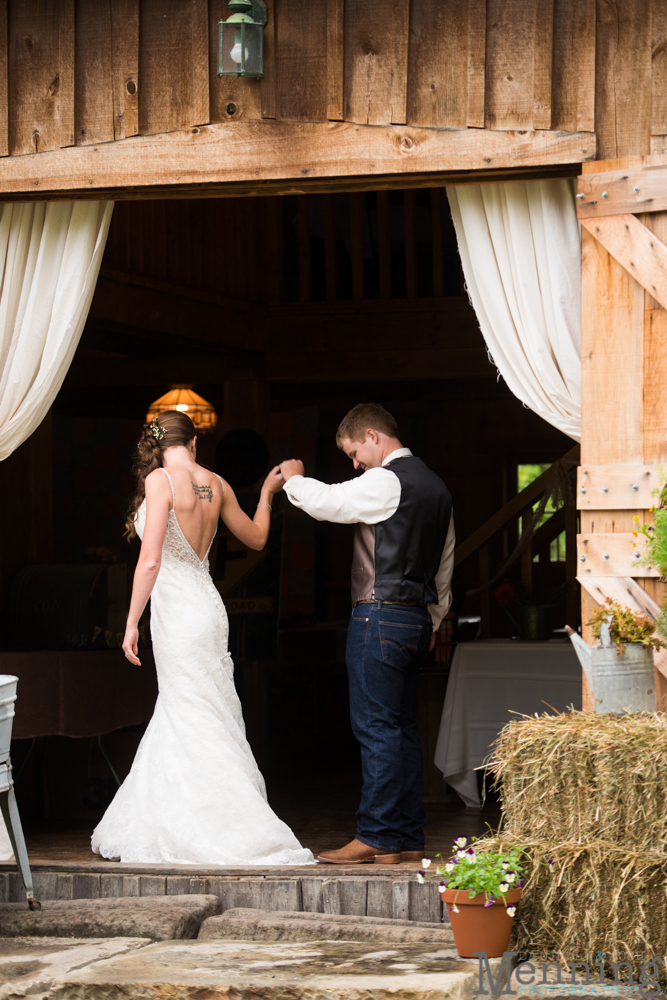 And then we enjoyed some relaxed and fun romantic portrait time with the bride & groom!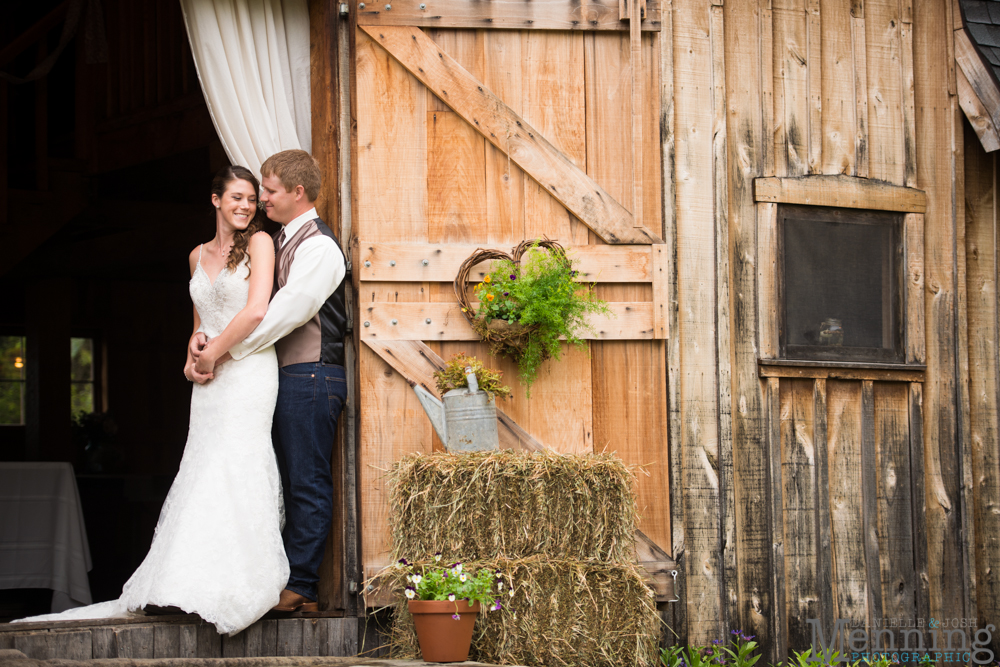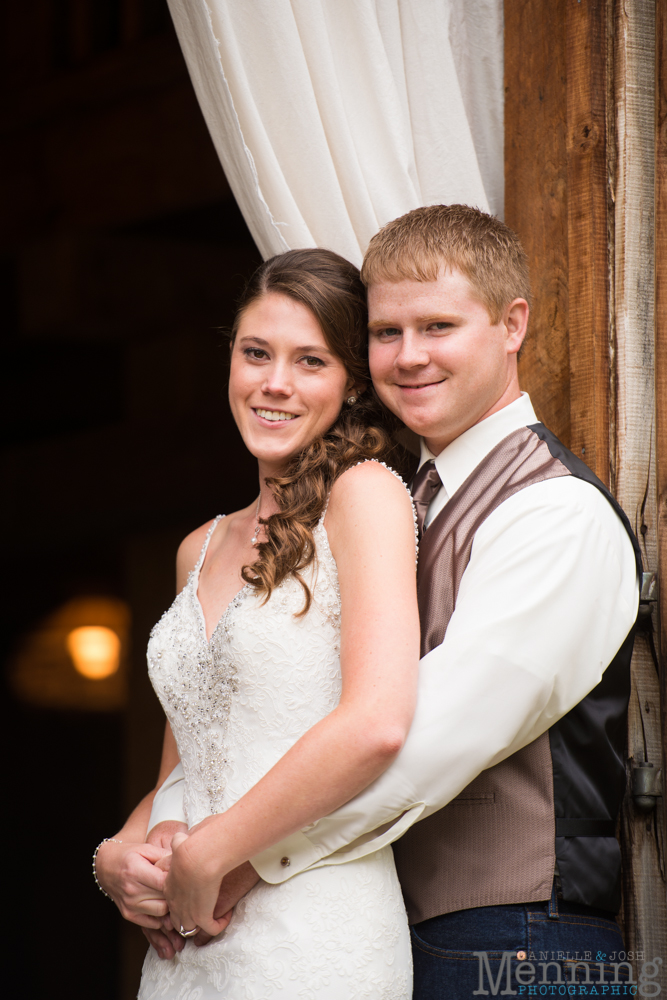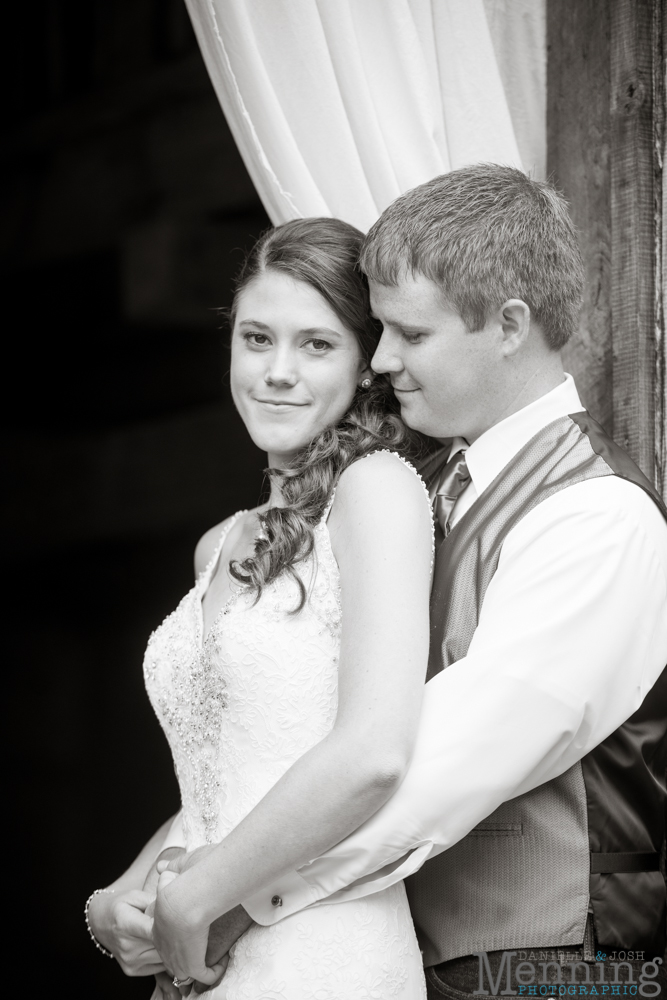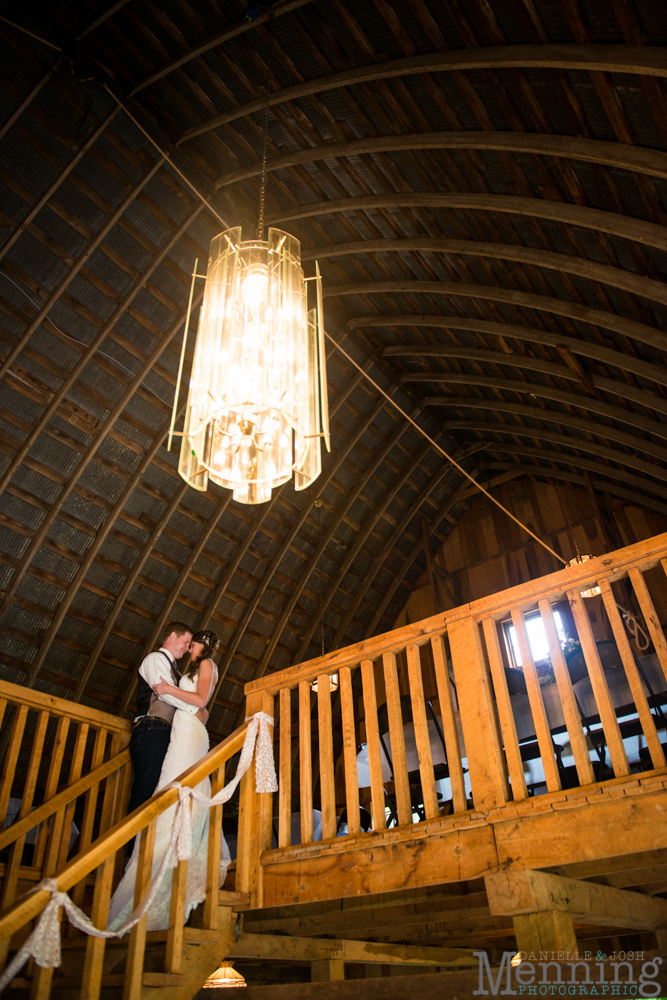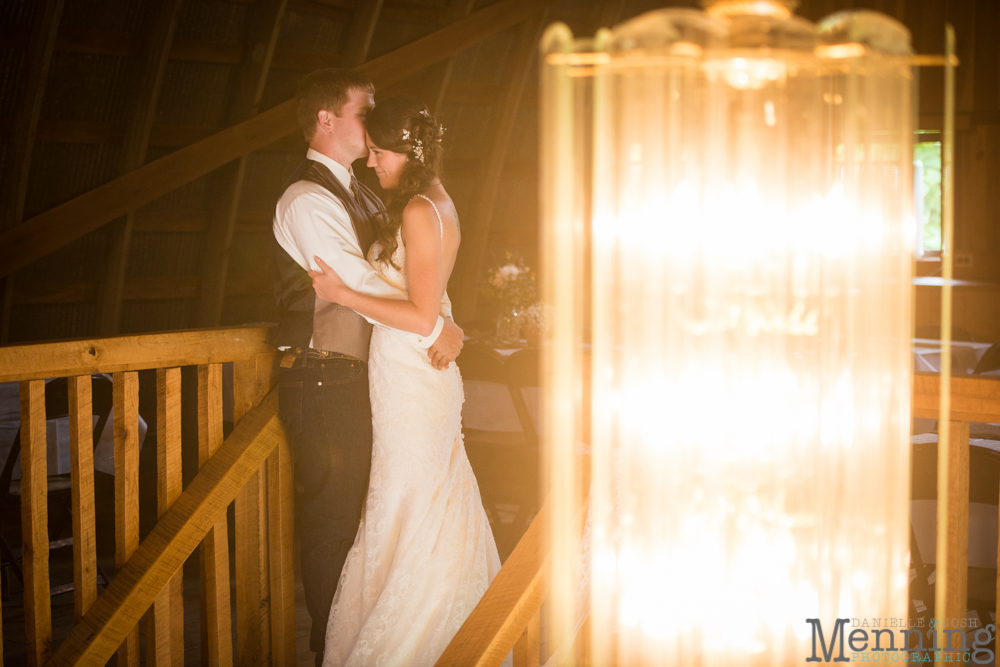 The back of her dress was her favorite part.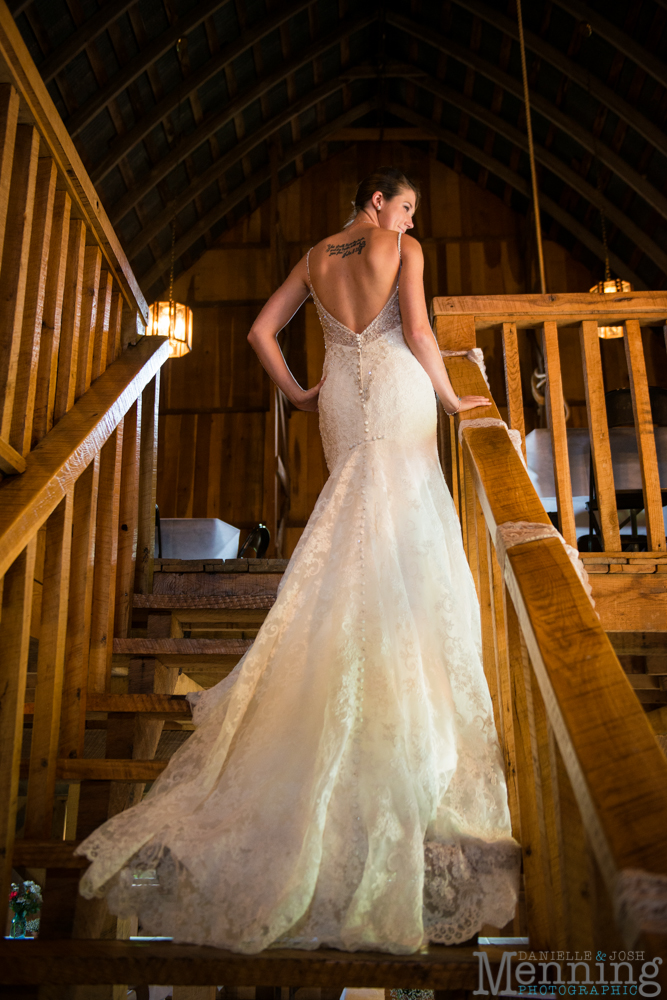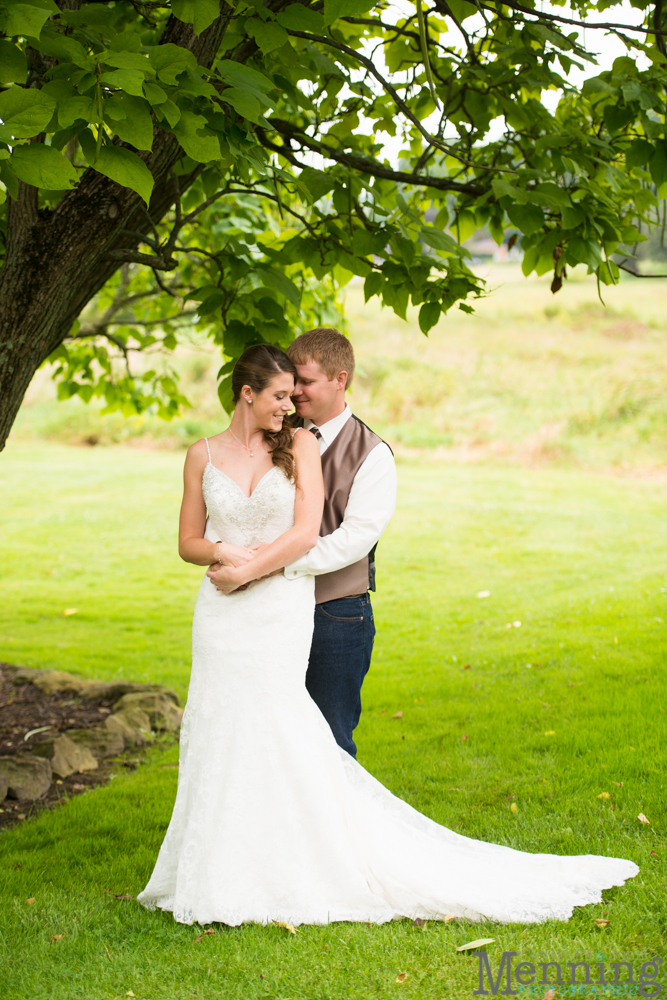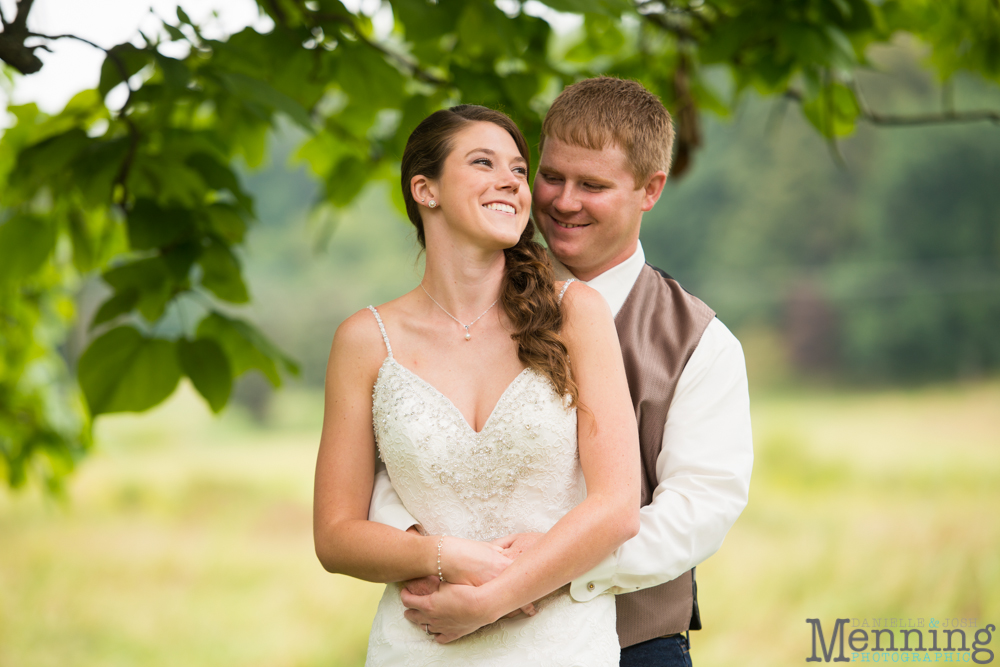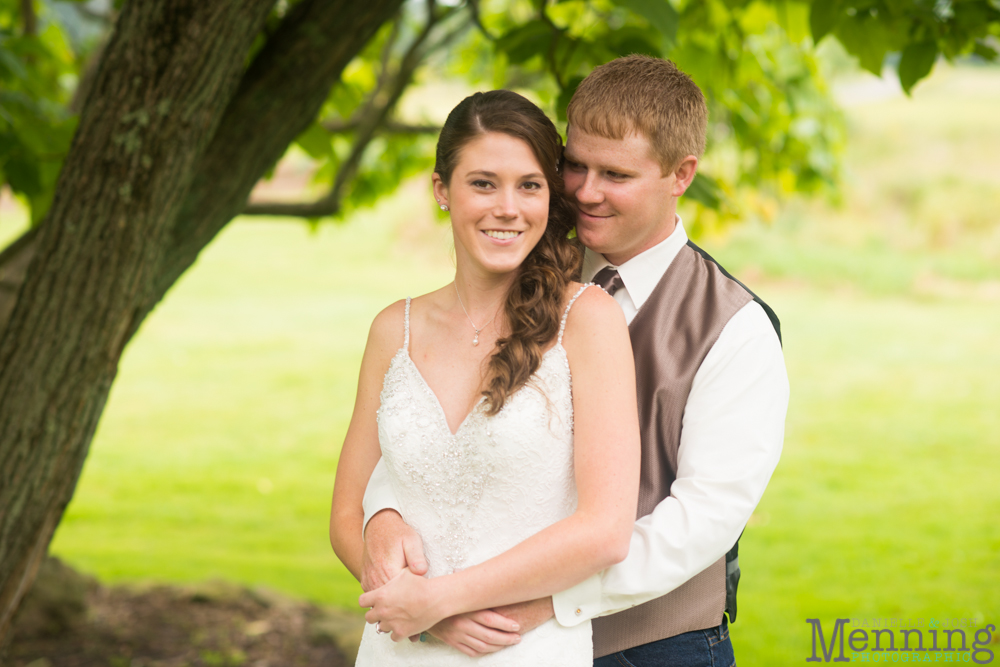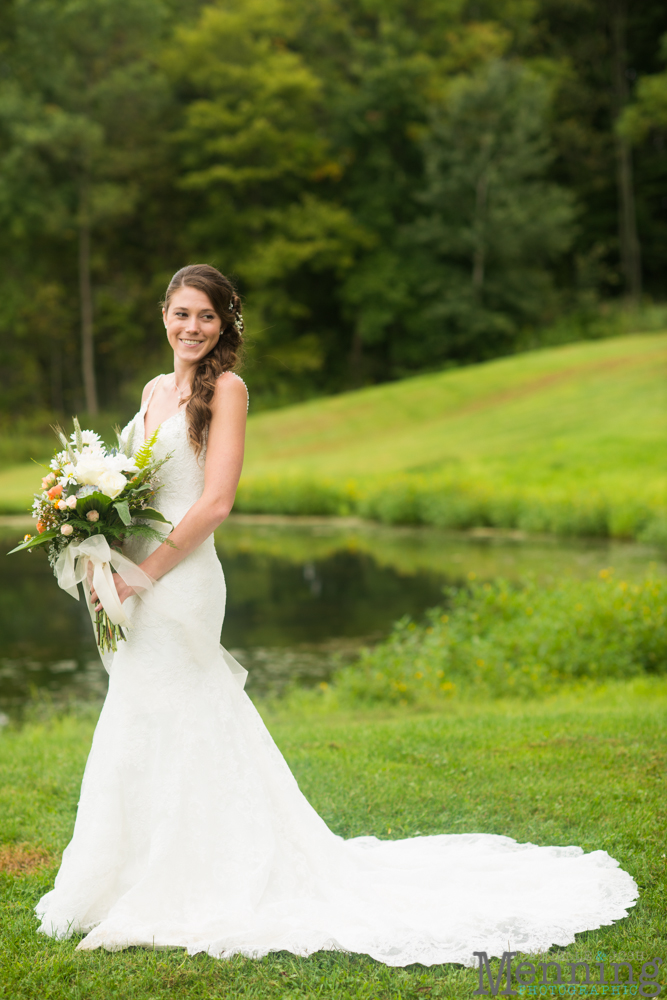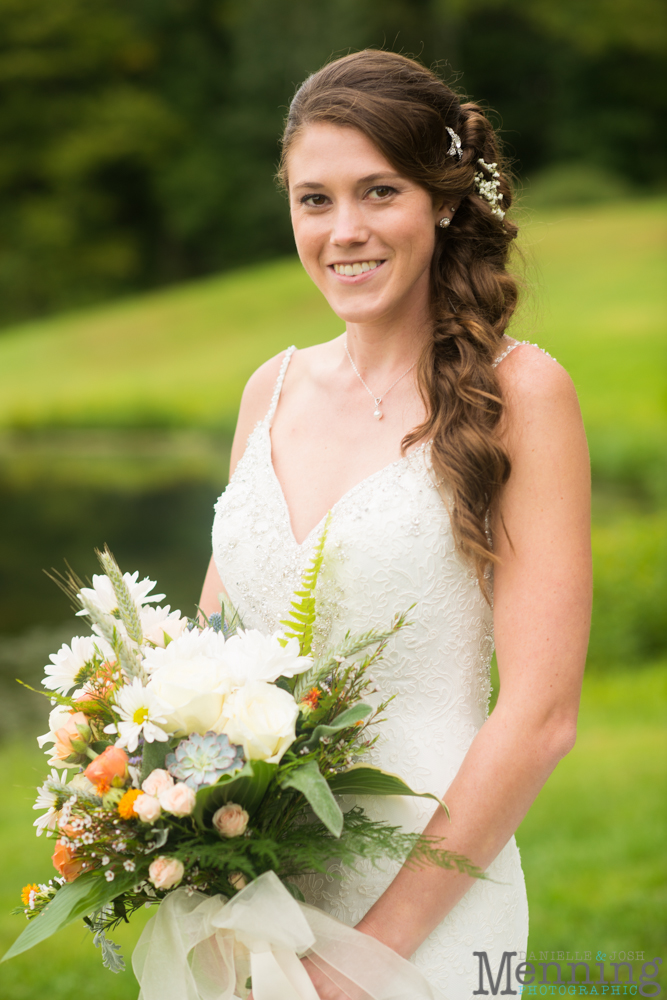 Oh my goodness, Jenny & The Willows by Wehr! You ladies definitely outdid yourselves with this lovely bouquet!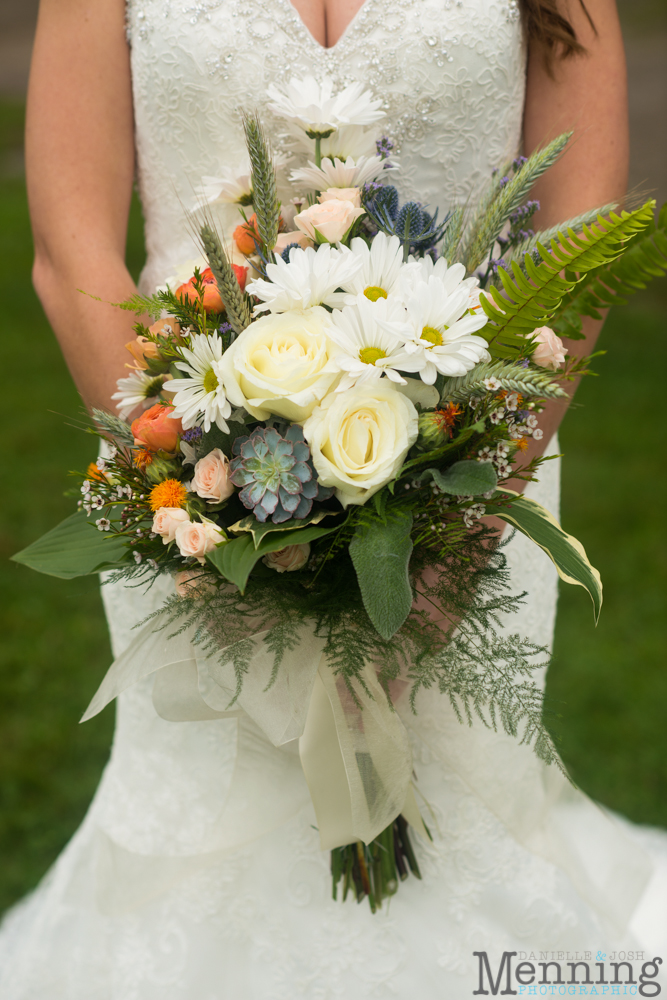 The wedding party joined in on the photo fun.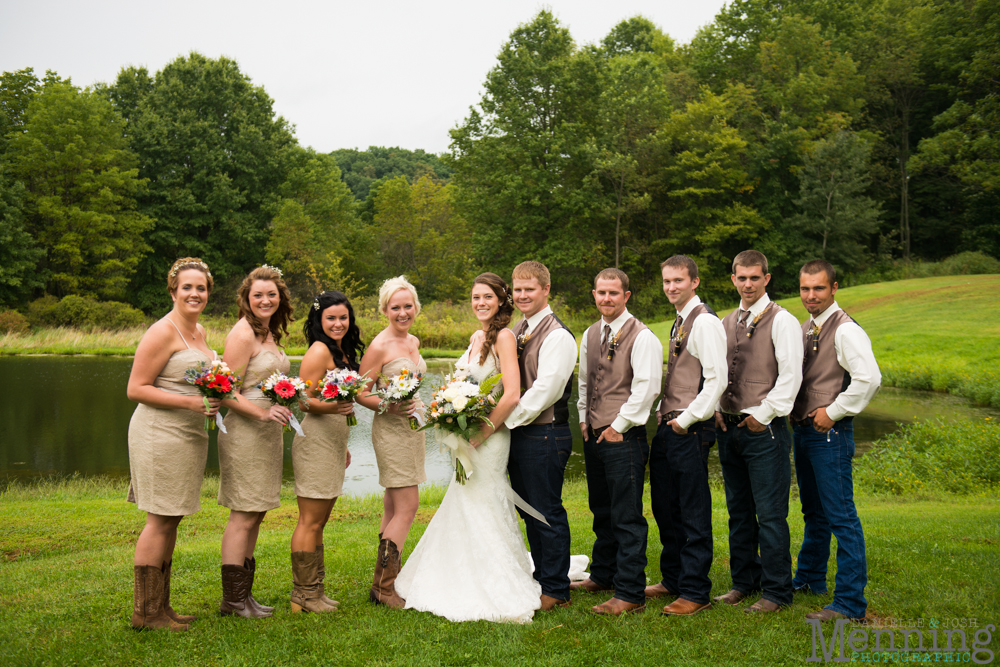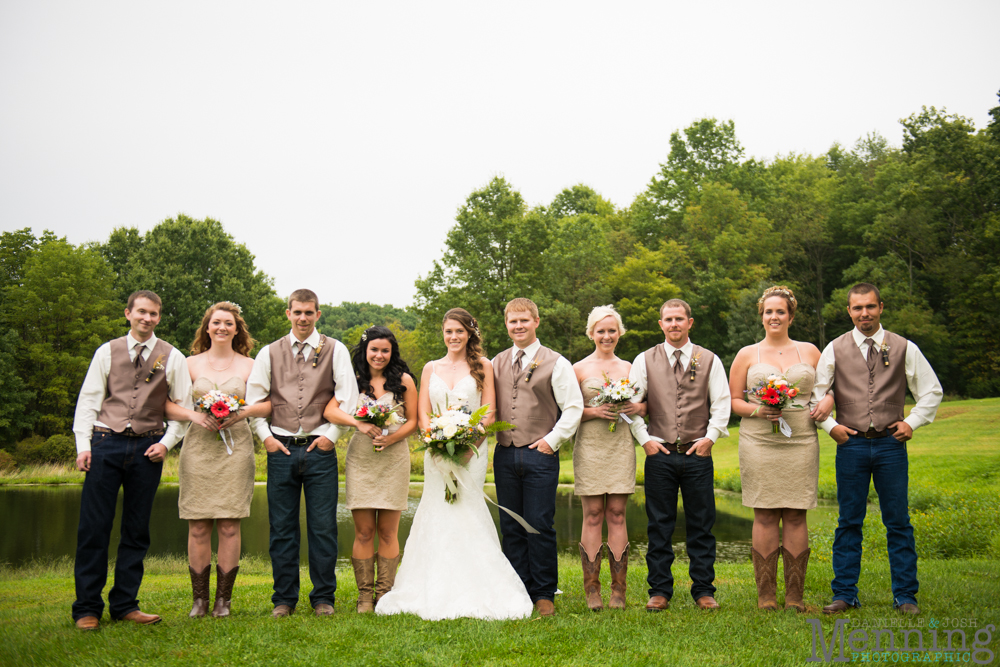 And Owen, the black lab, wanted his photo taken, too.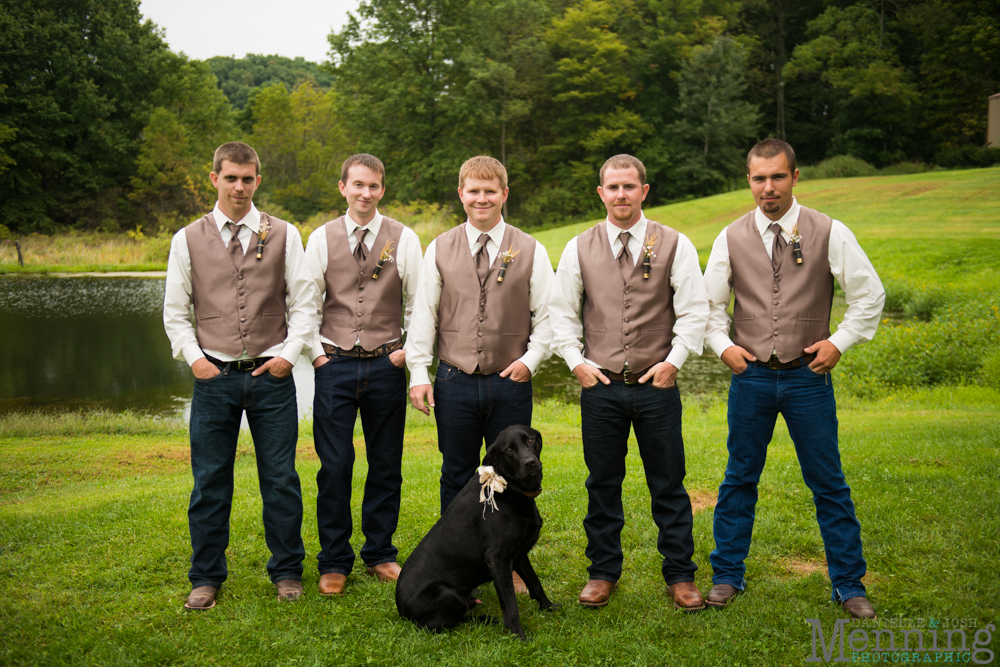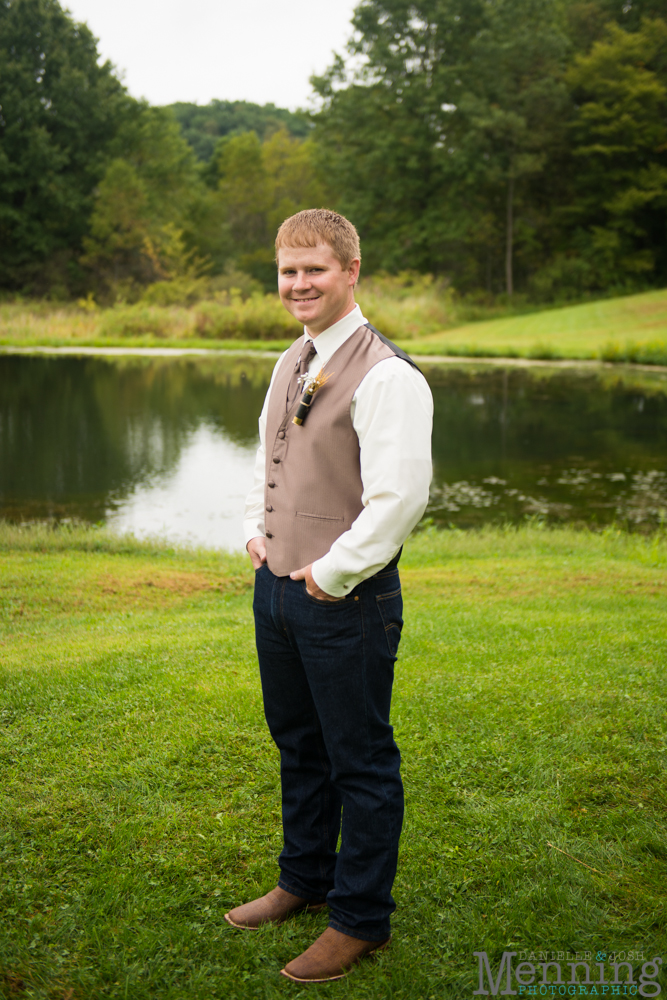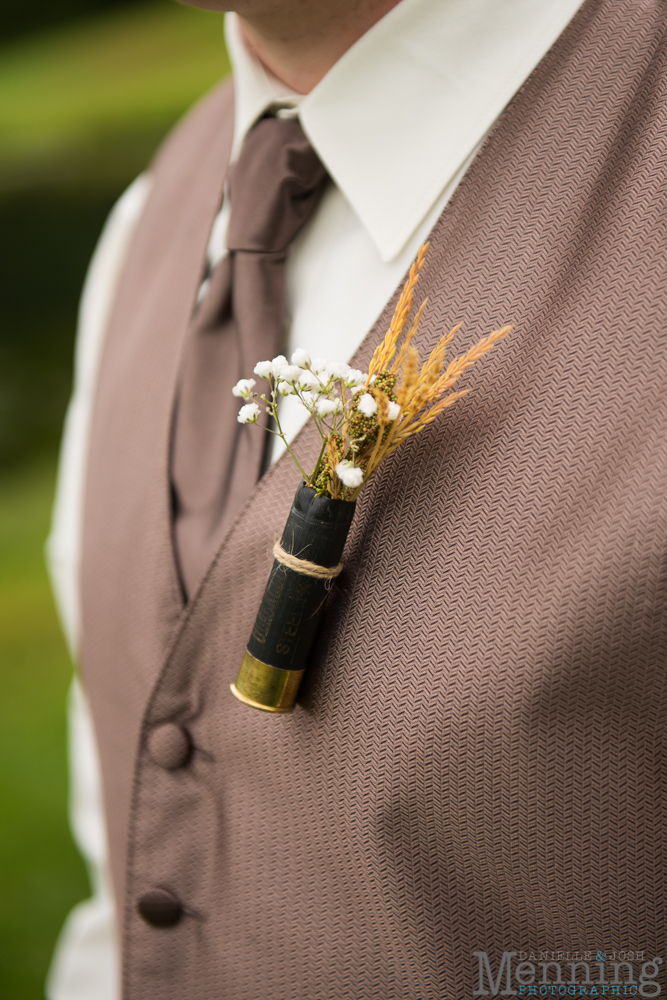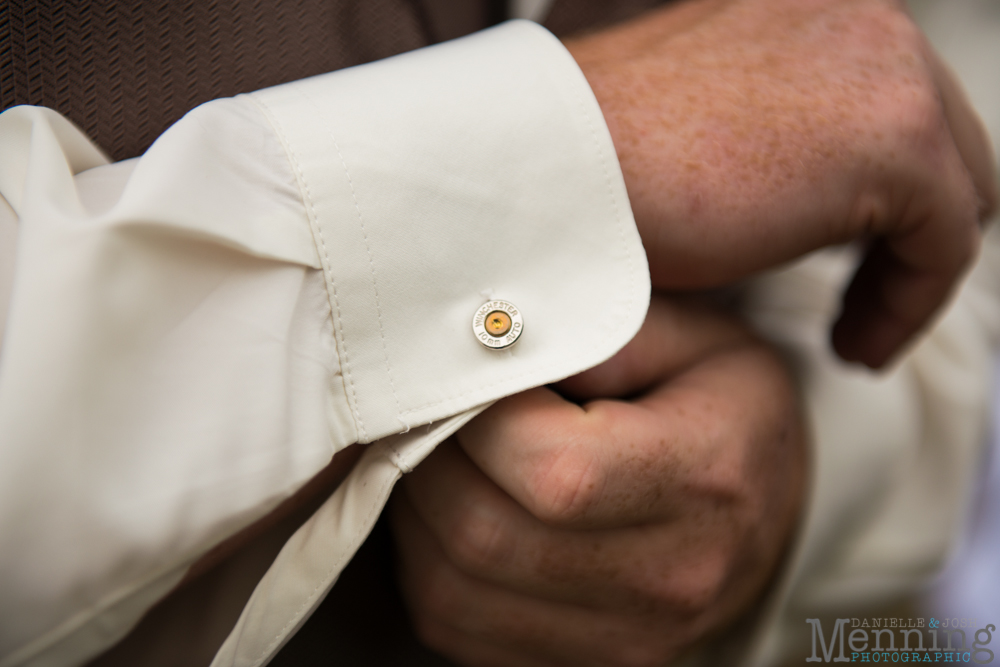 Boys and their toys.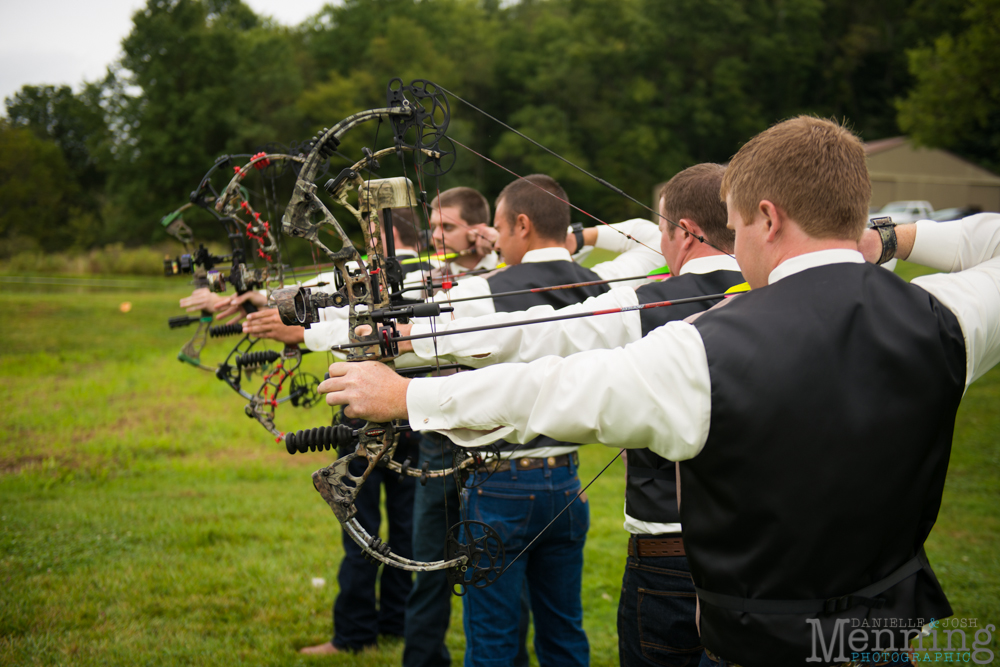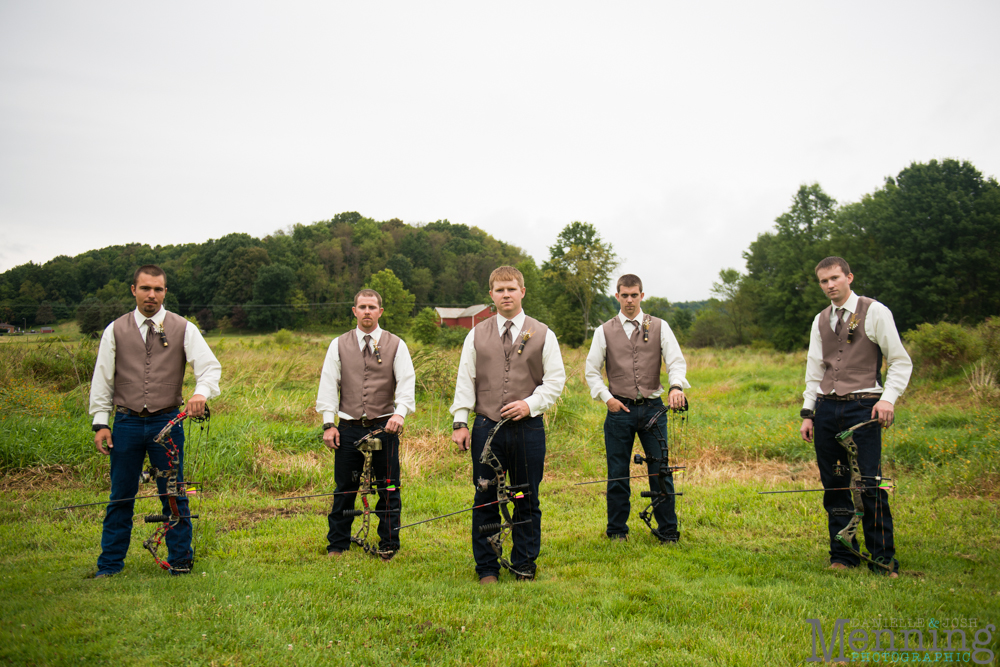 These girls made my job easy! They were so easy to get along with and full of laughs. (We also did formal family photos before the ceremony, too, which made the timeline run so smoothly).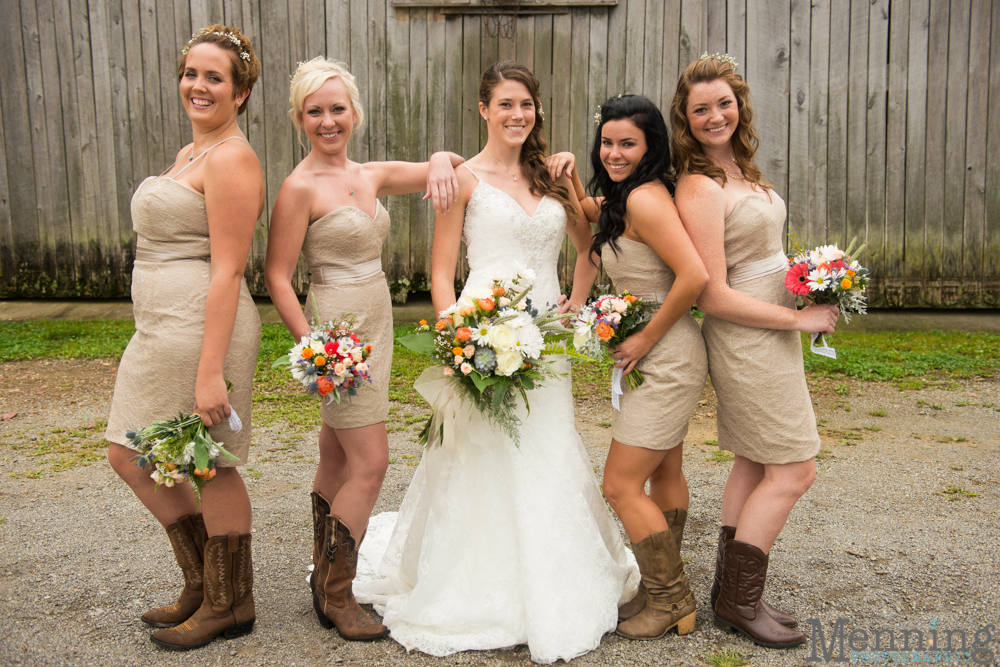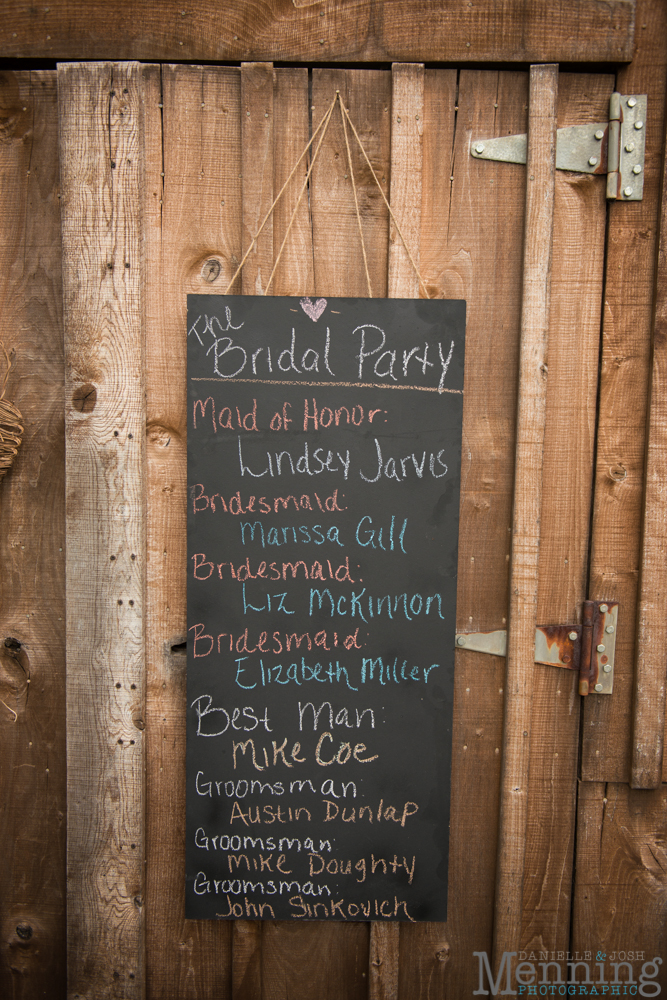 Then it was time for the ceremony. It was beyond cute how Brielle and her dad smiled at each other as they walked down the aisle. He loves his baby girl.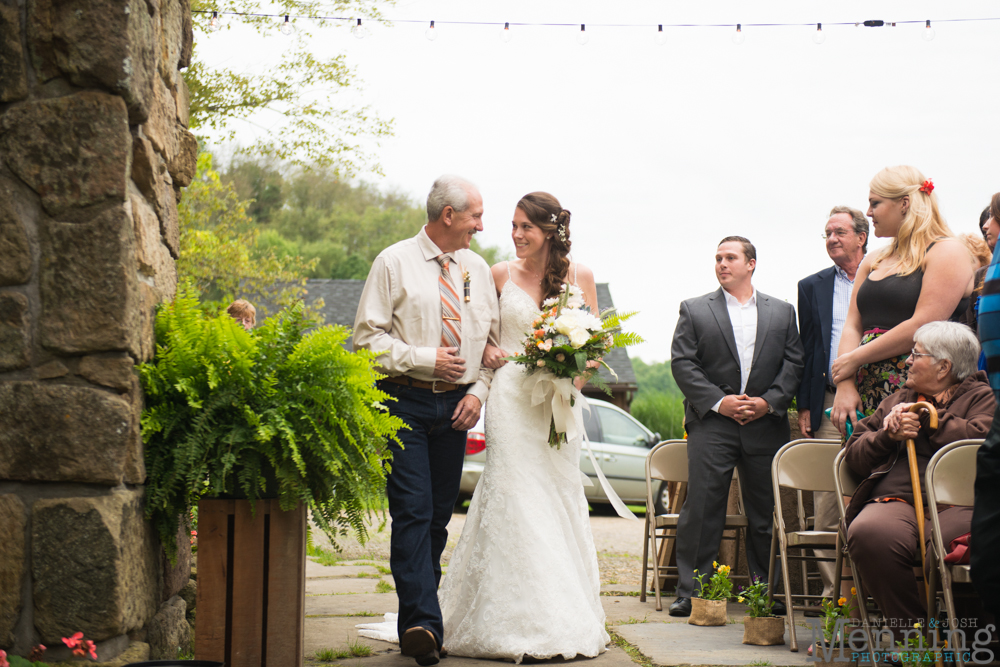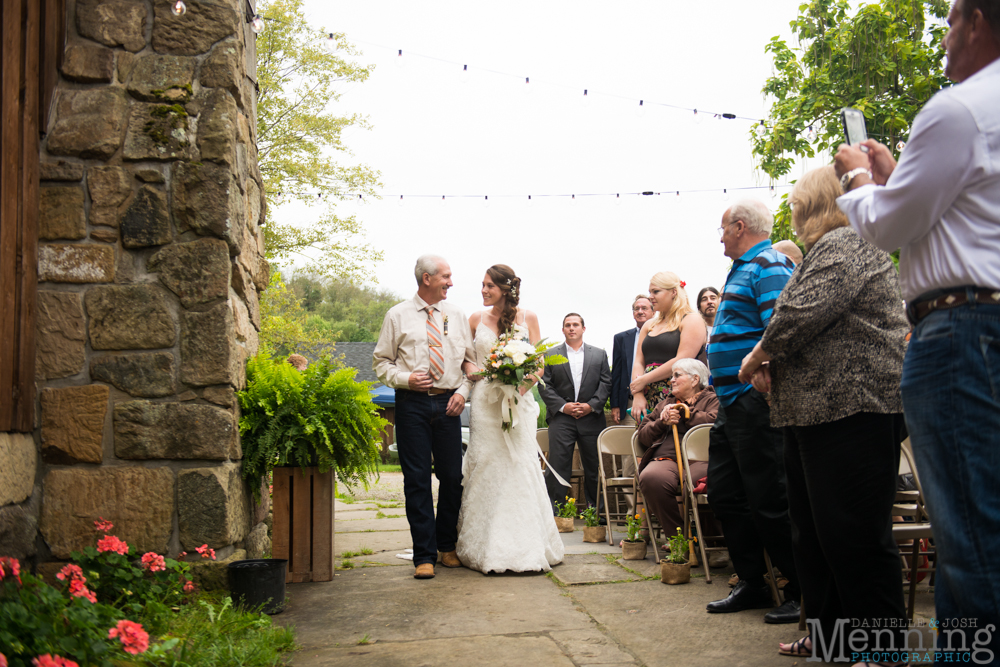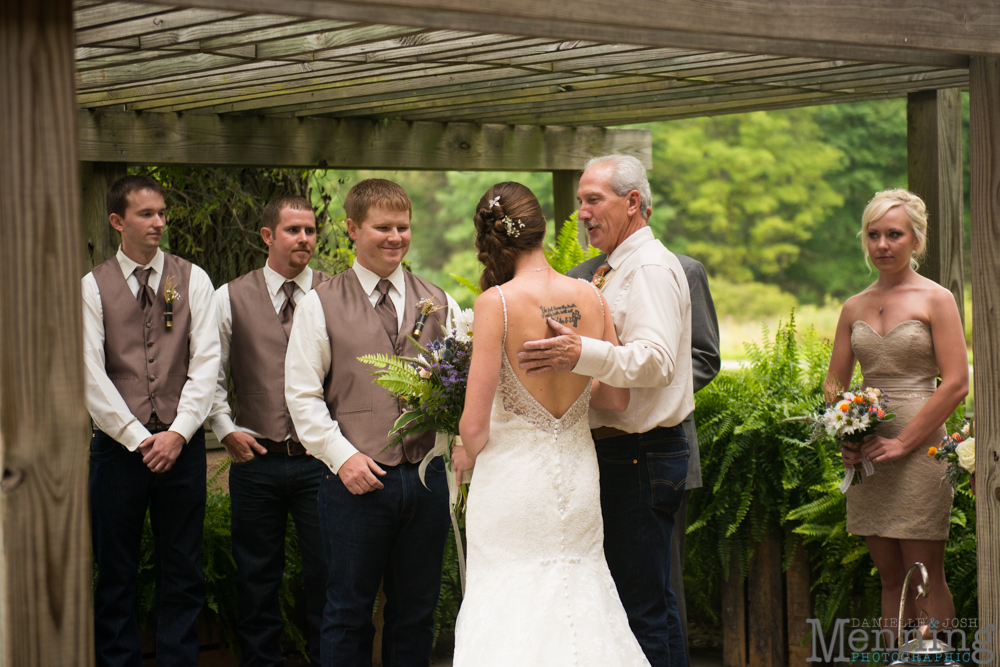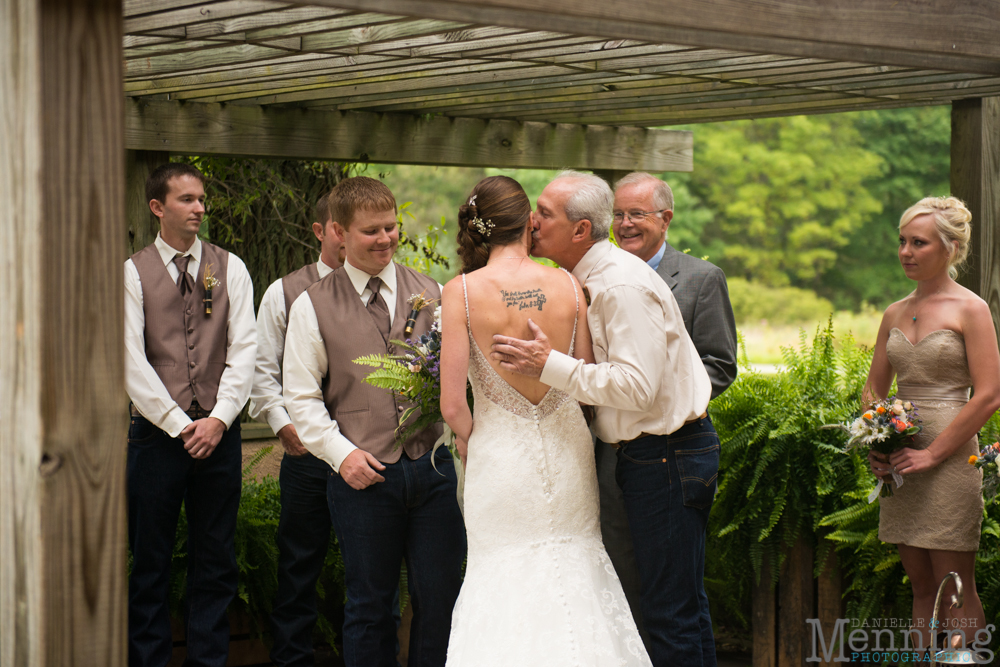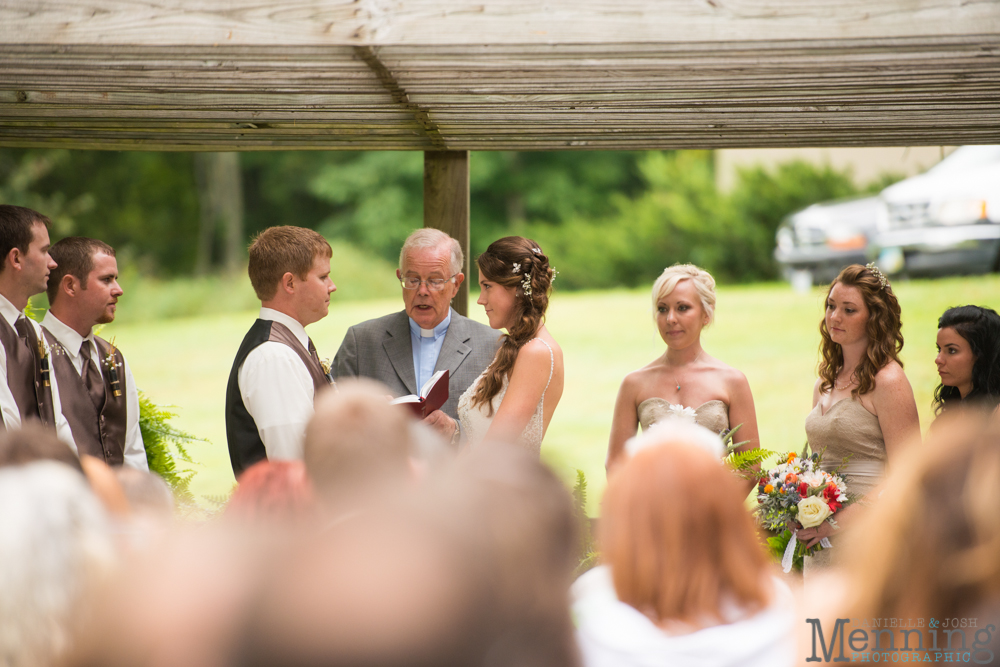 The officiant did a great job. He's known Brielle for awhile so that made the ceremony more personal.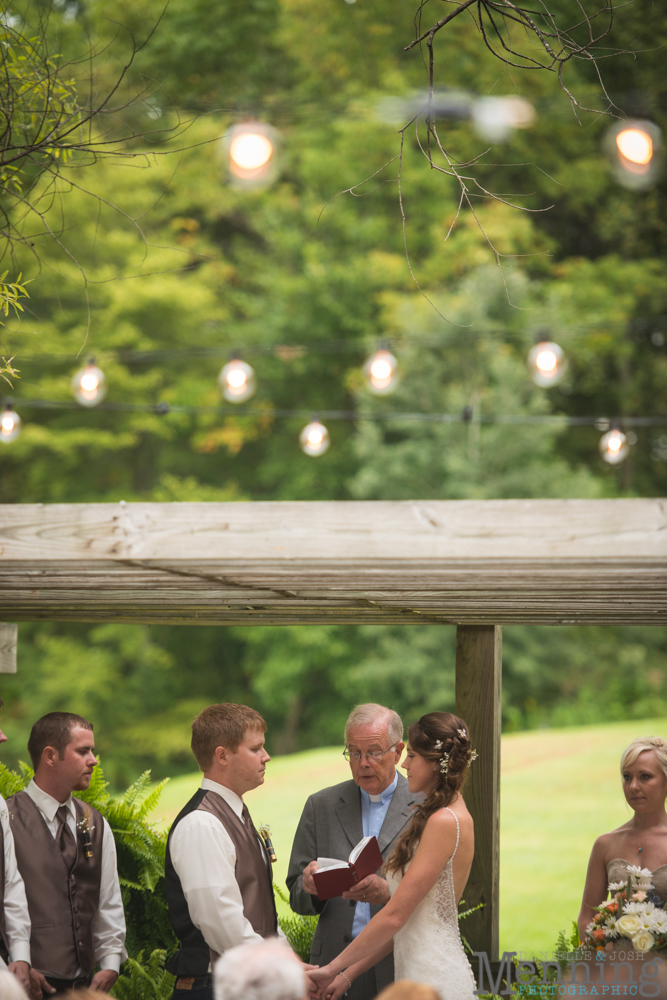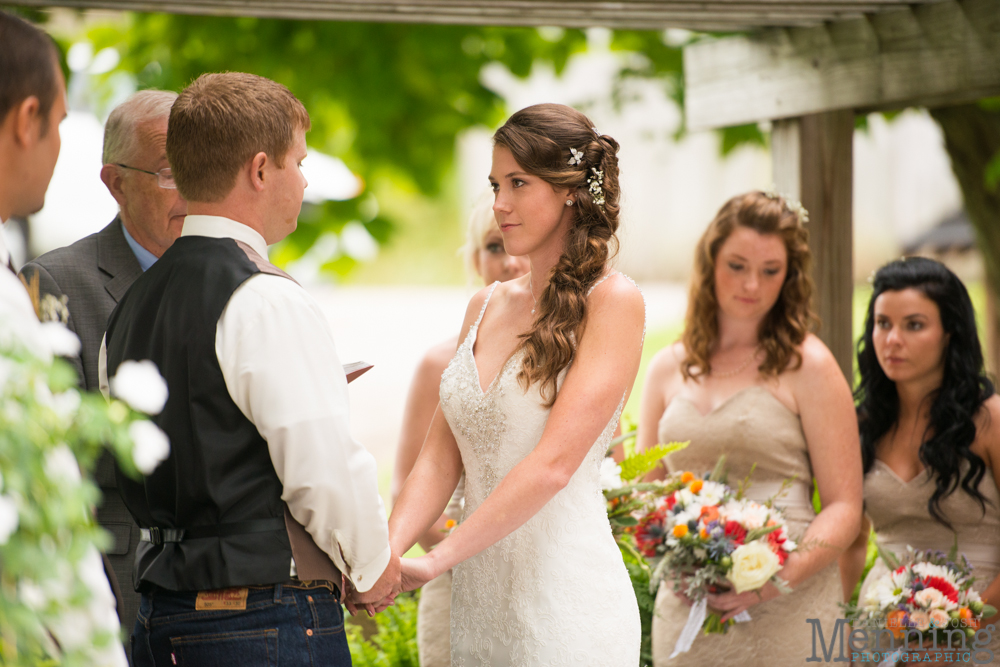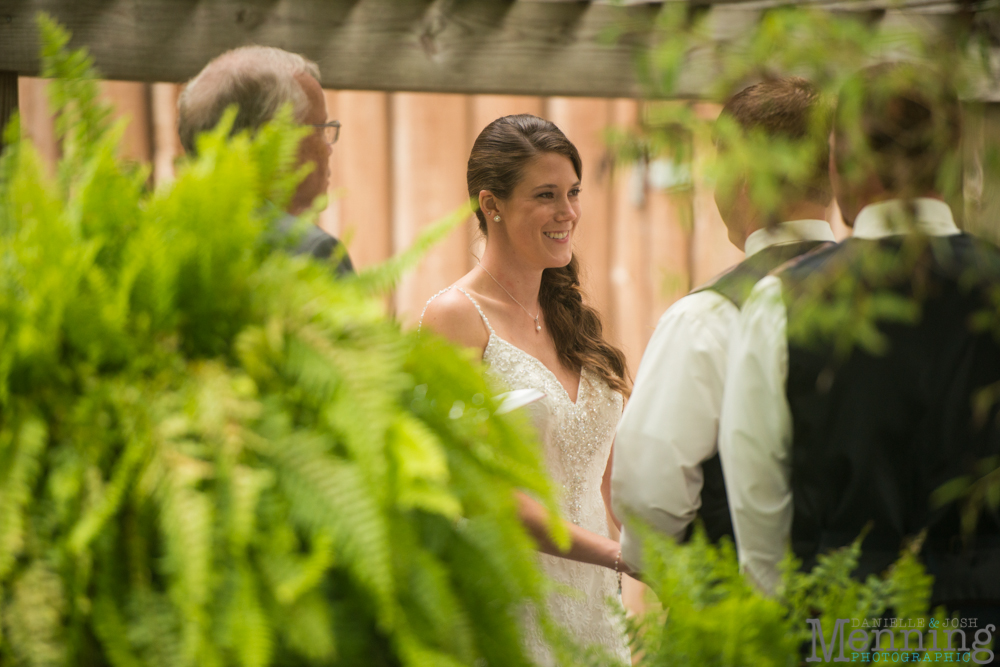 And they had each written their own personal vows. They were so sweet and meaningful.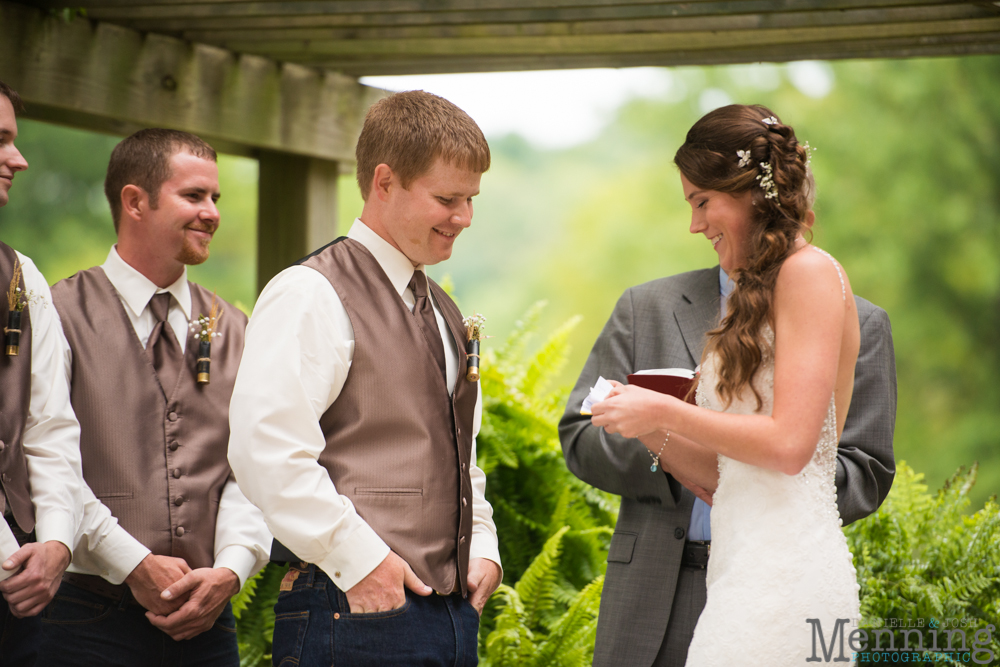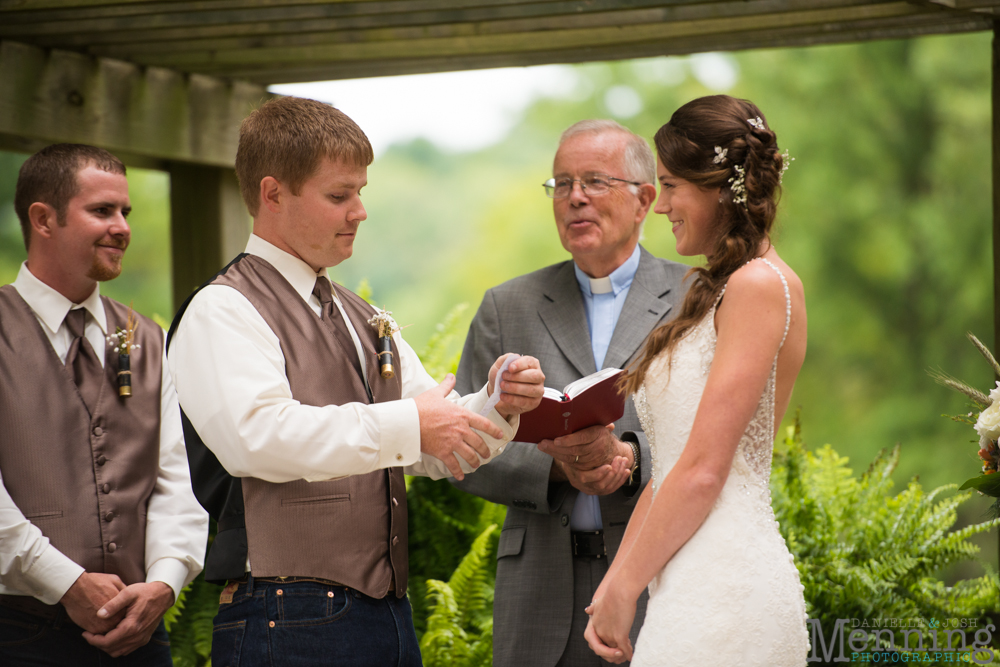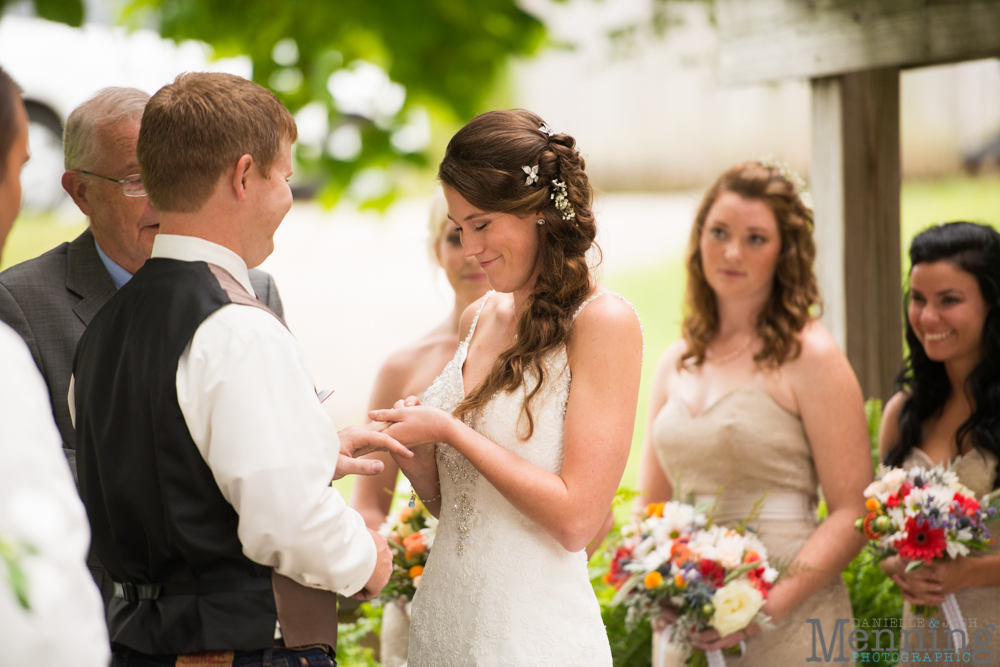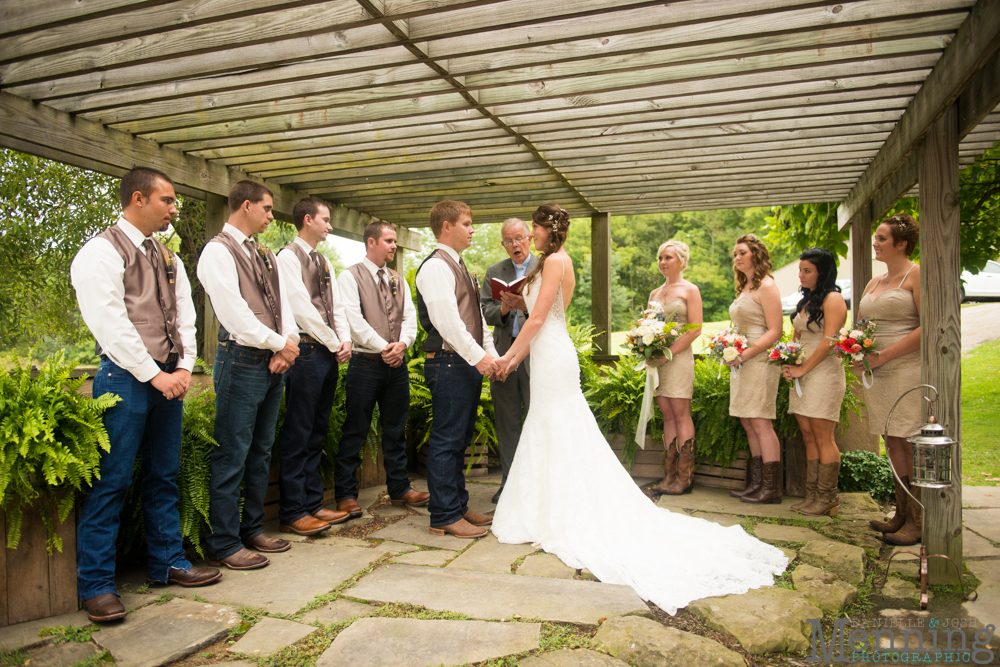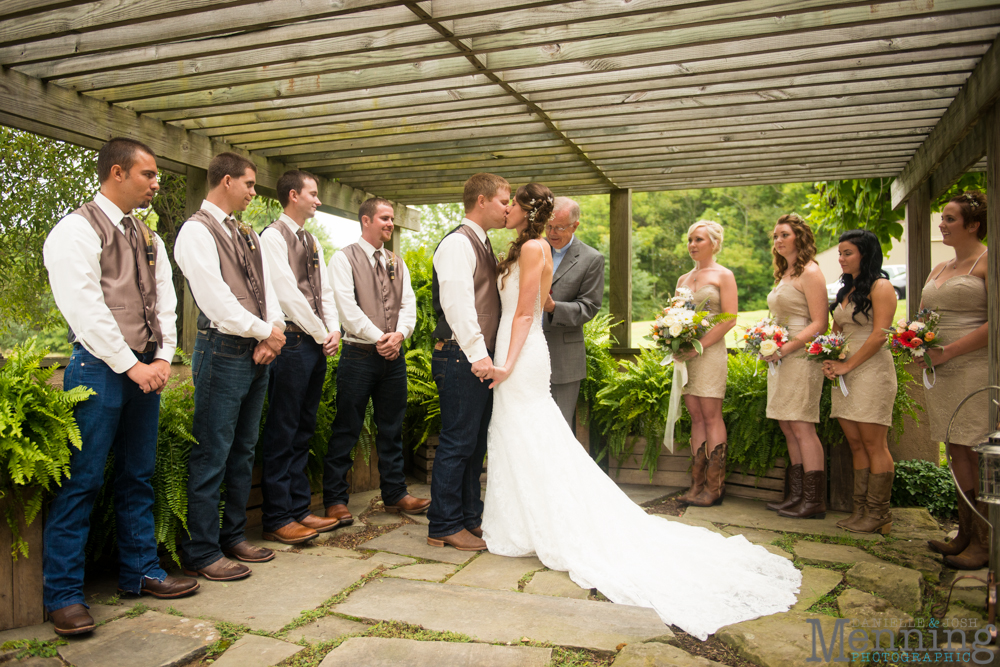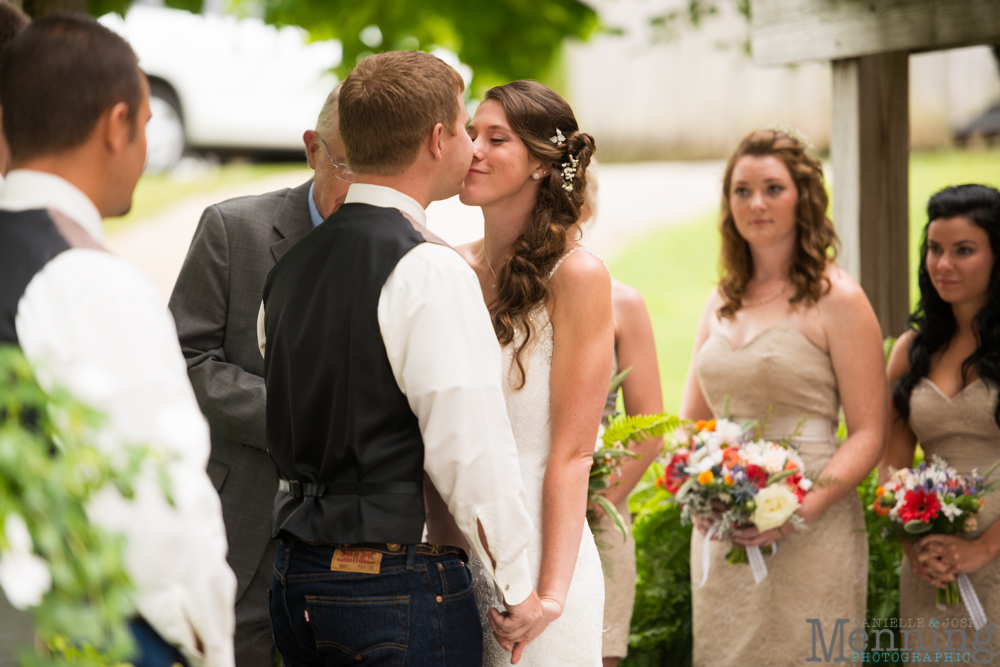 High fives and headlocks with friends after they said, "I do!"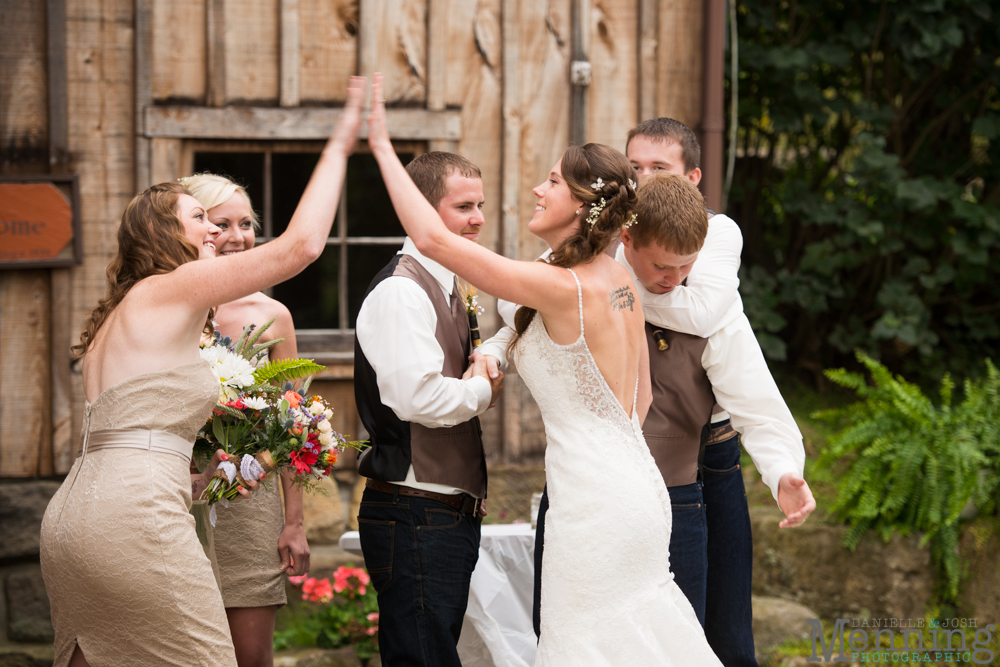 And a hug from her mama.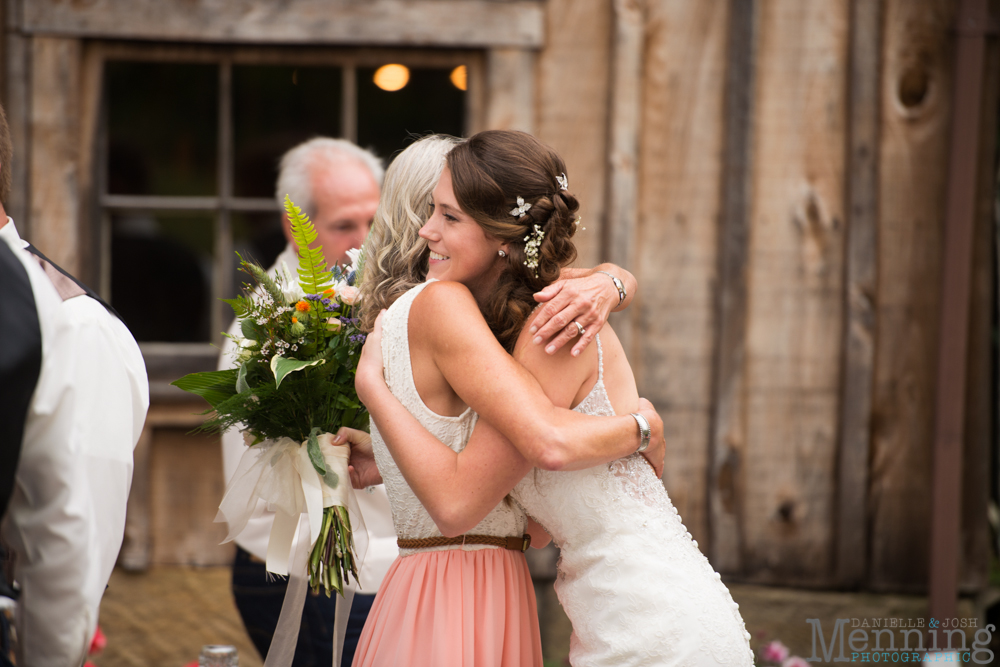 As the guests were making their way from the ceremony location on the one side of the barn to the dinner portion of the reception inside of the barn, we snuck in a few family photos with Brielle, Josh, Owen, and Jersey.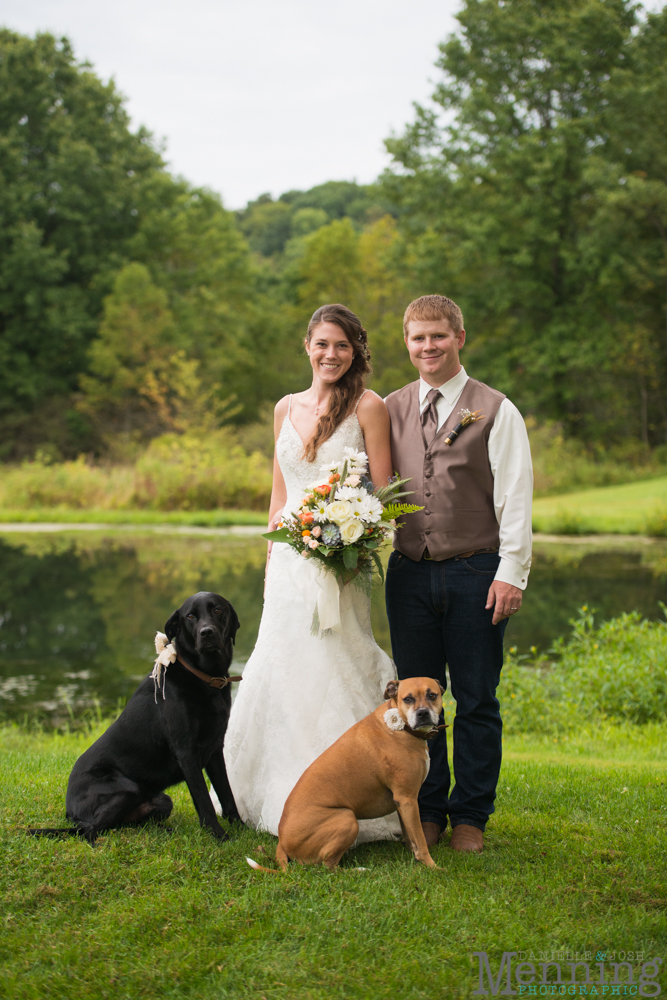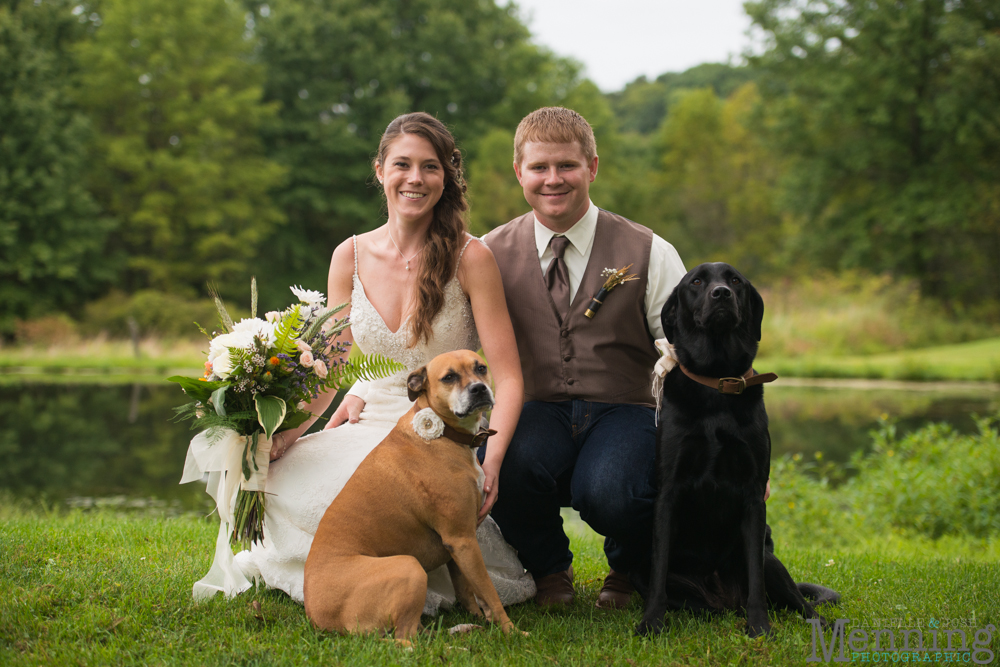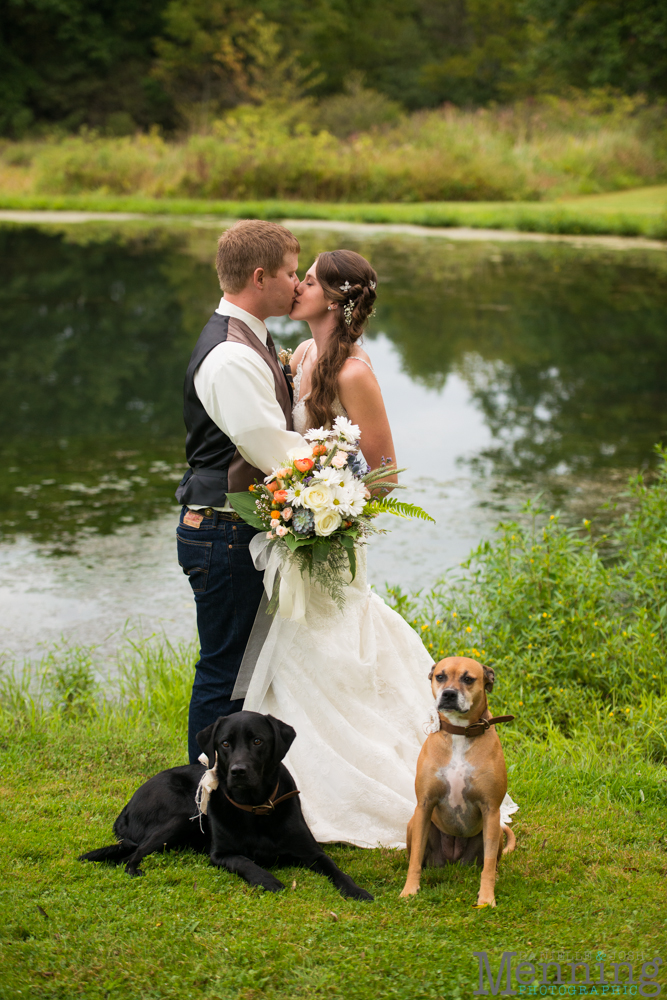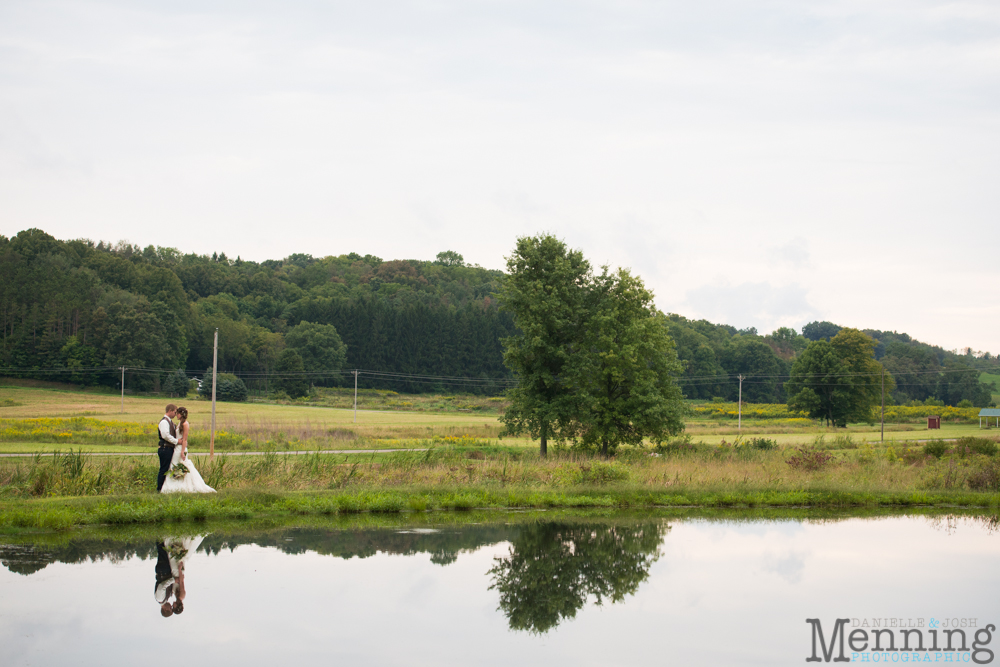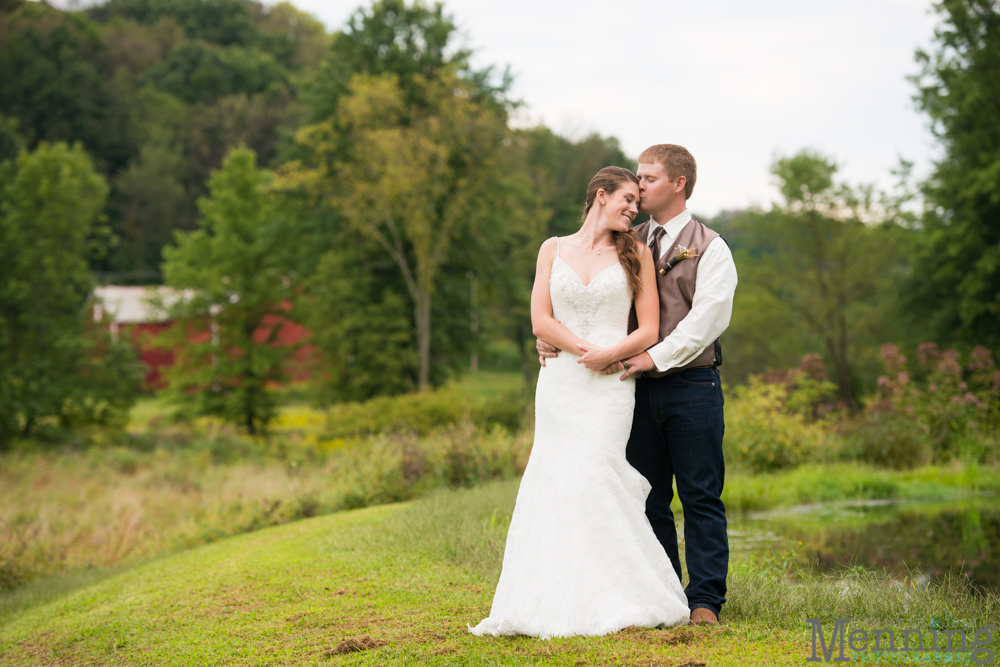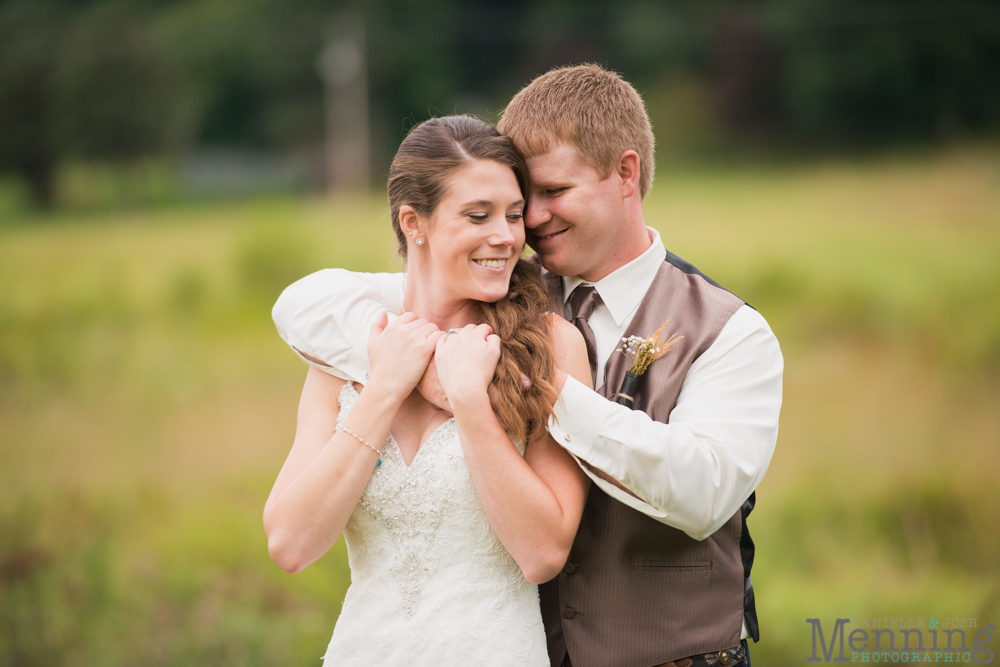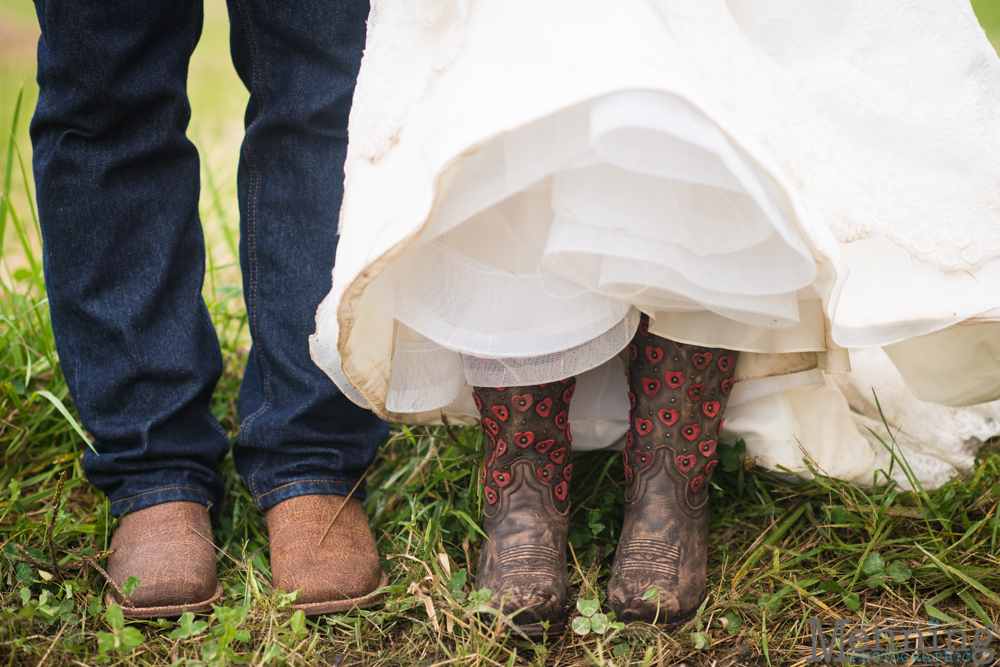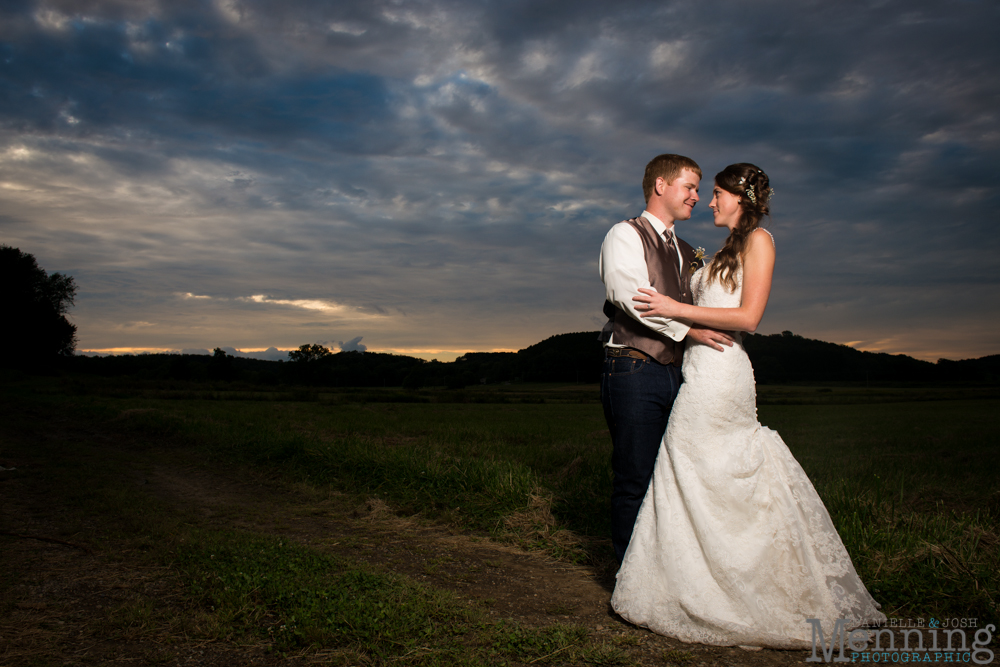 And we spied this AMAZING sunset after Brielle & Josh had eaten and some of the guests were still finishing up their dinners. So these photos happened! I can't even stand how beautiful they are!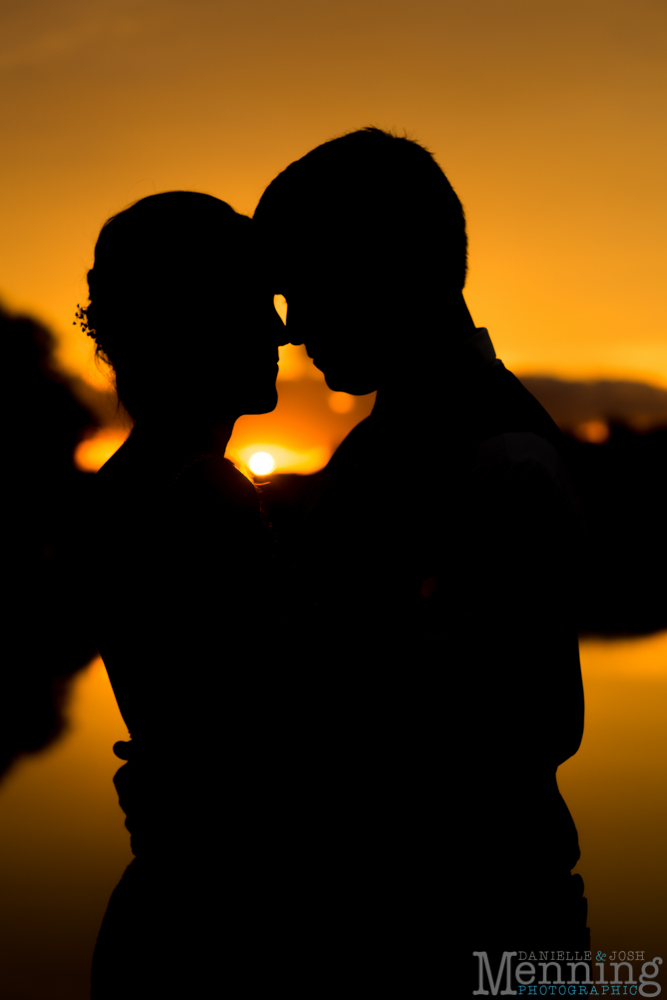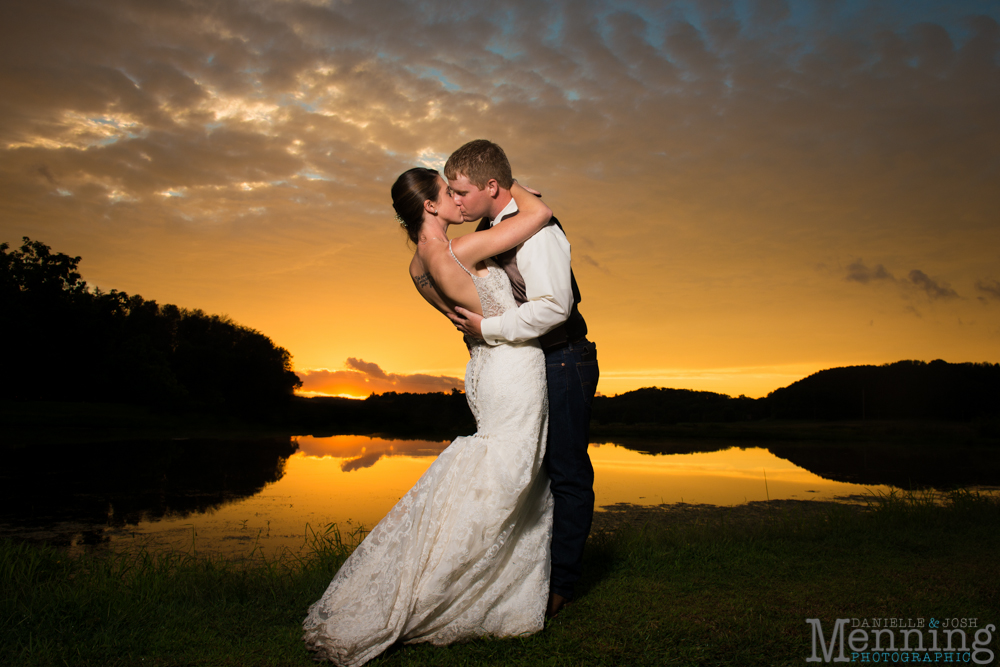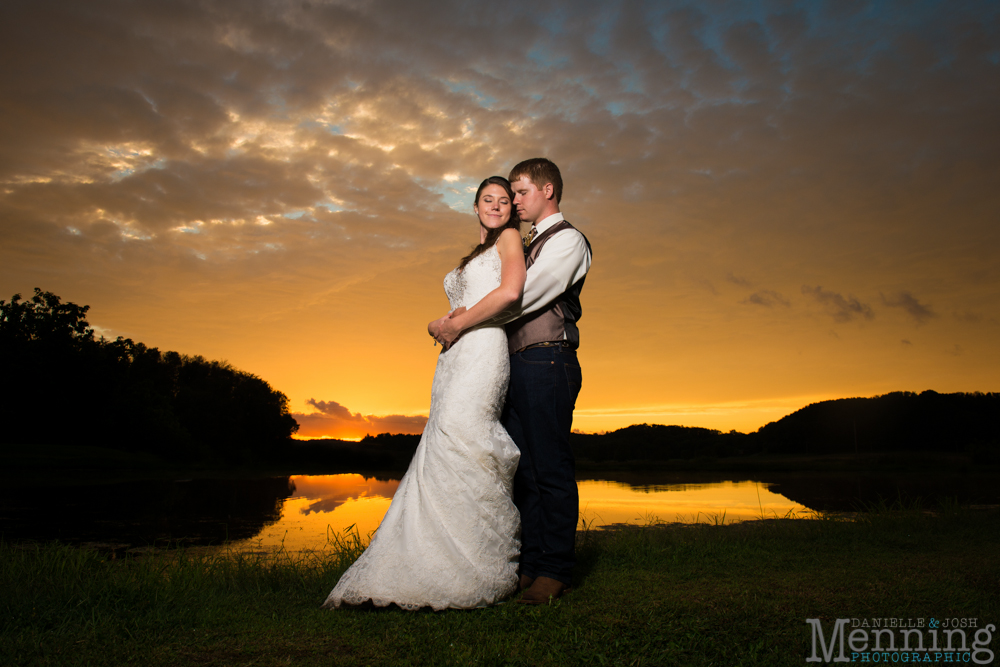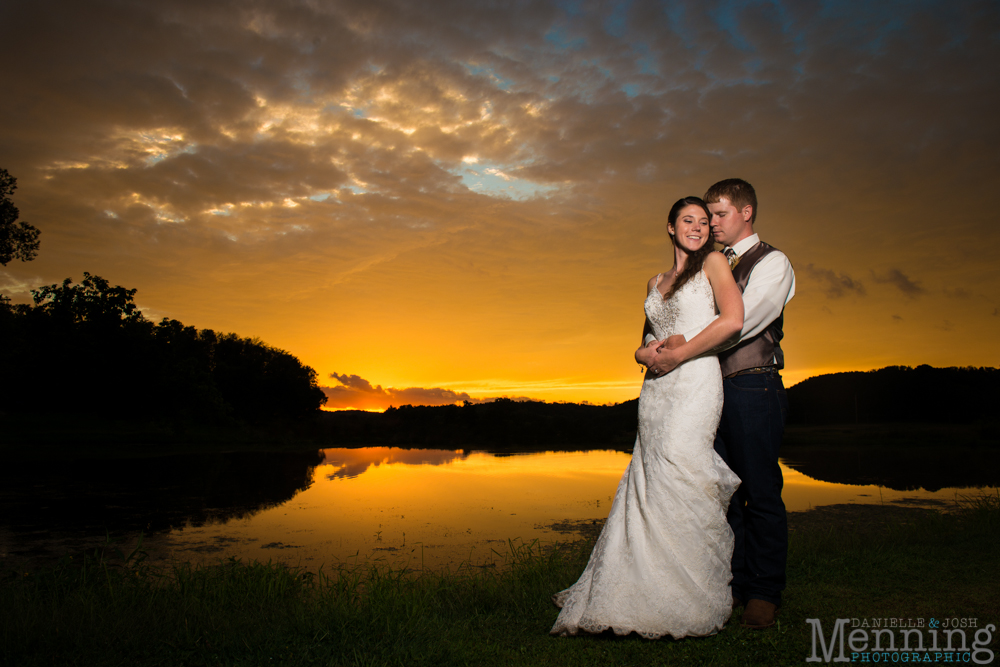 Crazy story: we shot Brielle & Josh's engagement photos last year. The location that we shot at was down in a valley & it gets dark down there sooner than it does elsewhere. So when we ran out of light and we were finished with the session, we all went our separate ways. Brielle sent us a photo on her cell phone about fifteen minutes later after they had emerged from the valley- it was a stunning orange sunset. We were sad that we missed it with them that night, but we replied, "Pretty! Hopefully it'll do that the evening of your wedding day for you." All I have to say is, "WOW!"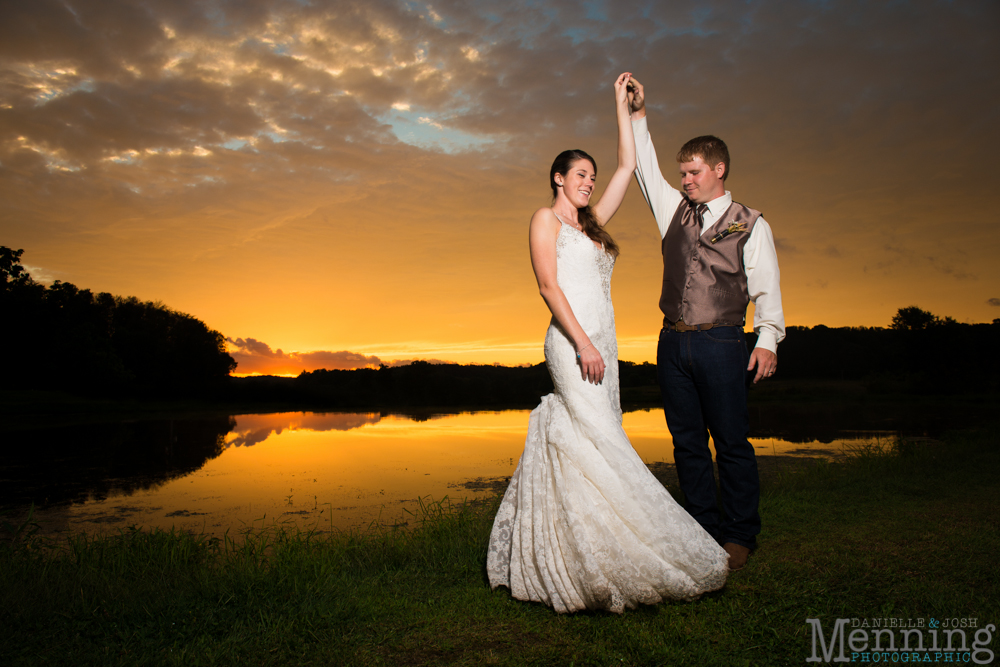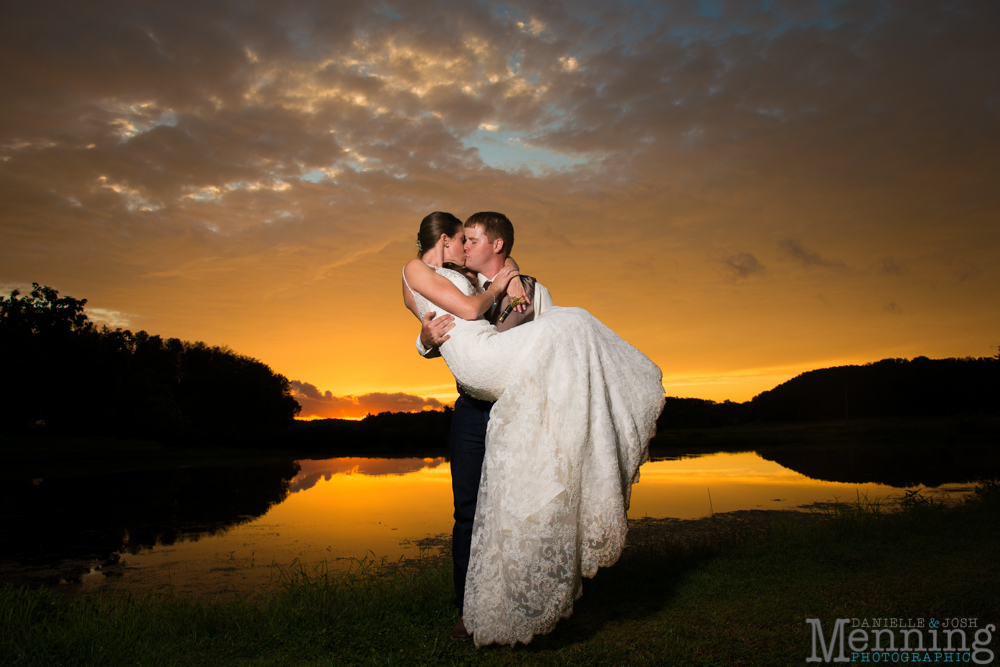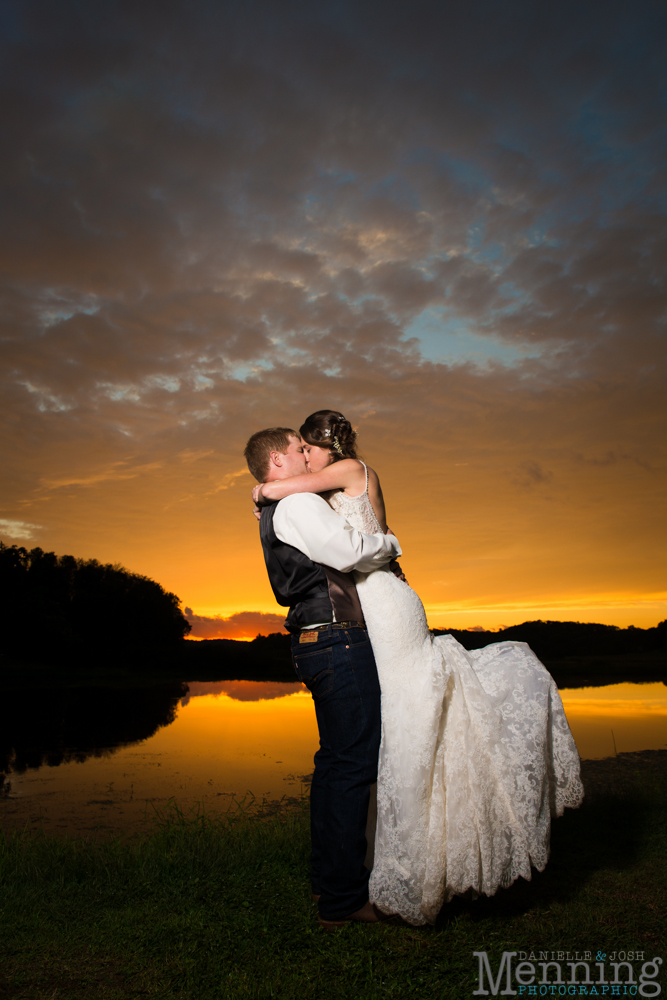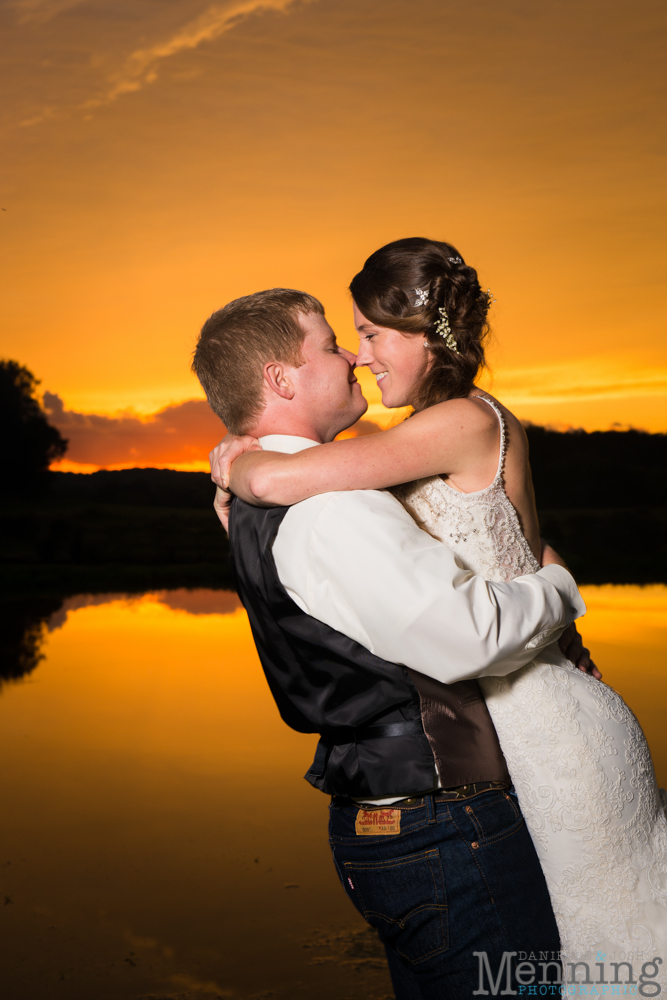 Candy Craft made the cake.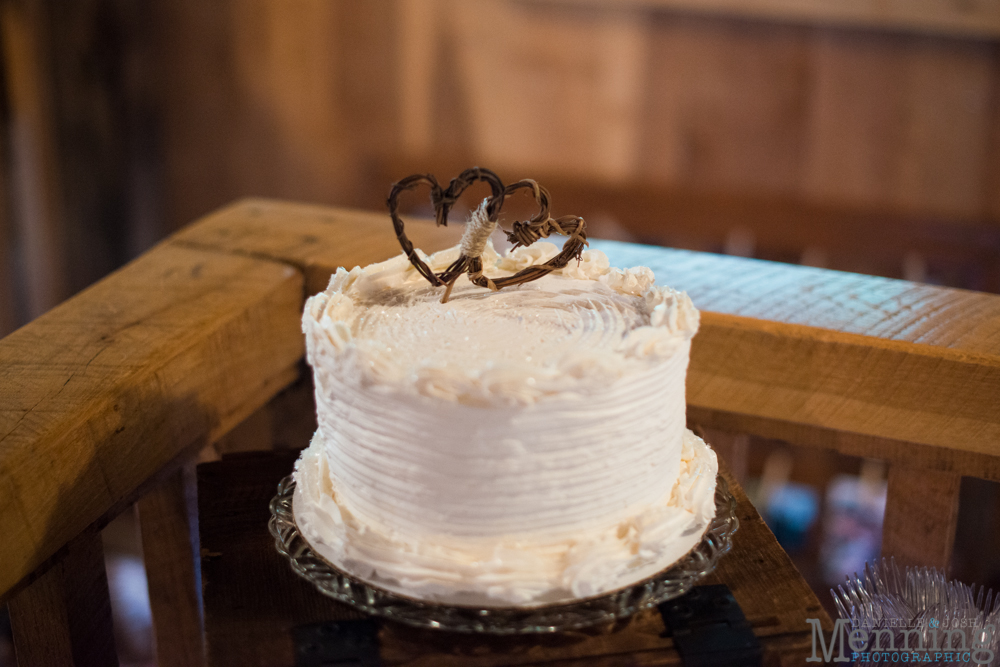 Josh pulled a very sly maneuver during the cake cutting.
As Bri was getting the piece of cake ready to cut in half so they could feed each other, he grabbed the server covered in icing and slid it down her cheek.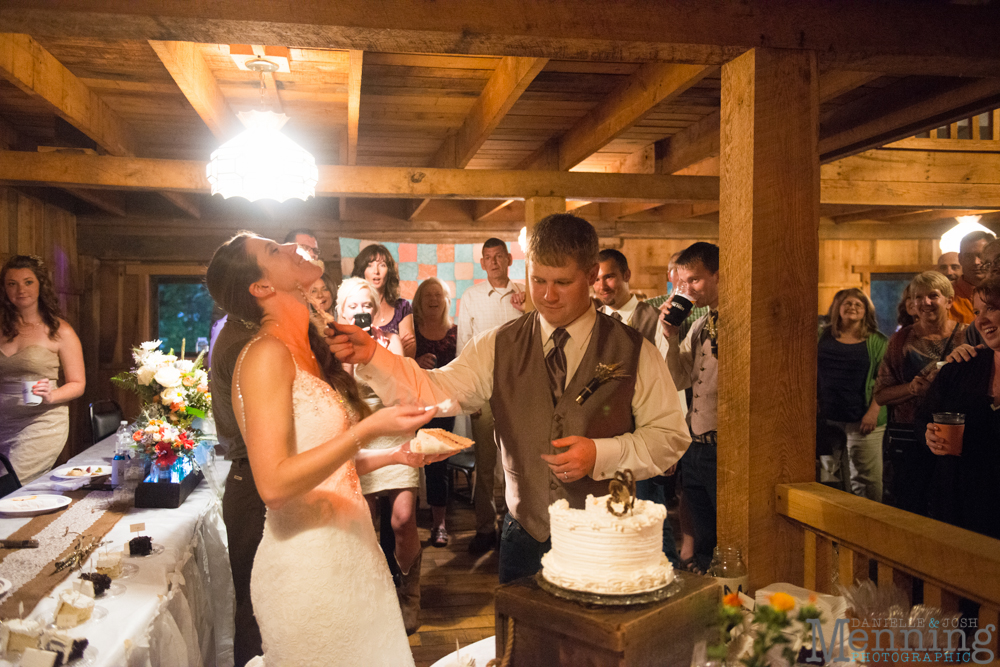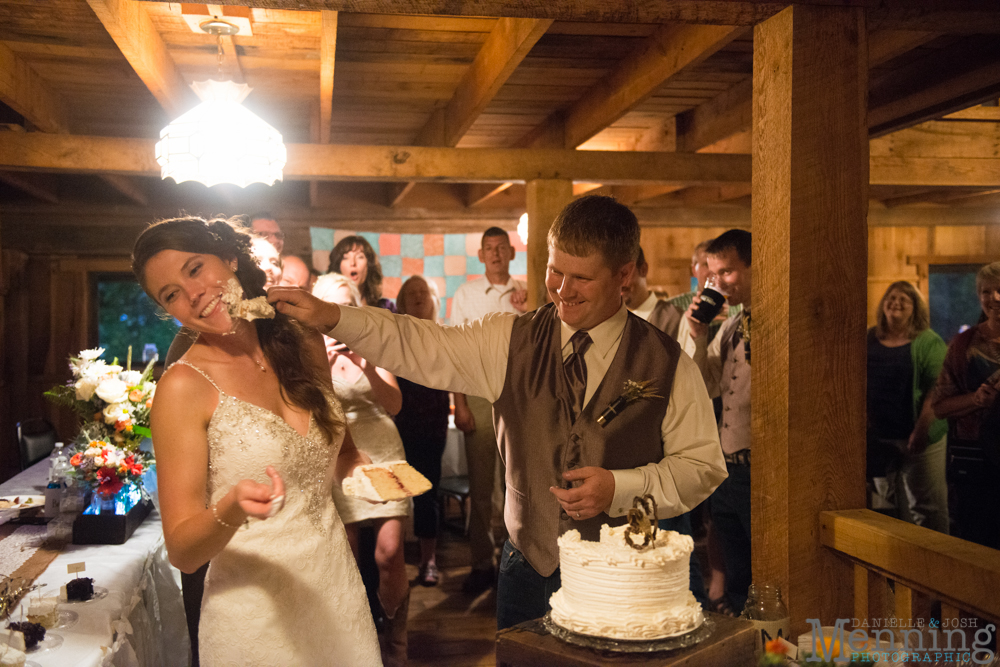 She got him back. 🙂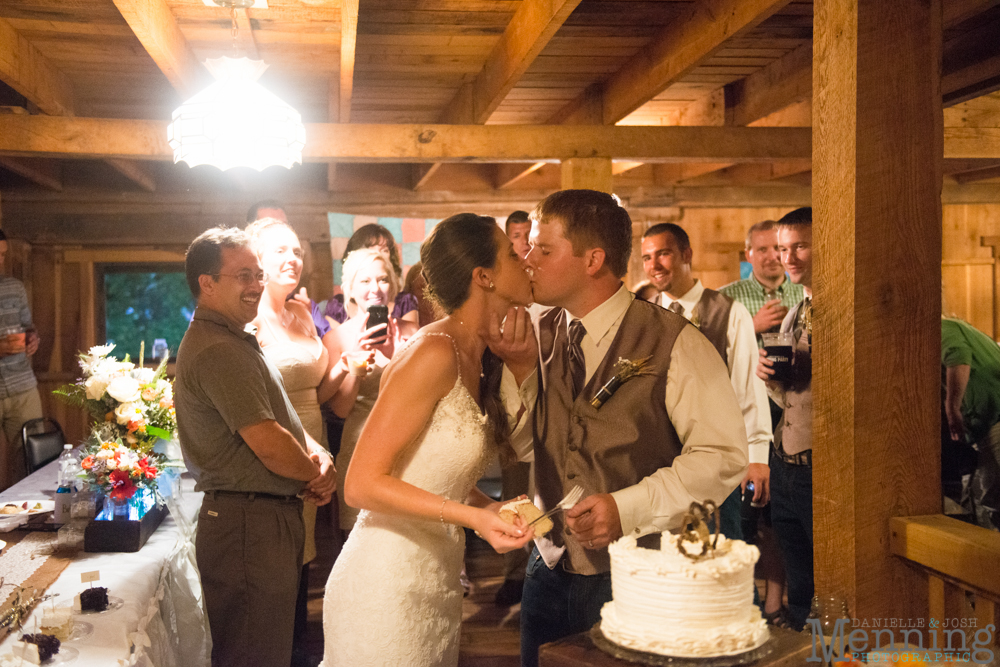 Then the party moved outside to the patio. Thank goodness the rain was light and only lasted a little while in the afternoon before everything started! Josh's brother started off the toasts for the evening.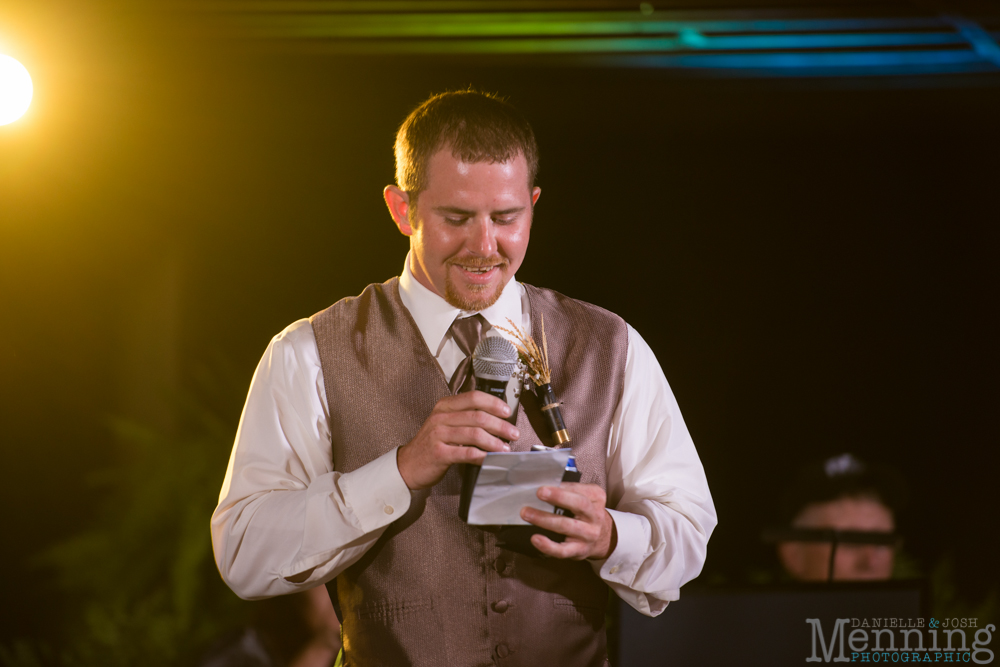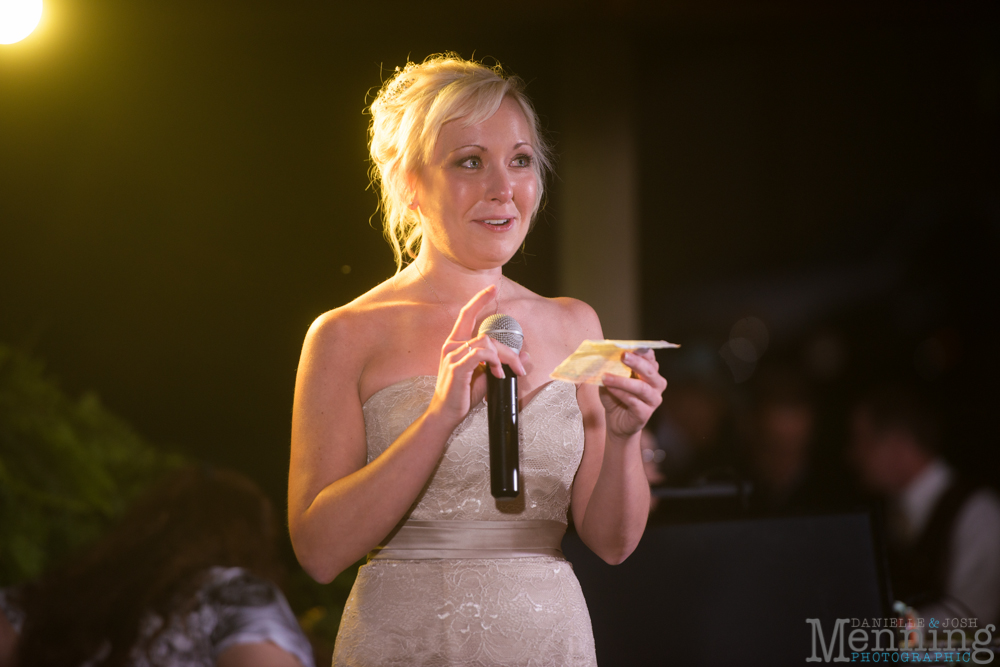 These two have been best friends for so long. Her speech was really fun & sweet.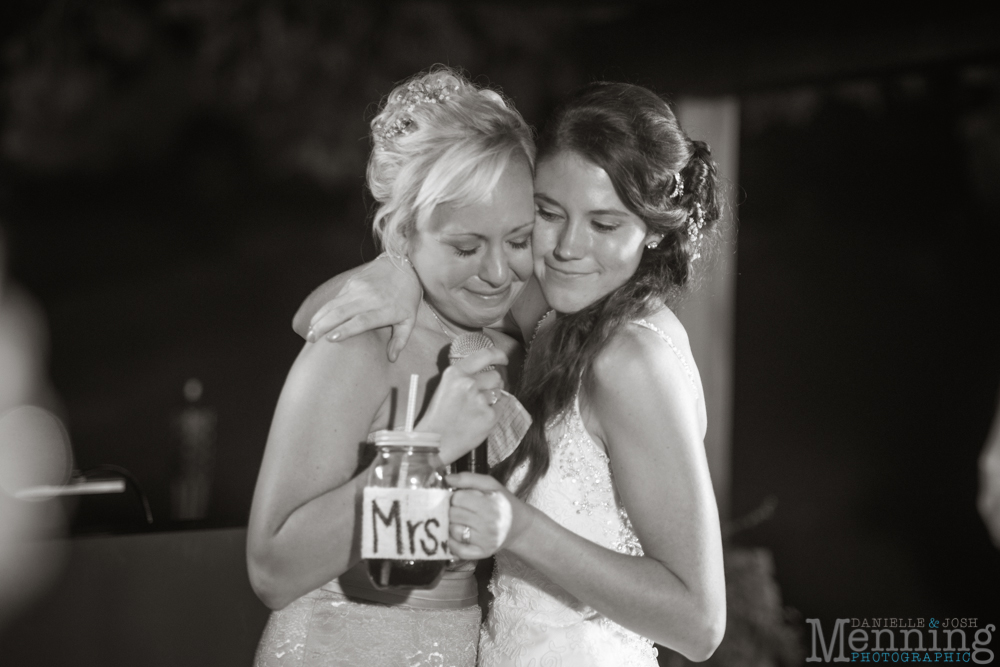 Their first dance as husband and wife was one of the sweetest I've seen.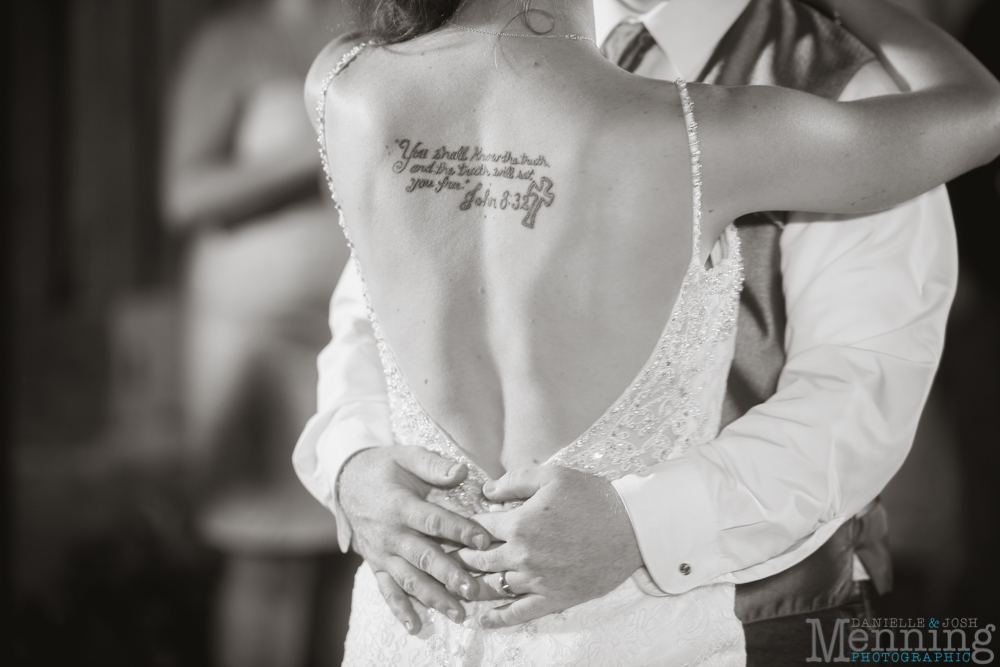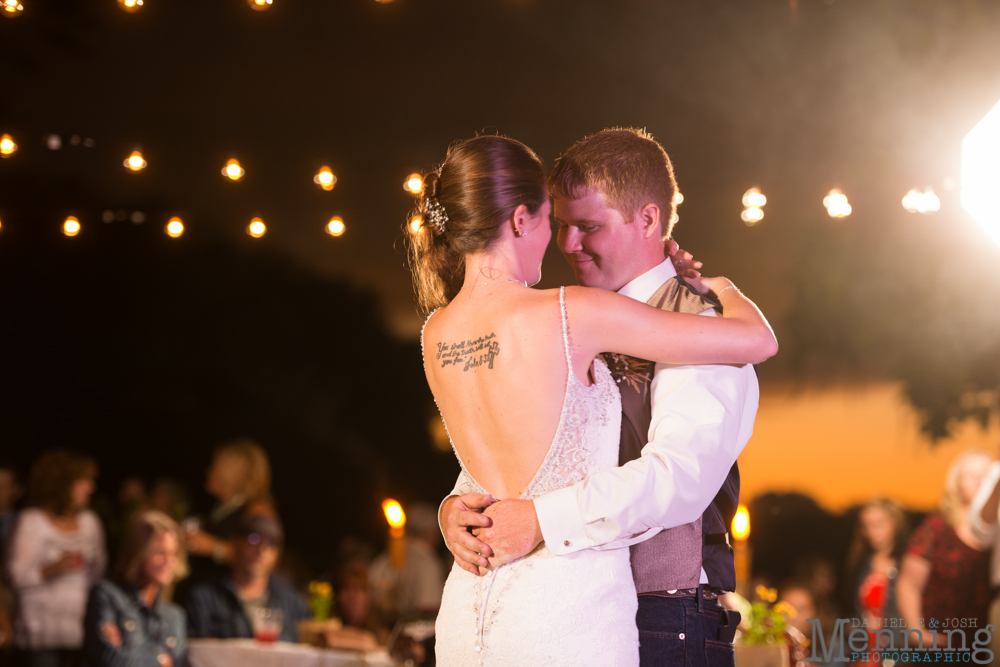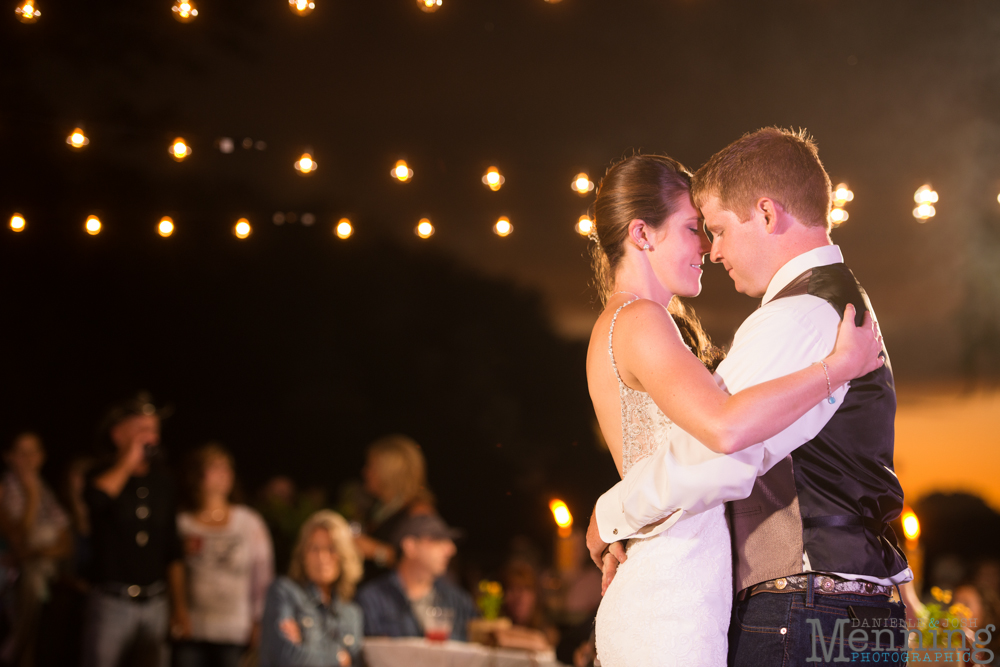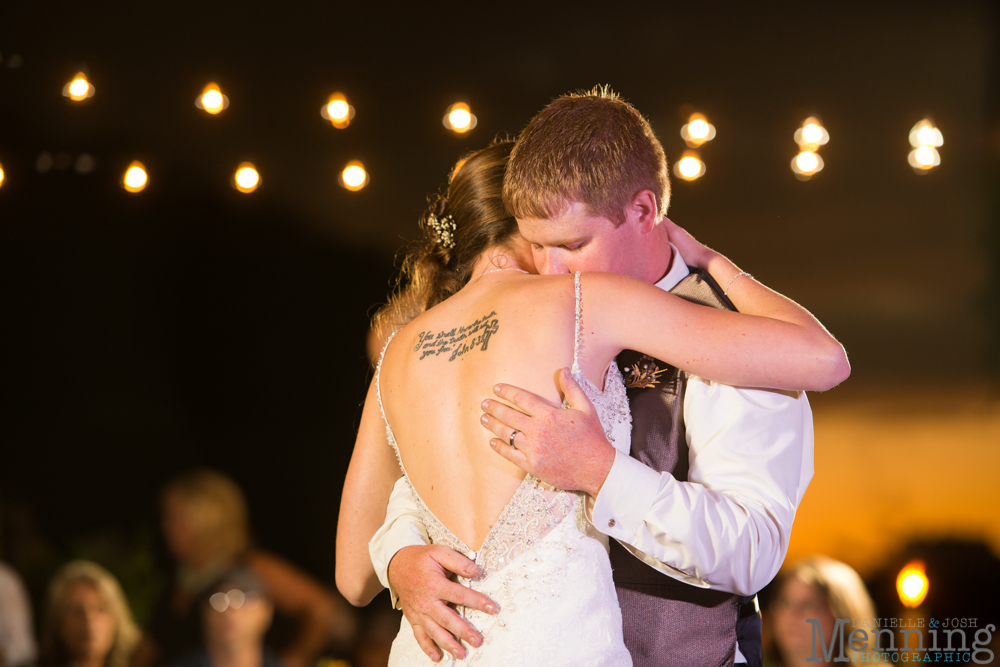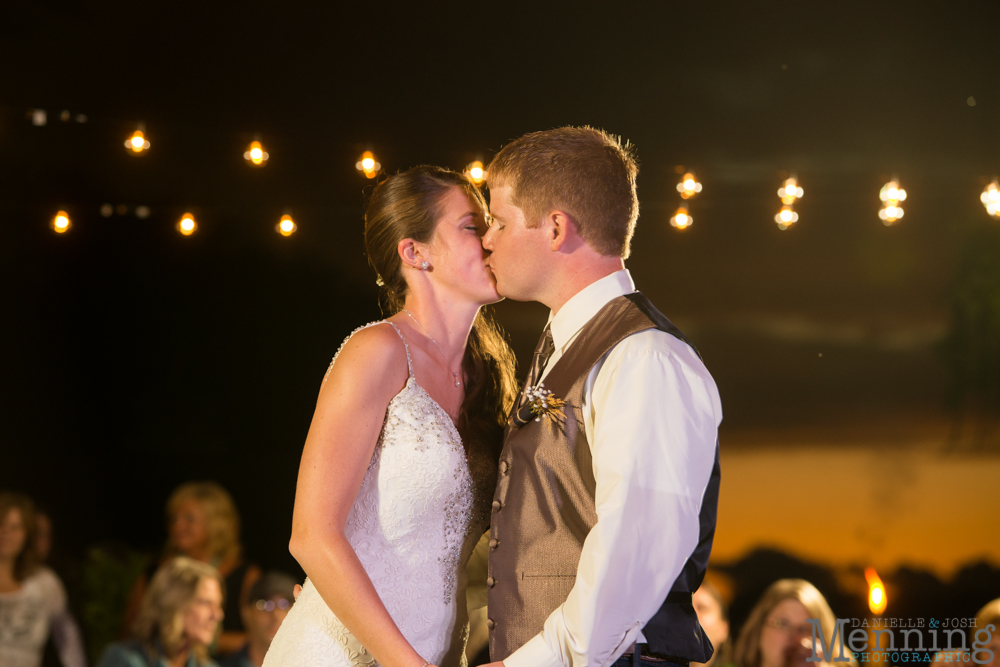 Then they shared dances with their parents.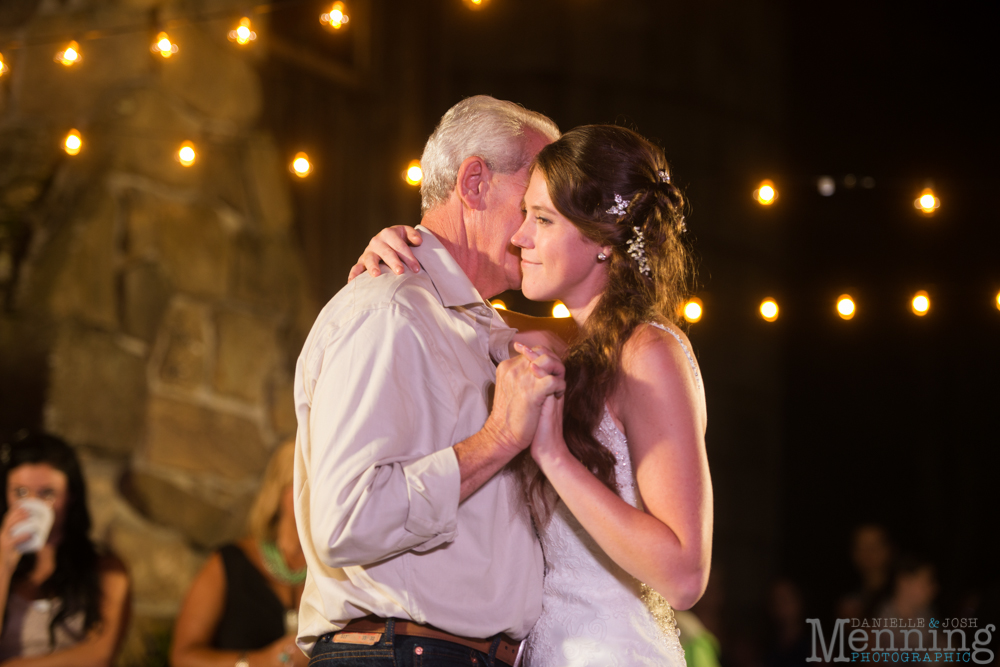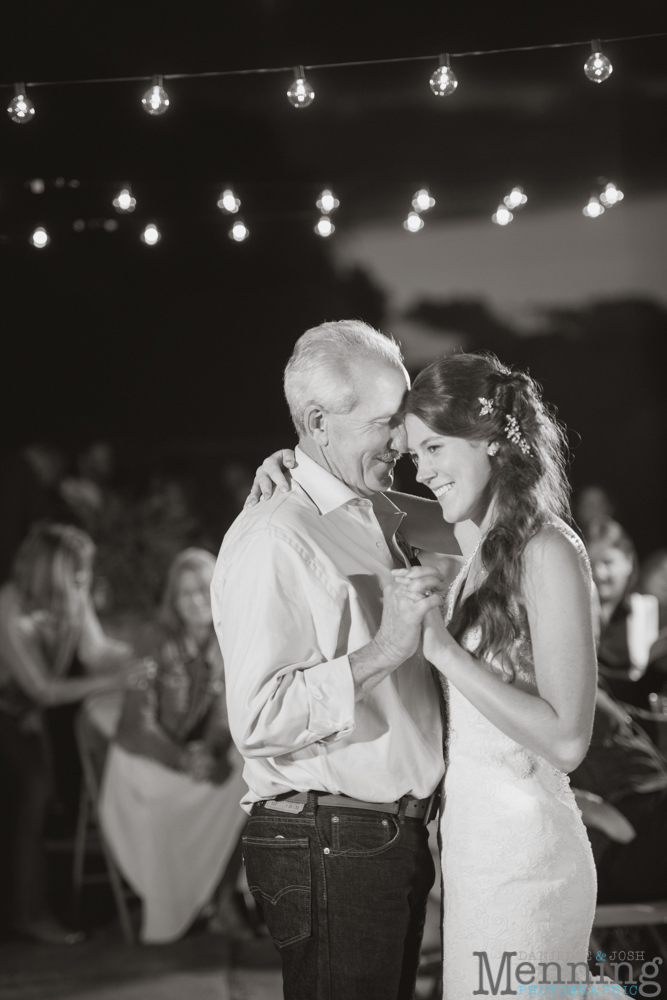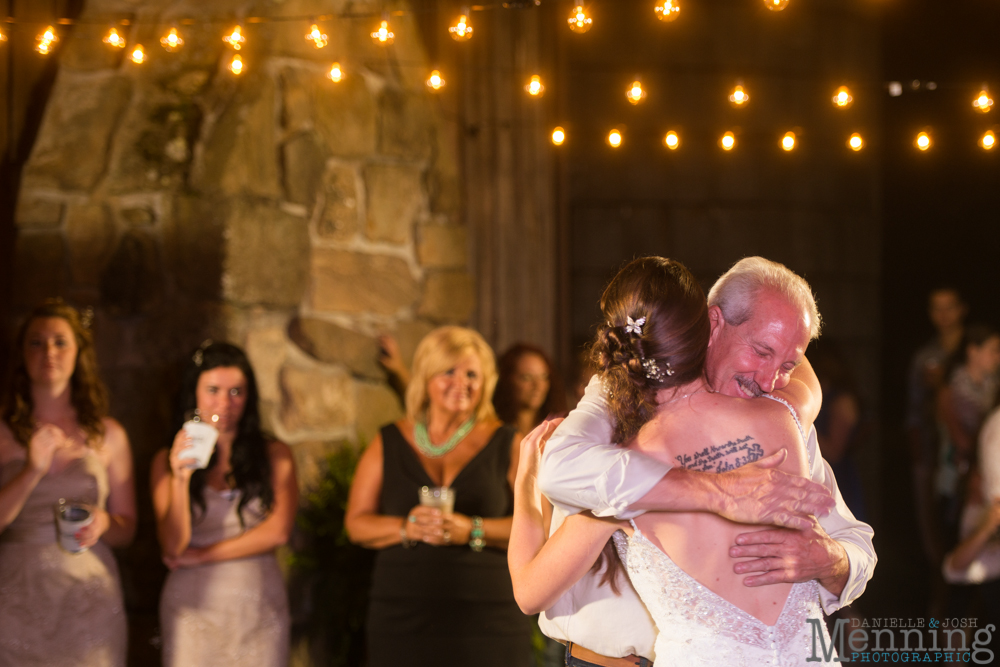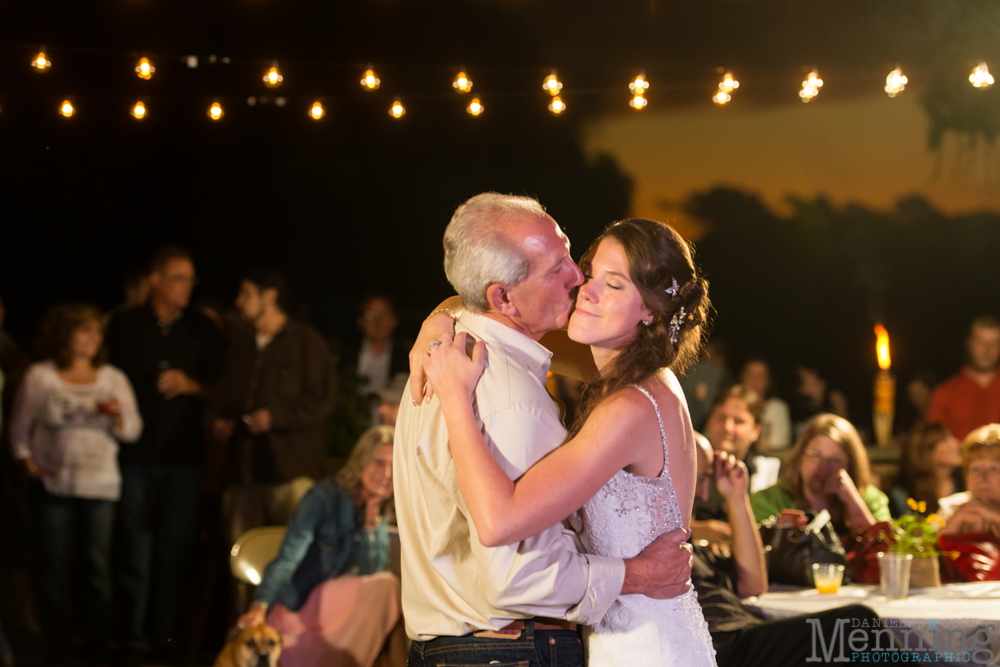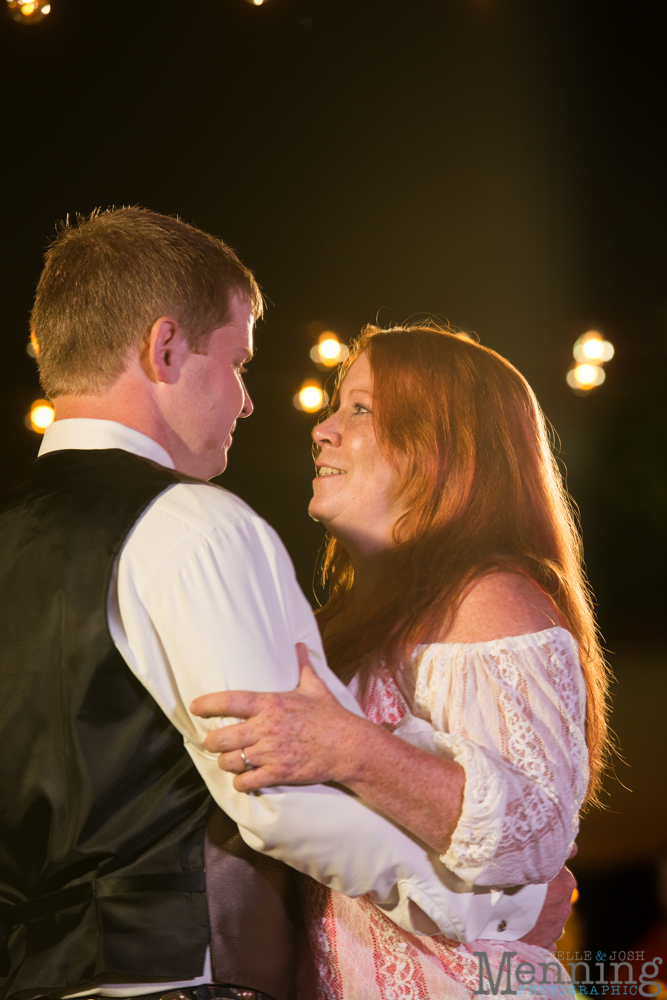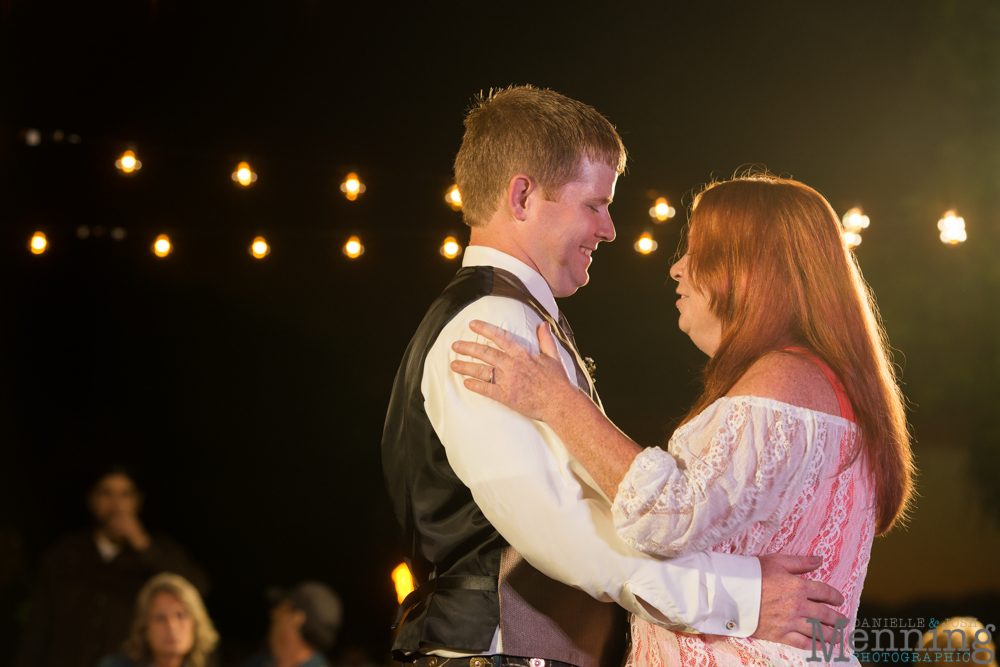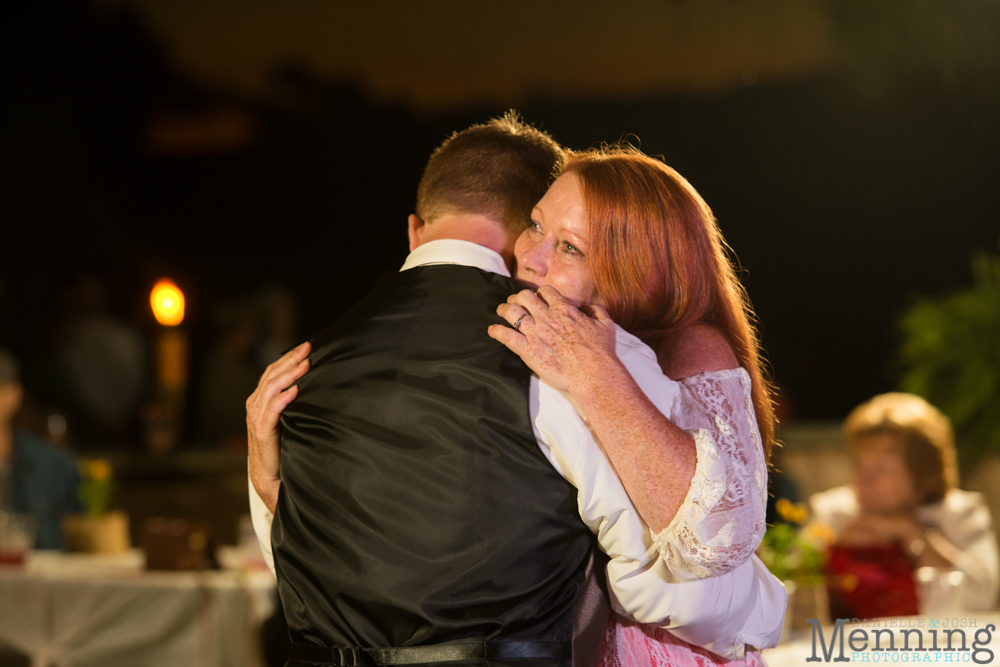 And it was time to dance!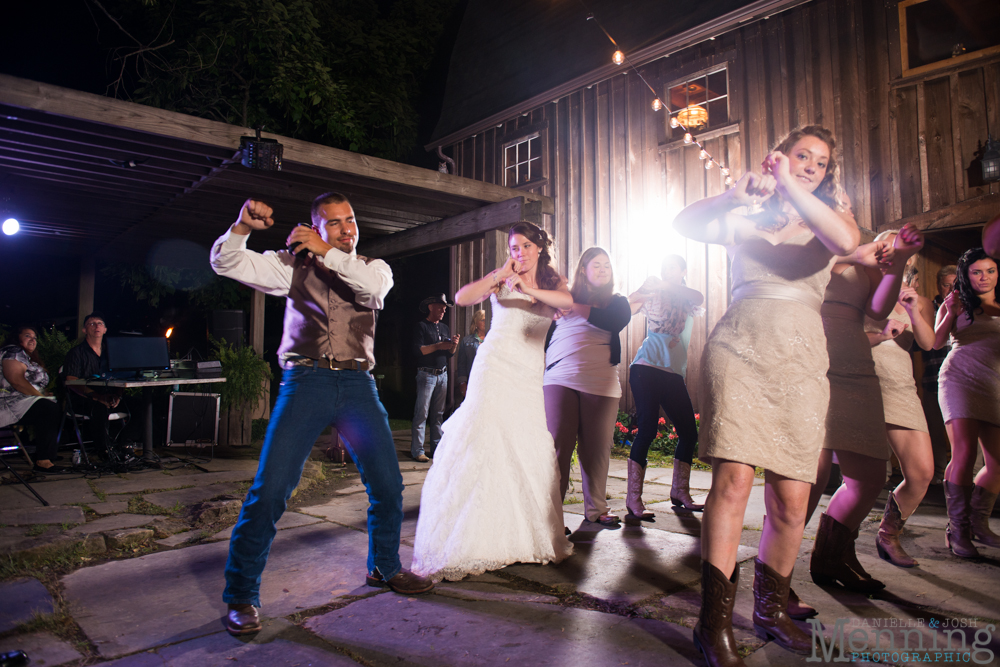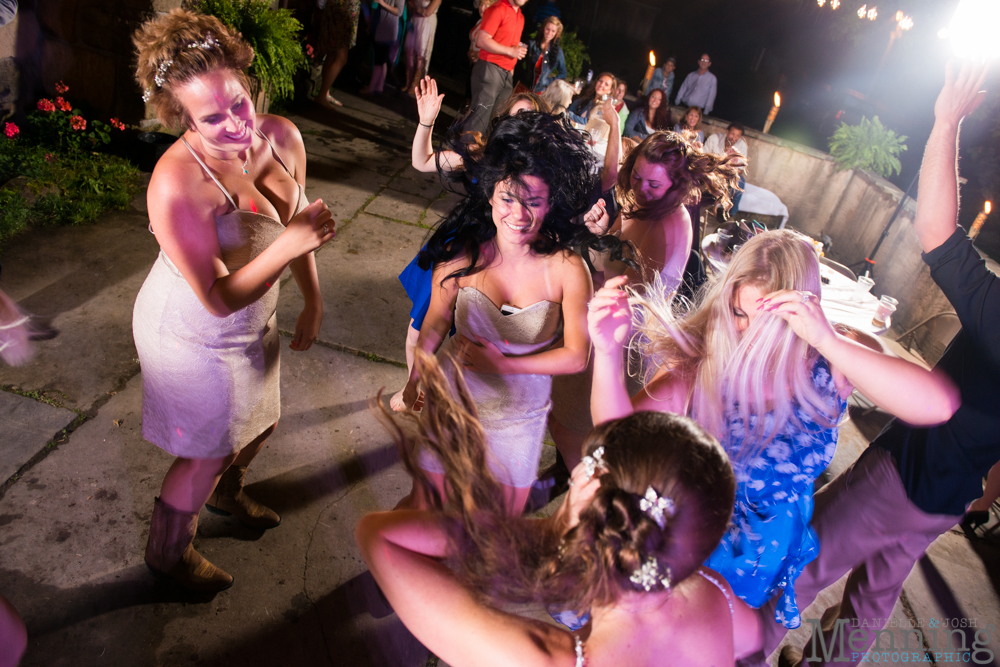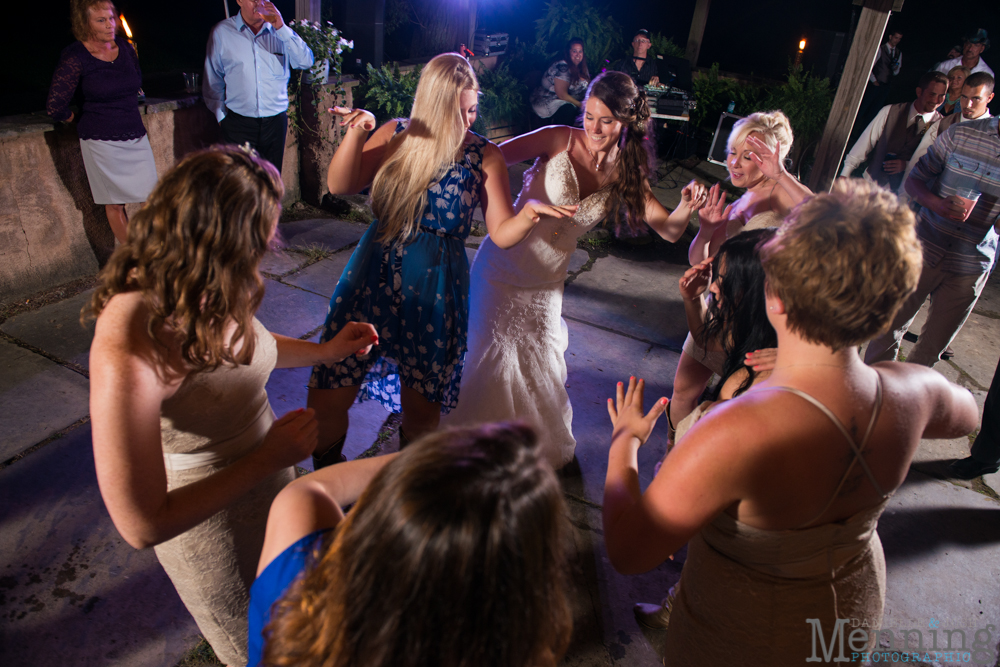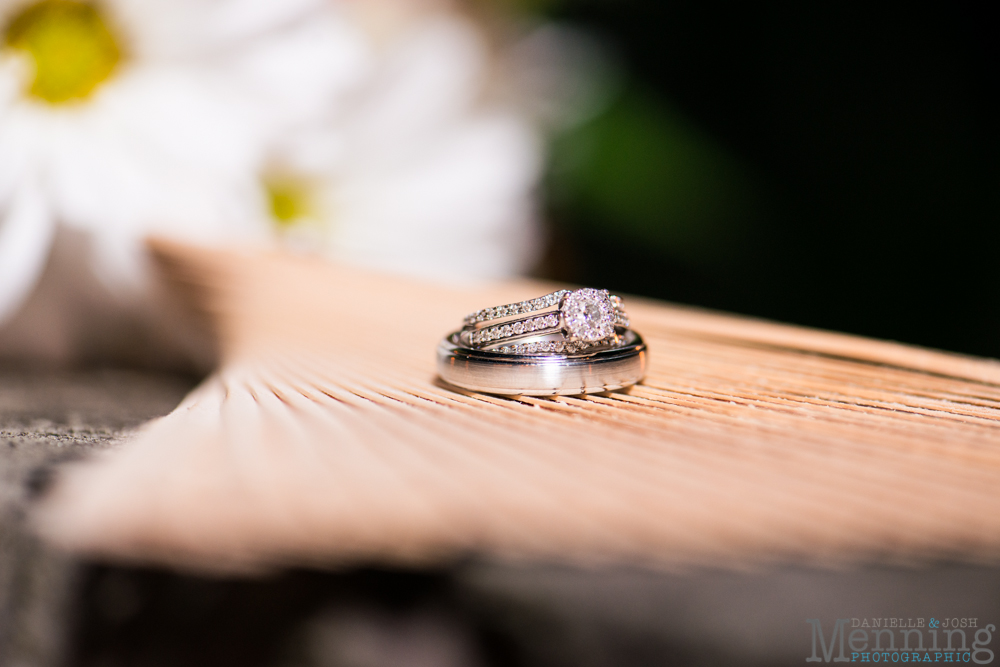 Brielle & Josh, we loved every minute of your wedding day! Thank you for choosing us to capture the moments. And seriously. . . we'd love to have photo sessions with you in every season of the year just for fun. That was a great idea you had! 🙂 Give us a call. And enjoy married life together! Hope it's full of laughs, Owen & Jersey snuggles, hiking, and camping.
Get social with us: Instagram | Facebook | Twitter | Pinterest | Google +