Today's blog is a Small Business Showcase that we're really excited about because it is a business based upon embracing the creativity within all of us! Rebecca (Becky) McElroy is the owner and visionary behind this new business, Junque in the Trunk, that combines a fun hangout with friends, meeting new people, creativity, building something with one's own hands, and a fun night out! We're happy to share just a bit about her & her small local business on our blog today! Â She let us crash one of her crafting classes hosted at The Coffee Stop in East Palestine, Ohio, and we had a lot of fun hanging out, taking photos, and witnessing the participants have a blast while creating their handmade signs! We asked Becky a few questions about Junque in the Trunk.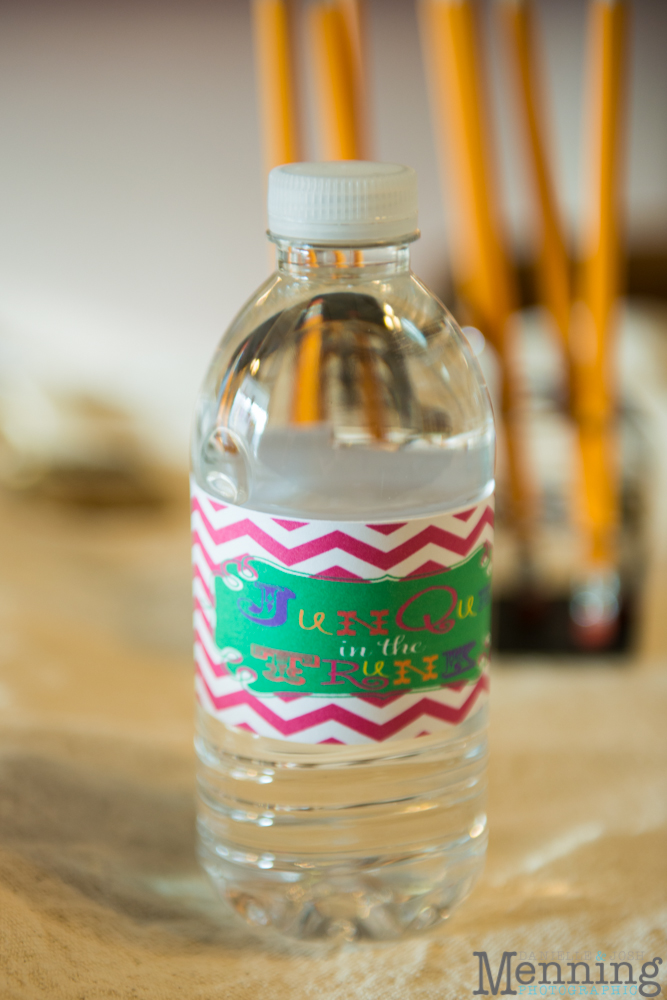 What is your business all about?
"Creating, crafting & inspiring. We want to 'add a little sparkle.' Also, giving back & small business and community support. There is something so special about handmade."
What are your business' goals?
"I dream of having my own studio where you can come craft, a space filled with inspiration. A studio to craft, create & shop a little."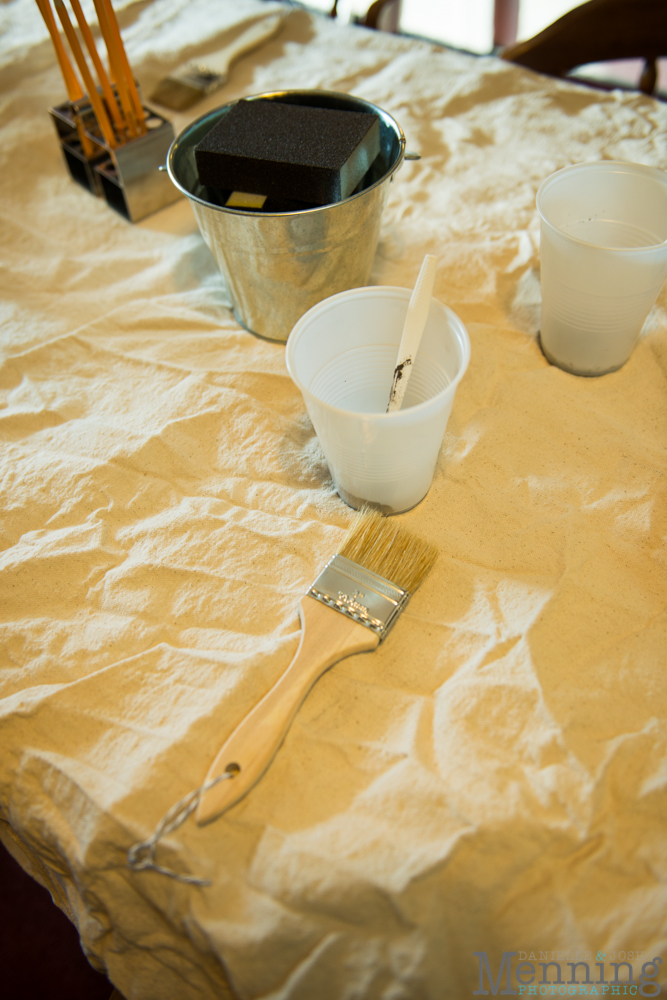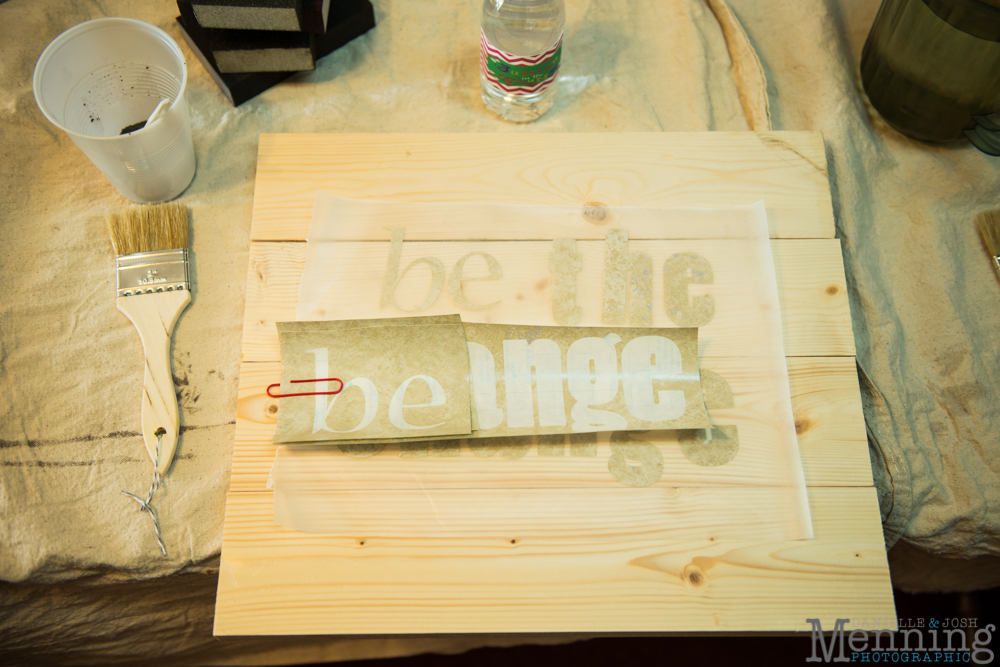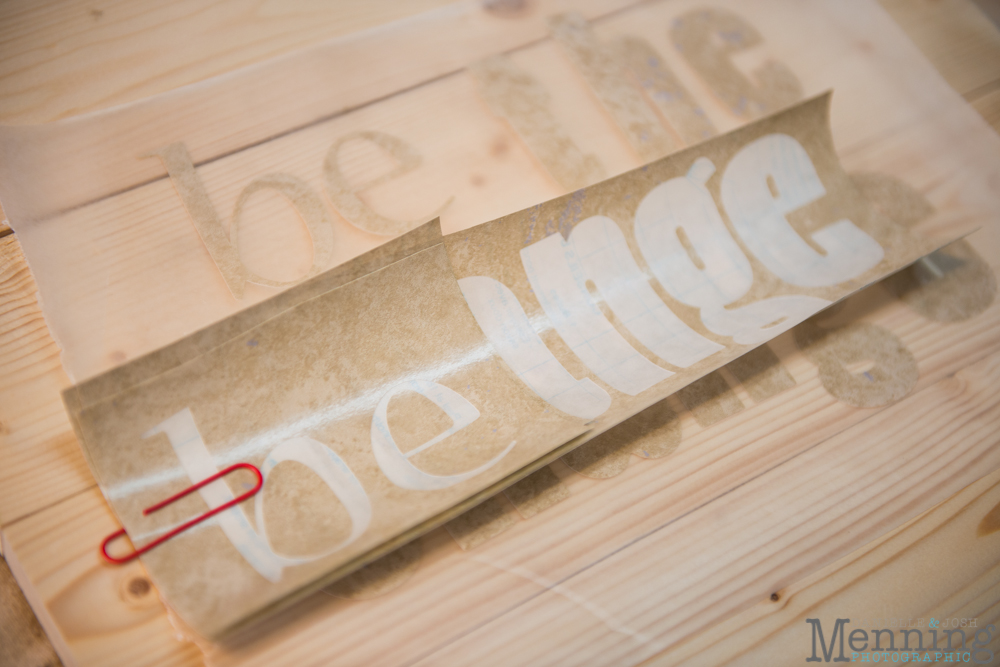 What's a typical day in the life of Becky of Junque in the Trunk?
 "Many people don't know, but I do have 4 small kids, ages 2 years to 9 years. So my days are filled with messes, giggles & laundry (which I could do without that part). I love when I can sneak away and blog or creating something special for someone."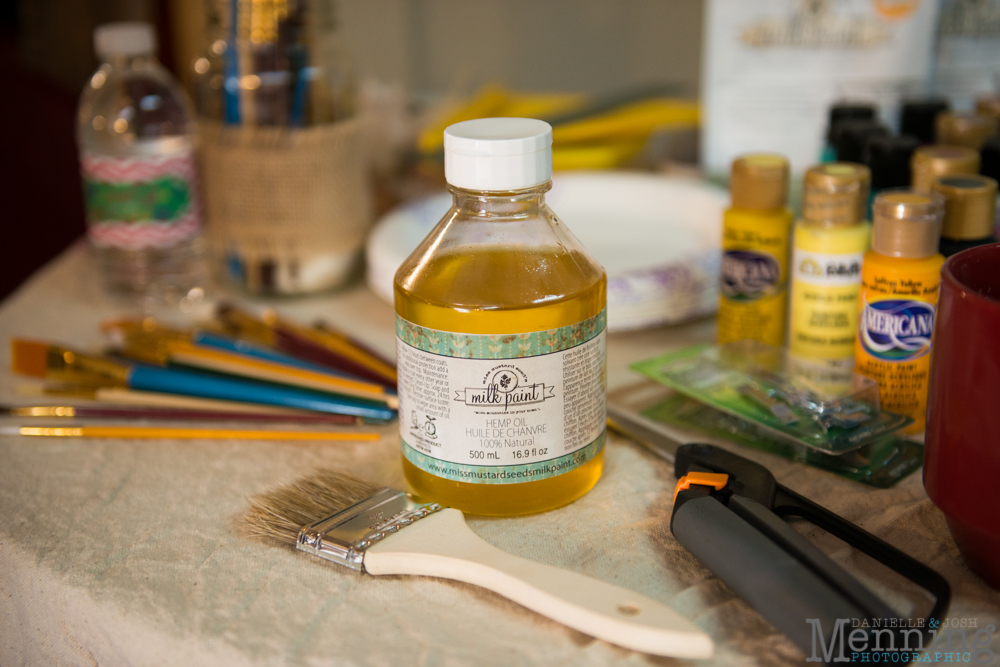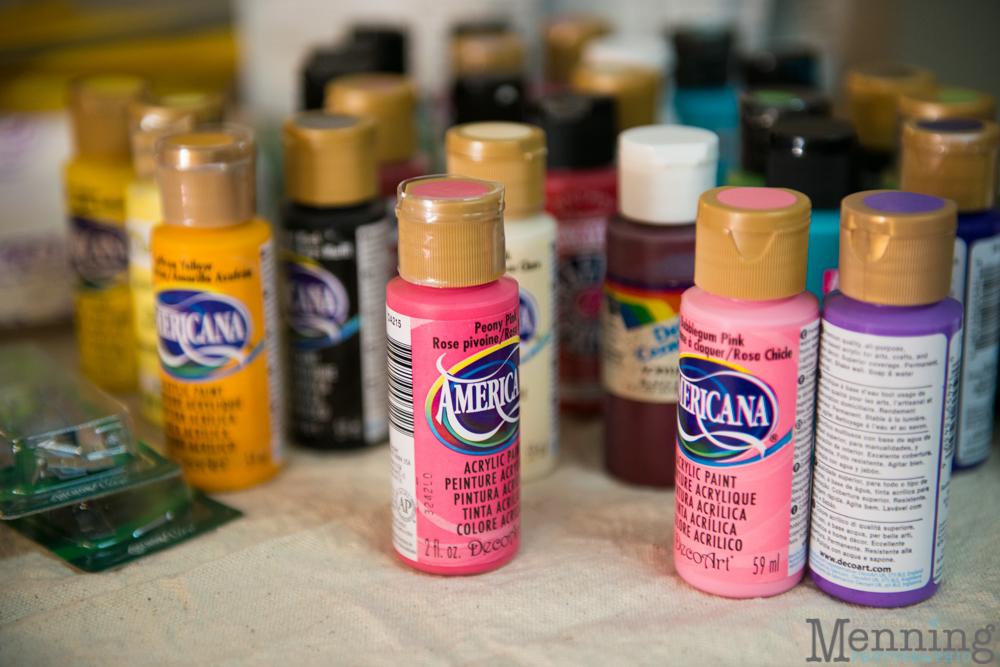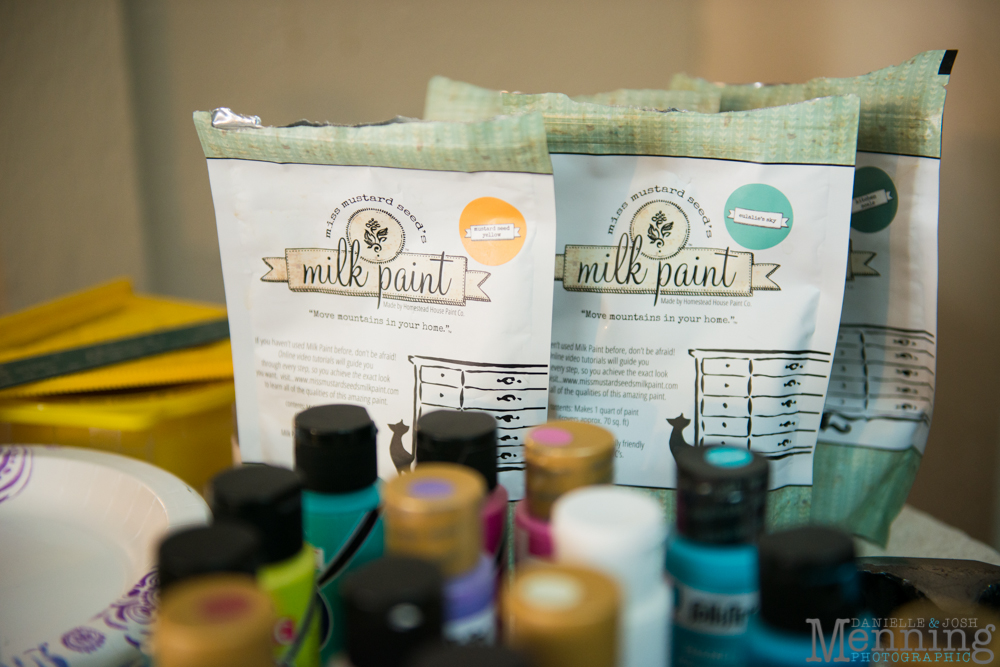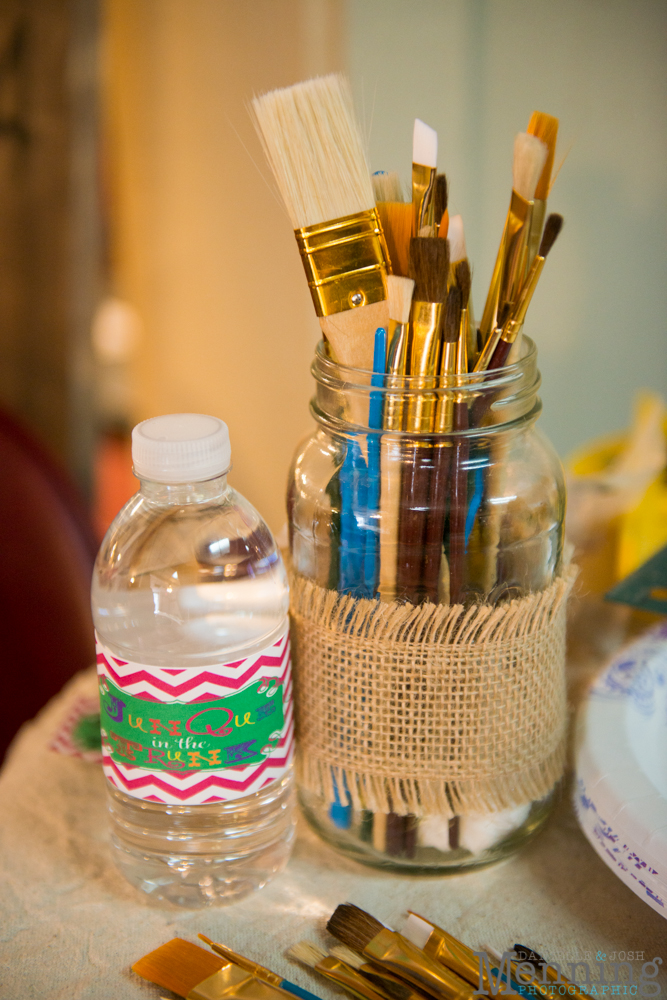 Why did you decide to start your crafting classes?
"I am definitely an 'accidental' crafter, designer & entrepreneur … 10 years ago I would have never dreamed I would be doing something like this & seriously labeled myself as 'not the creative type.' It wasn't until I had numerous failed sewing attempts & 2 little toddlers by my side that I tapped into a new creativity and one thing led to another. I ran a small sewing business from my home; it started at my dining room table- designing and creating custom children's clothing. Over the years I have helped many mommies like me, through emails and messages on Facebook, tap into their creativity and even encouraged a few to start their own Etsy shops. There really is so much talent out there; it's just a matter of tapping into it. I started my blog as a creative outlet & way to connect with customers locally & help others. Sewing kids clothes full time wasn't easy with 4 kids, so last fall I started blogging, not really knowing what I was doing … but I have a real passion for helping and teaching others. I always knew while I was sewing that I wanted to teach DIY of some sort, it was just a matter of it all falling into place & God's timing. Everything I have made, customers who had purchased my clothing, small business owners who had carried my product lead me up to this. I am very humbled by the wonderful response to the DIY workshops."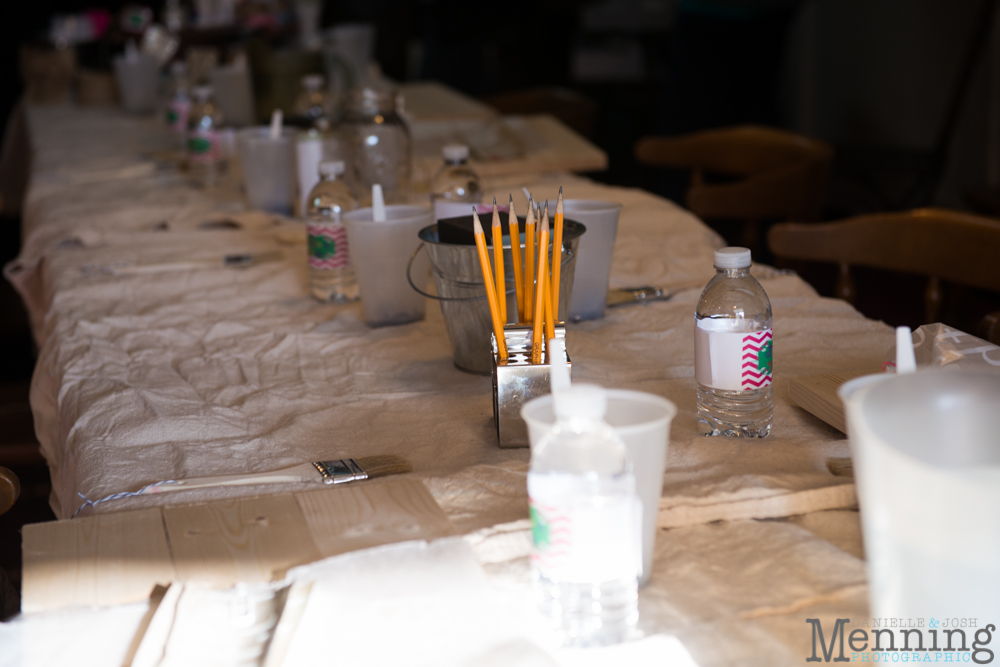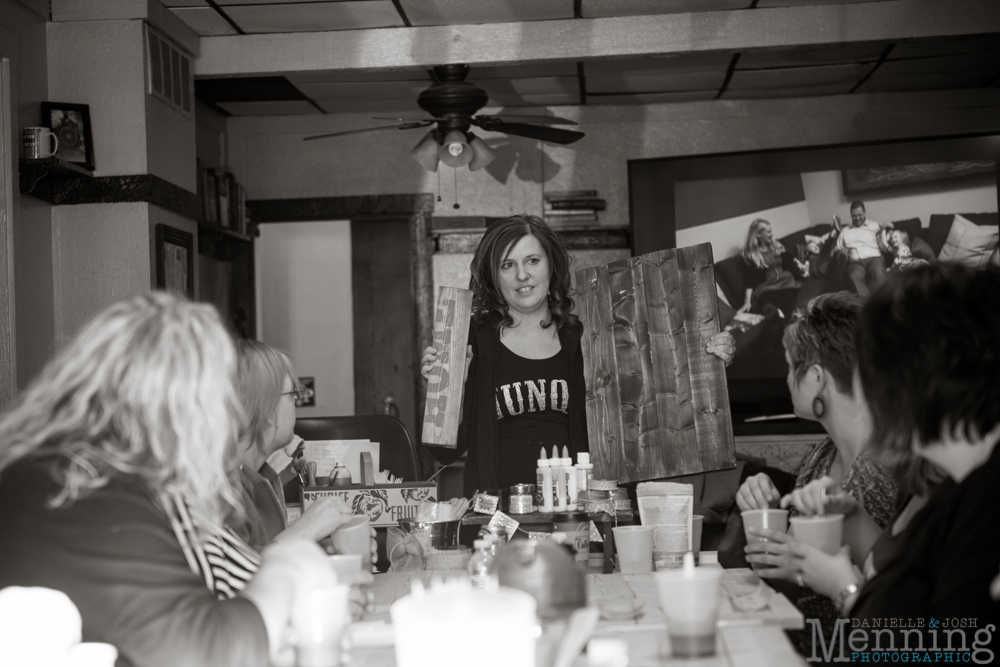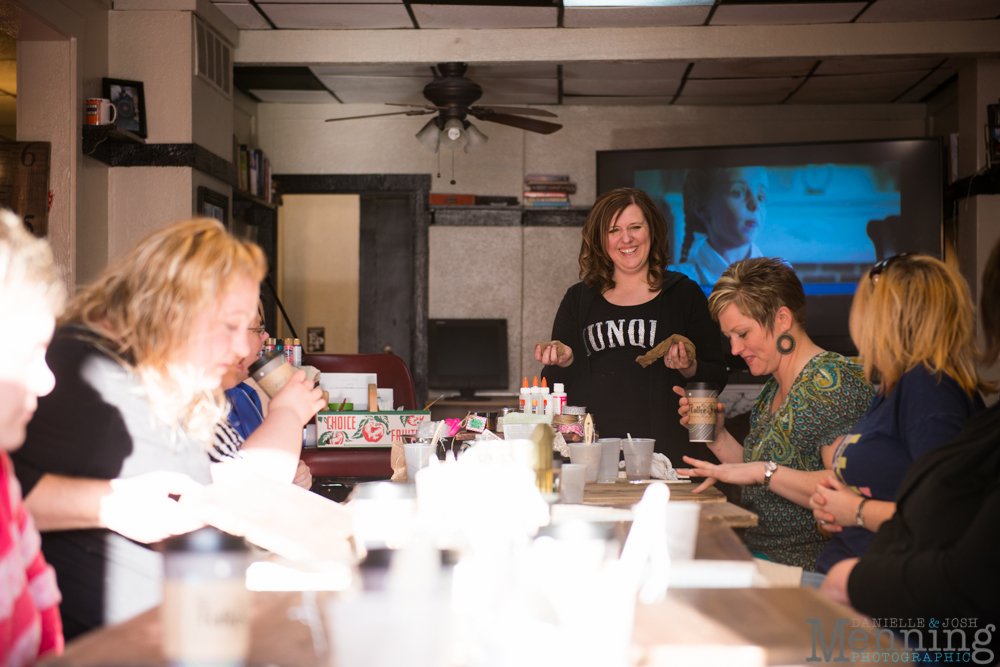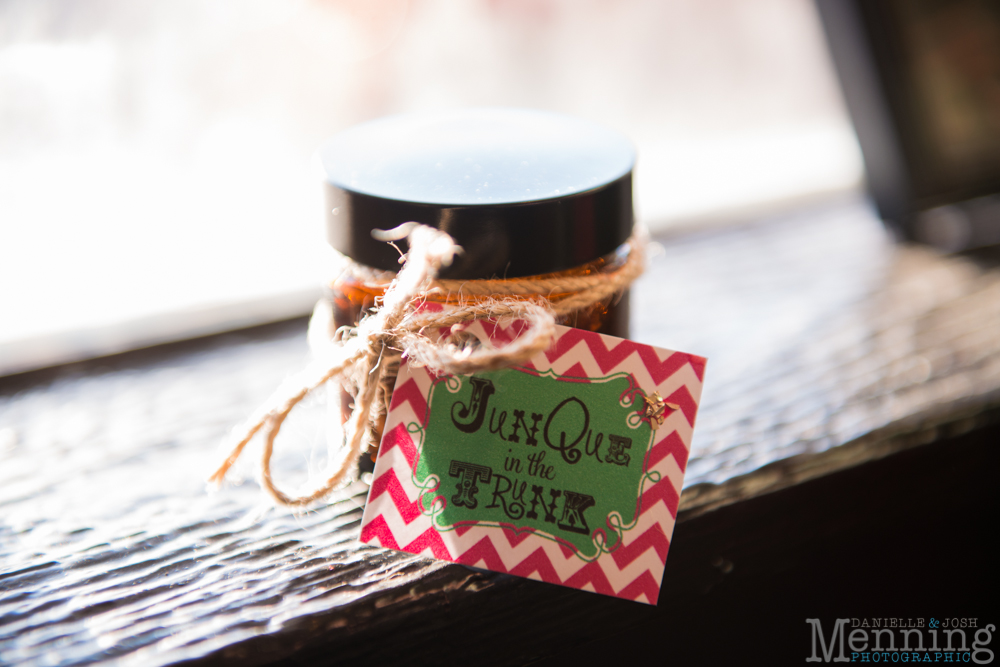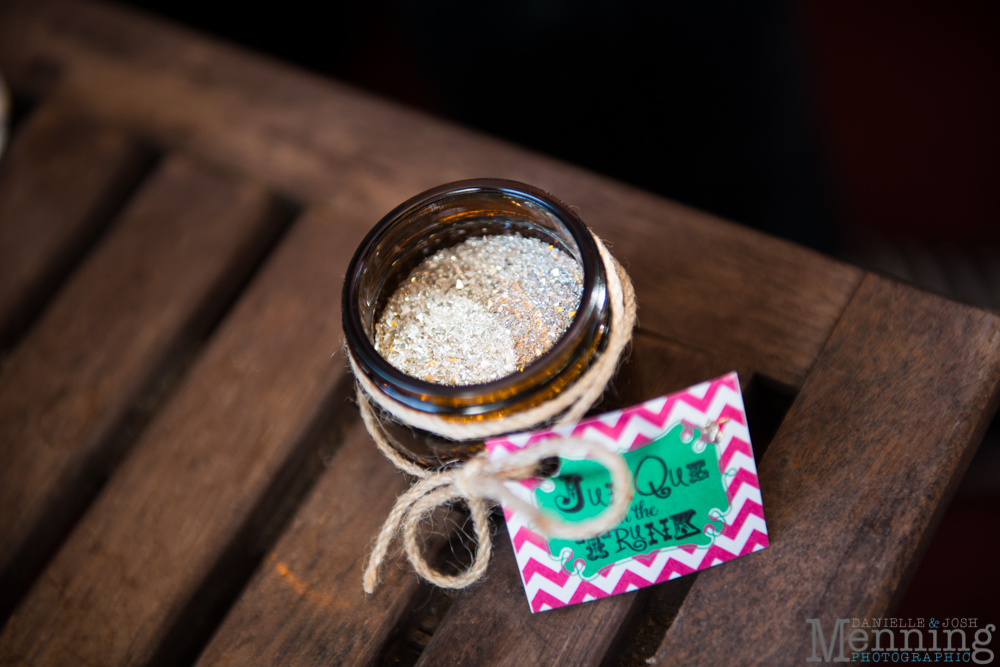 What inspires you?
"My husband says creating inspires me; one thing leads to another & something even bigger and more special. Inspiration is everywhere & you never know when it might hit, it could be a certain paint color, fabric in a pillow or something someone says… you say, 'That's it!' & have to make it right then, just go with it. I have a long list of people who inspire me on a daily bases; many are moms in business, just like me. All they do & create gives me courage.  My faith inspires me probably the most, as well as creating, teaching, & helping… it's just a part of who I am."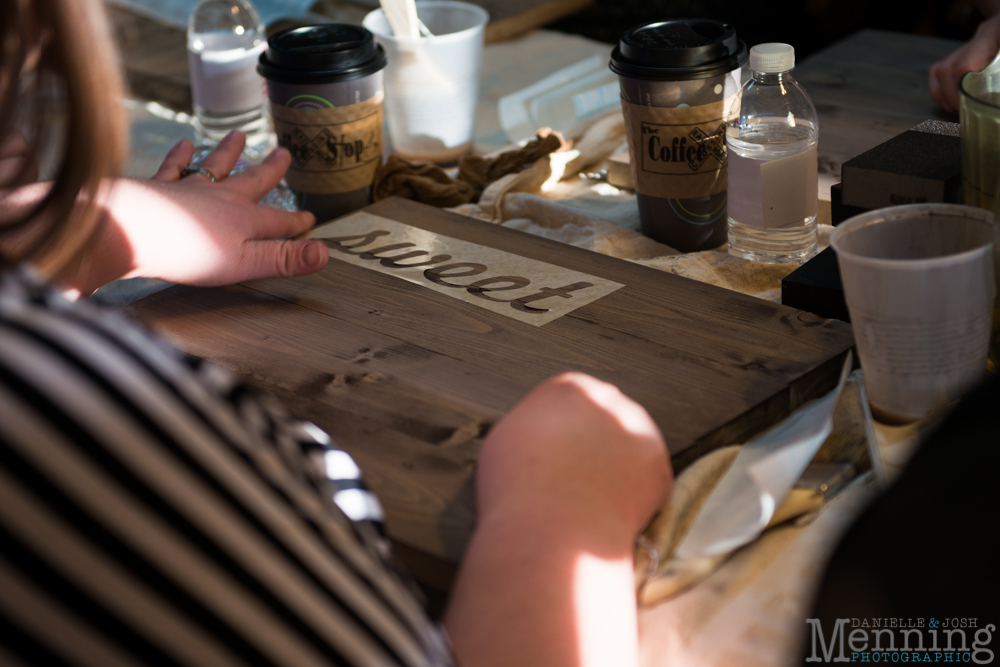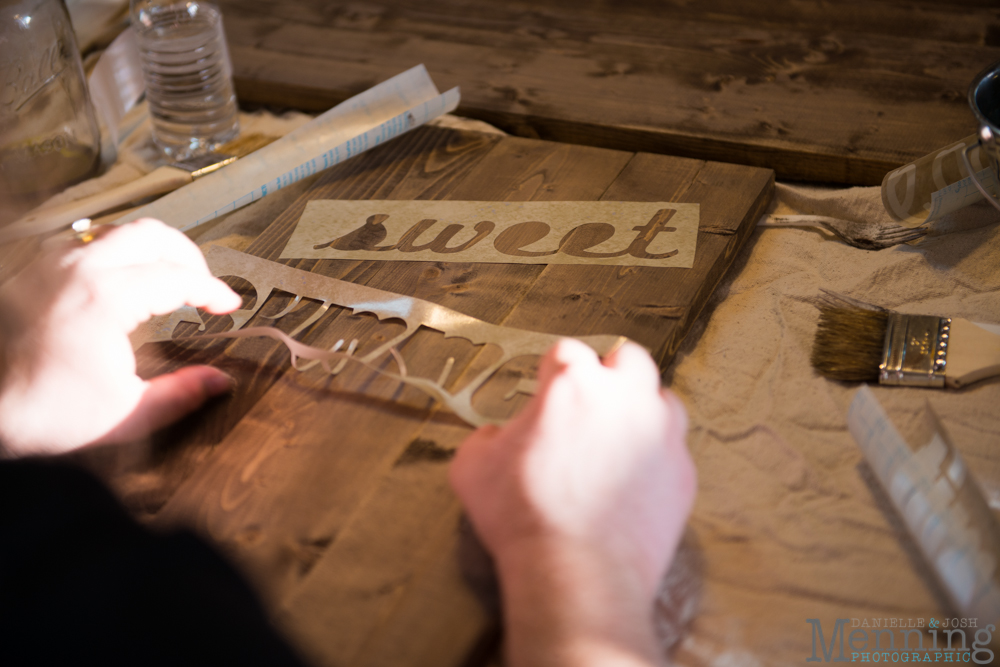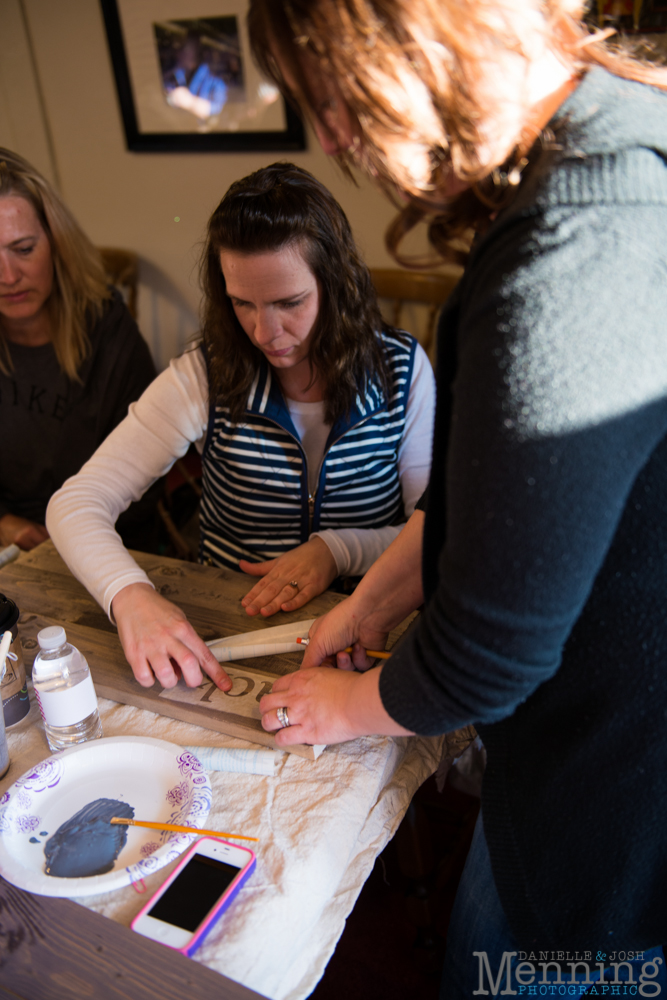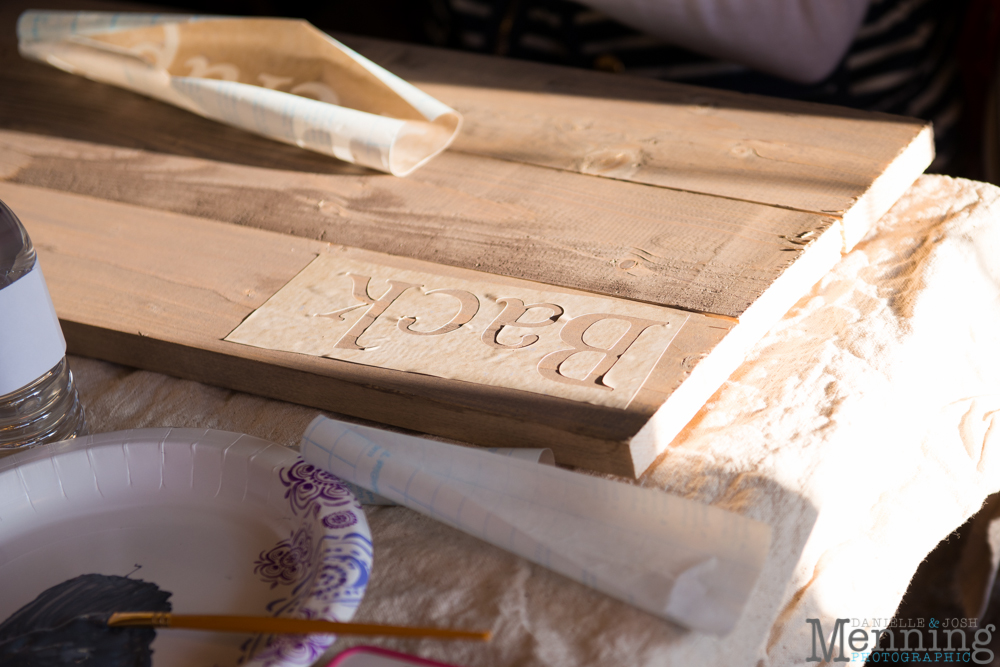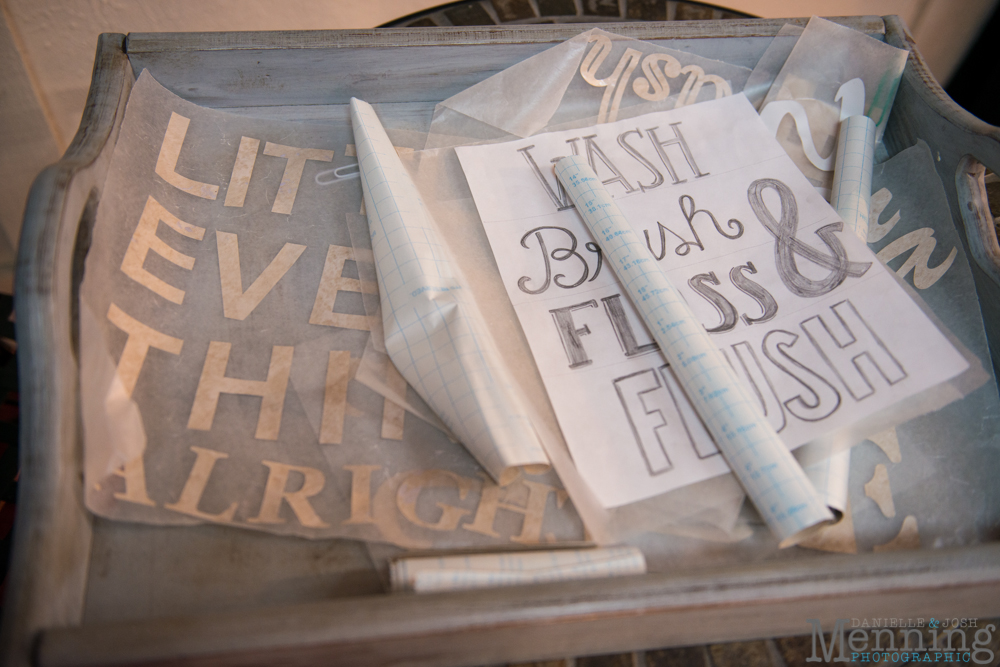 What is the biggest challenge you've faced since starting your blog & teaching crafting classes?
"This is a really hard question because you want to give an honest and true answer. I wish I could say it's easy peasy, but everything has its challenges.  When you are in business you are always growing and learning (same could be said about life), it's how you handle the situations that arise and grow from it. I must say 99.9% has all been wonderful. I think in 'blog land' some people forget there is a person behind the computer writing and sharing; you have to brush off the negative but listen to the constructive part too and grow. Even though I face challenges, God seems to always put the right people in my life at the right time; it all kinda just has been falling into place."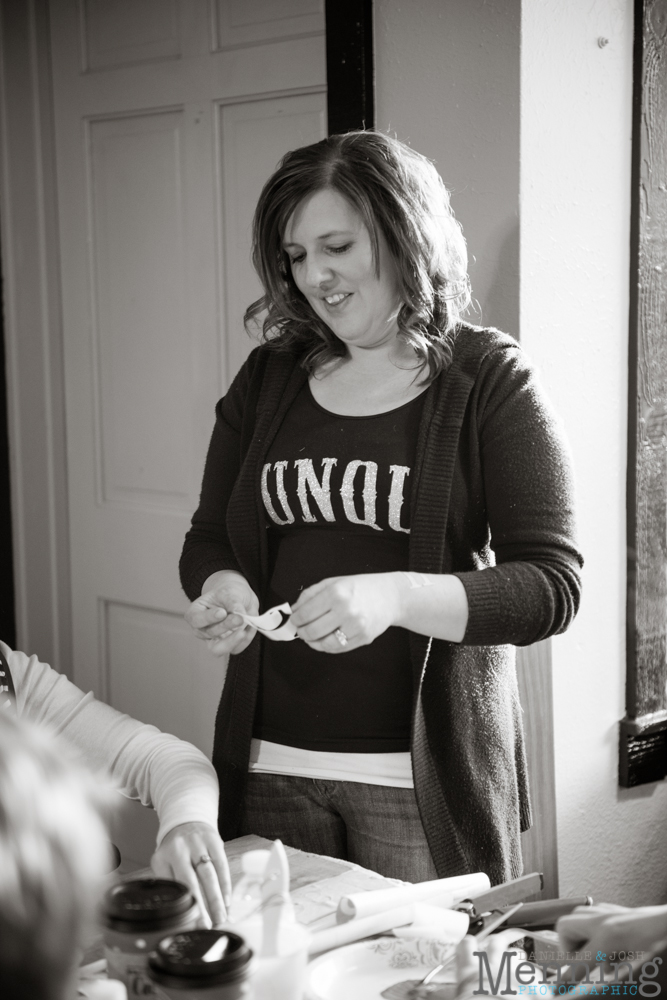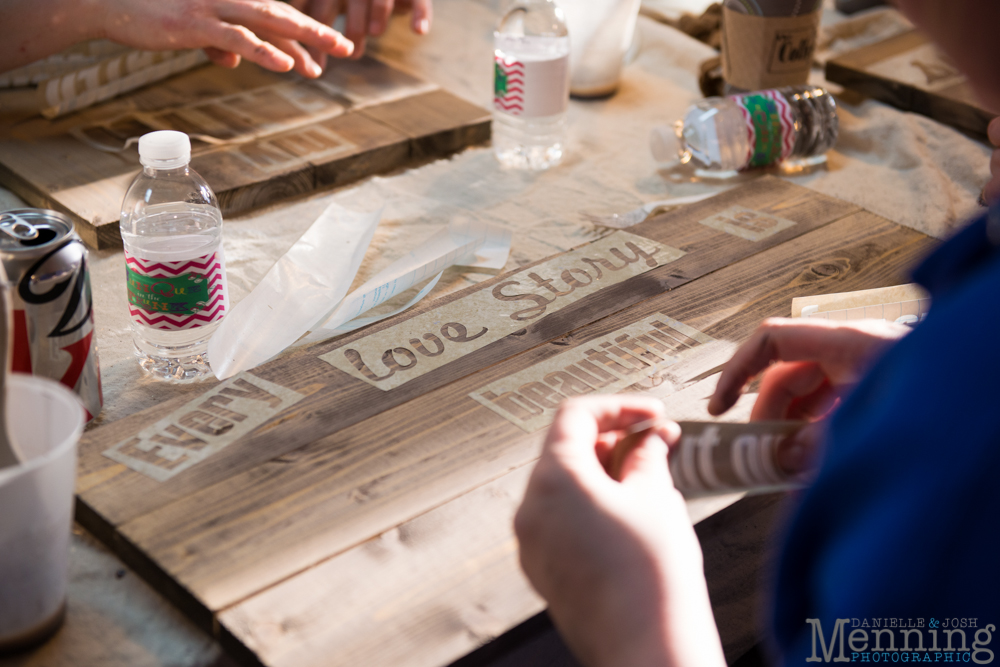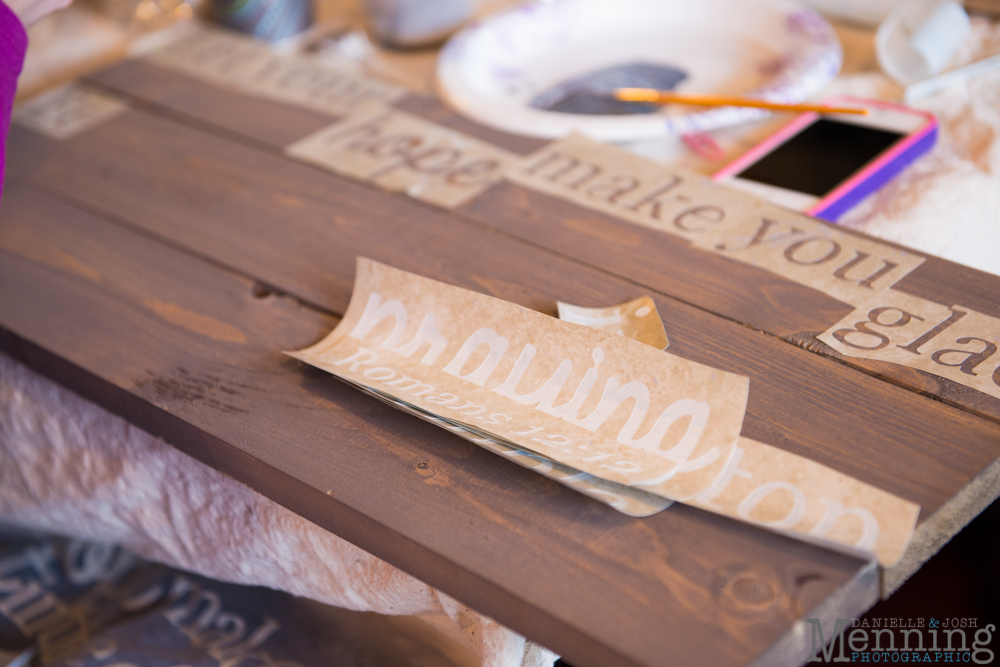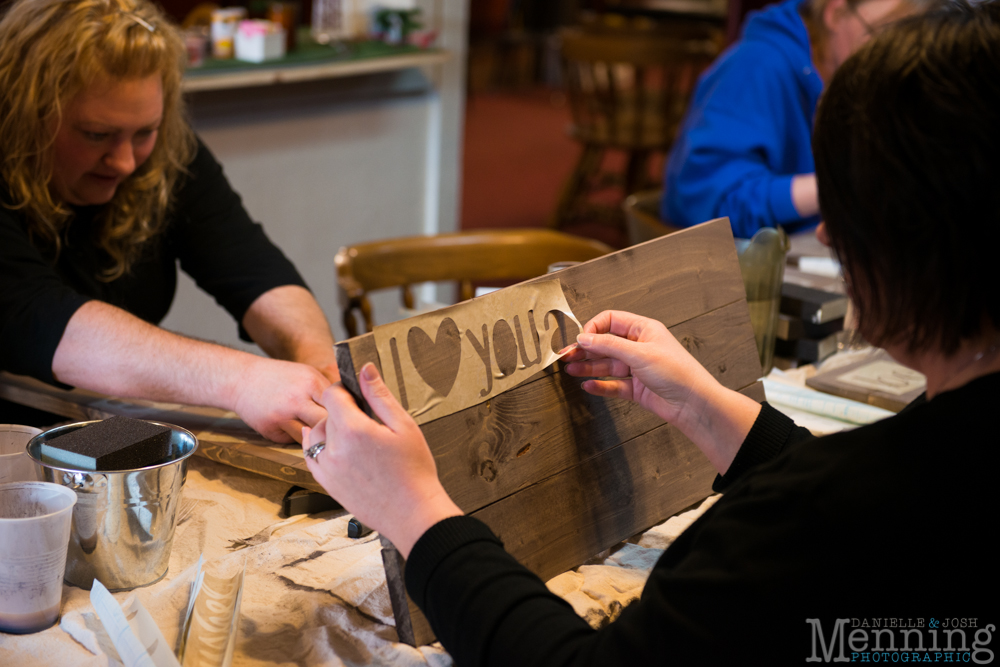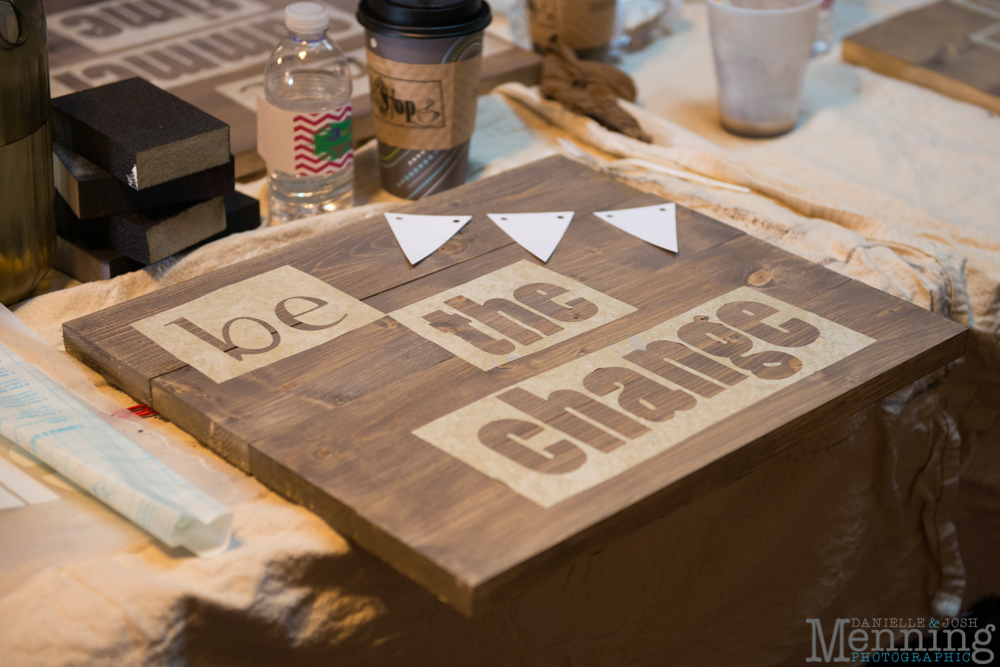 What has been the most rewarding aspect of starting your new business venture?
"Seeing what everyone makes! I love seeing their creativity and fun they are all having at the classes. It's really something special. The best part is you get to take it home and hang it, that feeling of 'Wow! I made that.'"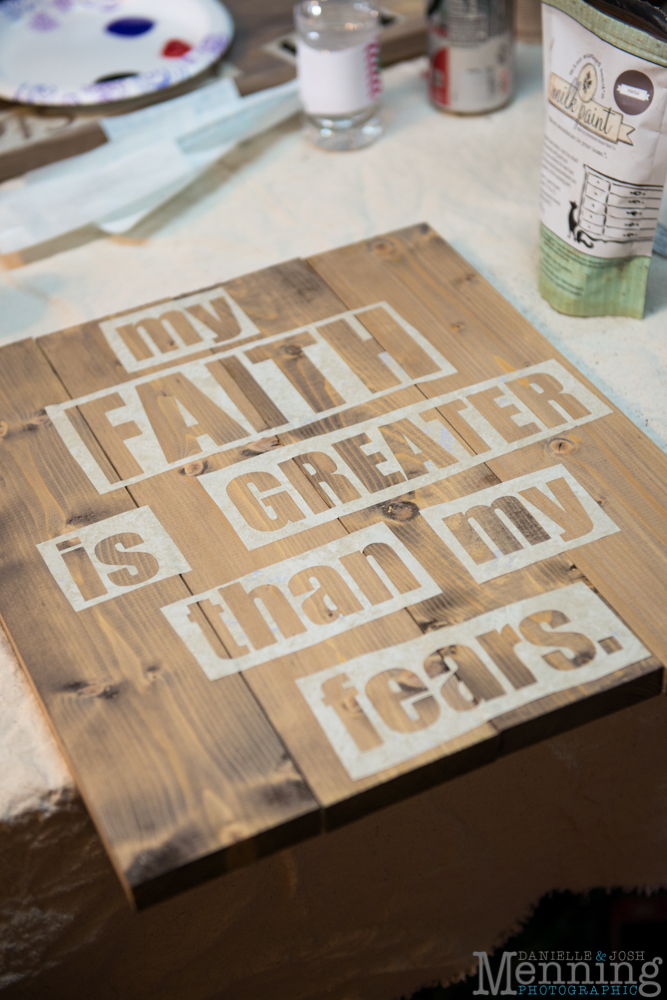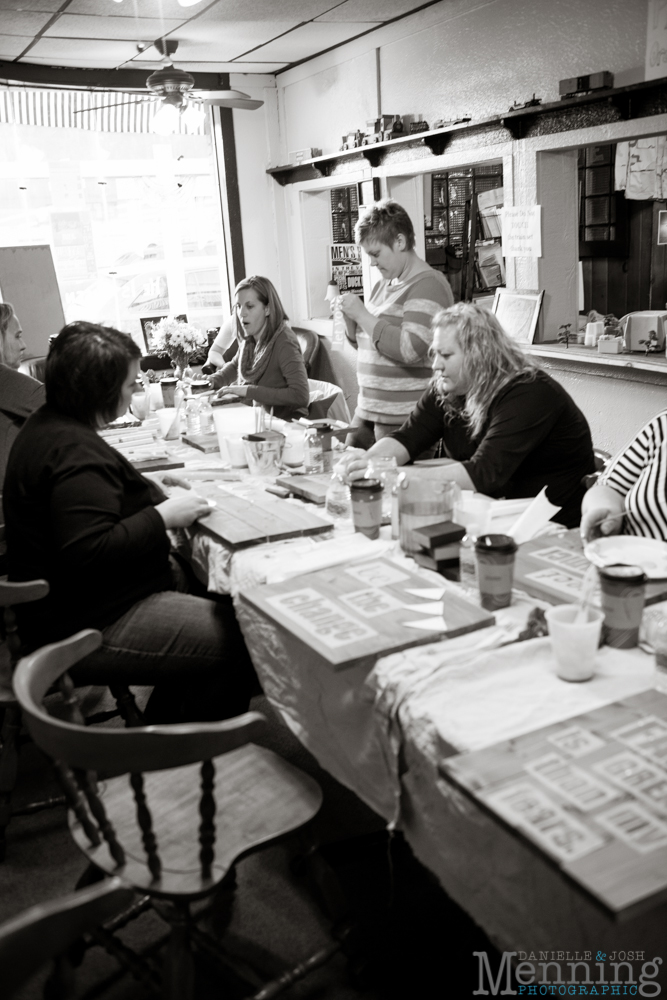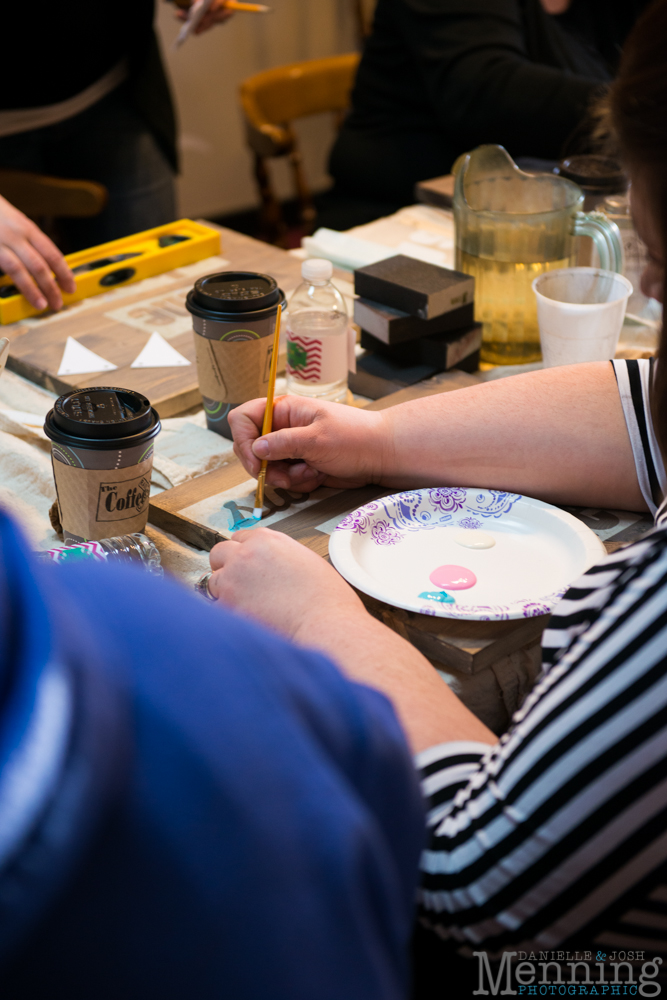 Tell us something fun about yourself:
"Well you already know I have 4 kids, but I eat gluten free, love coffee, went to school to be a teacher, & married my best friend who is a football coach. 🙂 "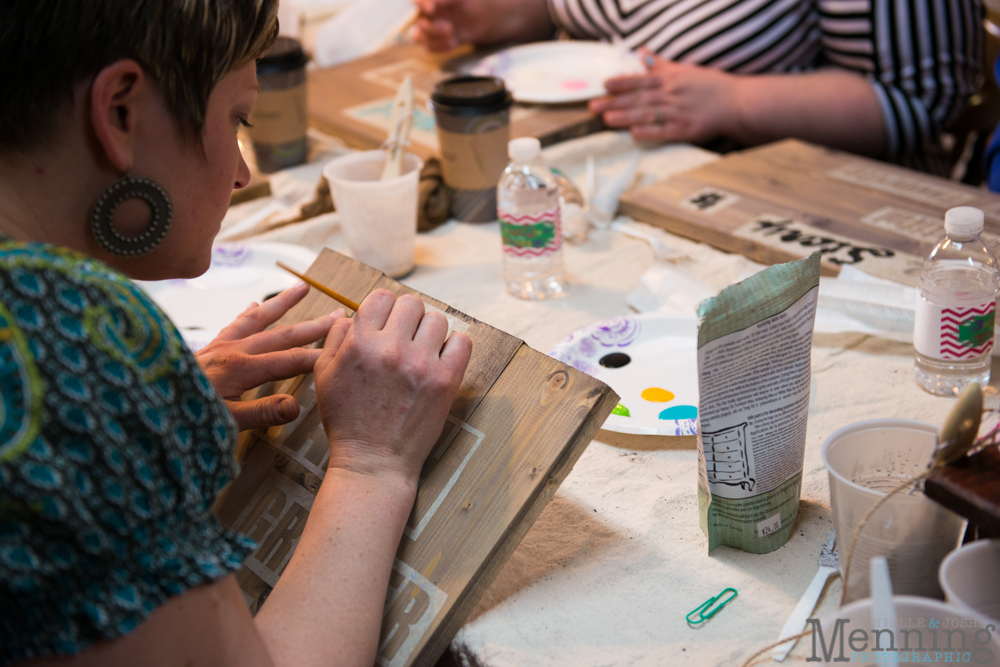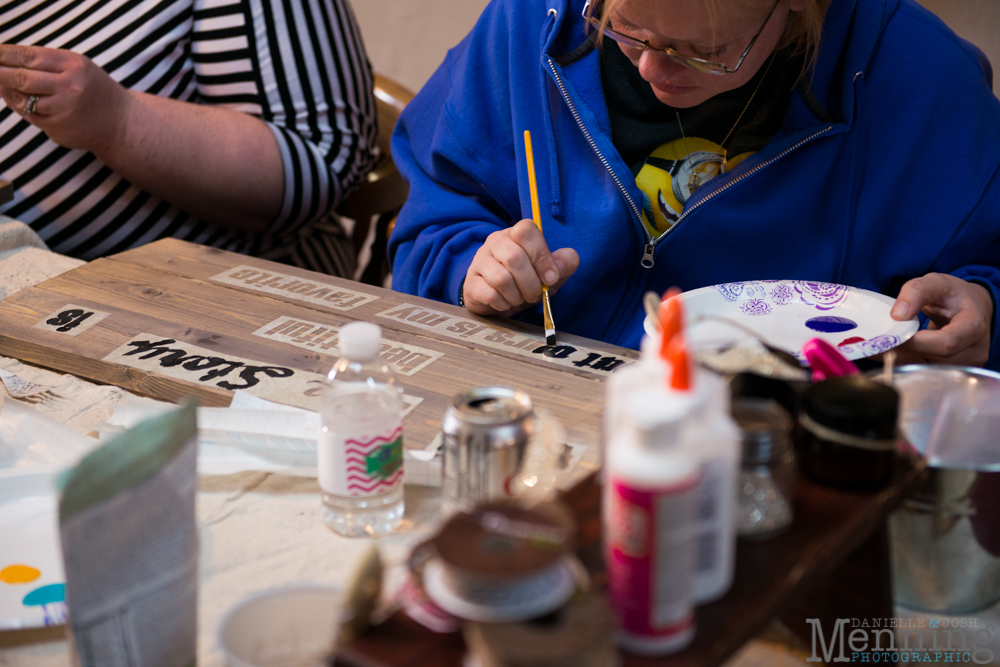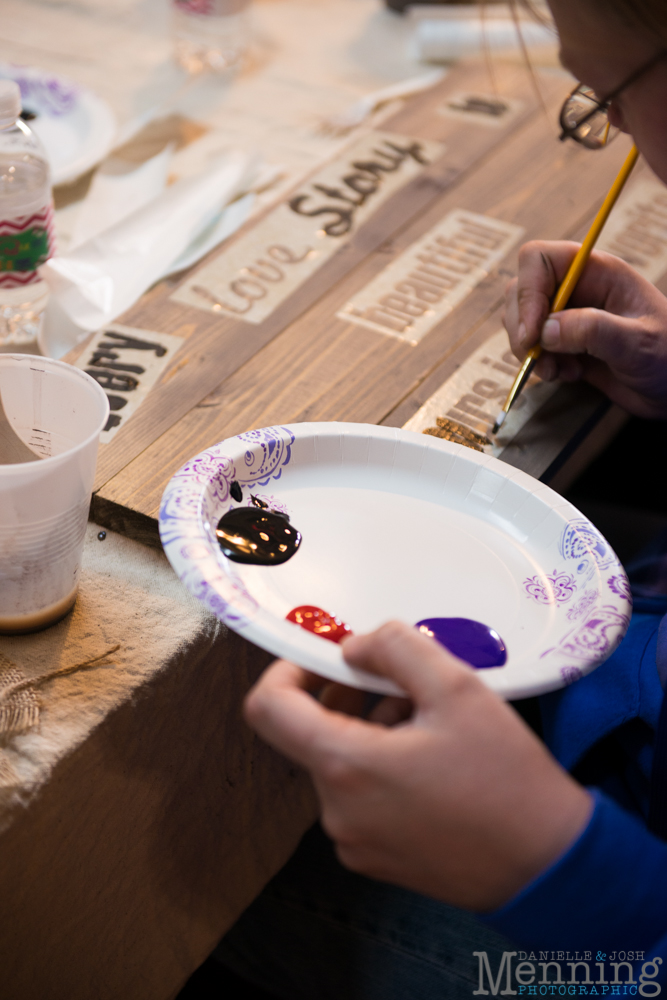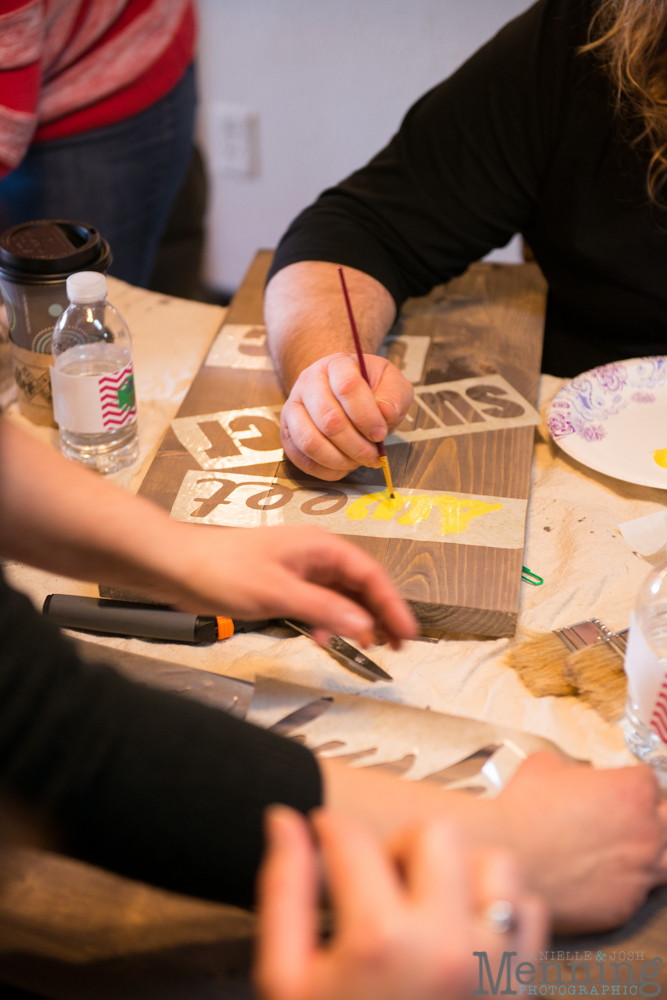 What do you like to do in your spare time?
"Painting, hands down! Don't get me wrong I like to sew, but it's the end product you get with sewing I like more. I love everything about the painting process; from mixing colors to a way a room feels with a fresh coat or bringing new life to an old piece of furniture. Now days I am tapping into a new creativity- my home, learning my style and turning curbside finds (literally) into special oak pieces for our home. I read design books because nothing beats turning the glossy pages of a book that inspires you. I also love reading magazines on the iPad, like Cottage Living, Flea Market Style & I dream of having a magazine-worthy home one project at a time."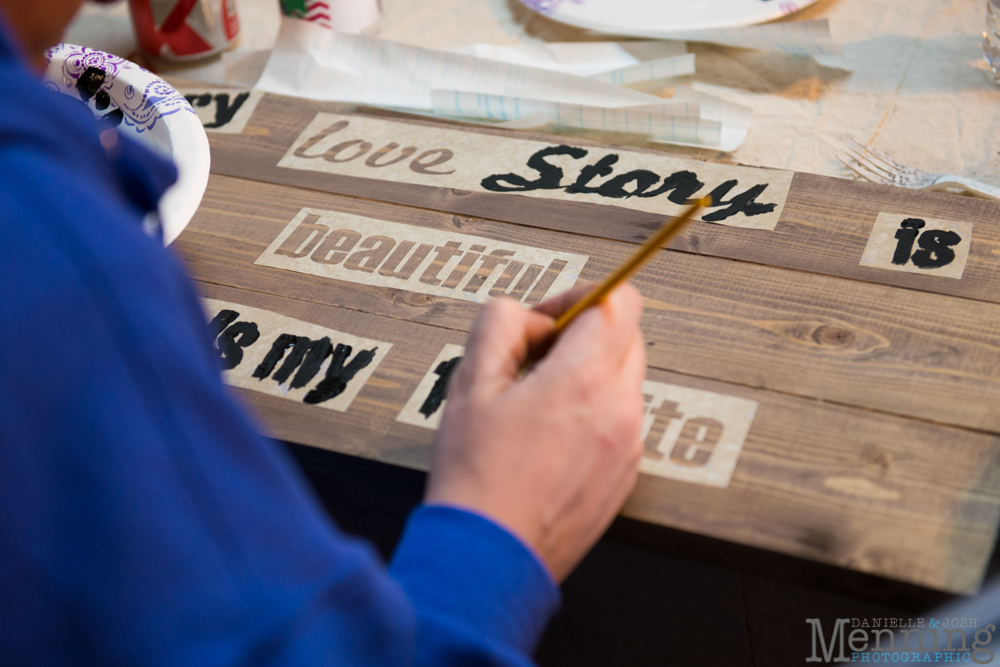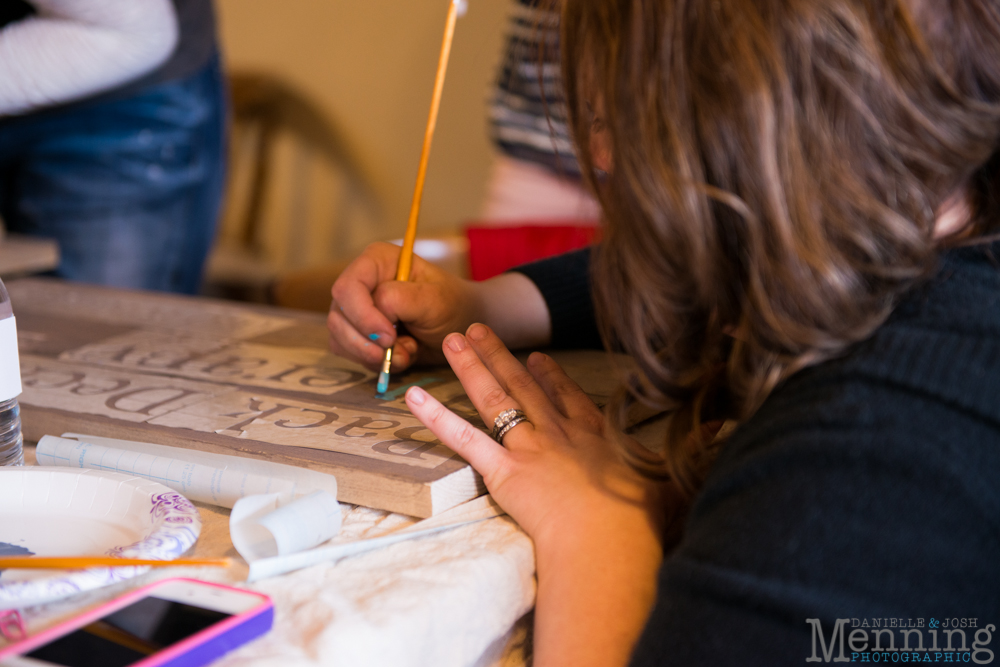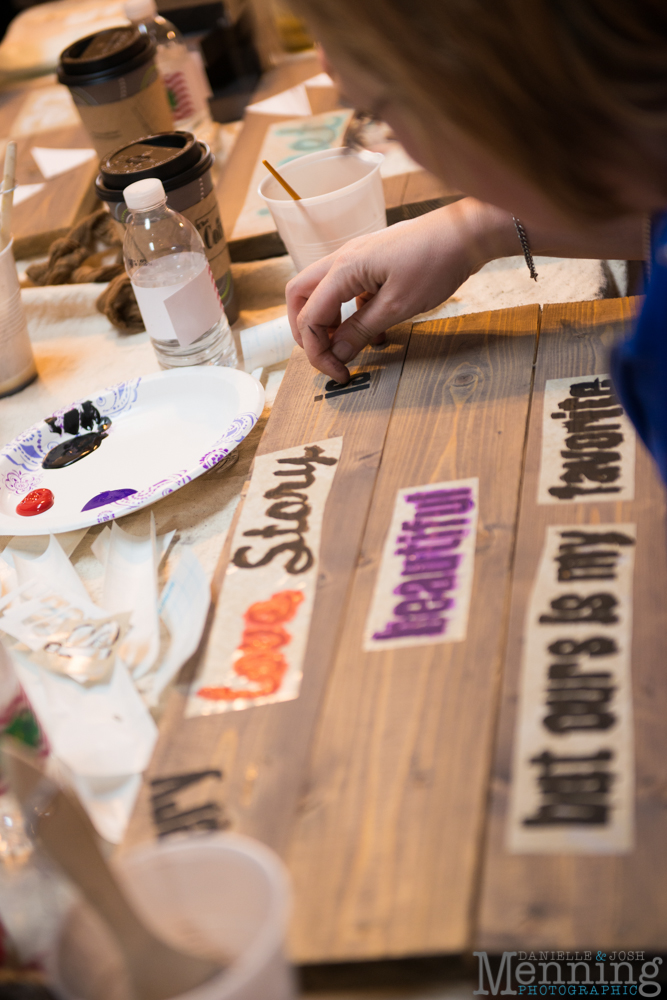 What's your advice for people who don't think they're creative or crafty?
"You are! You just have to tap into it & find that special gift you have."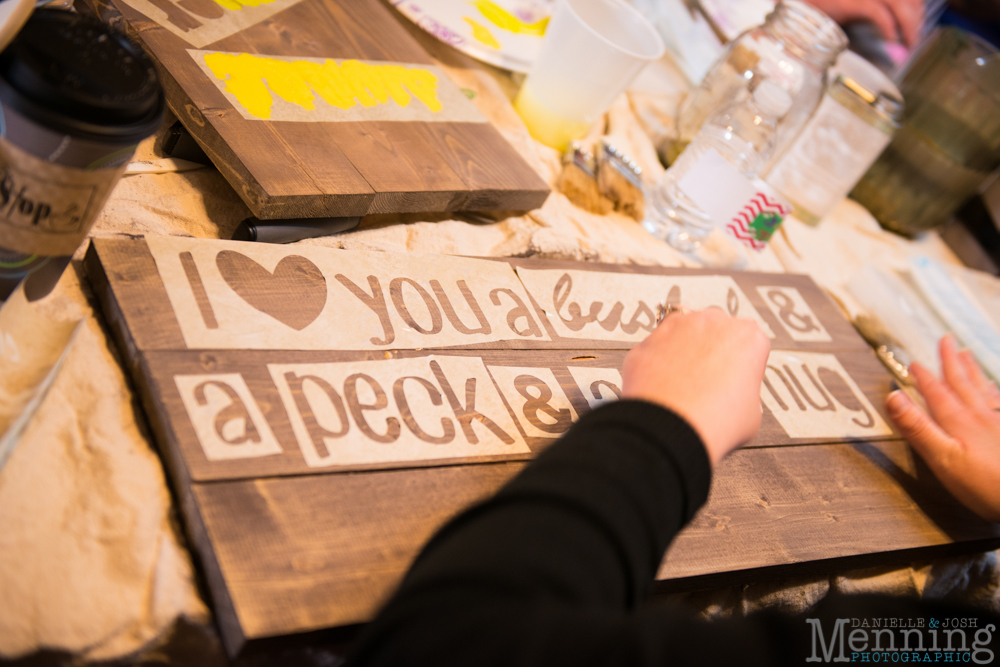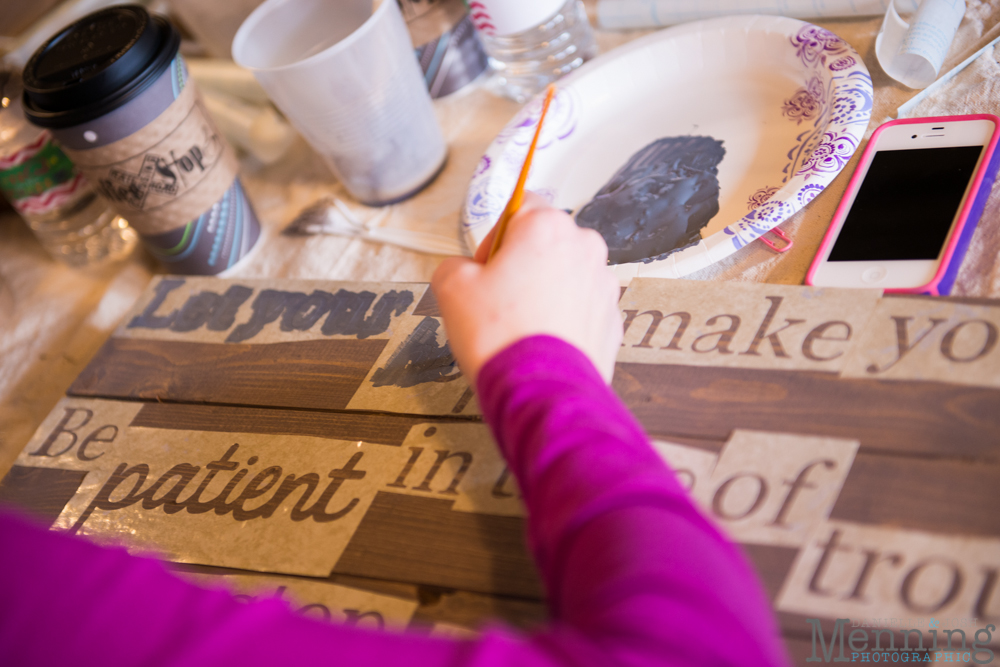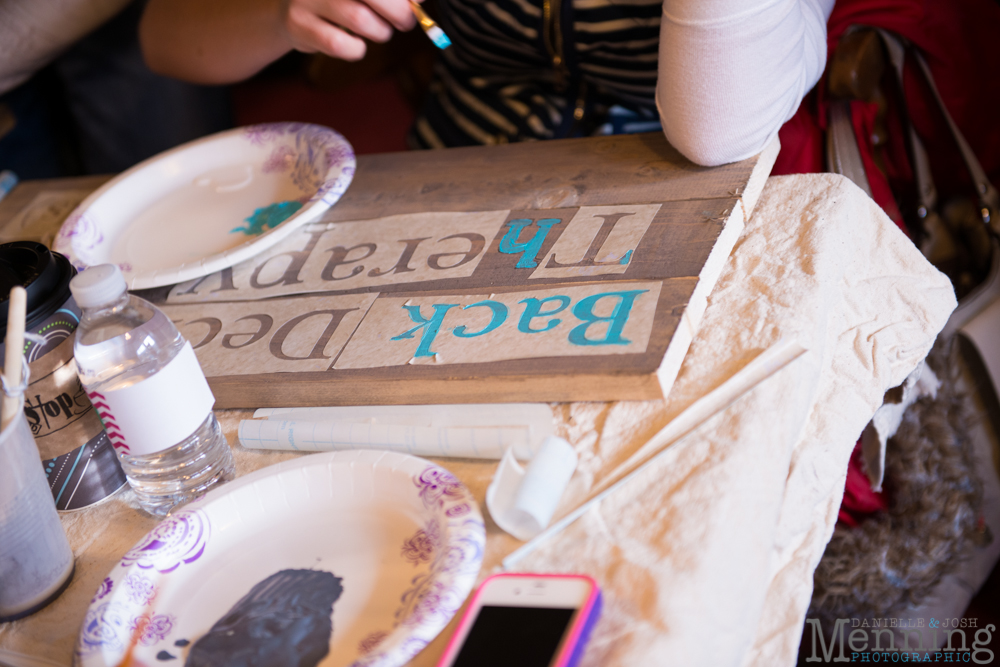 Do you have any funny or interesting stories to share about Junque in the Trunk classes or your preparation for the classes?
"Well the interesting part is that it's a lot of prep for one class & a family affair. My father-in-law has always made sure I have the right 'big girl' tools like a drill & a jig saw but then he has helped me cut, prep & find a way to make my crazy ideas work. My son TD helps me nail signs for classes. My oldest, Libby, helps me design. My husband helps with the carrying and loading, errand running, & all the other fun madness that comes along the way. My mother-in-law helps paint; I am constantly repainting the walls in my house. She painted almost every room in the house when we moved in! My parents & uncle, even though they aren't nearby, help out in many ways. They are such an encouragement, and they're always willing to take the kids for a weekend."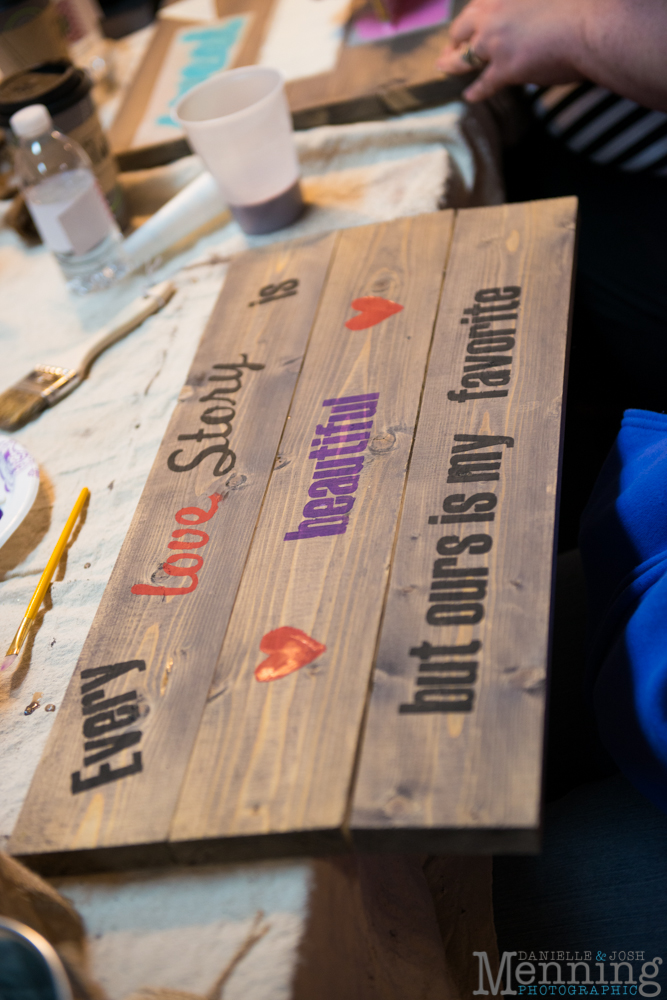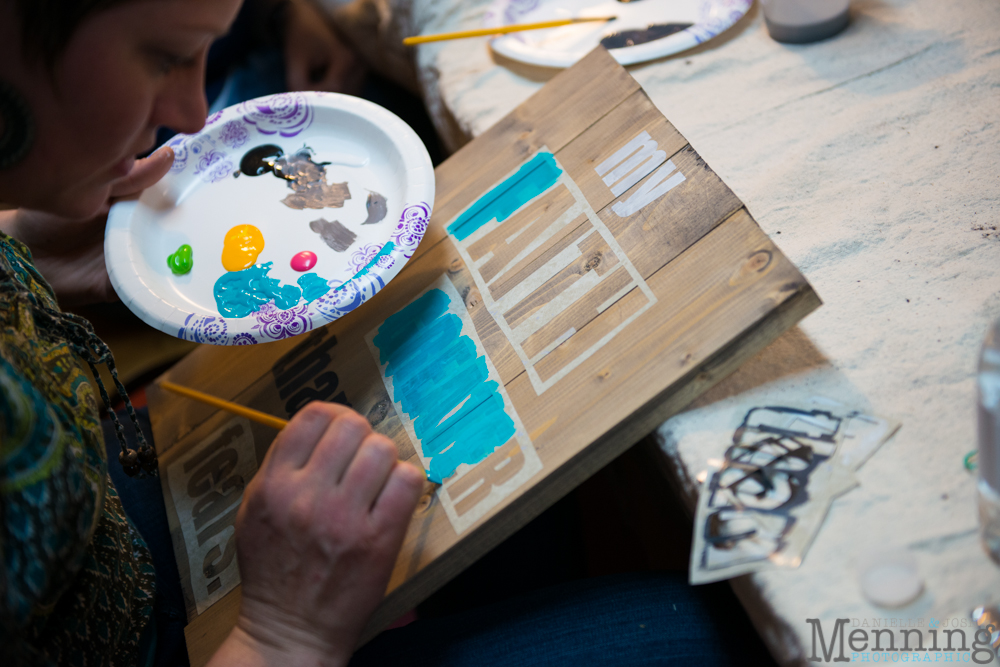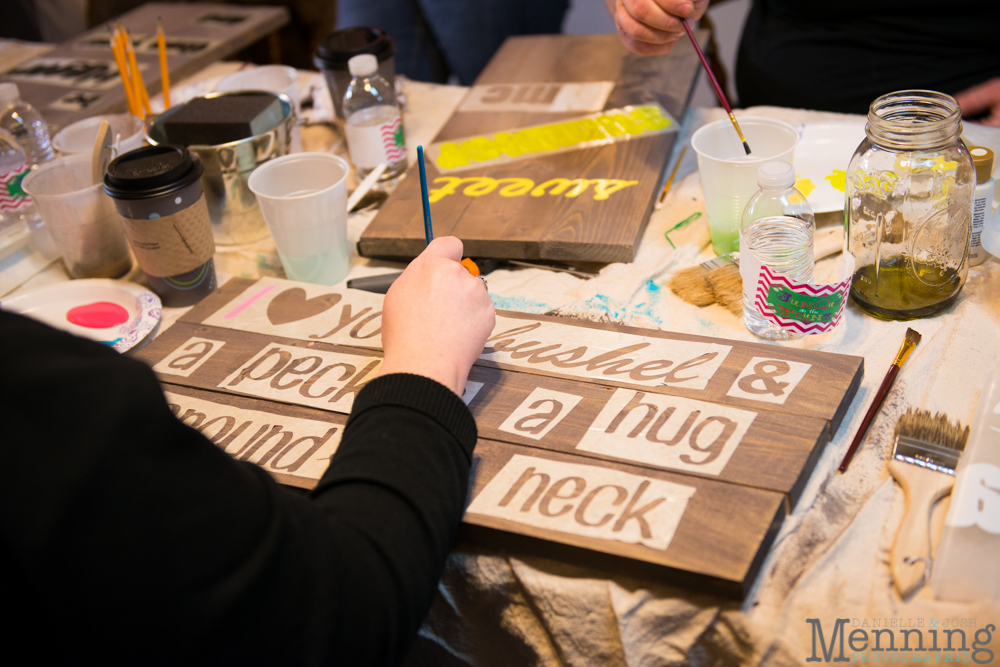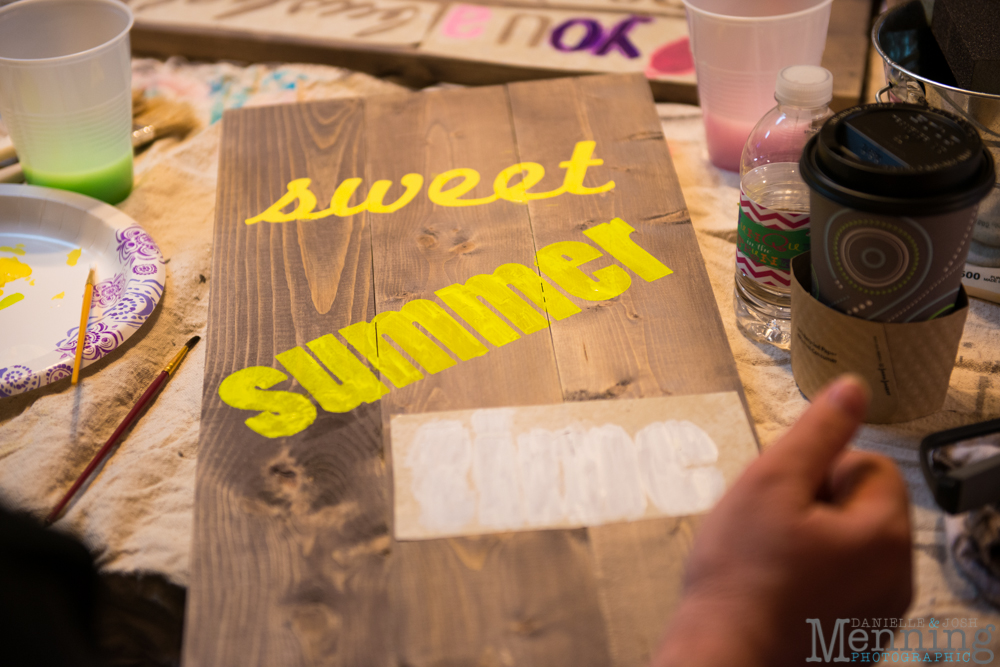 The particular class that Josh & I crashed to photograph was all about rustic homemade signs. The class participants got to choose their quote for their sign ahead of time for the class when they signed up. Becky got all of the lettering prepared before the class, brought all of the sign-making materials, and then instructed and assisted everyone as they created their signs for their homes. It was a lot of fun to watch as everyone created their signs; they were all unique and very pretty!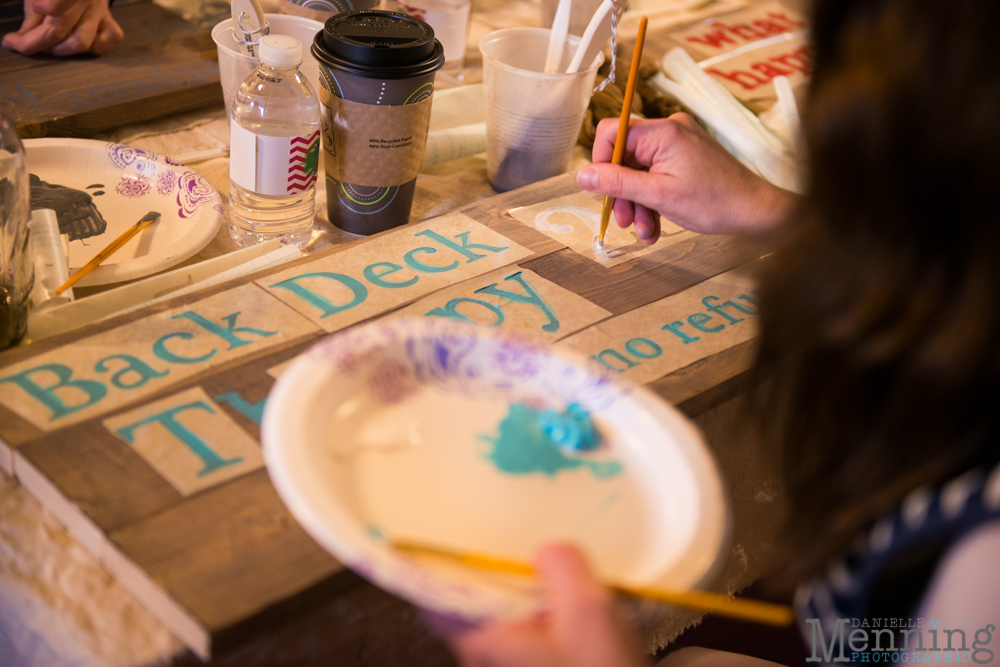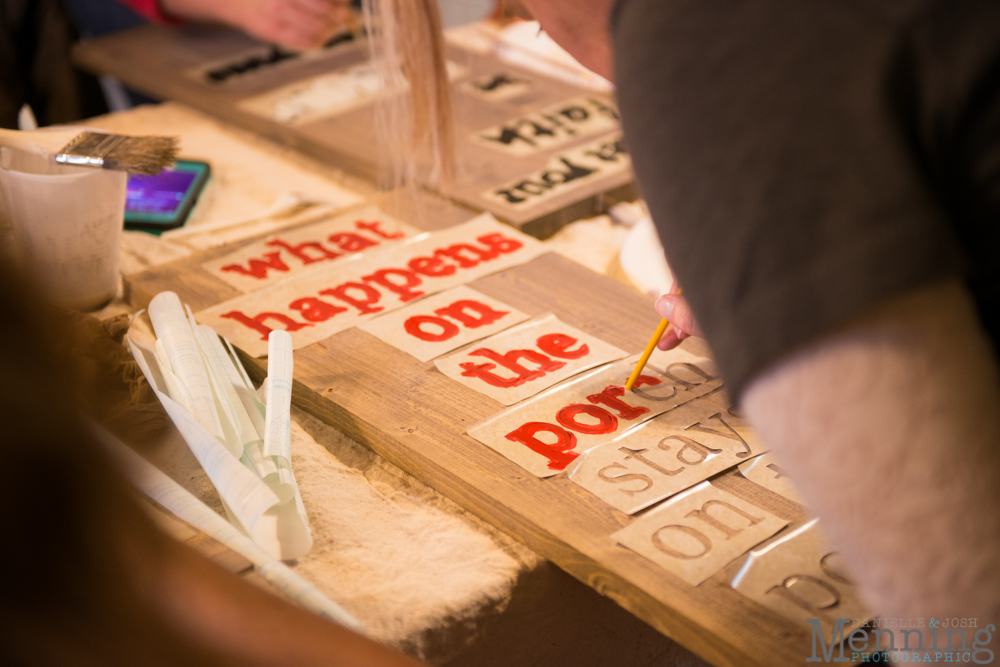 Becky administers a Facebook group for those interested in participating in a crafting class. She posts in the group about the upcoming crafting classes & what the creations will be for each class. Participants then sign up for the class and make any initial preparations for their crafts beforehand (like choosing a saying for a sign, for example). The crafts made at each class are different every time so participants can come to many Junque in the Trunk classes if they'd like to. Their whole home can be decorated in homemade crafts if they're feeling ambitious. 🙂 I heard from many of the participants that the class was one of the most fun nights out they've had in a long time. A couple of the ladies at the class we crashed told Becky to have one every week instead of only two a month because they NEEDED the night away from home. ;)Â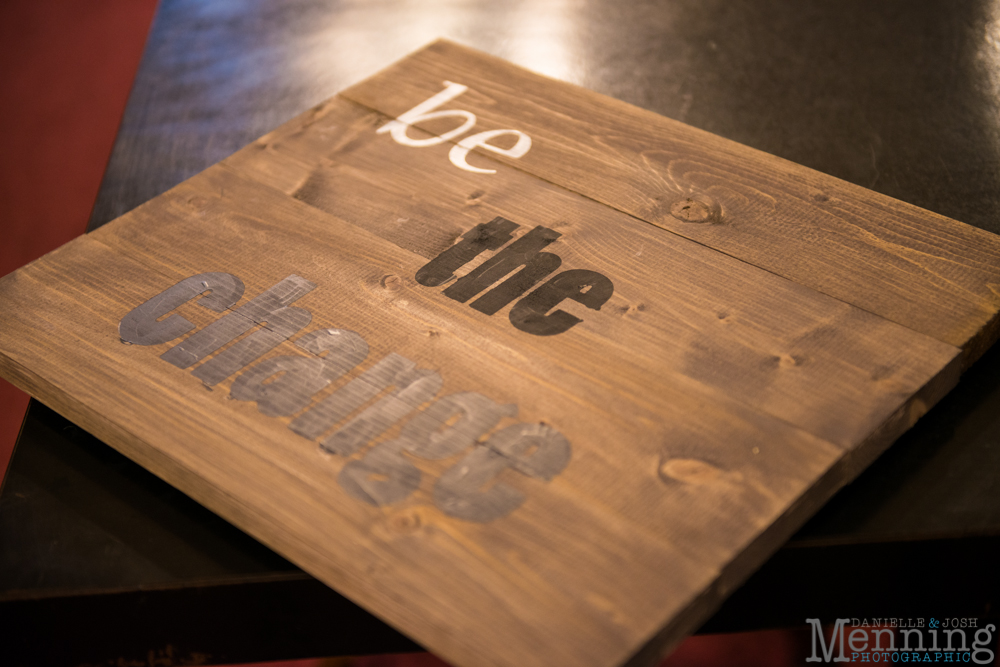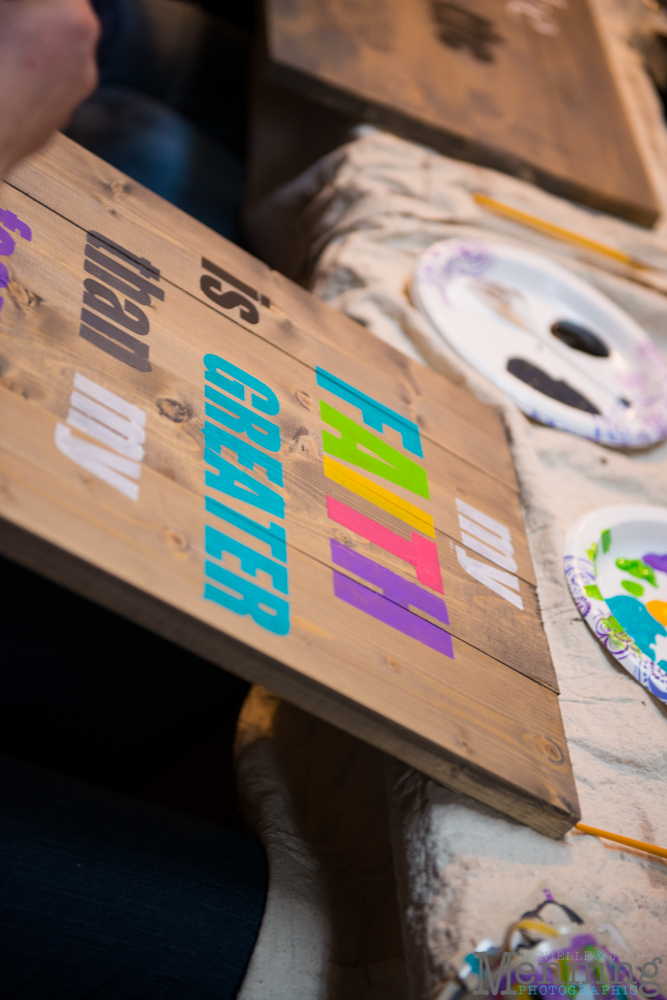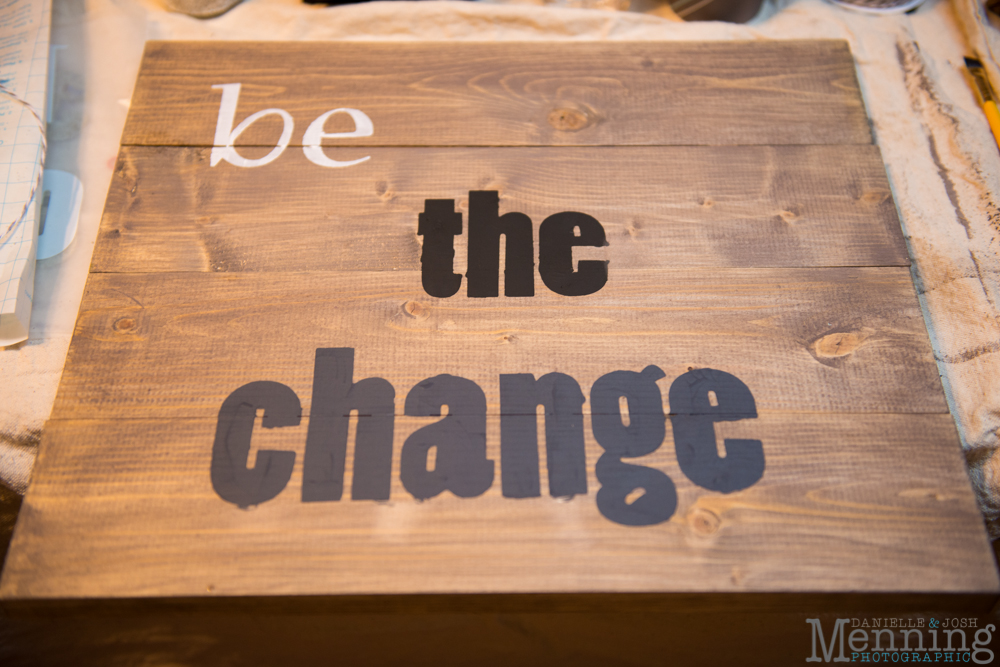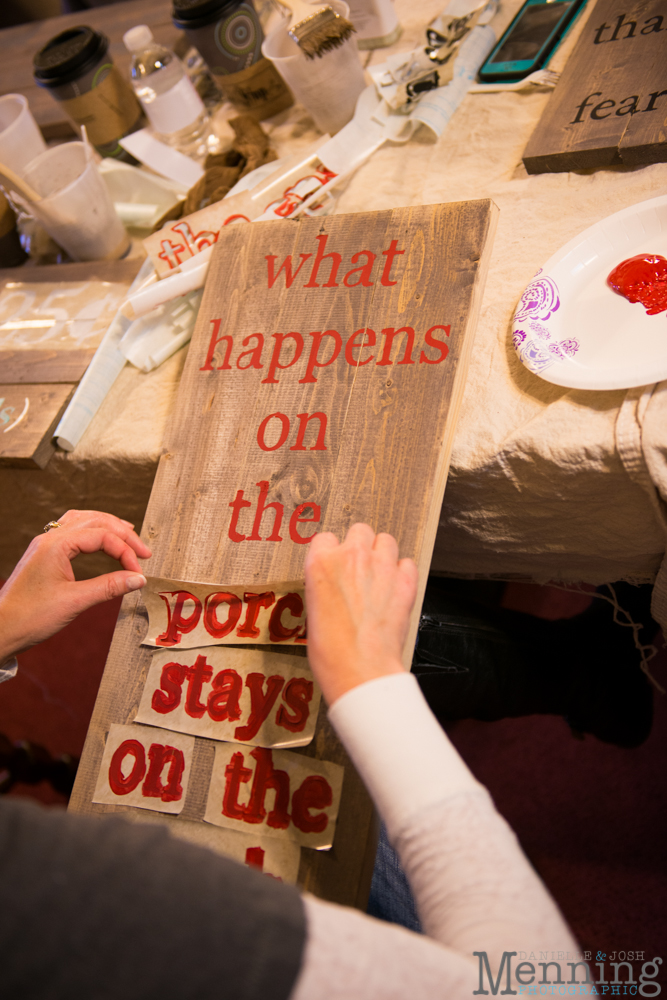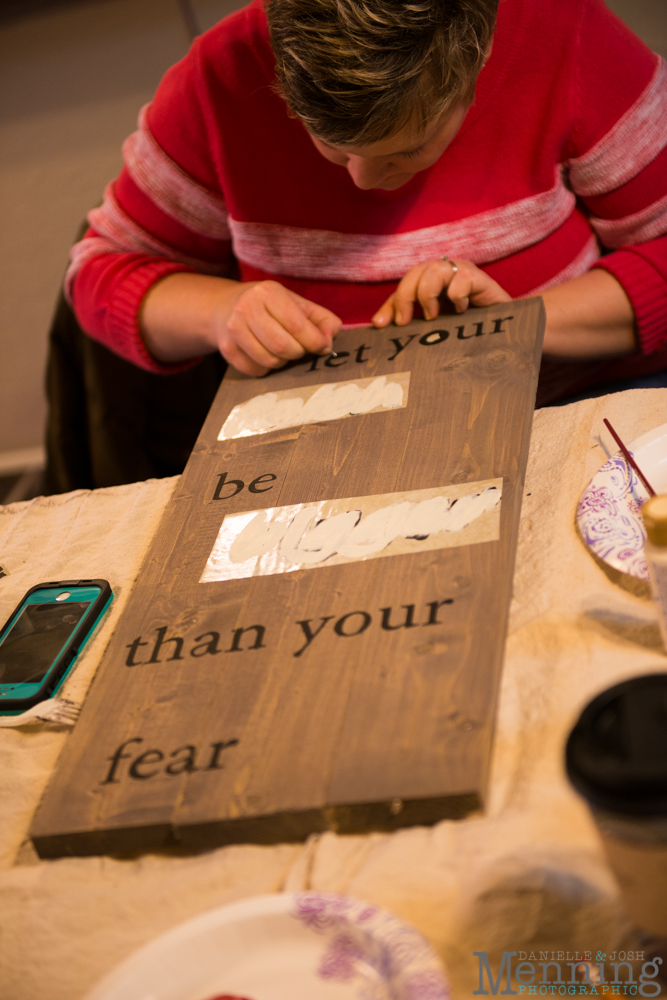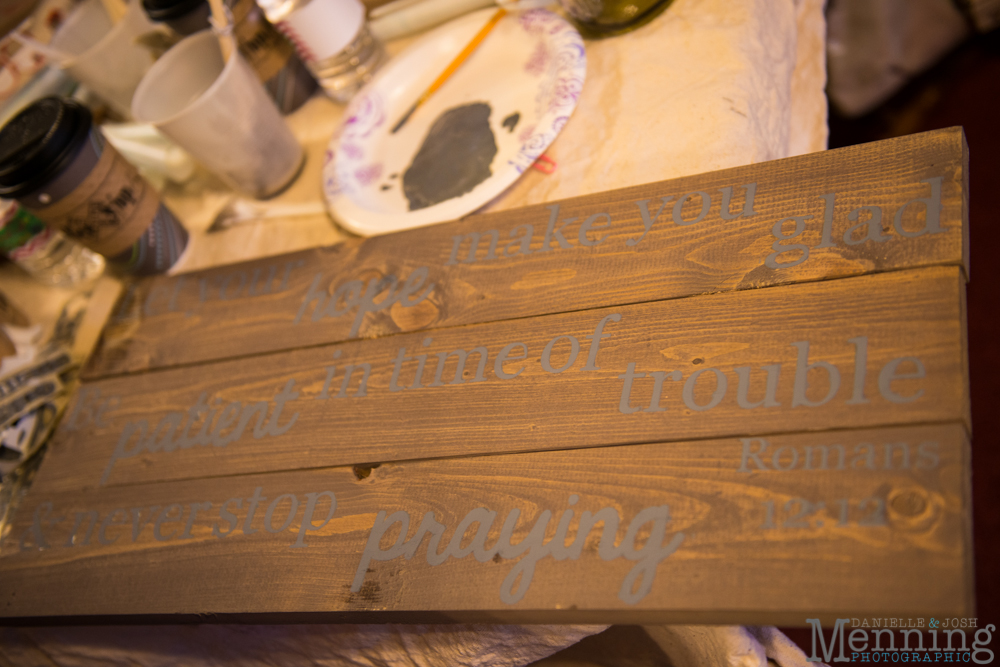 This glitter was the prettiest glitter I've ever seen!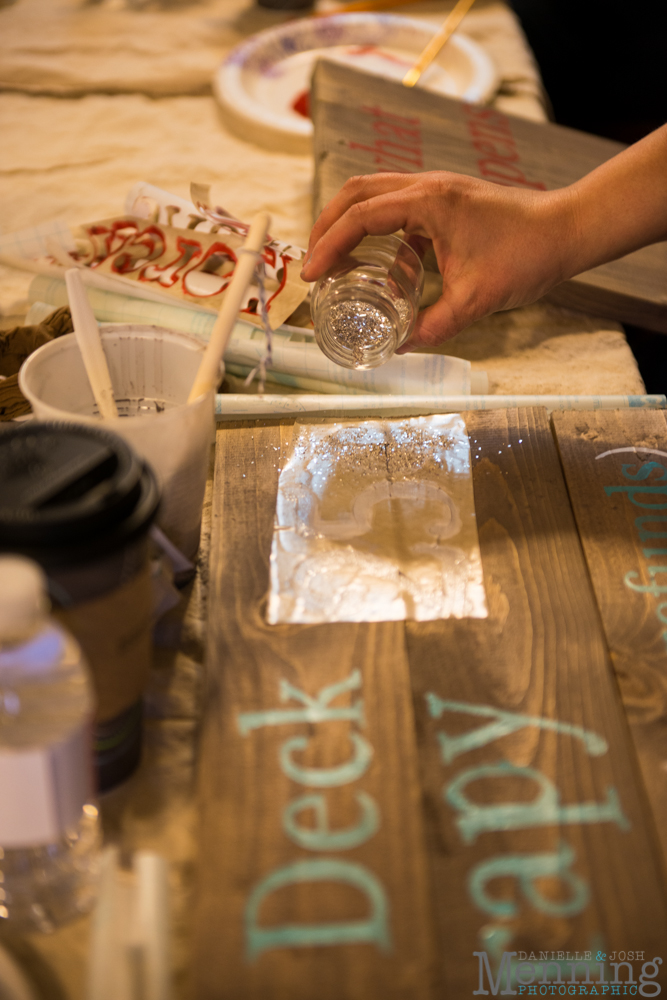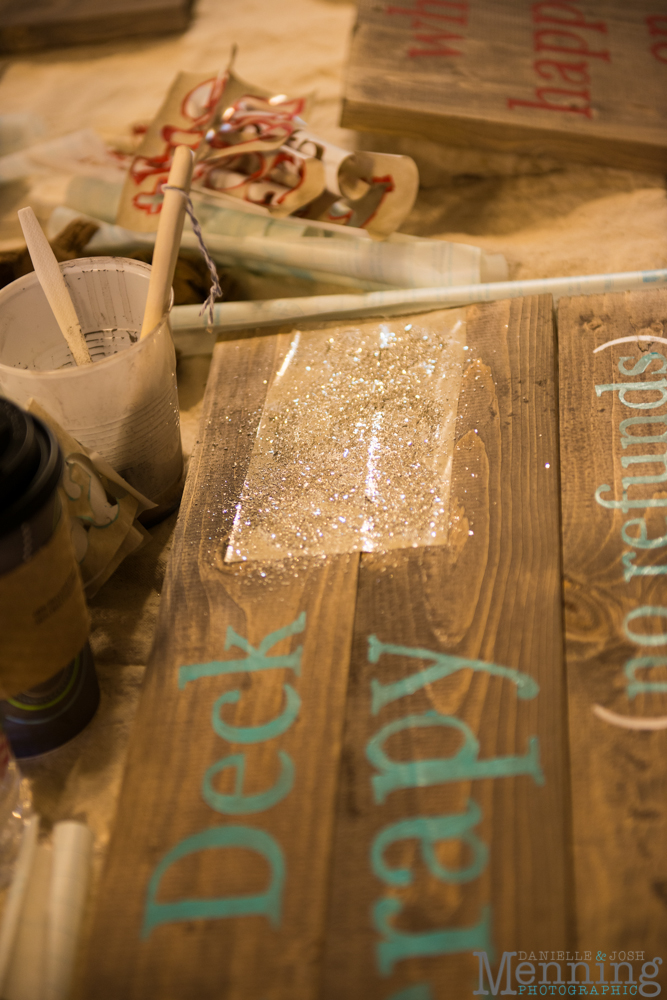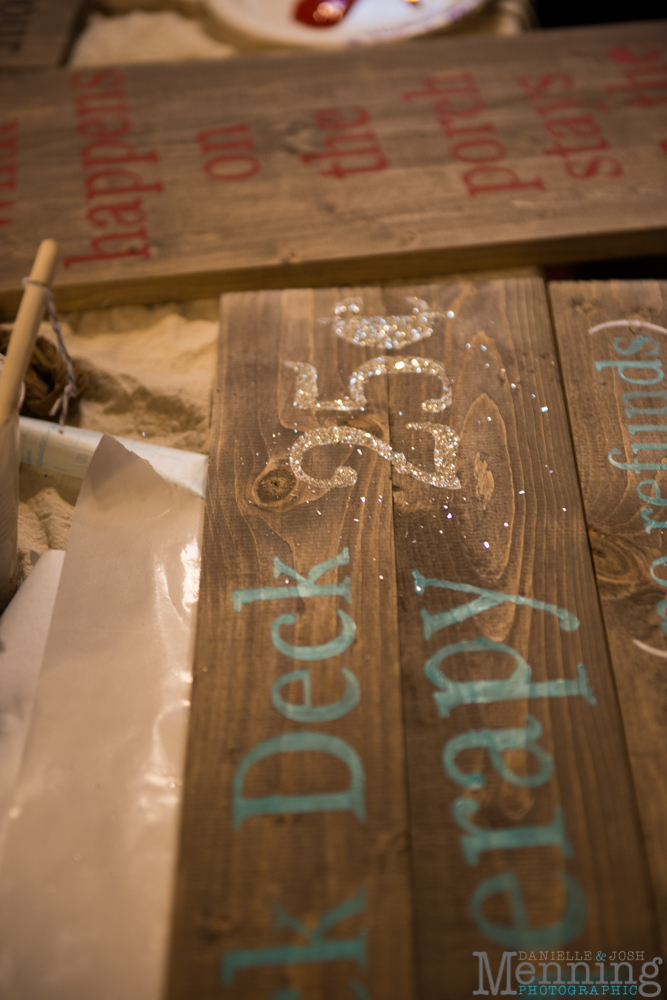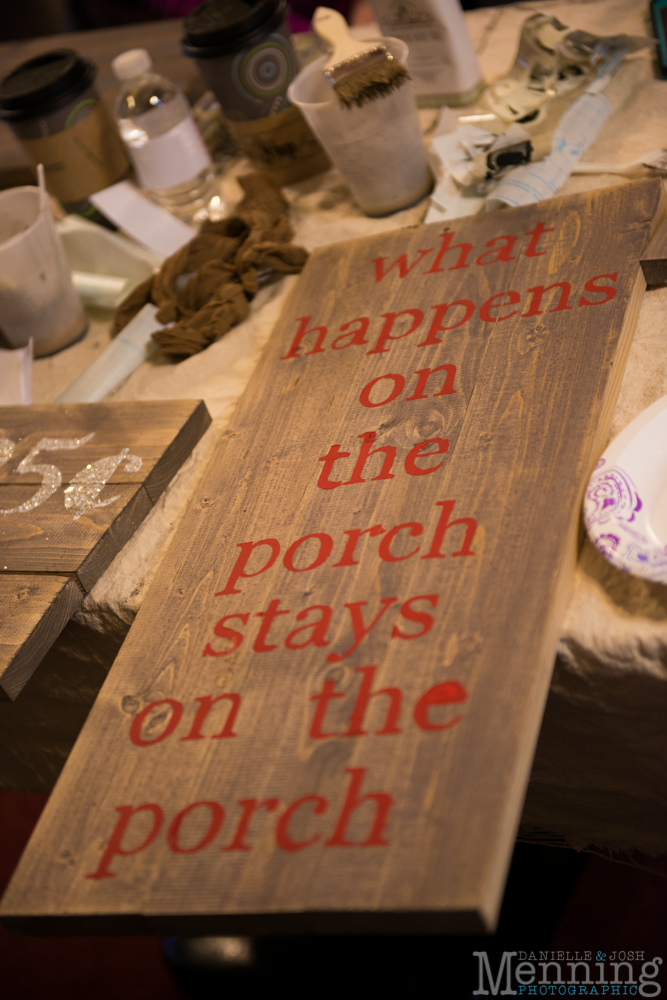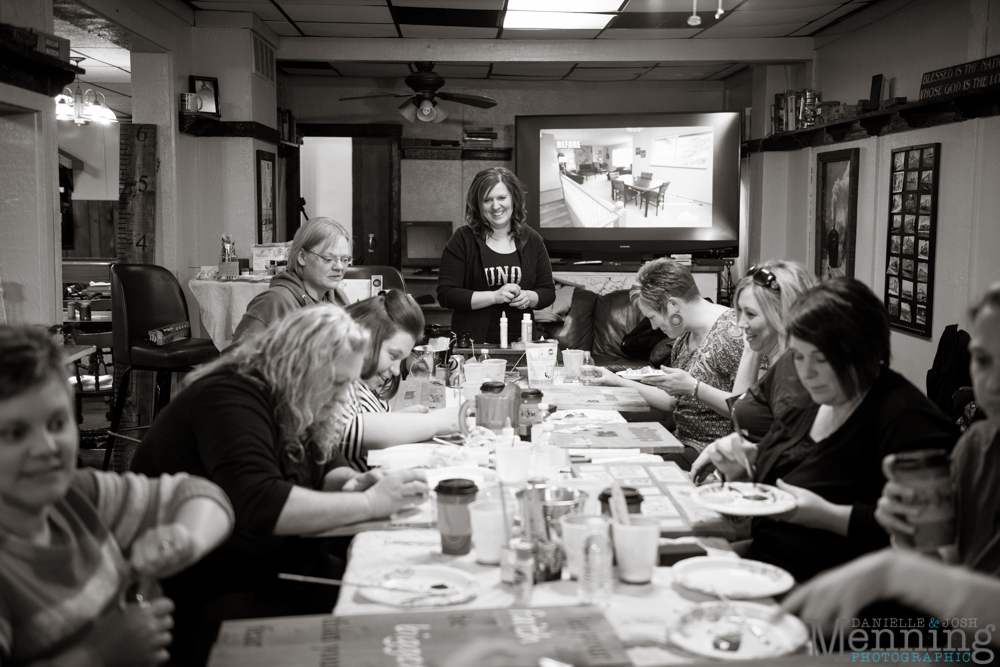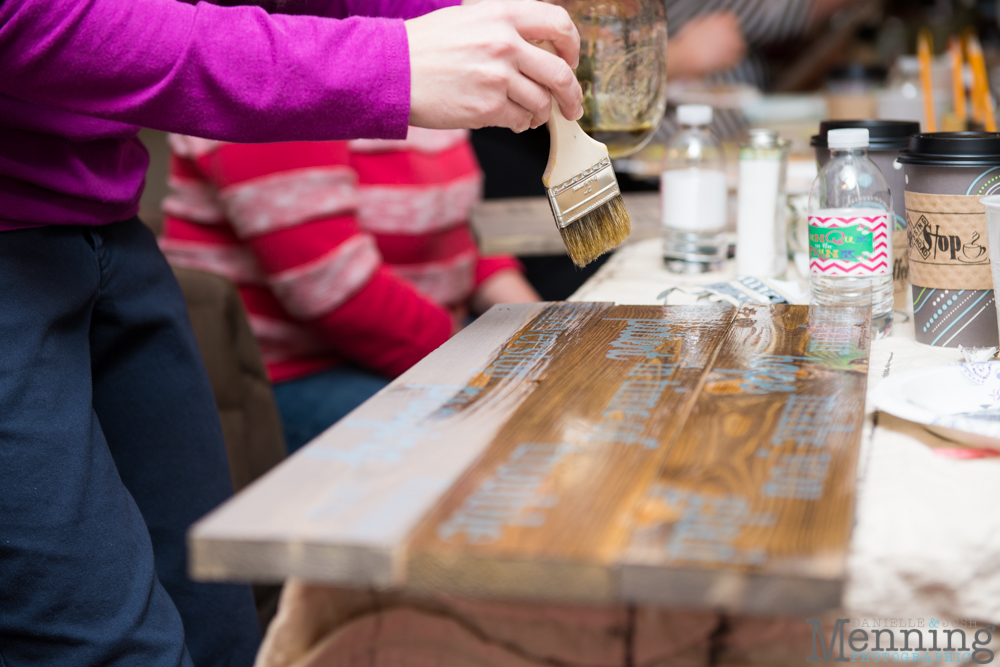 The finished products were all SOOOOOO awesome! 🙂 And it's very kind of The Coffee Stop to allow Becky to host her classes there. Everyone gets to enjoy a yummy beverage while there, too.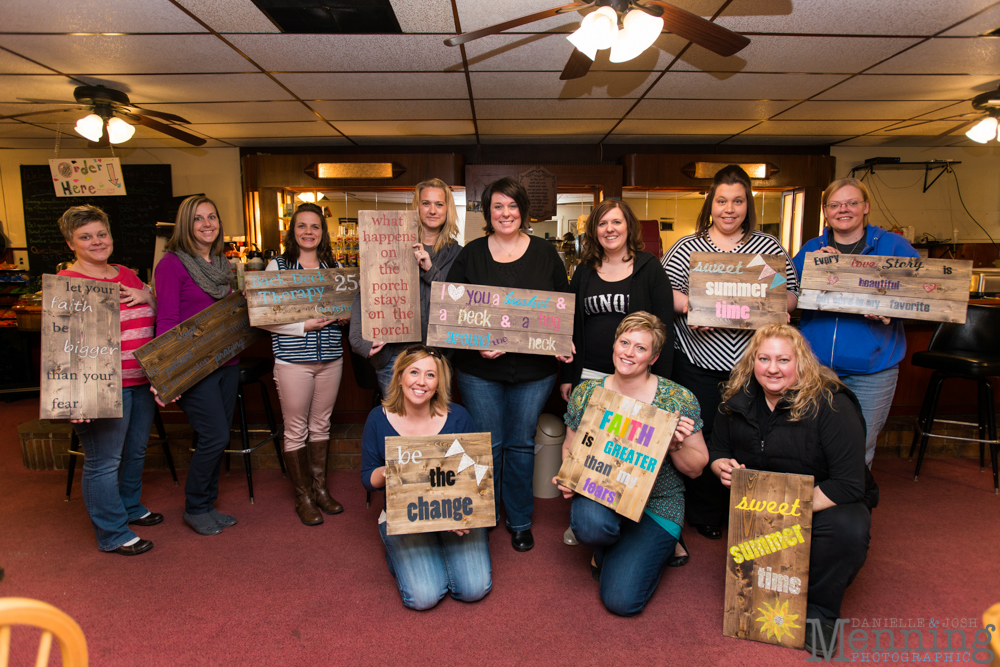 When we showed up to photograph the class, Becky met us with a huge smile & our very own sign that she had made for us! We were so surprised & we LOVE the sign she made! It says "Every love story is beautiful, but ours is my favorite." 😀 We have it displayed in our living room beside a few of our wedding images. It matches perfectly & she didn't even know what our living room looked like . . . pretty cool! Becky is a sweetheart, so very creative, and someone we wish much success to in her business! Plus, her kids are the cutest! Here's one of them having fun at a wedding that we photographed in 2012. . . adorable! I think he enjoyed the wedding cake. (We hadn't met Becky yet & didn't know that this was her son, but we have since learned that fun, little fact 🙂 ).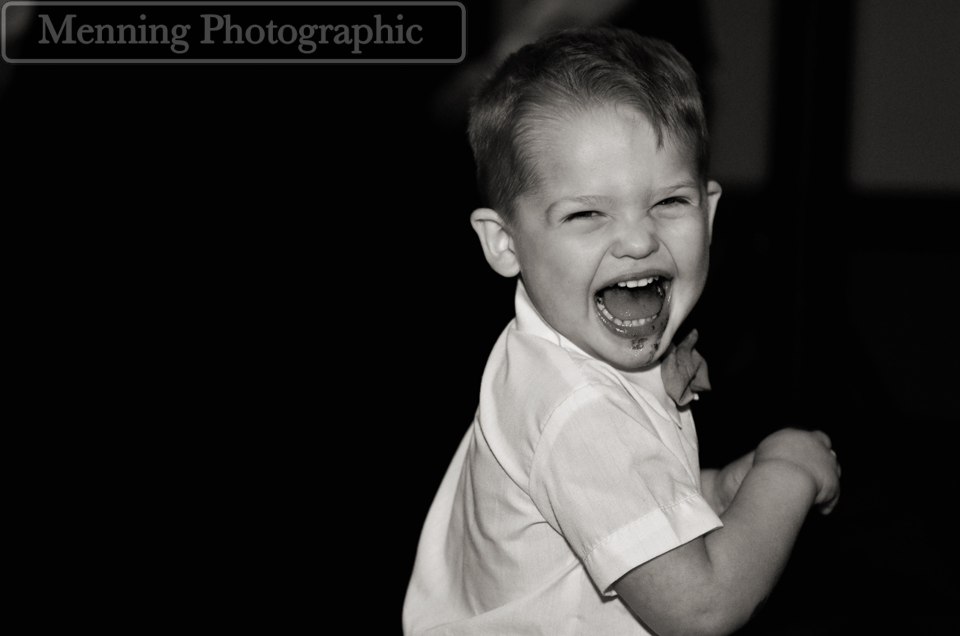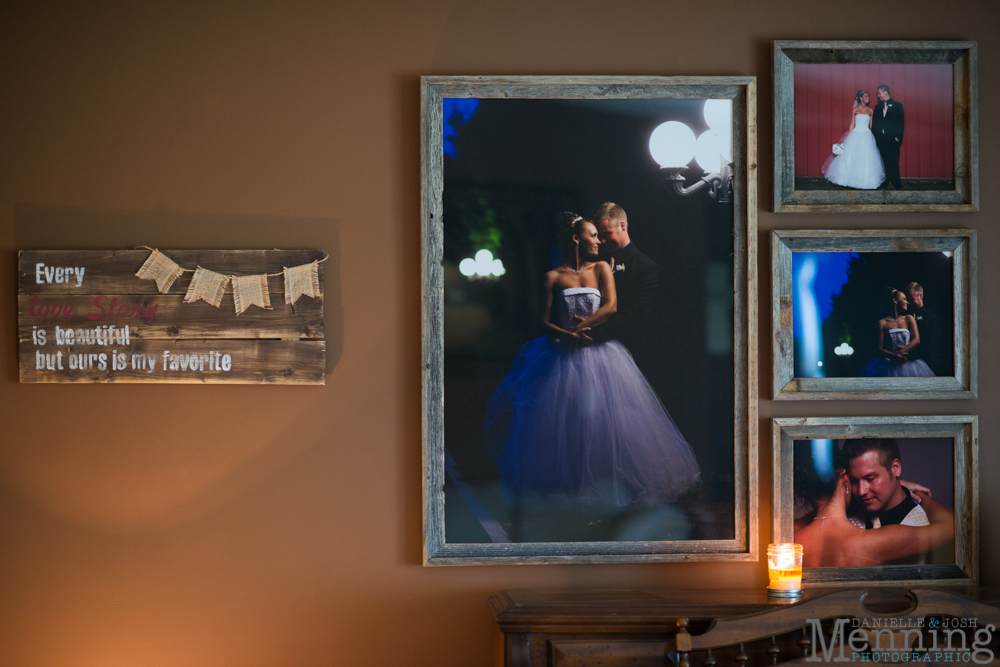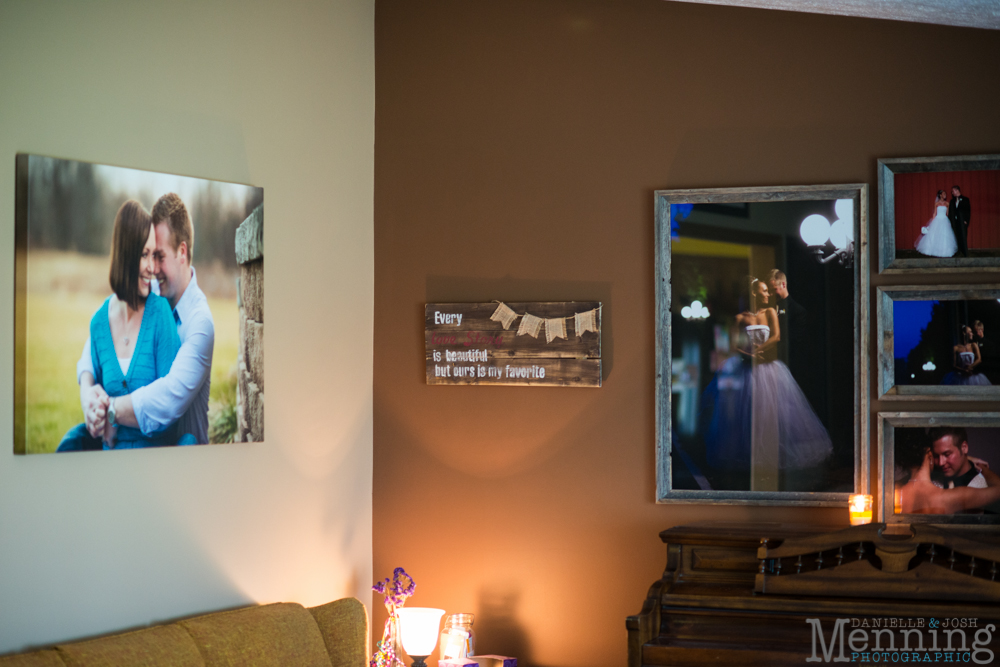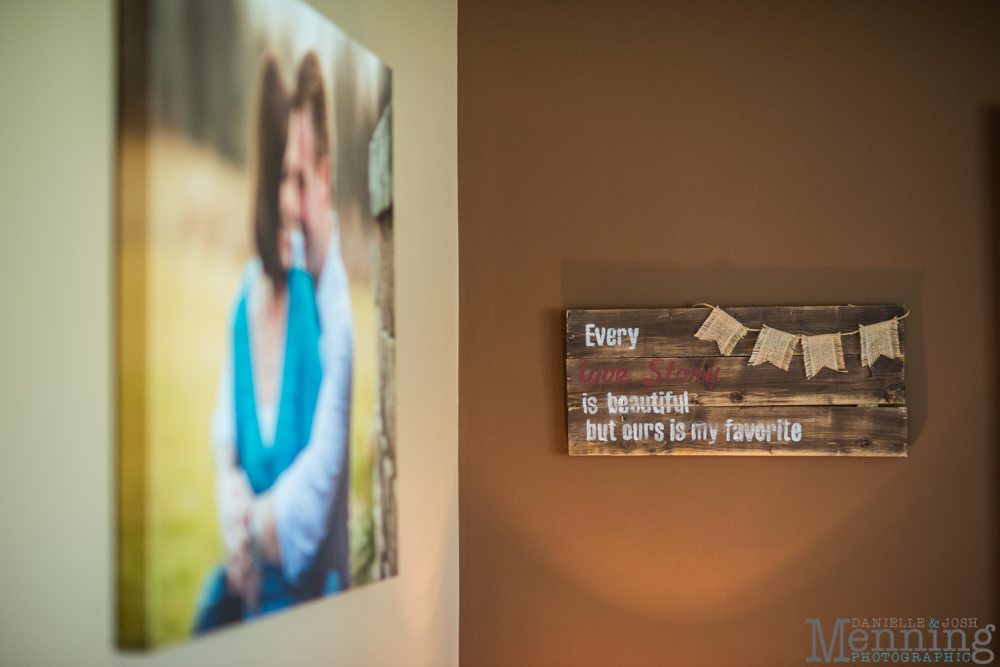 Seriously! How stinkin' cute is this?! Thank you so very much for making this for us, Becky! Â It was very unexpected and much appreciated!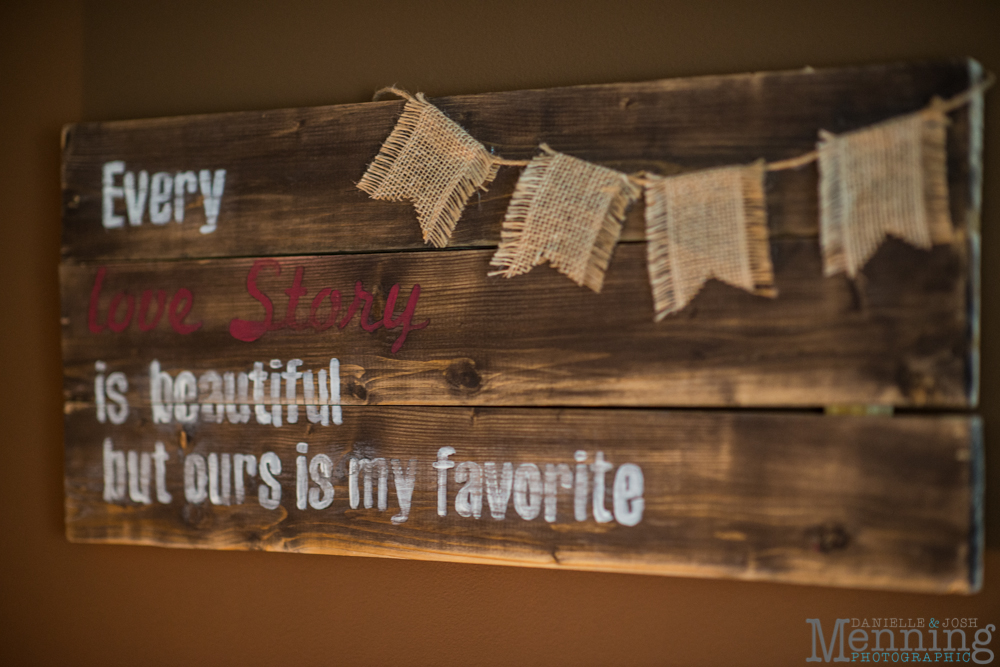 As if there's not enough to love about Becky already, something more that we love about her and Junque in the Trunk is that she is an avid supporter of other local small businesses! She buys her craft supplies locally whenever possible & we LOVE that!
Here's how to find out more information about Junque in the Trunk & how to be a class participant:
Junque in the Trunk blog:Â http://junque-in-the-trunk.blogspot.com/
"Like" Junque in the Trunk's Facebook page:Â https://www.facebook.com/junkinthetrunkgirls
If you're local to the Youngstown, Ohio area and you're interested in participating in a Junque in the Trunk class, request to be a group member here:Â https://www.facebook.com/groups/369090039898683/
Thanks so much for reading!
If you're new to our blog, we're a husband & wife wedding photography team based in the Columbiana, Ohio area who travels internationally to photograph weddings. You can call or email us to talk photography or to nominate a small business to be featured: 330.651.4849 or info@menningphotographic.com
See our recent work & personal musings here:
Facebook | Pinterest | G + | Twitter | Instagram