Hey Guys! We're finally going to continue on our personal blog series about our trip to Europe. Today is all about our day and a half in Florence, Italy. We took the train from Venice to Florence. We had to get up really early to catch the train so we skipped breakfast that day, which was sad. Once we got to Florence, we took a taxi from the train station to our hotel. The traffic was absolutely insane & our driver, while friendly, was a very scary driver. If you visit any of the big cities in Italy, I'd recommend avoiding driving if possible.
Our hotel was less than impressive, but we were only there to sleep. 🙂 We aren't fancy. Josh said, "It looks like there are signs of forced entry. The door handle is broken, there's a hole in the wall where the door possibly hit it after being pushed open, and there are scratches around the window." He was right. Our room was on the ground floor, and there was a courtyard area outside of our window. Sort of creepy. So we hid our luggage under the bed when we left the room. Very sophisticated. 🙂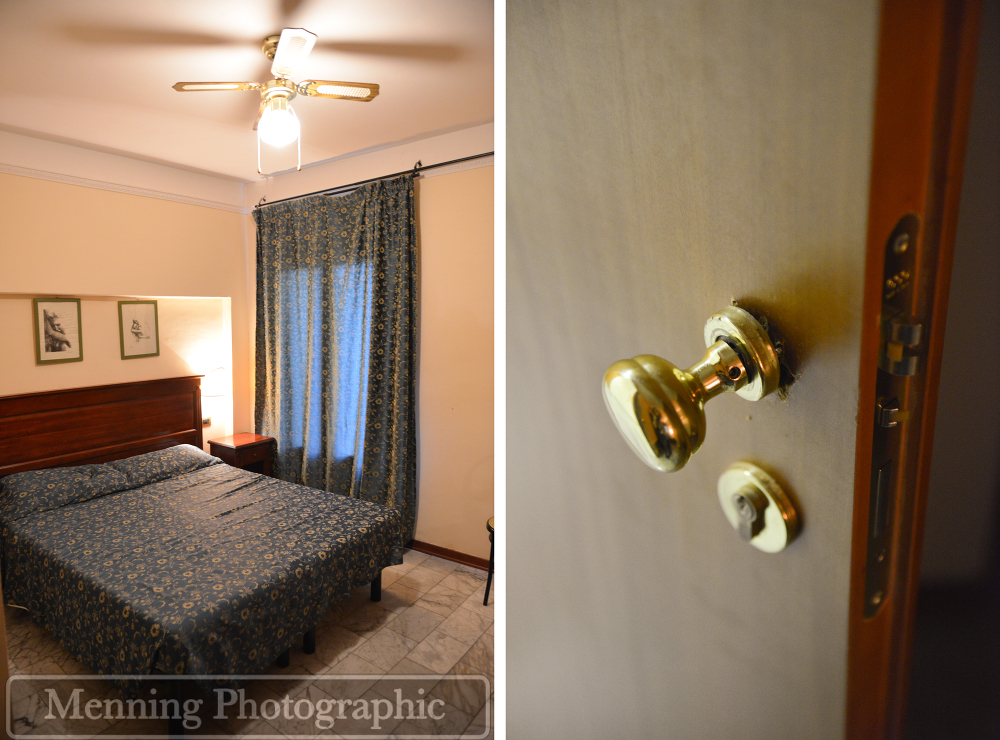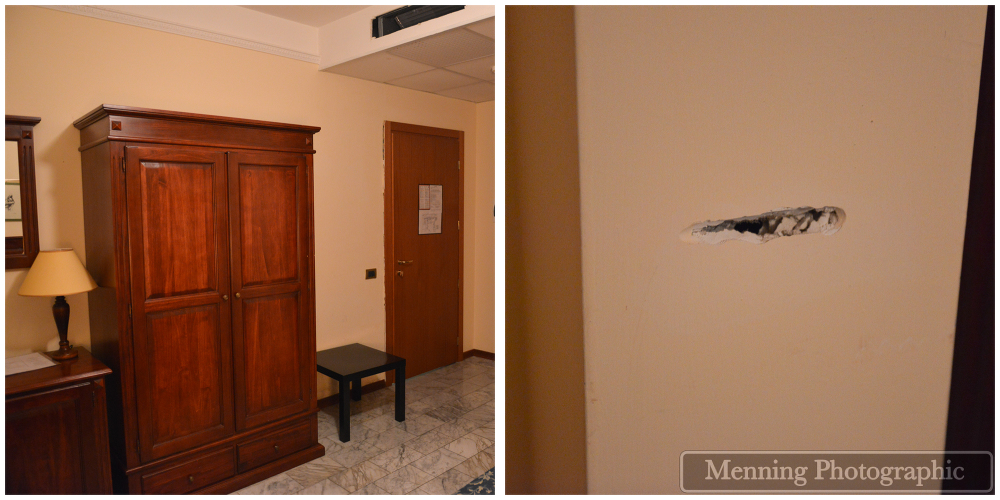 Florence was intriguing, full of SO much history, and very walkable. We'd know, as we had our backpacks for most of our second day there because we had to check out of our hotel in the morning and our train didn't leave until the evening. That didn't stop us from seeing all of the many sights! (We know we could've left our bags with the hotel, but that would've required that we take a trip there and then to the train station, which would've stolen time from our sightseeing).  Our first order of business in Florence was seeing Michelangelo's David at the Accademia Gallery. We don't have photos of that experience, as photography is strictly prohibited, but trust us, it was awe-inspiring. The sheer size of the statute is amazing & it's too impressive for words that Michelangelo carved that much detail and intricacy from a piece of marble. If you're in Florence, go see it. And make reservations & you can skip the long lines. After we perused the Accademia Gallery, we strolled down the street toward the Duomo. I loved how its dome is almost omnipresent in Florence. It looked imposing from every angle.

The Duomo is definitely one of the top sights to see in Florence. It was beautiful as sunshine cascaded onto its multifaceted, ornate exterior, but it was even more magical at night. It looked almost two-dimensional in the soft glow of street lights. See below for our photos during our nighttime stroll. Josh (the fair-skinned child he is) got a sunburn on our last day in Venice.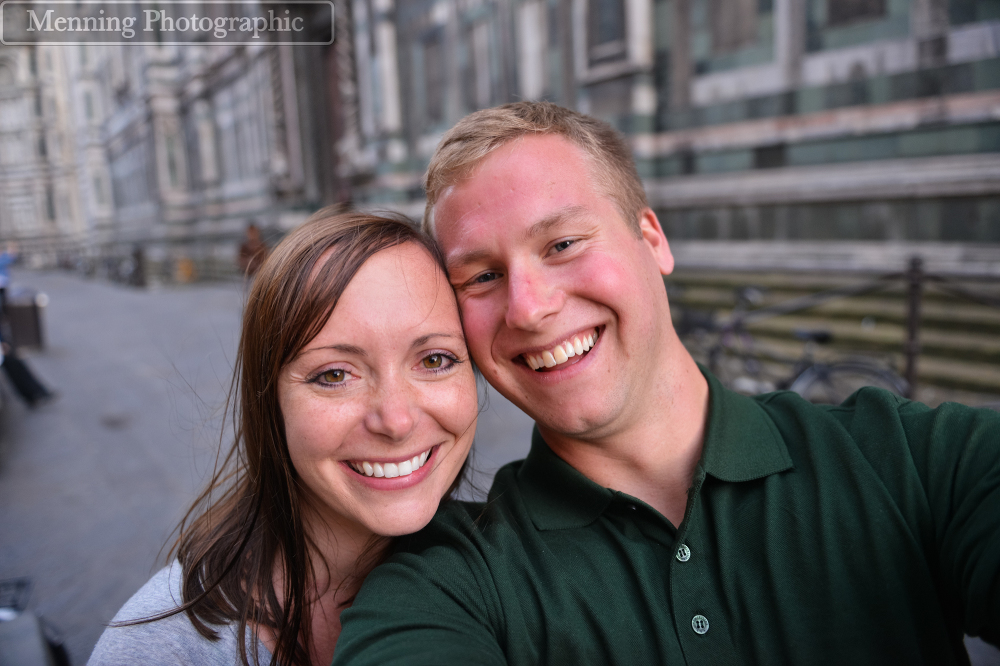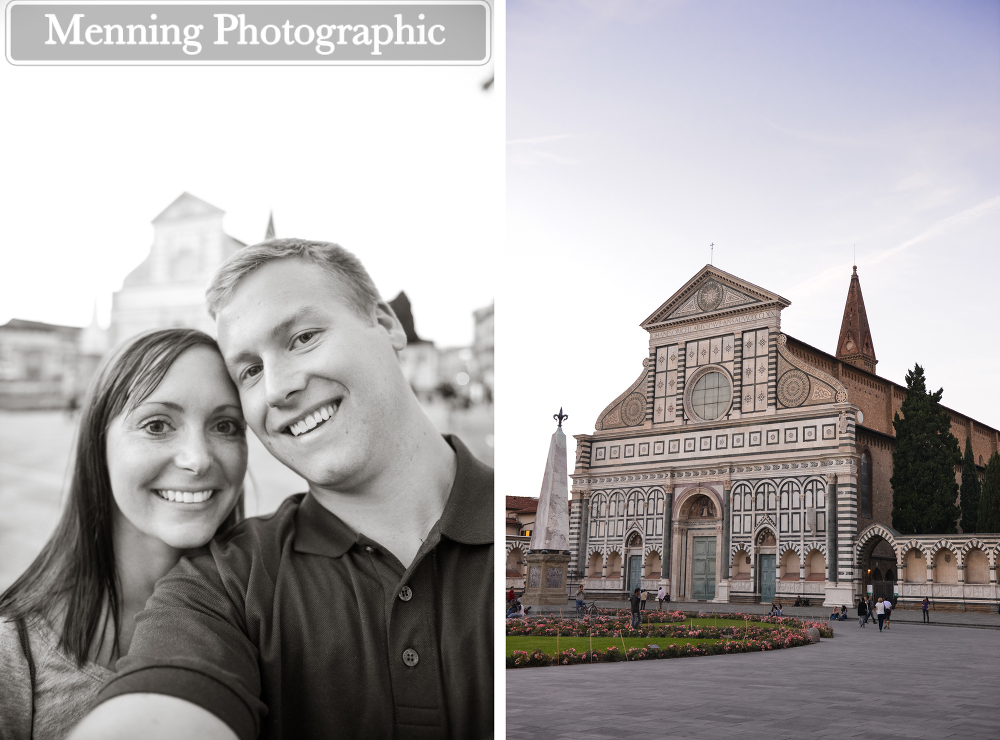 Funny story about dinner that day: we were pretty hungry so we chose a spot that wasn't a recommendation. We sat down, ordered an appetizer, and said we'd hold off on ordering our dinners. There were only two other women in the entire place, but we just figured that was because of the time, as it was pretty early for dinner just yet. We noticed that the women had barely touched their meals.  They got up to pay, still having barely eaten a bite. On their way past our table, one of the women got our attention and whispered, "It's AWFUL" in a British accent. Our appetizer arrived & neither of us was impressed so we paid & left. If you're out there, anonymous British woman, thank you! 🙂
Like we should have done in the first place, we referred to our Rick Steves' travel book to choose a spot for dinner. This was one of the best decisions we made while in Italy! Marione's was SUPERB, delightful, delicious, friendly, packed full of people, oozing charm, and easily the best meal I had while in Italy.


Josh's lasagna was also very delicious, but he was jealous of my spaghetti a la carbonara. I shared a little bit with him. 😉 Amaze, amaze, amaze. I can't say enough! We were sitting there so long chatting and having deep conversations and striking up convos with the two couples who sat beside us that it was very dark by the time we left. One couple who sat beside us was from Buffalo, New York. Another couple was presently residing in San Diego, but the husband was originally from Youngstown, Ohio. Small world.
After dinner, we walked around the city some more exploring. The temperature felt perfect for a nighttime walk & everything looked so inviting at night.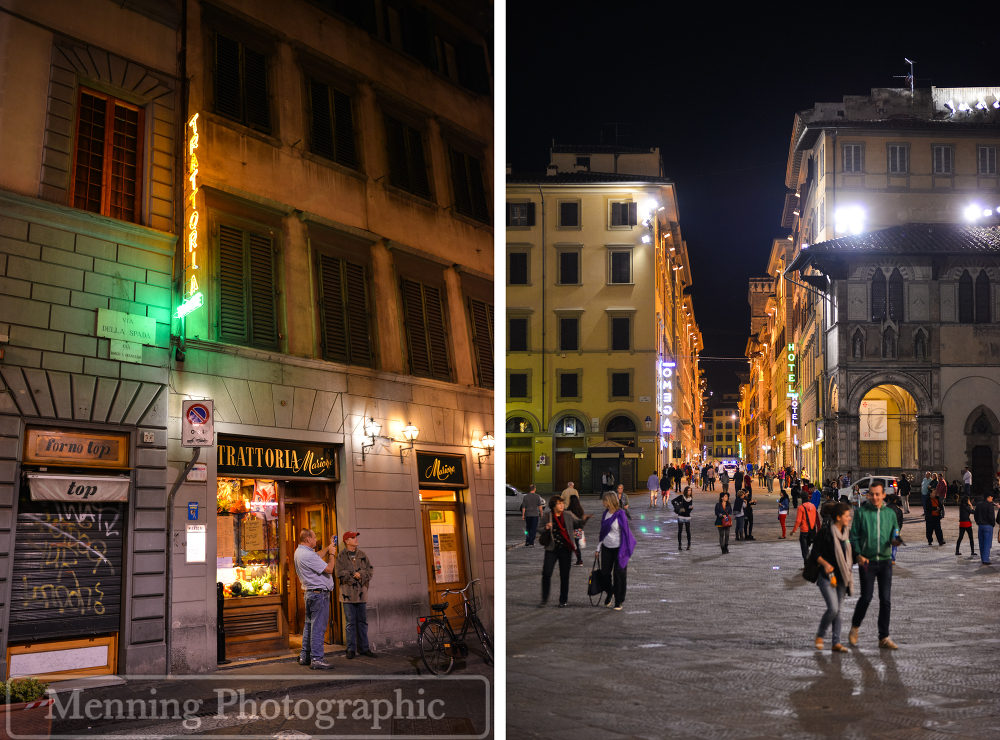 The Duomo at night: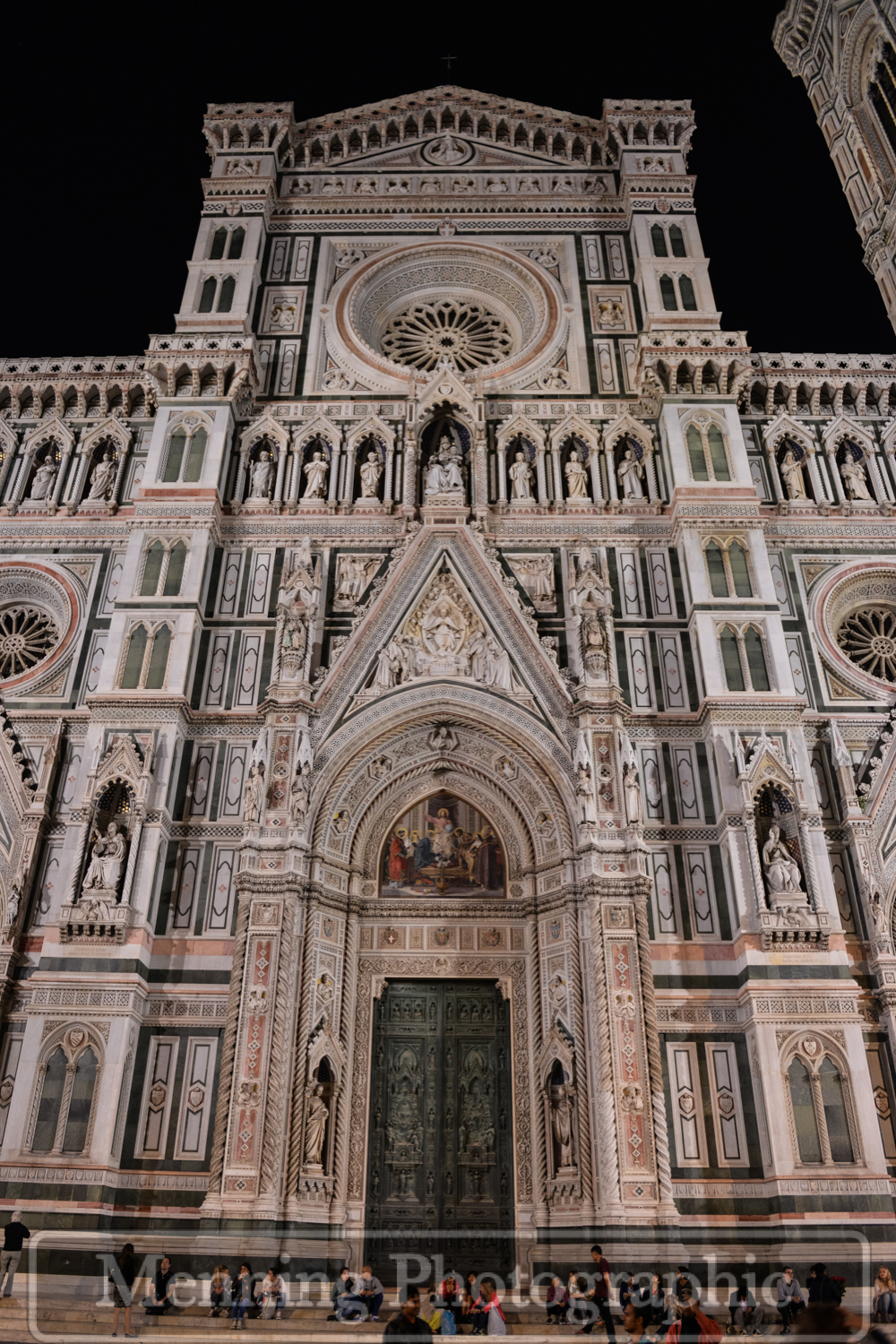 Josh & I both exclaimed that it looked like a giant cardboard cutout that we could just walk up to and push over if we tried.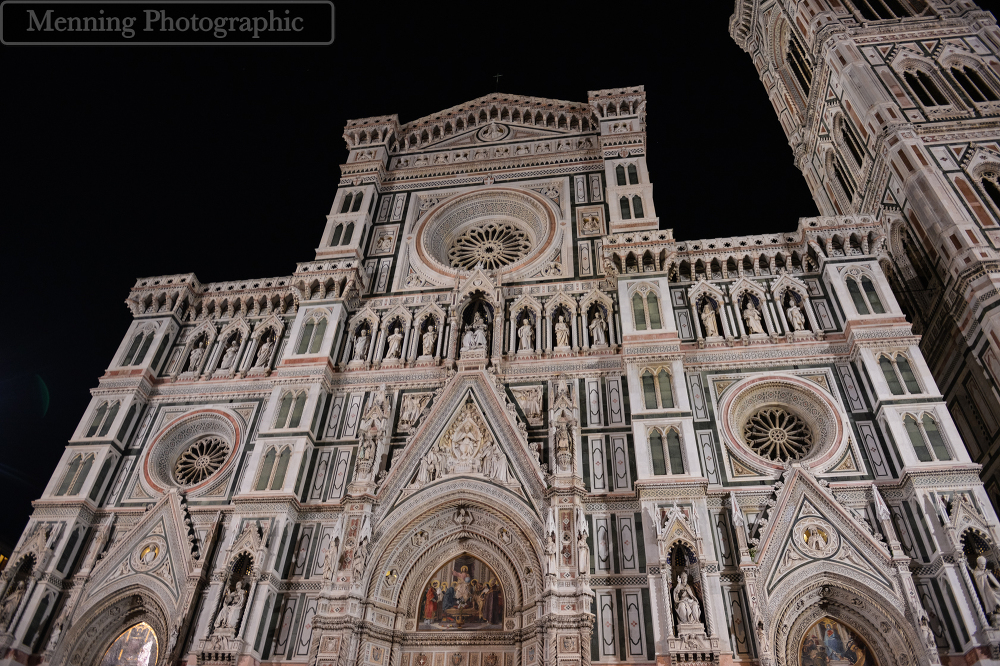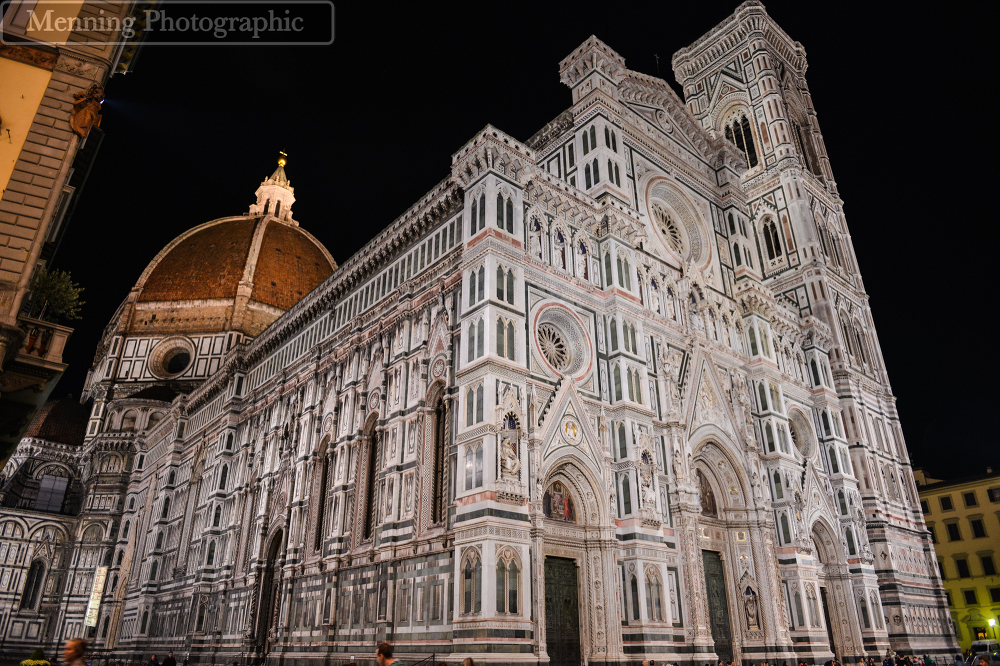 The next day was our backpack day. What you see on our persons in these photos are the extent of our belongings that we took for our two week trip. That is one other tip from us: pack light! You will NOT regret it.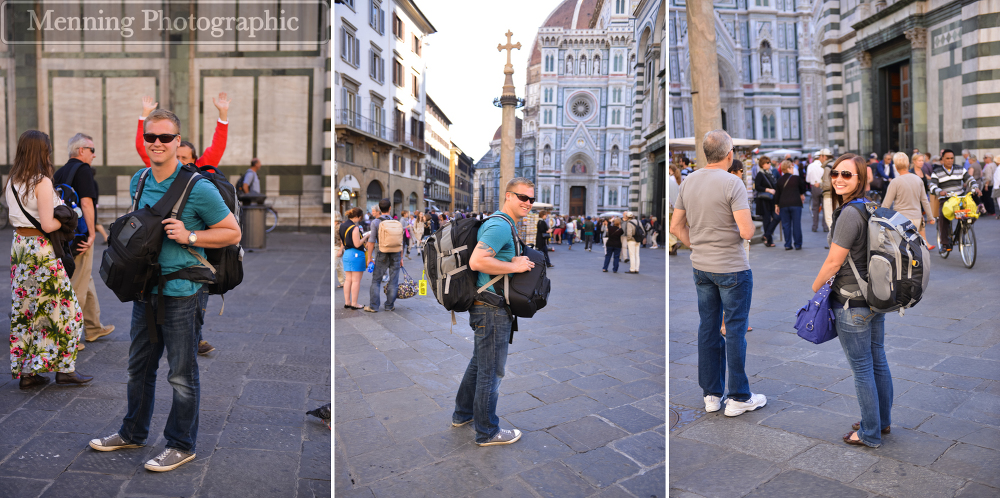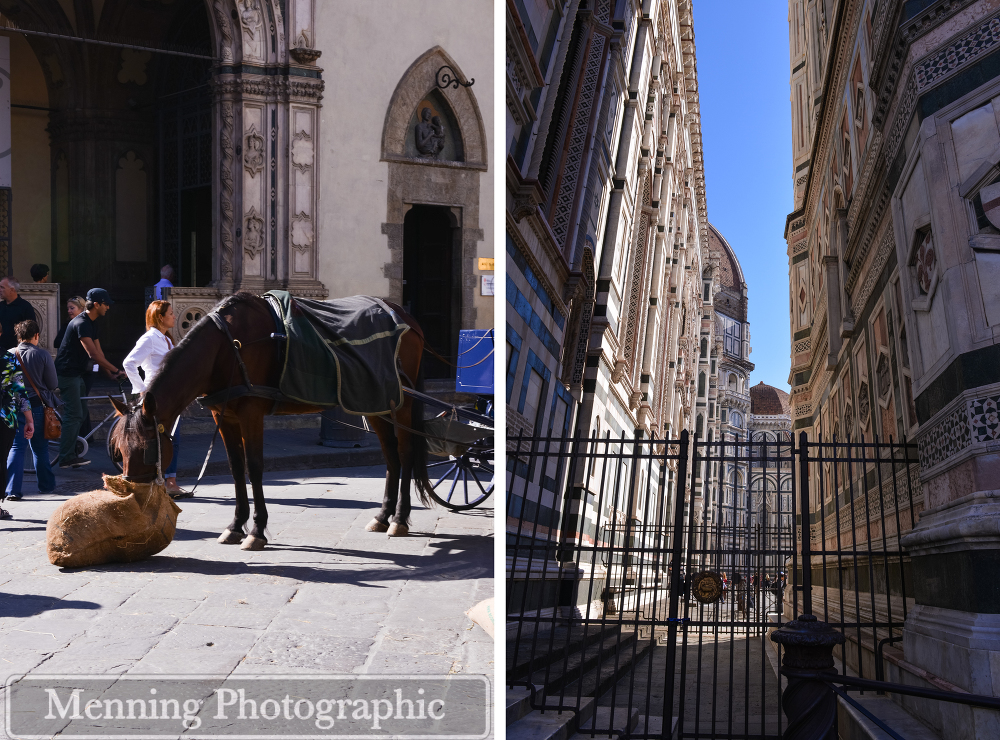 So there was a Lindt Chocolate store with gelato. Chocolate! Nom, nom, nom! (It actually wasn't that great; the homemade, old-fashioned gelato tasted much more REAL. The Lindt had an artificial and too sugary taste for my liking.) But their store was pretty. I wanted to buy so much stuff there for my mom, the chocoholic, but I couldn't fit a single thing more in my backpack.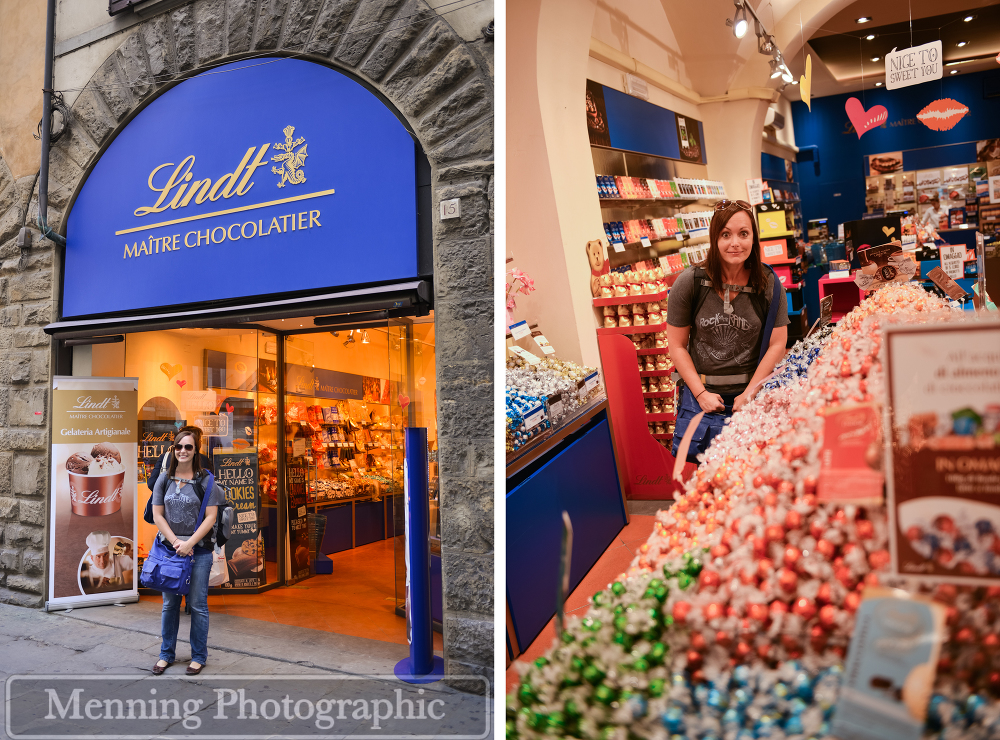 On our second- day- in- Florence- stroll, we found some really interesting and famous statutes. Medusa, anyone? (Far right).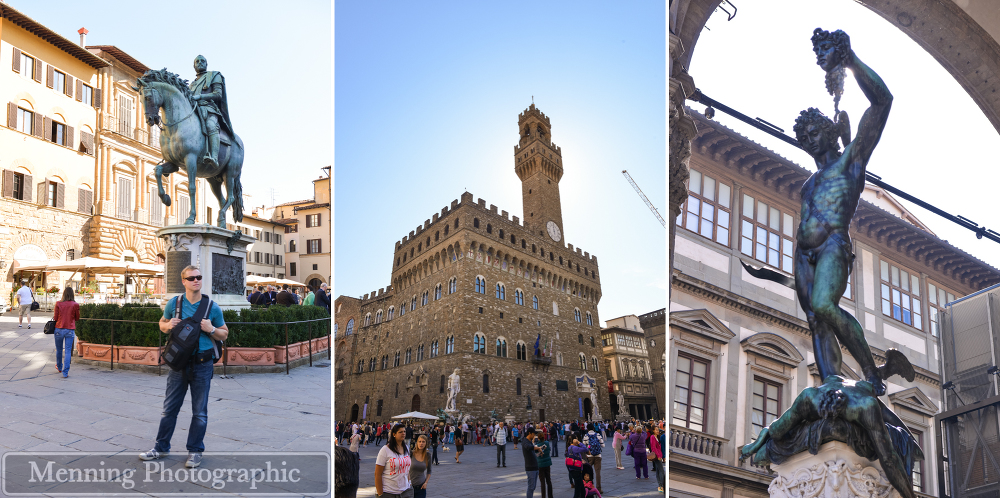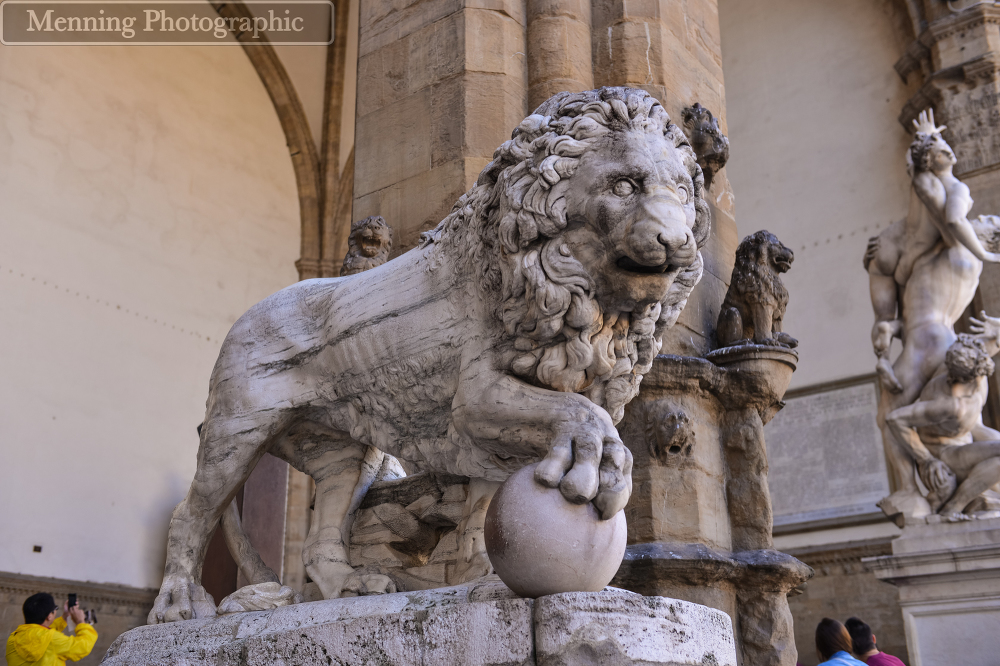 The 12-year-old in Josh had to do it at least once. There are so many phalli everywhere.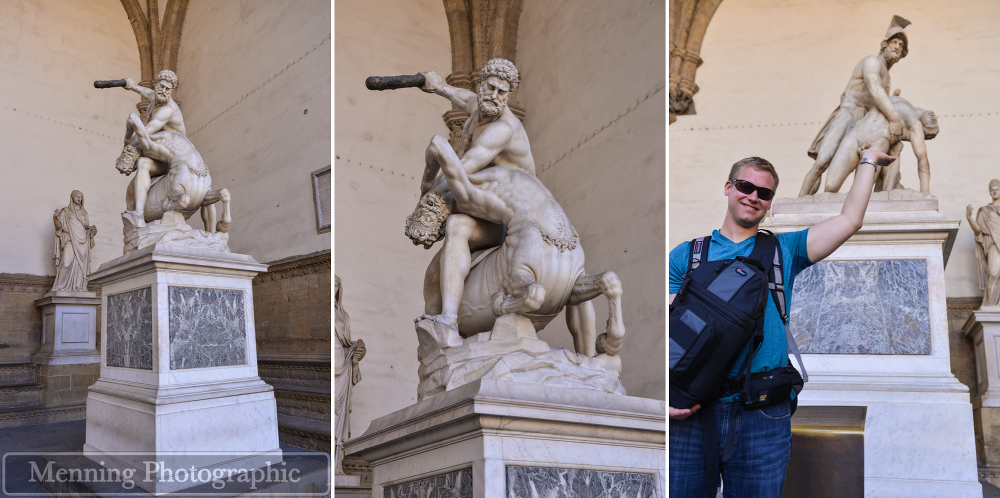 The back of me & the front of me inside the courtyard of the Uffizi Gallery are pictured below. We would've liked to have gone in to check out some paintings, but we were too low on time.  After our Renaissance Walk around the city (guided by our Rick Steves' book), we had lunch at Marione's. Seriously. We ate there twice. I know, I know . . . we were in Italy & could've experienced more than one restaurant in Florence, but it was SO good, you guys. So, so good. At least we tried something different on the menu the second time around. Josh got rigatoni pomodoro e mozzarelle and I had risotto e calamari. After lunch, we had just a little bit more time before we had to catch our train so we sat in the warm sunshine for a bit in the Piazza di Santa Maria Novella until it was time to catch our train.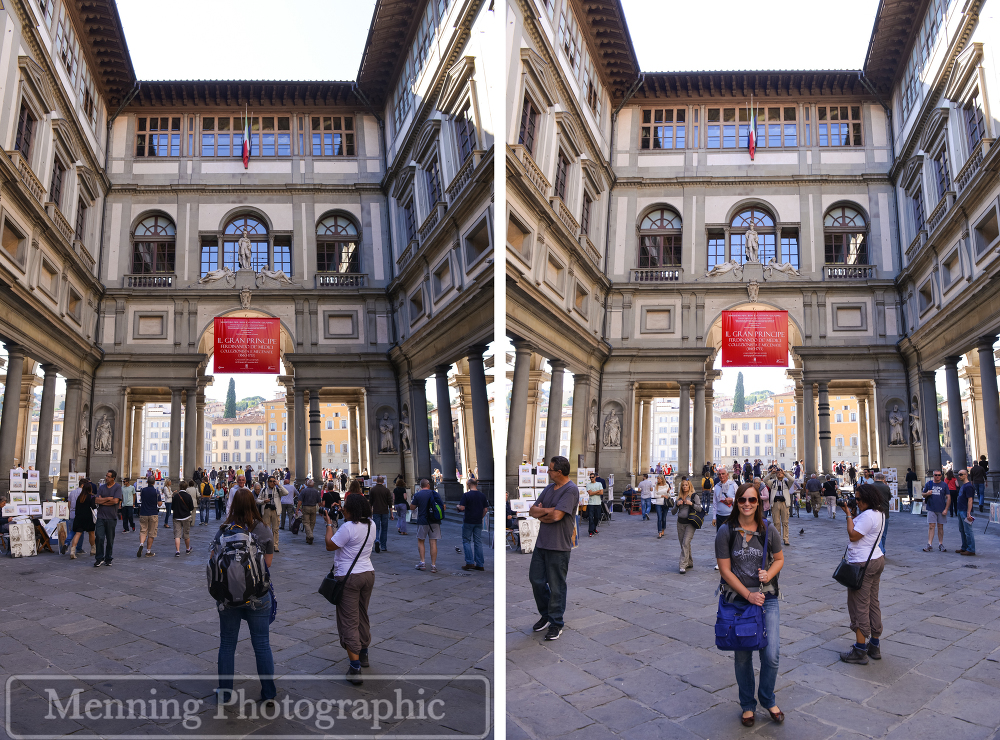 The Arno River looking murky on a beautiful day: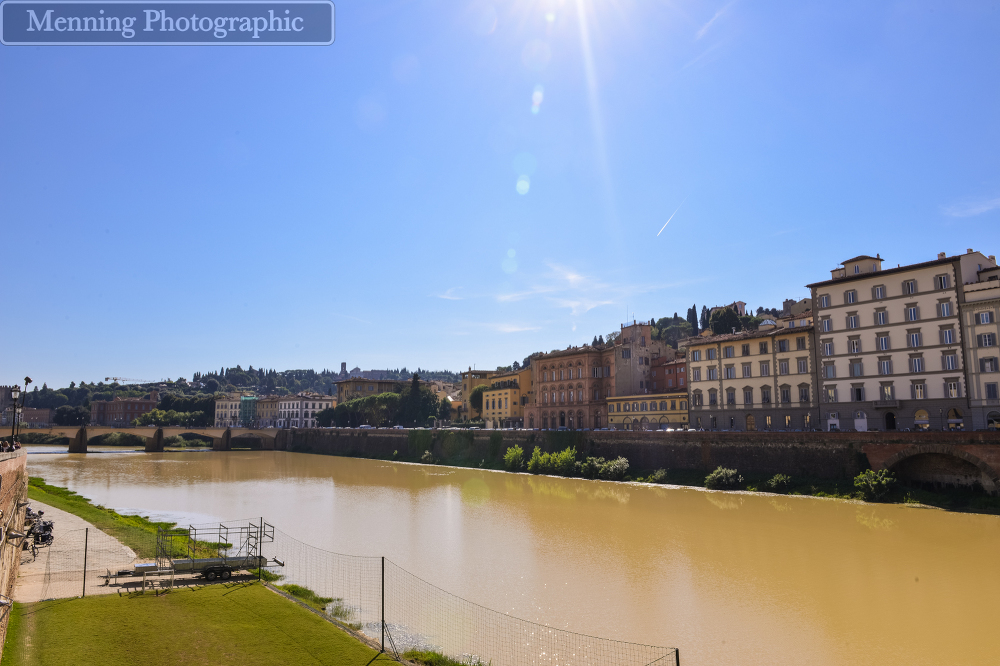 While we were only in Florence for one and a half short days, we really enjoyed ourselves. We would've liked to have stayed a day or two longer, but there was so much for us to see in Rome, which was our next destination.
Thanks for reading about our fun travel experiences in Florence, Italy! If you would like to read about our other destinations that we already blogged about, check out our blogs about Munich & Venice. We will be blogging about Rome next. Stay tuned. 🙂