Today we're featuring a snowy engagement photo session. Jenna & Ryan love to have fun & share adventures together. They love to rock climb, boat, hike, swim, & travel new places together. They both like being active & exercising. But on the other hand, they also like to cuddle together and enjoy a slice of Ryan's favorite red velvet cake, which just so happens to tempt him & Jenna from the shop right next door to Jenna's gym. 😉 That's what's so great about these two together; they're real, they're themselves, & they love sharing many different experiences together. Their engagement session was a TON of fun in the snowy Winter landscape of McConnell's Mill State Park.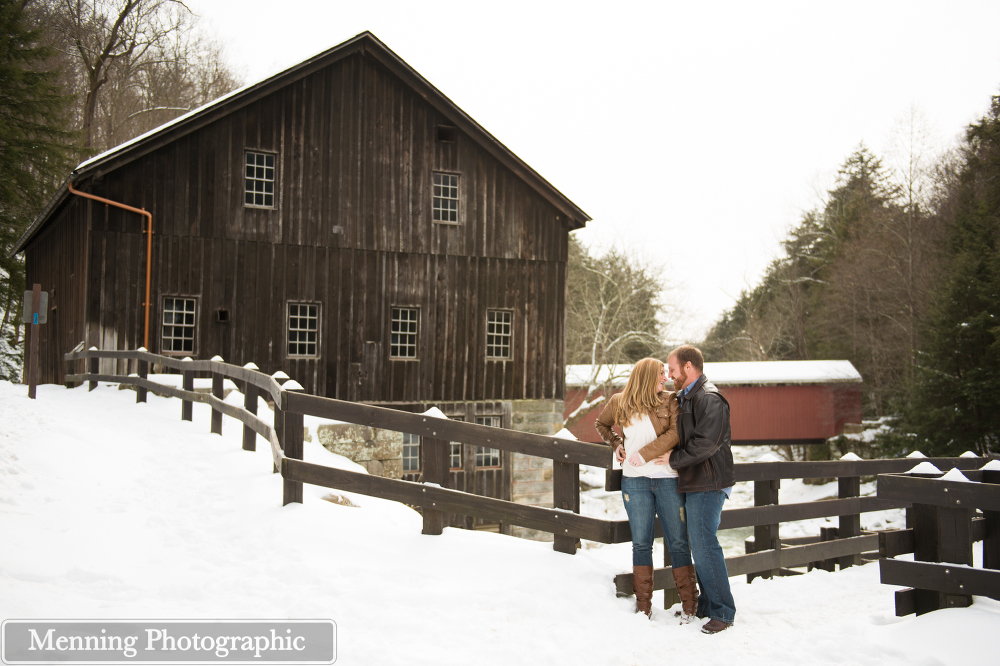 I love that Jenna layered her look. The awesome boots paired with her flowy cream colored top & brown jacket worked so well together. Jenna & Ryan coordinated for their engagement shoot, but didn't match.  I always recommend coordinating over matching.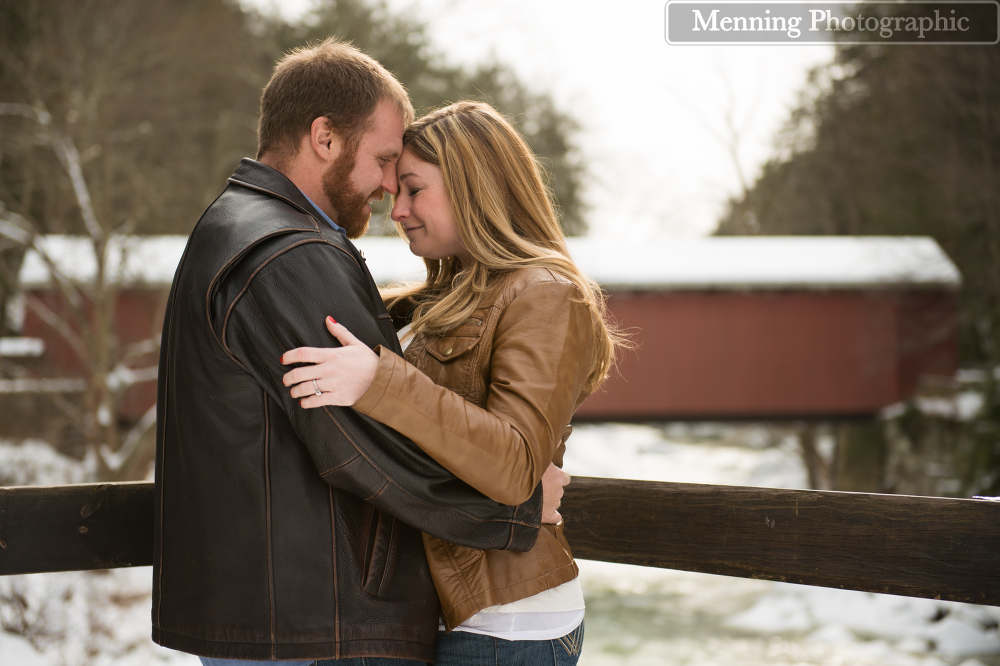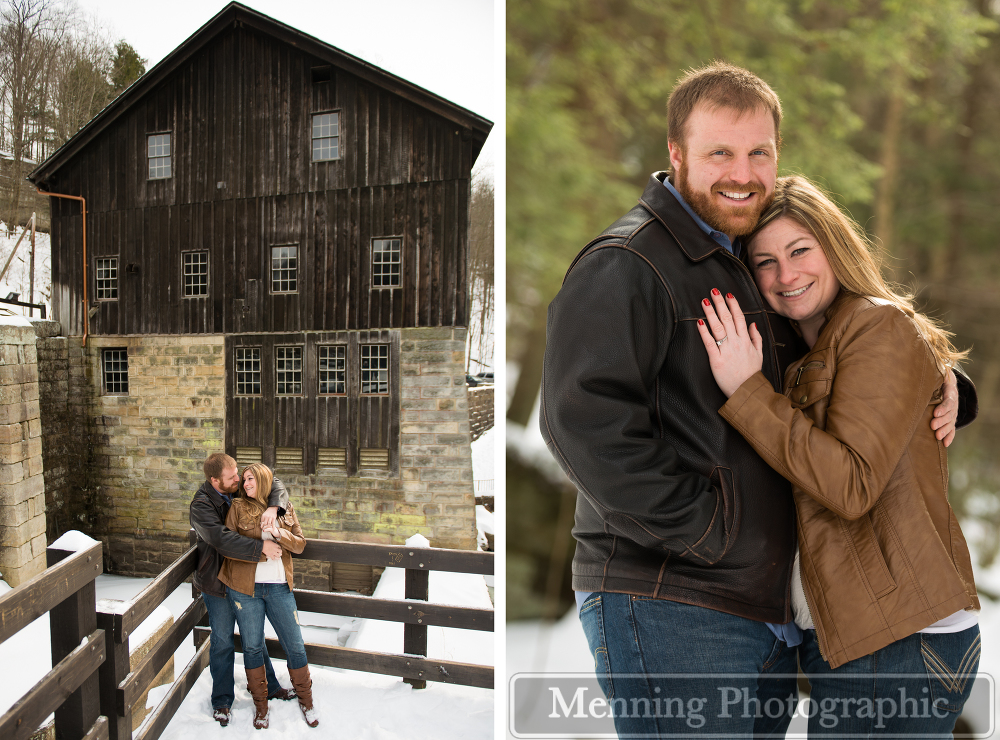 Thankfully, the sun was shining because it was pretty chilly that day. Winter engagement sessions are always a great opportunity to snuggle & keep each other warm.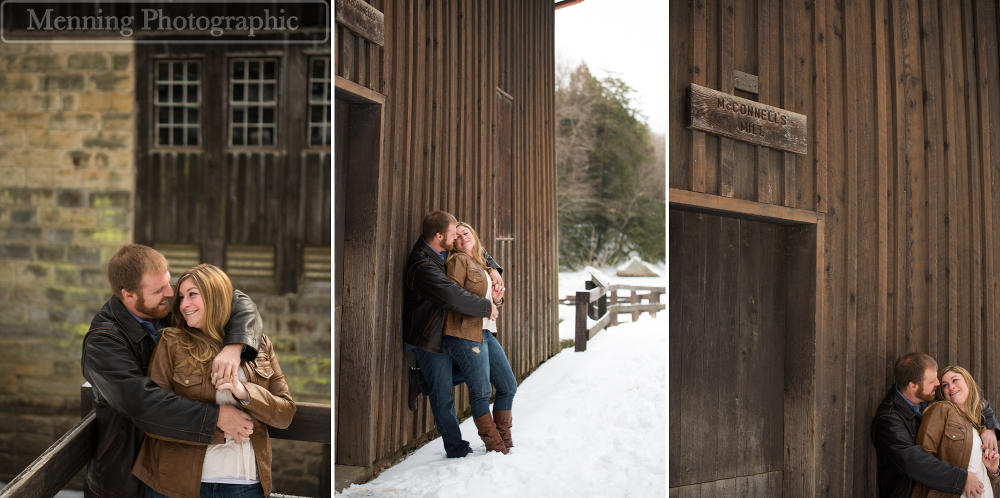 They definitely do their fair share of laughing together. They enjoy playfully teasing each other.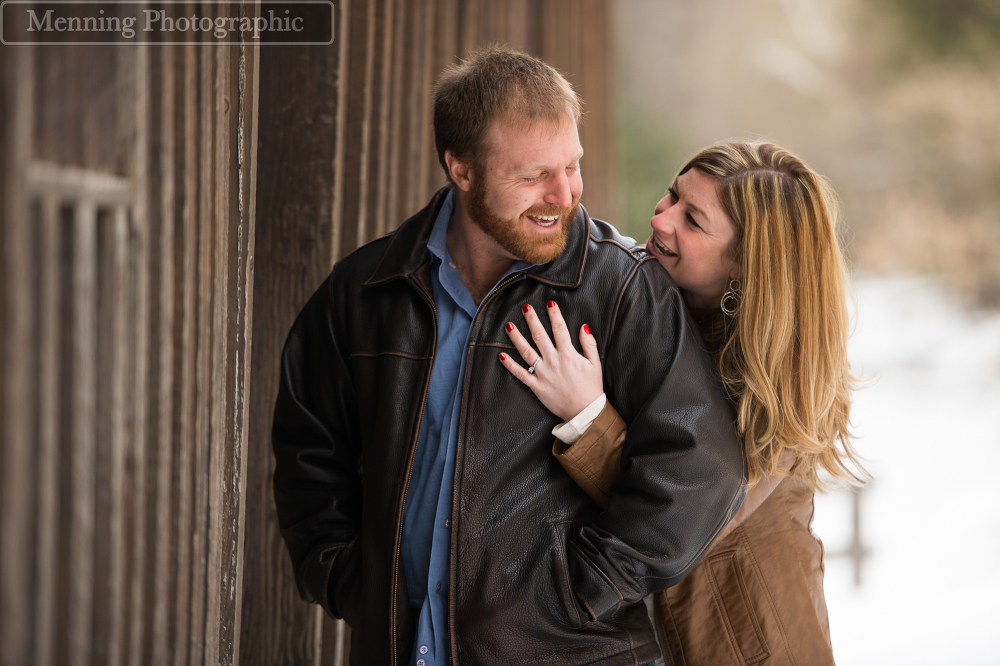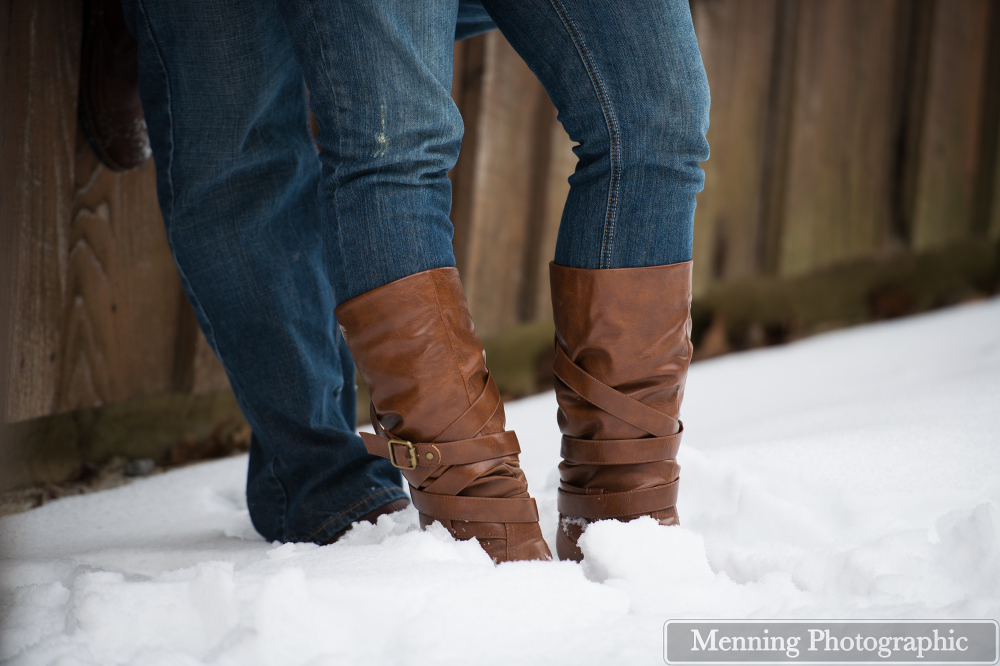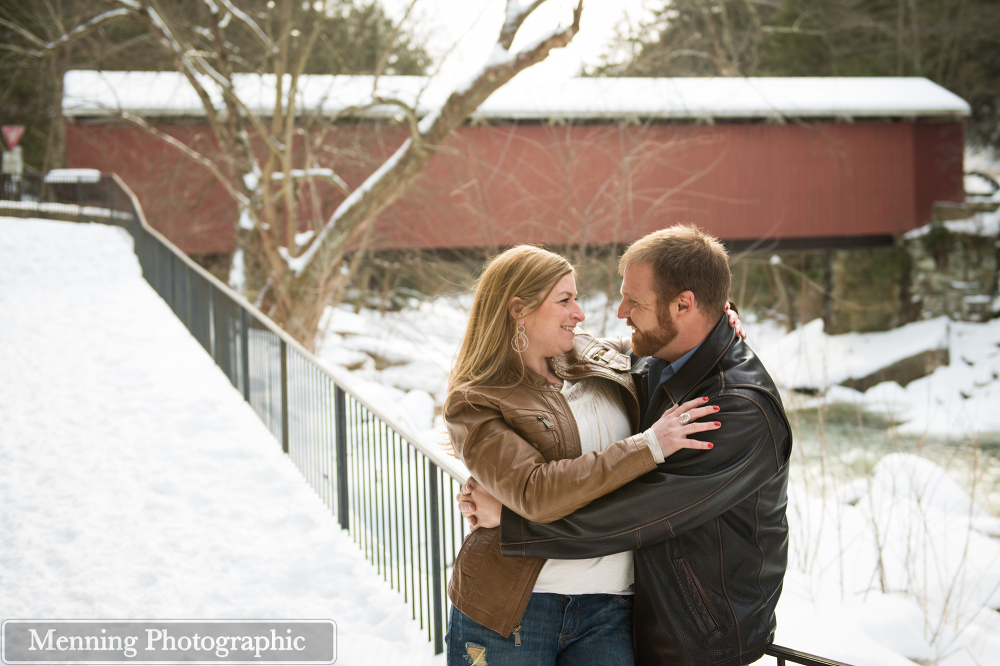 Ryan proposed to Jenna in Orlando. She had spent the day with her mom at Disney. Ryan had made dinner plans for them & had gotten her a cute little gift that he gave to her right at their table. The restaurant was crowded & the tables were unusually close to one another so when Jenna unexpectedly found an engagement ring attached to the teddy bear that Ryan had given her, her excitement was shared by a lot of people around them in the restaurant. 🙂 She said yes.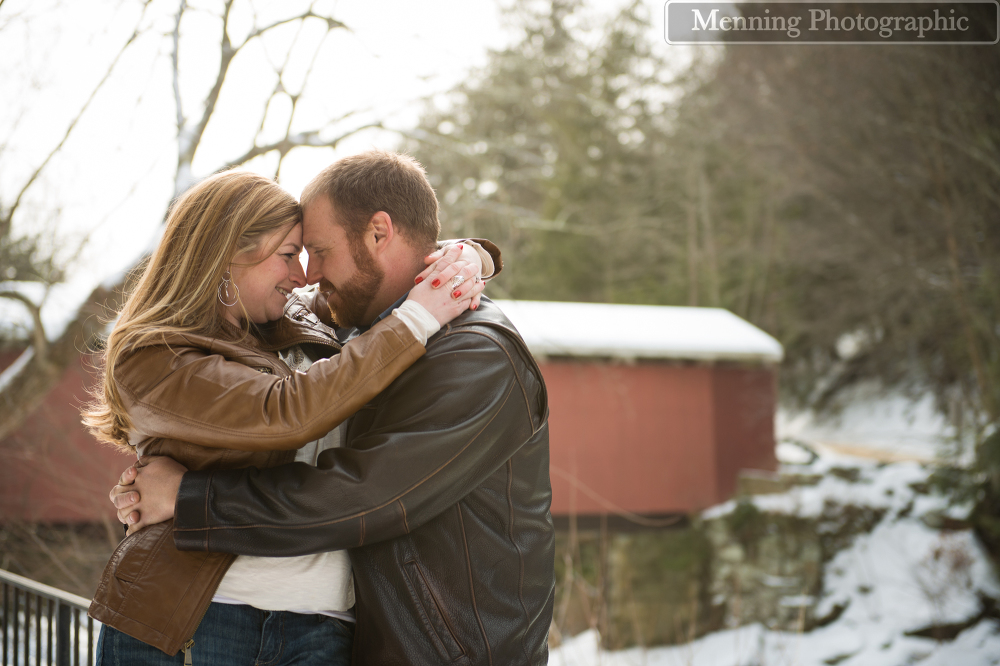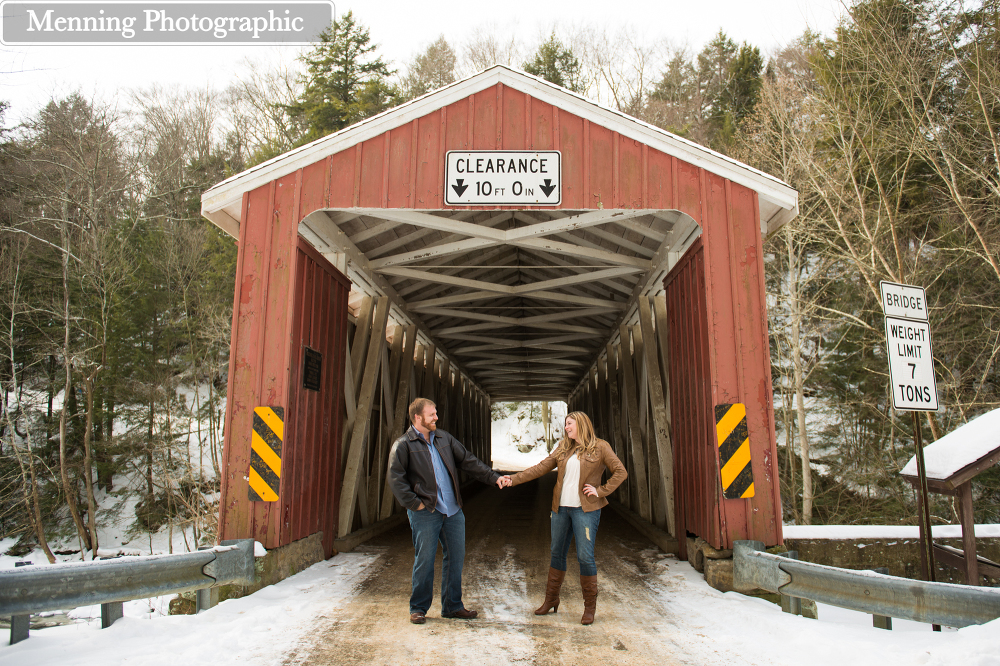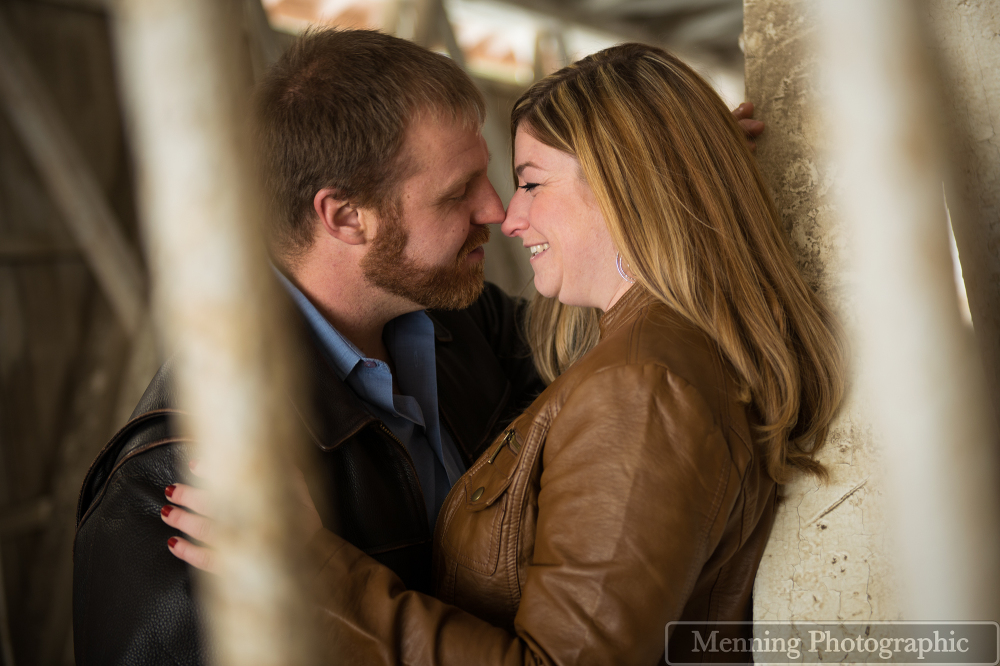 We all hiked the trails to find spots with pretty light to shoot. It was a fun afternoon crunching through the thin layer of ice on top of the few inches of snow as we walked alongside the icy creek lined by evergreens with sunlight cascading through the spaces between their branches.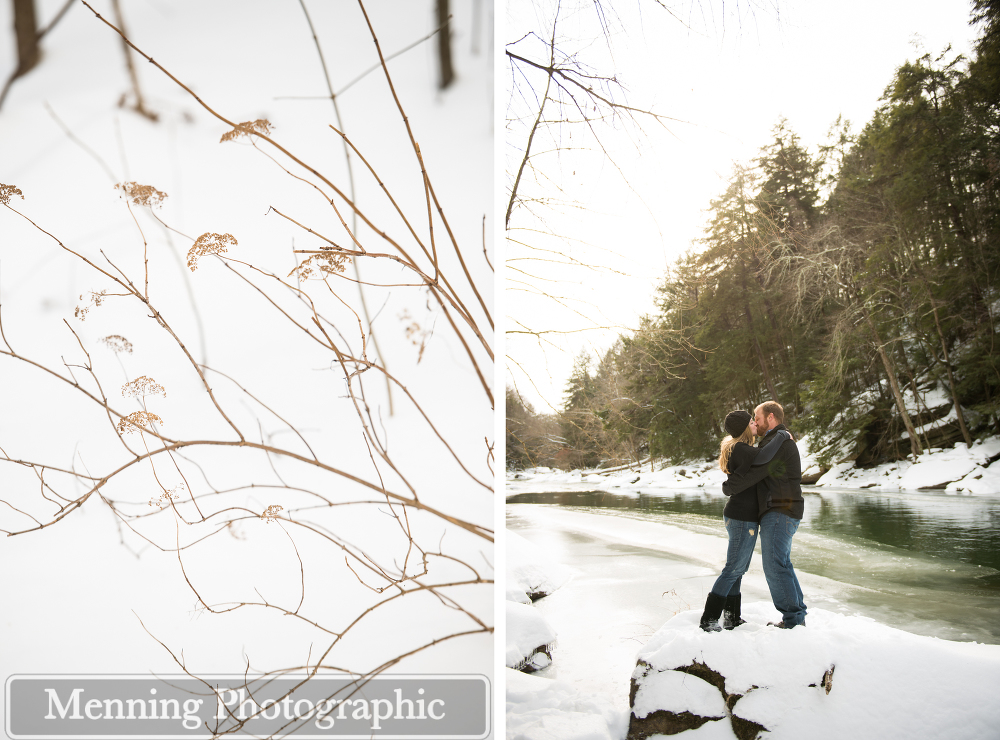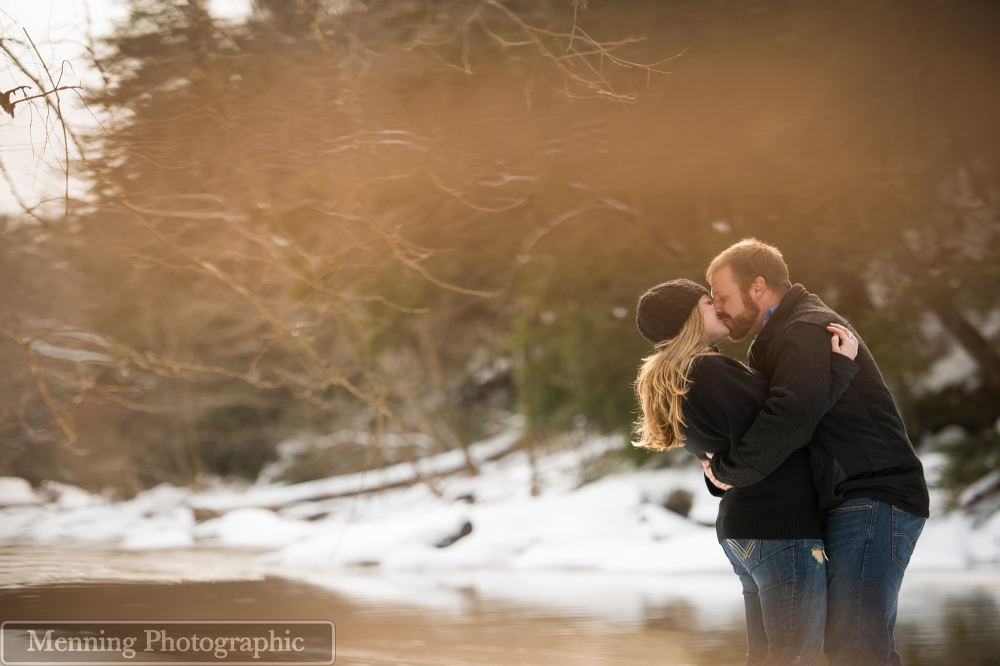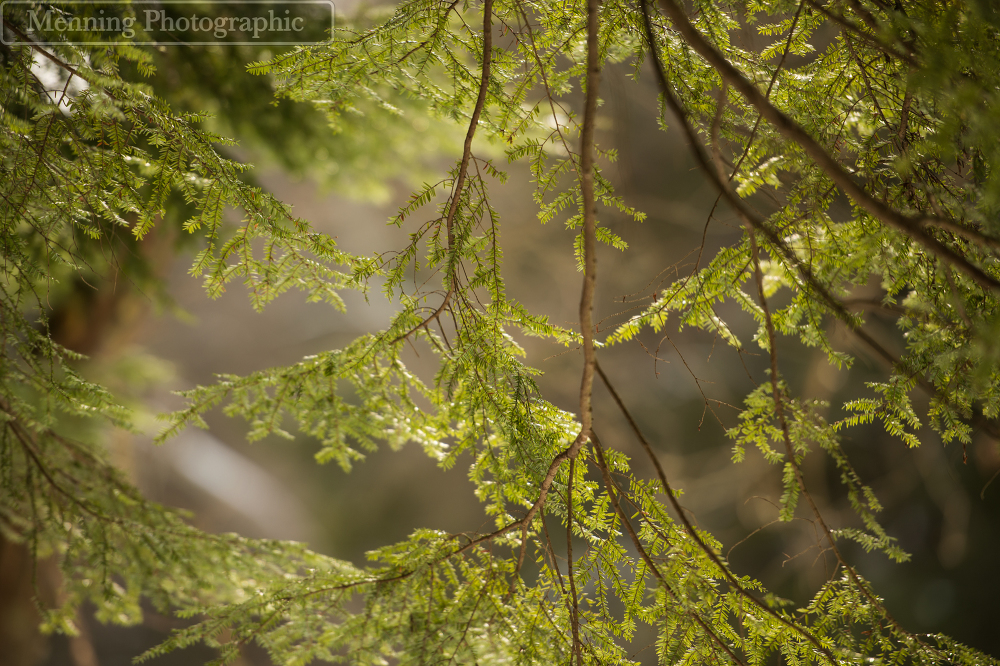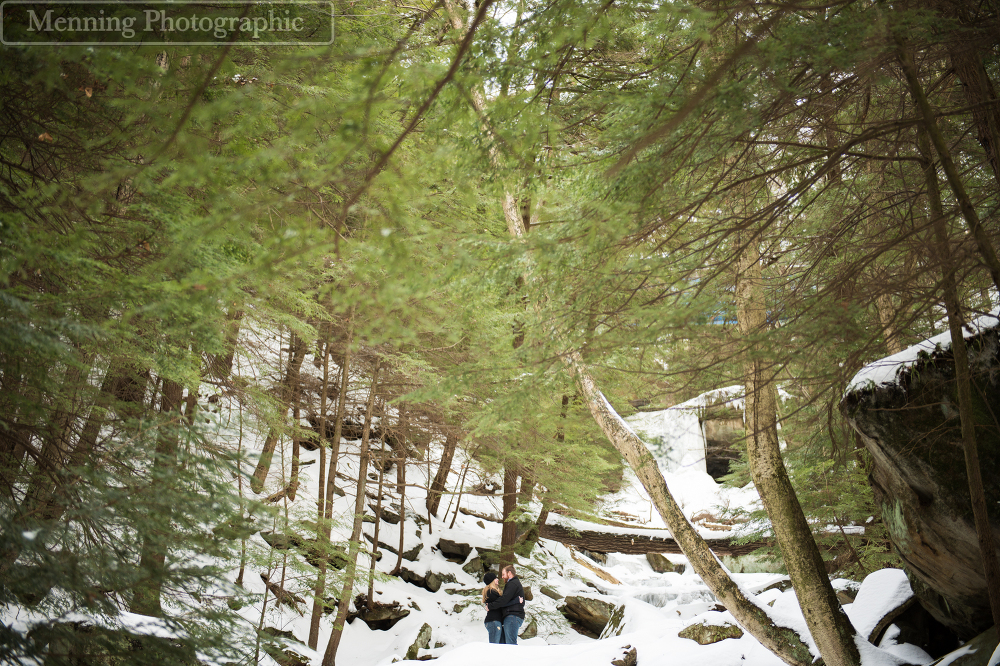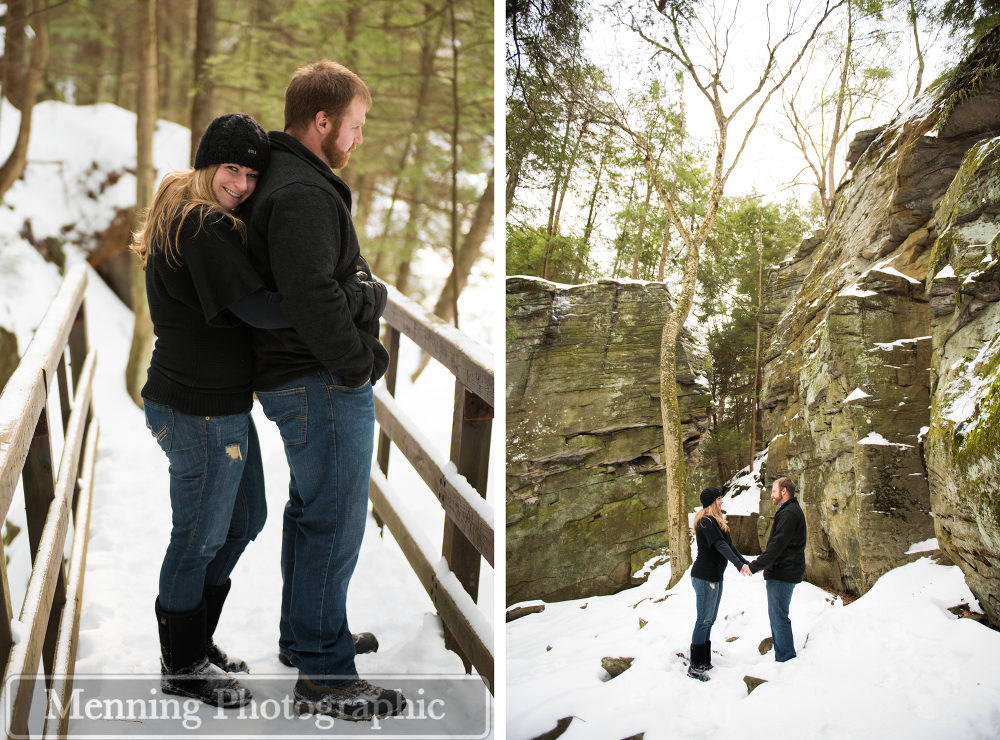 After hiking through the trails & shooting, we drove up to the spot where Jenna & Ryan like to rock climb & rappel.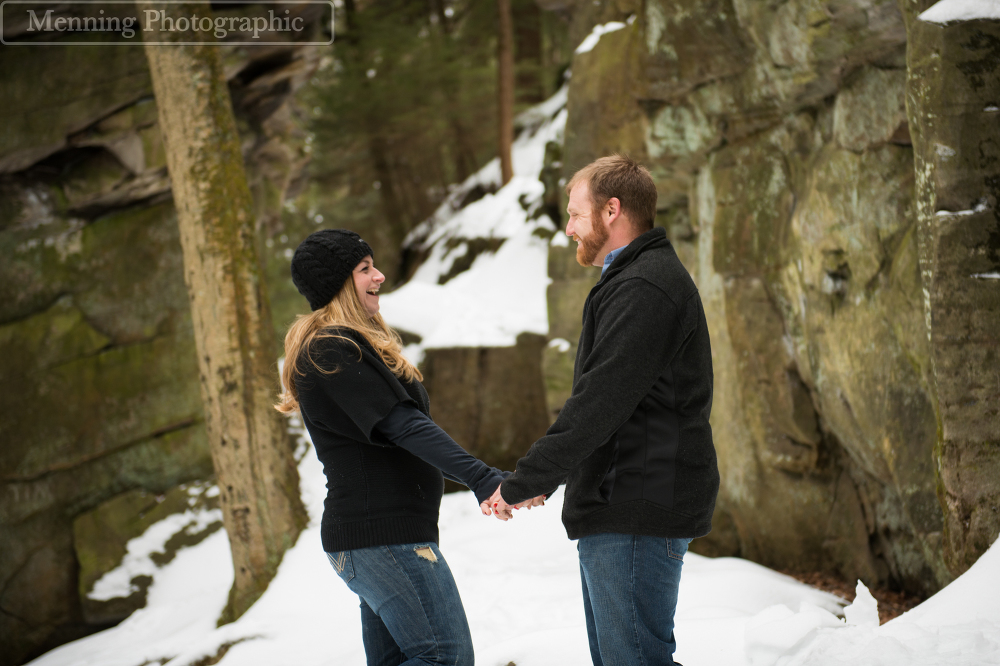 🙂 hehe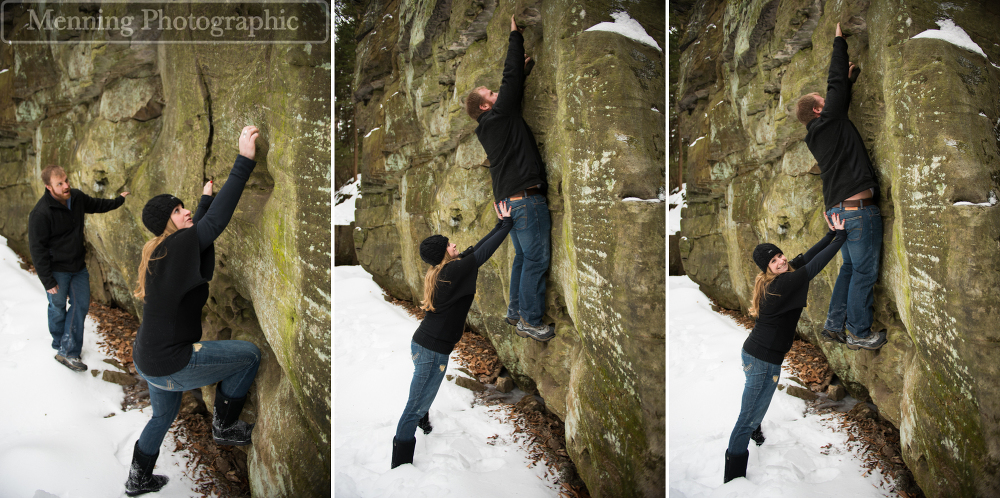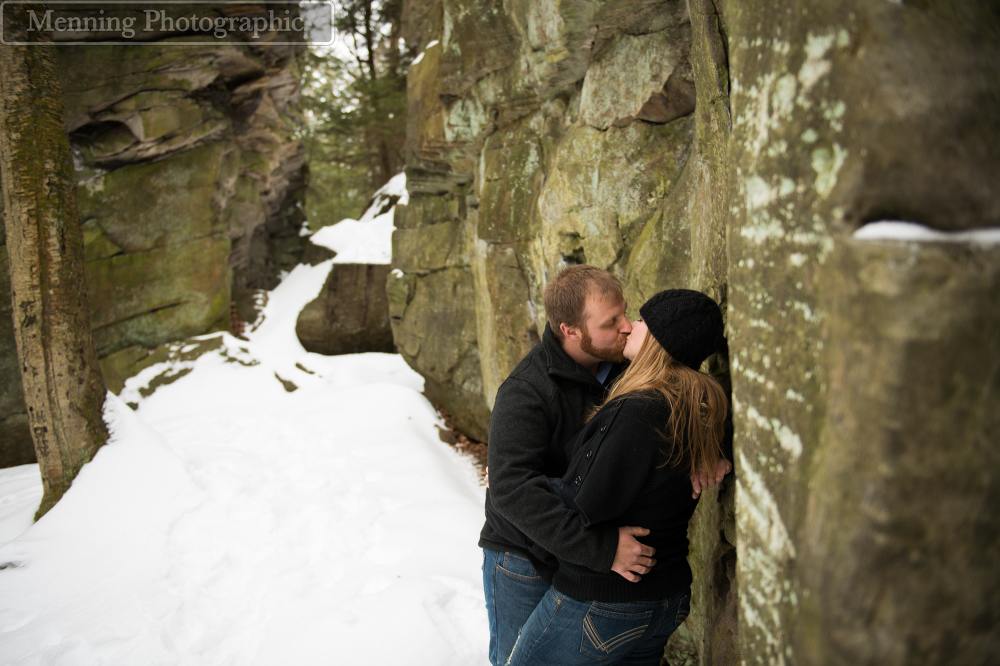 They're so cute together!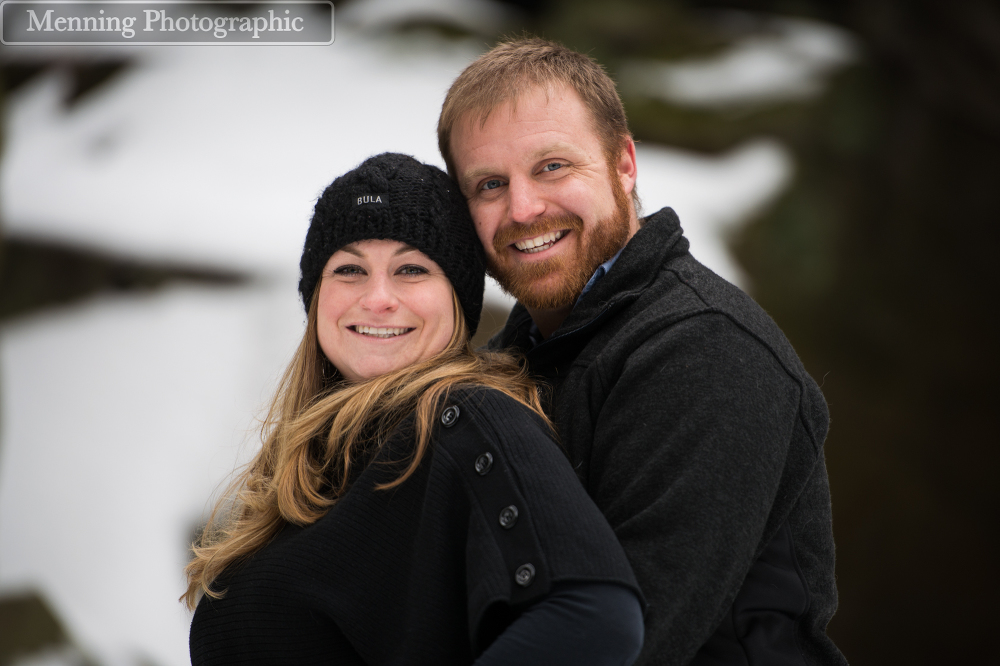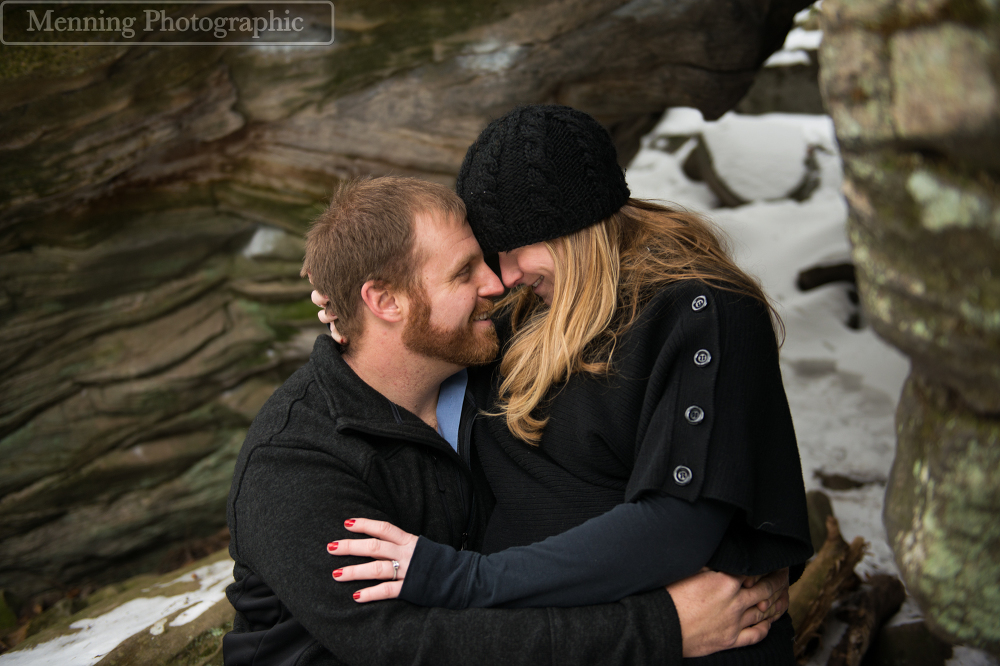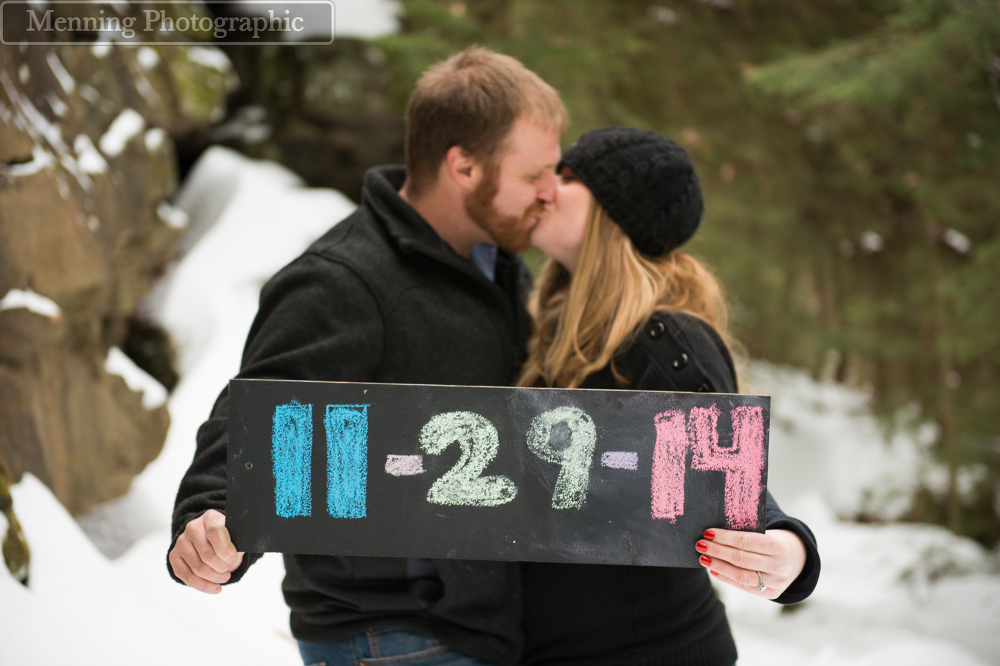 We're so excited to photograph their wedding day at The White Barn in November!

Thanks, Jenna & Ryan, for sharing a fun afternoon with us in the Wintry weather! And thanks for introducing us to your new fav dinner spot; we loved it! 🙂 Your wedding day will be here before we know it.
If you're interested in having Josh & Danielle shoot your engagement session & wedding day, please contact us: 330.651.4849 or info@menningphotographic.com.
And, hey, we're social: Instagram | Facebook | Twitter | Pinterest | G +