Generations Coffee House in Columbiana, Ohio is the cozy, homey, fun place for people of all ages to do any and/or all of the following that their hearts desire:
sit,
relax,
chat,
enjoy live music,
munch on baked goods prepared by local bakers,
visit with old friends,
make new friends,
gaze at work by local artists,
sip beverages from mugs crafted locally,
and, of course, as the name implies . . .
drink GREAT coffee.
Today on our Small Business Showcase, we'll be featuring a local business whose owners' vision truly shares that of our entire reasoning behind beginning the Small Business Showcase features. The husband & wife team of Christian & Allison Schwartz believe in community; in supporting other local small businesses; in gathering members of the community together no matter their backgrounds, ages, or social statuses; and in creating a unique space that allows anyone & everyone the opportunity to gather, to be together, & to enjoy the company of those around them. It's a beautiful concept crafted in the minds of friendly, welcoming people. As with all of our Small Business Showcases, we asked the owners to answer a few questions for us so you can learn a little bit more about them & their business.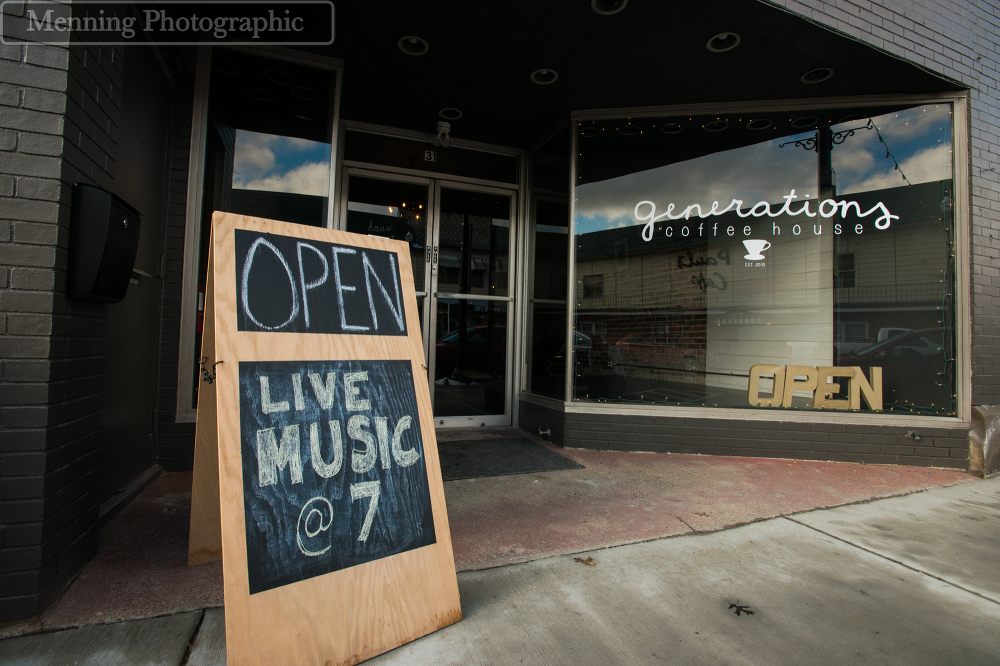 What is your mission statement?
"To create a space that facilitates personal relationships and community-wide growth; and to use high-quality, artisan coffee to promote discussion and learning."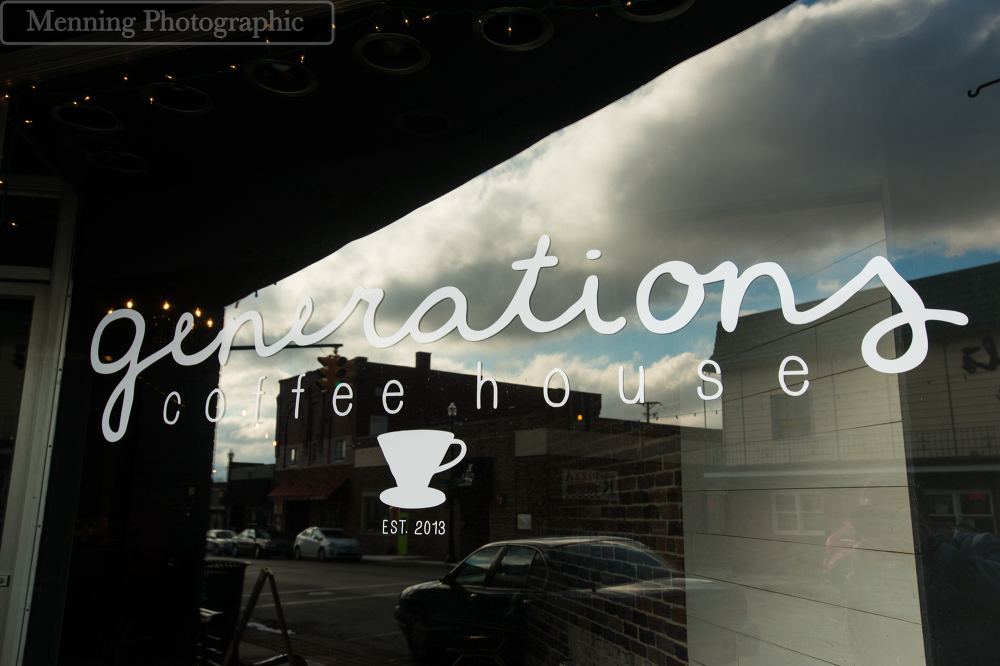 What are some of the highlights of your day-to-day work at the shop?
Allison: "Seeing regulars and getting to know them better and better. I love when people come in and meet someone that they didn't realize they were already connected to in some way such as having mutual friends."
Christian: "Getting to just make coffee for people. They are amazed that coffee doesn't have to just come from a pot and, more often than not, will allow you to start some good conversations with them in the span that it takes to make them a good cup."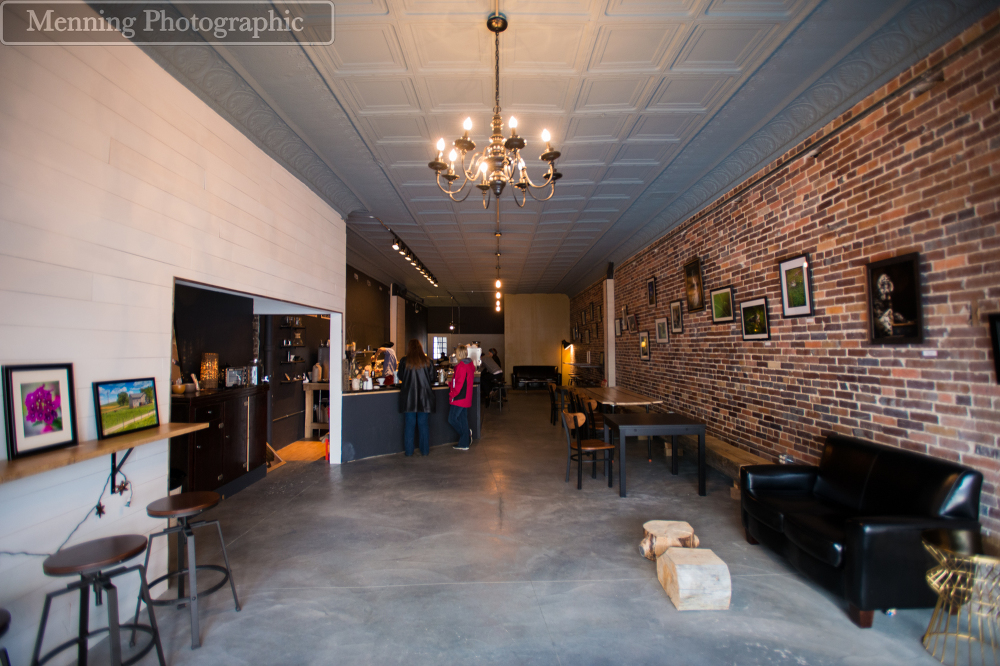 Why did you decide to become coffee shop owners?
"Every city needs spaces that are neutral. Where you don't have to clean up after you've invited guests over. Where you can get out of your house. Where you can run into friends on accident. Those kinds of places are the glue of a community. Without them, towns are void of depth and commonality. Though our love of coffee is great and we strive to craft it with mastery, it is only a tool that we use to set the stage for relationships to transpire."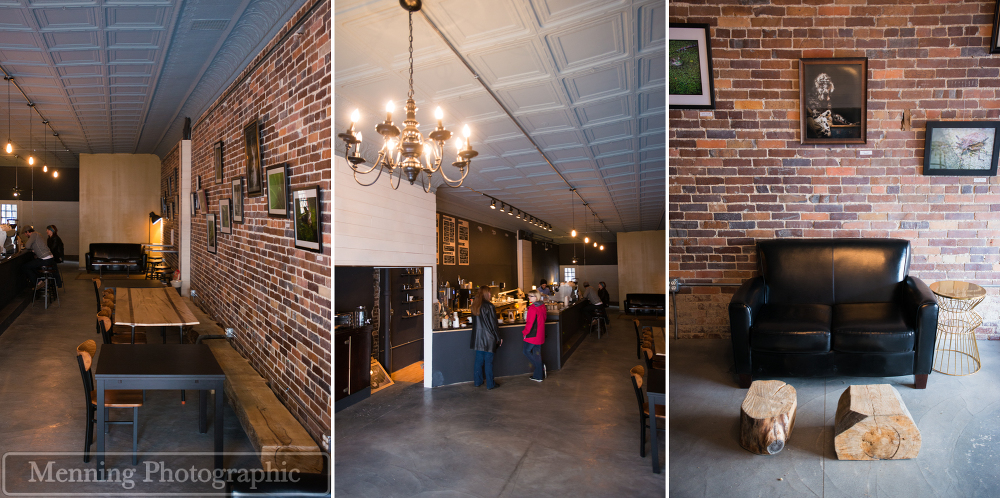 What is the biggest challenge you've faced?
"Just opening. There is a long line of rules and people that you have to go through before somebody can pay you to make them a cup of coffee. It is a good thing that we didn't know what we were getting into before we started or we may have quit the idea for a coffee shop before we even began. It was well worth it though. Despite the difficulties, regret is never one of the things that we have felt towards our endeavor and, given the opportunity, would do it again for what we have now."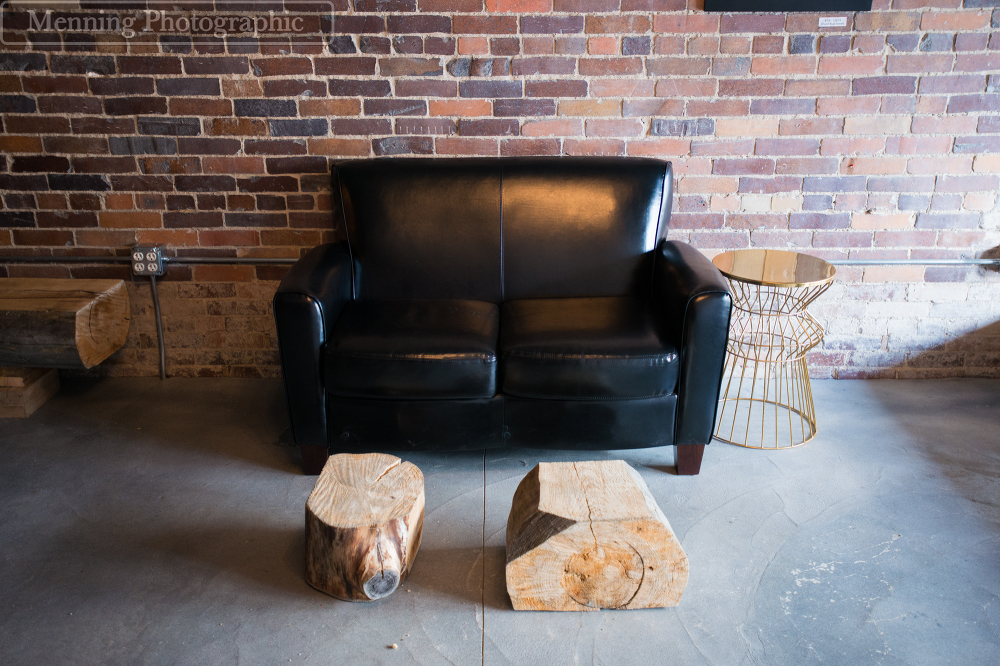 What has been the most rewarding thing?
"To watch our space be filled with people that 'get it'. When you create an identity for something, much the way it is with your own personal identity, there is the fear of rejection. That people won't share your same passions or ideas about what is important. But when I see people come back to our shop over and over again, and bringing friends, and asking coffee questions, and spending hours in the same seat, I know that we have struck a chord with our community and that we are all on-board about this thing that we call 'Generations.'"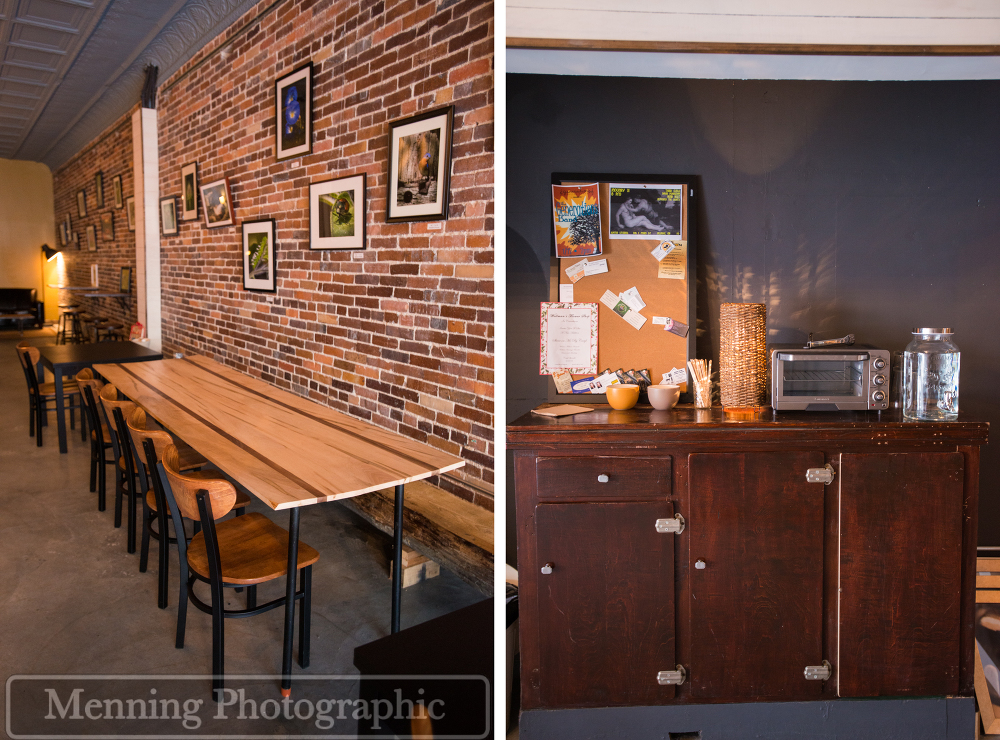 What's your favorite drink at Generations?
Allison: "One of our newest coffees: the Kabare Kenya Peaberry made with the Chemex."
Christian: "The Cortado: Little bit of espresso, a little steamed milk. Can't go wrong."
Generations' purchases its from Commonplace Coffee Co. a coffeehouse and roaster in Pittsburgh, Pennsylvania.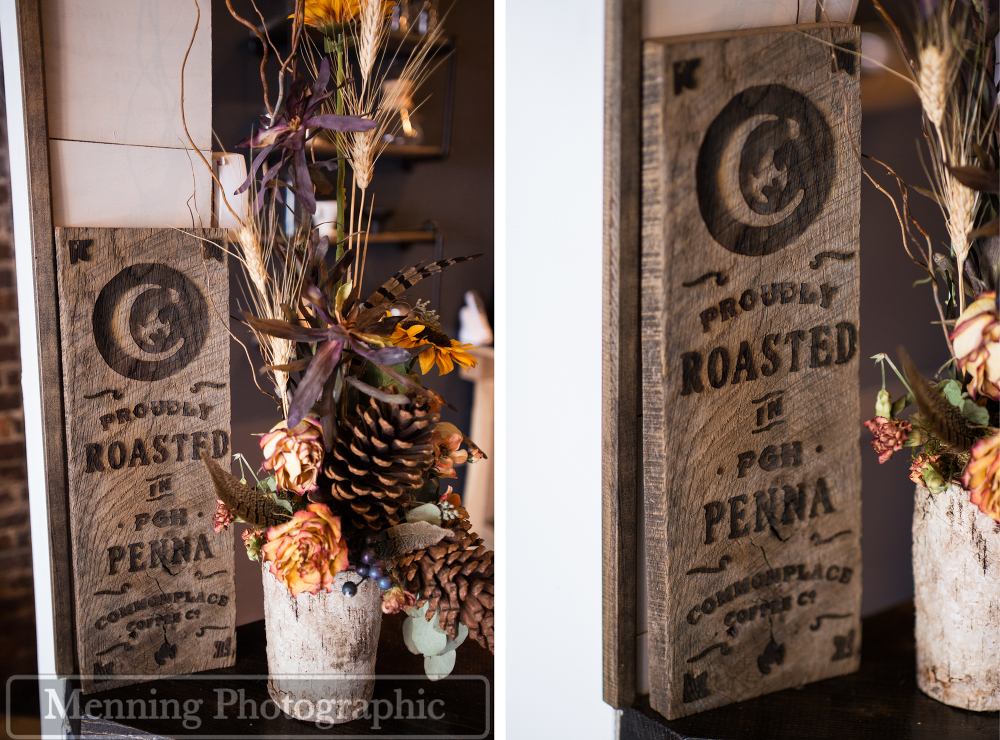 What do you love about Columbiana, Ohio?
"It's great that it's small enough that everyone knows everyone somehow, but there is enough life to create some real potential. We have had the privilege of meeting some wonderfully talented people that have seem to 'come out of the woodwork' of this town, and it simply encourages us that great things are possible and happening right here."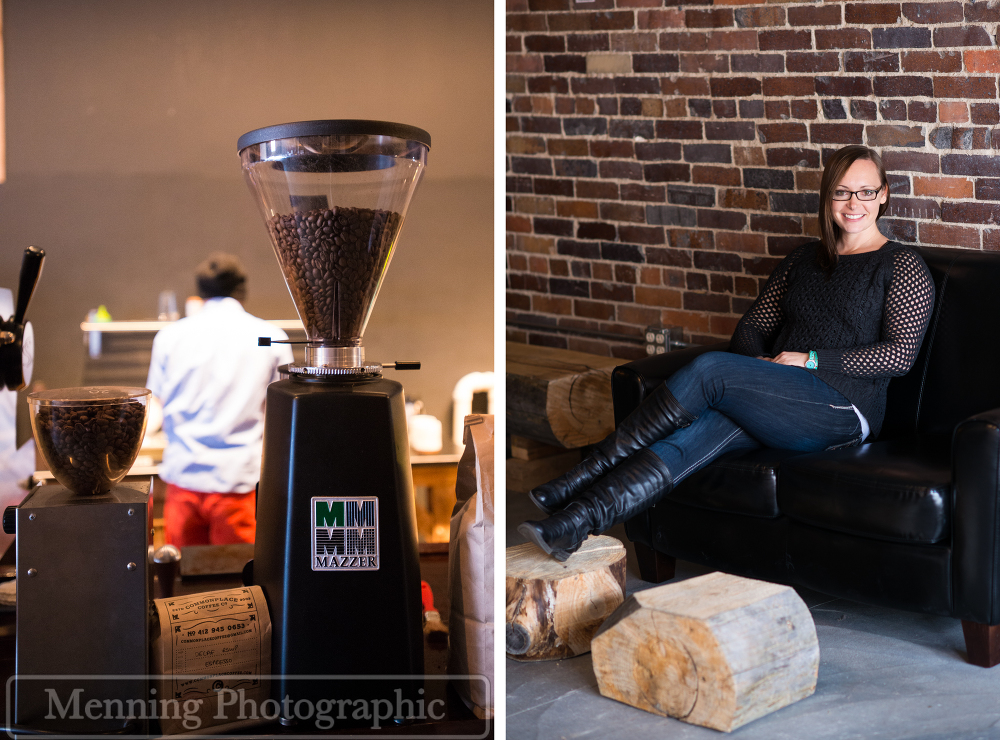 What do you like to do in your spare time?
"At this point in time, there is none to spare except for if we are neglecting something. But we are blessed to love what we do."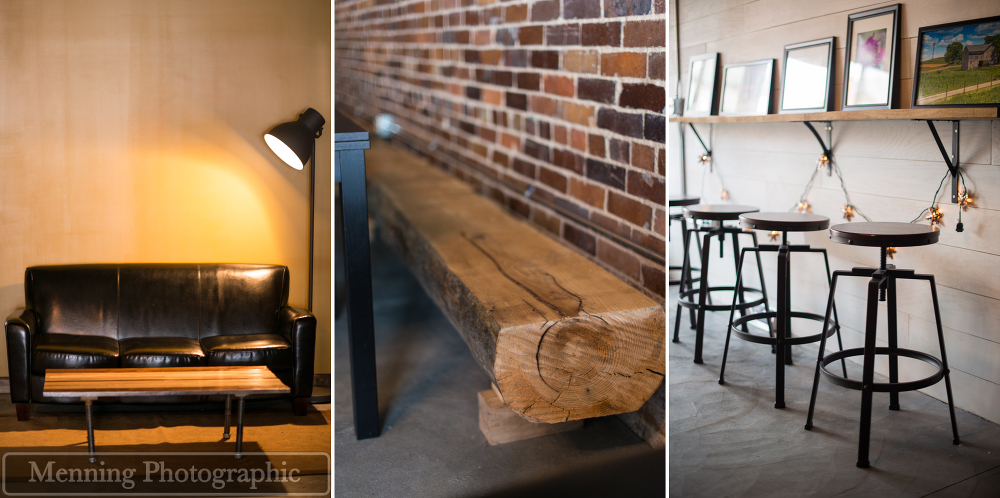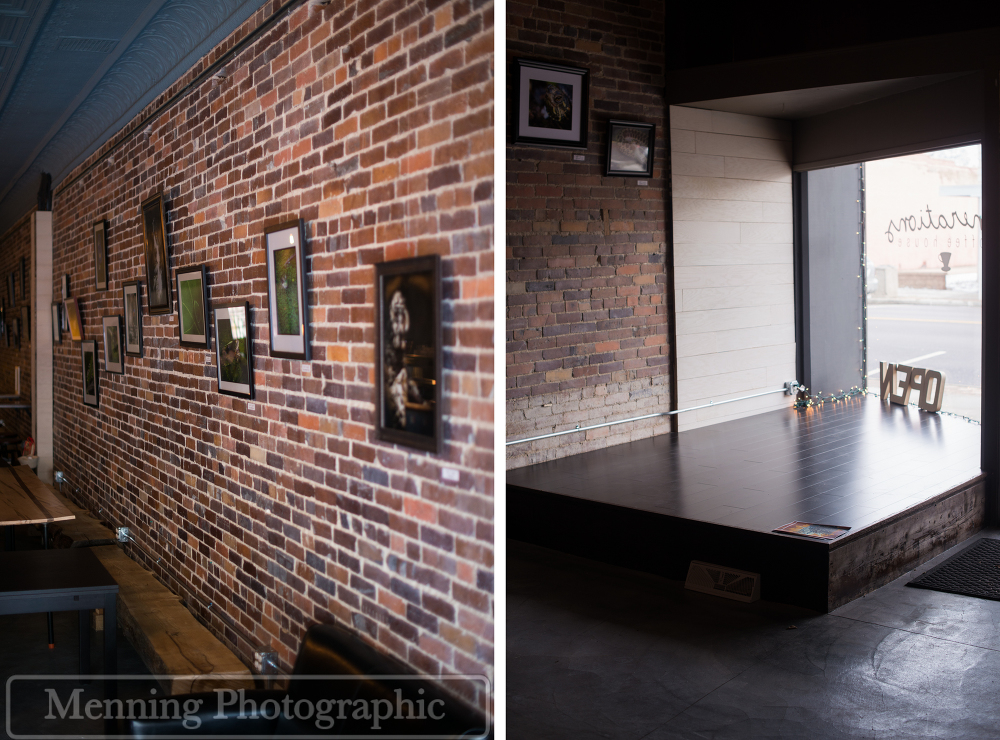 Where do you see your business in 5-10 years?
"Hopefully surrounded by a lively downtown community that is thriving on what all people need: places to eat and places to gather. After spending time living in Springfield, MO we have seen firsthand the kind of symbiosis that can be generated in a town that revolves around the kinds of businesses that encourage you to spend your time [with] others."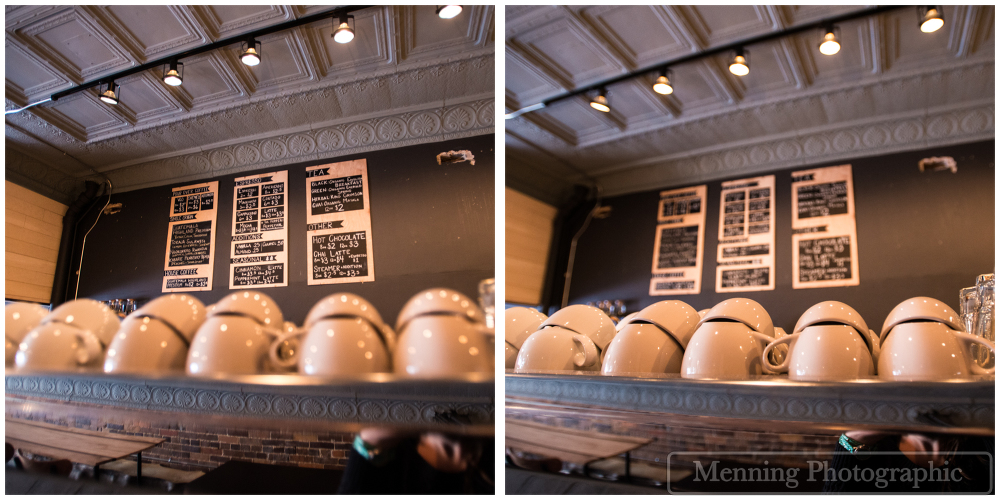 Do you recommend any great books to other entrepreneurs?
"The Great Good Place by Ray Oldenburg. Best book on why our businesses should be community-oriented."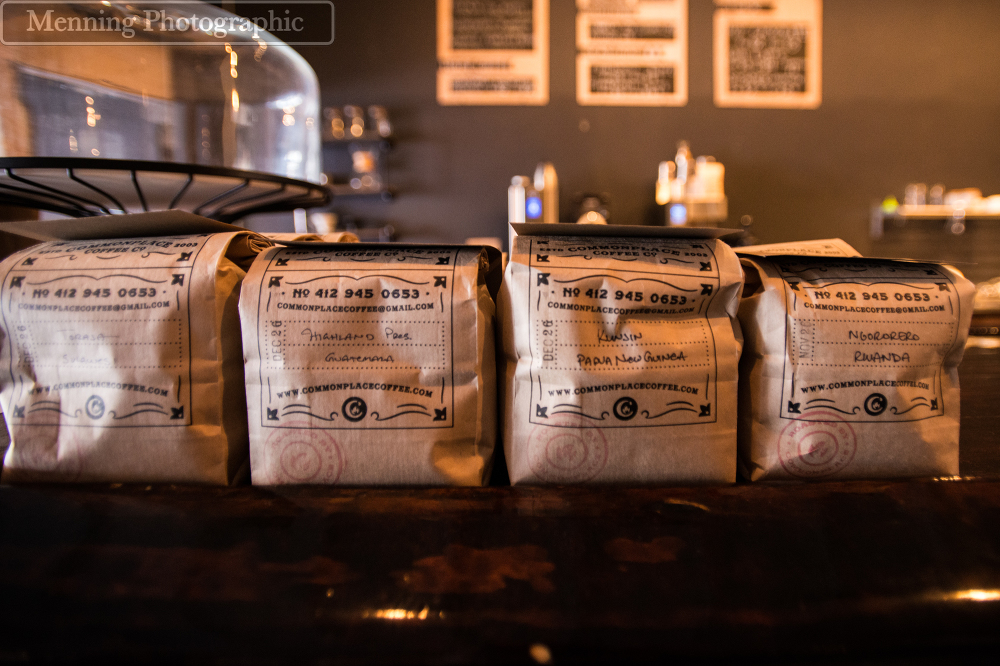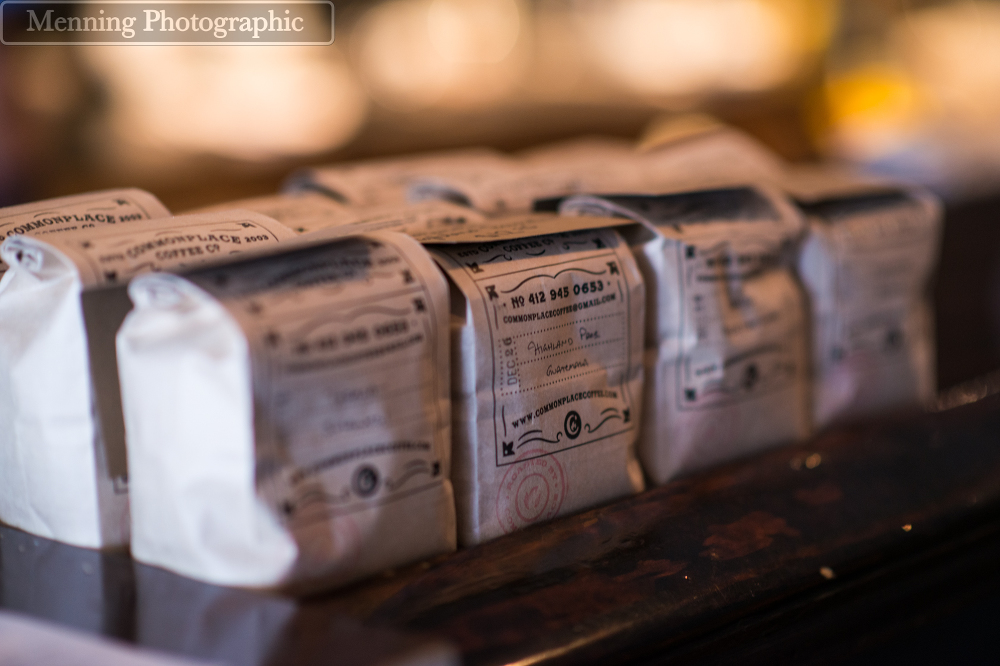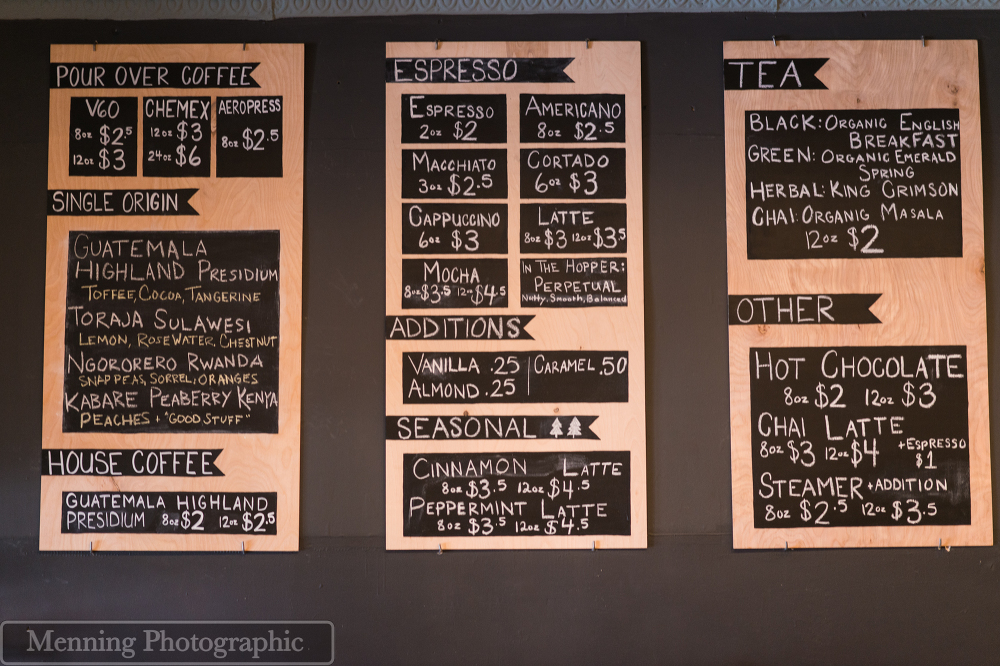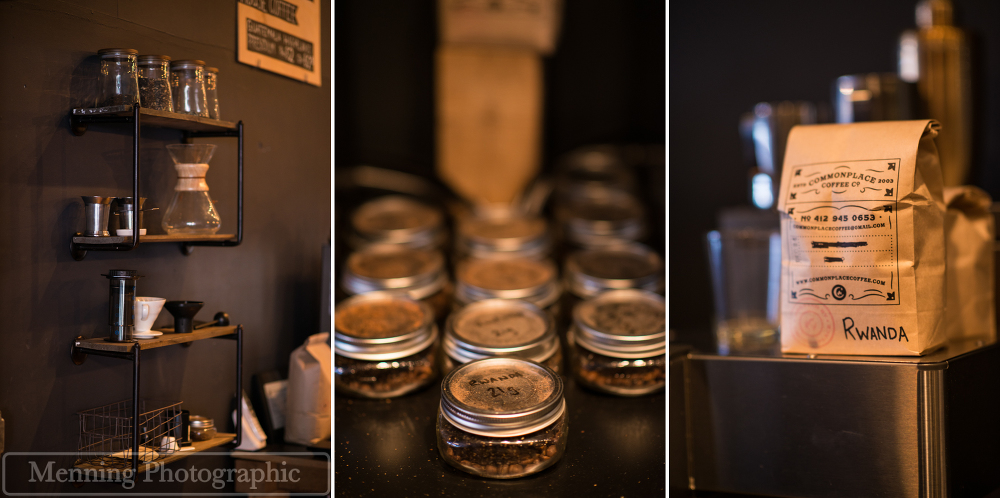 Josh & I love that every cup of coffee at Generations is made-to-order. We also love that they're committed to community & sustainability. They make many efforts to support local small businesses. The milk in their lattes & other drinks made with milk is from Baker's Golden Dairy, a local farm. A local hobbyist potter makes their mugs in her spare time.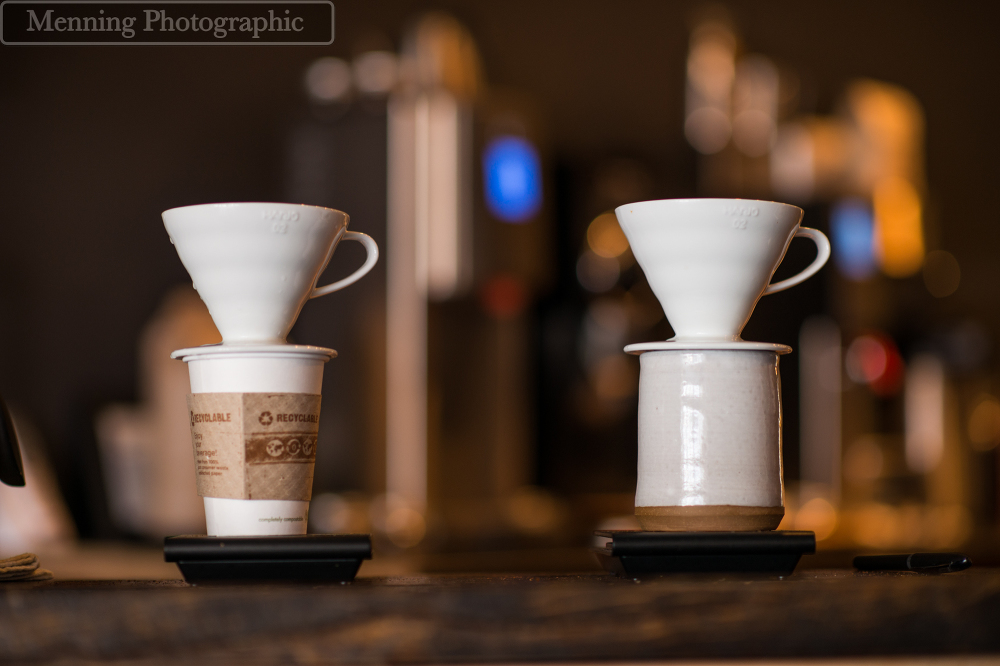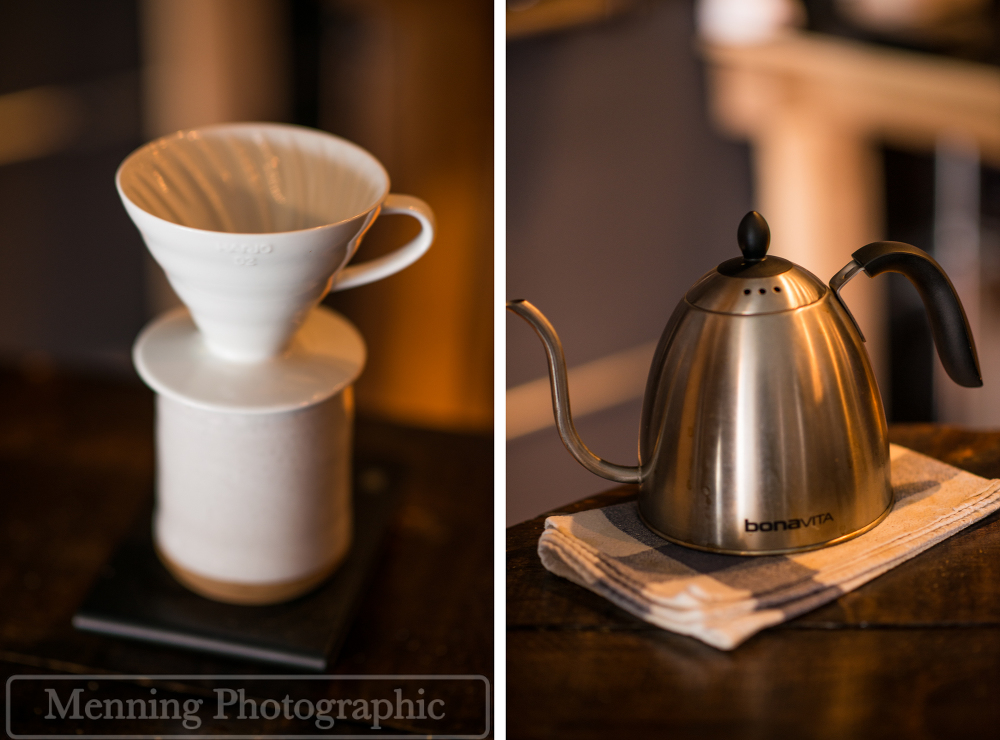 Every cup of coffee is served with a smile. We're not being cheesy; the people here are just that nice & welcoming. And don't be afraid to ask for recommendations or explanations on drinks. They're more than willing to help make your experience there the best it possibly can be.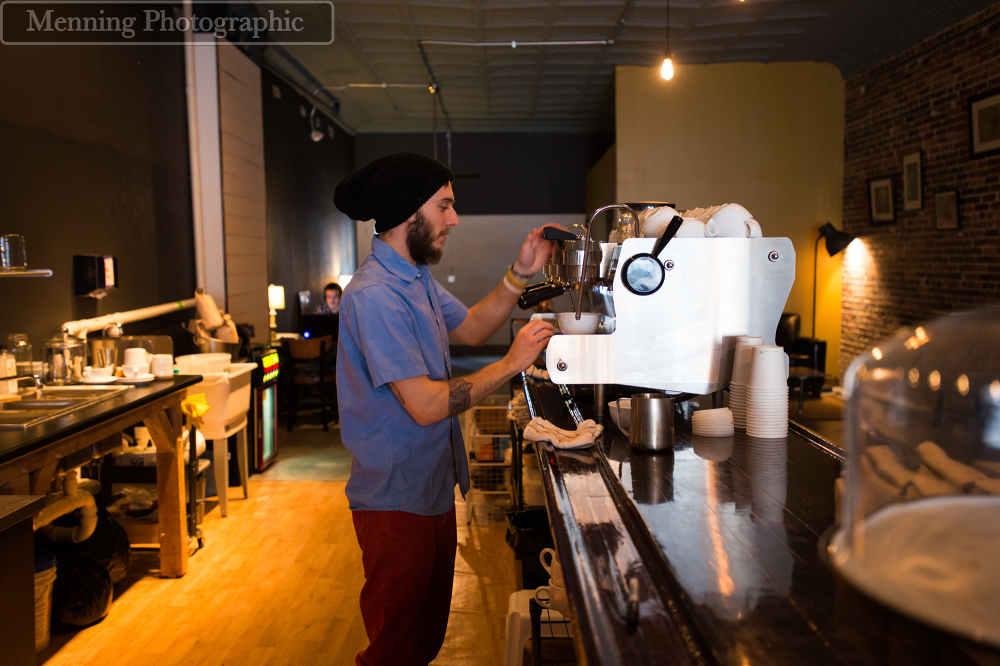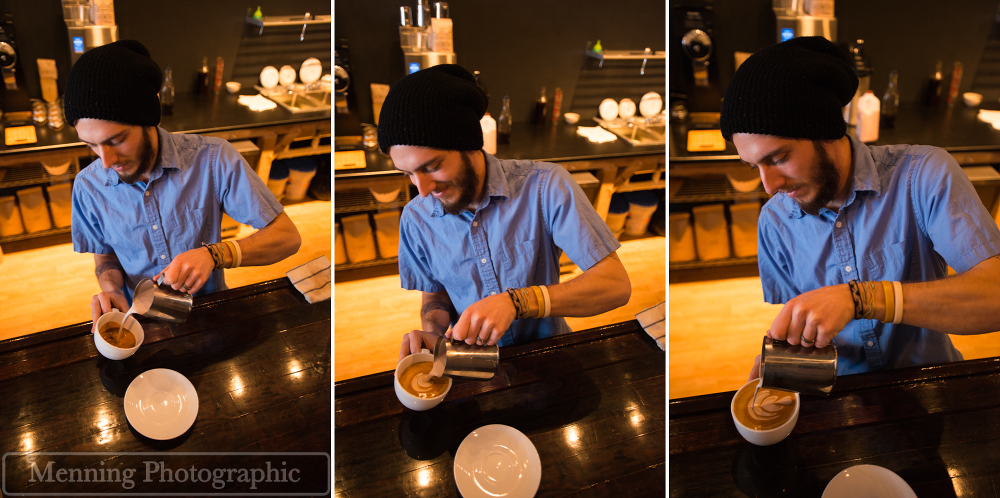 So cute!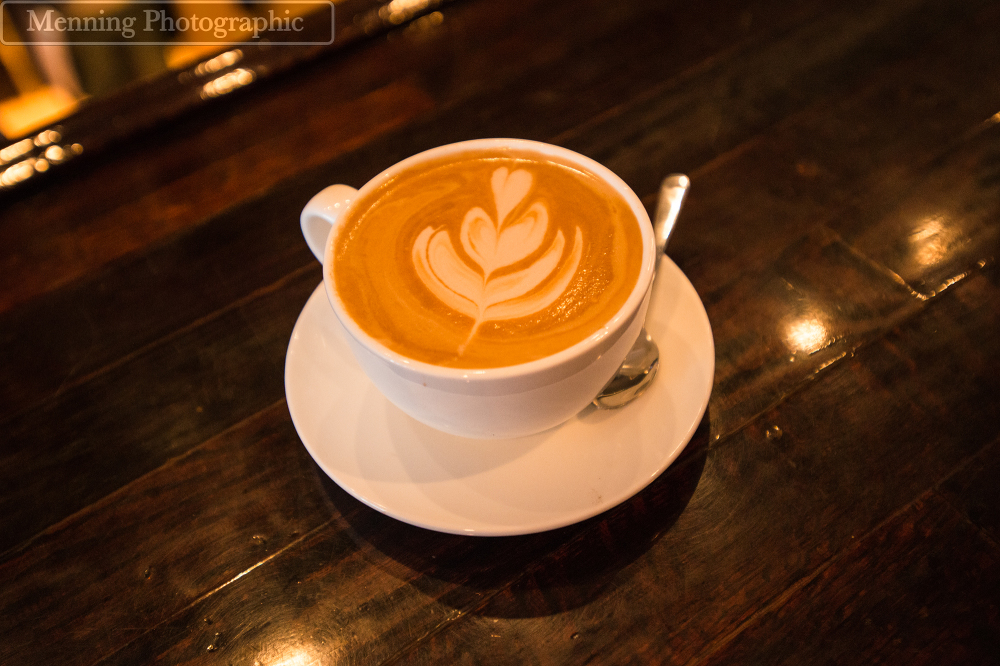 If you walk into Generations, chances are you'll come into contact with someone named Christian . . . either the owner Christian or his long-time friend, Christian, who works there, too. It doesn't matter who makes your drink there; they'll greet you with a friendly smile, be as helpful as possible, & share in the mentality that community-building is the most important aspect of Generations.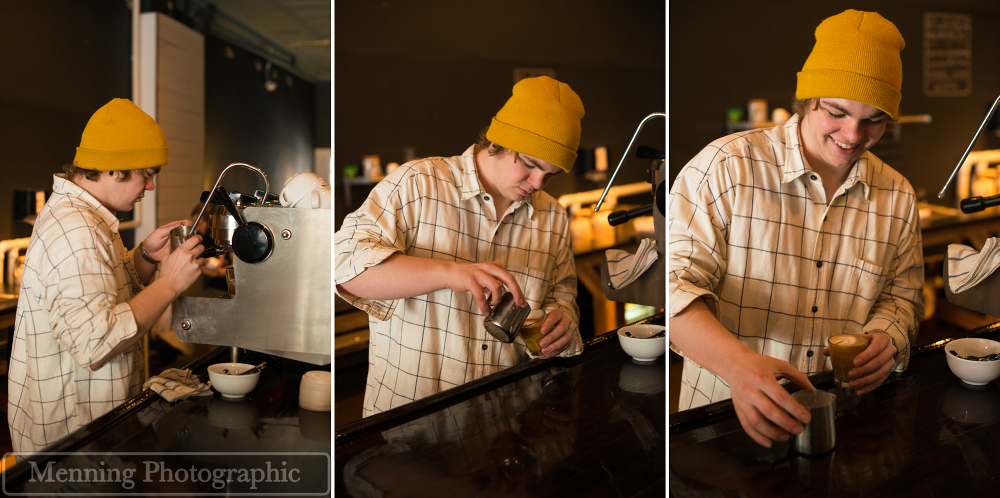 Like we mentioned, Generations makes every effort to support local businesses & individuals. The baked goods are prepared fresh each day by various local bakers.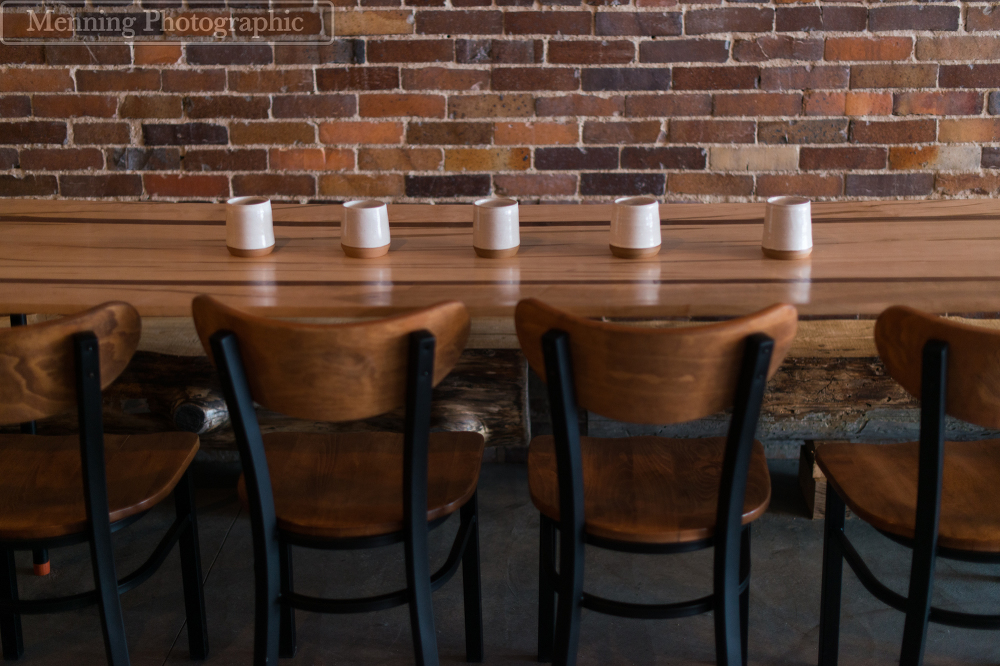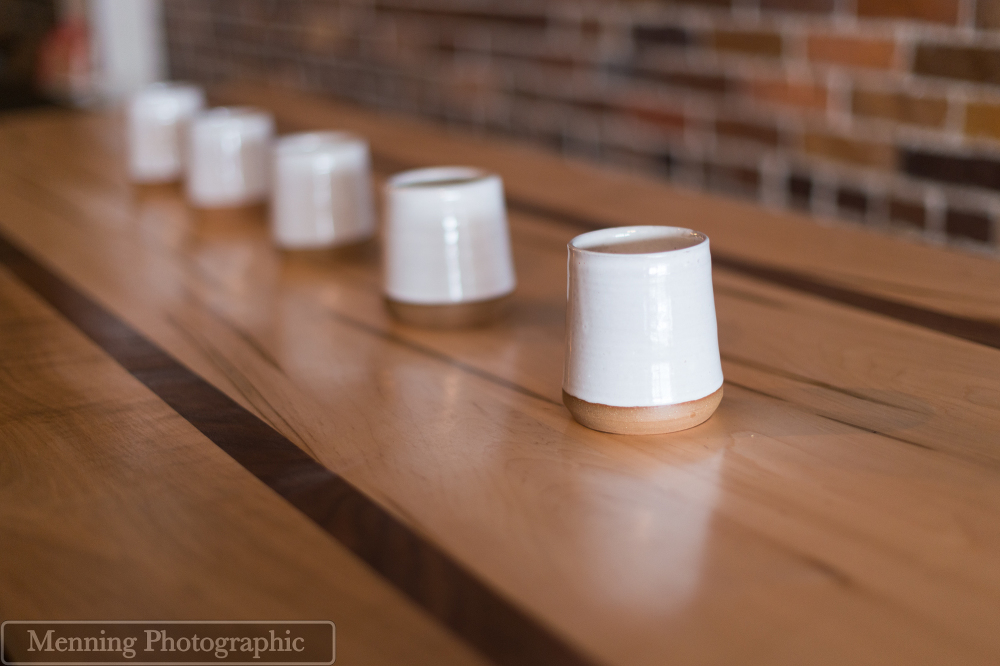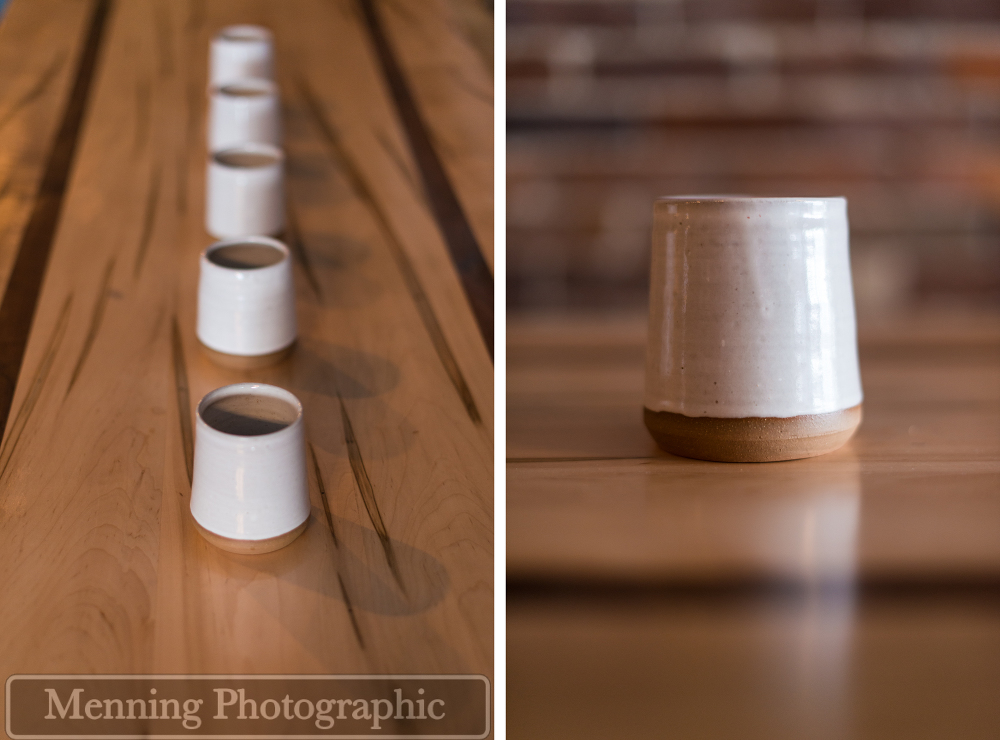 And on Friday evenings, there is live music. The shows are from 7:00 pm- 9:00 pm. Come early if you'd like a seat because these fun evenings draw a crowd.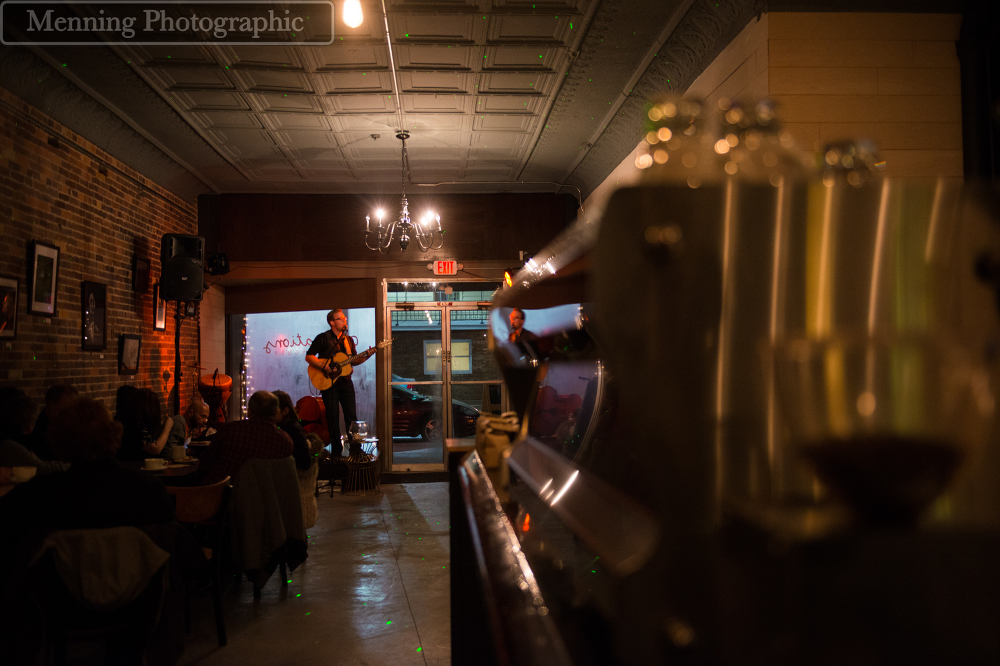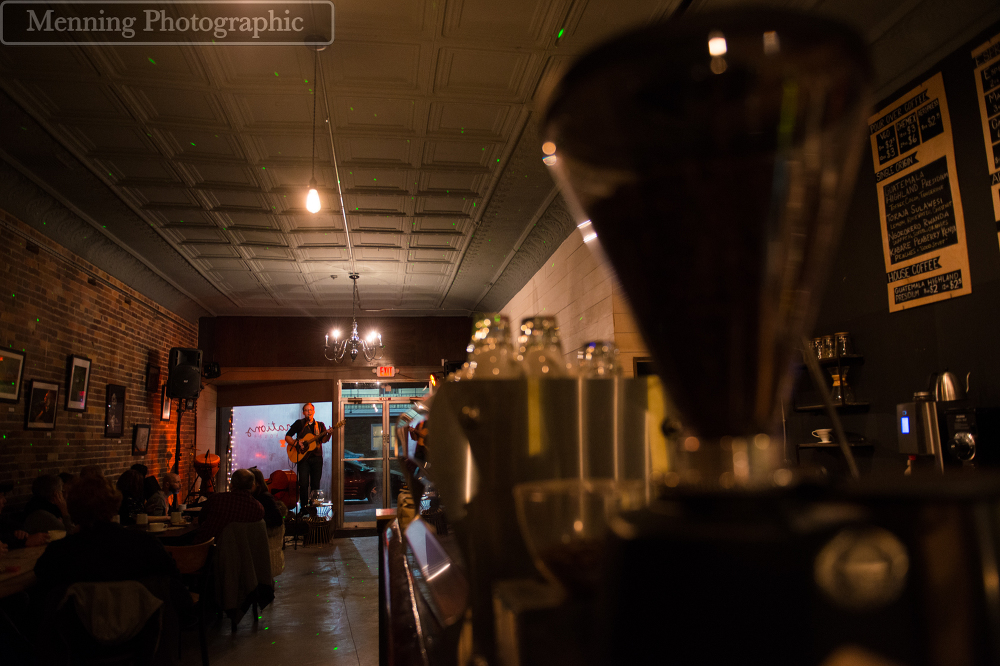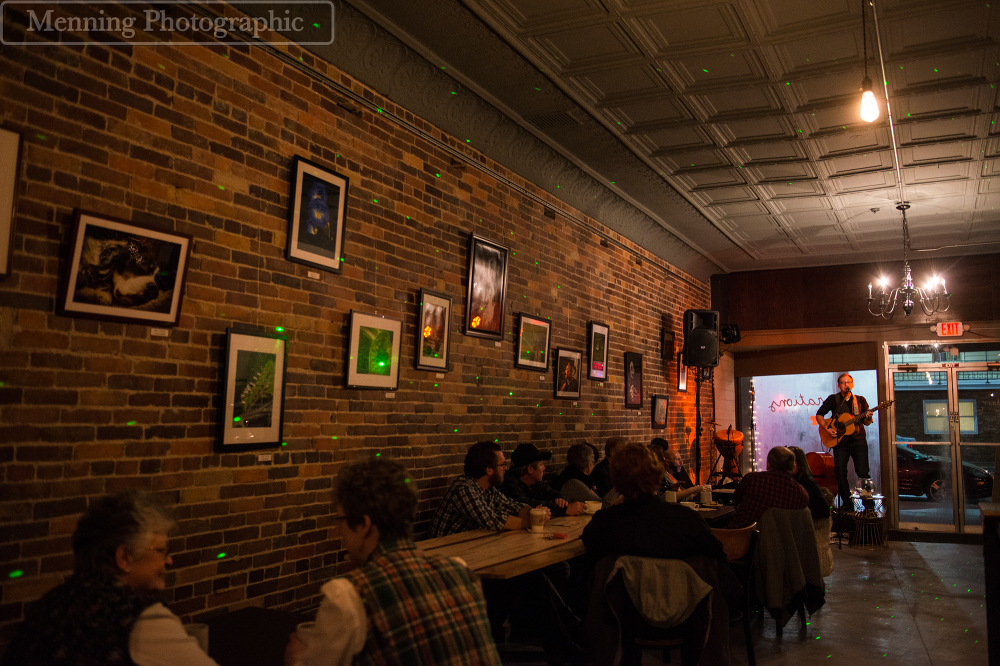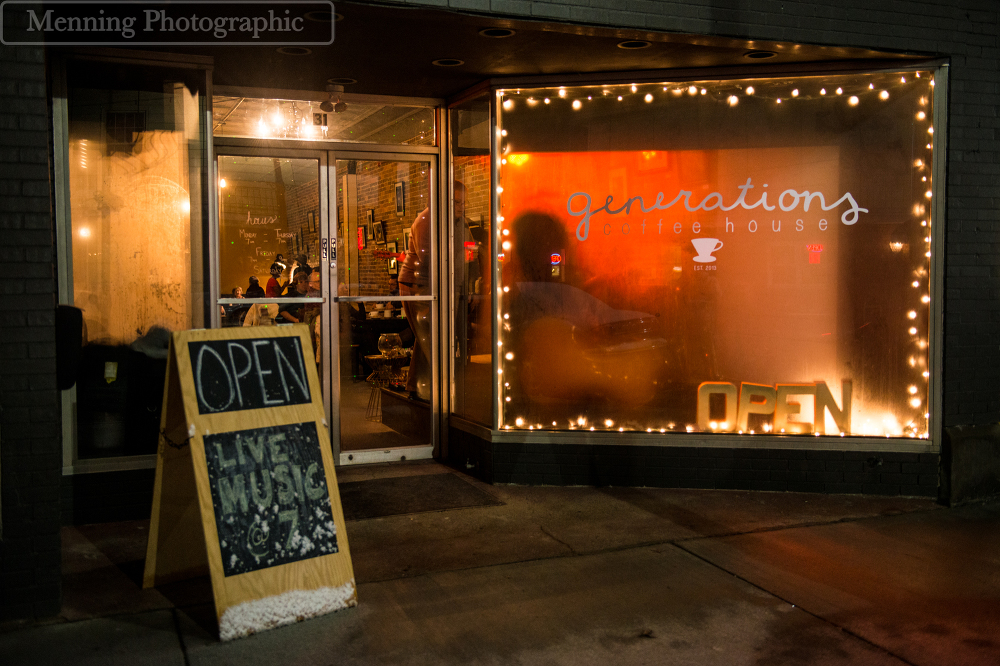 We had one last question for Allison & Christian:
Name 3 things that you can't live without:
"1: Family (not just the ones you're born with): You're only as good as the people you have behind you.
2: Beauty: It's much more functional than we realize. How many more things could we learn to enjoy in life if we were able to find beauty in them?
3: Family: It's that important…"
As we've mentioned before, one of our favorite aspects of supporting small local businesses, is that you get to know the PEOPLE behind them & what they stand for. Allison & Christian welcomed their first child into the world on December 30. Baby Aden graces the coffee shop with his presence, too! As if you needed any more reasons to check it out. 😉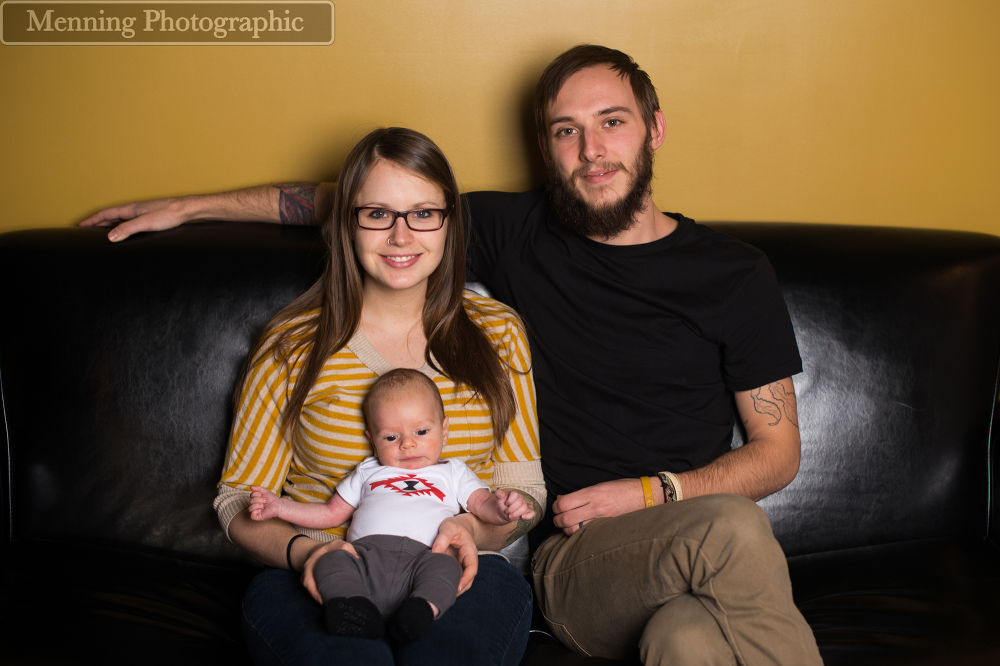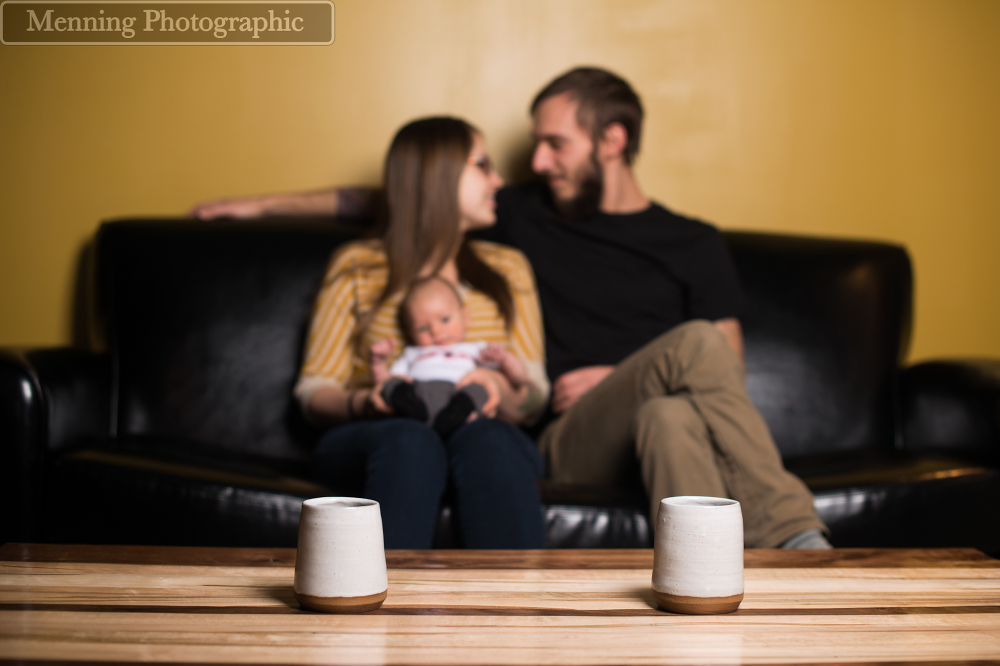 Aden flexed his muscles for us. 🙂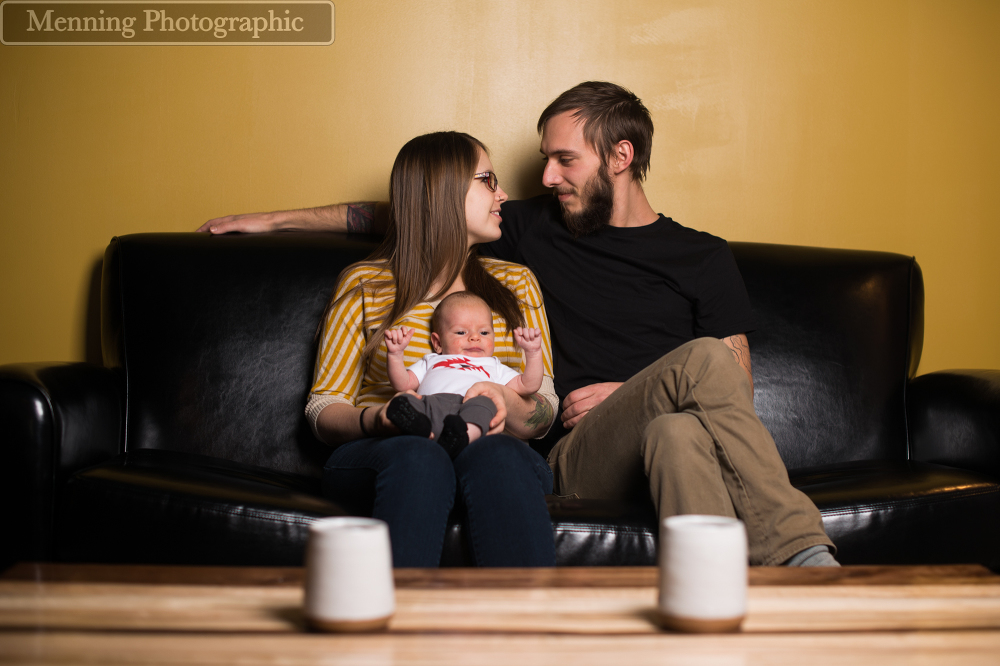 We couldn't agree more with these two: family is that important.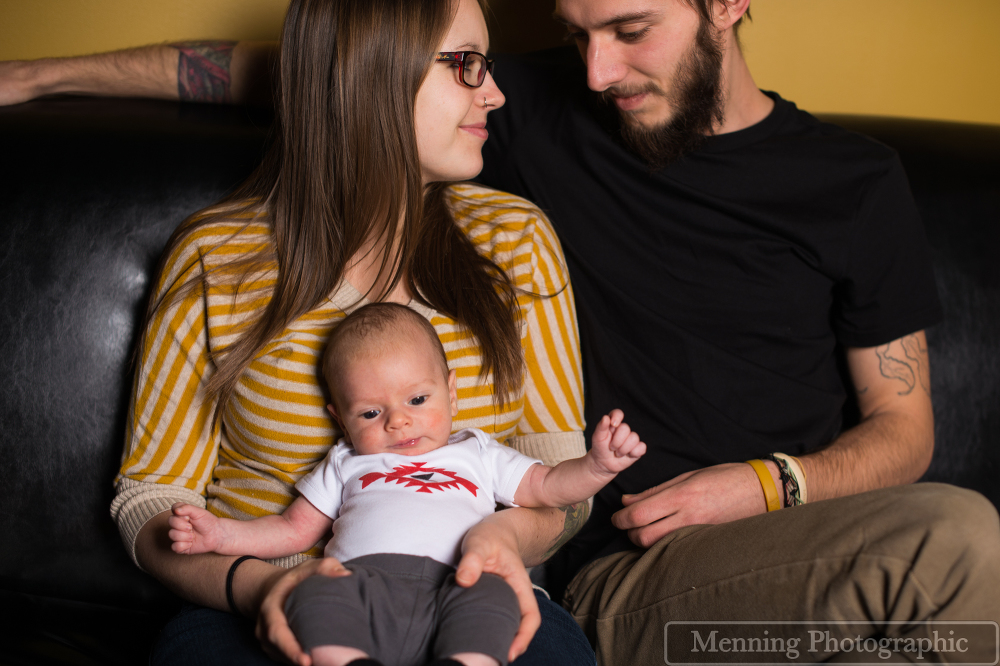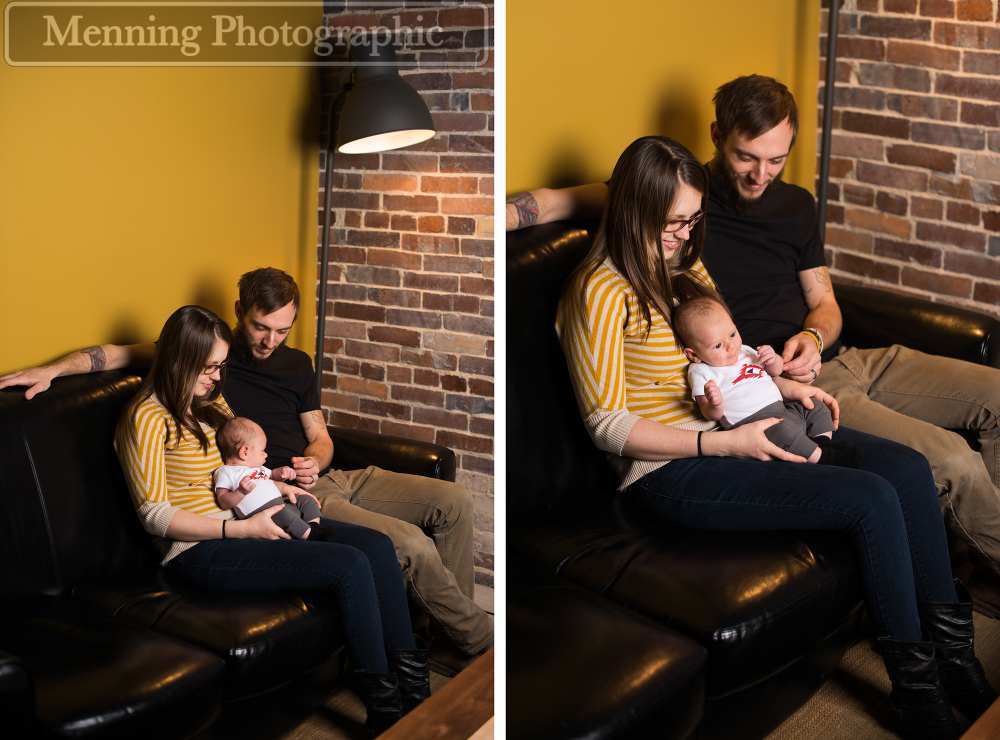 I can't even stand this cuteness!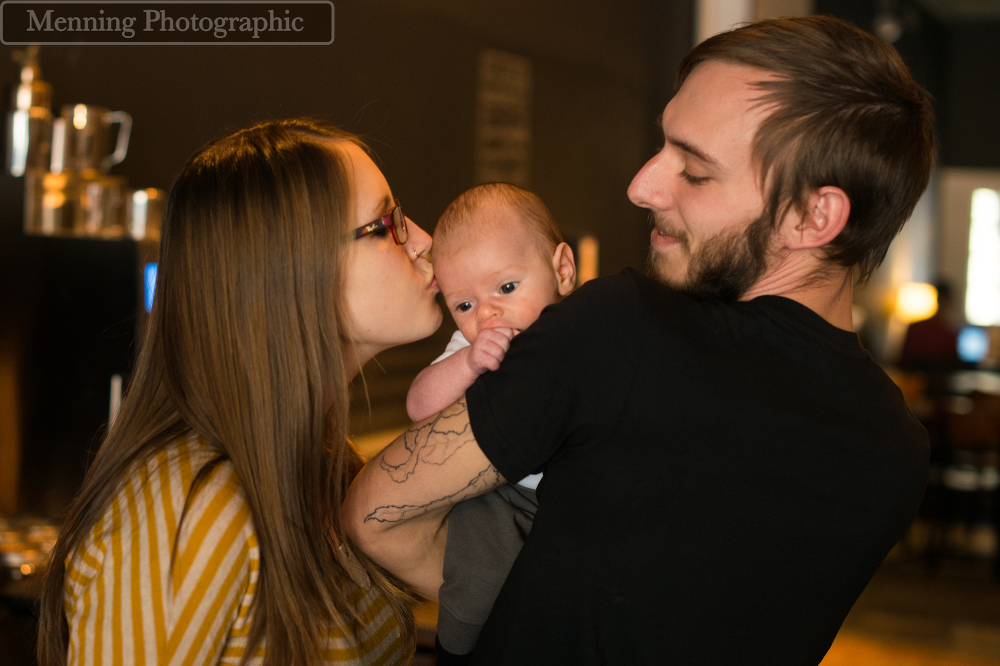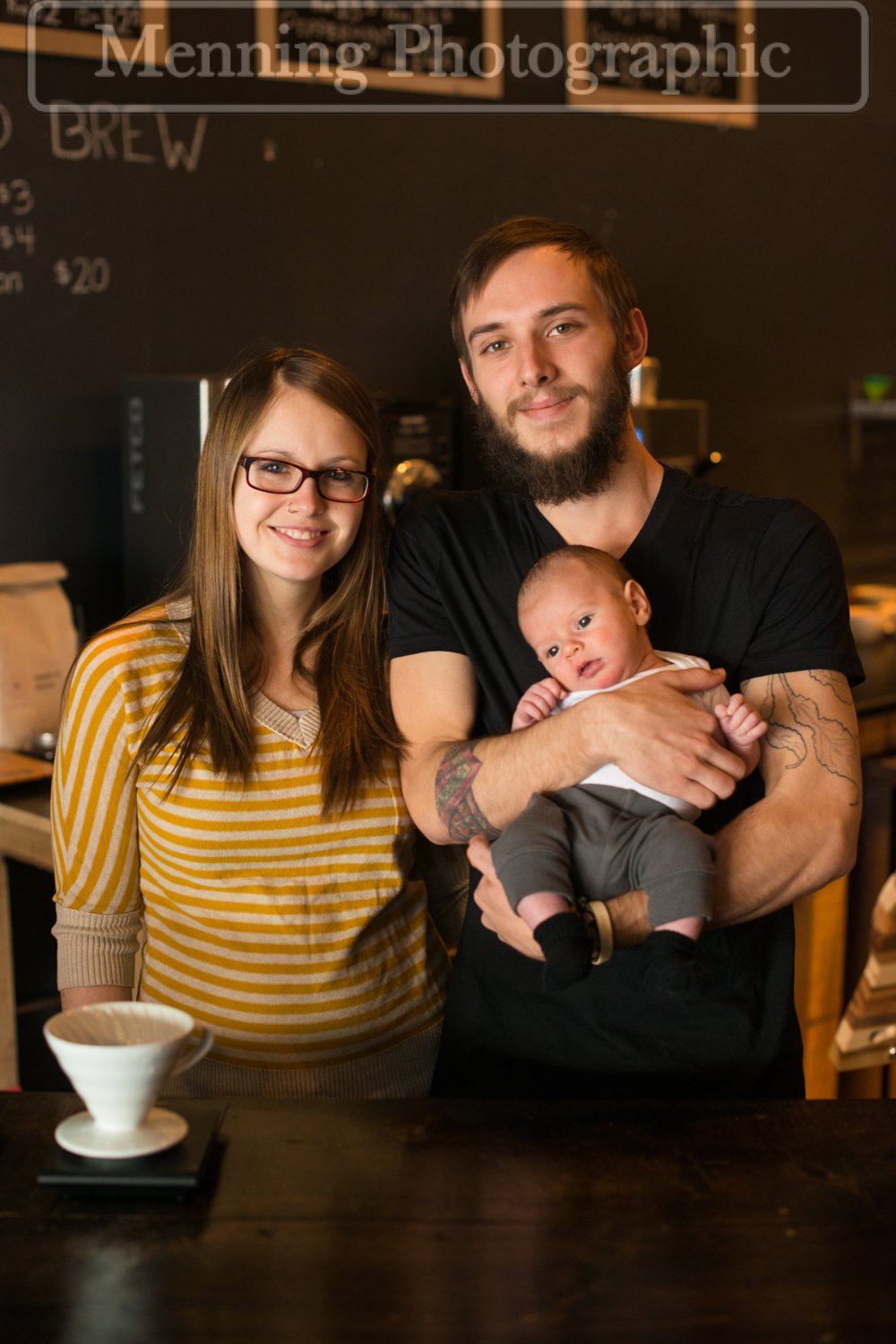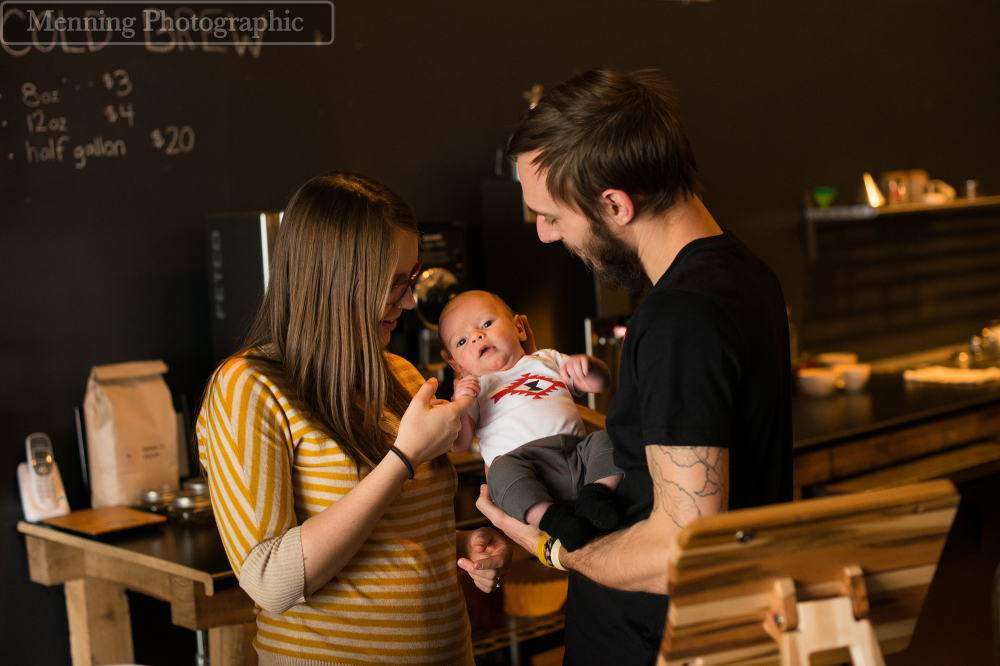 Aden would like you all to head over & "Like" Generations Coffee House on Facebook to keep up on this amazing business, hear about band performances, & scope out new offerings at the shop.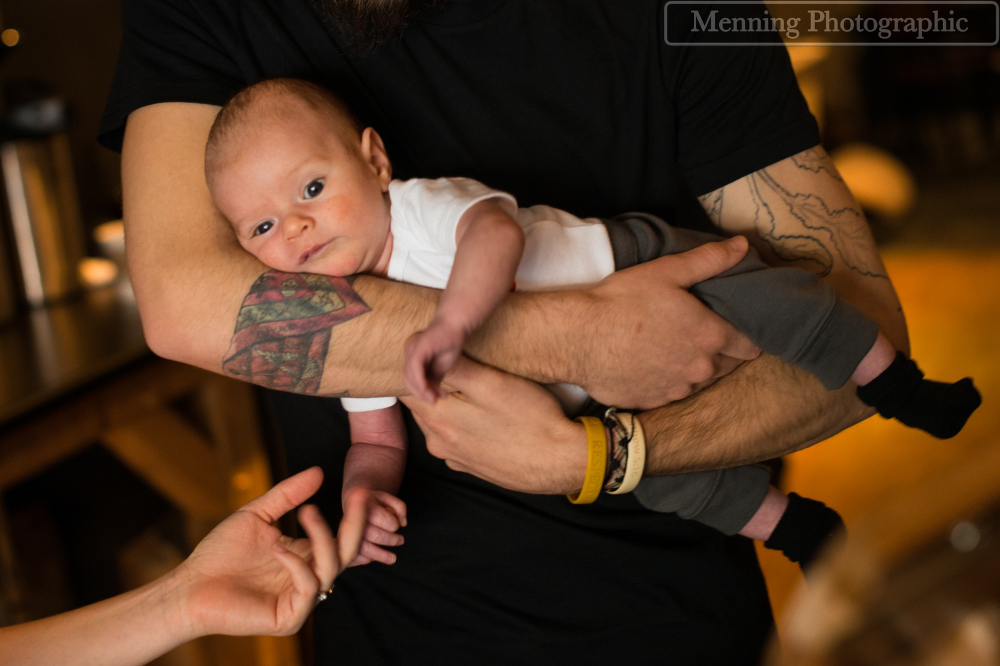 Thank you so much, Allison & Christian, for allowing us to showcase the ideals behind Generations Coffee House! We loved putting together this feature & will gladly be regulars that you'll see often!
Here are the specifics about the coffee house:
Location:
31 S. Main Street Columbiana, Ohio 44408
Telephone:
330.509.2404
Email:
generationscoffee@gmail.com
Hours:
Monday-Thursday 7:00 a.m. – 7:00 p.m.
Friday & Saturday 7:00 a.m. – 9:00 p.m.
Make sure you "Like" their Facebook page to stay updated!
We'll be showcasing more local small businesses on the blog so be on the lookout! Also, feel free to submit a small local business to us for consideration!
If you're new to our blog, we're a husband & wife wedding photography team based in the Columbiana, Ohio area. You can call or email us to talk photography or to nominate a small business to be featured: 330.651.4849 or info@menningphotographic.com
See our recent work & personal musings here:
Facebook | Pinterest | G + | Twitter
Note: As we mentioned, Generations features local artists' work. They showcase the artist's work on their walls for one month at a time & allow customers to contact the artist to purchase prints. Local artist Andrew Mark Lawlor's work was featured at Generations Coffee House during our shoot there. He's very talented. The gorgeous portraits on the walls are his work. If you're interested in his work, you can email him at LawlorPhoto@gmail.com