If you follow us on Facebook, you know we went to Chicago this past weekend for an engagement session and to visit our friend, Jason. Our FB followers gave us FANTASTIC recommendations of places to eat, sights to see, and experiences to enjoy in Chicago. Thanks for that! 🙂 We'll post some personal photos from our trip tomorrow, but for now, please enjoy Jillian & Matt's engagement session! 🙂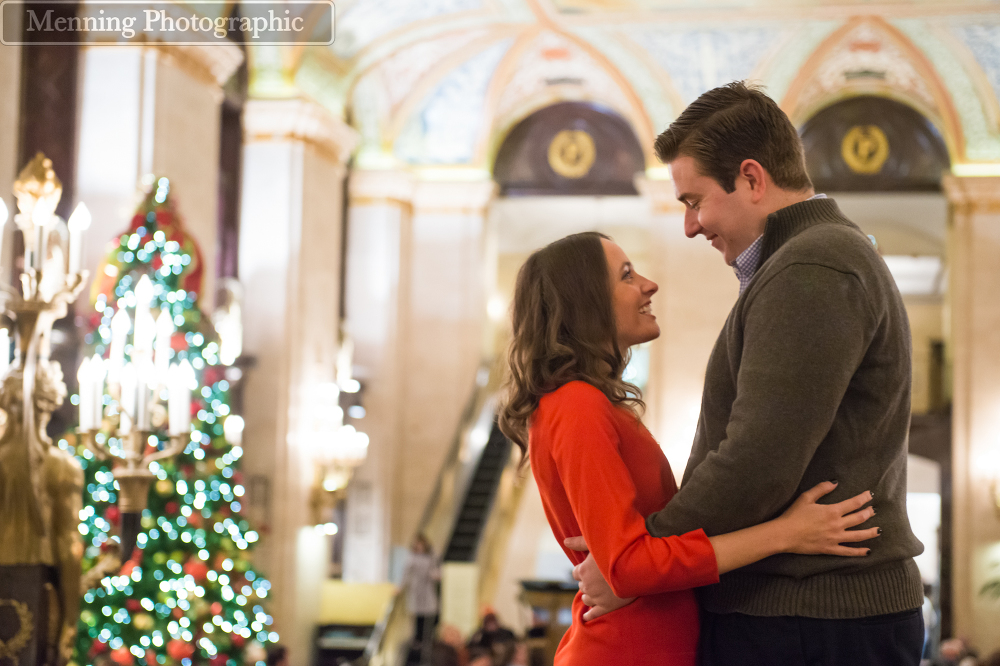 These are two of the kindest people you'll ever meet. Jillian has a constant smile on her face, and her eyes completely light up when she talks about marrying Matt. Matt is really great to talk to, and it's easy to see that he adores Jillian. We took these photos at The Palmer House, a grand hotel in downtown Chicago.

We then ventured out into the absolutely frigid temps to get some photos in Millennium Park. Â I'm not exaggerating. The temperature was 4 degrees with the wind chill. Don't Jillian & Matt look comfy, cozy, and warm? They're faking. 😉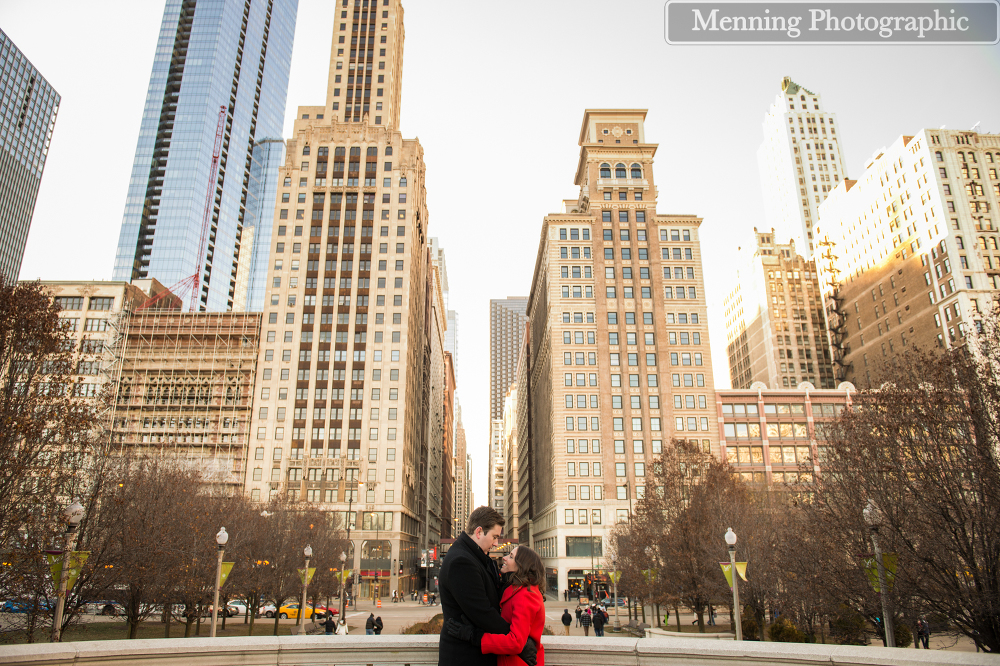 We cannot wait for their wedding in Youngstown, Ohio next year. But since they live in Chicago, they were super excited to be getting some engagement photos there. It all worked out perfectly.

Of course, we had to stop by the iconic Bean! If you look closely to the top left of Jillian & Matt, you can see a bride and groom. 🙂 Just look for the white dress and black tux.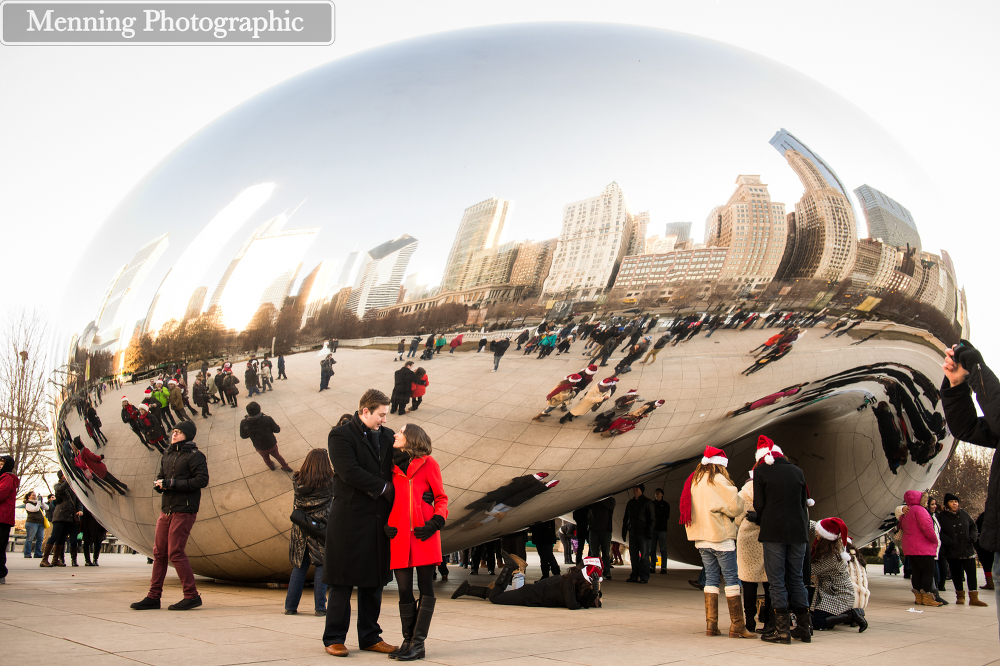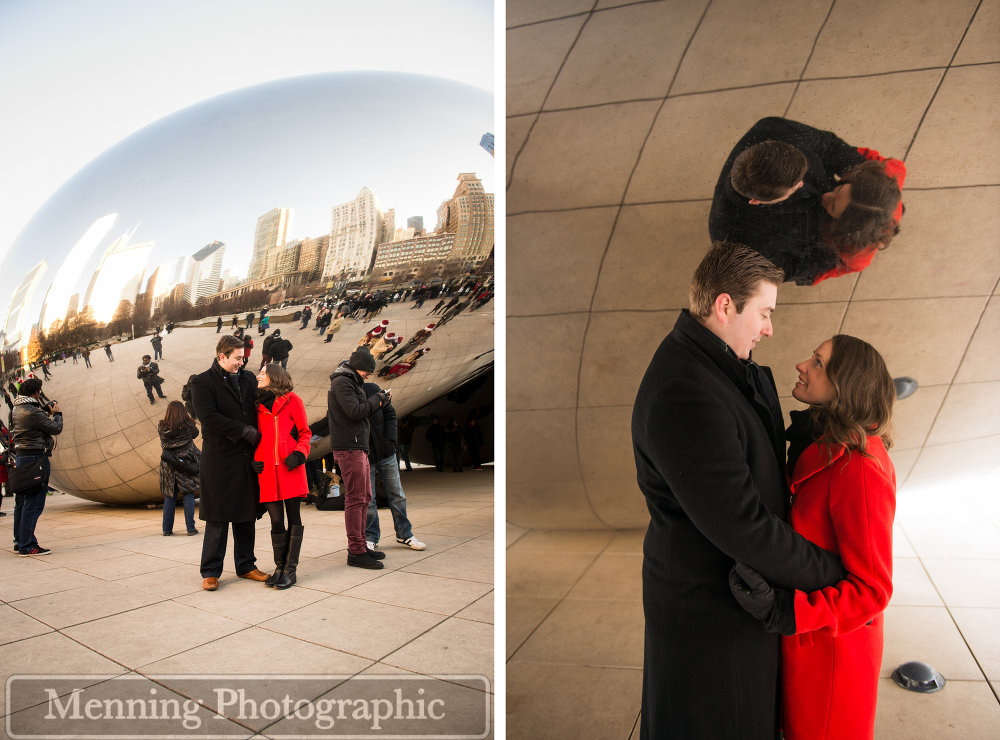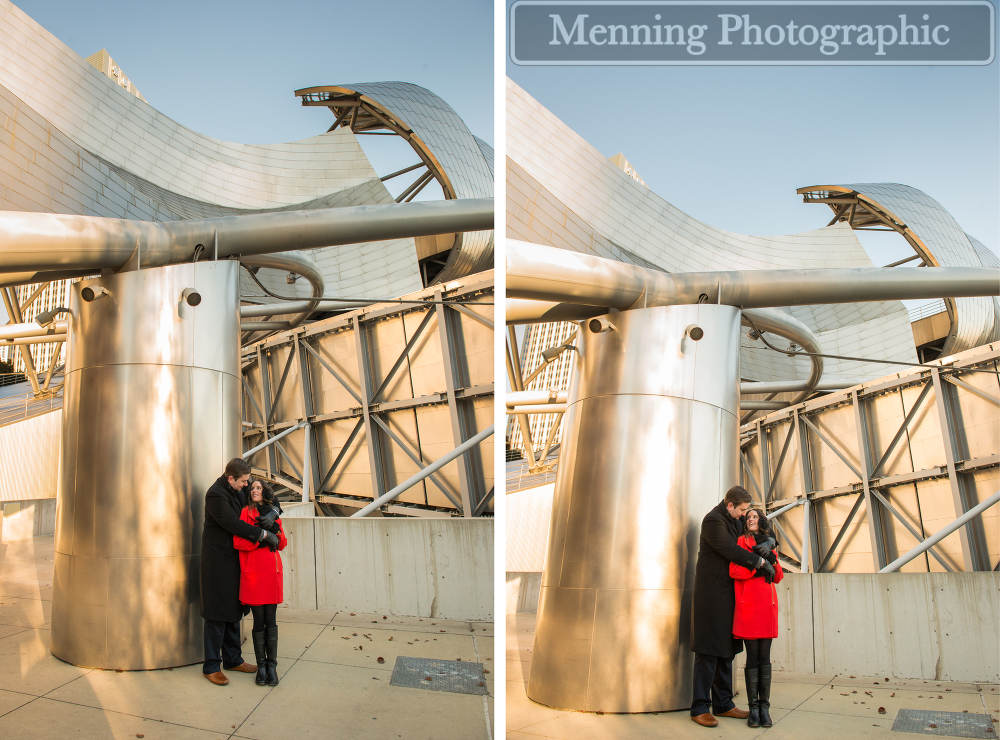 The story of how these two met & got engaged is heartwarming. One of Jillian's friends who is a mutual friend of Matt's kept telling Jillian she should meet Matt. Jillian kept refusing & thought a blind date didn't sound like the best idea. One night Jillian & Matt happened to meet each other with other friends around & hit it off RIGHT away. Her friend totally has the right to say "I told you so." 🙂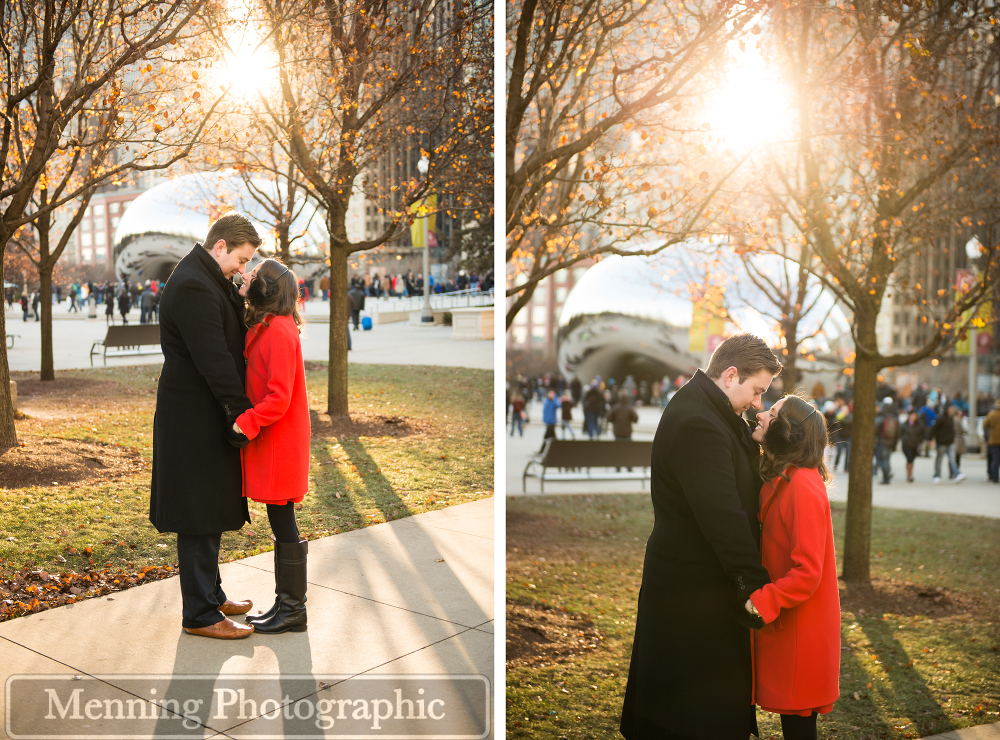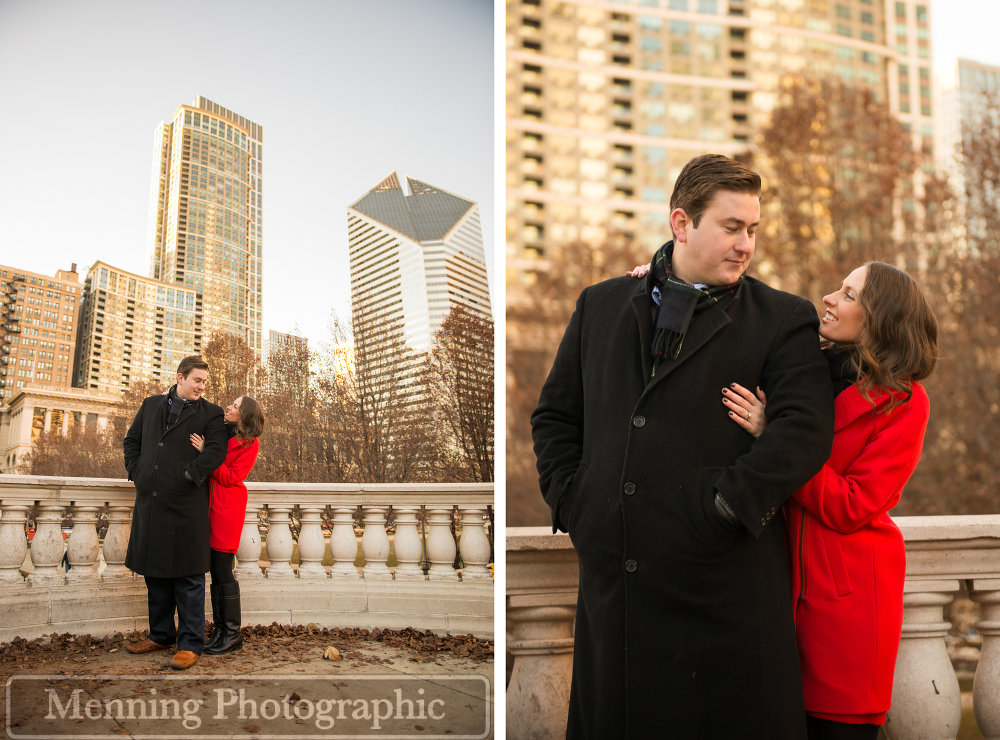 So you want to hear about their proposal? Of course, you do! It's their engagement session blog, after all. Jillian is a school teacher. Matt wanted to surprise her by proposing at her school. He had a little surprise planned out & then the plan went slightly awry so he ended up asking Jillian to marry him in front of her entire elementary school class and a bunch of teachers! The kids were so excited! How cute.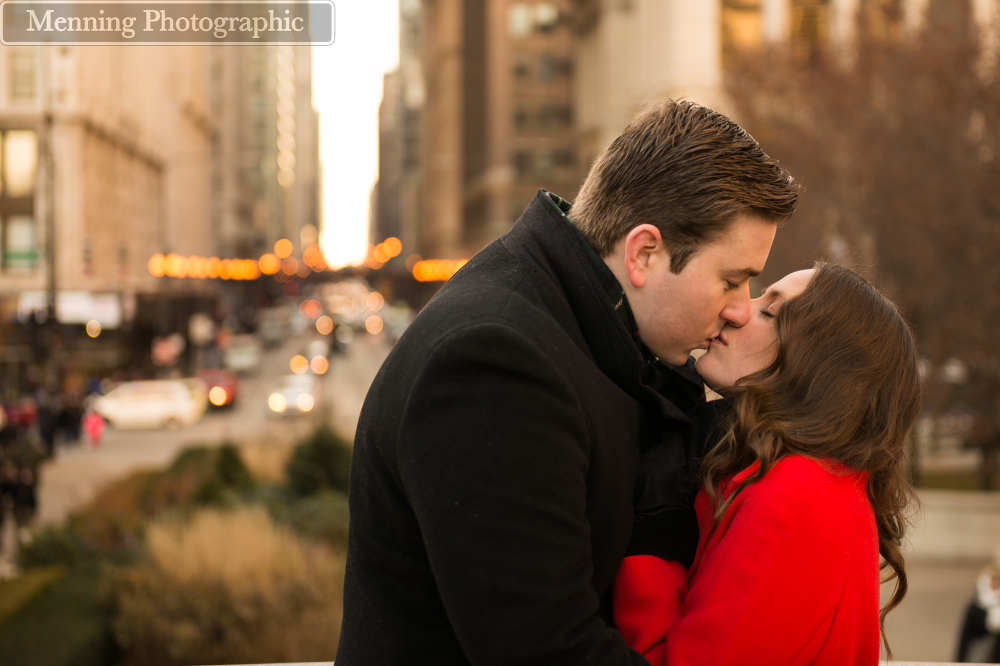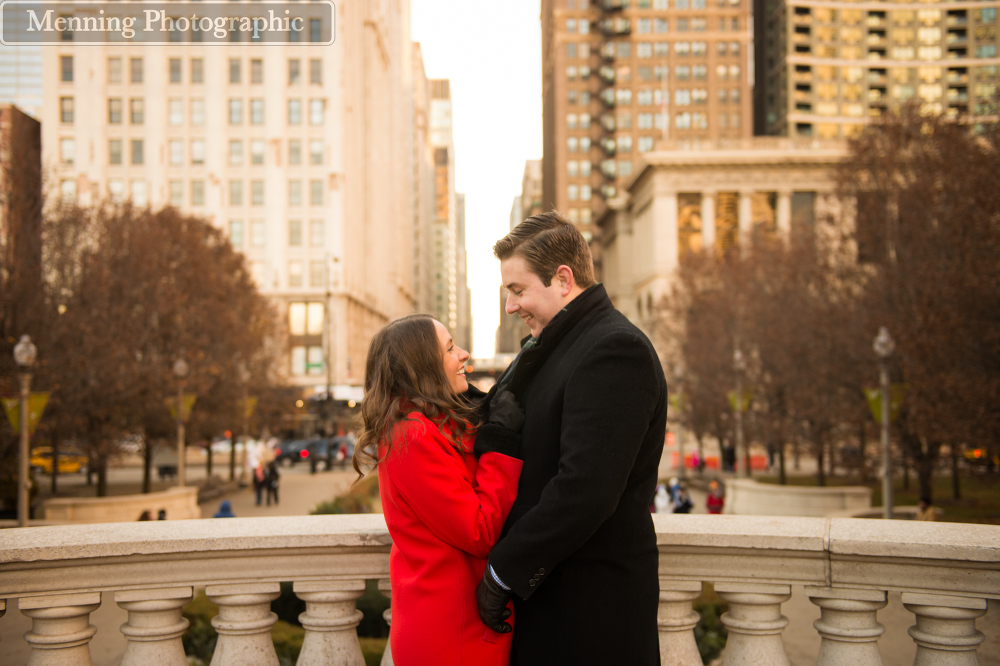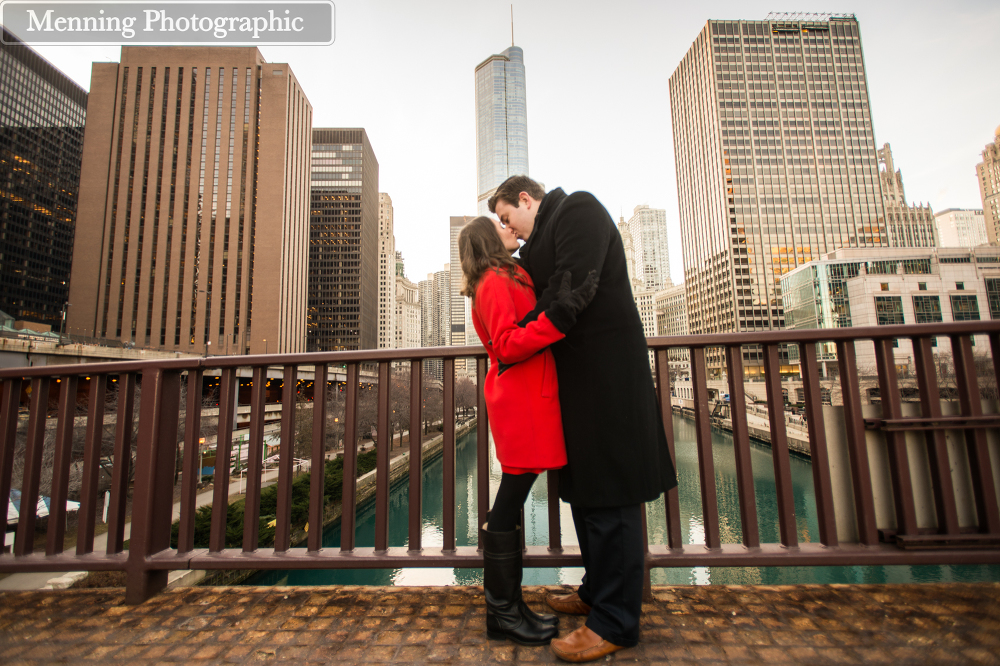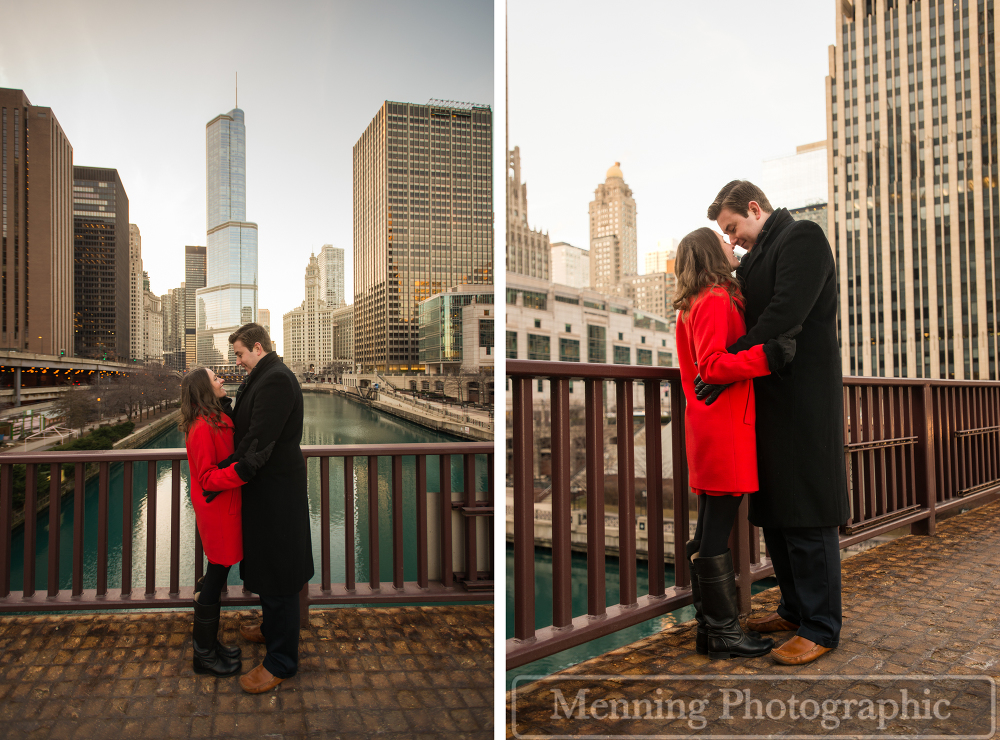 The sunset seemed to be painted just for their engagement session. We were on Navy Pier for these shots & the skyline looks beautiful with that golden glow surrounding the buildings. Jillian & Matt look lovely, too, of course! 🙂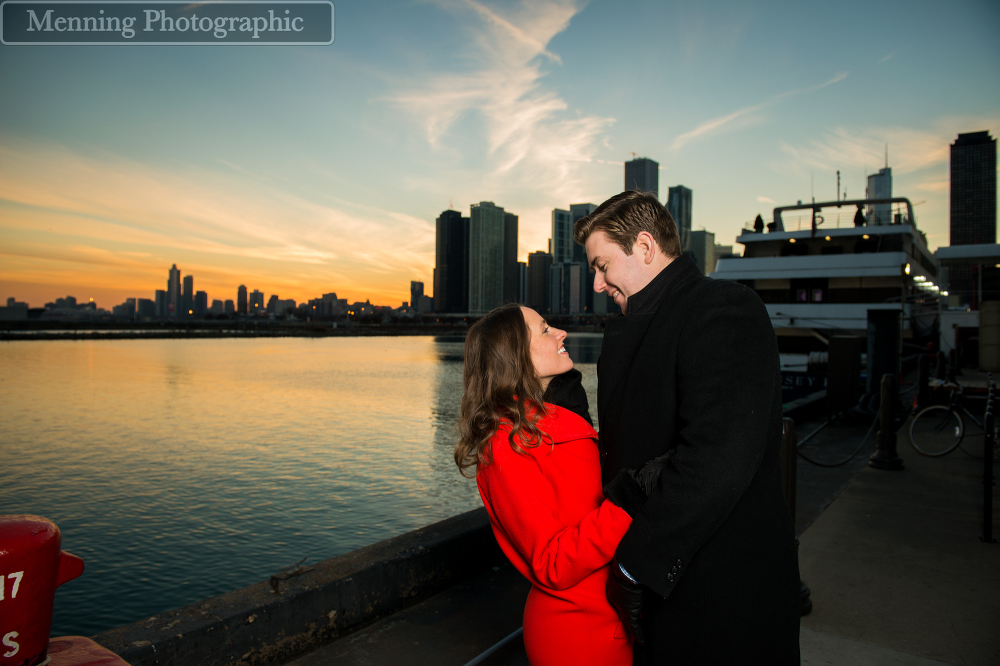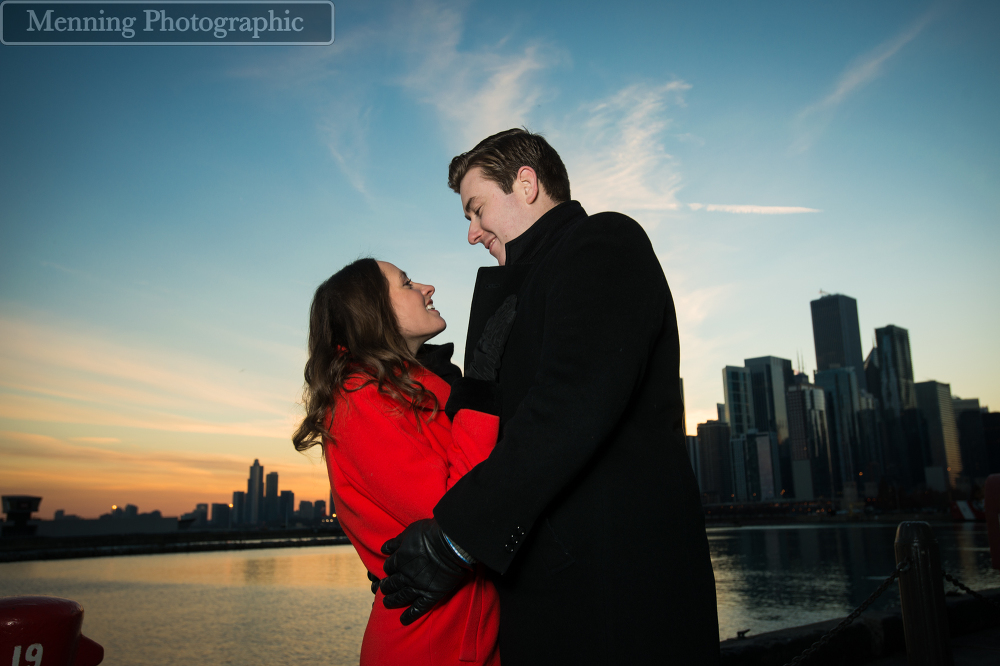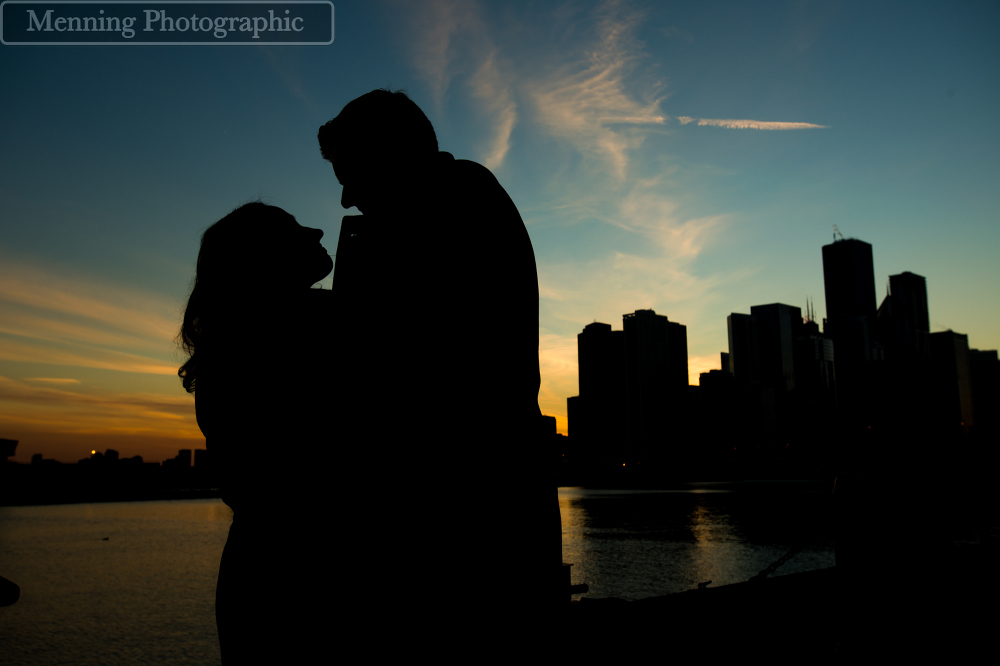 We ventured into Navy Pier & it was all decked out as a Winter Wonderland. I'm pretty sure Matt & Josh wanted to play around and ride all of the rides. It was all quite mesmerizing and there were probably 10,000 kids in there having the time of their lives. Isn't that Christmas tree epic?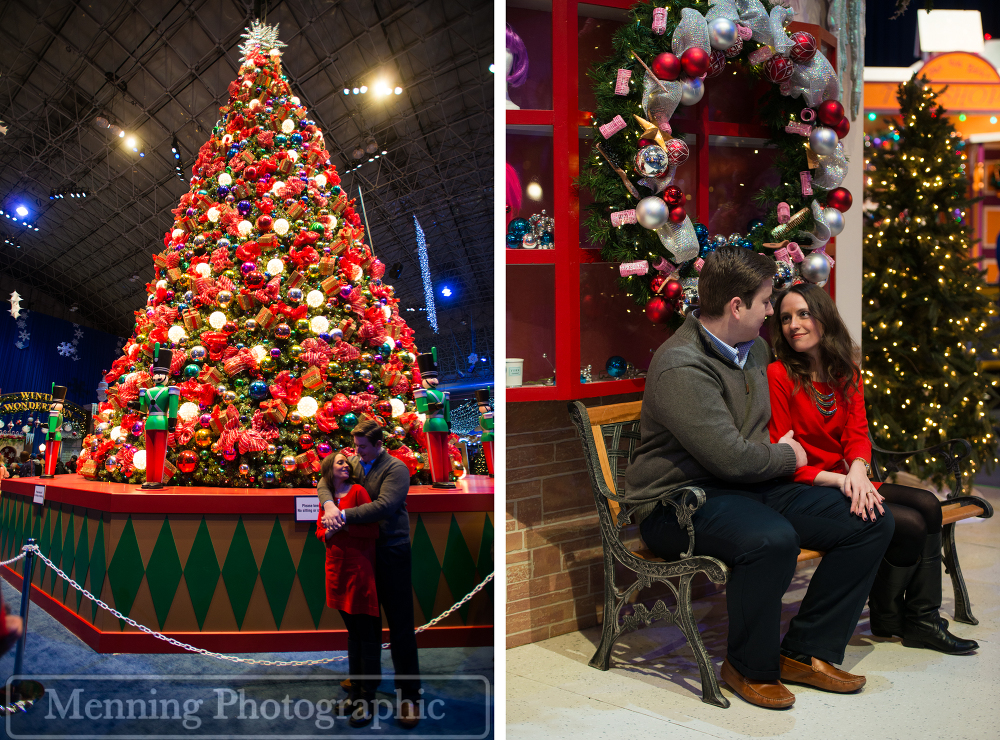 Then this happened at the very end of the freezing cold session. A gorgeous nighttime Chicago skyline sure makes a fantastic backdrop for a romantic couple.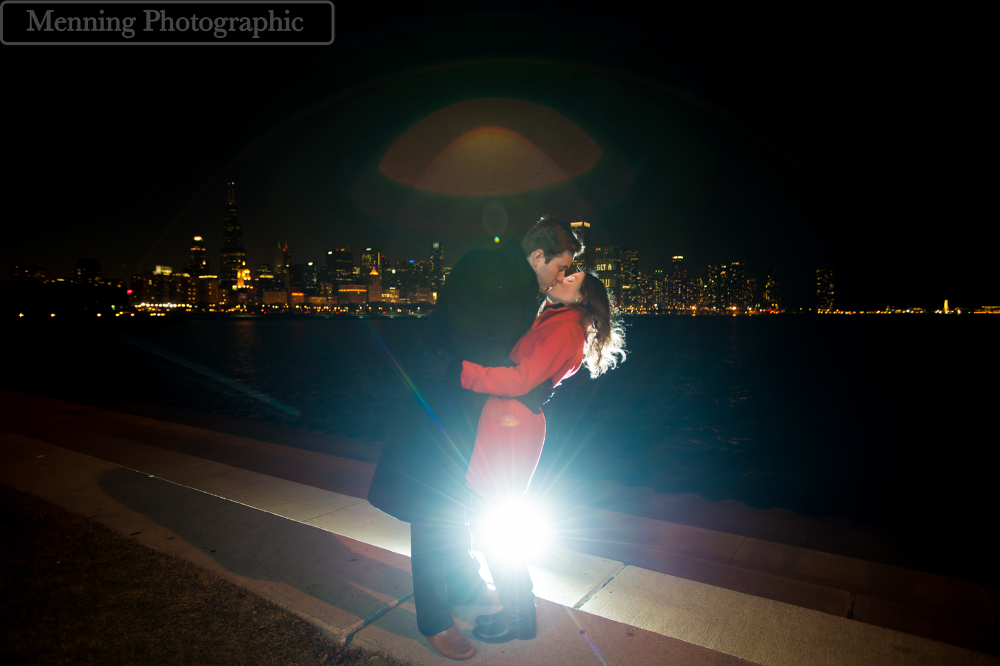 Jillian & Matt, thank you both so much for showing us around Chicago! We were so happy to meet in person; it's much different than Skype. And we're very happy you chose us to photograph your wedding at the Youngstown Country Club next year! It'll be here sooner than you think. And if you're in town before then, let us know & we can grab dinner or coffee.
Blog Readers, as you can see, we travel. Hit Josh & Danielle up for your engagement & wedding photography needs. . . no matter where you're located! 330.651.4849 or info@menningphotographic.com
See more of our recent work & personal musings here:
Twitter | Pinterest | Google + | Facebook