Have you ever been to a wedding that made you smile through crying tears of joy throughout the ceremony because you're certain you see two of the happiest people ever to be getting married and then feel like you're enjoying one of the greatest parties of a lifetime at the reception? We're certain the guests at Jenn & Chris' wedding day felt just those emotions & more on November 16, 2013. Jenn & Chris are two of the loveliest people you'll meet, which is why photographing their wedding day was a fantastic experience.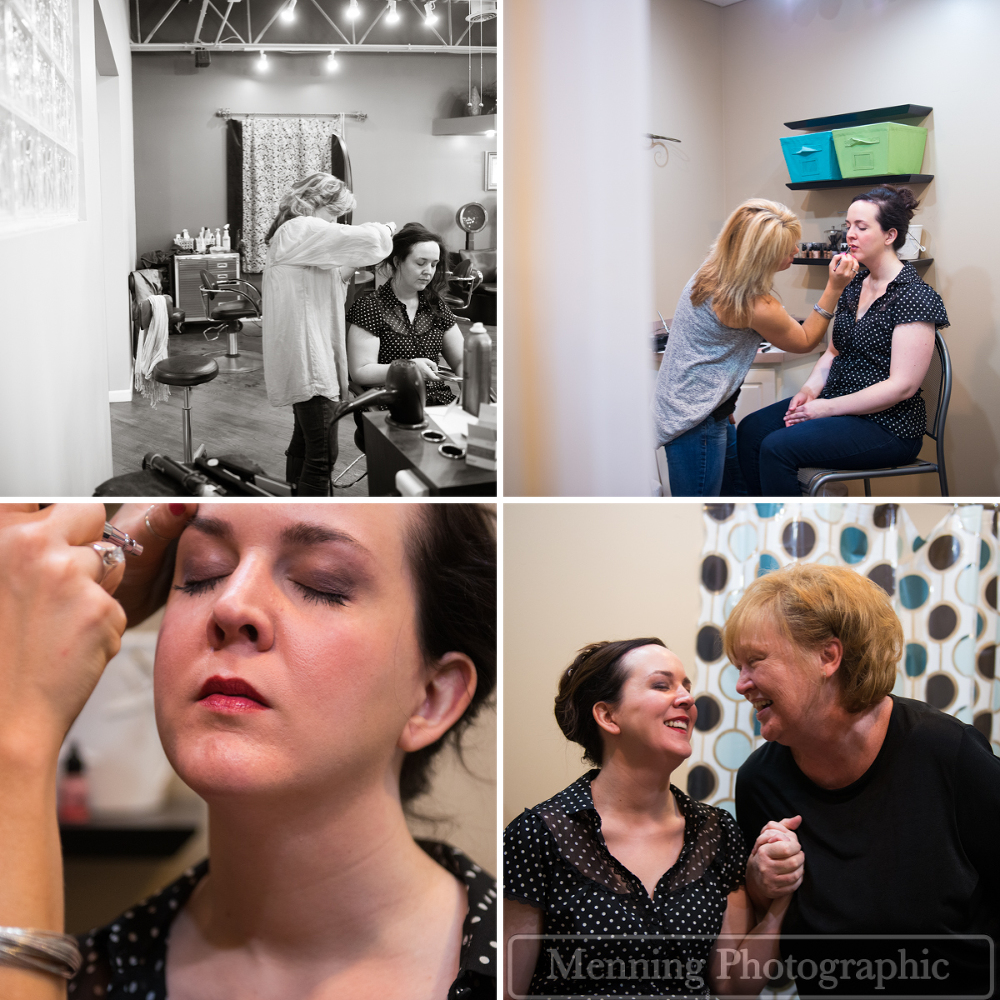 I started off the day (which was my 30th birthday- I'm glad I got to spend it with these fun people!) with the ladies at Salon Shericci in Canfield.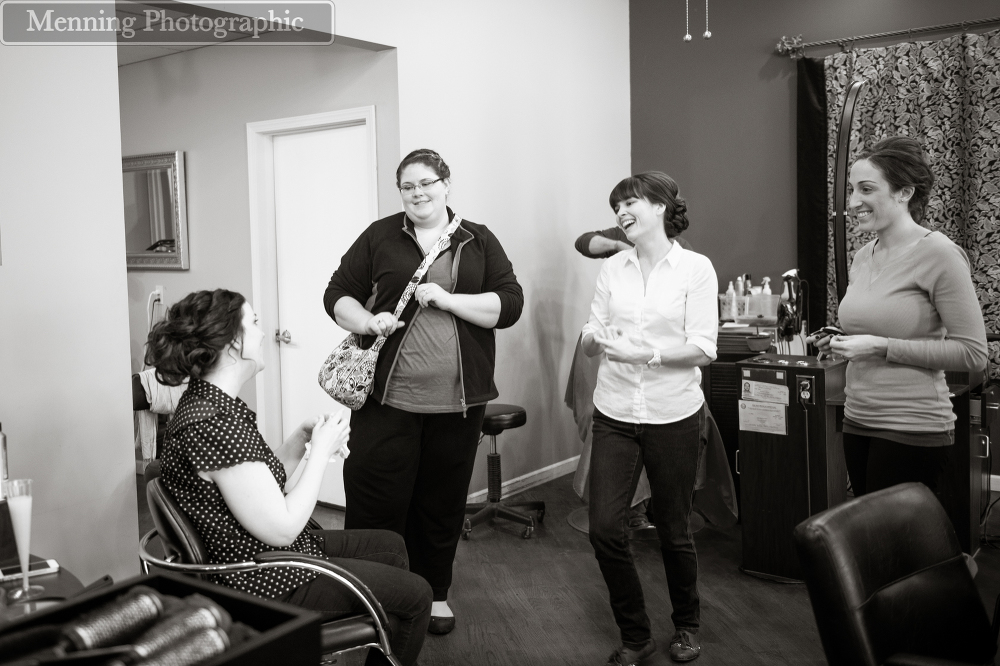 Oh my word, this gown. PERFECT for Jenn!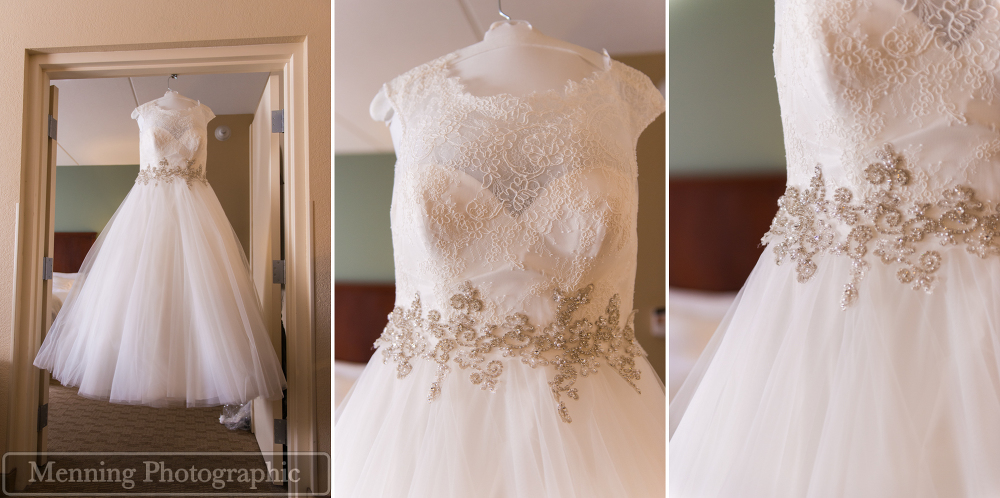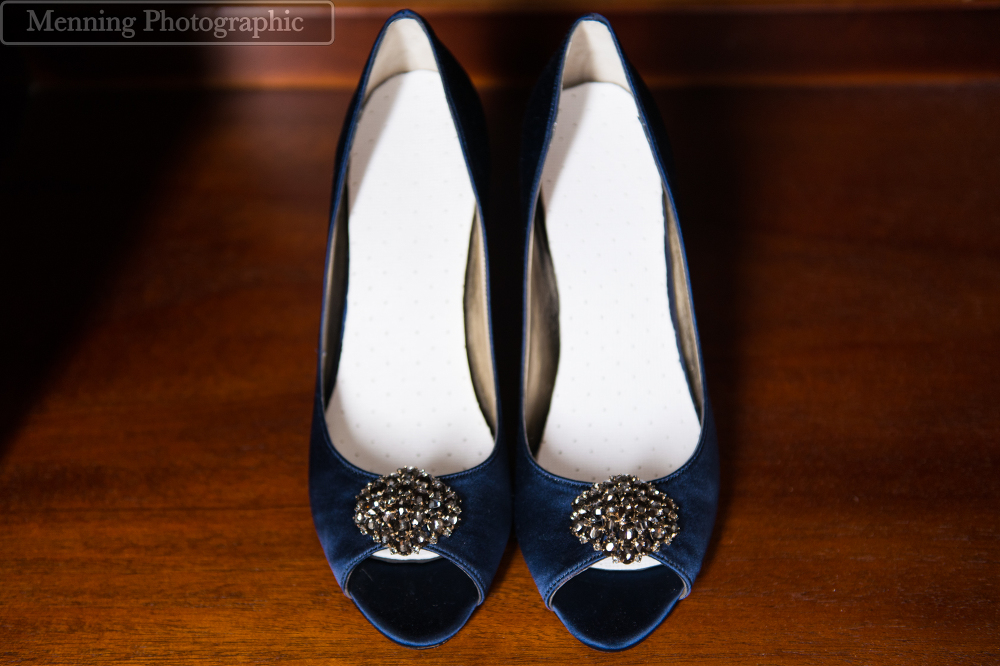 The ladies & the gents were getting prepared for the day at Hampton Inn & Suites. The suite was a great place to photograph the details. Brides: take a tip from Jennifer & have the details that you'd like photographed out & ready for your photographer. When we arrived to the suite, Jenn had her gown, shoes, clutch, perfume, wedding day jewelry, and something borrowed all laid out separately so that I could stylize them for photographs. Awesome…seriously. If these items weren't set aside, I would have had to interrupt her from her conversations with her bridesmaids and ask for them. Josh & I aim to be as unobtrusive during the wedding day as possible so it was nice that I could go about my photog biz & let the ladies chat. 🙂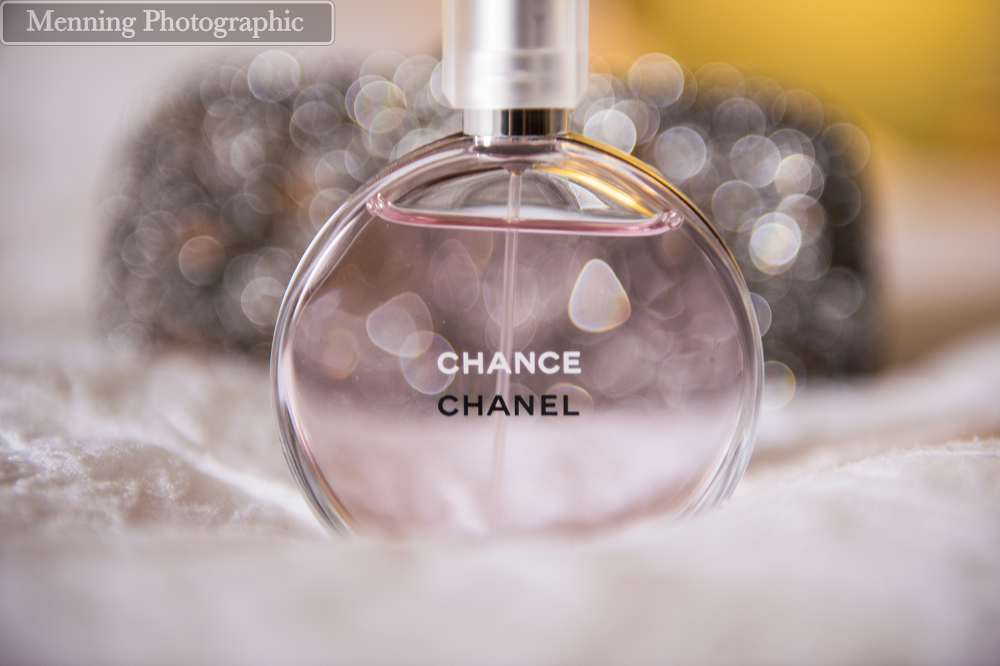 Meanwhile, on a different floor… Josh was with Chris & the guys.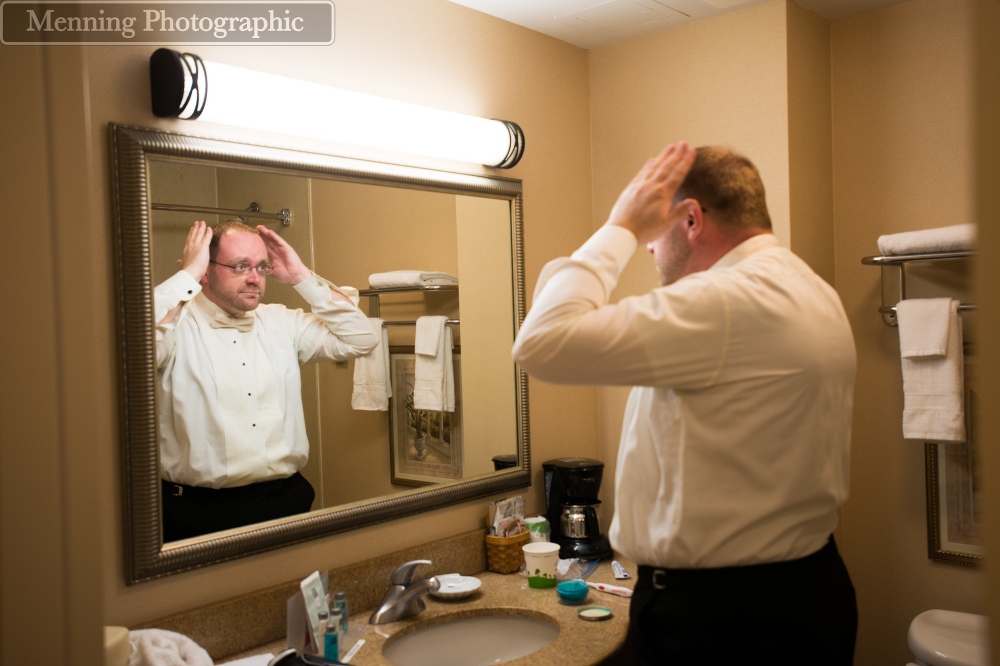 The bride & groom wrote each other messages to be read on the morning of the wedding.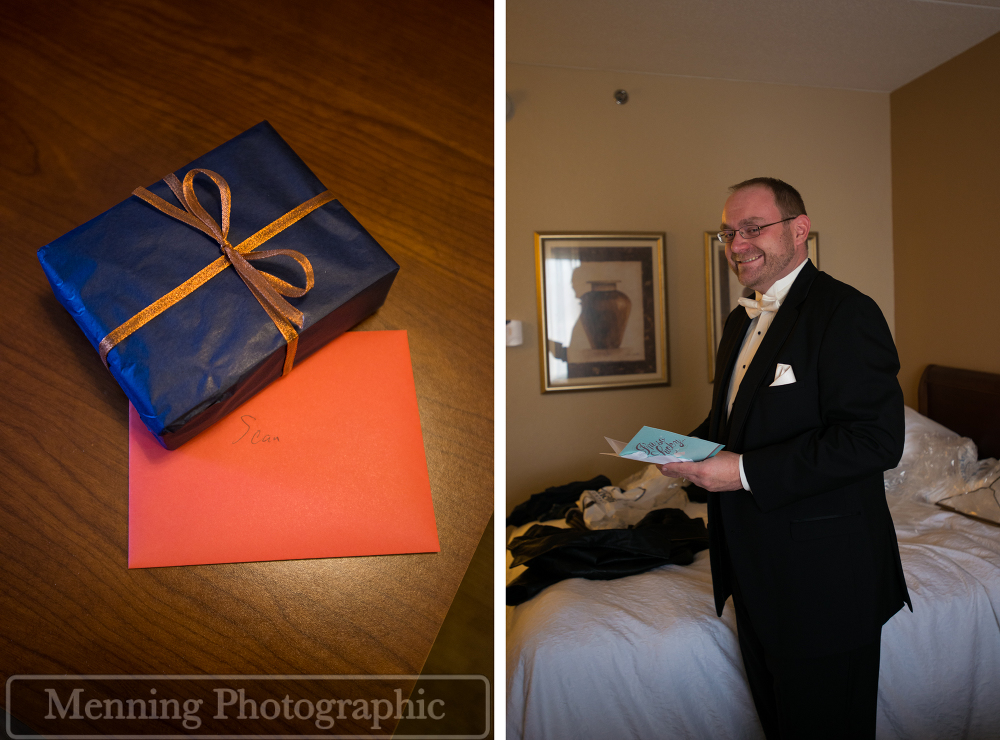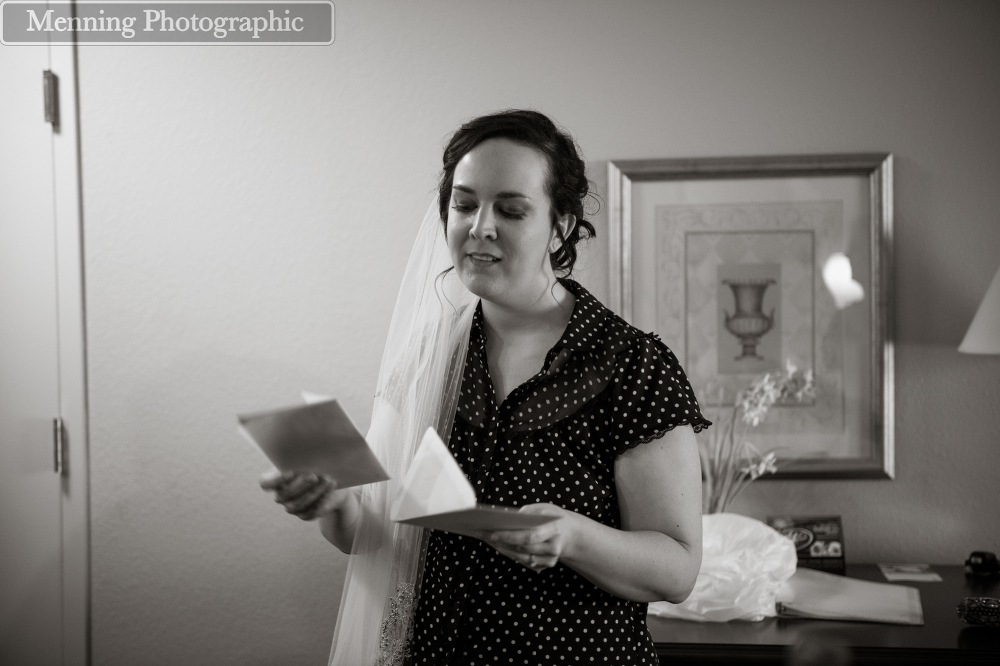 Stunning, Jenn! Gah…this dress is so romantic. And Sweet Arrangements did a great job with the bouquets.


I'm loving the contrast of the light peach with the dark navy dresses.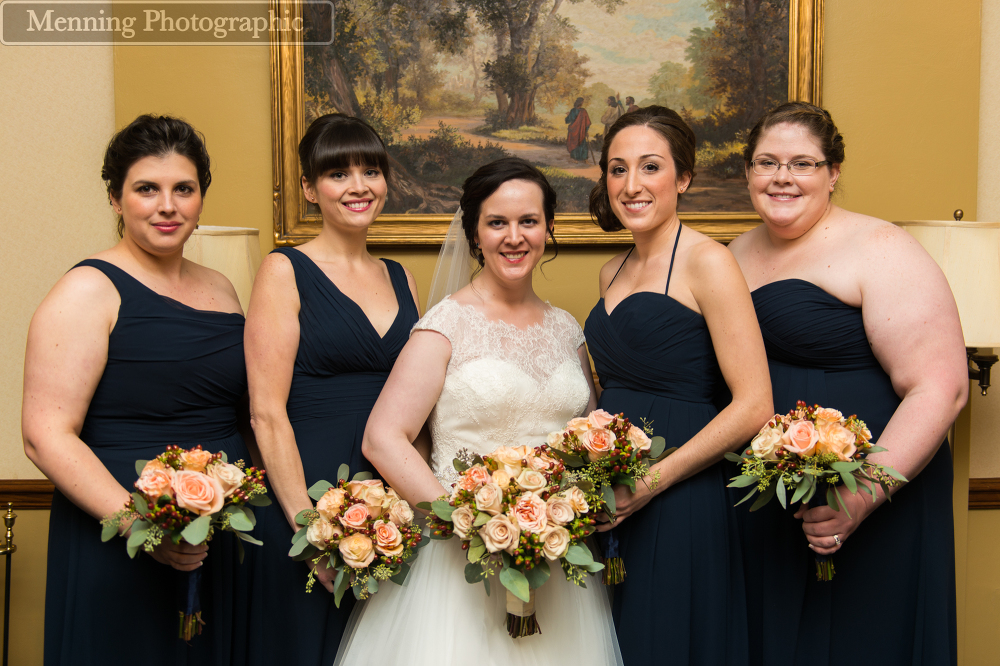 Jennifer's bridesmaids were all really fun. I talked to each of them individually & they were all really sweet.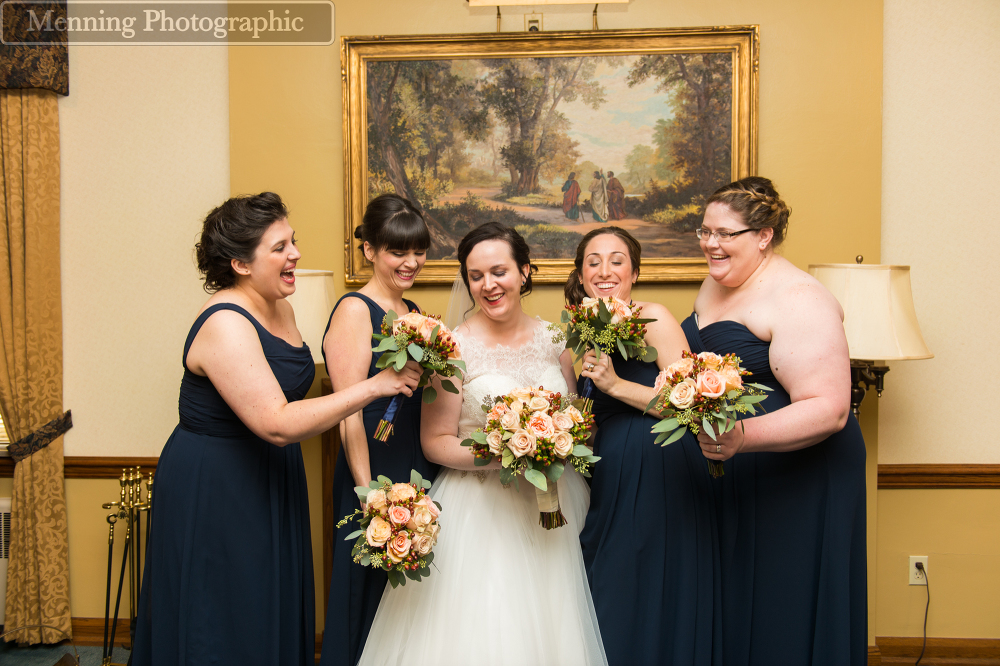 Josh snapped a few formals of Chris outside of First Covenant Church before the wedding.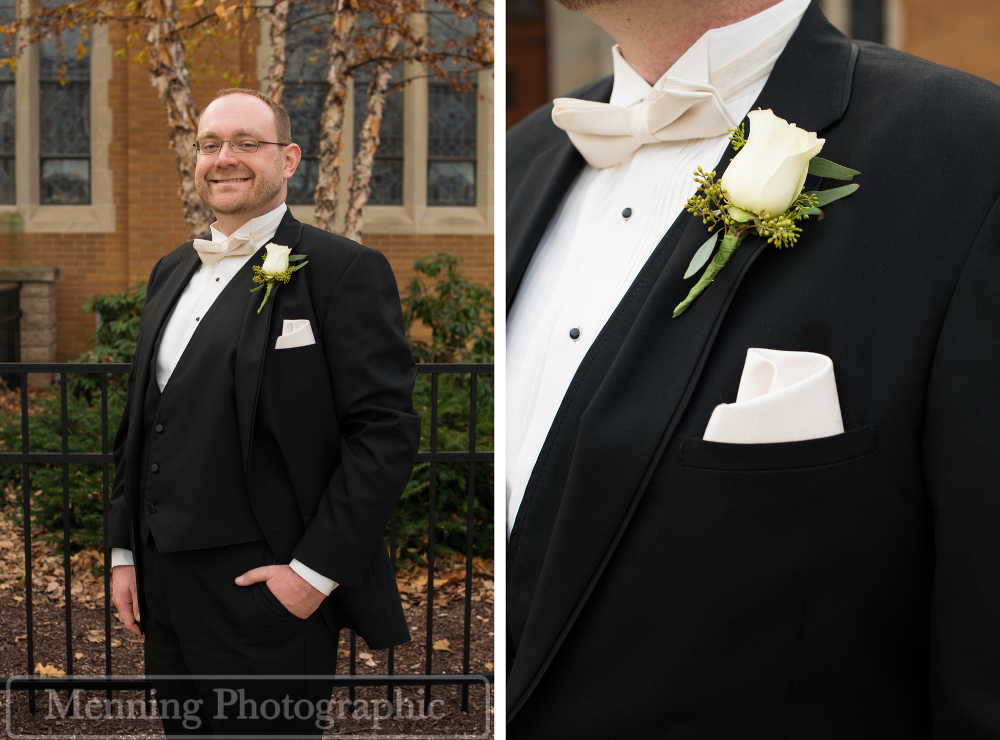 ♥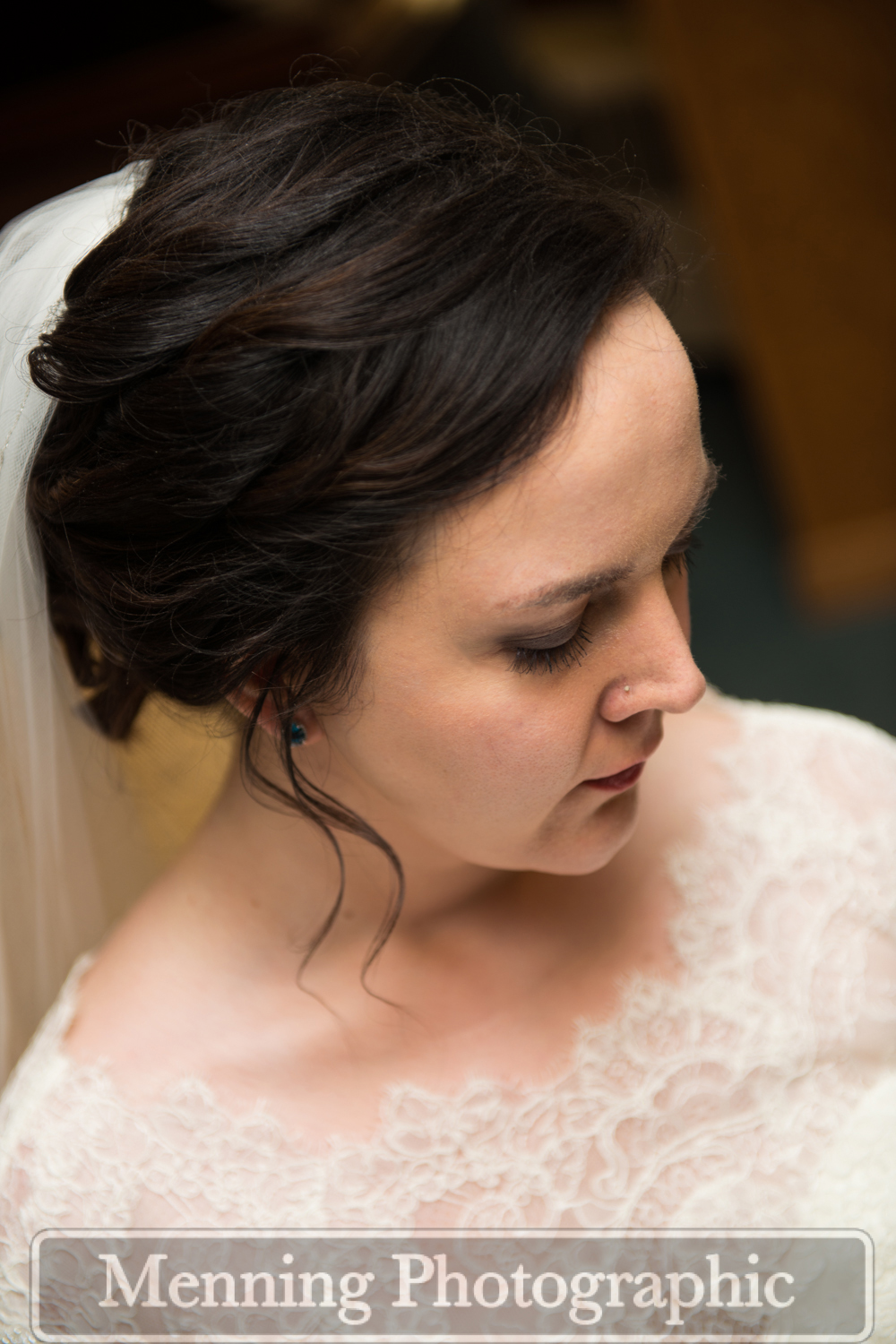 And then Jenn's dad was ready to walk her down the aisle. As ready as he could be to give his only daughter away, I suppose. 🙂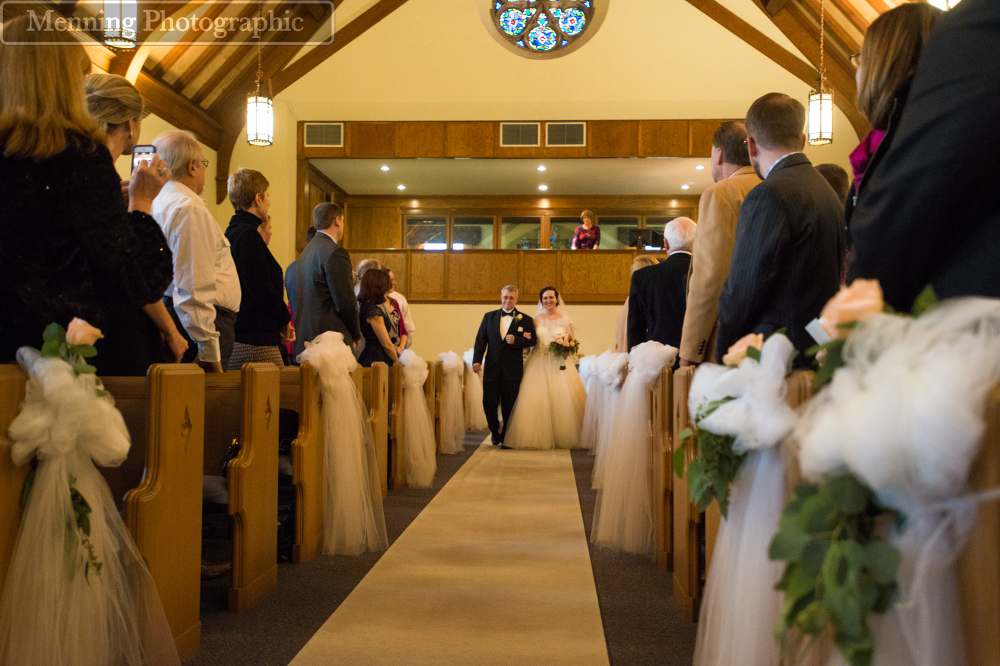 Chris was THEE happiest man on the planet & everyone could tell.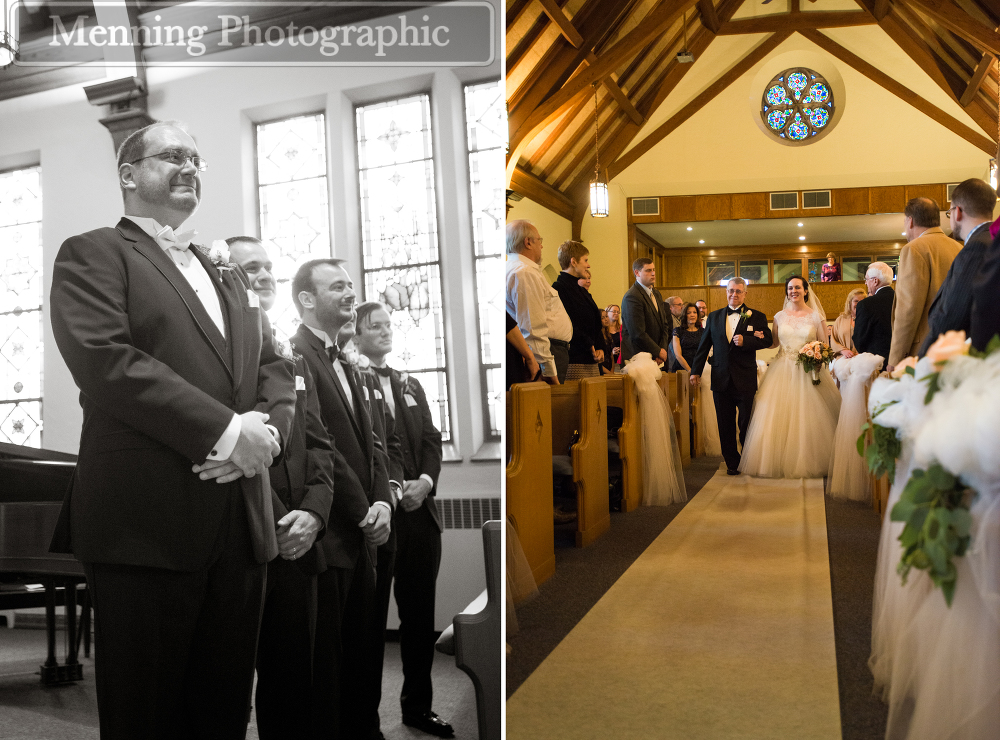 And Jenn's smile gave away her glee, as well.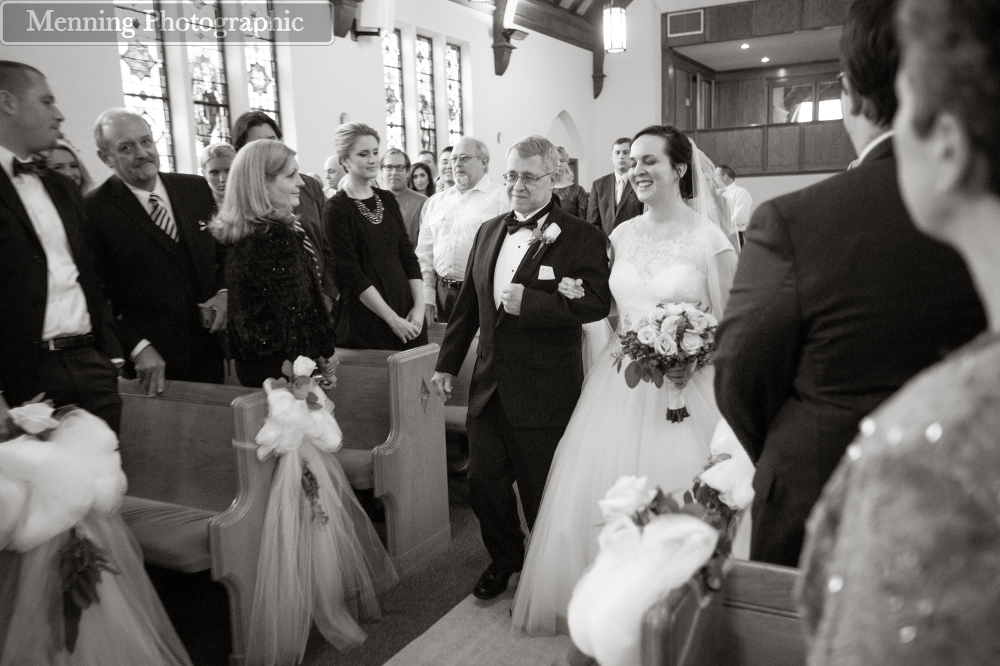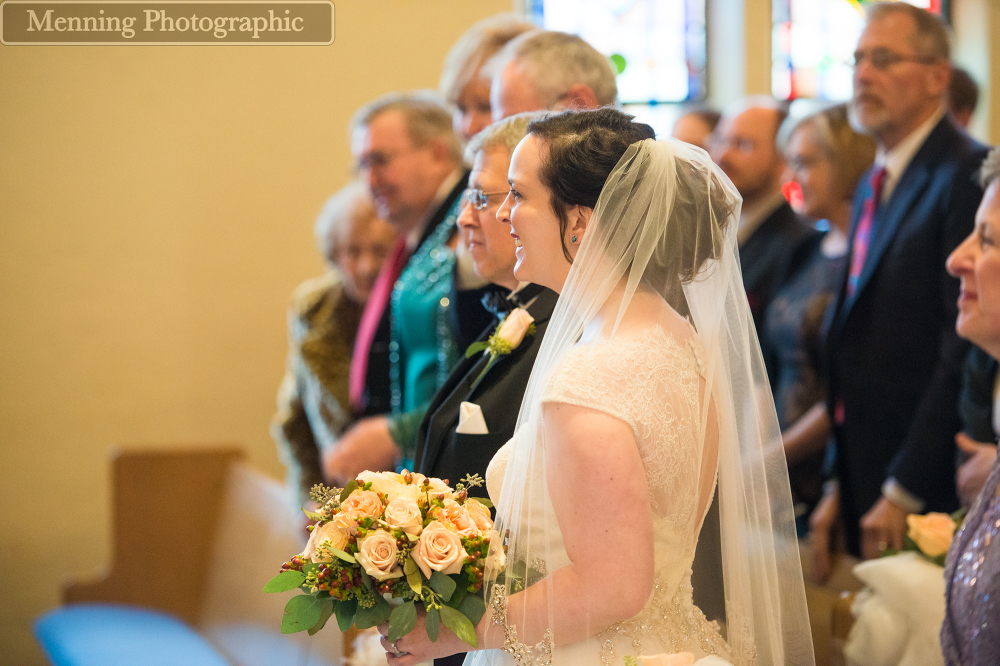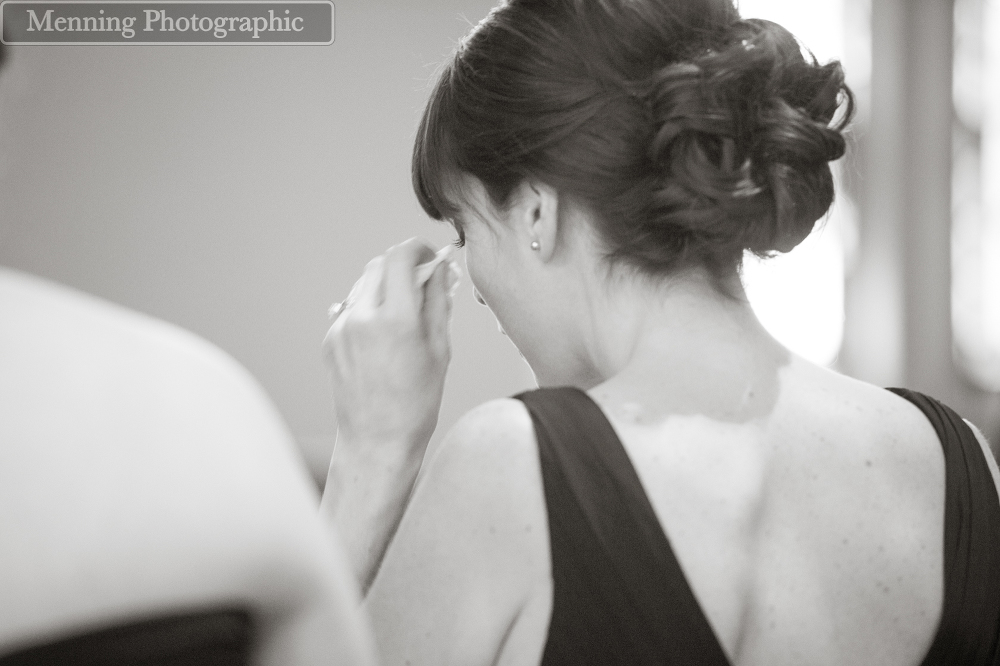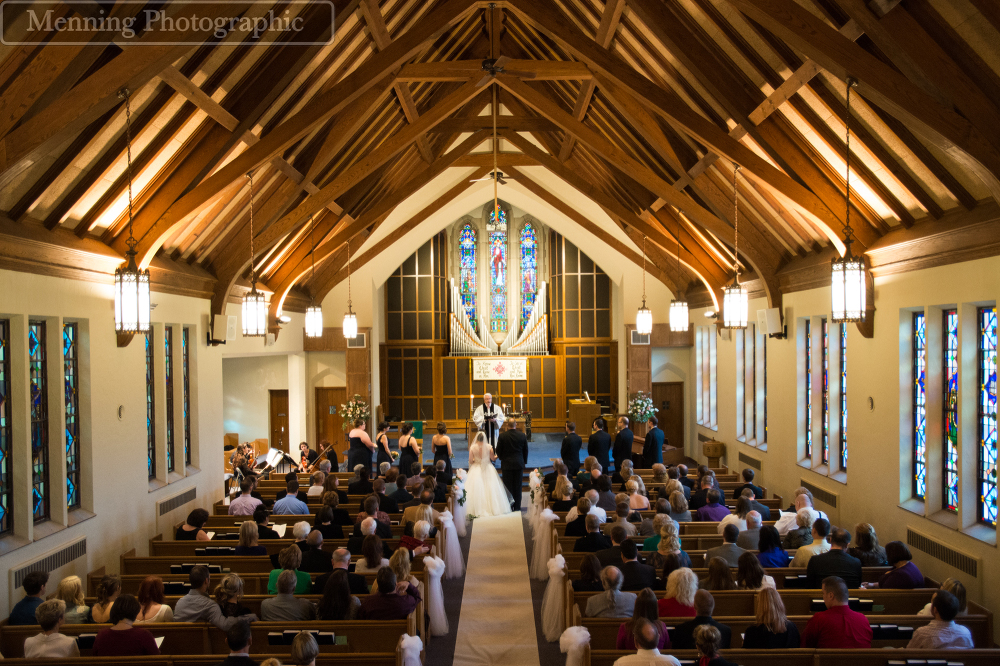 The ceremony was personal & full of joy.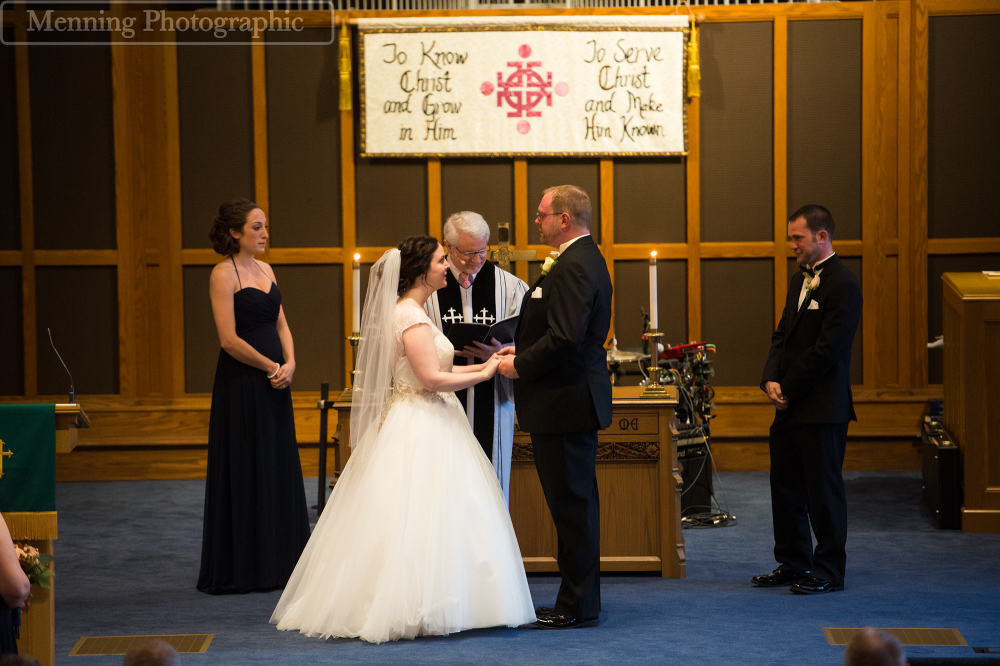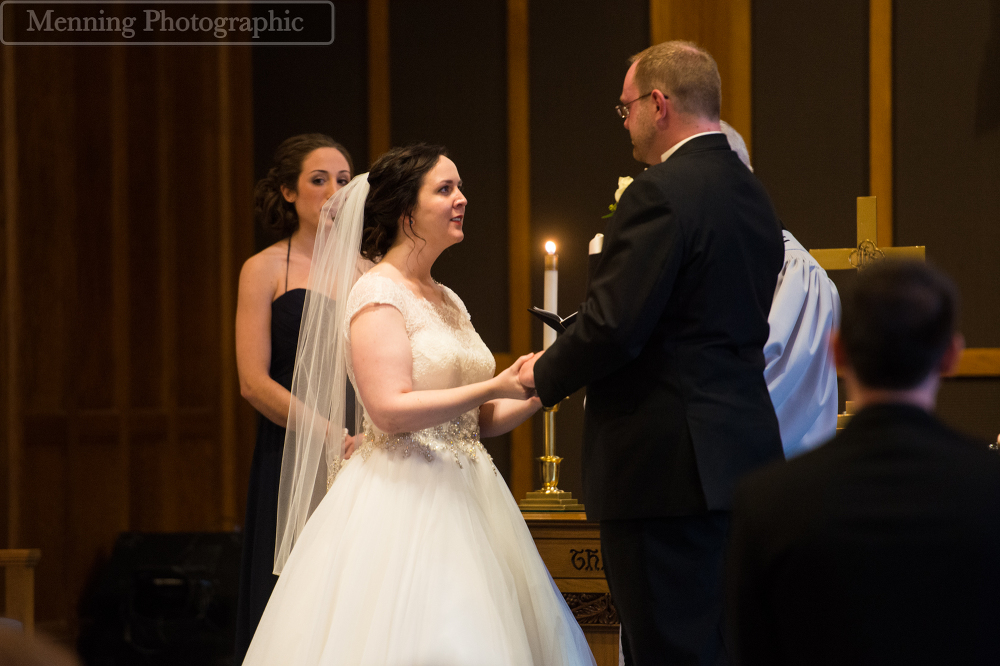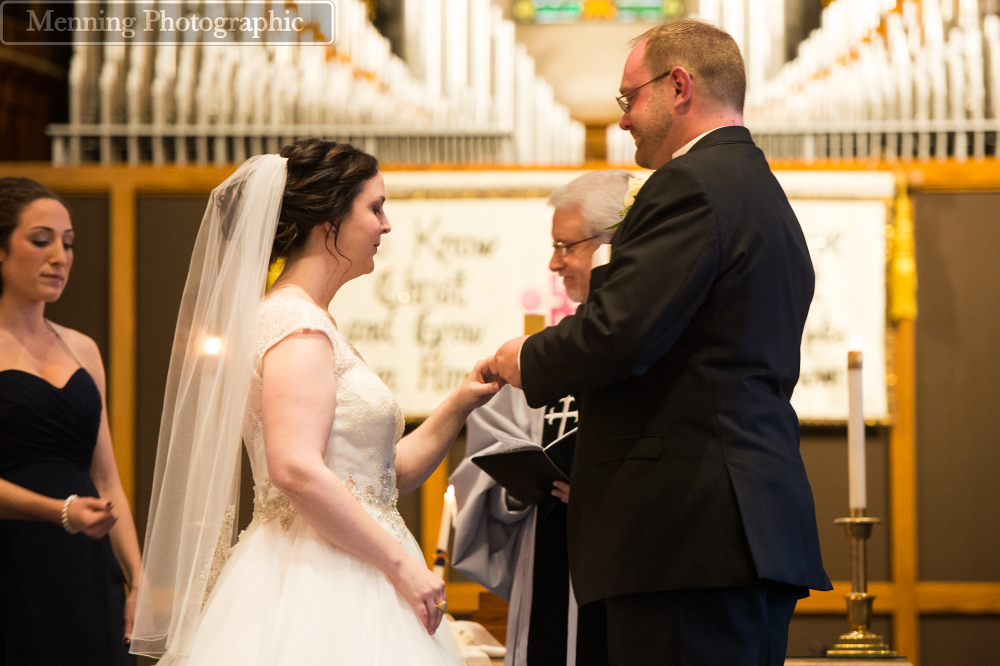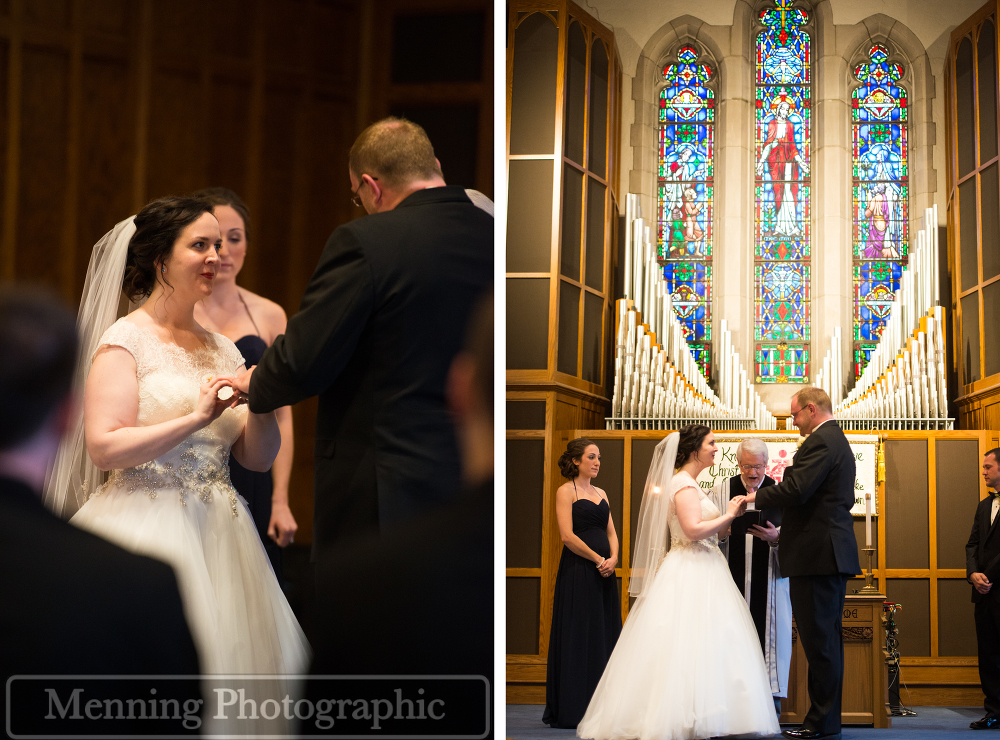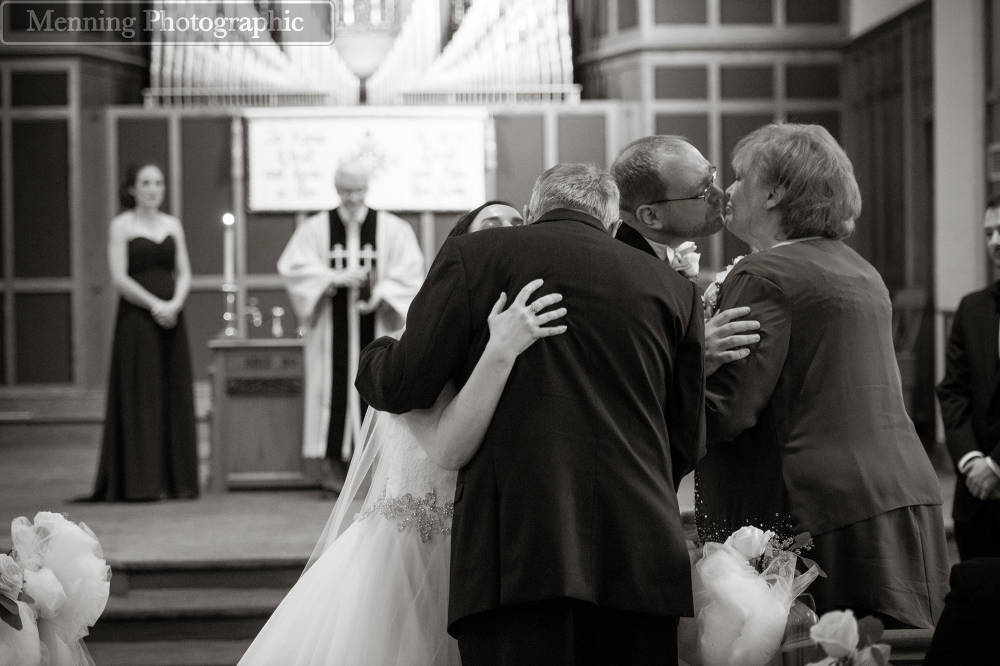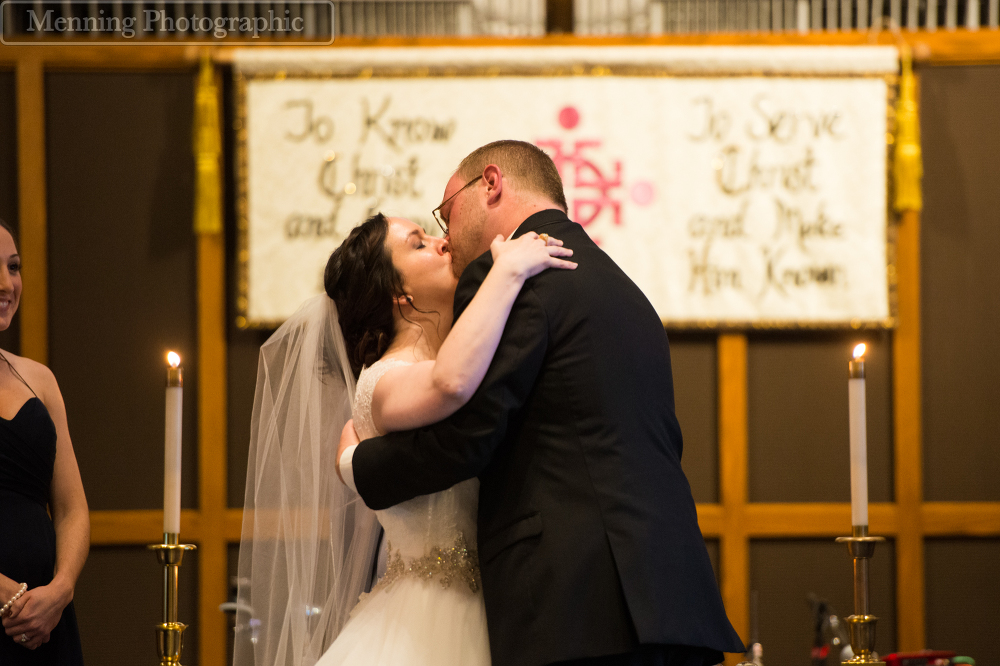 Husband & wife!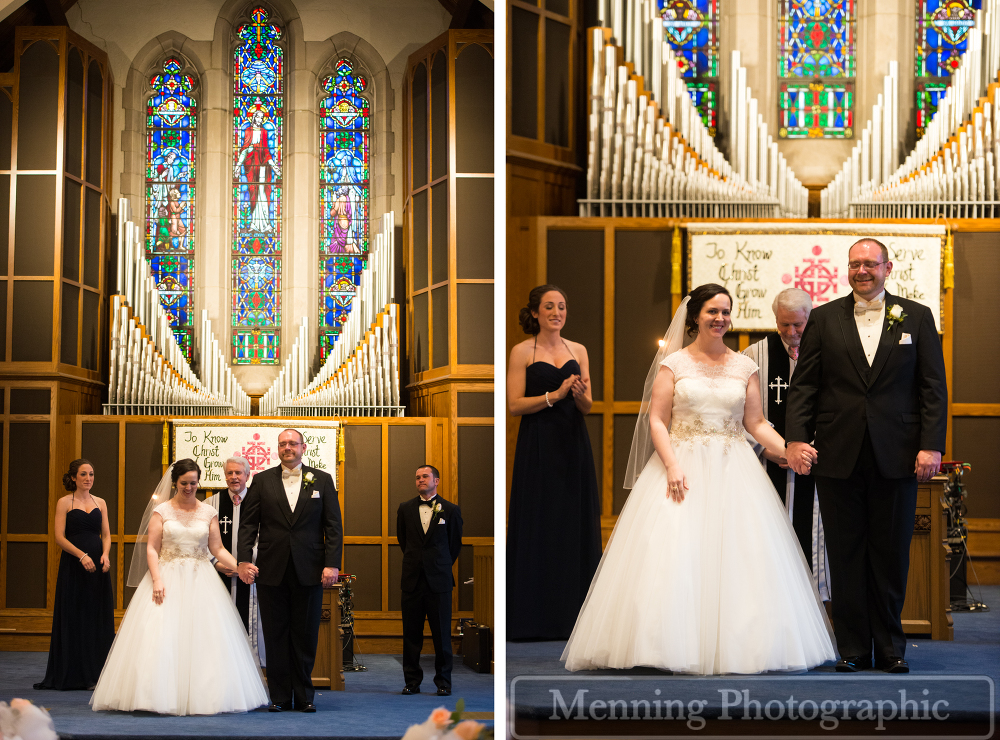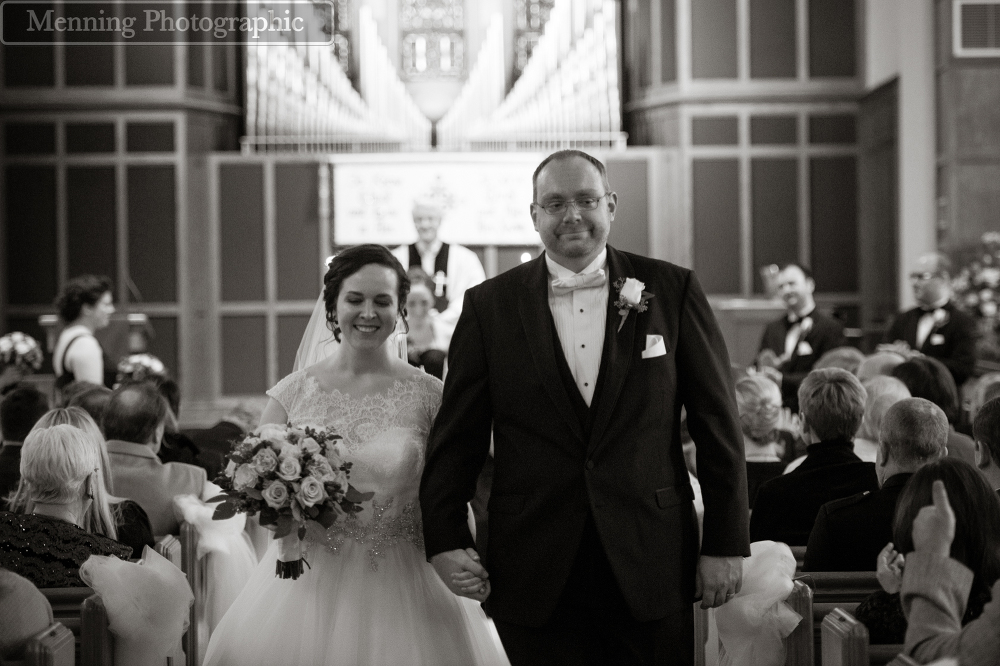 We then headed to Stambaugh Auditorium for some photo ops.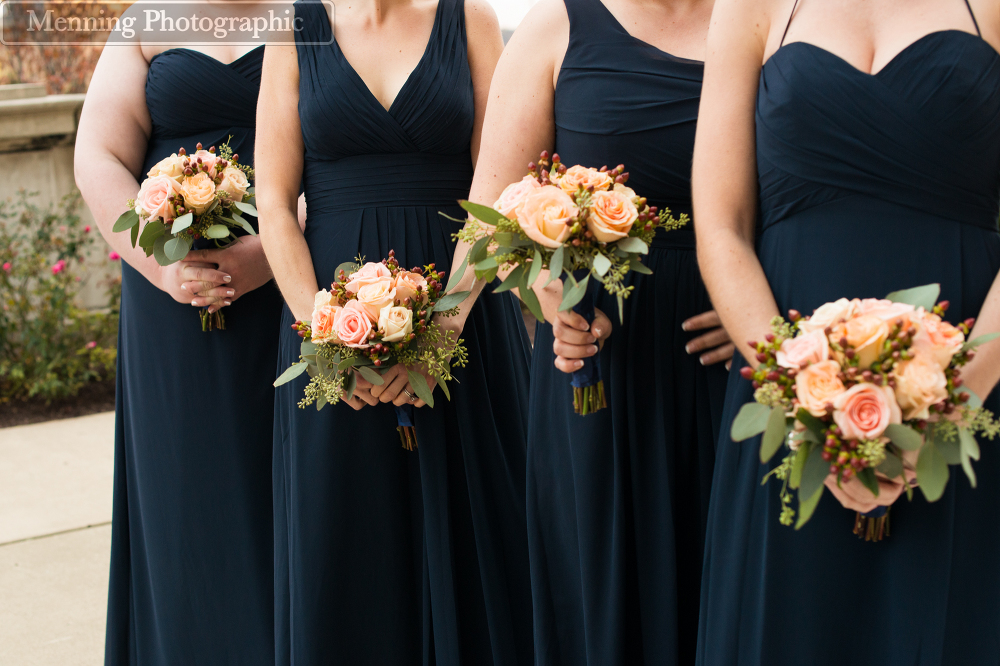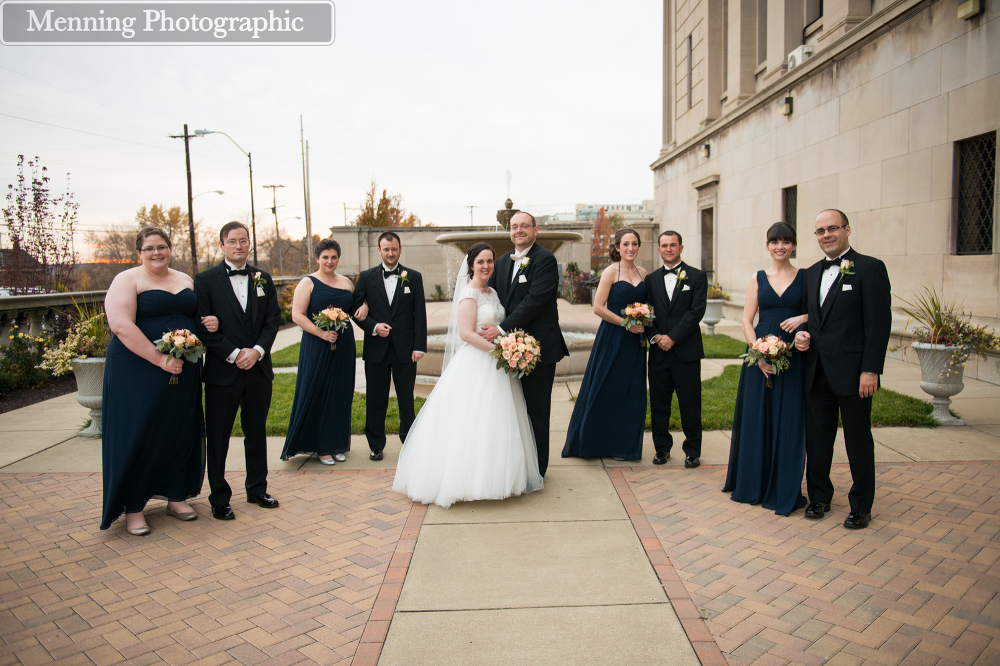 Gorgeous bridal party in the courtyard at Stambaugh: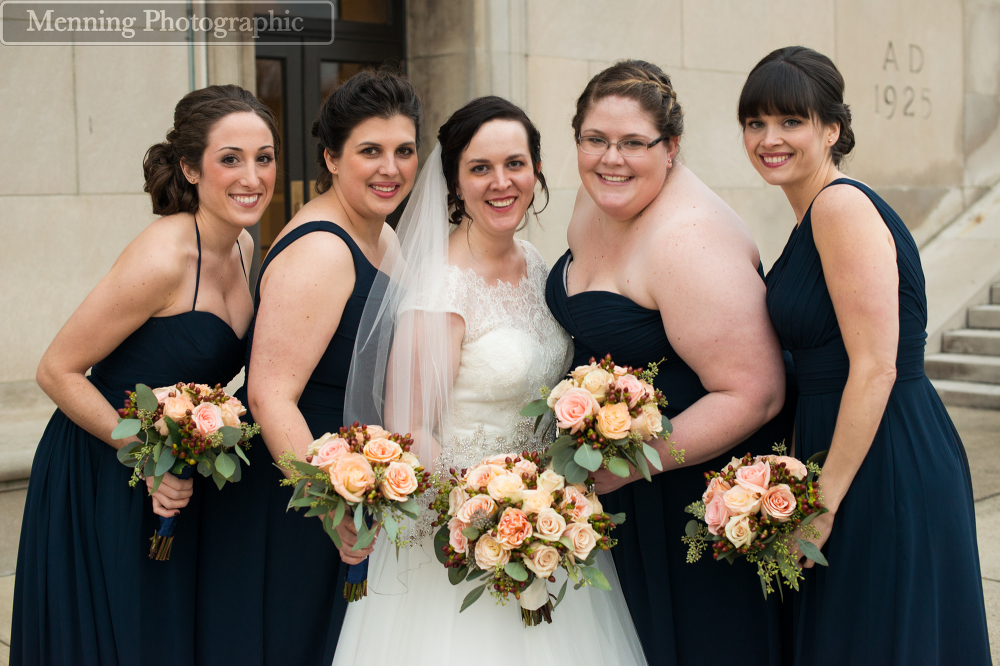 And some goofy guys: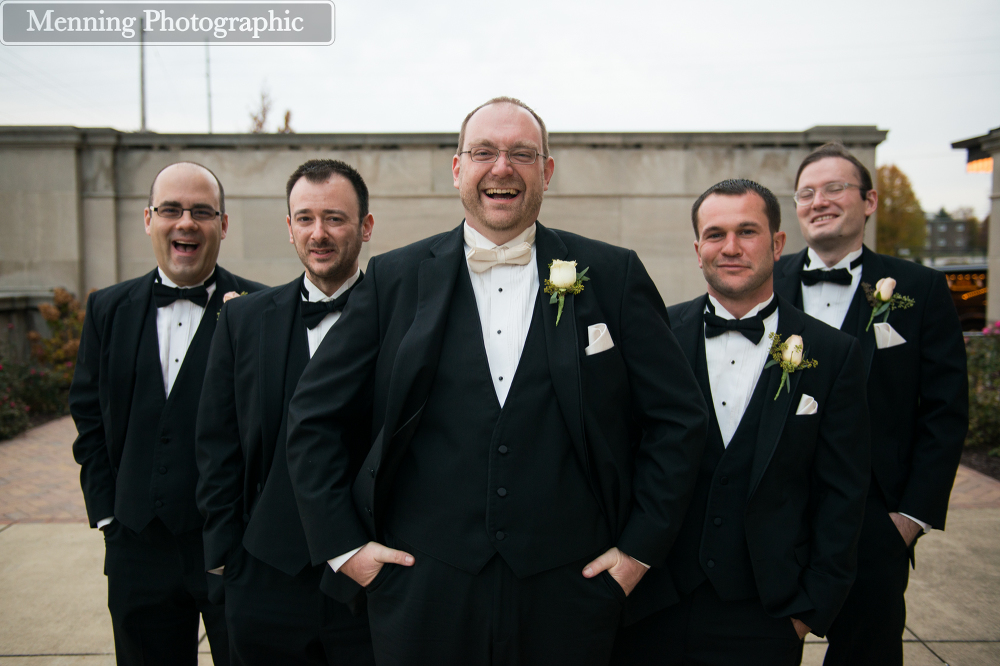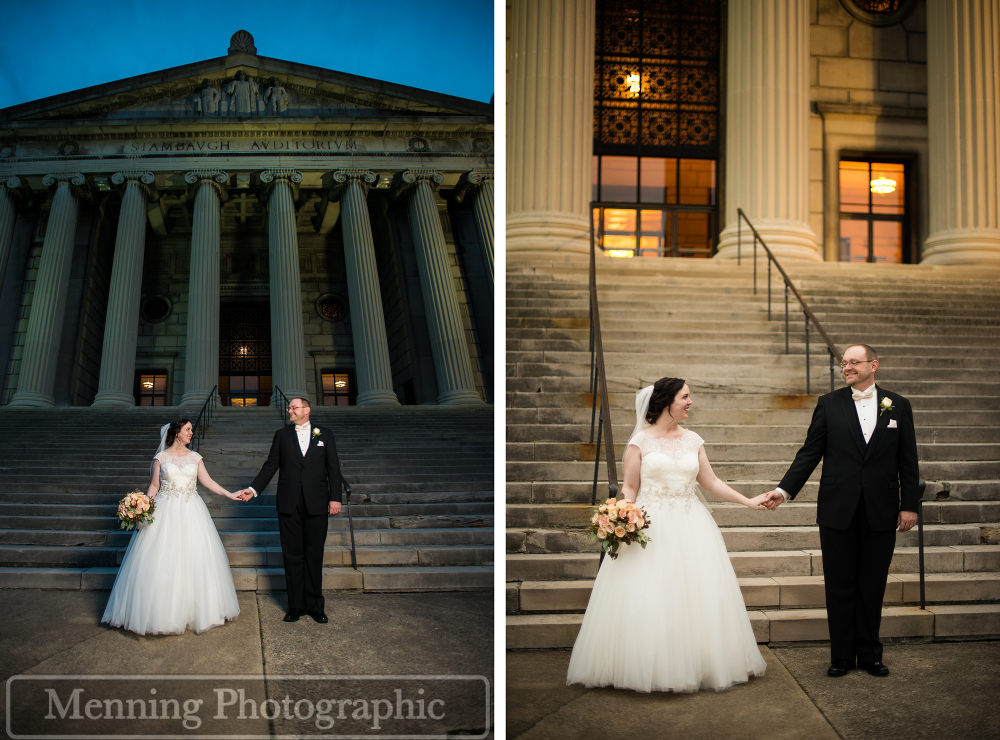 I love the cotton candy sky in this one.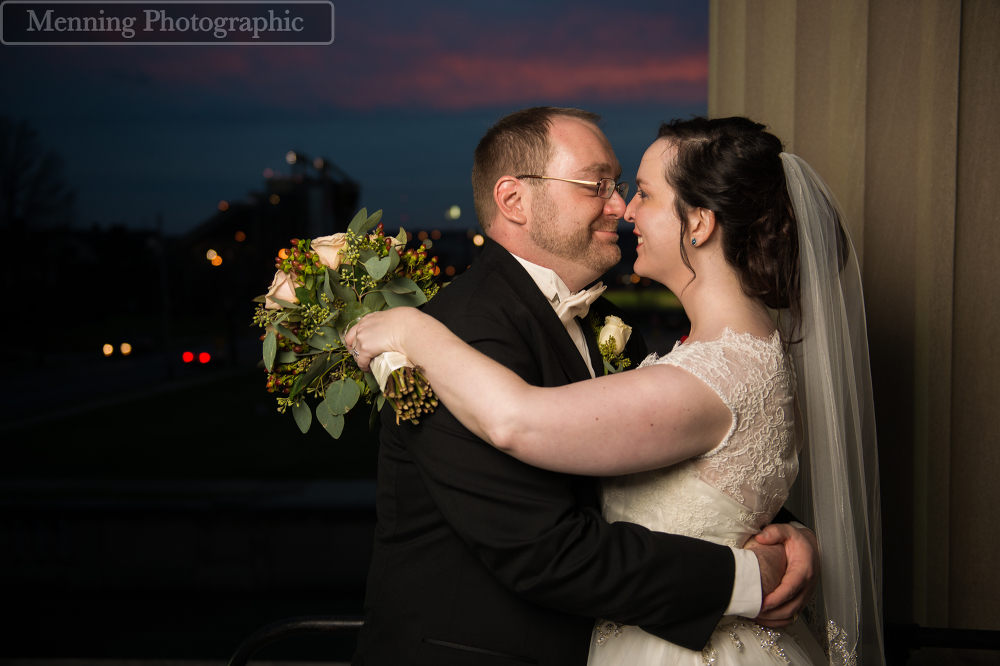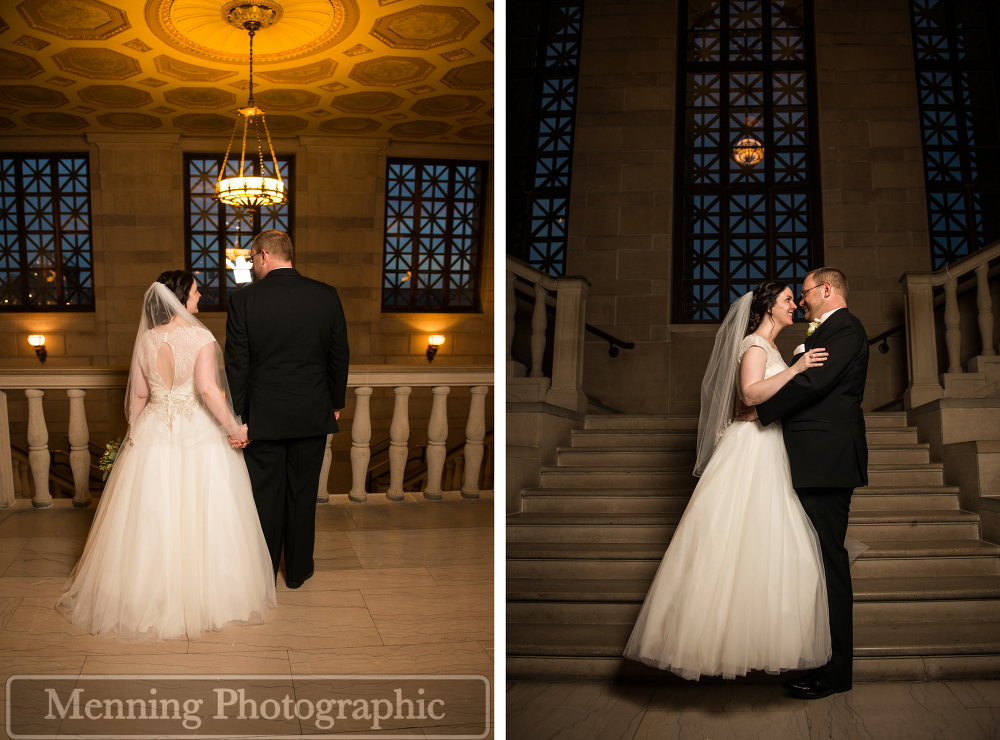 Stambaugh is definitely a wonderful venue for photos…especially if your wedding is in a normally chillier season. It's also a great backup in case of rain. You do need reservations to take photos here so inquire well in advance of your wedding date.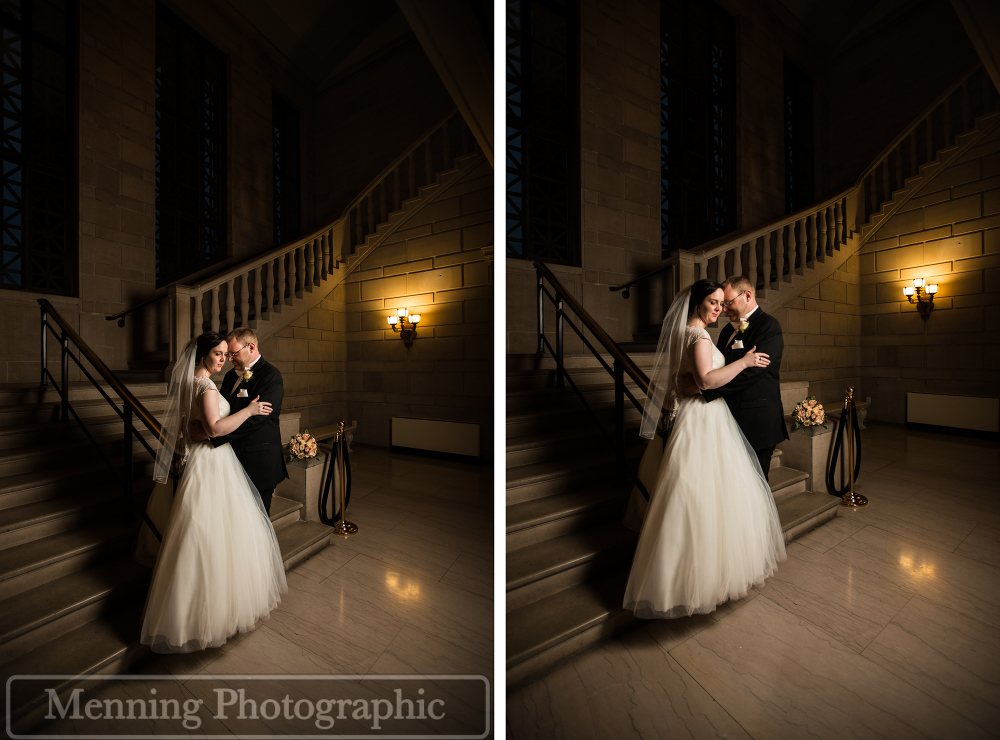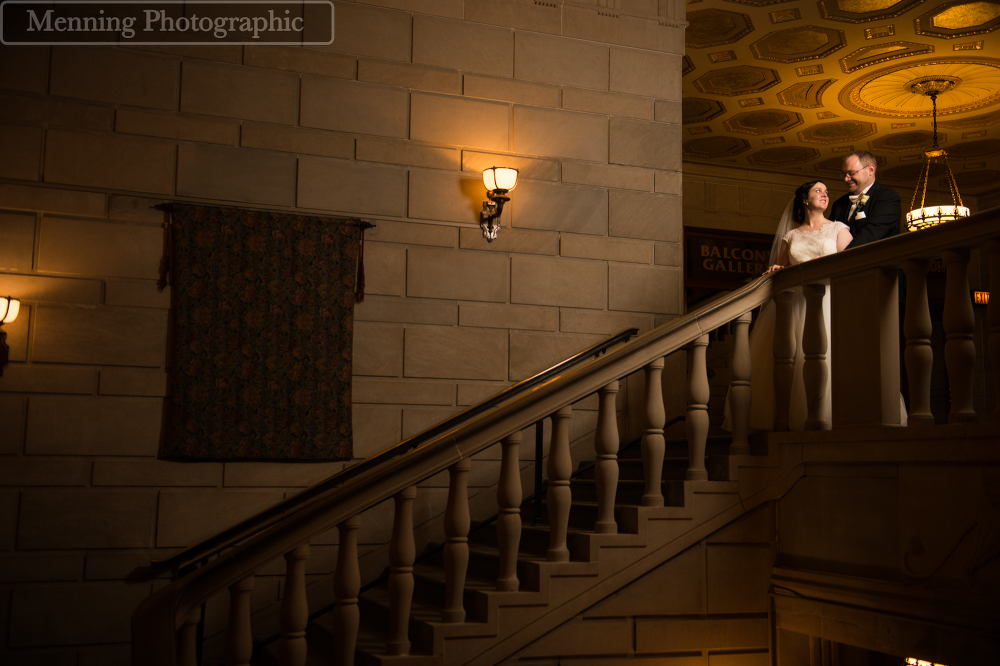 The reception decor at Avion on the Water was bright & cheery, while also romantic & cozy.


Gus's Goodies created the cake. They're a small family-owned bakery near the groom's hometown. Josh & I didn't eat any cake (we never have time & eating cake every weekend would add up!), but the guests raved about it.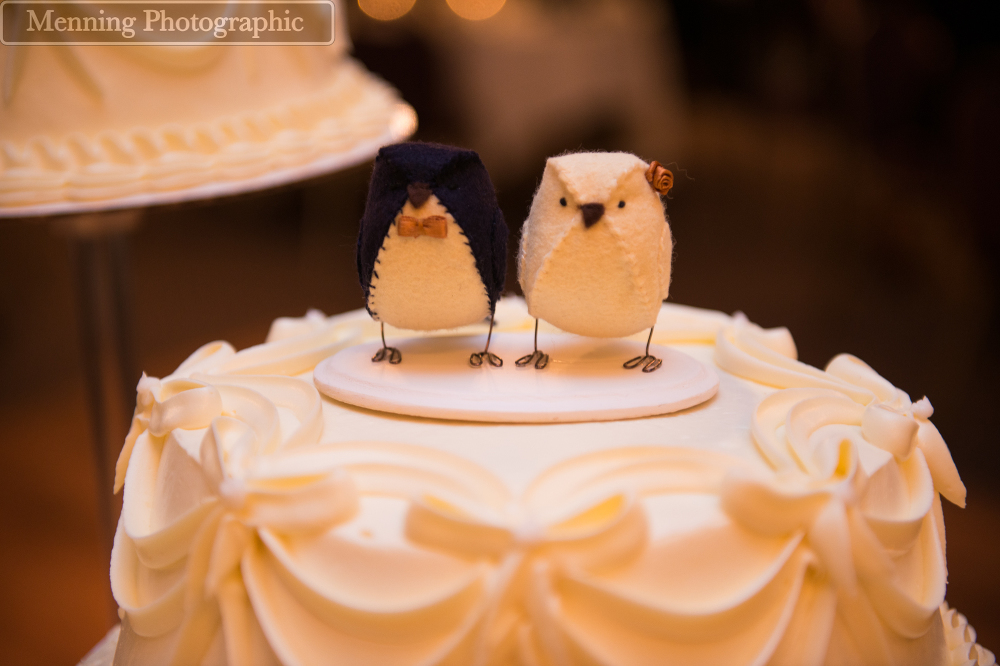 The grand entrance as bride & groom was high energy.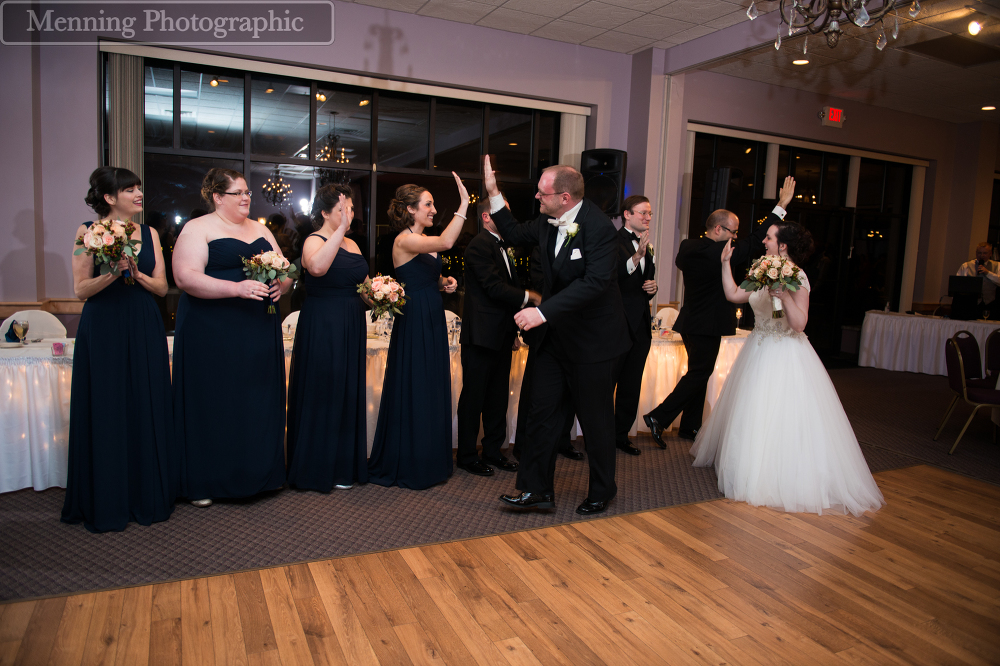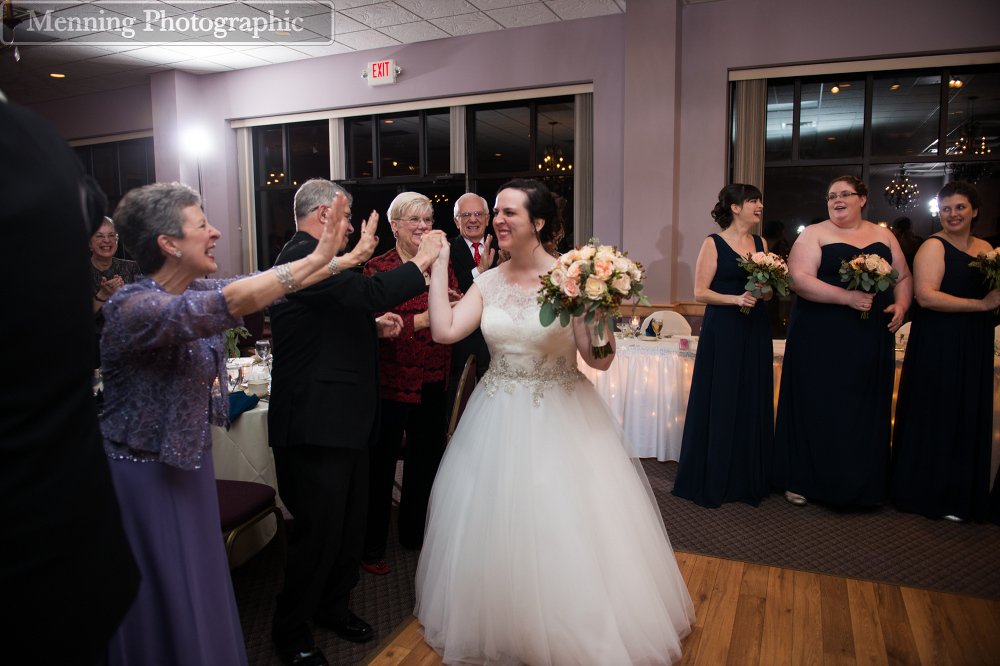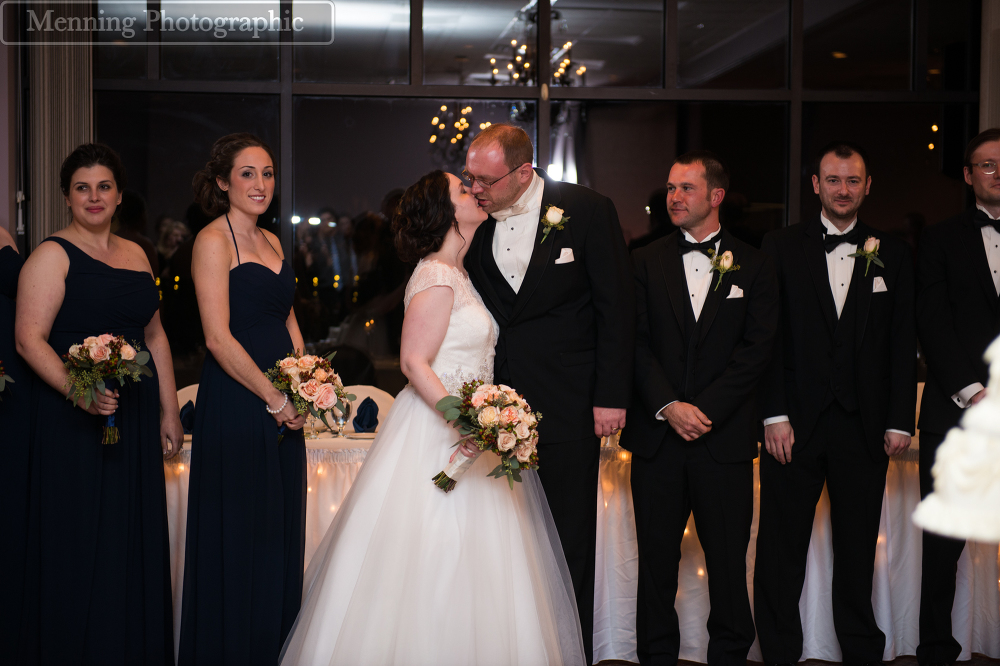 The cake cutting face- a little reenactment of Chris' face anytime Jenn wields a knife. 😉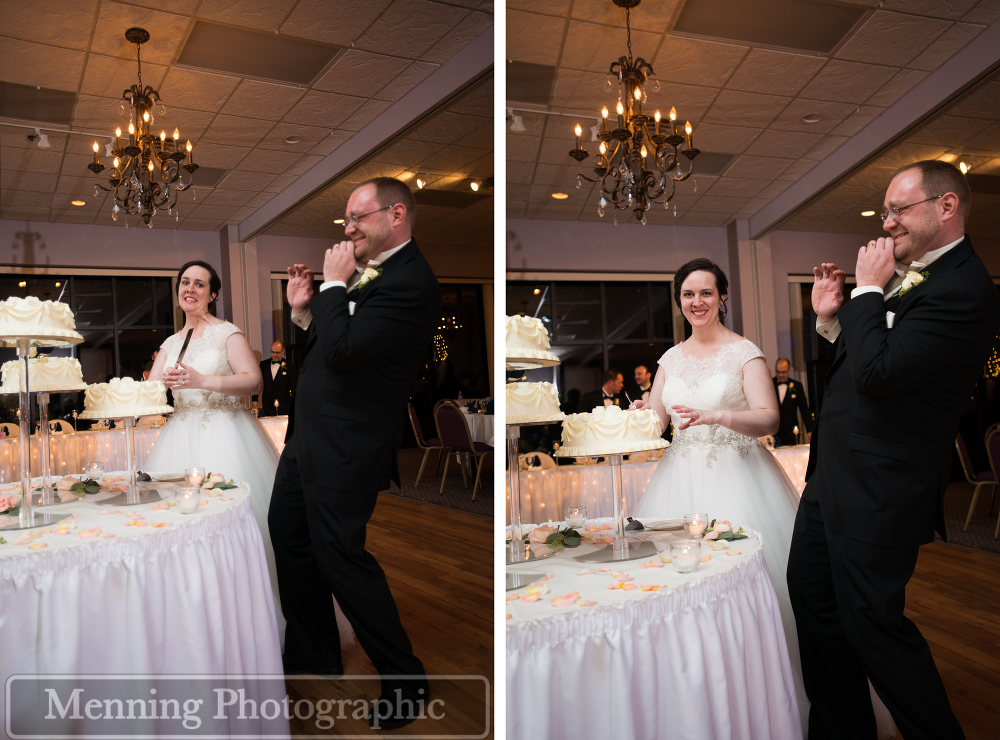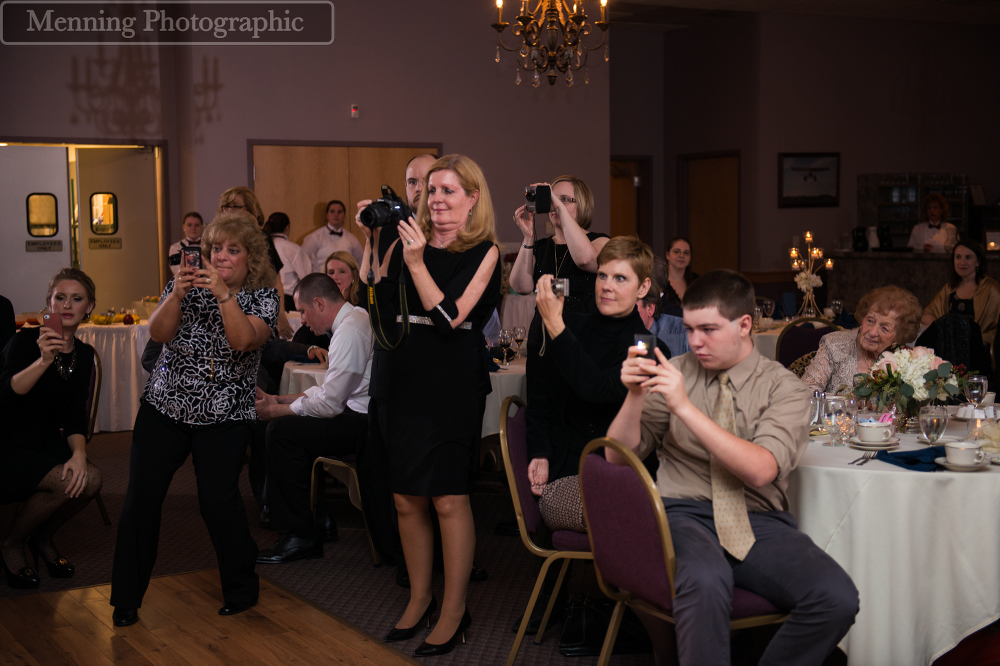 Cynthia, Jenn's best friend of many years, gave a cute, funny, heartfelt speech in honor of Jenn & Chris.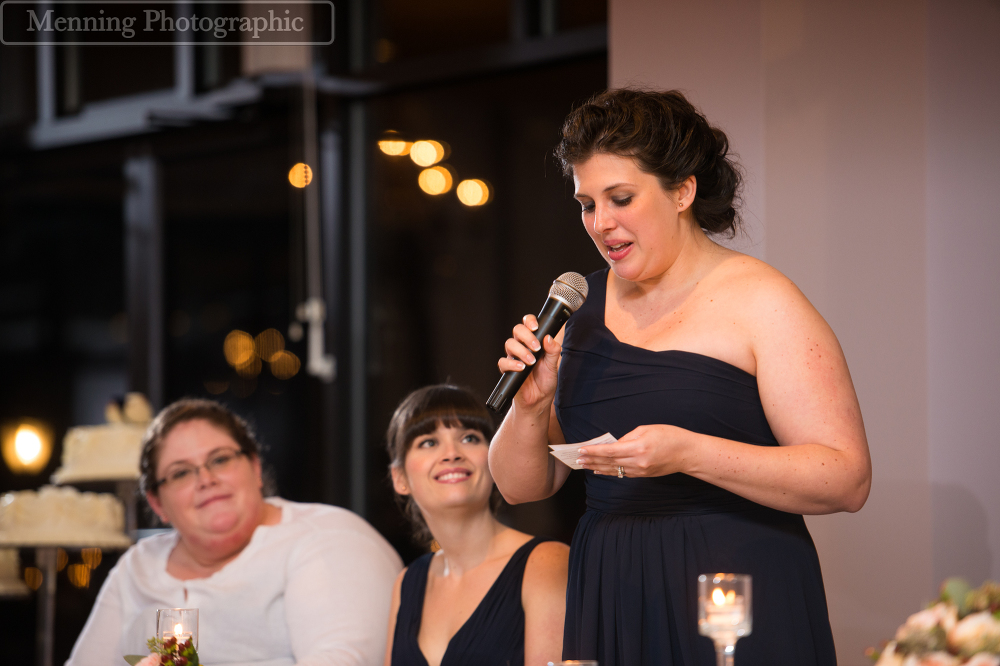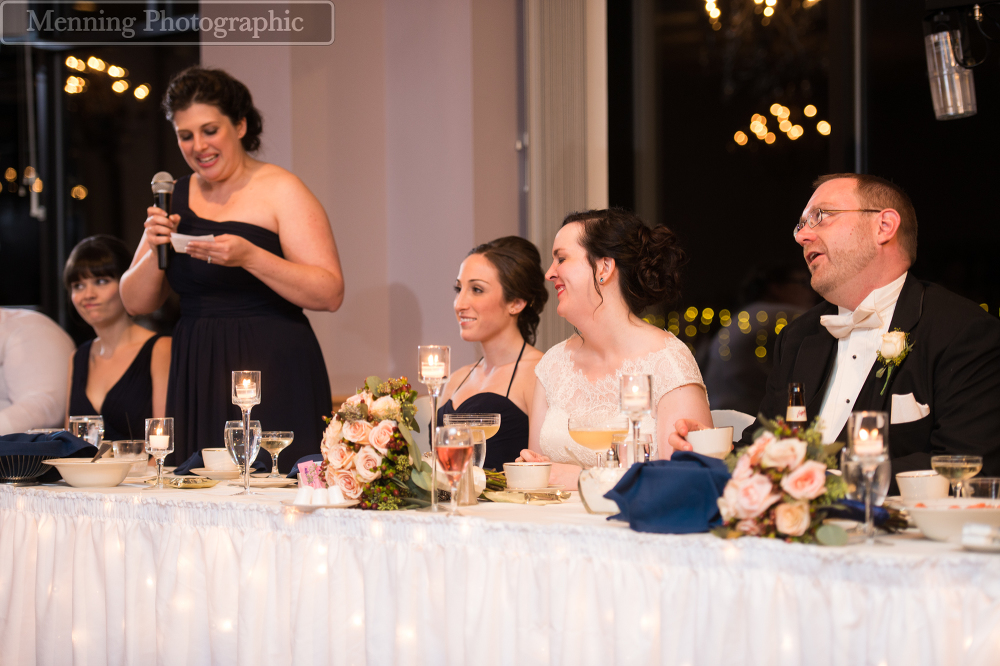 Steve made everyone laugh with his words for Chris & Jennifer.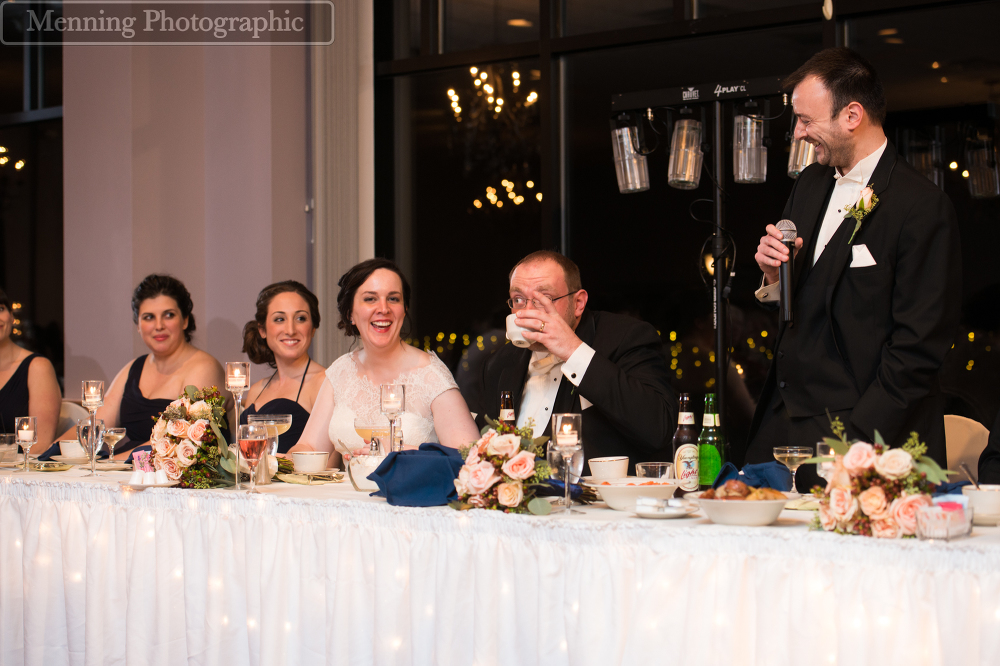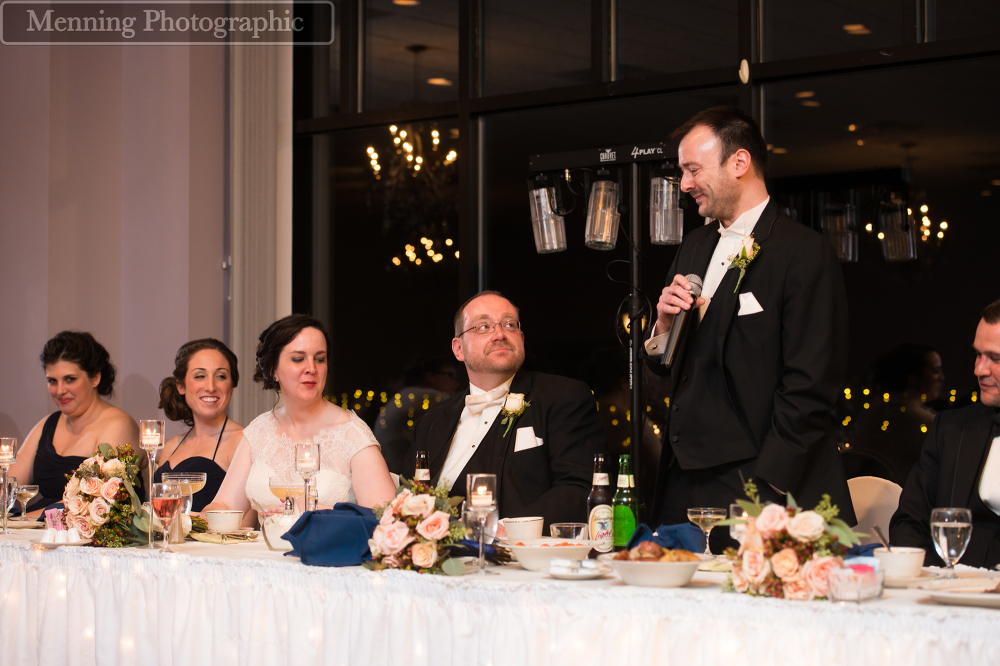 The mother of the groom looking on with love.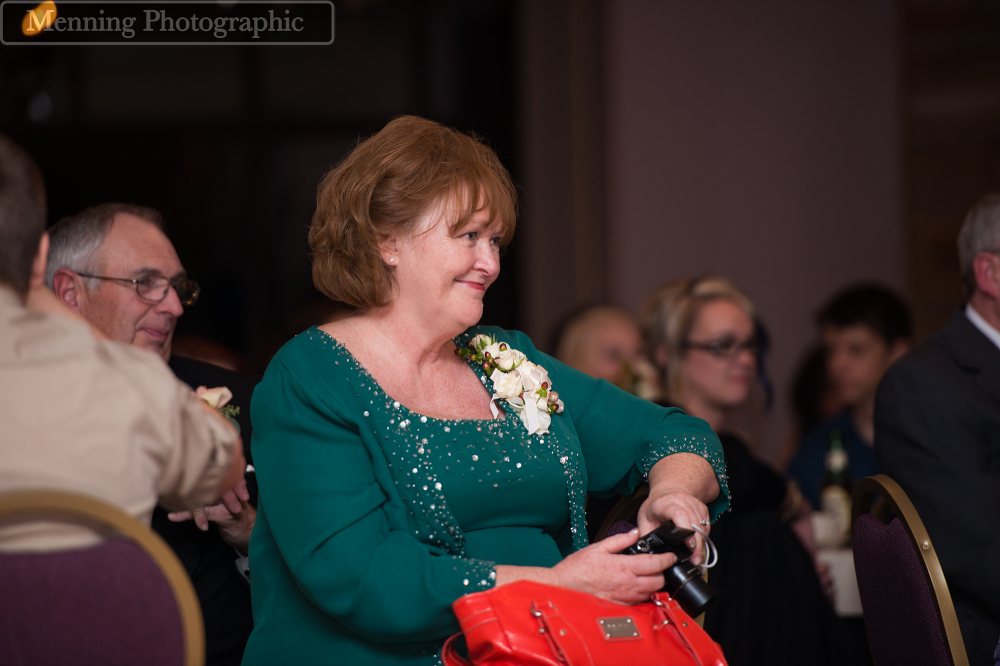 Their first dance was classic & romantic. They swayed to La Vie en Rose.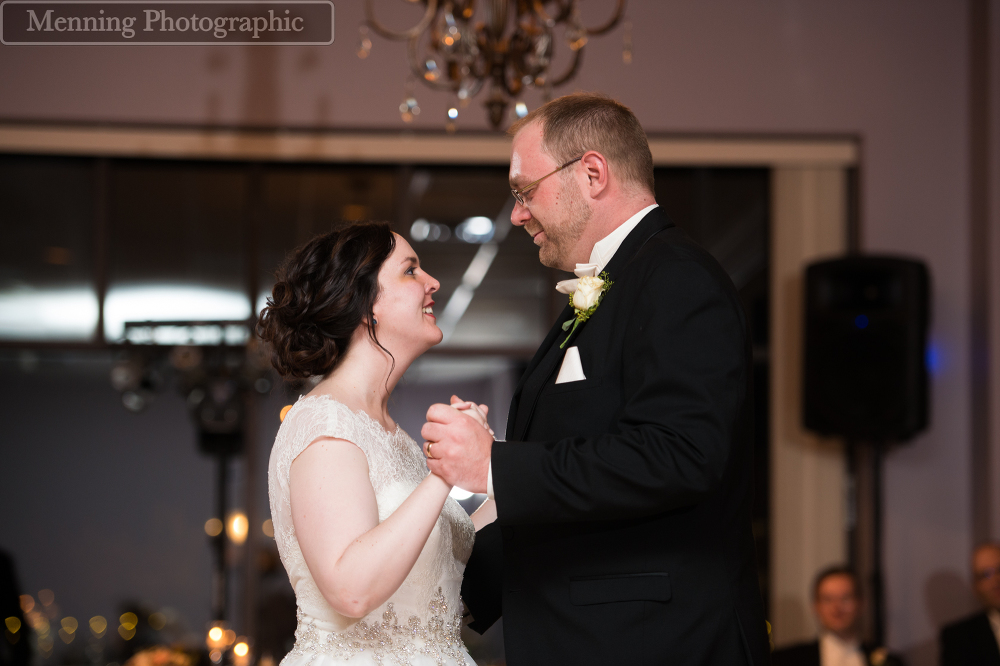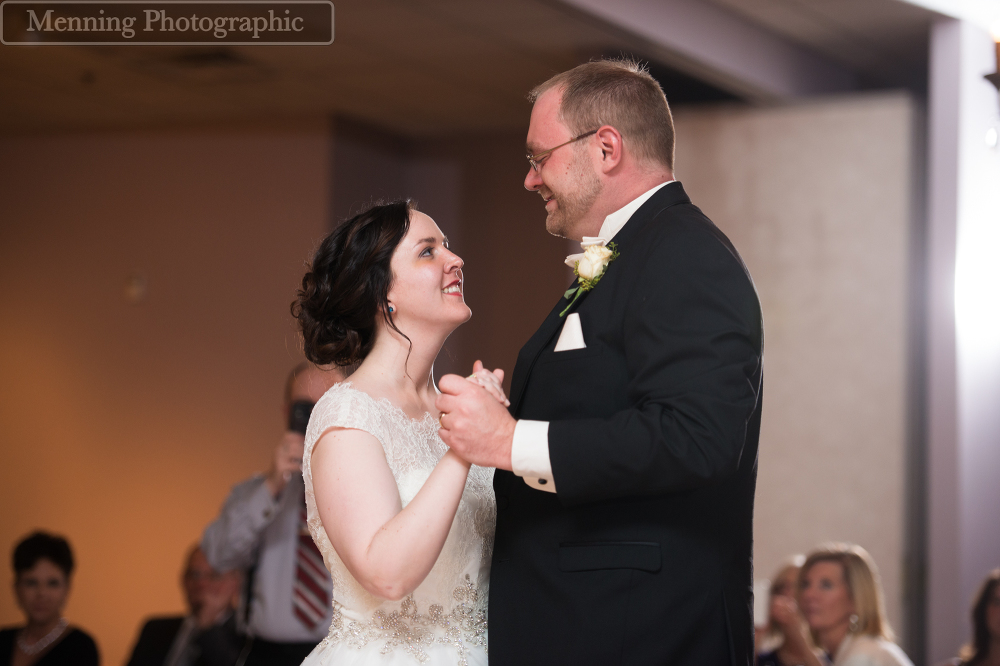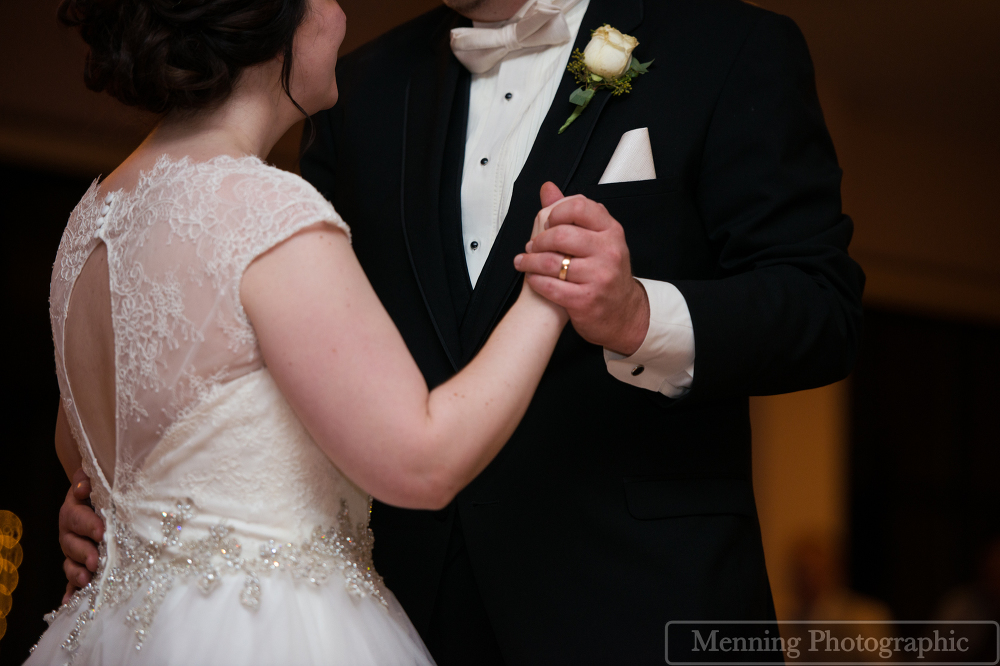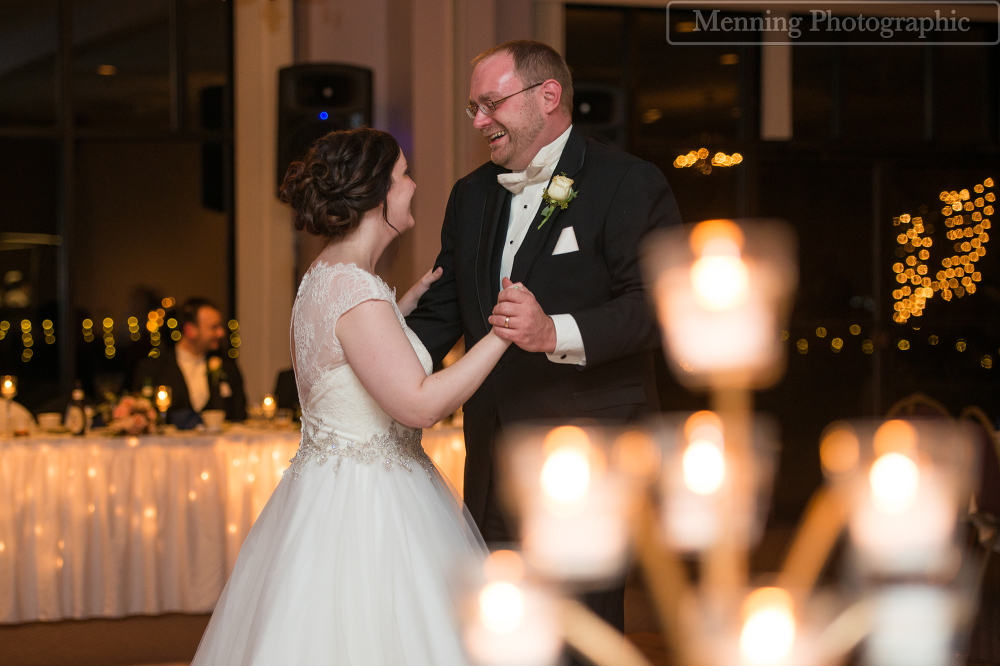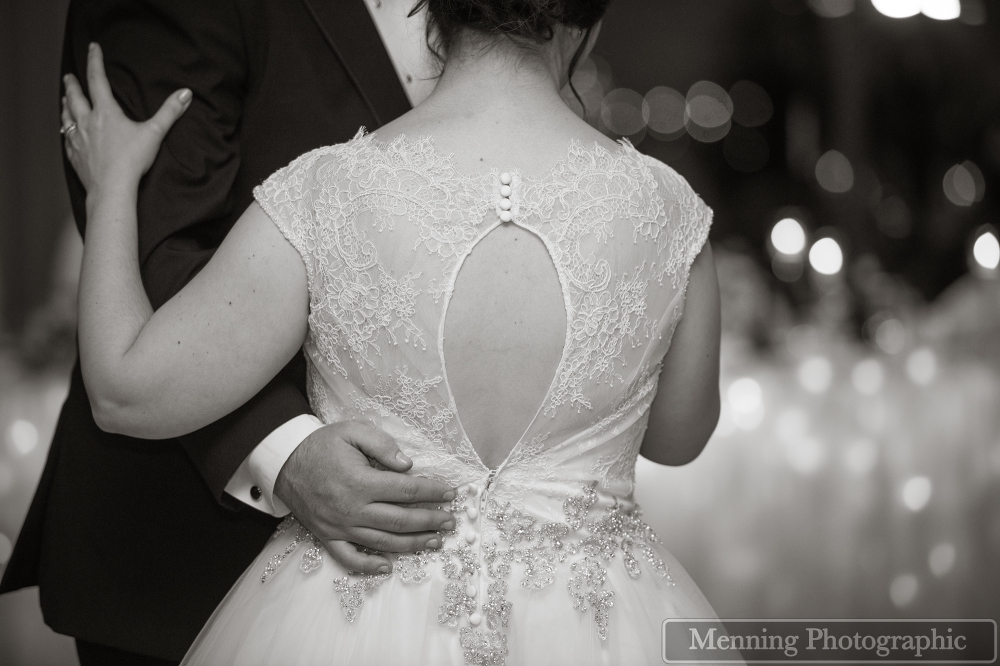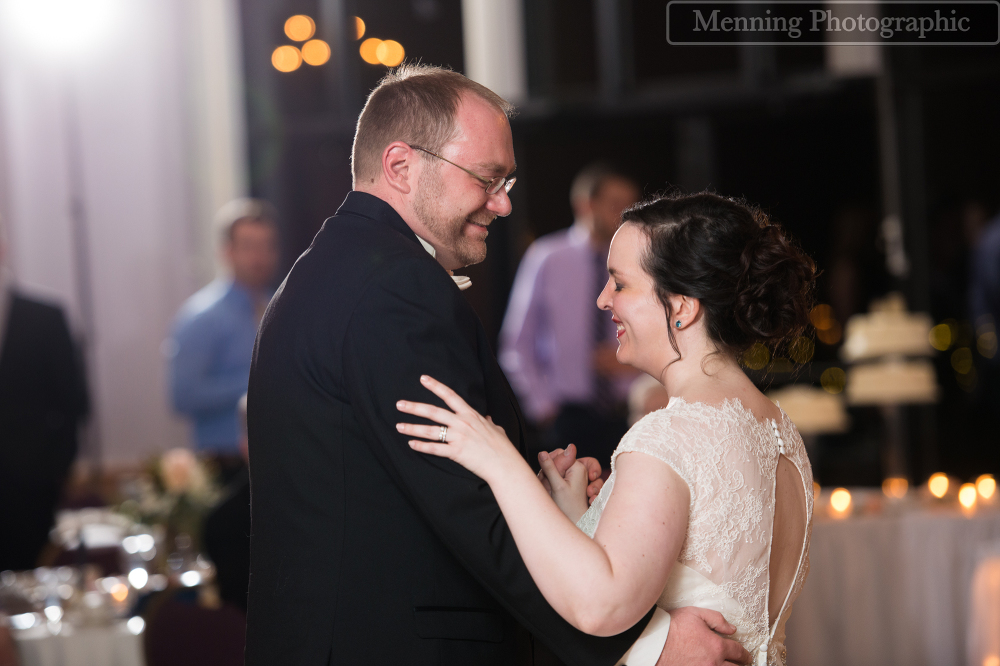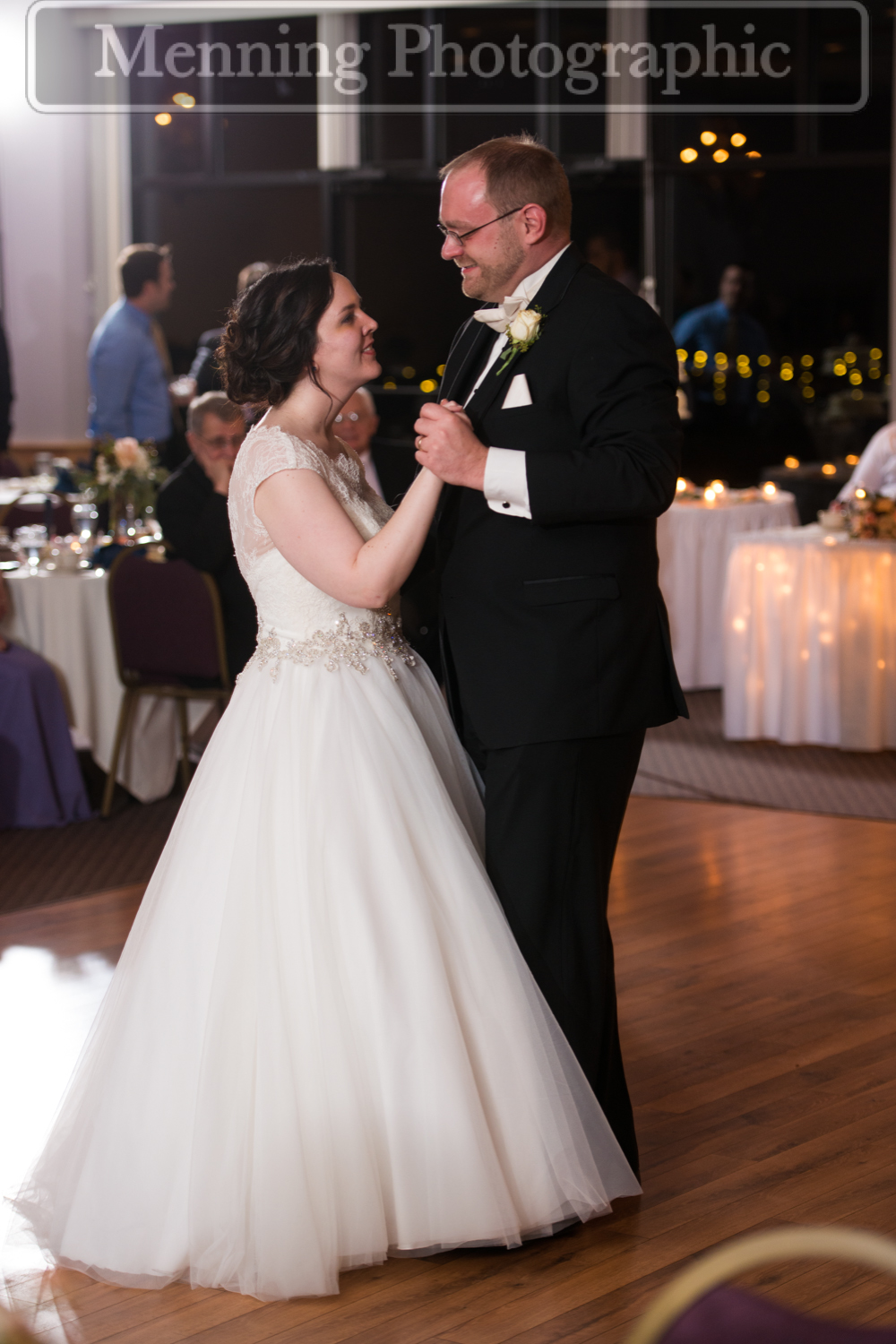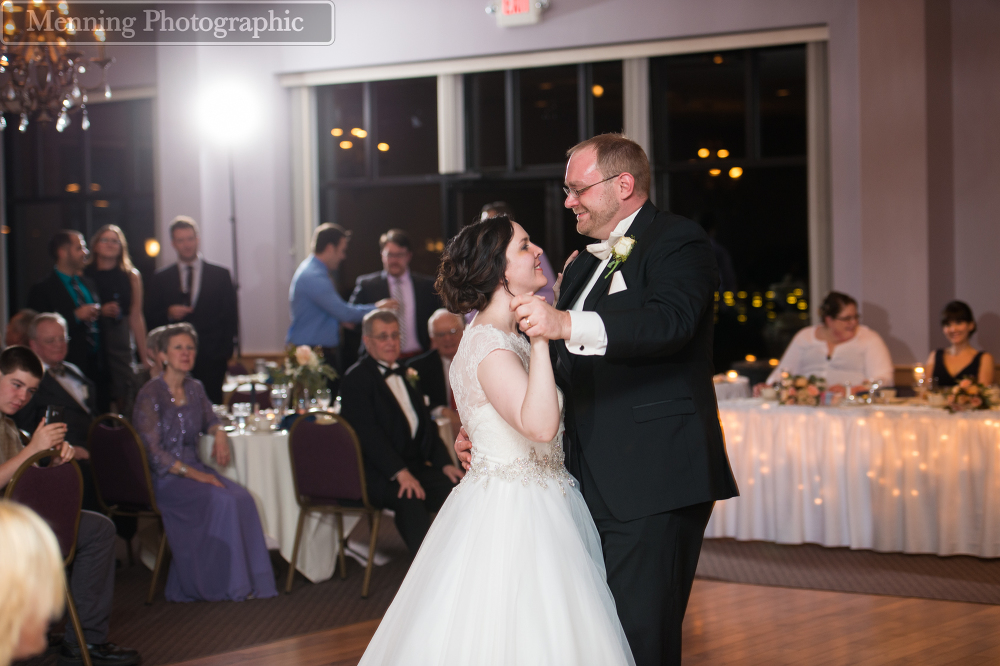 Jennifer's dance with her father was sweet & emotional.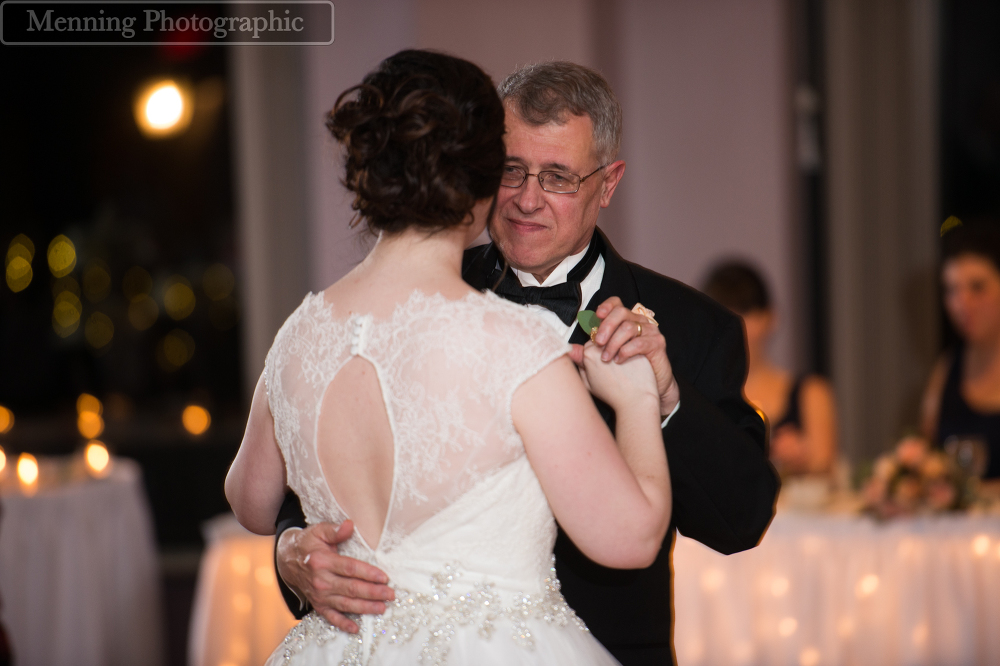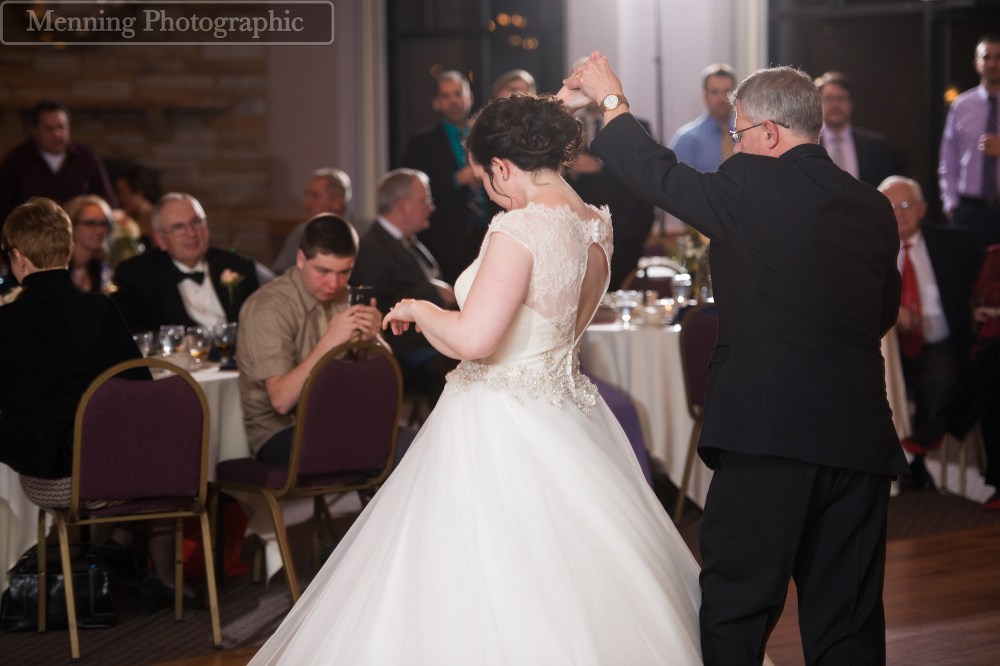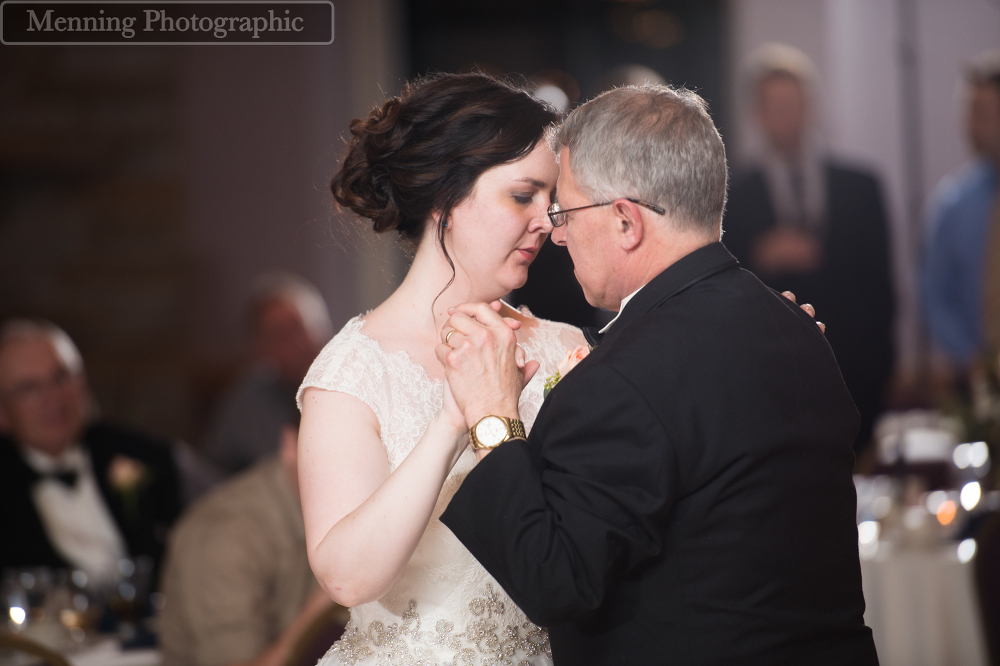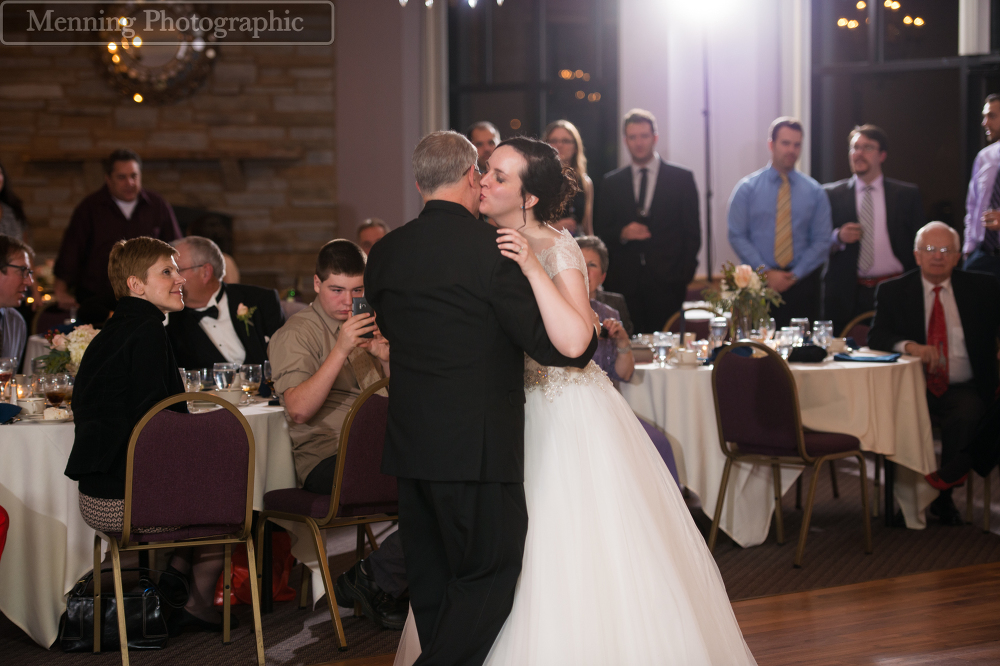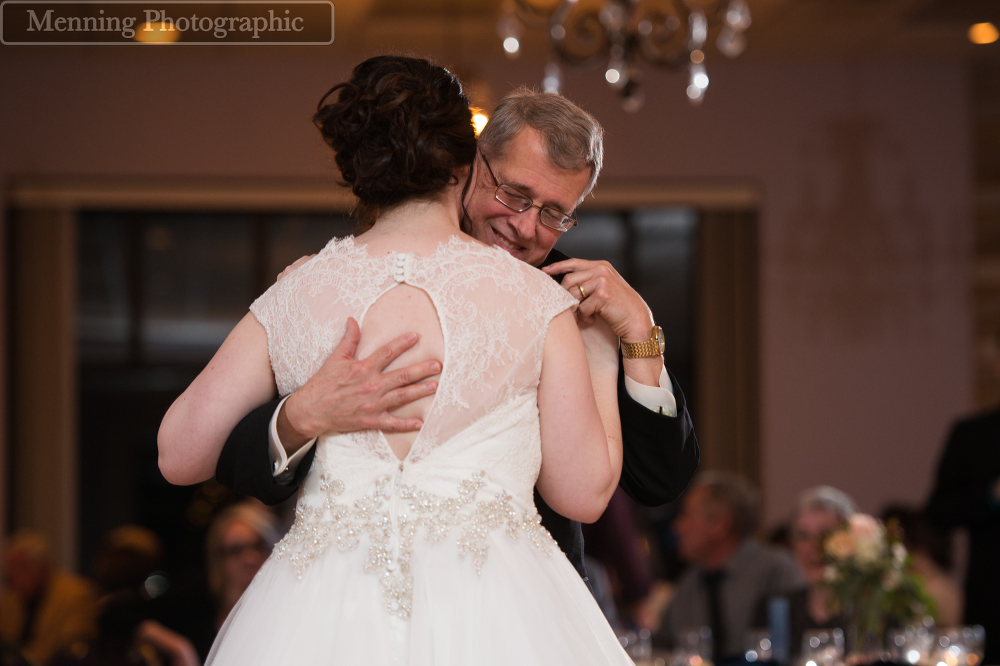 And Chris and his mother couldn't stop laughing and smiling while dancing together.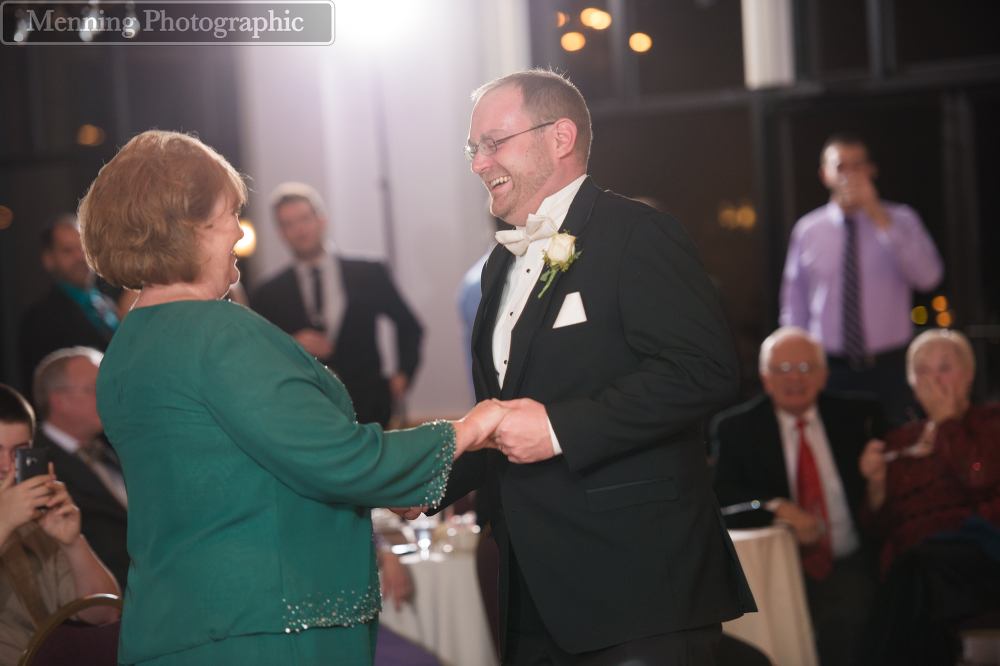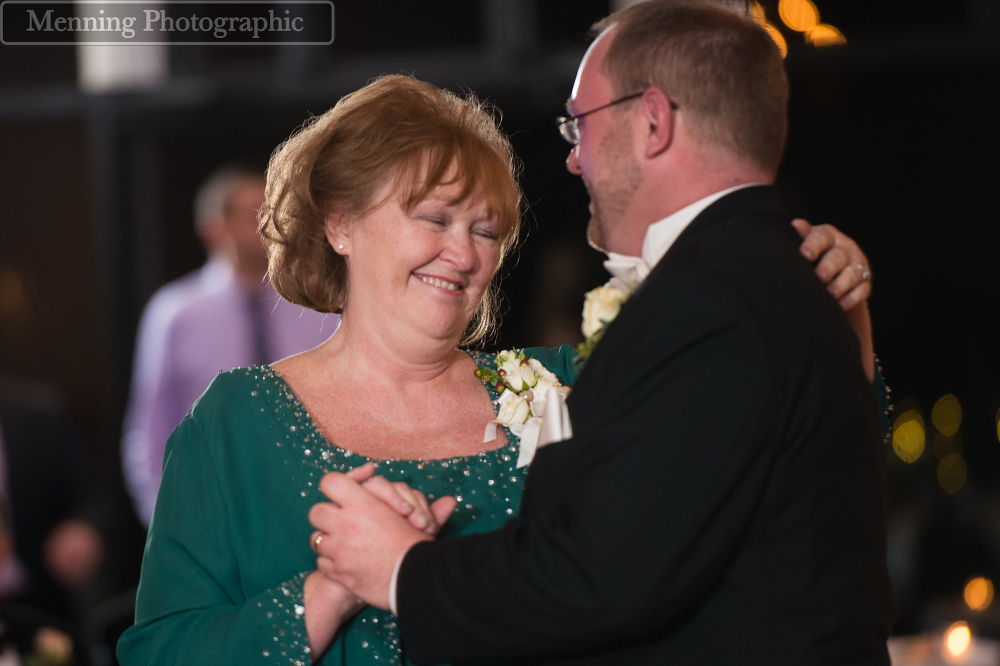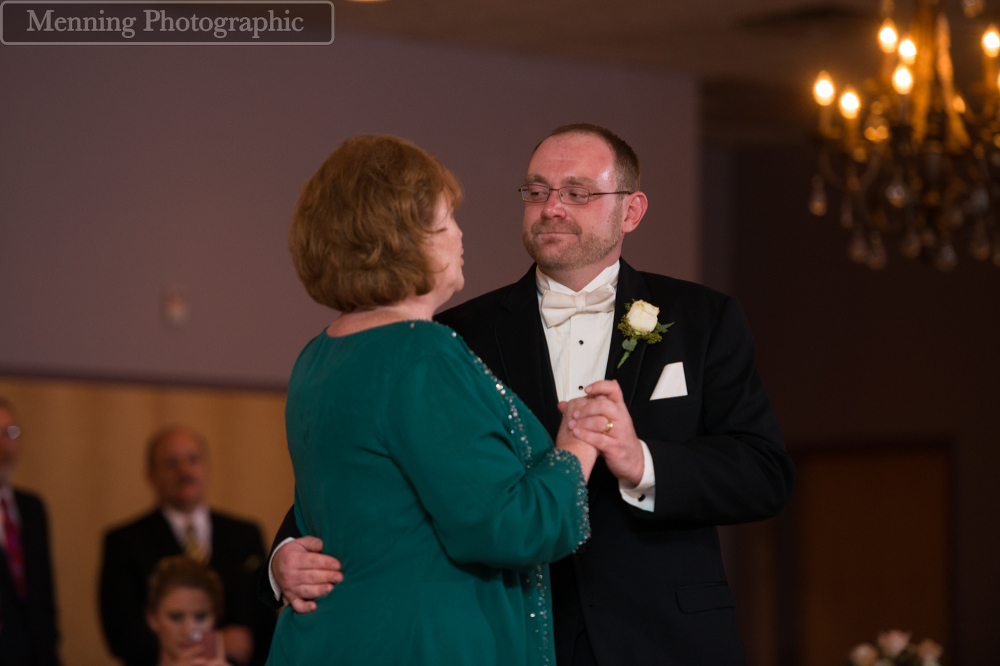 The guests really enjoyed the dance floor. It was full all night!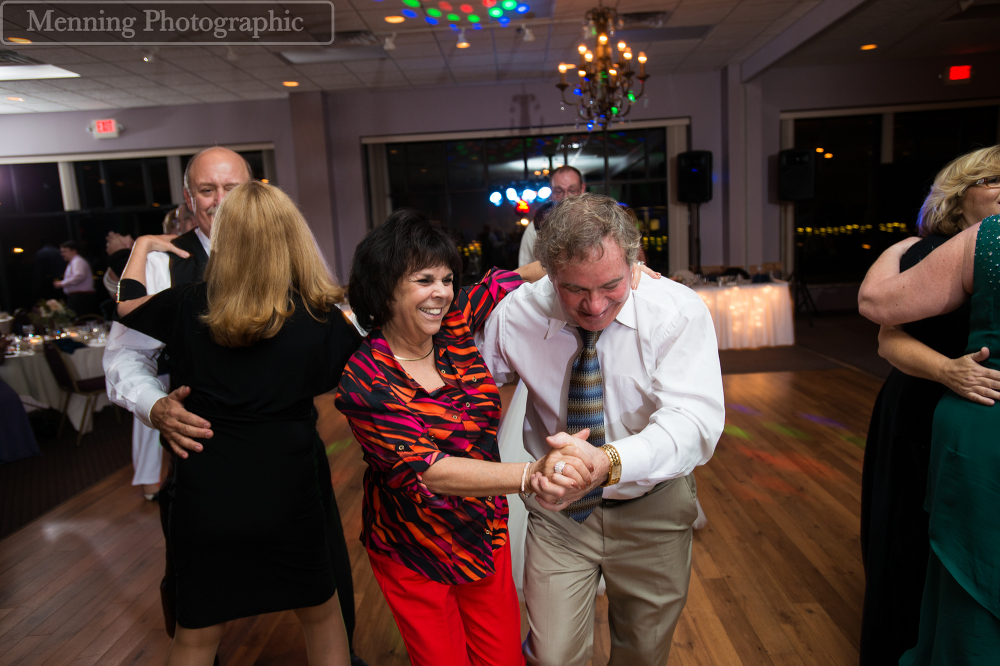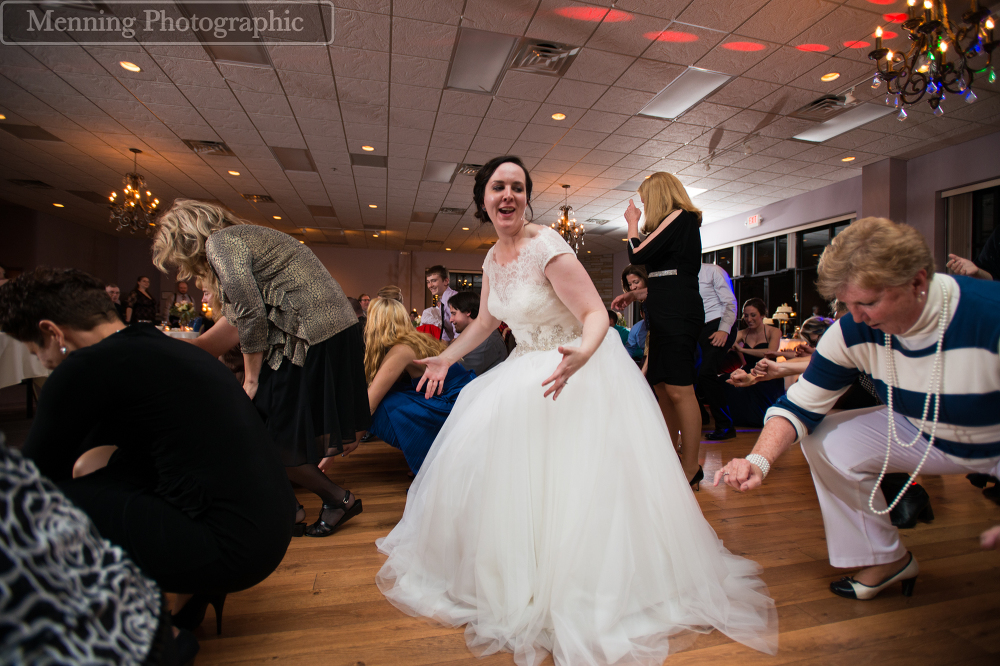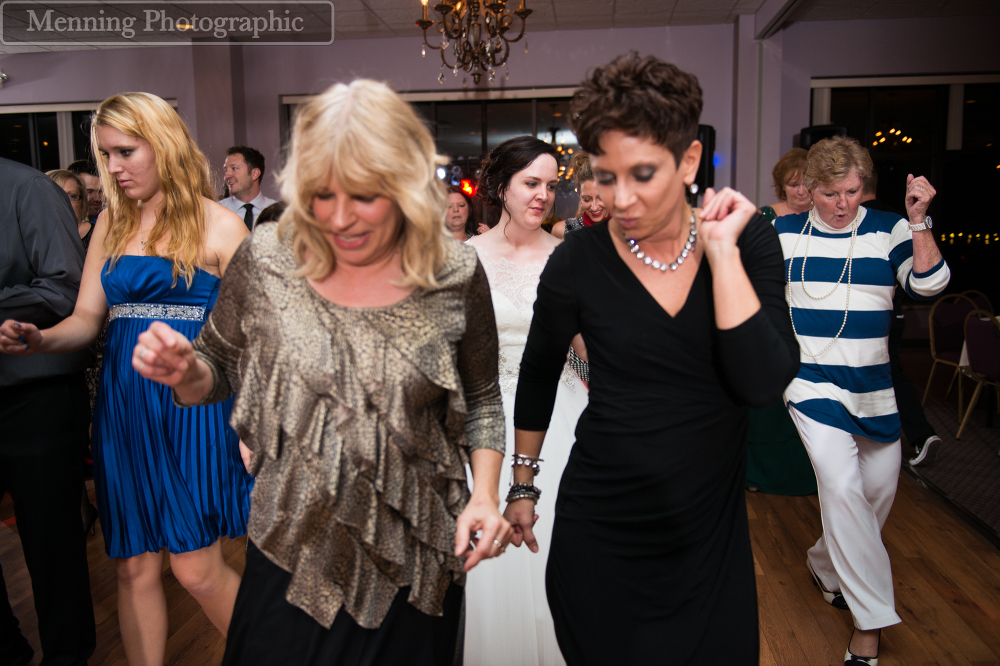 Chris showing off his killer rap skills: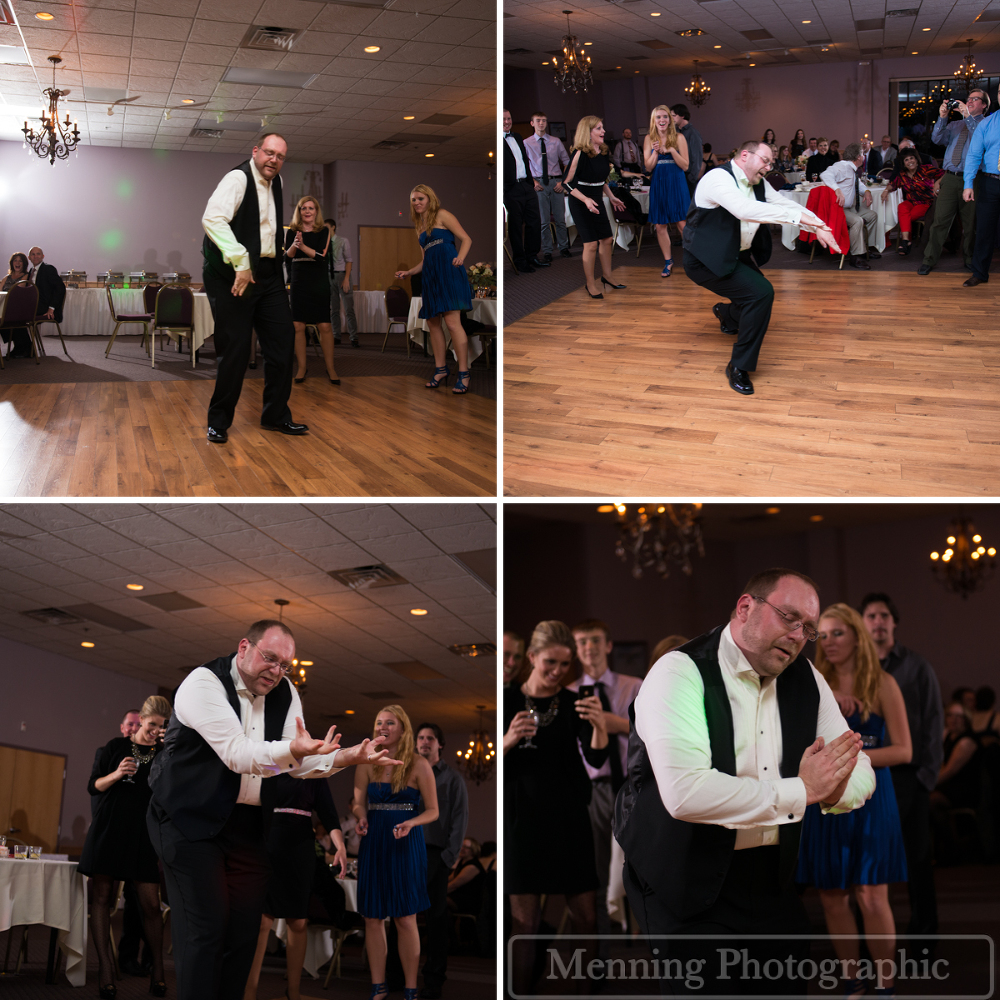 See what I mean? EVERYONE was on the dance floor!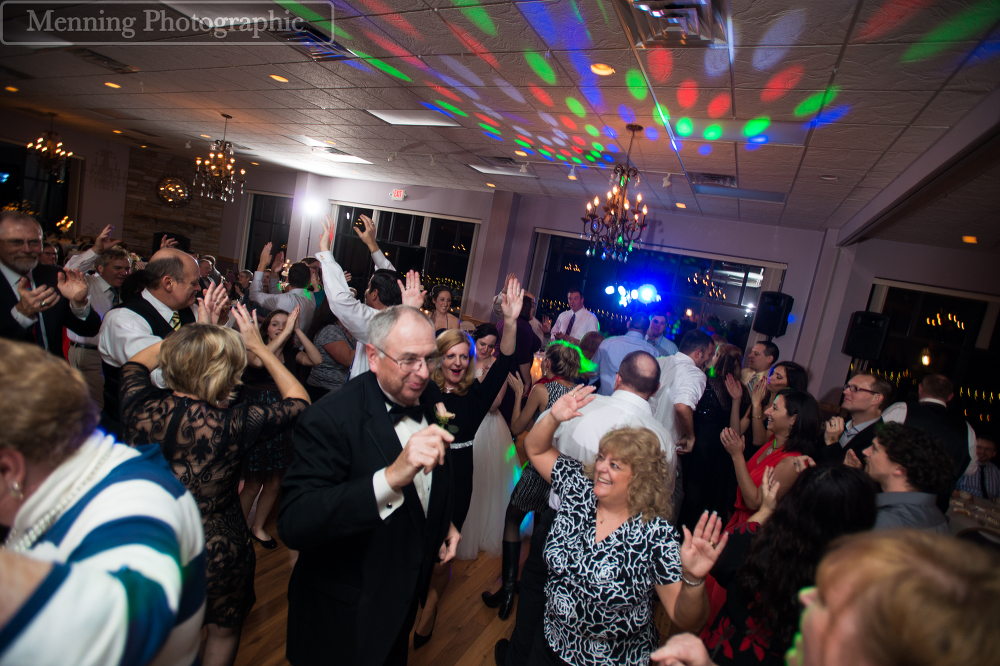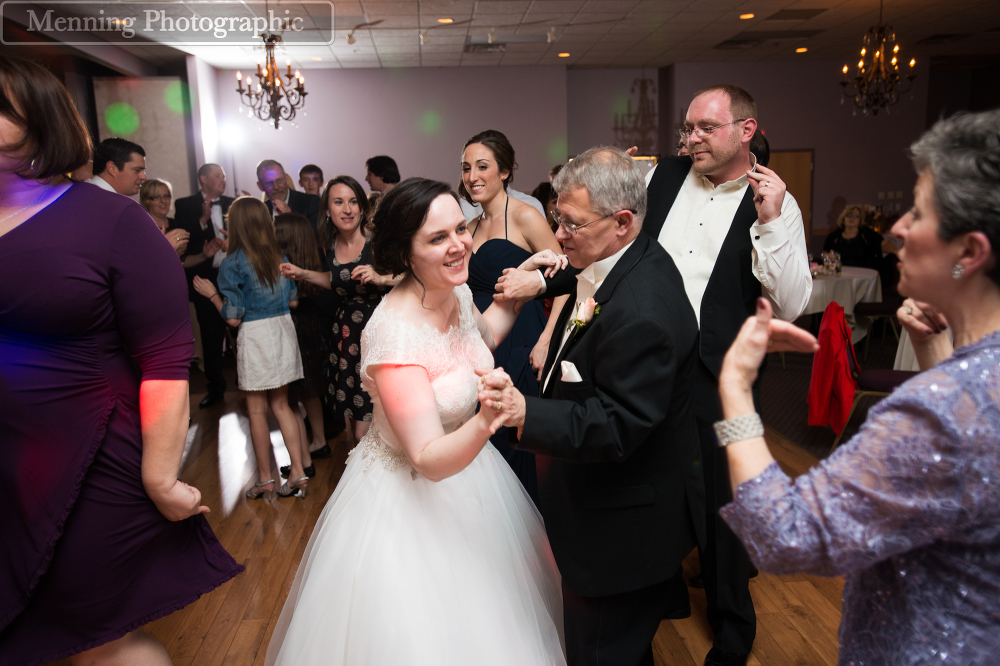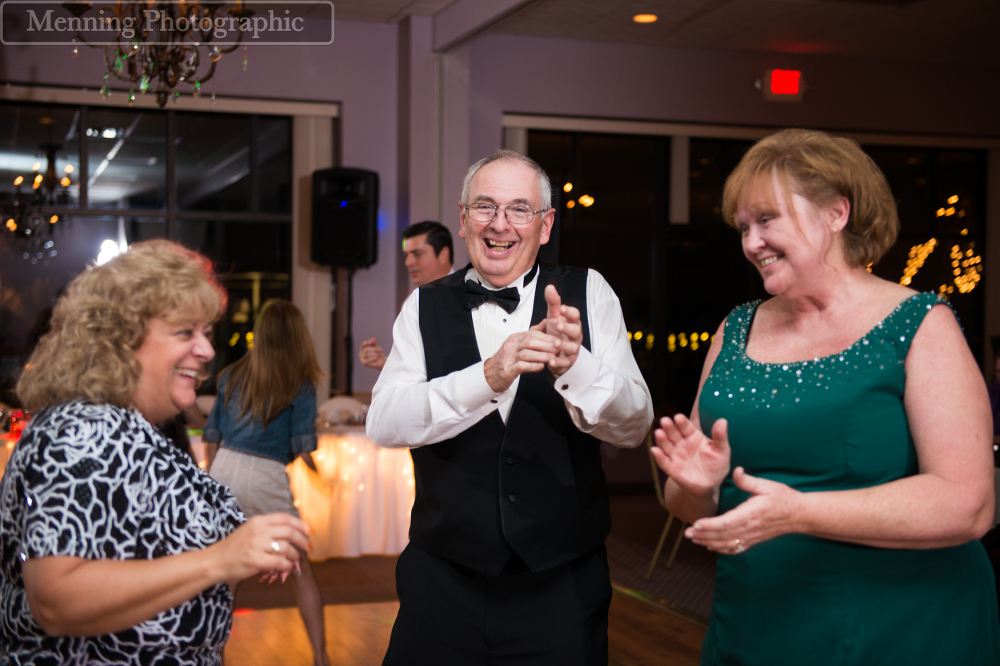 Their last dance of the night was to Def Leppard's "Photograph" & their family members & friends encircled them on the dance floor with well wishes and love as they left the reception and prepared to jet off to Spain for their honeymoon. It was an epic ending to a fabulous day.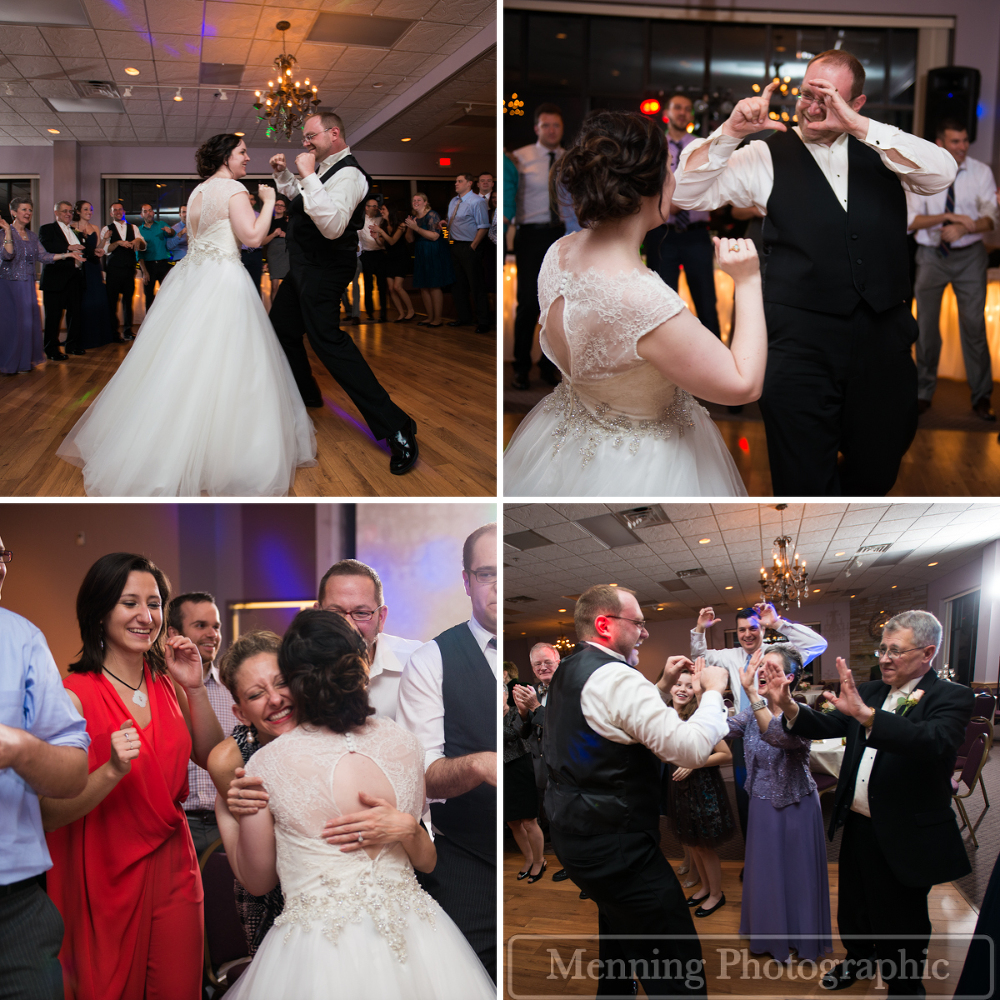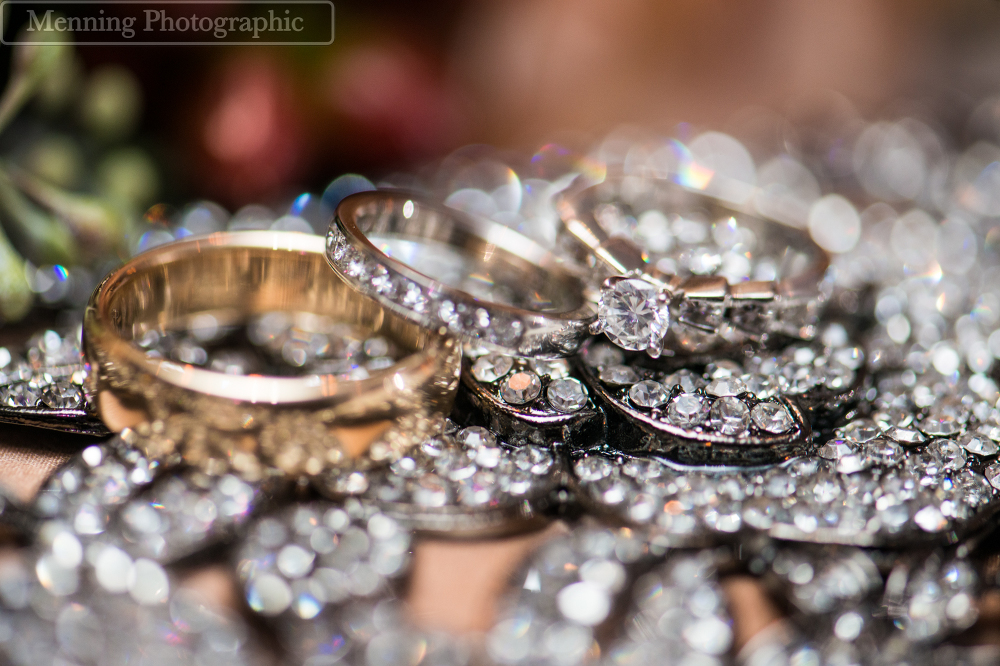 Jennifer & Chris, thank you both for sharing your wedding day with us (and my 30th birthday!) We had a fun time & we wish you happiness & love for the remainder of your lives.
Interested in Josh & Danielle photographing your wedding? 🙂 Get in contact with us: 330.651.4849 or info@menningphotographic.com
You can also see our work & some personal tidbits about us on social media:
Twitter | Facebook | G + | Pinterest