****Thank you for your orders! The Cyber Sale is CLOSED as of 12:00 PST December 03, 2013***
Hi Everyone! 🙂 Happy Cyber Monday! We love our clients & that's why we decided we should definitely let you guys in on Cyber Monday action at Menning Photographic & not just at big chain retailers… after all, Small Business Saturday was only two days ago. By participating in this deal, you can get awesome Christmas gifts for your family and yourself, support a small business, free your wedding images from the jail that is the disc they have rotted on since you got it, 😉 and get great deals today and tomorrow! Your walls will thank you! 🙂
Who is this deal for? Any of our clients with a current gallery at www.menningphotographic.com/gallery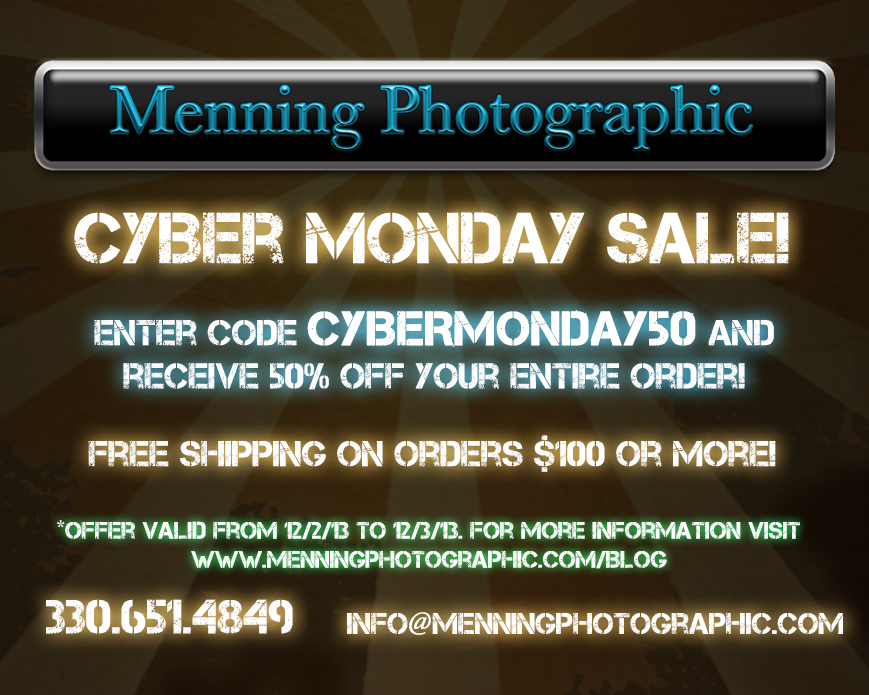 How do you redeem this amazing deal?
1). To receive 50% off of your entire order, go to www.menningphotographic.com/gallery.
2). From the navigation menu, click on the Access Gallery link and enter the access code for your gallery.
3). You can then browse through your images and add the print items to your cart.
4). After you make your selections, view your shopping cart, click on the link that says 'Redeem Coupon,' and enter the code CYBERMONDAY50 in the redeem coupon box.
5). After that, you can check out and follow the steps on creating an account.
6). Keep in mind that the 50% off is not calculated until the very end of your ordering process.
If you have any questions, we're here! 330.651.4849 or info@menningphotographic.com
Why should you order prints through us since you have the disc with high resolution files and can print images yourself at a drugstore or online?
In a word, QUALITY. Yes, we know you have the disc with printing rights and that you can go to a drugstore or to an online printing lab and get prints/photobooks made. That's great; however, those labs do not have professional level printers that are calibrated. What the heck does that mean? It means that the drugstores often do not calibrate their printers, which could result in your photos having strange color casts to them once they're printed that the digital file did NOT have. "Hey, Green/Magenta/Cyan Color Casts…you look lovely on my supposed-to-be-white wedding gown… NOT" :(Â  Also, the paper that those print labs use is very cheap… in fact, it's the cheapest possible, which is why their prints are so cheap. You get what you pay for!
We print through a professional printing lab in Akron, Ohio…hey, that's a local small business! 🙂 Their printers are top-of-the-line & their paper options are amazing & only the best quality. Only professional photographers can order through this lab- it is not a consumer level lab.
Furthermore, we offer AWESOME, unique products that you and your family members will love!
Canvas Gallery Wraps look great with any decor. They're of the highest quality. We have a 30×48 canvas of us in our living room and two 24×36 canvases in our kitchen. We love them!
Metal Prints are sleek, modern, and POP with contrast & color! They're perfect for those who choose to decorate in a modern, contemporary style.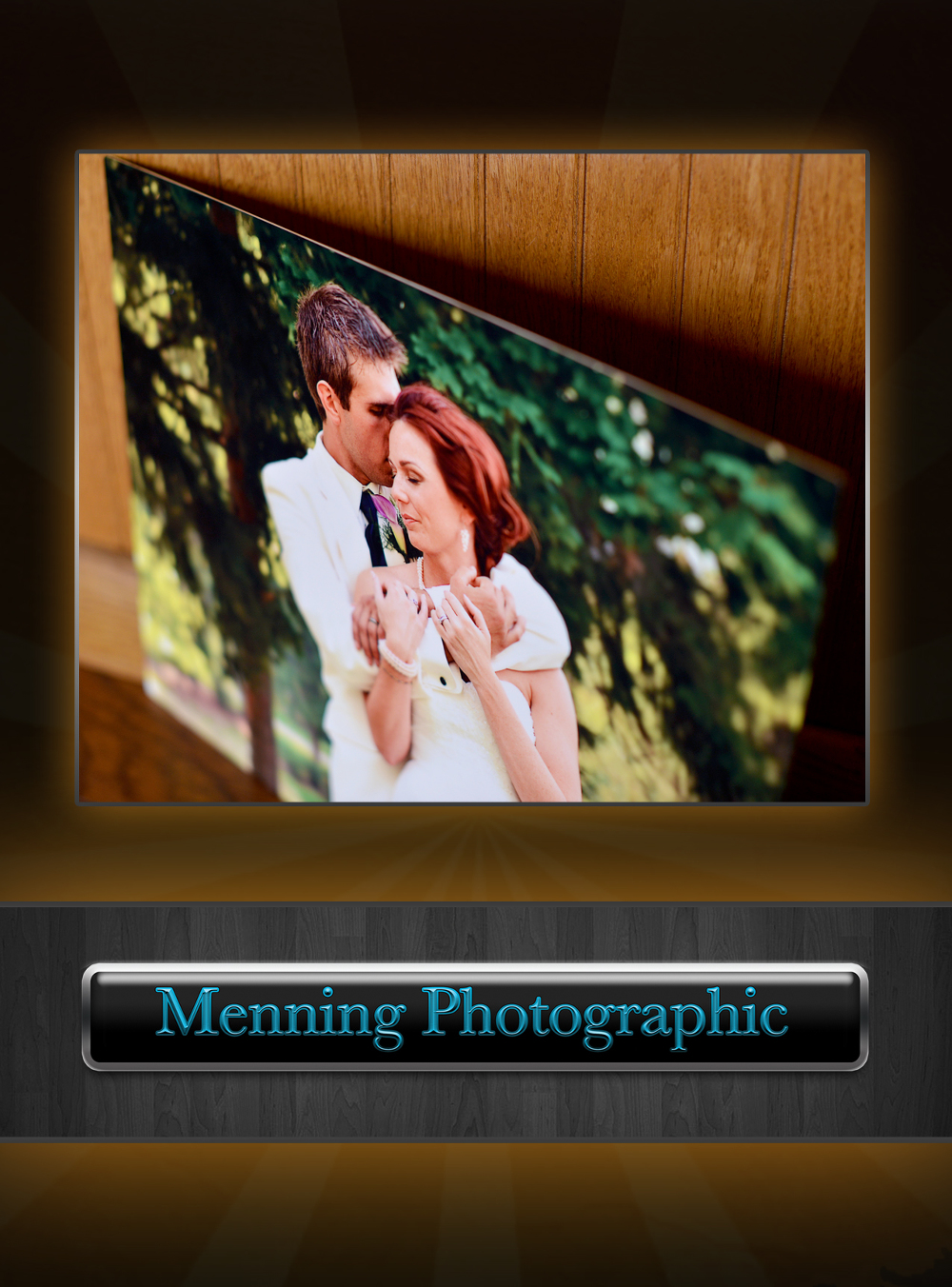 Wood Prints are rustic. They're a unique work of art because each piece of wood they're printed on is different & the grain comes through on the photo differently…really great for a home decorated in a rustic, earthy style.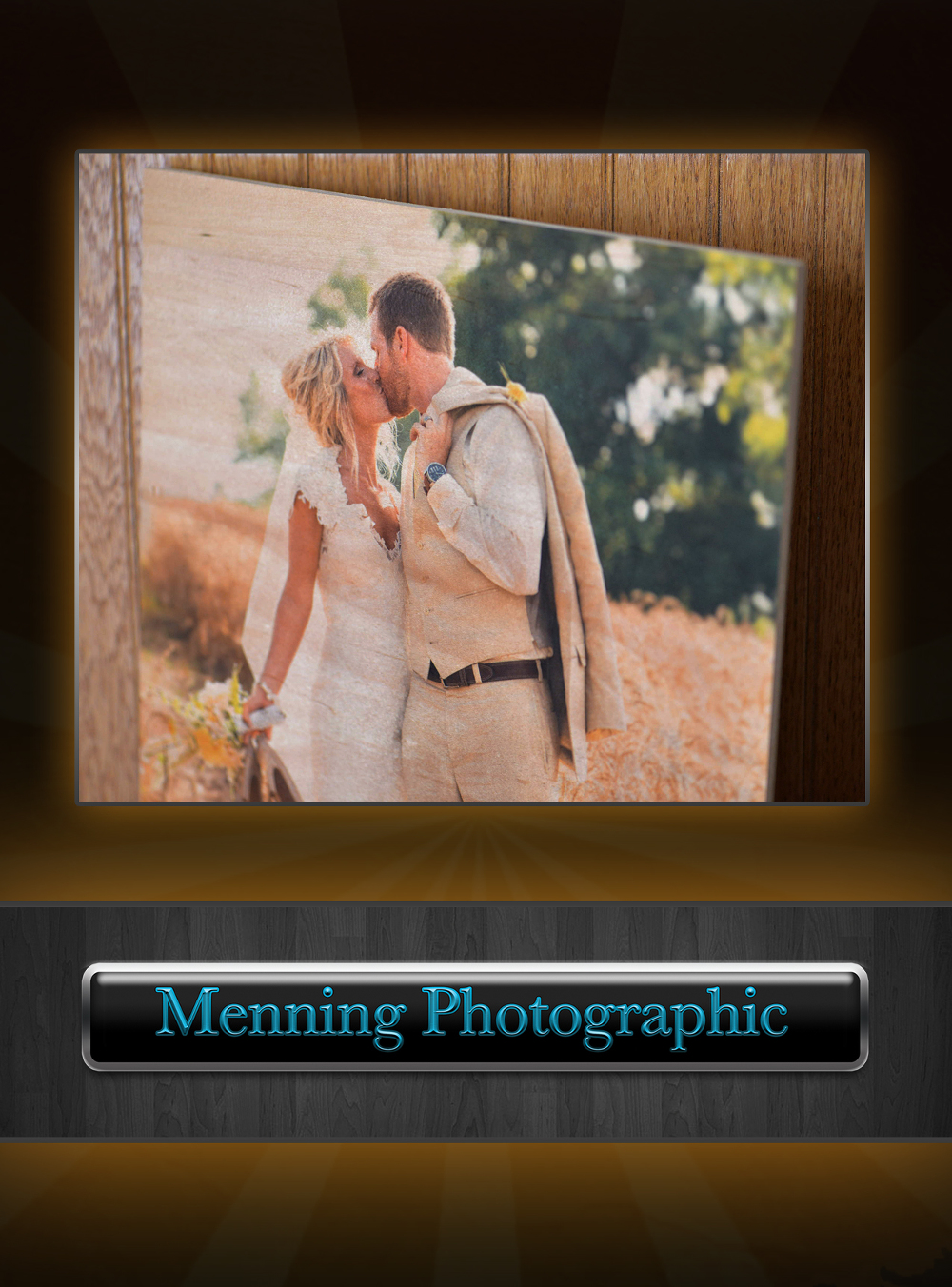 We also offer fairytale storybook albums & parent albums. These are 50% off today and tomorrow, as well. If you'd like to order a storybook album or parent album, please call or email us today or tomorrow. 330.651.4849 or info@menningphotographic.com
Any print that you order is retouched to make it PERFECT. It'll look fantastic on your walls or in a frame on your desk. Free your wedding images from the CD! 🙂 They deserve to be shown off!
What about Shipping and Handling?
If your order totals $100.00 (before the 50% off is taken into account), your shipping is FREE. Of course, if you're local and choose Customer Pickup, you don't pay shipping & you can stop by and visit to pick up your prints.
We're happy to be able to offer you this amazing deal & hope you'll take advantage today or tomorrow! Let us know if you have ANY questions. No question is too dumb to ask. Seriously…ask us about what product would look best in your home, what size you should order, what types of paper options we offer for prints, or what we had for Thanksgiving day dinner. 🙂 We're here to answer away.
Promotional prices cannot be combined with any other discounts or promotions. 50% off is only applicable to products, not session fees or wedding retainers/payments.
Thank you for supporting our small business! We appreciate you.