Hey Guys! If you recently got engaged and are planning your wedding, we'd first like to congratulate you! You're super stoked, you're probably staring at your ring a lot, and every once in a while, your heart will suddenly become overwhelmed with joy and delight. That is a once-in-a-lifetime feeling…enjoy each moment with your new fiancé!
You also probably have a lot of questions. We're here to (hopefully) help. 🙂 Here are a few questions that we are frequently asked. We love to talk weddings; if you have any questions that are not on this list, feel free to call us at 330.651.4849 or email us at info@menningphotographic.com. Â We can set up a time to grab dinner or coffee and talk all about your wedding.
The first part of your wedding photography journey starts off with an engagement session. We get a lot of questions about engagement photography. Hopefully this will help you in your planning.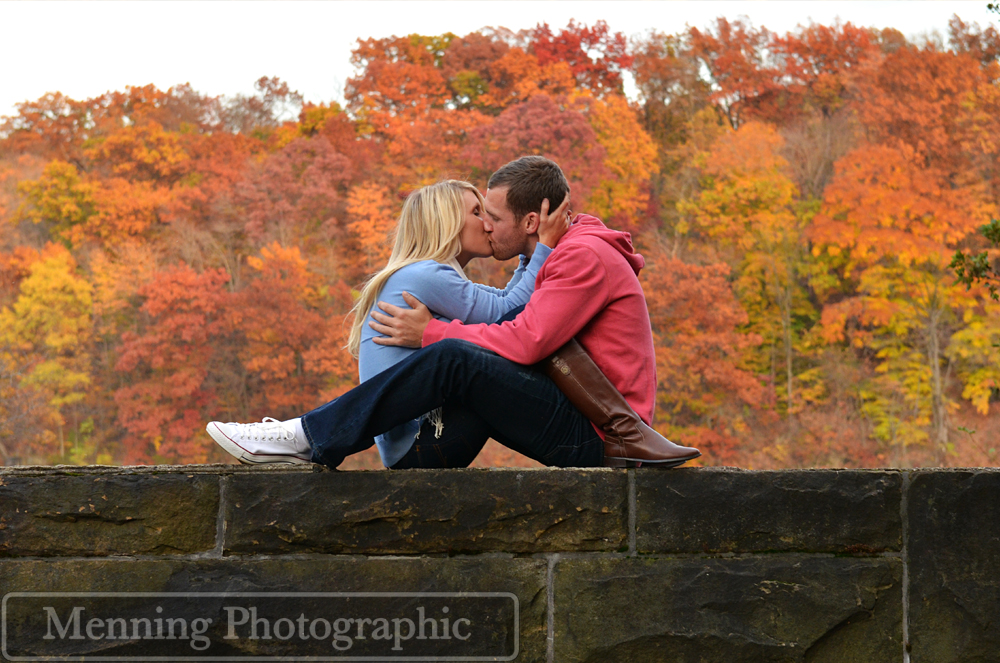 What should we wear during our engagement photography session?
The first thing we like to tell couples is to be comfortable. You probably don't want to walk around in 5 inch heels for three hours. If you want to go with a fancier look with a dressier vibe and wear heels, do so, but bring along a pair of flip flops or comfy shoes to wear in between shooting while we're walking. Megan did that for their e-sesh:Â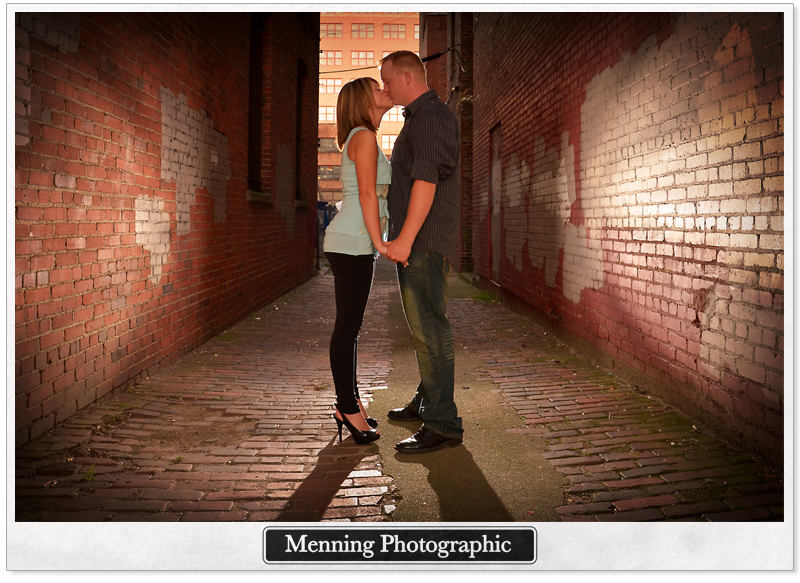 If you're more of a casual person, you'll feel more like "you" and more at ease while we're doing the session if you wear something casual. So wear what makes you most comfortable. Some couples like to match. I personally think photos will come out better if couples coordinate but don't completely match. You can wear complementary colors. Or maybe he can wear a solid polo shirt and you can wear a patterned shirt that coordinates with the solid color he's wearing. Ashley & Chris coordinated well for their country engagement session: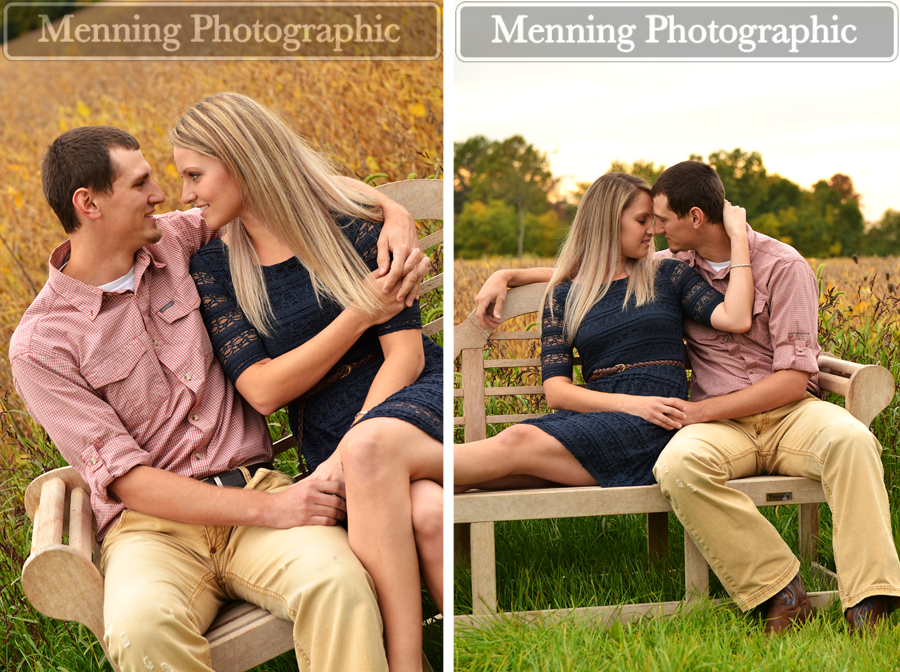 The bright green, purple, and orange mixed with the casualness of their jeans and Erin's simple cardigan made these outfits work.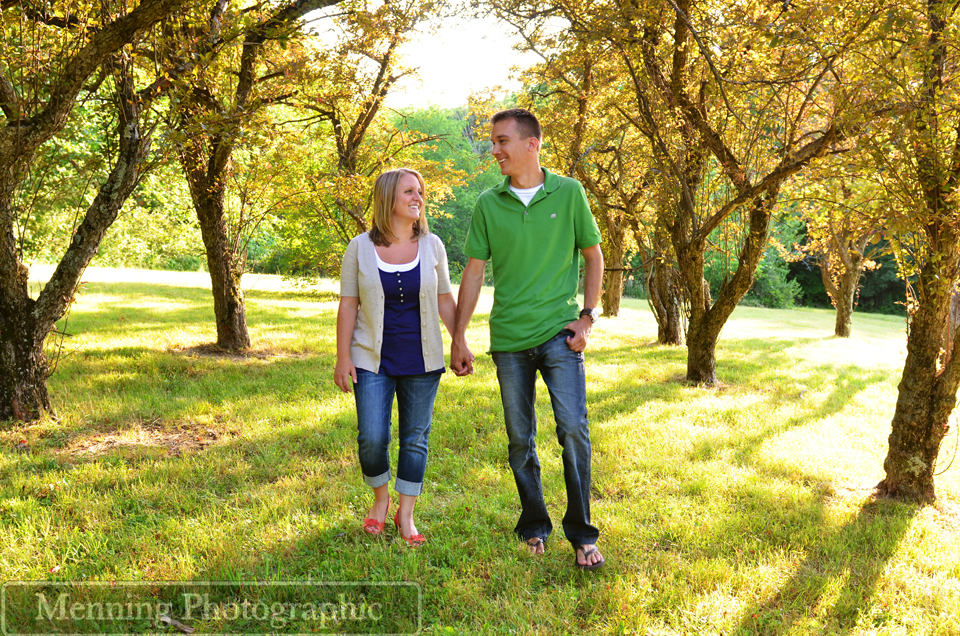 You can even dress up a little if you want the photos to look more formal and elegant. 🙂 Rudy & Allison looked classic and stunning together.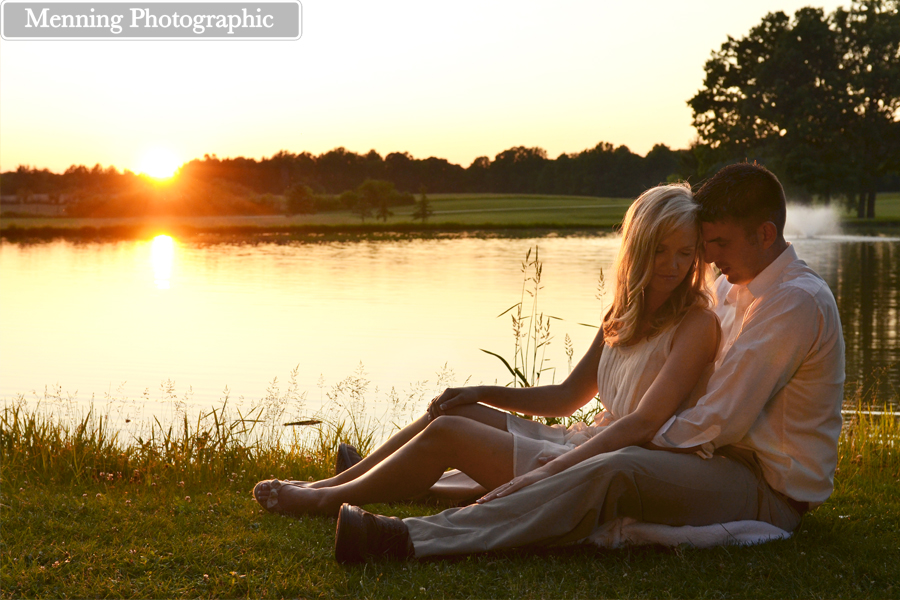 Here's another piece of advice: Put on the outfit(s) you're thinking about wearing and see if you're comfortable sitting down, bending down, lying down, etc and that your clothes are not riding up/falling down/flashing body parts you don't want to flash/showing your underwear. 🙂 That's never a good look. (hehe)
What locations do you recommend for stunning photos?
First of all, the location is certainly not the most important component to the engagement session. YOU ARE! The focus is completely on you and your love for one another. Of course, gorgeous locations do not hurt. Â We like to recommend that couples schedule the session to take place at a location that is significant or sentimental to them. Think: where you got engaged, the place you met, where you went on your first date, the place you first kissed, a park you frequent with each other, etc. We allow couples to choose various locations, but we like to also inform them that the more time we spend traveling between locations, the less time we'll be shooting. Limiting locations somewhat based upon this factor is recommended. Ashley & Chris had their session at Chris' grandparents' farm, which holds special memories to him and to them: that's where he proposed! 🙂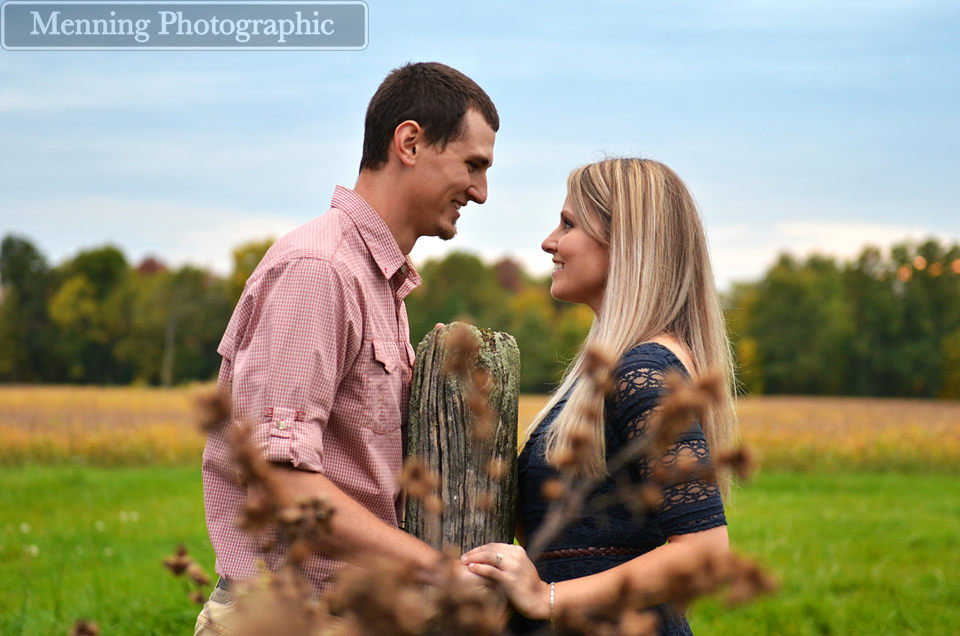 Jennifer & Chris wanted to have their session in Chris' hometown, as their wedding and reception are taking place near Jennifer's.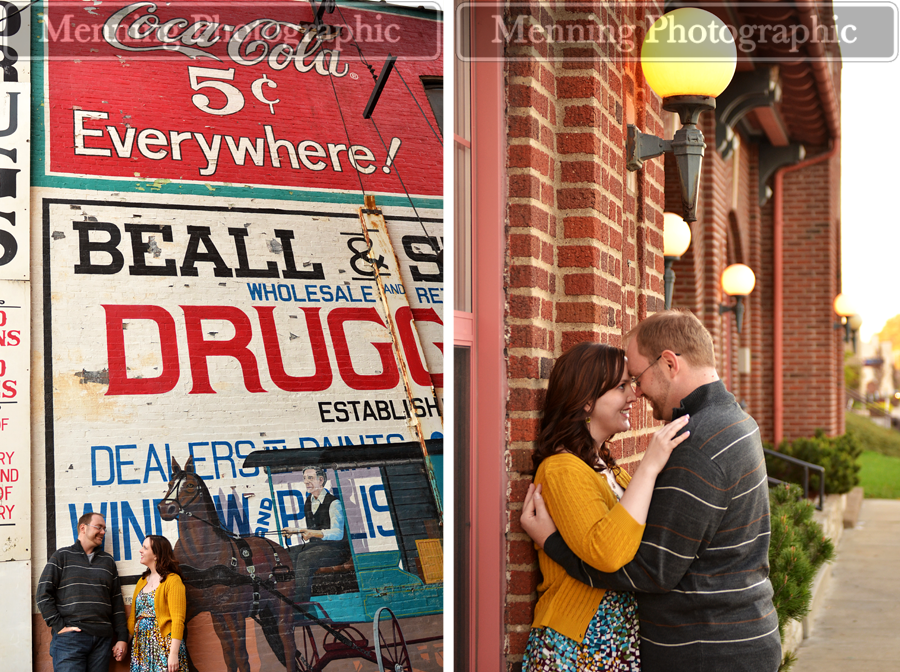 Jennifer and Zac were engaged at The Renaissance Hotel; we took some photos there and around Pittsburgh. The hotel is in the background of this shot. 🙂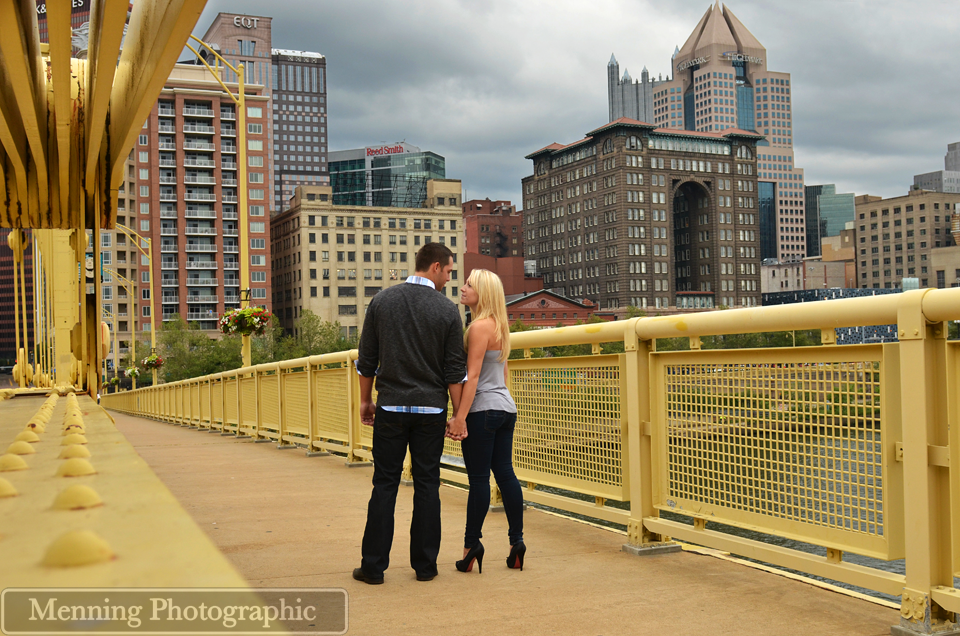 How many times do couples generally change outfits during engagement sessions?
This totally depends on you. You'll want to ask your photographer whether she/he/they charge for changes of clothes during engagement sessions. We do not; you can change as many times as you like. Just take into consideration whether there will be somewhere for you to change at the photo location and how much time out of your session you want to be changing versus how much time you want to be having fun with your fiancé getting photos taken.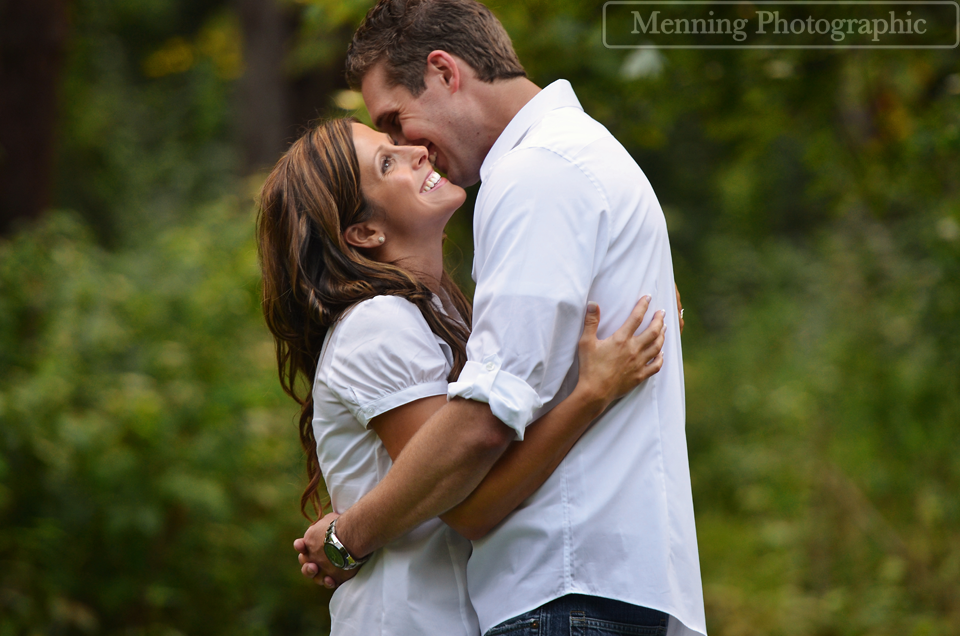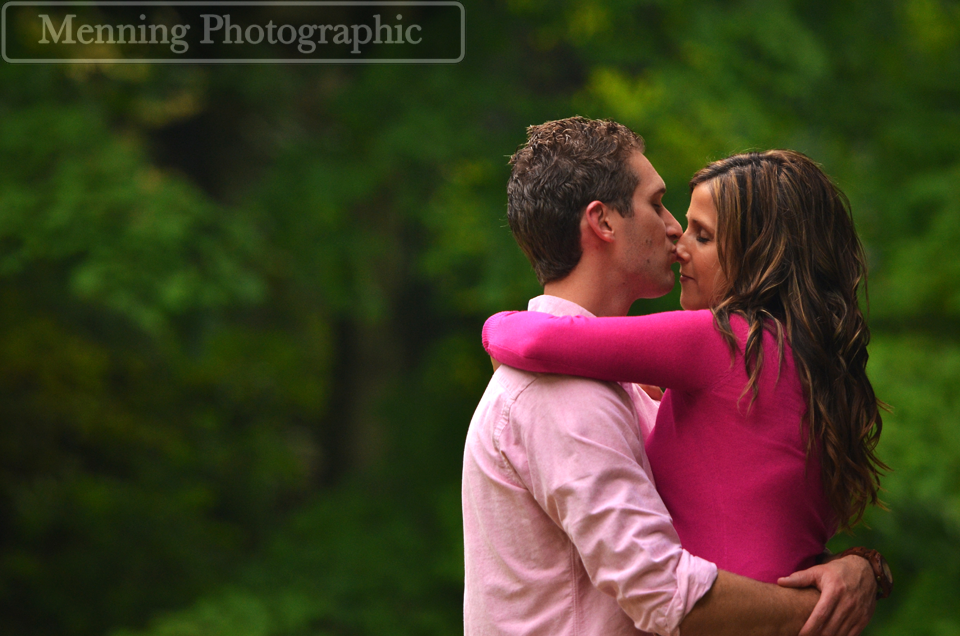 What is an engagement session with Menning Photographic like?
As far as the shoot goes, it's great to relax, not overthink anything, and just BE with each other like you normally would when you're on a date. We make it our mission to help you guys feel completely relaxed in front of the camera so you can truly be your in-love selves and show emotion and connection. We'll demonstrate a "pose" to you and then step back and allow you to interact with one another. You can move; there is no rule that you remain statuesque or immobile. We encourage you to move, talk, laugh, giggle, kiss, tell secrets, and have fun!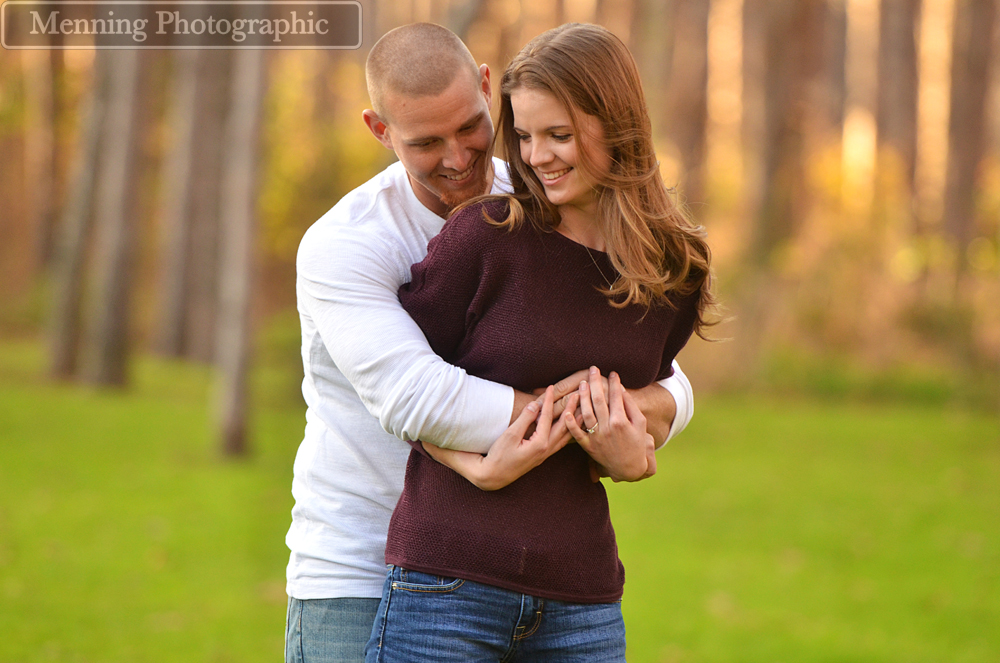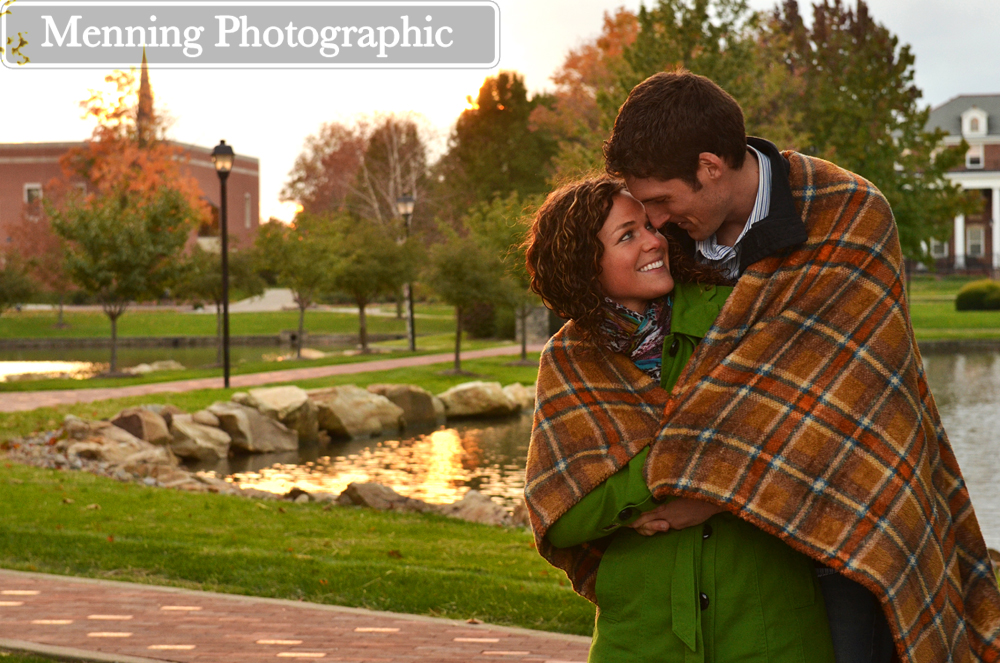 Do you have any other advice about our engagement photography session?
We'd recommend not bringing a purse with you for the shoot if you can help it. We will be carrying our equipment and, therefore, won't be much help in carrying anything for you. Â Also,
as always,
have FUN! 🙂 You'll have lots of creative opportunities to use these engagement photos. We've seen our couples use them on customized wine bottles, as decorations at the ceremony or reception locations, as favors, as Save the Dates, and for invitations. Also, we recommend having engagement photos taken by the photographer who is going to shoot your wedding so that you'll be familiar with their shooting style. Furthermore, who doesn't want awesome photos together as a newly engaged couple? You can display them in your home
and
have a killer Facebook profile pic. 😉
Also, we offer customized guestbooks featuring YOUR engagement photos that you can have all of your guests sign at your reception. That is something you'll want to keep and display rather than simply having a regular old guestbook full of a bunch of names.