Suzie & Bobby are so in love. Their wedding day was a dream come true and it was a pleasure being there and seeing them surrounded by amazing, fun friends and caring, supportive families.
I met Suzie and her bridesmaids at her parents' home. I found a few important items lying around and decided to shoot them. 😉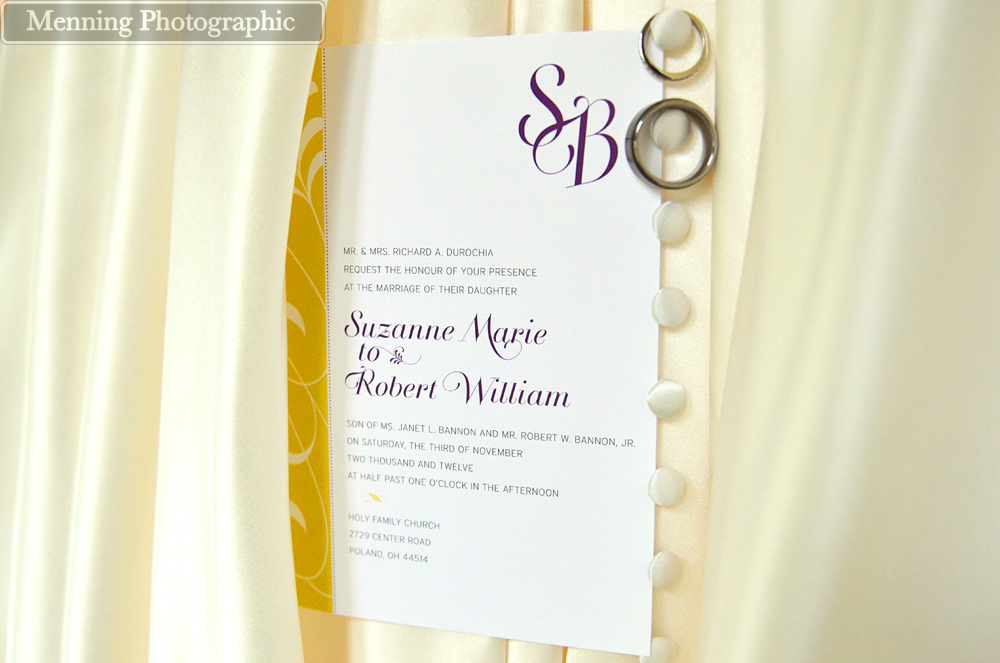 Suzie was getting her make-up done in the sunroom. She was so happy.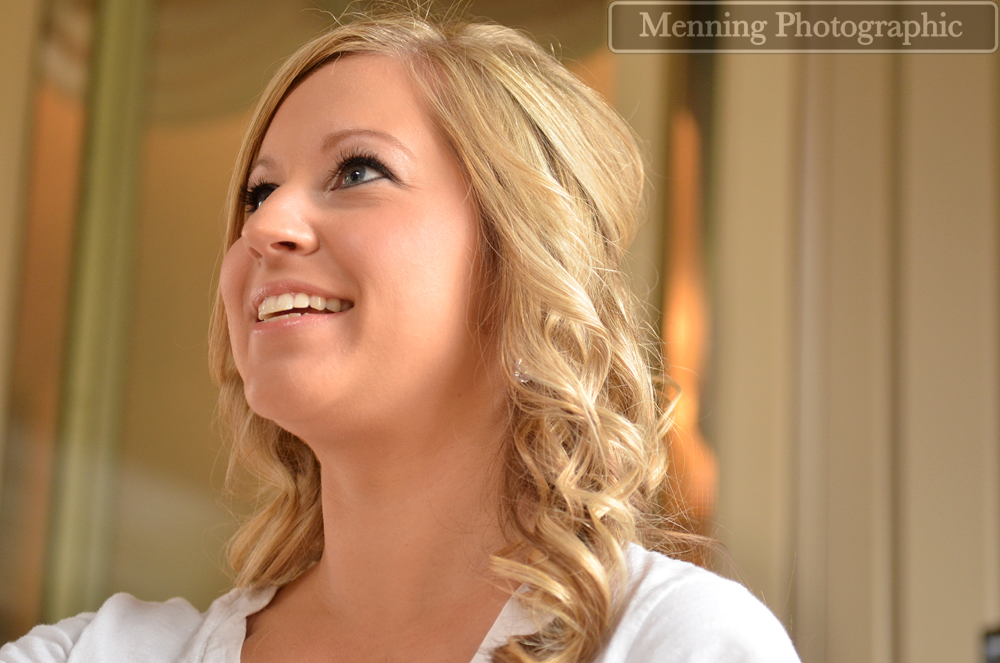 Then she got into her stunning gown with some assistance from her mother, sisters, and friends.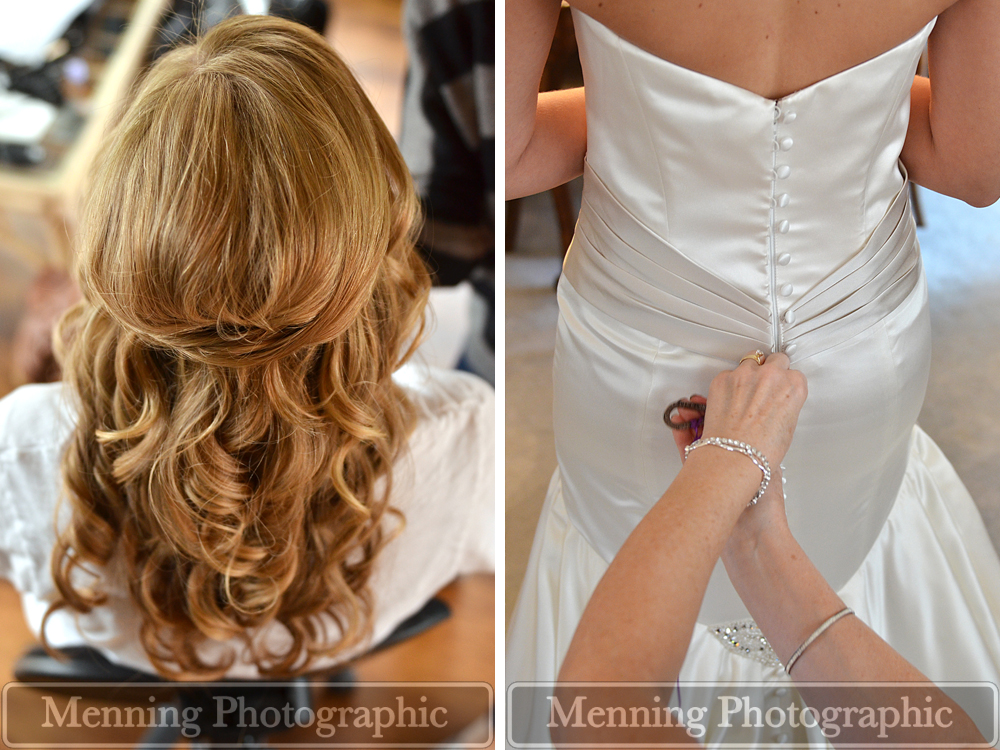 Meanwhile, Josh was with Bobby and his groomsmen. The groomsmen gifts were these bobble heads personalized for each of Bobby's friends and dad. They were so accurate it was crazy!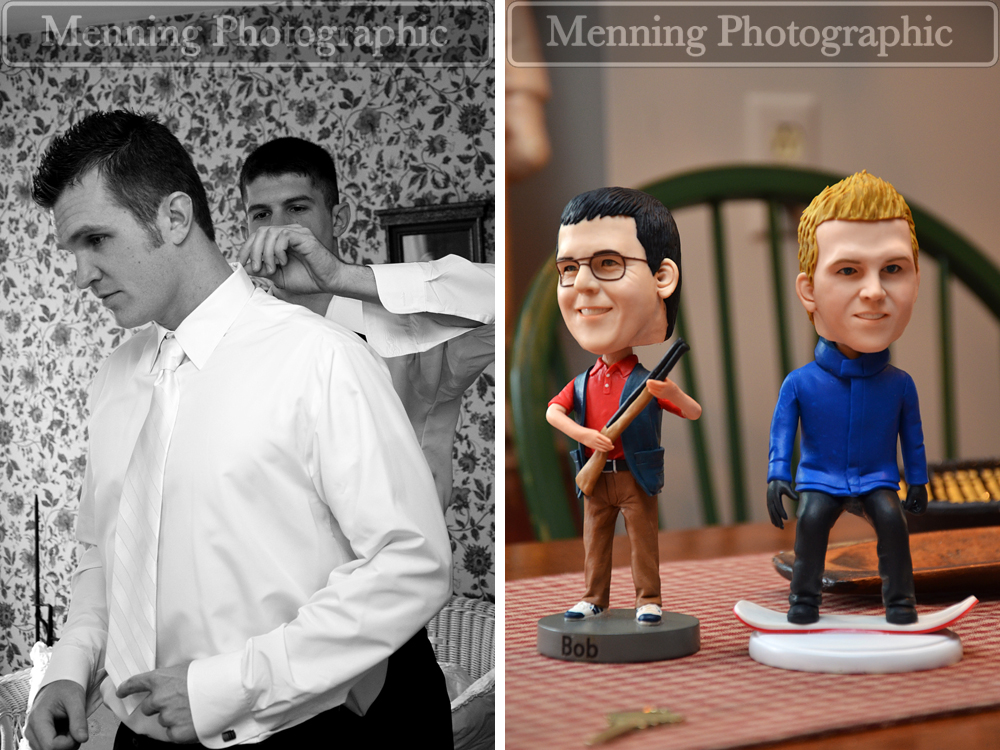 Gorgeous bride!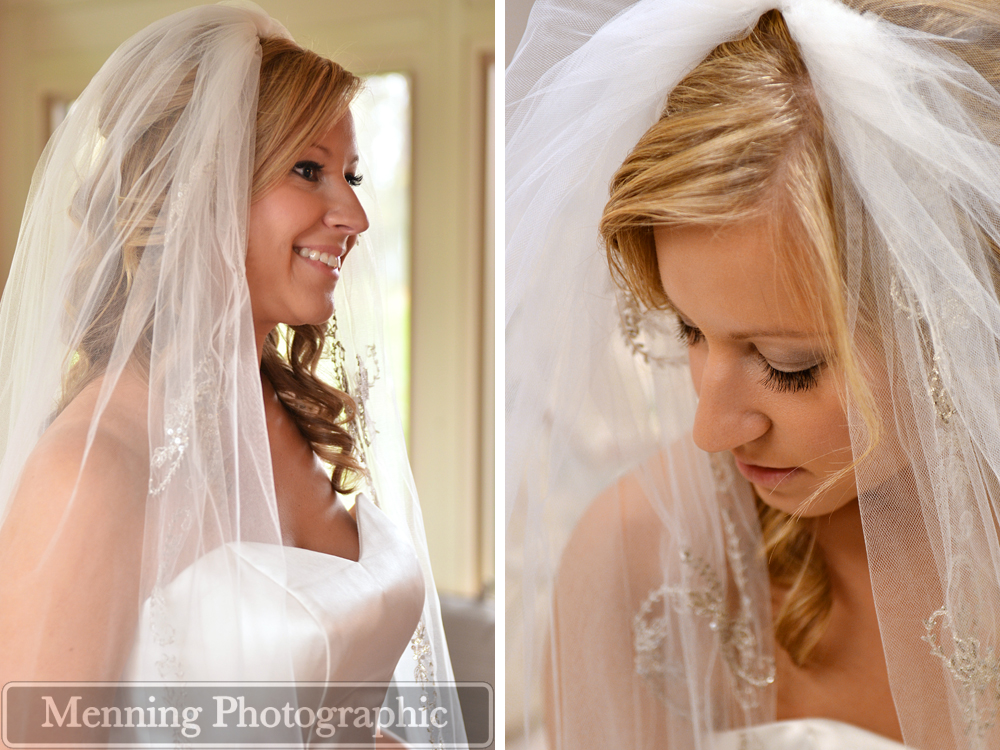 This bridal party was an absolute blast to work with; they were fun, but they also understood that this day was all about Suzie & Bobby. Those qualities definitely make for a superb bridal party that will allow you to enjoy your wedding day.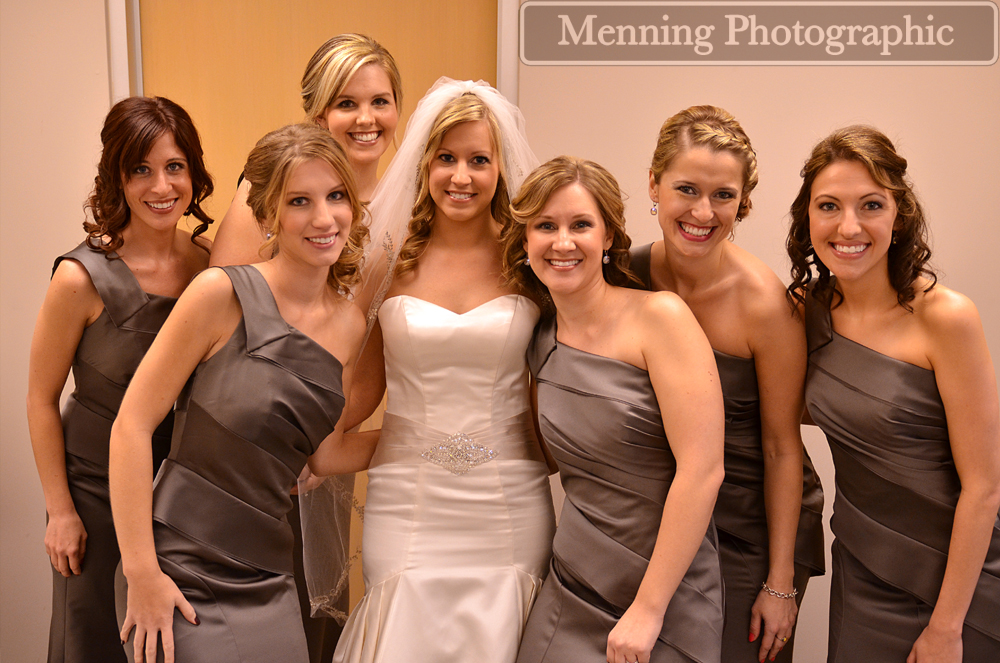 The youngest daughter walking down the aisle as a bridesmaid and Suzie's dad waiting to walk his middle daughter down the aisle and give her away: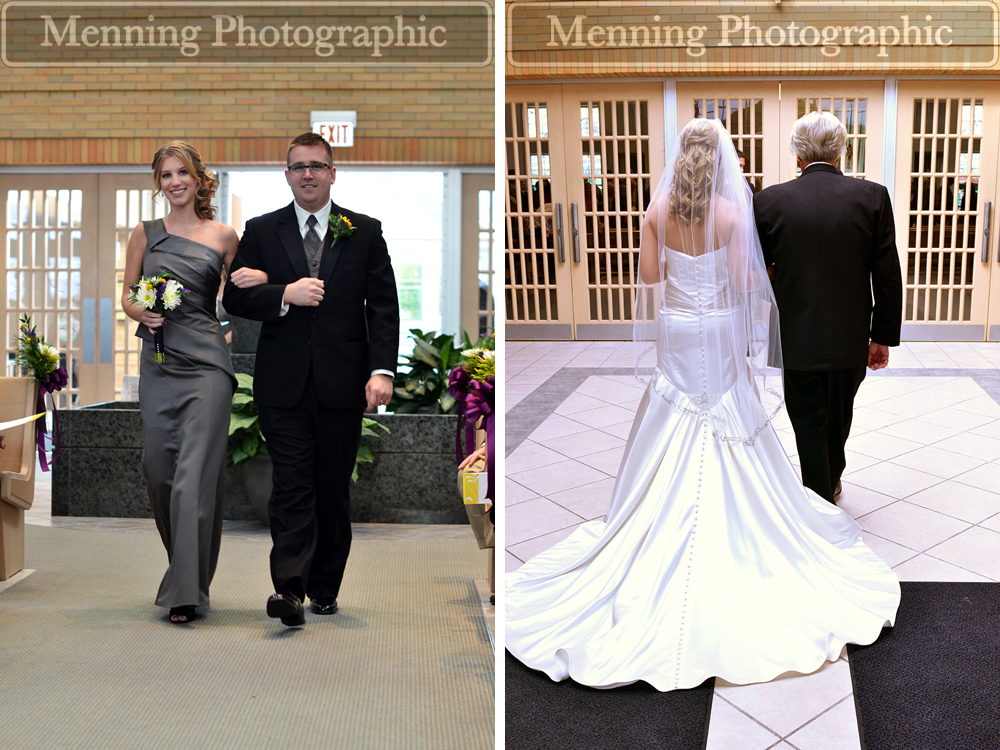 There was so much happiness everywhere that day.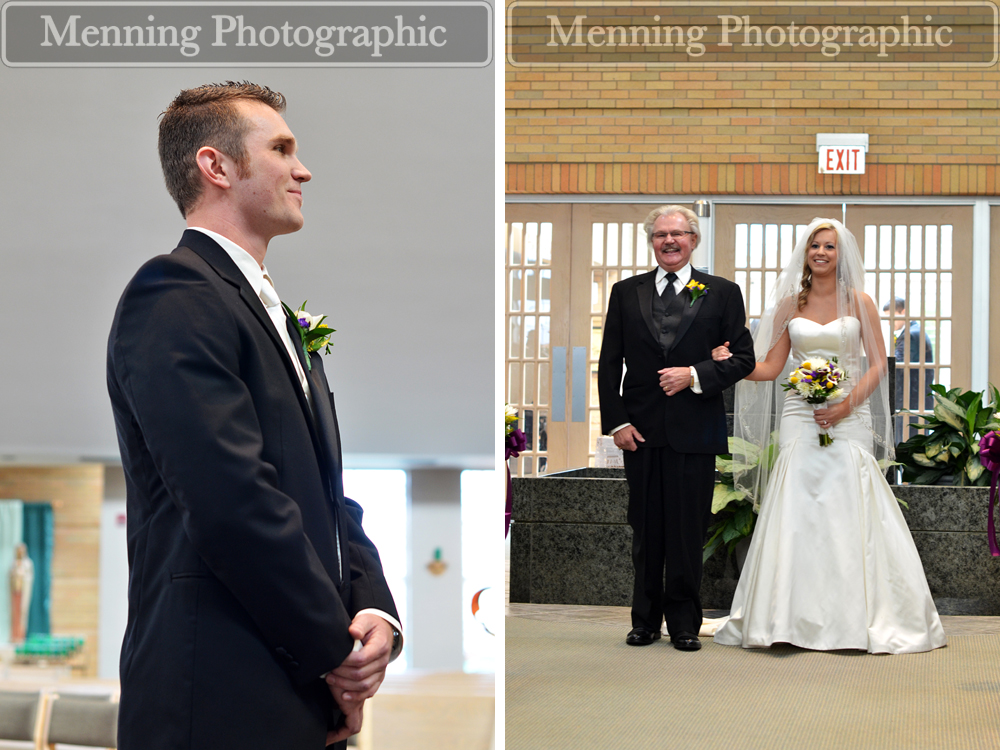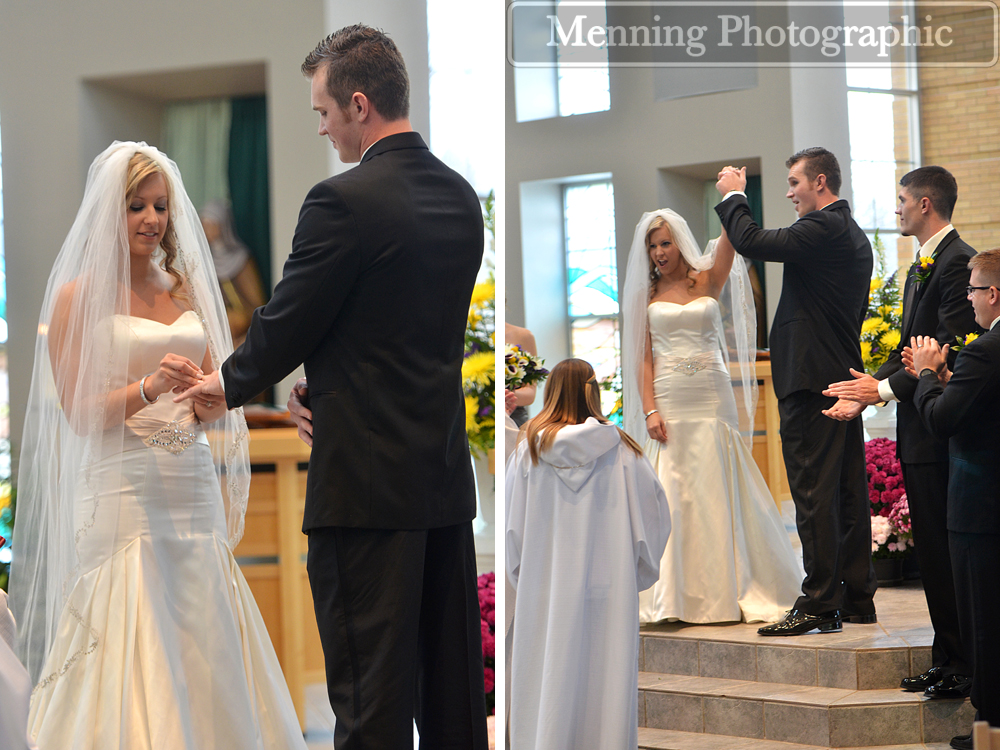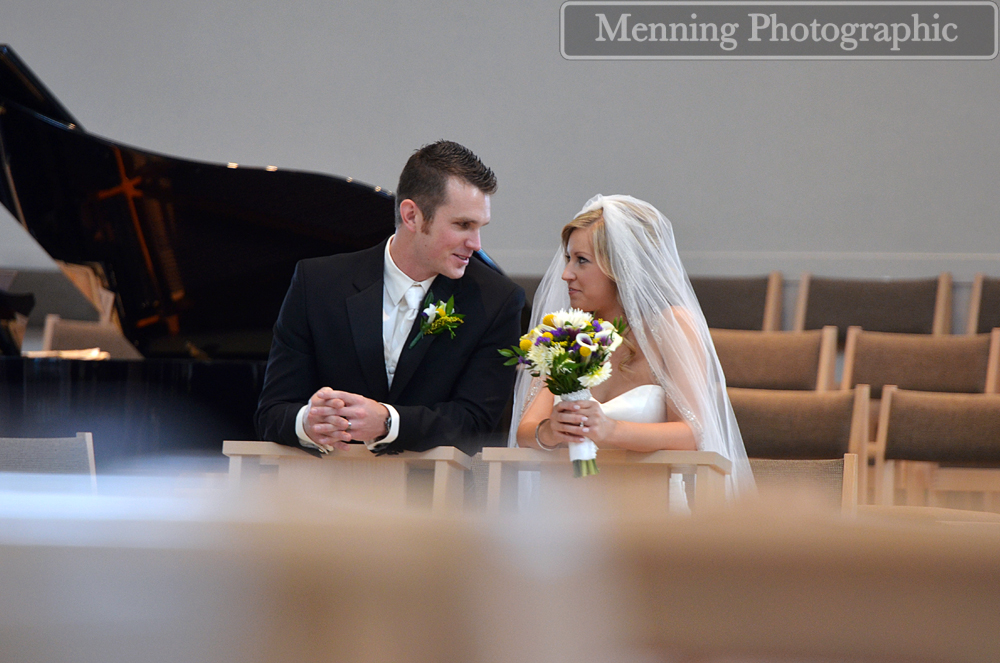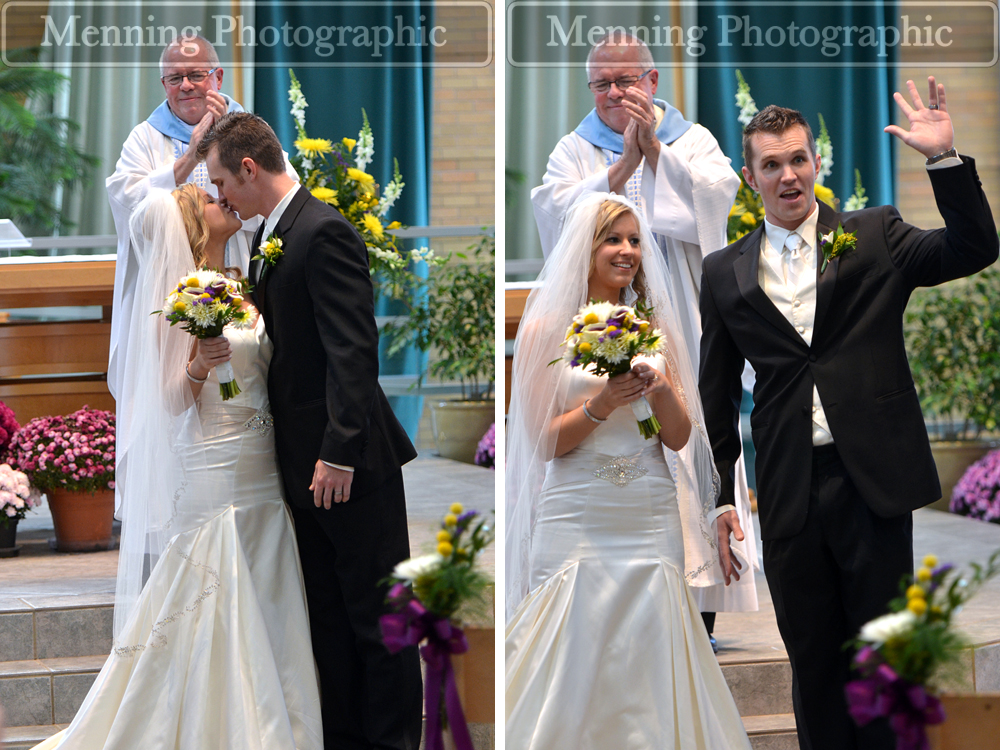 See how in love they are?! They were elated to be married. It just made you want to cheer for them, fist pump, and then kind of cry on the inside so no one could see you aren't tough. 🙂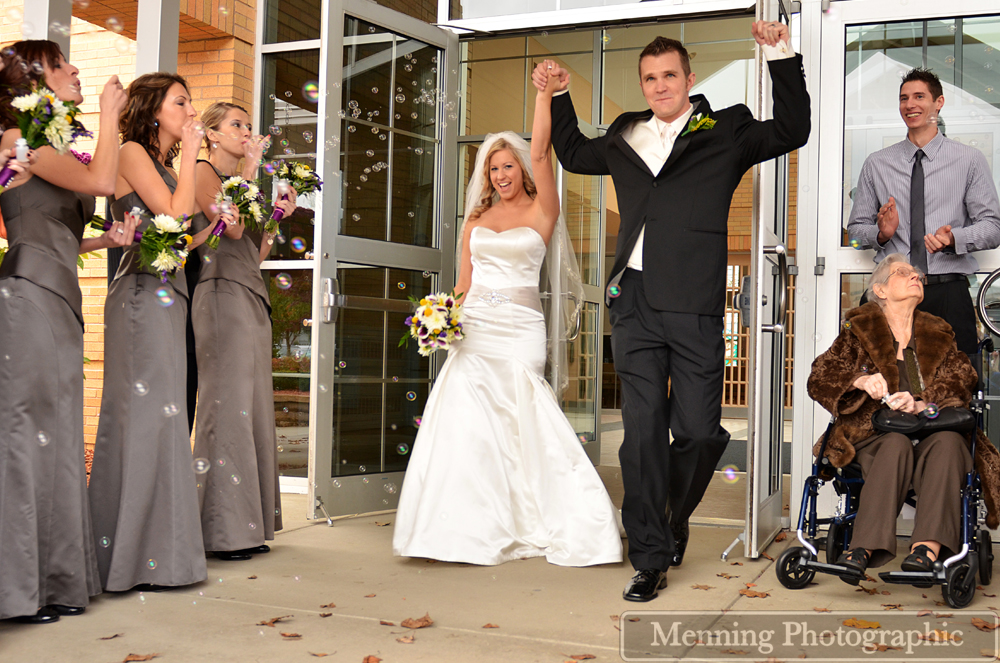 We all headed to the Butler Institute of American Art for some bridal party shots: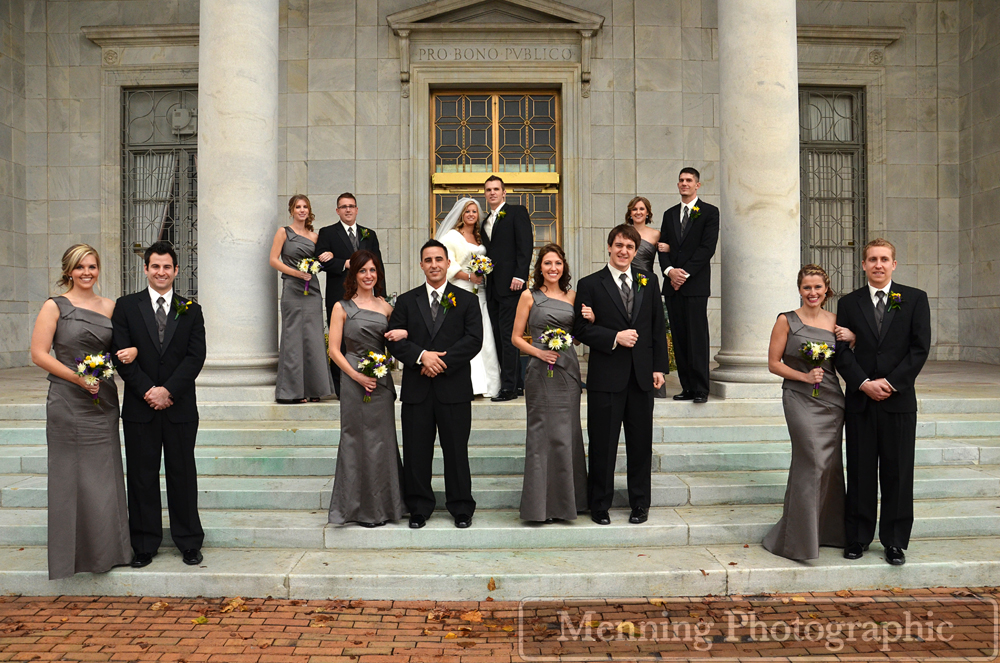 No personality here. 😉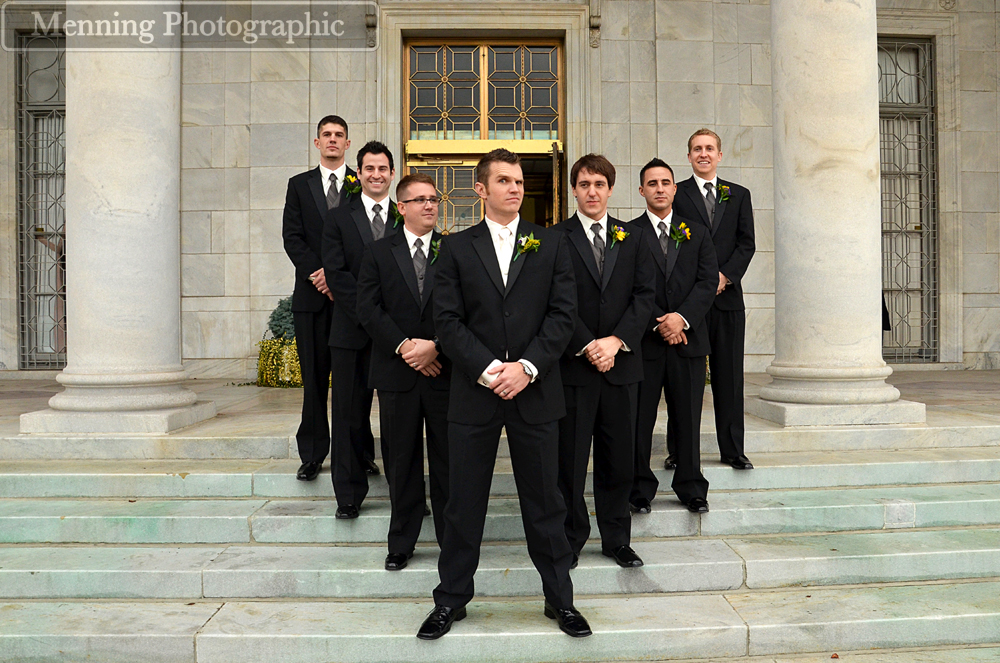 Stunning!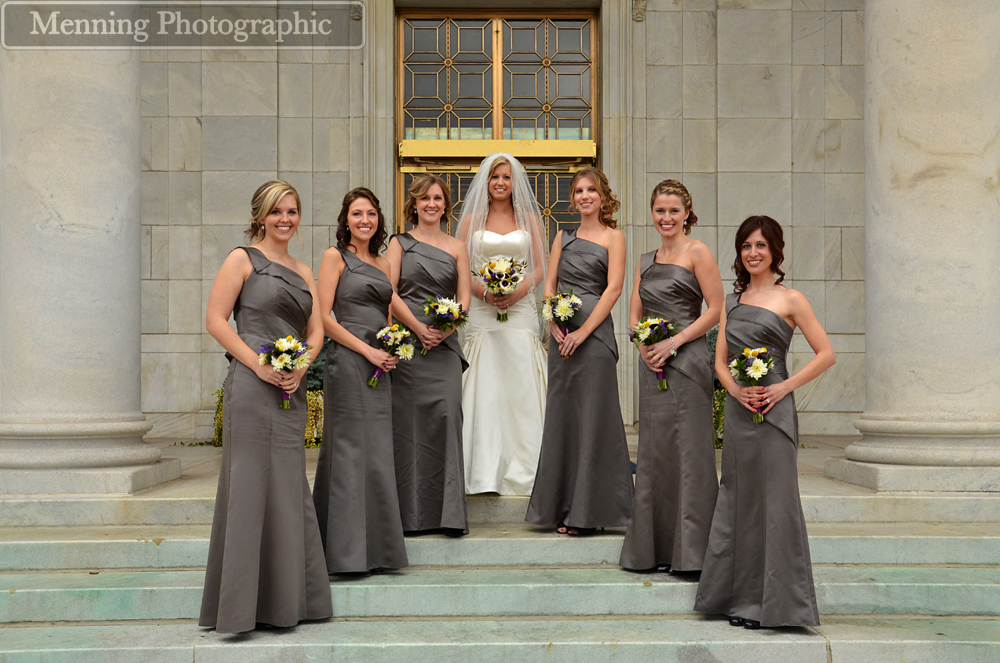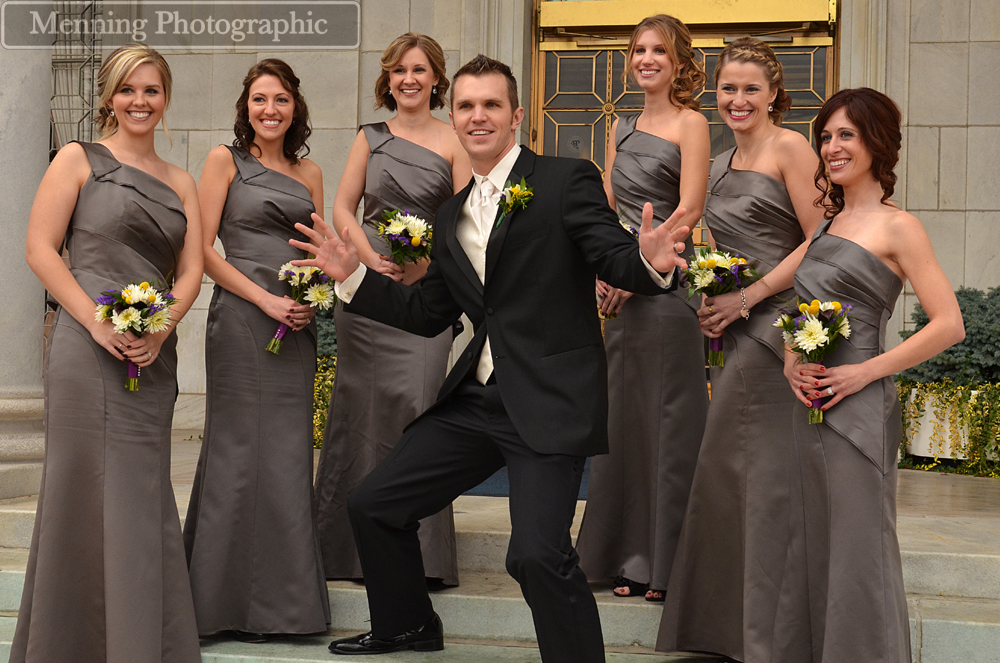 After the bridal party photos, we snuck Suzie and Bobby away for a while. We walked around YSU's campus, which is where they met.
Now, it's not every day you get married. 🙂 As a man, you're not exactly schooled on the etiquette of wedding day gallantry.
That's why I know a groom is going to be a wonderful husband when he holds up his bride's wedding dress without her asking. Â On Suzie's & Bobby's wedding day, Bobby did just that.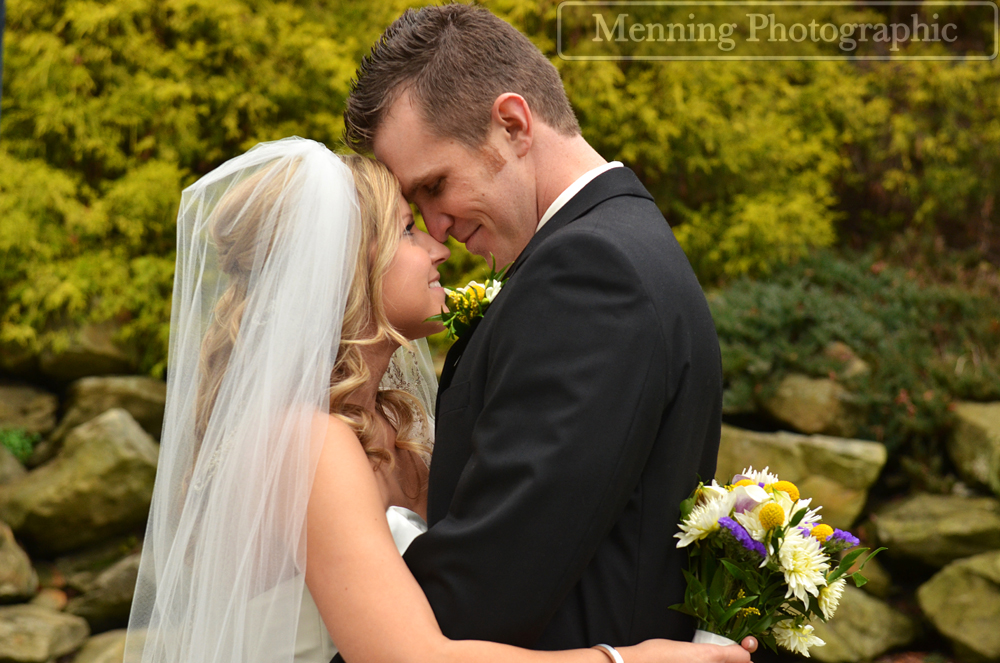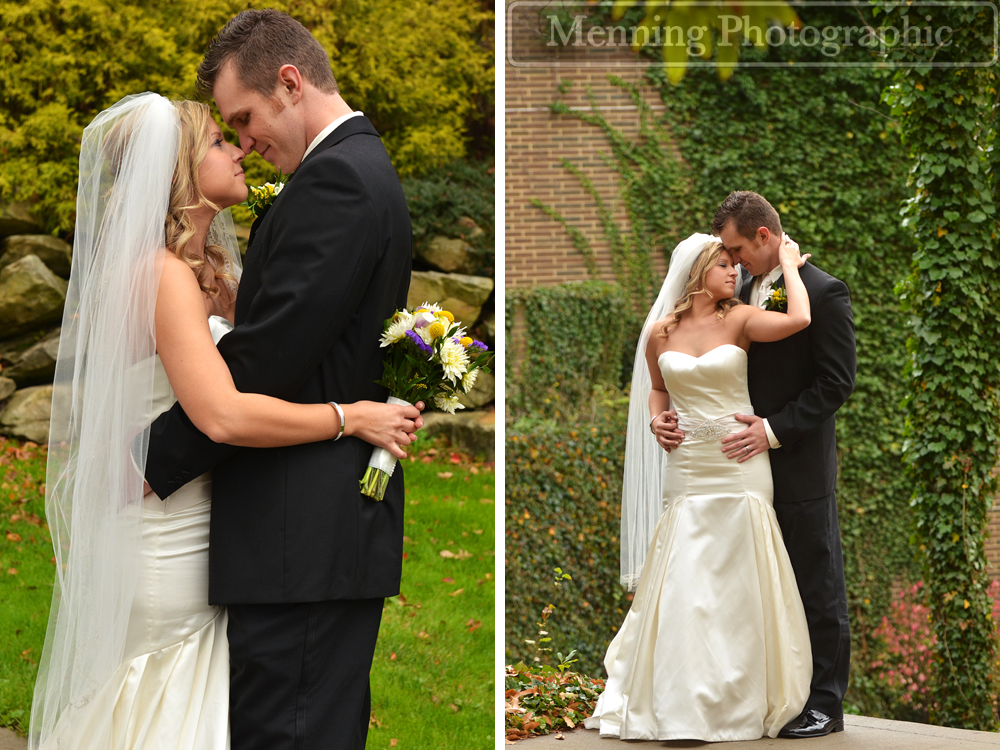 Photogenic couples like this make our job pretty darn painless. 🙂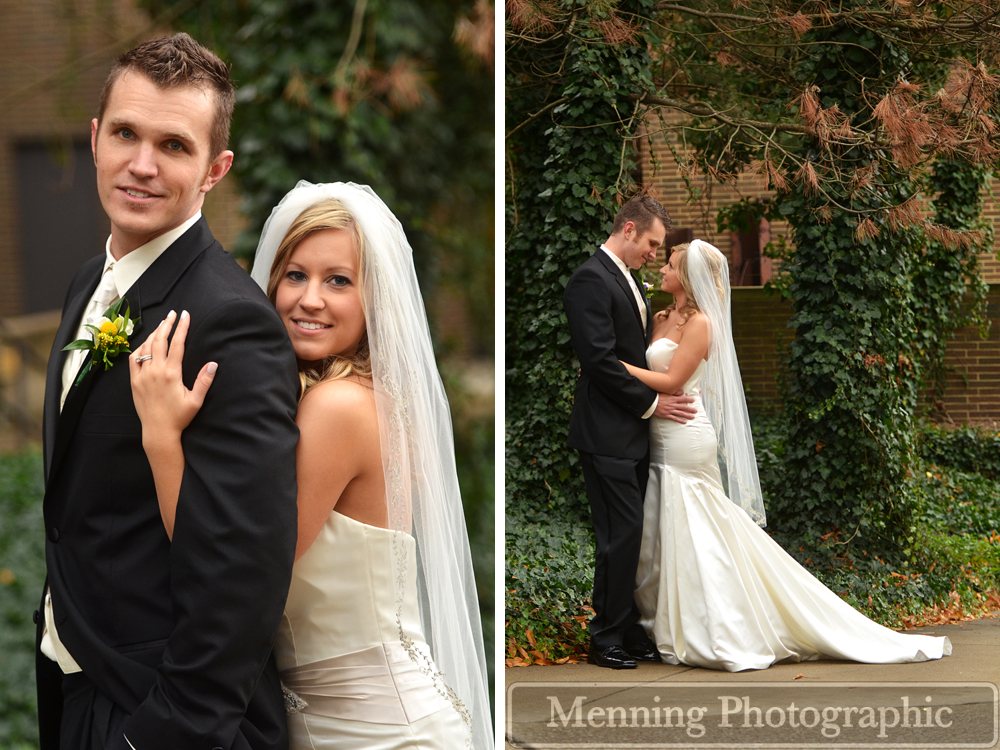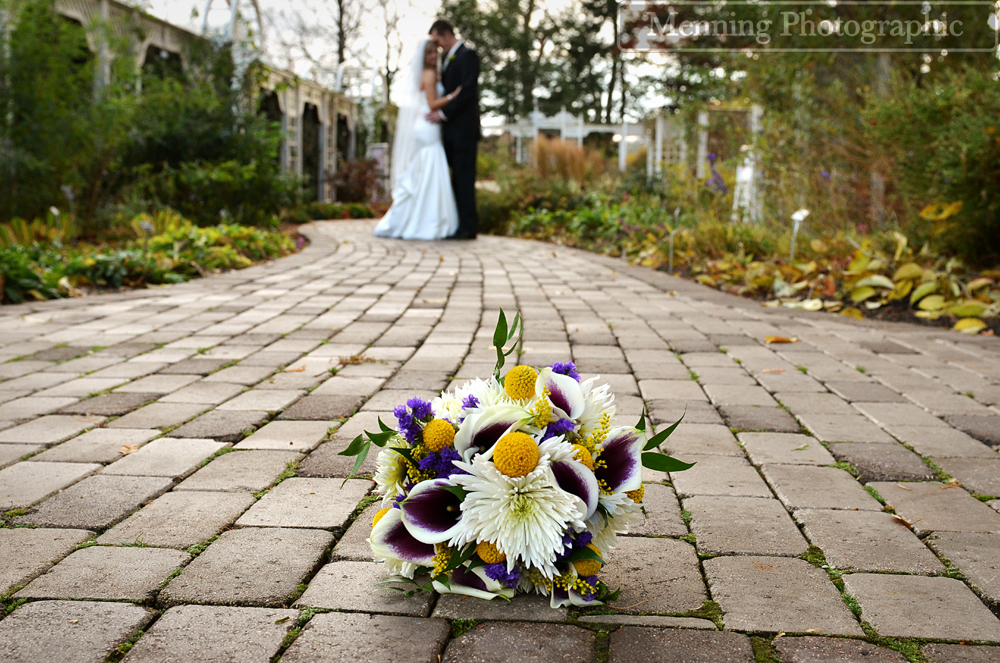 Suzie & Bobby used the image below for their thank you cards. We were really happy to receive one.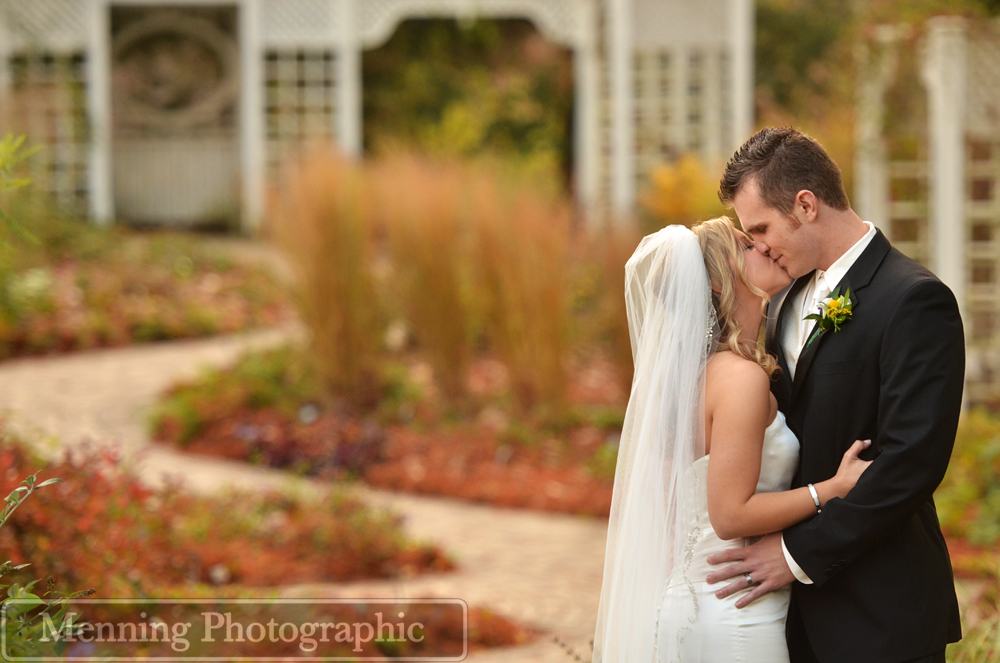 I call these: "Mesmerized by Her Beauty."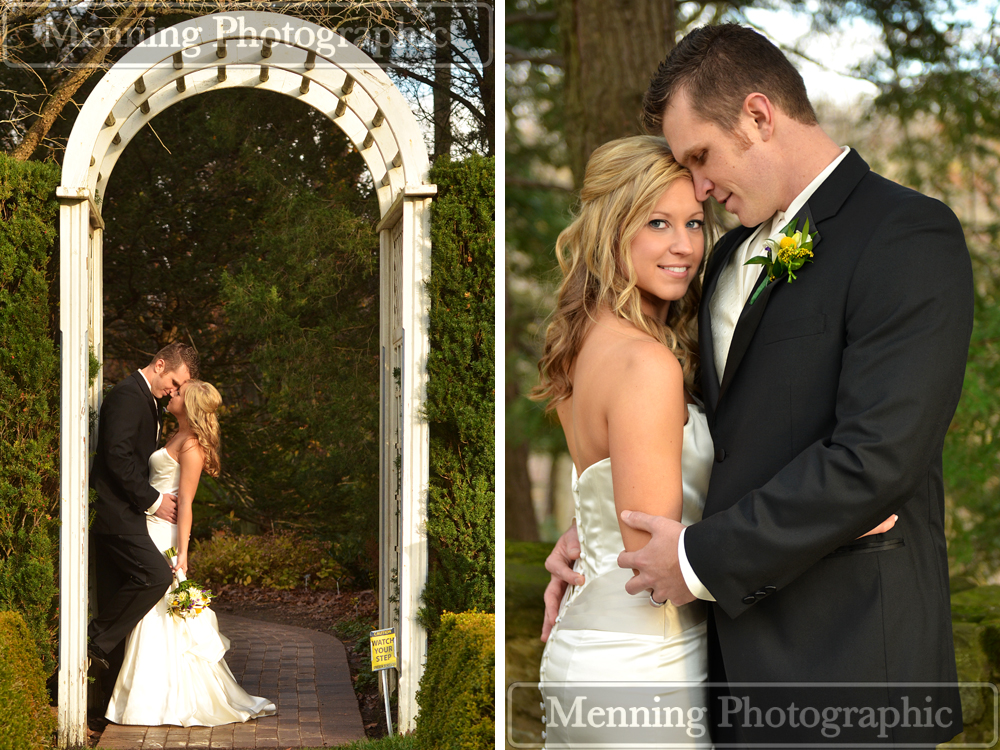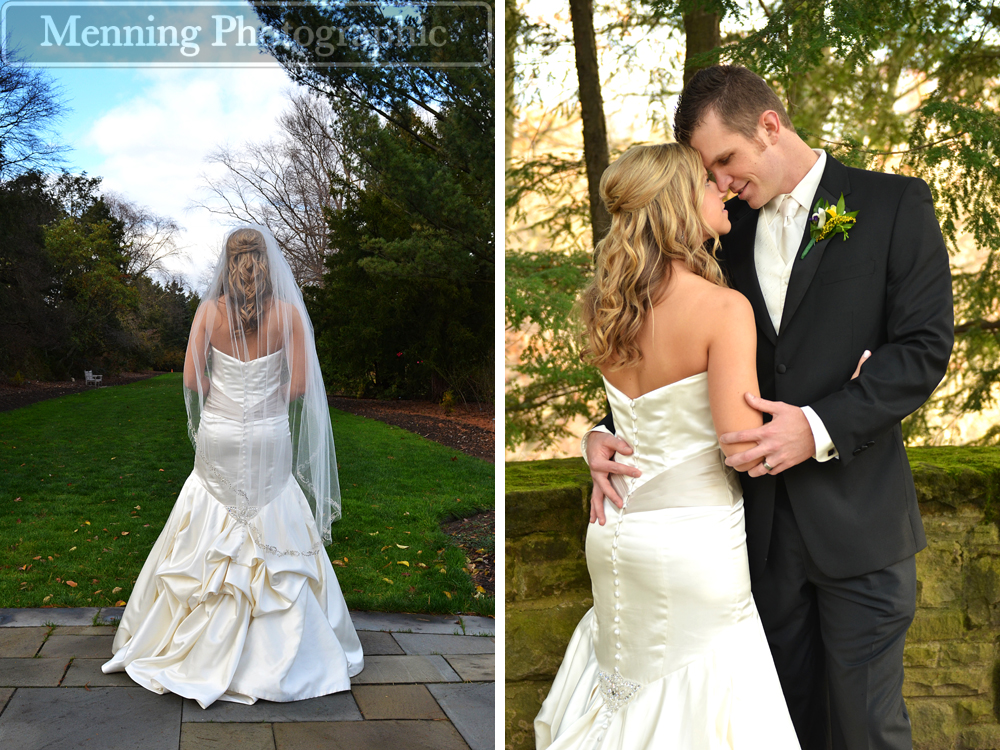 I remember Suzie saying that she really liked that Josh & I demonstrated a pose before having them do one. Â I thought they were naturals, though. Just the beautiful way that they are when they're together is photo-worthy.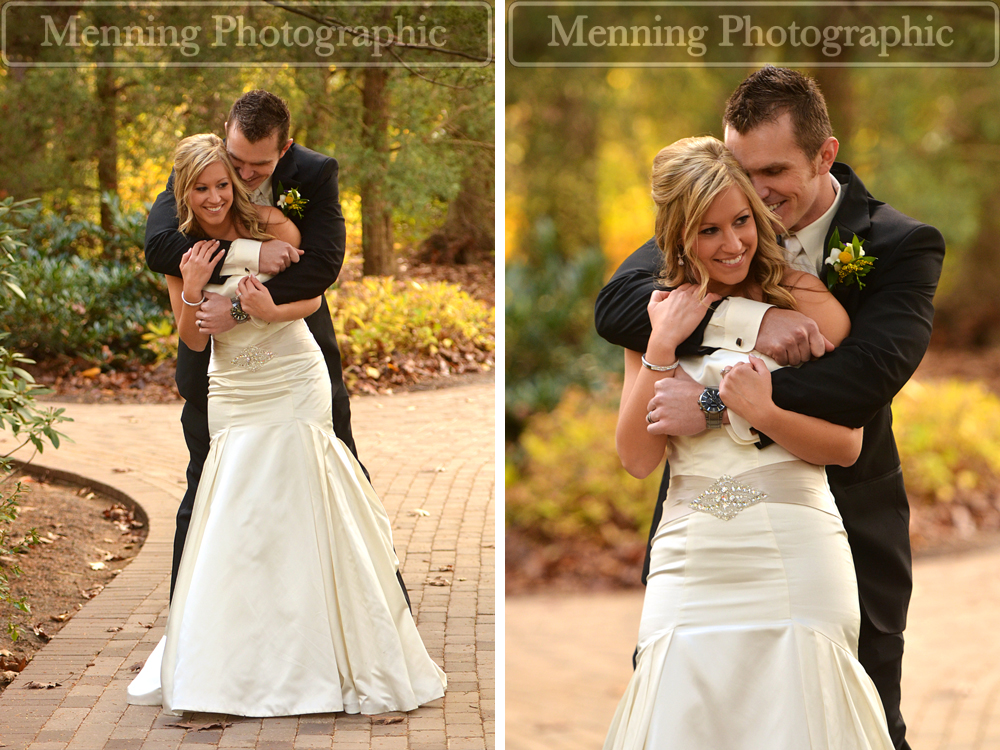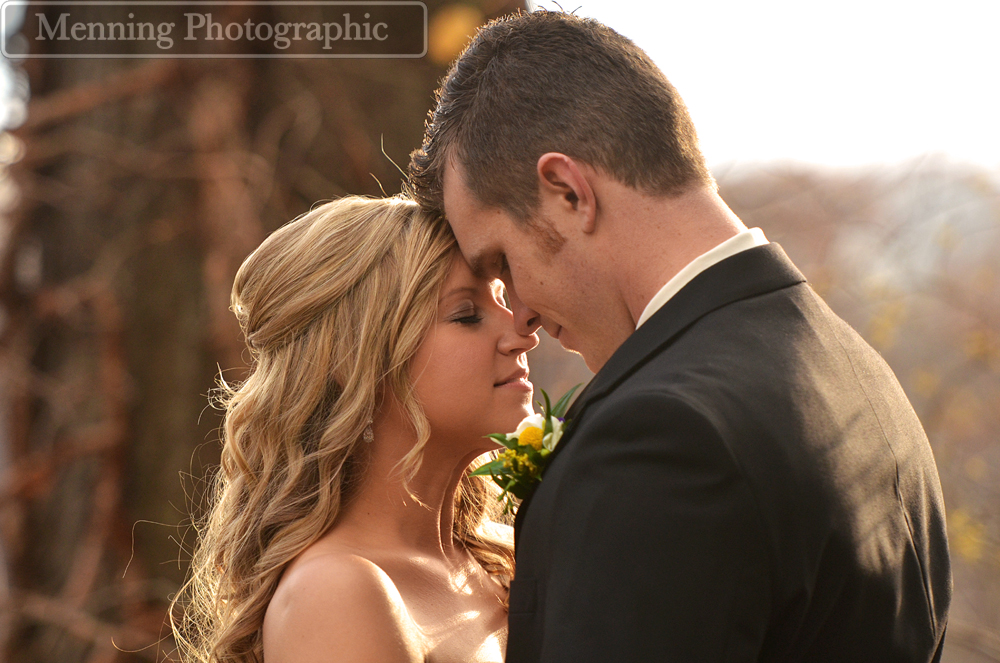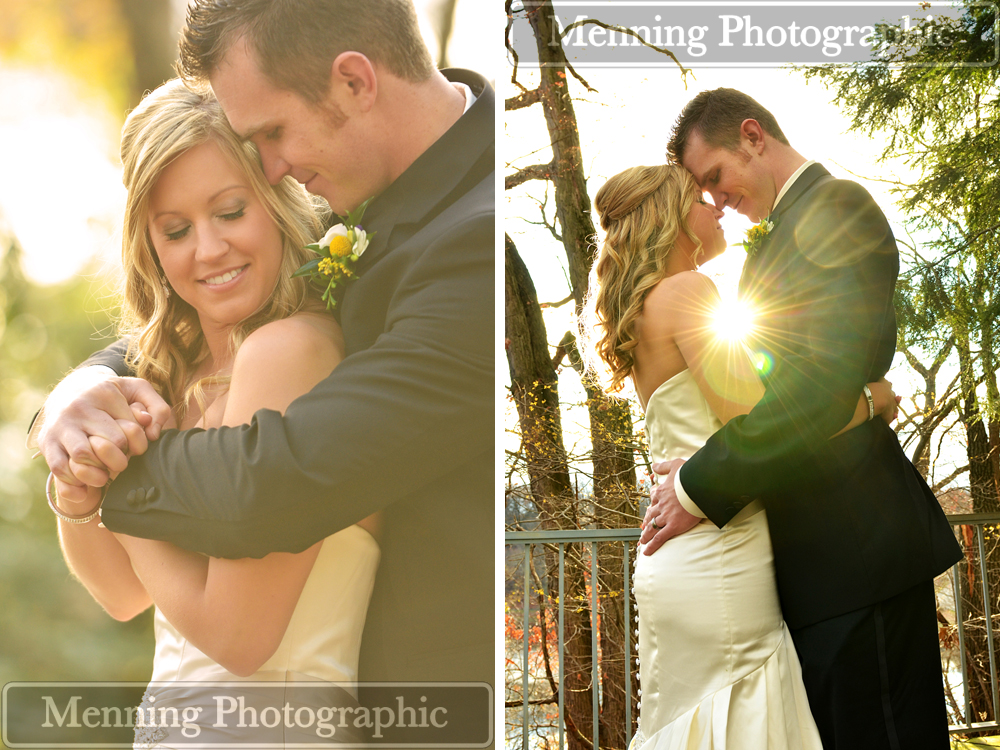 Brides & Grooms-to-Be: Please, please, please consider uplighting for your reception. It adds interest and color to photos. It's chic. It's lovely. We consider it to be a worthwhile investment for your wedding day.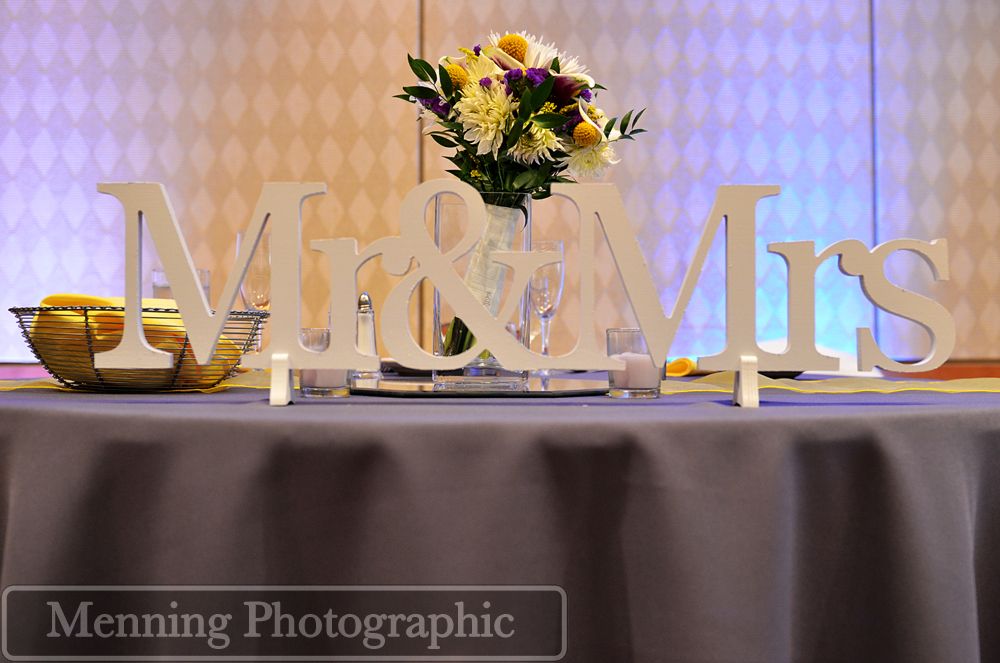 Their reception was at the Davis Center at Mill Creek Park. We always find interesting objects there to use for ring shots.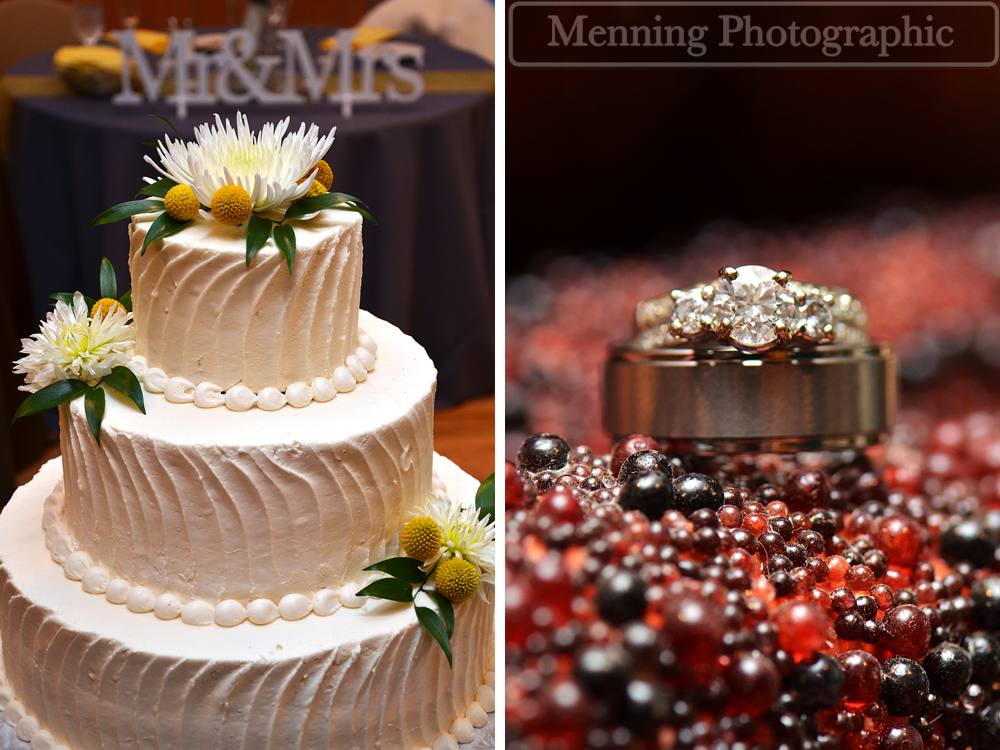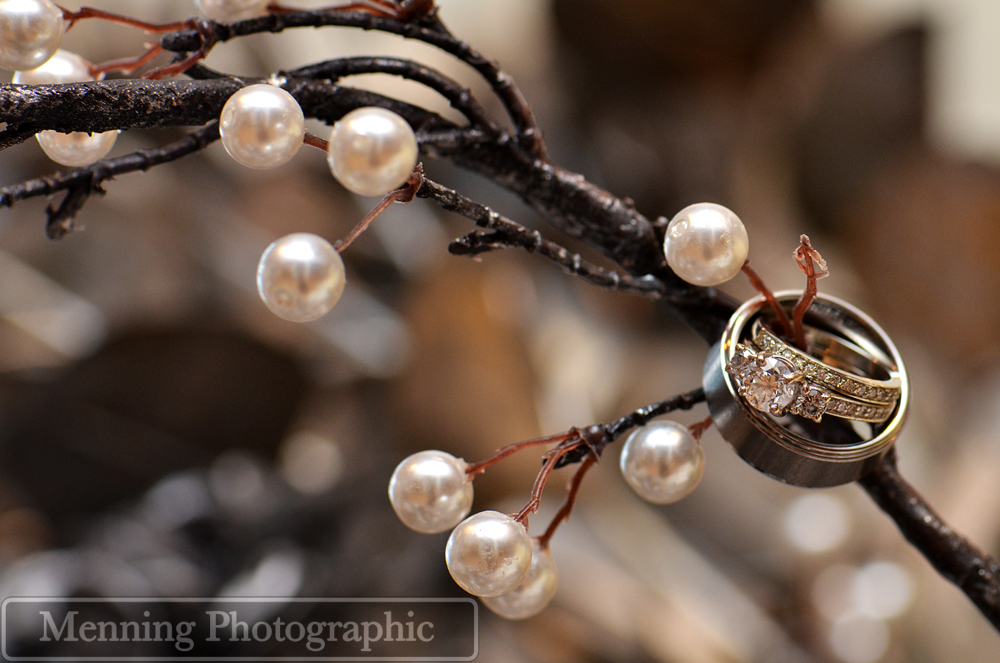 Batman was at their wedding reception.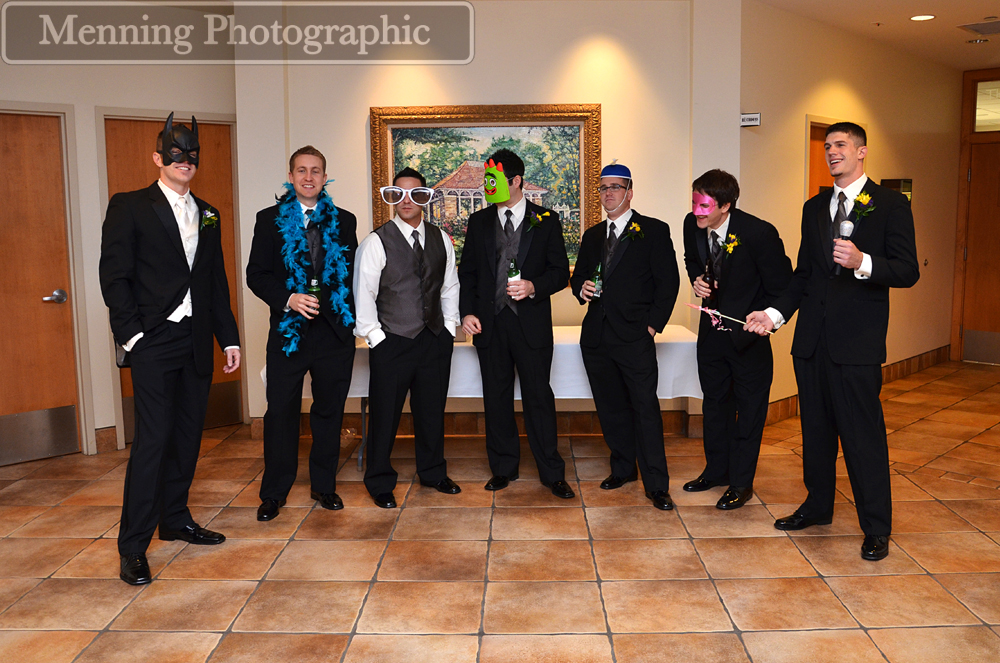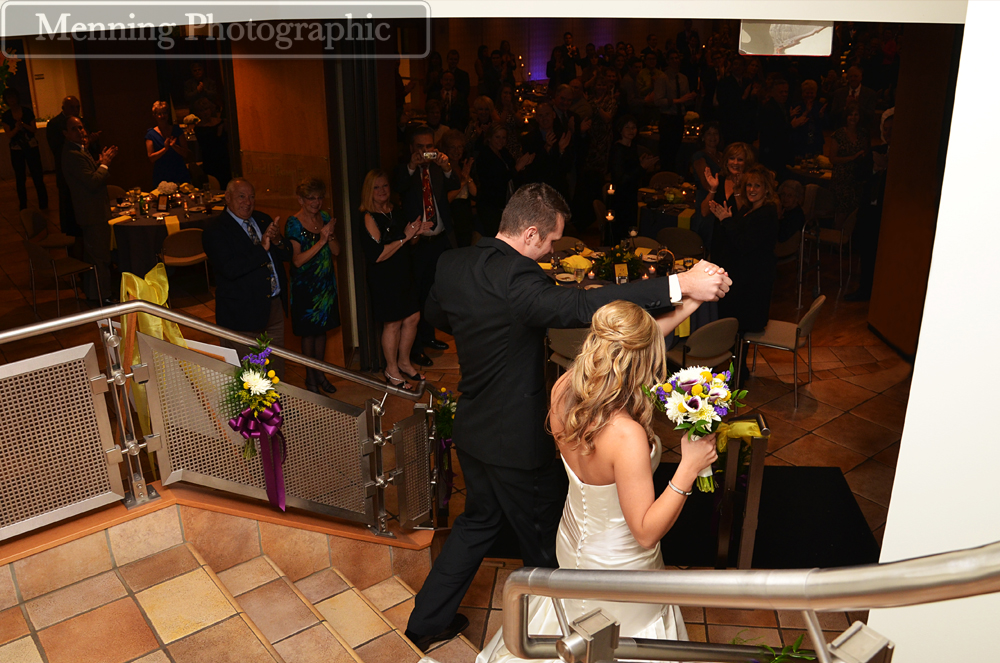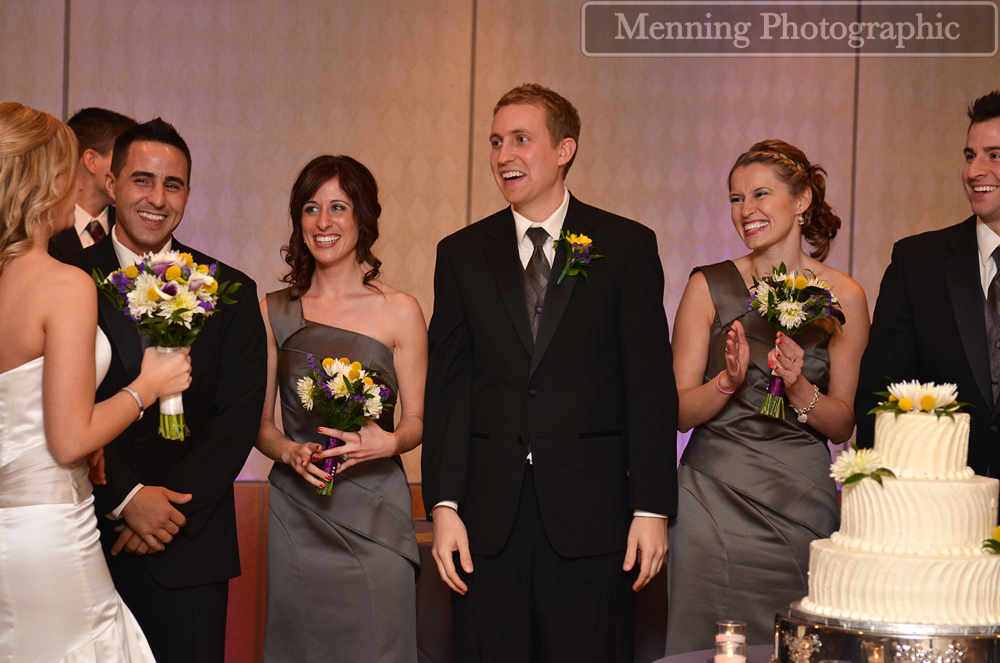 The reception festivities began with the cake cutting.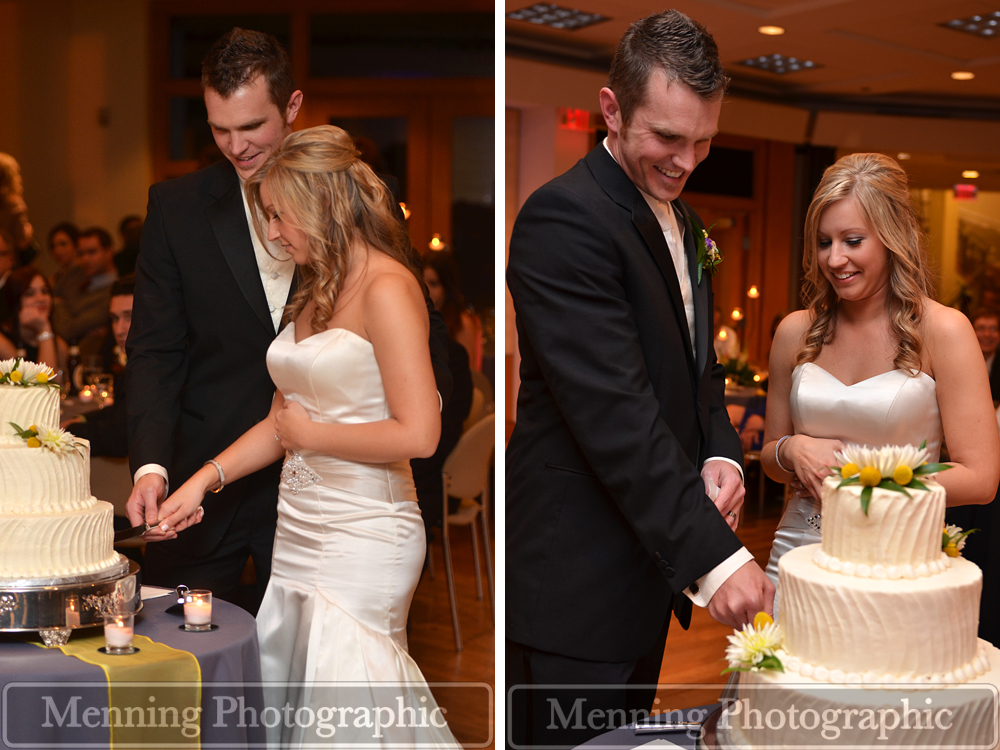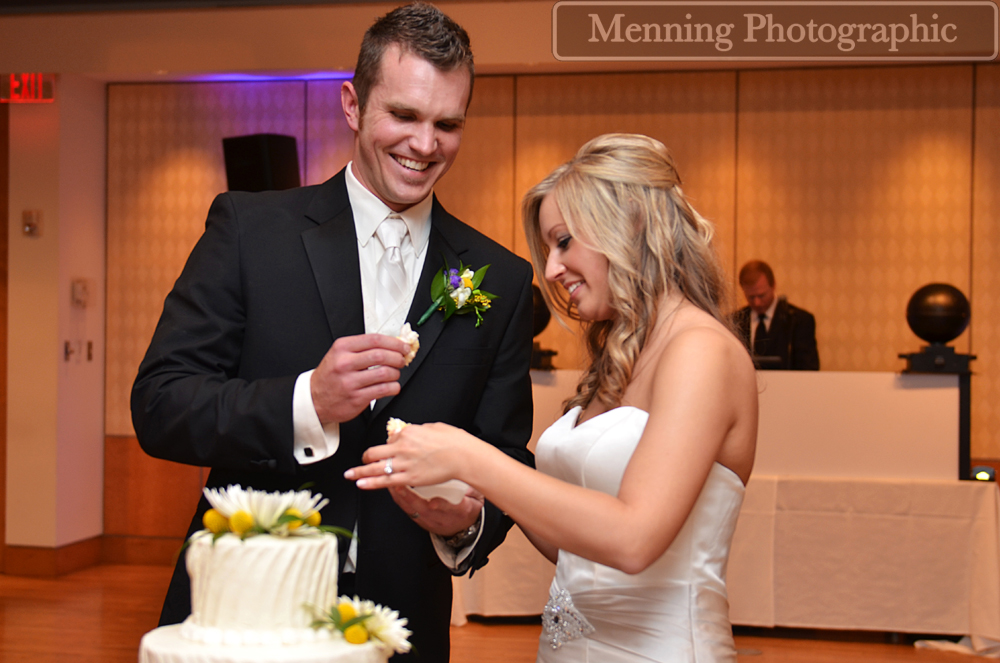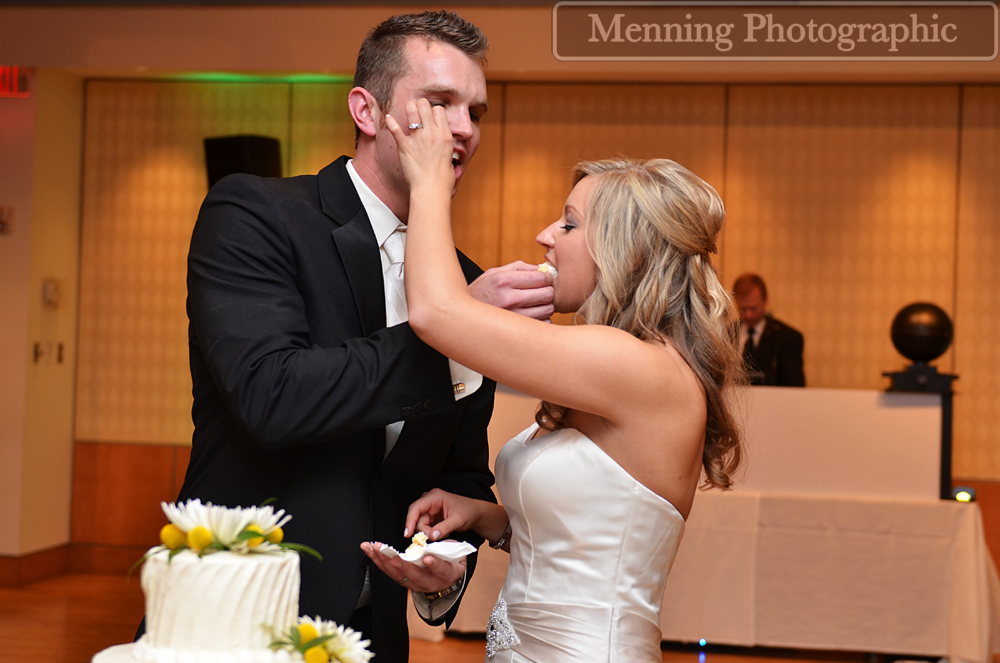 Their first dance photos are extremely romantic.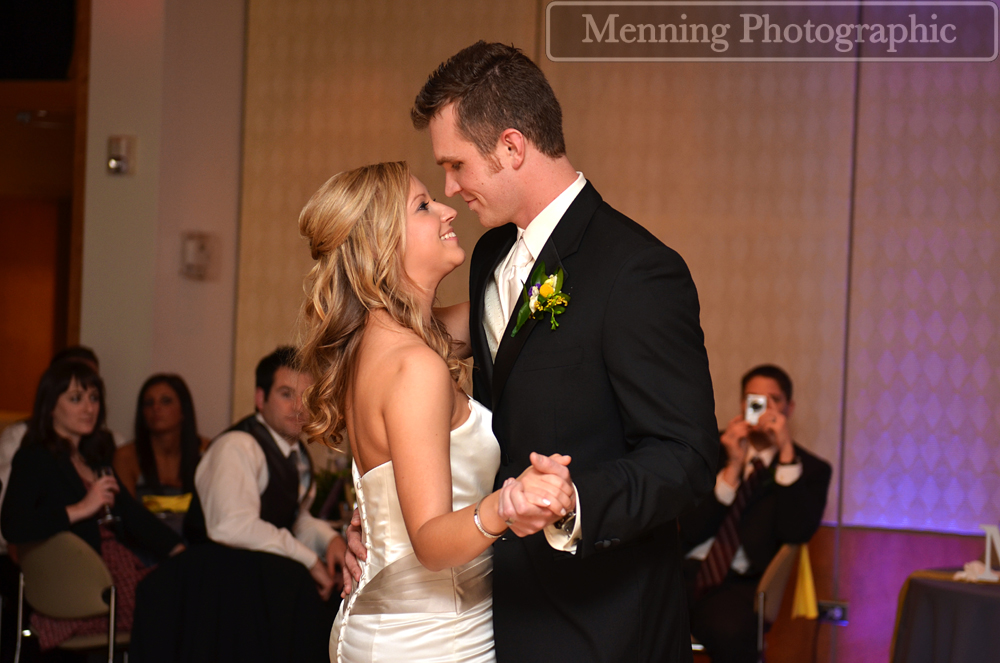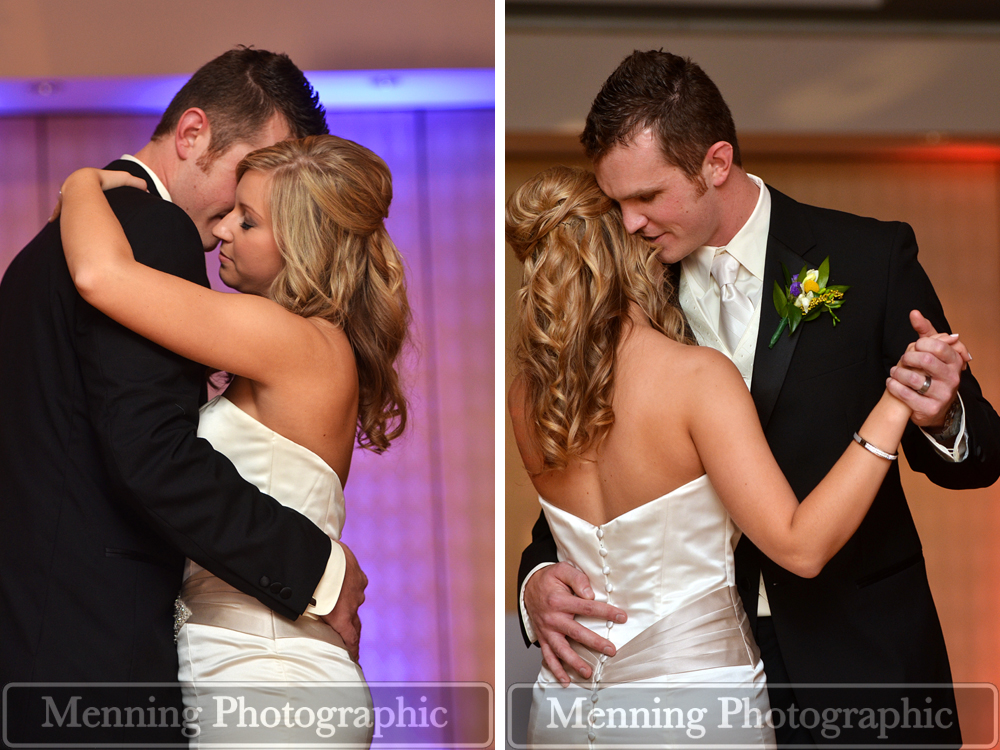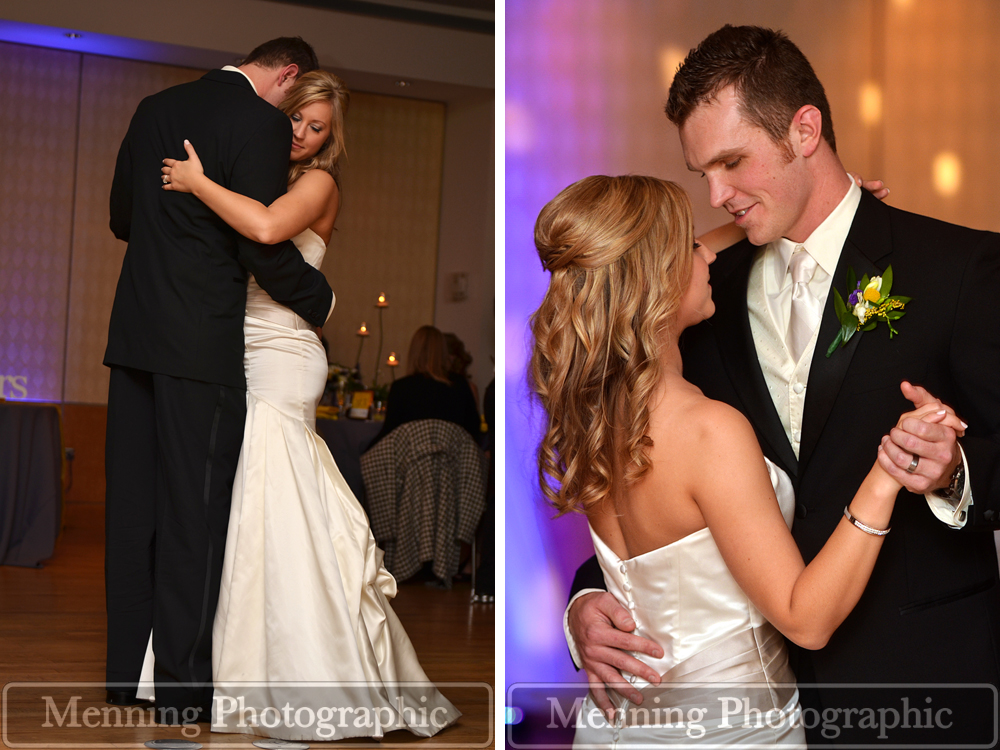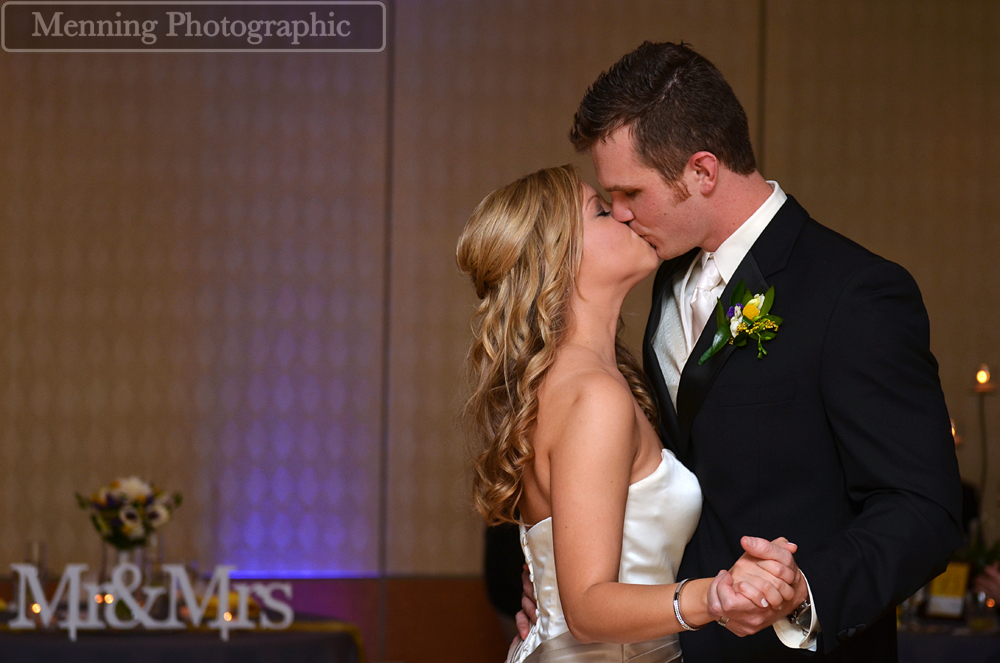 I could see the pride on her father's face that entire day. When he first saw Suzie in her wedding dress and veil, his face lit up entirely and he laughed the happiest laugh. Her mother talked about how overjoyed she was to see Suzie & Bobby together because she knows they are a great match.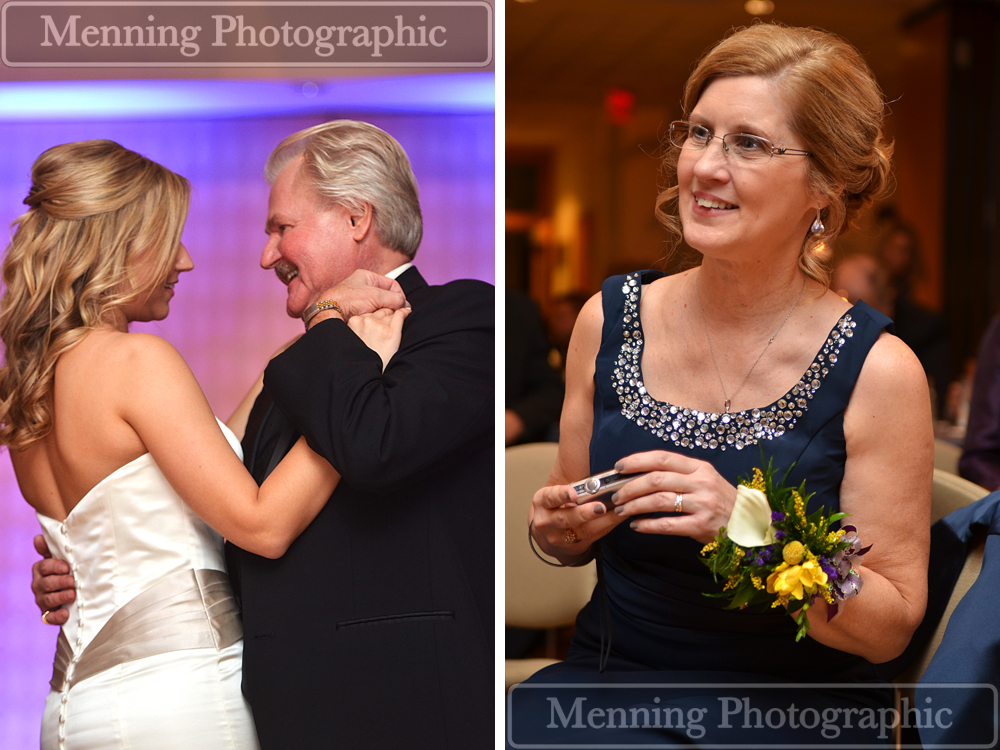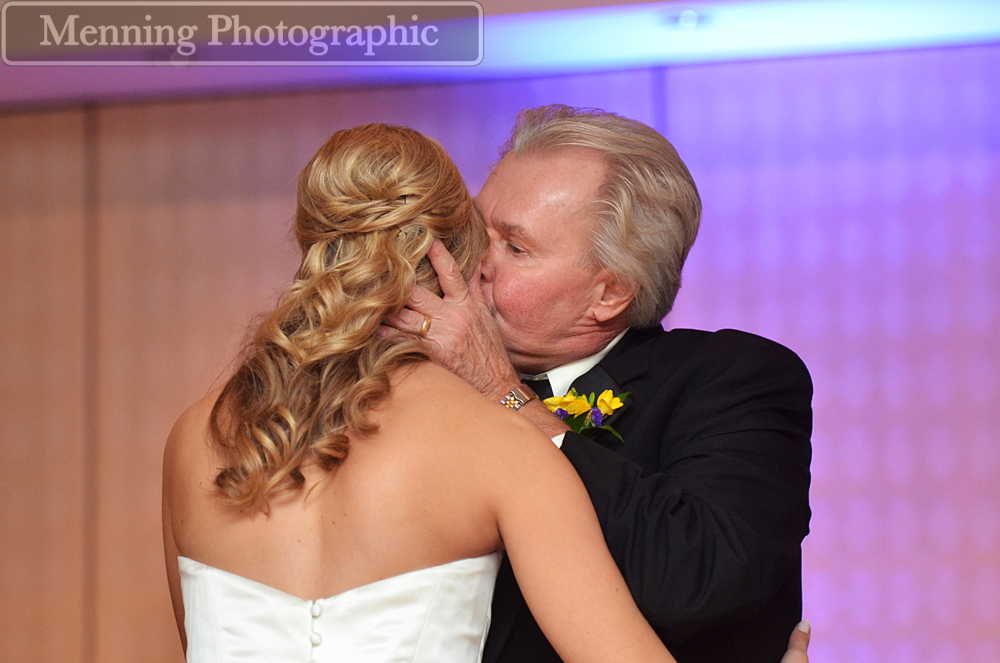 Anyone who reads this blog on a semi-regular basis knows that father-daughter dances get me emotional. Bobby and his mother dancing together was the first mother-son dance that made my eyes leak a li'l. So sweet.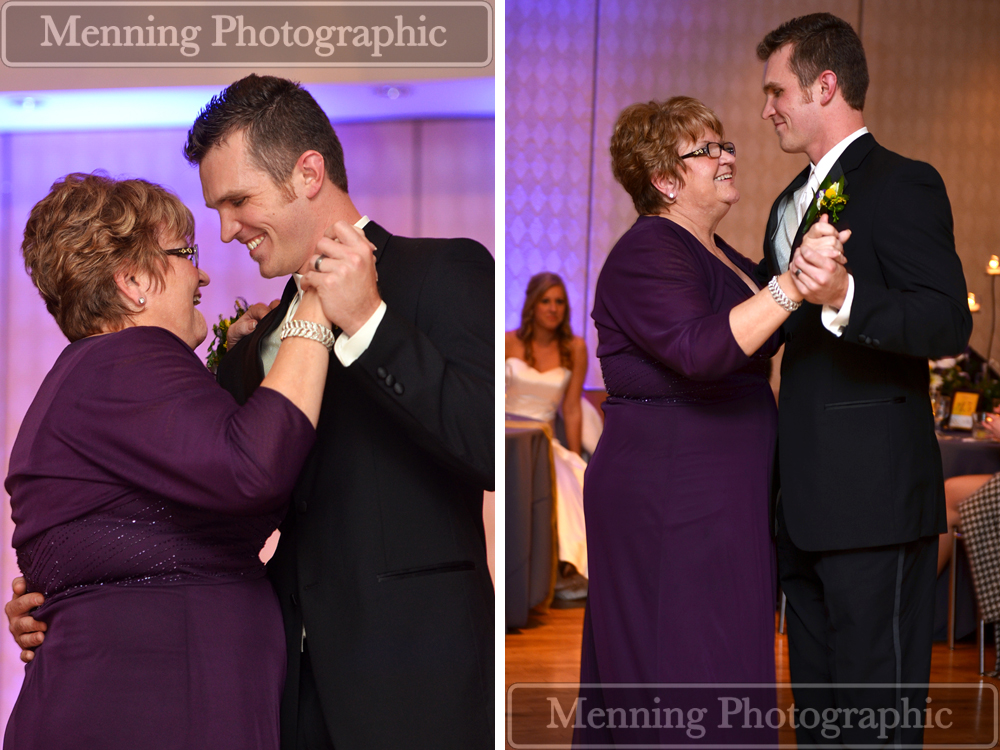 The party was jumping that night. Everyone had a wonderful time, and the dance floor was full at all times. DJ Mark Anthony did a fantastic job, and we recommend him if you're looking for a disc jockey. He also provided the uplighting. Here's his website: Mahoning Valley DJ.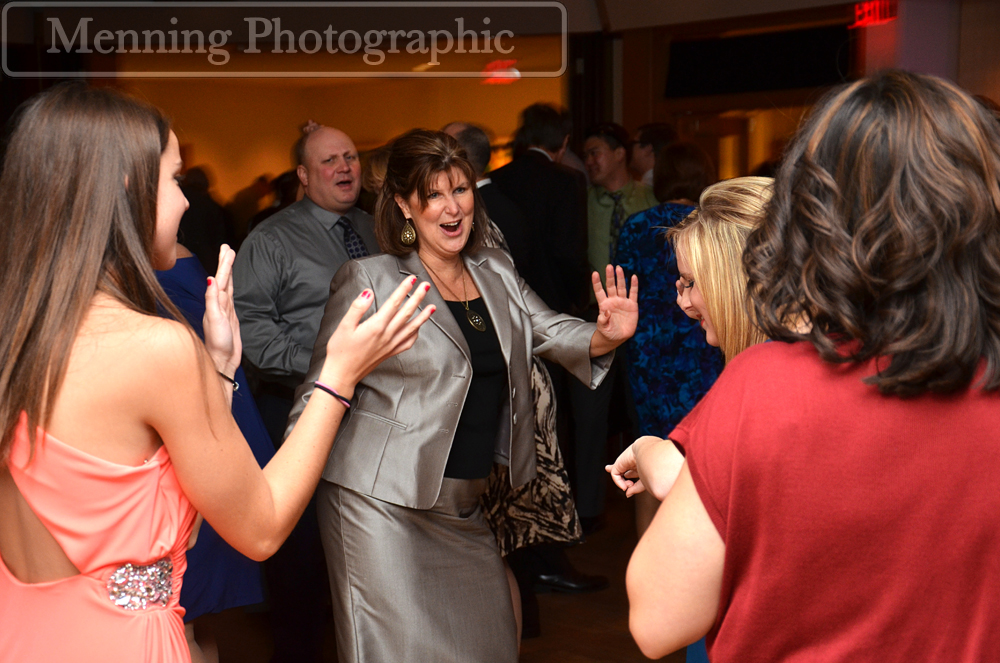 The Wobble. If you're going to a wedding in the near future, learn this dance.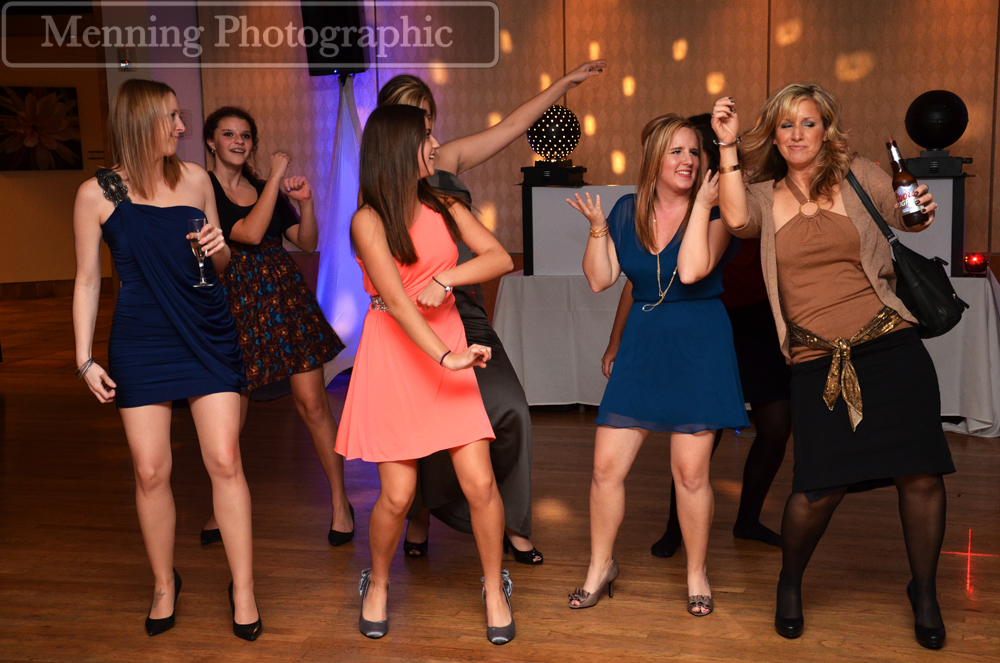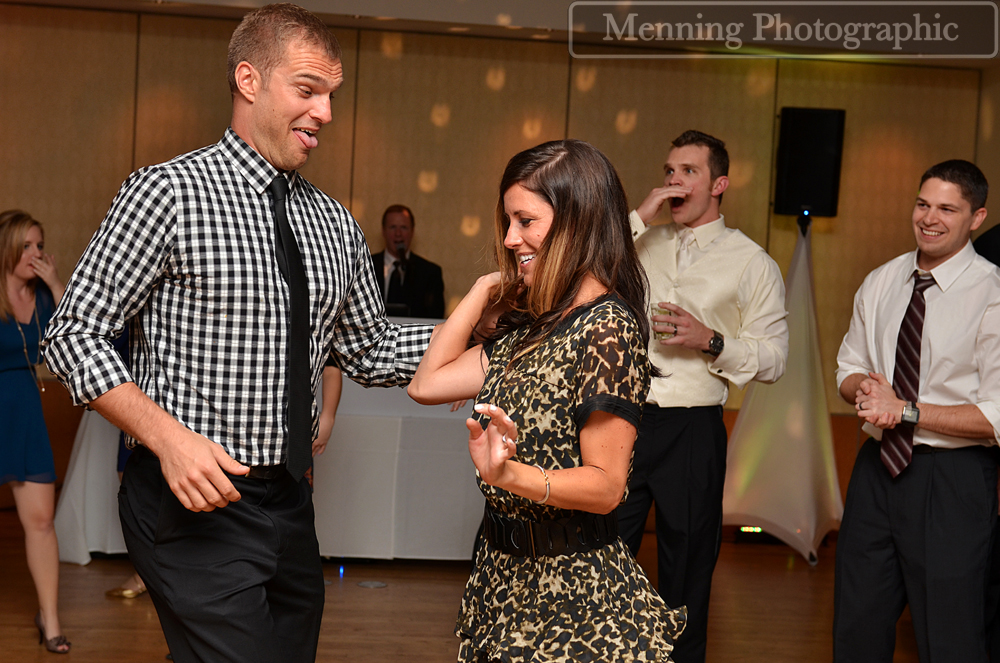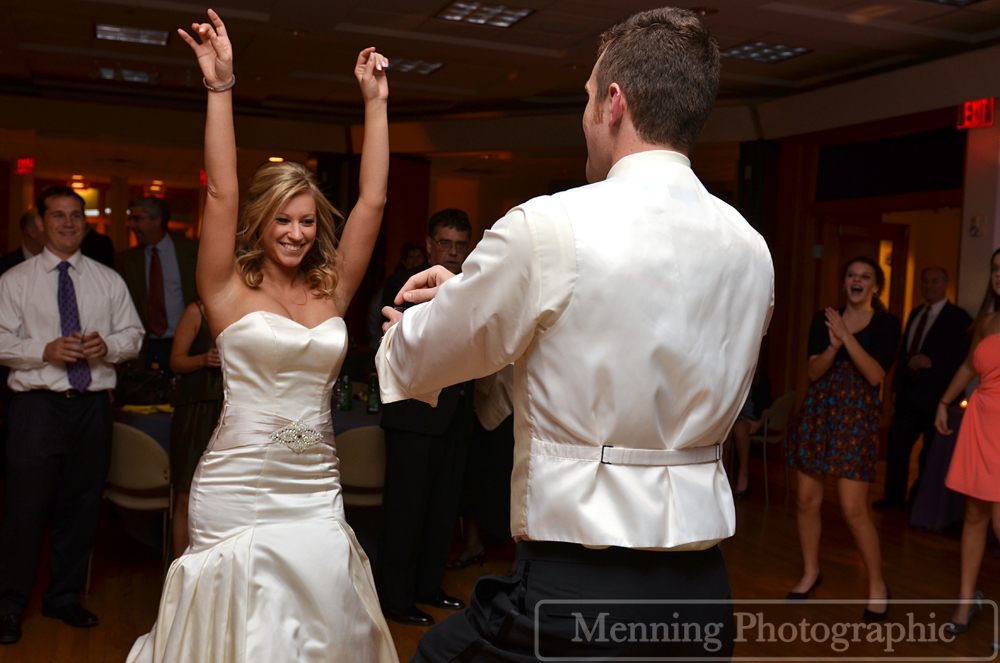 The bride and her new father-in-law having a great time: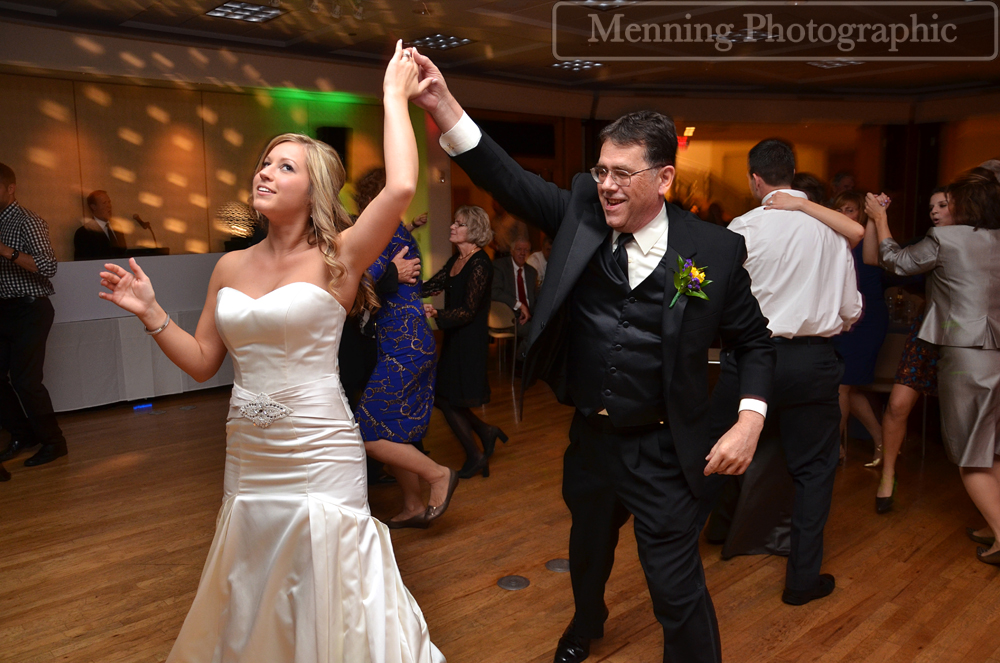 It's safe to say these two were feeling the music.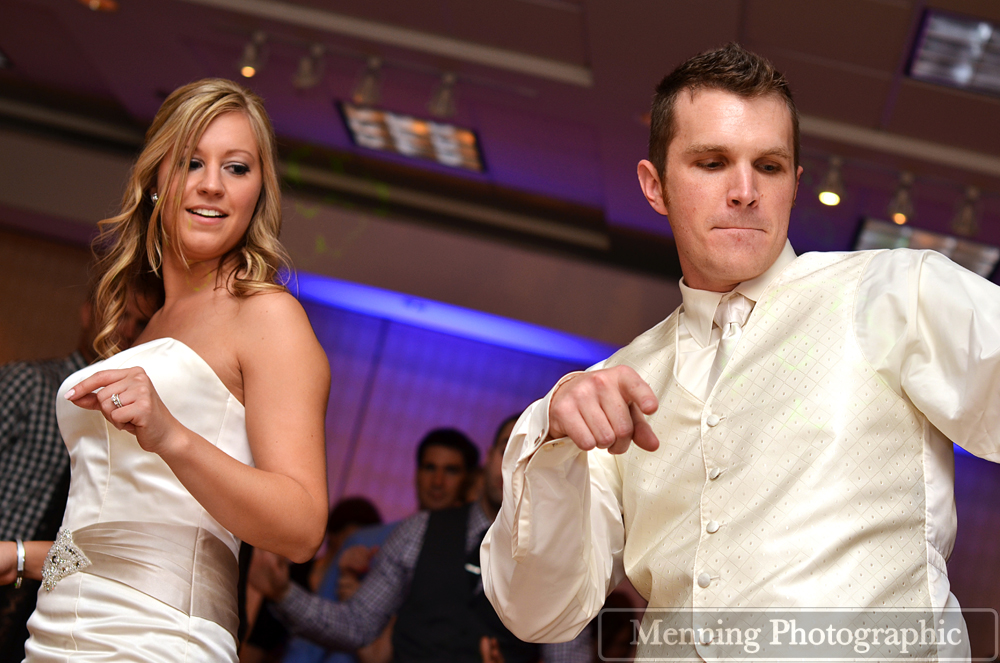 They sang the song "Hold On" from the movie Bridesmaids. It was cute.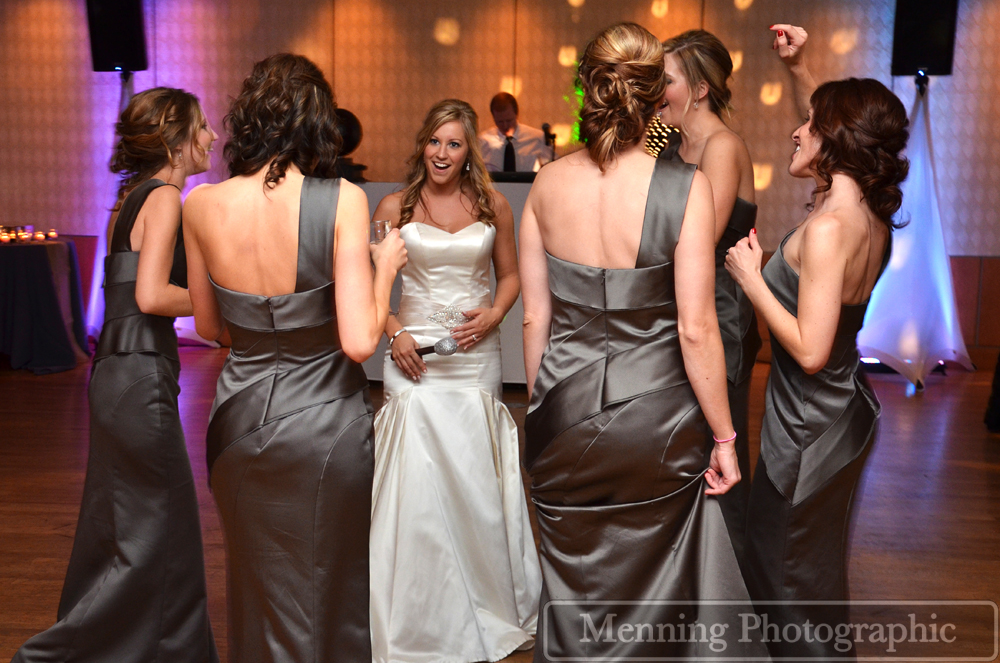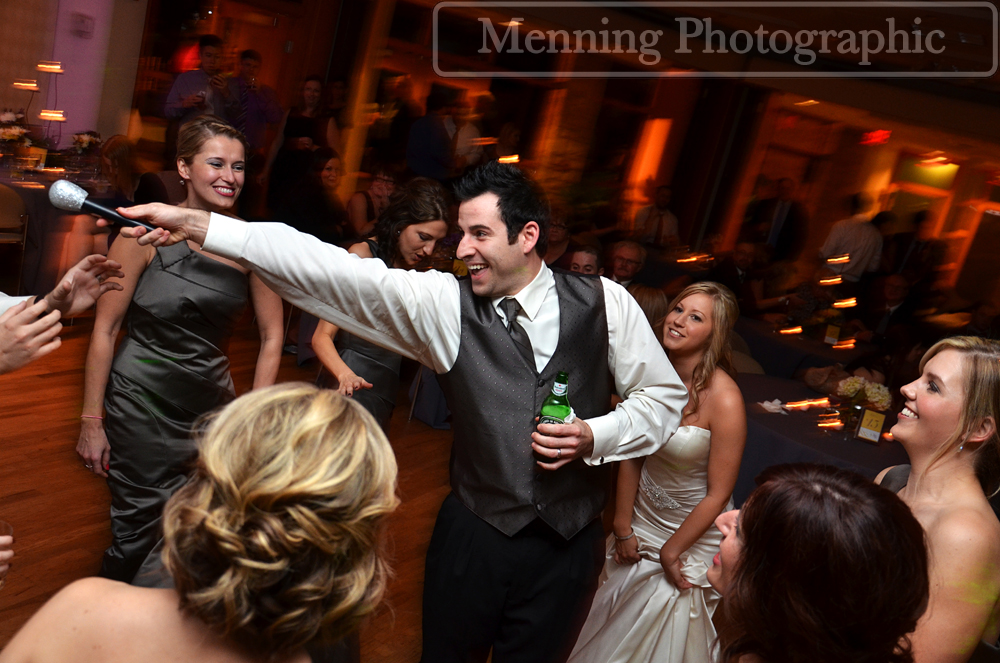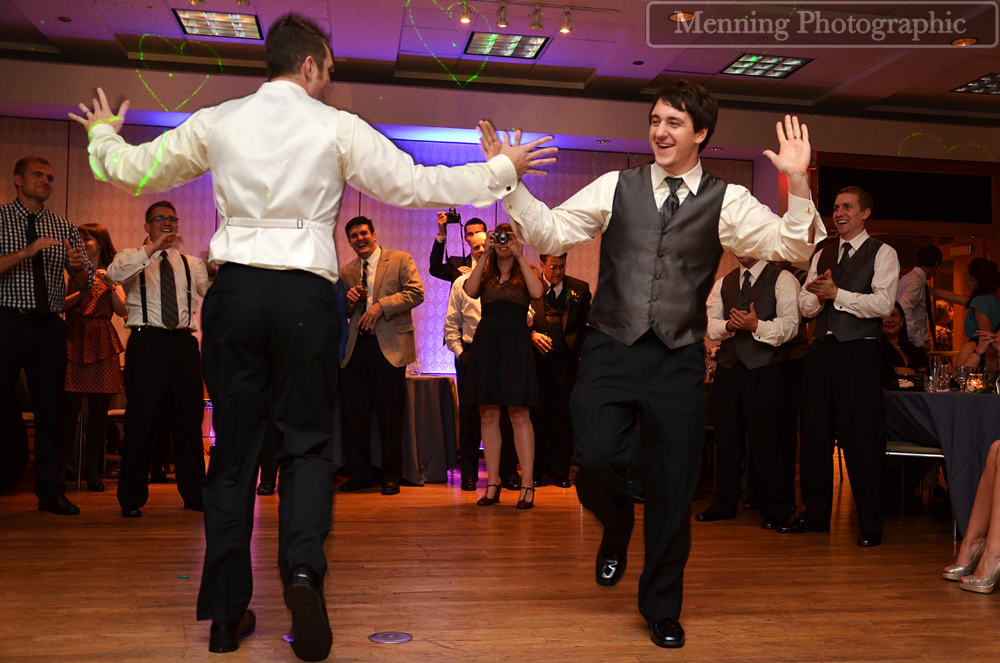 We've never seen anyone do this, but Bobby & his friends had a pretty special "dance" for "Shots."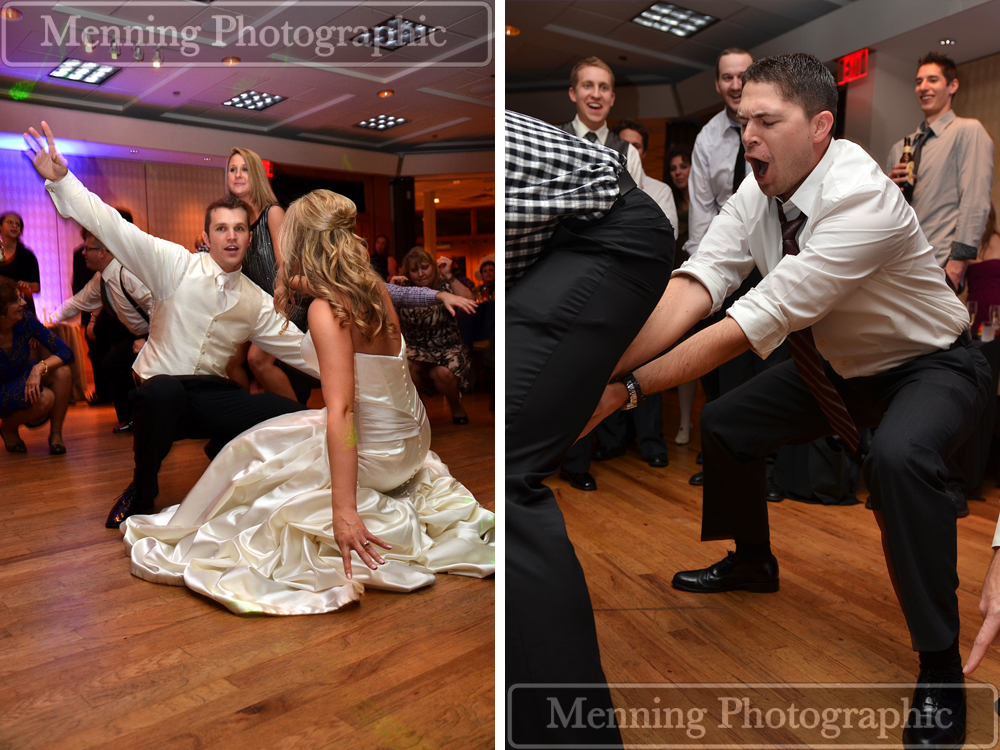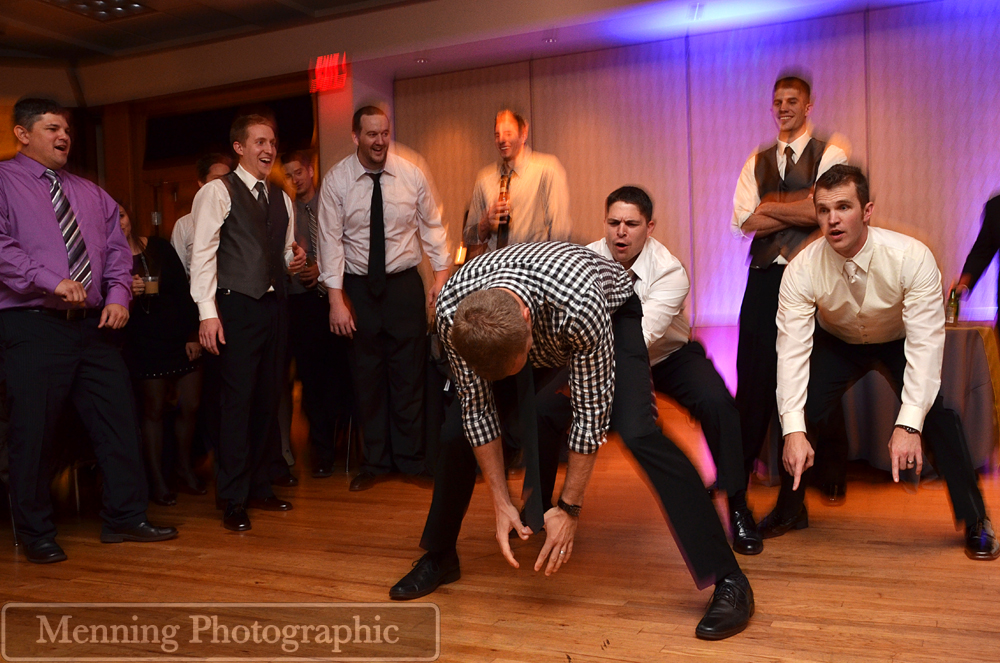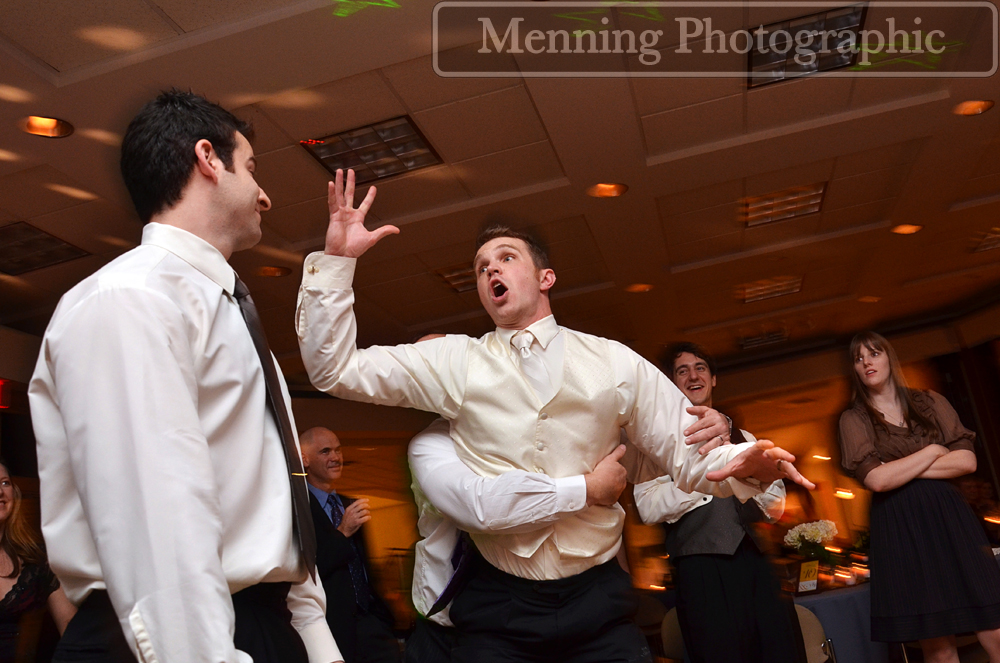 Here's an old favorite: "Jump on It."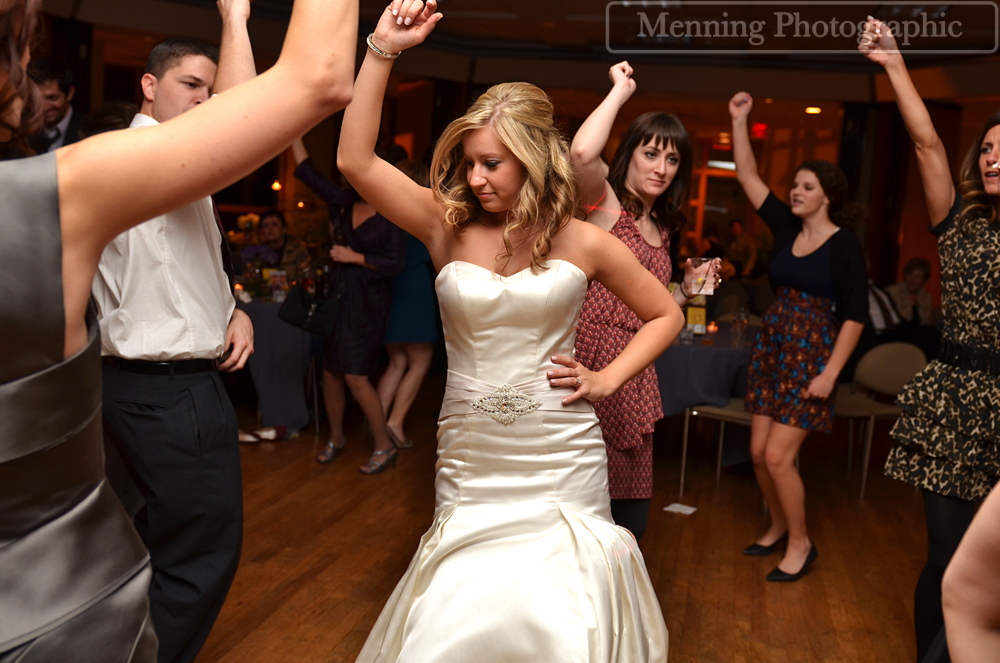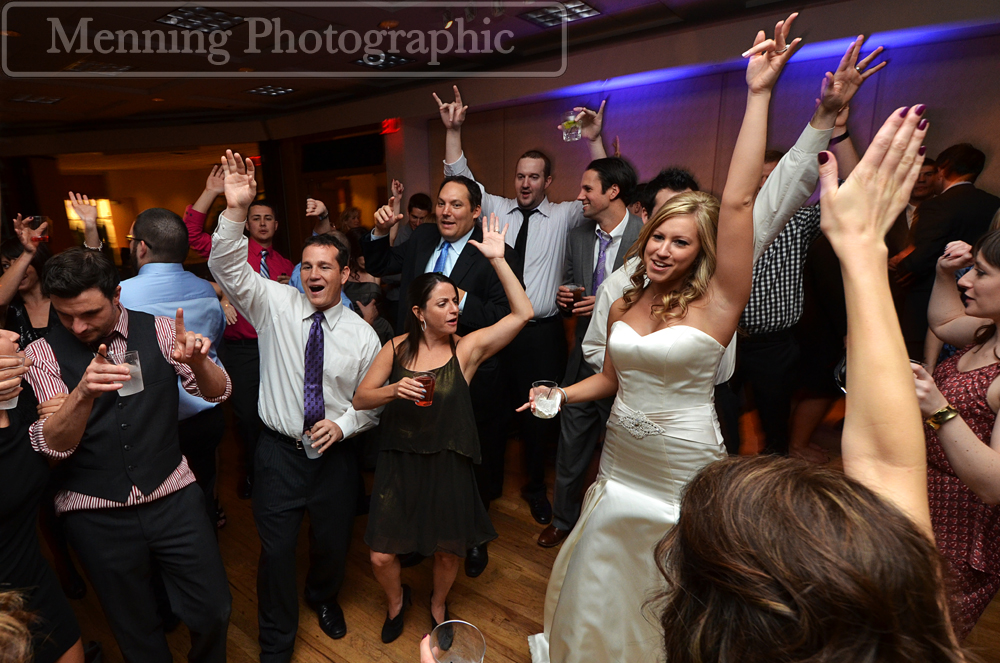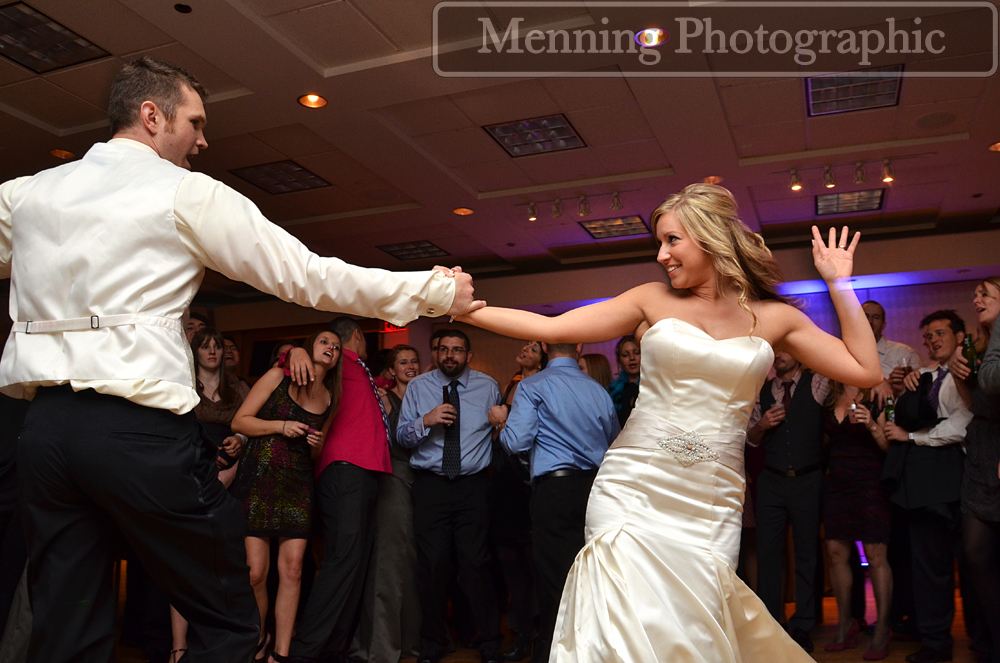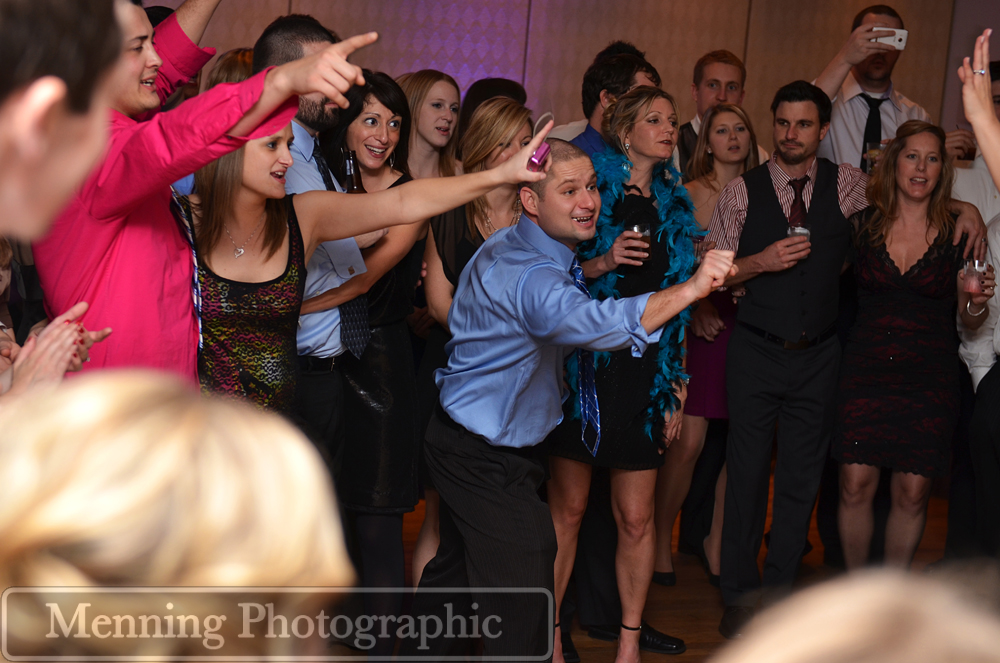 DJ Mark Anthony orchestrated an epic ending to this wedding reception. He had all of the guests gather into a circle around the dance floor as the bride and groom glided around it together one last time that evening. Then some fun high fives and hugs around the circle happened. Everyone was smiling. 🙂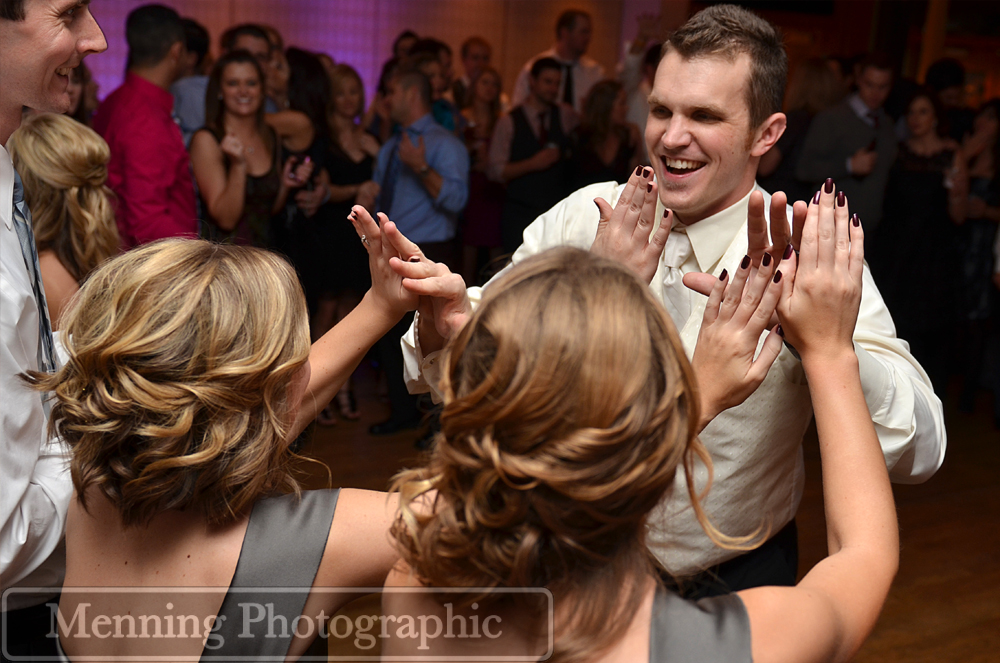 Suzie & Bobby, we were so blessed to share in such a beautiful and fun wedding day as yours. Thank you again for being amazing clients!
Please contact us for info about wedding photography:
info@menningphotographic.com
330.651.4849