Lisa & Jim are incredibly well-suited for one another. Lisa lights up when she's around Jim. And Jim's eyes glow when  he talks about Lisa. Their wedding day was the first day we received any accumulation of snow this Winter. It was beautiful, as I'm sure their marriage will be. 🙂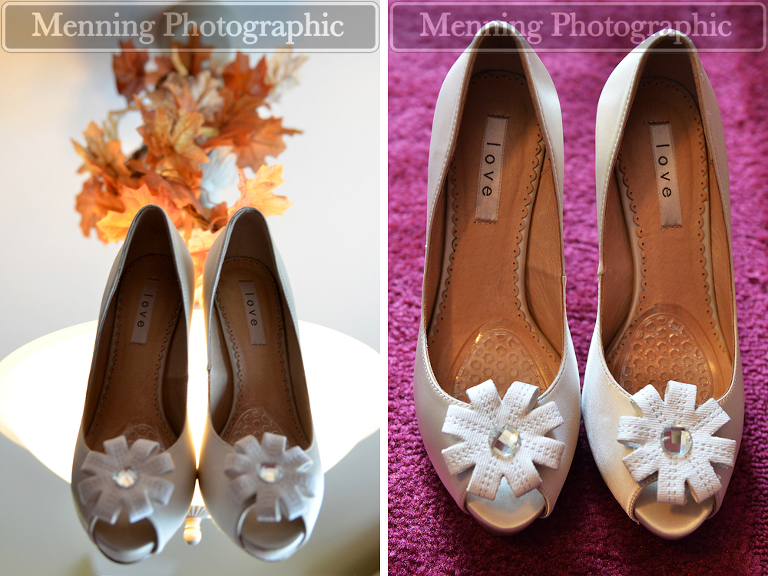 Lisa hung her gown so I could photograph it; Leo enjoyed the hiding spot.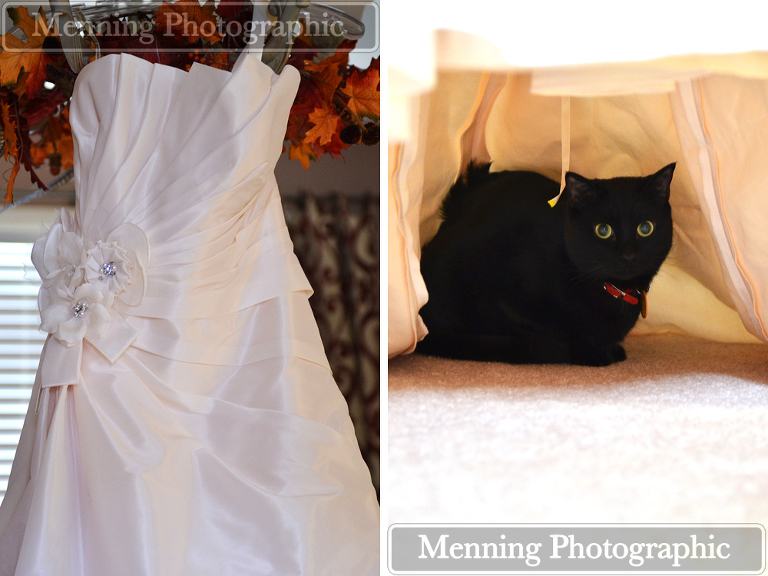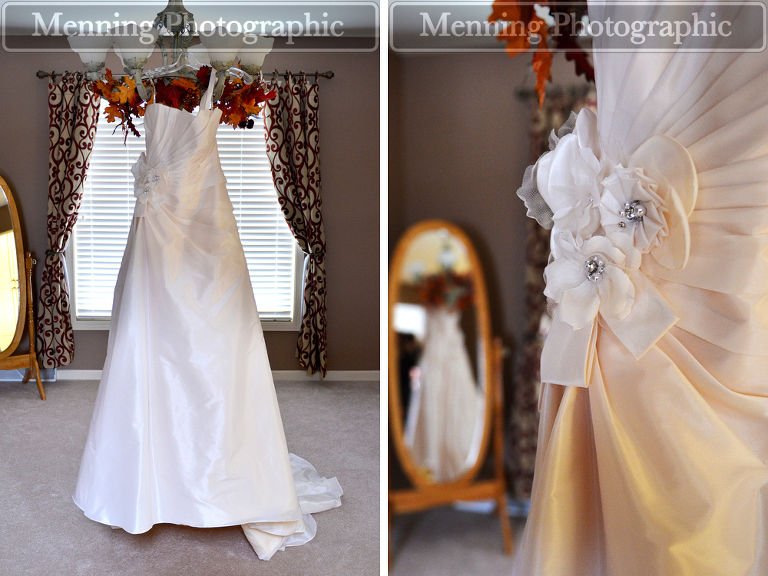 Lisa's cousin loaned her beauty expertise for the occasion.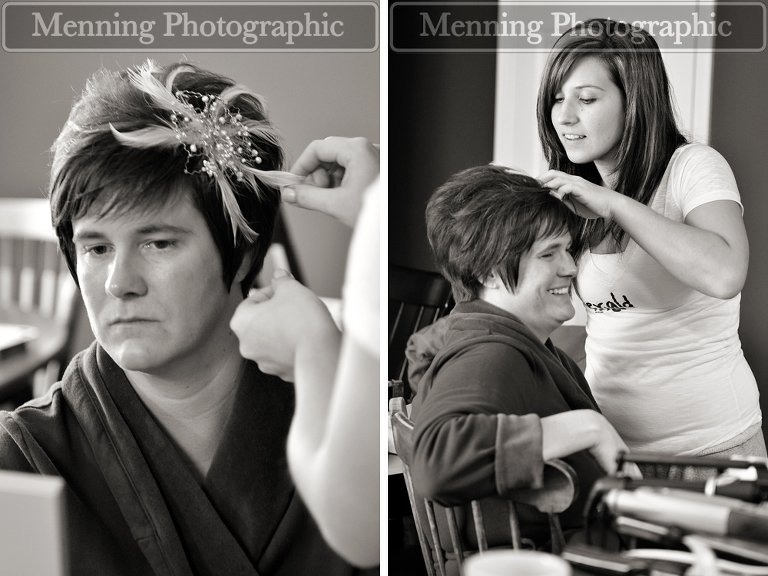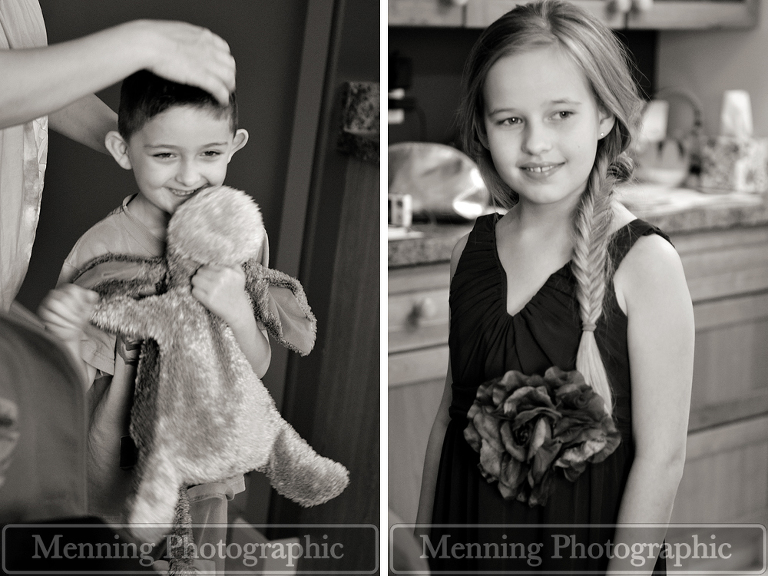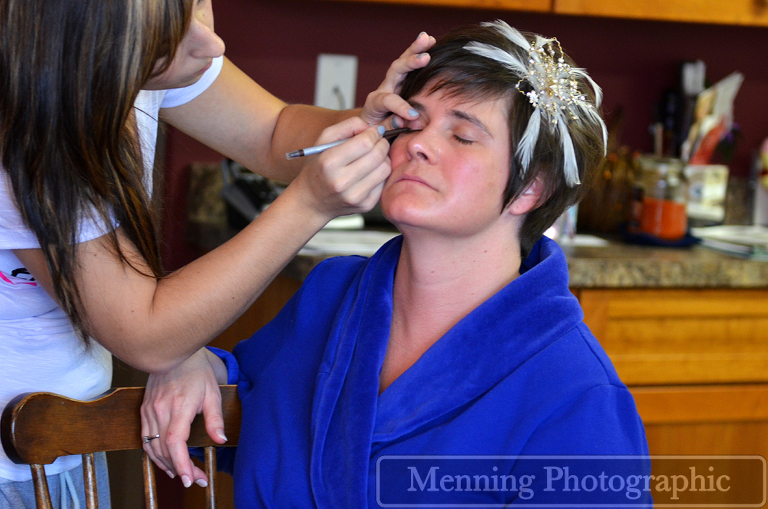 Sister and very soon-to-be sister-in-law were on wedding dress assistance duty: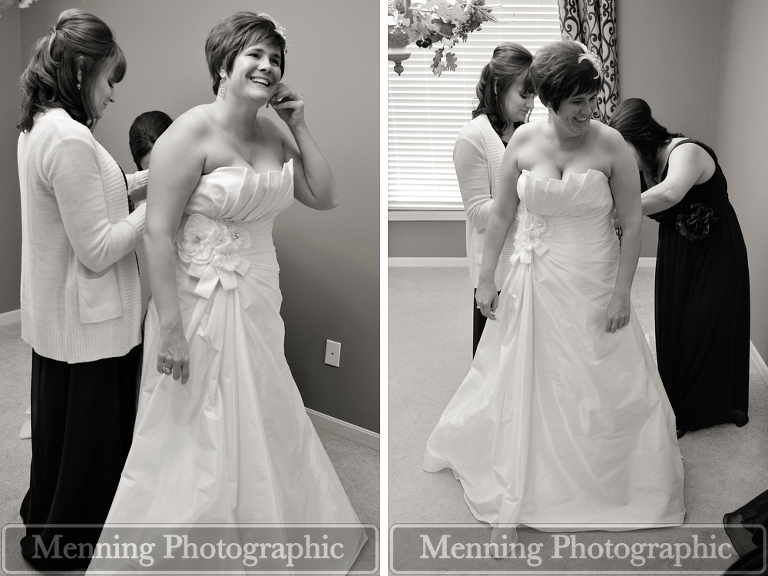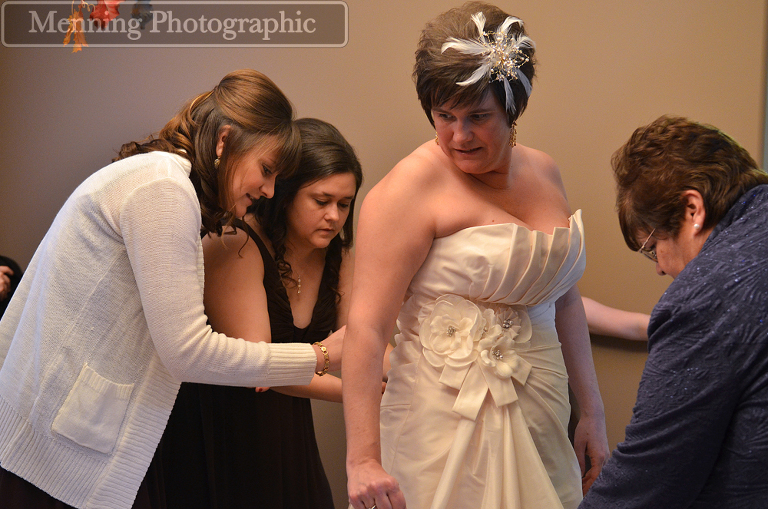 And here is the stunningly gorgeous snow I was talking about!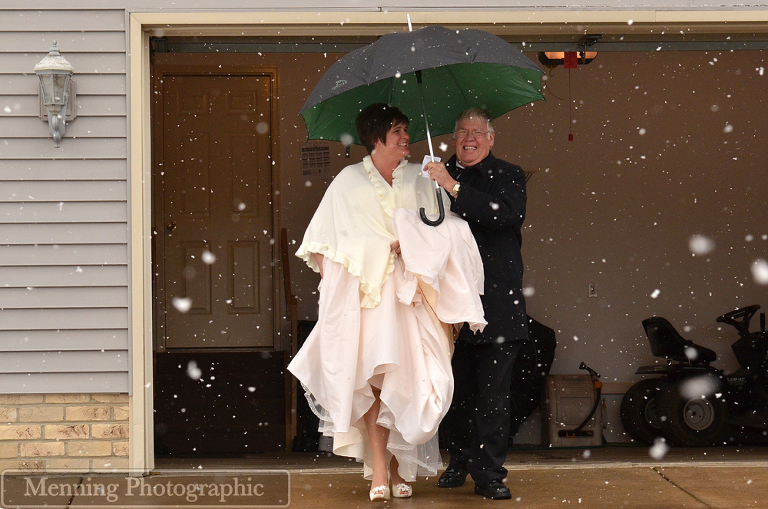 She and her groom were texting while she was on her way to the ceremony. She just can't keep that smile from her face. 🙂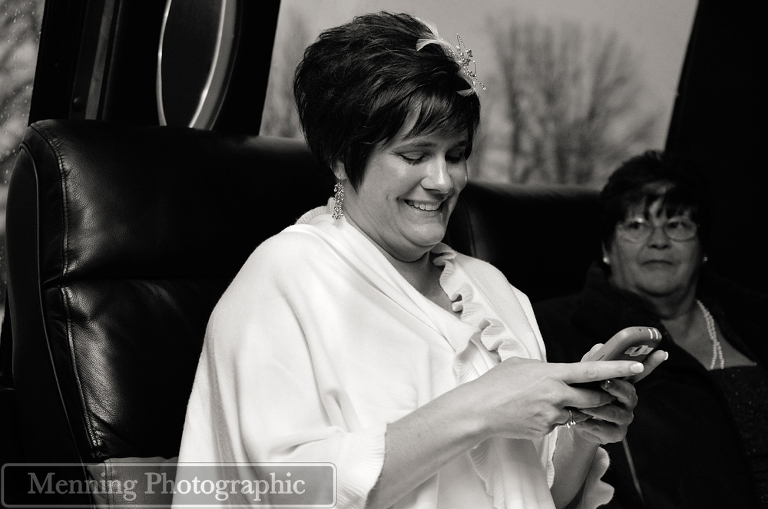 Josh hung out with the guys that morning, and they had a lot of great photo ops.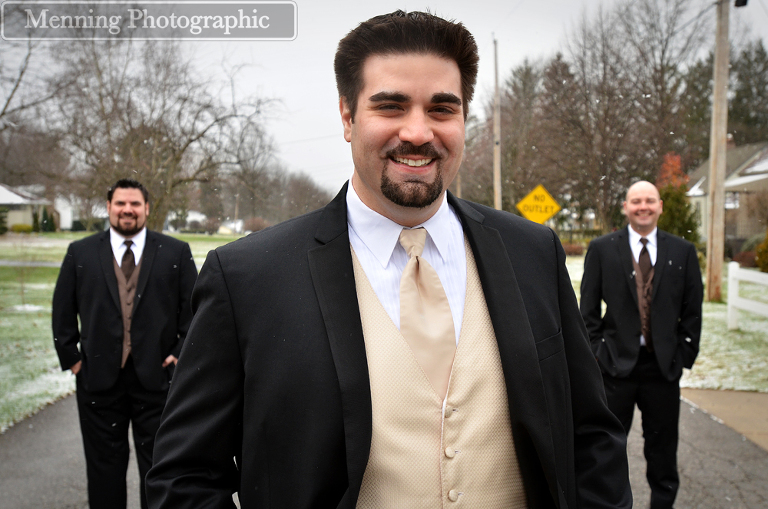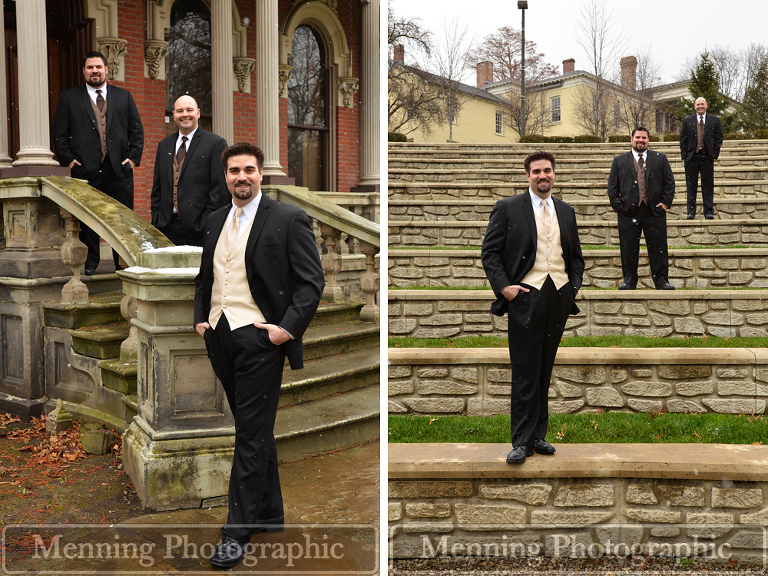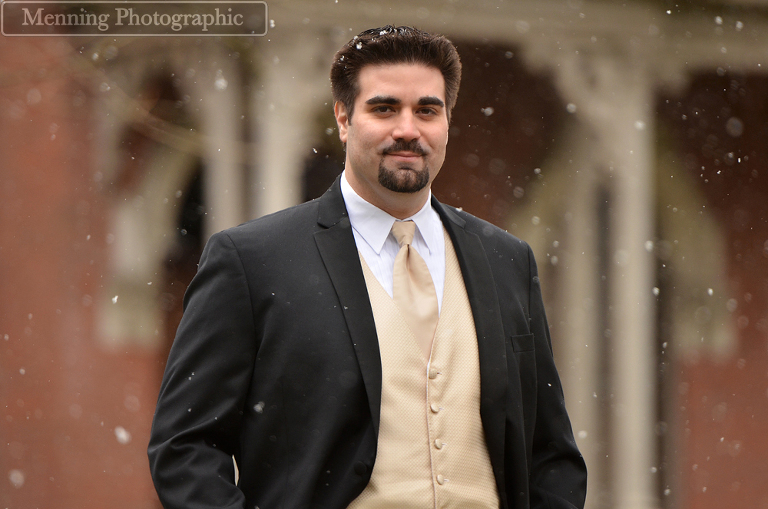 The ceremony took place at St. Mary's Church in Warren, Ohio.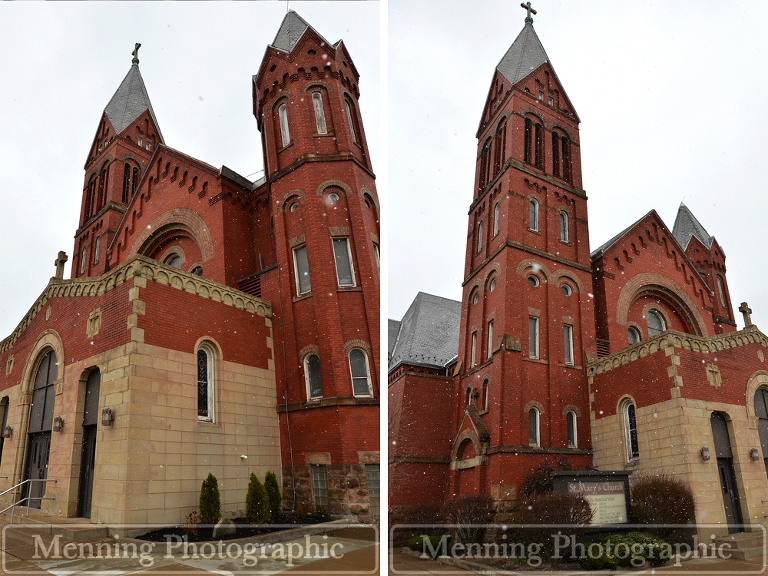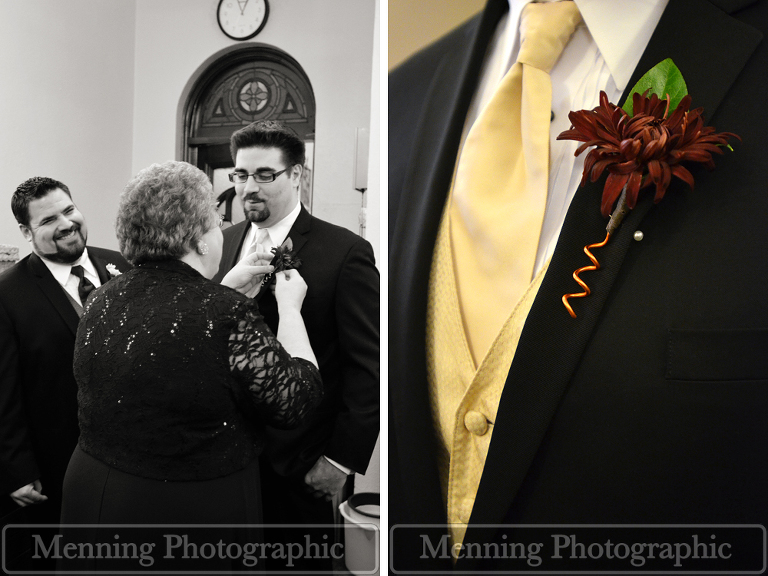 The flowers were absolutely gorgeous. Something New Florist did that magic.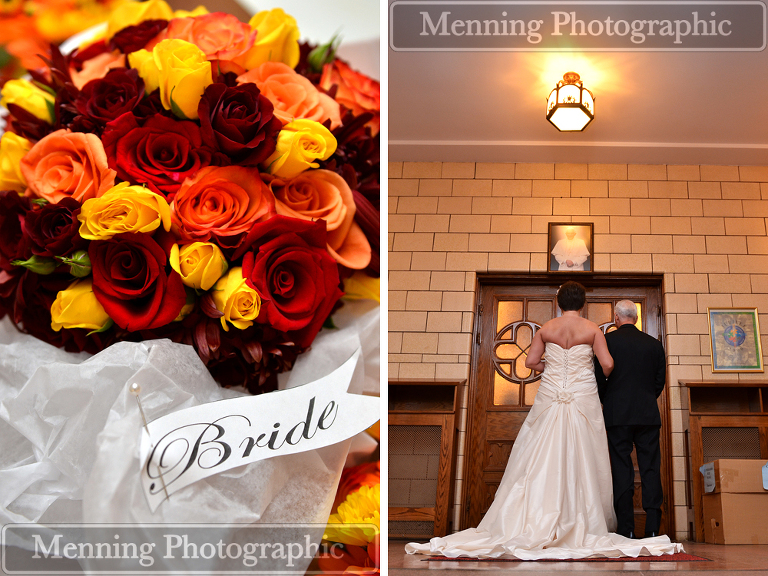 What a lovely moment between a father and his little girl: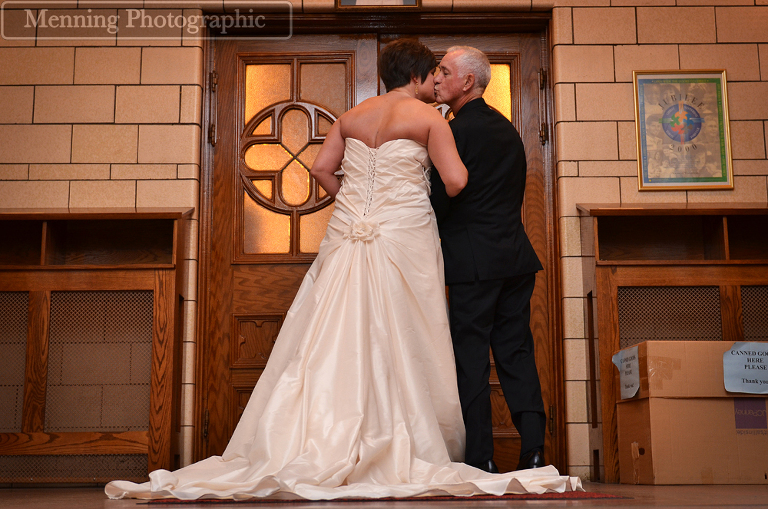 Don't you love that moment when the groom sees his bride for the first time on their wedding day?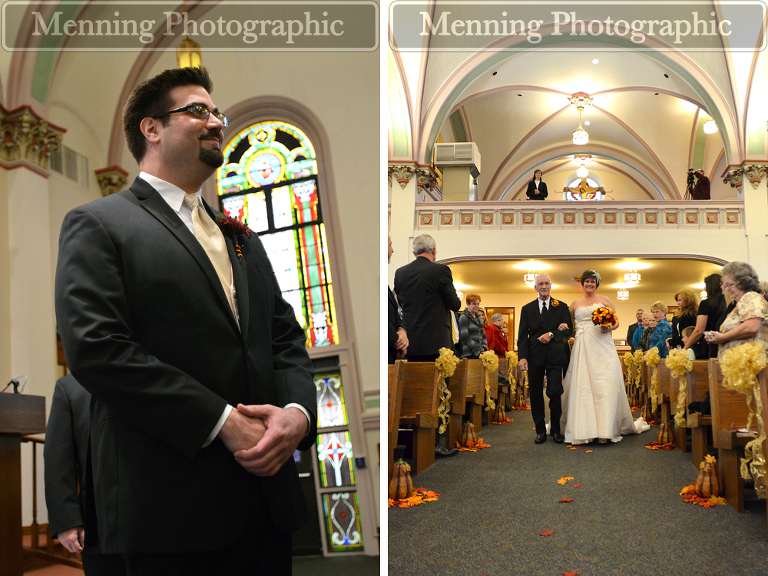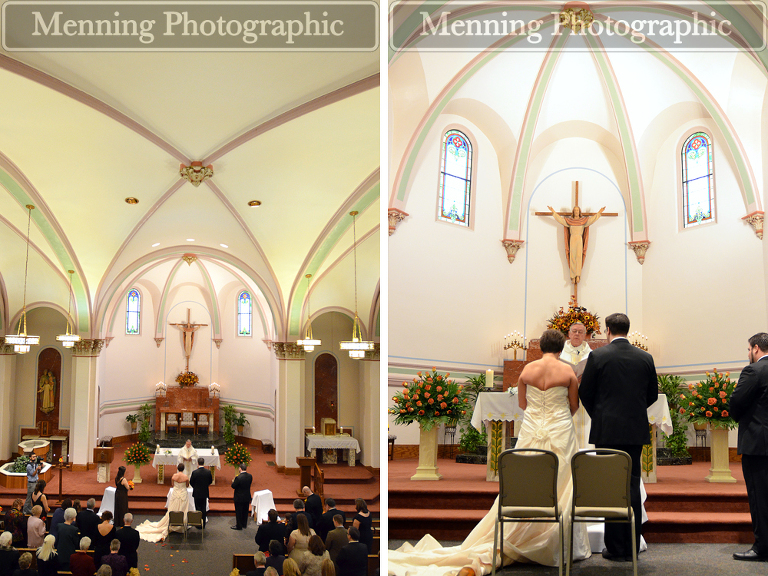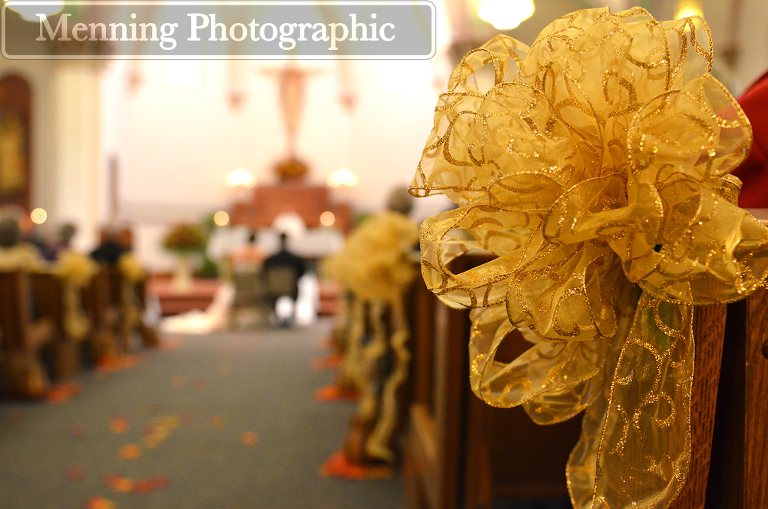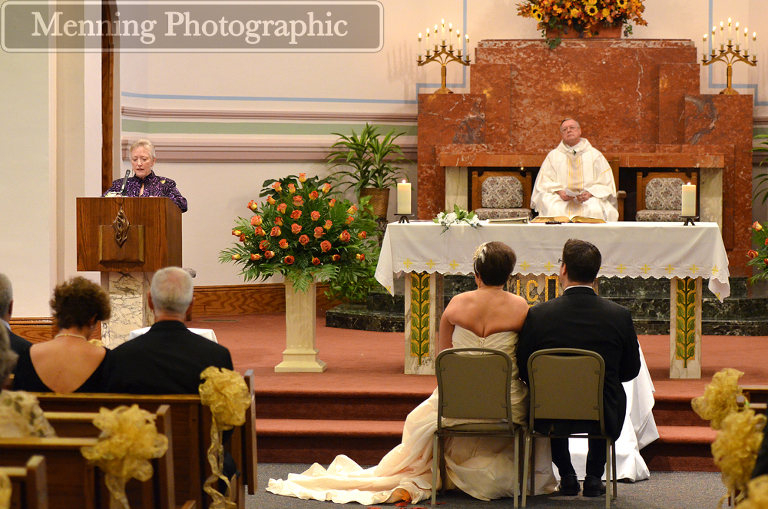 The glances our cameras caught of them gazing at each other during the ceremony are evidence of true love.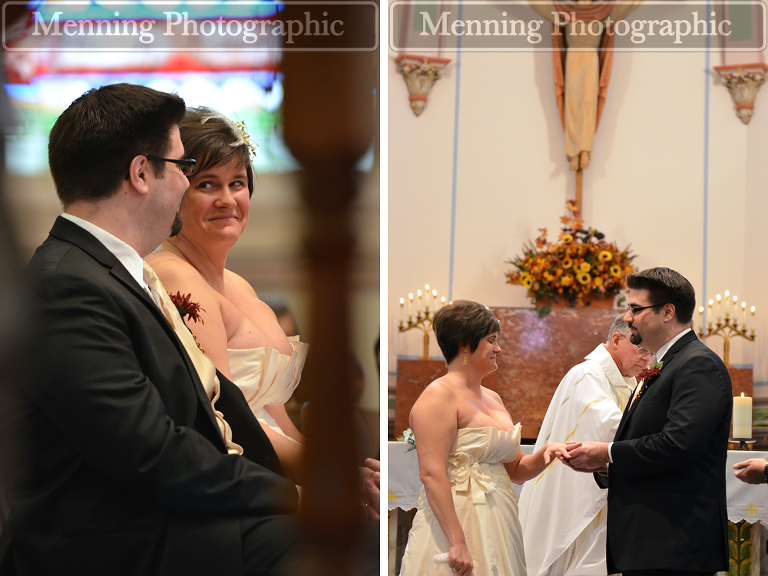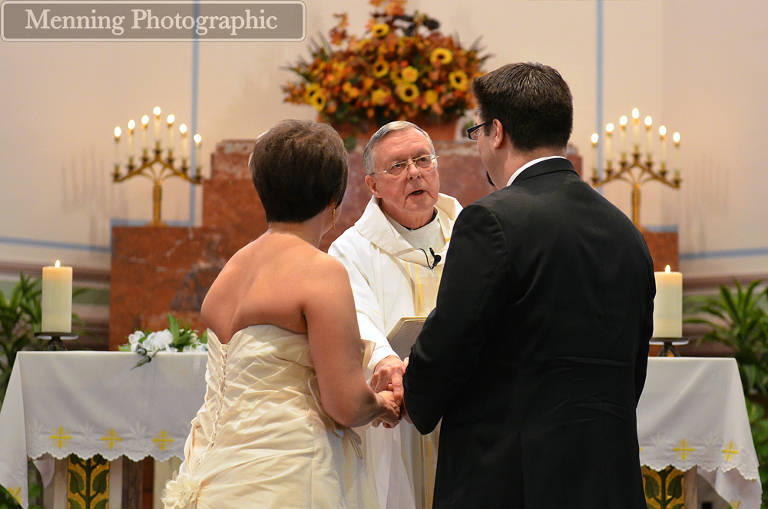 Gauge (the bride's nephew) was praying extra hard for his aunt and new uncle's marriage. 🙂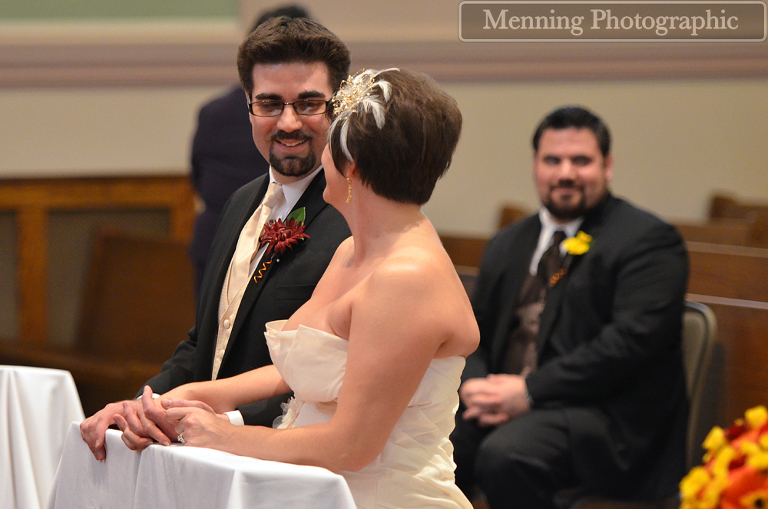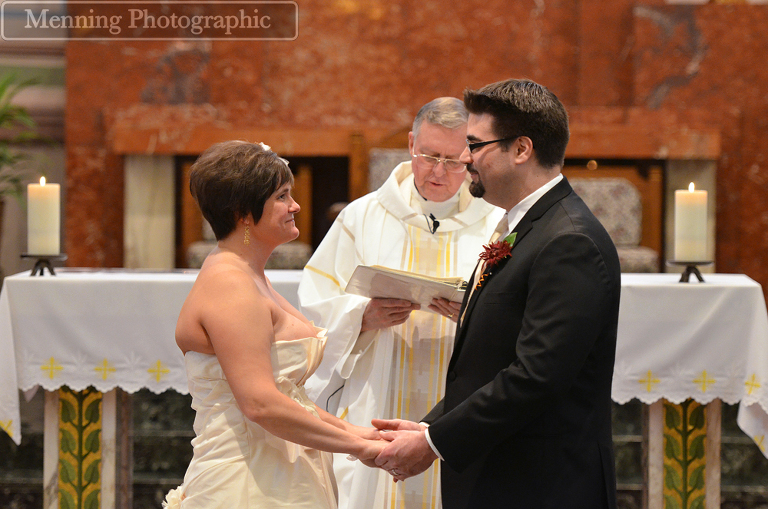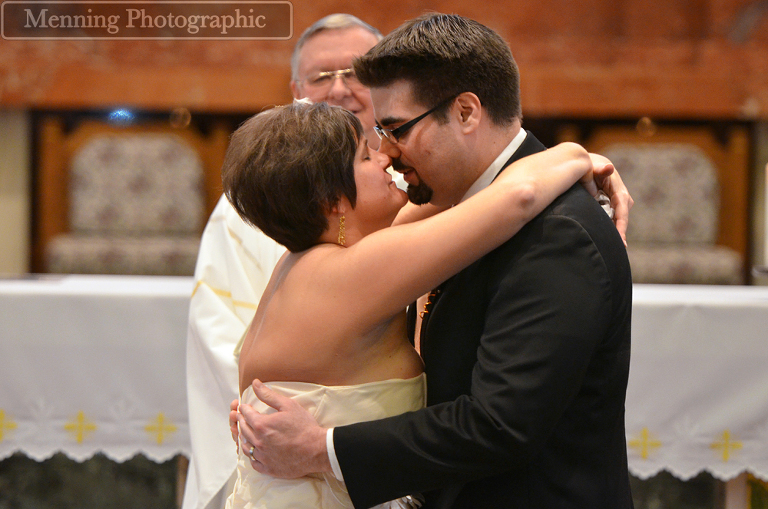 After the ceremony, we all stepped outside for a bubble sendoff and lo and behold- SUNSHINE! The snow clouds had parted and the sun was bright and beaming.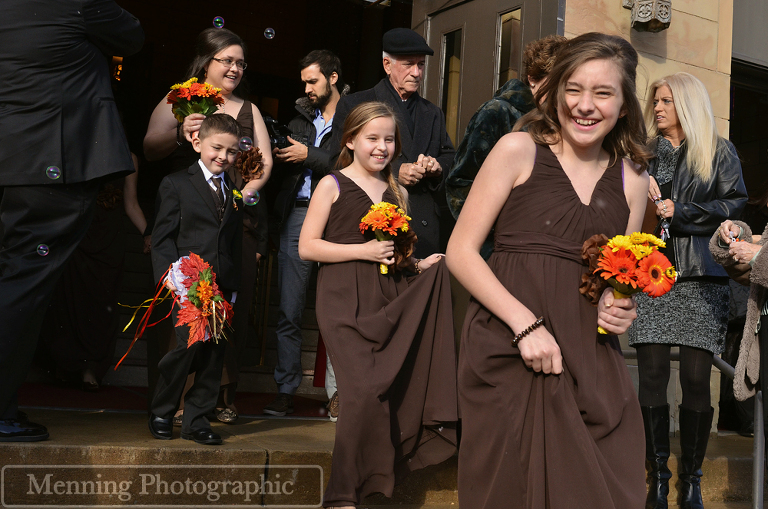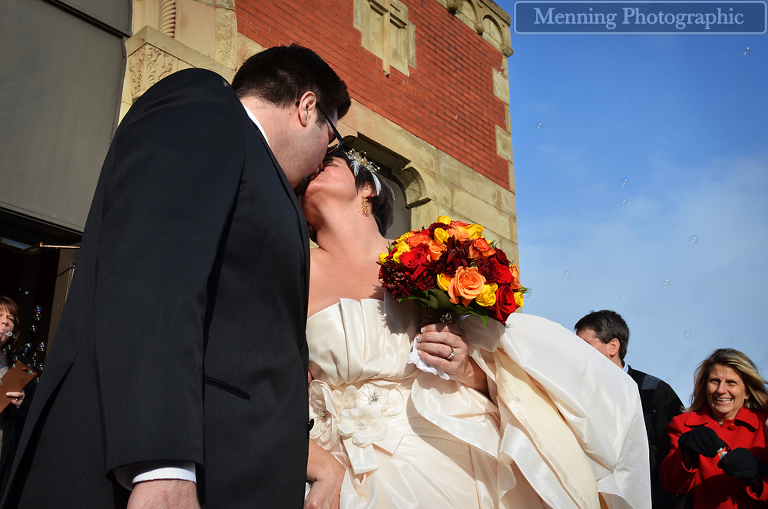 Have you seen those signs that say, "As two families become one, we ask that you choose a seat, not a side?" This photo reminds me of that because it's Jim's family and Lisa's family together. Looking great!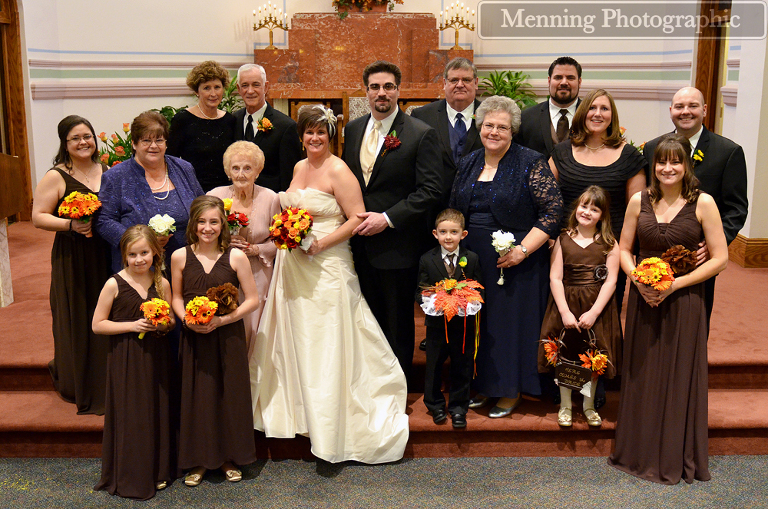 Stunning.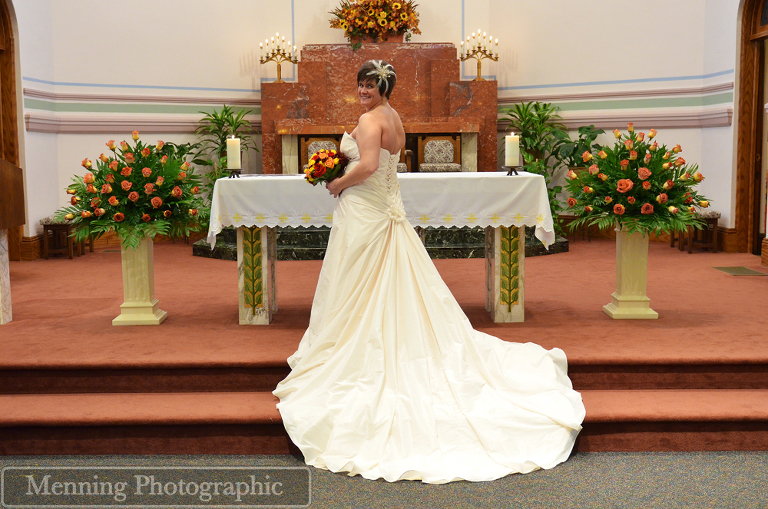 The snow returned. Here's the frozen bridal party. We had them outside for about three minutes. 😉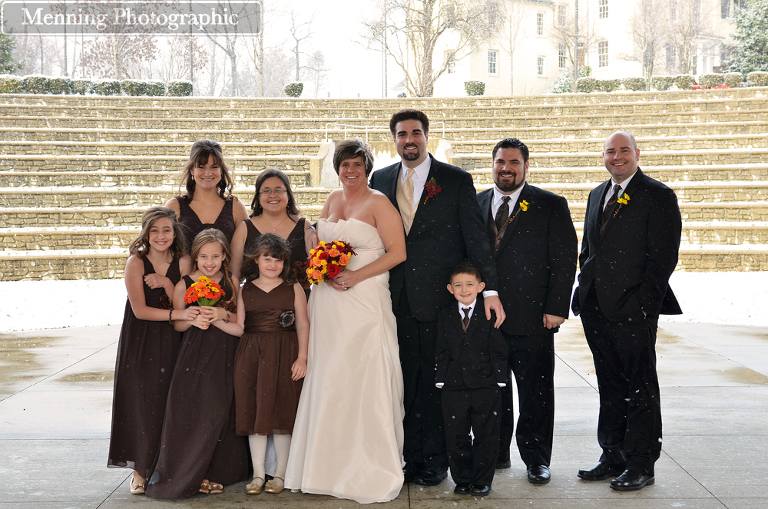 These two didn't seem cold at all. They were too happy to be cold.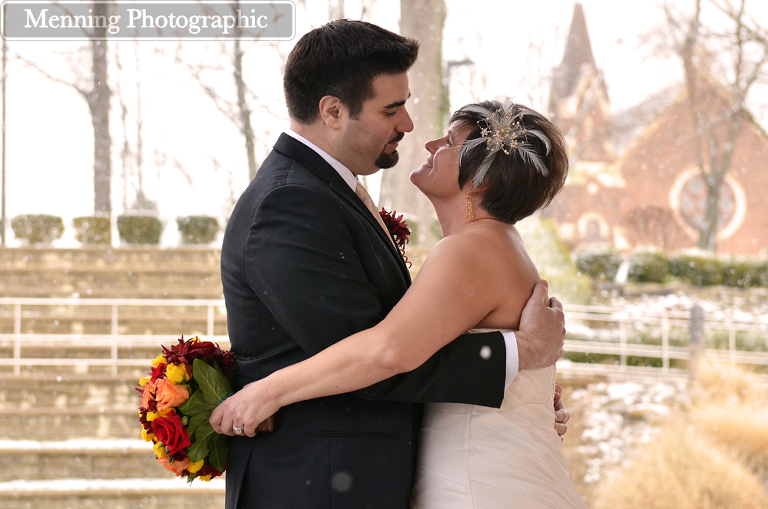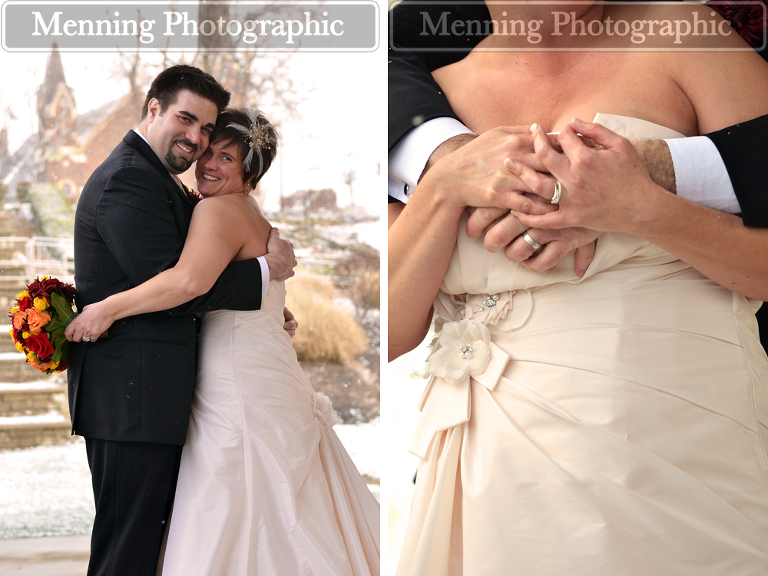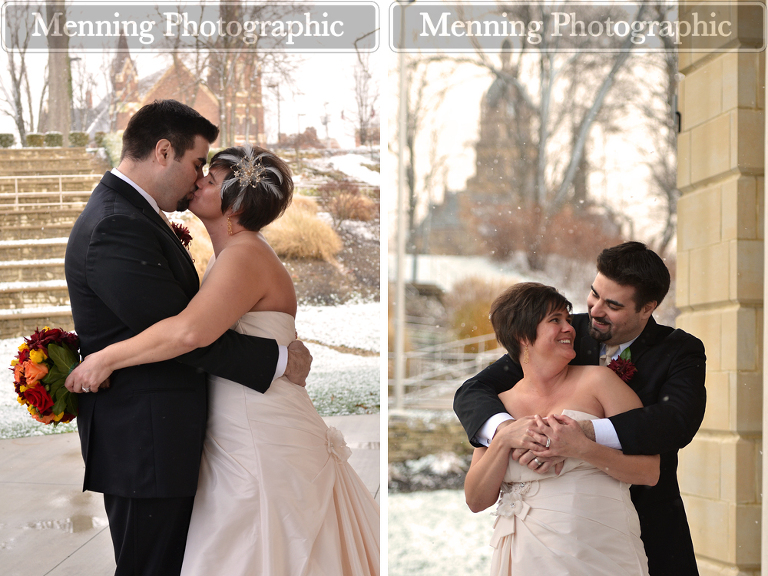 We shot this portion of their creative bride & groom session at the Warren Community Amphitheater.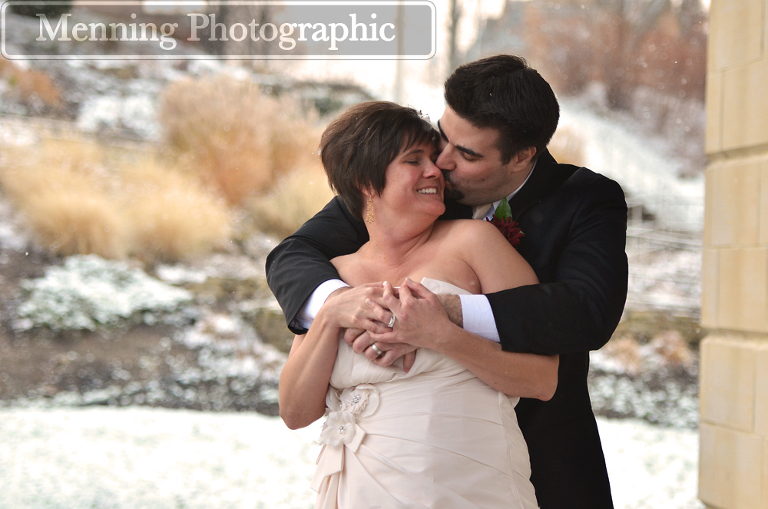 These ones were taken at the Dutch Village Inn. Â I love how cozy Jim & Lisa are together.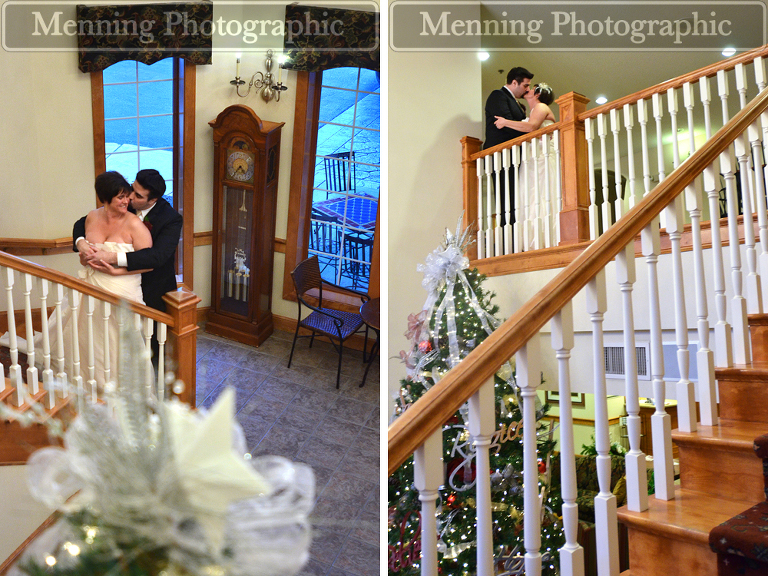 Next up: party time! Their reception was at The Links in Columbiana, Ohio. Like we've said before here on the ol' blog: The Links will not do you wrong for a lovely wedding reception. The food is always great. The staff is friendly. And Debbie (the manager) is on the ball; she's organized and knowledgable about making your guests feel welcomed.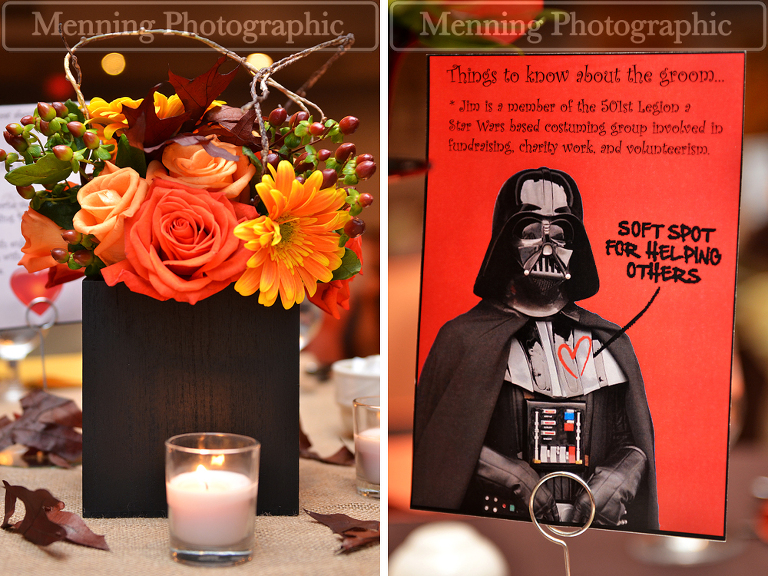 Their centerpieces were so pretty. And Jim made each of the table number signs with idiosyncrasies, facts, and fun tidbits about Lisa, Jim, and their relationship.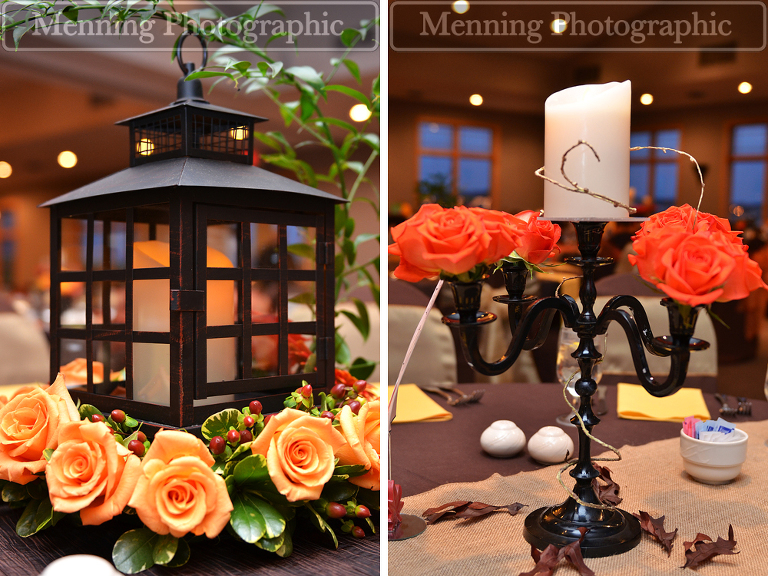 Their creative cake was designed by The Cake Boutique. Â It fit perfectly with the reception decor and Lisa's & Jim's visions for their wedding cake.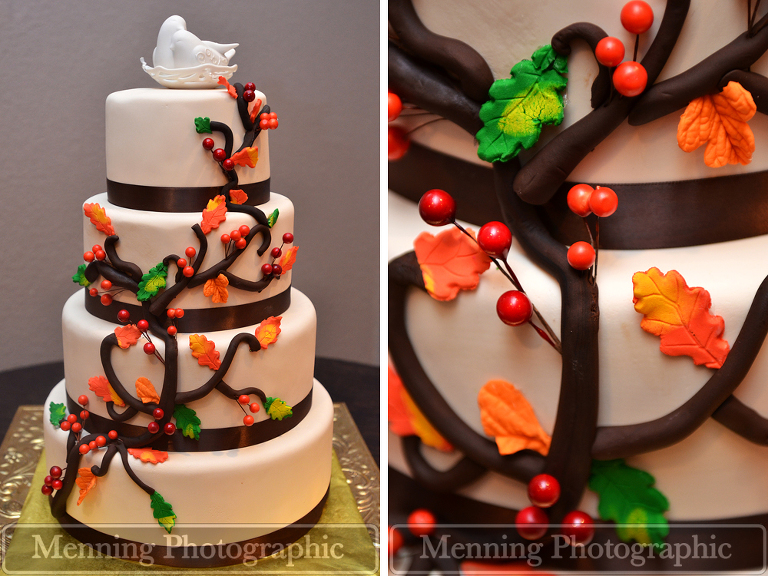 I now introduce to you the new Mr. & Mrs.!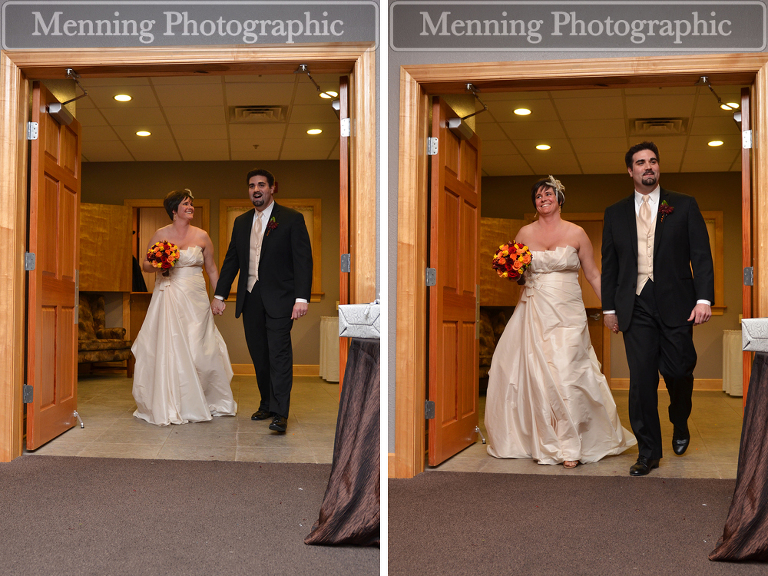 Their first dance was choreographed to Blake Shelton's "God Gave Me You." They nailed it.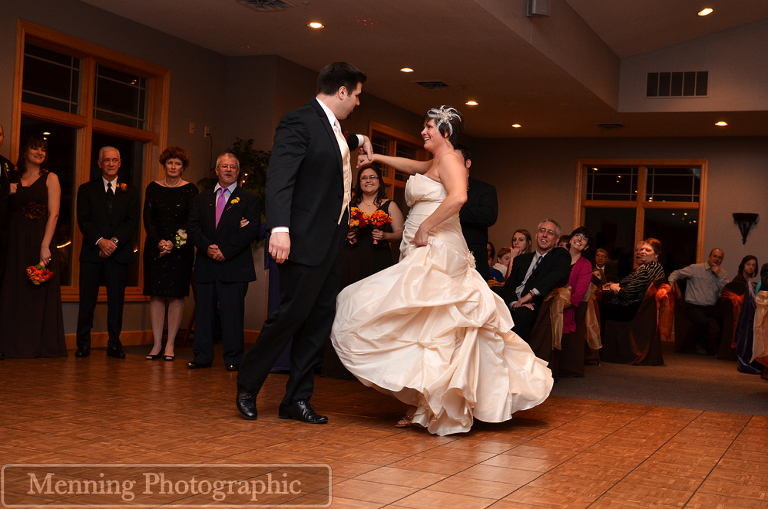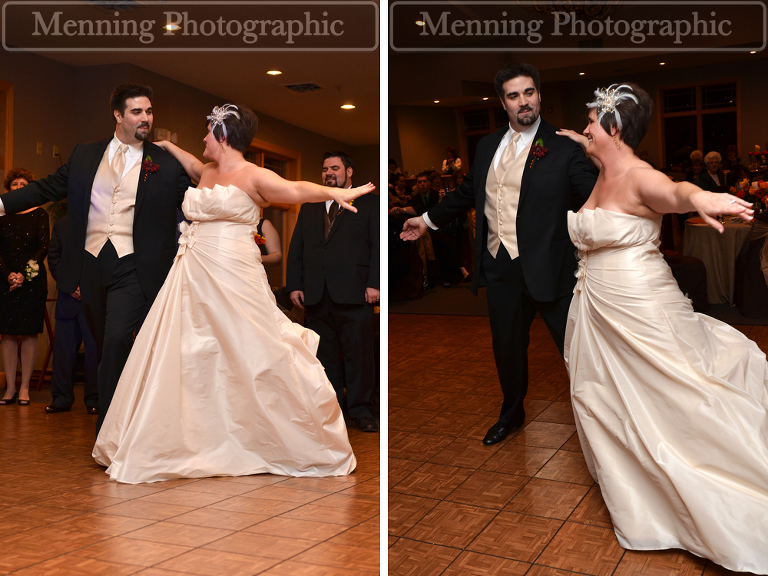 See? Nailed it!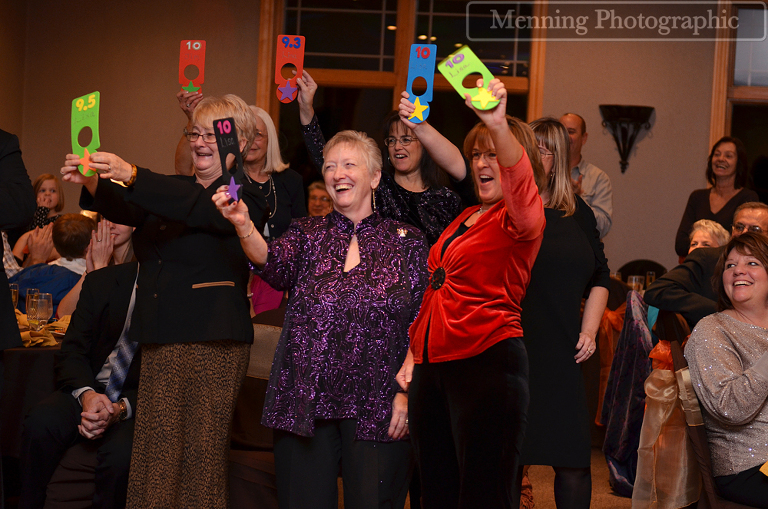 The parent dances were happy.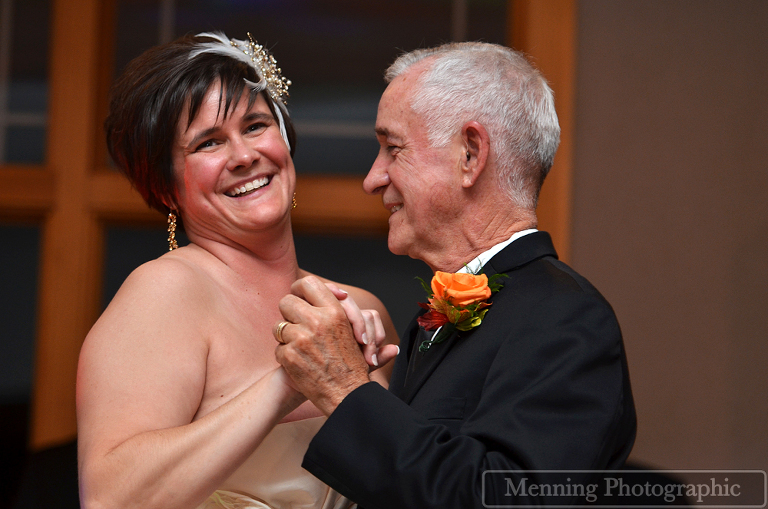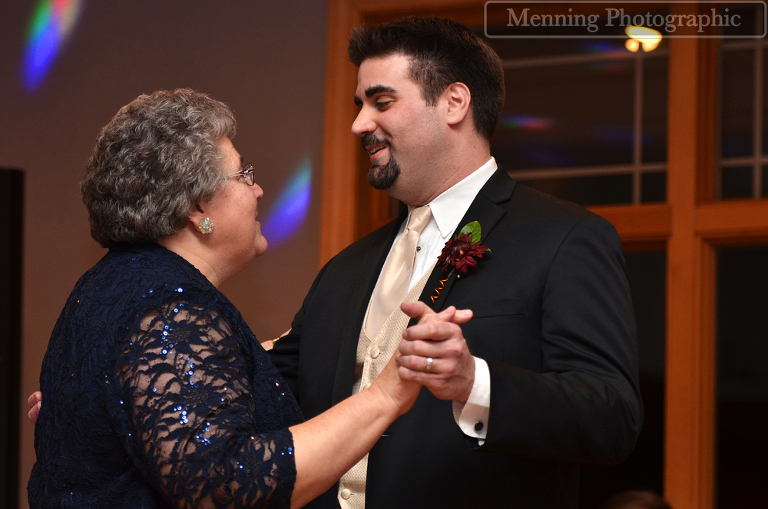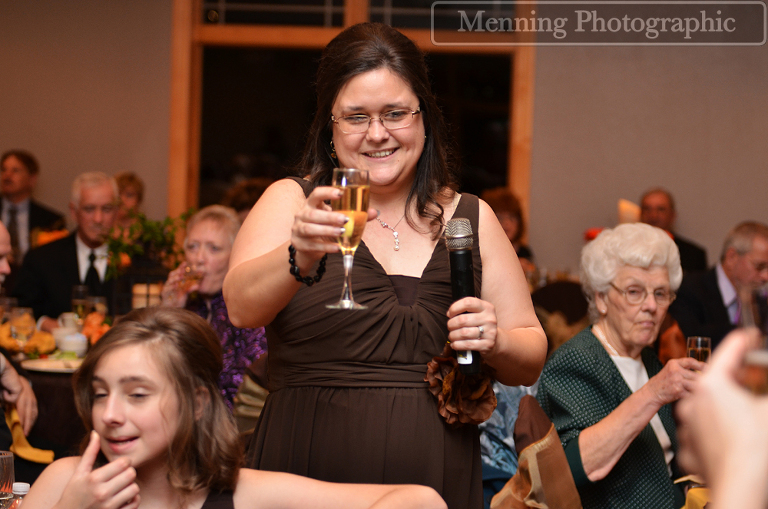 I loved how Jim's dad referenced the lyrics to "God Gave Me You" in his speech he gave. Lisa & Jim met online, and all of their friends and family members agree that they're definitely the pair that was supposed to be together and help each other through the ups and downs.
"On my own I'm only half of what I could be. I can't do without you.
We are stitched together, and what love has tethered, I pray we never undo."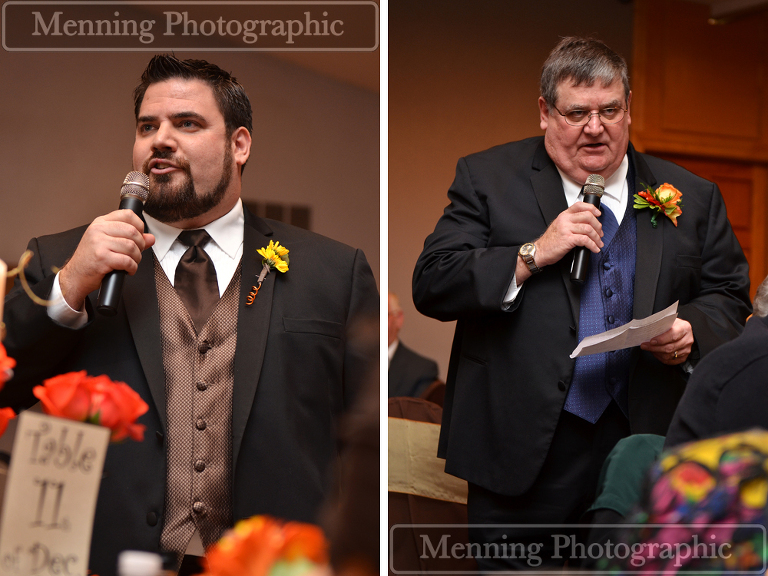 Lisa's aunt provided lots of laughs in her words for the bride & groom.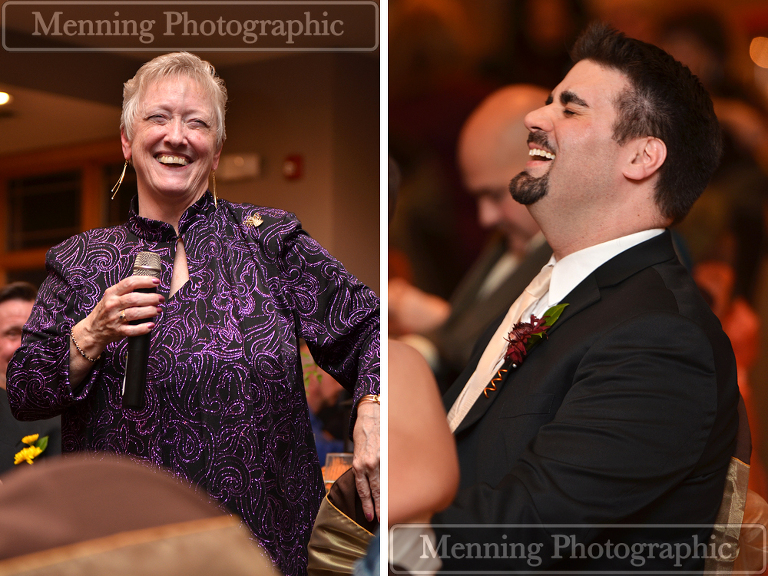 Let there be dancing!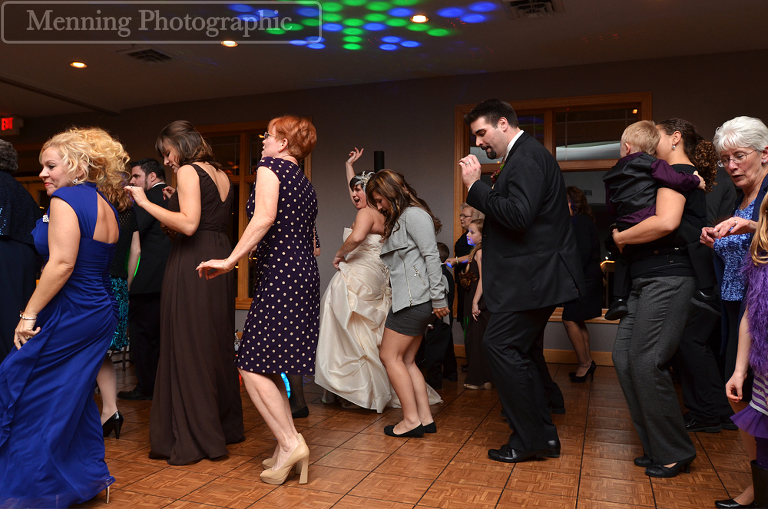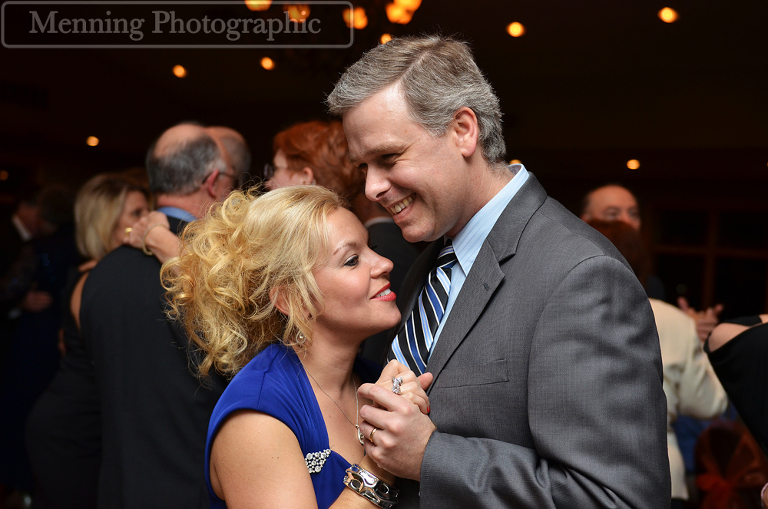 It's kind of sad to slice into a cake that pretty…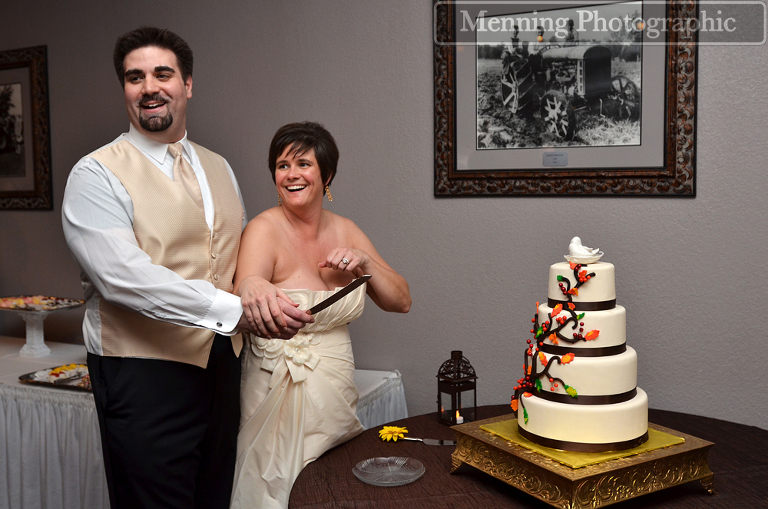 But it's definitely not sad to eat it. Yum!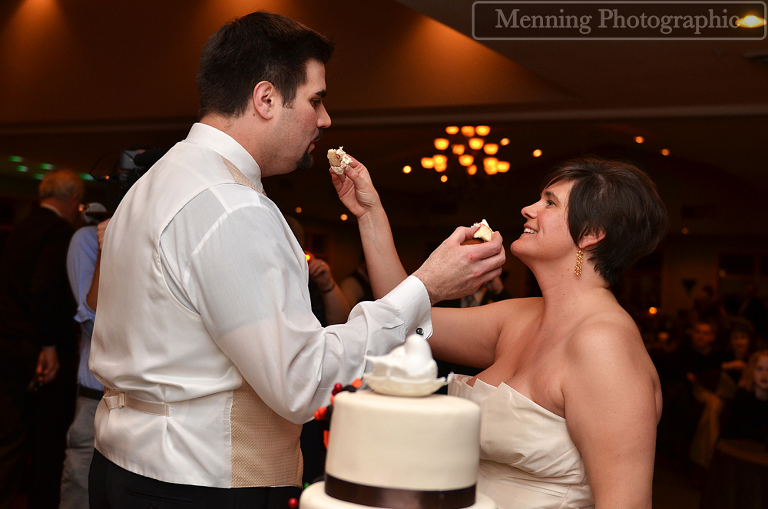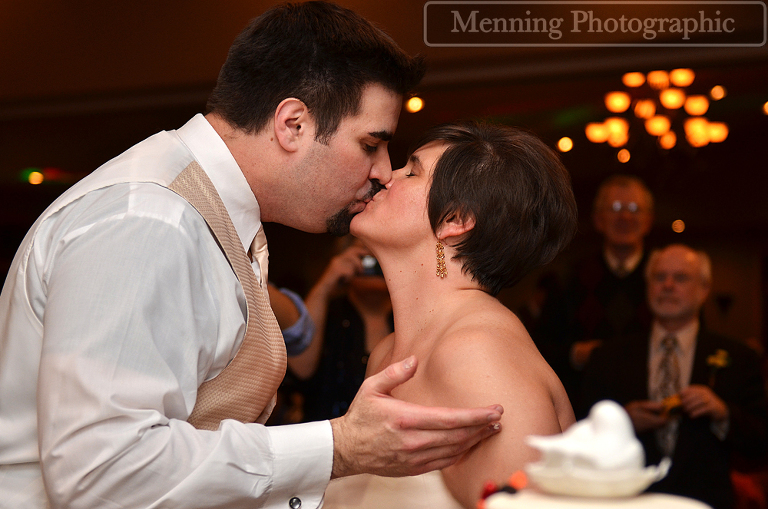 Lisa's grandmother was so incredibly sweet and happy for her granddaughter. They got to dance together, and Lisa told us that her grandma had so much fun that night.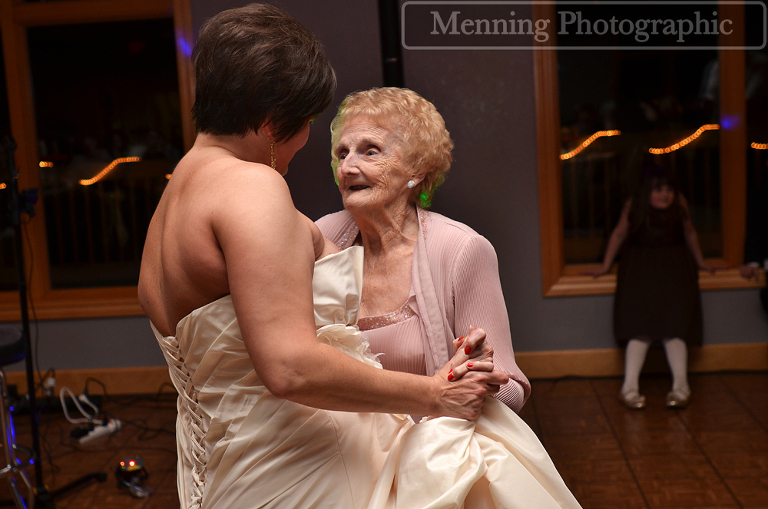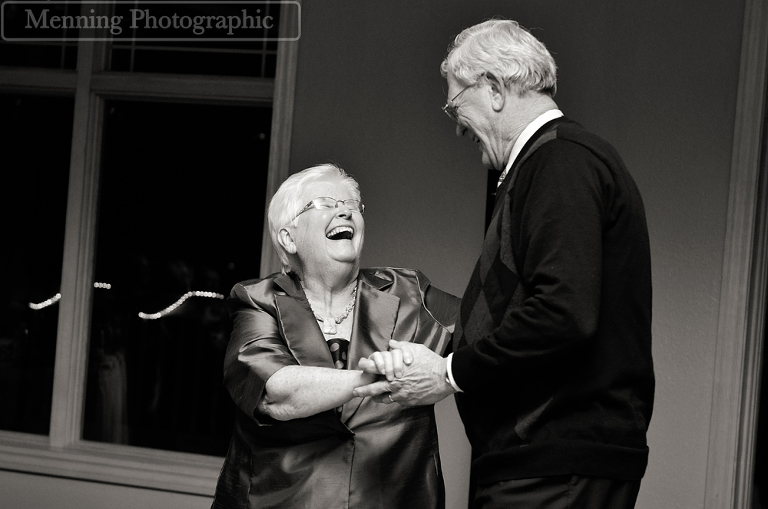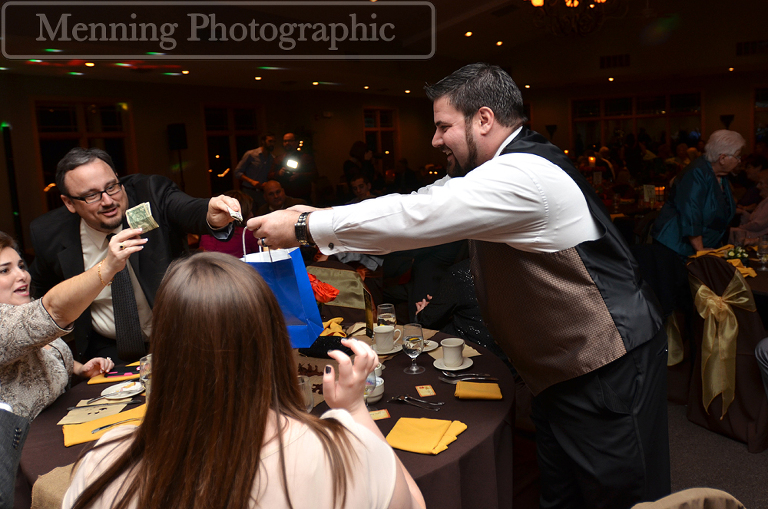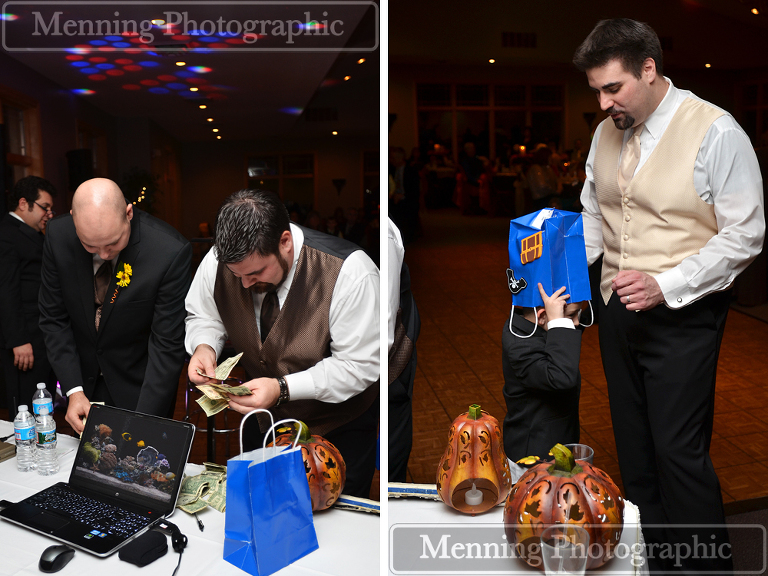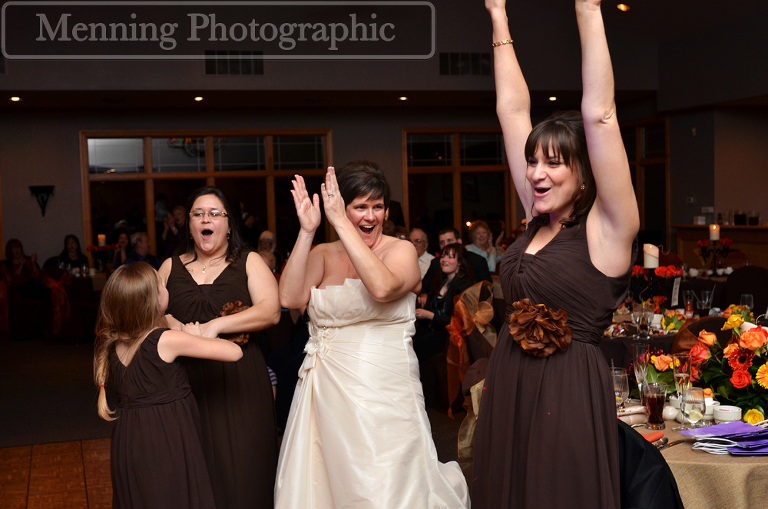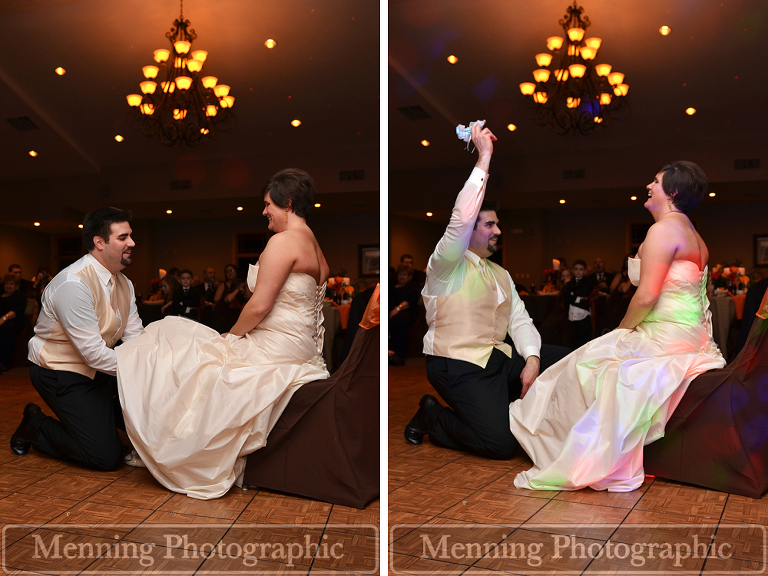 Jim's mother really reveled in this moment. She came over to me and said, "There are my three babies and their spouses. Look how happy they are."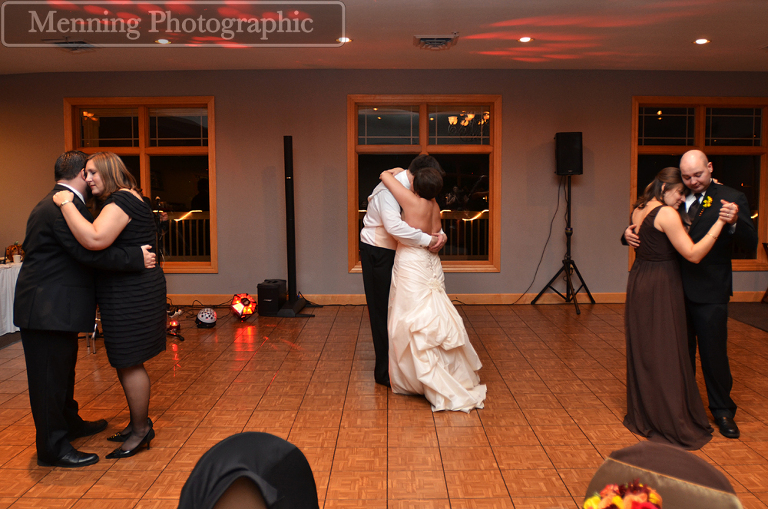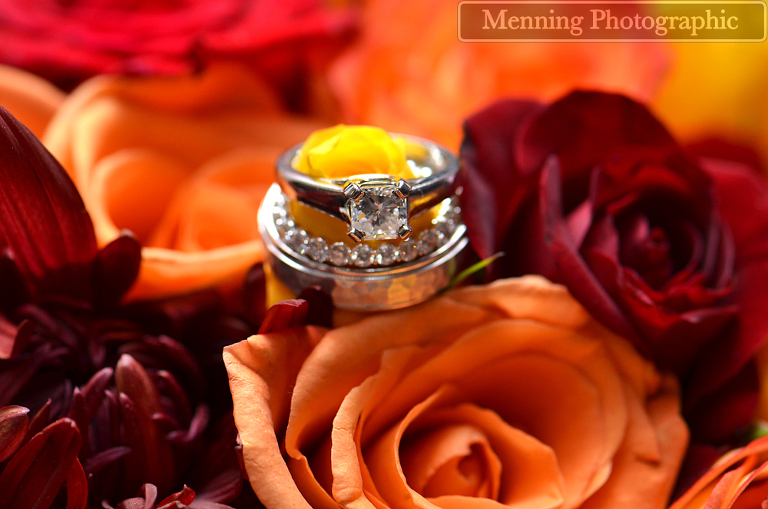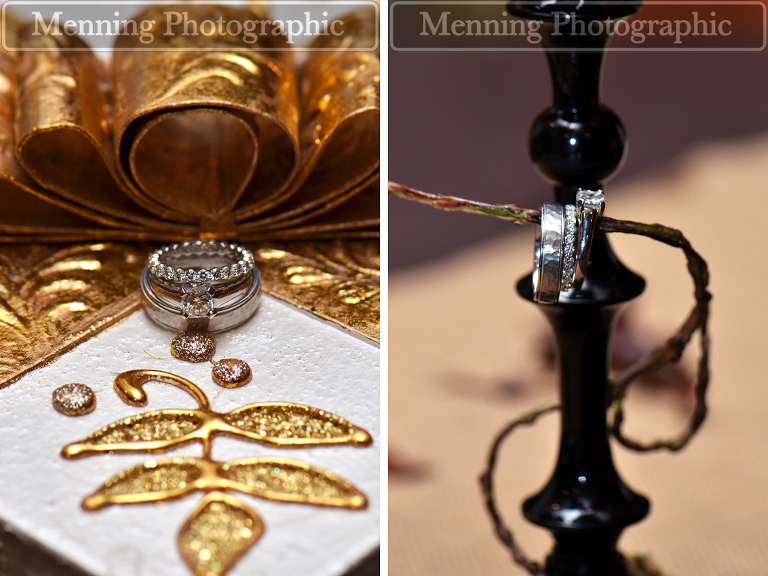 Lisa & Jim, we had a fantastic day with you on your wedding day! Thanks again for choosing us as your wedding photographers.
www.menningphotographic.com
If you're interested in more info on our photography, please call us or email us!
330.651.4849
info@menningphotographic.com